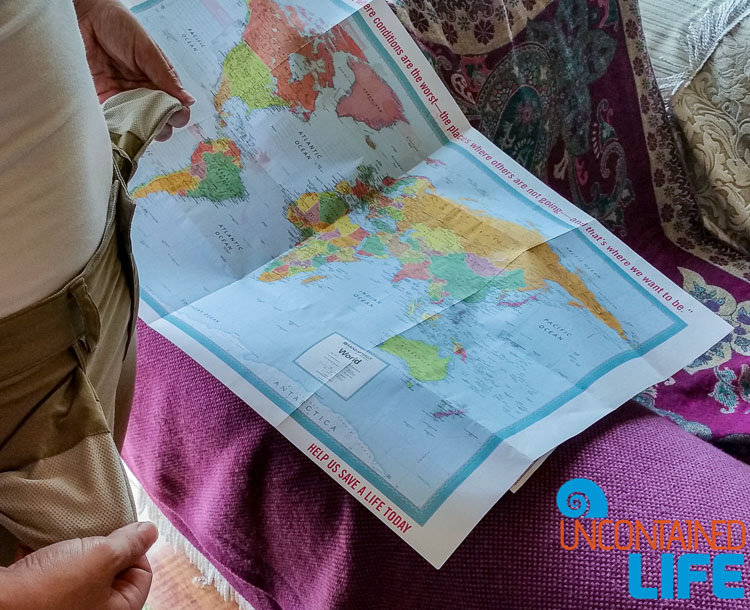 Back when Justin and I were living in Long Beach, the main thing in our lives that stressed us out was money. Specifically, the lack thereof. After paying our bills, we didn't have much left over for anything other than groceries and gas. (Life lesson for all you kids out there: Grad school does not pay well. I know…shocker!)
Most people who work a 9-5 make a lot more money than we did…or do. And yet, still, the number one thing we hear from people who "want to travel more" is this: "I just don't have the money right now."
Pardon me, but "bull-shit."
Why do I call B.S.? Because it's not that simple. Because even when Justin and I were, collectively, making less than $35,000 per year (which, in Southern California, isn't much for two people to live on), we still traveled. Because, barring the kinds of serious life circumstances–chronic health issues, familial-support obligations and similar–which are out of the individual's financial control, if you "don't have the money" to travel, there's probably a not-so-good reason (or ten).  
Saving money for travel when you're on a budget isn't easy, but it's far from impossible if travel is really what you want to do.
Justin's and my trips may not have been luxurious or to far flung locales, but those adventures to cool places around the U.S.A. sure beat sitting around and waiting for some time in the future when we'd have more time off of work or better-paying jobs. Instead, we looked at life's so-called necessities and asked ourselves what we wanted more: this stuff, or the experiences and memories that travel brings. (For us, it wasn't much of a contest.)
Are you ready to make that choice? If so, here are some of the reasons why you might "not have money for travel"…and some tips that can help you to fix that, starting today!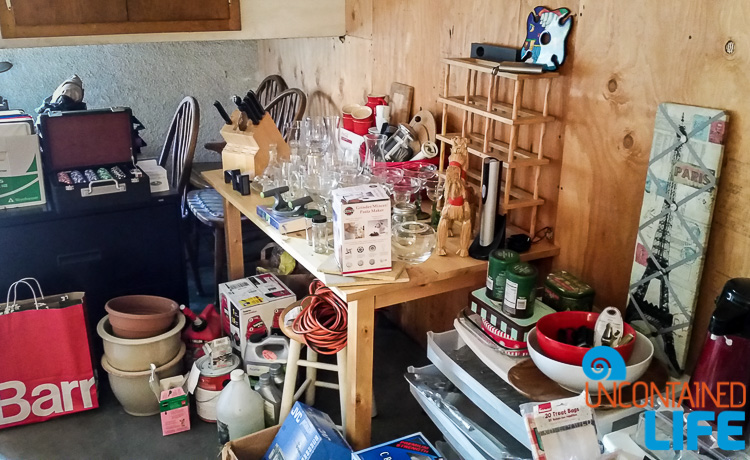 1. Your home is your castle.
Simplifying your space is one of the best ways to save money for travel. If you live in a big apartment or house, work on finding something smaller and more affordable. If you live alone, try finding a roommate to share your space (and expenses). And, finally, sell the stuff you aren't currently using at a garage sale or on ebay (basic rule of thumb, according the organization gurus: if you haven't used it or worn it in a year, you never will).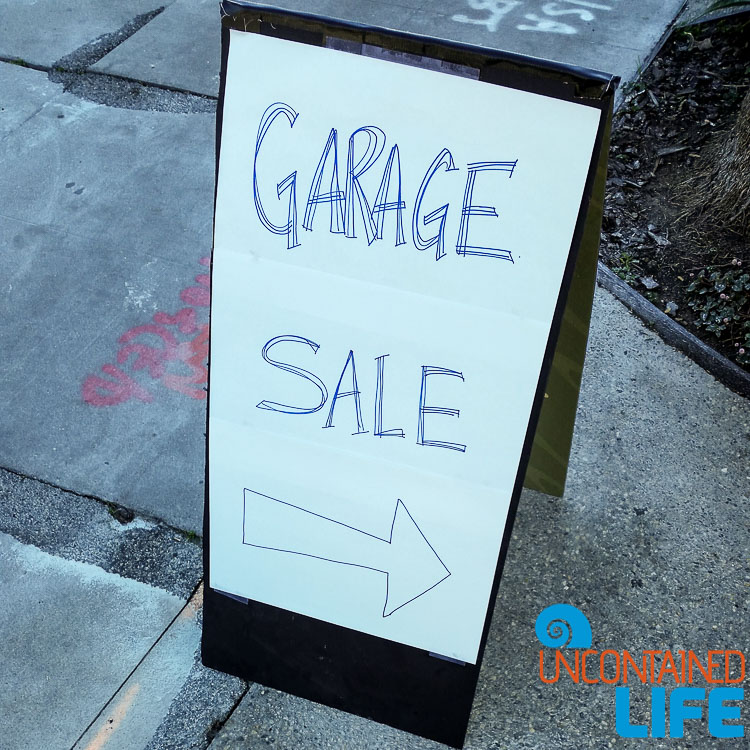 Remember, you aren't only making money when you let go of the things you won't need during your travels; you're also changing your mindset–moving away from the "love of stuff" (which, even science tells us doesn't make us happy) and toward unique experiences that will truly add value to your life  
2. You're paying a cable or satellite company for your TV.
In these days of streaming television and video, there's no reason to keep your high-cost cable or satellite service. If you must watch things on a big screen, consider purchasing the low cost Google Chromecast Streaming Media Player that will beam content from your laptop or tablet to your TV.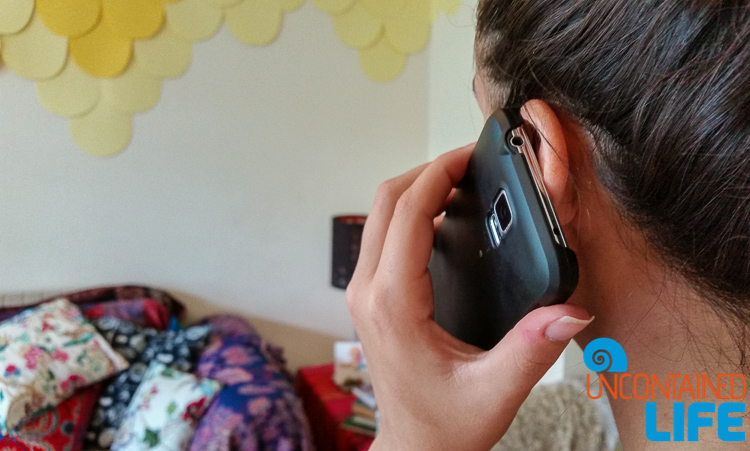 3. Your phone plan sucks.
Are you an AT&T or Verizon customer? Why? Unless you live far from a city, you'll get the same connectivity and internet speeds from T-Mobile as you would from either of these major carriers–and for a good $30-50 less per month (including free text and data in over 120 countries worldwide).  
If you're really hardcore, consider downgrading your data allowance to save even more. Free wifi is everywhere nowadays–do you really need 10GB per month? Just think of all the fun you could have with those savings (and far away from your screen). Temple-touring in Thailand, anyone?
4. You cherish your expensive habits.
Before I started grad school, I hardly thought twice about the cost of my habits: buying new clothes each month, eating at restaurants 2-3 times a week, buying coffee every day, getting manicures…the list goes on. Once the reality of living on a T.A.-paycheck set in, however, I knew that if I wanted to do anything else besides pay bills, or, more importantly, TRAVEL anywhere else besides my living room, I needed to give up some of these habits.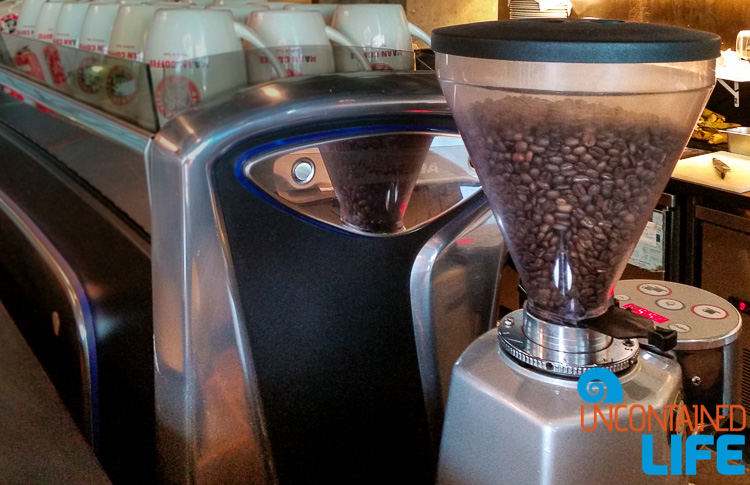 According to Bargain Babe, consumers who replace their daily coffee (size medium) with coffee brewed at home can save $64.48 per month or $773.80 per year (more if your daily caffeine fix is a pricier beverage like a latte). Just calculate how many times you could go white water rafting in Australia (4), paragliding in Colombia (19), or pastry-shopping in France (150) just by brushing up your basic barista skills!
What habits could you give up if it meant getting to live your travel dreams?  
5. You drive everywhere.
Depending on where you live, owning a car can be a major expense. In Southern California (where gas tops $4 a gallon on a regular basis) a driver who covers 15,000/yr. and gets 30 mi/gal. will spend roughly $1333 on gas alone. Add in maintenance, registration and insurance and that number can double. That city bus is looking better already isn't it?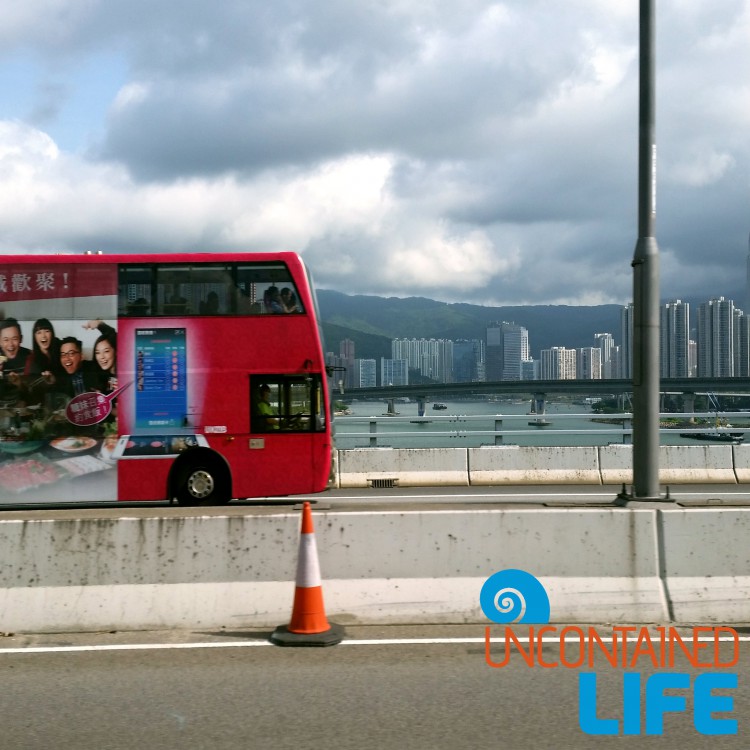 Even if you can't eliminate car usage, consider ways you can limit negative impact of the expense, either by trading in your current vehicle for a cheaper used car, or by making your car a part of your travel dreams: Justin and I are huge fans of road trips!
6. You struggle with "remembering" to save.
Let's be real: many of us "forget" (read: lack the will) to set aside a portion of our paycheck each month. Instead, set up an automatic savings account. These types of accounts let you set up automatic withdrawals on a chosen schedule (ex: weekly, monthly) from your main checking account to a designated savings account. You can watch your savings add up without having to remember to reserve or transfer funds.  
If your current bank doesn't offer an automatic savings service, consider opening a secondary account with an online bank like Capitol One 360. You can link your "home" and online accounts so a deposit made to your "home" bank checking account will transfer easily and automatically to your online savings account.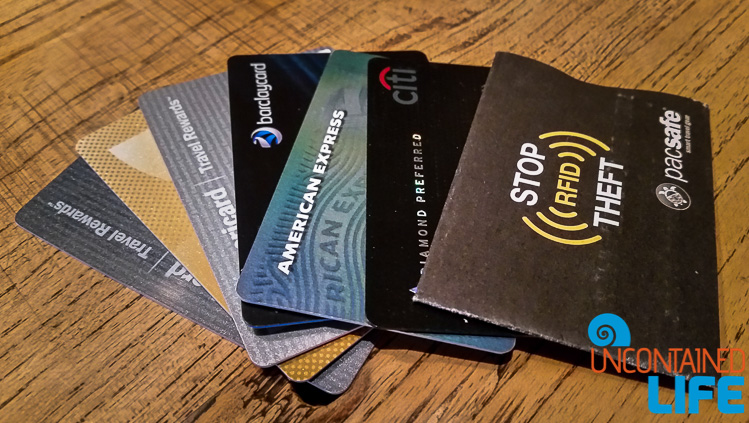 7. You use just any credit card.
Even with all these money-saving tips, you know you're going to have to keep spending some things. Why not get rewarded for doing so? Picking a credit card with a great opening bonus, strong ongoing rewards options and, ideally, no foreign transaction fees means you'll not only save before you leave, but keep saving once you're on the road. Our favorite cards at the moment include the Barclaycard Arrival Plus card, the Chase Blue Sapphire card, and the Bank of America Travel Rewards card.
8. You pay full price.
Taking a few minutes each week to read your local grocery store flyers for specials can save you big at the grocery store. You can cut costs even further by checking couponing sites like Coupons.com.  Store loyalty cards are also a must.  Sign up on your store's website or ask for an application at the service desk.
Sites like Groupon* and GiftCardGranny.com can also help you to get goods at lower prices. Personally, I never shop at Target, go to a movie, or visit a drugstore without having first purchased a discounted gift card (sometimes the cards will come to you in the mail–which requires advanced planning–but other times they are e-cards meaning you'll have the necessary code within 24 hours).  Even if the gift card or Groupon is being sold for only 5% off its face value, the overall savings add up quickly.   
*If you struggle with sale-lust (as discussed in #9 below) signing up for Groupon might not be the best decision.  Yes, you might get a great deal on a local carwash, but if you simultaneously impulse-buy lasik eye surgery and a massage any money-saving benefit will, obviously, evaporate.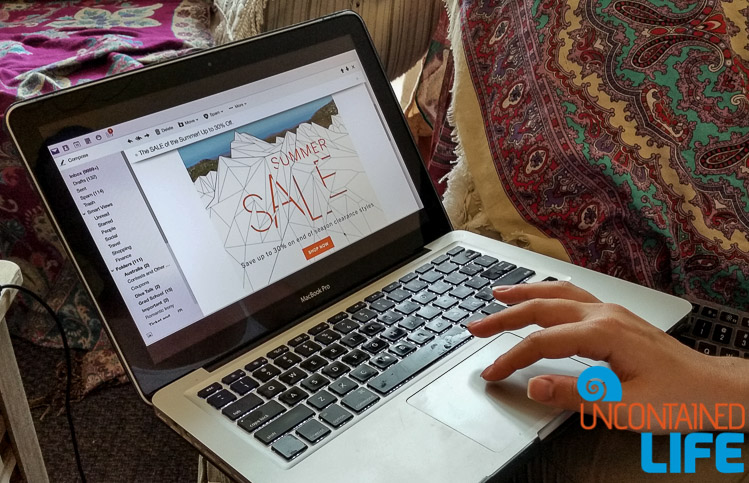 9. You shop the sales.
Sales save you money, right? Well, that depends. Personally, nothing weakens my savings resolve like emails from my favorite stores with the word, SALE, in the subject line. Even if I only mean to take a quick look at the cute shoes, nine times out of ten looking leads to buying (or, if I manage to resist, pouting). Luckily this problem is easily solved with a quick "unsubscribe." Don't worry, you'll find much cooler things to buy during your travels.  
10. You don't subscribe to money-saving email lists.
On the flip side, there are emails you should actively look for and add to your inbox–namely, newsletters from airlines, accommodation sites like Agoda and Airbnb, and other travel companies that will give you updates on deals that can save you money or earn you travel rewards. JetBlue just emailed me that I can fly to Alaska this week for only $149 (normally $252). That's a 59% savings! Who wants to go?  
In addition to taking these steps to help you save for your adventures, if you sign up for Uncontained Life's weekly postcards, you'll be the first to know when we have new money-saving travel tips to share!
---
Support Uncontained Life!
If you've found this site helpful, the best way to say thanks is by clicking on one of our Amazon links. Whenever you make a purchase within 24 hours after clicking one of these links (even if it's of a product we don't have listed), we make a small commission (at NO extra cost to you) which helps us keep this site running. Thanks for your support!