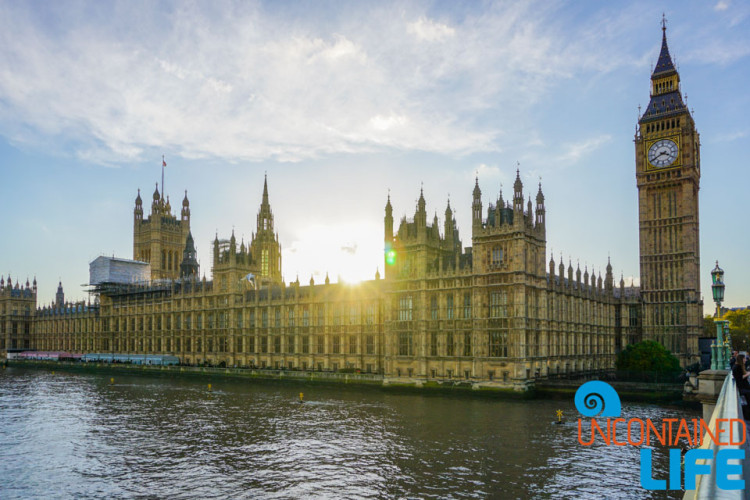 Reading has always been one of my passions. When I was young, I spent hours perusing the shelves of the local library and, in my imagination, traveled far and wide–fromMiddle Earth, and the planet of Camazotz to the New York's Metropolitan Museum of Art and California's gold fields.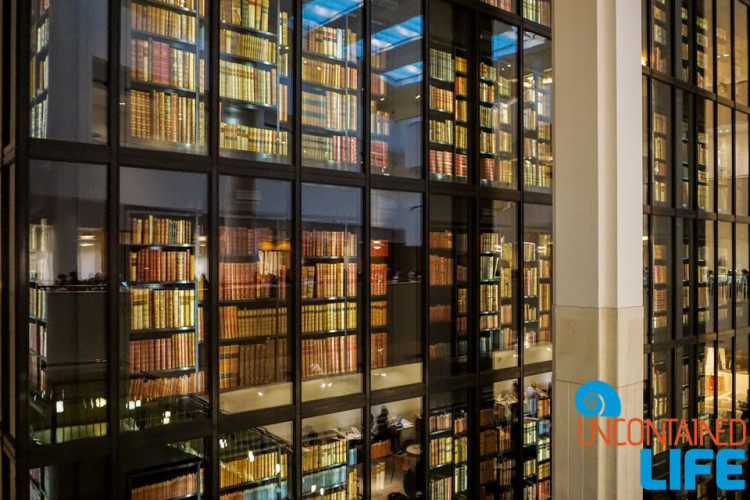 As an adult, reading was, for a time, part of my job description as a grad student and university instructor. But even now, with no one holding a loaded (or, to be real, not so loaded) paycheck to my head, my e-reader and I are not easily parted. All this to say, wherever Justin and I travel, books are with me–and, very often, the places we go inspire my reading choices. So, you can imagine how my brain began buzzing when we landed in London this past November.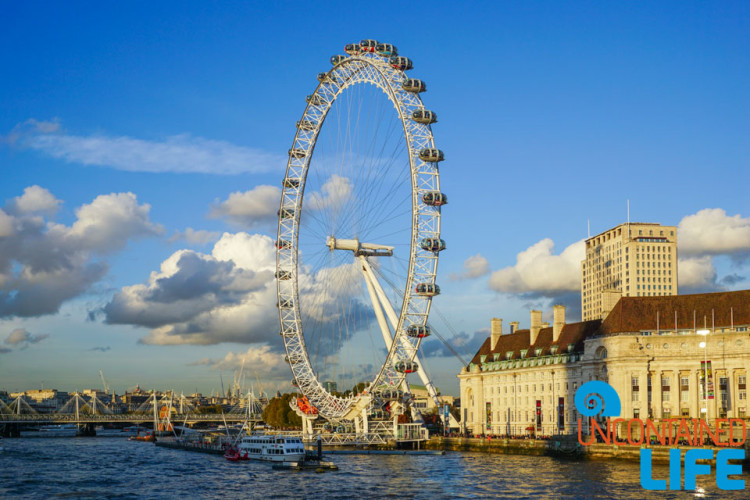 London and literature go together (as Bertie Wooster would say) like "eggs and b." In honor of that fact, here's our list of London sights for book lovers: ten terrific stops, and some reads to go with them!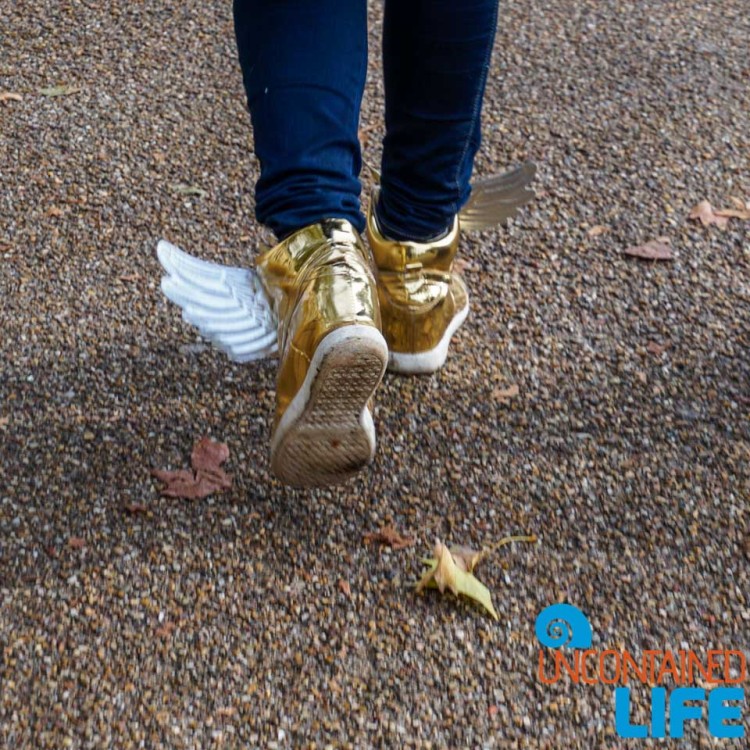 Ten Terrific London Sights for Book Lovers 
Sight 1: King's Cross Station
Sight 1 Reads: the Harry Potter series and Howard's End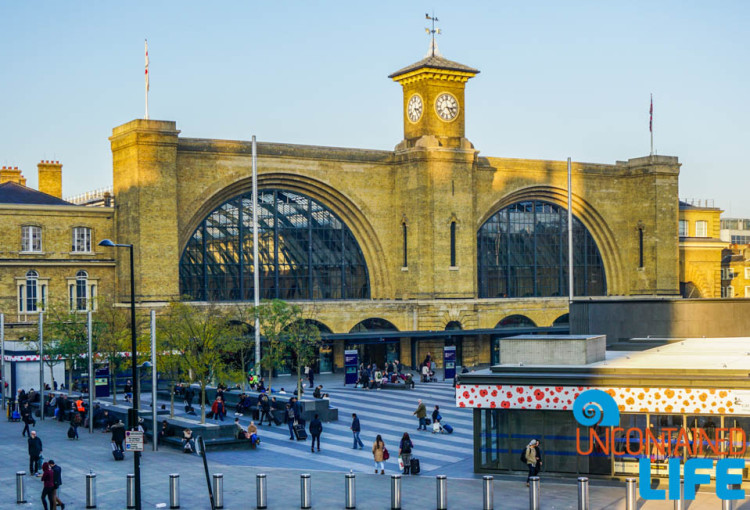 King's Cross Station has been a part of the city's landscape since 1852, but for many book lover's, King's Cross rose to prominence the day that they first followed a young wizard to Platform 9 3/4. (Fun fact: the King's Cross seen in the Harry Potter films is actually the station's next-door neighbor, the infinitely more picturesque St. Pancreas station–pictured below.)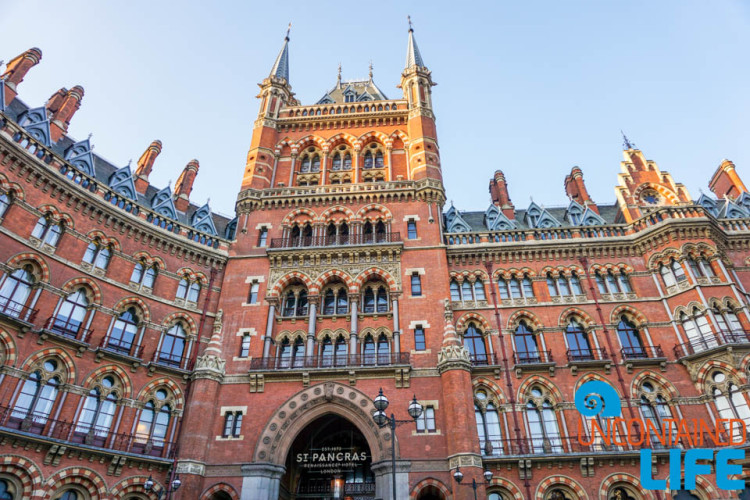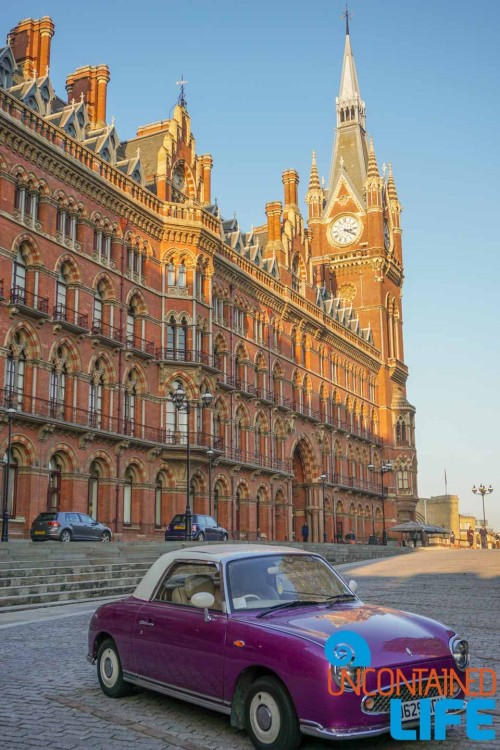 Admittedly, since King's Cross's latest refurbishment, a visit to Platform 9 3/4 has become much more of a crazy, touristy scene. Where once you had to find Platform 8, follow it to the end, and turn left towards Platforms 9 to get your photo opp., nowadays, the famous magical platform can be found in the main concourse area, next to a Harry Potter shop.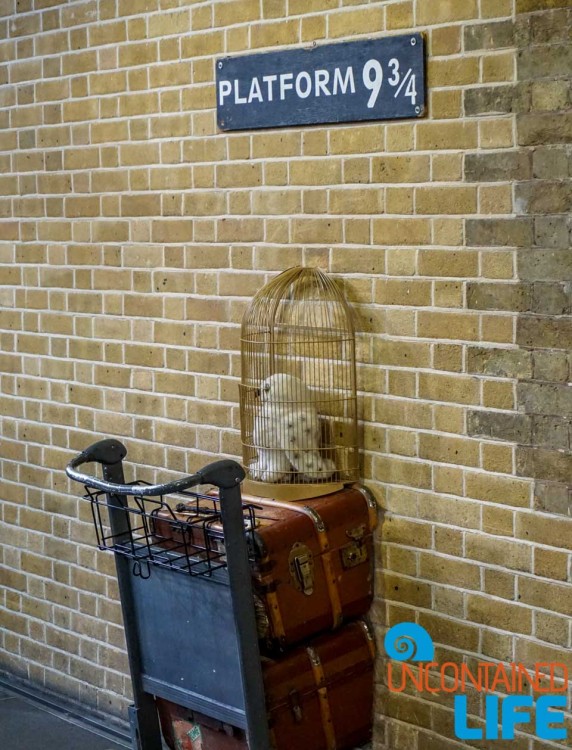 While some might sigh over this development, I say, take it for what it is: a bit of harmless fun. Arrive early if you want a snap of yourself at the wall (in spite of what may be implied, you are not required to purchase the "professional" photos shot by staff–you can take your own pics. for free).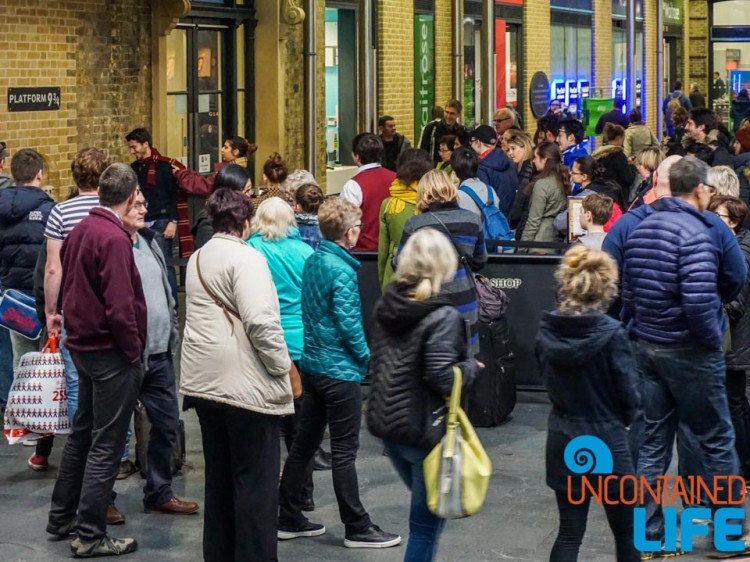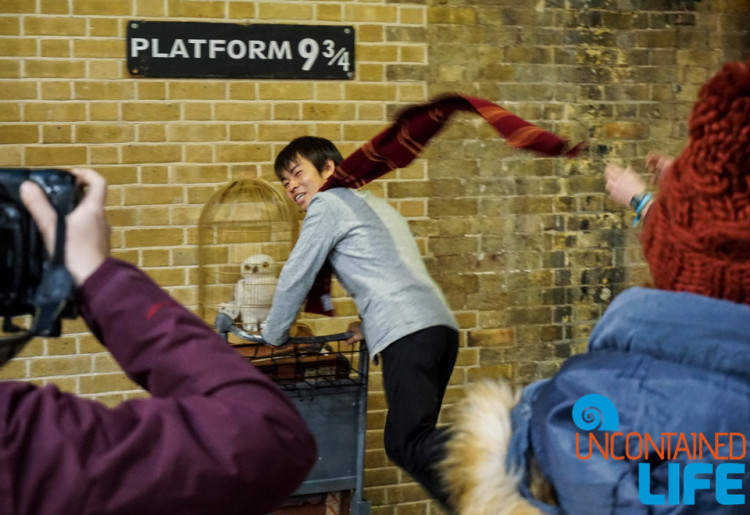 And take 5 to browse the shop (while the prices are insane, it's really got some amusing stuff.)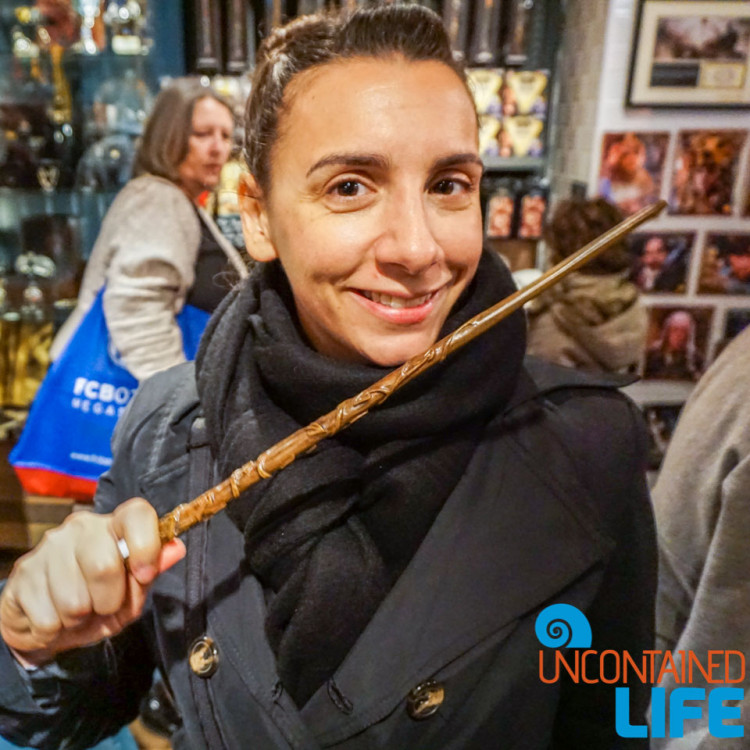 Of course, if Harry Potter's not your jam (or even if it is), there are other literature-loving reasons to make a stop at King's Cross: E. M. Forster. There's a little passage in Howards End, where Margaret Schlegel finds herself in King's Cross–a place which, the narrator informs us, had, for Margaret, "always suggested infinity" with its "great arches" as "fit portals for some eternal adventure." Of course, Margaret's "adventures" at Howard's End (which King's Cross facilitates) are shadowed by various tragedies, but…I won't spoil the plot for you.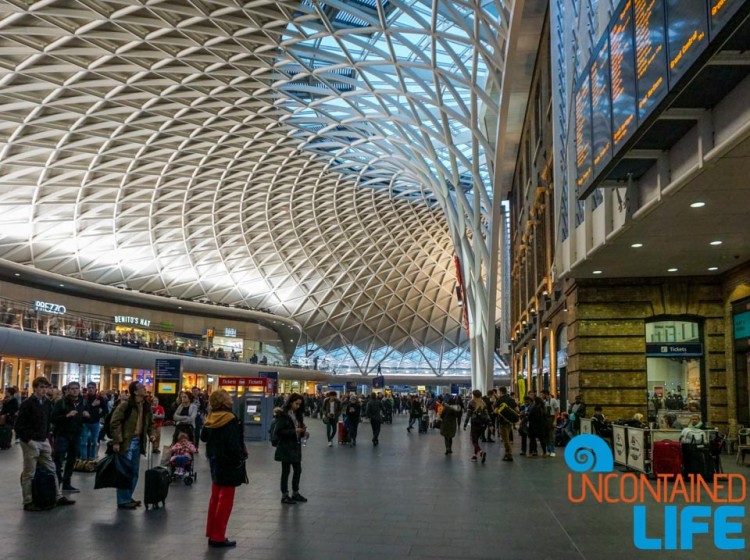 Sight 2: The British Library
Sight 2 Reads: "Hamlet," Pride and Prejudice, The Canterbury Tales, Alice's Adventures in Wonderland, and Possession.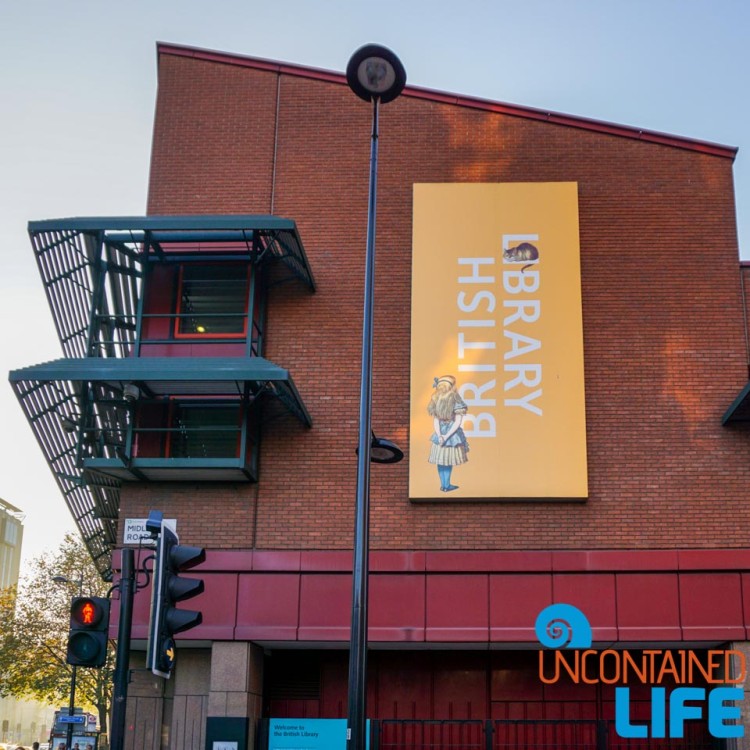 Just a couple of blocks from King's Cross, book lovers can rejoice in the nerdy splendor that is the British Library: home to Jane Austin's writing desk, Shakespeare Quartos, Gutenberg's Bible, Caxton's two editions of Chaucer's Canterbury Tales, the original manuscript of Lewis Carroll's Alice's Adventures Under Ground and so much more.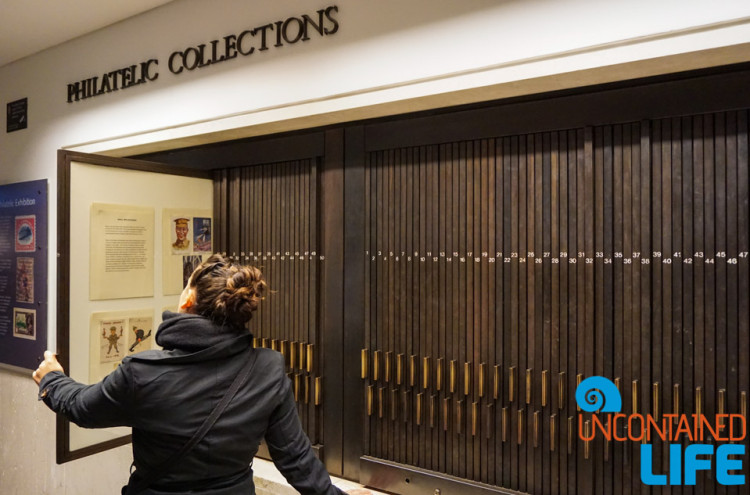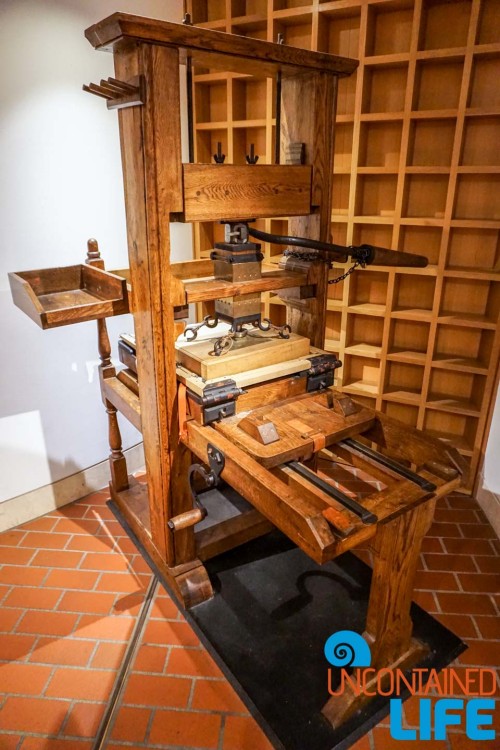 If you only have a short amount of time to visit, head straight to the free Treasures of the British Library exhibit (. If you want a more in-depth experience, check here for upcoming and ongoing special exhibits (some must be booked in advance).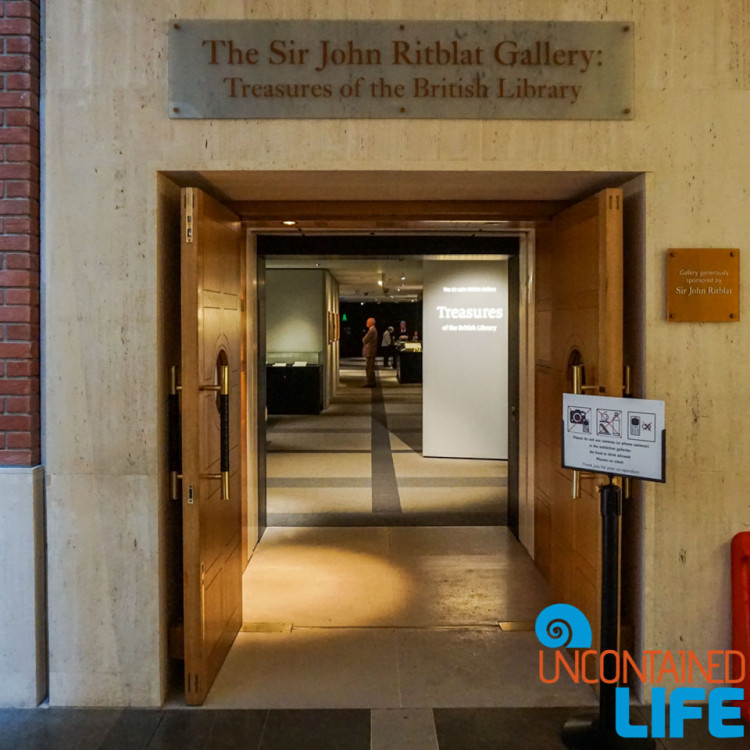 While a visit to the British Library is, of course, ample inspiration to read the works of Shakespeare, Jane Austin, and Chaucer, those looking for a modern read might consider A.S. Byatt's Possession: a tale of mystery and romance which play's upon the notion of literature's power to "captivate" (dare I say, possess) its readers.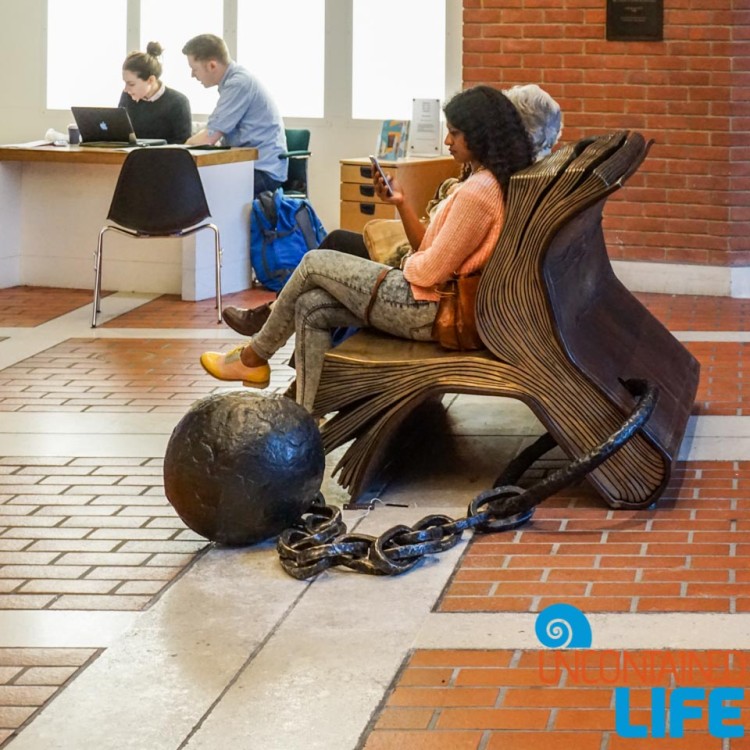 Byatt explains that she was inspired to write Possession while visiting the famous, circular British Museum Reading Room which used to house the British Library's collection (the Reading Room is an amazing place, but cannot be visited at the present time). Upon spotting Kathleen Coburn, a renowned Coleridge scholar, Byatt found herself wondering about the relationship between "dead writers" and the living people who spend their lives writing about their works. And thus, a novel was born.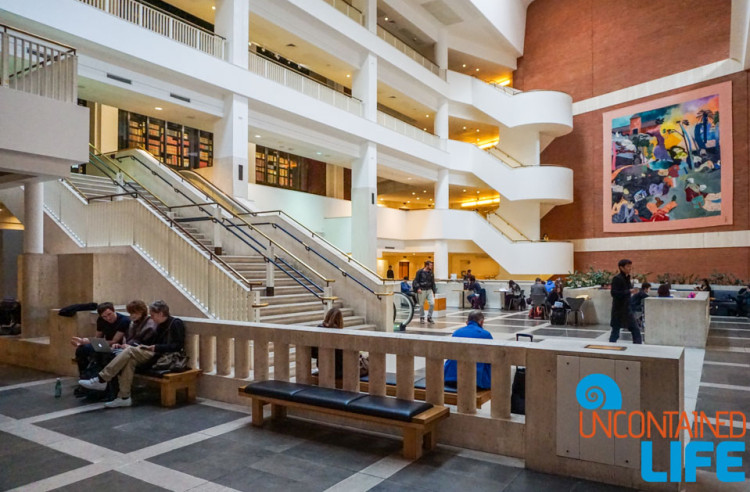 Sight 3: 221B Baker Street
Sight 3 Reads: The Complete Sherlock Holmes, Stardust, and American Gods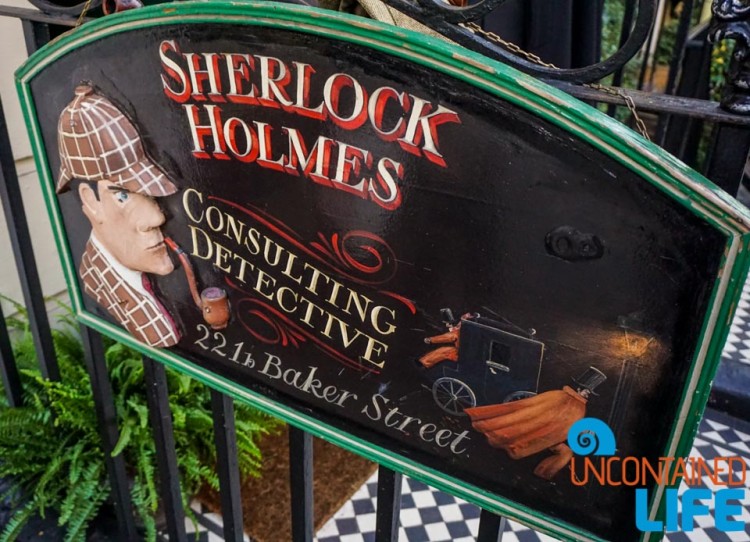 Like Platform 9 3/4, the Sherlock Holmes Museum and gift shop on Baker Street may seem, depending on your temperament, either an inglorious ode to Capitalism's Exploitation of Art (say that five times fast), or a supercalifragilistic opportunity for goofy photos. (Guess which view we take.)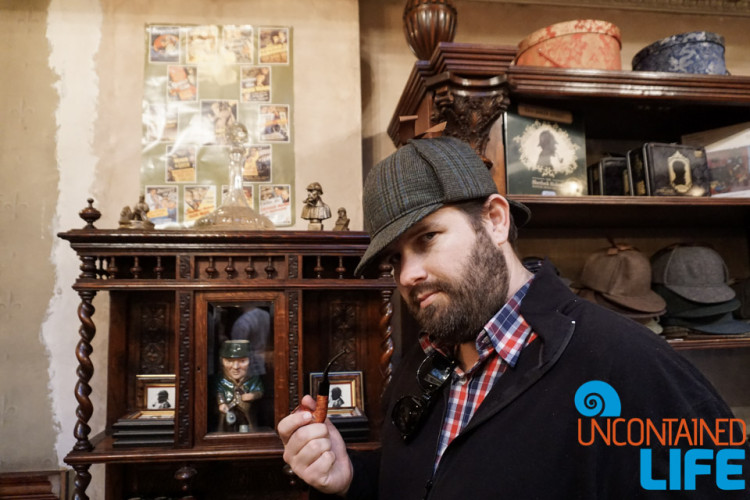 In any case (ba dum dum!), let Baker Street inspire you to check out one or more of Sir Arthur Canon Doyle's classic stories of the inscrutable Sherlock Holmes.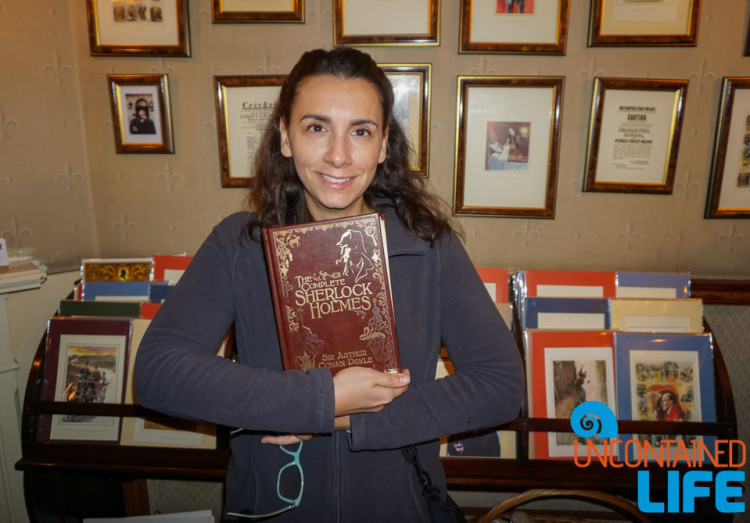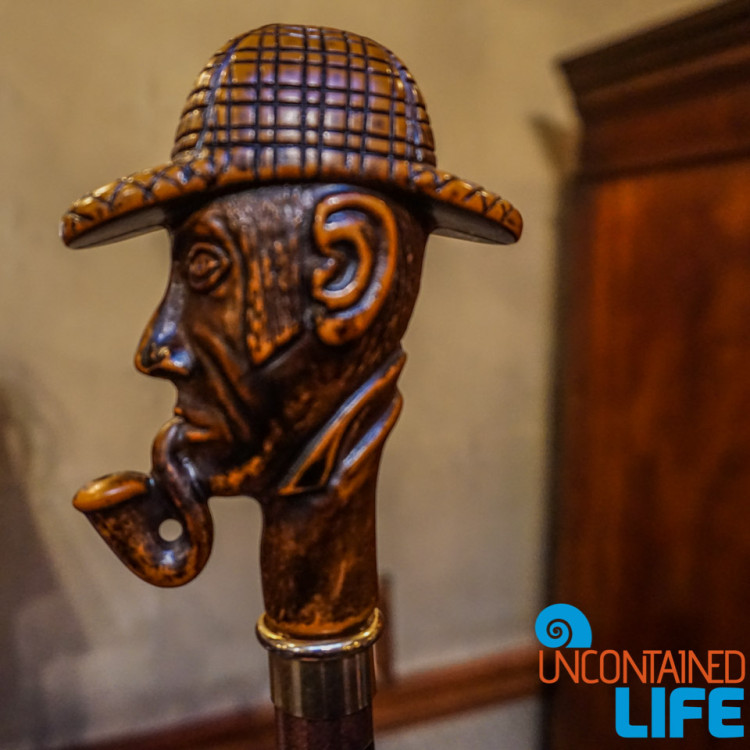 Alternately, dive into a something written by one of the illustrious members of the Baker Street Irregulars literary society: a group of Sherlock Holmes enthusiasts founded in 1934 by Christopher Morley. (For those not in the know, the Baker Street Irregulars–first mentioned in Doyle's A Study in Scarlet—are a group of street urchins who help Sherlock with his investigations .) One of my favorites among the modern-day Irregulars: Neil Gaiman (for something light, try Stardust; for something intense, check out American Gods.)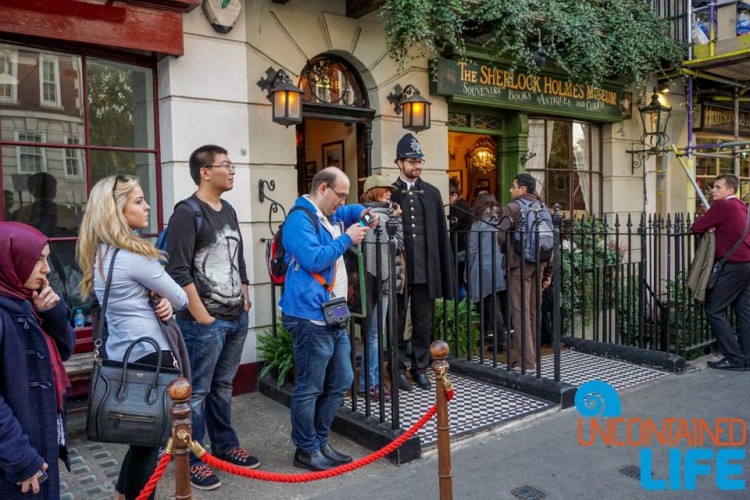 Sight 4: 

Hyde Park and Kensington Gardens
Sight 4 Reads: Peter Pan and The Wings of the Dove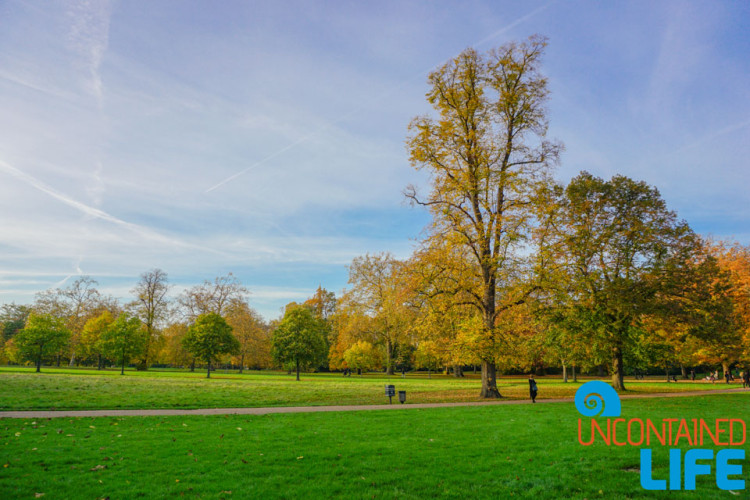 It is a truth universally acknowledged that grown-upping is hard. Unfortunately, most of us can't avoid adult life…but Peter Pan can!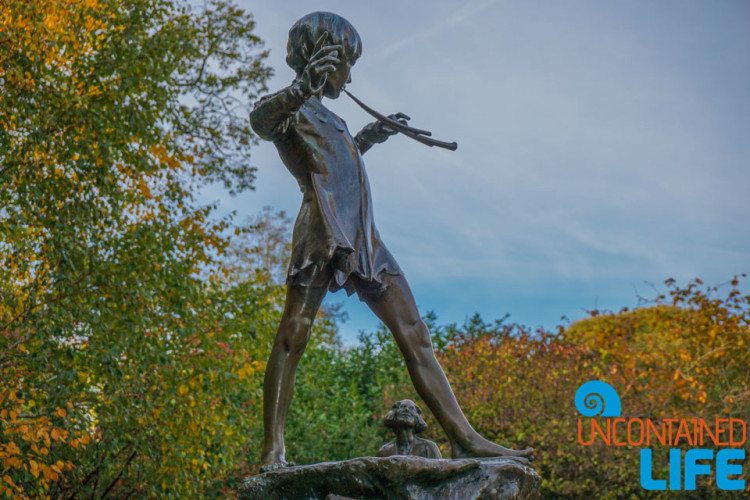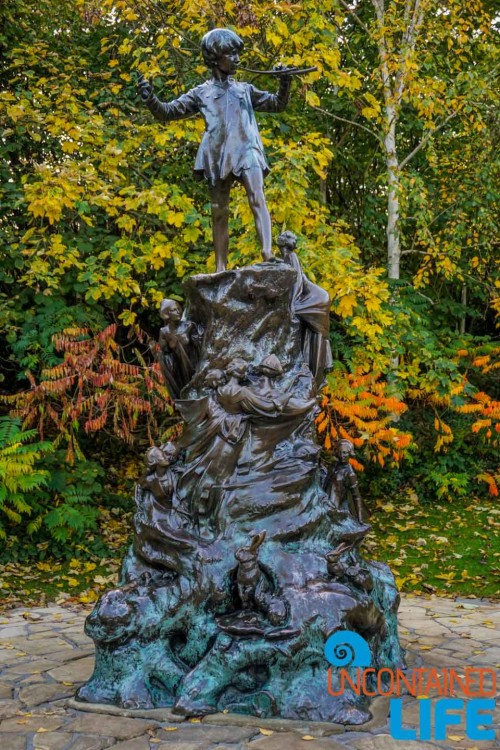 Come visit the ode to the ultimate Lost Boy, and you'll get the added treat of experiencing the absolutely beautiful Hyde Park.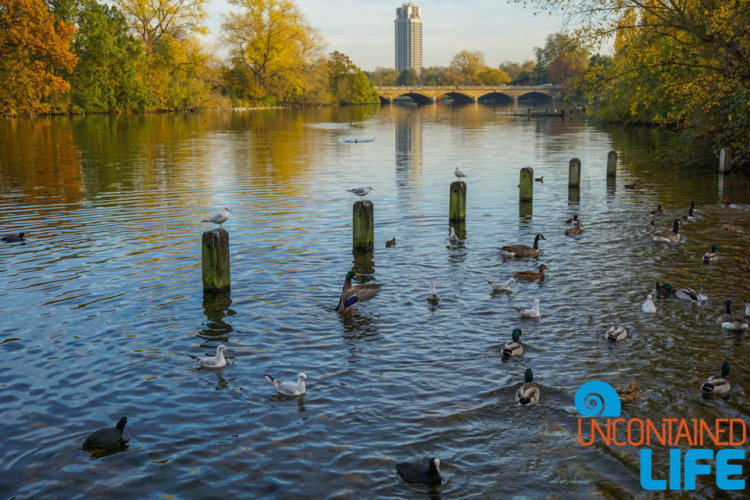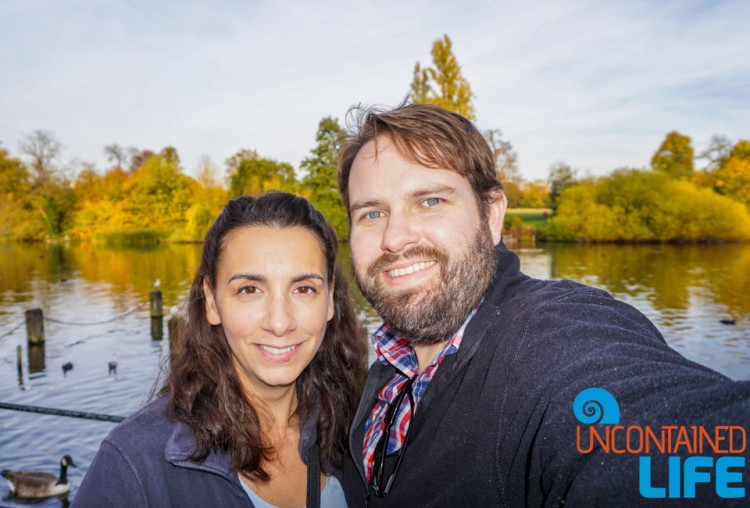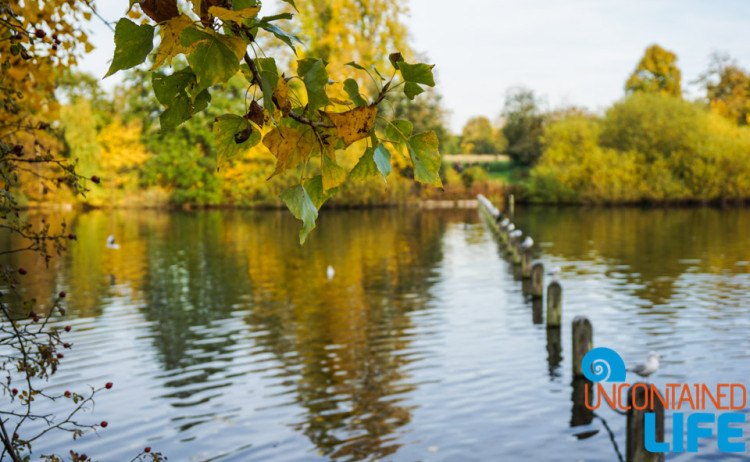 Incidentally, Hyde Park is right next door to Kensington Gardens where Henry James set doomed lovers Kate Croy and Merton Densher's clandestine meetings in his novel, The Wings of the Dove. Yes, Henry James isn't exactly light vacation reading, you've got to admit, any author who can make a single, grammatically correct sentence go on for almost half a page deserves some major English nerd high fives.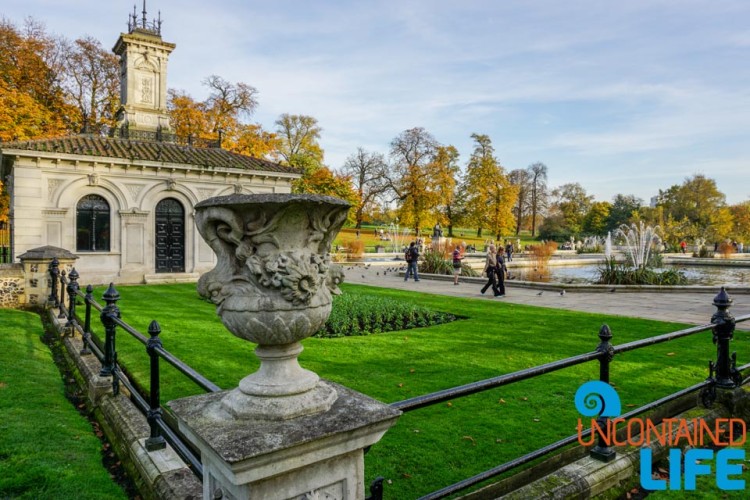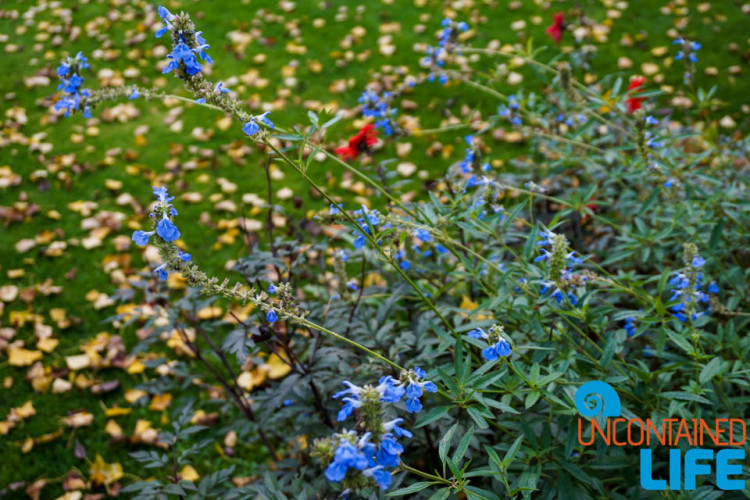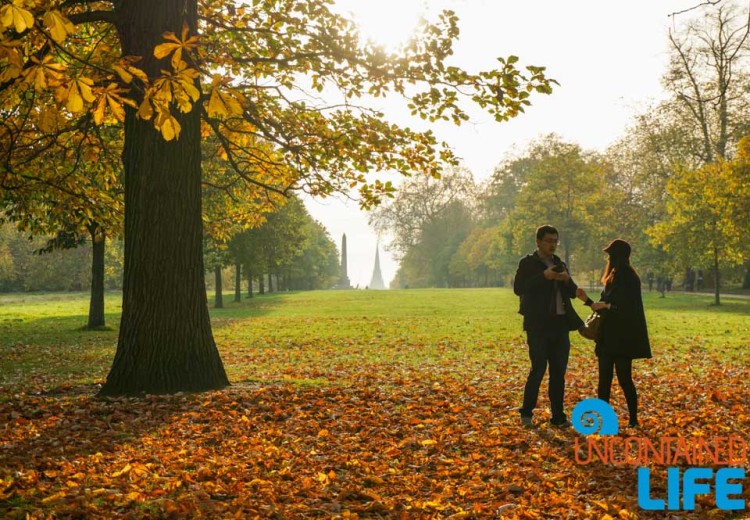 Sight 5: Buckingham Palace and the Victoria Monument
Sight 5 Reads: The BFG, Jane Eyre, Vanity Fair, Great Expectations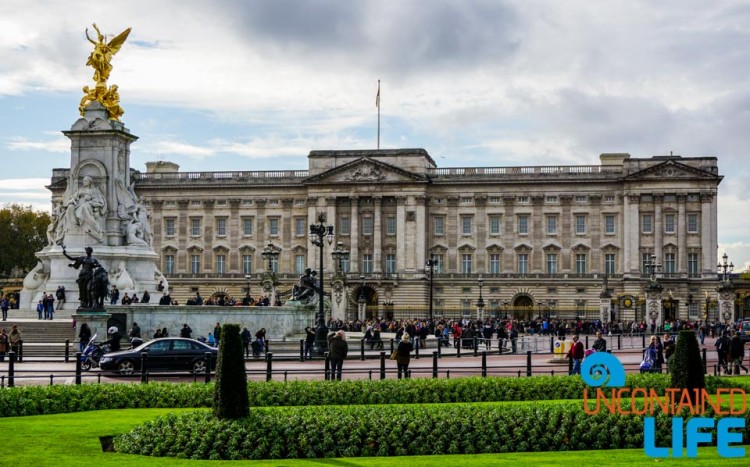 Years before I ever dreamed of visiting the city of London, I wanted to see Buckingham Palace. Why? Because of Roald Dahl's The BFG, of course! When the novel's plucky heroine, Sophie, and her oversized partner, the Big Friendly Giant, need help saving England from nine horrible man-eating giants, the pair visit the Queen in her bedroom at Buckingham Palace.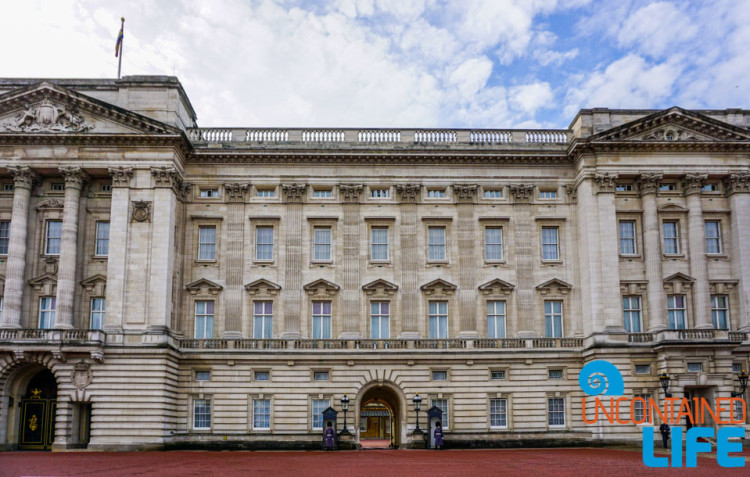 The real life Buckingham is certainly more crowded than I imagined it whilst reading Dahl, but it's still pretty awesome seeing the changing of the guard.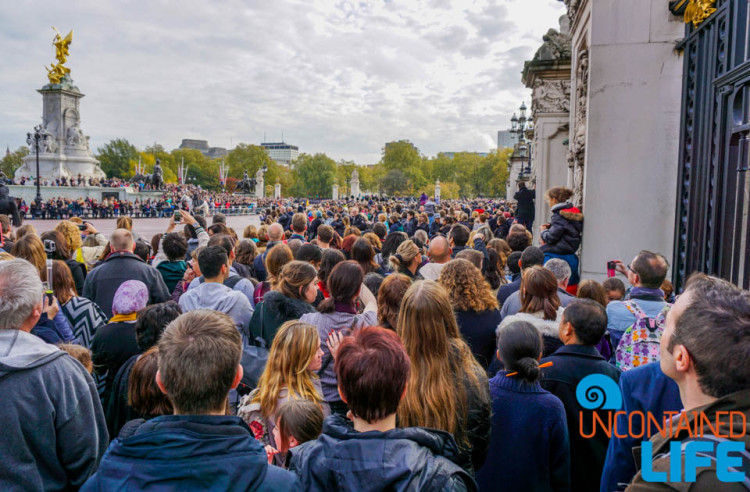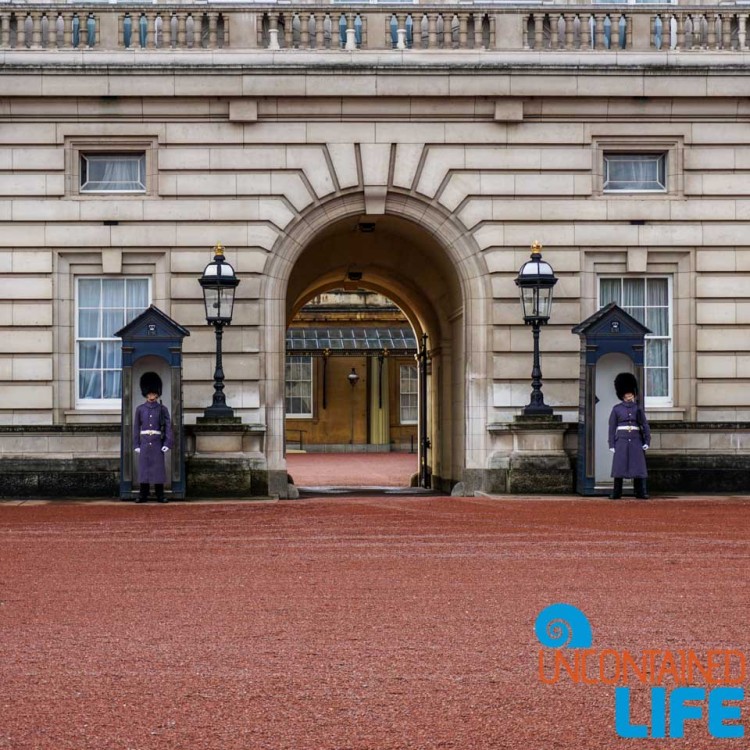 While The BFG's queen is Elizabeth II, the monument out in front of the palace is dedicated to another long-lived royal: Queen Victoria. Victoria's reign oversaw some of the most famous literature ever produced.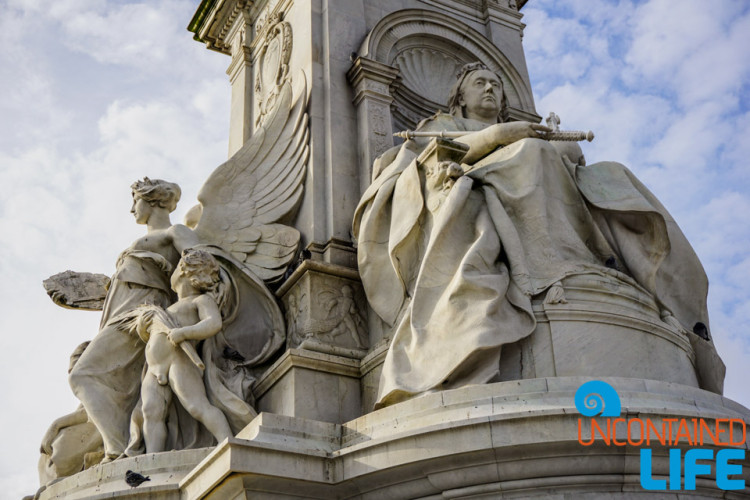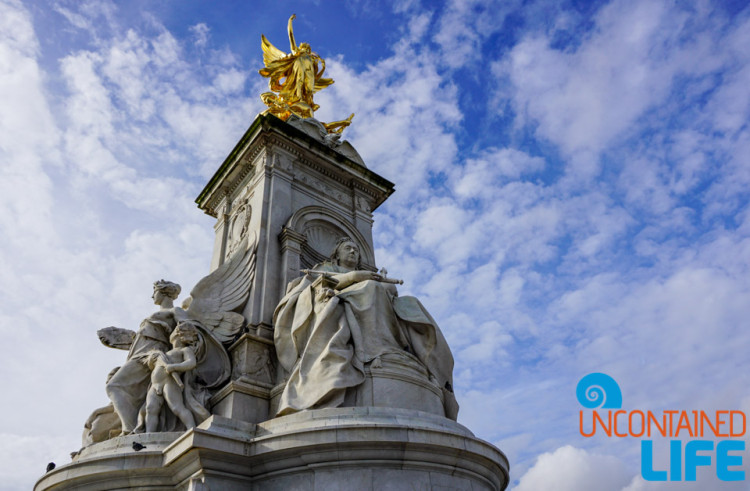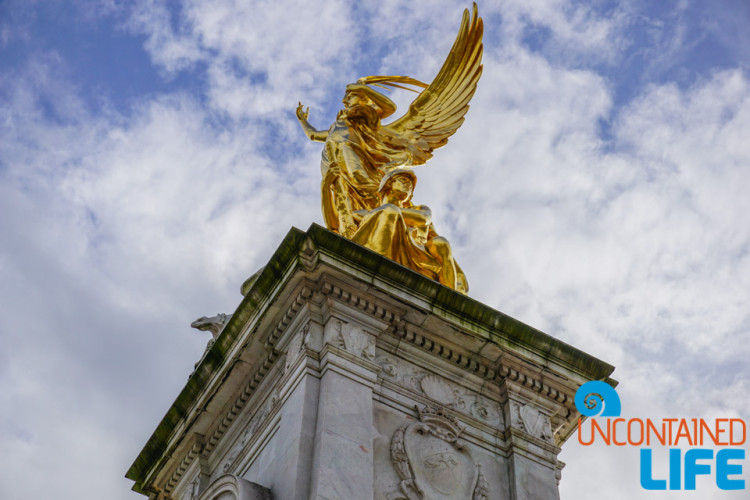 Victorian authors certainly didn't skimp on the prose (Dickens's Great Expectations clocks in around 450 pages), the wonderful novels of this era are the original page turners.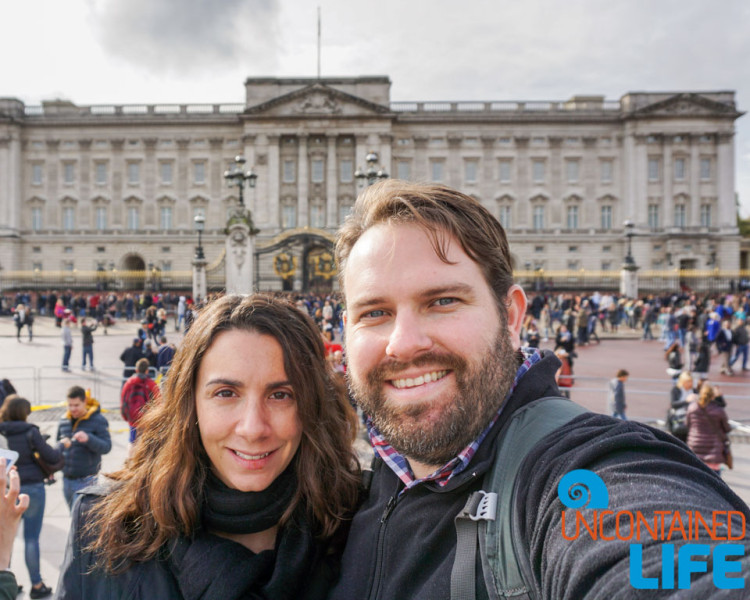 Sight 6: 

Piccadilly
Sight 6 Reads: Dracula and the Unnatural Death (a Lord Peter Whimsey mystery)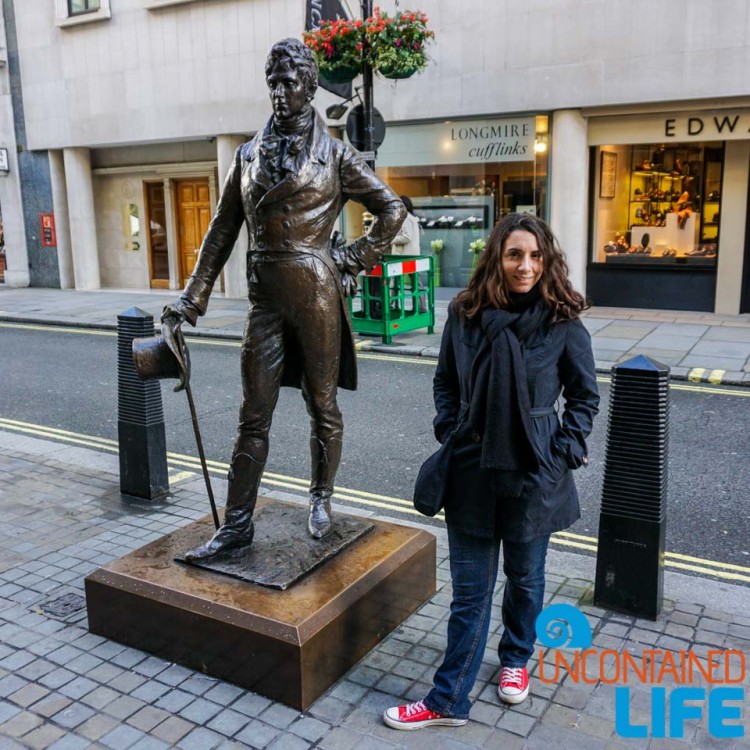 You won't find much of the dark mood of Dracula's London in the modern day Piccadilly area (though, supposedly, the house next to the Hard Rock Cafe is said to be the one where the titular character stored his coffins) but you can still get a bit of historical atmosphere in the bespoke shops of Burlington arcade, and in certain spots as you walk along Piccadilly Street toward Regent's Street.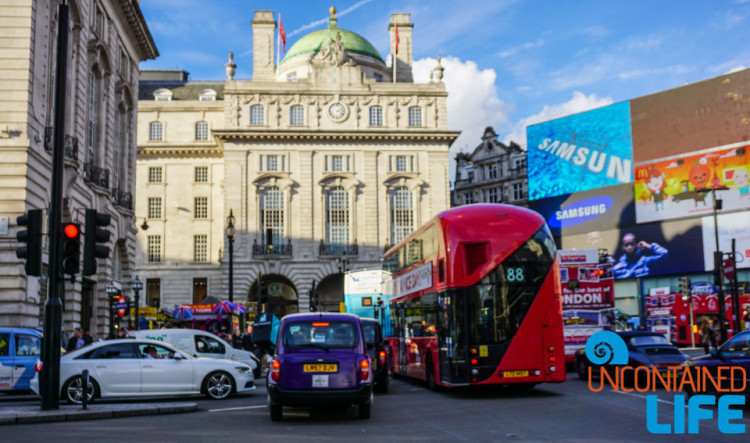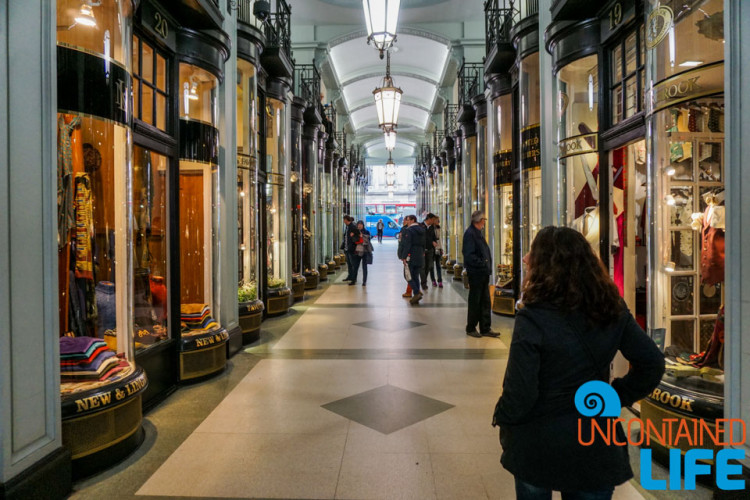 One place worth a stop the beautiful Fortnam and Mason luxury department store, which has been in operation since 1707.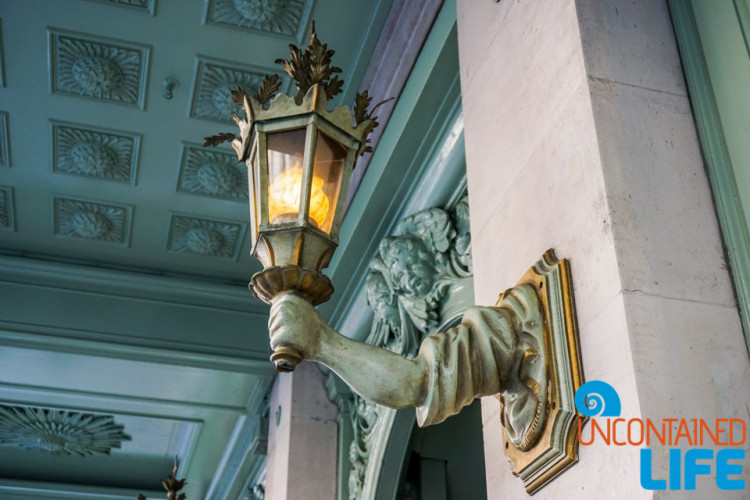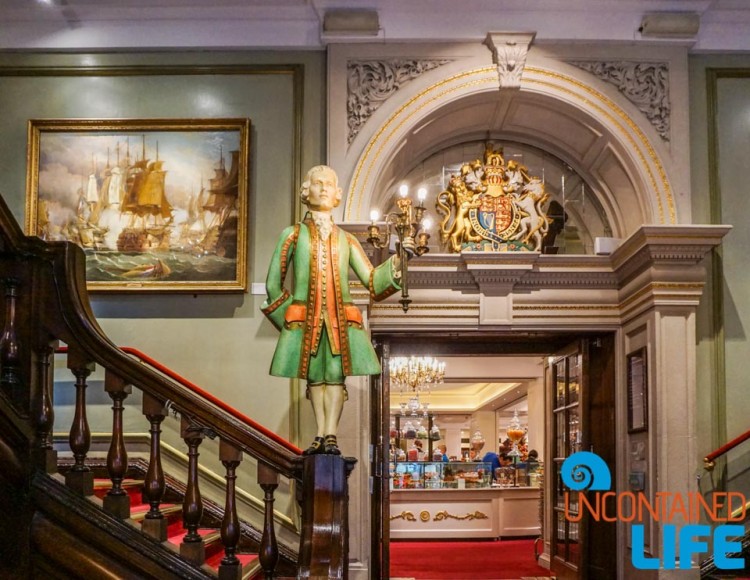 Channel the elegant lifestyle of Dorothy Sayer's own mystery-solving book lover, Lord Peter Whimsey (who name-drops F & M from time to time throughout his sleuthing) and treat yourself to something tasty–either in the Diamond Jubilee Tea Salon, or take something to go from the chocolate or cake counters.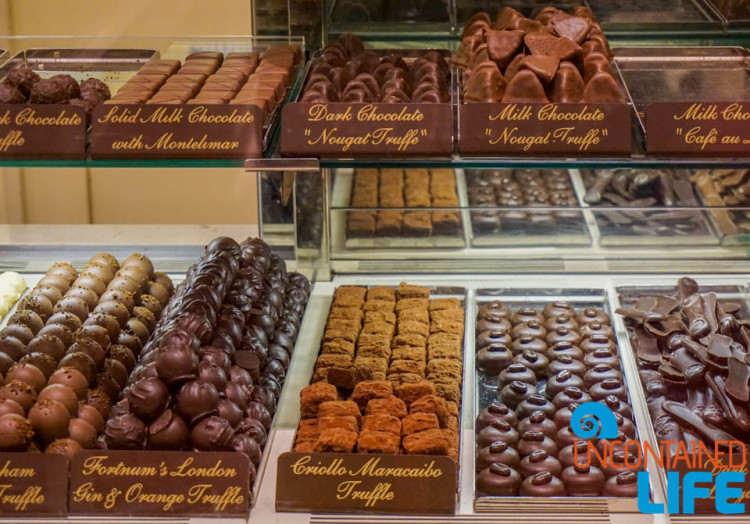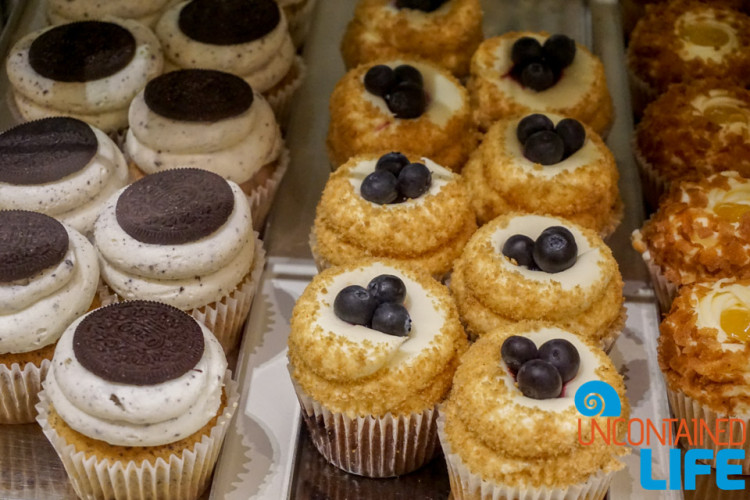 Sight 7: Soho
Stop 7 Reads: Three Blind Mice and Other Stories, The Strange Case of Dr Jekyll and Mr Hyde, and The Collected Poems of Dylan Thomas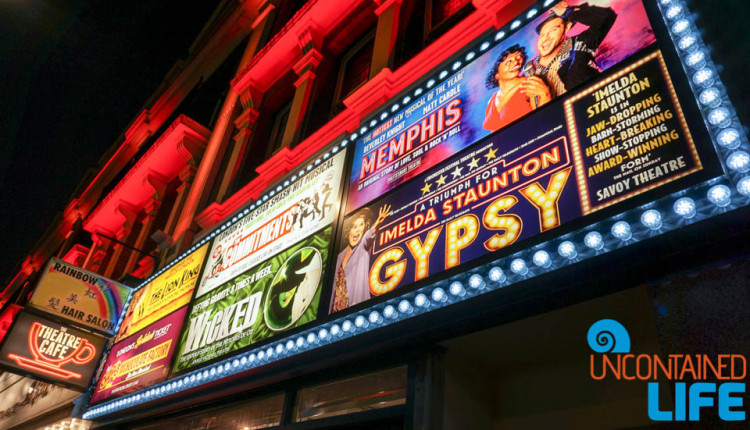 London's so-called "entertainment district" is not only home to the city's famous West End, but also a hotspot for those looking to dance, or drink the evening away. So what's in it for book lovers? Well, for one thing, Dr. Henry Jekyll set up a home for Edward Hyde in Soho. For another, Soho is home to the longest running show in the world, "The Mousetrap"–a play written by the queen of the mystery novel, Agatha Christie. (Three Blind Mice is the prose version of this mystery.) And for those who wish to emulate the literati, there's French House where poet, Dylan Thomas, liked to wet his whistle.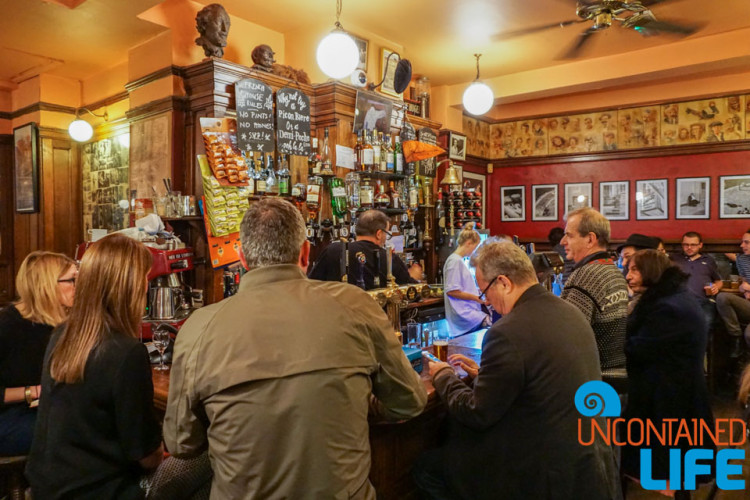 Not enough for you? How about this: Soho also plays host to some of the city's best bookstores. Wander Charing Cross Road between Leicester Square and Tottenham Court Road and you'll feel like you've won the literary lottery (check out the rare, second-hand volumes available at Any Amount of Books and get lost in the bright and cheerful Foyles). 
And don't miss out on taking a lap through Chinatown, where (long before it was Chinatown) Charles Dickens set the home of Mr Jaggers, the lawyer in Great Expectations.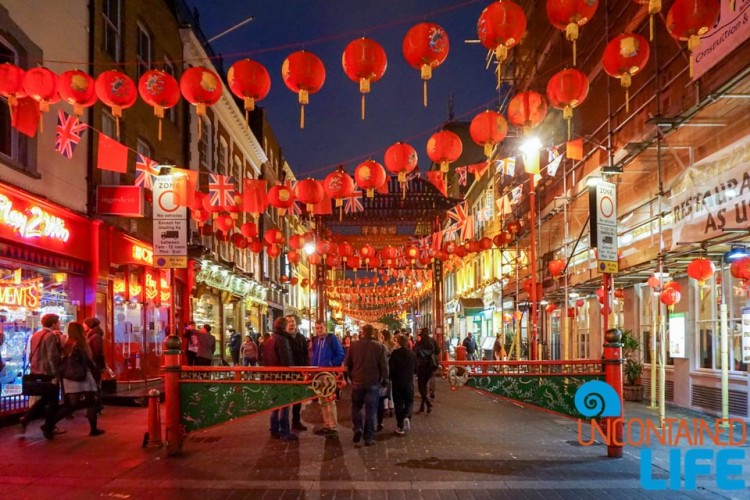 Sight 8: 10 Downing Street and Whitehall
Sight 8 Reads: Number Ten and The Constant Gardener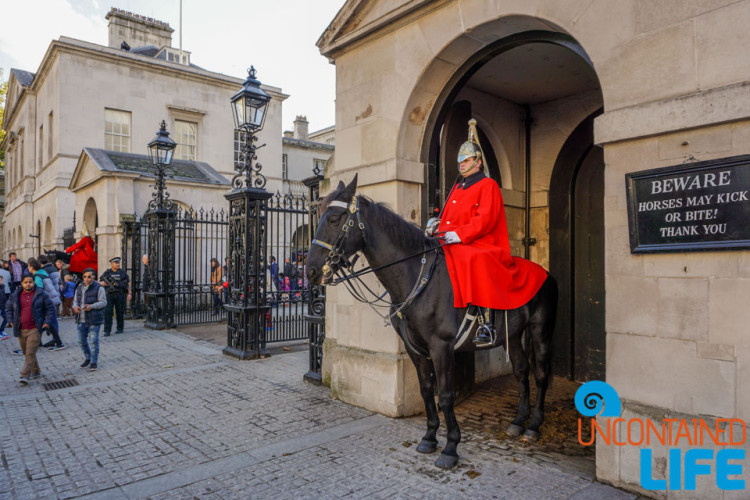 Located near the ever popular Horse Guards Parade (pictured above), and several government buildings, Number 10 Downing Street, I.E. the Prime Minister's residence, is not only a popular place for staging a protest (as we discovered when we went to visit), it's also a common reference in British popular culture, from Doctor Who to Love Actually.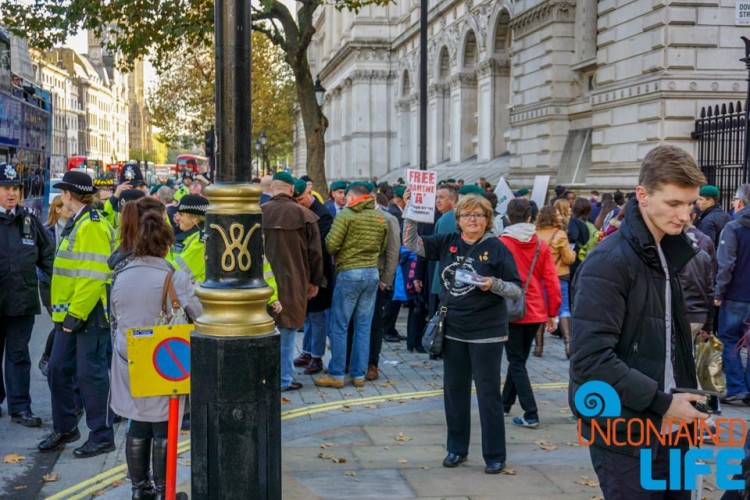 Book lovers too can take their pick of the novels which name drop Number 10, but a couple of examples, from completely opposite ends of the taste spectrum are Sue Townsend's Number Ten, and John le Carré's The Constant Gardener. Townsend is best known for her Adrian Mole books (the first two, in particular, are comedy gold), but Number Ten also brings big laughs with its story of out-of-touch Prime Minister Edward Clare who, together with number 10 guard, Jack Sprat, embarks upon a journey across England in an attempt to reconnect with "the people." There's cross dressing. There's a crack den. It's mad fun. As for Carré, corruption within the British government–including, but not limited to number 10–is always front and center, no more so then in The Constant Gardener (I could tell you more but…spoilers!)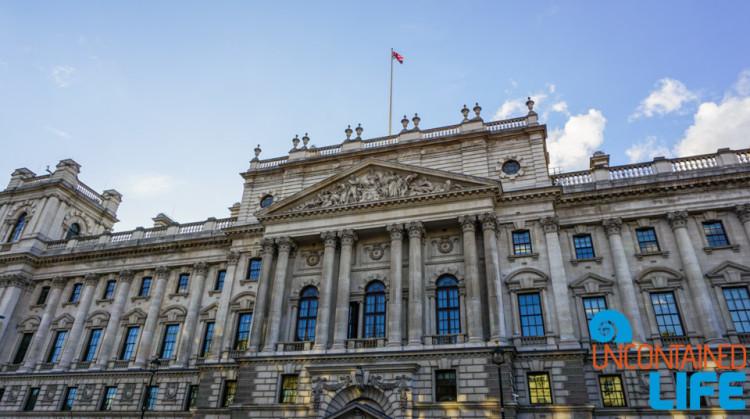 Sight 9: 

Palace of Westminster
Sight 9 Reads: V for Vendetta and Mrs. Dalloway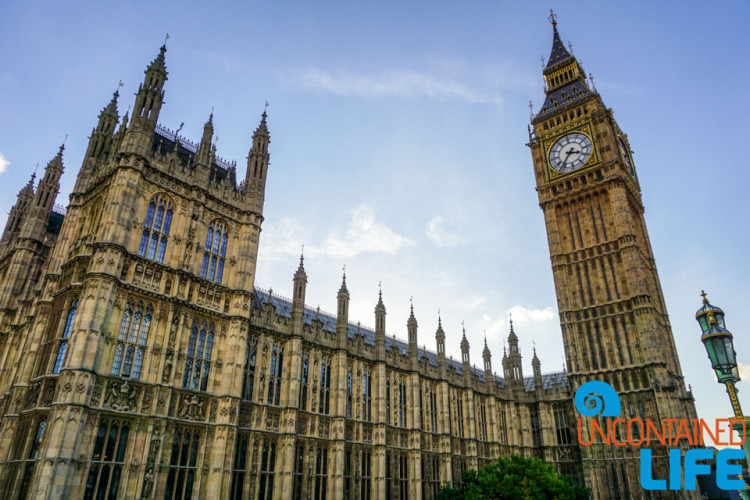 The Palace of Westminster is one of the most iconic structures in London. It's the meeting place of the House of Commons and the House of Lords and has, of course, been the site of many important historic incidents.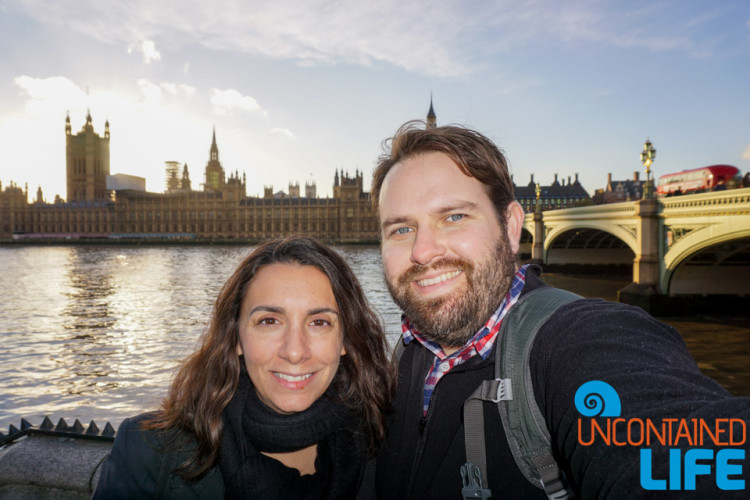 One such incident which has lodged itself quite solidly in Britain's collective consciousness is the failed Gunpowder Plot of 1605: Catholic conspirators planned to blow up the House of Lords, and thus, assassinate the Protestant King James I. The plot was discovered and foiled, but, to this day, the conspirator tasked with doing the detonating, Guy Fawkes, is burned in effigy throughout the country on or around November 5.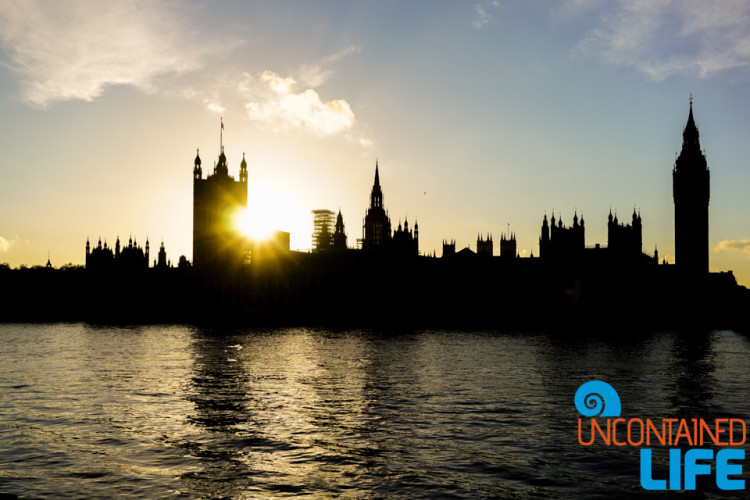 Which, of course, brings us to Moore's V for Vendetta. Set in a apocalyptic future, V is part modern day, take-it-to-the-next-level Count of Monte Cristo revenge story, part philosophical fiction (problematizing the rationalization of violence in pursuit of an ideal–whether it is societal safety or personal freedom). And, yes, at some point in the story, Westminster Palace gets blown to smithereens.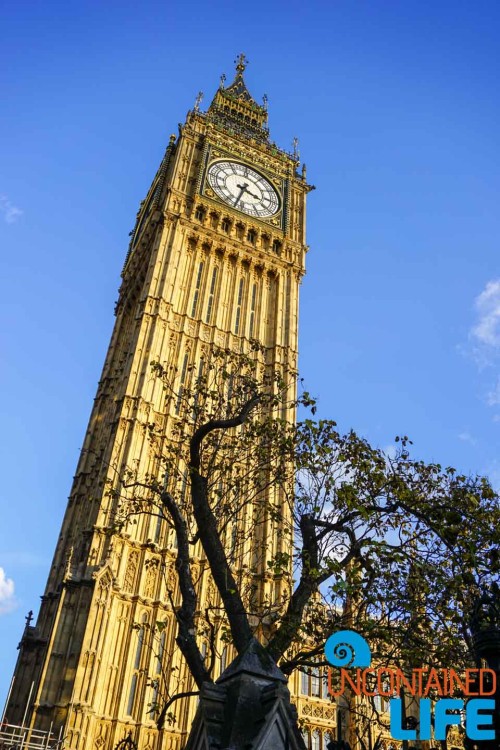 If you're in the mood for a different kind of think piece, Westminster Palace might also inspire you to pick up Mrs. Dalloway. Within Woolf's novel, Big Ben's regular chimes throughout the day remind the characters of the inevitable passage of time (and the inescapability of death), even as past, present and future intermingle freely within each character's mind.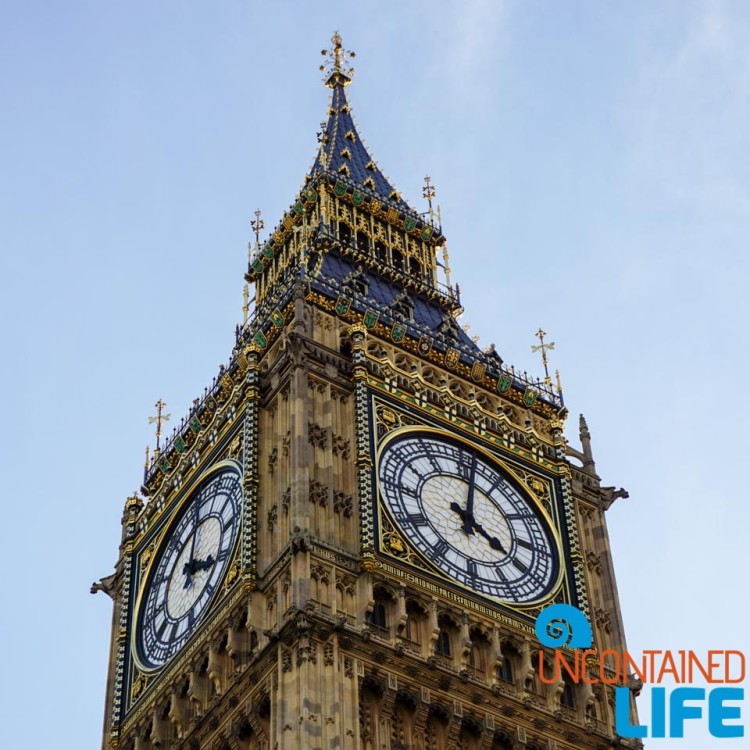 Sight 10: 

Westminster Abbey
Sight 10 Reads: The Faerie Queene, Paradise Lost, Marriage à la Mode, The Screwtape Letters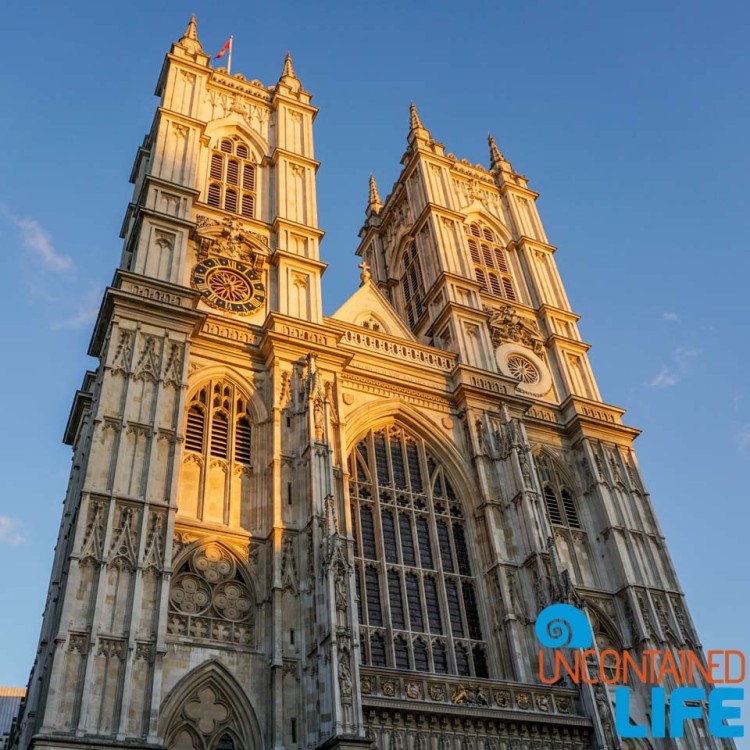 Westminster Abbey is always a delight (though we weren't able to go inside during this visit due to a royal event of some sort…cute guard spaniels though!), but the church's "Poet's Corner" containing memorials to William Shakespeare, Charles Dickens, Geoffrey Chaucer, Edmund Spenser, John Milton, John Dryden, and, most recently, C.S. Lewis, make it a perfect spot for book lovers.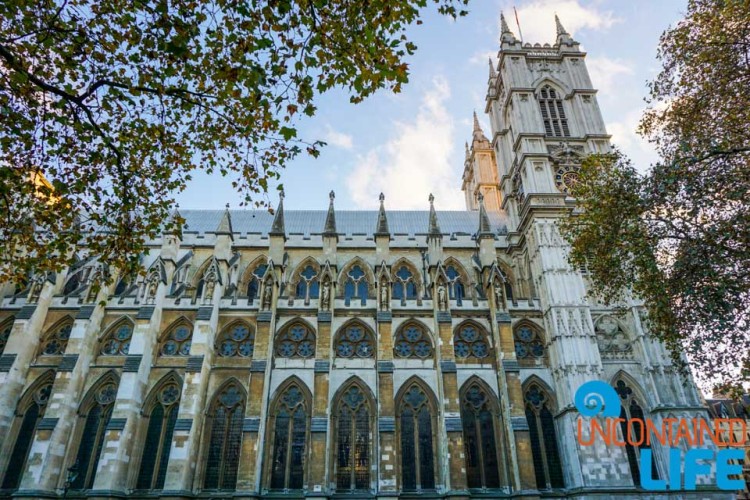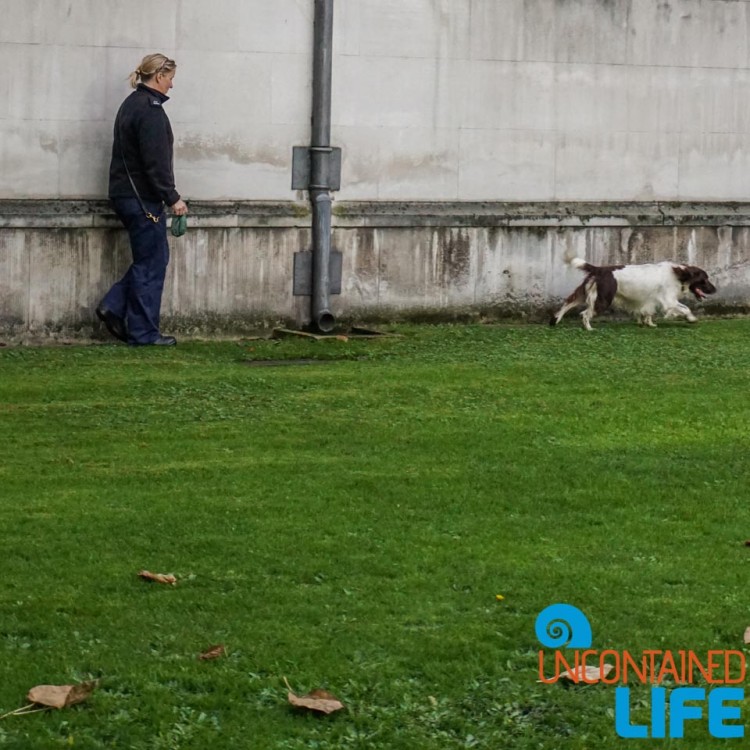 Lewis is, of course, best known for his Narnia series, but if you've never had the chance to read anything else from his repertoire, consider checking out The Screwtape Letters (you'll never have so much fun reading apologetics) or his space odyssey trilogy.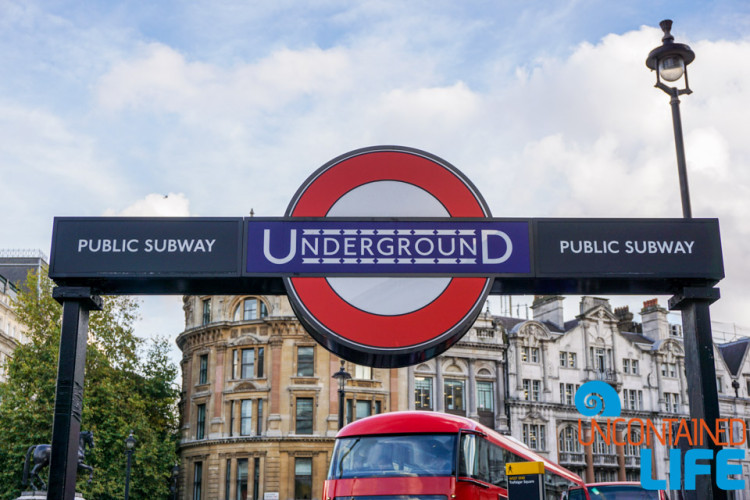 Looking for even more sights for book lovers in London? Stop at Shakespeare's Globe Theatre, sun yourself in Gordon and Russell Squares (where Virginia Wolfe and T.S. Elliot hung out), visit the Dickens Museum, peruse the Samuel Johnson House, or make a pilgrimage to the Keats House.
---
Traveler's Tips for London:
Money: The U.K. uses Pounds Sterling (1 USD = approx. 0.72 GBP). Most places will accept Visa and Mastercard credit cards.
Transportation: To use public transport in London at the best possible price, you'll probably want to purchase an Oyster card. While the so-called "Visitor Oyster Card" can be purchased in advance of your trip for £3 (non-refundable deposit), we recommend you just purchase a regular Oyster upon your arrival £5 (refundable deposit). Regular Oyster cards purchased in London allow you to load weekly Travelcards onto your Oyster, in addition to pay-as-you-go funds, which, if you are staying for 6 or more days, will save you more than Oyster alone. (Visitor Oyster Cards do not have this capability.)  
—Getting to London City Center
–From Heathrow Airport: There are three Tube stations at Heathrow, serving Terminals 1-3, Terminal 4 and Terminal 5. A single fare (using an Oyster card) from Heathrow (Zone 6) into Central London (Zone 1) costs is £5 peak, £3 off peak (journey time approx. 1 hour). For a much faster, but significantly more expensive option, the Heathrow Express will get you into Central London in a mere 15 minutes. On-the-day fares are £18 online, or £19 at the station (cheaper fares are available for online tickets bought months in advance). Promotional codes can also be found online. 
–From Gatwick Airport: Gatwick railway station is immediately adjacent to the South Terminal at Gatwick Airport. If leaving/arriving at the North Terminal take the free rail shuttle. Southern Railways/Thameslink trains from Gatwick to London run to London Victoria (with a number of stops made along the way)–a 30 minute journey: £14 at peak times and £8 at off-peak times. The Gatwick Express (which isn't in fact an express) will get you to Victoria five minutes faster than other trains, but it's more expensive: £19.80.
—Getting Around London: The Tube (I.E. the Underground) can take you almost everywhere you'll want to go in London. 
Accommodation: 
–Budget: Finding true budget accommodation in London is tough. If you really want to save, look into booking a place through Airbnb that's located just outside of the center. (Get $20 off your first Airbnb stay (costing $75+) by signing up here!) If you certain you want to stay right near the sights, however, choosing to stay at well-reviewed hostels like Safestay London Holland Park Hostel (dorm accommodation only) or PubLove @ The Exmouth Arms, Euston (which offers both dorm and private rooms). Check Agoda.com for savings of up to 40%, depending on when you're planning to visit London.
–Midrange: Experience true British hospitality at a fantastic price at Rue Saint Jacques Guest House. This B&B earns rave reviews from guests and is often booked up, so grab your room ASAP! 
All photographs were taken with the Sony A6000—a lightweight, mirrorless camera that captures great images even in low-light conditions.  You can find out more about the gear we carry when we travel HERE.
Are you on Pinterest? Pin this post!