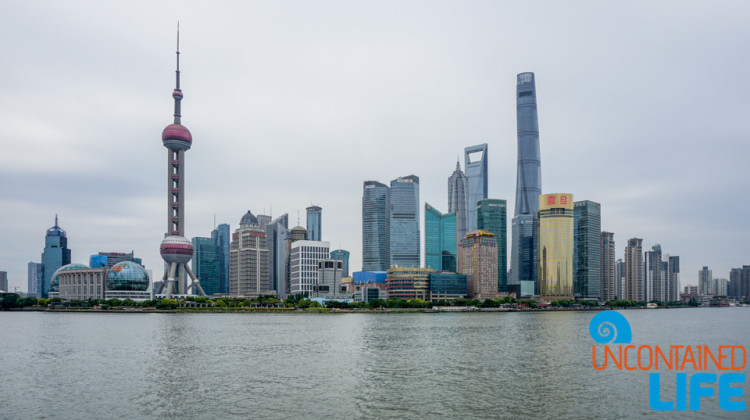 Shanghai, China is a vibrant, beautiful city—and we were going to see it all! At least, that was the plan…
Unfortunately, after a flight delay left us stranded in Hong Kong airport for almost 18 hours, we ended up spending our first day in Shanghai asleep in our hotel room. This meant, in the end, we only had just over 24 hours left to explore the city.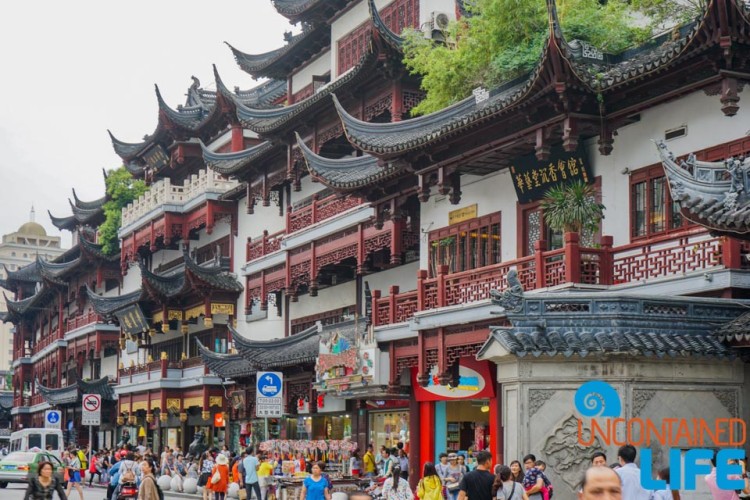 A single day is definitely not enough time to explore everything; but forget regrets–what could we do right here and now to make the most of our 24 hours in Shanghai?
Challenge accepted.
We did a lot of running around the city, but looking back, our walk through the Bund and Old Shanghai really gave us the best great crash course in Shanghai's East-meets-West vibe. So, if you, like us, ever find yourself with only 24 hours in Shanghai, here are 5 spots that you won't want to miss:
5 Fun Things To Do if You Have 24 Hours in Shanghai
1. Stroll Down Nanjing Road East (南京东路)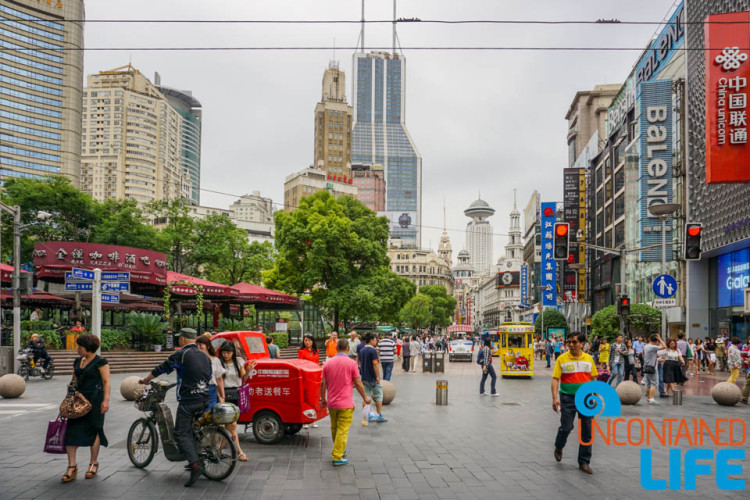 Take a stroll down Shanghai's main shopping thoroughfare! Nanjing Road East runs from People's Square to The Bund. It's home to Shanghai's oldest and largest department stores as well as many other places—old and new—where you can give your credit cards a workout.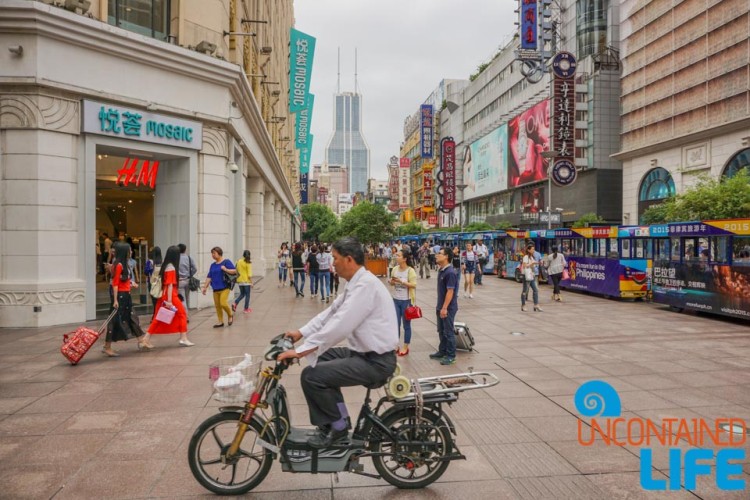 Even if you're not in a buying mood, Nanjing Road East offers plenty of window-shopping and people-watching fun.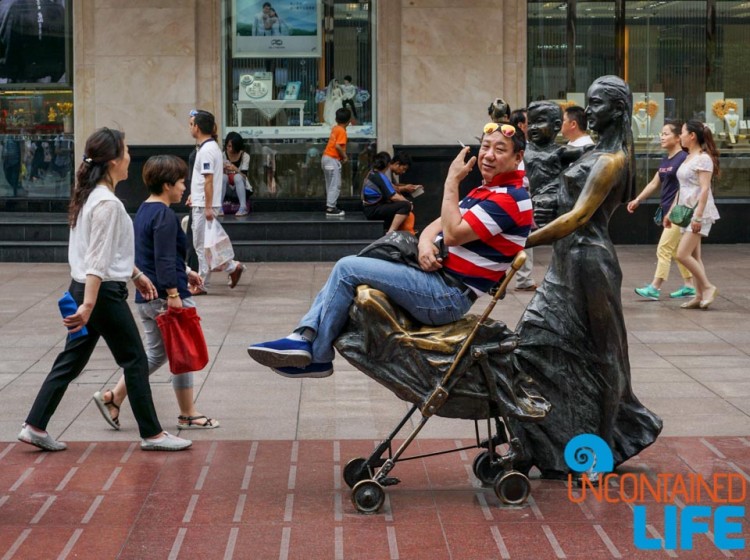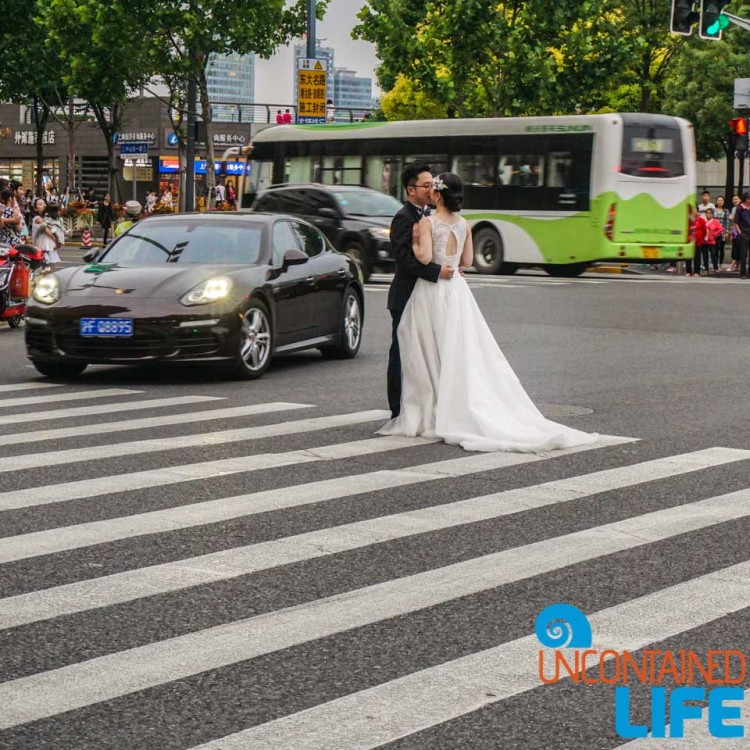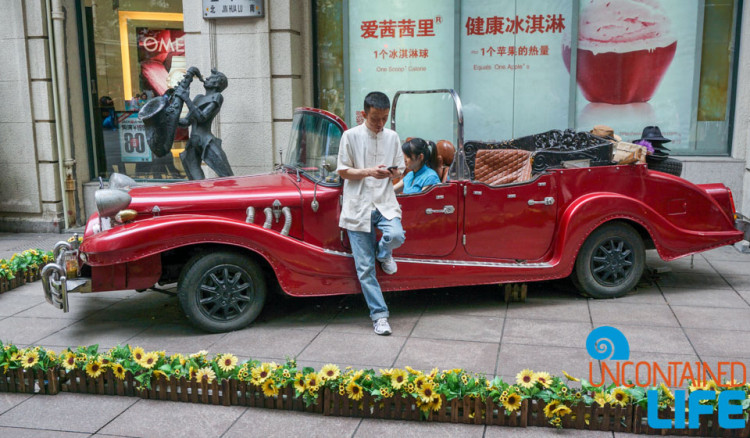 One of the more interesting places to browse is Cai Tong De Pharmacy 蔡同德堂(No. 450, East Nanjing Road): a four-story traditional, 100 years+ old Chinese pharmacy where you can stock up on all the necessities from ginseng and goji berry to tiger penis and flying squirrel feces. (Yummy.)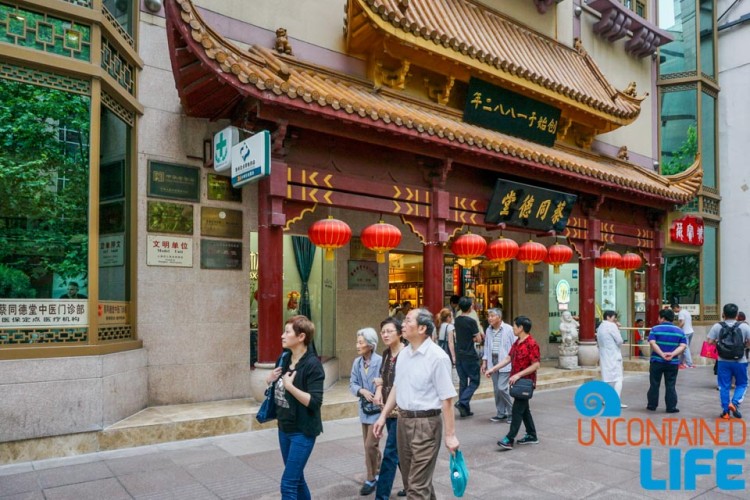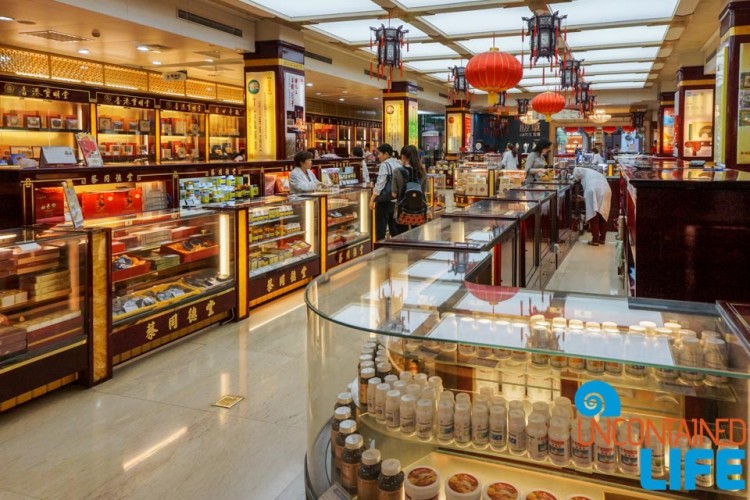 Another is Shao Wan Sheng 邵万生 (No. 630, East Nanjing Road) which sells an impressive array of southern Chinese sweets, dried foods, and pickled meats (and some pretty delicious soft serve too!)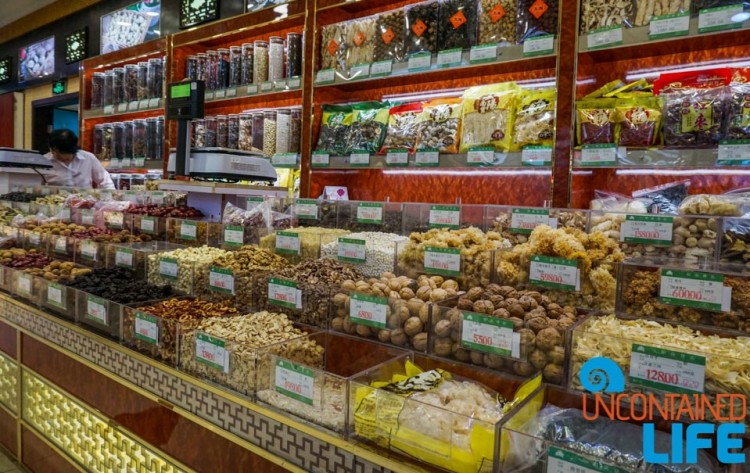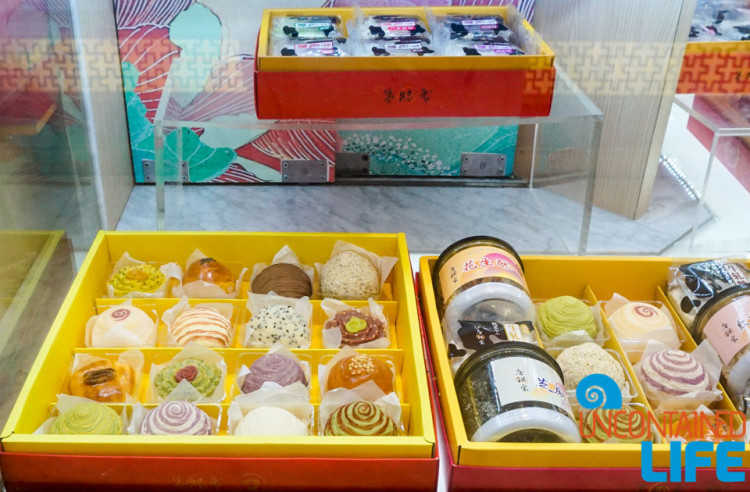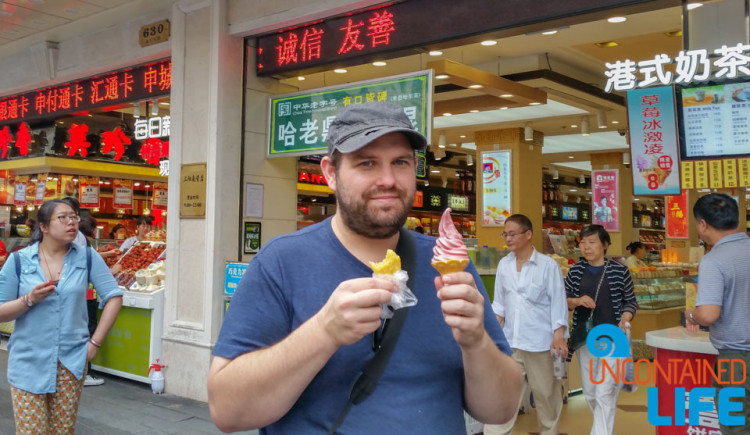 If you get hungry as you walk, there are a number of steamed bun stands on Nanjing Road…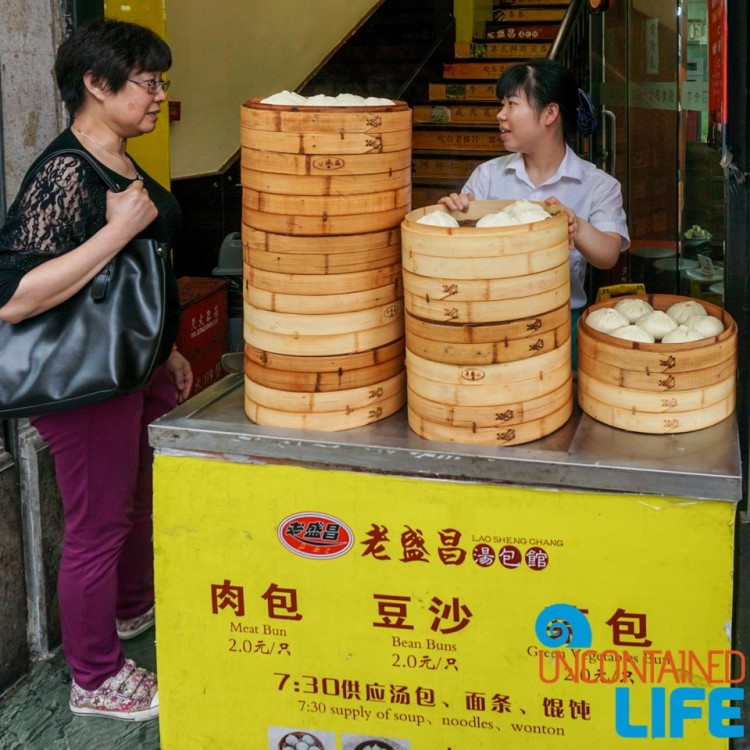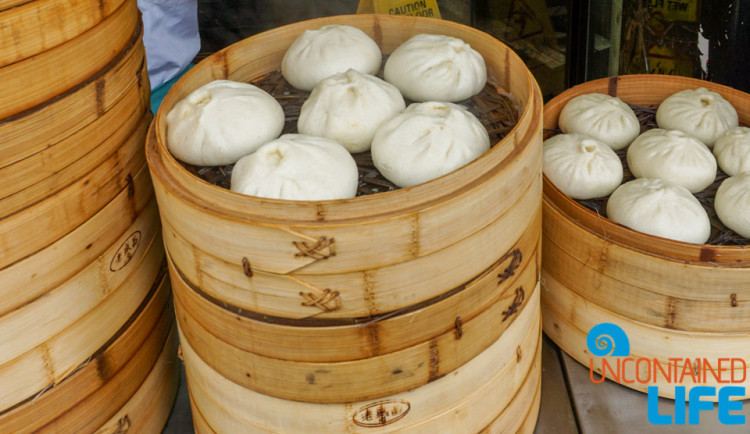 …but if you want to try a quintessential Shanghai snack, make a pit stop at the pork moon cake stand opposite Lao Feng Xiang Jewellers Store 老凤祥银楼 (432, East Nanjing Road). These flaky, savory bites are not only absolutely delicious, but also, very inexpensive!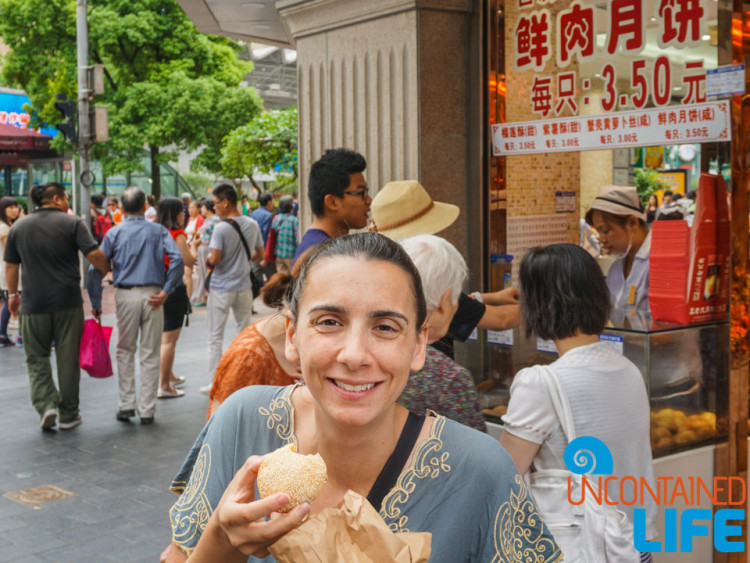 2. Enjoy the Bund Promenade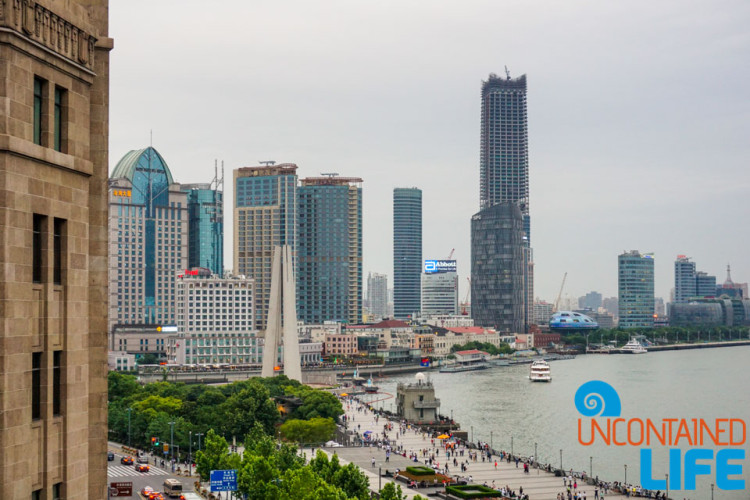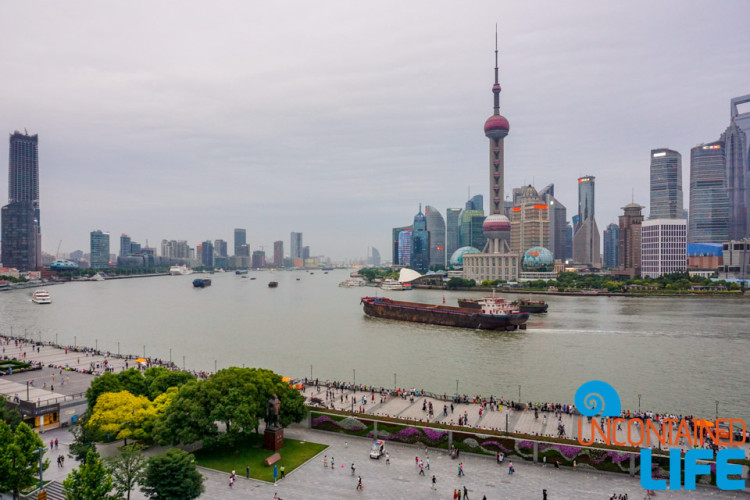 A walk along the waterfront is an opportunity to catch a glimpse of Shanghai's past–even as you admire its modern skyscrapers across the water.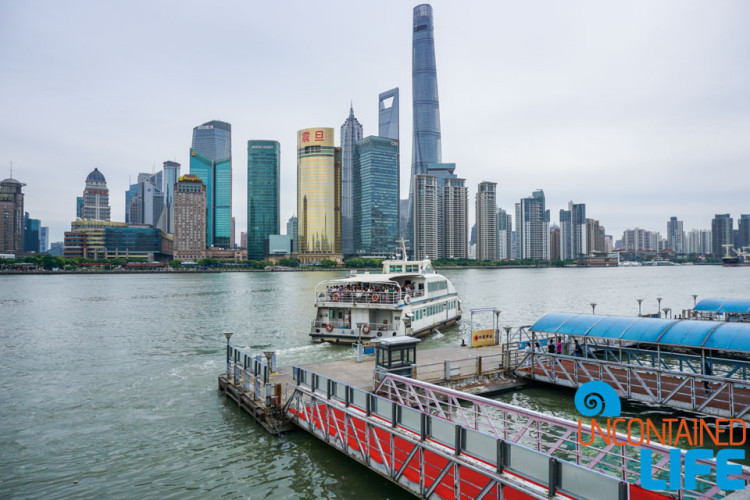 Many of the beautiful buildings along The Bund, including the famous Customs Building, once housed financial institutions from Britain, Europe, the United States, Russia and Japan.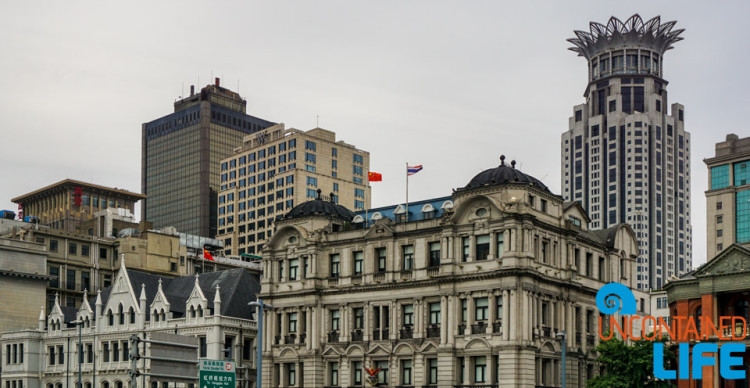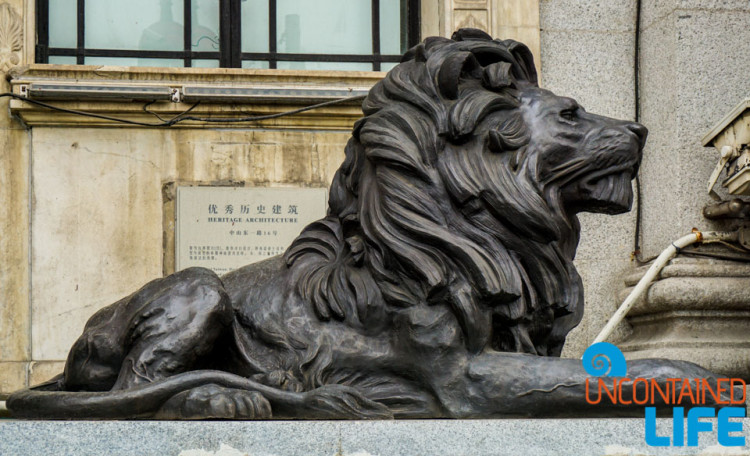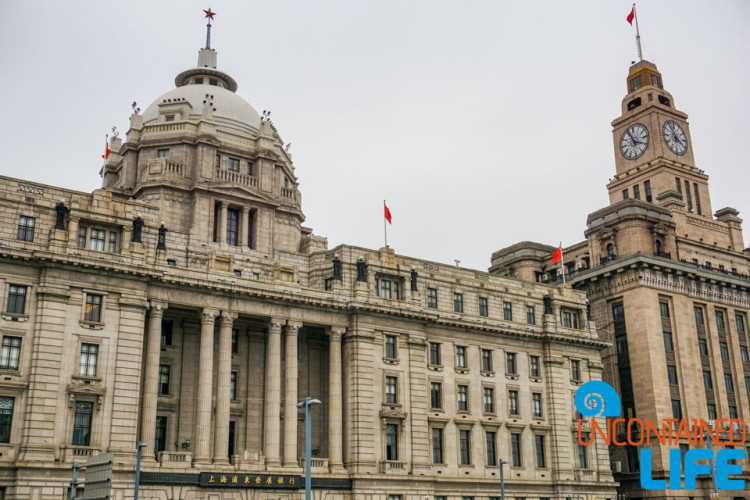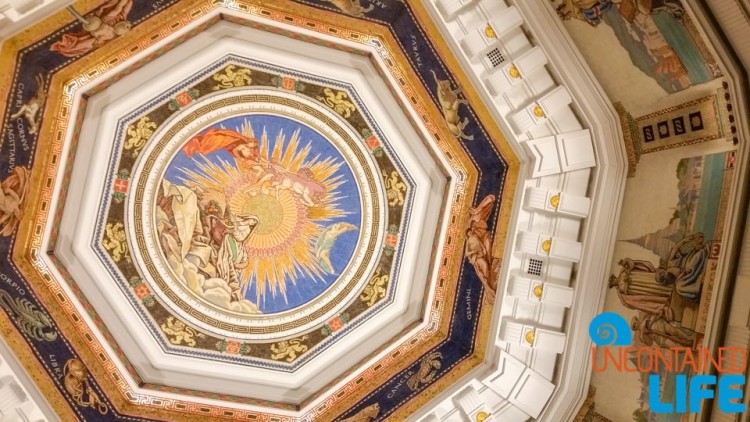 Many of the buildings aren't really open for tourists (you can sometimes peak your head in to catch a glimpse of the loveliness inside, but photography isn't encouraged). But, there is one spot which is very visitor friendly: the elegant Swatch Art Peace Hotel.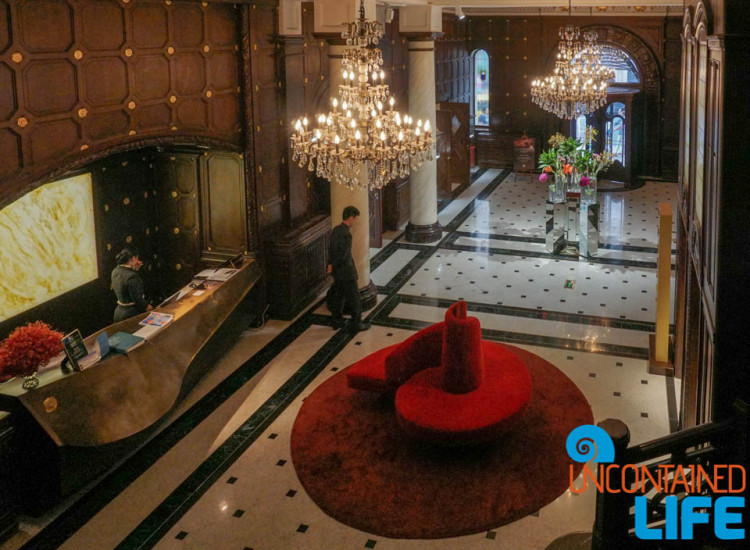 The hotel dates back to 1906, though it's interior is a mix of old world and modern touches.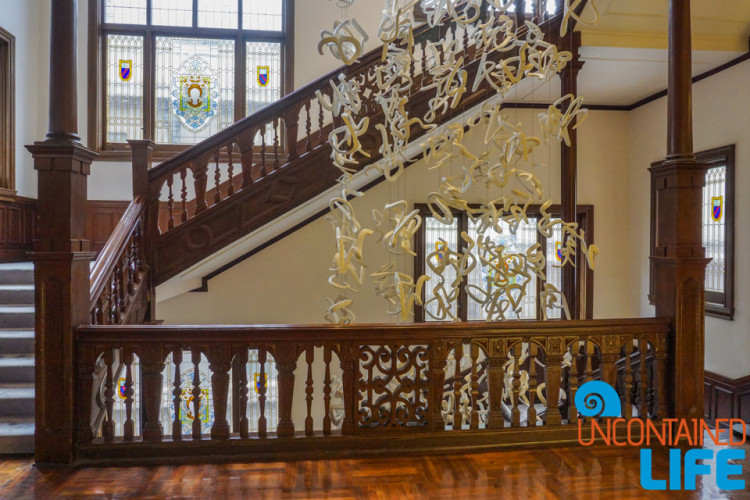 If you're looking for place to grab an evening cocktail, we highly recommend heading up to the hotel's rooftop terrace…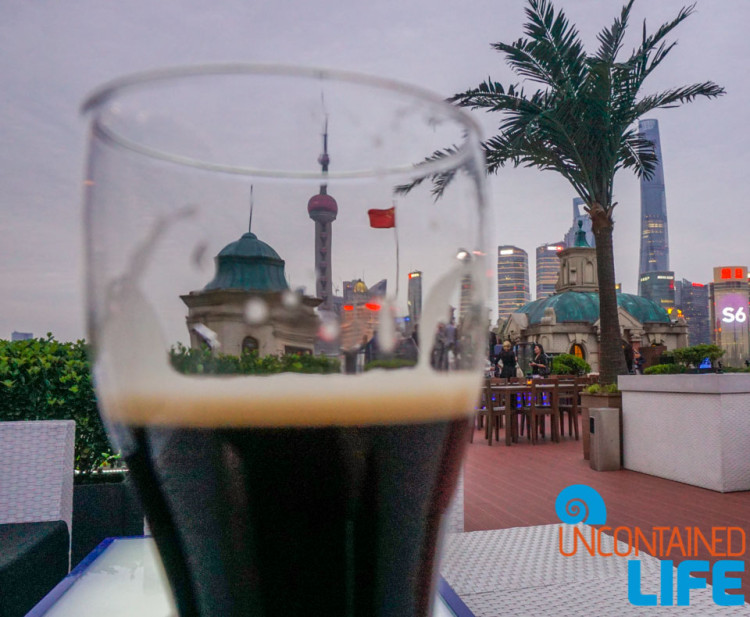 …the views are epic!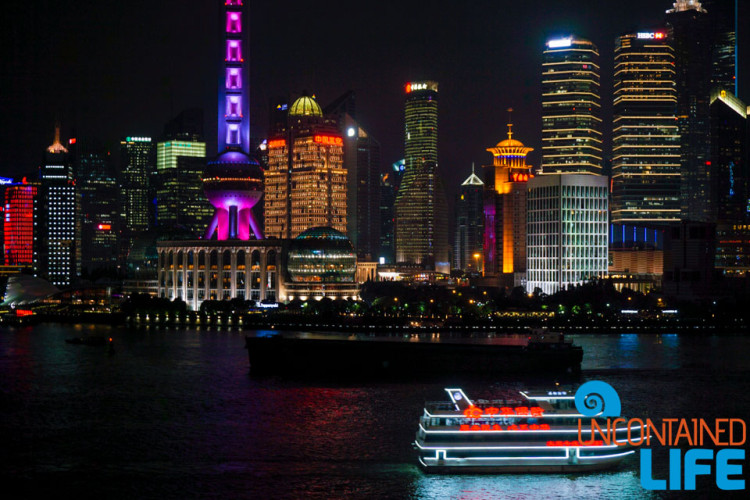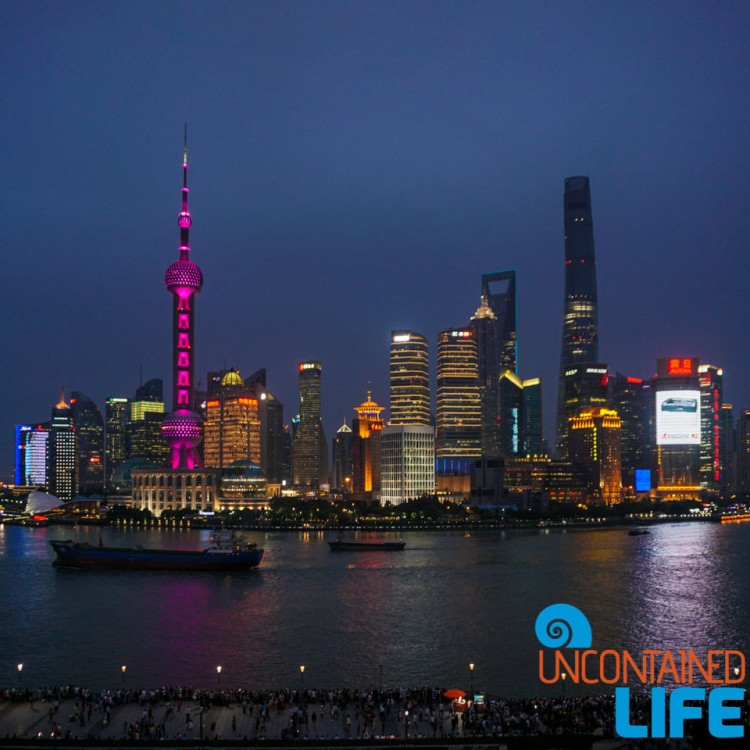 3. Strike a Pose with the Shanghai Bull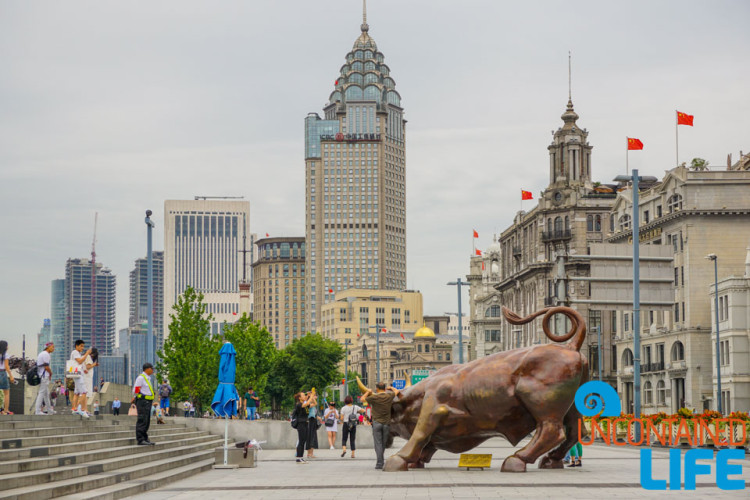 On the river side of The Bund, you'll find China's answer to Wall Street's bull statue (it was designed by the same artist, Arturo Di Modica). According to the Bruneli Times, the powers that be requested the Shanghai bull be "redder, younger and stronger" than its American counterpart.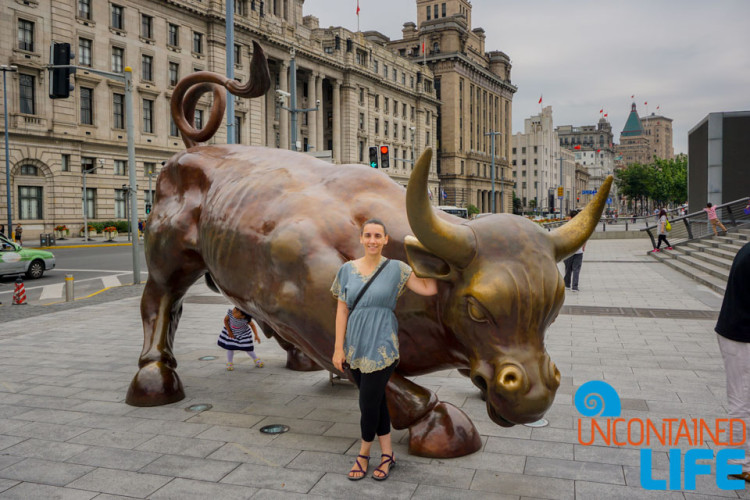 The statue is an extremely popular photo op for both Chinese and foreign visitors, but if you aren't feeling bullish, it's still worthwhile to pause and admire (or dance next to) the nearby flowering walls of the upper walkway.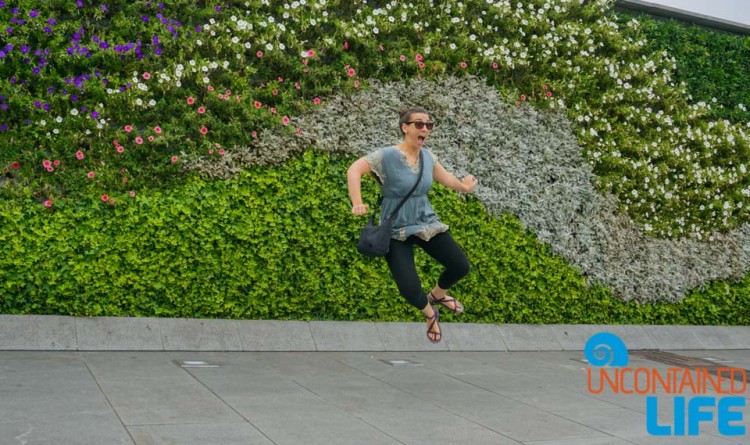 4. Explore Local on Fuyou Road (and Environs)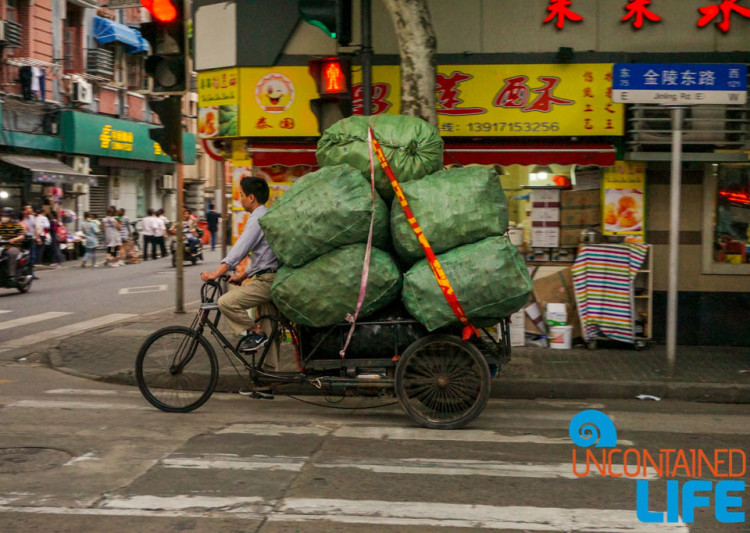 Located near to Gucheng Park (where we once scammed a couple of scammers), the section of Old Shanghai on and around Fuyou Road is chock-o-block with small shops, eateries, and local folks living very different sorts of lives than Shanghai's business suit set. Honestly, we could have spent our full 24 hours in Shanghai just poking around in the various nooks and crannies of this part of the city.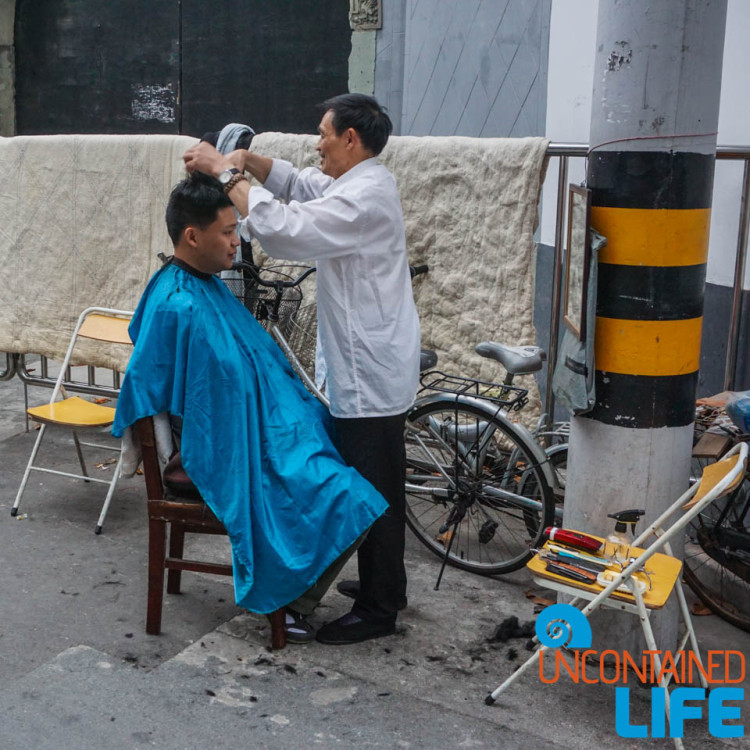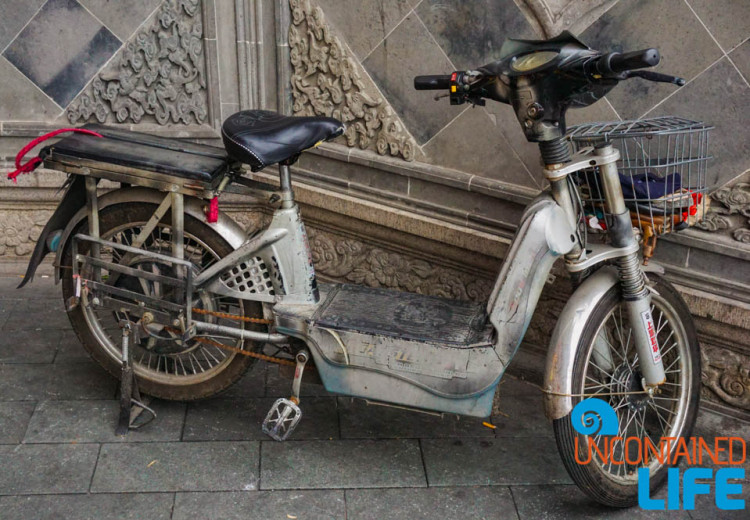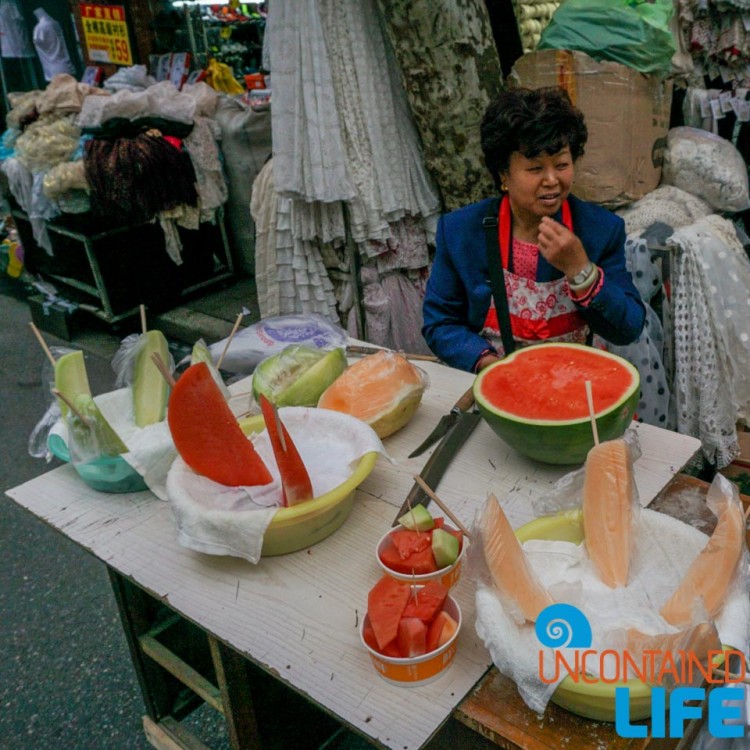 Don't expect much English from shop-keepers, but smiles are the universal language. If you see something you want to buy, you should definitely haggle (you can use a calculator to negotiate the price back and forth)—but remember to remain polite throughout the negotiation.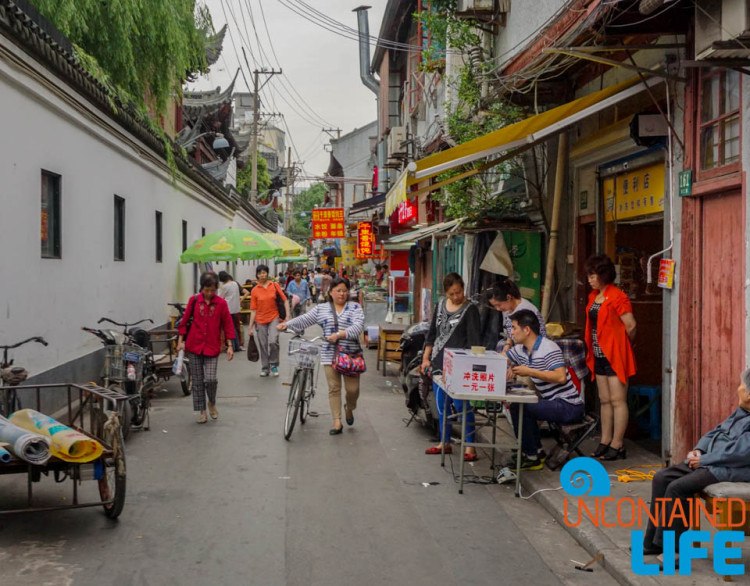 5. Join the Crowds at Yuyuan Bazaar and Garden & Huxinting Teahouse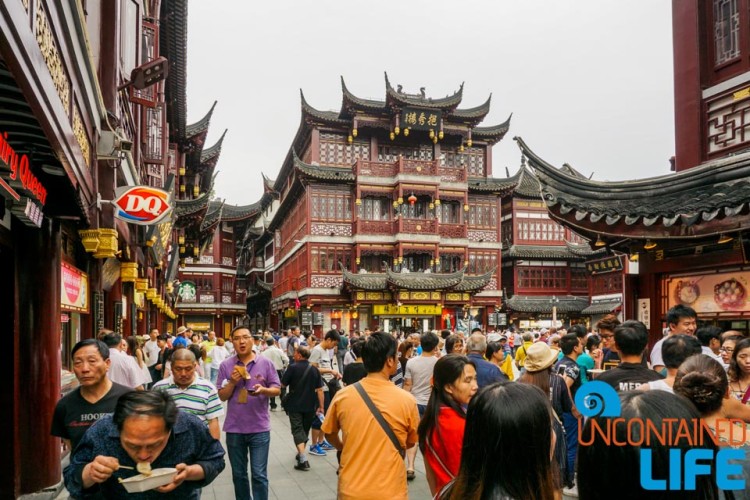 The Yuyuan Gardens, dating from 1577, still retain a sense of ancient China. Yuyuan Bazaar…not so much. Which doesn't mean it's not still worth a visit!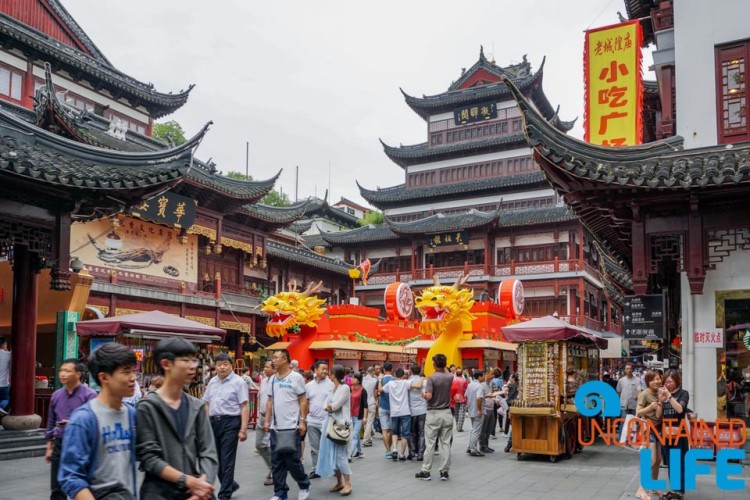 While the bazaar is crowded, chaotic, and touristic, it's also a great place to see classic (albeit not completely original*) Old Shanghai architecture and local artisans doing traditional craftwork.
*Some of the Ming and Qing Dynasty-styled buildings in and around the bazaar are originals that have been restored, but most are replicas.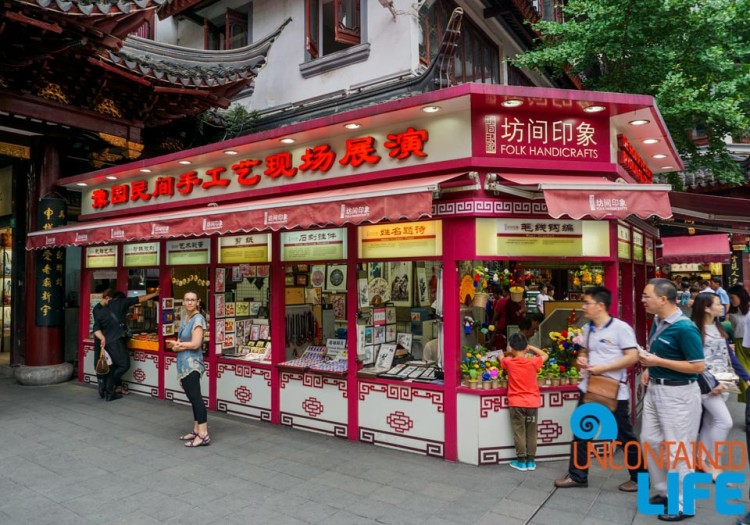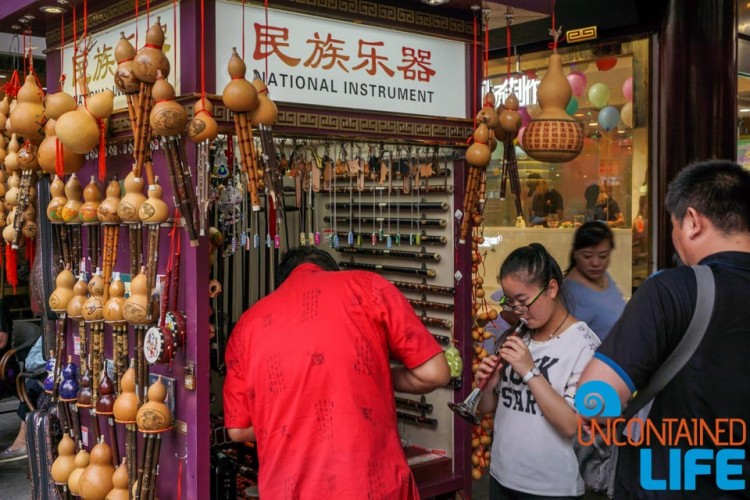 Here, you can also taste a variety of local foods—from crab soup dumplings (which I'm slurping up below) and steamed buns (look for the giant line in front of Nan Xiang Steamed Bun restaurant)…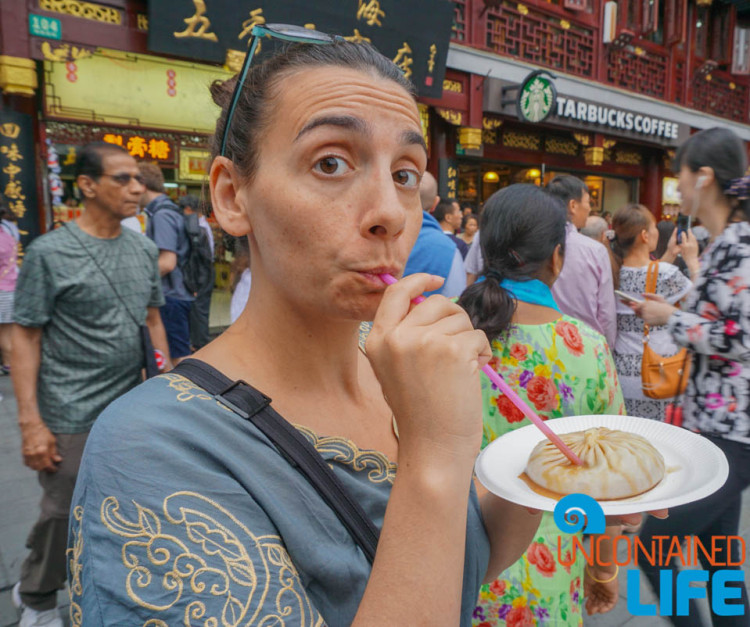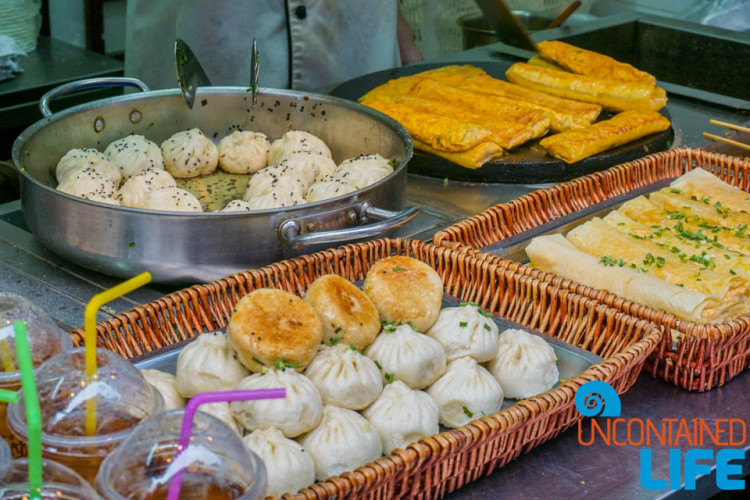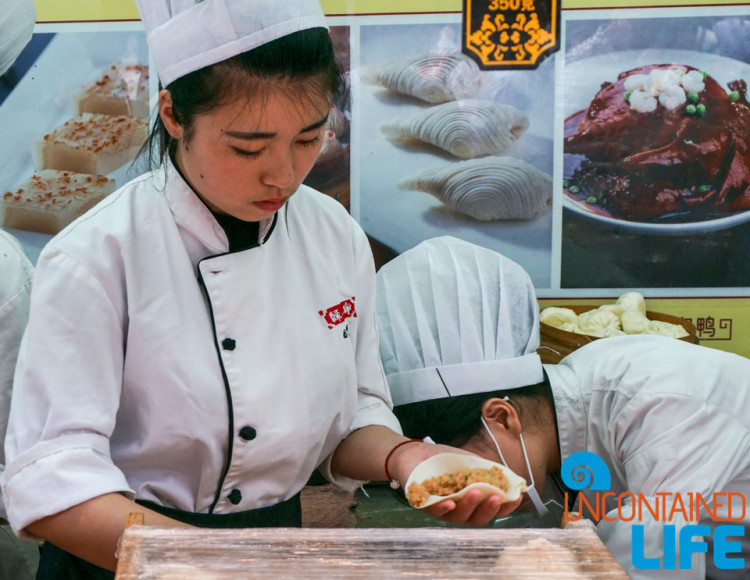 …to anything and everything you could think of skewering on a stick. Personally, we weren't huge fans of the fried fish balls…but to each their own!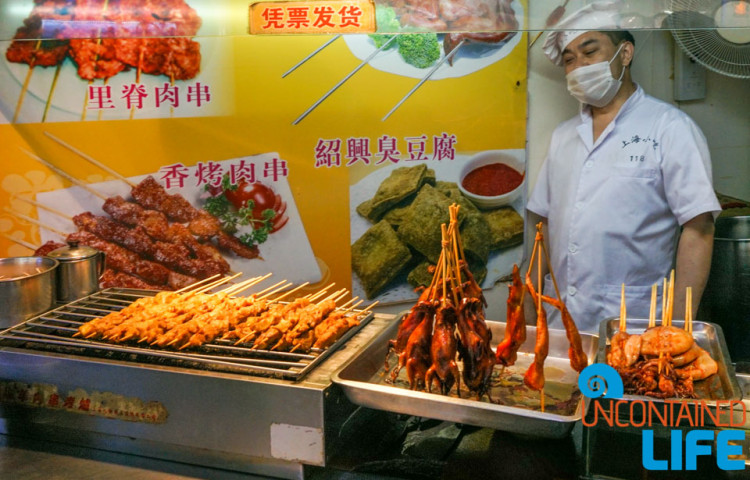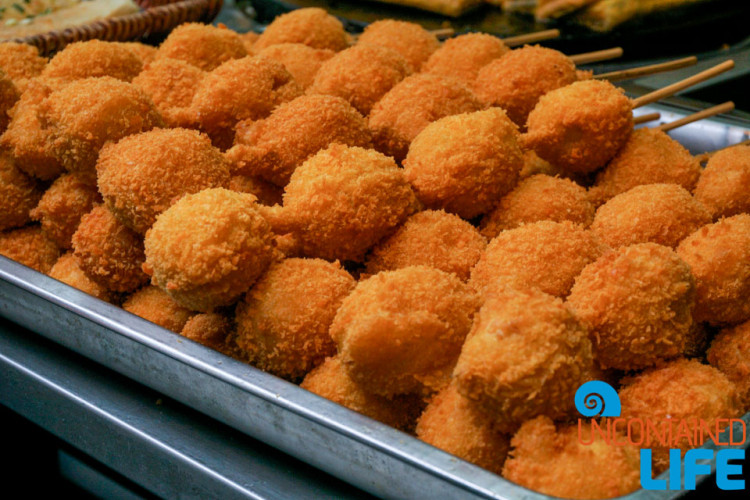 If you are looking for something a bit more elegant, the Huxinting Teahouse—the oldest remaining teahouse in Shanghai—is the spot to visit. (Even Queen Elizabeth II drank her first Chinese cuppa here!)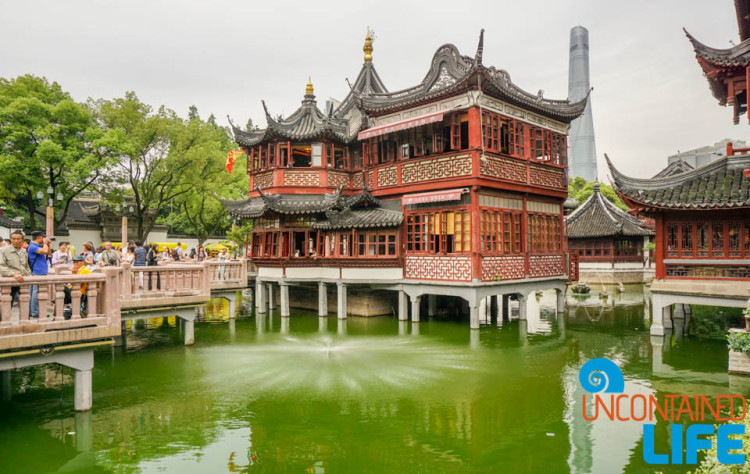 Standing in the exact center of the bazaar, this elegant, two-story teahouse—which was constructed during the Ming Dynasty (1368-1644) and became a teahouse in 1855—stands in the midst of a man-made lake. Visitors reach the teahouse by way of the zigging-and-zagging Nine Turnings Bridge.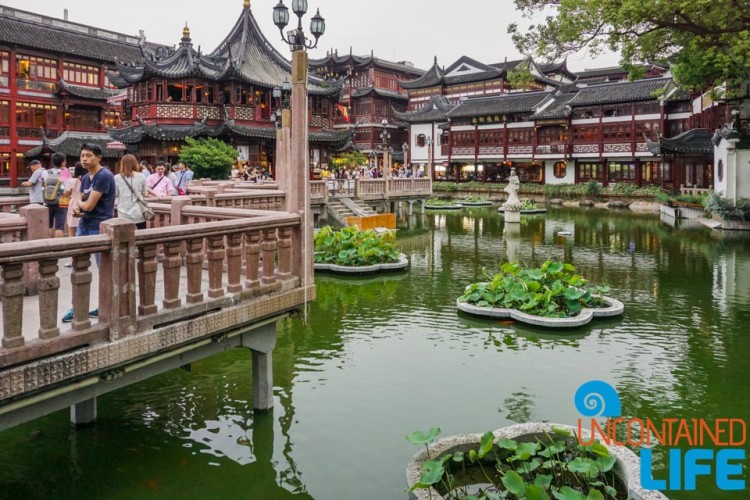 Prices at Huxinting aren't cheap, but the open-window ambiance is lovely, and the tea (which is top quality)* comes with traditional snacks.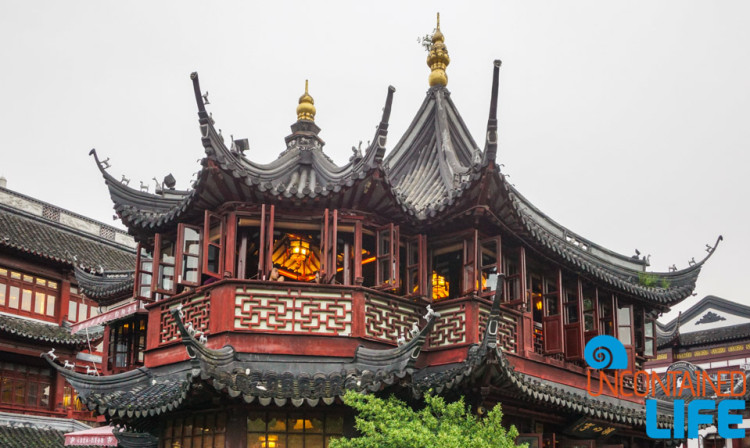 *There are a number of disreputable teahouses in Shanghai serving poor quality teas at inflated prices. Sometimes (though not always) these places are linked to the Shanghai Tea Scam which we talk about over here.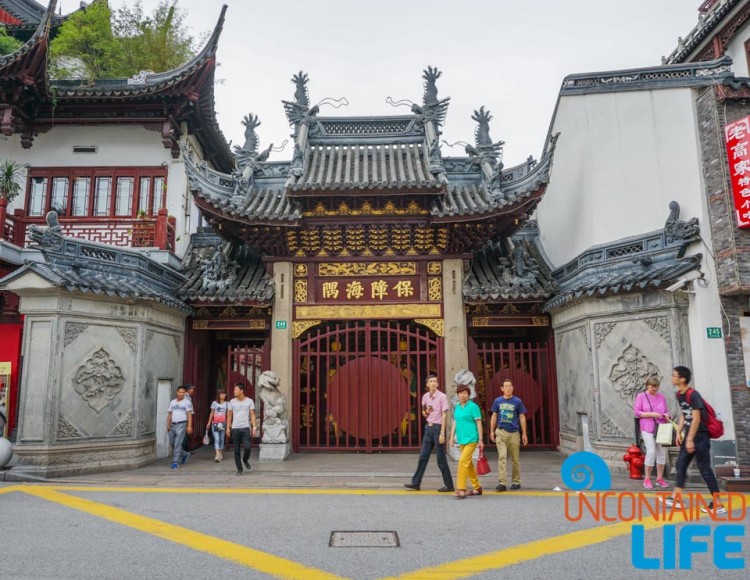 Have fun with your 24 hours in Shanghai, friends!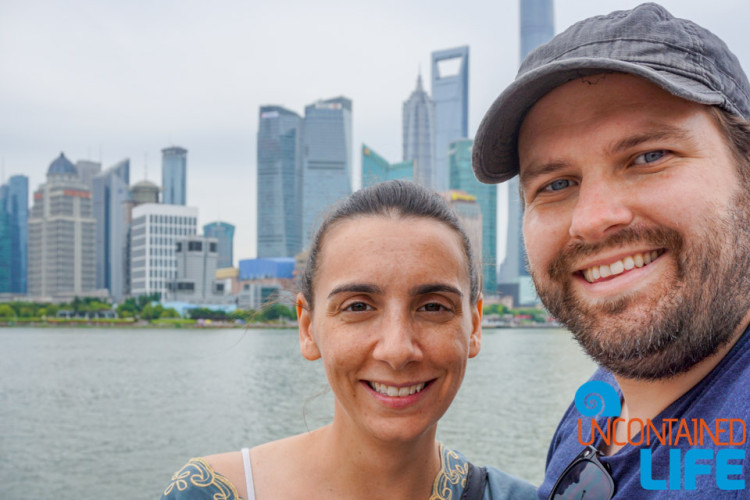 All photographs were taken with the Sony A6000—a lightweight, mirrorless camera that captures great images even in low-light conditions.  You can find out more about the gear we carry when we travel HERE.
---
Visitor Tips for Shanghai
Money: Shanghai uses the Yuan (1 USD = approx. 6.5 RMB). Most places will accept Visa and Mastercard credit cards. 
Transportation:
—Getting to Shanghai: Both of Shanghai's airports provide easy public transport into the city. Many of the bigger hotels also have a shuttle bus system. Pudong Airport has an inexpensive Airport Express Bus (which runs a number of routes) into downtown–one of the route connects the Pudong Airport and Hongqiao Airport. If you take a taxi (either from the airport, or once you have arrived downtown) make sure the meter is activated, and make sure you receive your official receipt before exiting the vehicle. Taxis from the airport should be picked up downstairs at the official queue–don't go with any of the hucksters who will try to pick you up in arrivals! 
—Getting Around Shanghai: Shanghai has a very well-developed public transport system. Individual tickets are available, but if you're staying longer than a day or two, you'll probably want to get a public transportation card to save time and hassle. To get a public transportation card (jiao tong card) which can be used to pay for everything from buses and subways to taxis and ferries, go to the service booth at any metro station. There is a refundable deposit of 20 yuan for the card (read more details about the card here). If you plan to use the card in a taxi, let the driver know before you arrive at your destination. 
Accommodation:
—Budget: Phoenix Hostel (private and dorm rooms available): this strategically located accommodation woos budget travelers with its excellent (English-speaking) staff, clean rooms and free wifi. For big discounts, check your travel dates on Agoda.com!
—Midrange: Astor House Hotel: fancy a stay in one of the most historic buildings, in one of the top locations in the city? The historic Astor House Hotel offers unique, old world atmosphere at very reasonable prices. Save 30% or more when you book with Agoda.com!
—Luxury: Hotel Indigo Shanghai On The Bund: for beautiful rooms, killer river views, and top-notch service look no further than this boutique gem. Save 40% or more when you book with Agoda.com!
Are you on Pinterest? Pin this post!