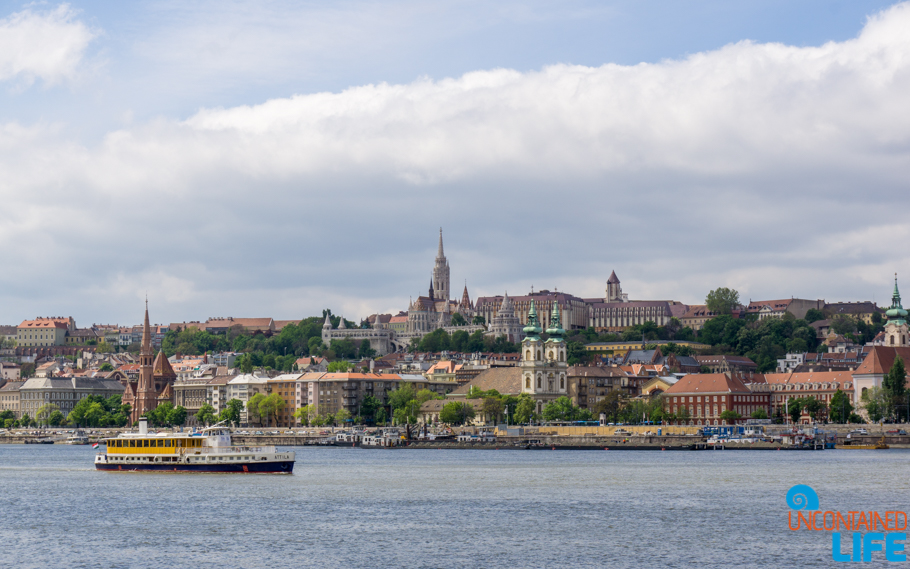 I have kind of mixed feelings about city tours. On the one hand, my Herminone-esque information-loving side loves hearing all about the history of a destination. On the other hand, many city tours end up being kind of a let-down. But there are always exceptions to this rule. And those exceptions, more often than not, happen with bikes. Unlike bus tours which can feel too quick and impersonal, and walking tours which can suffer from size and coverage issues, bike tours have, repeatedly, offered us the best possible means of getting a great overview of a city's top sights.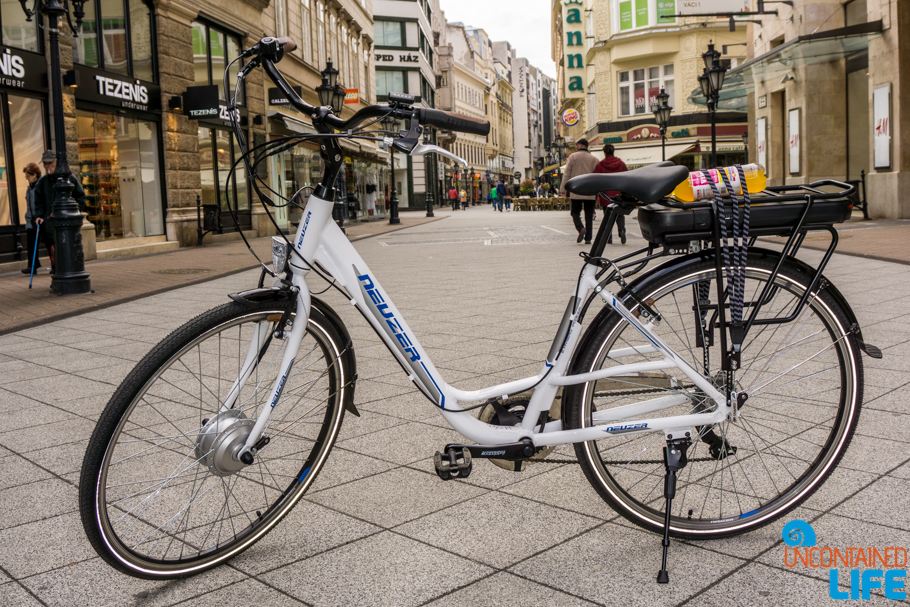 And, as we learned when we visited Seville last January, the experience of pedaling around town is only enhanced further when the bikes in question are e-bikes. All the fun of the wind in my hair without the gasping-for-air which inevitably occurs when I'm facing prolonged uphill riding…yes, please! Which is why Justin and I were so happy to find Best Bike Tours Budapest's e-bike tour of Budapest during our recent trip to Hungary's capital city.
Looking for a place to stay in Budapest? Uncontained Life recommends renting with Airbnb! Click here for $40 off your first booking.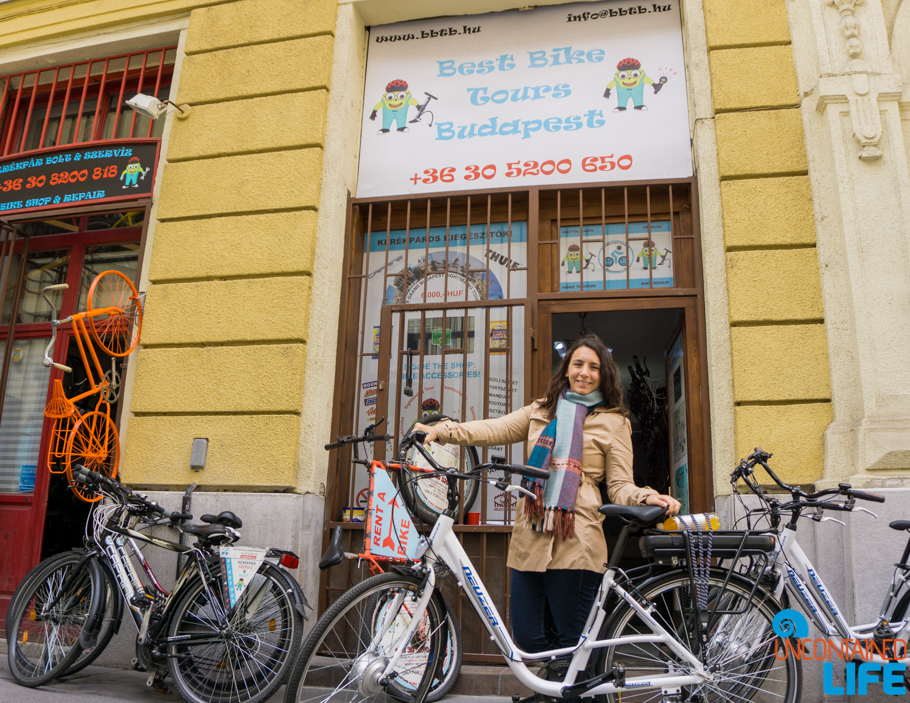 Best Bike Tours Budapest's E-Bike Tour of Budapest
While there are a number of bike tours companies in Budapest, few offer an e-bike tour of Budapest, and even fewer can boast the kinds of universally positive reviews Best Bike Tours Budapest enjoys. So, we were pretty excited to get to meet up with both of the company's founders, Andy and Steven, on a bright, but chilly Saturday morning. Andy and Steven both have a background in the hotel industry, but, around ten years ago, the pair decided to pair their people skills with their love of bikes by launching Best Bike Tours Budapest.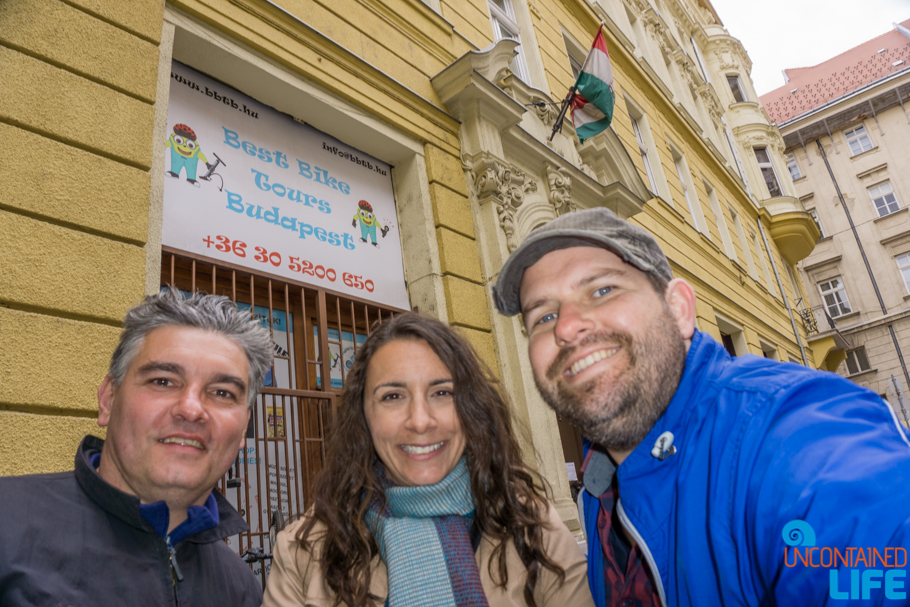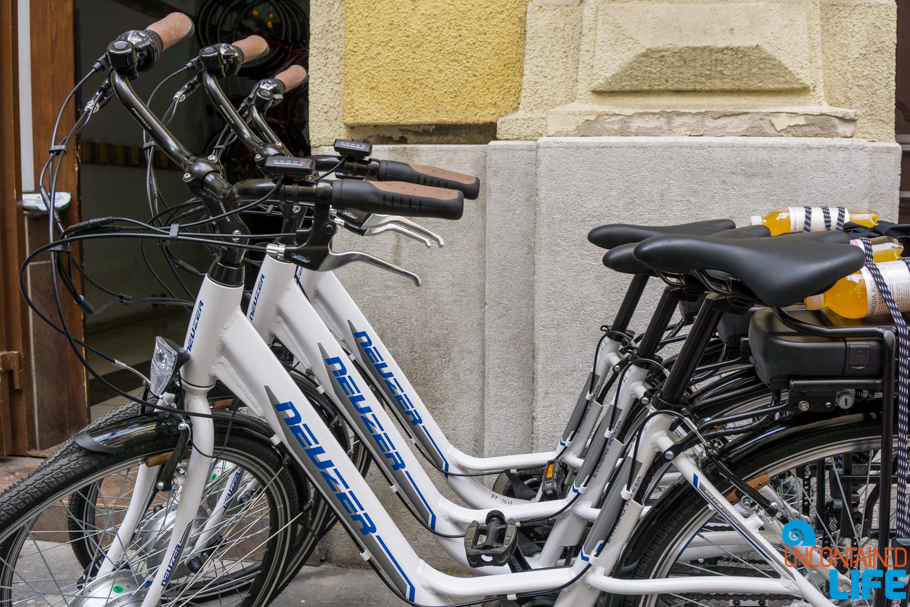 Best Bike Tours Budapest's main office is located right in the heart of the city's Old Town, but they deliver bikes all over the city — both to other tour companies and guides, and to individuals who want to rent. Their standard bike tour (both regular and e-bikes) covers almost all of the city's main sights, and private tours can be adapted to guest's specific interests. Given Budapest's size, and the comprehensive nature of Best Bike Tours Budapest's tour, it would be impossible for us to share all the awesomeness with you in just one post. And so, here are our five favorite moments from our Best Bike Tours Budapest e-bike tour of Budapest:
Favorite Moment #1: Admiring St. Stephen's Basilica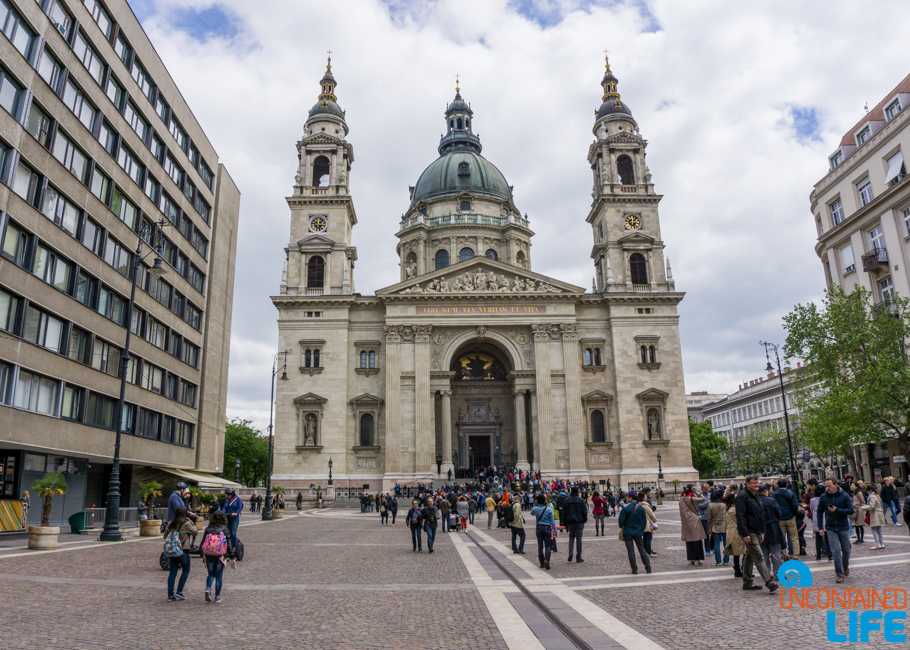 We see a lot of churches during our travels, but we were still quite impressed when we rolled up in front of Budapest's St. Stephen's Basilica. Named for Hungary's first monarch (and home to said King's mummified right hand!), St. Stephen's Basilica is a giant of a church — the largest in all of Budapest.
The church was begun in the neo-classical style in 1951 and finished in the neo-renaissance style more than 50 years later. Why did it take so long to build? Well, it certainly had something to do with the fact that the first dome collapsed, and had to be entirely redesigned and rebuilt. The church also suffered the loss of not one, but two of its architects: the original designer, Jozsef Hild, passed away in 1867, and his replacement, Miklós Ybl, (also known for designing the Budapest Opera House) died in 1891.
Favorite Moment #2: Bridging Buda and Pest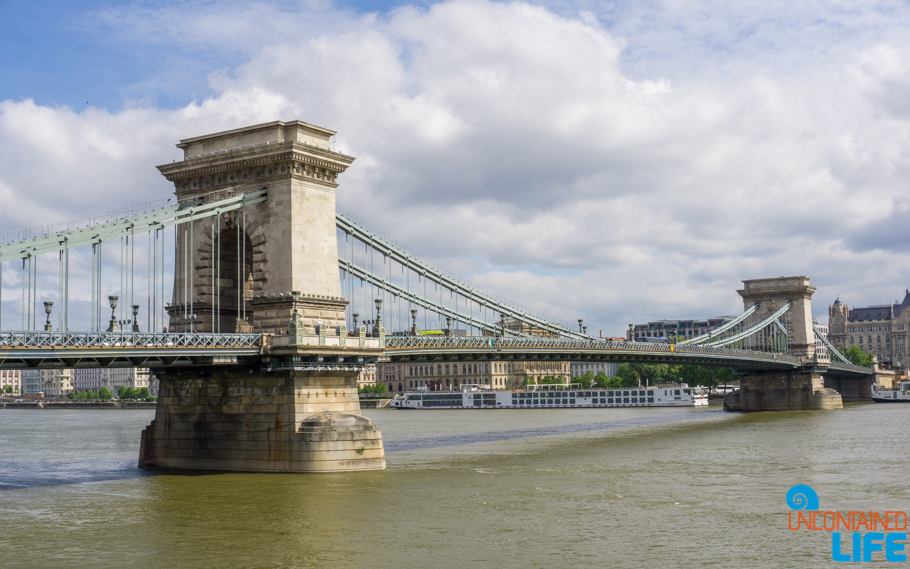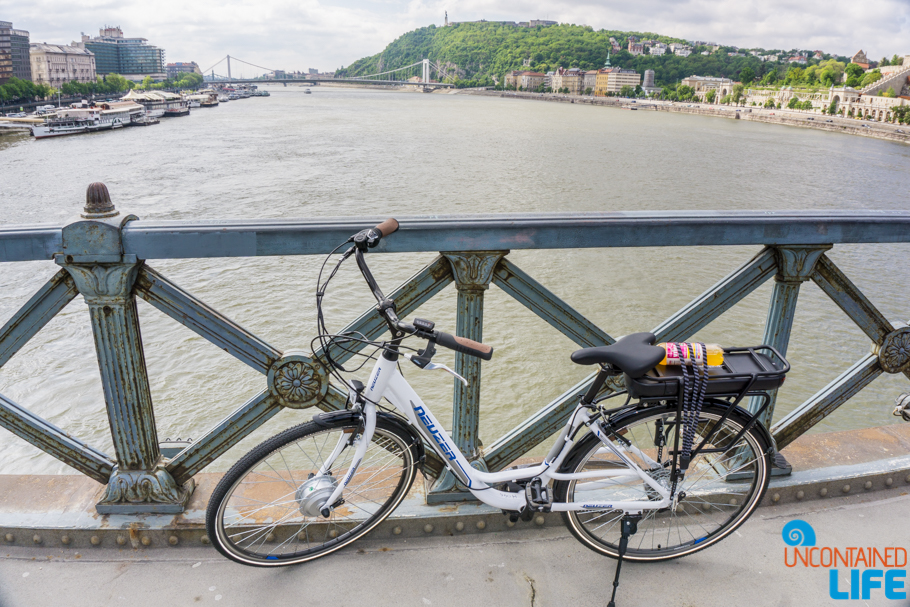 While today, Hungary's capital goes by the single name, Budapest, the city's two parts, Buda and Pest, weren't officially unified until 1873. Our e-bike tour of Budapest with Best Bike Tours Budapest gave us a fantastic overview of both the Buda and Pest sides of the river, but one of our favorite experiences was actually being out in no-man's-land: crossing from Pest to Buda on the beautiful Chain Bridge, opened in 1849, and then back to Pest on the cheerfully yellow Margaret Bridge, opened in 1876 (which also gives access to the lovely green area of Margaret Island).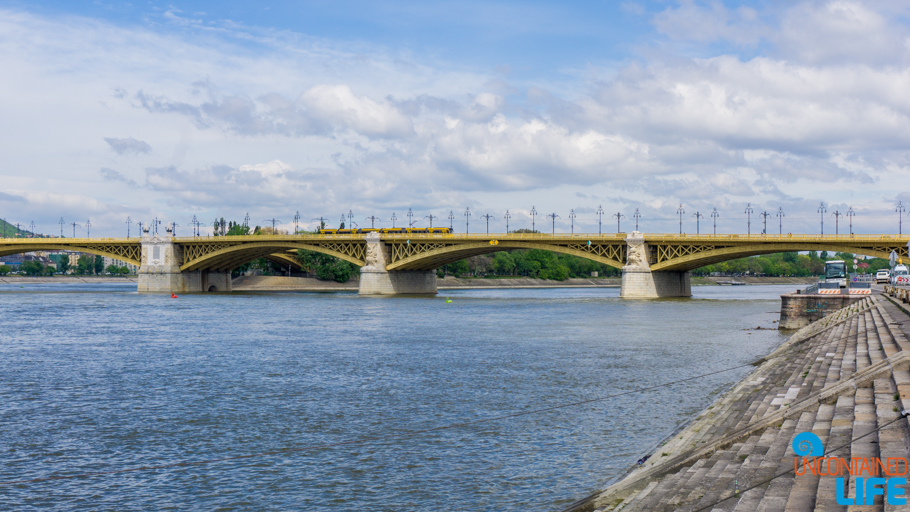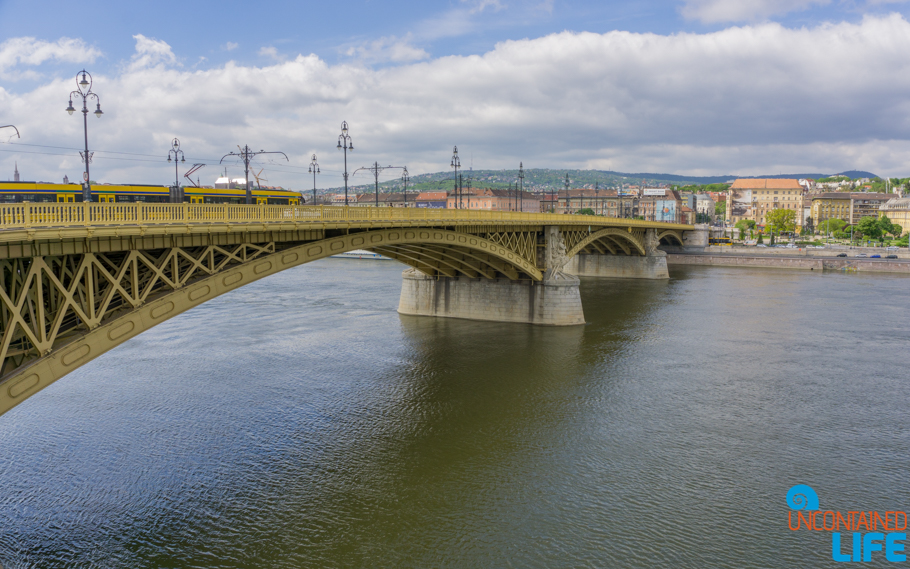 Steven, told us that both bridges were destroyed during WWII, but they were rebuilt in their original design. In addition to providing this history of the bridges, Steven also gave us an interesting overview of how Hungary changed following WWII: how the country welcomed Russia's help in rebuilding their shattered nation and embraced the communist movement, and what life in Budapest was like before democratization occurred in 1988.
Favorite Moment #3: Getting This View (Without Breaking a Sweat)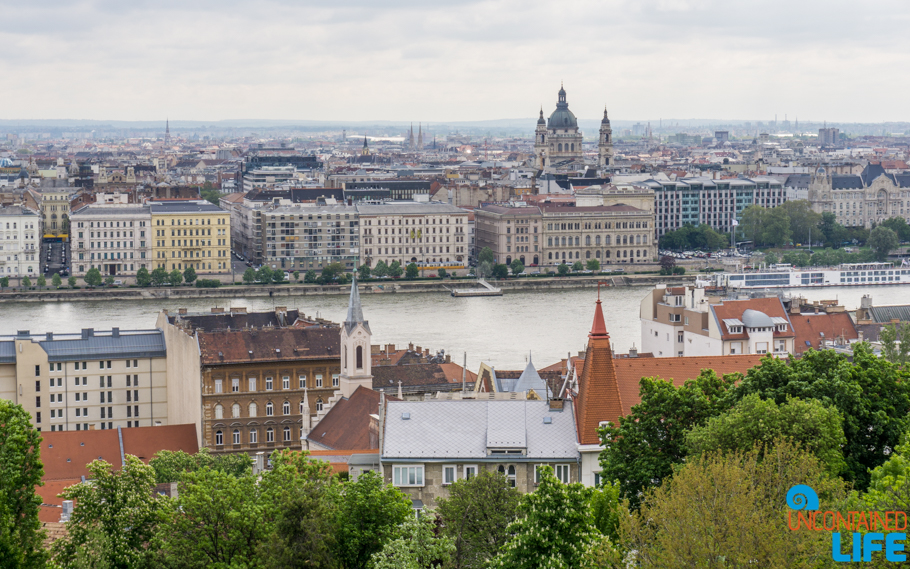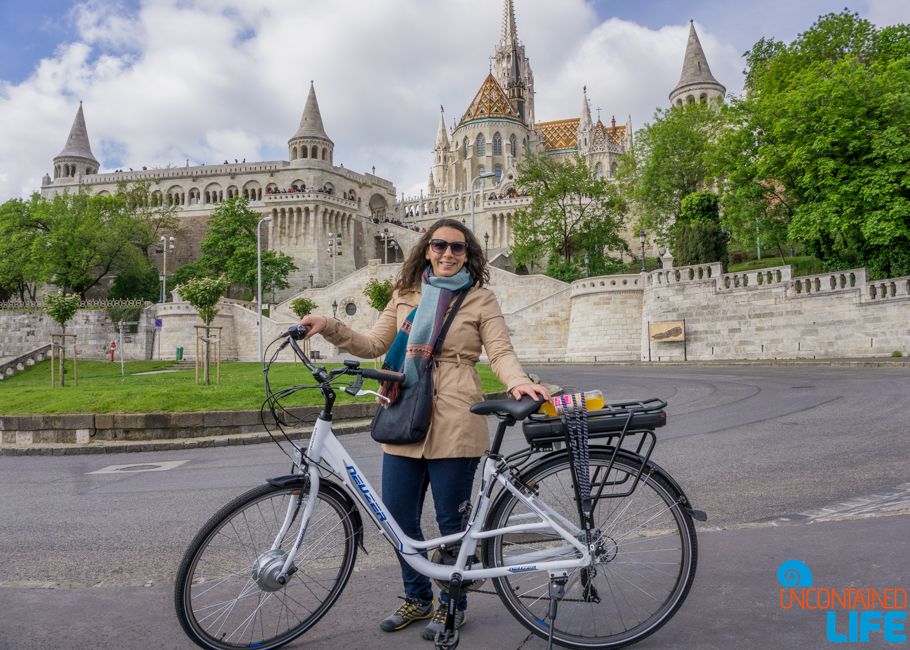 As I mentioned earlier, one of the more fantastic elements of an e-bike tour of Budapest is the fact that you can ride up the steepest of hills without breaking a sweat. And thank goodness for that! Because while Pest is as flat as it comes, the Buda side of Budapest is anything but.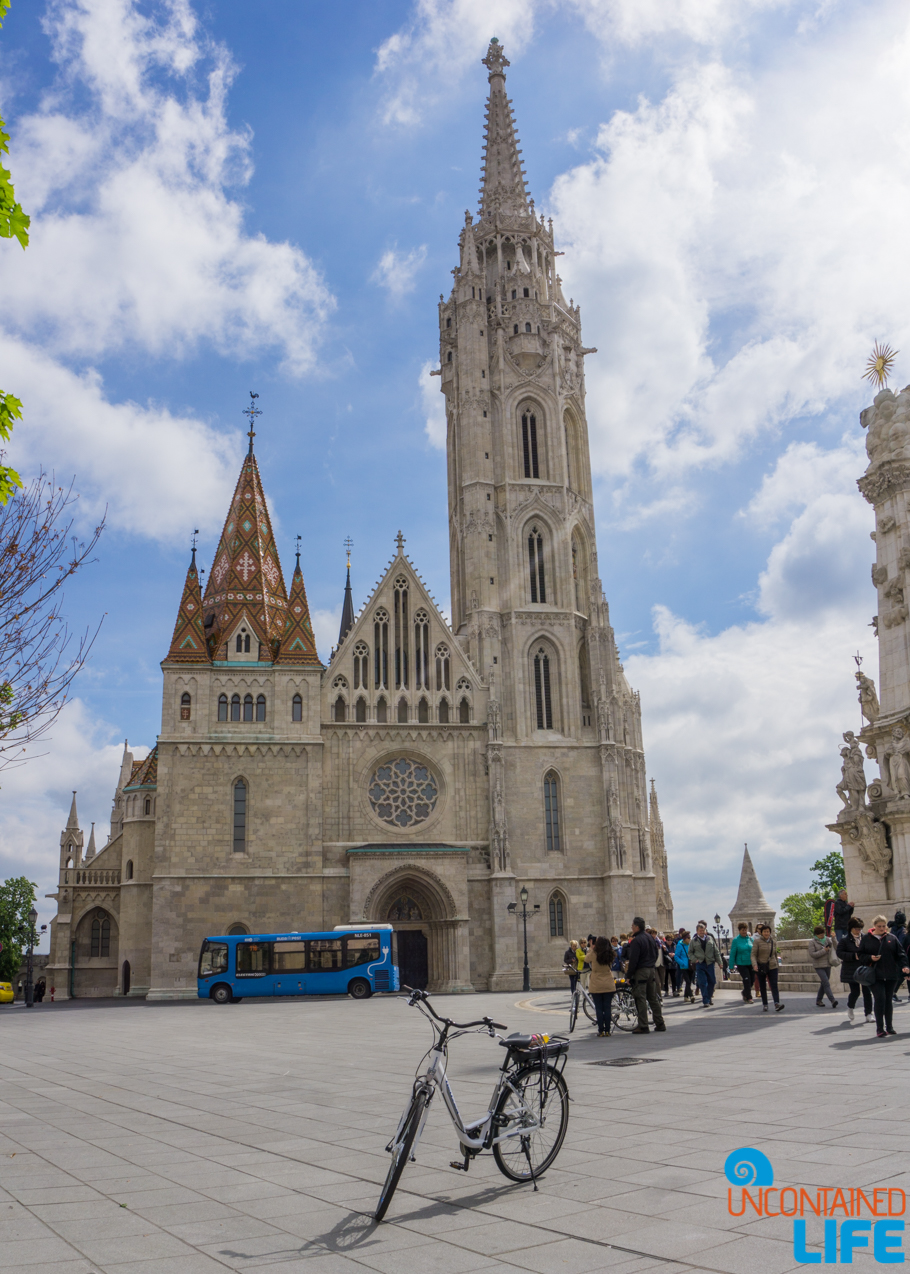 Thanks to our delightful e-bikes, the ride up Castle Hill to the Fisherman's Bastion was a piece of cake. We took a brief pause to admire a statue of one of Hungary's most important military leaders and all-around badass dude, John Hunyadi, and the gorgeous tiles on the roof of Matthias Church (which get changed roughly every 20 years). Then, we encountered this breathtaking view of the city.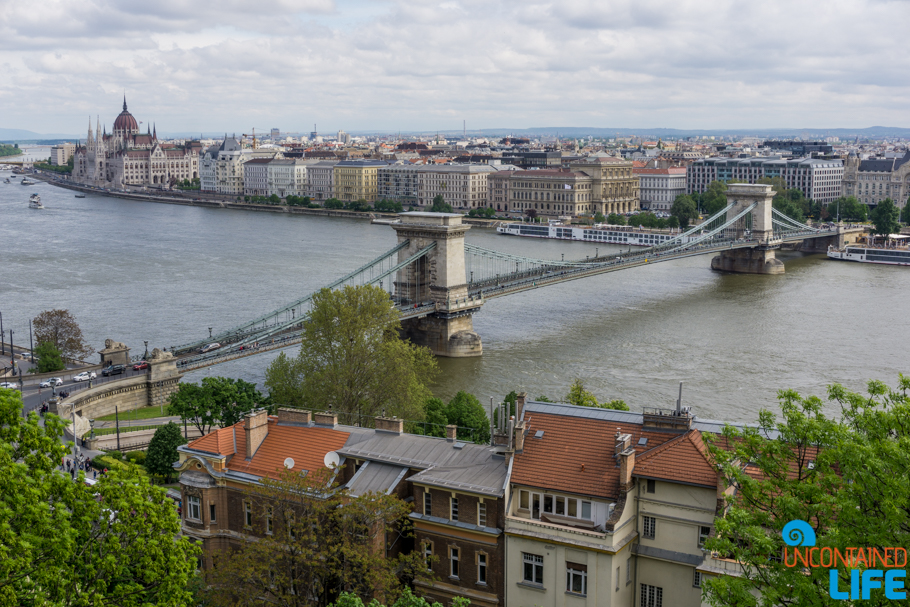 Favorite Moment #4: Hailing the the House of Parliament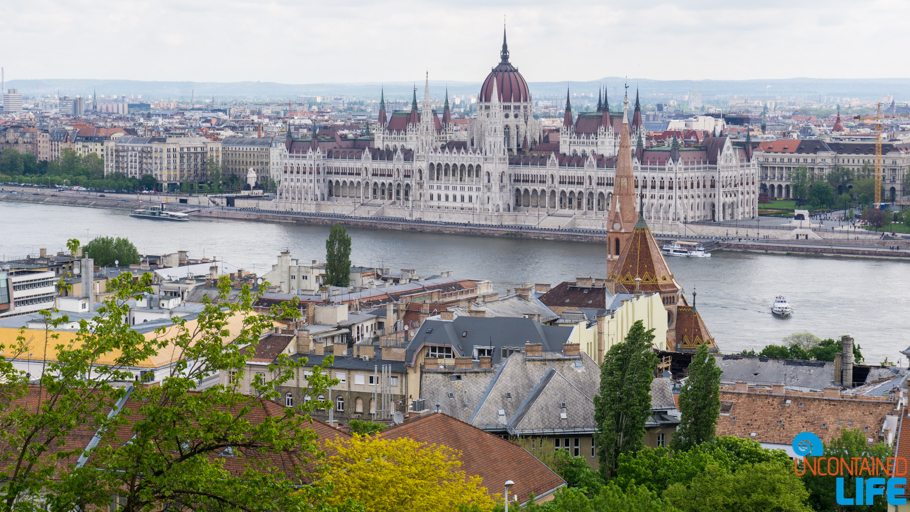 After exploring Castle Hill, we rolled on down to the Danube River where we had a chance to admire Budapest's intricate Parliament building across the way.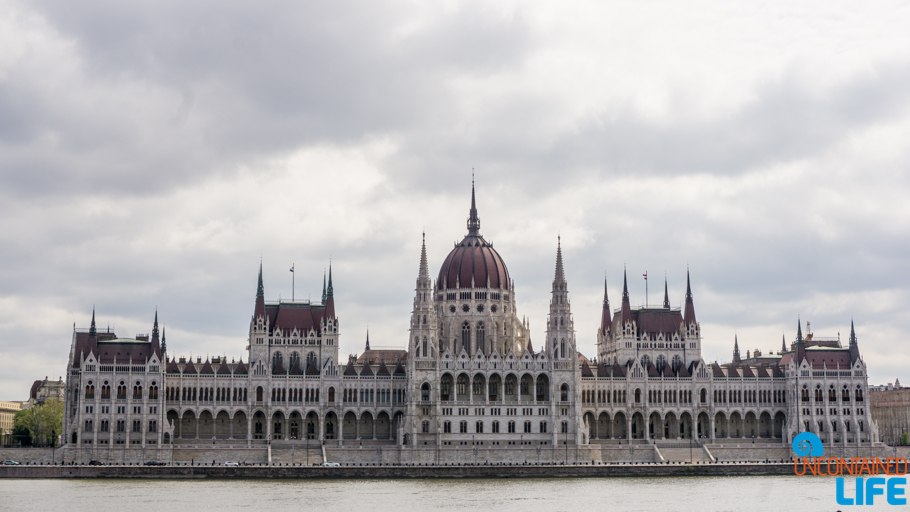 After a quick stop on Margaret Island — where we learned about Hungary's water polo prowess — we rode back toward Parliament along the Pest side of the river. If we thought the gothic revival-style building looked beautiful from across the river, it was downright awe-inspiring up close.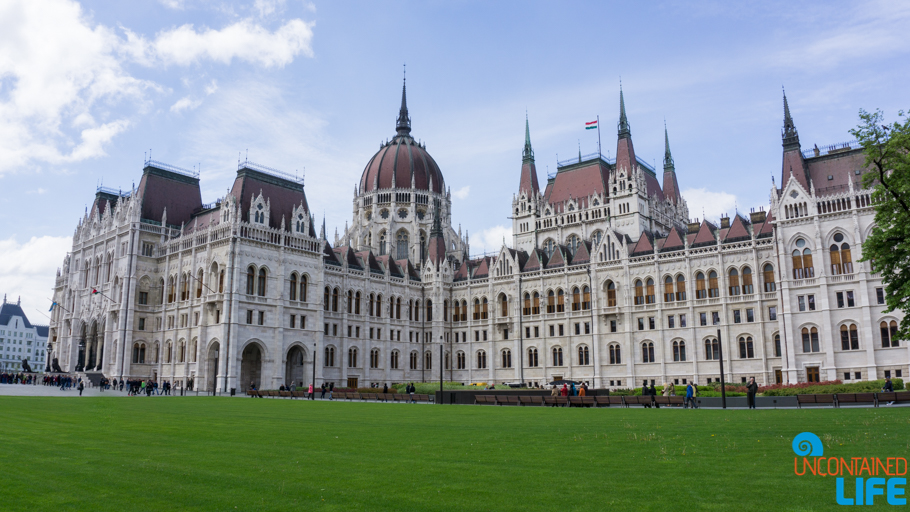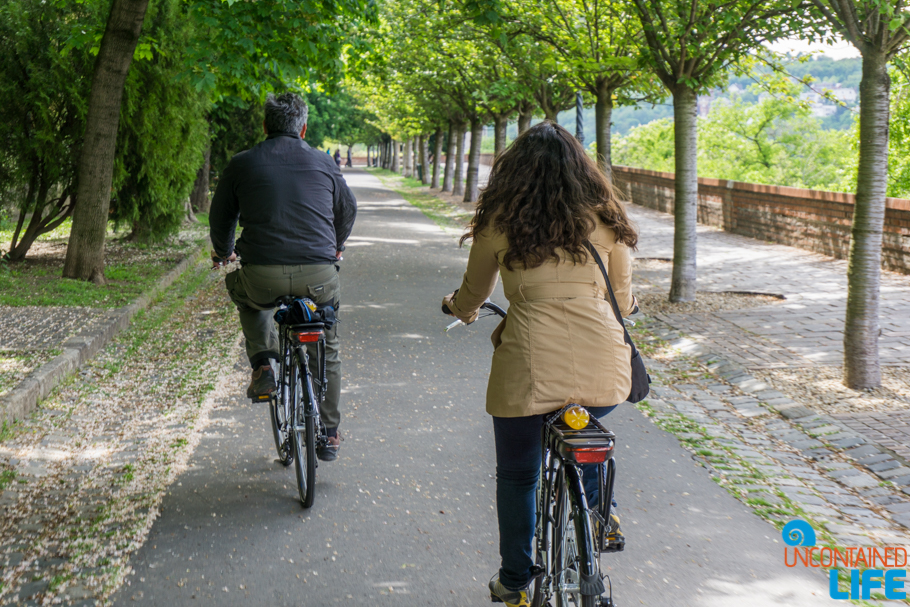 Steven informed us that the appearance of public square at the front of the Parliament was a relatively new: in 2012, a decision was made to restore the square to its pre-1944 look (with some additions, like the memorial for the 1956 Hungarian Revolution, and a reflecting pool).
Favorite Moment #5: Gliding Up Andrassy Avenue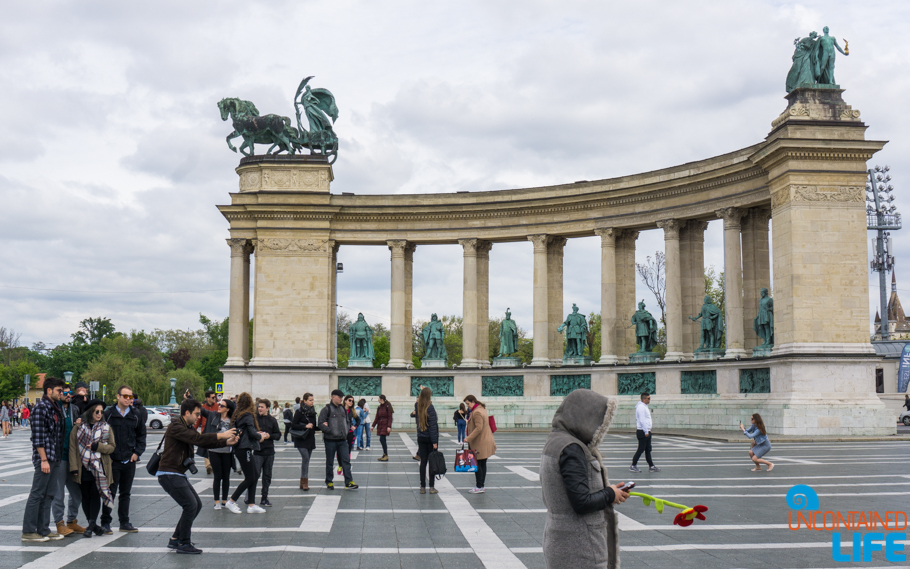 Leaving the river, we headed up Budapest's main thoroughfare, Andrassy Ave. Along this route on our e-bike tour of Budapest, we saw the city's lovely opera house, and had the chance to learn more about Budapest's history when we stopped at the infamous House of Terror. This building serves today as a museum and a memorial to the victims of Hungary's Fascist and Communist regimes. But historically, the House of Terror served as a place of imprisonment and torture.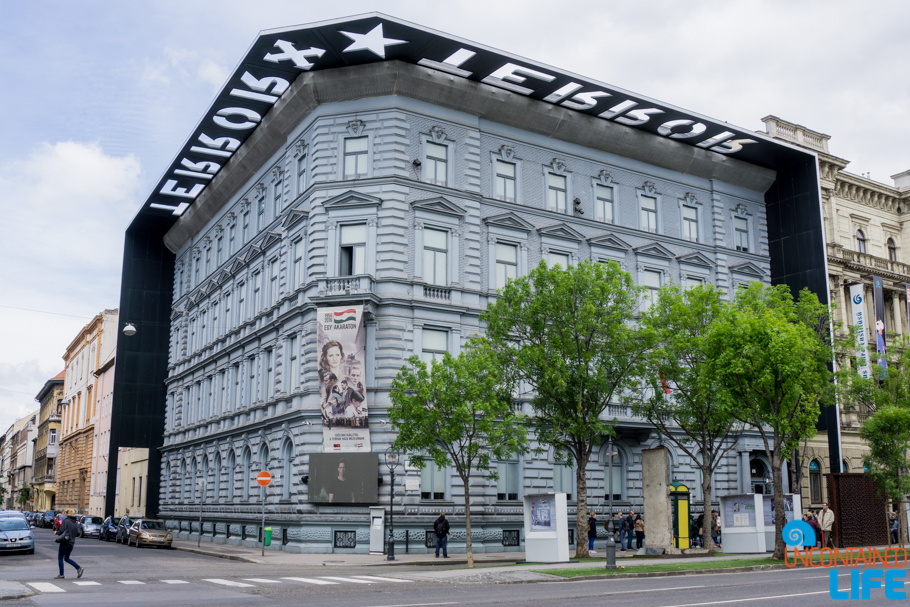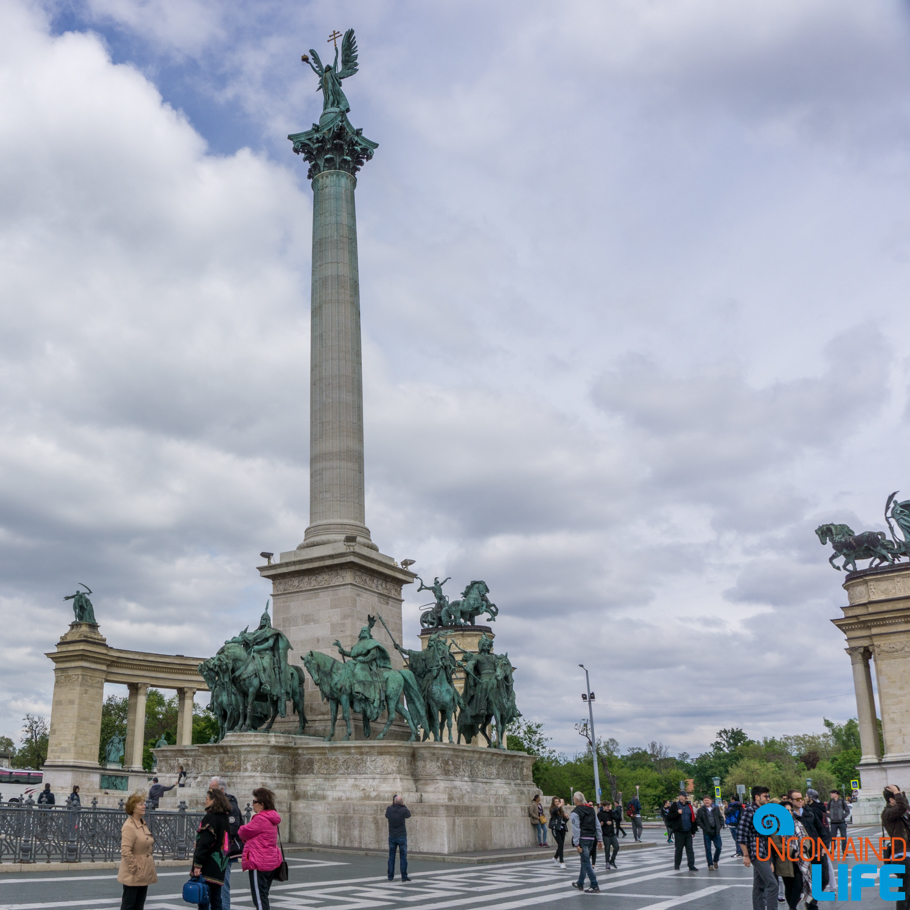 At the very end of Andrassy Ave. we arrived at Hero's Square, which also serves as an entrance of sorts to one of our favorite spots in the city: Budapest's sprawling City Park.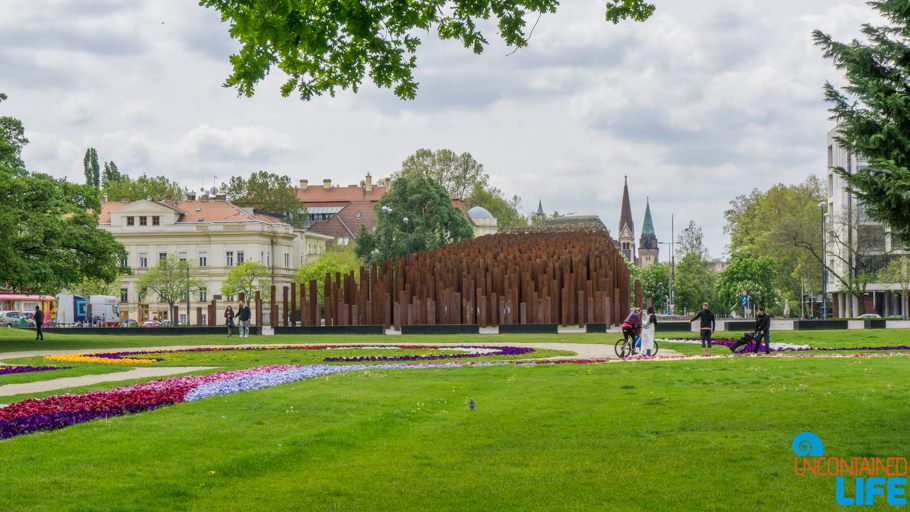 We could have spent the rest of the afternoon just riding around the park, but Steven invited us to join him for a cup of coffee at a place nearby…and we never say no to coffee!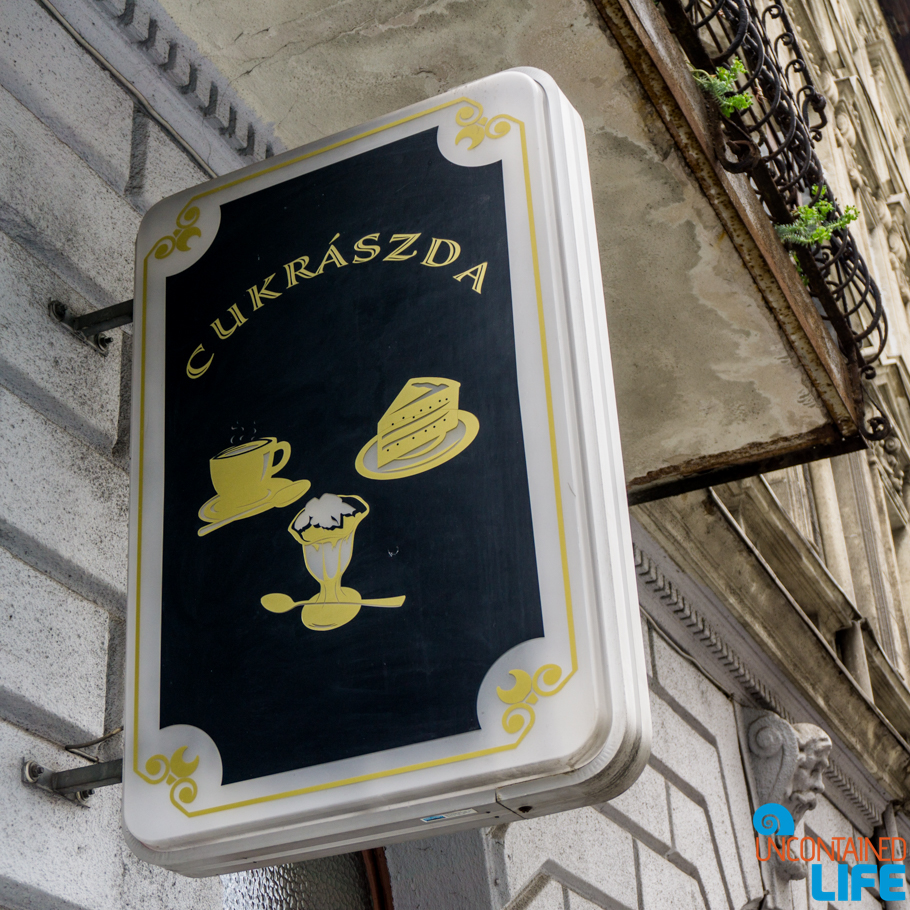 So what did we think of our tour of Budapest with Best Bike Tours Budapest? In a word…electrifying! (We couldn't have asked for a nicer introduction to the city.)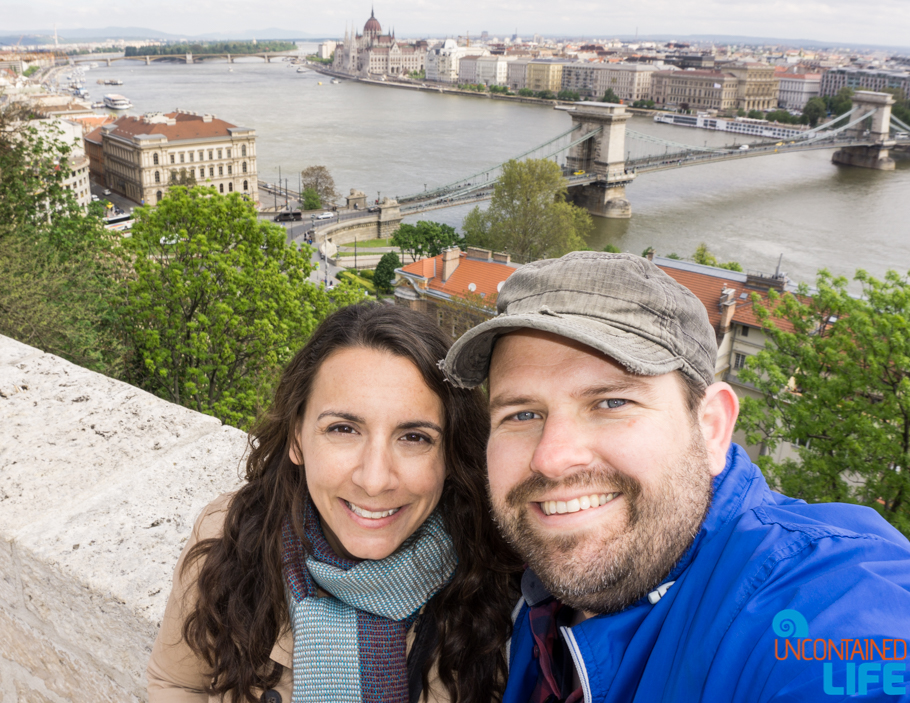 You can book your own e-bike tour with Best Bike Tours Budapest over here!
---
Our thanks to Best Bike Tours Budapest for hosting us during our stay in Budapest. As always, all opinions are our own.