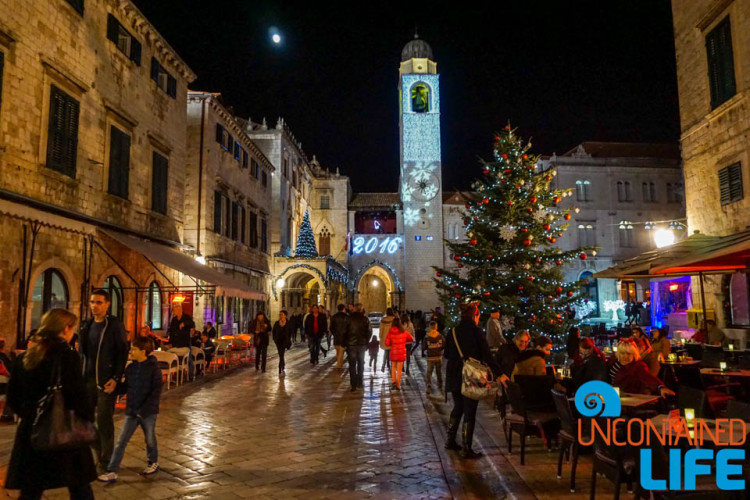 There's "no place like home for the holidays," right? So what the heck were we doing zipping along southern Croatia's rocky coastline just two days before December 25? Deciding to spend Christmas in Dubrovnik, Croatia—far away from family, friends and all the traditions we know best—might seem a bit odd to some of you. It felt kind of strange to us as well. After all, we weren't even sure what level of holiday cheer we'd find in Dubrovnik. Unlike Zagreb up north, Dubrovnik isn't a popular wintertime destination and past attempts to up the holiday ante and bring more visitors to the old city in December have, reportedly, been uneven at best. Were we in for disappointment?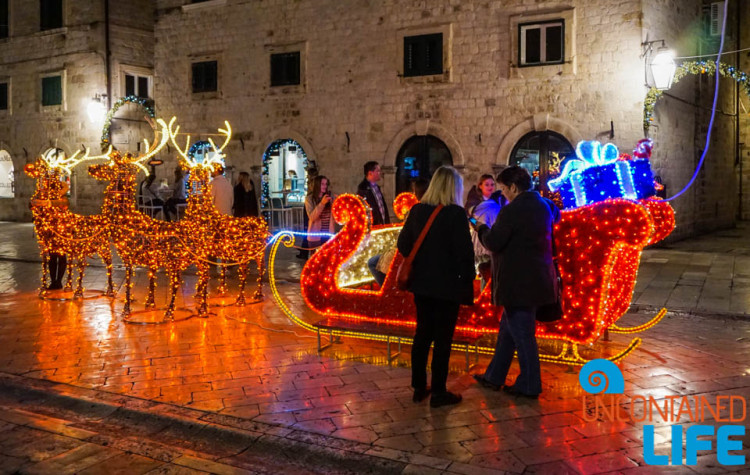 No, my friends, we most certainly were not. I can't speak for years past, but this year, Christmas in Dubrovnik was magical (and no, it's not just the mulled wine talking). 
5 Reasons We Fell in Love with Christmas in Dubrovnik
1. The Old City Setting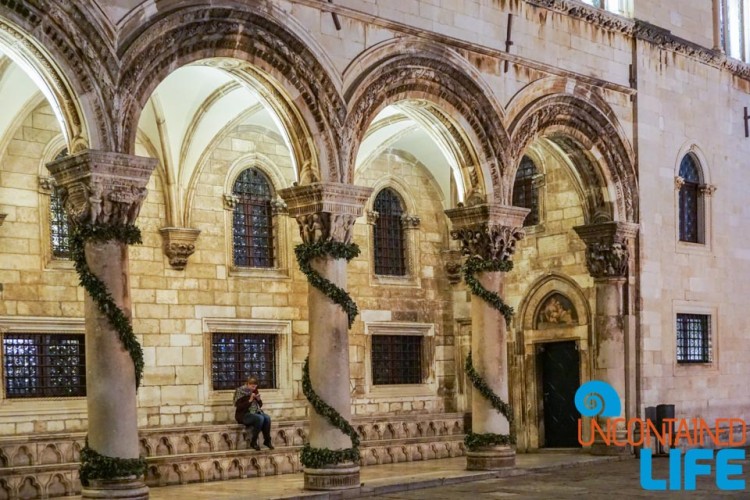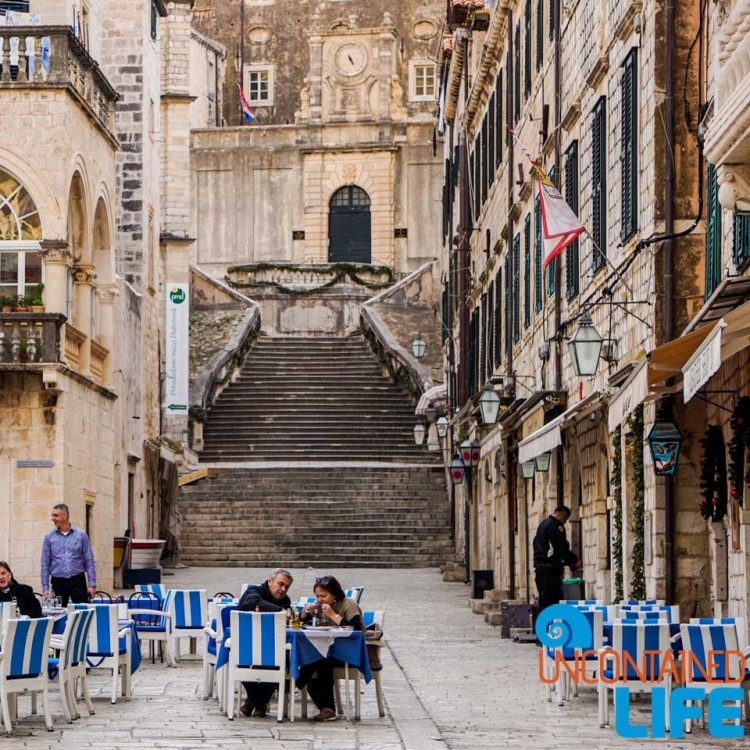 During our last trip to Dubrovnik, Justin and I stayed near the Gruz Port—but this time around, we were determined to find a home-away-from-home within the Old City walls. Why? Well, let's just say, there's a good reason that Dubrovnik's Old City is a favorite Croatian destination. It's not only a UNESCO World Heritage site, it's among the best-preserved medieval cities in the world.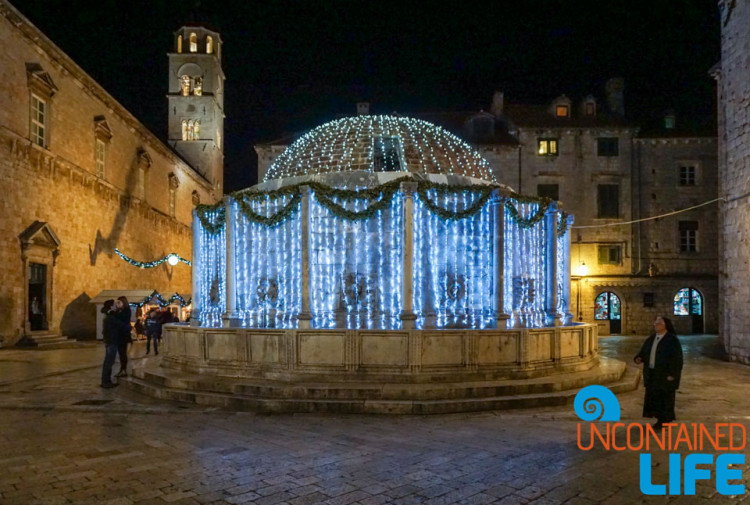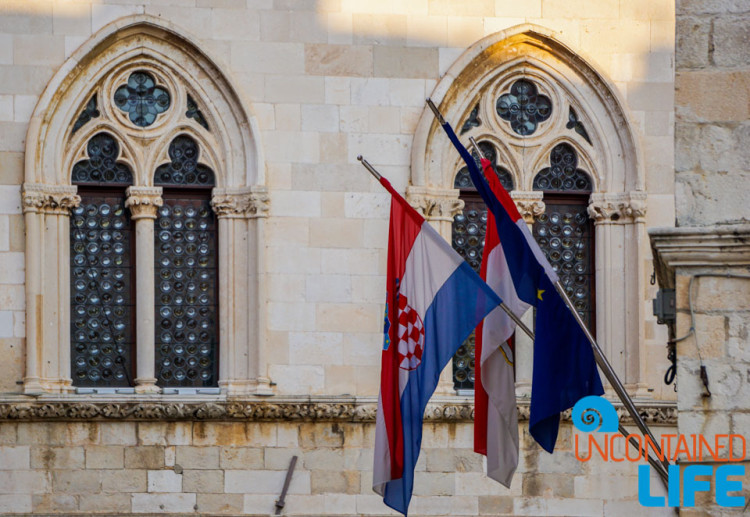 In other words, the place is friggin' beautiful. And during Christmas, when archways are decorated with laurel wreaths and oranges, and the stone streets are twinkling with thousands of lights, it feels like you've fallen into a fairytale.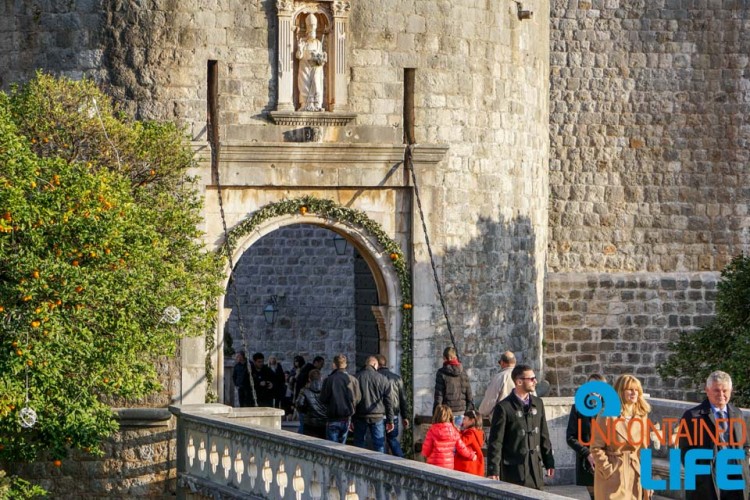 Many of the accommodations in the Old City shut down for the winter season, but happily, one of the best options does not: Celenga Apartments.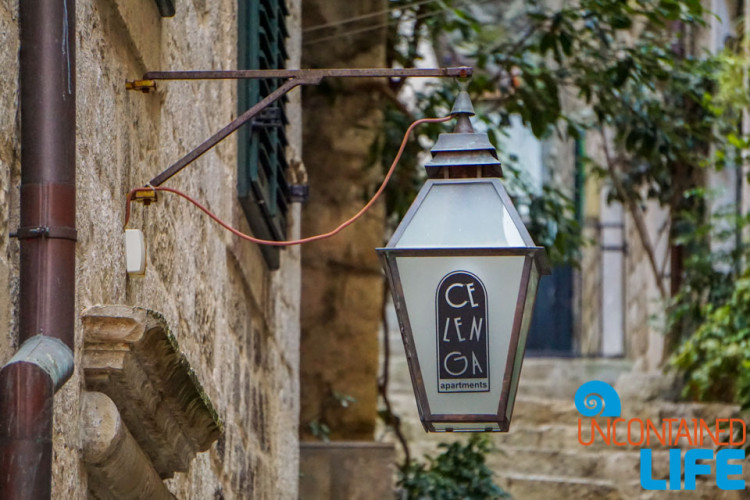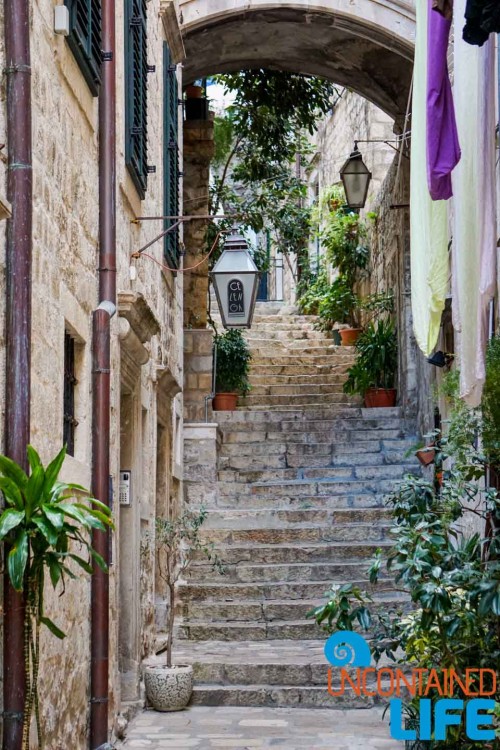 Located just a couple of streets back from the Stradun (an easy 5 minute walk from the Pile Gate), Celenga House boasts five clean, modern studio, one-bedroom, and two-bedroom apartments.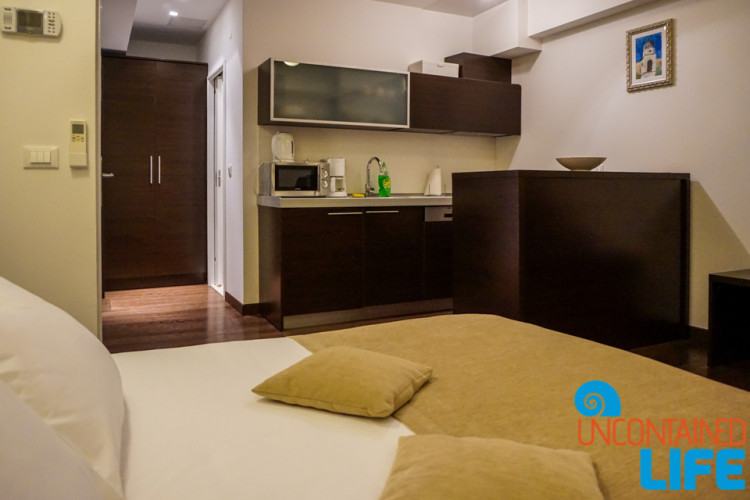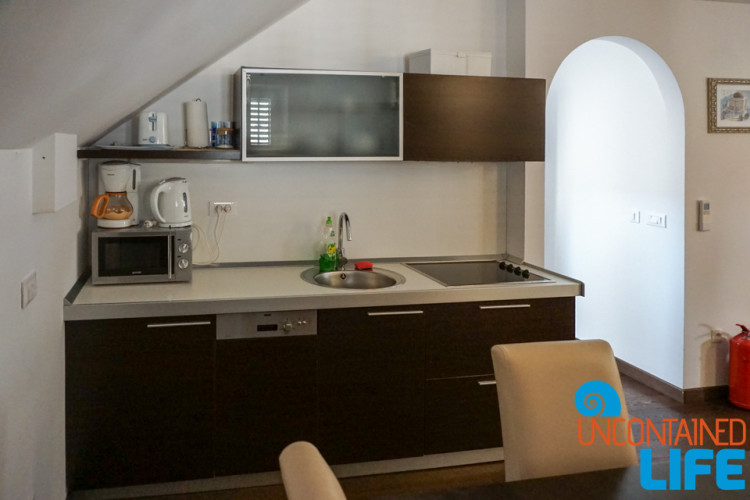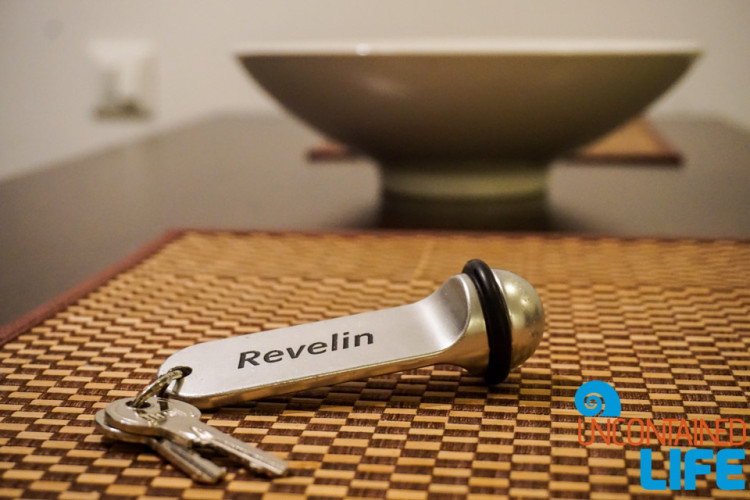 In lieu of room numbers, each apartment is named for one of the city's fortresses (we, as you can see, were in Revelin); and each space offers every convenience–including an American-style coffee maker in the kitchen! (If you're familiar with petite, Turkish-style coffee pot you'll find in most Balkans-area kitchens, you'll know why a couple of mass-caffeine-consumers like us are so excited about this.)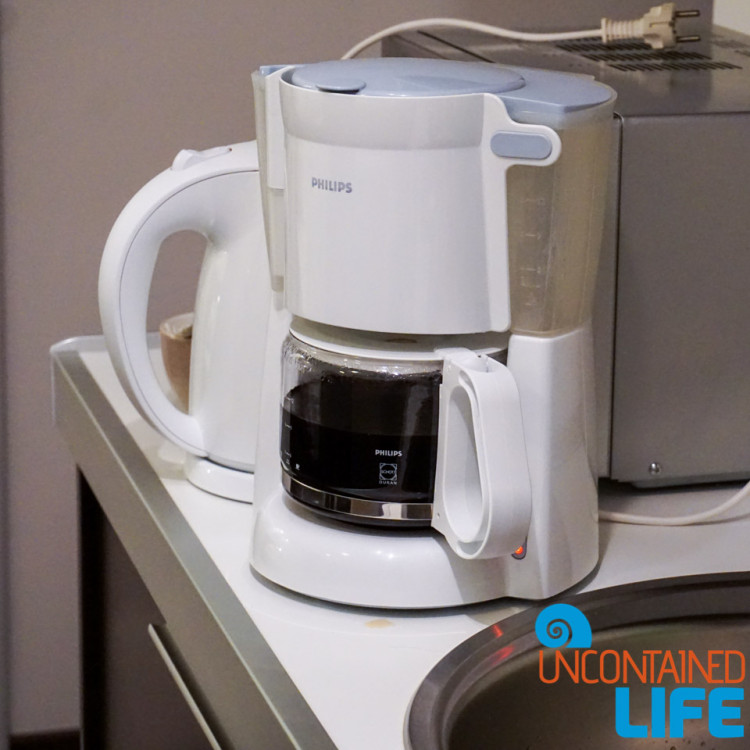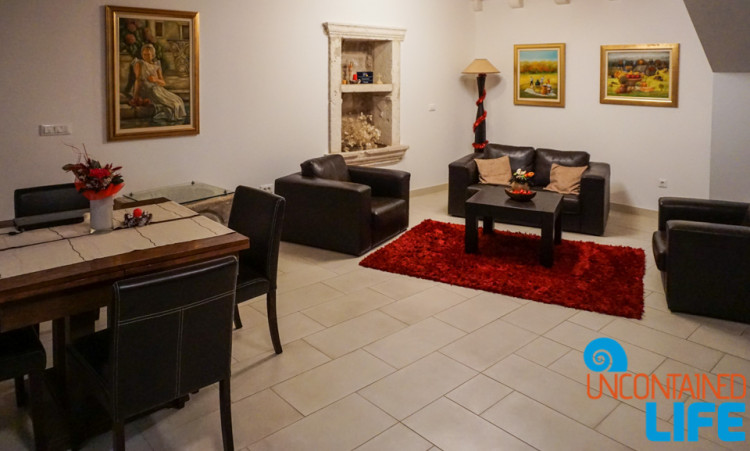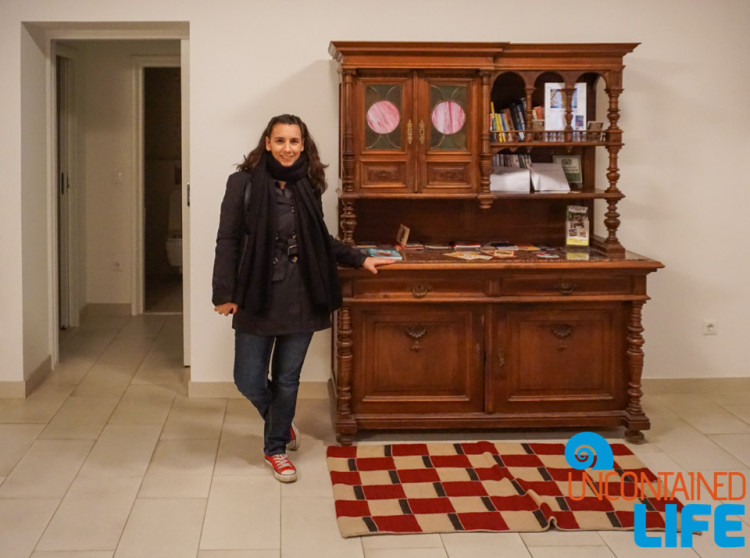 We found the Celenga house reception area cozily decorated during the holidays, and small added touches like the collection of books and DVDs for guests added to our sense of comfort (and joy). Laundry facilities were also available free of charge–soap included. And all for less than $100 USD/night during the winter. (You're welcome.)
2. The Pageantry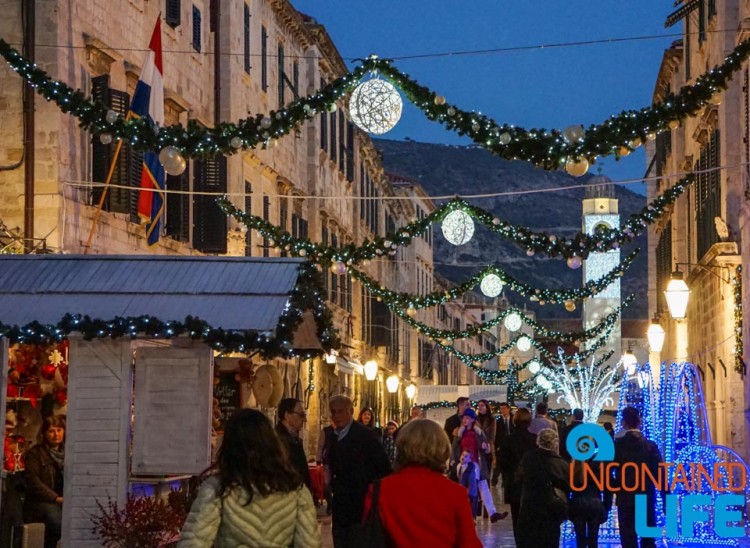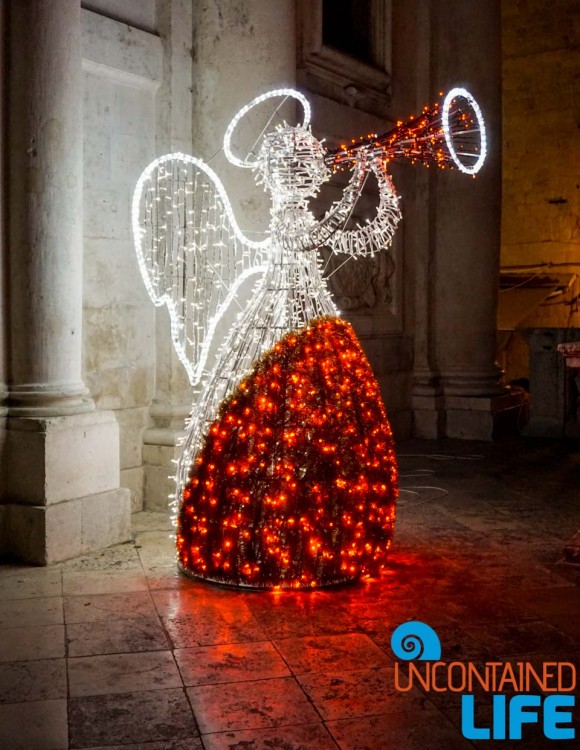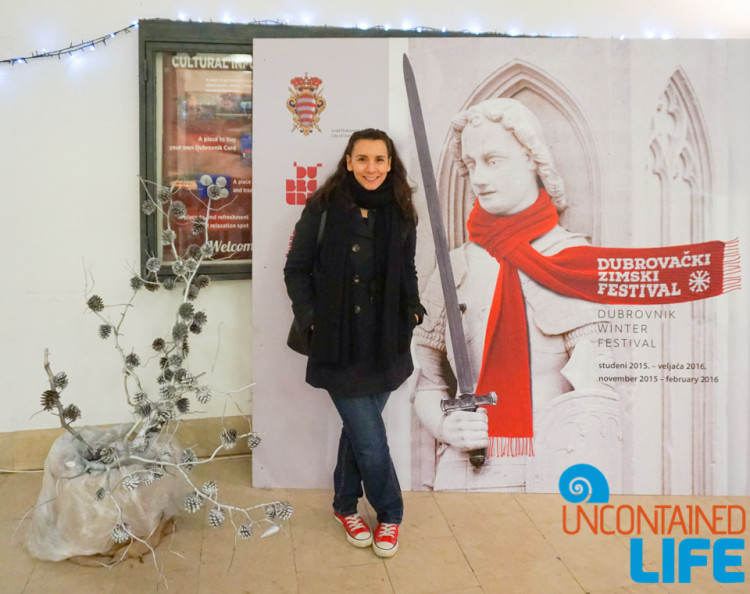 Dubrovnik's ancient stone buildings and streets are enjoyable all year round (though the summer heat and tourist crowds can be brutal), but during the holiday season, the city's somewhat stark beauty (Game of Thrones pun, anyone?—yes, they film the show here) is augmented by Christmas pageantry including flurries of fake snow from the Bell Tower, the Christmas Eve midnight mass at the Cathedral, and a live nativity performed by the city's children on the evening of the 23rd.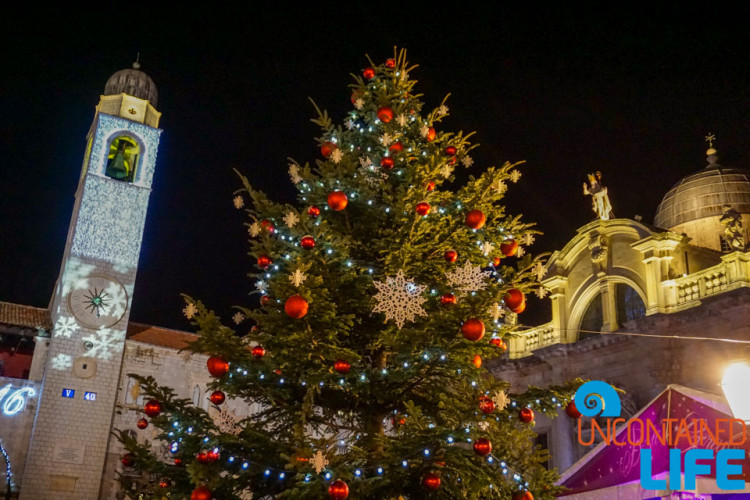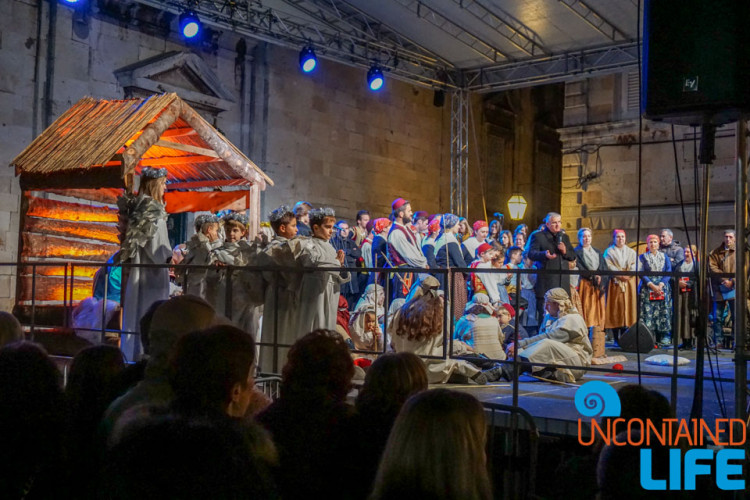 Even when there isn't any big event taking place, the little white houses lining the Stradun—selling Christmas ornaments, greenery, hand-made honey, cheeses, and candy—the groups of people gathered around food stands listening to music and sharing drinks, and the sight of children playing around the public Christmas tree or santa's sleigh make for a joyous atmosphere.
3. The Delicious Traditional Food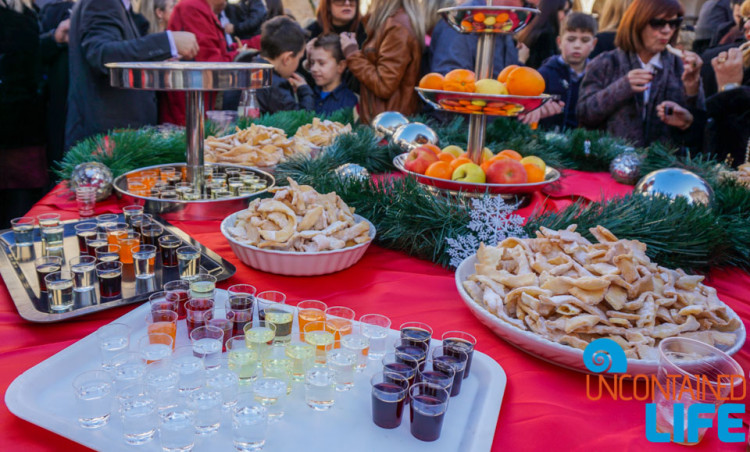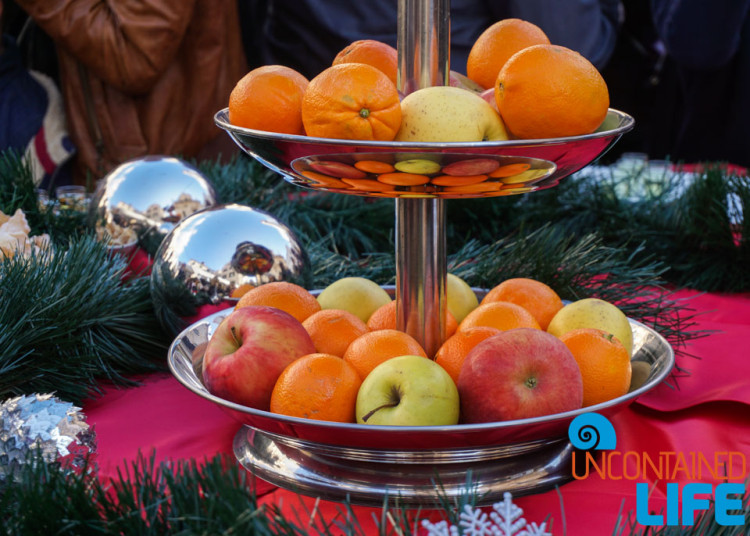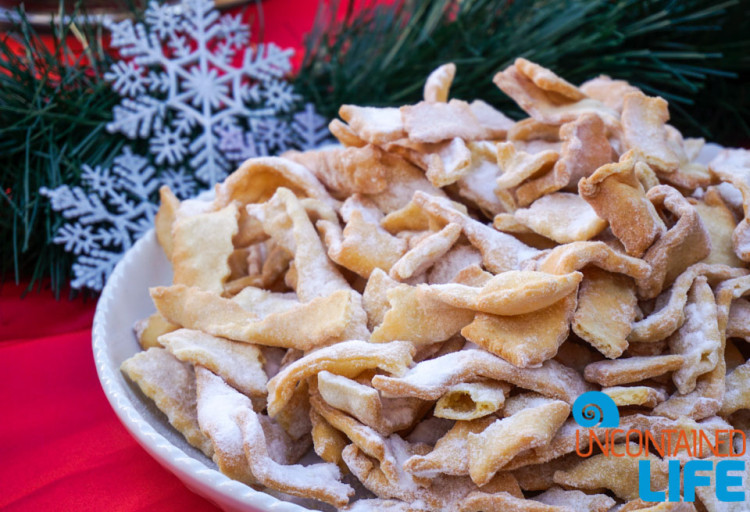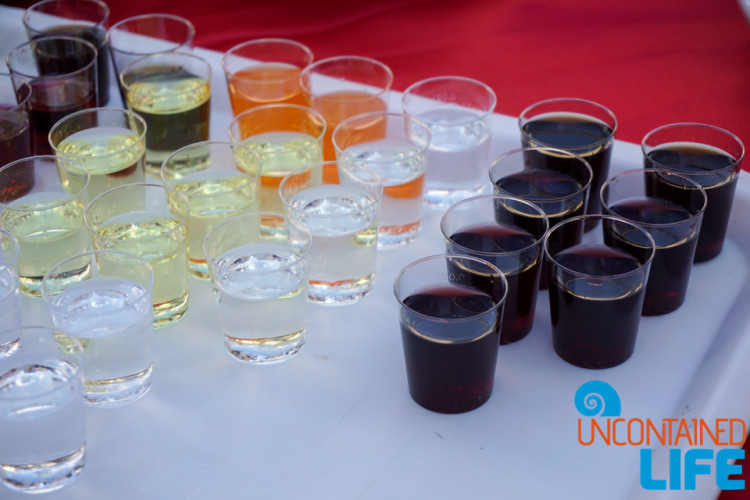 Ok. You guys know by now how much Justin and I love good food. And Christmas in Dubrovnik means mouthwatering eats of all kinds—from the simple, traditional items you'll find for sale at the booths on the Stradun, to the more upscale offerings found at various restaurants around town. I'll be honest, we were so taken with the food offered in the market, we never actually made it into a restaurant* (next time!), but here's some of the best bites we tasted during our brief stay:
Prikle: traditional Croatian doughnuts, usually sprinkled with powdered sugar (may also be covered in jam or melted chocolate). These homemade doughnuts might look like any old doughnut hole you'd find back at home, but the consistency is utterly unique: more dense than your typical yeast doughnut, but nowhere near as heavy as a cake doughnut.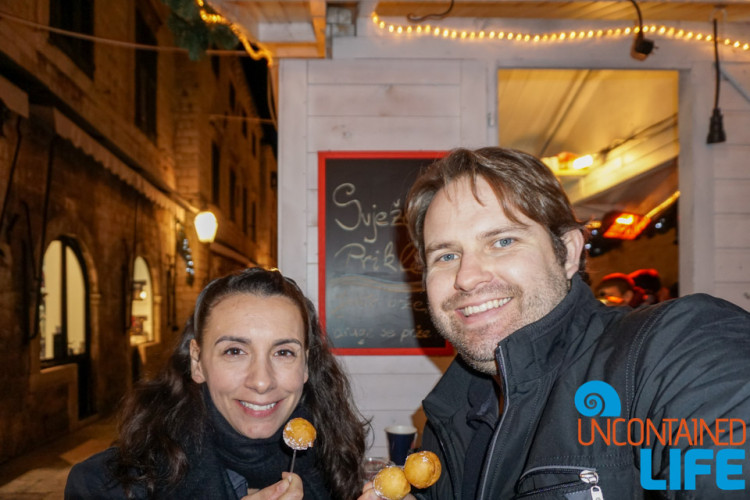 Arancini: candied orange peel. We've had candied orange peel before, but the variety sold at Dubrovnik's Christmas Market is truly the best we've ever tasted: crisp, but not hard in texture, and the perfect mixture of sweetness and a rich, almost liqueur-esque flavor. Other dried-and-candied favorites include almonds and figs.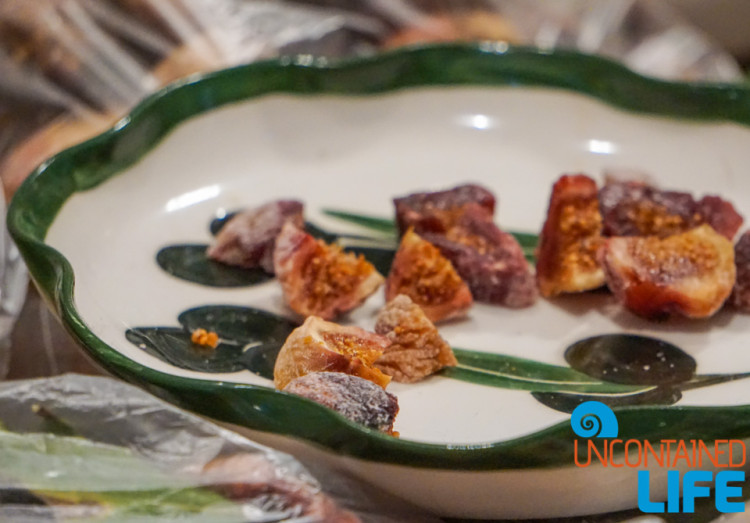 Bakalar: salted, dried cod. Ok, bear with me on this one. I know salted, dried cod in and of itself may not sound particularly delicious, but prepared in the traditional fashion—as part of a mashed potato soup spiced with parsley, salt, pepper, oil and garlic—and paired with a crispy bread loaf, it's absolutely superb.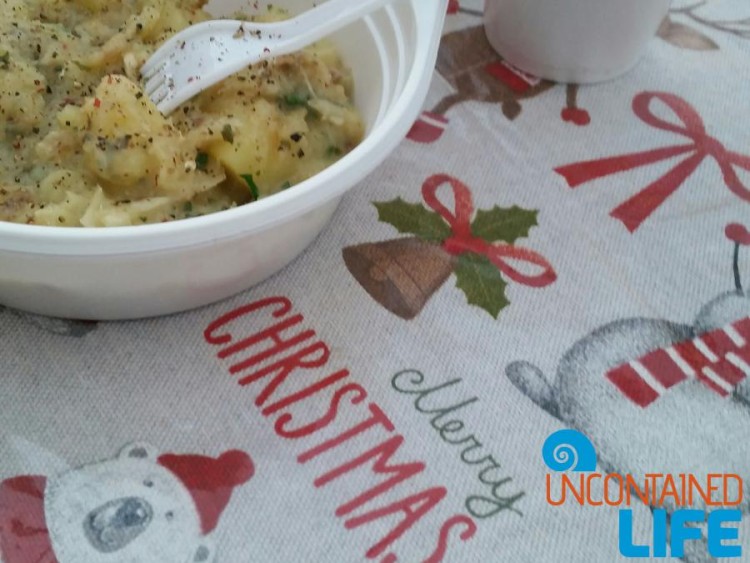 Kobasica: sausage. The market offers a number of local varietals—all yummy! We preferred the spicy sausage but, we saw many people also buying the cheese-filled sausage.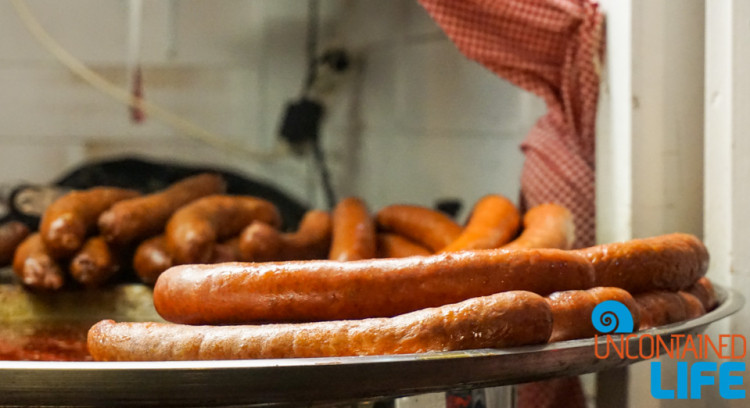 *Special note: the market and most of the restaurants in the old city are closed on Christmas Day. If you're staying at the Celenga Apartments, you will, of course, have your own kitchen, so plan ahead and buy some tasty items at the market on the 24th…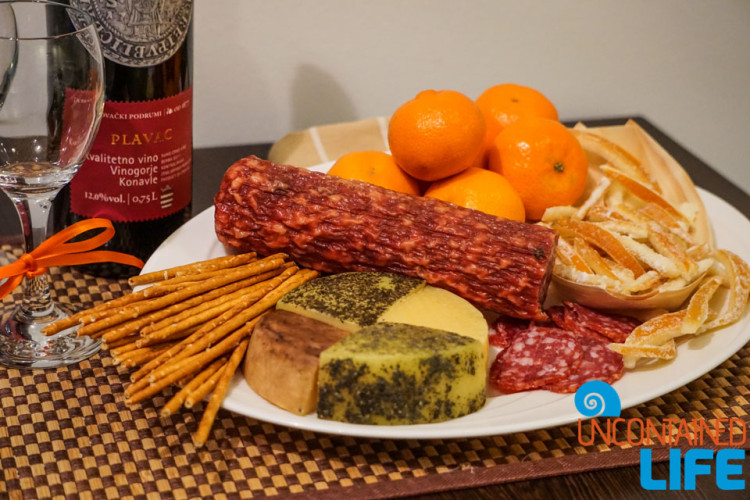 …and you'll be in good shape for the 25th.
4. The Caroling (Caroling Now We Go!)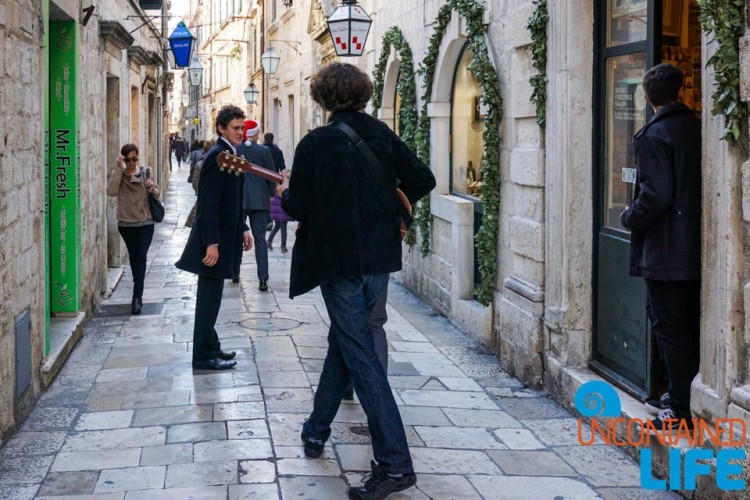 If you're experience is anything like ours, you might be woken up by singing on Christmas Eve in Dubrovnik…which might lead you to believe you've somehow time-traveled back to the days of Dickens. (After all, mass door-to-door caroling isn't exactly common practice in the States.)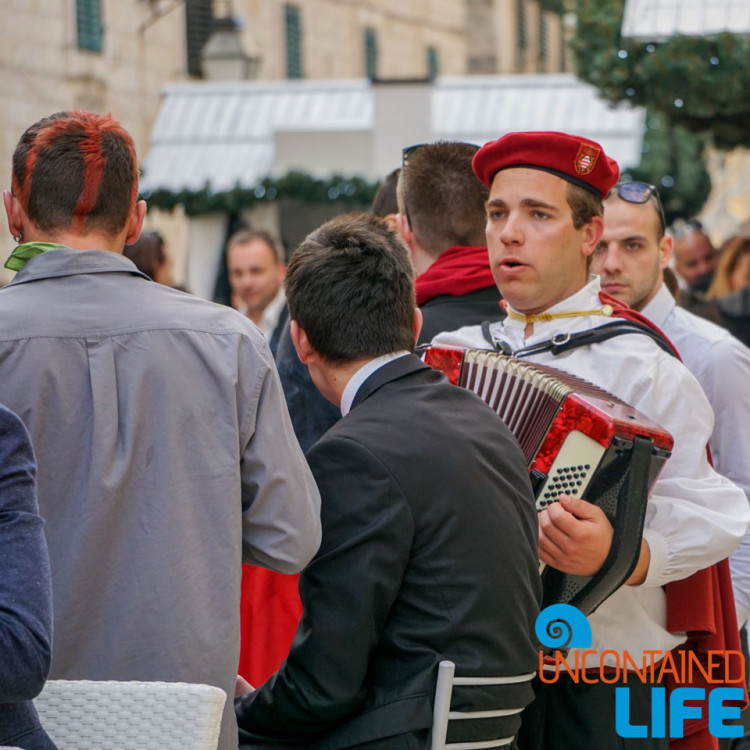 But, as we discovered, the art of caroling is alive and well in Dubrovnik—indeed, the traditional Dubrovnik kolenda, which opens with the verse, "Good evening, we knock …" and continues on, with varying words, to wish the listener health, happiness and prosperity, can be heard all throughout the day on the 24th. Groups wind their way through the streets, making music. The caroling tradition, which dates back to the 13th century, is carried on primarily by groups of young men, who, in return for their efforts, receive dried figs, fruit, cakes, liquors or other treats from the people living in the houses and shops they visit. You can hear the song HERE.
5. The Bonhomie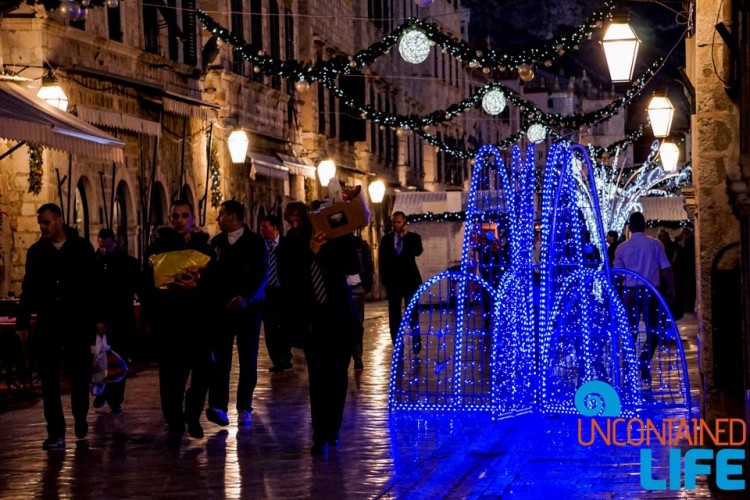 As a general rule, Croatians aren't the smiliest bunch (which isn't to say they aren't friendly—it's just tough getting beyond that surface reserve, especially if you don't speak the language.) But the Christmas atmosphere in the Old City brings out the warmth in everyone, young and old.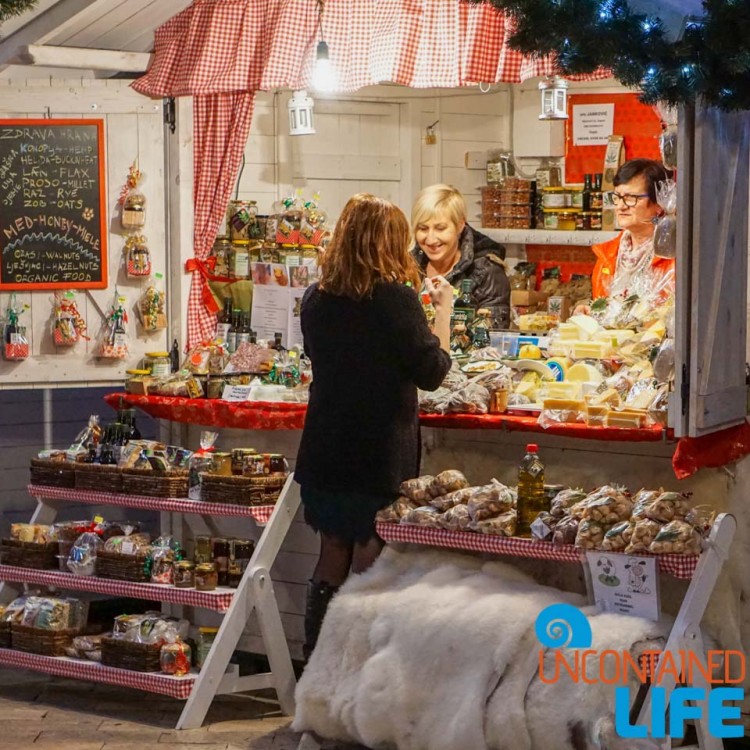 Walk down the Stradun and you'll encounter holiday greetings, smiles, and even spontaneous song all throughout the day. On Christmas Eve, it's common to greet those you meet with "Nazdravlj!" (pronounced like the Russian, Na zdorovie, which sounds like "Na-strovia").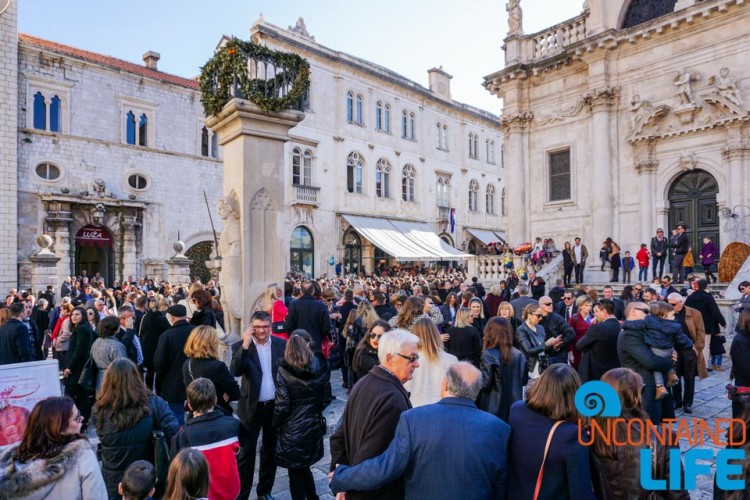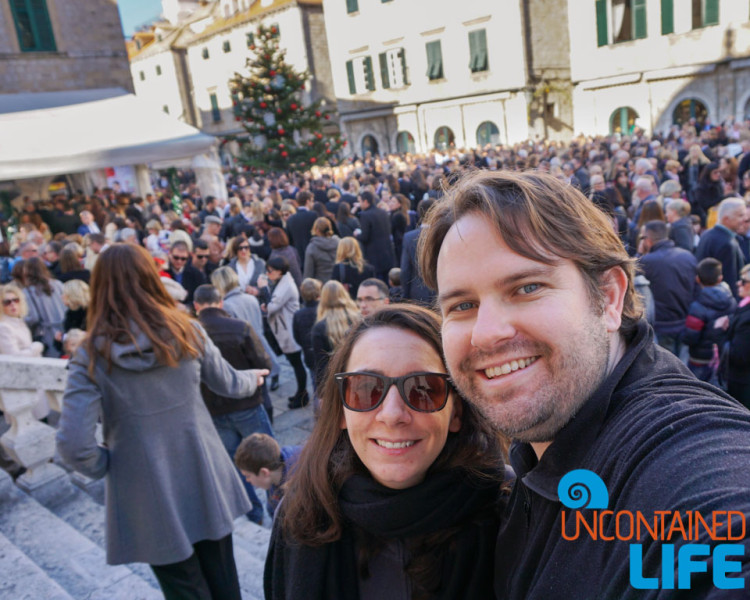 The sense of small-town camaraderie only intensifies during events like the mayor's Christmas Eve speech near the Bell Tower when everyone pours into the Old City, dressed to the nines* in shades of red, black and cream (plus the occasional rebel sporting some purple or blue), to watch the festivities, have a drink, and sing the aforementioned Dubrovnik "kolenda" together.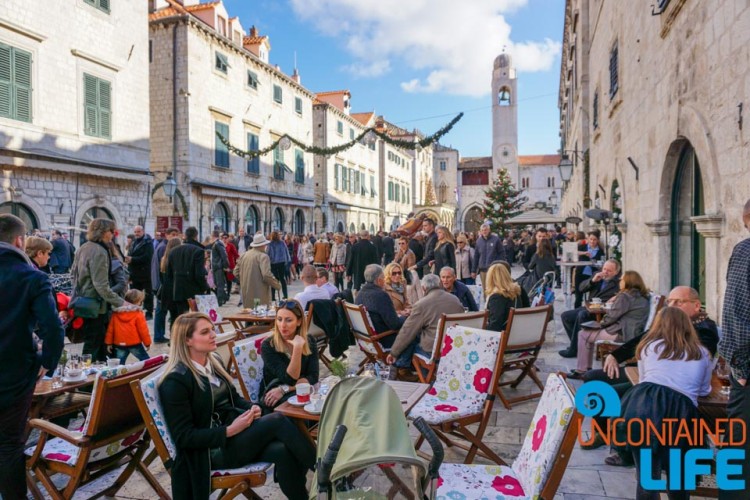 *We really aren't kidding about this: people dress UP for these events. Men wear suits. Women wear elegant (but sexy) cocktail dresses and very high heels.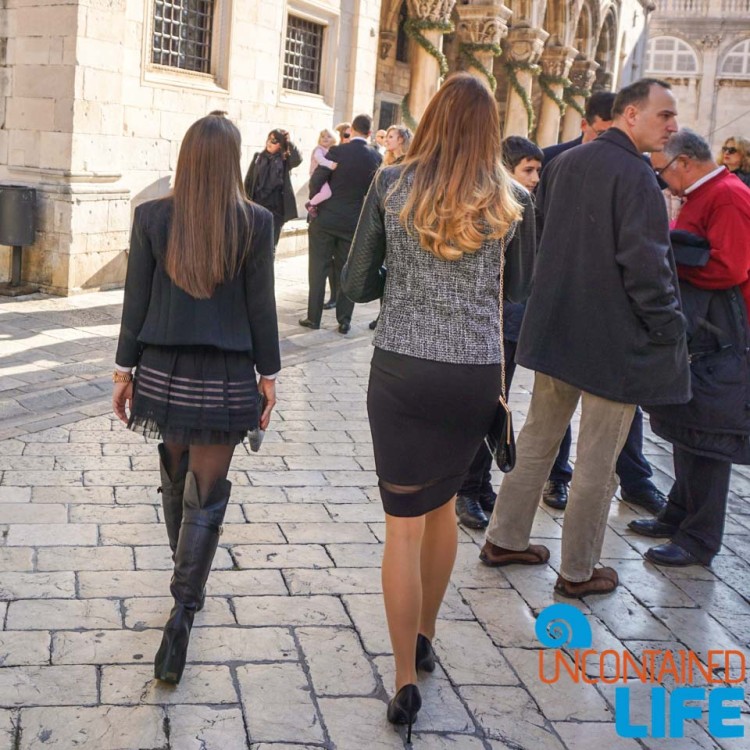 As I said before, we started our plan to spend Christmas in Dubrovnik with a bit of trepidation. If we were going to be far from home, we really wanted it to be something extraordinary. So, you tell us, guys…does the Old City of Dubrovnik seem like one heck of an amazing place to spend the holidays or what?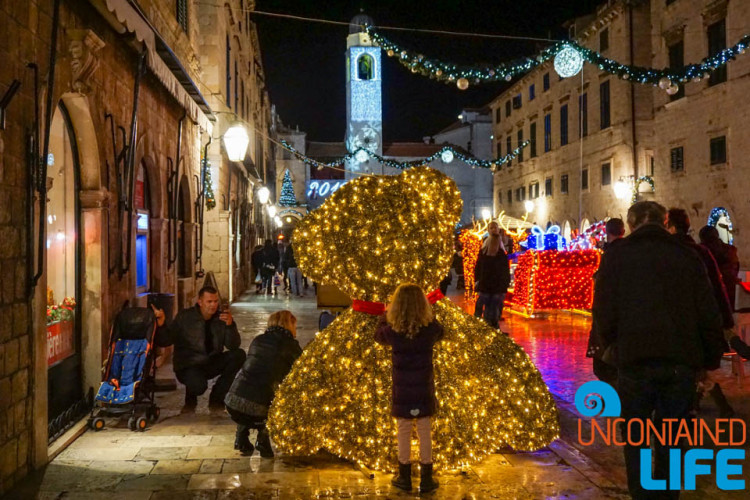 What's your favorite city for holiday cheer? Share your tips and stories in the comments section!
All photographs were taken with the Sony A60o0—a lightweight, mirrorless camera that captures great images even in low-light conditions (like Dubrovnik after dark!) You can find out more about the gear we carry when we travel HERE.
---
Many thanks to Celenga Apartments for hosting us in Dubrovnik. As always, all opinions are our own.