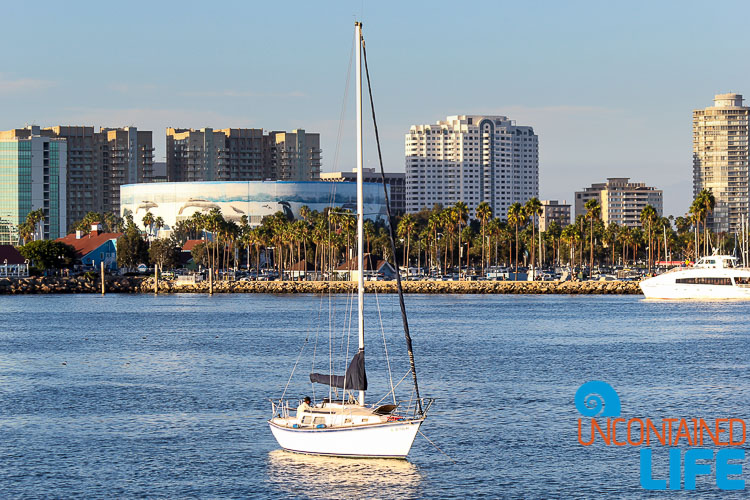 Caught betwixt and between Los Angeles to the north and Orange County to the south, the port city of Long Beach, CA was, for many years, best known as the gritty hometown of Snoop Dogg and Sublime.  When people ask Justin and me about "LBC" today, however, we hardly know what to brag about first. …But if you insist!
The Many Fairs and Festivals
Long Beach is always celebrating something.  Our apartment in Alamitos Bay puts us within easy walking distance of Downtown, Shoreline Village, 4th Street's "Retro Row," Bixby Park, and, if we're venturing a bit further, Belmont Shore and Granada Beach.  This means that, nearly every weekend (during spring and summer, especially), we have the chance to experience a new local festival, fair or other cultural event–many of them completely free!
Some of our annual favorites include…
The Farmer's Markets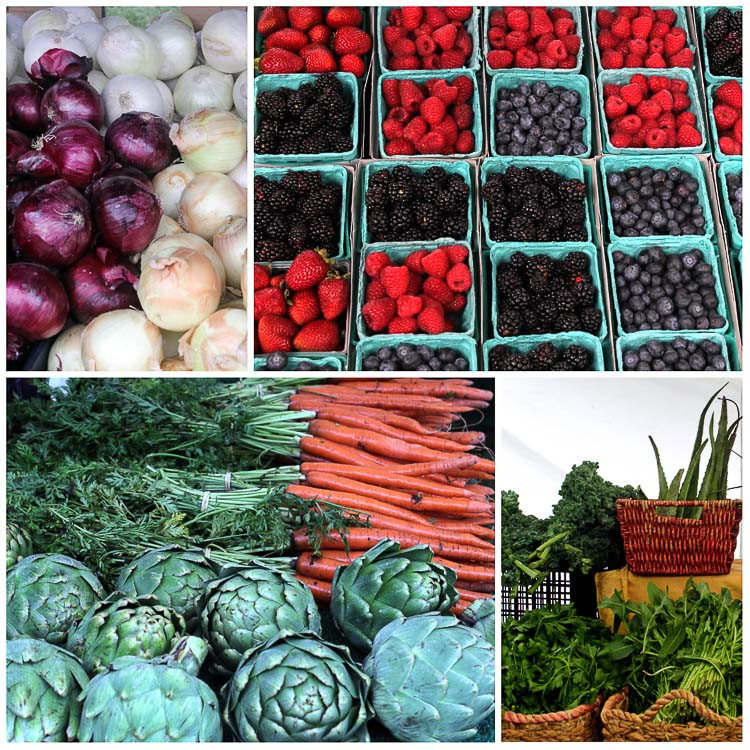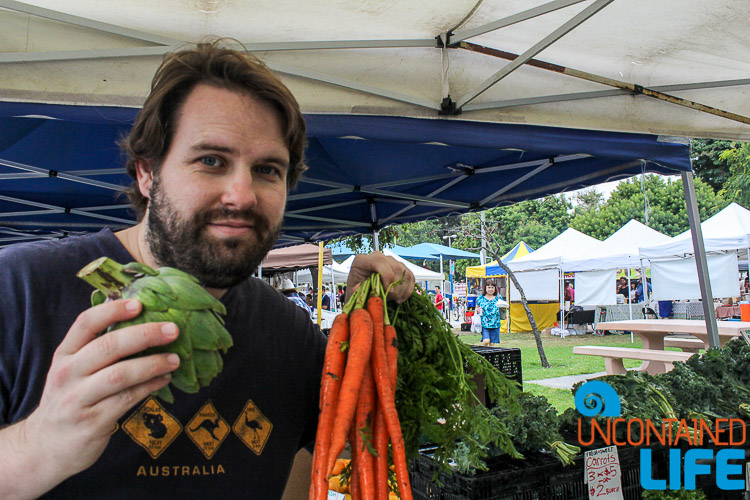 Long Beach has seven weekly, year-round Farmer's Markets.  In addition to featuring fresh, local produce, these popular markets also host artists and artisans.  Justin and I walk to the Bixby market every Tuesday to buy our fruits and vegetables, grab a bite to eat, listen to the live music, and people watch.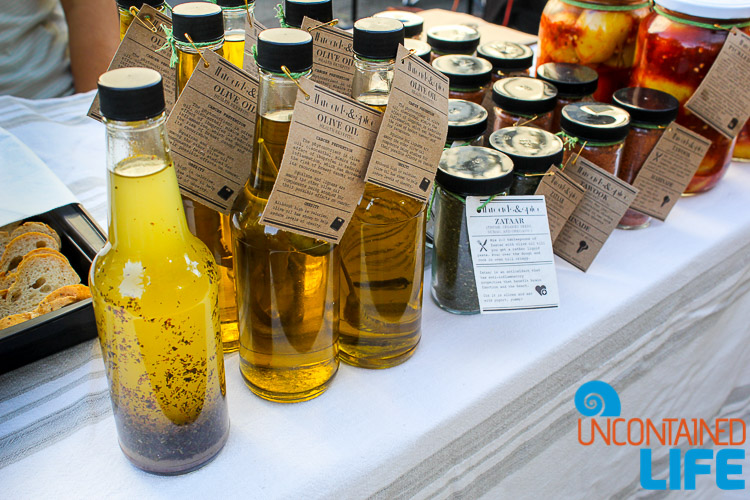 Alamitos Bay Farmers' Market: Every Sunday, 9:00 am – 2:00 pm;East Marina Drive south of East 2nd Street
World Trade Center Farmers' Market: Every Tuesday, 11:00 am – 3:00 pm; 1 World Trade Center
Local Harvest Farmers Market at Bixby Park: Every Tuesday, 3:00 pm – 7:00 pm (3:00 pm – 8:00 pm in summer); Bixby Park, 130 Cherry Ave.
Greener Good Farmers Market: Wednesdays 3:00pm-8:00pm; 609 E. Artesia Boulevard
Downtown Farmer's Market: Fridays 10:00am-4:00pm; North Pine (Pine/6th)
Bixby Knolls Uptown Farmer's Market: Thursdays 3:00pm-6:30pm; 46th Street and Atlantic Avenue
East Village Farmers Market: Every Saturday, 9:00 am – 2:00 pm; 1st Street between Elm and Linden Avenue
Global Cuisine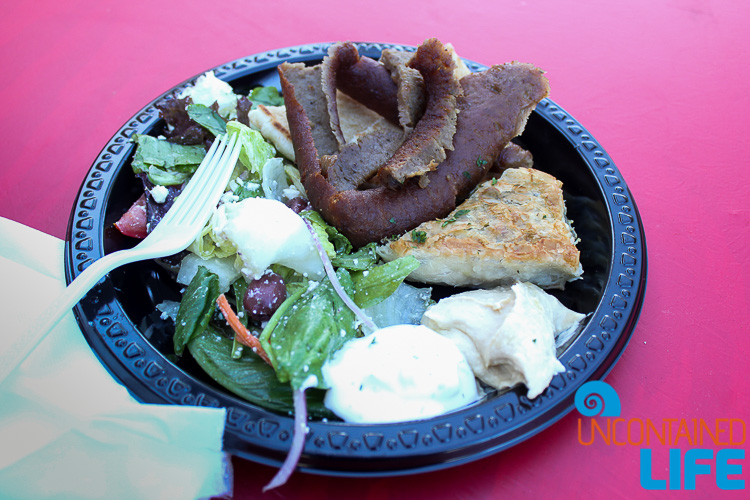 Long Beach's diverse population means a wealth of tasty foods to try!  A few recommendations:
Mexican:
Popular Choice: Los Compadres: this family-owned "mini-chain" has two locations: one one Pine Ave., the other on E. Anaheim St.  At either place you'll find great food.
One Step Further:  El Torazo (603 Atlantic Ave, Long Beach): this hole-in-the wall restaurant is clean and bright and it's Taco Tuesday deal cannot be beat ($1/taco for "Mexican," "American" or "Crispy"-style tacos).  Great carnitas, perfectly toasted chips and a diverse salsa bar makes this one of Justin's and my favorite "secret" spots.
Honduran & El Salvadorian:
Popular Choice: La Ceiba Restaurant: offering a mix of Honduran and El Savadorian cuisine, this tiny local favorite gets raves for its Papusas (only 99 cents every Tues., Wed., and Thurs.)
One Step Further: Honduras Kitchen: don't be put off by the grim exterior, inside you'll find a wide range of authentic Honduran classics and great weekly specials.  If you're dining with a partner, the Plate for Two which features generous sides and 4 different meats is a heck of a deal.
Mediterranean:
Popular Choice: George's Greek Cafe: this is the hands-down local favorite in Long Beach.  Whether you're dining at their location on Pine St., or on 2nd, portions are generous and service is friendly.  Garlic is sometimes used with a bit of a heavy hand, but overall, food flavor is top-notch.
One Step Further: Kafe Neo: This modern Greek restaurant also serves breakfast and they have a very simple mission; "cook fresh and delicious food everyday." And they deliver; both in tasty food and on a bicycle.  If Hillary and I are in the mood for the "Med," or if we can't decide what we want to eat, we always choose Kafe Neo and it never disappoints.

Cambodian and Thai:
Popular Favorite: Phnom Penh Noodle Restaurant (1644 Cherry Ave., Long Beach): this family-run, cash-only restaurant boasts some of the best soups and noodle dishes in Long Beach's "Cambodia Town."  Be aware: this restaurant is closed Mondays, and shuts its doors by by 3pm Tues.-Sun.
One Step Further: Elephant Garden: the Elephant Garden Restaurant brings a tasty mixture of Thai, Cambodian and Laotian cuisine to Long Beach.  Favorites include the Spicy Basil Chicken, Thai Boat Noodles and the Fried Bananas with Coconut Ice Cream dessert.
Italian:
Popular Favorite: Cafe Gazelle (191 La Verne Ave., Long Beach): this itty bitty, well-priced restaurant packs one of the biggest flavor punches in Belmont Shore.  Come early or be prepared to wait.
Our Favorite: Angelo's Italian Deli (190 Laverne Avenue, Long Beach): a stone's throw away from the human ant farm of 2nd Street is THE only place in Long Beach we will pay for a sandwich.  Justin's favorite: "Spicy" number 1. Hillary's favorite: Speck Prosciutto.  If you want authentic Italian products, this is the place to go.
One Step Further: P3 Artisan Pasta: do you like your carbohydrates as fresh as possible?  Check out the Pizza, Pasta and emPanadas (an ode to the owners' Argentinian roots) at 3P on 4th st.  Pizza's are wood-fired and fresh pasta (gluten-free options available!) is hung up to dry before diners' eyes.  Justin recommends the lasagna (also cooked in the wood stove), and I love the red bell pepper pasta.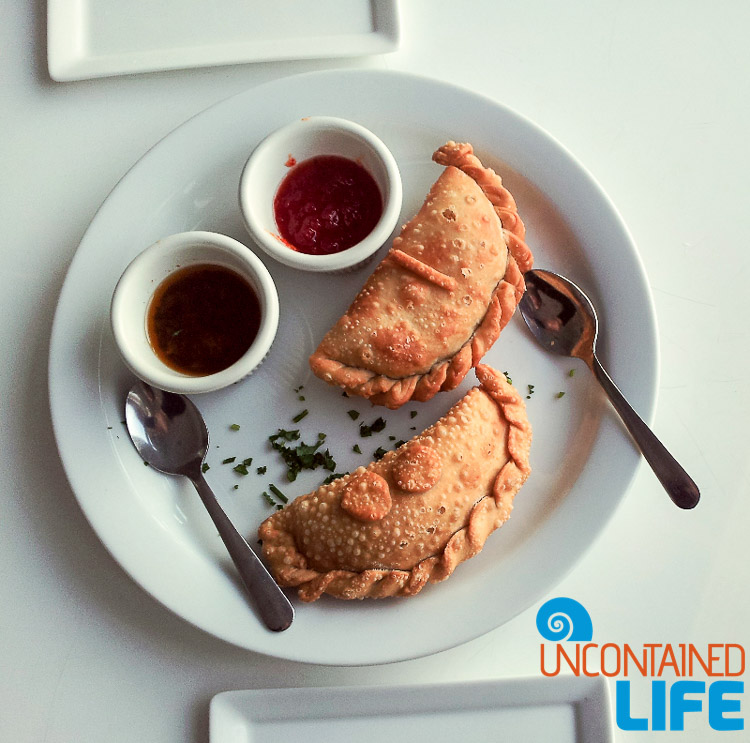 Free Yoga 
Do your chakras need a tune up?  Good news!  Find FREE daily yoga classes at 54th Place and Ocean Blvd., the peninsula, Long Beach, CA.  Check out the schedule HERE.
Bike Saturdays (and other Bike-friendly Fun)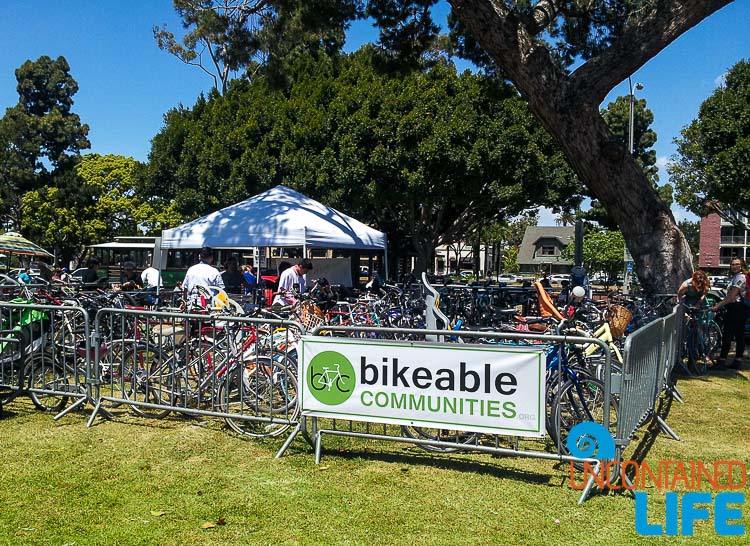 Long Beach has been voted one of the most bike-friendly cities in America!  Since 2008, when Long Beach built it's first "bike boulevard" on 2nd Street in Belmont Shore, "sharrows" (shared lane markings) and artistic bike racks and corrals have been added all over town.*
In tandem with these facilities, Long Beach has also developed its annual "Tour of Long Beach" which raises funds for Miller Children's Hospital and its weekly "Bike Saturdays" program which offers special discounts to folks who ride their bikes to participating shops and restaurants (just look for the Bike LB Decal).
Looking to bike recreationally in Long Beach?  Check out maps and featured bike rides HERE.  Justin and I love the shoreline path! 
One Step Further:
For local guided tours contact Elizabeth Williams at Cali Bike Tours; Elizabth's company offers several types of tours, including a wine tour (!) and bike rental is included in the tour cost ($60).
Need to rent a bike?  Uncontained Life recommends the family-owned business, 404 Bike Sales & Rentals (3329 E 4th St, Long Beach; UPDATE: the shop has moved approximately half a block down 4th street, next to the laundromat)
*For those who want added security, the Bikestation located at 223 E. First Street offers secure parking for your bike 24/7 (Daily Plan: $1 per day sold in increments of $10, Monthly Plan: $12 per month, or Annual Plan: $96 per year). 
What do you love about Long Beach?