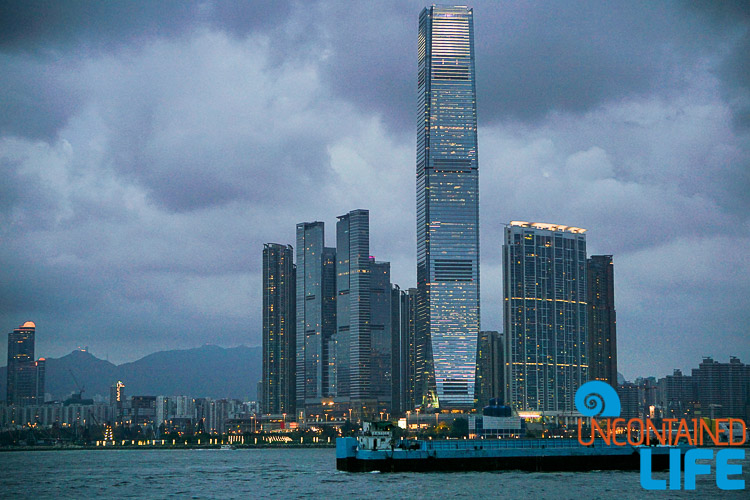 Hong Kong: foodie paradise, shopping hotspot, and overall, one of the most vibrant cities in Asia. How could we not want to hop on a plane and go exploring? Which is exactly what Justin and I did this past summer as a part of our month-long visit to China!
And while we experienced a few bumps in the road during our stay (which we'll discuss in another post), Hong Kong certainly did not disappoint. Indeed, there were so many great things to experience that it was overwhelming. But at the end of the day, there were certain things from our trip that really stood out to us–so read on for our picks for the 6 things you must do in Hong Kong if you're looking for the quintessential Hong Kong vacation!

Quintessential Hong Kong: 6 Things You Must Do in Hong Kong!
Eat Classic Cuisine:
Hong Kong is known for being a foodie heaven–and with the variety of items considered classic Hong Kong cuisine, making these picks was, quite possibly, one of our hardest decision-making processes to date.  BUT. We did it.
—Pastries: Kam Wah Cafe (金華冰廳/金华冰厅): 47 Bute St, Prince Edward (太子弼街47號地下)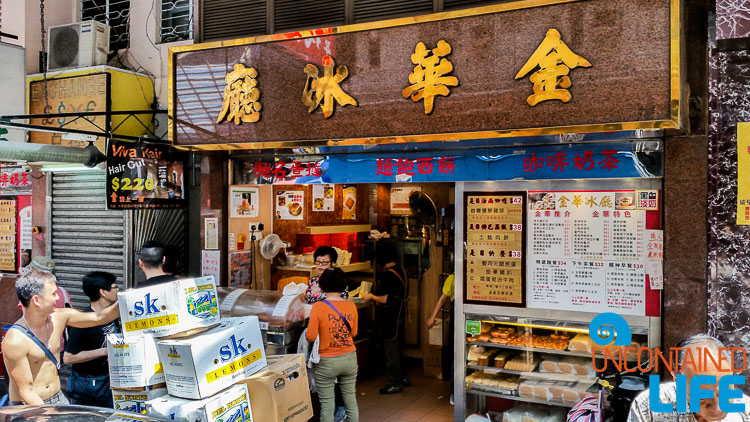 Hong Kong is famous for its Egg Tarts, and "Polo" Buns (I.E. Pineapple Buns). The tart is fairly self explanatory: silky egg custard nestled in a bite-sized  light-as-air crust. (Nom nom nom.) The Polo Bun, however, was a surprise. As we discovered, the name doesn't come from its contents (no pineapple inside—sorry, guys!), but rather, from the supposedly pineapple-esque appearance of the bun's crust (personally, I didn't see it).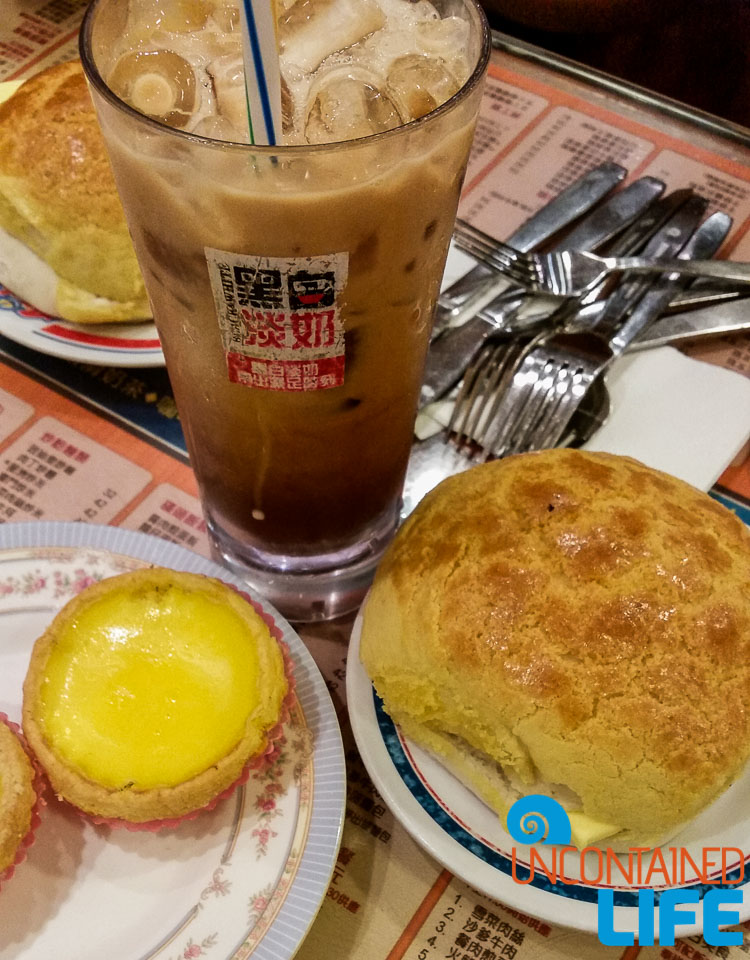 So what's so special about this bun, you ask? All I can say is, you've got to taste it yourself to fully understand the mania. Order your fresh bun with a thick slab of salty butter melting in the middle and enjoy the crisp-on-the-outside, soft-and-sweet-on-the-inside goodness. Whew. That was a mouthful. Just like the bun! *ba–dum–tss*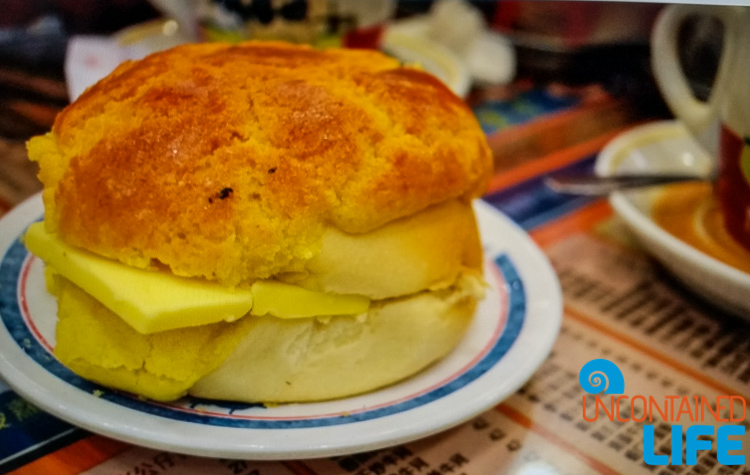 Just don't enjoy it too long. Welcome to Hong Kong Cafe culture, my friends! It's crowded. It's loud. And service is, shall we say, economical. You might be sharing a table with strangers if you arrive during peak eating hours. Your waitress will probably be brusk and impatient if you take more than 30 seconds to place your order and you will get some dirty looks if you linger too long after finishing your meal. If you try to get a waitress's attention during your meal and you feel like you're being ignored…you probably are, for now. Just keep your hand in the air and someone will come when they are able.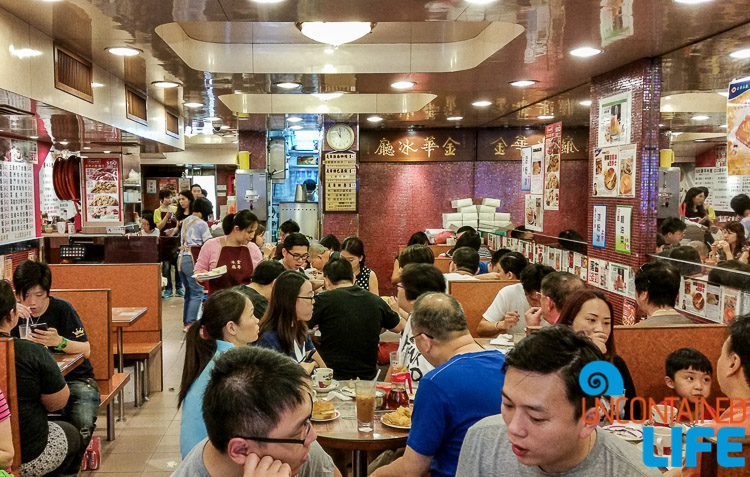 —Dim Sum: Dimdimsum Specialty Store (點點心點心專門店); we visited the Mong Kok location: 112 Tung Choi St. Mong Kok, Kowloon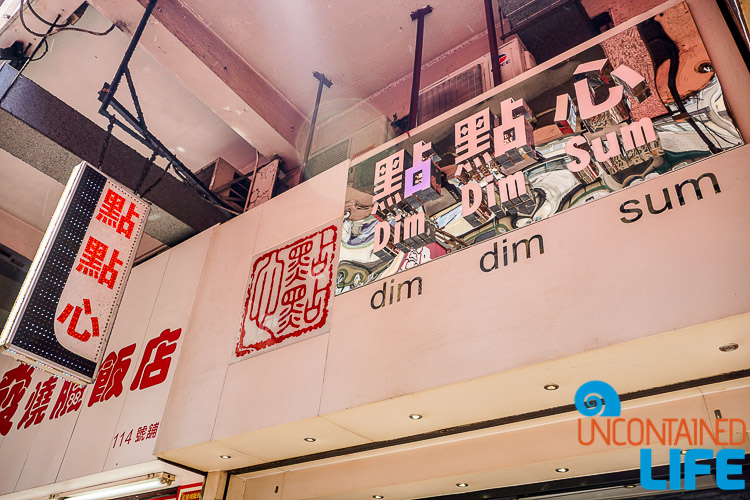 Dim sum, which translates as "touch your heart" is more than just classic Hong Kong cuisine; it's a communal tasting experience like no other. In Hong Kong, you'll find your dim sum served in all manner of settings and styles, but whether you're munching on dumplings, slurping down rice flour rolls or crunching crisp pastries, you can be sure your palate will never get bored!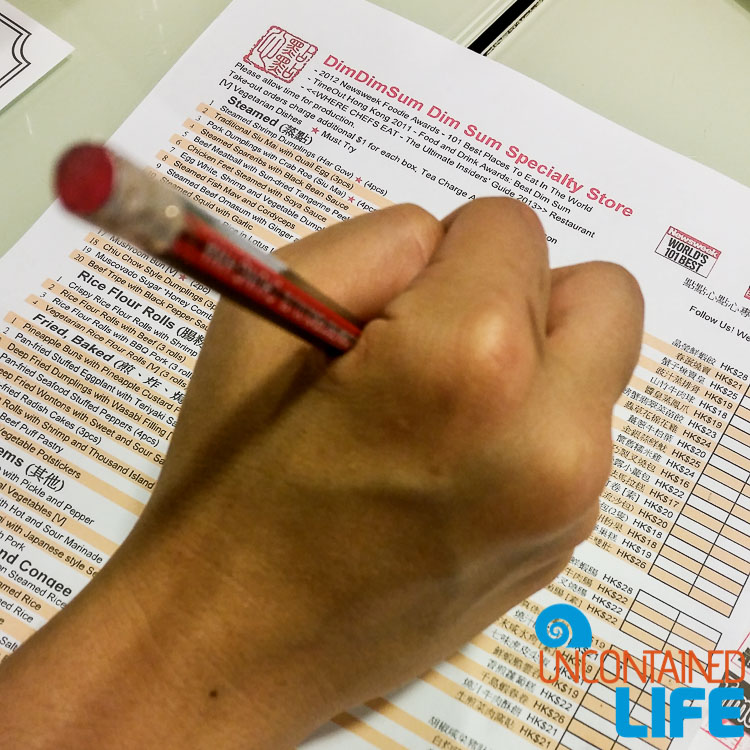 Dimdimsum Specialty Store has been a favorite amongst foodies for the past few years (including Anthony Bourdain) and we were pleased to find it lived up to its reputation for quality food at a very reasonable price. Our favorites included the stuffed eggplant…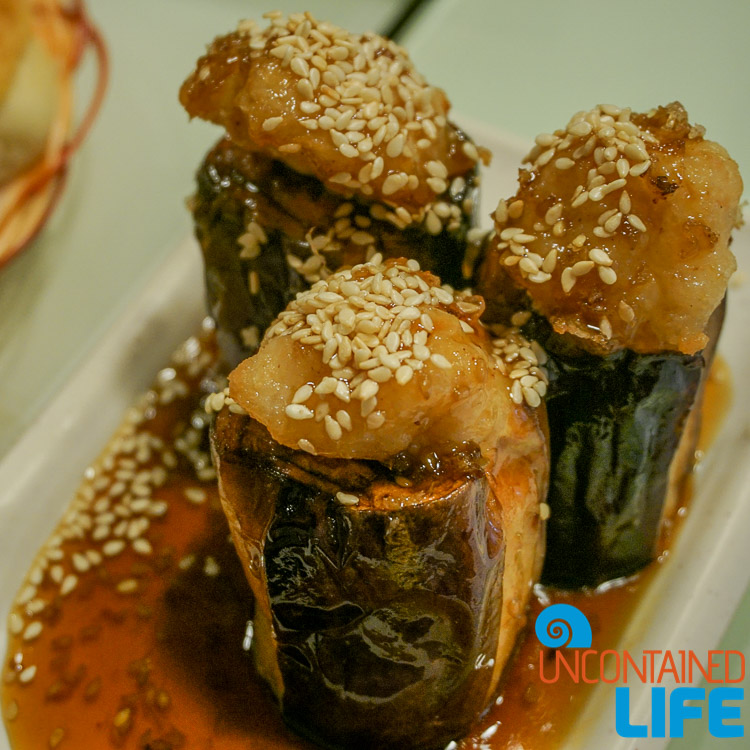 …bbq pork buns…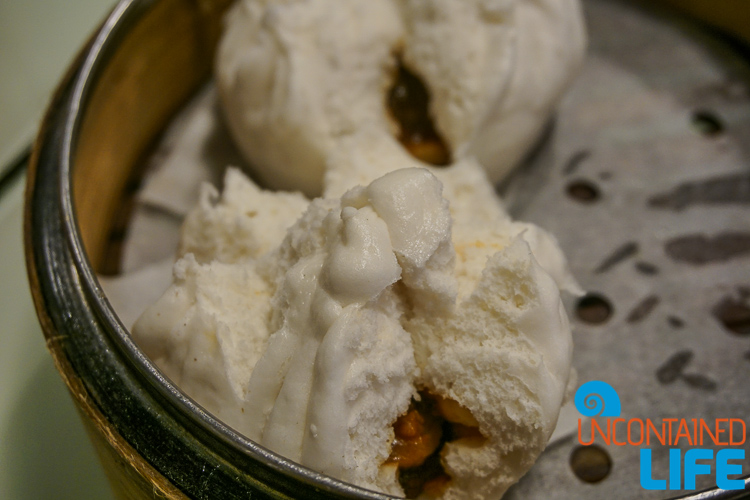 …and pork dumplings with crab roe.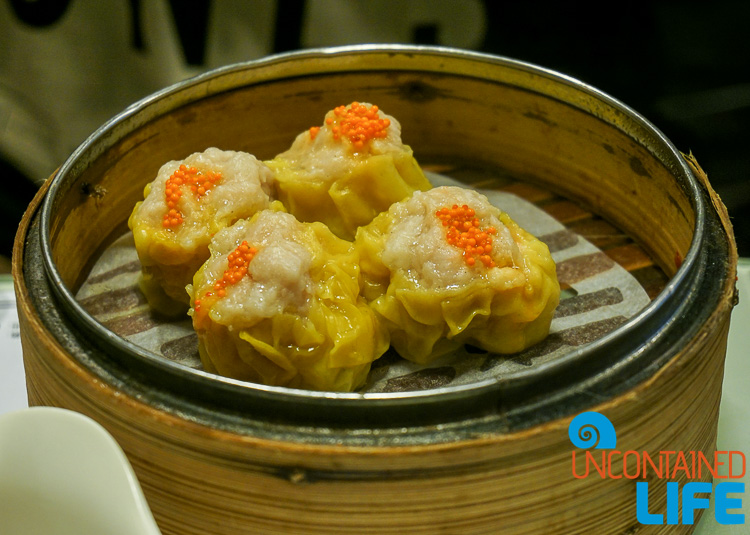 —Pork Ribs: Delicious Kitchen (美味廚): 20 Ashley Rd., Tsim Sha Tsui, Kowloon City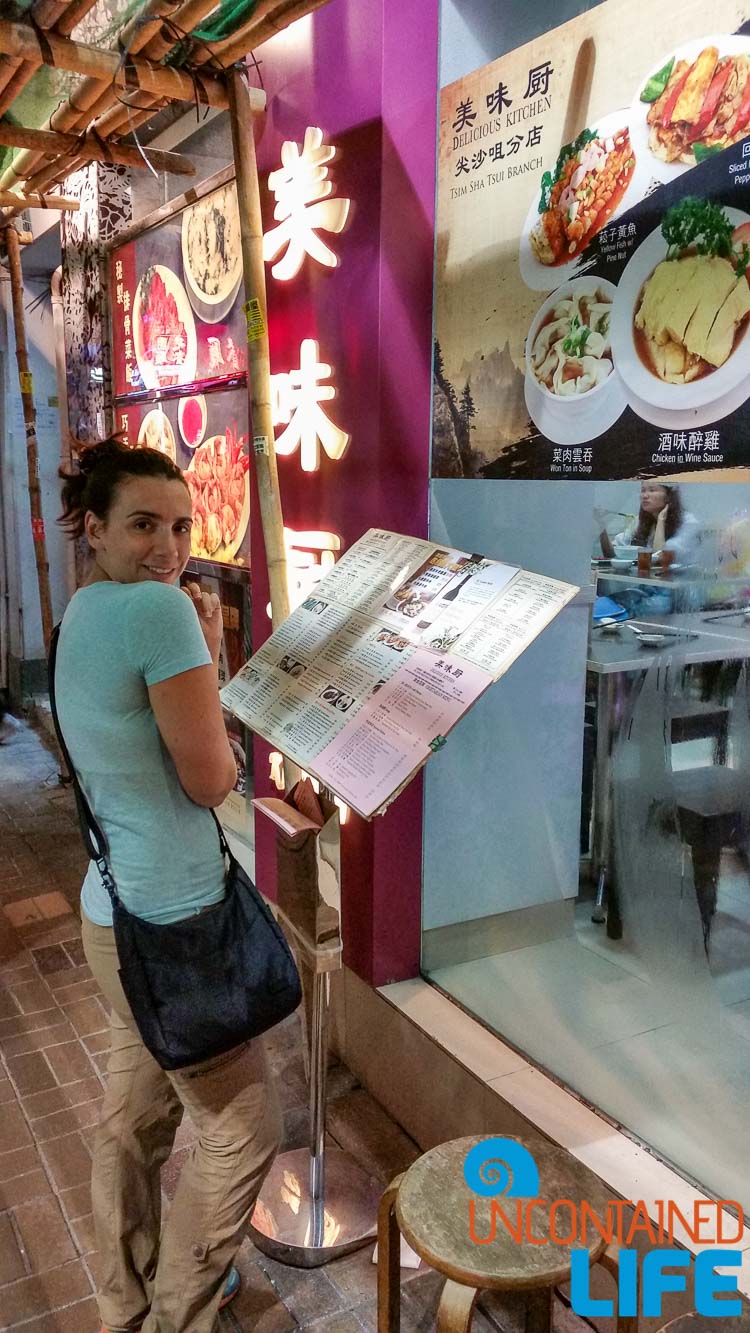 Like Kam Wah, Delicious Kitchen may serve many dishes, but it's fame comes, by and large, from a single item. In Delicious Kitchen's case, that item is it's died-and-gone-to-heaven delicious boneless pork ribs. The crispy fried pork is glazed with honey and served with rice. One bite, and we were instant converts (in fact I'm getting hungry right now, just thinking about them…mmm….)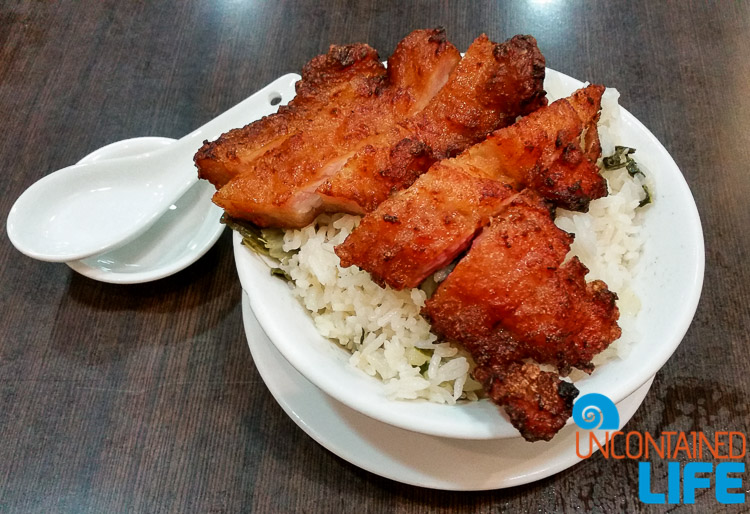 —Wonton Noodles: Mak's Noodle (麥奀雲吞麵世家): various locations–we visited the one at the Peak Galleria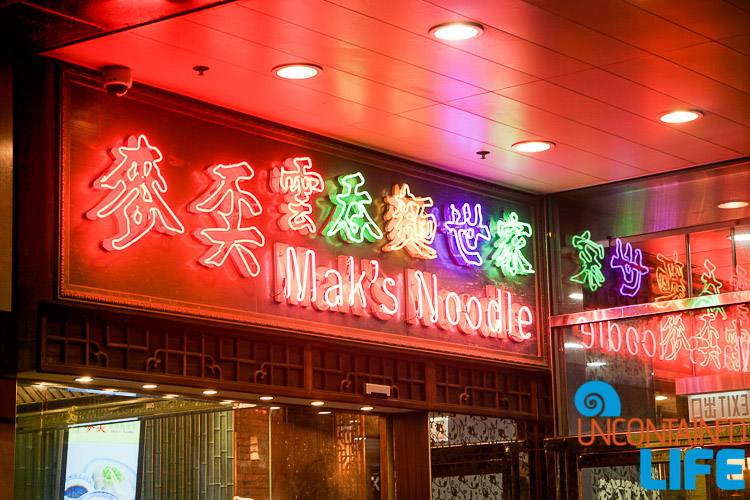 Mak's Noodle, a third-generation family business, is widely considered the best wanton noodle restaurant in Hong Kong. Ever since Mak Woon-chi brought the dish from Guangzhou to Hong Kong, the central recipe has remained the same: needle-thin noodles in rich broth paired with delectable wantons. The bowls are small, but still, quite filling!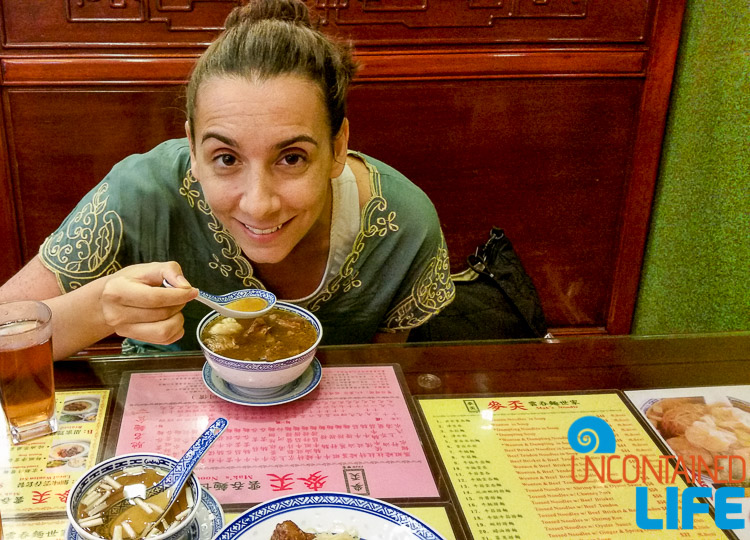 And, of course, if wanton's aren't your jam, you can also explore other tasty offerings…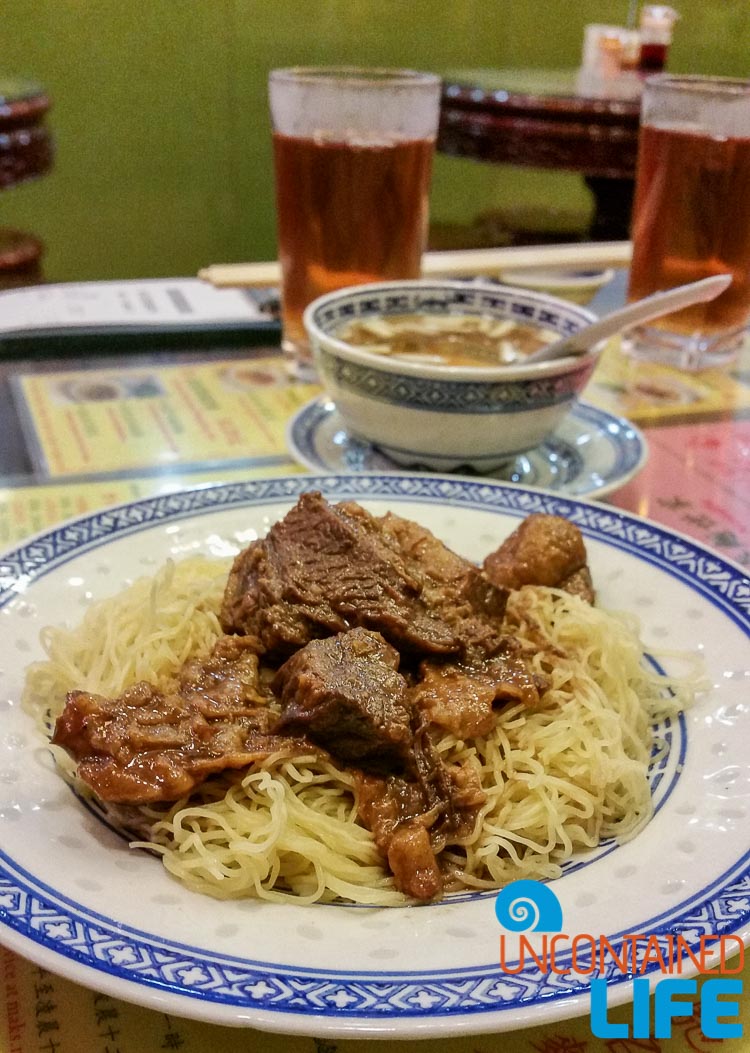 Hit the Markets:
Our Favorite: The Flower Market: Flower Market Rd, Mong Kok, Hong Kong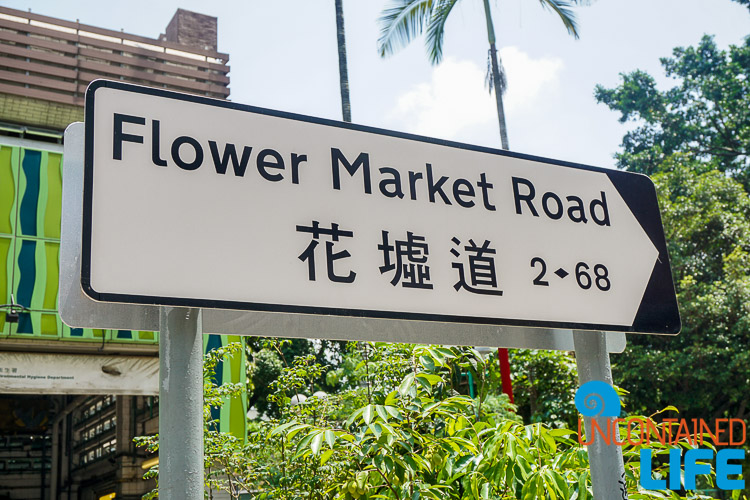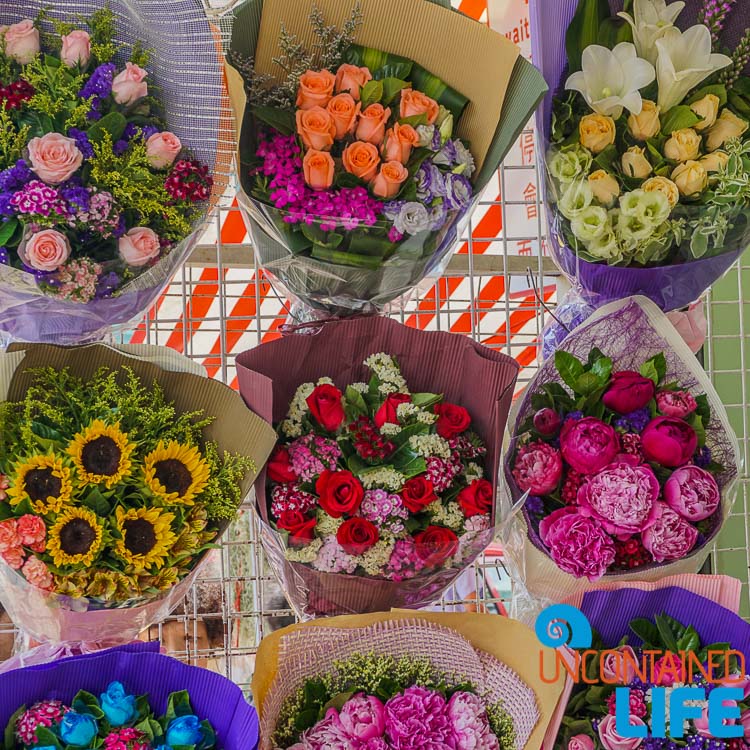 I'll be the first to admit that, for most visitors, the cheap shopping available at the Ladies Market is probably a bigger draw than our favorite, the Flower Market. Yes, the Ladies Market has 2 tshirts for five dollars, fashion jewelry, knock-off Go-Pro gear and certain other interesting items…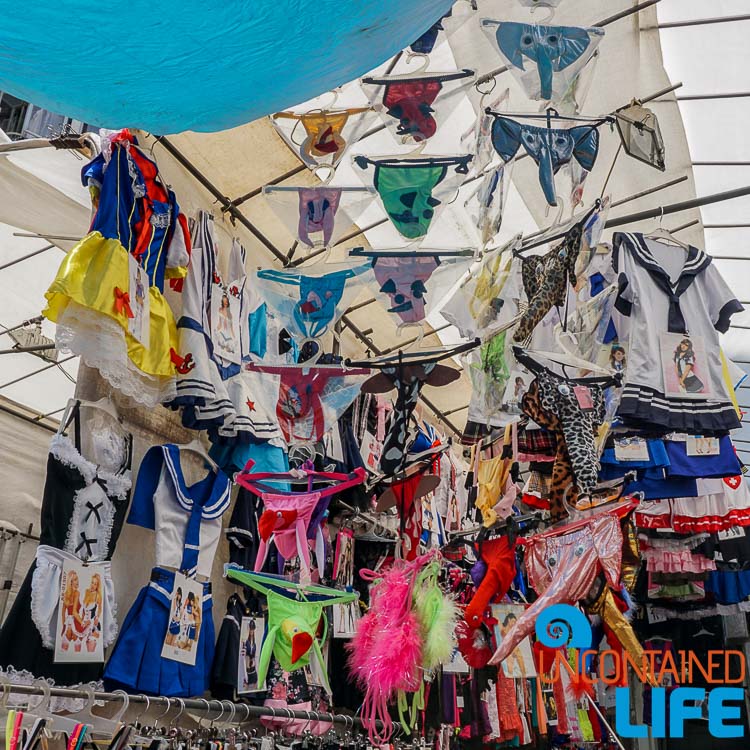 …but you can't deny it's just as colorful: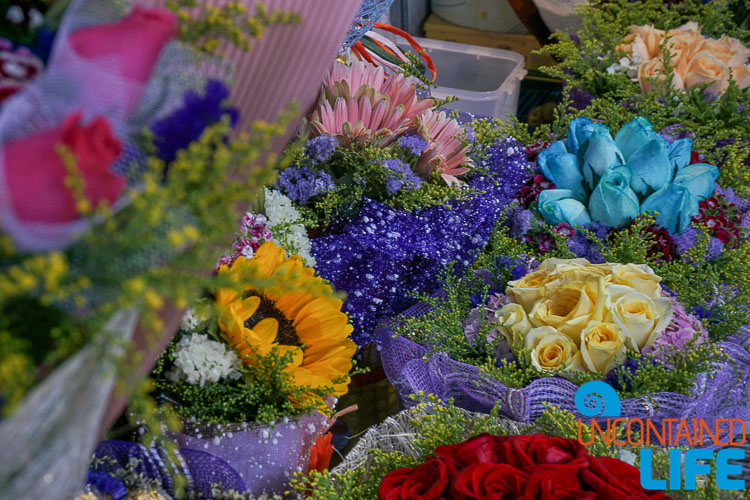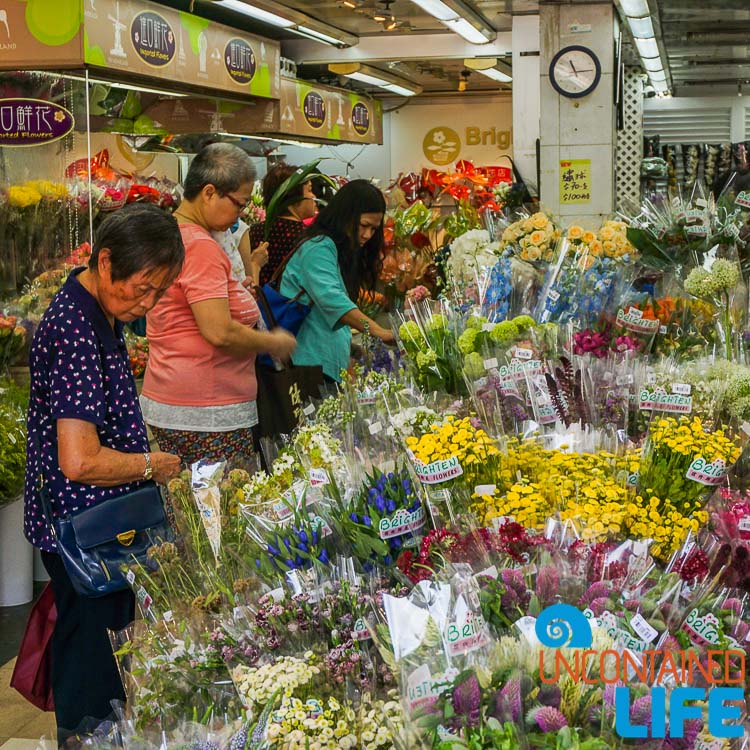 And has exotic plants…like this awesome insect house of horrors.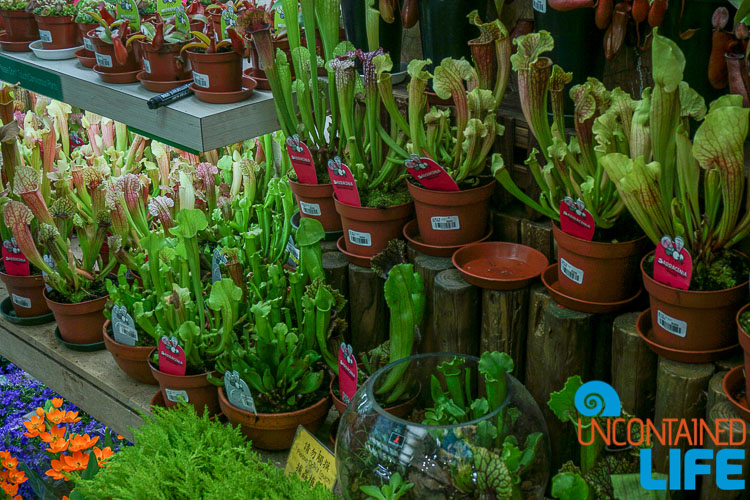 In short, our trip to the Flower Market was a beautiful respite from the city's neon-y excesses. We recommend visiting this market early in your stay in Hong Kong so you can have a fresh floral bouquet to brighten up your accommodations.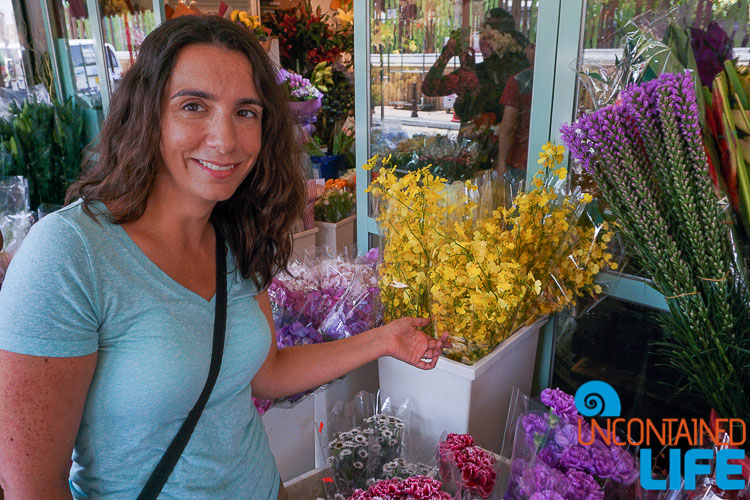 See the View from Victoria: 
Victoria Peak (Peak Tram Lower Terminus on Garden Road)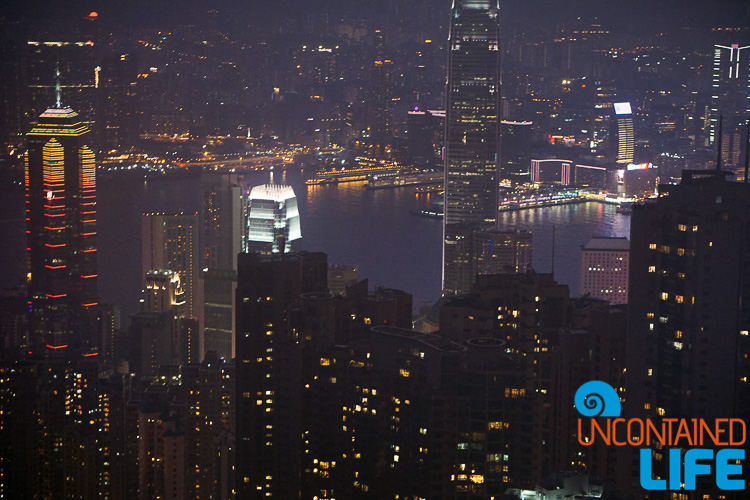 There's a reason the Peak is on so many Hong Kong "must" lists: the killer view of the city.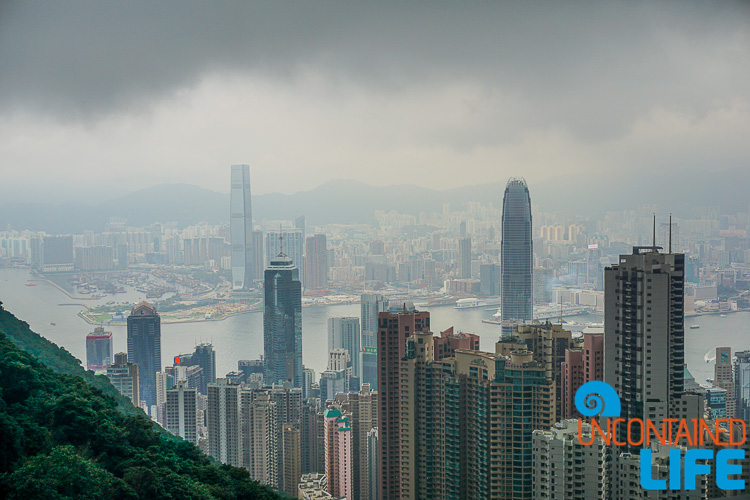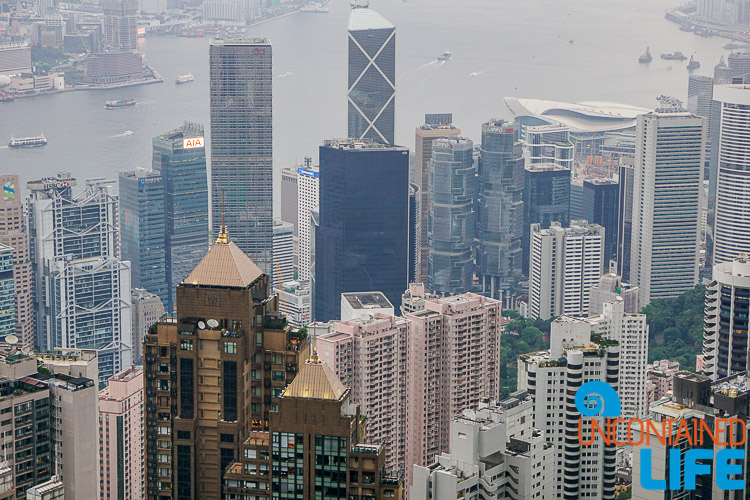 While, back in the day, the only way up Victoria was to hike (ouch), or hire someone to carry you in a sedan chair (ouch for the hired), today the Peak Tram will let you ride to the highest point on Hong Kong island in mere minutes.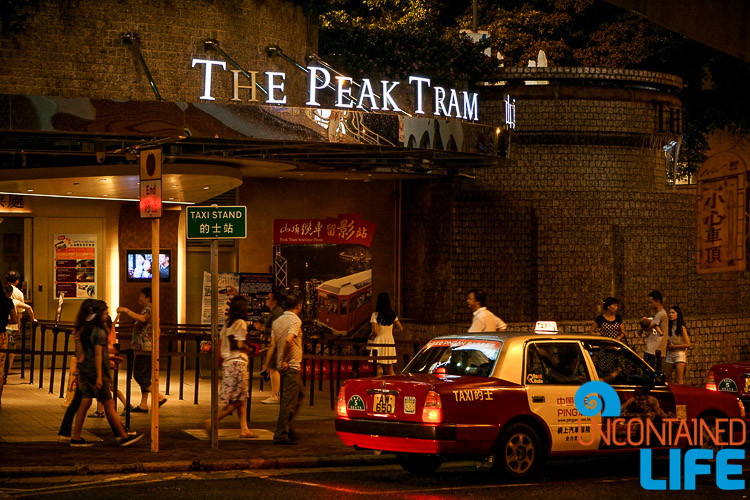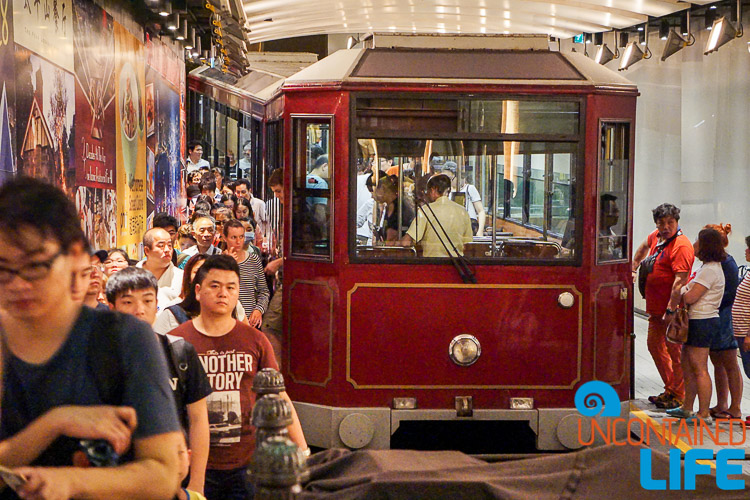 It was a tad damp when Justin and I visited, but that wasn't much of a problem (always bring your folding umbrellas, kids!).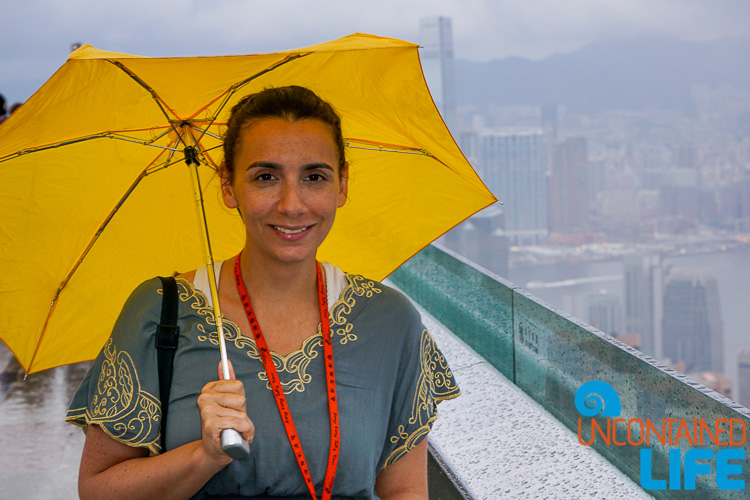 We saw so many people wait in line to arrive at the top only to take a few pictures and promptly leave. For the love of a terrific view, SLOW DOWN! You've made it to the top so enjoy it. Stay awhile to watch the city lights illuminate (it's worth the wait).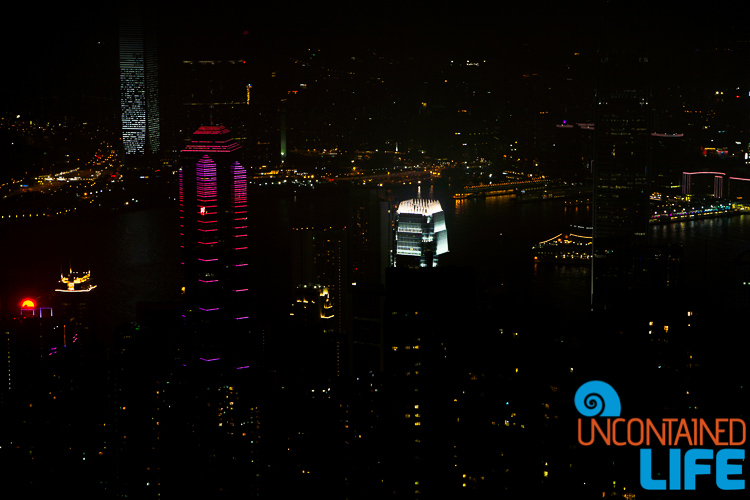 Take a Walk in the Park:
Our Favorite: Kawloon Park: Tsim Sha Tsui, Kowloon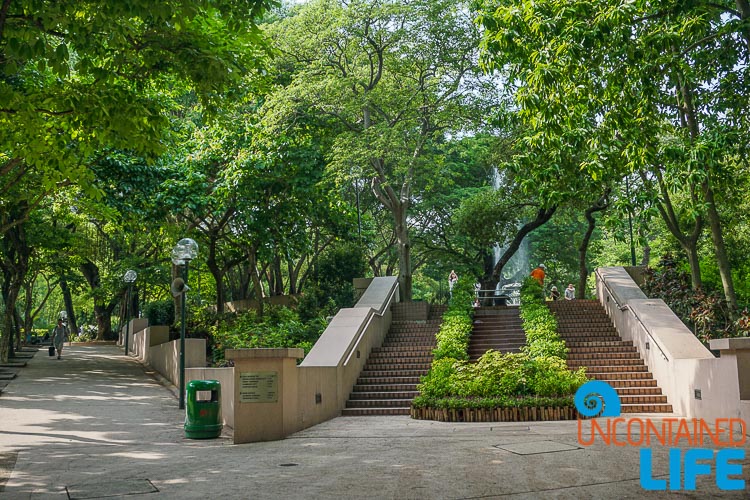 Ok, I know that Kawloon Park isn't the typical favorite (I will admit, we loved Hong Kong Park too—how could you not love a park that has a fountain that lets you climb inside of it?)
That being said, while Hong Kong Park was full of tourists, Kawloon Park gave us a better understanding of local life.
In addition to the awesome people-watching…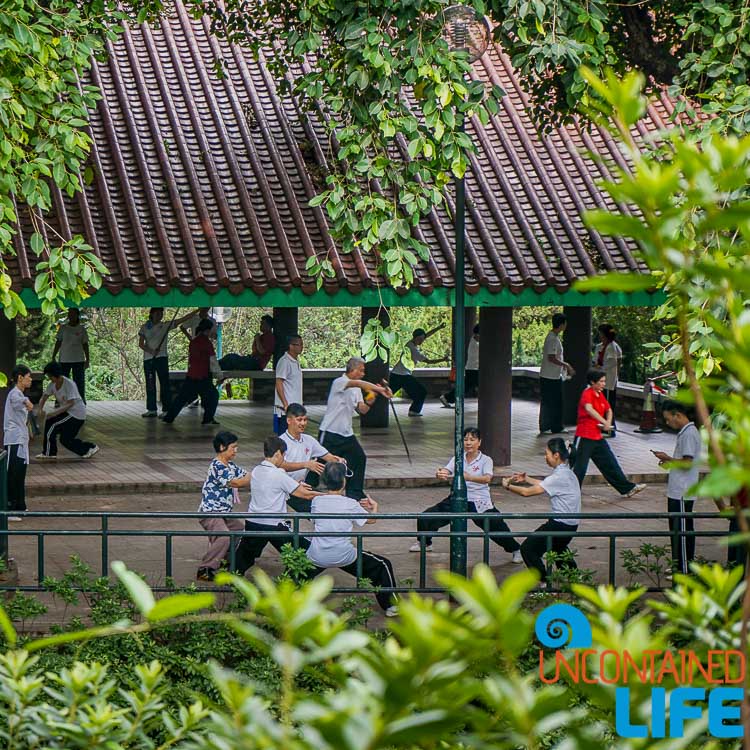 …and bird-spotting…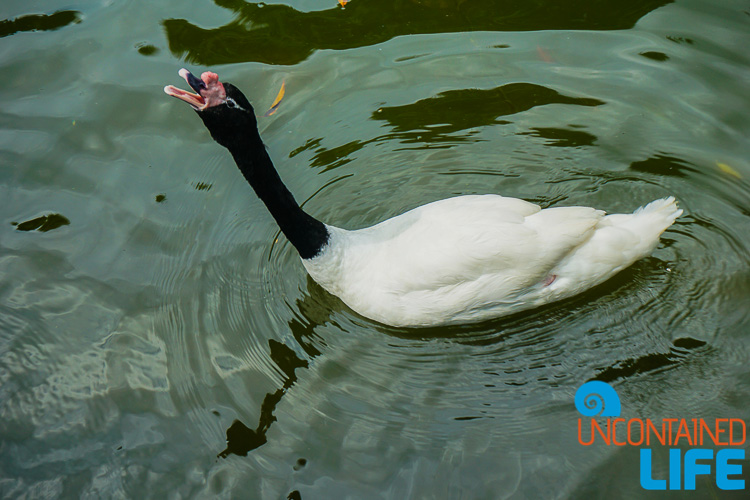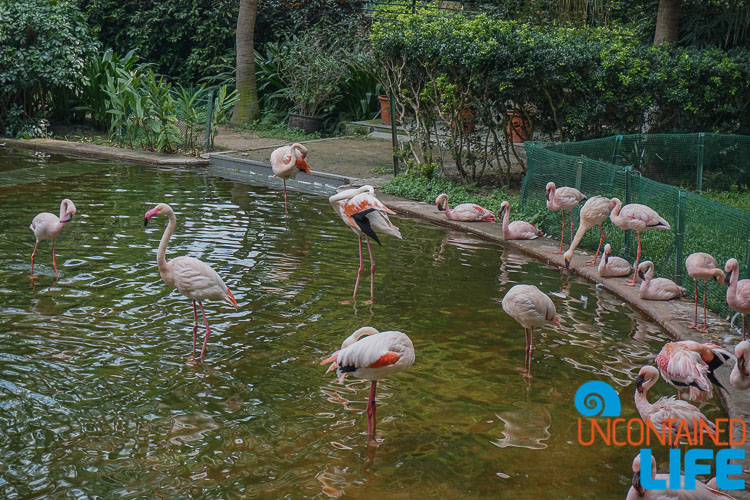 …we also enjoyed a stop inside the Hong Kong Heritage Discovery Center (located inside two former British army barracks buildings).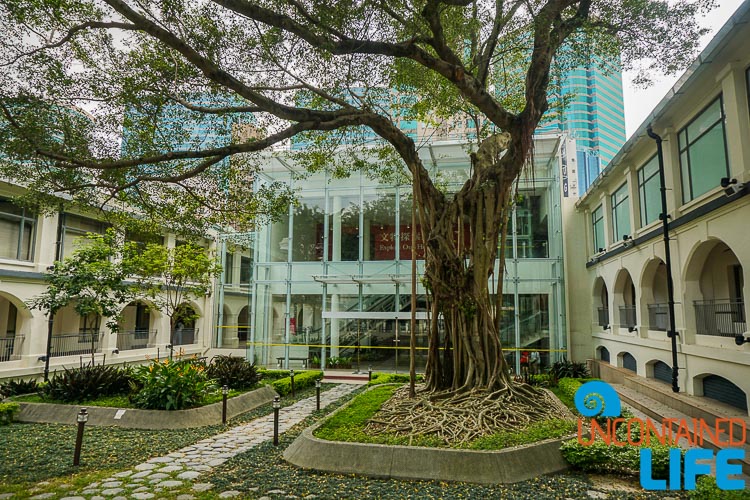 This mini museum houses a number of temporary exhibitions in addition to a permanent collection which showcases the city's rich cultural history and archeological treasures. No, that's not Justin tramping with his Lunas on broken pottery. One of the rooms features Ming Dynasty porcelain fragments under a clear plexiglass floor.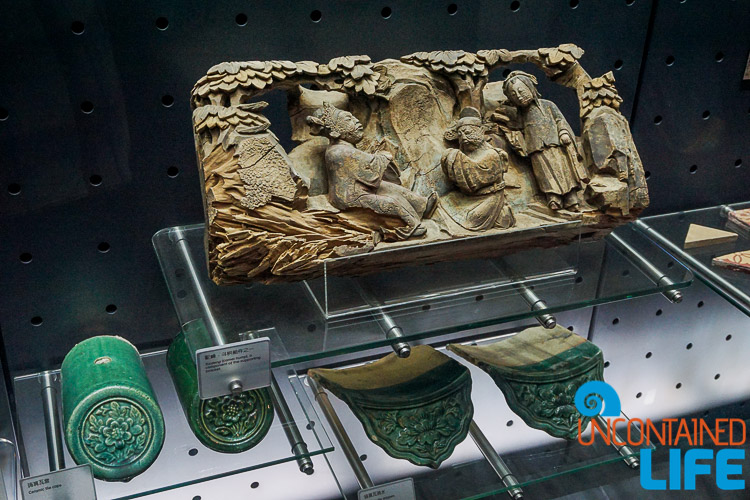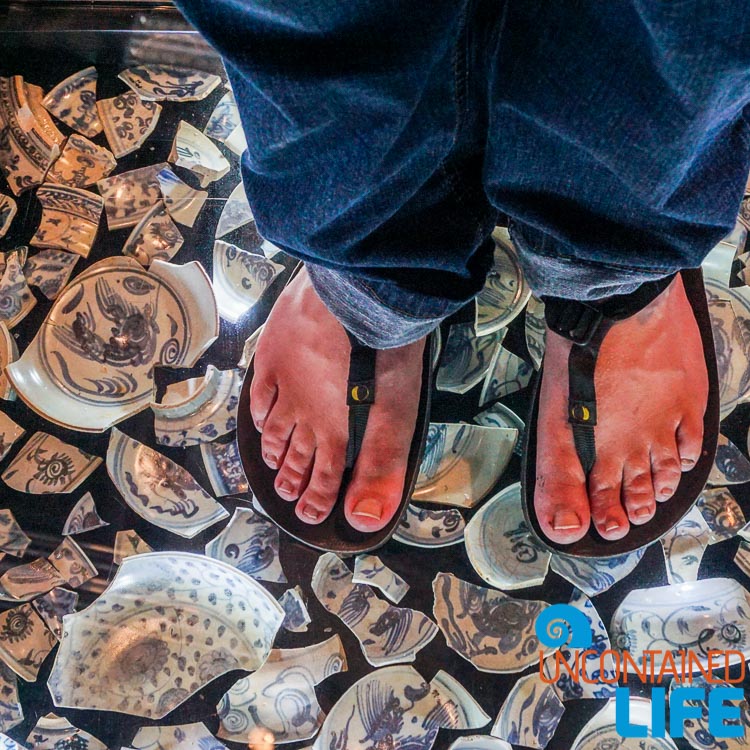 VISIT AN OFFBEAT MUSEUM: 
Our Favorite: Flagstaff House Museum of Tea Ware: 10 Cotton Tree Drive, (inside Hong Kong Park), Central, Hong Kong Island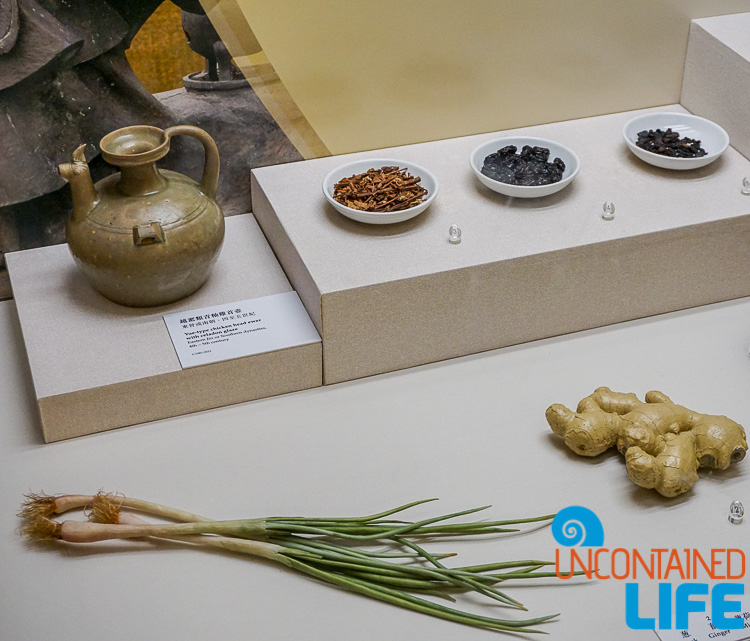 We stumbled upon this little museum in the midst of Hong Kong Park en route to the Peak Tram, and it ended up being one of our favorite discoveries.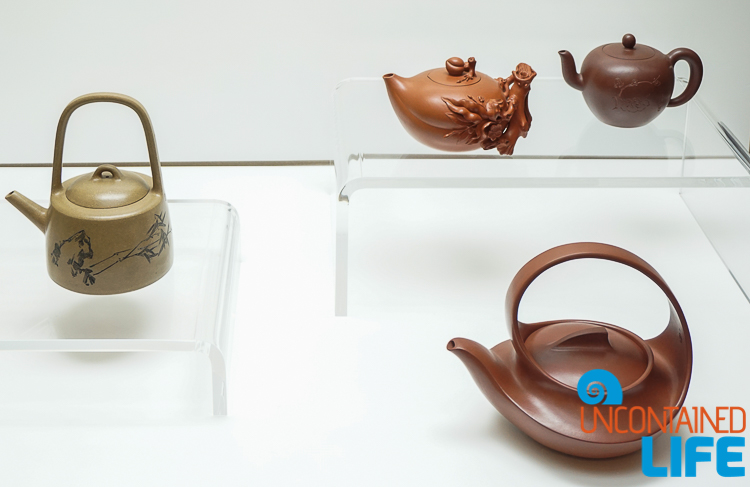 Housed in an elegant white mansion (formerly, the office and residence of the commander of the British Forces in Hong Kong), the museum focuses upon the history of Chinese tea culture.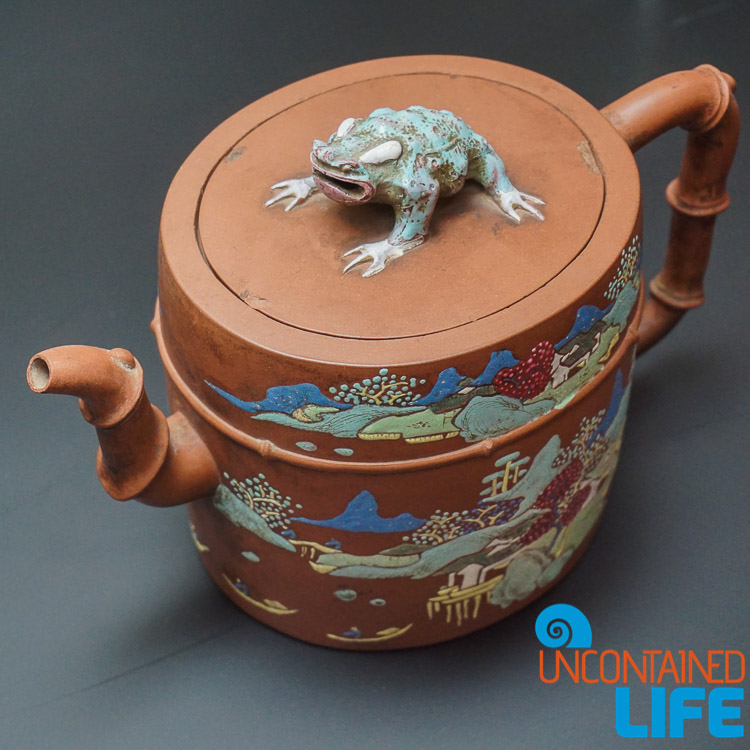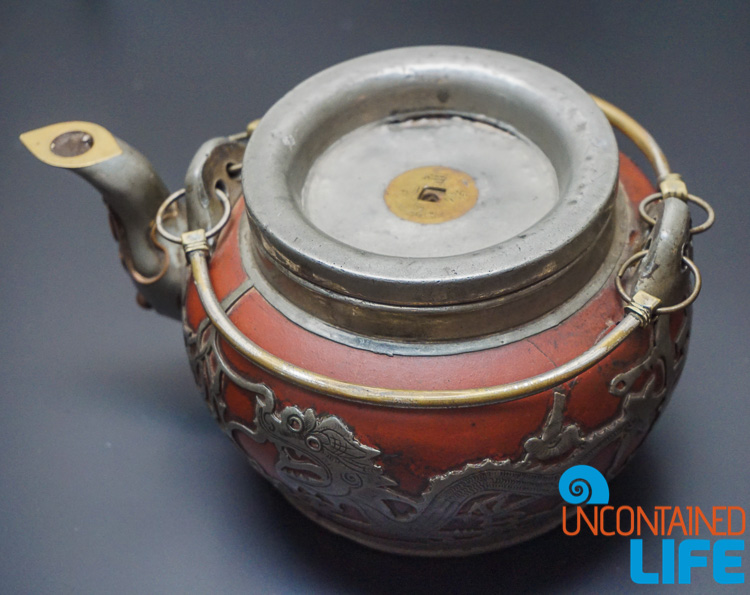 In addition to its collection of tea-related artifacts, the museum hosts weekly demonstrations and lectures.
Make a Daytrip:
Our Favorite: Cheung Chau Island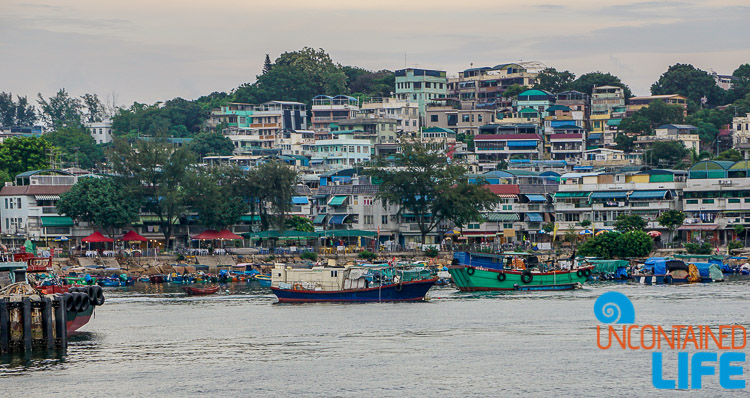 When we'd had our fill of Hong Kong's main stomping grounds, we decided to hop a ferry to Cheung Chau Island. Located just 10 km south of Hong Kong Island, this former fishing village, is now a favorite getaway spot for Hong Kong locals.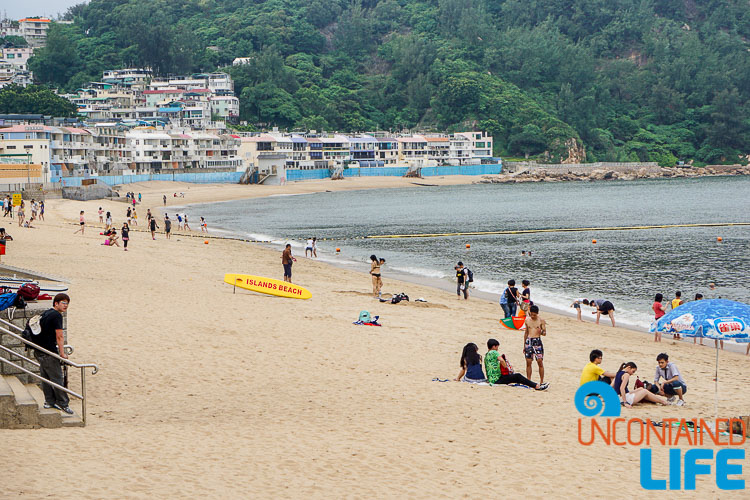 While many come to the island to browse shops which line the island's tiny lanes or to sunbathe on its sandy beaches, we decided to take a hike along the so-called "Mini Great Wall."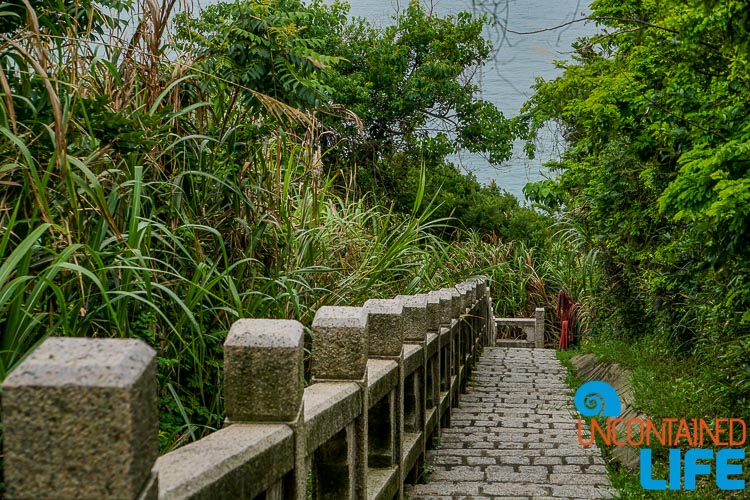 I'll be the first to admit, I really wasn't dressed for a hike…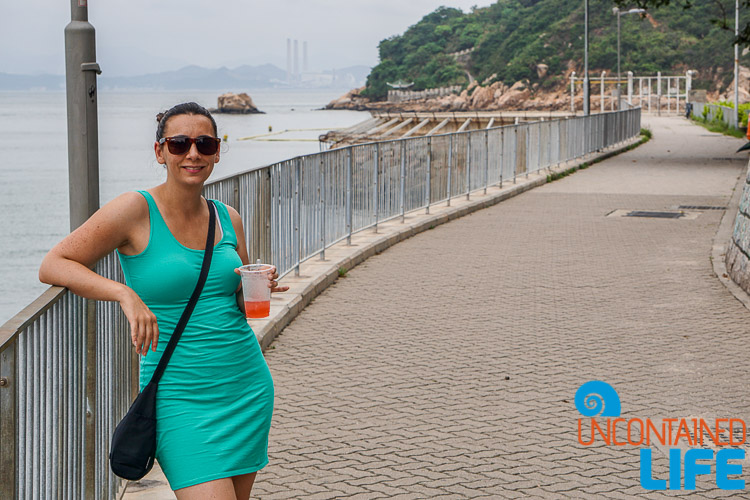 …and not wearing mosquito repellant was a mistake. Big. Mistake.

But in spite of the biting beasties and the crazy sweating that occurred, walking along the seaside path…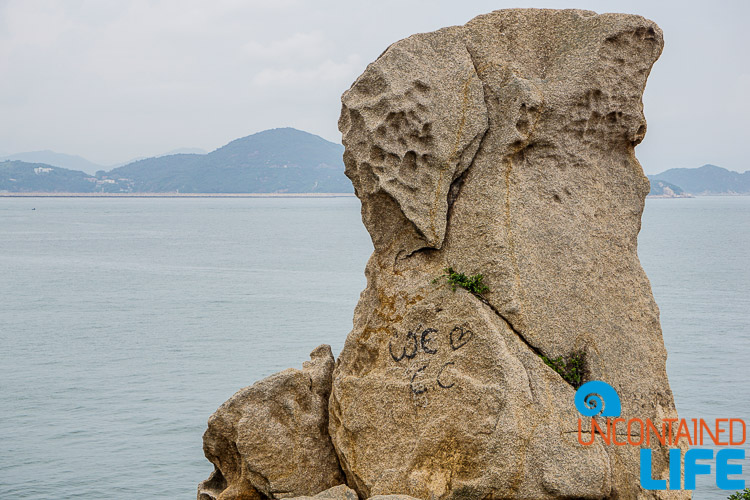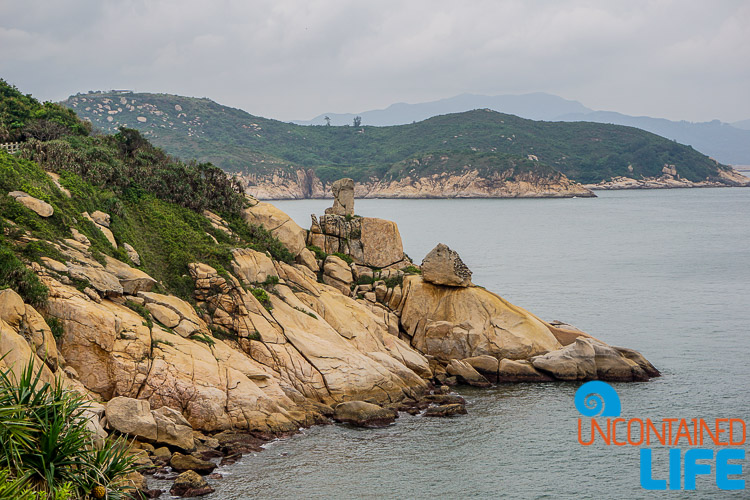 …and through shady, butterfly-filled forests was probably my favorite moment of the trip.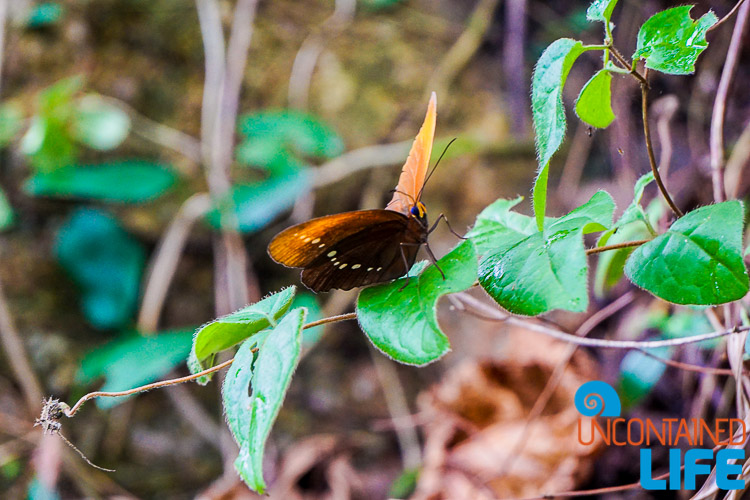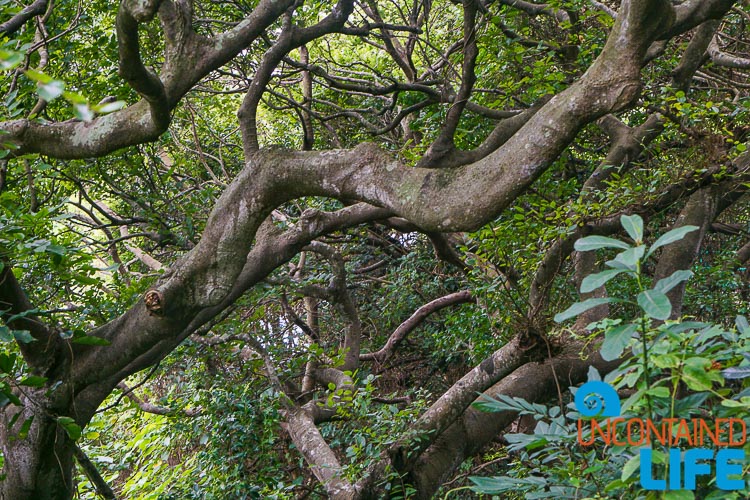 If you're looking to do all the things recommended in this post, we definitely recommend getting and using the Hong Kong transportation card, called the Octopus card. It's much easier than buying individual tickets every time you want to ride a bus, metro or ferry.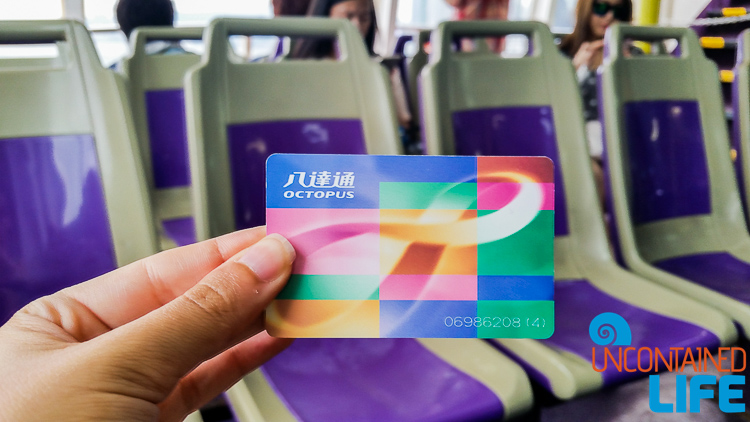 Looking for more travel tips for Hong Kong? Check out our Survival Guide for Hong Kong–it's chock full of more things you'll want to know before you touch down in this fantastic city.
Need a place to stay in HK? Find the best deal, compare prices, and read what other travelers have to say on TripAdvisor.
Have you visited Hong Kong? Share your stories in the comments section below!