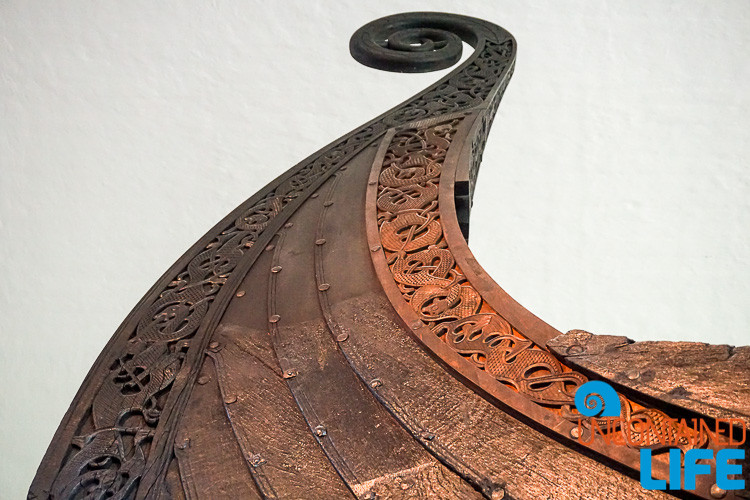 Norway has long been on Justin's and my "must visit" list. But, our recent trip to spend a weekend in Oslo, Norway's capital city, was actually kind of a fluke. We were on Skyscanner looking for the best way to get from Bangkok to Berlin, and, weirdly enough, making a stopover in Oslo was the least expensive option (oh, darn). So we bought our tickets, bundled up, and headed north!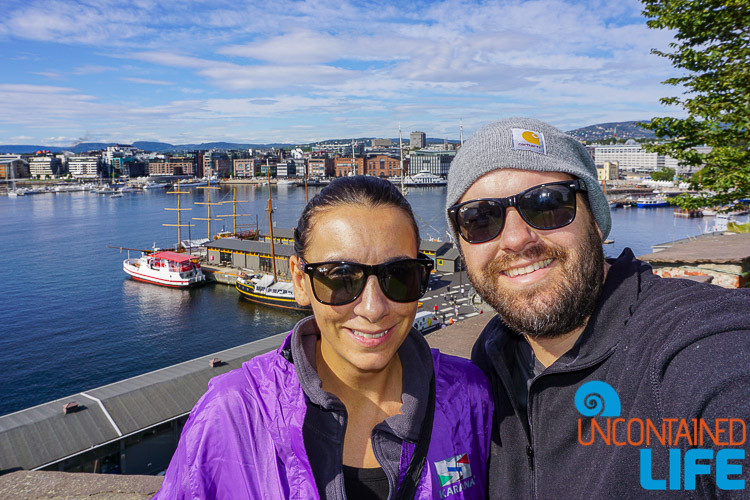 In all honesty, we weren't sure what to expect from Oslo (other than high prices). When people are waxing eloquent about Norway's many beautiful and exciting sights, Oslo doesn't usually come up in the conversation.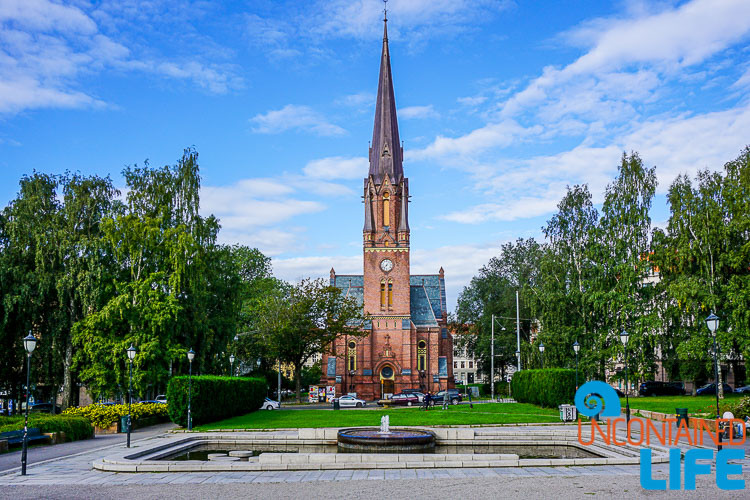 But guess what? Oslo totally belongs in the conversation. Oslo is awesome!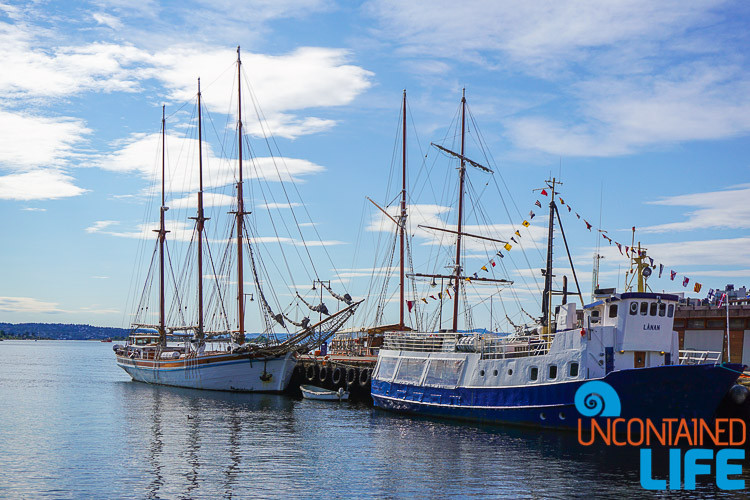 Oslo has fantastic green spaces, beautiful architecture, friendly locals and amazingly diverse neighborhoods (in this post, we'll give you the inside scoop on some walks that that will take you off of the tourist track and help you discover the real Oslo). And in Autumn, after the summer visitors have left, it's about as calm and unhurried a place as I have ever seen any big city…ever.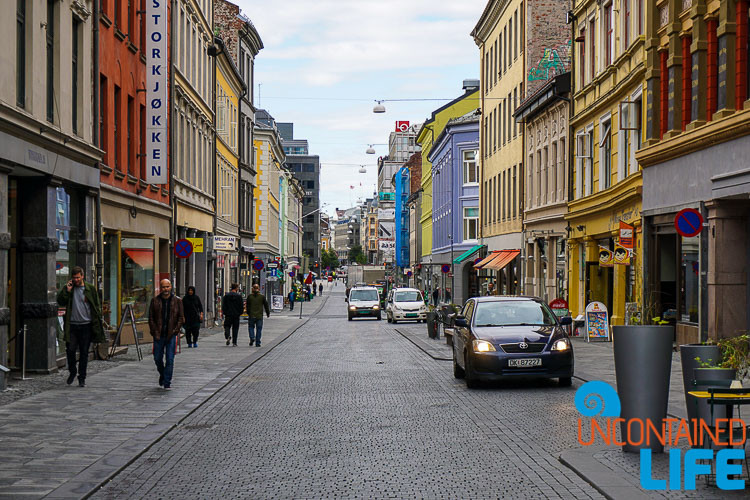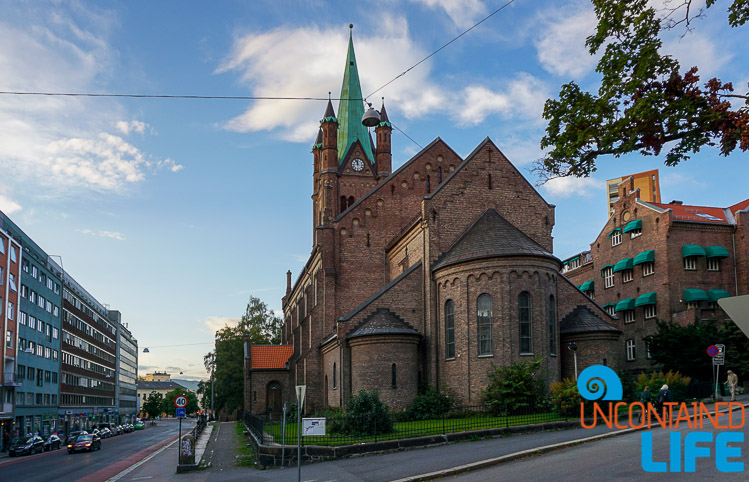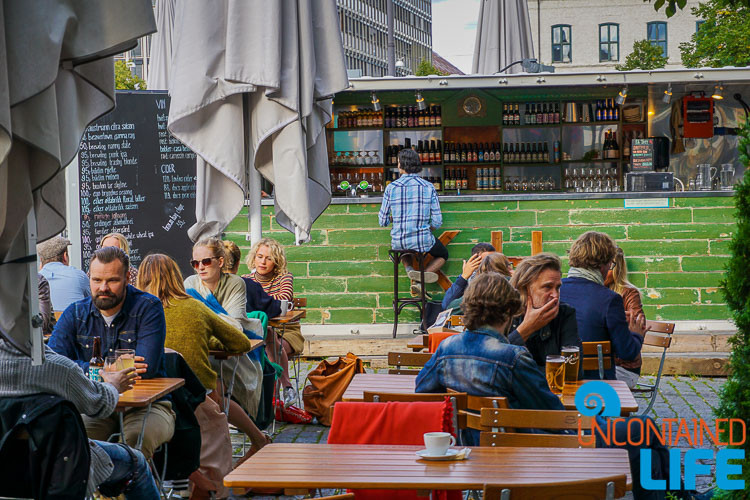 Yes, Oslo (in fact, all of Norway) is expensive, but after spending 72 hours in this city, we were very happy we'd come…and we think you'll feel the same!
So. How can you make the most out of a weekend in Oslo (without breaking the bank)? It's as simple as En, To, Tre! 
En (One): Hit the Oslo Highlights
For such a small city, Olso has a huge number of noteworthy sights. Whenever possible, Justin and I like to walk a city, but when we have such a short amount of time in a place, other options need to be explored. So we decided to take a ride through the city with a quirky local tour company: Viking Biking.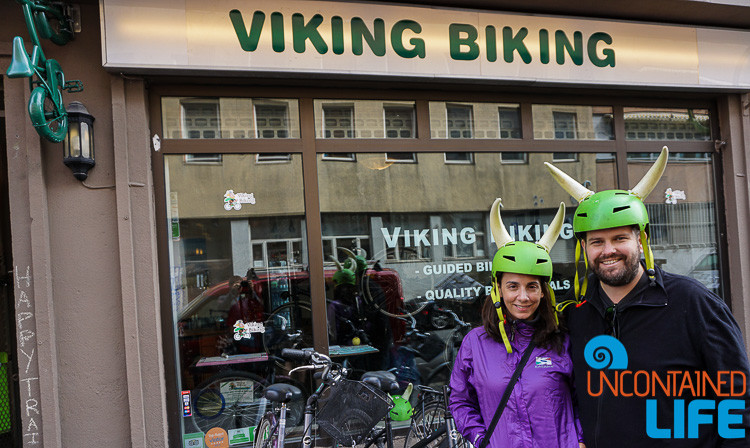 Now in it's fourth year, Viking Biking's bike tours, co-founded by Curtis Rojak (pictured below with one of our fellow riders), have become a favorite way for visitors to get a 3 hour "crash course" in Oslo's major sites, its history, and its culture.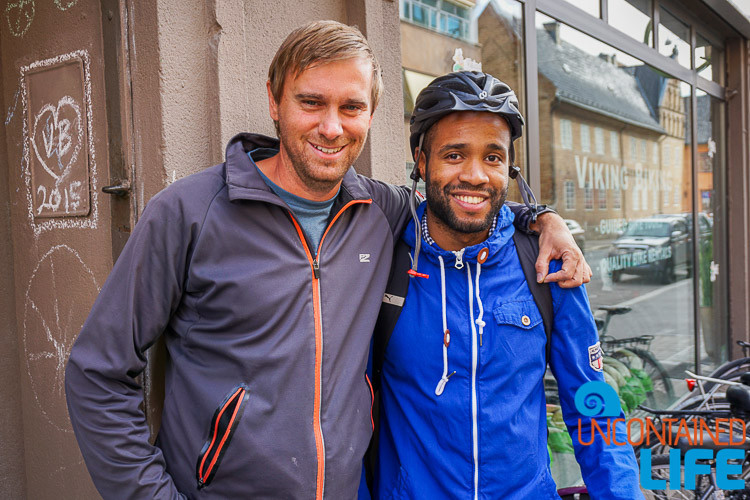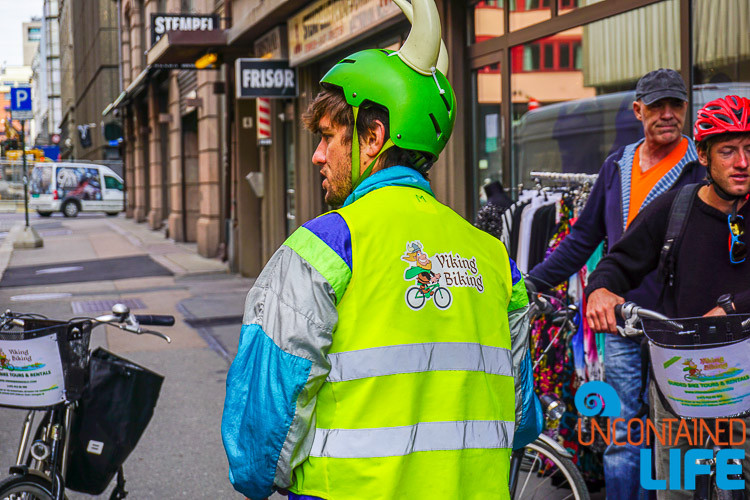 Throw in your guide's expert tips on other things to do (and places to eat and drink) throughout the city after the tour and you've got yourself one heck of a deal for approx. $40 USD (20% discount with the Oslo Pass)–heck, that's less than the cost of a meal with drinks in many of Oslo's restaurants!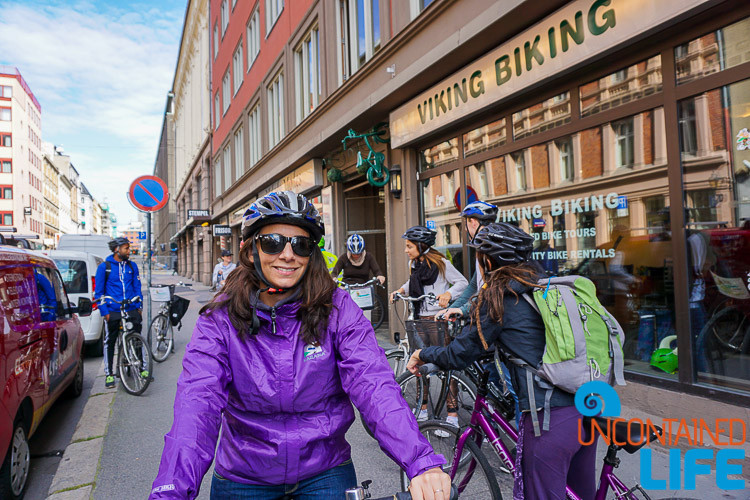 Here are some of our favorite stops on the tour:
Christiana Torv
In addition to being the home of some of Oslo's oldest buildings, this square in the old city center is also the fabled spot where, following the fire of 1624, Danish-Norwegian king Christian IV (I.E. the giant bronze finger pointing to the ground) decided the new town would be built.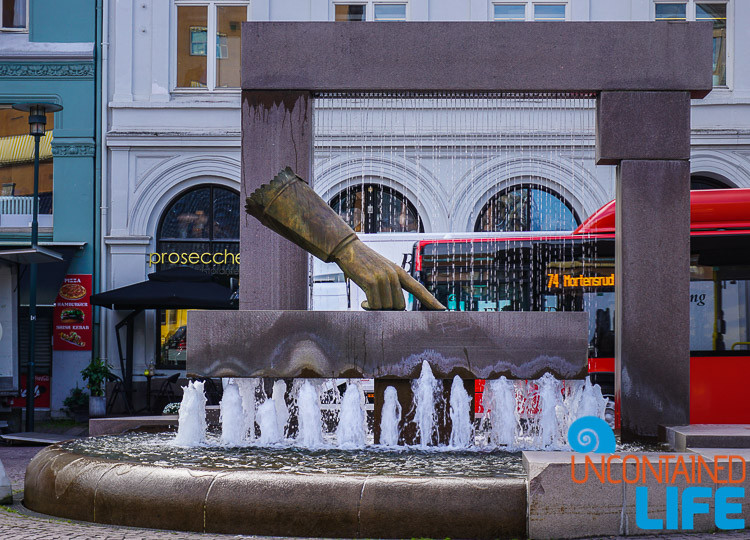 Akershus Festning (which also houses Norway's Resistance Museum)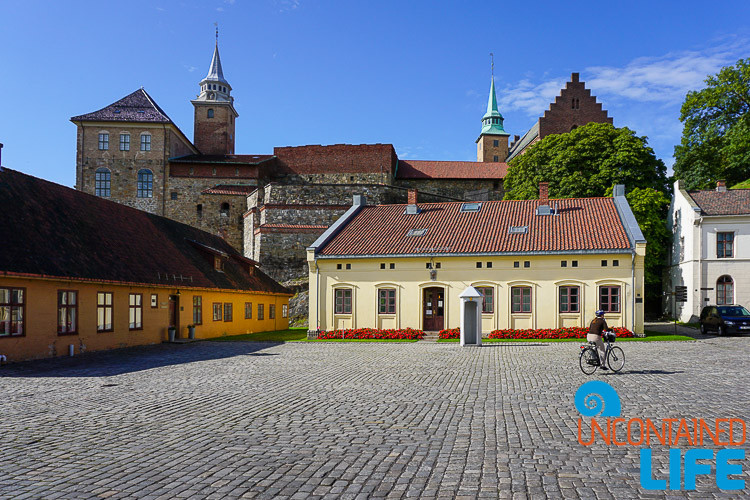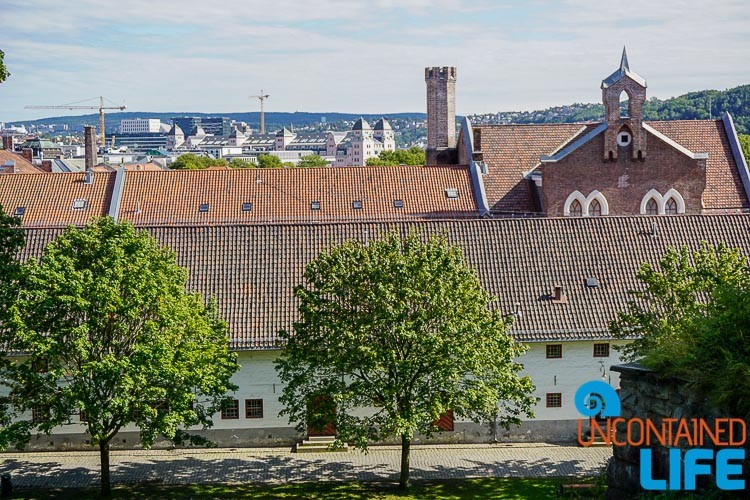 As Americans (I.E. people used to important government stuff being swathed in crazy security, set back behind fences, etc.) of the most striking things about this medieval fortress (and the modern buildings which now share its grounds) is that it's still used for military purposes…and yet it's still completely open to the public.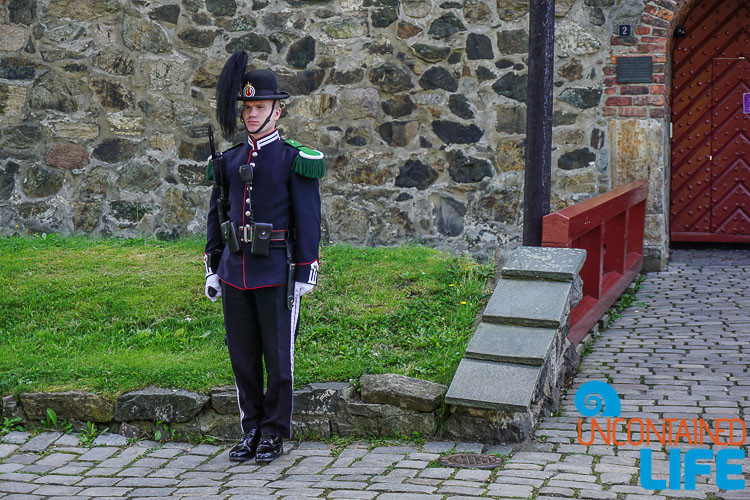 Our guide told us that he regularly spots key government officials walking the grassy space and interacting with laypeople who've just come to enjoy the grass and sunshine.
City Hall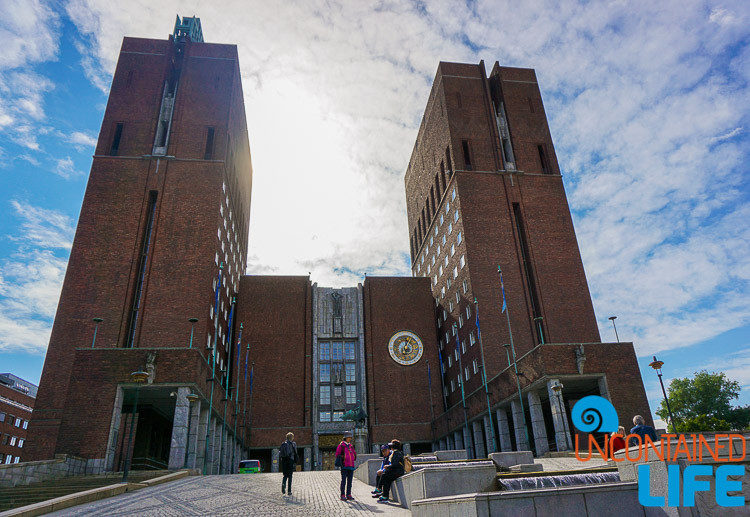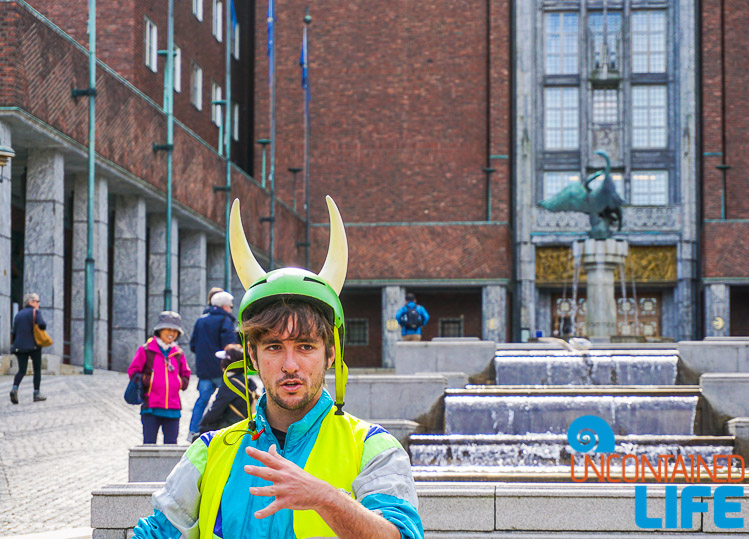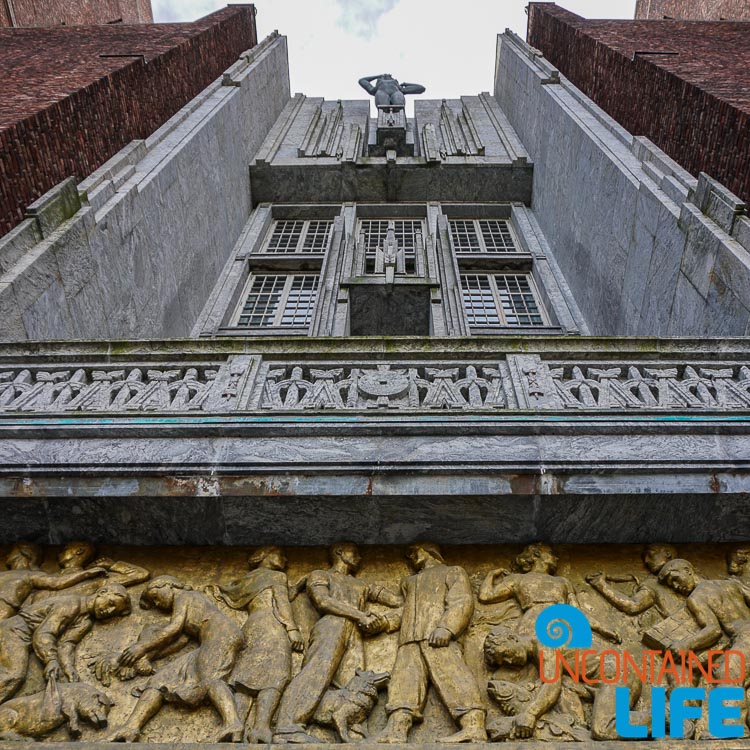 On its harbor side, Oslo's city hall isn't much to look at. But go around to the back and then inside and the view improves immensely. Oslo's City Hall not only boasts some lovely art (and a giant clock), it's also the place where the Nobel Peace Prize ceremony takes place!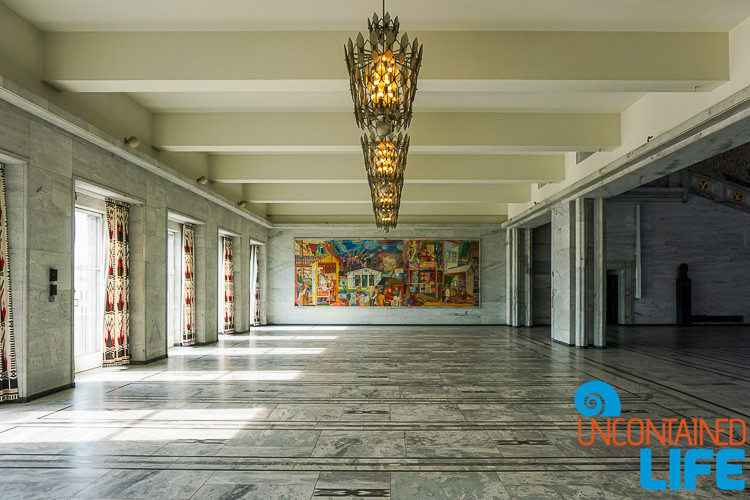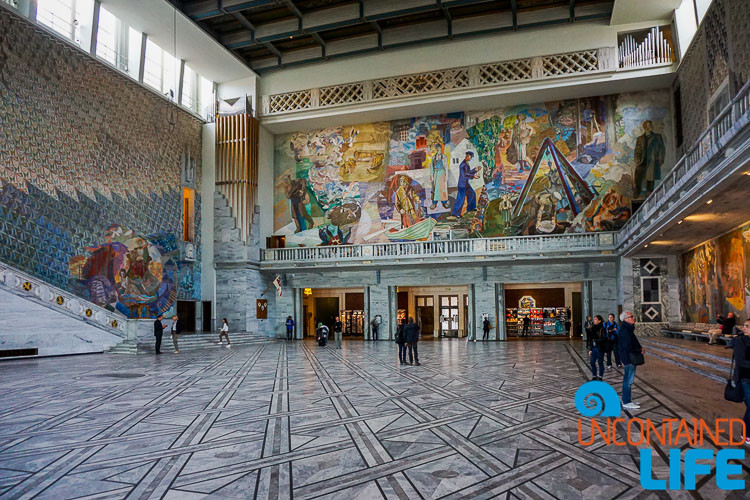 The National Theatre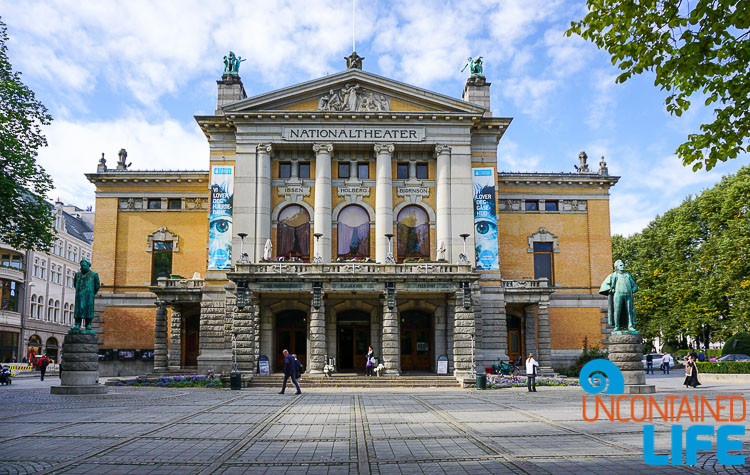 So the English nerd in me went a little nutty when I saw the statue in front of Oslo's National Theatre: it was Henrik Ibsen! (Playwright. Proto-feminist. Generally thought to be right up there with Shakespeare.) Turns out, Oslo was Ibsen's home in his retirement and theatre was built during Ibsen's time in Oslo. Today Ibsen quotes are inscribed on major city streets throughout Oslo, and the theatre continues to make his works a central part of the theatrical season (including, but not limited to the International Ibsen Festival held in Oslo each Autumn).
The Royal Palace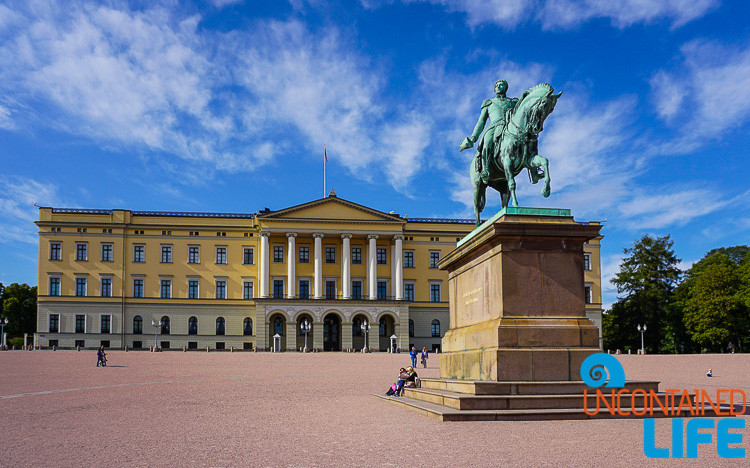 Oslo's Royal Palace and its grounds (which is still home to the monarchy today) is another site which you would think would have epic security…but instead is ridiculously free and open to the public.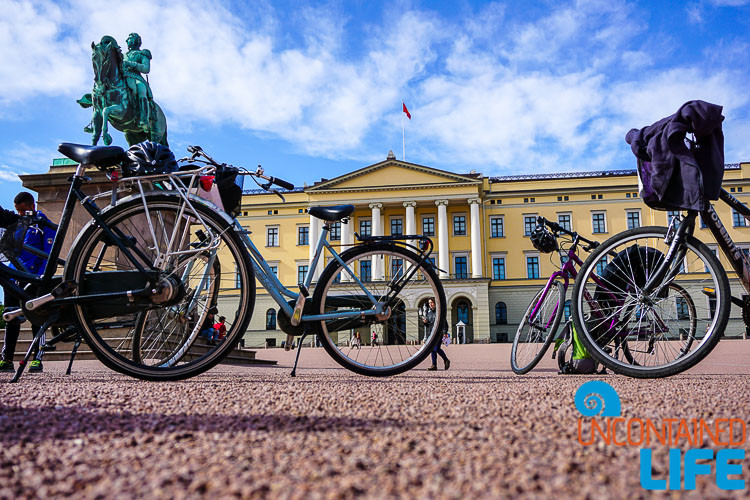 The Palace was built for the Norwegian residence of King Charles III of Sweden (back when Norway was under Swedish control). Fun fact about King Charles: he wasn't actually Swedish! Nope. He was French (born Jean-Baptiste Bernadotte).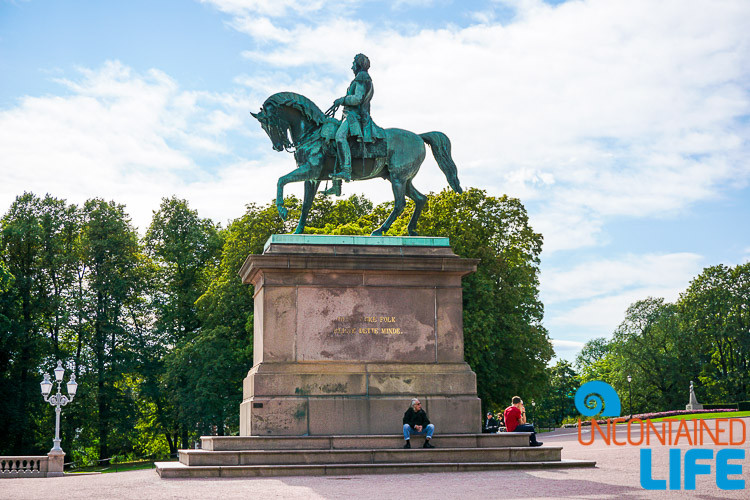 And before he became a Swedish royal he was also Napoleon's former field marshall, and was married to the emperor's sister-in-law's sister. How and why he came to leave France and be adopted by Swedish royalty in 1810 is a story in and of itself. Take the tour and you'll hear all the crazy details!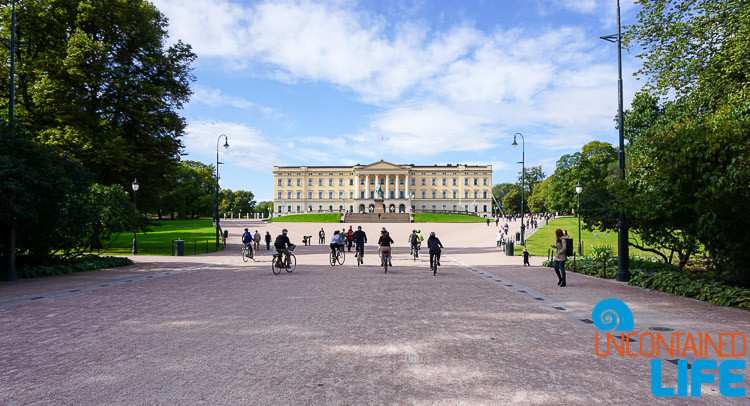 Biking up the hill to the palace was kind of rough (read: I almost died…most of the other tour participants were just fine, however) but the view down the main street of Karl Johans Gate was pretty awesome!
Vigeland Sculpture Park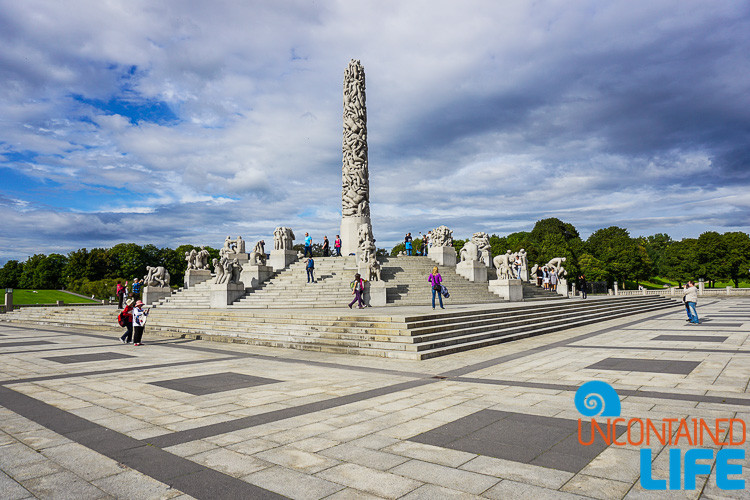 This was one of our last big stops and my absolute favorite. If I had more time in Oslo you'd better believe I'd spend an entire day just hanging out here.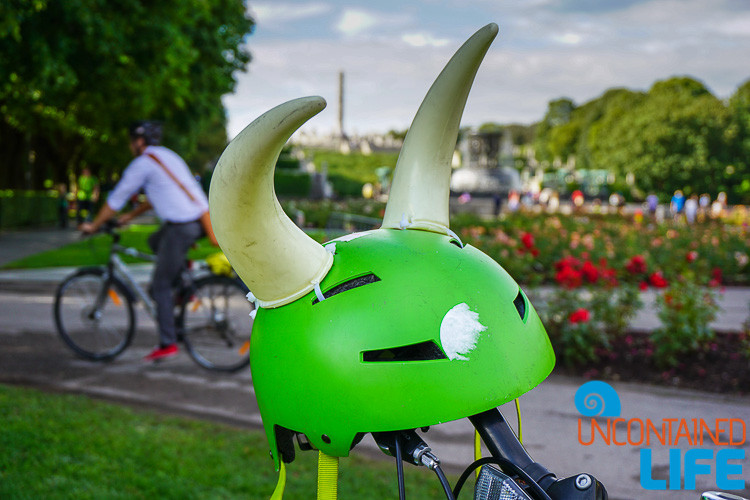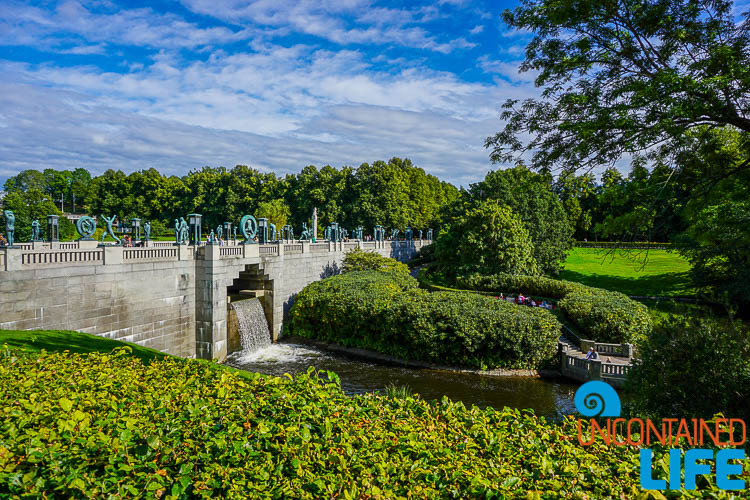 Gustav Vigeland (who, in addition to sculpture also designed the Nobel Peace Prize medal) spent over twenty years crafting the 212 bronze and granite sculptures visitors can now see in the park.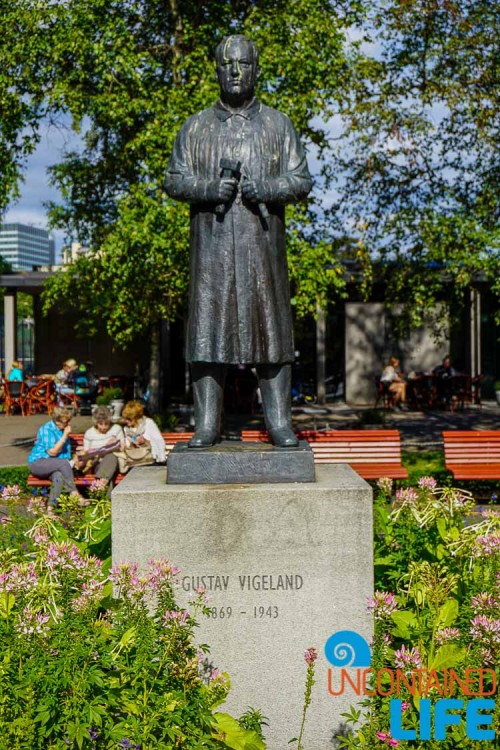 The works themselves are beautiful…but kind of dark and twisty.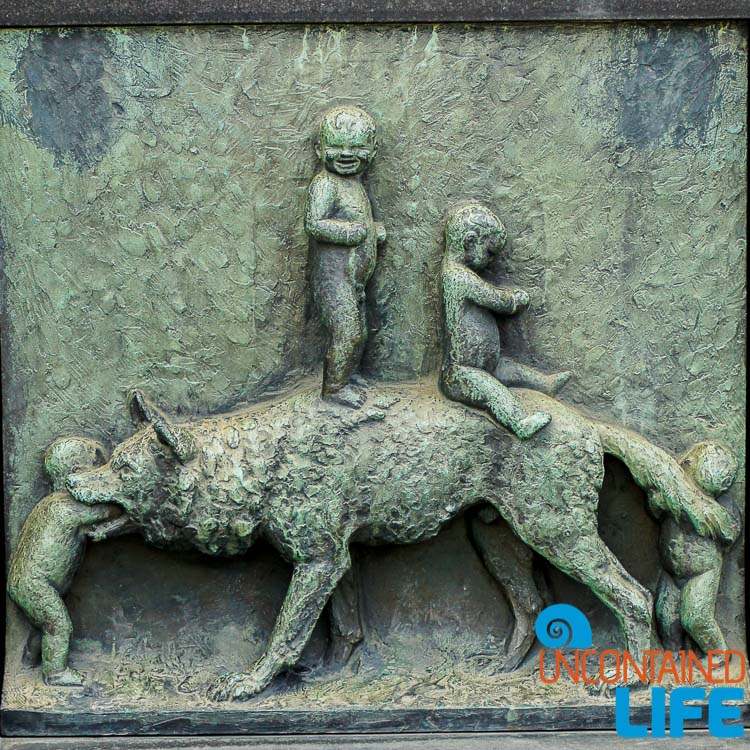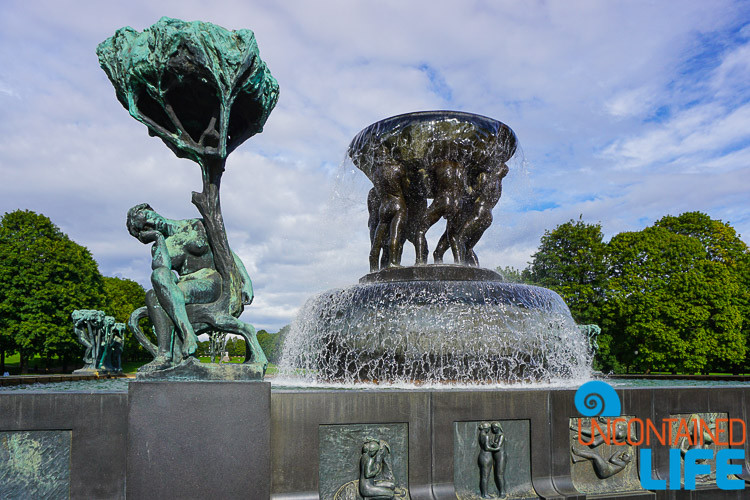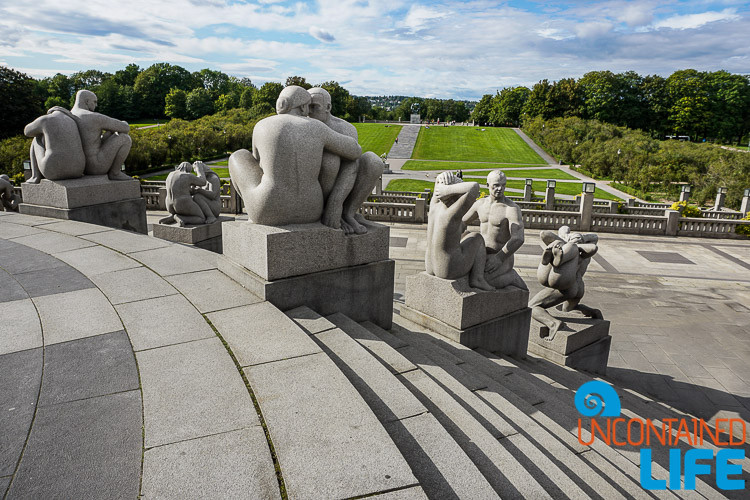 And occasionally a tad phallic (come on, I know it's not just me!)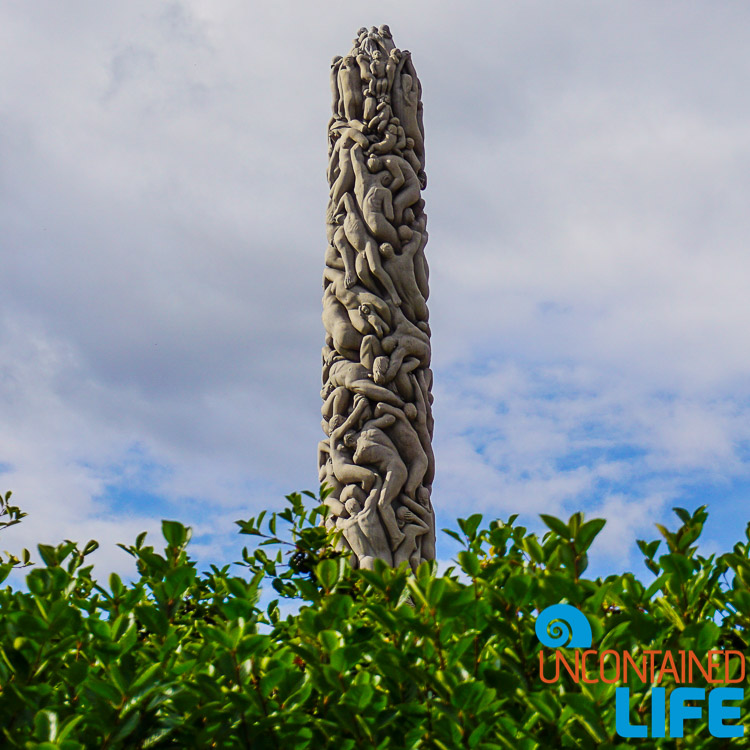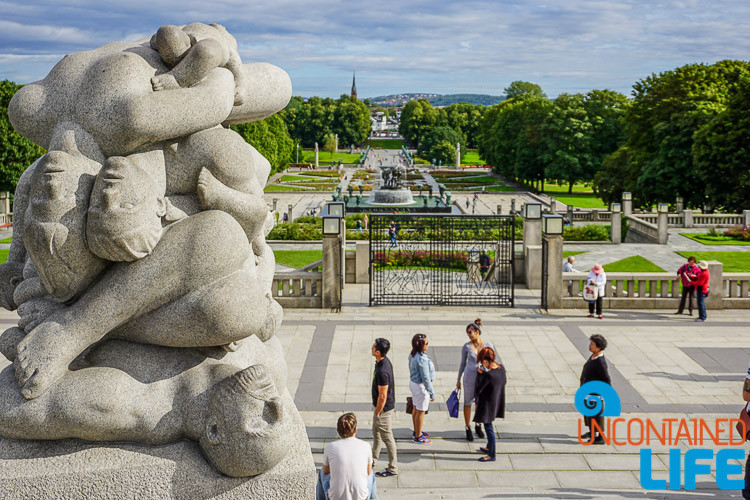 Overall, Justin and I gave our tour two thumbs up.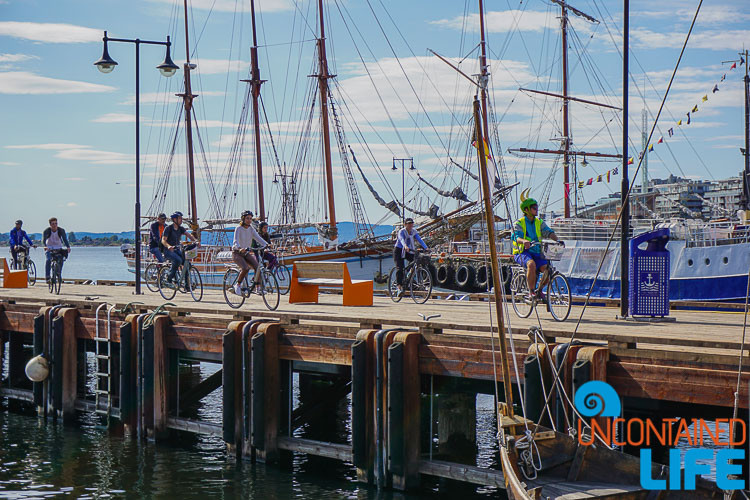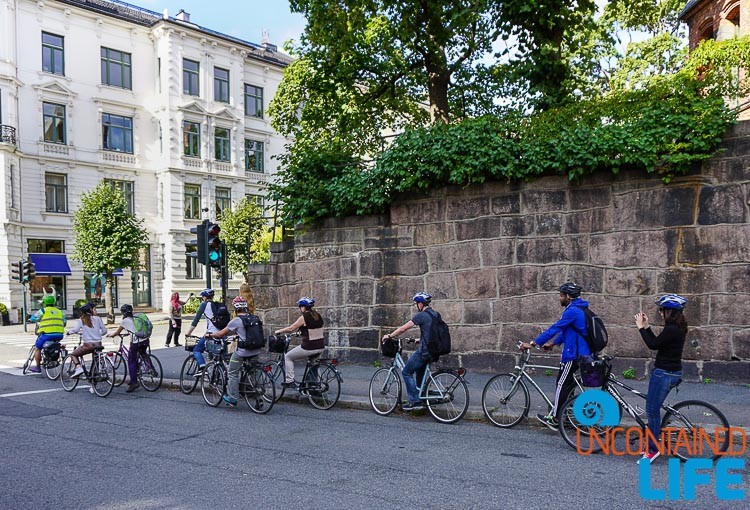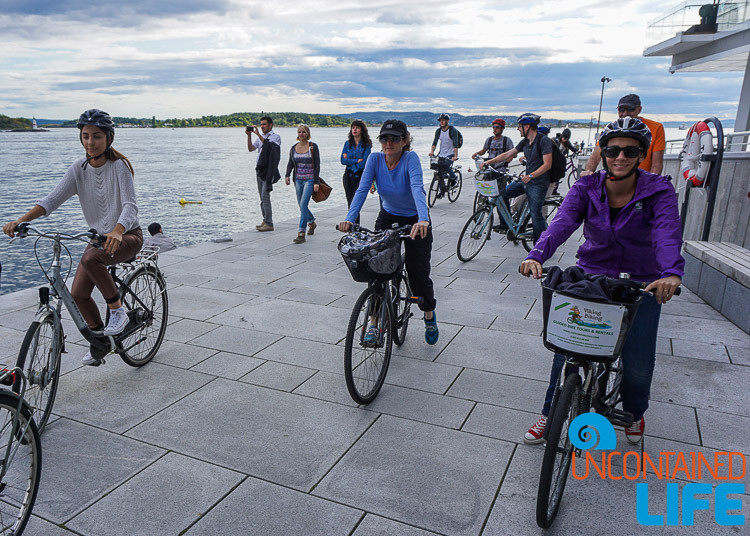 With the exception of the Palace's hill of death (j/k) the ride wasn't too strenuous–the most stressful part was actually weaving through pedestrians down by the harbor–and we learned a lot about Oslo!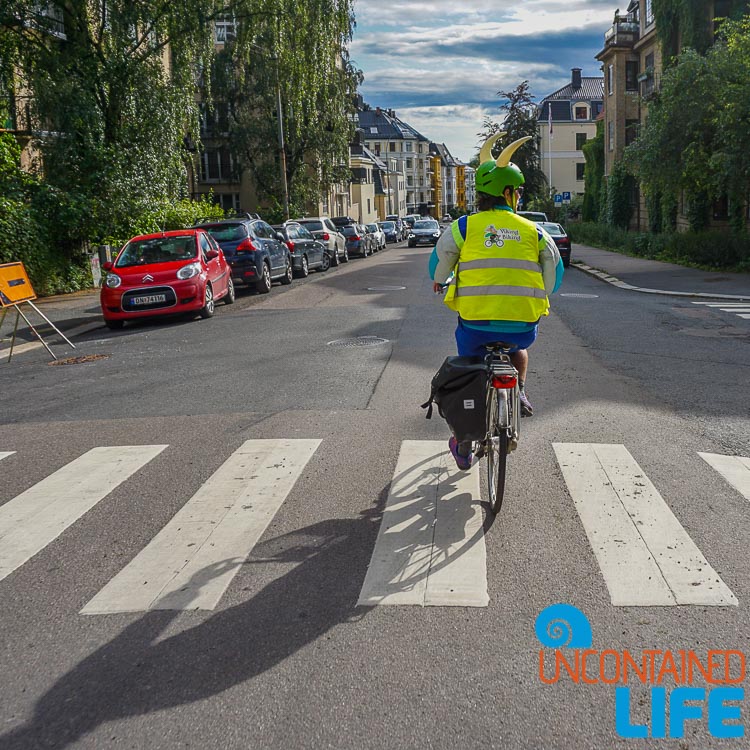 To (2): Fjords, Museums and Opera!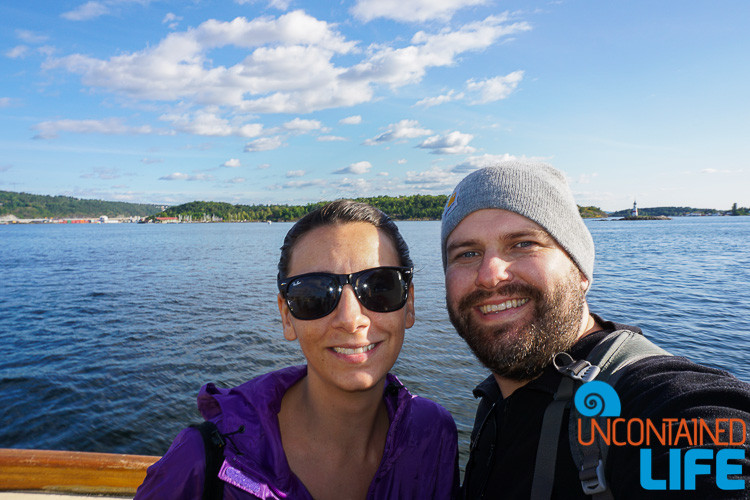 If you're planning to do a museum day in Oslo (which you totally should!) Getting an Oslo Pass is an absolute must. While the pass's cost may seem steep at first (24 hours: 320 NOK/$39 USD; 48 hours: 470 NOK/$57.50 USD; 72 hours: 590 NOK/$72 USD), when you consider the pass gives you unlimited free museum entrances, free travel on all public transport (including buses, trams, the metro, and the ferries), free parking, free walking tours and a huge range of other discounts and special offers throughout the city (ski simulator anyone?), it's actually a massive money-saver.
Note: If you buy the pass, we definitely recommend getting the Oslo Pass app and activating your pass there so you don't need to carry around a physical ticket. The app includes a countdown timer (so you know how many hours you have remaining to use it), and a QR code you scan at the museums.
So, what museums would we recommend you visit in Oslo? Glad you asked!
We started our museum day at the Noble Peace Prize Museum.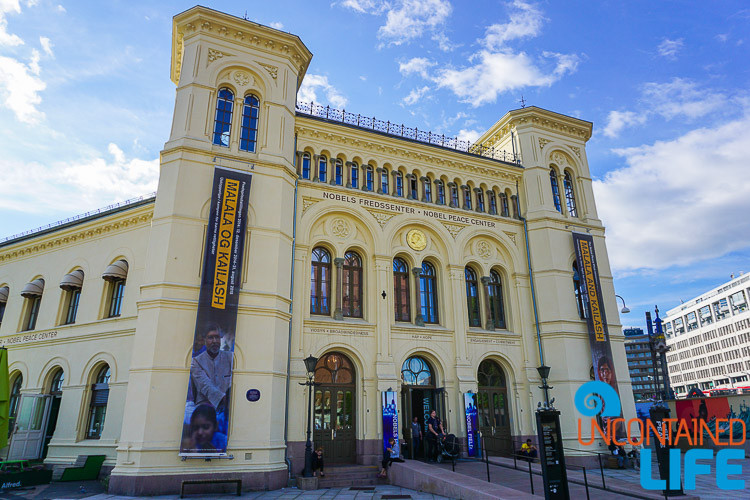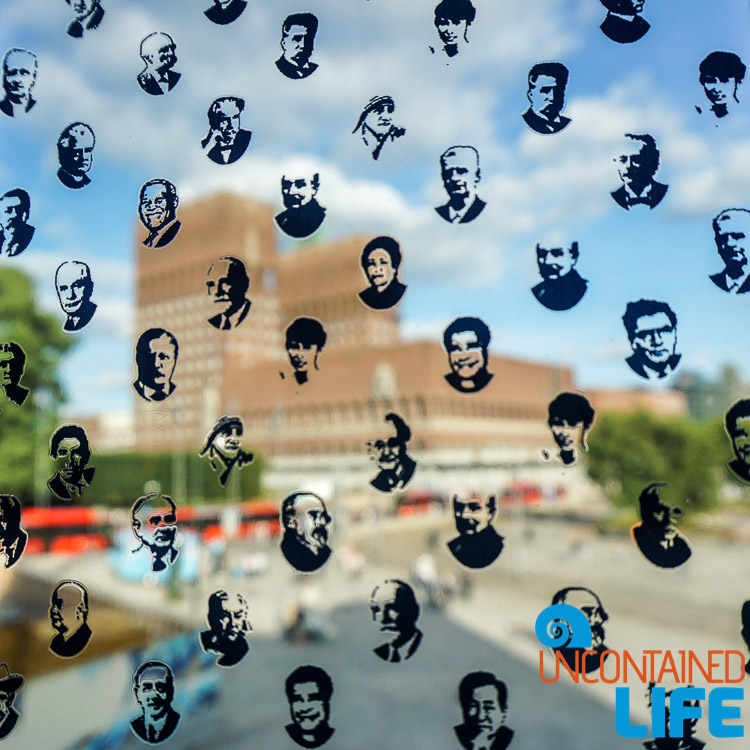 It's a small museum, but quite impactful. In addition to showcasing the accomplishments of each and every winner in the prize's history (in a number of cool interactive displays), the museum devotes a special exhibit to its most recent recipients. Don't miss it!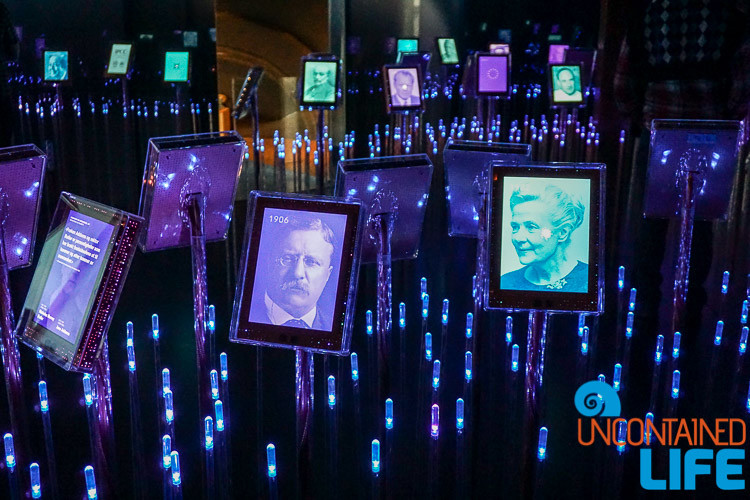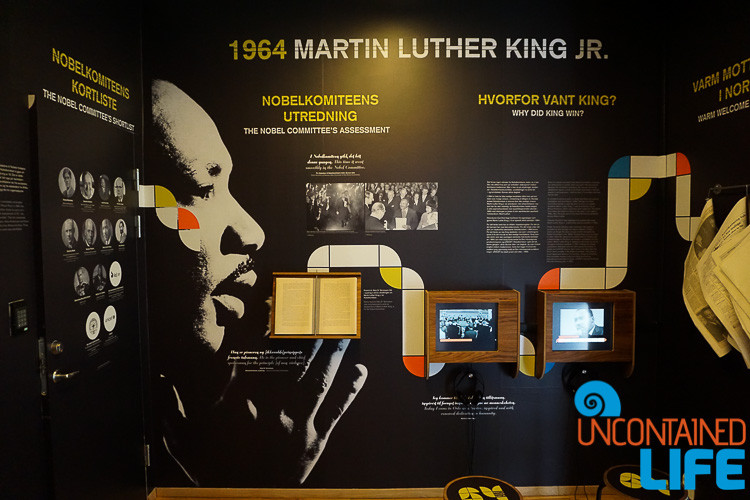 Next, we made our way across the water (via the ferry) to visit the Fram Museum, which is devoted to the story of Norwegian polar expeditions.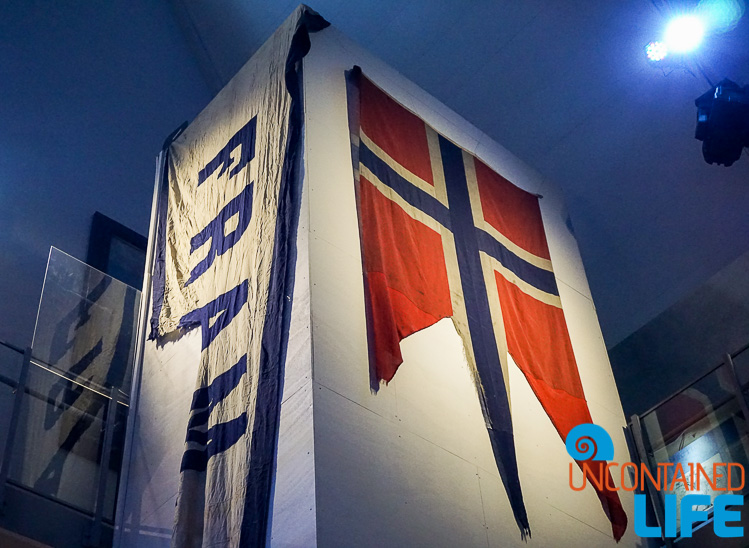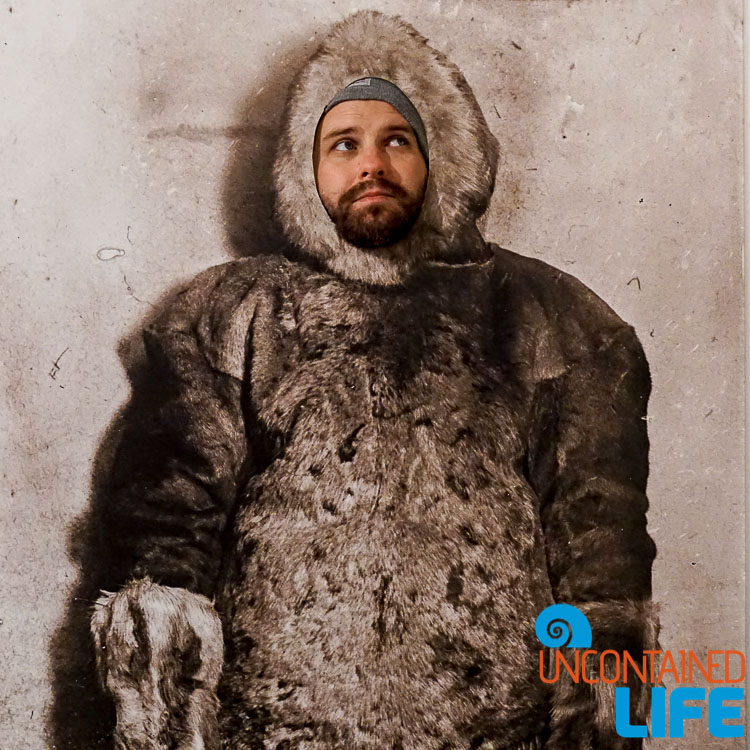 Then, we walked next door to the Kon-Tiki Museum, which houses revelatory artifacts from Easter Island and documents the wild adventures of scientist and explorer Thor Heyerdahl.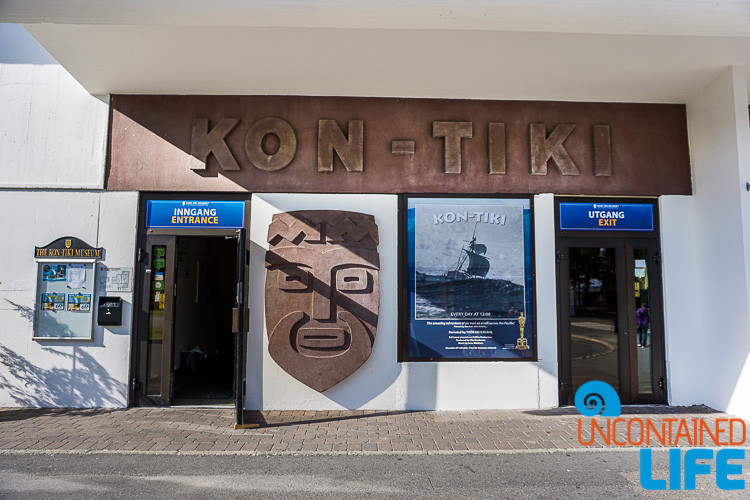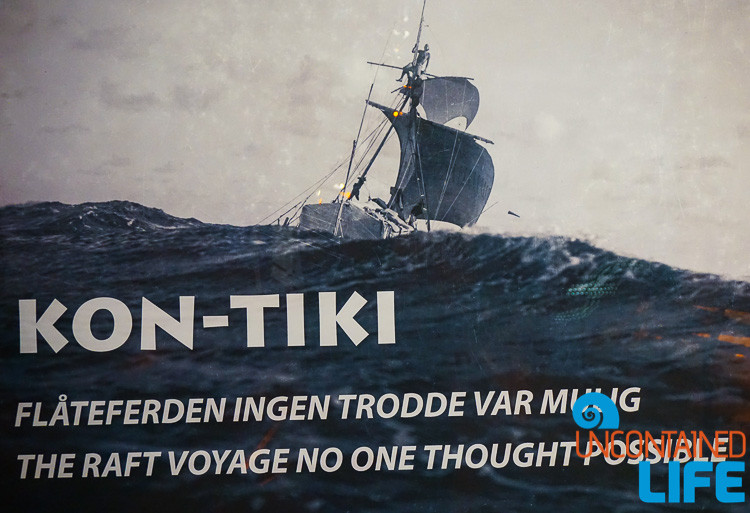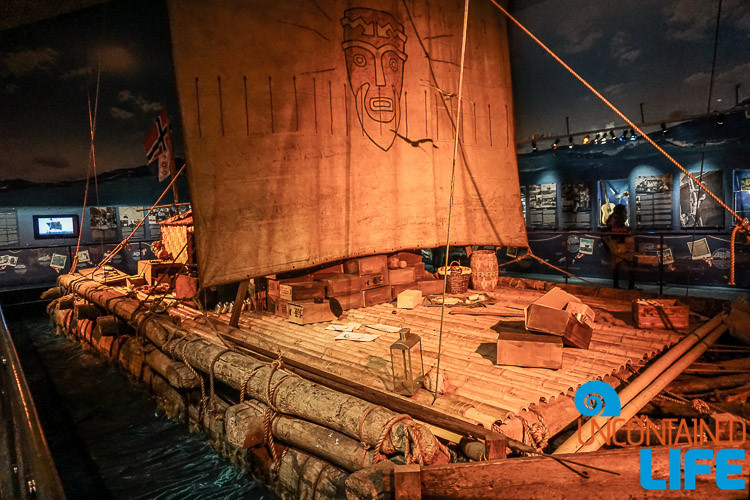 Afterward, we hopped on the local bus and went to visit the Viking Museum where three Viking burial ships and their contents are on display (really cool stuff!)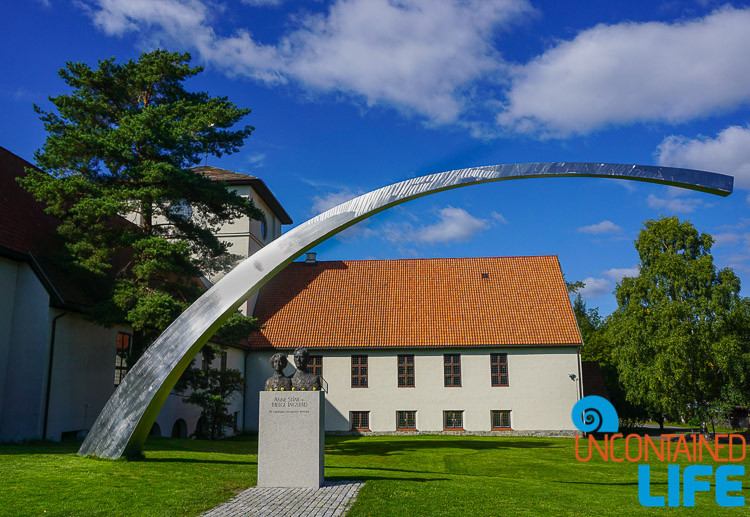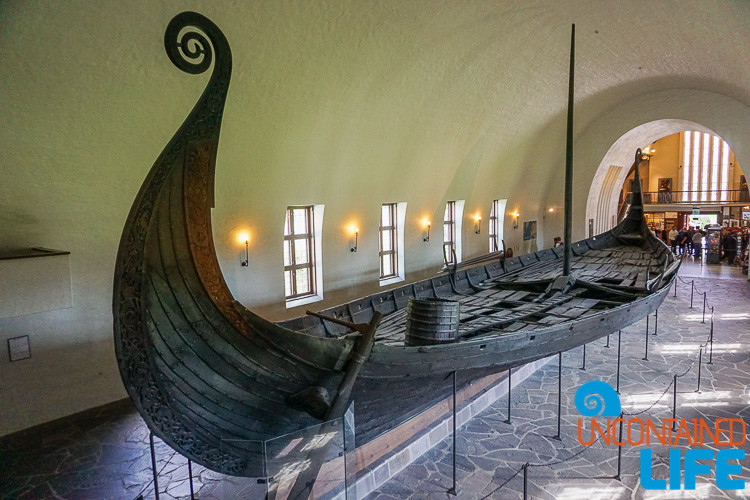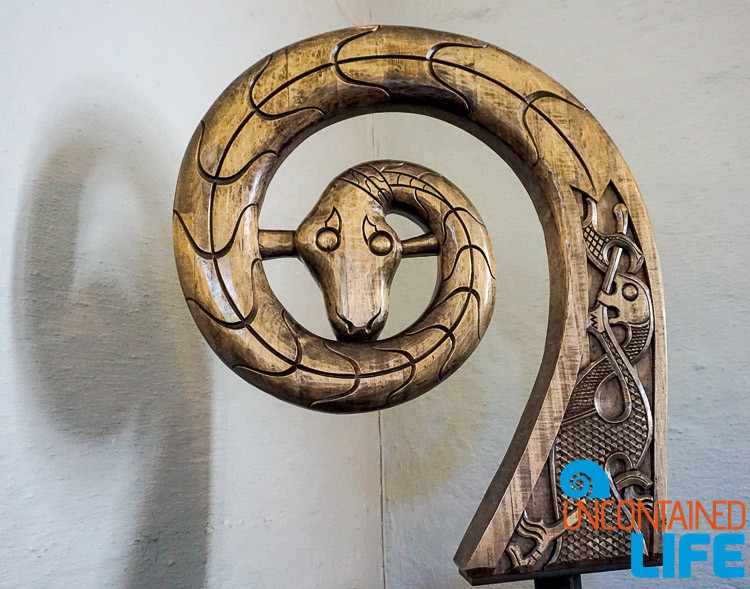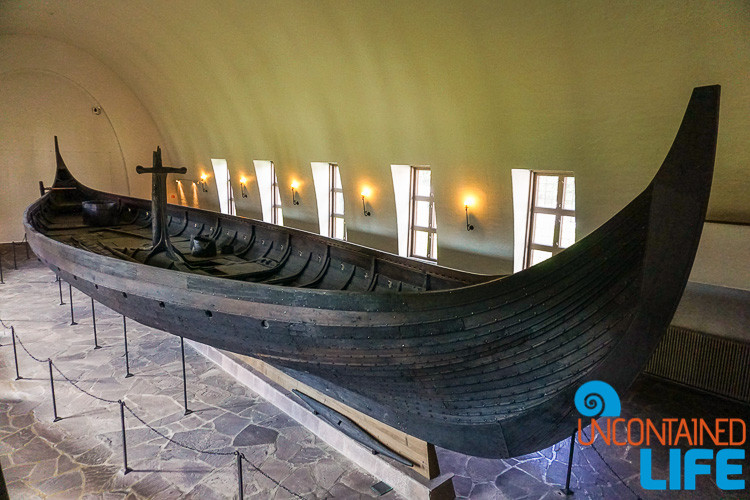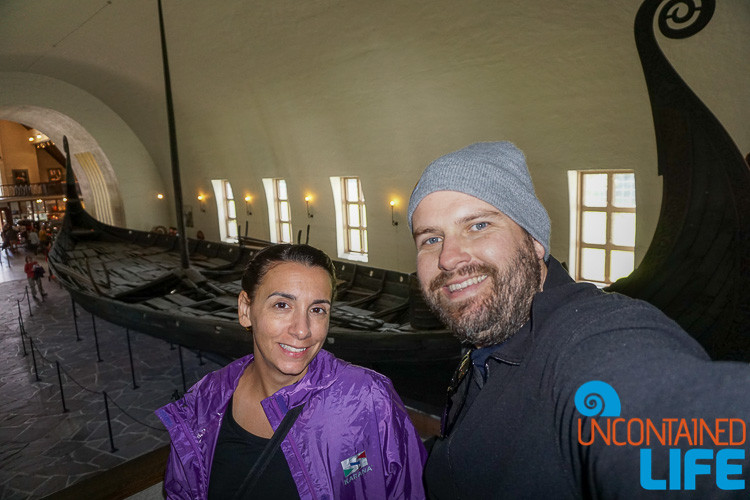 Finally, we rode over to the Norwegian Folk Museum.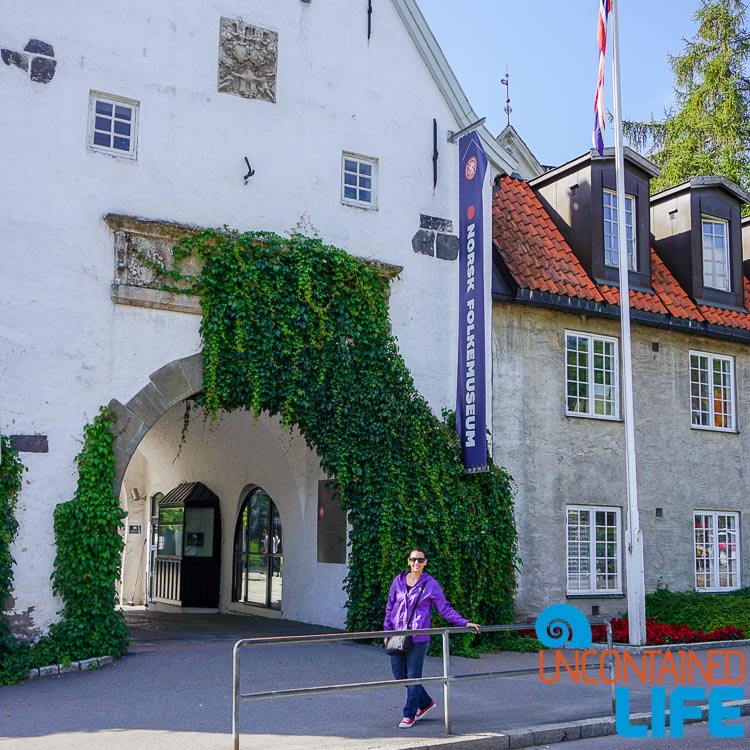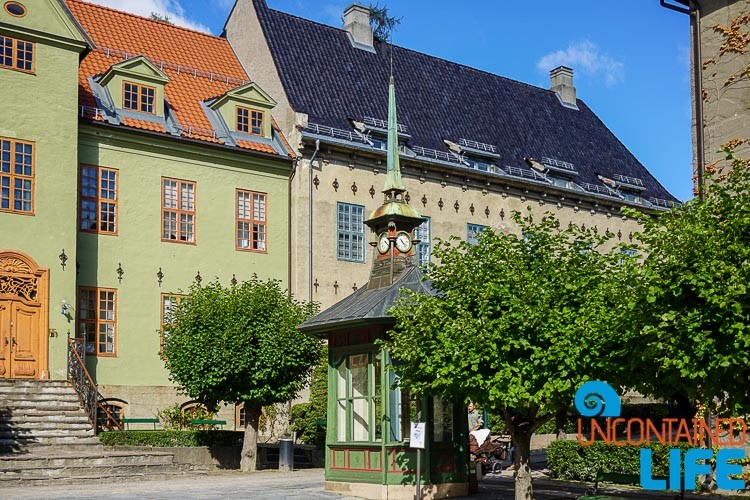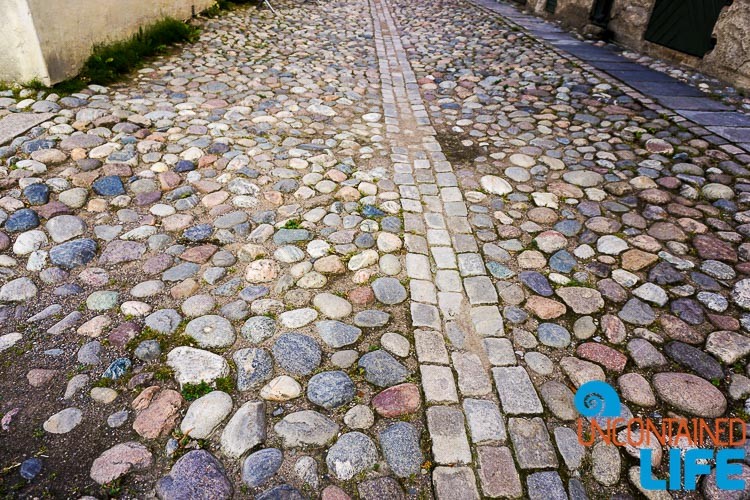 This outdoor exhibition of famous historical buildings gathered from all over Norway is both lovely and informative (plus, it'll give you insider knowledge about where the LOTR filmmakers got their set design ideas for the houses of Rohan).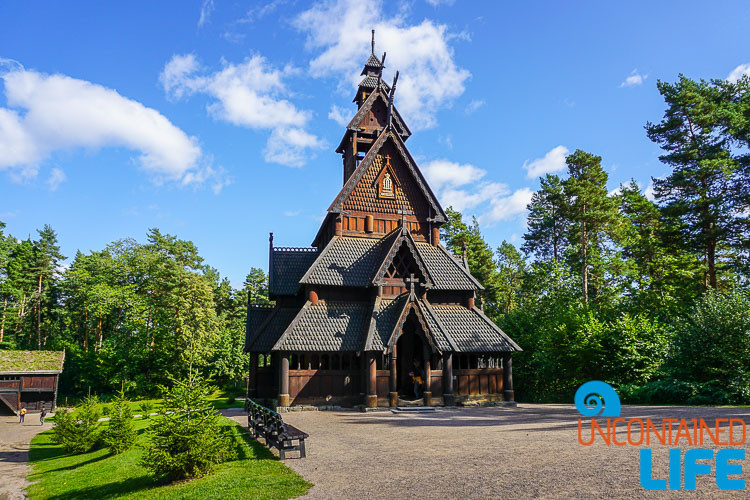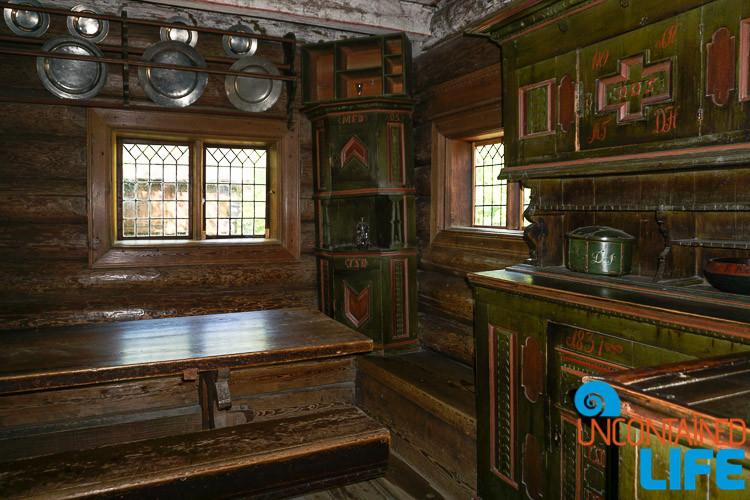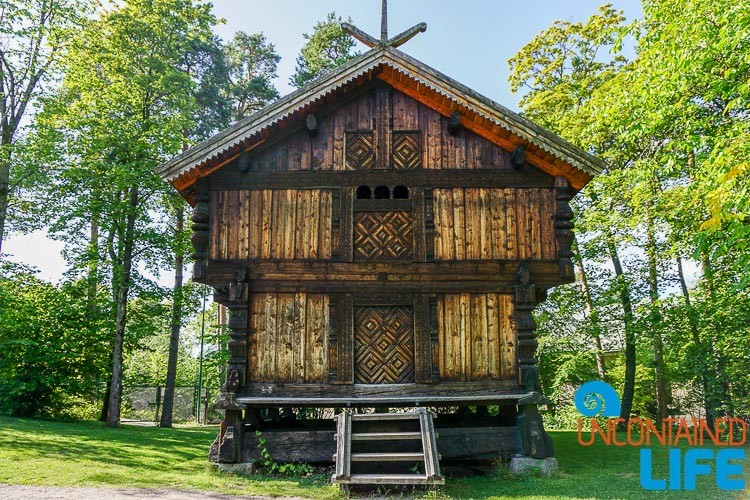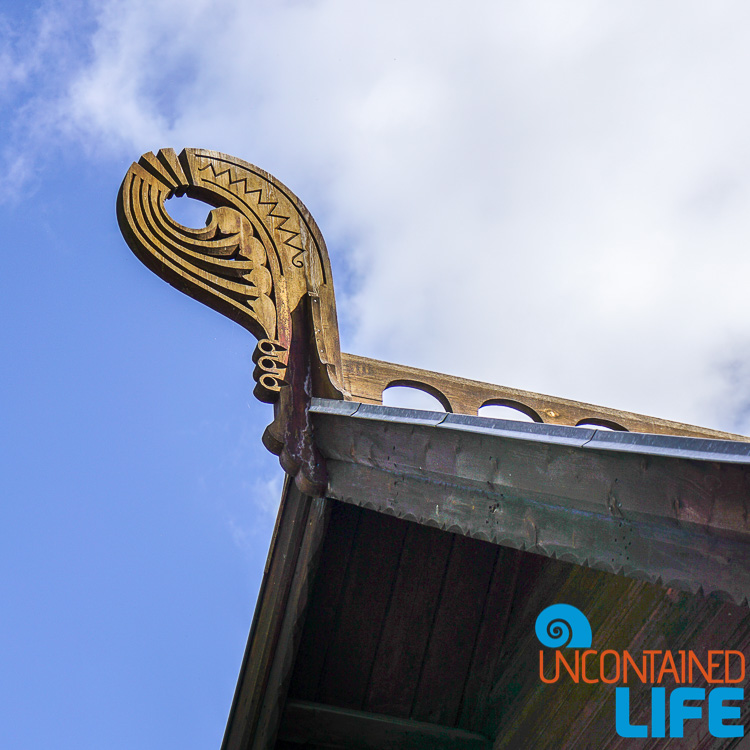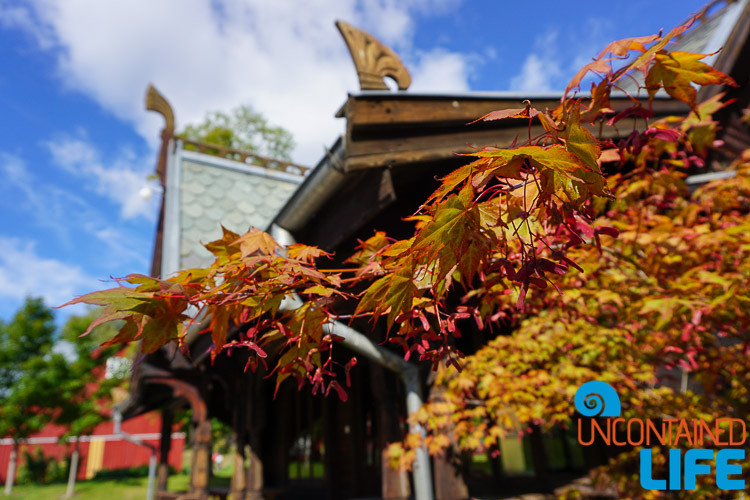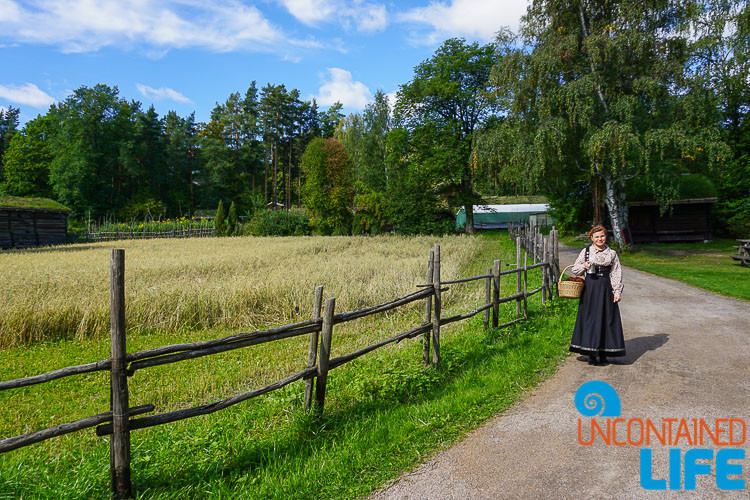 After you've finished at the Folk Museum, you can catch a bus ride back to the main pier and do some more DIY fjord touring (the ferry goes from Rådhusbrygge 4 to the islands of the inner Oslo Fjord). If you want a bit of a more in-depth experience, you can also book a two hour ferry tour (look for signs at the pier).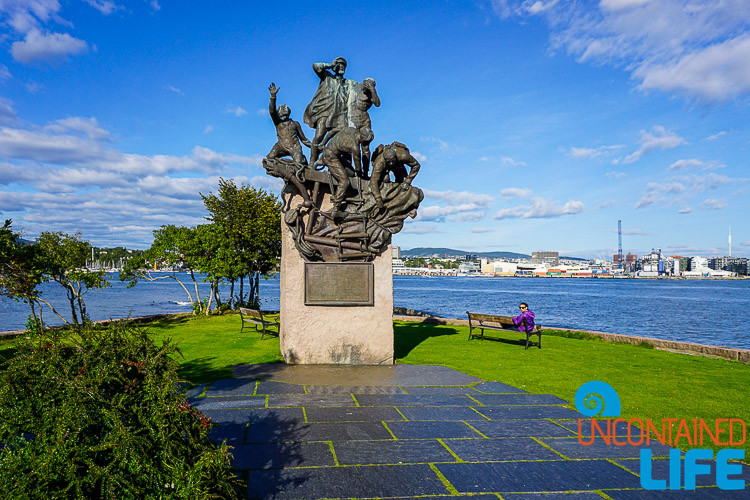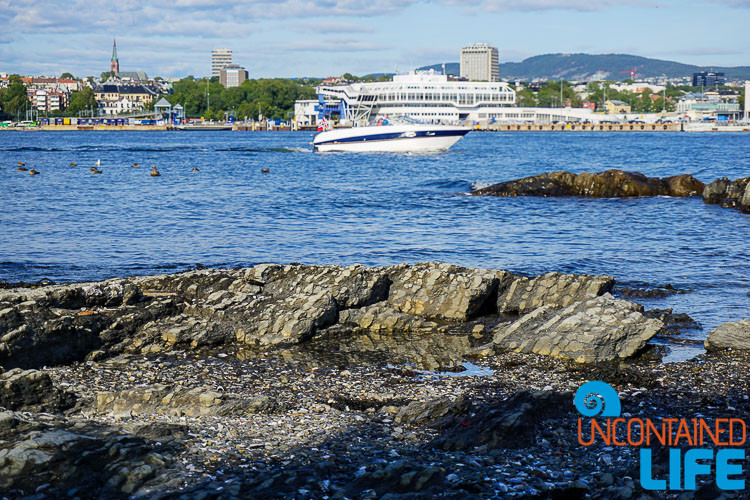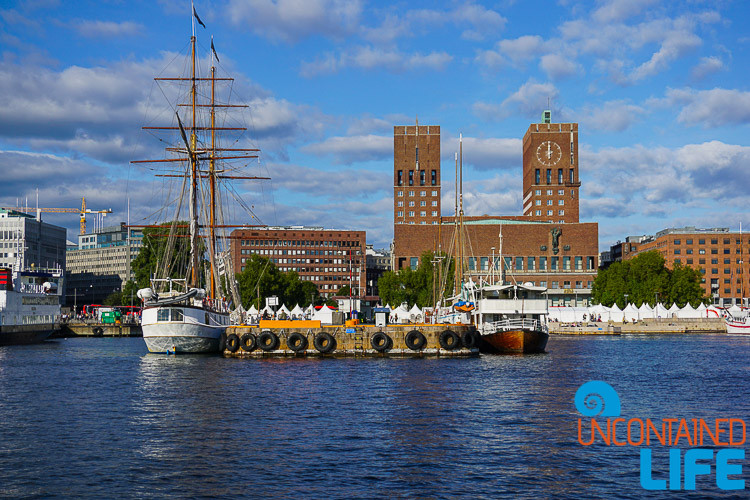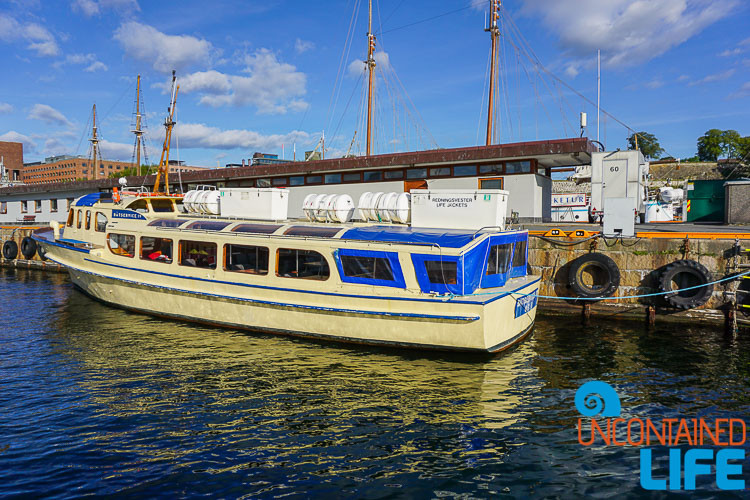 We finished up our museum day with sunset at the Opera House. It may not be a museum, but technically, the Opera building itself is a work of art!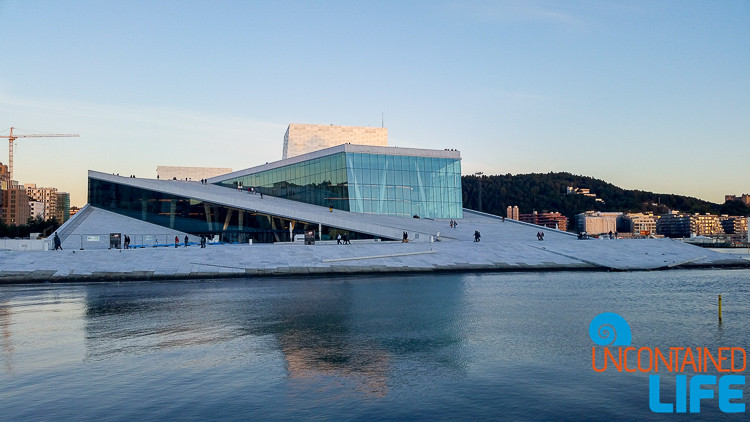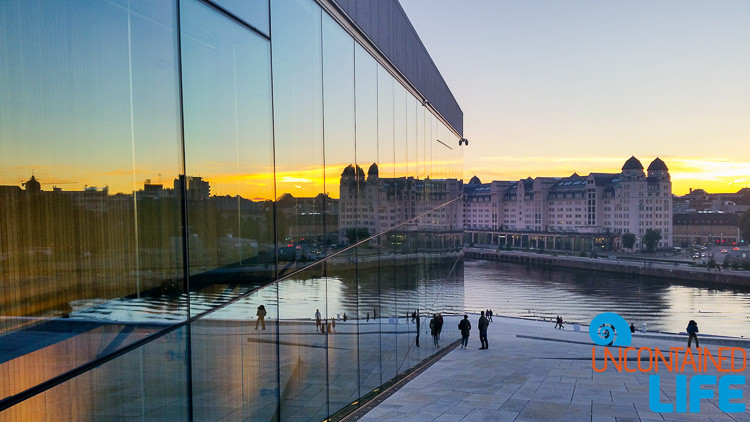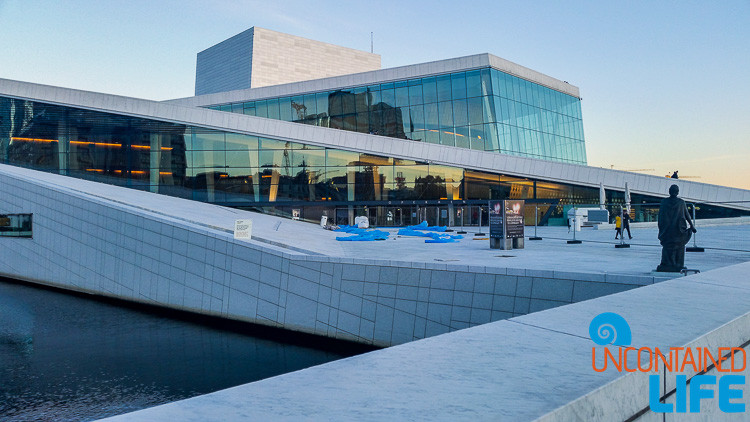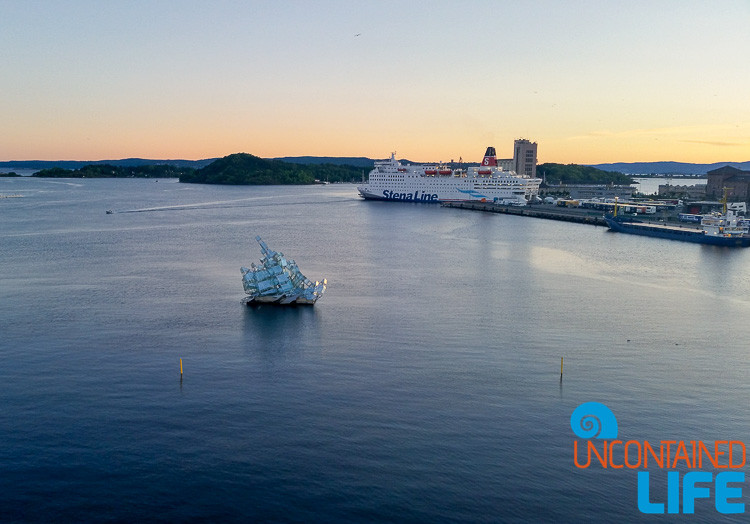 Walk up the building to the roof for the best view of the city and harbor.
Tre (3): Hipster Oslo, Eastern Oslo, and Alternative Oslo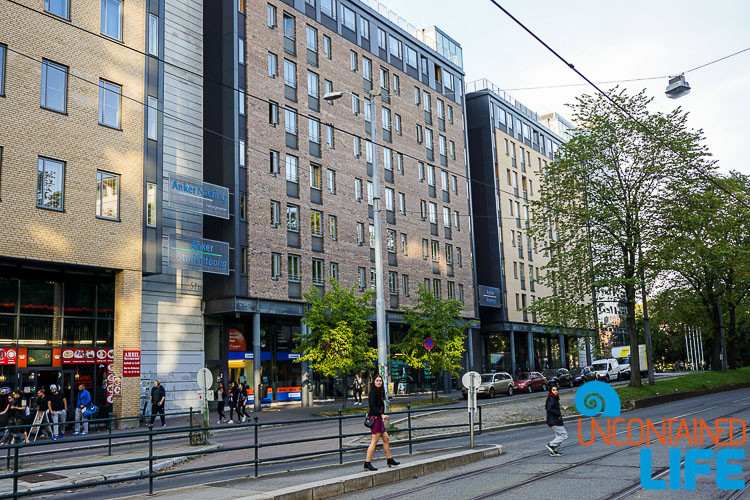 Many Oslo visitors never venture outside the city center and waterfront areas. Oh what those folks miss!
During our time in Olso, Justin and I stayed at Anker Hostel.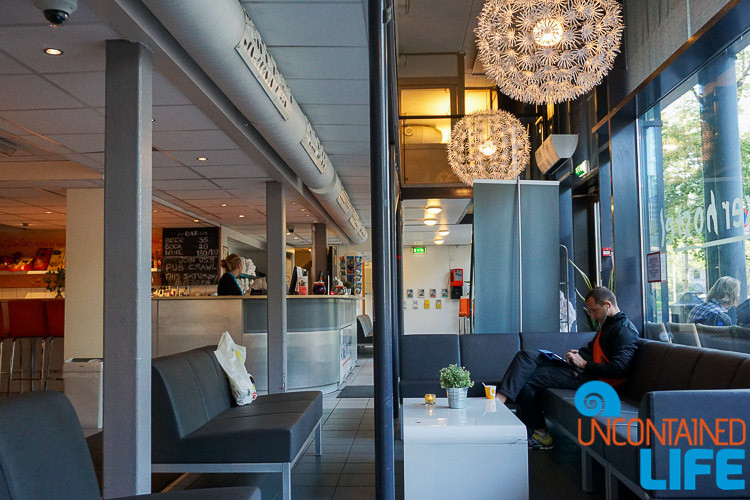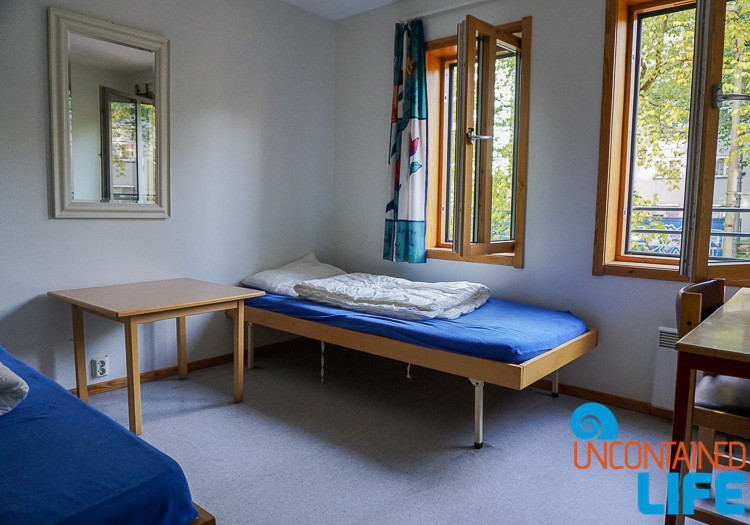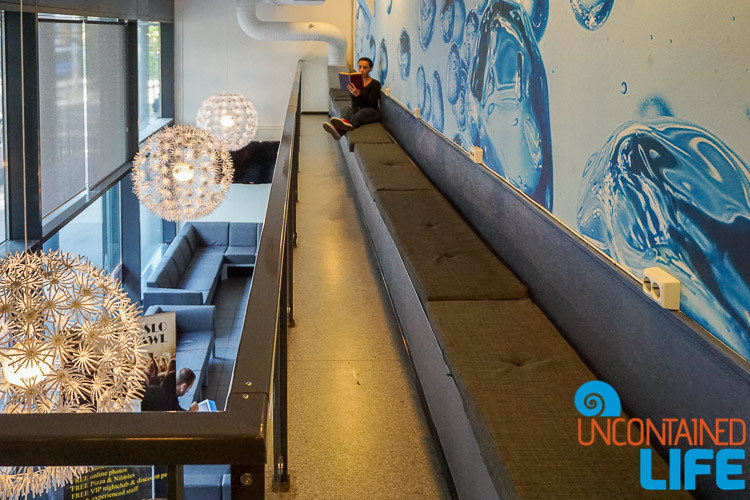 Anker Hostel may be a no-frills establishment, but it's clean, safe, has lightening-fast wifi and is one of the best value accommodations in this pricy city. (As is the case with many hostels in Norway, B.Y.O. sleep sheet and towel or be prepared to pay an additional rental fee.)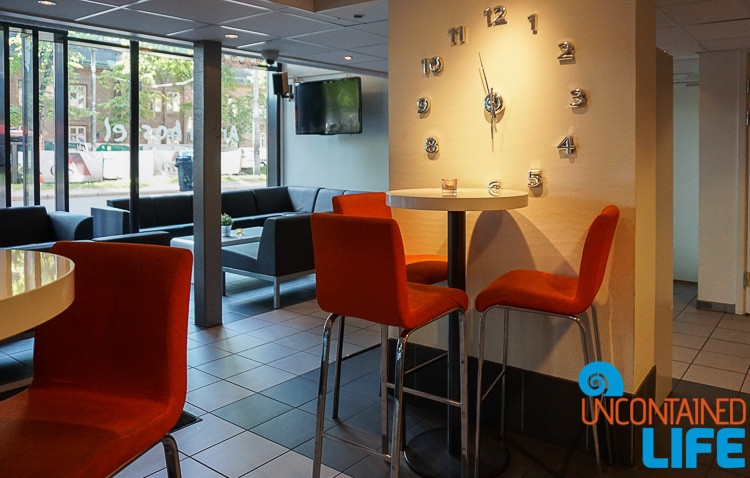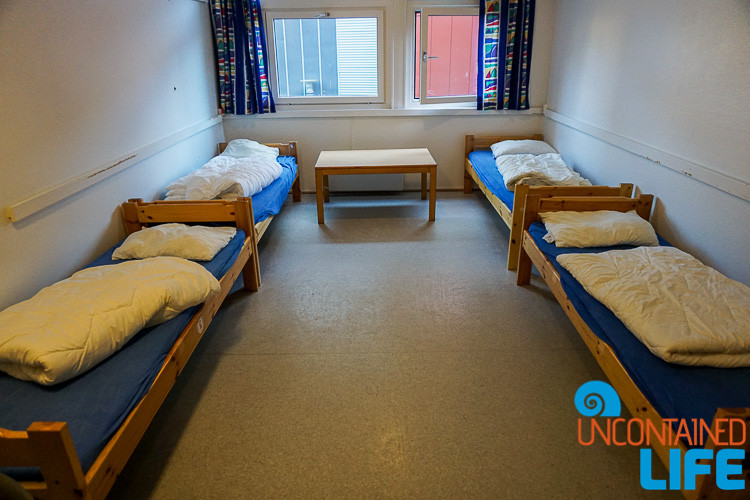 It also has a pretty sweet rooftop deck with killer views of the city and surrounding neighborhoods.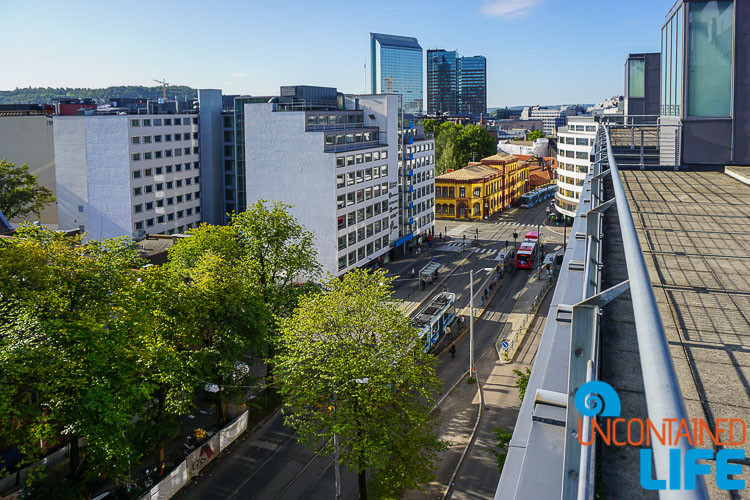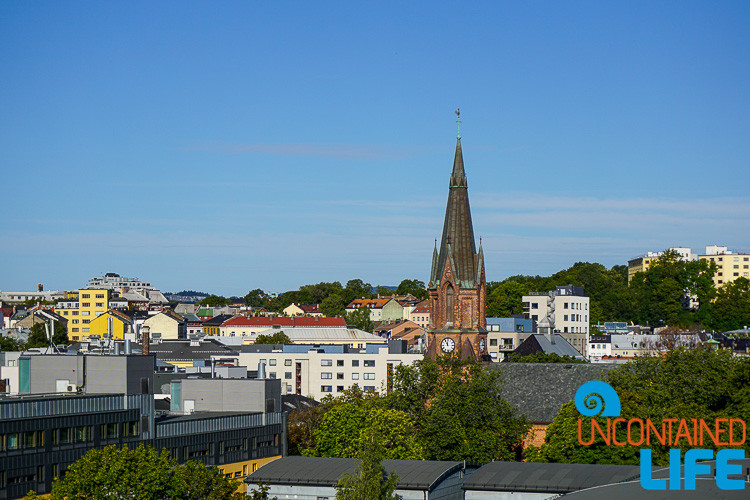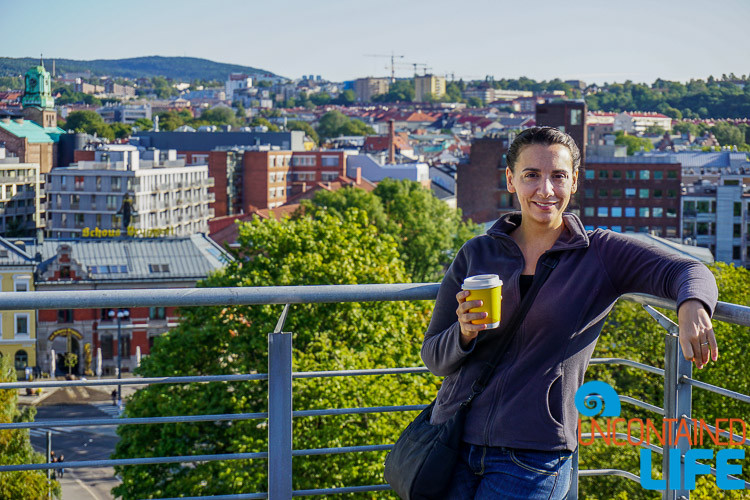 And just around the corner from Anker, you'll find two great options for delicious, inexpensive eats. For middle eastern delights, head to Nargile: one of the least expensive, huge portion-giving and tasty falafel and kabab restaurants we found in the city!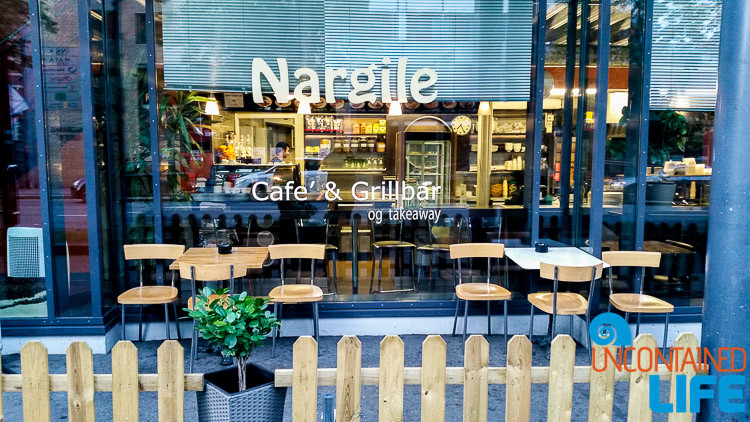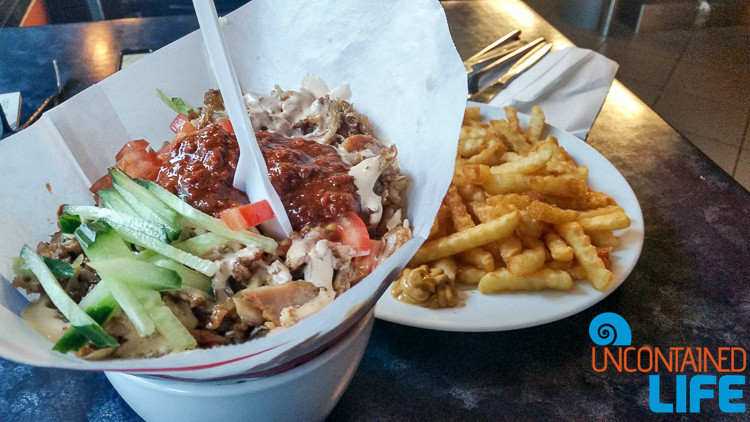 Alternately, if you're craving something with a bit more spice, wander a bit further up the road to Chipolte…errr…I mean Freddy Fuego!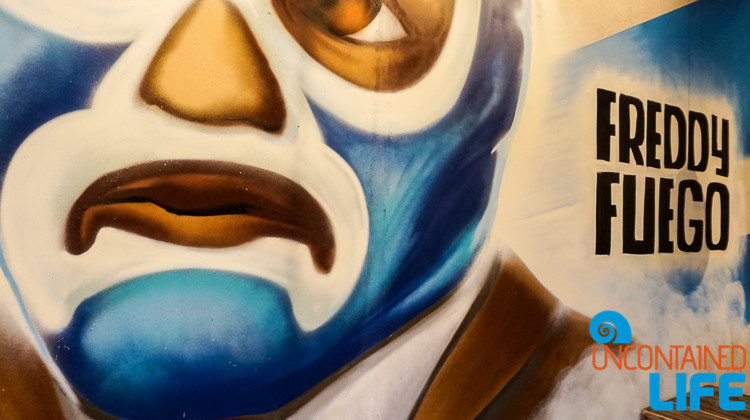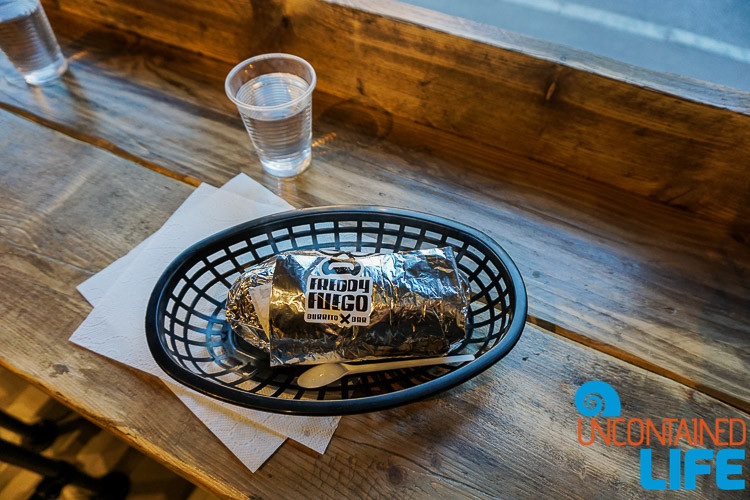 Even better than cheap eats, Anker Hostel's location gives its guests easy walking access to several of Oslo's coolest neighborhoods.
We started our morning with a stroll through Grünerløkka: Oslo's own hipster heaven.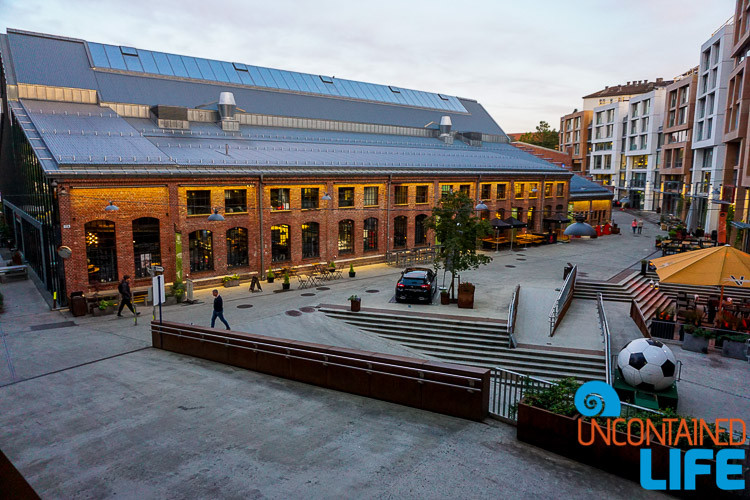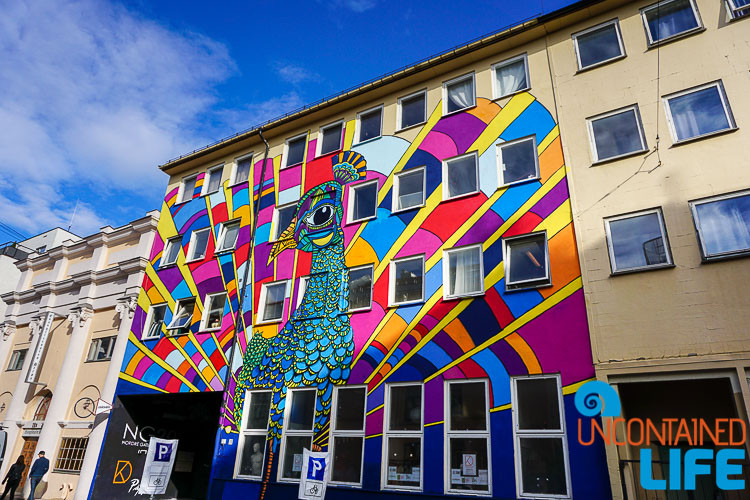 Wander its colorful streets and you'll find a bevy of wonderful cafes (including several outlets of Norway's popular coffee chain, Kaffebrenneriet–really delicious coffee here!) where you can grab breakfast.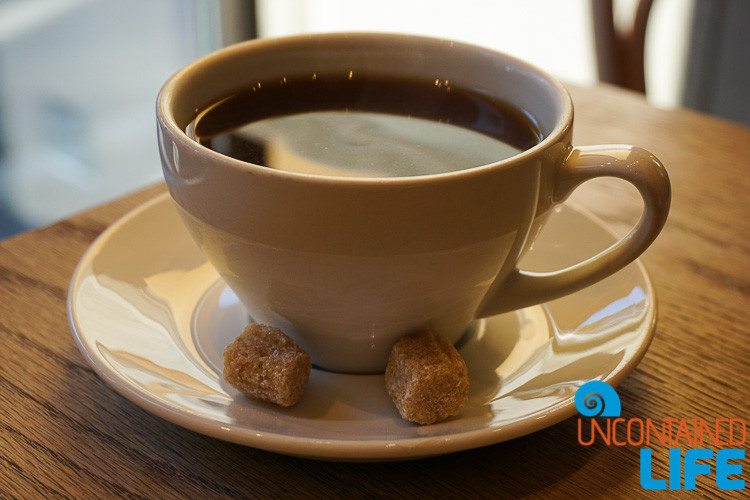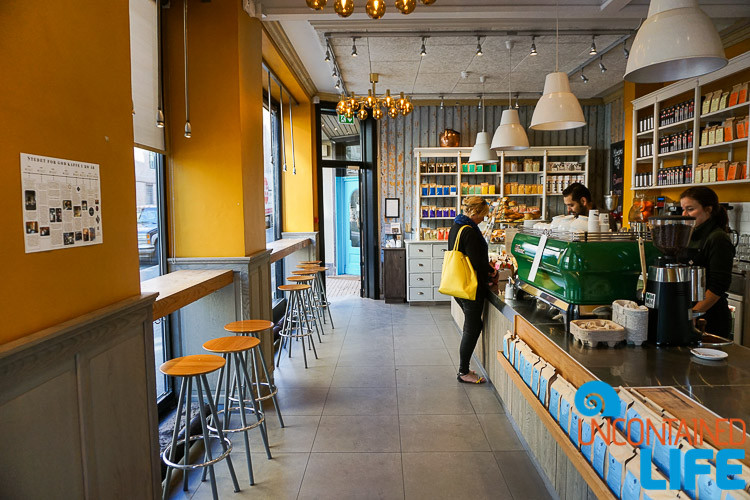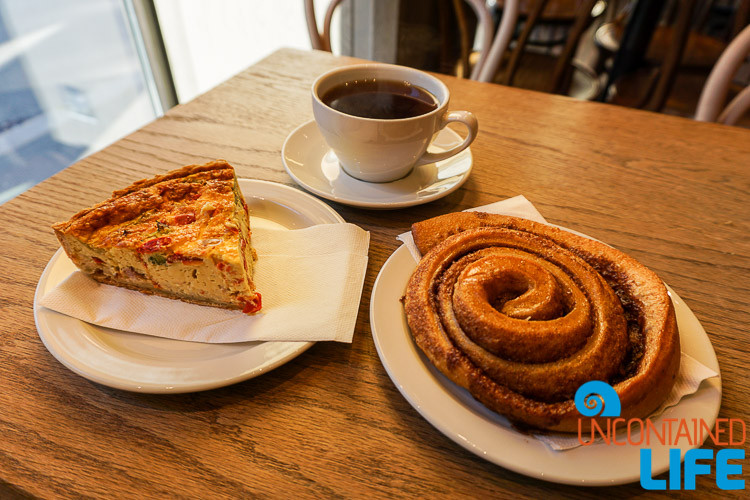 You can (and should) also come back to this area for an evening beverage. For fancy classic cocktails, check out Bar Boca. There is ample seating indoors or you can sit street-side at an up-cycled ironing board table.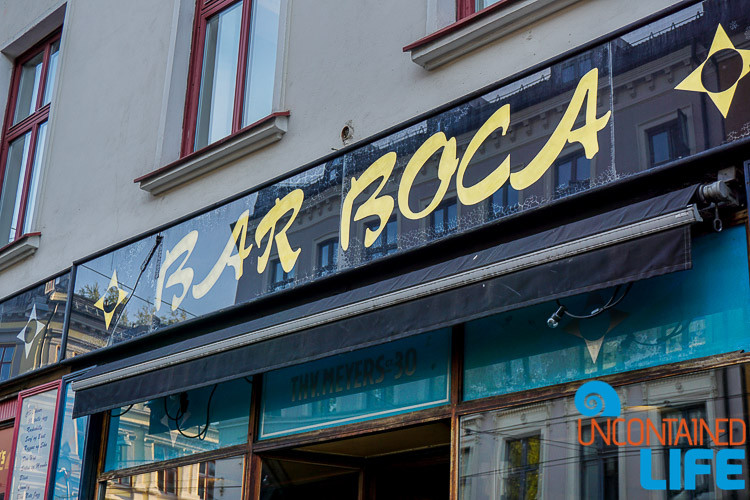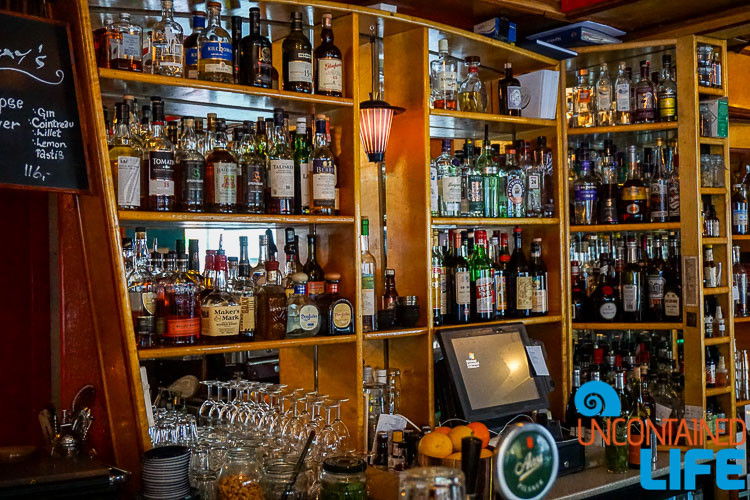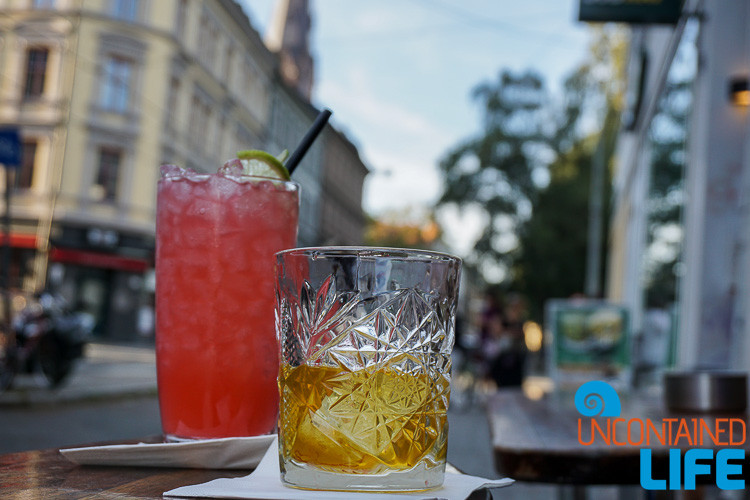 Or, for some seriously amazing beer, head right next door to Grünerløkka Brygghus. This gastropub and brewhouse has over 18 microbrews on tap, most of which they make in Grunerlokka. They also feature other local breweries, sell 50-70 bottled craft beer, and host community events such as a home brew contest. It was difficult to convince Justin to leave.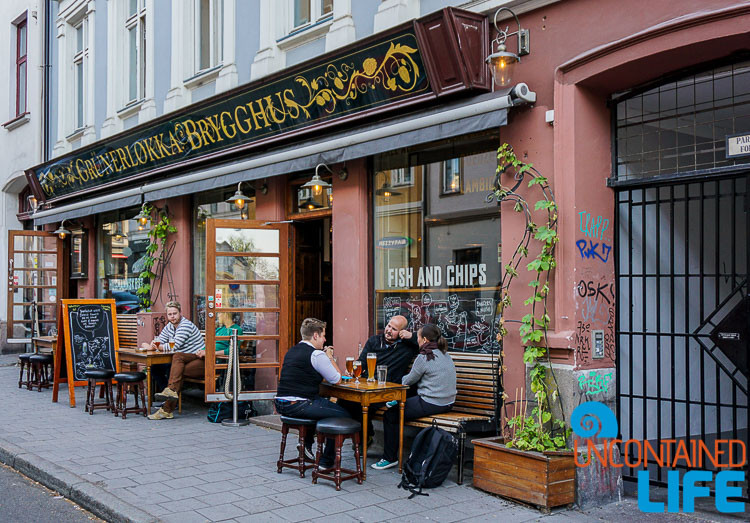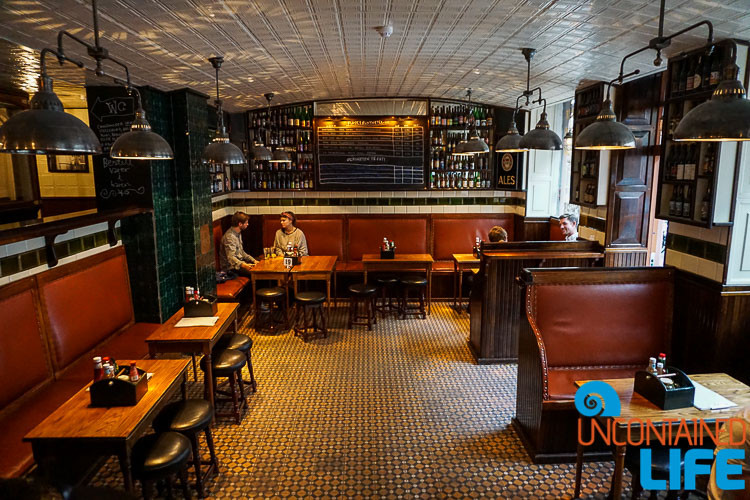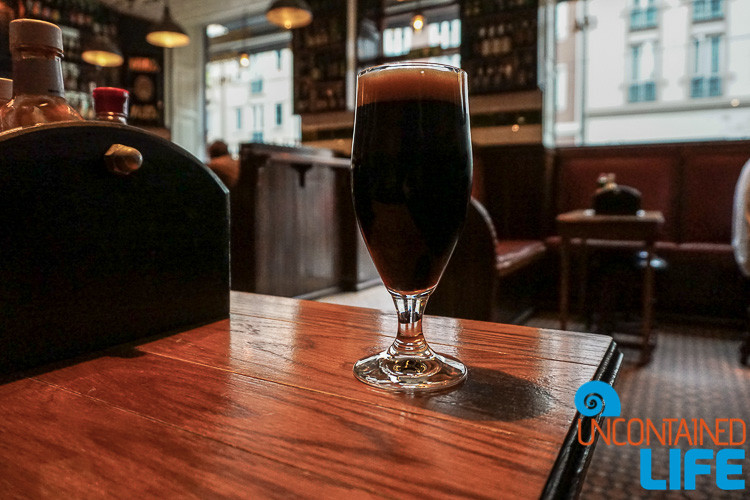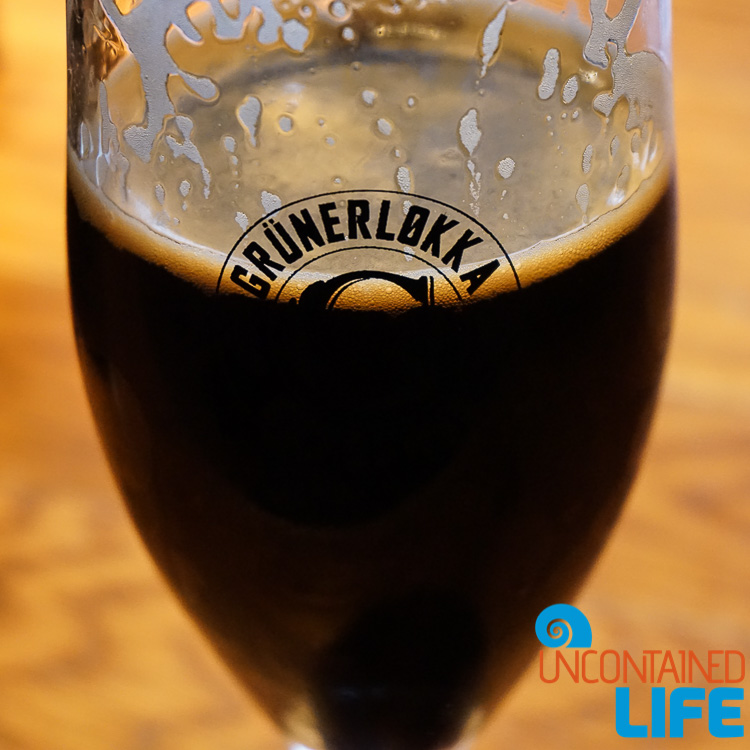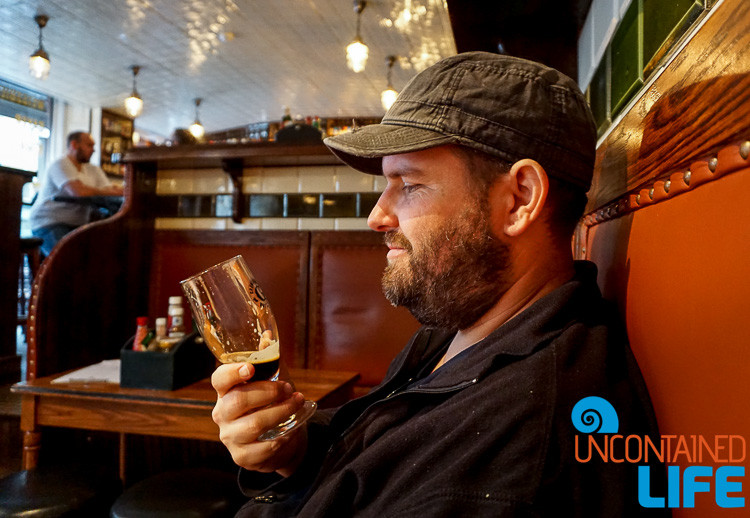 After breakfast, be sure to check out some of the area's many boutique shops, vintage stores, and parks.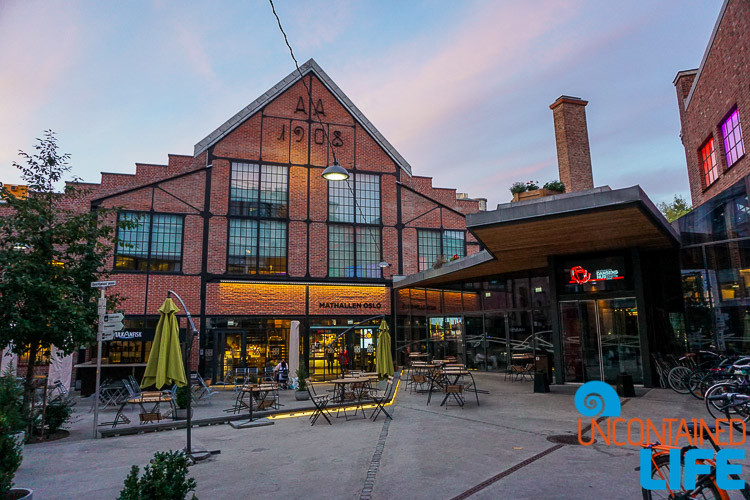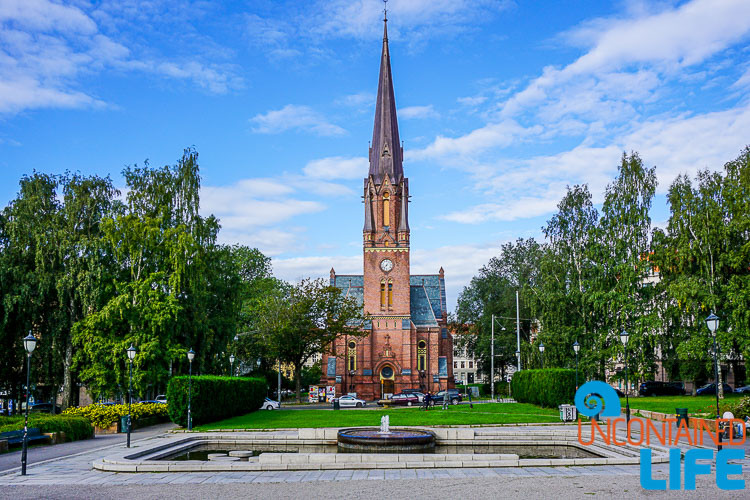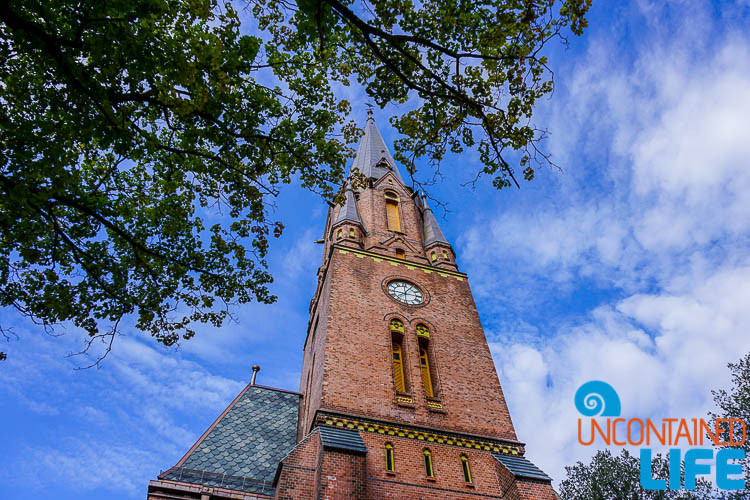 For our midday exploring, Justin and I headed to Oslo's East Side neighborhood of Grønland.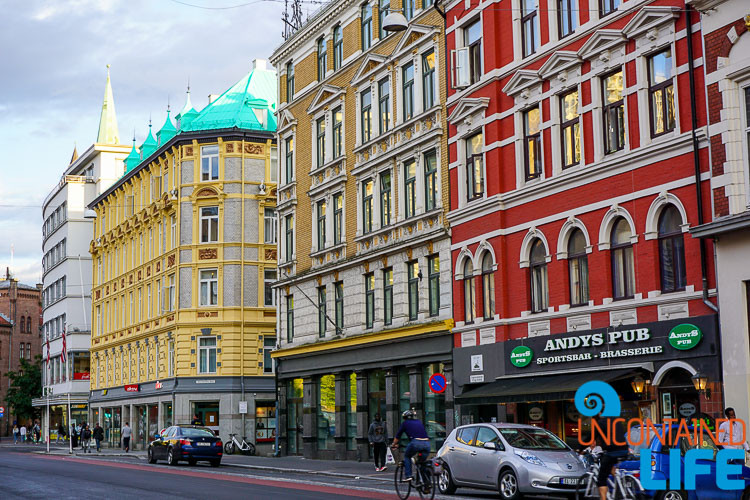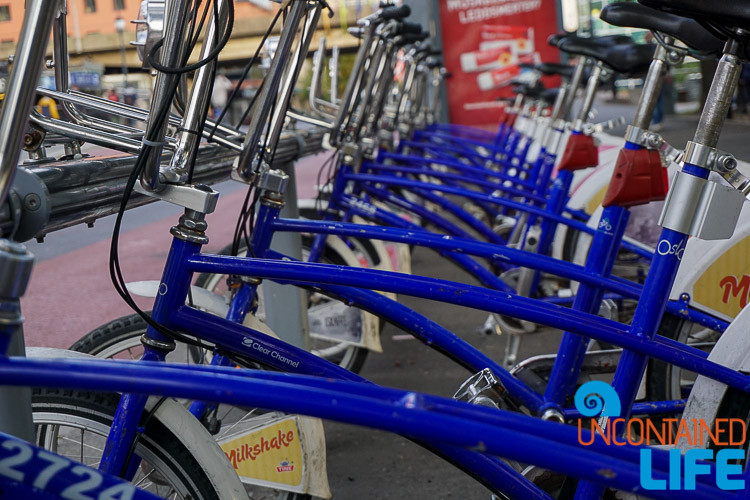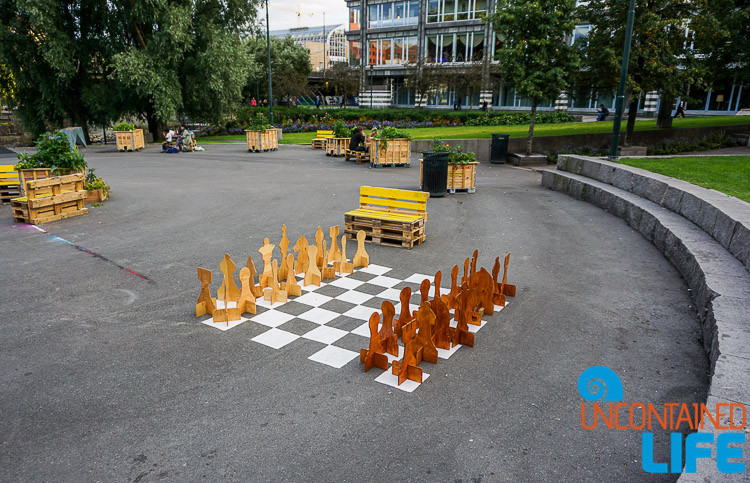 This "grittier" part of town not only has some of the best cheap eats and discount shopping the city has to offer, it also gives you a chance to see Norway's more diverse face.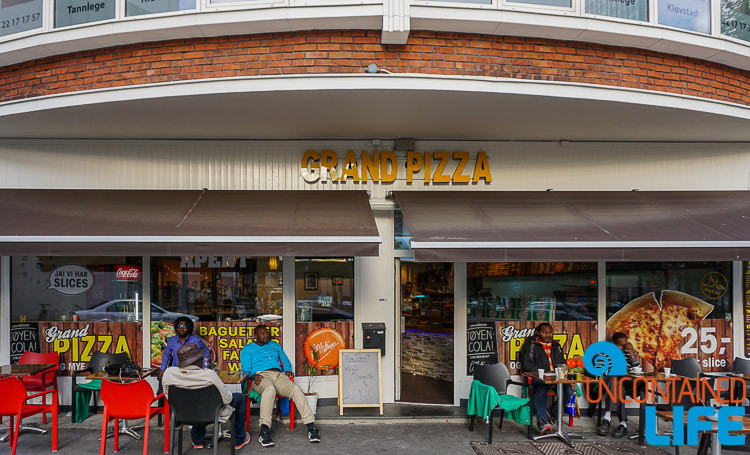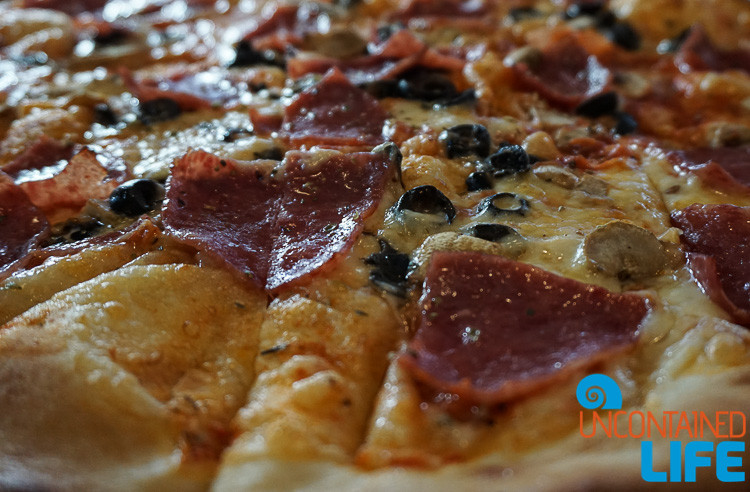 Grab a pizza at Grand Pizza or some delicious Indian cuisine at Punjab Tandoori.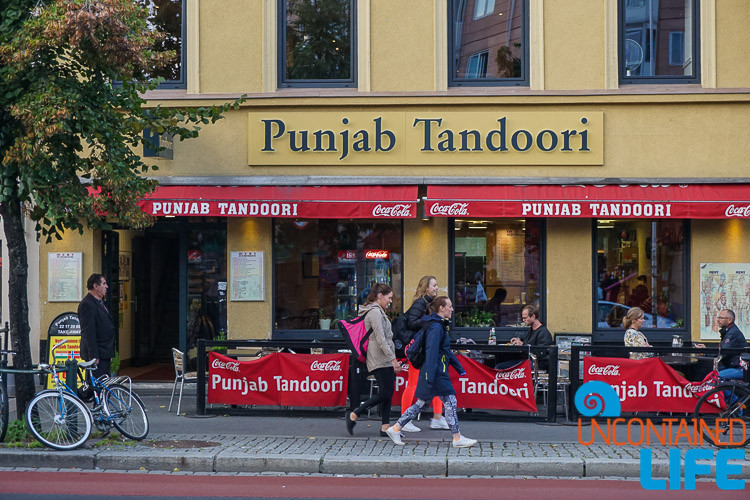 And, if you still have your Oslo Pass, take a look inside the area's Intercultural Museum (on Tøyenbekken street) which focuses on Norway's immigration history and the subsequent changes and developments in Norwegian culture and society.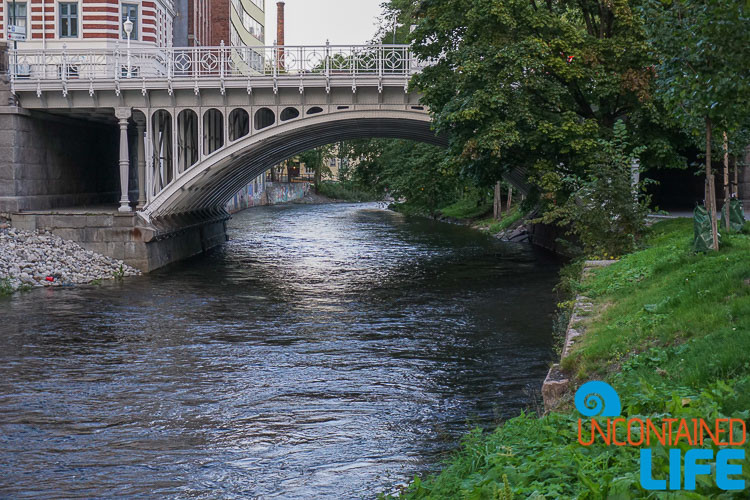 After exploring Grønland, we took a walk by the river (it's absolutely gorgeous) and made our way back toward Grünerløkka until we hit Nordre Gate.
If you cross the river here (in the direction of Maridalsveien) and follow the road left and you should find yourself in Brenneriveien alley.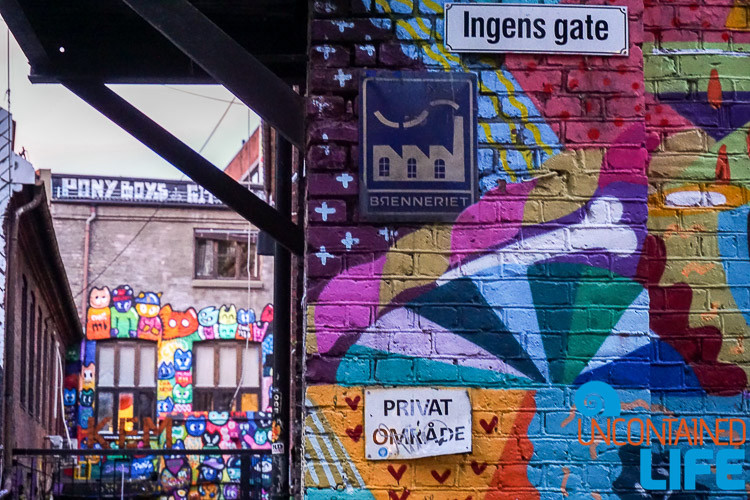 Welcome to the heart of artsy, alternative Oslo!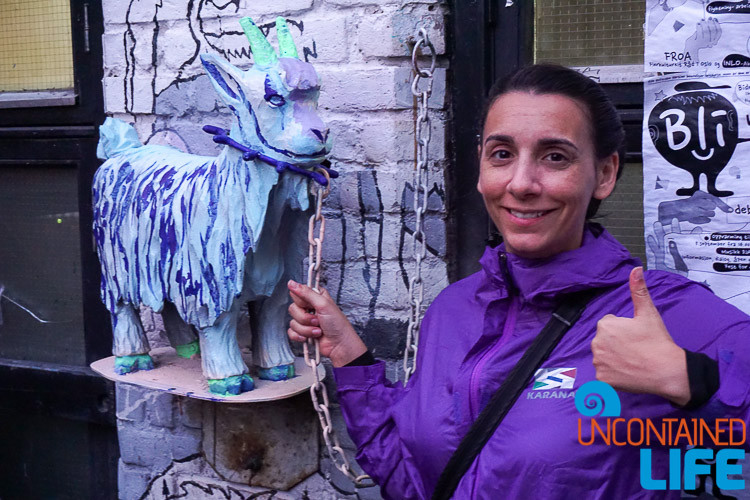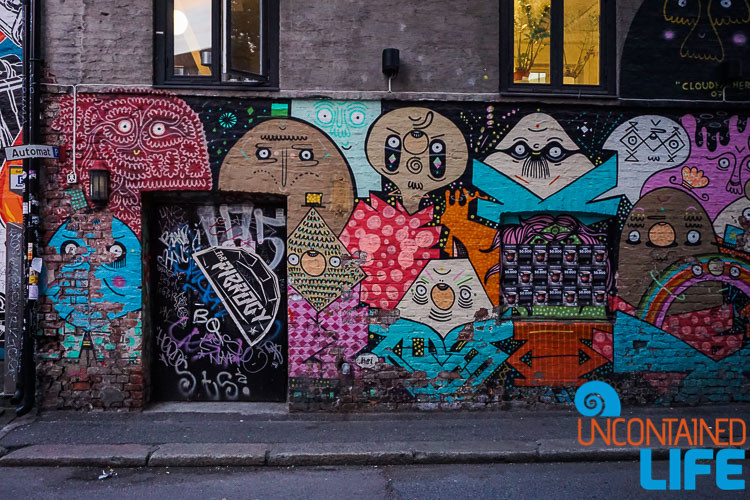 While graffiti art can be found elsewhere in Oslo nowhere is there such an abundance as in Brenneriveien.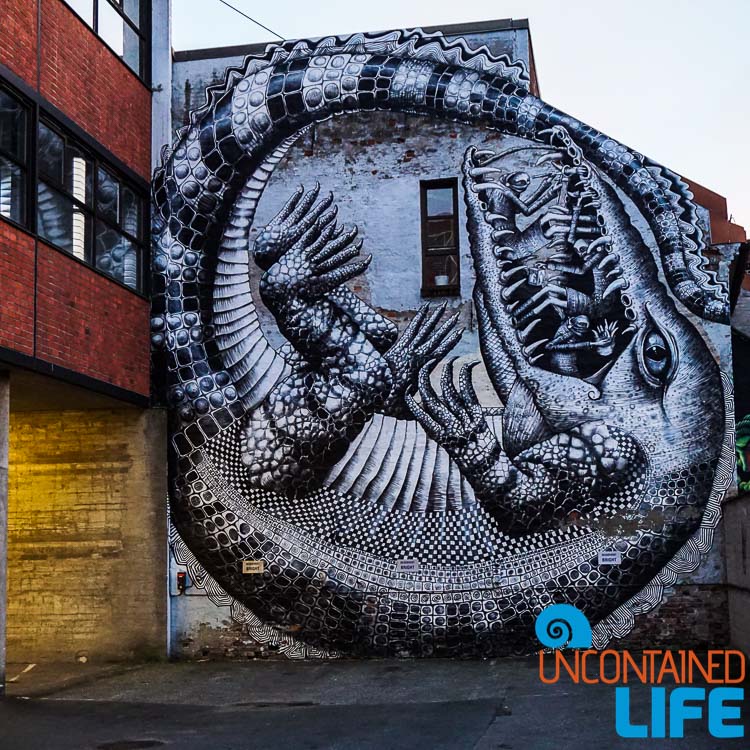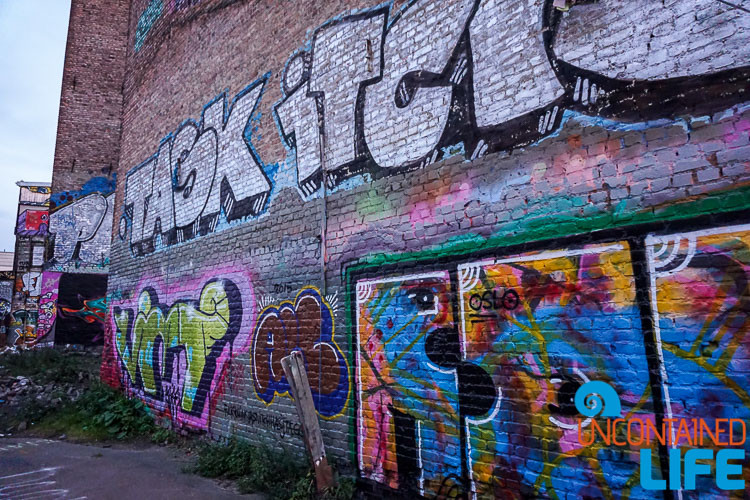 At the corner of Brenneriveien (where it hits Hausmanns Gate) you'll find "Hausmania"–an art collective.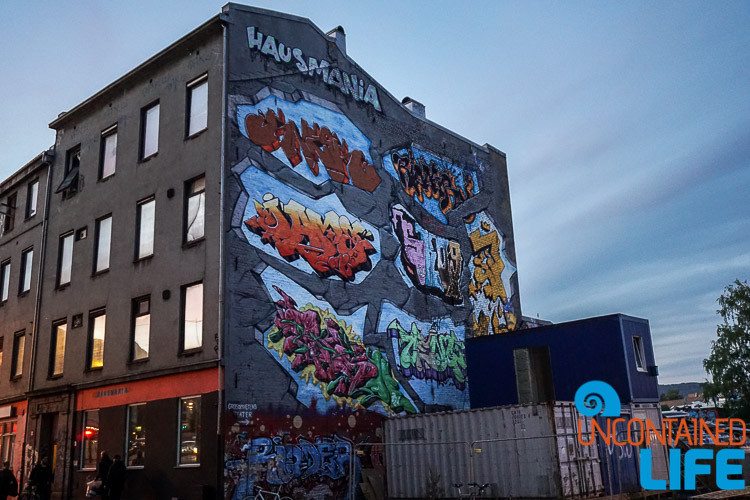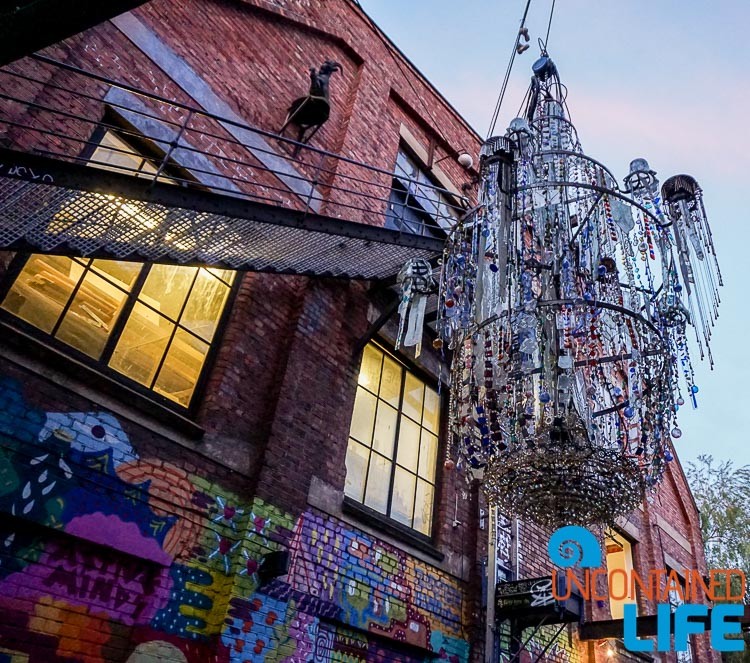 Also off of Brenneriveien you can find Blå–an indie music venue (see their calendar of shows here–you'll need some help from google translate). If you're looking for a more relaxed atmosphere (and no lines to get in), come early.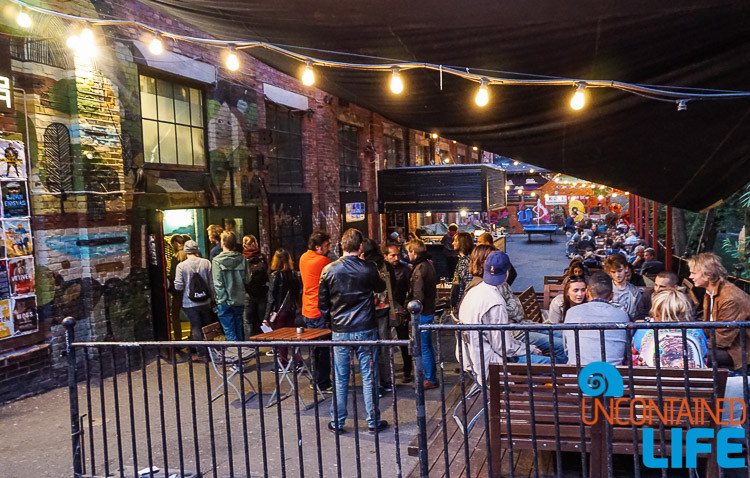 So what do you guys think: should people be more excited about visiting Oslo?  
Are you on Pinterest? Pin this post.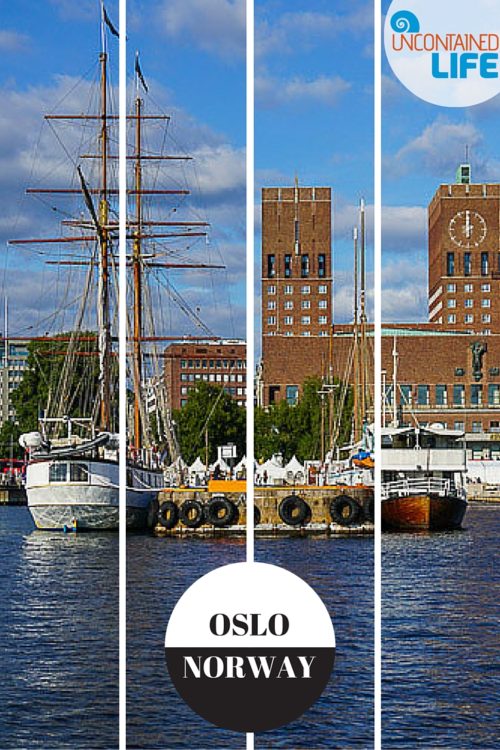 ---
Many thanks to Visit Olso, Anker Hostel and Viking Biking for hosting us on this trip. As always, all opinions are our own.