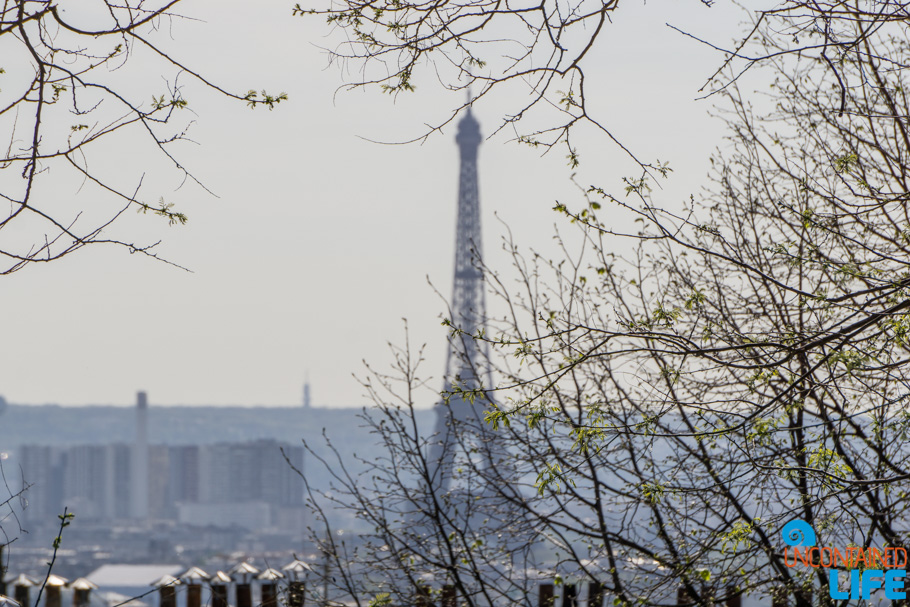 I will never be as adorably awkward as Audrey Tautou's Amélie Poulin.
(My style? Definitely more foot-in-mouth, "Avert your eyes, children!" awkward)
But I will also always feel a little flutter in my heart for the whimsical version of Montmartre depicted in that film. And so, when Justin and I decided to spend some time in France during my all time favorite month to visit Paris, April, we knew we wanted to spend an afternoon in Amélie's Montmartre.
More of a bibliophile than a film fan? Check out our literary tour of London!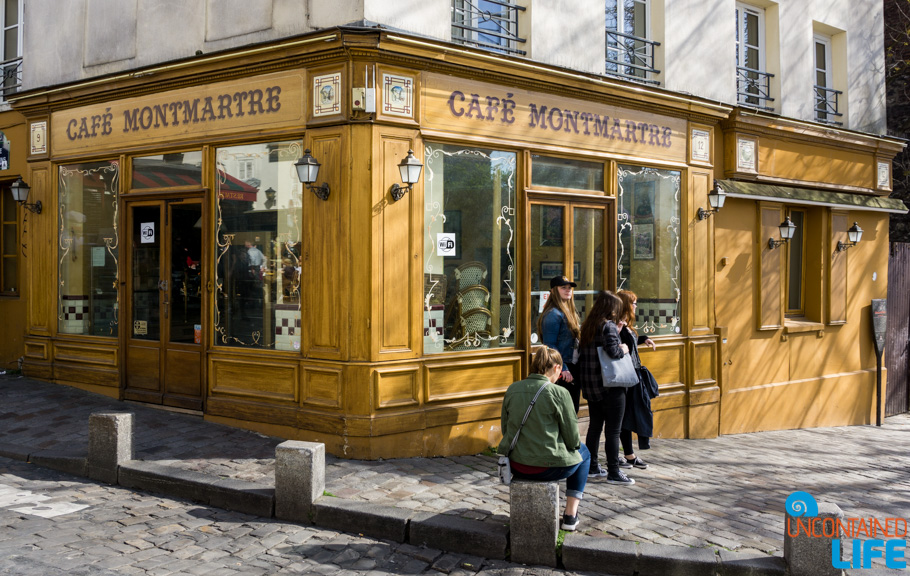 There was just one problem.
While Paris has always been a touristic town, over the course of the past 10-15 years, many parts of the city have, in my opinion, turned that element up from simmer to boil. Amélie's Montmartre is no exception.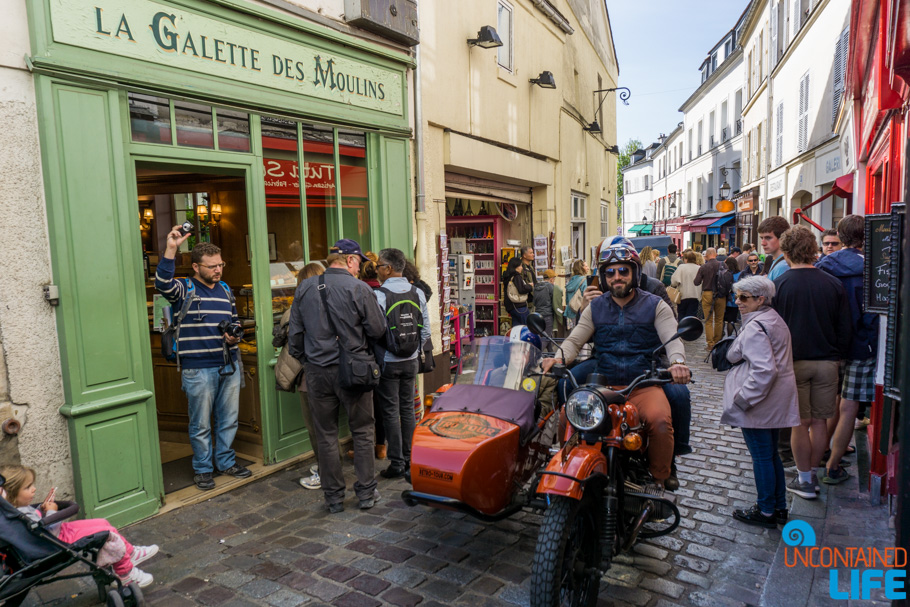 Today, many of Montmartre's main avenues feel like a kind of Boho Disneyland, complete with epic throngs trying to decide whether to buy the t-shirt, the canvas shoulder bag, or the poster version of Le Chat Noir.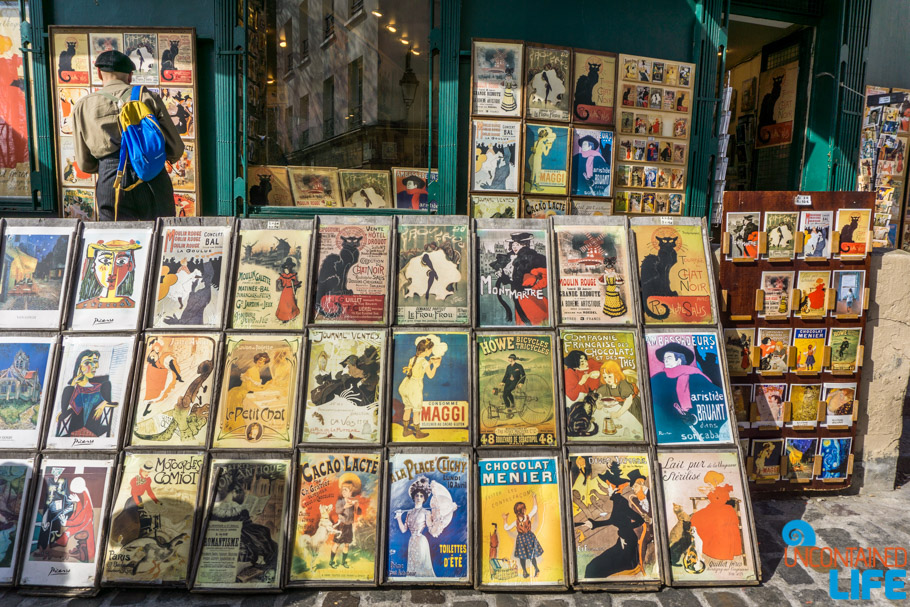 Not very cinematic.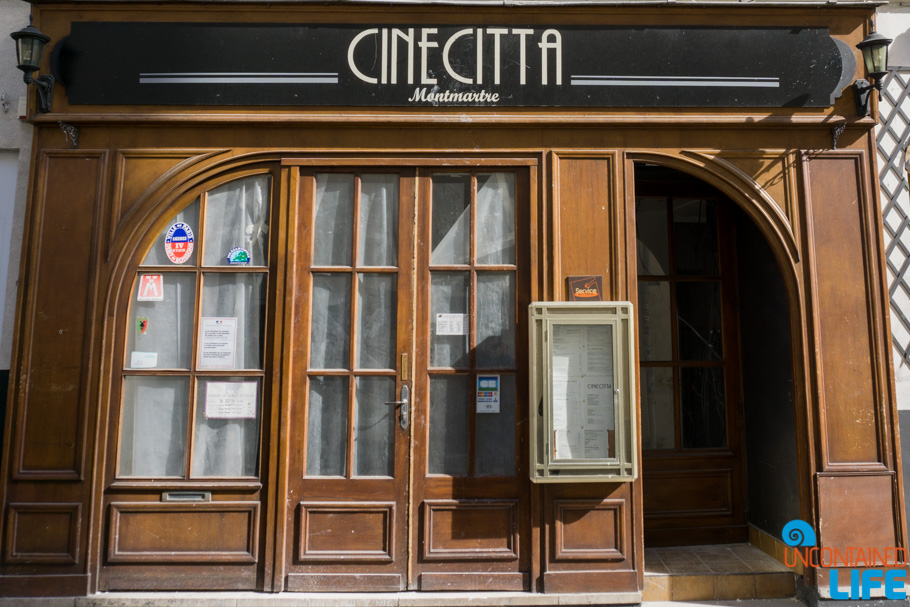 Was there a way to escape the madding crowd and get a sense of Amélie's Montmartre? We were determined to try.
Stop #1: Sacre Cour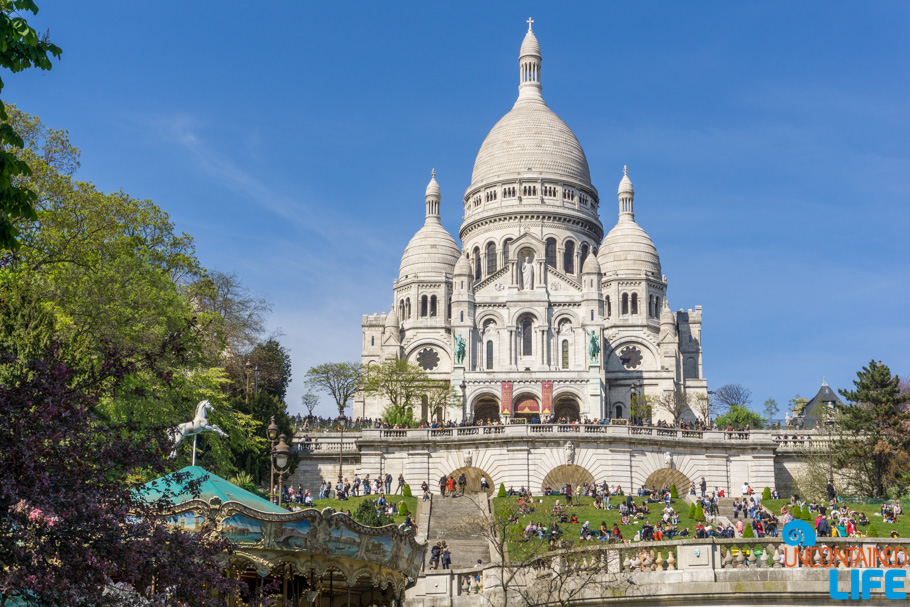 Rising white above the Paris skyline, Sacré-Cœur Church is not only an iconic symbol of Montmartre, but a key feature of one of my favorite scenes from Amélie  where she has Nino following blue arrows to recover his photo album.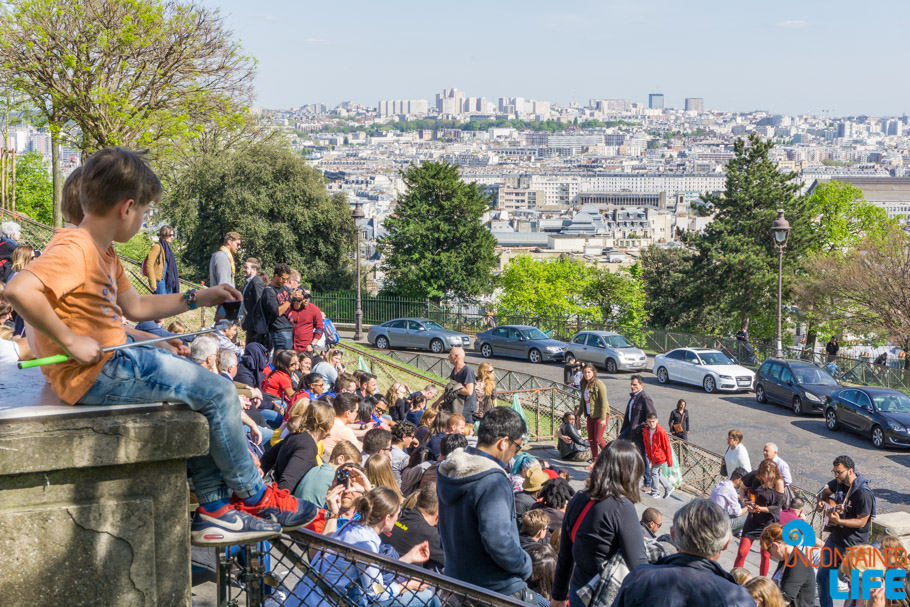 Of course, Sacré-Cœur's iconic status means it's any attempt to approach the church from its front means battling hordes of fellow visitors. Thankfully, Justin and I were able to find a much more scenic route up to Sacré-Cœur.
After exiting the Anvers metro, we walked up Rue Briquet (where we saw these cool street artworks)…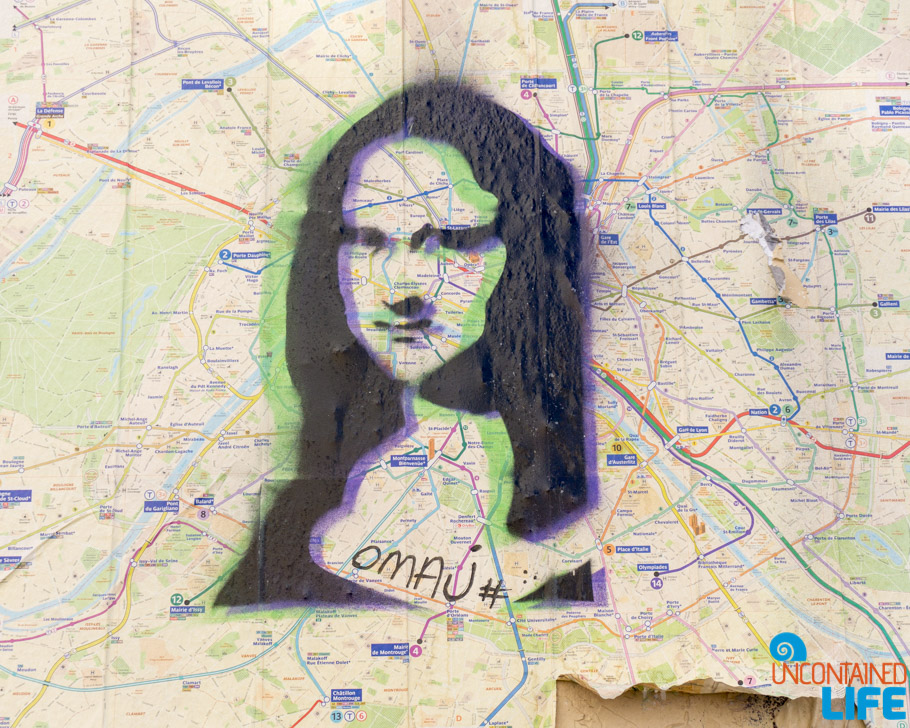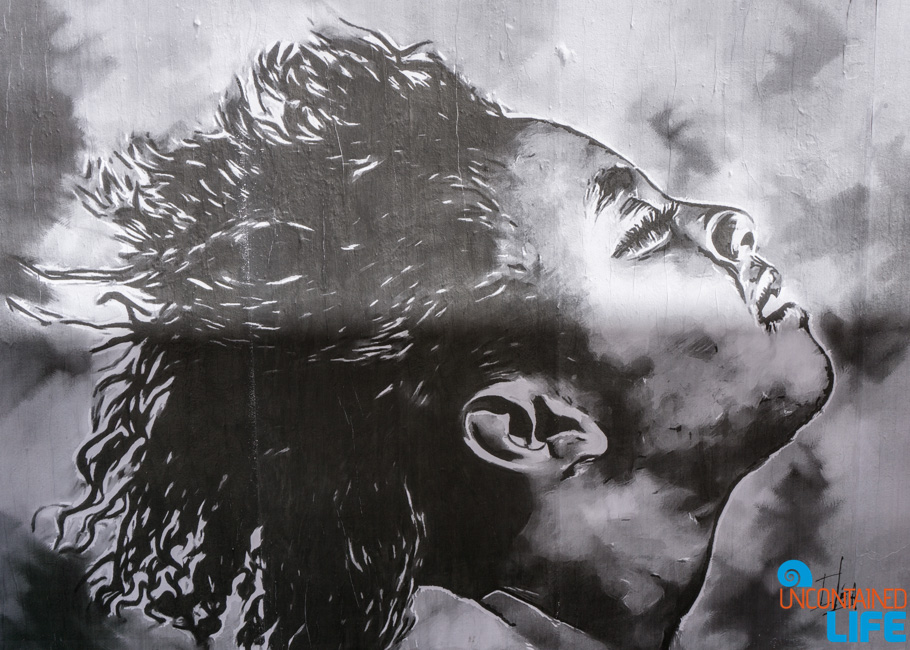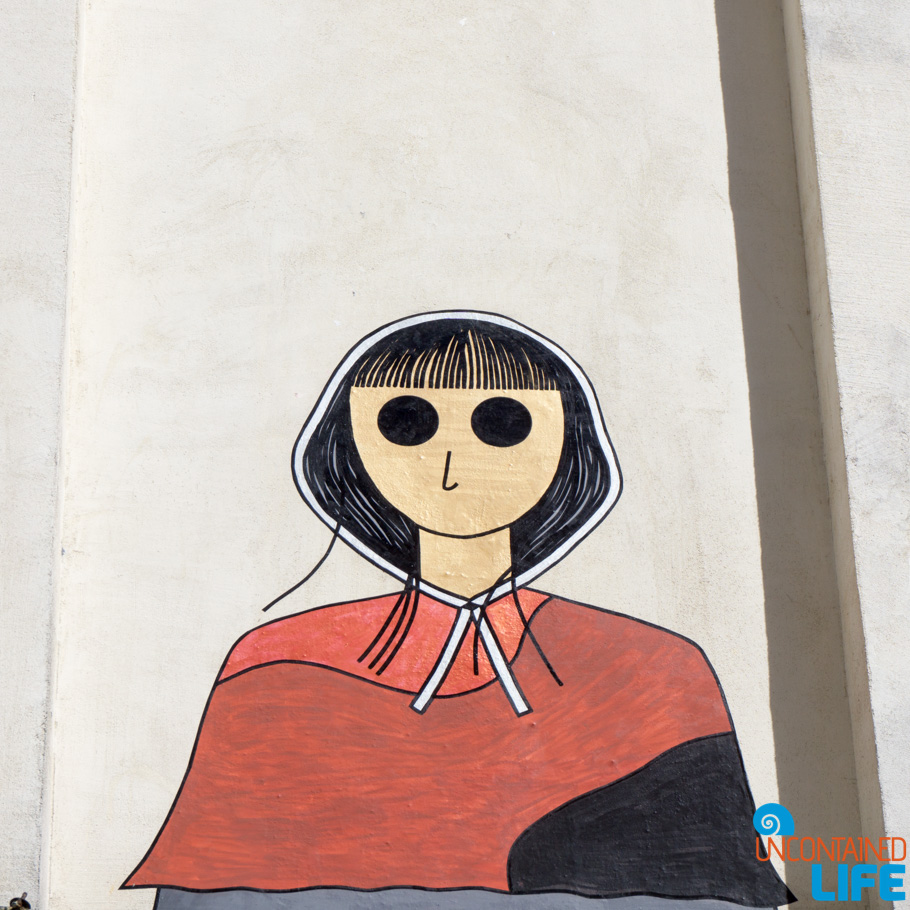 …before continuing up the souvenir shop-laden Rue de Steinkerque. (If you're a chocolate lover, a stop at Maison Georges Larnicol might be a must.)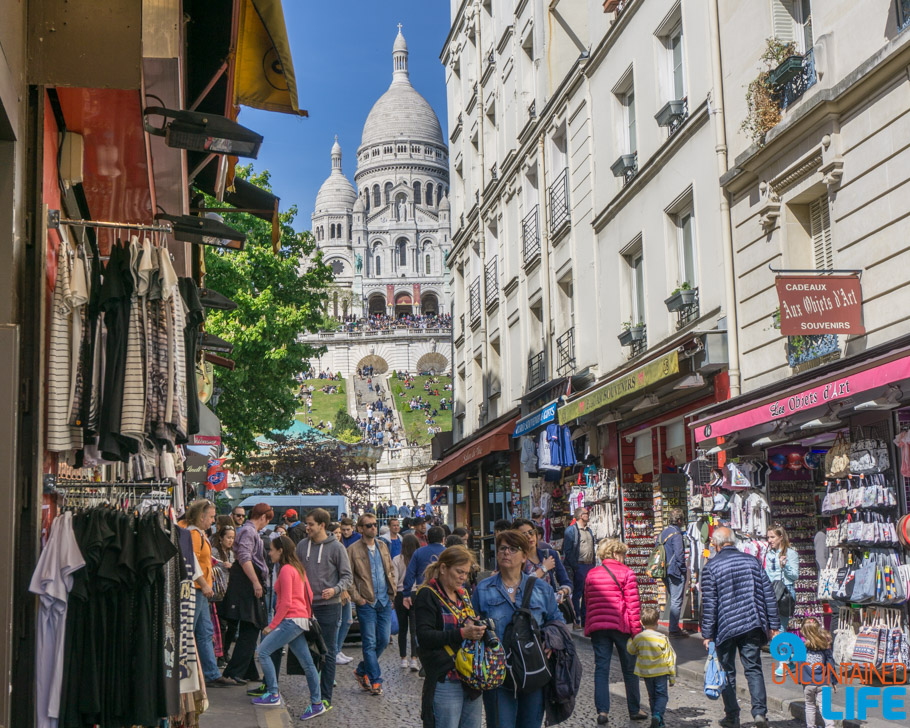 Instead of heading straight up the steps to Sacré-Cœur, however, we made a right at Place St. Pierre, and a left onto the quiet street of Rue Ronsard, which runs along the side of the church.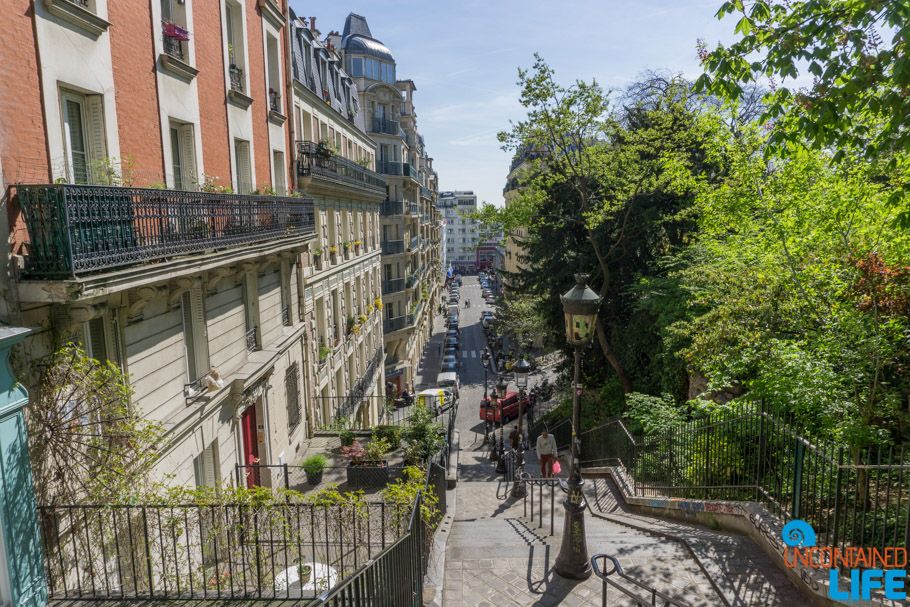 After climbing a picturesque flight of stairs, we arrived at Rue Paul Albert— a cobbled street which mixes modern touches with a decidedly old-world charm. (If that's not Amélie's Montmartre, I don't know what is.)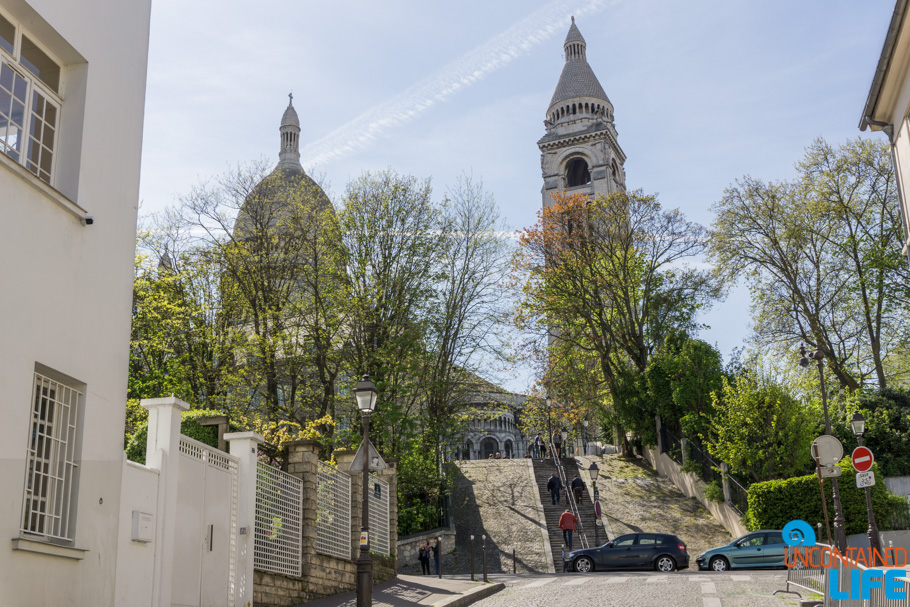 One more set of stairs later, and we were at the back of Sacré-Cœur, admiring the church from a view few visitors experience.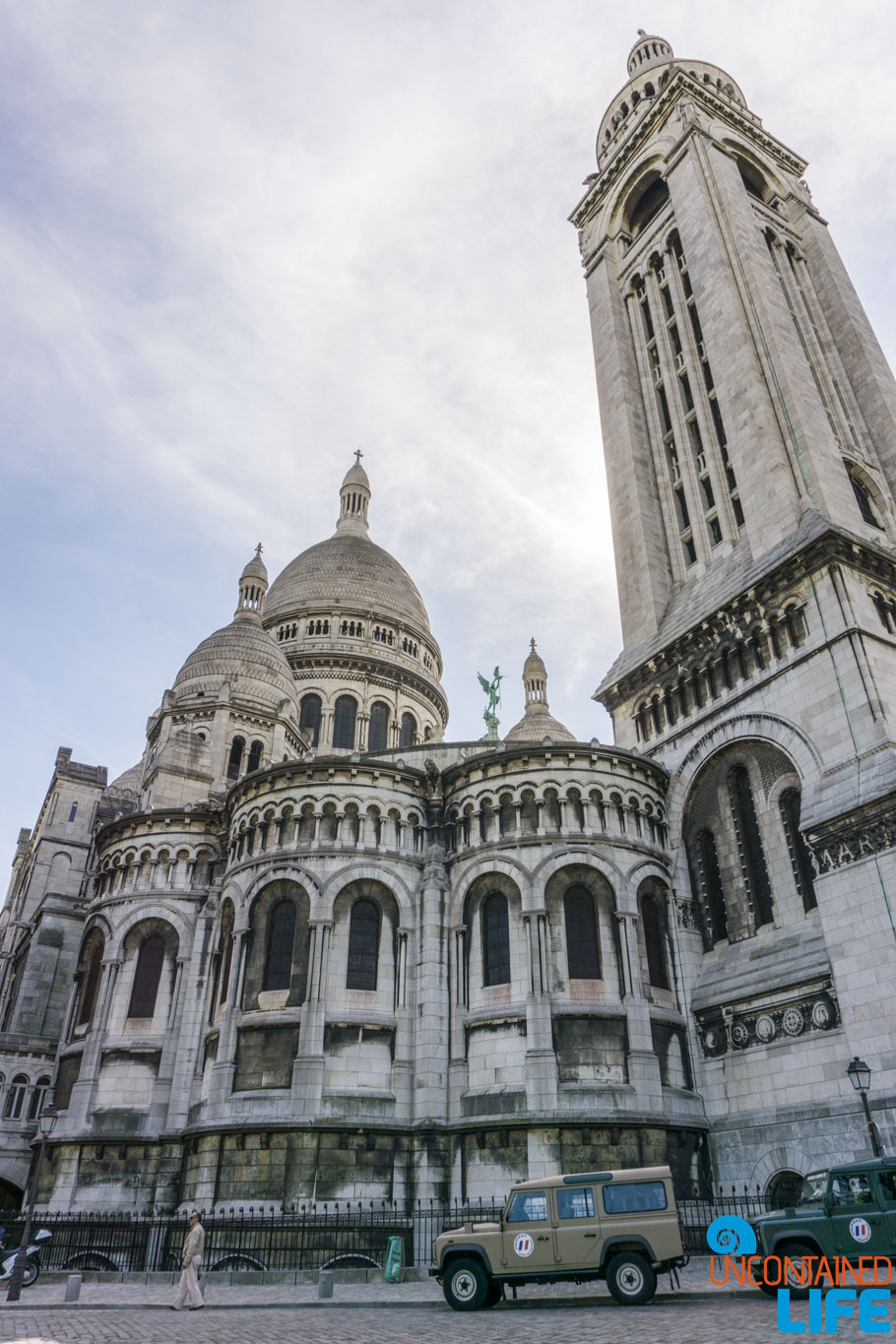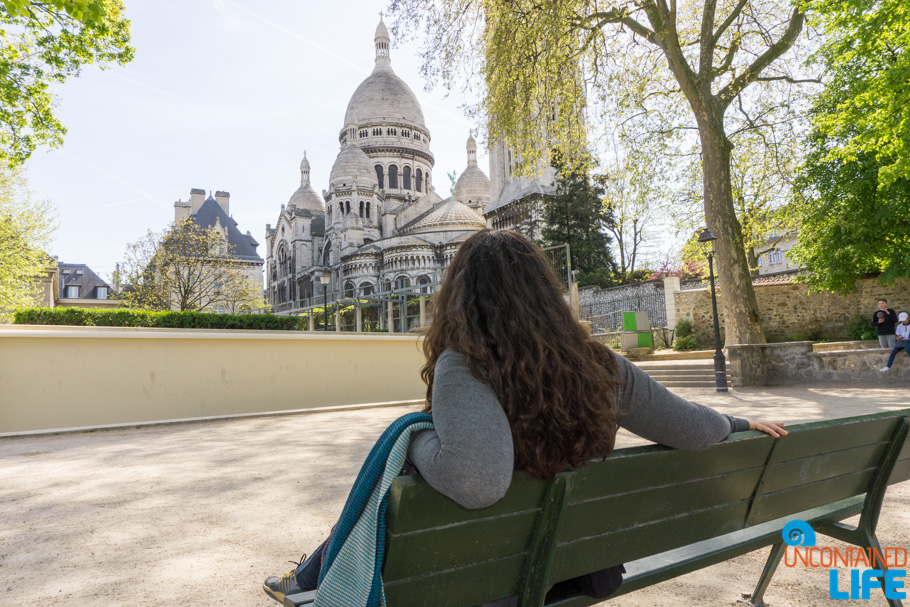 After a stop in Square Marcel Bleustein Blanchet (the park behind Sacré-Cœur), we walked around to the front of the basilica and met this mad scene: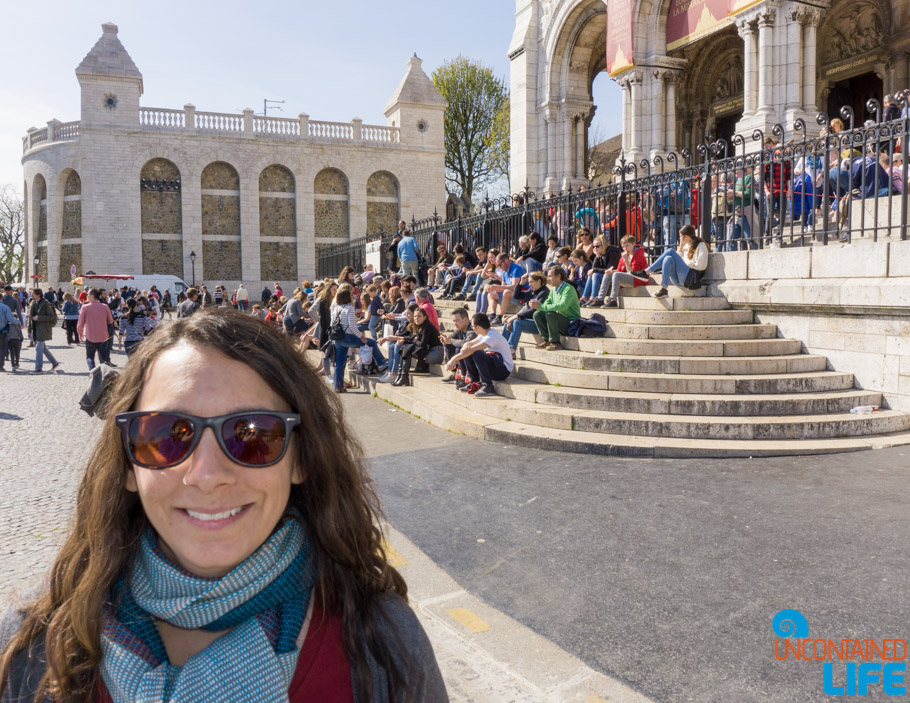 Luckily, the inside of the church was quieter, and as lovely as I'd remembered it from trips past.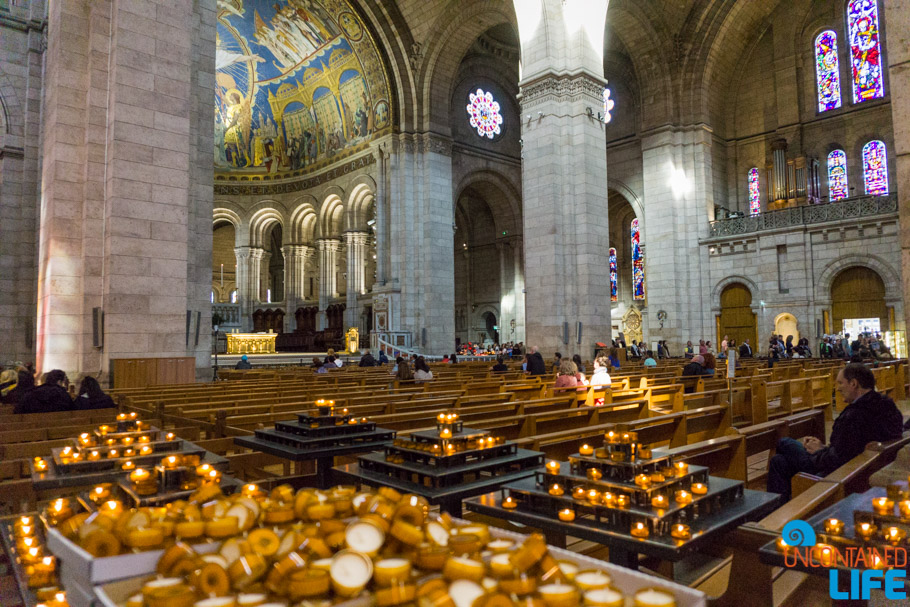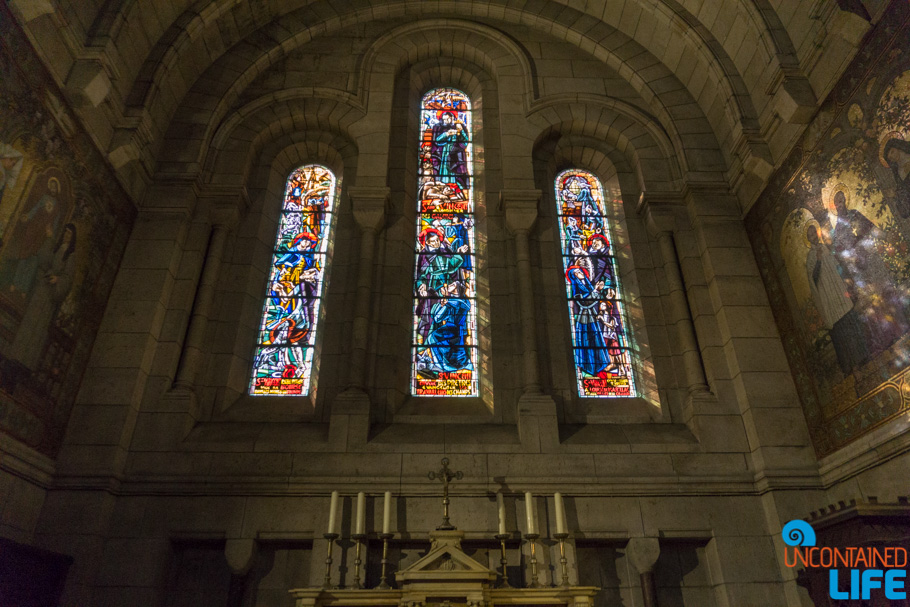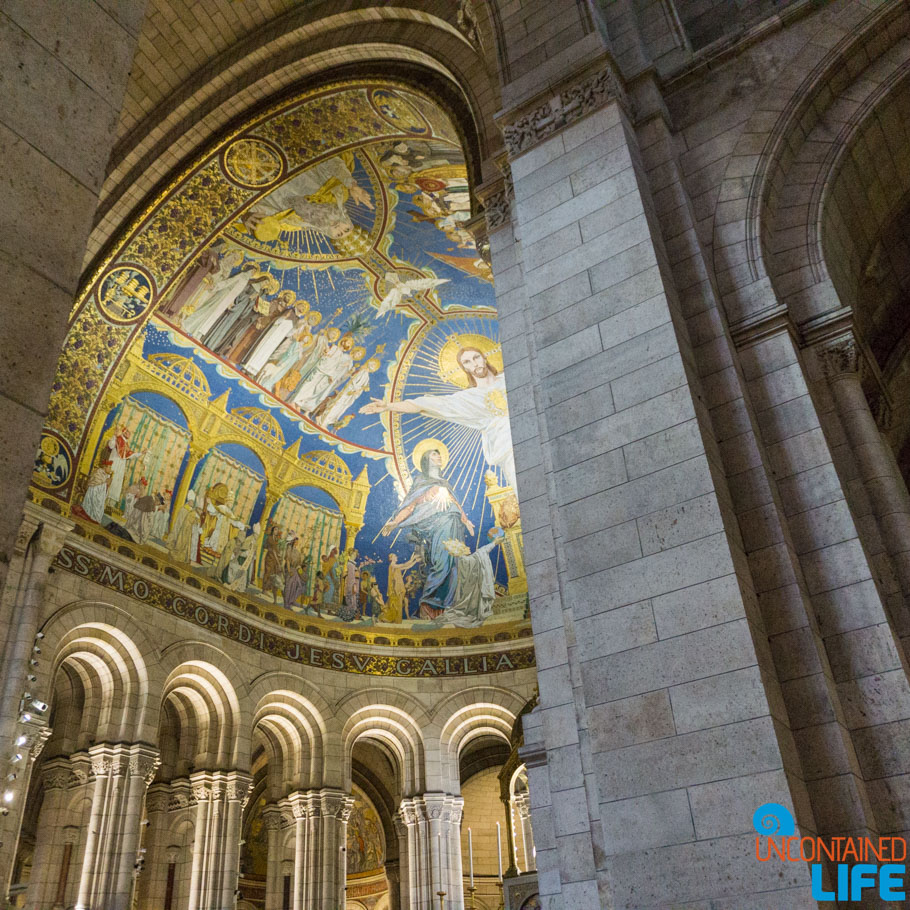 Stop #2: Rue de Saules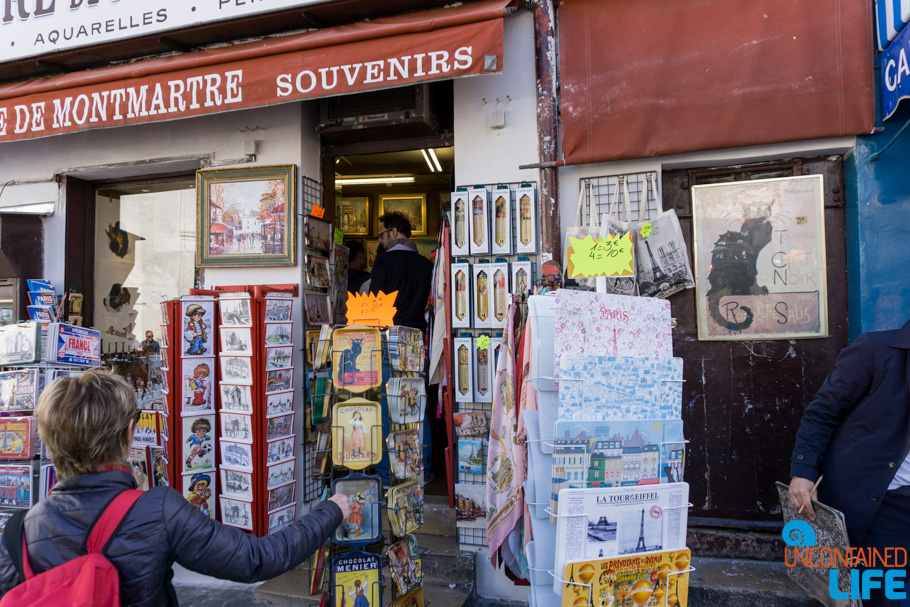 After leaving Sacré-Cœur, we let the crowds take us down Rue Azais and on to Place du Tertre, I.E. the central hub of the pseudo bohemian tourist experience.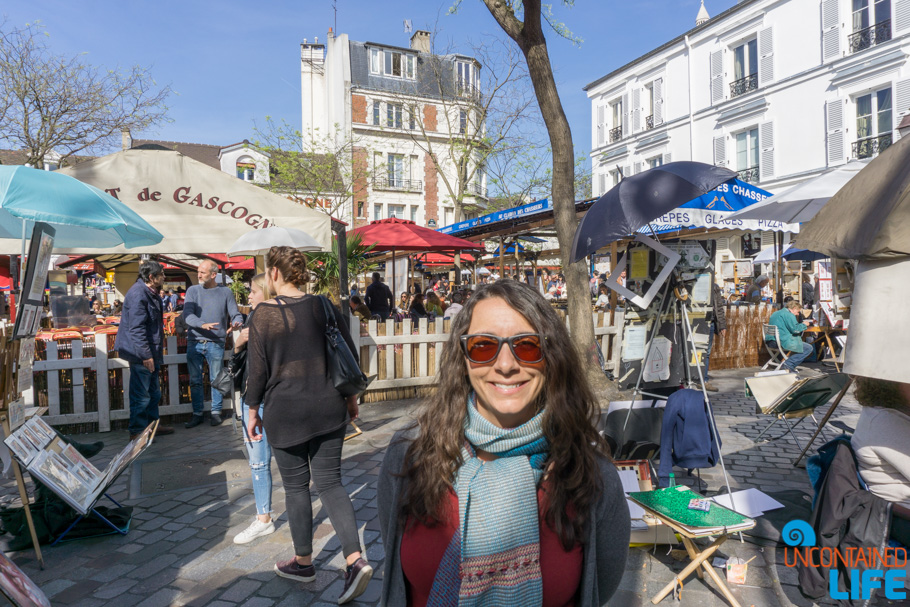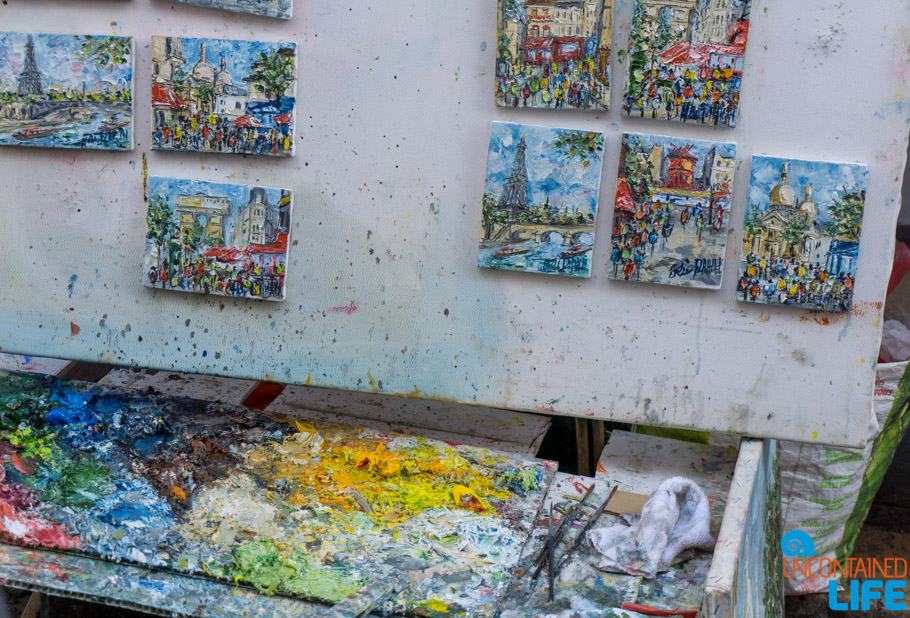 To be fair, Place du Tertre is very cute, and yes, the artists at work there are professionals. But it's also the exact opposite of a relaxing locals spot. (Restaurant prices are sky high, and stand still for more than 30 seconds and you'll be inundated with offers for portraiture.)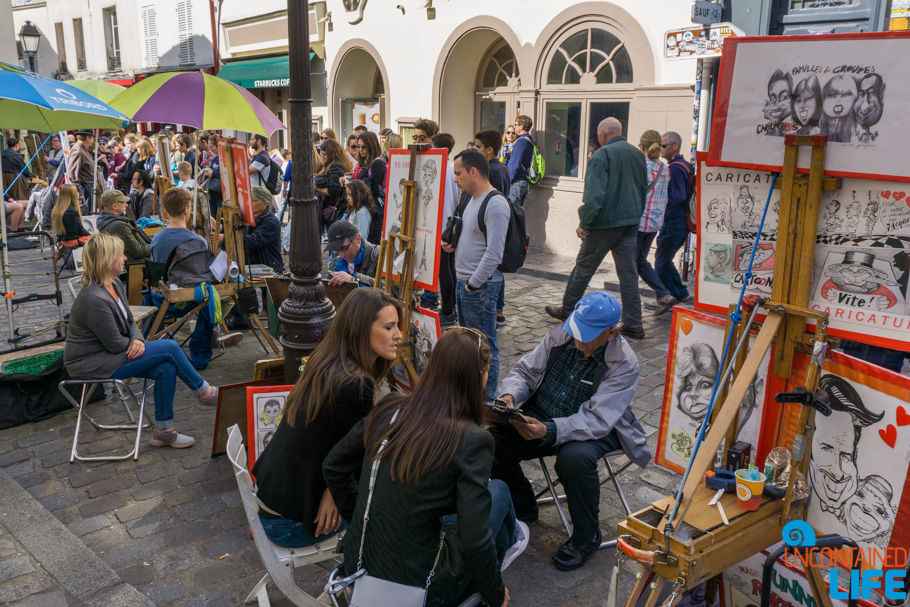 We moved on, quickly, up Rue Norvins, and turned onto Rue de Saules. And, like magic, we were back in Amélie's Montmartre.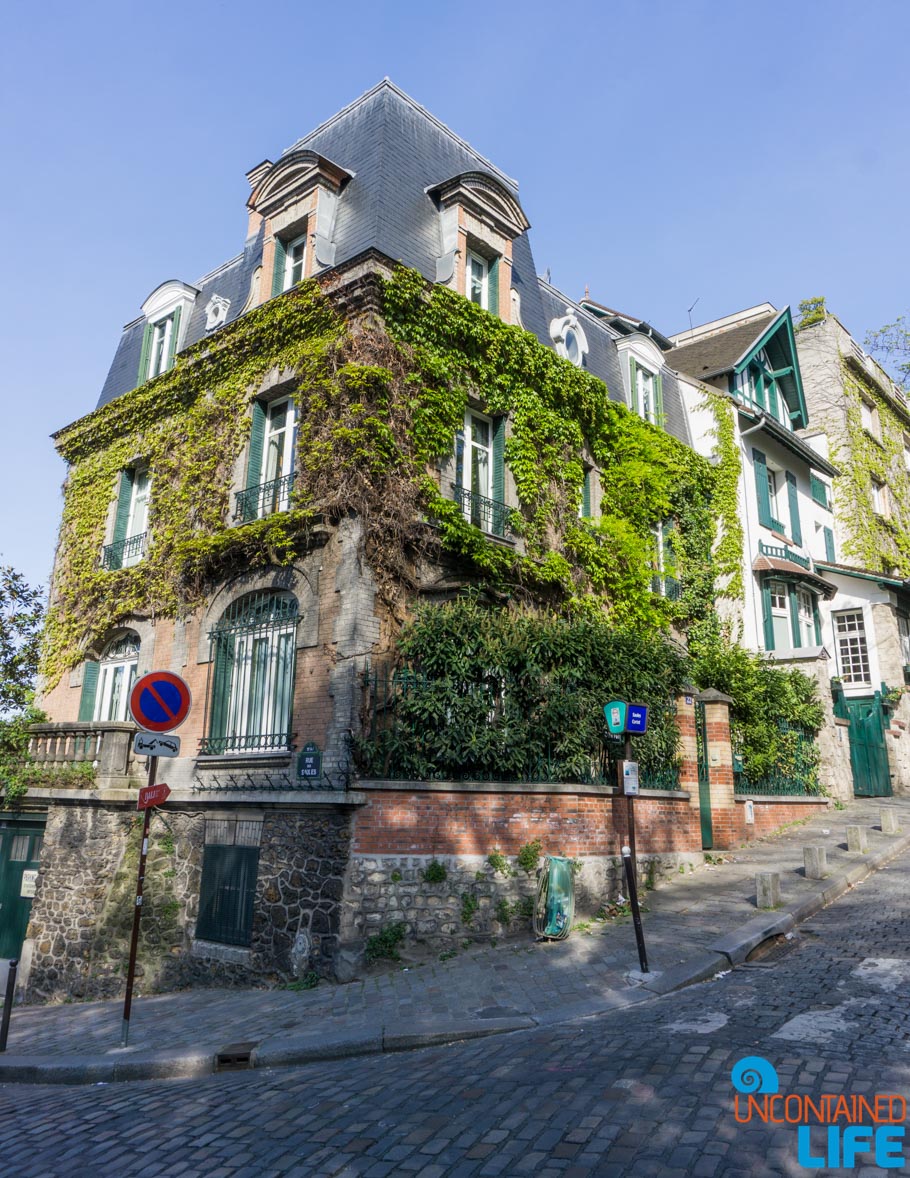 The intersection of Rue St. Vincent and Rue de Saules not only serves as the film's opening setting, it's also one of the loveliest spots in Montmartre. The lovely Clos Montmartre vineyard and gardens sit to the right.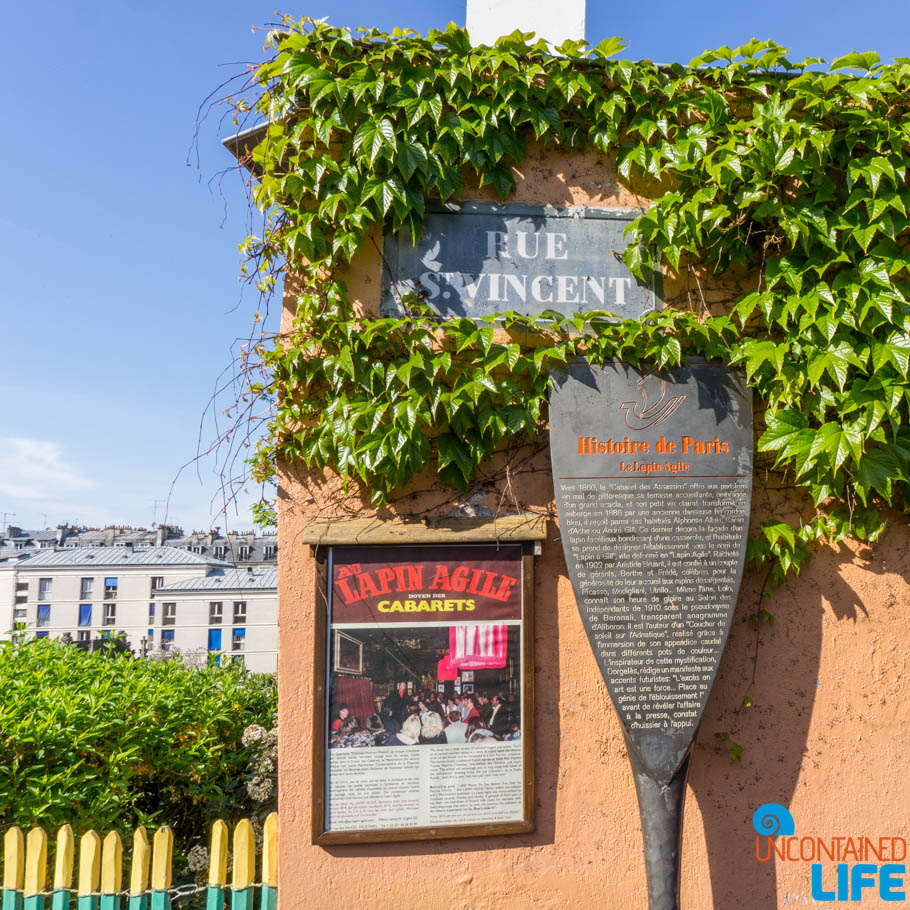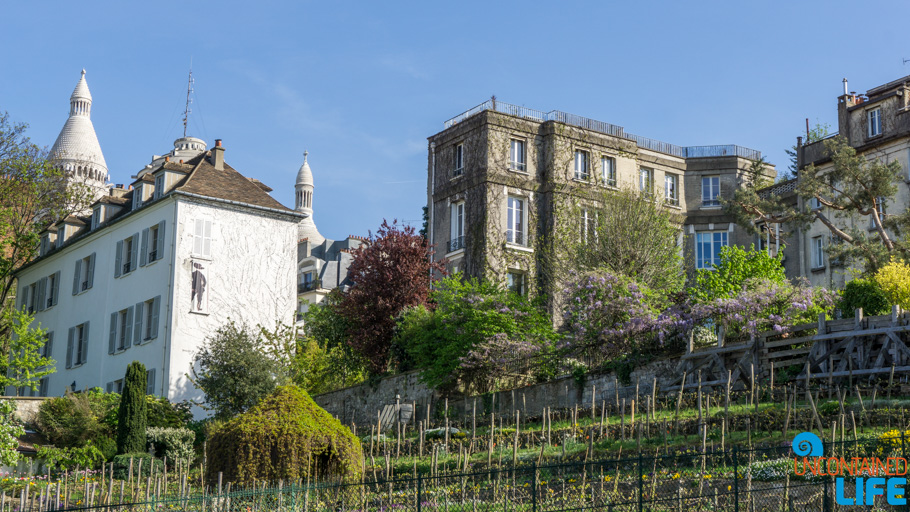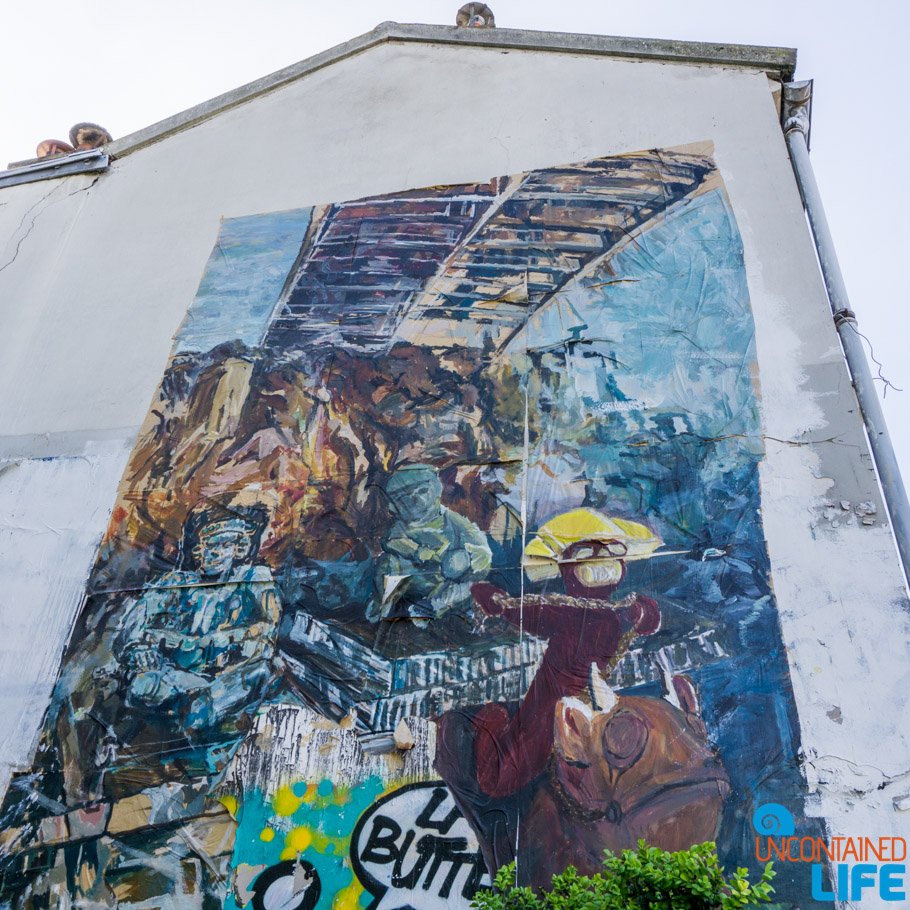 Ahead stands the Lapin Agile, one of the oldest cabarets still in existence in Paris (unlike the Moulin Rouge, the building retains its original form). Picasso and Modigliani (among others) used to hang out here, and today visitors can still enjoy traditional songs, comedy bits, and sing-alongs. The show is all in French, but can be quite enjoyable (from what I recall — I last went years ago) even if your parlez could use some work.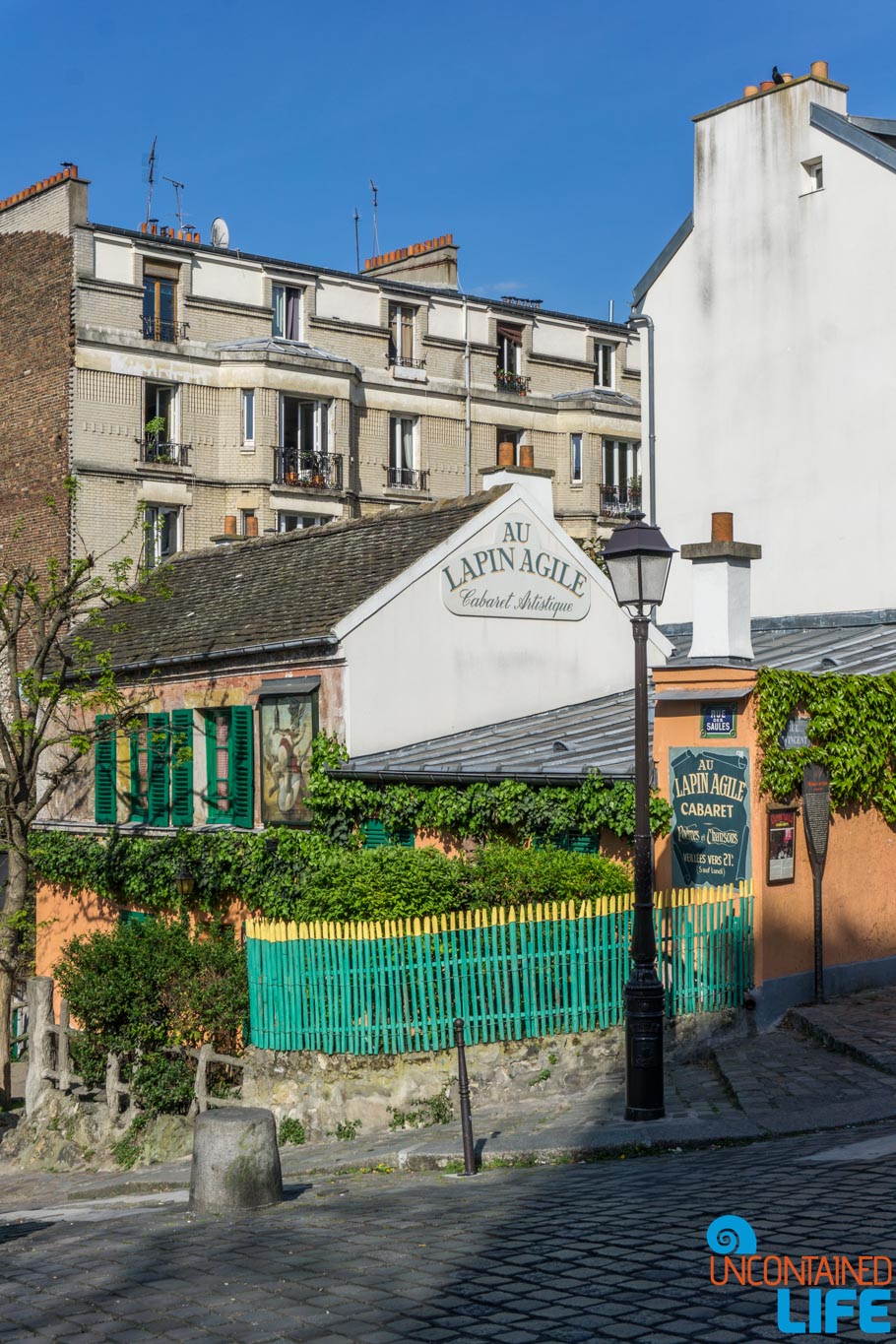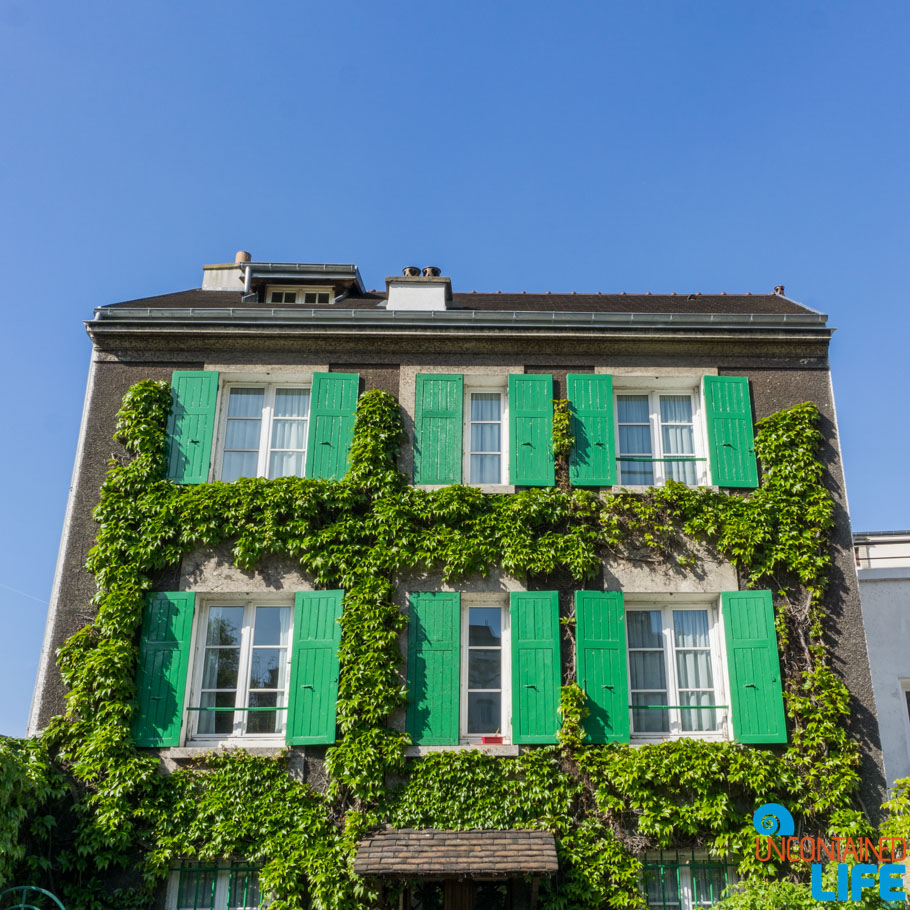 The lovely Le Musée de Montmartre is also right around the corner (inside a beautiful 17th-century house where Renoir worked for a time).
Want to live like Amélie? Find great accommodation at a fantastic price on Airbnb — Justin's and my favorite short term rentals site. Get $40 your first booking, compliments of Uncontained Life! 
Stop #3: Le Passe-Muraille and Two Moulins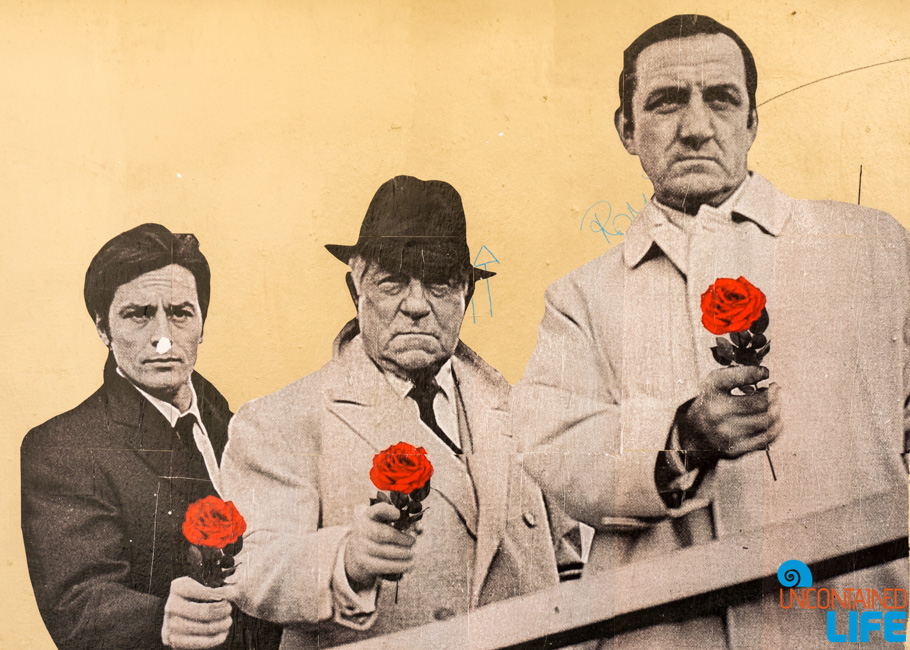 Continued walking down Rue Norvins, and over to Rue Lepic doesn't yield any specific Amélie moments, but the streets embody the film's atmosphere.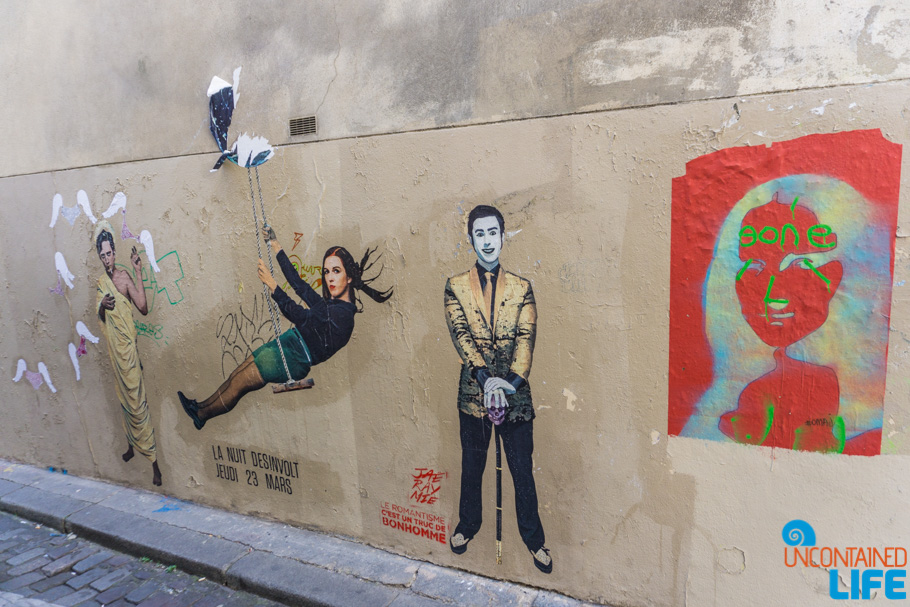 Le Passe-Muraille artwork, based on the French short story of the same name was created by Jean Marais – a French actor and sculptor — in 1989.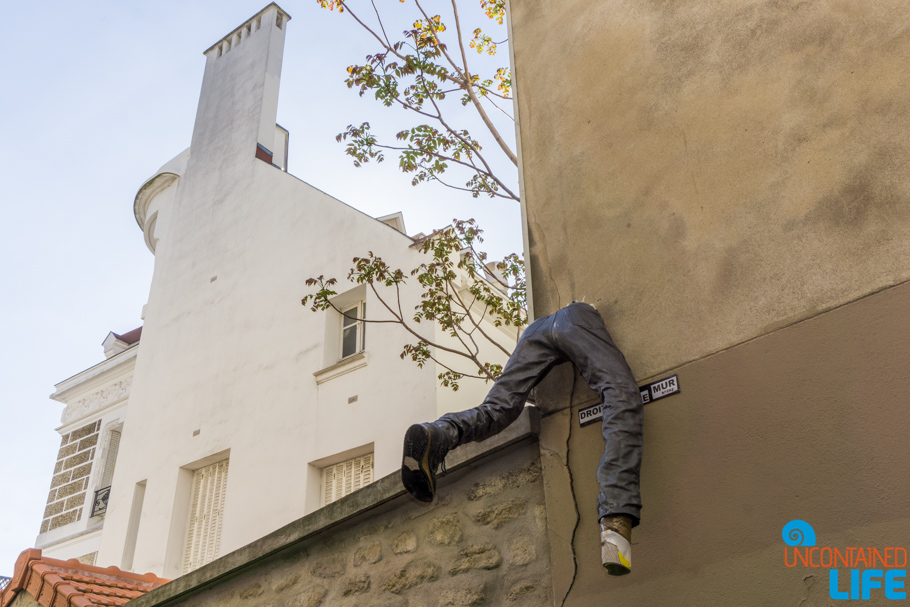 This route also takes you past two historic wooden moulins (windmills), Moulin Radet and Moulin de Blute-Fin. These two moulins are collectively referred to as Moulin de la Galette and served as inspiration for artists like Renoir, van Gogh, and Pissarro.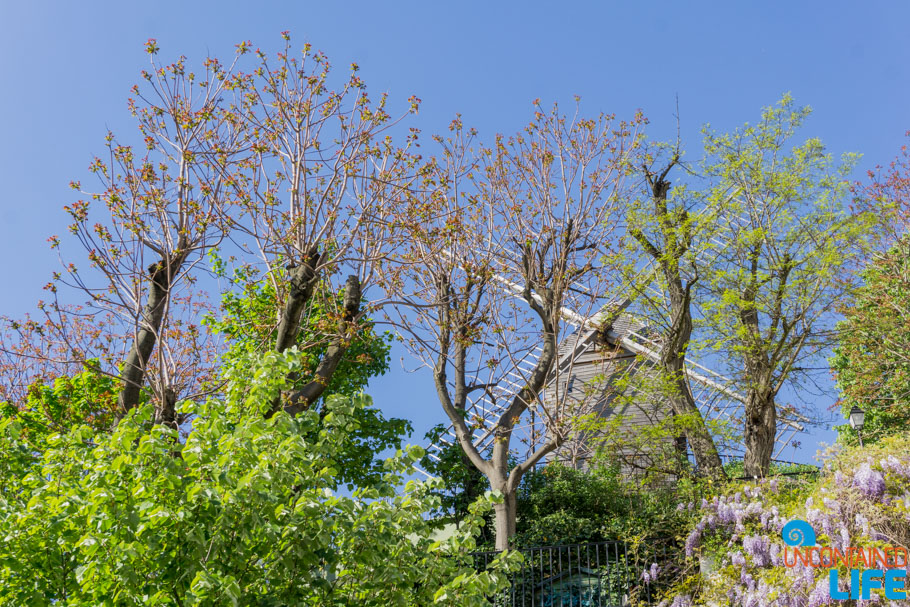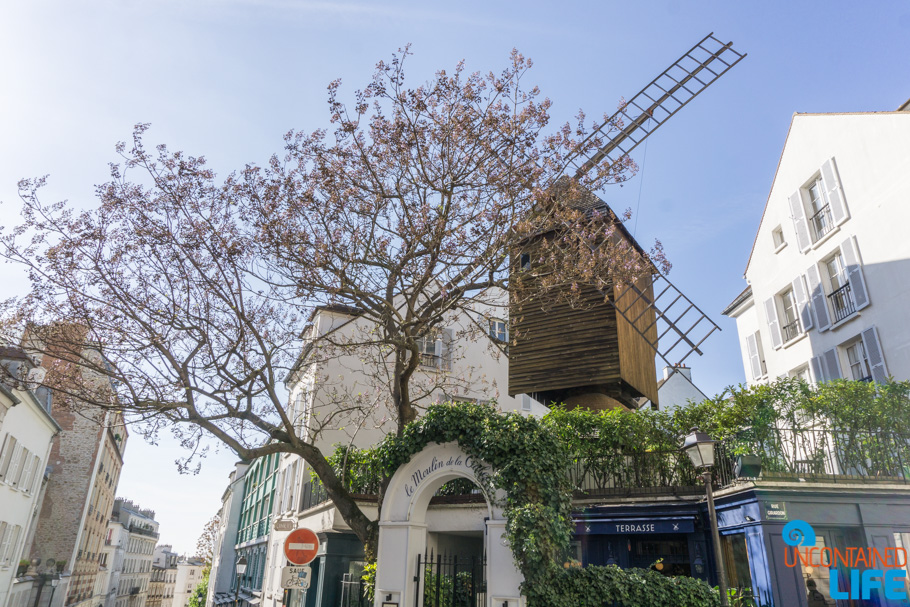 Stop #4: Au Marché de la Butte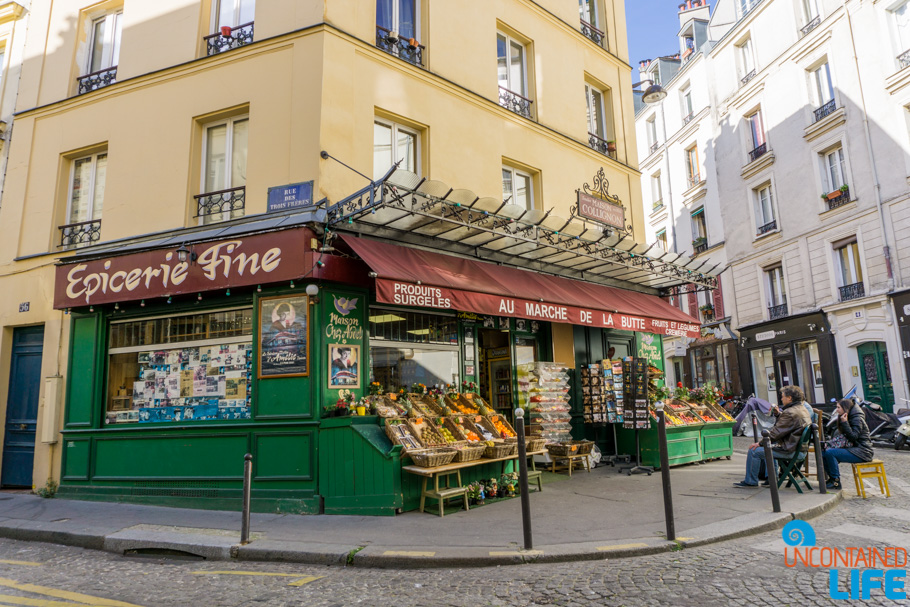 Nestled at no. 56 Rue des Trois Frères, Au Marché de la Butte exudes all the quintessential qualities of a quaint Parisian market. It's small wonder Amélie director Jean-Pierre Jennet chose it as a key setting for the film.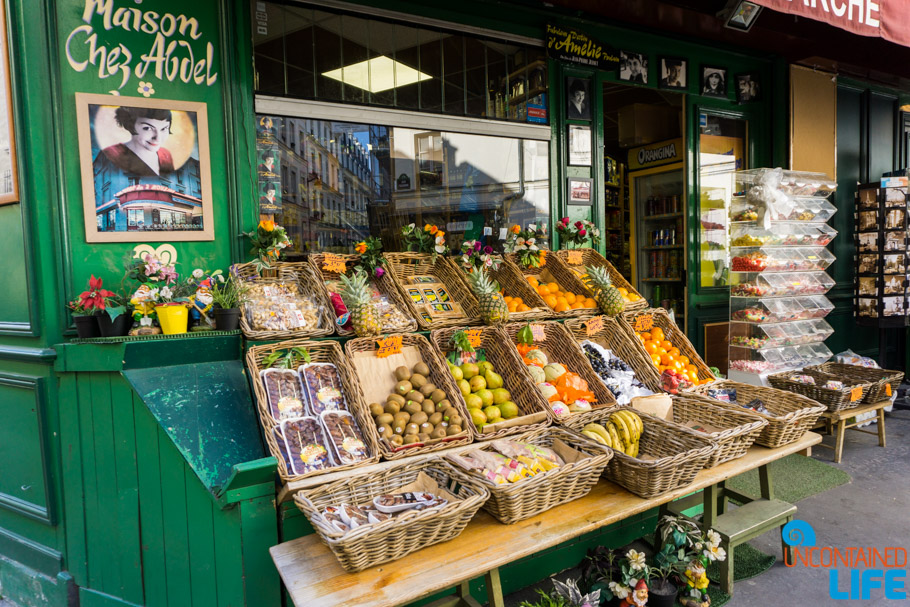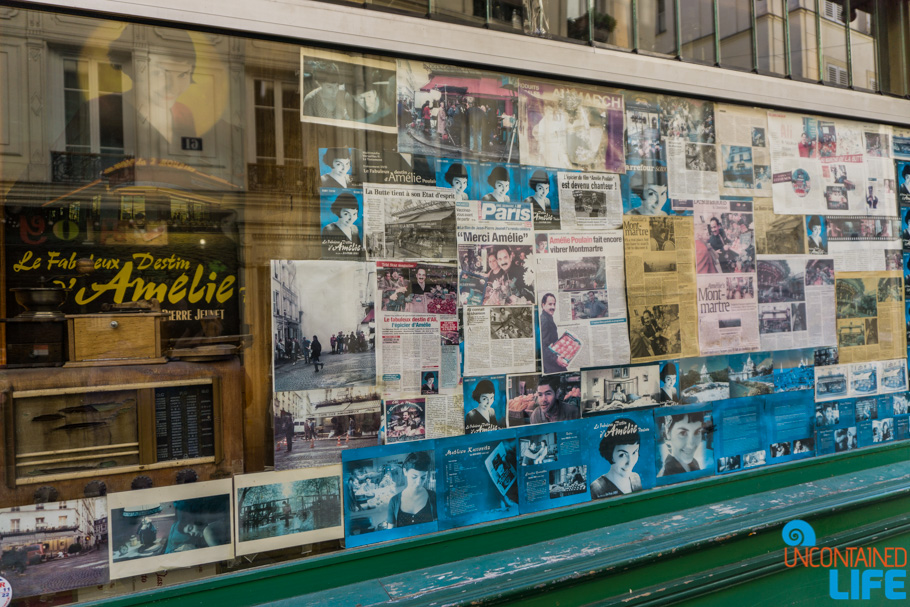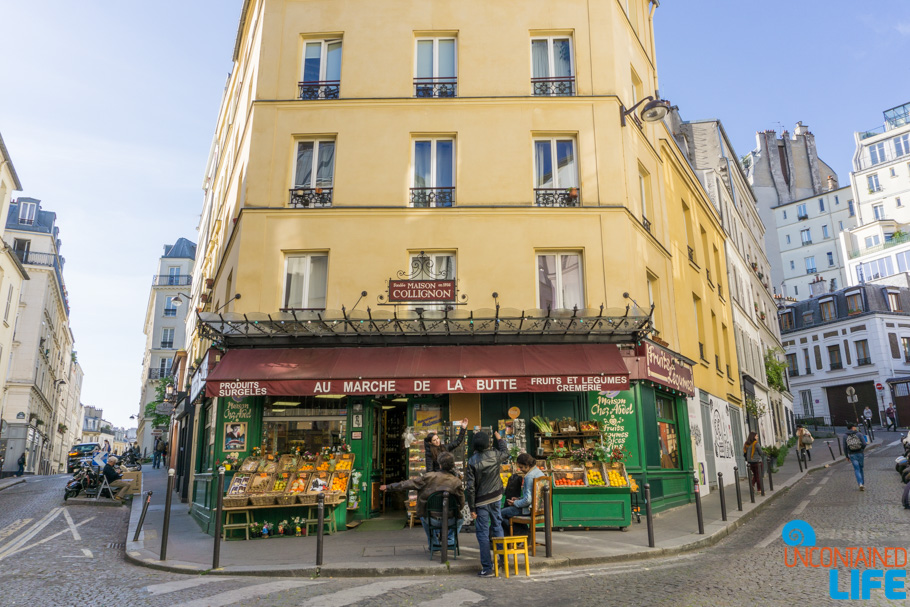 Stop #5: Le Mur Des Je t'aime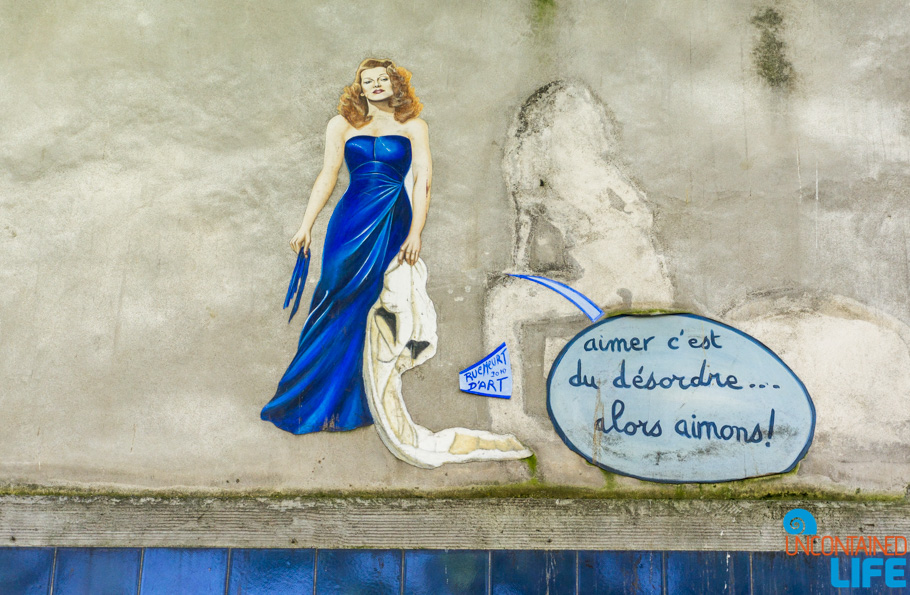 After a wander down Passage de Abesses, we made our way to another spot, not in Amélie, but which certainly fits with its title character's quest to give others hope and joy and, ultimately, find love herself.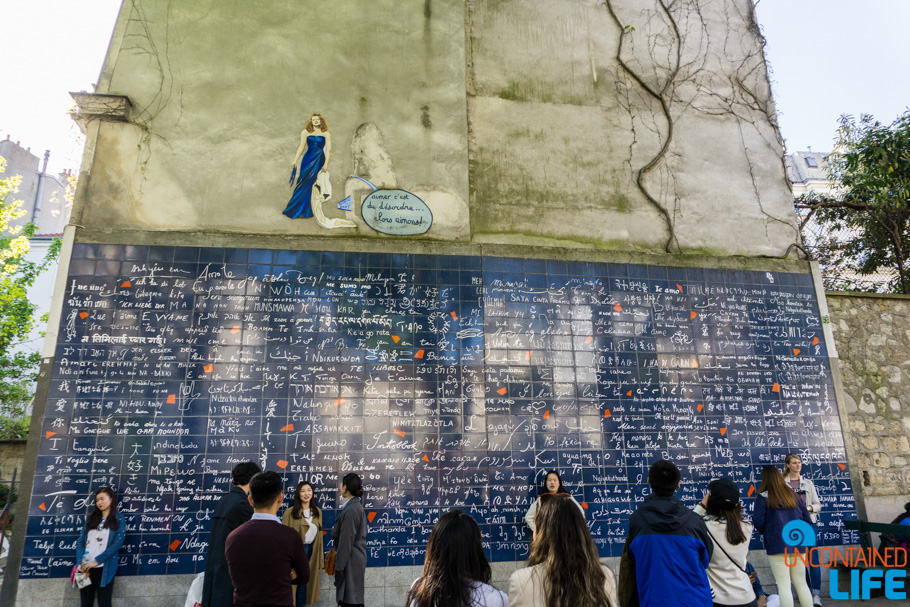 The wall of "I love you" is one of Montmartre's newer sites, dating back to 2000. It features over 600 tiles showcasing the phrase, "I love you," in 250 languages.
Stop #6: Café des Deux Moulins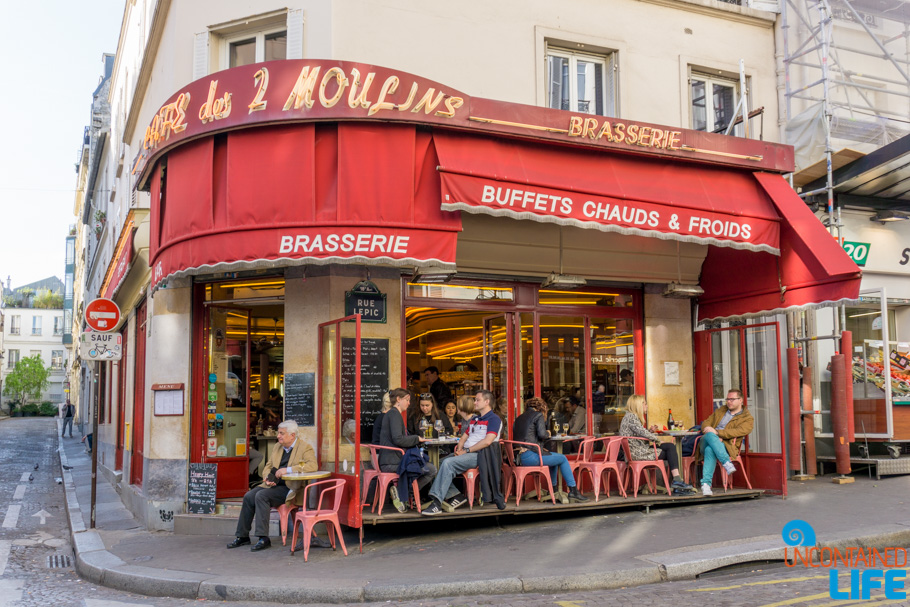 Just up the road from the Moulin Rouge nightclub (which, sorry, Moulin Rouge film fans, looks nothing like it did in the film) we found the Café des Deux Moulins — the art deco-styled cafe where Amélie works as a server.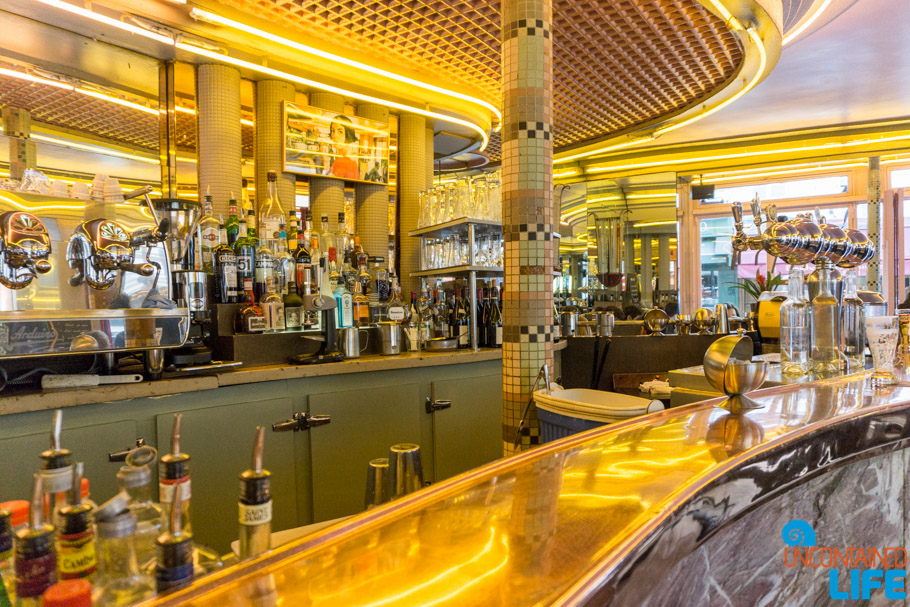 We'd been warned off ordering food at the cafe, but were happy to enjoy a couple of drinks.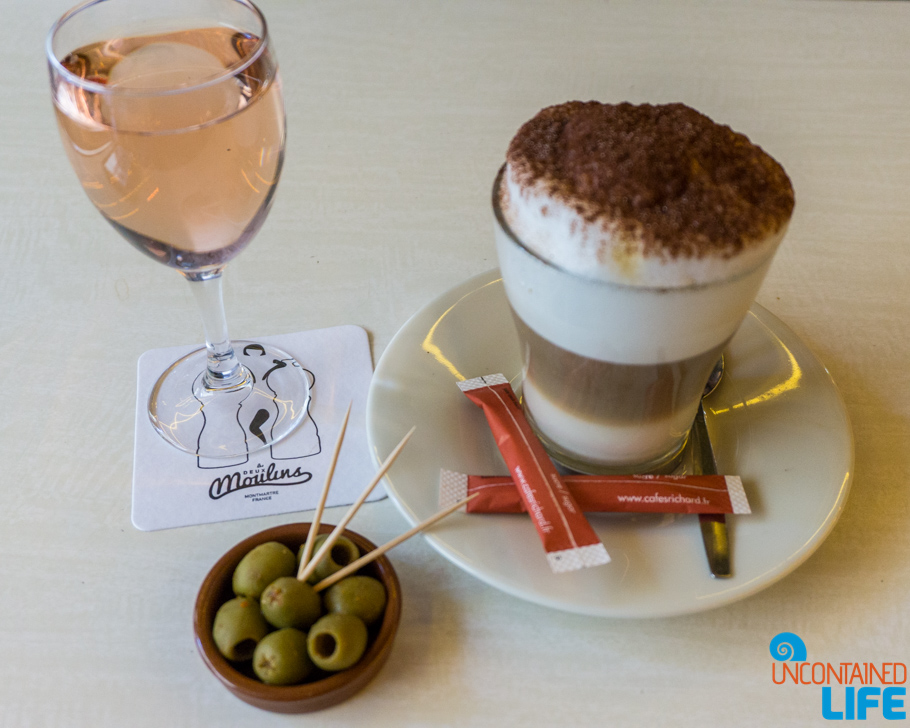 The tobacco stand featured in the film is gone now, but the other interesting elements of the cafe — I.E. the bar area — happily, remain unchanged. So sit back, film fan. Relax, and let your imagination roam. It's what Amélie would want.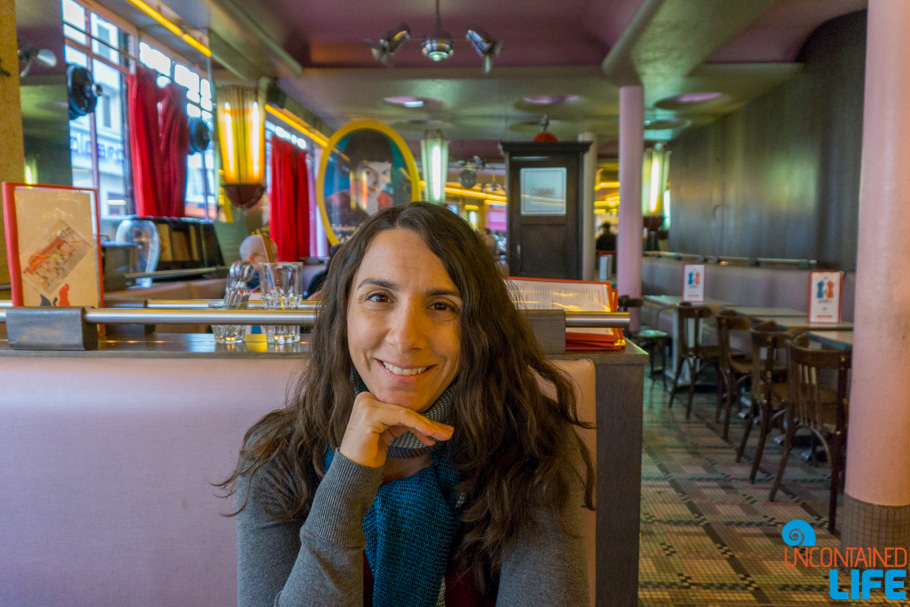 Santé!