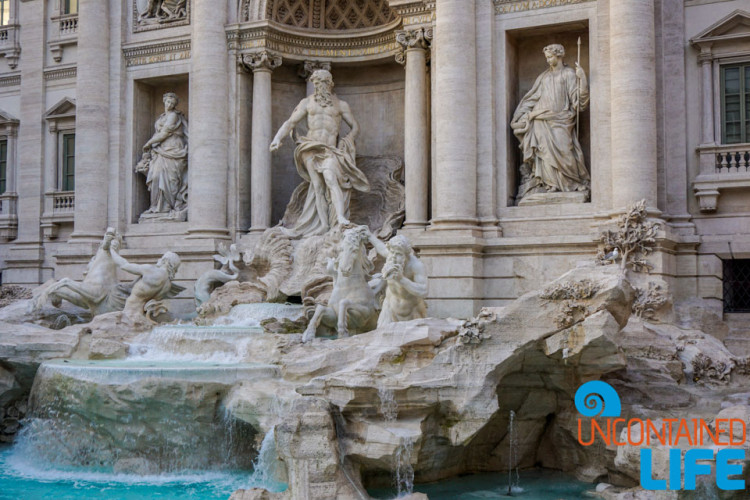 I've never known anyone who isn't excited at the thought of visiting (or revisiting) Rome. (Like, get-your-disco-on excited.)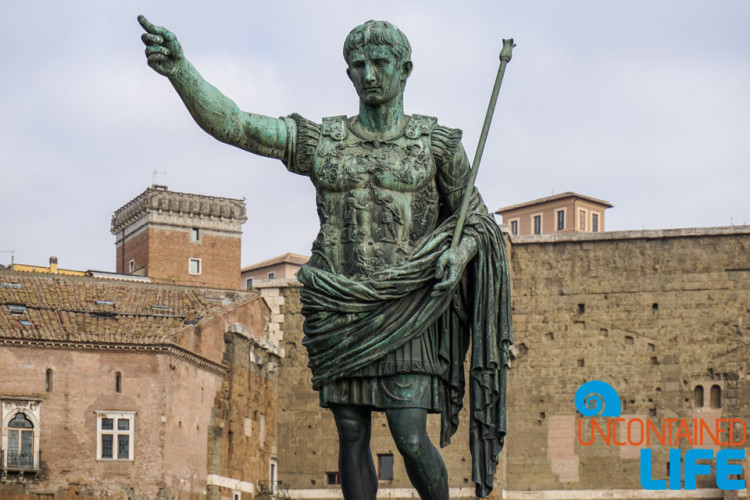 Just mention the Eternal City to Justin, for example, and you'll be treated to a goofy, gesture-filled soliloquy about "the most amazing gelato" and how 17 years ago, he sweet-talked his way into the Colosseum for free. My own feelings about Rome, however, were always less enthusiastic.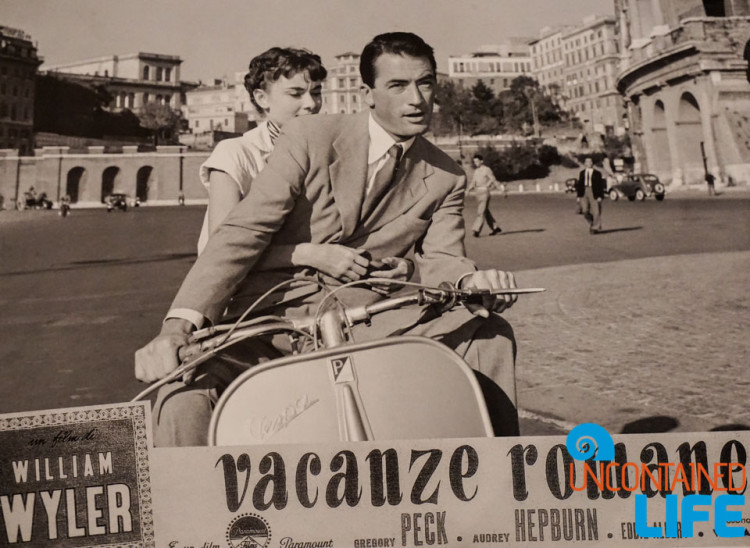 Most travelers have a least one destination that they are not excited about ever visiting again. Rome was mine.
To be fair, Rome and I didn't meet under the best conditions: my first visit was as an angsty pre-teen on a "see 7 European countries in two weeks!!" big group tour (the kind of mass-produced, exhausting experience which can leave you wondering if you want to travel abroad ever again). But later visits during my late teens and early twenties didn't do much to change that first impression.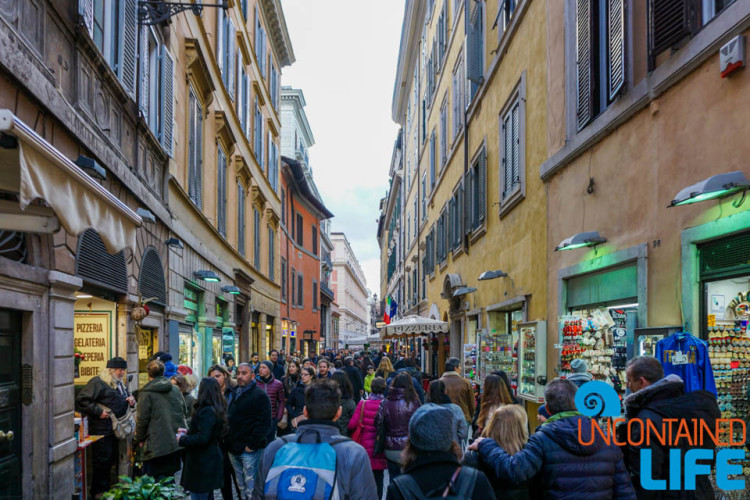 For one thing, the city is miserably hot and crowded in summertime (which was when I, like many Americans, came to visit). I hated how aggressive Rome's street vendors could be, and how so many of the restaurants recommended to tourists served up overpriced, under-flavored food. Plus, the sheer size and scope of the city always felt daunting. So, when Justin suggested we start 2016 in Rome, I wasn't too keen.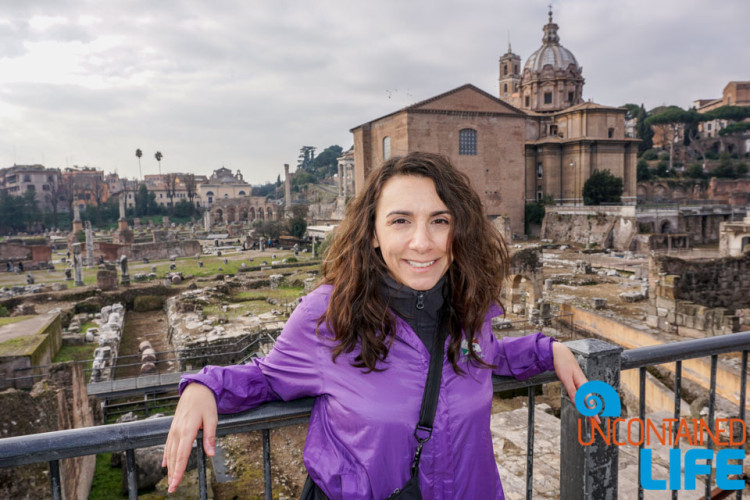 But, we went. And…I really enjoyed myself! Rome in January is still full of visitors, but crowds are less of a hassle when you're not dying from heatstroke. And as for finding good, affordable food? Well, let's just say 30-something Hillary is much better at spotting and avoiding tourist-trap restaurants than 20-something Hillary ever was. And, of course, Justin and I also now know one of the best tricks for making a huge place like Italy's capital more manageable (even if you don't have time for a long visit): take a bike tour of Rome with a local!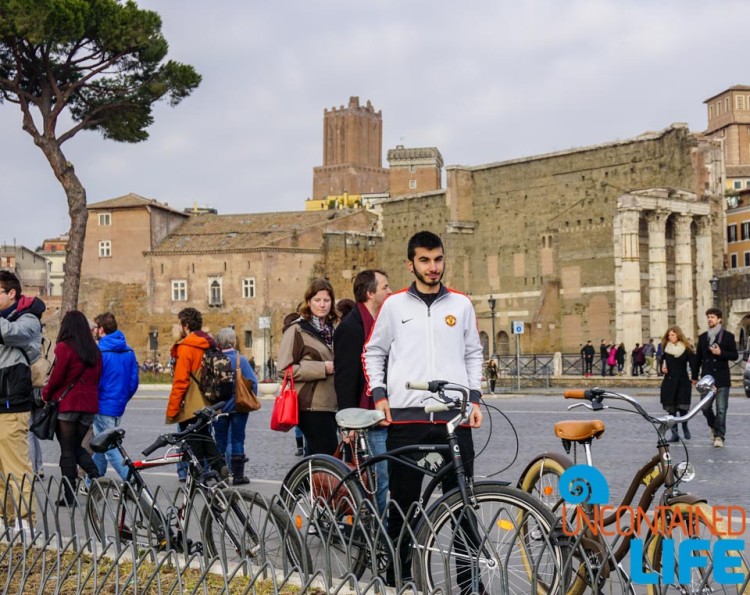 Rome has a lot of bike rental companies, but many of them are big, impersonal operations. That's just not what we wanted for our bike tour of Rome. Roma Rent Bike is a small rental and tour company. And it is run by a couple of the nicest, most gregarious fellows we've had the privilege to get to know during our travels: Francesco (pictured below) owns the shop together with his girlfriend, Mihaela, and Fabrizio (pictured above) is the Rome native who served as our guide.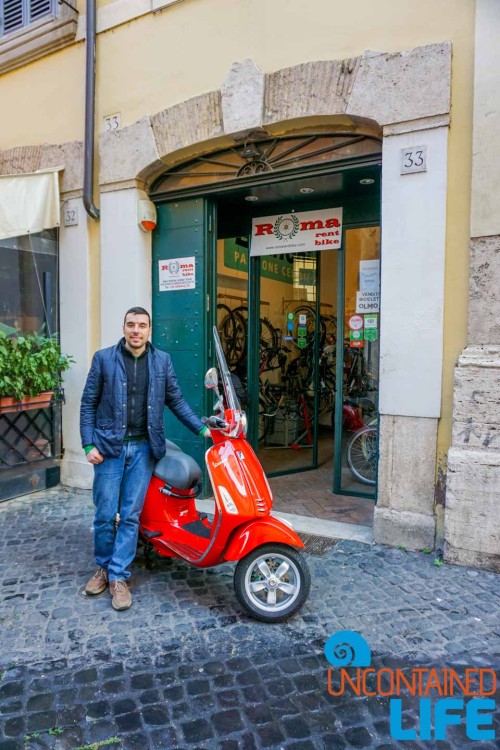 We wanted to stop at major sites we hadn't had time to visit yet, but we also wanted a chance to explore lesser-known places we hadn't seen before–was that possible in just a three hour bike tour of Rome? Yes, Francesco and Fabrizio assured us, it was. And they weren't kidding! As we discovered, there is a reason Rome and roam are homophones: when you're headed to a famous site, it's easy to veer down a side street to make a quick stop to see a lesser-known attraction (or get your next gelato).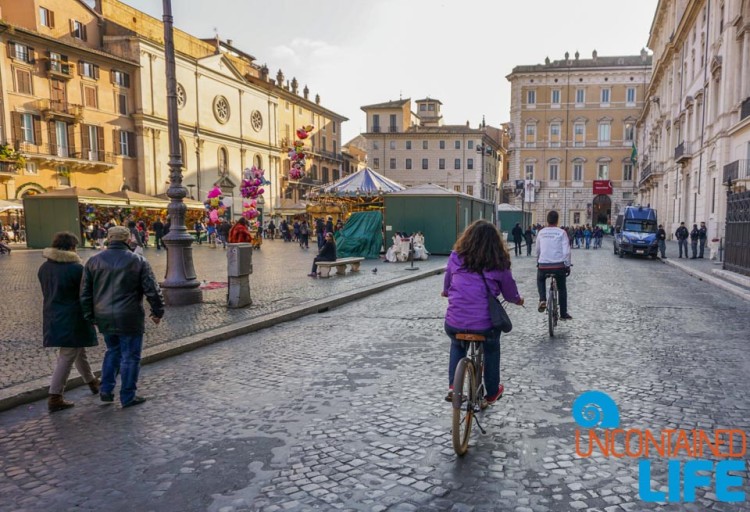 Here are four of our favorite roaming pairs of stops that we made during our bike tour of Rome with Roma Bike Rental…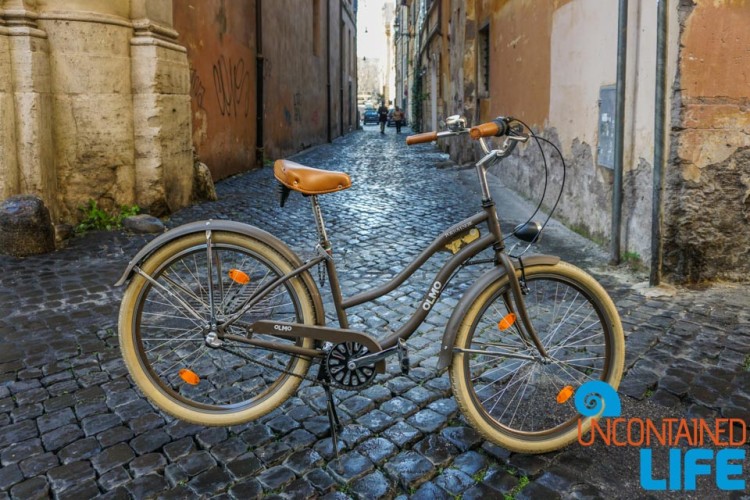 1. Glimpse a Foreign Land through the Knights of Malta Gate…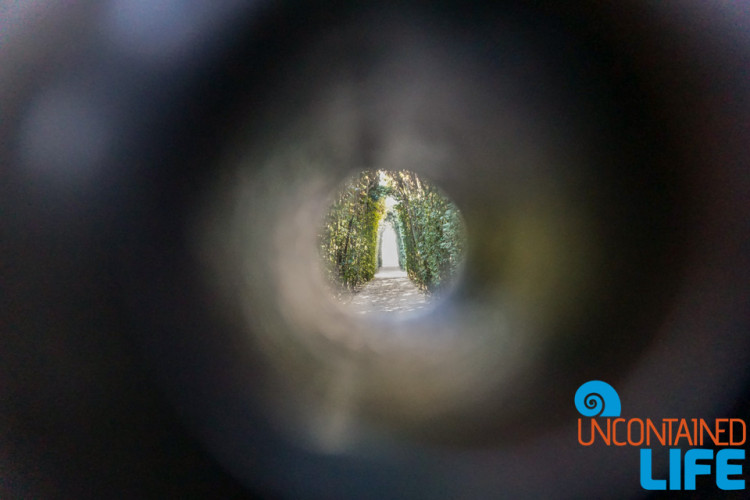 Our first stop (and the only uphill biking on our tour) was Aventine Hill—the southernmost of Rome's seven hills. While the hill is home to many historic structures including the oldest Roman Basilica, Basilica of Santa Sabina (Basilica di Santa Sabina all'Aventino), in truth, most visitors come to Avantine for one reason: to peek through the Knights of Malta keyhole in Piazza dei Cavalieri di Malta. Justin and I joined the queue in front of the gate, and, when our turn arrived,* pressed our eyes (and cameras) to the tiny hole.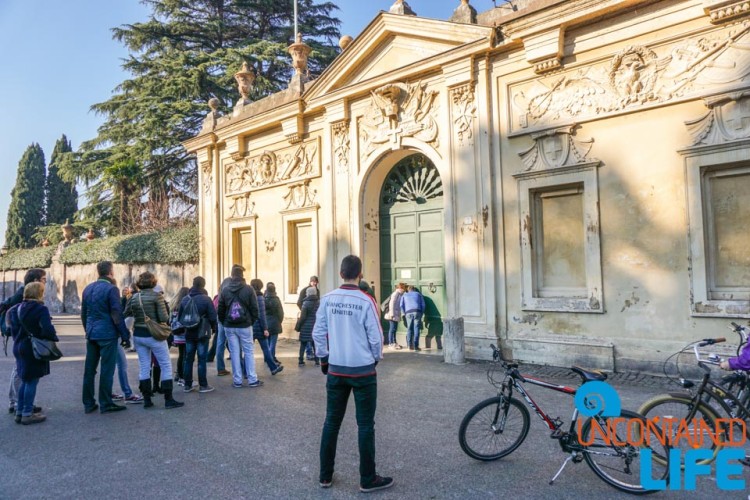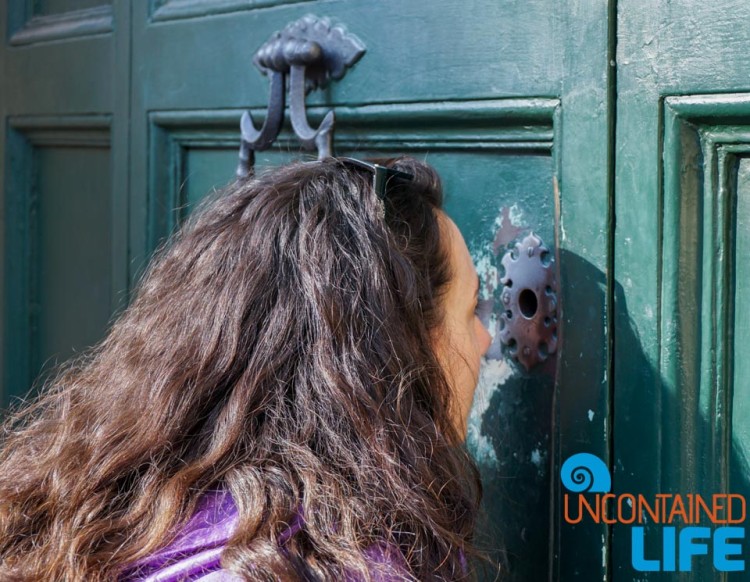 The view of St. Peter's Basilica through the keyhole, wasn't quite as amazing as I had hoped it would be (and it's a tad difficult to enjoy it with the people behind you in line breathing down your neck) but it is pretty cool to be able to say we've stood in one country while simultaneously seeing into not one, but two other sovereign lands! (Yes, the SMOM, like the Vatican's Holy See, is considered a sovereign entity, distinct from Italy—though unlike the Holy See, the SMOM has no territory). 
*Don't be the lady with a private driver who ignored the queue and walked straight to the keyhole. When the patient people made a protest, she said, "people like me don't wait in lines." (I kid you not.) 
…Then Head to Parco Savello for the Best View of the City!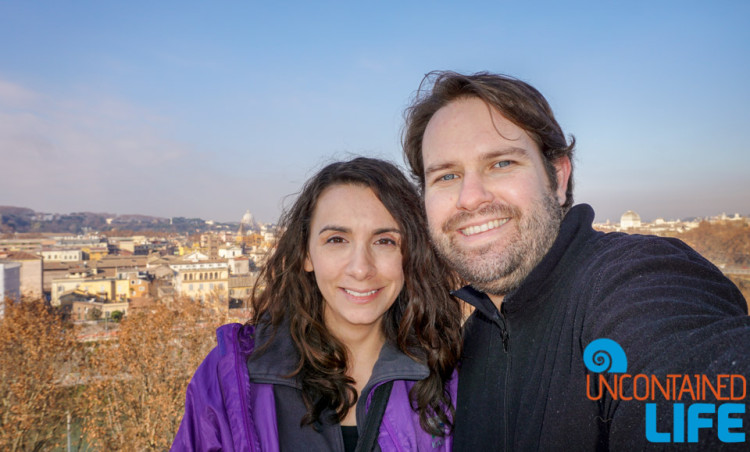 After our visit to the gate, Fabrizio directed us back the way we had come, past the frowning face of Giacomo Della Porta's fountain, through an unmarked arch, and into a walled garden filled with orange trees.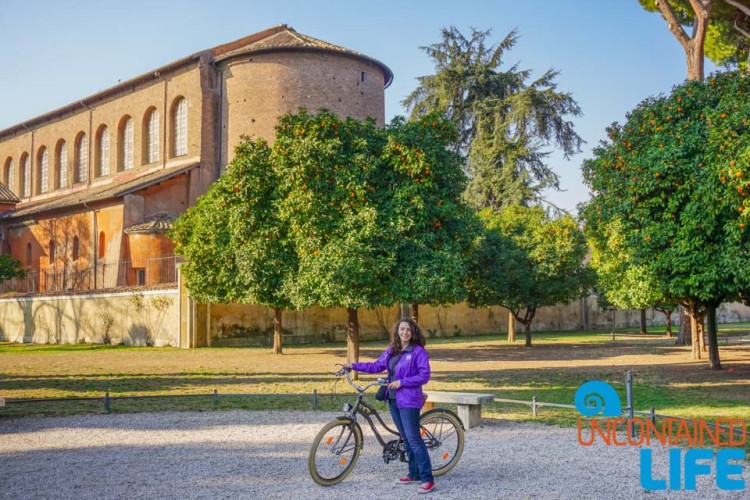 Originally part of a monastery founded by St. Domenic (who gave the garden its first orange tree), the current garden's a-symmetrical design was crafted by architect Raffaele de Vico. Justin and I wheeled our bikes past the stands of orange trees and onto the central walkway which led up to the viewing terrace.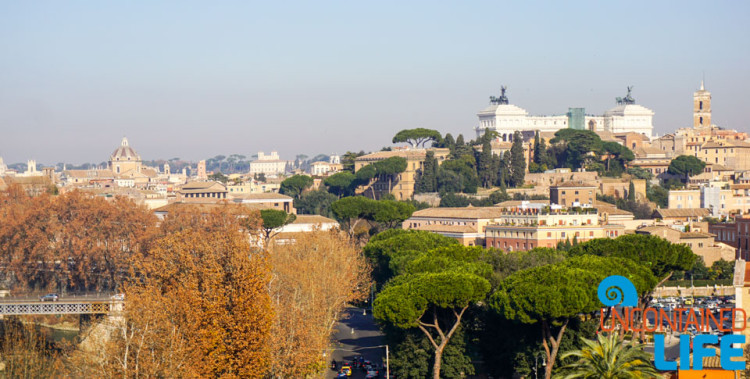 Now THIS view did not disappoint! From the terrace Justin and I were treated to a wonderful panoramic of the city (including the Dome of St. Peter), bisected by the river.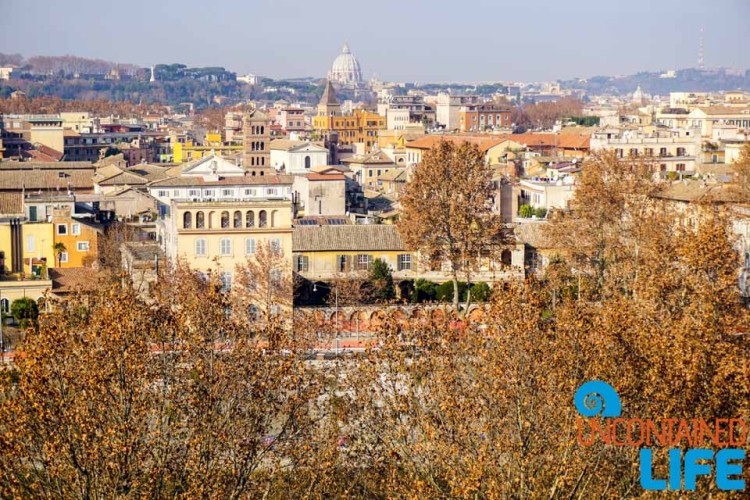 2. Head Toward the Colosseum…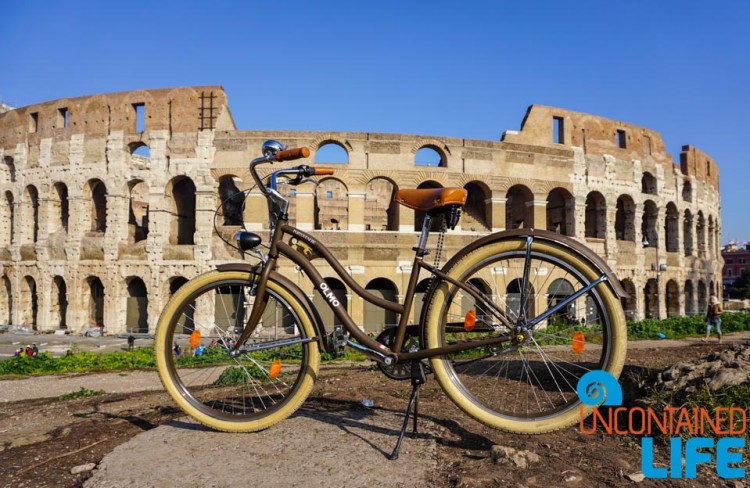 Our next major attraction was the Colosseum—world famous as the largest Roman amphitheater ever built (it's estimated the structure could hold upwards of 50,000 people). Construction began in 72 AD and was completed in 80 AD.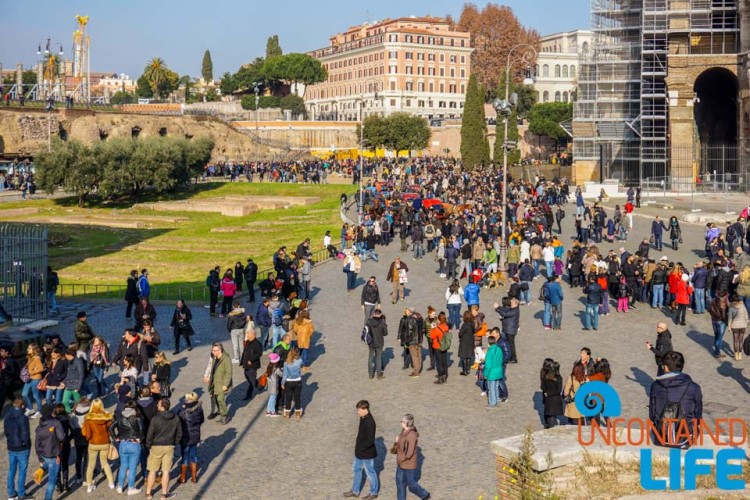 While a majority of visitors take their photos from the side of the Colosseum next to the Arco di Costantino (Arch of Constantine)…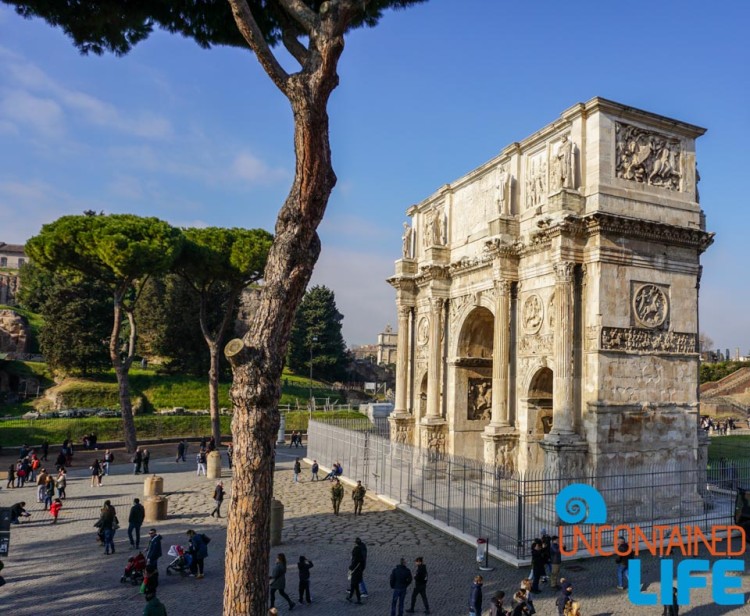 …Fabrizio first led us up to a informal viewpoint, and then around the back of the Colosseum where we could see the original facade, and fellow photo-snappers were practically non-existent.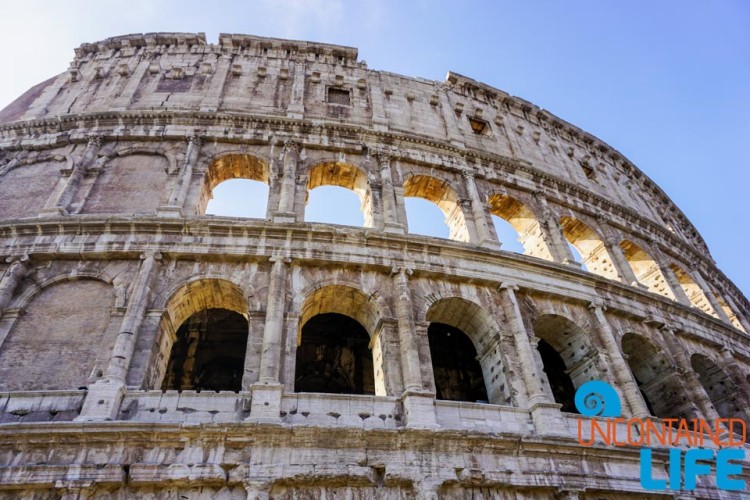 …by Way of the Pyramid of Cestius!
But let's back up a second: en-route to the Colosseum, we made a stop at the Pyramid of Cestius. Yup, you heard that right. An Italian pyramid. What?!?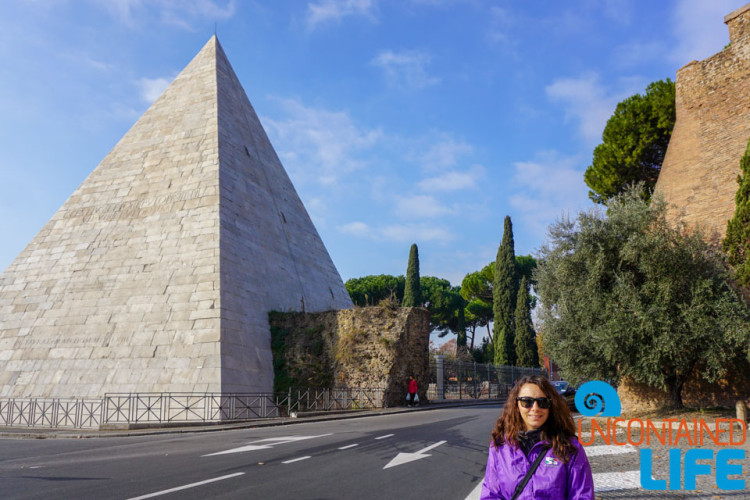 Built as a tomb for Caius Cestius—a rich magistrate and priest—between 18 and 12 BCE, the pyramid stands 118 ft high and is connected to a well-preserved section of the ancient city wall. Why did Cestius want a pyramid as a tomb? Well, the short story is…because Egyptian stuff was all the rage after Rome conquered Egypt. In fact, while Cestius's pyramid is the only surviving pyramid in modern Rome, another, bigger pyramid used to stand between the Vatican and the Mausoleum of Hadrian (the marble from that pyramid was later used to build the steps of St. Peter's Basilica).
Bonus info. for my fellow English nerds: the cemetery behind the pyramid is the final resting place of both Keats and Shelley!
3. Stop to Gawk at Altare della Patria…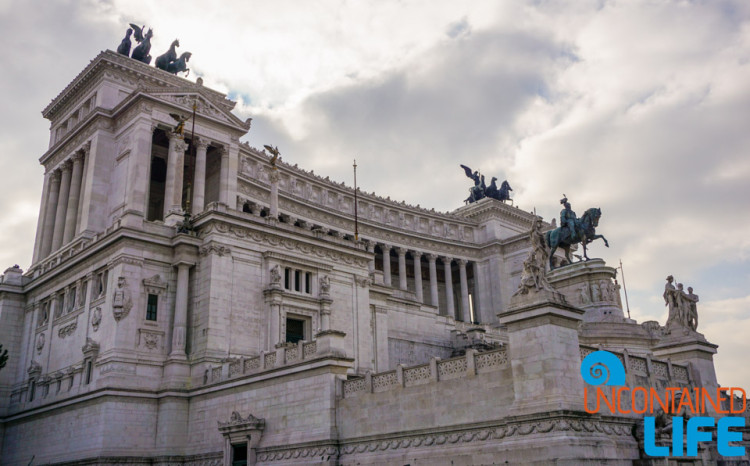 After leaving the Colosseum area behind, we made our way to Piazza Venezia and to the giant white monument built between 1911 and 1925 in honor of Victor Emmanuel, the first king of a unified Italy. Toward the bottom of the monument (right in the center at the top of the stairs) we were able to spot the Tomb of the Unknown Soldier, complete with eternal flame.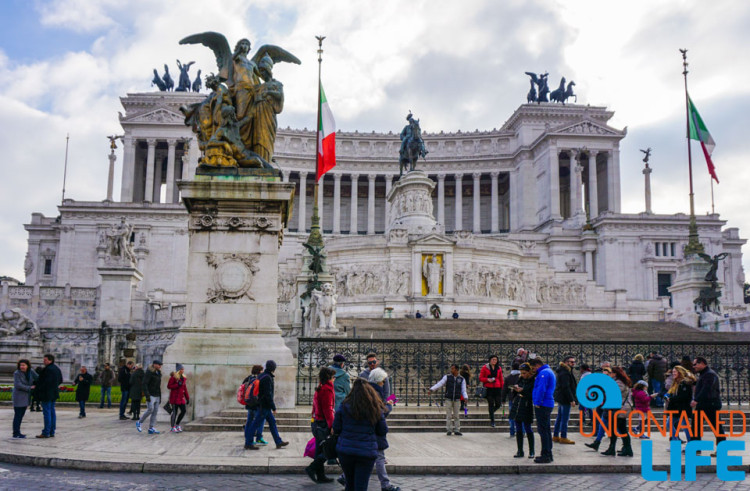 While the monument is certainly eye-catching, Fabrizio confessed to us that many Romans consider it to be rather ugly and refer to it (with varying degrees of affection) as "la macchina da scrivere" (I.E. "the typewriter").
…and Take a Look at Mussolini's balcony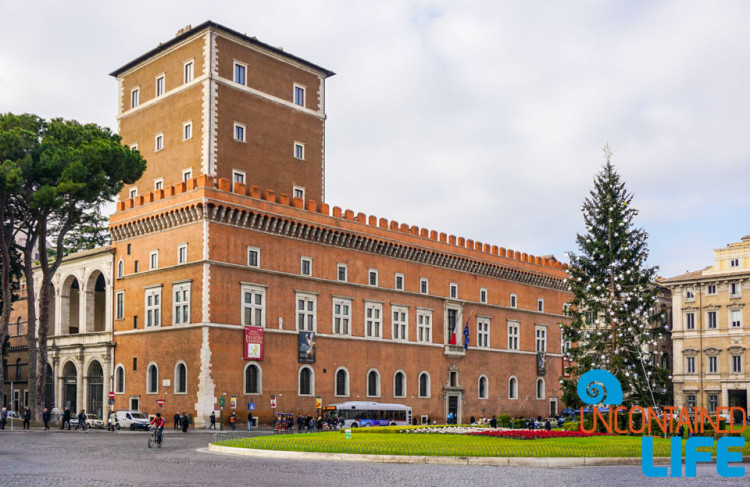 Turning our backs on the monument, we found ourselves facing the Palazzo Venezia. Fabrizio pointed to a small, insignificant-looking balcony on the building's side and told us that the balcony was where Mussolini gave his most famous speeches—including the declaration of the Italian empire in May 1936. (You can see some historic images of Mussolini speaking to crowds of Facist supporters HERE.)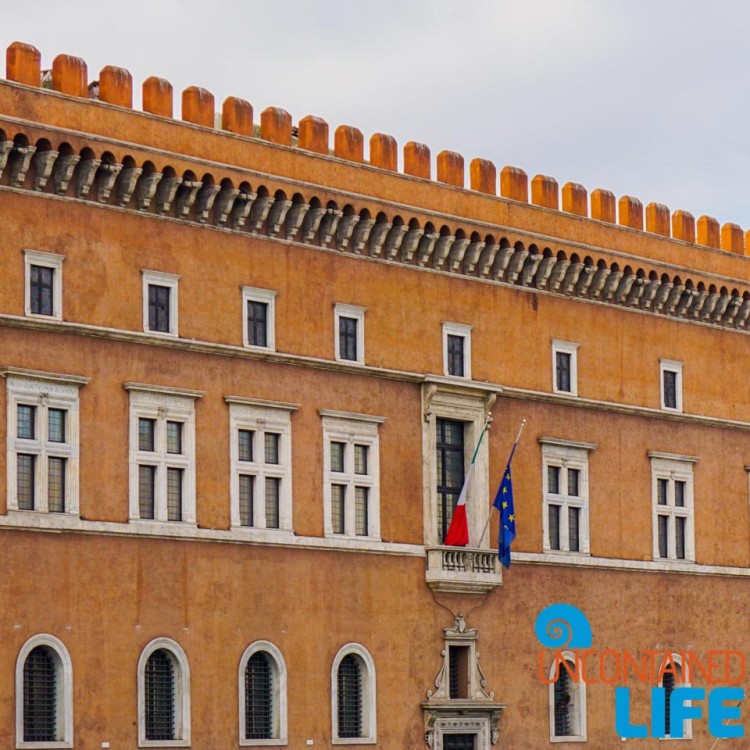 Today the Palazzo Venezia is a museum featuring artworks from medieval times. The Sala del Mappamondo (where Mussolini's office was located), is only open during special exhibitions.
4. Admire the Ponte Sant'Angelo…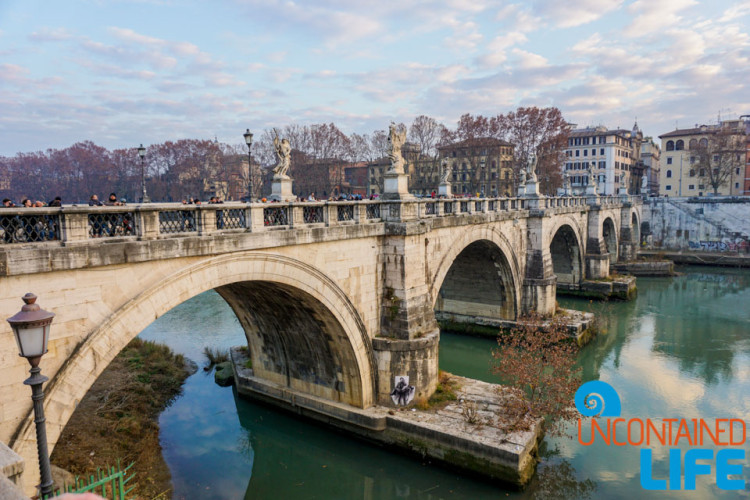 After a few more stops, (including a hello to this seagull who was not impressed with us…at all)…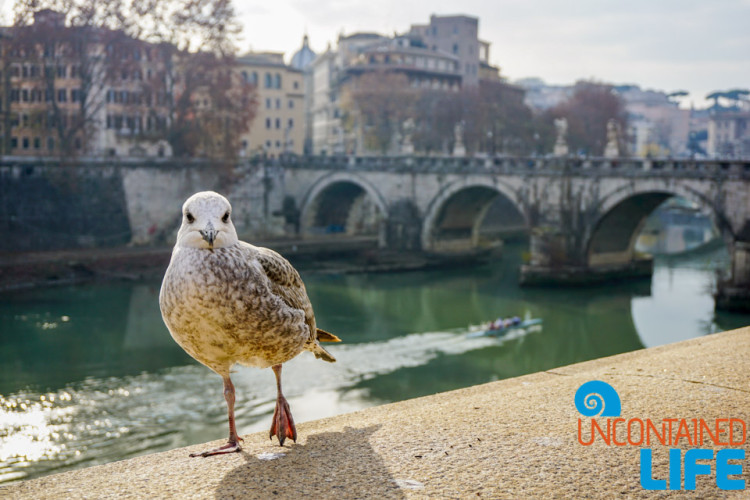 …we pointed our wheels in the direction of Rome's most beautiful bridge, Ponte Sant'Angelo–which leads to Castel Sant'Angelo—a one-time mausoleum for Emperor Hadrian, turned fortress, turned papal residence,* turned military prison, turned national museum.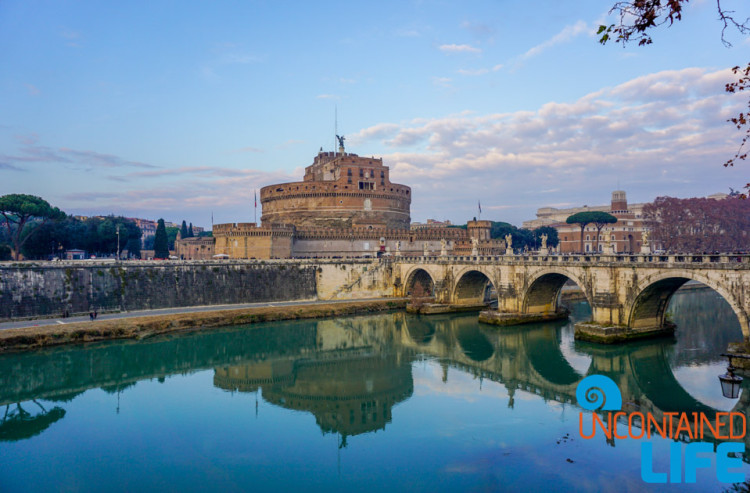 The original bridge was completed in 134 AD, but the ten famous angel statues adorning the bridge (designed by Gian Lorenzo Bernini) weren't added until 1668.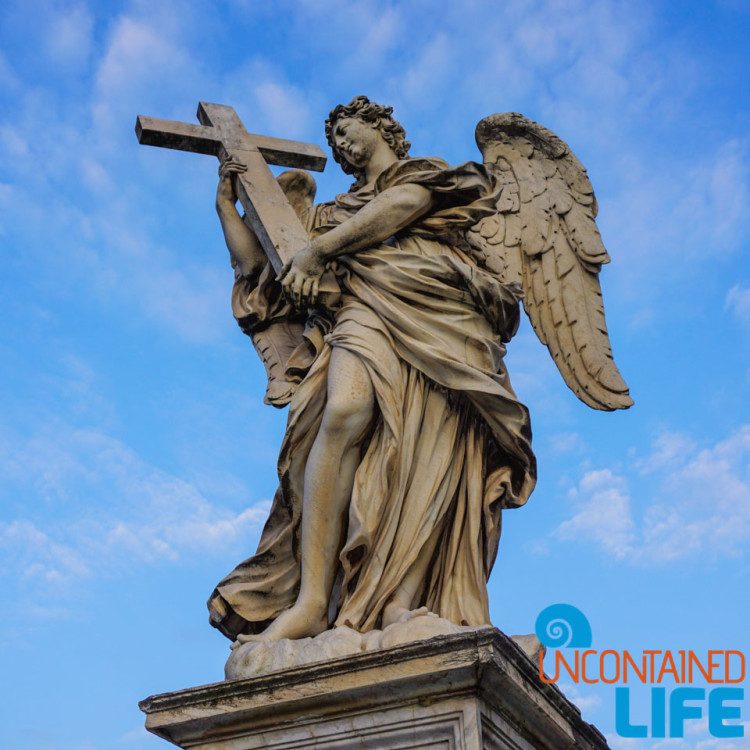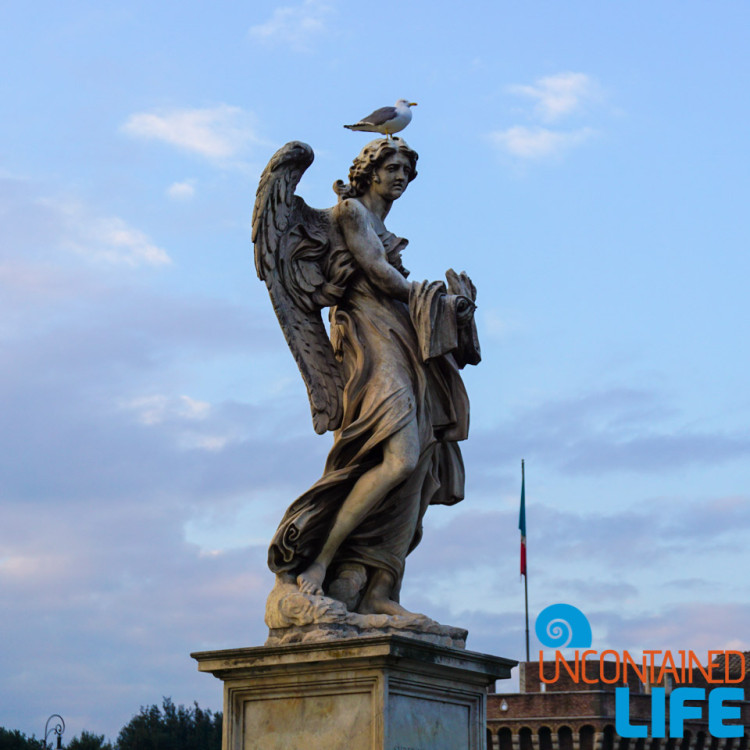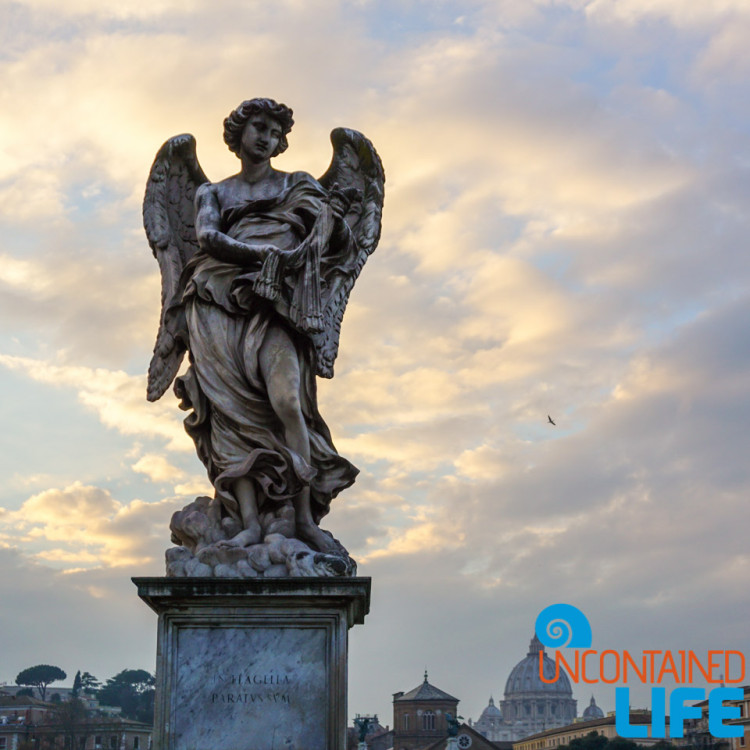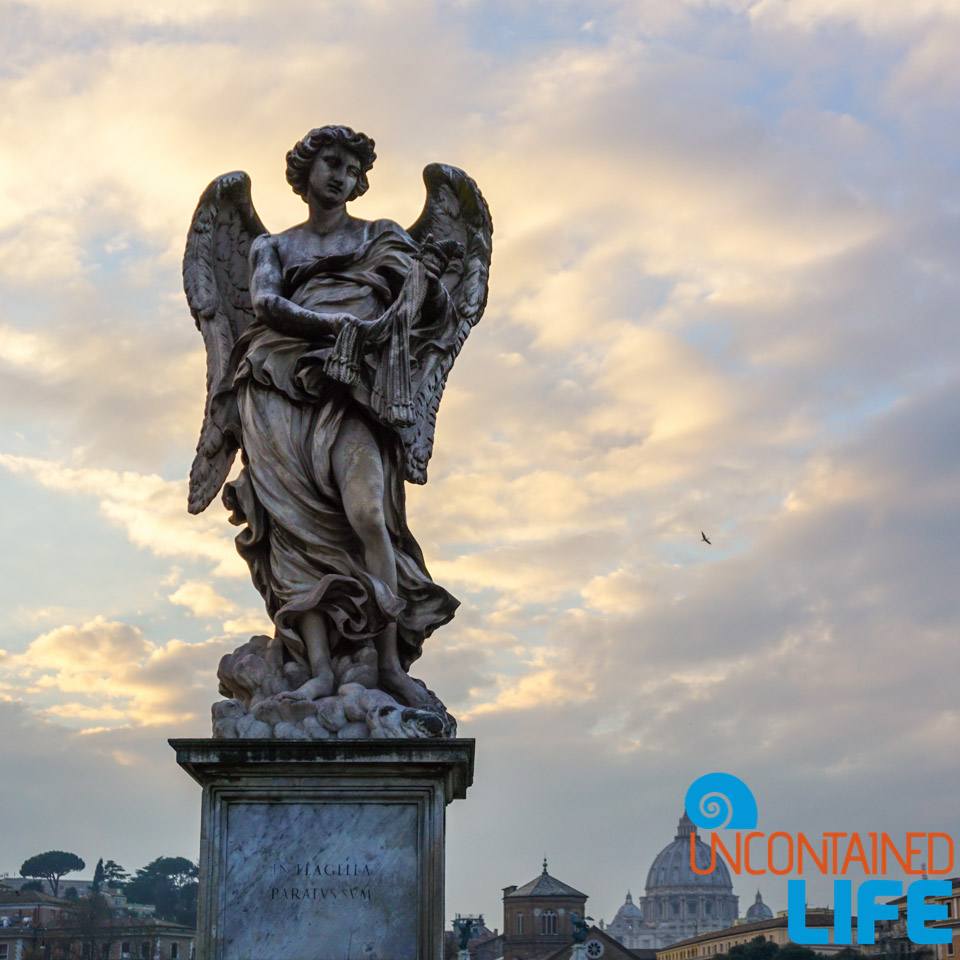 So how was it that the bridge ended up with its present name as early as the 6th century? Fabrizio pointed to the statue of the archangel which stands on the top of Castel Sant'Angelo: legend has it that, in 590 AD, an angel appeared on the top of the fortress, and thus, ended a great plague that was ravaging the city.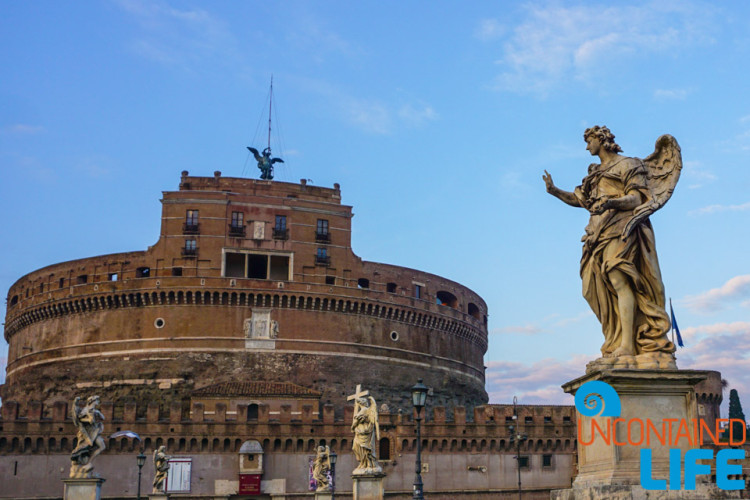 *Fun fact about the Castel Sant'Angelo: there's a secret passageway that runs from the Vatican to the Castel. It was used to help pope Clement VII escape Charles de Bourbon's army during the sacking of Rome in 1527.
…after swinging past the Palace of Justice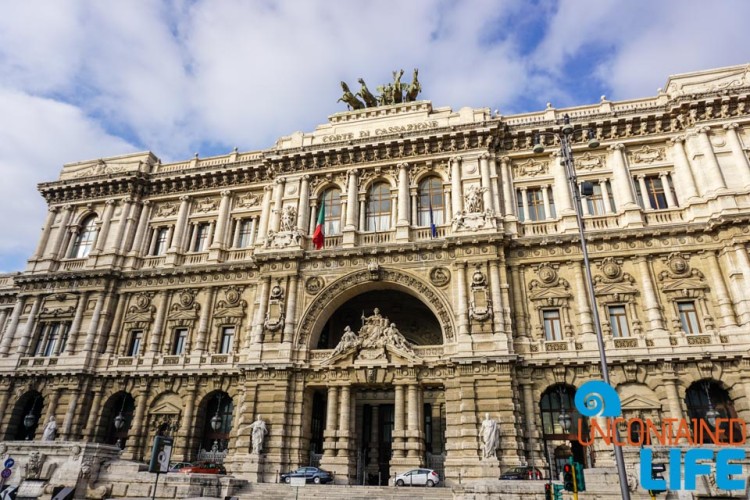 In other cities the elaborate Palace of Justice, designed by the Perugia architect Guglielmo Calderini, would probably be a major attraction, but for some reason it's never garnered much attention from visitors. (We thought it was pretty!)
Amongst Romans, the massive structure is mostly famous for the fact that it began sinking and falling apart almost immediately after it was completed in 1910. While this was mostly the result of extremely heavy building materials being used on very soft earth, there were also rumors that there was some kind of governmental corruption at play in its poor construction. Thus, like the Altare della Patria, the Palace got a derogatory nickname from locals: "Palazzaccio"—which translates as the "Ugly Palace." Indeed, the public derision was so bad it begat another rumor: that the architect committed suicide. Fortunately there's no evidence that anyone actually died as a result of ol' Ugly.
Post-Ride Food Tips!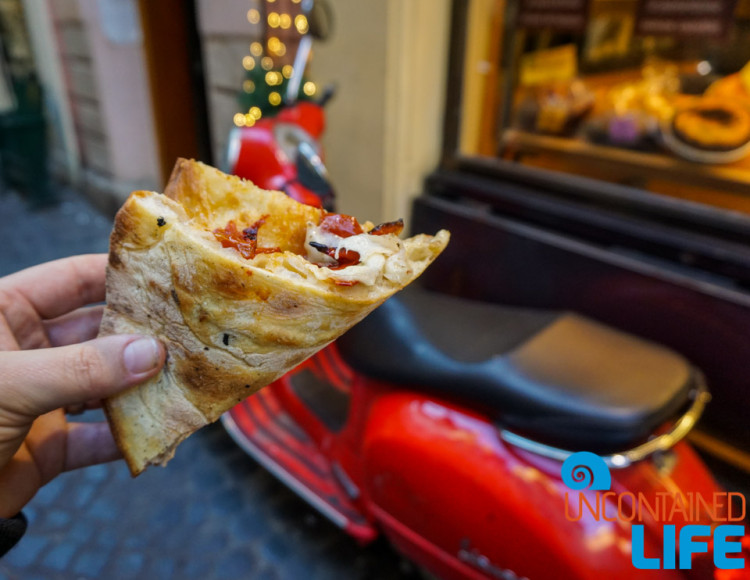 If you're as hungry as we were after your ride, we highly recommend making a pit-stop at Forno Roscioli Pietro (Via Buonarroti, 46/48)–one of the oldest bakeries in Rome–for some delicious pizza-to-go* (and perhaps a pastry or two!)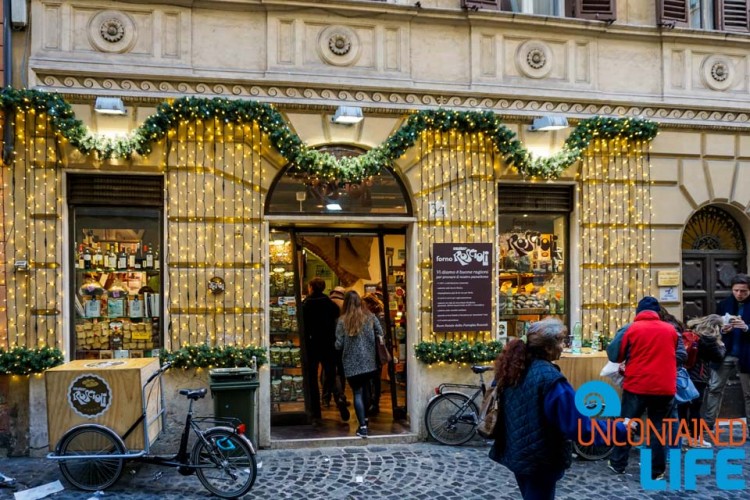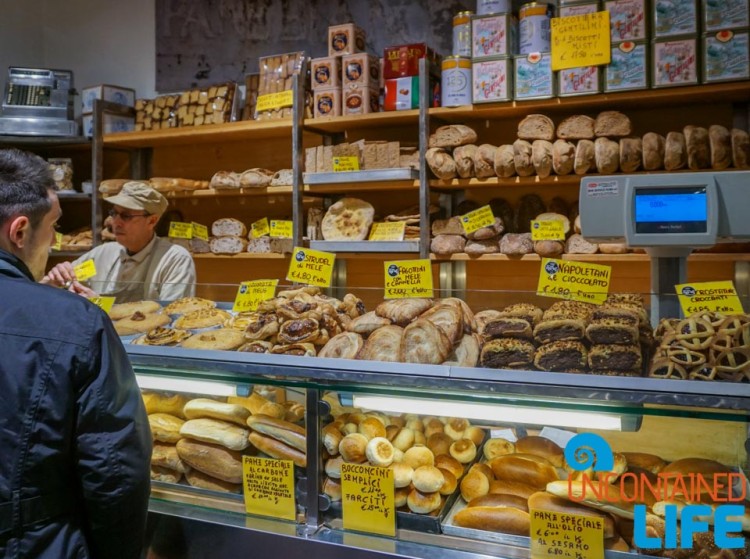 *There is some seating inside the bakery, but it is quite limited; you can use the standing tables out front if you don't wish to walk and eat.
After pizza, you'll obviously want to grab some gelato! If you're in the mood to try some more unusual flavors, the gelato shop, Fatamorgana, (P.zza degli Zingari, 5) is a short walk from Roscioli. Alternately, if you're heading toward the Vatican, make a stop by L'Arena del Gelato (Via Di Porta Castello, 8/A).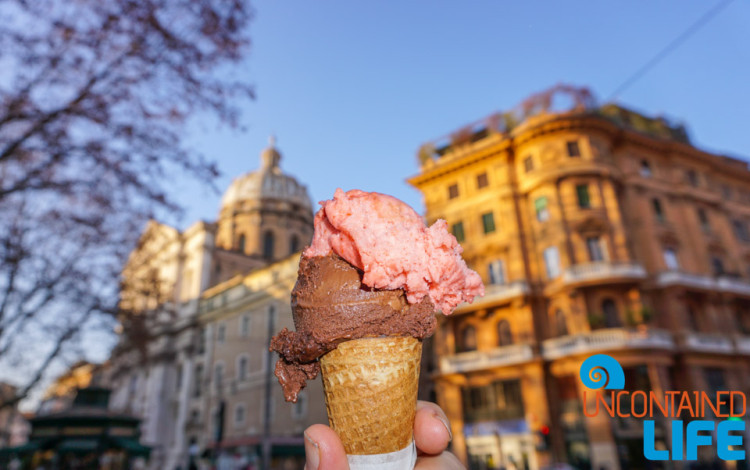 And, of course, if you're ever in need of a drink–either during, or after your ride–be sure to take advantage of the city's many public drinking fountains. (Just watch the direction of the spray!)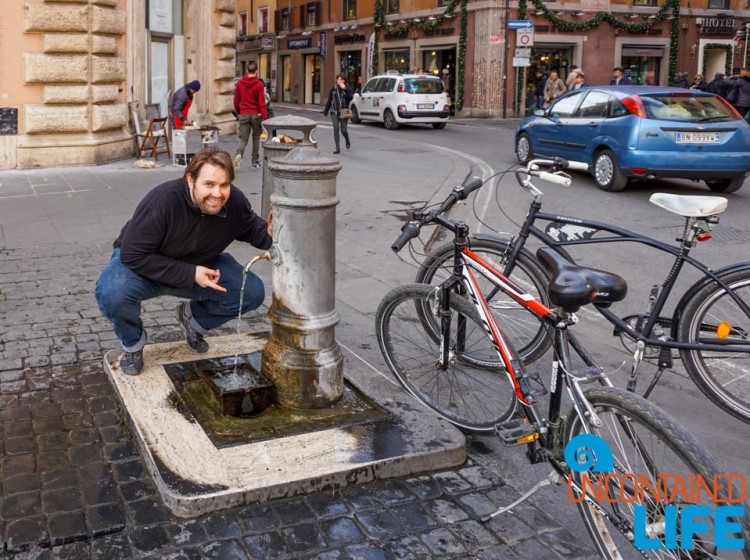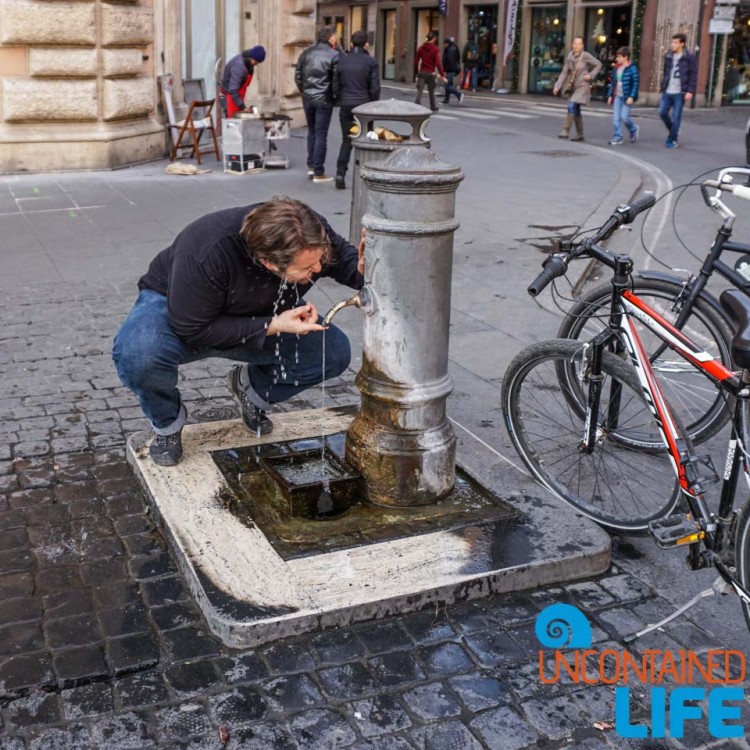 PS-If you find yourself in the need of a pick-me-up, take few to "rock it through the wilderness" with this article's title inspiration.
Where do Adele, the Circus Maximus, and Uncontained Life intersect? Find out HERE.
---
Traveler's Tips for Rome:
Money: Italy uses the Euro (1 USD = approx. 0.90 euros). Most places will accept Visa and Mastercard credit cards.
Transportation:
—Getting to Rome: Getting from Rome Fiumicino (FCO) airport into the city is very easy. For the most hassle-free option to Rome Termini, take the express train (14 euros, 32 minute ride). The suburban train is a less expensive alternative, especially if you're staying in Trastevere (8 euros, 26 minutes to Trastevere station). Alternatively, there are a number of shuttle bus options. Terravsion is the cheapest at 4 euros to Termini (when bought in advance online), but in our experience, those rides can be incredibly chaotic (don't assume you'll get a seat on the bus you've bought tickets for–reservation or no, seats are first come, first served).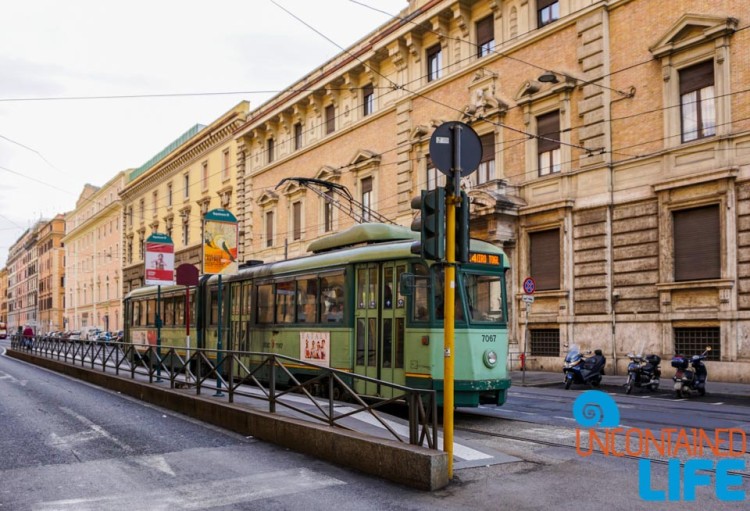 —Getting Around Rome: Rome is very walkable (and bike-able!) and has a number of in-city public transport options. Buses don't really run on schedule (in other words, don't believe your googlemaps app about when a bus will arrive), but trams and metro trains run pretty reliably. Tickets that can be used for bus, tram and metro can be bought at most tobacco shops and in metro stations. 
Accommodation: 
—Outside of the Center: We booked our nights in Rome through Airbnb (we stayed in a great room in an apartment in Centocelle, with hostess Barbara). Staying outside the center may not be ideal if you are only visiting for a couple of days, but if you're planning a longer stay, it will not only save you money, but give you a better sense of how a typical Roman lives. 
Get $20 off your first Airbnb stay (costing $75+) by signing up here!
–In the Center: Bright, clean, and extremely well-located, the Blue Hostel may go by the name hostel, but in actual fact it's more of a budget hotel (private rooms and suites only). For best rates at the Blue Hostel, check Agoda.com (can be as much as a 50% discount at times!)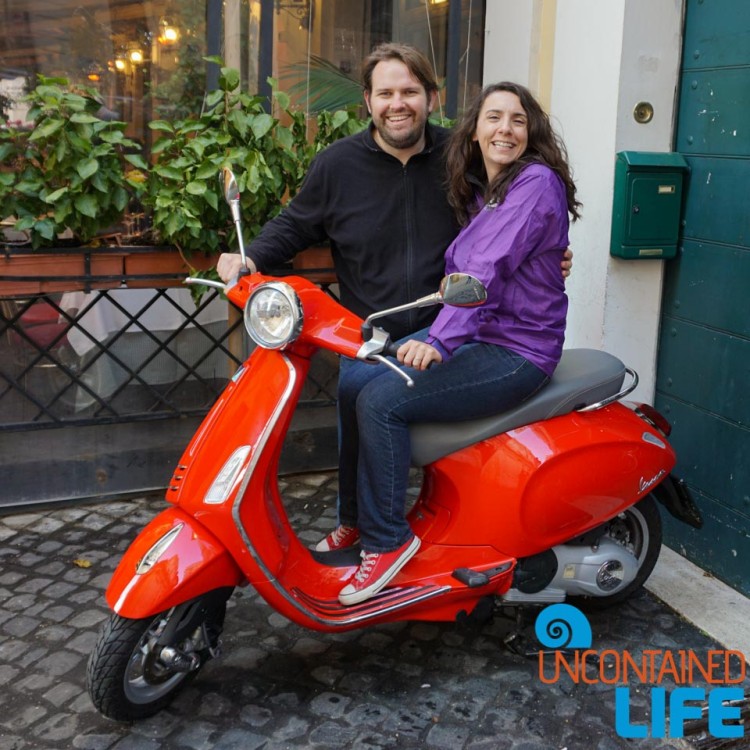 –Tours: All tours start at Roma Rent Bike headquarters: Via di San Paolo alla Regola 33. There are four main options for your bike tour of Rome, and 3 main Vespa tour options (some customization is available, especially if you are the only people on the tour). Tours last between 3-4 hrs. and are given in English (unless otherwise pre-arranged). Cost for bike tours is between 30-40 euros when booked online (extra cost for rides after 7pm), and for Vespa tours is 110 euros. Find out more details about bike tours here and Vespa Tours here.
–Rentals: Roma Rent Bike offers bike rentals from 4 euros, Vespa rentals from 50 euros and stroller rentals from 20 euros. Find out more details about rental options here.
---
*Many thanks to Roma Rent Bike for their hospitality during our time in Rome. As always, all options are our own.
All photographs were taken with the Sony A6000—a lightweight, mirrorless camera that captures great images even in low-light conditions (like Dubrovnik after dark!) You can find out more about the gear we carry when we travel HERE.
Are you on Pinterest? Pin this post!