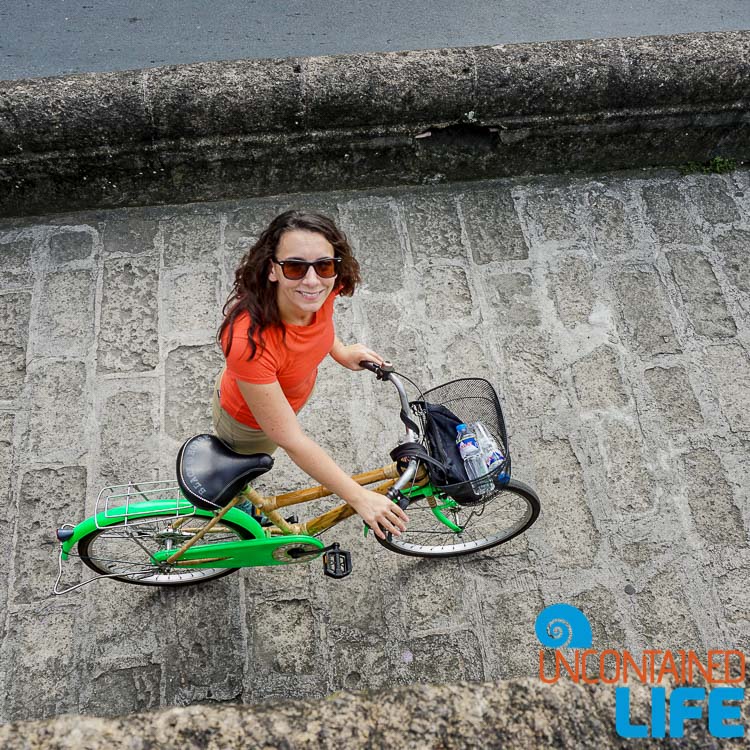 The red tiles whipped past under my tires. Overhead, the white stone and arched brick roof blurred as I glided through the chambers of the Maestranza Wall. I was flying through history–through foreign occupations, through a World War and through painstaking restoration. I was seeing Manila's past and present combine and unfold in front of me, chamber by chamber. And I was doing it on a vehicle which was itself a marvelous mashup of ancient and modern: the Bambike–a handcrafted cycle made of aircraft-grade aluminum…and bamboo.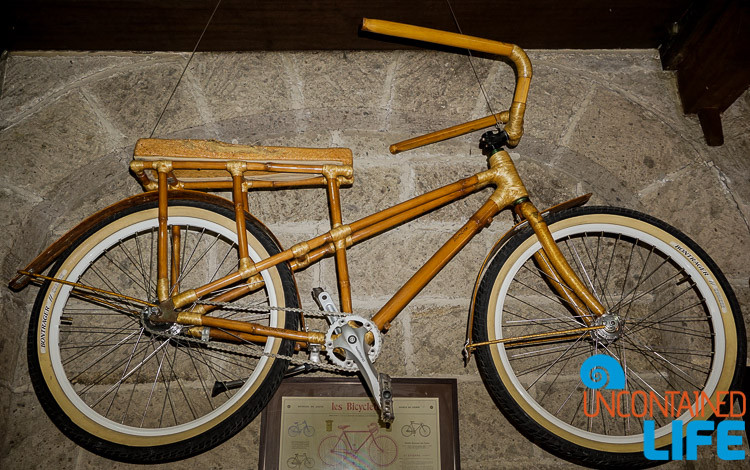 When Justin and I were making our plans for our upcoming visit to Manila (the capitol city of the Philippines) we knew we wanted to take a tour of Intramuros–the city's most famous historic district. The name, which translates as "within the walls," refers to the thick defensive wall built by the Spanish in the 16th century (following their occupation of the Philippines) which defines the area's boundaries.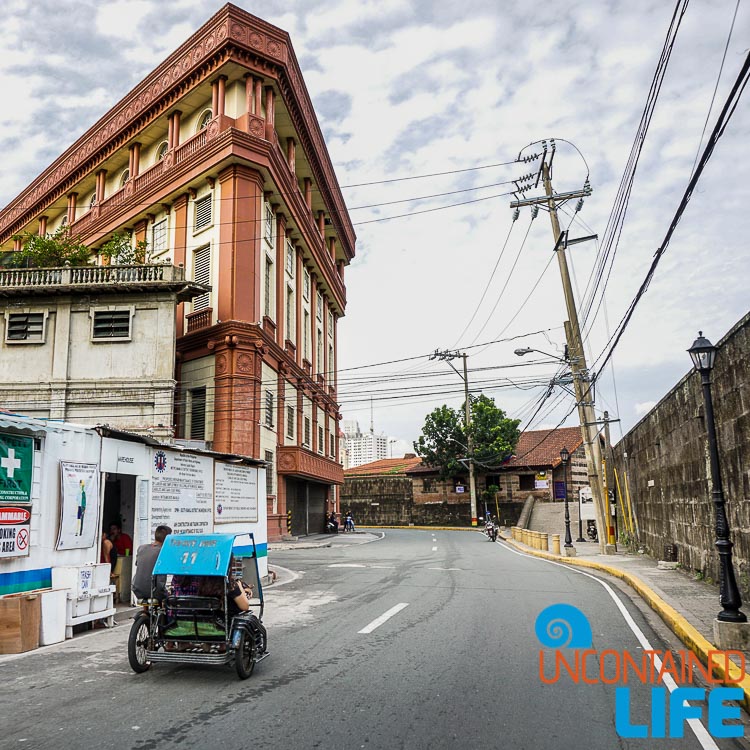 It is in Intramuros that visitors can get a sense of "Old Manila" (including some classic forms of transport)…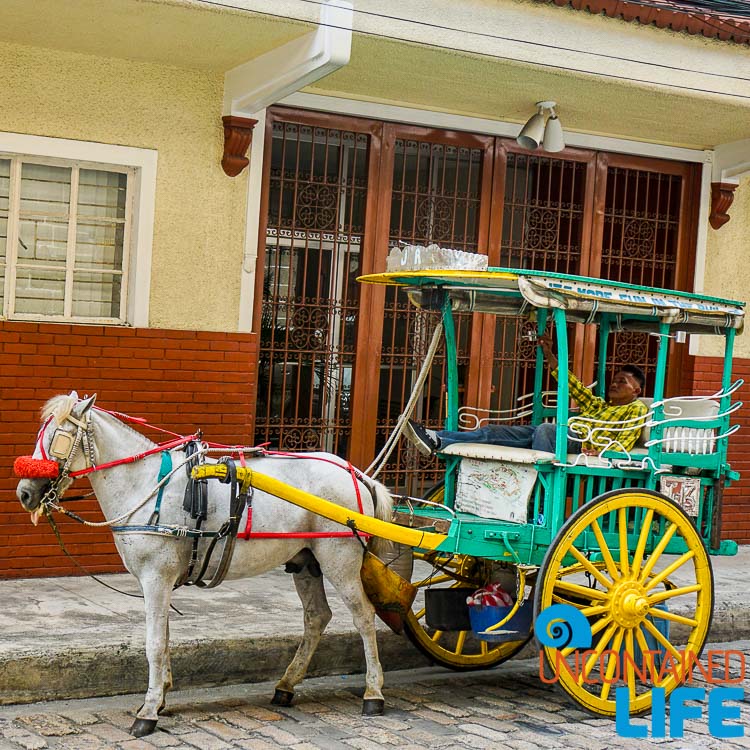 …and see many of the city's most important buildings and artifacts, from San Agustin Church and Fort Santiago to the Colegio de San Juan de Letran and the Japanese cannons left over from World War II.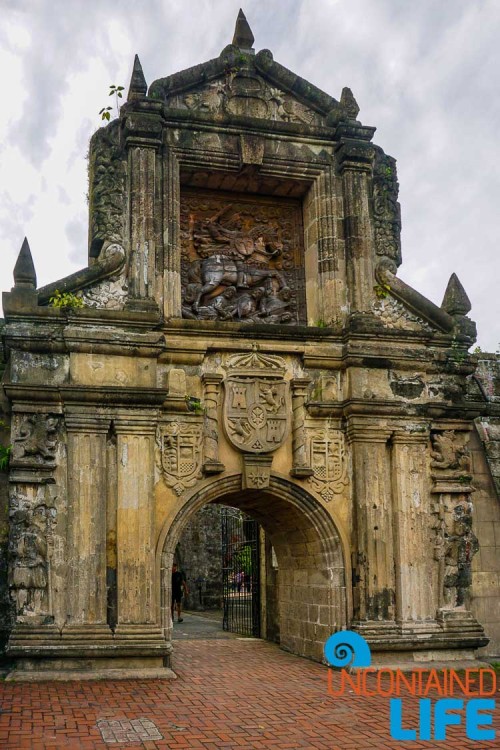 Naturally, tours of Intramuros abound. Most are walking tours. Some add a food element. But only one tour that we found offered us a chance to mix a little adventure and mindfulness with our history lesson: Bambike Ecotours.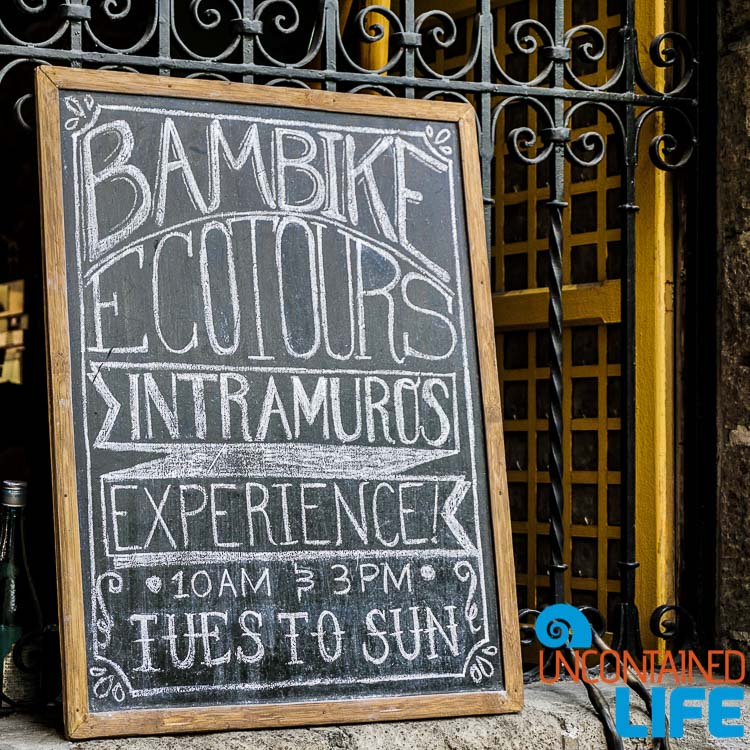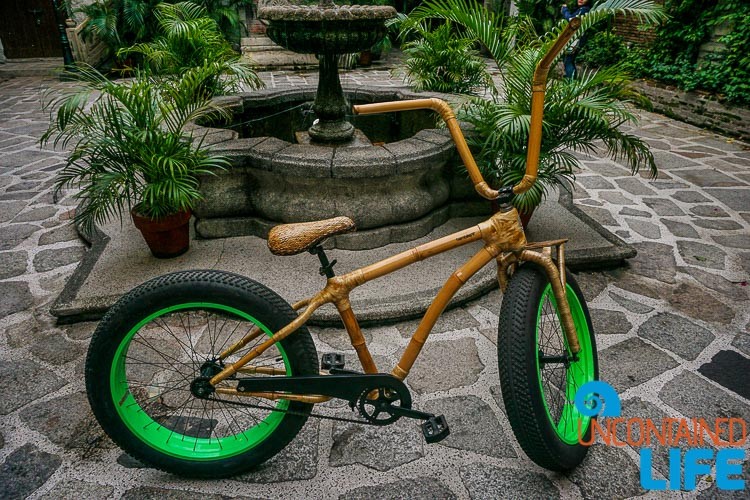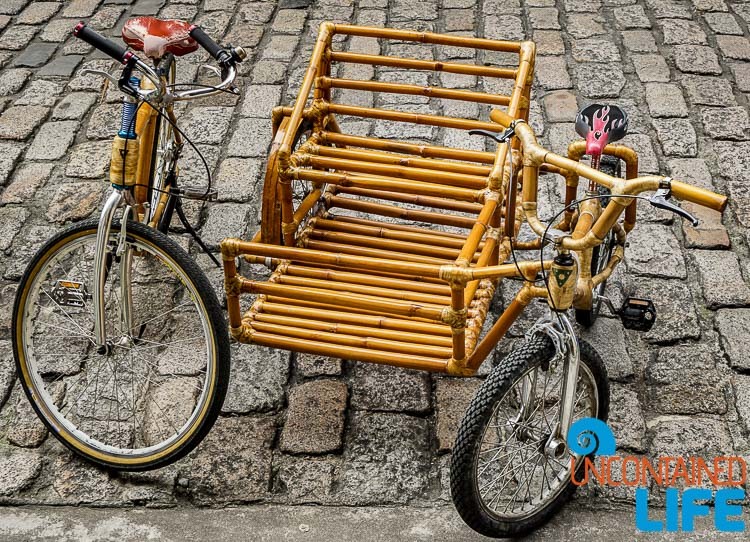 There was only one problem: I'm not exactly what you would call a "bike person." It's not that I don't enjoy biking–Justin and I did plenty of it back in Long Beach; it's more that I'm a bit of a danger to myself and others whenever the road I'm riding is any of the following: narrow, bumpy, crowded, full of distracting sights (I.E. everything you'd expect of a place like Intramuros.) So…there was a chance I could die on this tour. But Justin was excited, and I was determined to seize this once-in-a-lifetime bamboo bike-riding experience.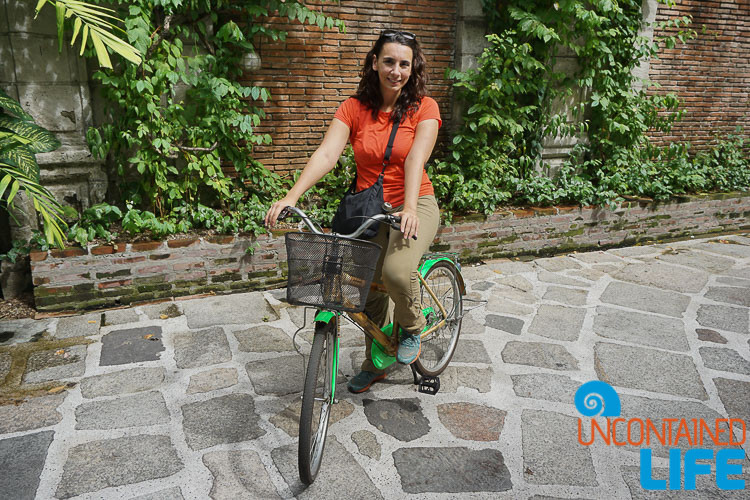 We arrived at the Plaza San Luis early on tour day and got to know the friendly Bambike Ecotours Team, including our guides, Ray and Ian.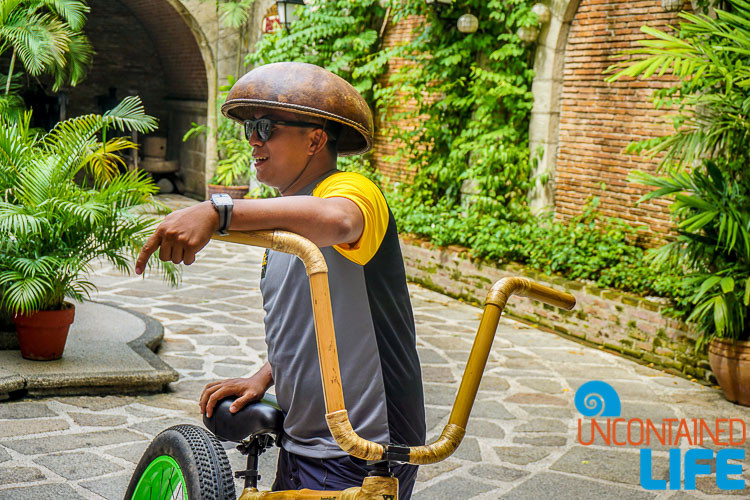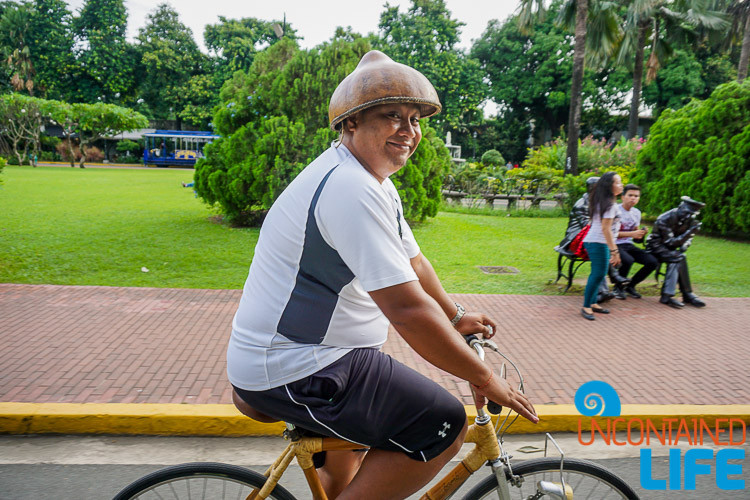 Everyone in the tiny shop seemed genuinely happy to be at work and excited to show us the different styles of bikes available for the tour (and for sale).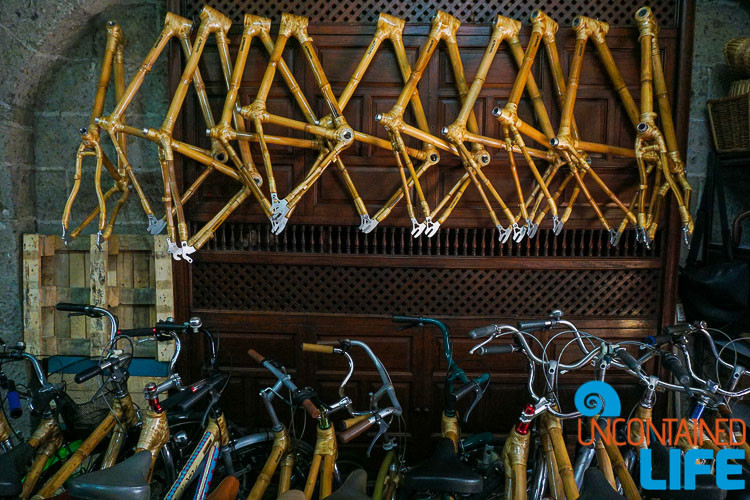 We moved out to the beautiful old plaza to peruse our options. There were one-seater "city" and two-seater beach cruisers, several BMX-type bikes, some mountain bike-style cycles and even a couple of racer bikes. And then, there were the choppers. Justin pounced on one of those, naturally, while I chose one of the city cruisers.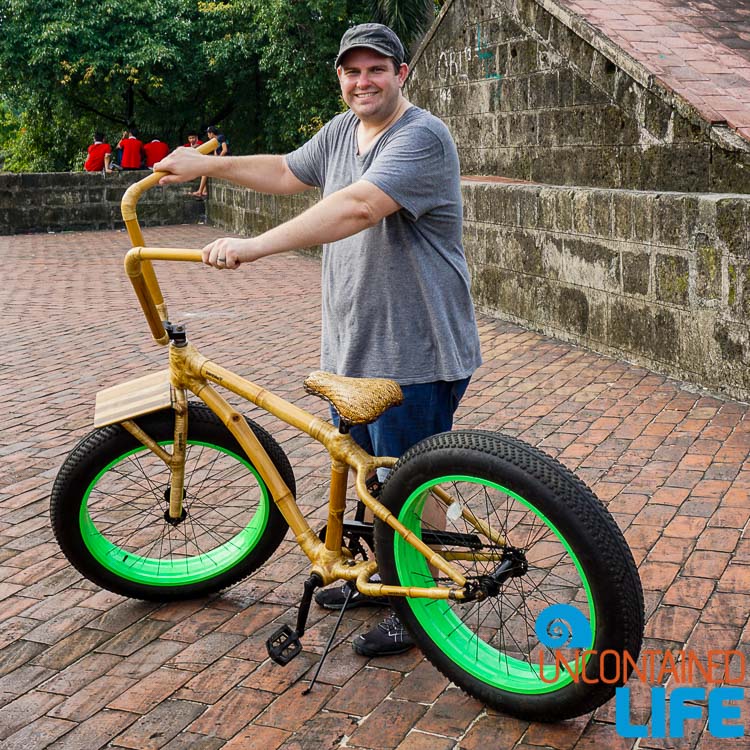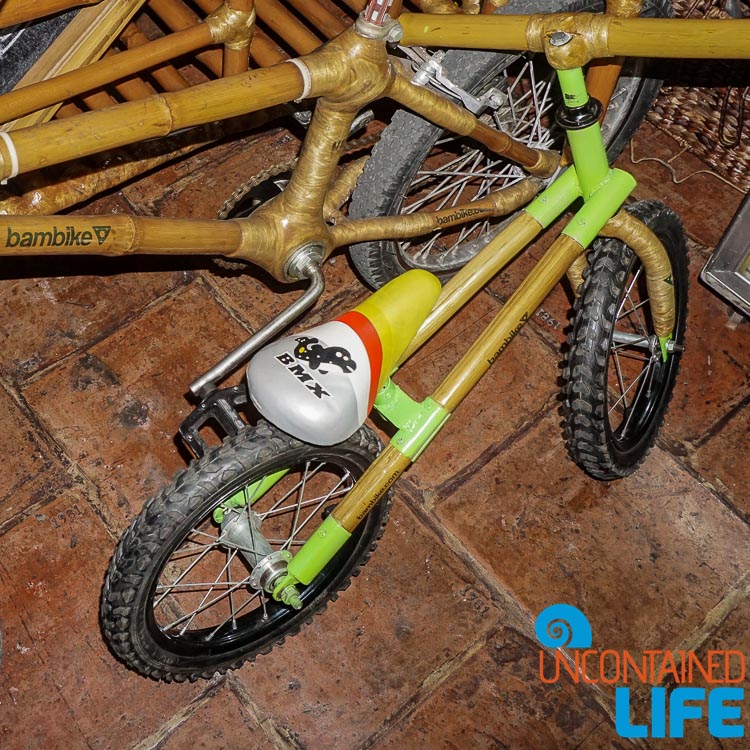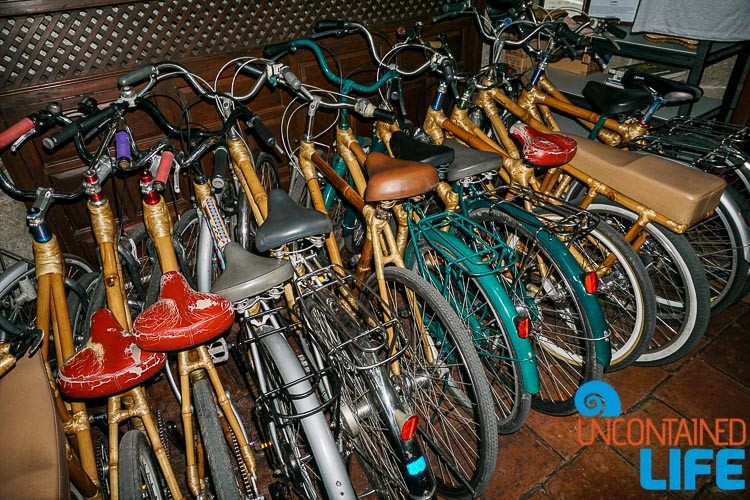 Once the other tour guests had arrived and had chosen their bikes, we all squeezed back inside the shop to watch a short video about Bambike Ecotours. The video (which can be seen HERE) allows viewers to "meet" the actual bike makers, to see how these sustainably-built machines were made, and to understand the ways Bambike Ecotours has, in partnership with the NGO, Gawad Kalinga, worked to combat poverty in the Philippines by empowering local workers and their families (providing work, education, nutrition, and even a bamboo nursery for reforestation).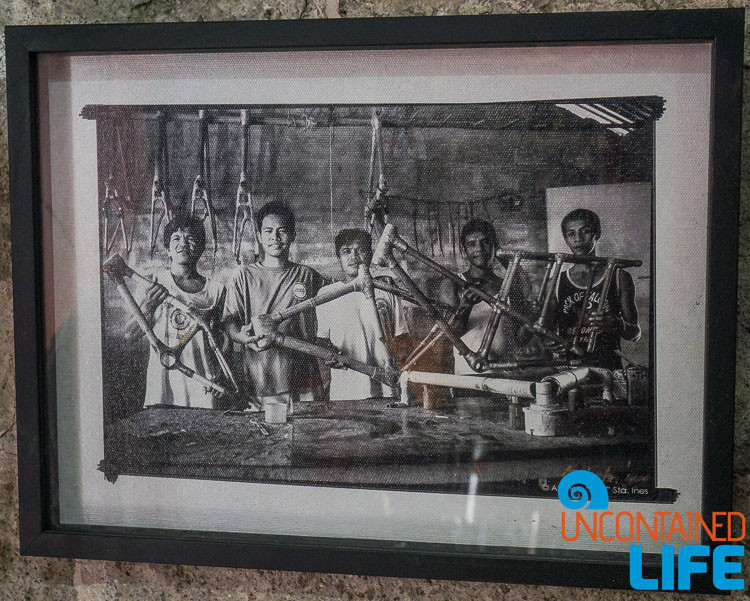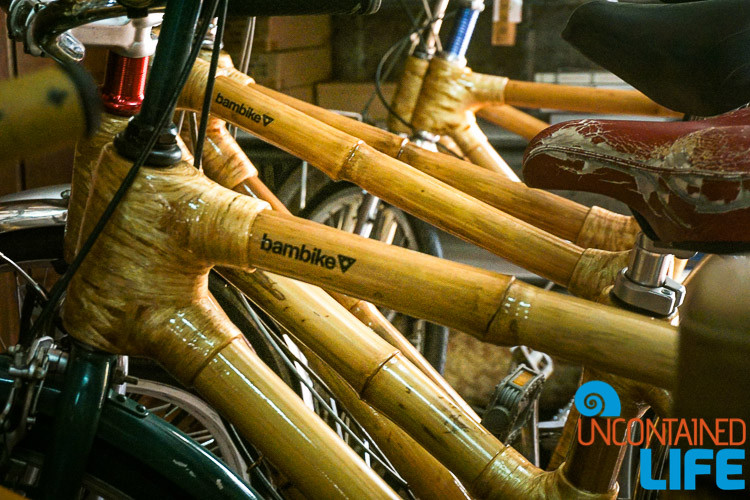 Bambike's manufacturing is only in Gawad Kaling village for now; but as we chatted with the company's dynamic founder, Filipino-American, Bryan Benitez McClelland, it became clear that this village is just one drop in an ocean of big dreams (dreams that Bryan is rapidly making into realities) for how eco-tourism can help the Philippines and its people. Bryan considers himself to be a "socio-ecological entrepreneur."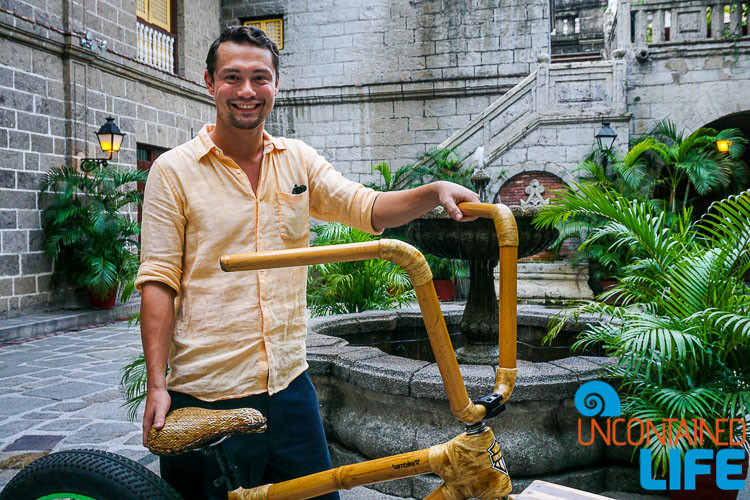 Justin and I asked Bryan if he could explain a bit more: "I want to promote sustainable technologies and employ people who wouldn't otherwise have a good way to support their families. And I believe these things can operate hand-in-hand here in the Philippines."
Of course, keeping this vision alive wasn't always easy: "When I first came to Gawad Kaling, I didn't speak the local language. I was sleeping on a piece of cardboard in this middle-of-nowhere place, swatting mosquitos all night… I really did wonder sometimes if I would ever be able to make the plan happen." Bryan shrugged. "But I when I look at how far everything has come since then, I couldn't be more excited about the future." Sounded great to us!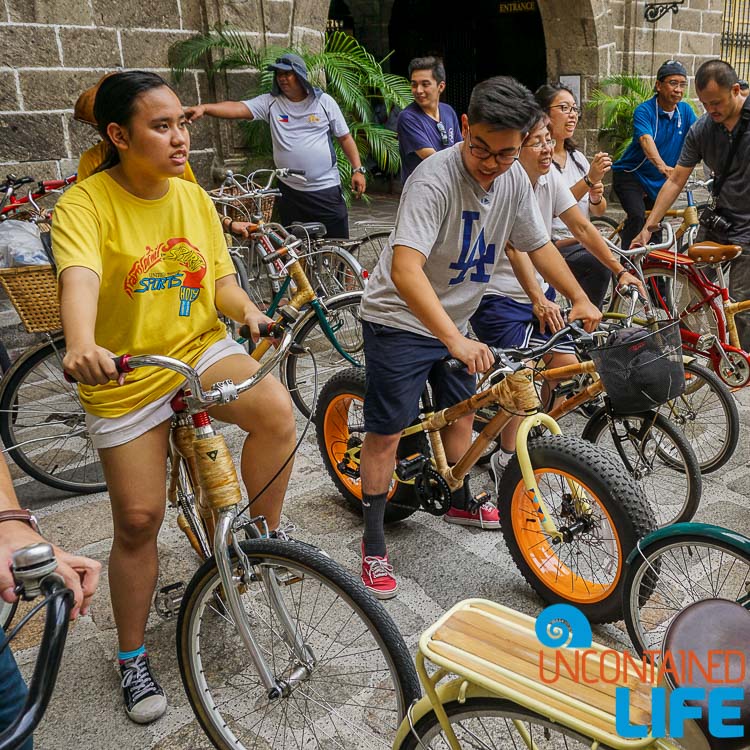 After the video, we mounted our bikes and the tour began. Our first stop was San Agustin Church–a gorgeous stone edifice which was declare a UNESCO World Heritage site in 1993.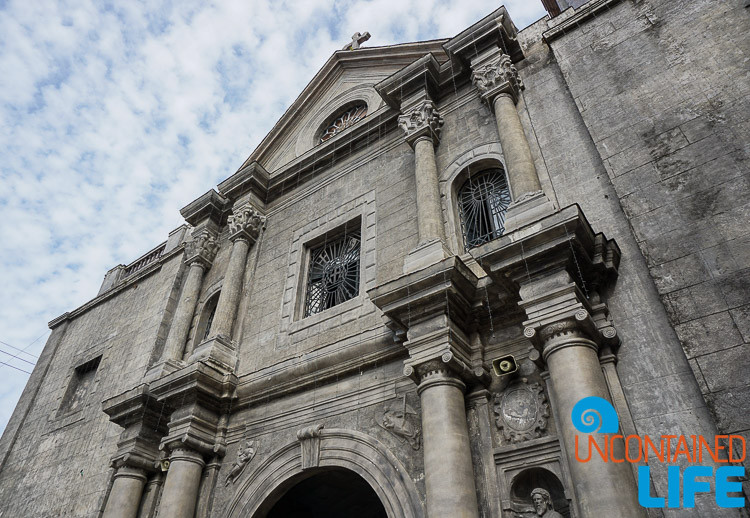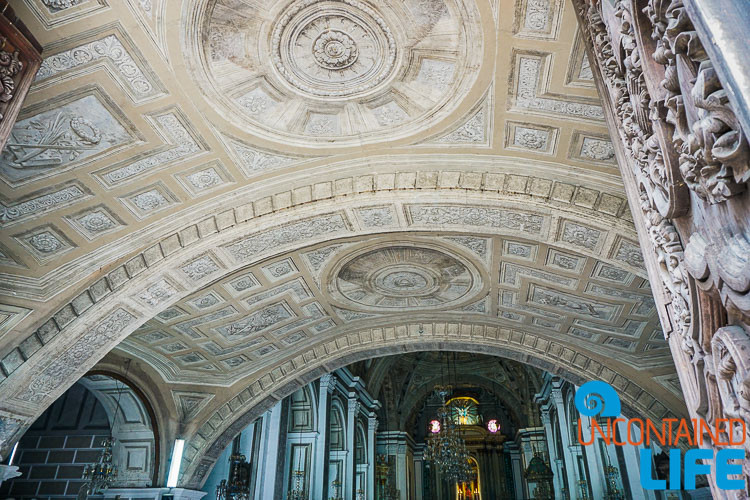 But in order to get there we had to *gulp* cross a bunch of cobblestones. I peddled forward bracing myself for the jarring bumps…but then, strangely, none came. Somehow the bike was absorbing the shocks of the uneven road, leaving me to just ride smoothly along! When I mentioned my surprise to Ian, he grinned. "It's the bamboo frame," he said. "It's more flexible than metal, so it gives a better ride over uneven ground."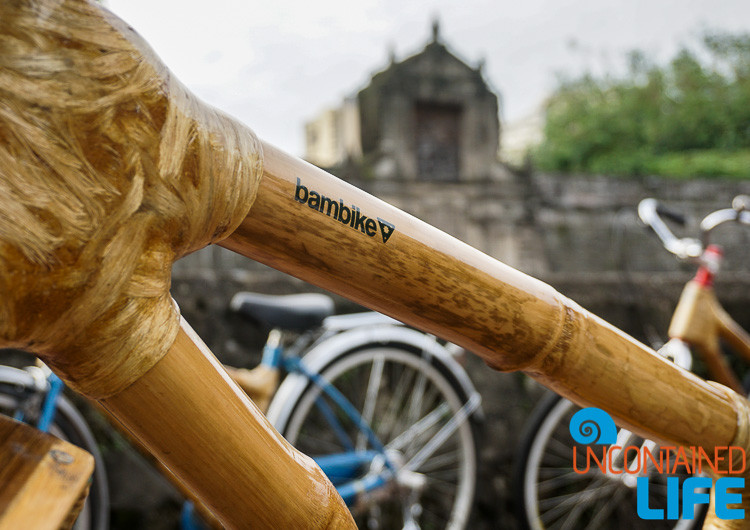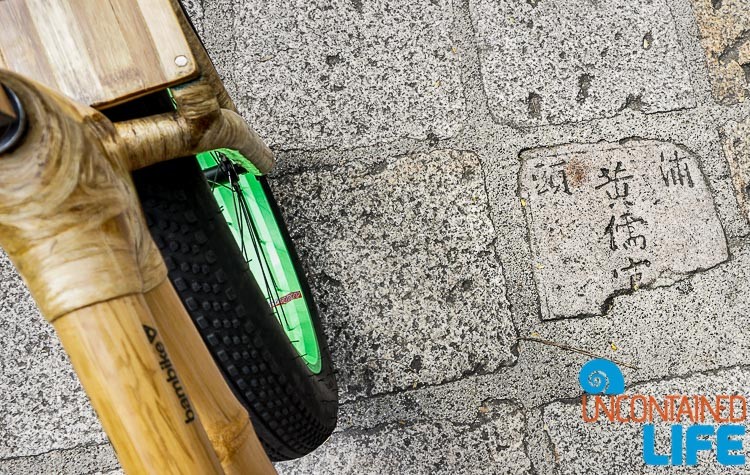 I was definitely grateful for that as our tour continued! After a short stop at the "Gallery of Presidents"and a glimpse at Japanese cannons from the Battle of Manila in 1945……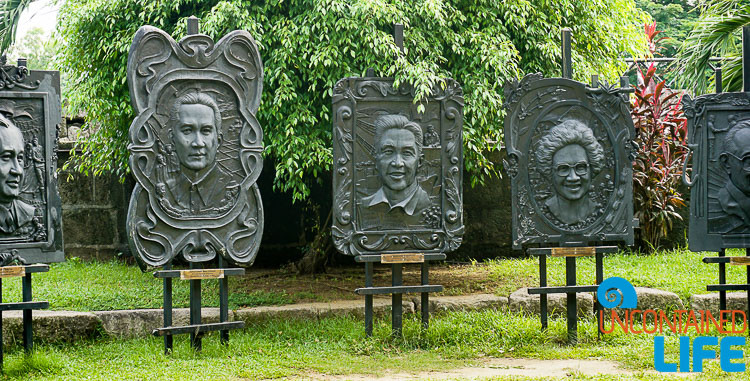 …we crossed a wooden drawbridge and rode our bikes through a tunnel leading to the Puerta Real garden–a lovely outdoor space located just outside the Southern wall.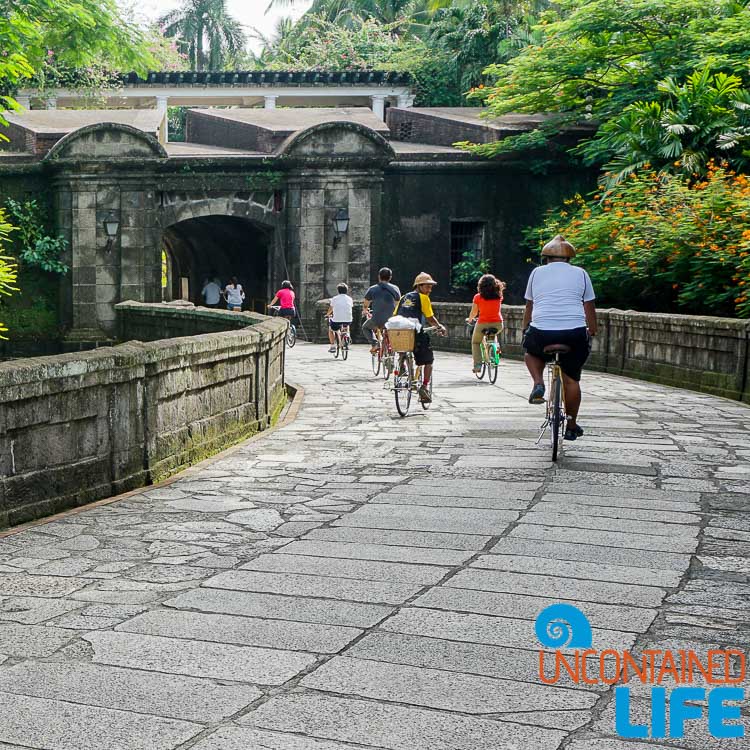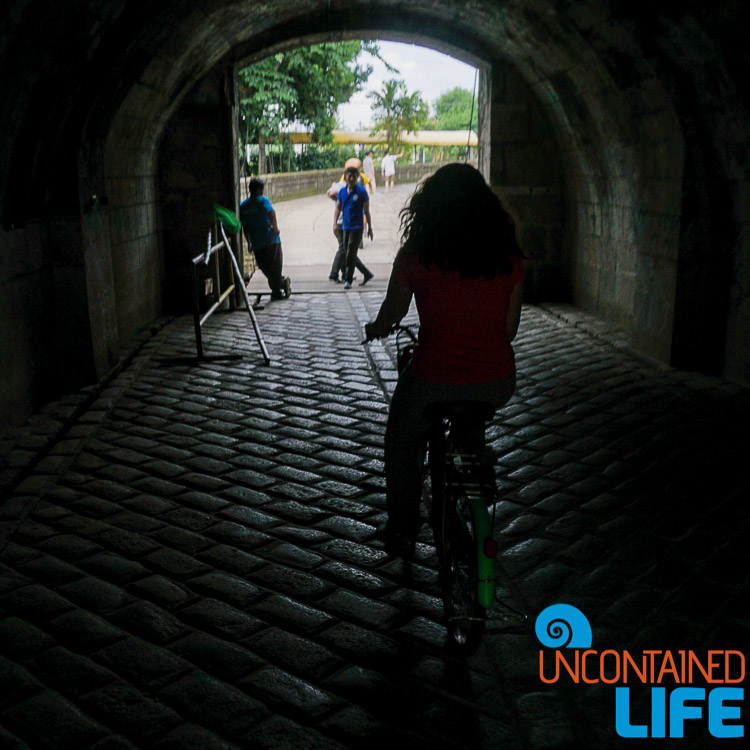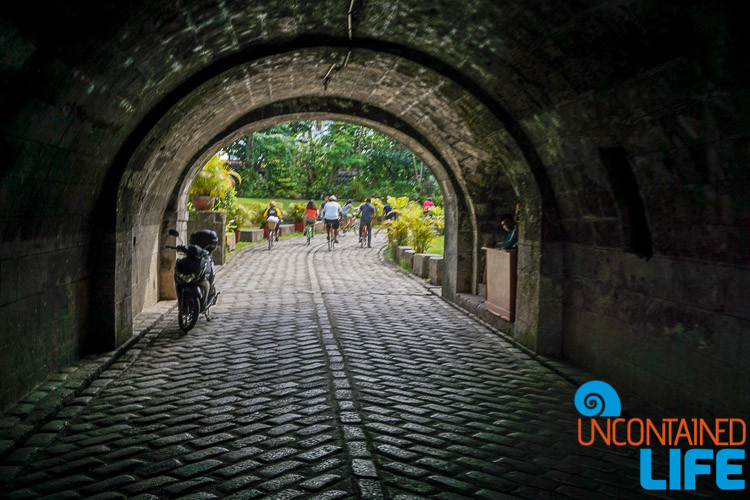 After what would, on a different vehicle, have been a teeth-chattering ride into the garden itself, we hopped off of our bikes and climbed up part of the outer wall fortifications to check out a view of the city from above.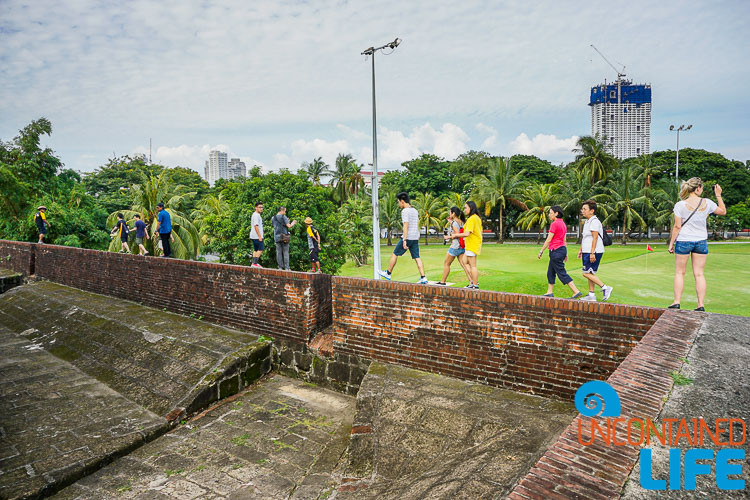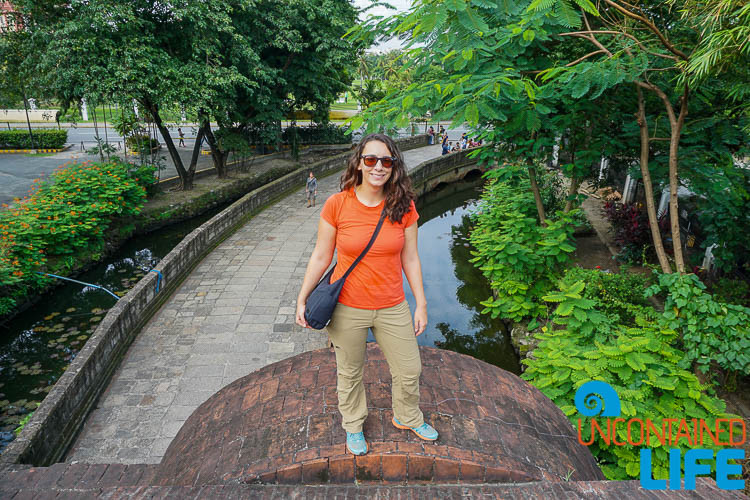 From Puerta Real we rode to another gate, Puerta del Parian.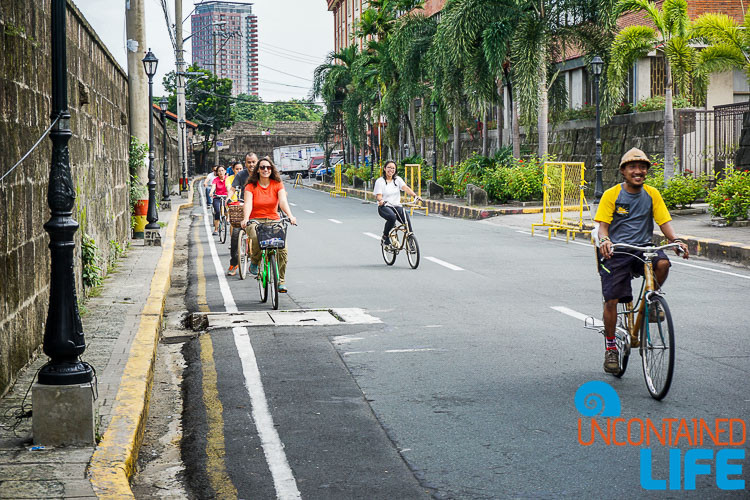 This gate, named after the Chinese rice merchants who once frequented the riverside market, is situated on the east side of the walls. It offers views of the historic clock tower of the Manila City and is a popular walkway for students.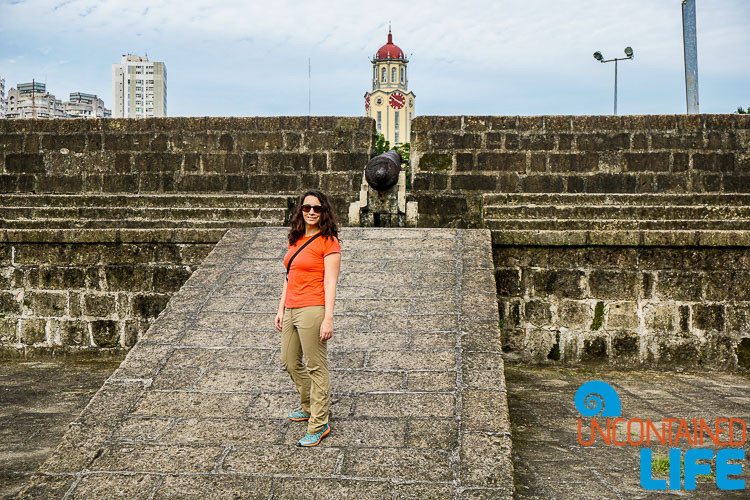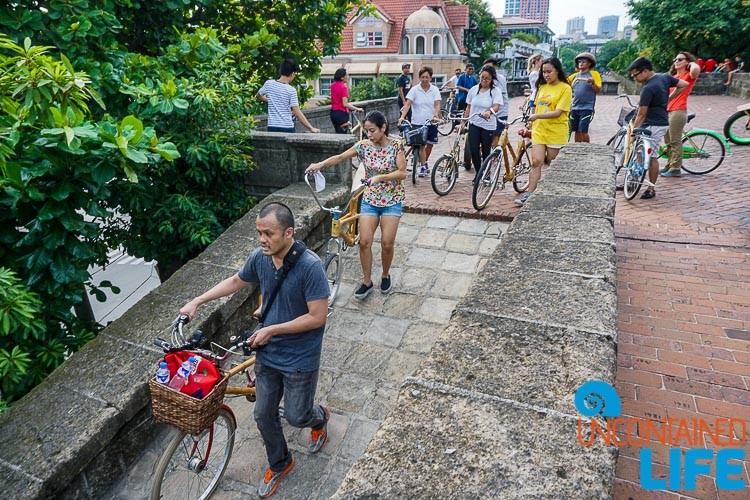 These sites were each wonderful, but the real magic (for me) was just around the corner. Literally. After a look at the crumbling Aduana (old Customs House) Building, we drove our bikes down a tiny dirt path, turned right and arrived at the Maeztranza Wall–a northern portion of Intramuros, just along the Pasig River and near Fort Santiago.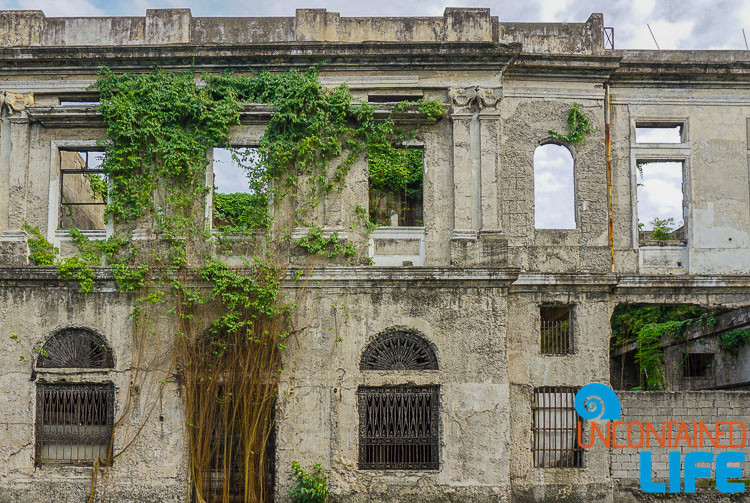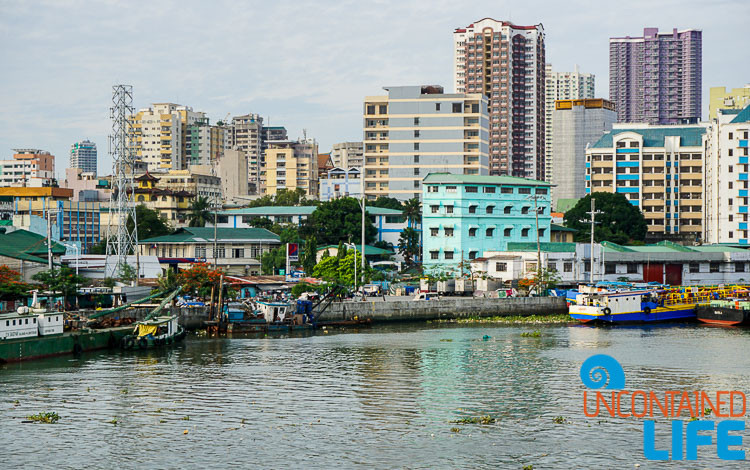 As with the Aduana Building, plans to restore the Maeztranza Wall, which served in former times as a storehouse and soldiers' quarters, have progressed very slowly. That's unfortunate for the merchants and gallery owners that have, for years now, been hoping to move into the space, but for the time being it's a fun time for Bambike tours. Together with our fellow riders, Justin and I brought our bikes into one of the 45 empty chambers.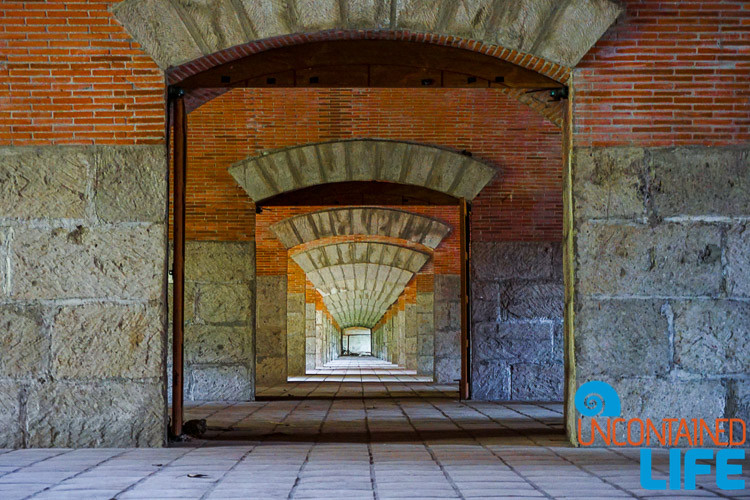 And then…we flew.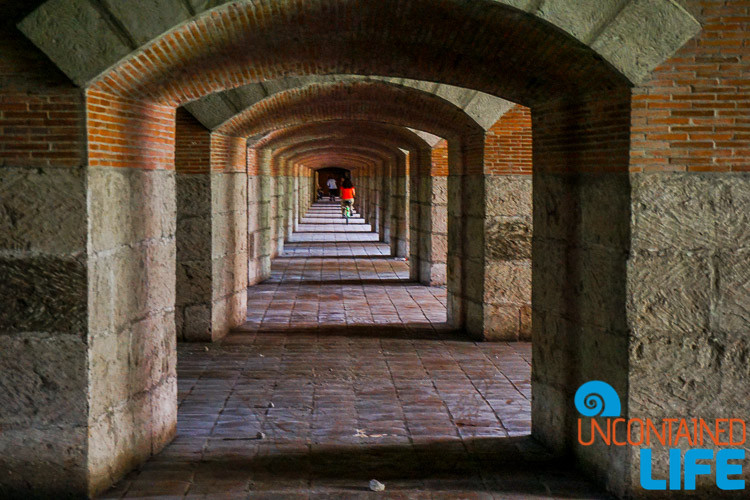 Still floating from the surreal atmosphere of the Maeztranza, we took a look around the Basilica of the Immaculate Conception.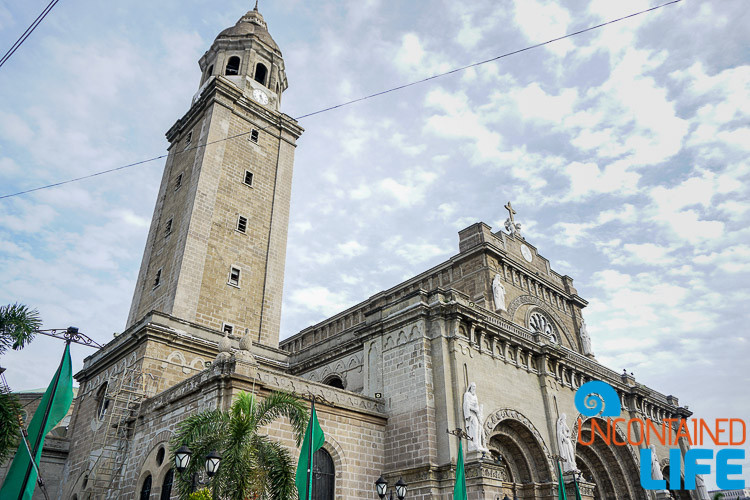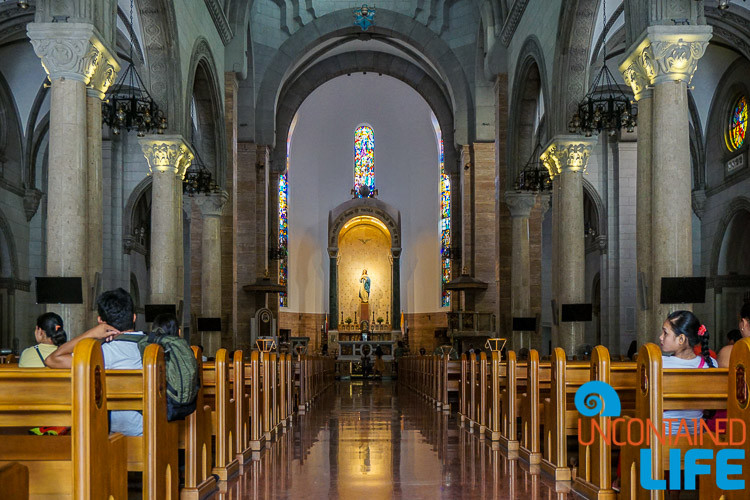 Then, we made our final stop in the tour: Fort Santiago–the oldest and most famous of the walled city's structures.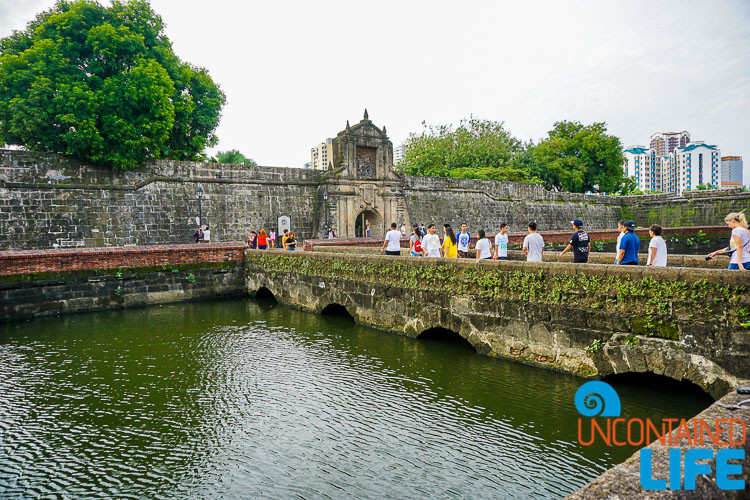 Today, the fort is home to the Rizal Museum, which is dedicated to the life and memory of national hero, Dr. Jose Protacio R. Rizal, who was imprisoned in the fort before his execution in 1896.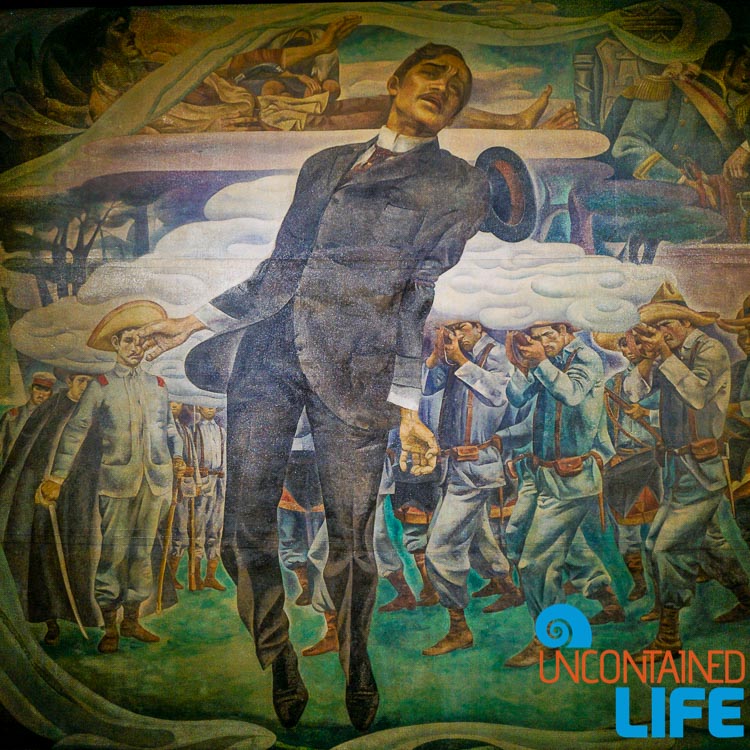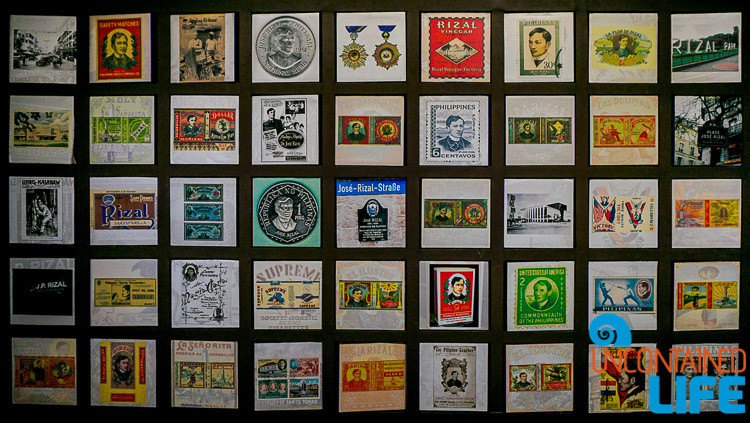 Back to the Plaza San Luis, Bryan talked with his guests and, after the rest of the group had dissipated, we sat in on a meeting with him and his team about some of the deals he had been working on for Bambikes (and beyond).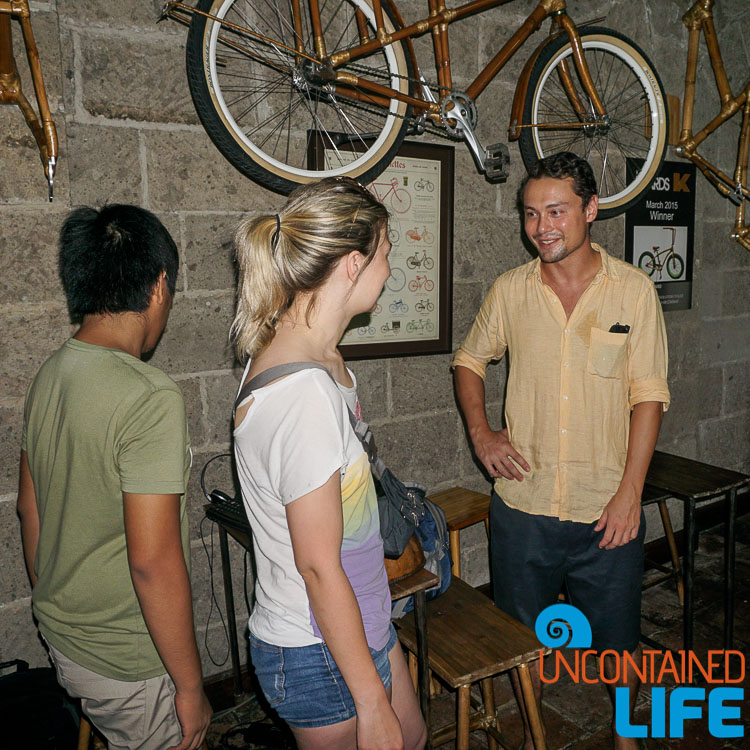 The sense of "we're all in this together" was terrific to see, and as Justin and I said our goodbyes, we couldn't help but get excited about what might be coming soon for this great group of people who have dedicated themselves to helping other people, one bike ride at a time.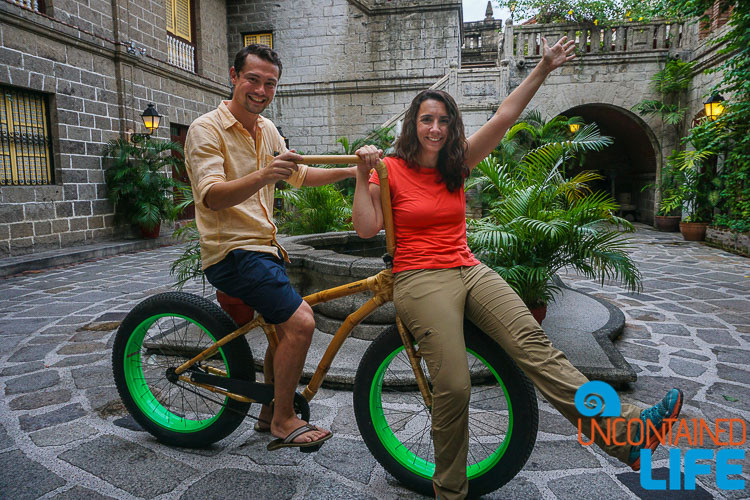 *Tour courtesy of Bambike Ecotours. All options are our own. We only recommend products and services which we have personally used and have found to be excellent in quality.
---
Visitor Information for Bambike Ecotours:
Location: The tour begins at Bambike's Headquarters:
Real St. cor General Luna St.
Price: 1200 pesos per person. Price includes helmet (if desired), one water and site/ museum entrance fees.
Online reservations: http://bambike.com/
Other Info.: Tour participants should arrive approximately 30 minutes before the allotted tour start (10am or 3pm) for bike selection, a short briefing about the company, and general tour guidelines. The tour takes 2.5-3 hours