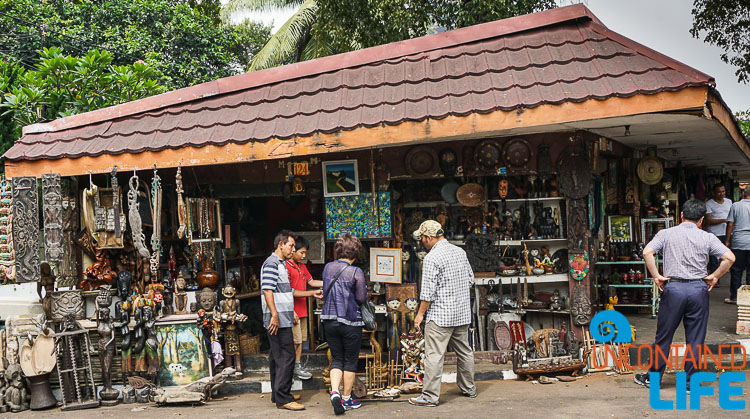 Aside from the wealth of memories we gain when we travel, Justin and I love hunting for unique souvenirs and tasty things to eat at local markets.  Finding something beautiful–whether it's a hand-woven scarf or a perfectly made Martabak Manis–is great fun, but, in many places around the world, simply finding something you'd like to buy isn't the end of the story.  Buckle up, friends…it's bargaining time!
The average American traveler may quail at the thought of having to haggle; it's just not something most of us are used to doing.  When Justin and I first started traveling our attempts at negotiation were rife with rookie mistakes.  But yours don't have to be!  If you can master Bargaining 101, then you'll be a lean, mean, bargain-getting machine the next time you travel abroad.
Do Your Research.
Doing a bit of research before going shopping abroad can mean the difference between a great and a terrible bargaining experience.  Spend some time on Google and get the skinny on…
Cultural norms: First, and foremost, double check to make sure that bargaining is normal in the place you're visiting.  If so, great!  If not, you'll avoid looking rude.  Doing a bit of cultural research can also teach you what to expect during the negotiation: In some Asian cultures any hint of loud theatricality during haggling is frowned upon, but in the Middle East, it's very much the norm.
Exchange rates: Make sure you have current exchange rate information.  Depending on the currency, a big number might not in fact mean more than a few USD.  For example, at the time of this article's publication, 100 bhat (currency in Thailand) is approximately $3.25 USD.  So haggling over that last 5 bhat…probably not worth it.
The cost of items you wish to purchase: Before beginning any negotiation, you should already have a good idea of the item's cost.
Start by consulting the web, travel guides and locals (ask your guesthouse or hotel staff for assistance).  Then, once you are at the market itself, browse and compare prices–if you aren't shopping for one-of-a-kind antiques, chances are that the type of item you're looking for is sold at multiple locations in a market. Just be sure to avoid negotiating before you have decided to buy from a particular merchant.
Where to start negotiations: While a good general rule of thumb is to take off 50% of the initial asking price and negotiate upwards from there, there are place where 10% or 75% off is the normal starting place for bargaining.  Again, the best way to avoid overpaying or insulting a vendor is to do your research!
Import/ export restrictions: Some countries restrict the export of antiques; the United States has strict regulations against importing ivory, and many countries do not permit (or severely restrict) the importation of items made from wood.  In short, check before buying or you may end up losing your souvenirs at customs.
Expect to Pay Cash.
While mobile banking and payment is on the rise all over the world, the option to pay with a card or via phone is still unusual in many places, and particularly sparse outside of major tourist zones.  Unless you are in a larger, well-established brick-and-mortar business (in which case bargaining may not be an option), it's wise to expect that the merchant will only accept cash.
Don't Bargain if You Aren't Truly Interested in Buying.
Asking a price is fine, but only start negotiations if you are serious about the purchase.  What may seem like a fun game to you (if you enjoy bargaining) is the merchant's livelihood.  Respect the seller's time.
Mind Your Manners.
While the rules of politeness vary somewhat from culture to culture, everyone everywhere recognizes there's a difference between "hard bargaining" and open aggression.  You need to be firm to get a good price but that doesn't mean you need to be rude or act entitled.  If you make an effort to create a friendly environment, chances are the merchant will offer you a better price.
Remember to smile from time to time and to keep your tone light.
Try to engage in some conversation in addition to your negotiation–ask the merchant about themselves or their business.
Be Patient.
Some negotiations will conclude quickly, but in most cases, scoring a great deal will take time–particularly when the item is unique or unusual.  Depending on where you are in the world (and the expense of the item you are purchasing) the seller may offer you food and drink which, sanitary conditions* or dietary restrictions aside, it would be rude to refuse.
*Obviously, do not consume anything that you worry is going to make you ill.  Better to be a little rude than to have to unexpectedly develop a deep, personal relationship with your toilet at 3am.
Finally, and Most Importantly, Shop Responsibly.
Making sure you know where your souvenirs come from before purchasing is an important step if you wish to avoid stolen goods, and items produced through child labor, slave labor or non-eco-friendly practices.
Approach the purchase of cultural artifacts with extreme caution.  Make sure any souvenirs you purchase of this type have a documented and legal history and are not illegal to export.
Avoid counterfeit goods (such as faux Louis Vuitton bags) as these are very often produced under extremely poor, frequently forced working conditions.
When dealing with very cheap trinkets and textiles be aware that these item may be the result of environmentally damaging practices and/or child labor.  To avoid this

issue, take your custom to fair trade shops or buy directly from the artisan who makes the item.
Avoid buying souvenirs made from animals and marine life (coral, shells, etc.).  The means by which these items are secured can be environmentally unsound.
Avoid buying from child beggars.  It may seem like a good deed, but the money you give children is handed over to adults who are keeping those children out of school and using them to turn a profit.  If you want to help these children, buy them a snack and/or donate to a reputable local charity (not all "charitable" organizations are deserving of that name).  You can screen organizations using

Charity Navigator.
Bonus Tip: If you're in a location where the language barrier proves a significant problem or if you are looking to buy a unique or expensive item, consider employing a local guide to help with the negotiation.  You will feel more confident knowing that your words will be understood, and a native speaker will often be able to bargain for a better price than you would be able to get yourself.
---
Support Uncontained Life!
If you've found this site helpful, the best way to say thanks is by clicking on one of our Amazon links. Whenever you make a purchase within 24 hours after clicking one of these links (even if it's of a product we don't have listed), we make a small commission (at NO extra cost to you) which helps us keep this site running. Thanks for your support!