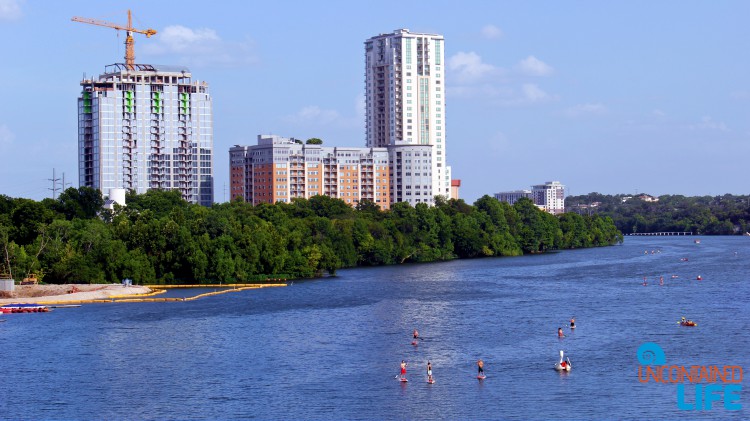 Austin's residents may be experts on "keeping it weird" but when it comes to the heat…well, it's more like they are "keeping it hot." Hot and humid and (did I mention?) hot! So what are the best things to do in Austin, Texas when the weather is sizzling? Not to fear, Uncontained Life is here with seven surefire ways to help you keep your cool and get the most out of your visit to Austin, Texas.
1. Swim with a salamander…
 …in Barton Springs Pool in Zilker park. No visit to Austin, Texas is complete without a trip to Barton Springs. Though the springs were frequented by Native Americans long before Austin's founding, Barton Springs first became a formal swimming facility in 1901, when A. J. Zilker purchased the land and built a Romanesque outdoor pool for his local Elk Lodge. This original pool area is no longer open to the public, though it remains a federally protected habitat for the endangered Barton Springs Salamander…as does the entire swim area!  After Zilker willed the land around the springs to the city in 1918, the swimming area was expanded, and walkways were built along its sides.  Since then, this three acre pool, fed by icy underground water has remained a "cool" reminder of how well human ingenuity can pair with natural beauty. (Plus, there's an old-school diving board…who can ask for anything more?) 
Visitor Information:
Location: 2201 Barton Springs Rd. Austin, TX 78704
Hours: Sunday -Wednesday 5am-10pm; Thursday 5am-9am and 7pm-10pm; Friday-Saturday 5am-10pm. Click here for details on guarded swim times and fee-free hours.
Cost: Free-$3 per adult (see link above for details). A $5 parking fee in Zilker Park also applies on weekends, holidays, and during special events.
2. Hone your artist's eye…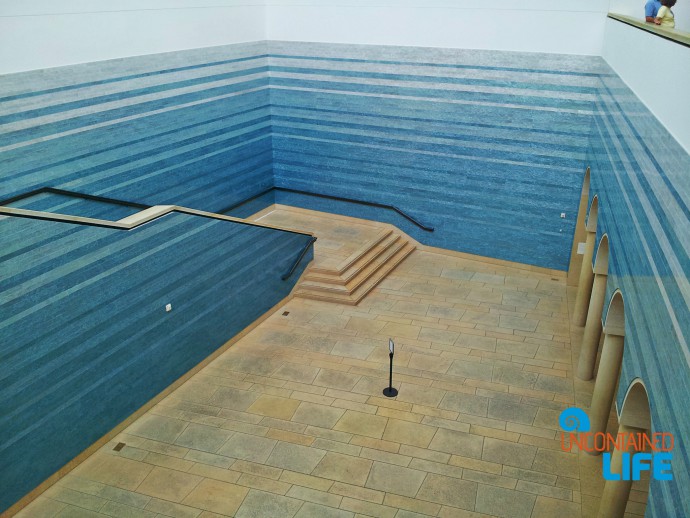 …at the Blanton Museum on the University of Texas campus. The building's lovely exterior is matched by an equally elegant (and air conditioned!) interior space, beginning with the museum atrium's dreamy "Stacked Waters" installation, by Teresita Fernández. The Blanton's impressive permanent collection is regularly voted one of the best things to do in Austin, Texas thanks to its collection's substantial breadth, and top-notch visiting exhibits. Spend a couple of hours checking out its various wings devoted to Renaissance and Baroque European works, and modern and contemporary American and Latin American art, then brave the heat once more and check out some of the campus's other unique offerings, including the Harry Ransom Center, the Briscoe Center for American History, and the Michener Center for Writers.
Visitor Information: 
Location: Located at the intersection of Martin Luther King Jr. Boulevard and Congress Avenue, the museum is across the street from the Bob Bullock Texas State History Museum on the University of Texas campus.
Hours: Tues.-Thurs. 10am-5pm (third Thursdays open until 9pm), Fri. 10am-5pm, Sat. 11am-5pm, Sun. 1-5pm.
Cost: adults $9; seniors $7; college student with valid ID and youth (13-21) $5; under-13 free; free admission for all every Thursday.
3. Flirt with a lobbyist…

…at the Texas Capitol Building. Regardless of what side of the aisle you favor, you can't  help but be impressed by the classic architecture and beautifully restored interiors of this historic seat of government. Both self-guided and free group tours are available (see more info. below). Highlights include the Rotunda and Dome, the Governor's Public Reception Room and the Legislative Reference Library. Depending on when you plan your visit to Austin, you might also have a chance to see Senate and House representatives at work in their respective chambers. For more information about the Capitol Building and its grounds, stop by the Capitol Visitors Center located at the  southeast corner of the site.
Visitor Information:
Location: 112 East 11th Street Austin, TX General Hours: The Texas Capitol is open weekdays from 7:00 a.m. to 10:00 p.m. and weekends from 9:00 a.m. to 8:00 p.m.
Tour Hours: The Capitol Information and Guide Service is open weekdays from 8:00 a.m. to 5:00 p.m. and weekends from 9:00 a.m. to 5:00 p.m. The helpful guides furnish information and conduct free 30-45 minute tours of the building every day except Thanksgiving, Christmas Eve, Christmas Day, New Year's Day and Easter. Tours are given during the following hours: Monday through Friday: 8:30 a.m. – 4:30 p.m.; Saturday: 9:30 a.m. – 3:30 p.m.; Sunday: Noon – 3:30 p.m.
Cost: Free!
4. Get a history lesson…
…at the LBJ Presidential Library. Depending on your age, your knowledge of the highs and lows of Lyndon B. Johnson's presidency may need a bit of a refresher. So come enjoy the A/C and learn about Johnson's role in the American Civil Rights movement, his vision for a "Great Society" (which led to legislation which championed education, sought to eliminate poverty, increased federal support for the arts, the humanities, and for environmental conservation, and established the Medicare system), and his involvement in the war in Vietnam.
Visitor Information:
Location: 2313 Red River St. Austin TX 78705 *Parking is free. For driving directions and information on how to use public transport to reach the library, click here.
Hours: 9:00 a.m. – 5:00 p.m. every day except Thanksgiving, Christmas, and New Year's Day
Cost: adults: $8; seniors (62 and over) with valid ID: $5; retired military with valid ID: $5; children 13-17: $3; college students with valid ID: $3. The library offers several free admission days throughout the year. See the link above for more information. Free admission is available every day to children 12 and under; active duty military; members of Friends of the LBJ Library and Future Forum membership groups; student groups (including school staff and 1 chaperone per 10 students) with reservations; UT students, faculty, staff, and administrators with valid ID; members of other Presidential Libraries.
5. Chase a butterfly…

…in the Lady Bird Johnson Wildflower Center. Ok, maybe that's not the best way to keep cool, but these gardens' are certainly one of the best things to do in Austin, Texas, and its many shaded and covered areas offer many opportunities to stay out of the sun. Enjoy a picnic in the midst of an astonishing variety of plants and wildlife, all of which are native to the Central Texas Hill Country, South and West Texas regions. Be sure too to check out the the exhibits in the McDermott Learning Center and ask about the current work being done by the Plant Conservation Program, which is dedicated to protecting Texas's endangered flora.  
Visitor Information:
Location: 4801 La Crosse Ave. Austin, Texas 78739
Hours: Mon. – Sun. 9 a.m. to 5 p.m.
Cost: adults $10; seniors $8; students with college ID $8; youth 5-17 $4; members and children 4 years and under Free.
6. Count the bats…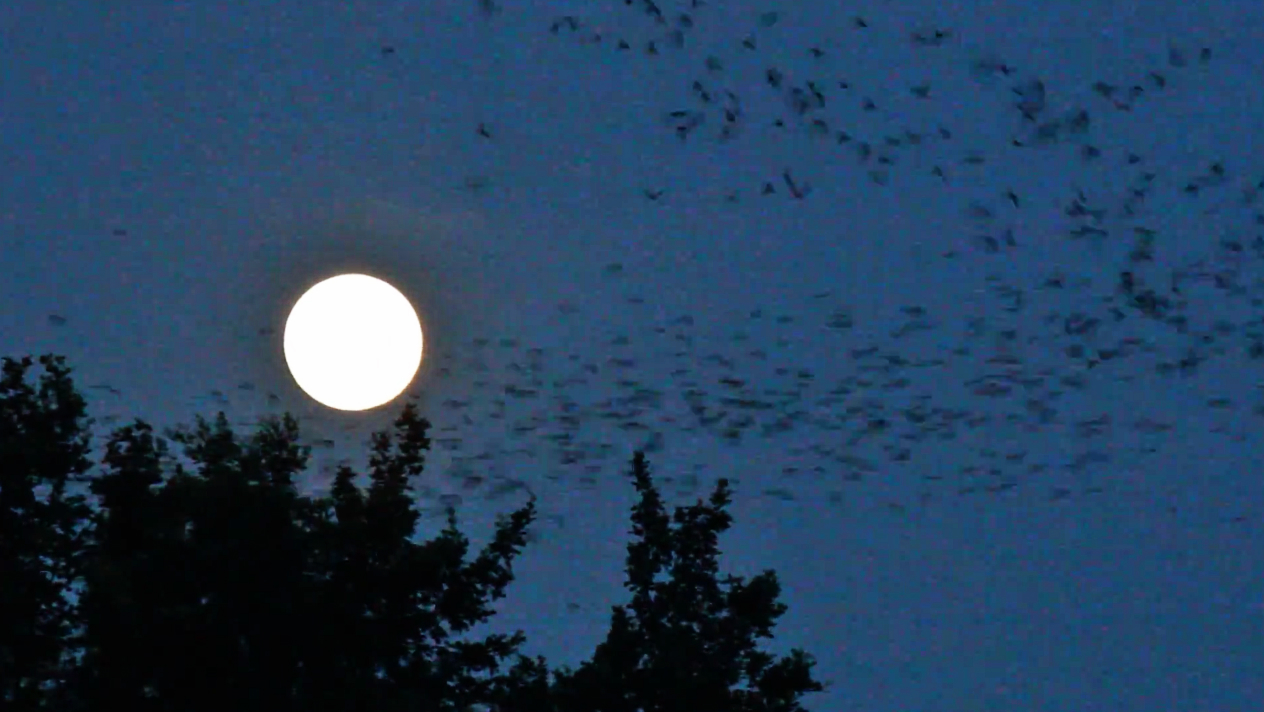 …under the Congress Avenue Bridge.  Fun fact #1: temperatures go down when the sun does!  Fun fact #2: watching some 1.5 million bats fly (and consume those pesky mosquitoes) is pretty damned awesome — as is evidenced by the hundreds of visitors and locals alike who camp out each evening to see the show.  Which means (follow along with me now) this activity is doubly cool.  You'll find the bats flying nightly as early as March, but summer months provide the most spectacular views.  Flights usually begin around 8pm, but may vary (call the Bat Conservation International at (512) 327-9721 for more exact times).  The most important rule of thumb for this event is to not stand under the bridge itself (unless you enjoy wearing bat droppings). 
Visitor Information:
Location: Anywhere near Congress Avenue Bridge.
Hours: call the Bat Conservation International at (512) 327-9721
Cost: Free!
7. Have a mouth-gasm…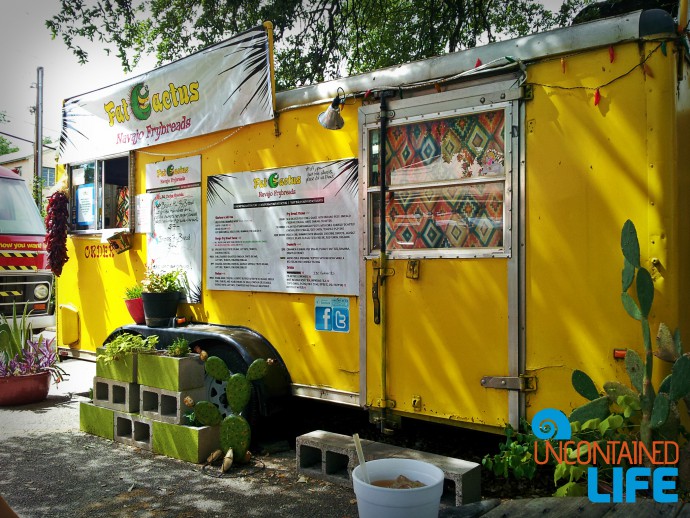 …with Austin's food truck scene. Sometimes the best way to beat the heat is to distract yourself with something even hotter…like some amazing food.  Trucks offering a smorgasbord of culinary delights can be found all over Austin.  Some of Justin's and my favorites include the beer-battered Monte Cristo sandwich at Hey…You Going to Eat or What?, the smoky brisket at La Barbecue, the fry bread tacos at Fat Cactus and the pasta plenitude at Regal Ravioli.  What's that?  You want dessert?  Check out the mouthwatering beignets at Baton Creole (1104 E 6th St. Austin, TX 78702) or experience the surgery glory that is Cow Tipping Creamery's ice cream creations.  
Visitor Information:
Location: throughout the city—we suggest checking a site like roaminghunger.com/aus to find exact locations.
Hours: varies
Cost: varies, but most food truck offerings will run between $3 and $10 per item.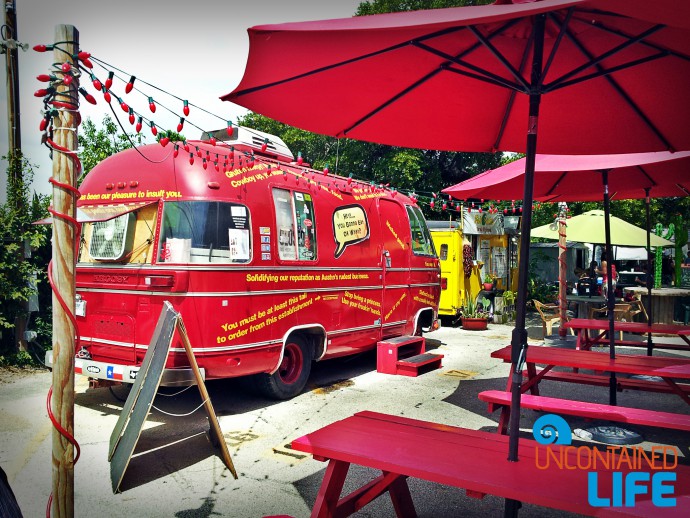 Justin and I visited New Orleans as a part of an epic road trip across the southern United States. You can read more about that trip here!