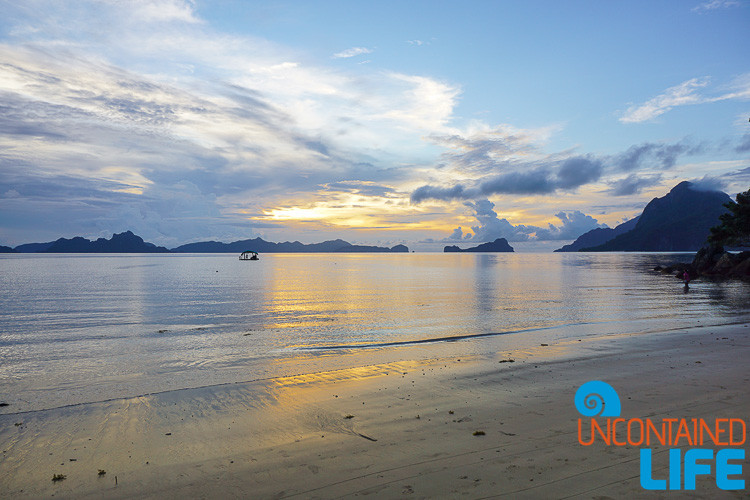 Ok. We know that if you're hauling your booty all the way to El Nido, Palawan, you're probably not coming for only 72 hours (heck, Justin and I stayed for more than a week and we still didn't have a chance to get tired of the place). But on the off-chance that El Nido is just one of many fantastic spots you're visiting in your vacation in the Philippines, we wanted to offer our take on the can't miss sights, bites and activities of this little paradise-on-earth.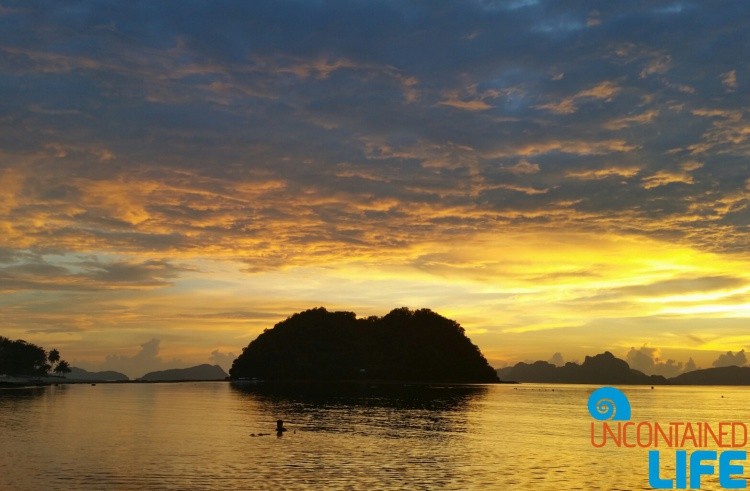 The best things to do in El Nido, Palawan
Day 1:
Sunset and Happy Hour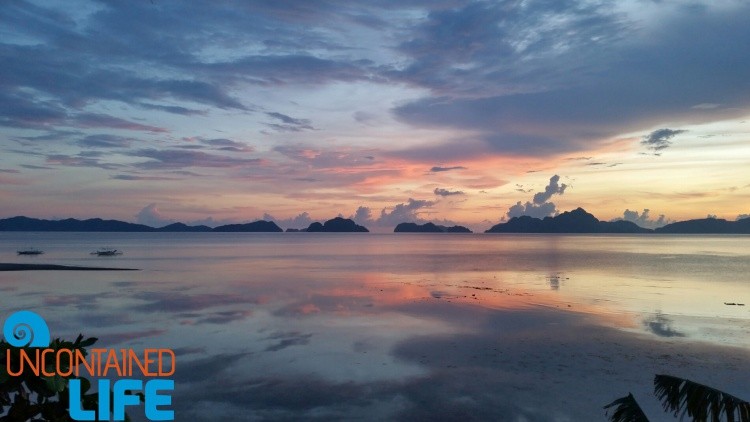 After more than six hours inside the Cherry Bus from Puerto Princesa, Justin and I landed in El Nido around 3:30pm in desperate need of cocktails—to be administered, preferably, with a view! We had made the decision to stay at St. John's Island View Pension in more low-key and scenic area of Carong Carong Beach (rather than in El Nido town).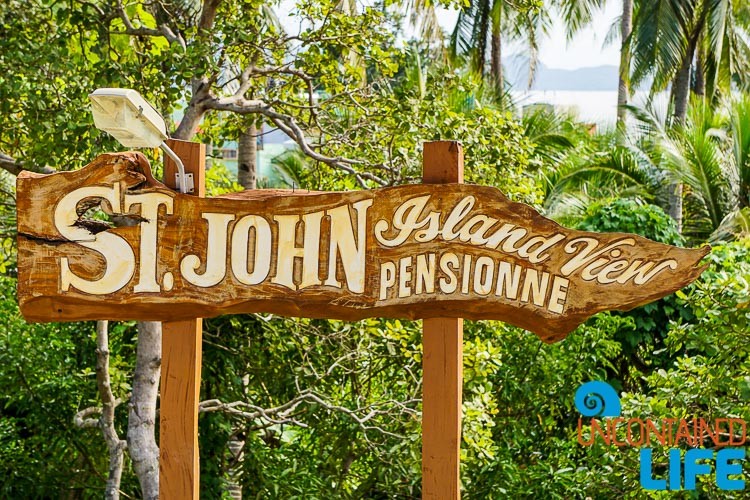 And, by a great stroke of luck our number one choice for Happy Hour was just down the road from our guesthouse!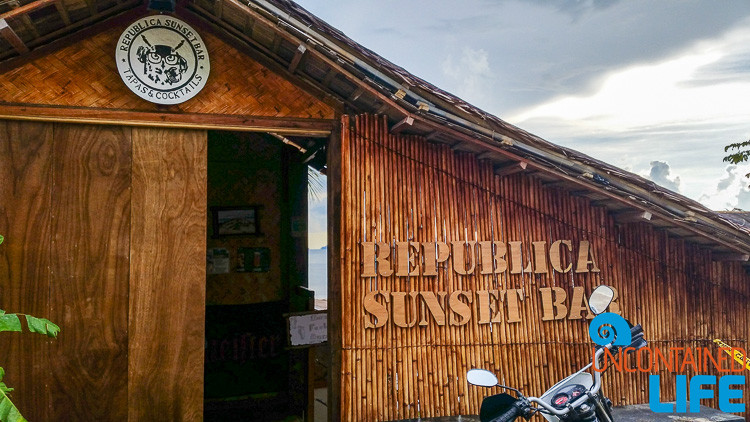 Republica Sunset Bar is, as its name suggests, one of the best places to go in El Nido for views–particularly if you like your sunsets set to the tune of delectable drinks, tasty tapas and general bonhomie (or, perhaps I ought to say, afabilidad). Go alone, with friends, or with your romantic partner…all will feel at home here.
The Drinks: Every drink we ordered (3 cocktails for the price of 2, or 2 beers for the price of 1 between 3-5pm) was well-mixed, but our favorites were the Mai Tai and our personal litmus test when it comes to booze, the G & T.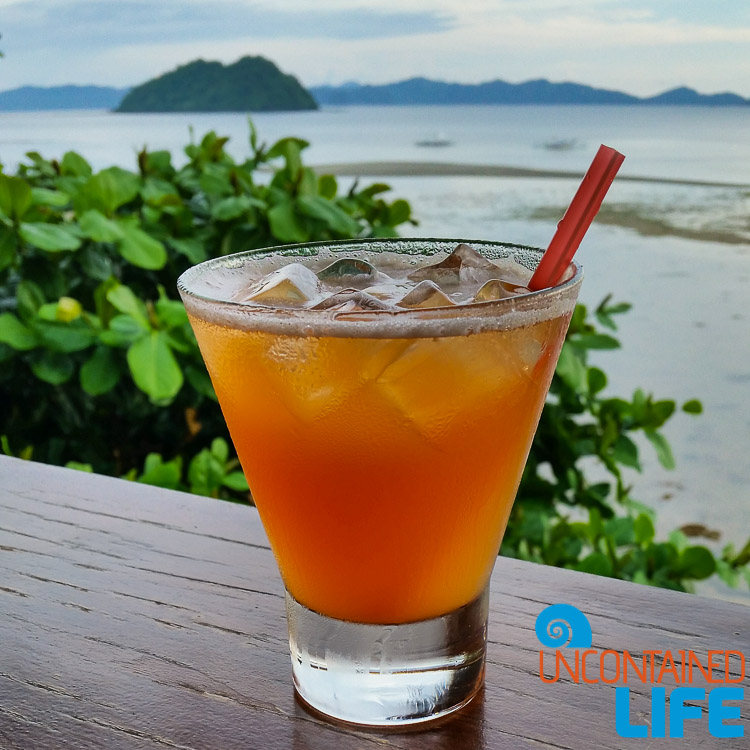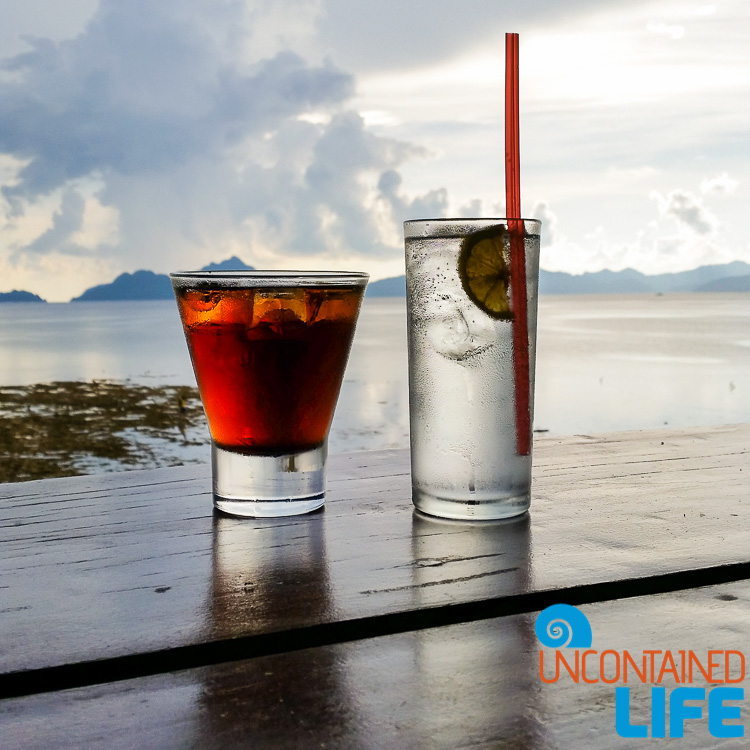 The Eats: Repeat after me: "Chicken Croquetas, please!" After you've thoroughly enjoyed that experience, try the Lomo con Ajos (pork grilled with garlic), a side of garlic rice, and the ceviche (or, if you don't like tart, the sashimi). Note: we liked many other of the things we tried here as well, we don't recommend the burger (it has a nice presentation, but it's not noteworthy taste-wise–though the potatoes on the side are great) and if you try the Papas Bravas, we suggest you order the sauce on the side (unless you happen to be a raging aioli fanatic).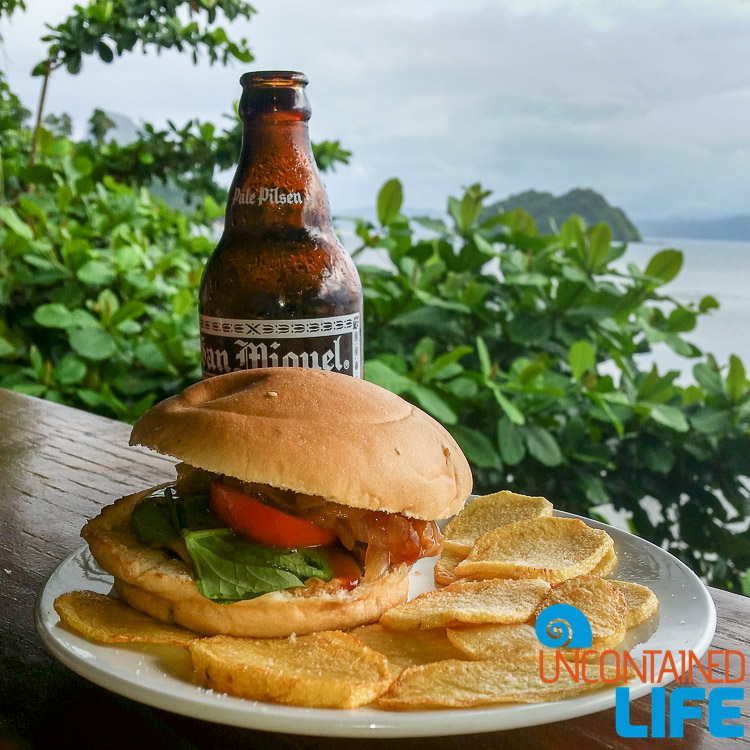 The Sunset: There's a reason people leave El Nido proper, hop in a trike, and make the ten minute drive to Carong Carong come sunset-time. I'm just going to leave these here and let you decide for yourself if it's worthwhile to make the trip…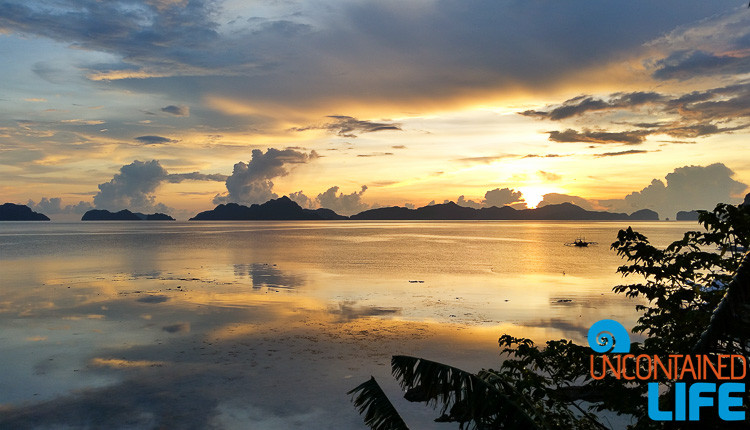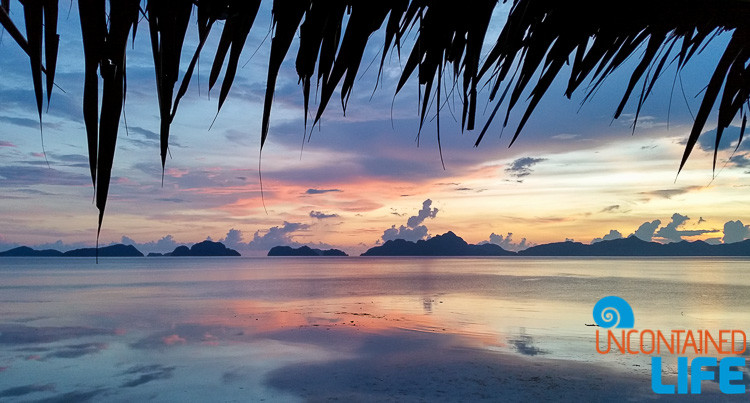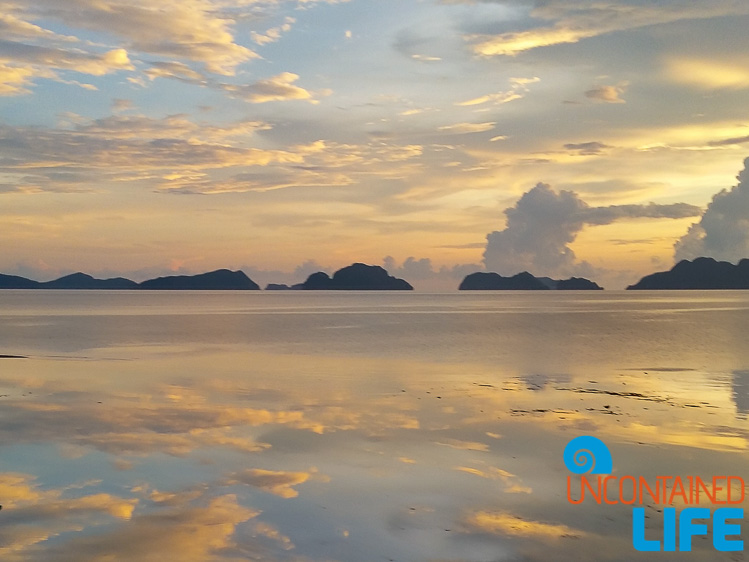 Day 2:
Island Hopping and El Nido Beach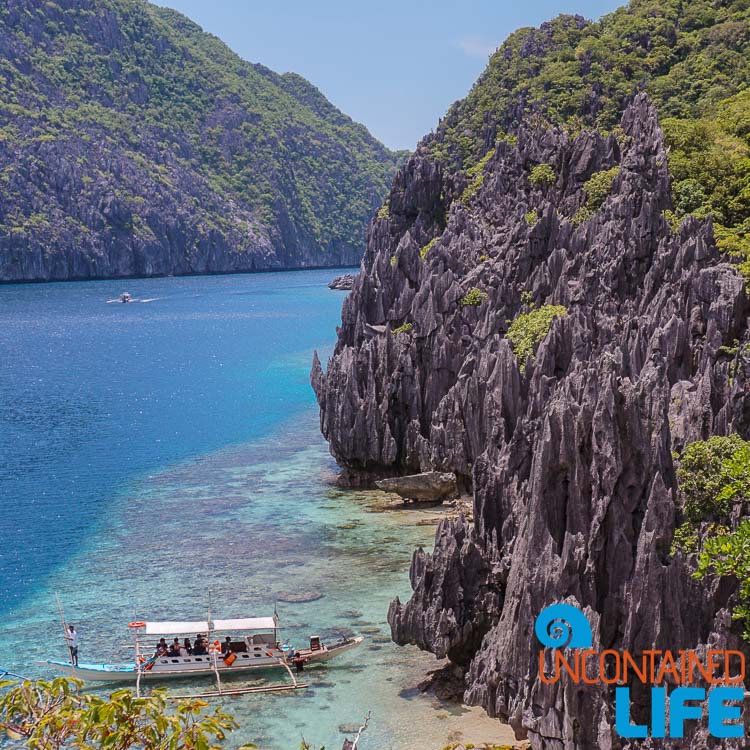 Island hopping is, of course, the main reason tourists come to El Nido, and, in this particular instance, Justin and I were no exception. We'd signed on for a combo A & C tour with Alexzus Travel and Tours, and so, bright and early(ish) we headed out from our guesthouse toward El Nido town.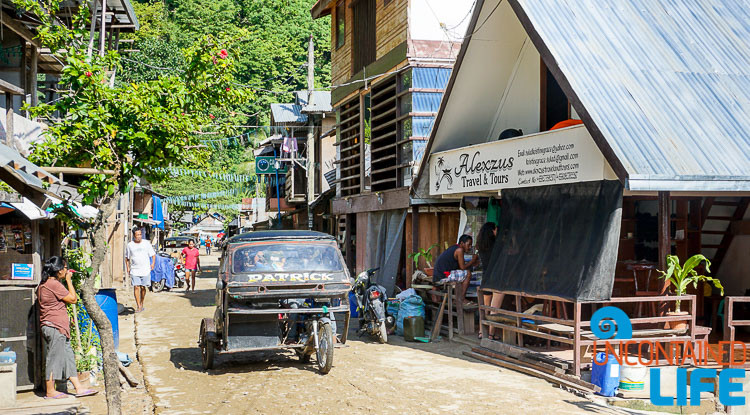 Now, it's very probable that your guesthouse, like ours, will include breakfast in the price of your accommodation. But, on the off-chance that you're left to your own devices (or if, like me, your mind-set about meals is more Hobbit-like in nature), consider making a stop at Midtown Bakery before hitting the water.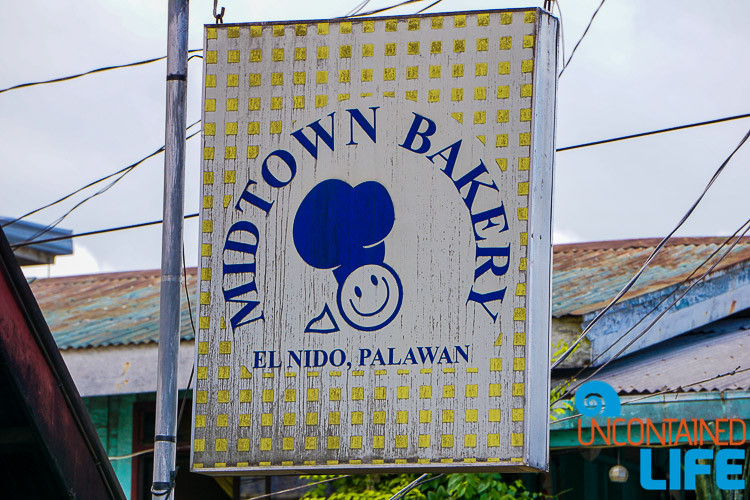 This unassuming little shop serves up the lightest, fluffiest local-style bread, pandesal (which, ironically, tastes sweet rather than salty), as well as banana bread, muffins, and sweets…for us, it was love at first bite.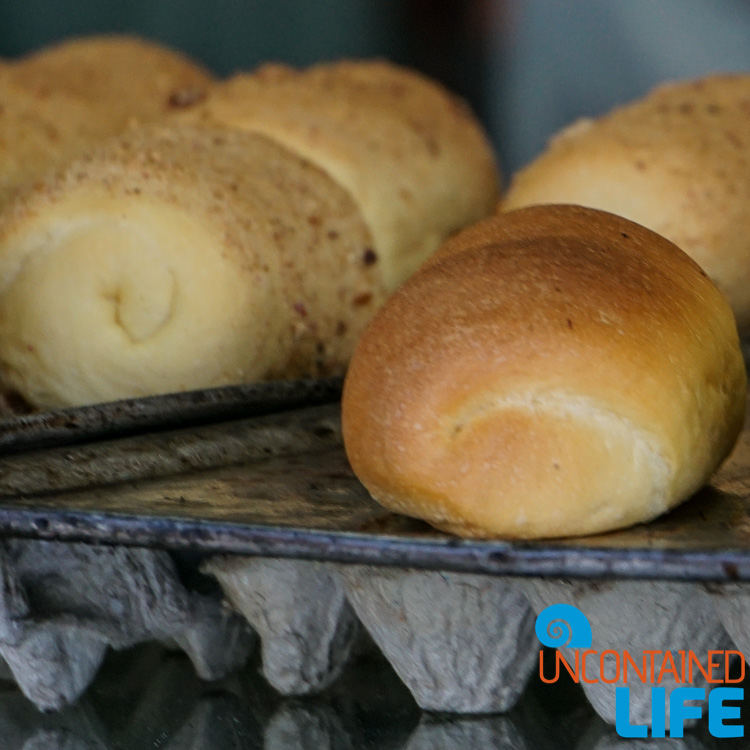 After stocking up on baked goods, Justin and I met our tour group and started our island hopping adventure! You can read the full story on our experience here, but, in brief: snorkeling in turquoise water, hidden lagoons, white sand beaches, lunch at sea, mystery shrine.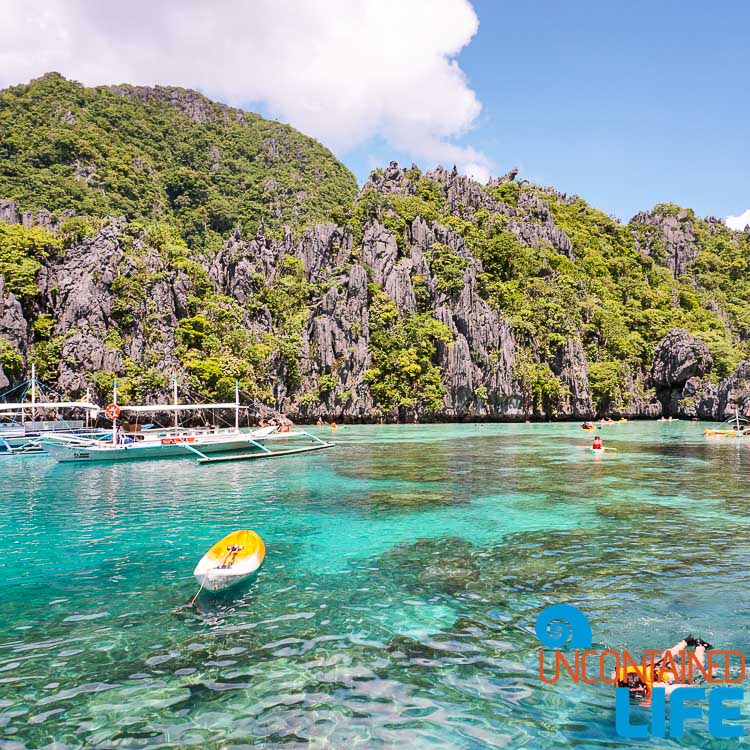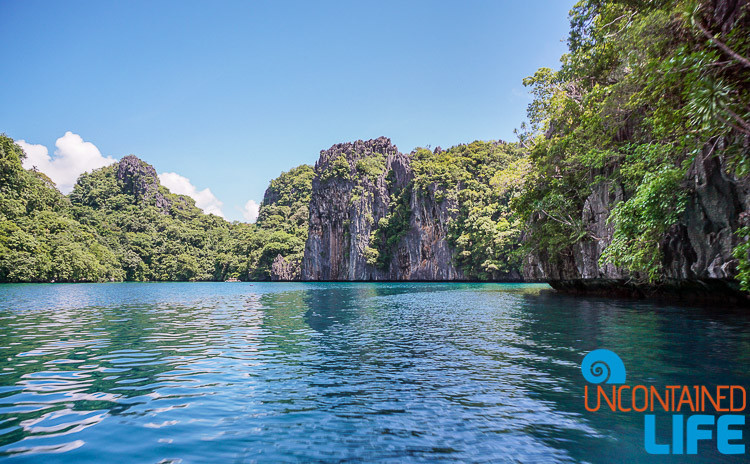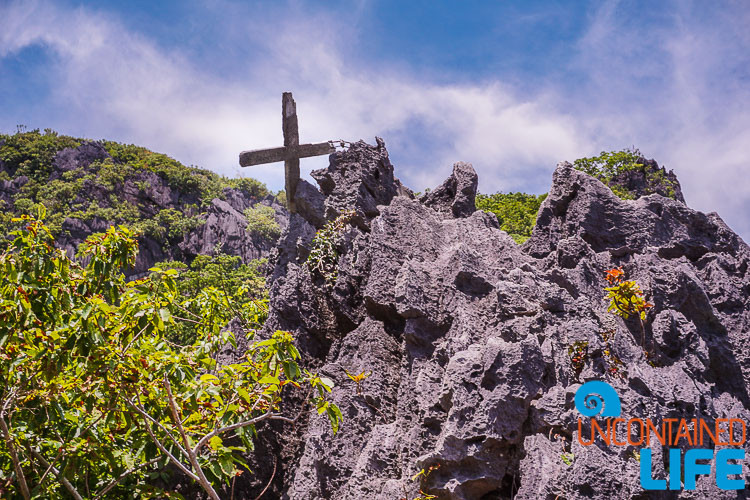 We returned to shore around 4pm—the perfect time to grab a beverage and bite before sunset. After a quick look around at the various options, Justin and I chose to check out the happy hour at Mezzanine El Nido.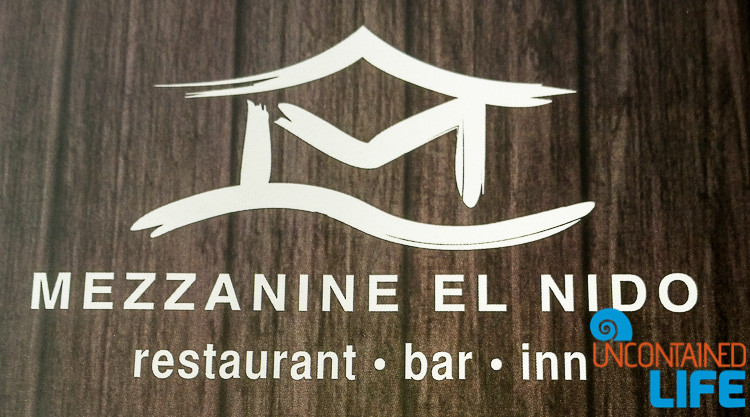 This restaurant is one of the more upscale (and pricy) dining options in El Nido town, but their buy one-get one happy hour is a good value (plus, the dining area overlooks the water and the anchored outrigger boats).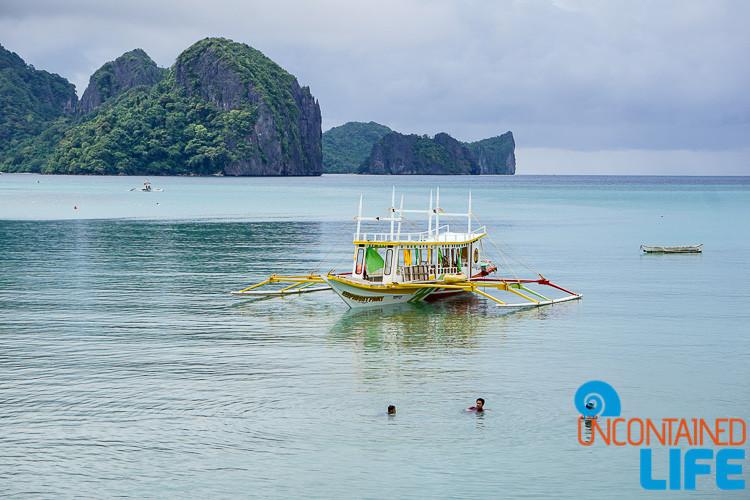 The Drinks: Justin and I tried the Long Island Iced Tea (which were solid) as well as the watermelon fruit shake (yes, please!)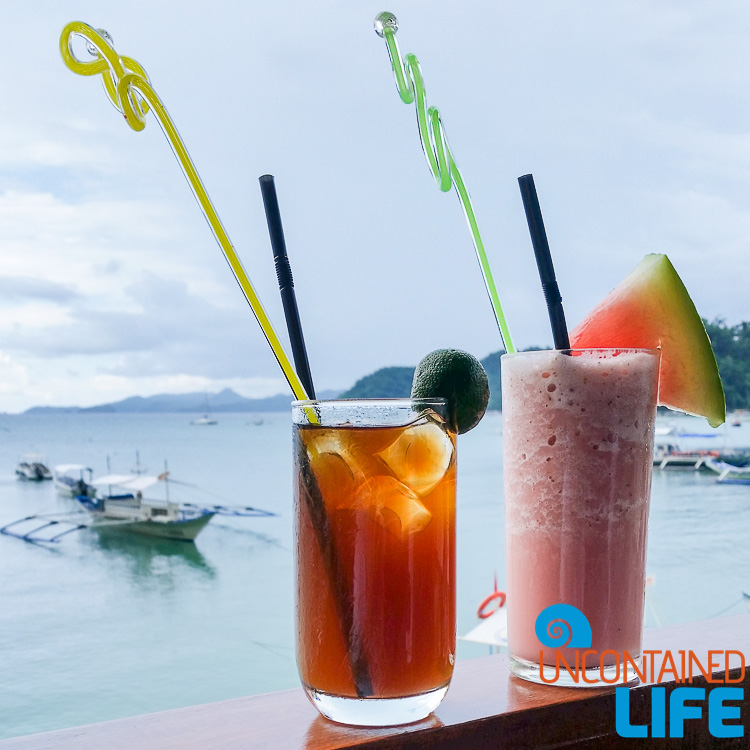 The Eats: We didn't really intend to order full meals, but the menu intrigued, so we went ahead and ordered a couple of pasta dishes: the lasagne and the linguine carbonara, as well as the garlic rosemary bread. The lasagne was good (not great), the carbonara, pretty flavorless. The real winner was the bread. Justin and I agree: while we would probably not recommend a full meal at the Mezzanine, we would absolutely come back here again for the bread.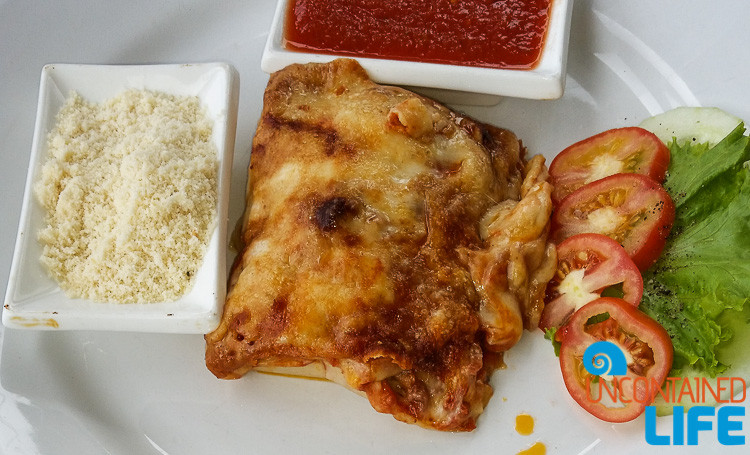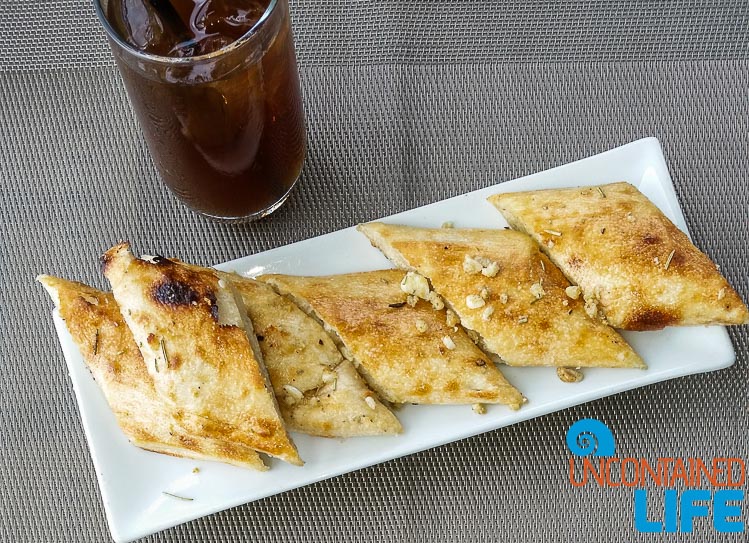 The Beach: After dinner we took a sunset stroll down El Nido beach. Because of the location of this beach (it doesn't face west) the sunset was not even in the same league as the one the night before in Carong Carong. Still, the people watching is good, and it's fun to see (and hear) the different beachfront restaurants doing their thing.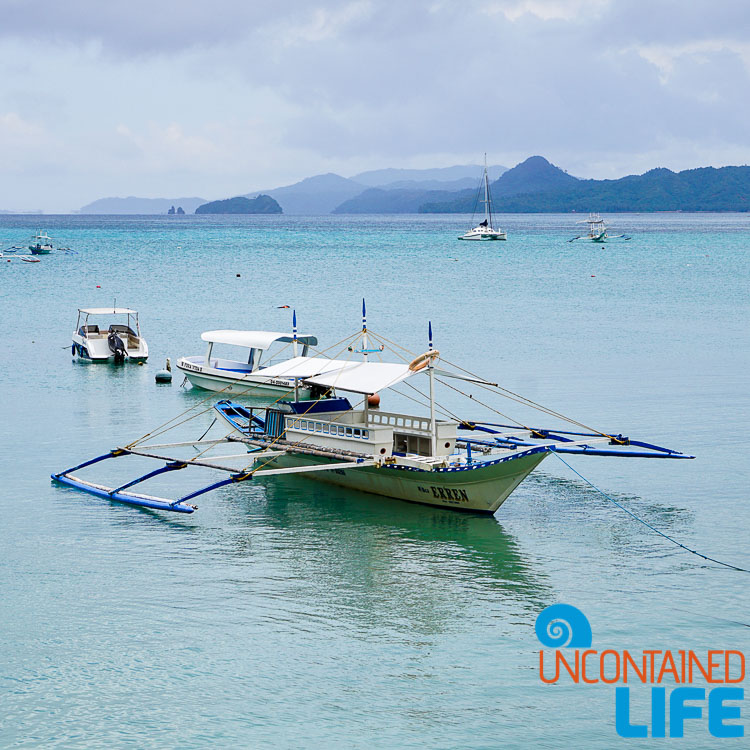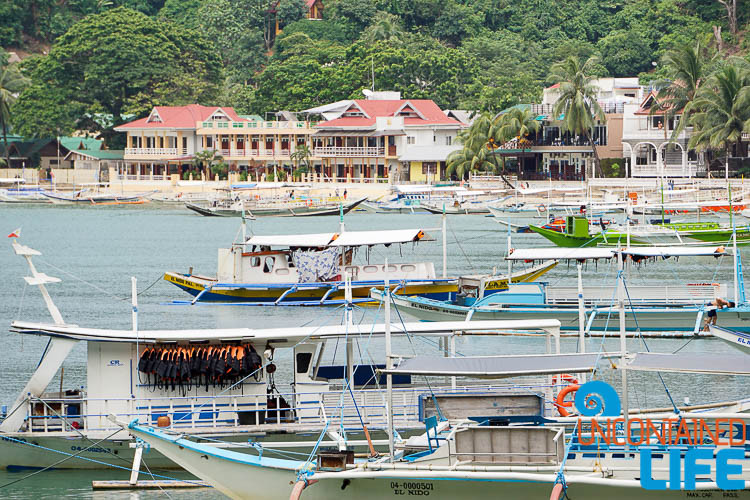 Day 3:
Happiness and Beach Bumming
After the exertions of the previous day, Justin and I decided it was high time for some serious beach bumming. But first, we needed lunch! Enter Happiness Beach Bar.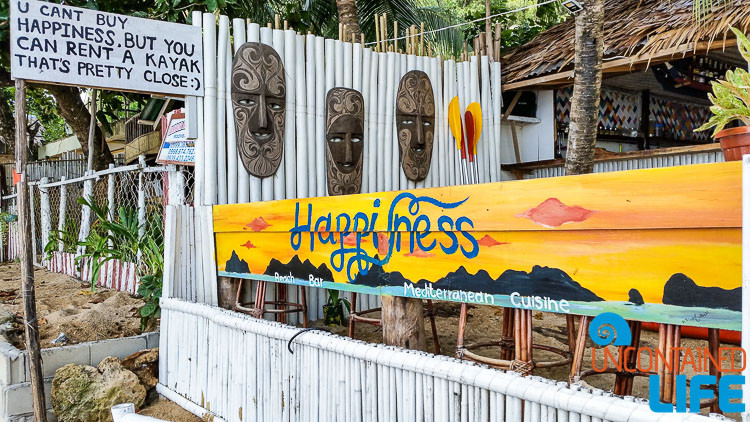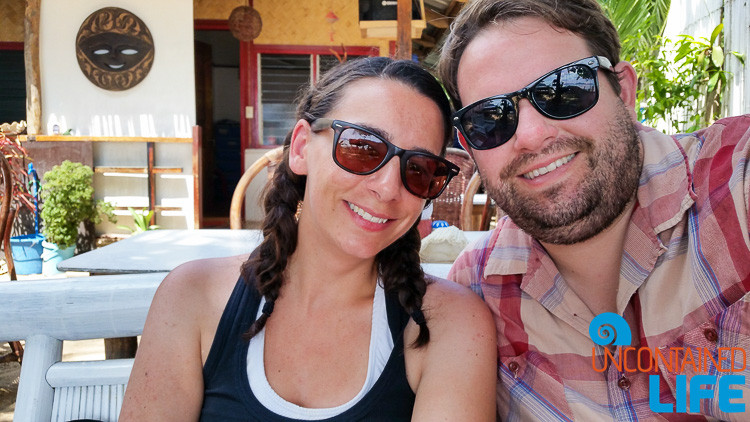 Located right on Carong Carong beach, this recently-opened Mediterranean resto-bar has fantastic atmosphere, both day and night. It is, however, a trifle hard to locate your first visit (and tricycle drivers seem not to know it yet). So, here's our advice: Start by walking or having your driver bring you to the Republica Sunset Bar. Just past Republica, you should see a sign for Happiness and a set of steep stairs leading down. Take those stairs, proceed straight through the guesthouse common area at the bottom (yes, it's kind onf awkward walking through but it's the only option), and, once you hit the beach, make a left. Keep walking about 100 feet and Happiness will appear on your left.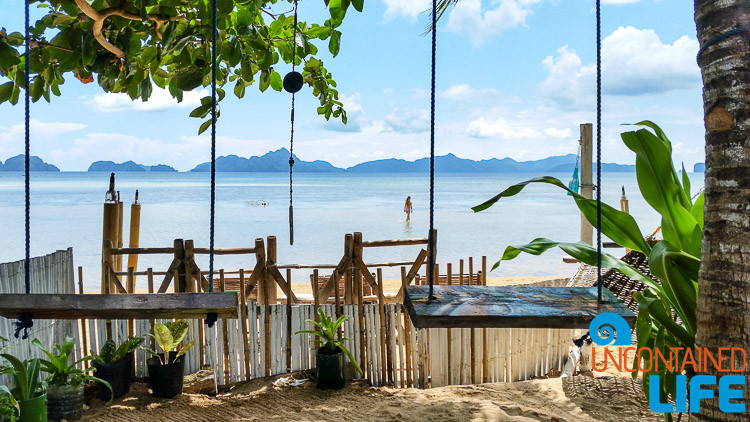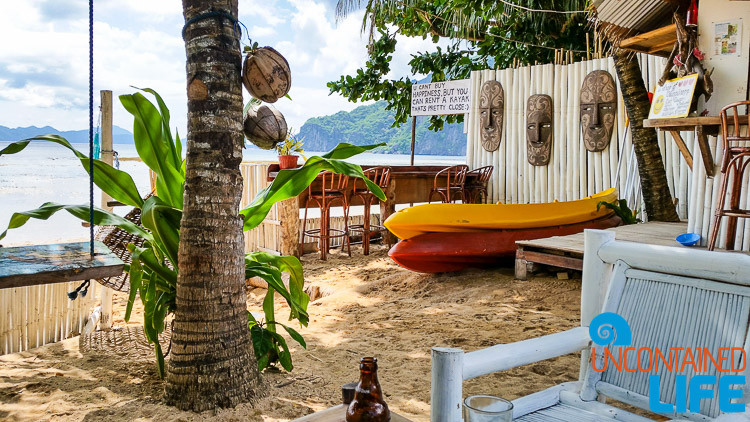 The Drinks: For the love of all that's holy, if you're going to have just one drinky drink at Happiness, try their signature mixed fruit smoothie with rum (I'll confess, I forget the exact name on the menu). It tastes like rainbows and vacation memories.
The Eats: The falafel is terrific, as are all of the dips—particularly the eggplant and hummus (one menu option gives you the chance to try all of the dips—we recommend that!) The freshly made pita bread that comes with the various dishes isn't like what you'll find at home (it's fluffy, not flat) but I promise, you won't be disappointed. The chicken curry was also quite good, but in retrospect, we probably should have tried the chef's favorite, the shakushka instead (another diner ordered it, and it looked, and smelled amazing).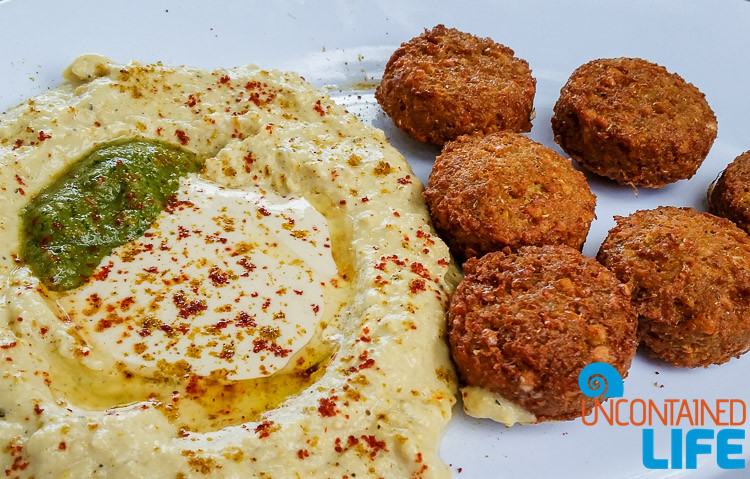 The Beach: Carong Carong Beach is great for views, less so for swimming (the tide recedes over the course of the day, so by sunset you've got to tangle with shoe-sucking mud flats if you want to reach swimmable water).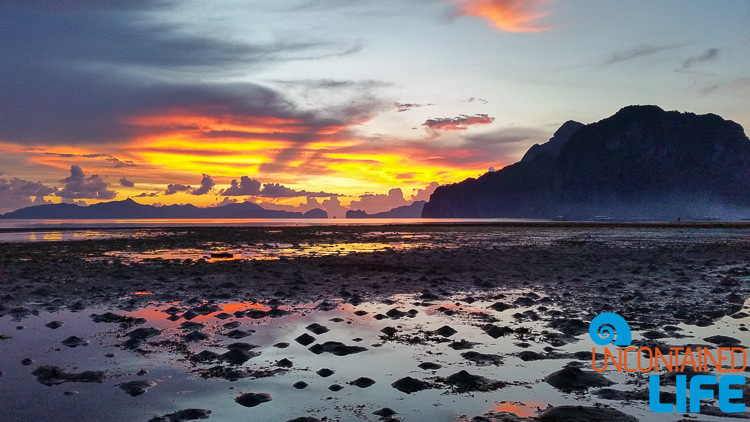 So for our actual beach time, we decided to move on down the coast to Las Cabanas Beach.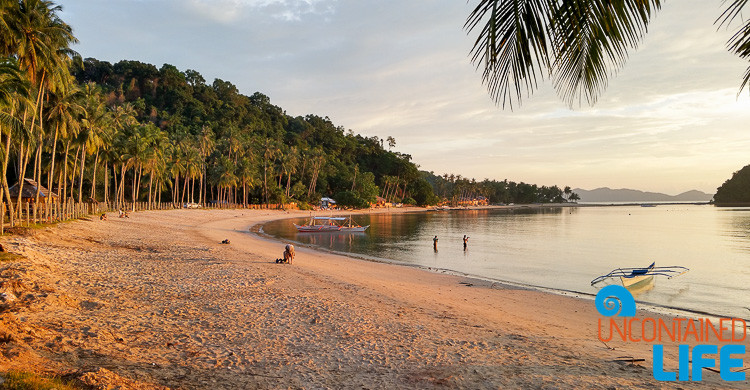 The serene section of sand at Las Cabanas tends to come in second place in the "best beach" category to the popular favorite, Nacpan Beach, but it certainly wins in terms of accessibility. While getting to Nacpan requires renting a motorbike or enduring a teeth-rattling 45 minute trike ride, getting to Las Cabanas is as easy as hiking 20 minutes from Carong Carong or a taking a short ride (5 minutes from Carong Carong, 15 from El Nido town).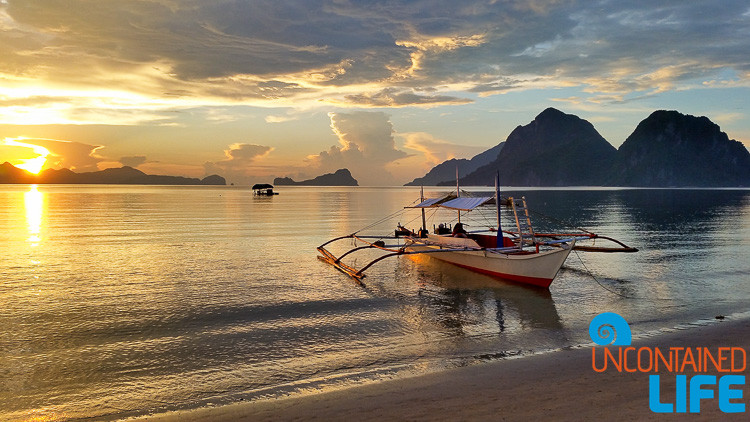 Be aware, because of its more remote location (yes, 15 minutes from town is considered remote), trike drivers DO charge a premium to take you to Las Cabanas (usually 300 pesos for two persons, round-trip). When a round-trip fee is agreed upon this means your driver will wait for you for as long as you choose to remain at the beach. All this to say, if you're coming from El Nido town, that's a pretty good deal. If you're coming from Carong Carong, however, the value of this kind of deal decreases. If you're staying in Carong Carong, we suggest negotiating each leg of the trip separately (we got to Las Cabanas for 60 pesos and home after sunset for 80).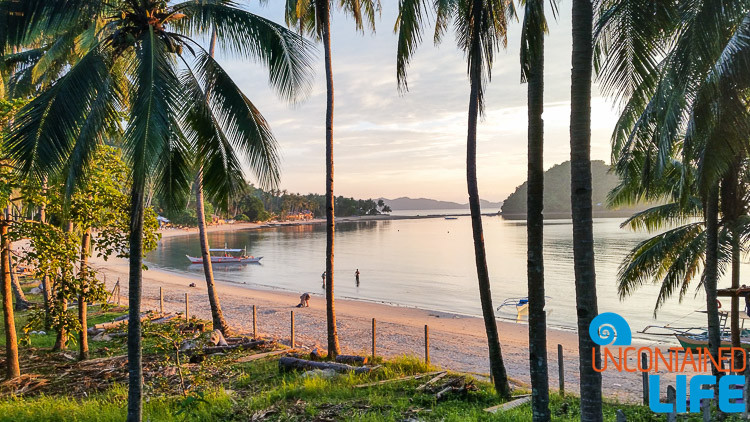 The Sunset: Sunsets viewed from Las Cabanas are legendary—even better than the views from Carong Carong (and that's saying something). Once again, I'll let you be the final judge: does Las Cabanas bring it at sunset, or no?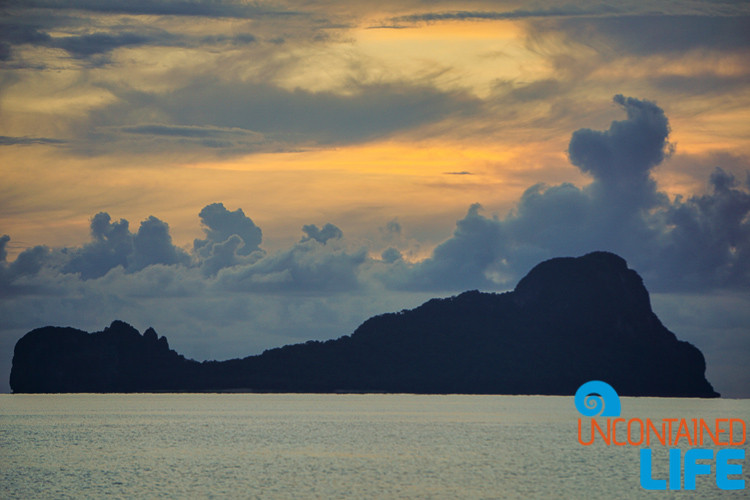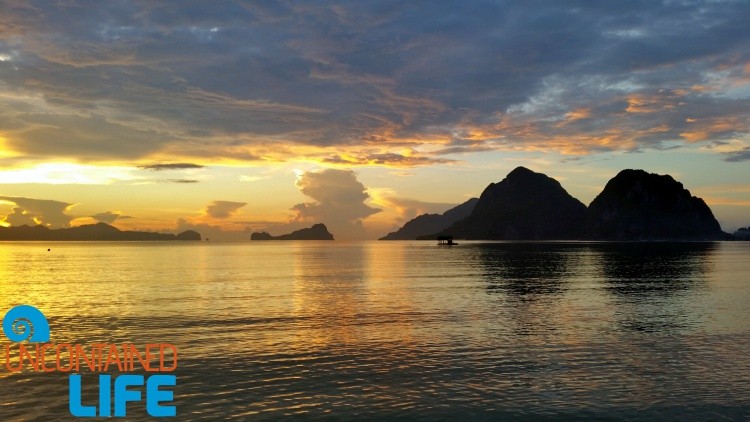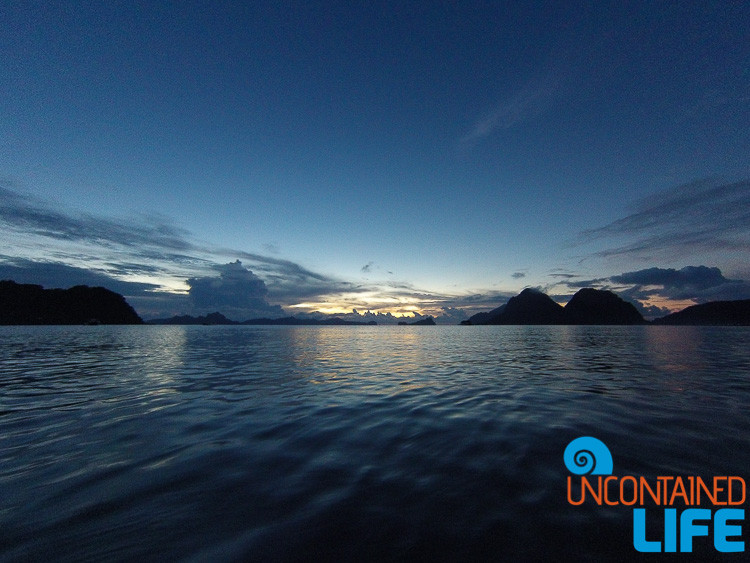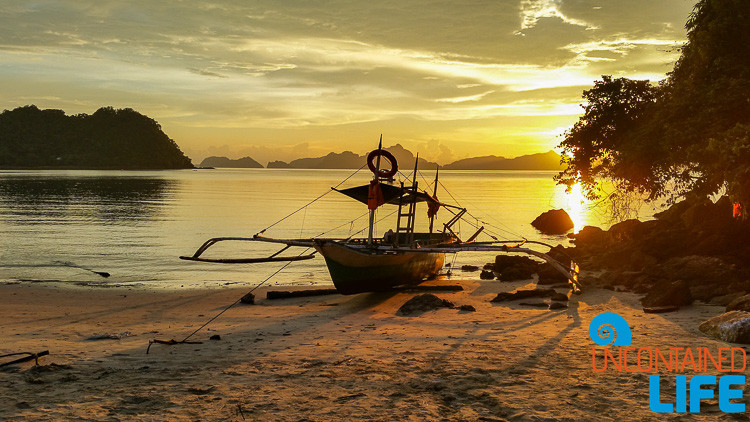 Hungry after watching nature kick some ass? Do not hurt either your wallet or your taste buds by buying food from the only outlet at Las Cabanas, The Beach Shack. Instead, get ye back to town and over to the Art Cafe.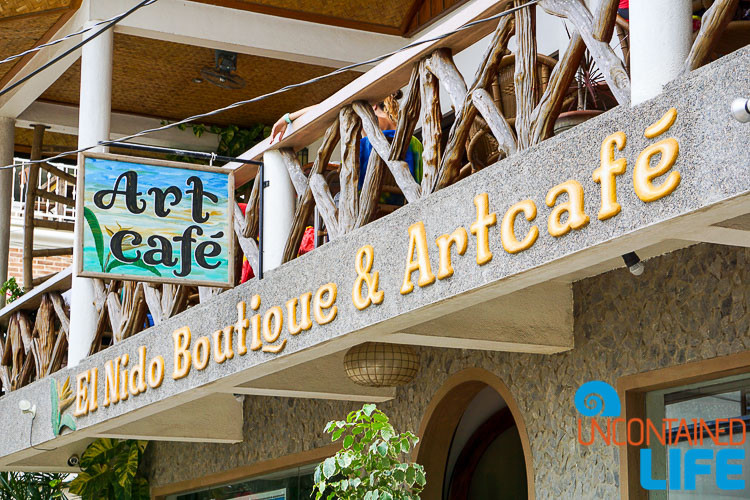 During our time in El Nido the Art Cafe served as our office for a number of reasons: 1) good coffee, 2) back-up generator that ensured it had power even when the rest of El Nido was out (which happens on the regular), 3) an excellent-value menu which has many, many more hits than misses.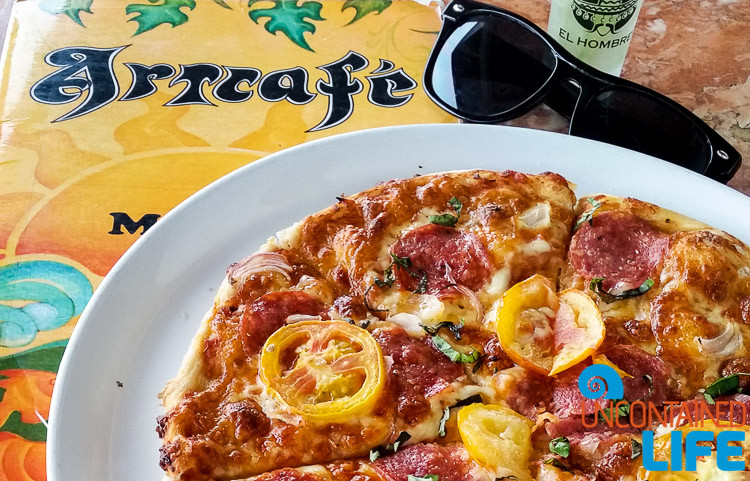 Justin's favorite: the salami pizza; my favorite: it's a toss up between the veggie pizza and the tomato pesto pasta (you can add chicken to both dishes). They also have great desserts that will have you making highly embarrassing "yummy" noises with each bite (just accept it and enjoy).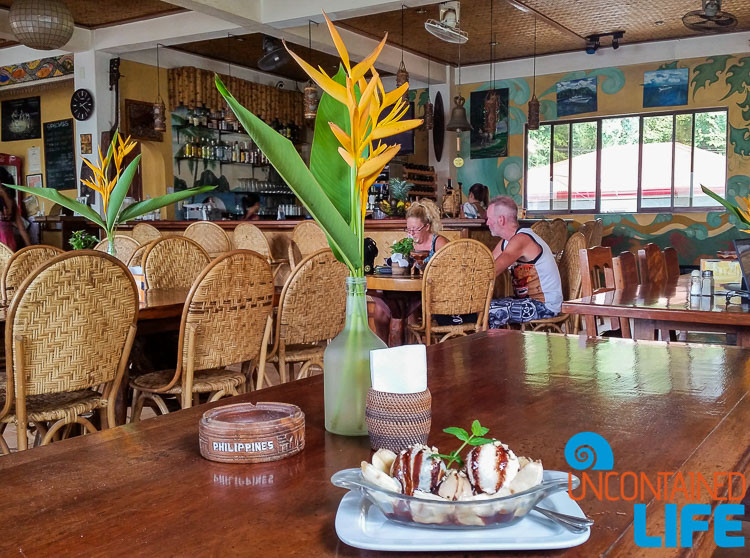 Day 4:
El Nido Town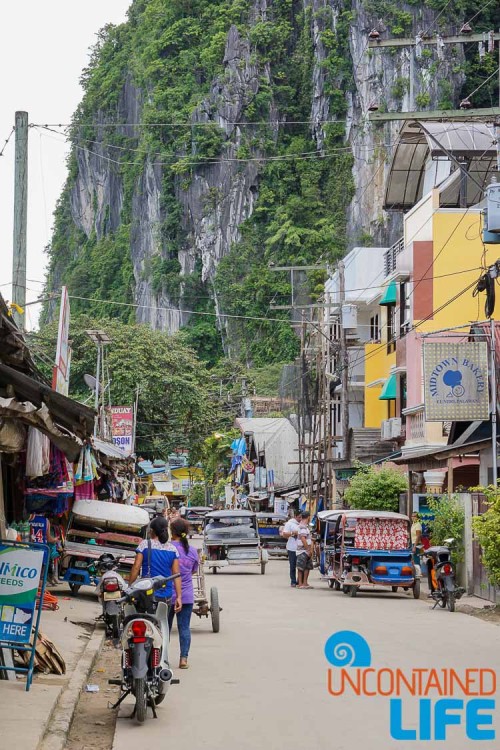 If this is your last day in El Nido…well, I'm sorry. But buck up little camper! You still have a couple of hours before your bus, so you have some time to explore El Nido town a bit more. If you're ok with a bit of walking, we suggest starting in Carong Carong town, specifically, at the market, and walking to El Nido town from there.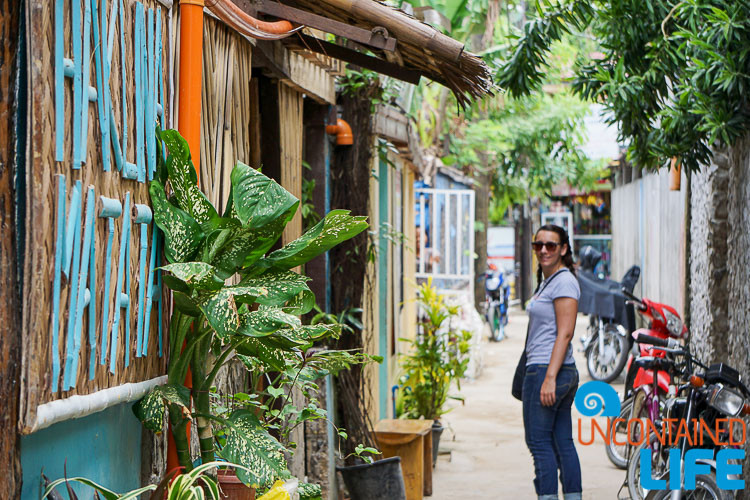 The market itself won't blow your socks off, but if you're interested in seeing where much of the food you've been eating these past few days is sold, it's worth a quick look.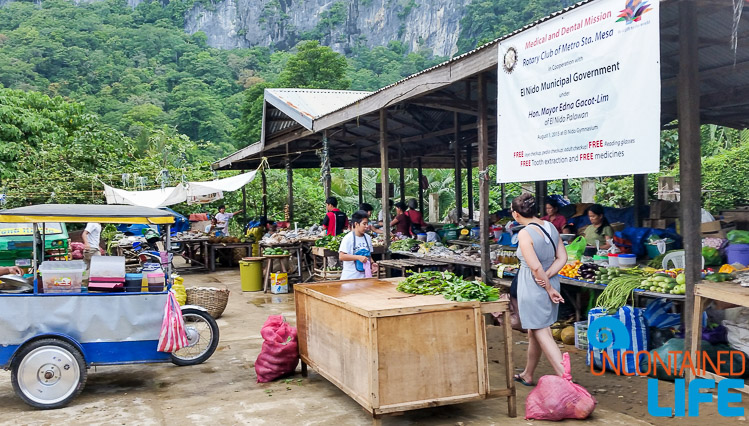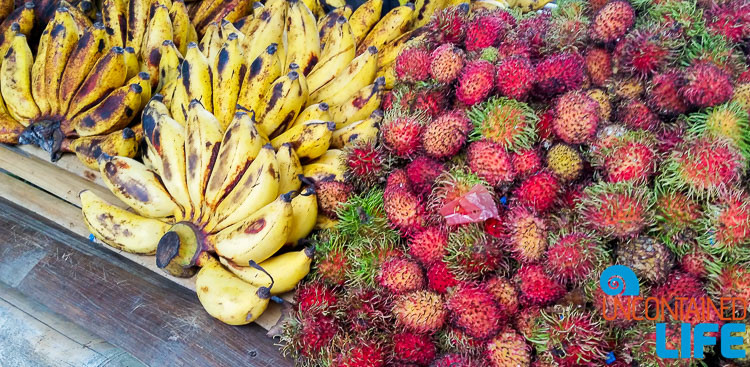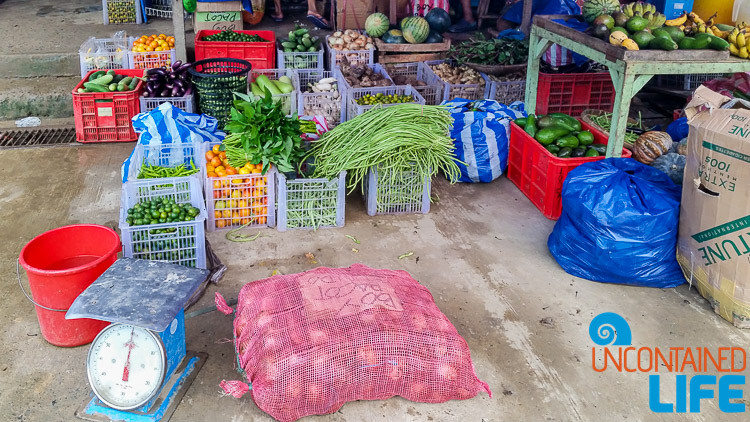 Walking from Carong Carong town in the direction of El Nido, you'll not only have a chance to see how local people live (if you run into any school children be prepared for a lot of waving, "hello-ing" and general interest in your being there), but also to truly appreciate the gorgeous limestone cliffs framing the road.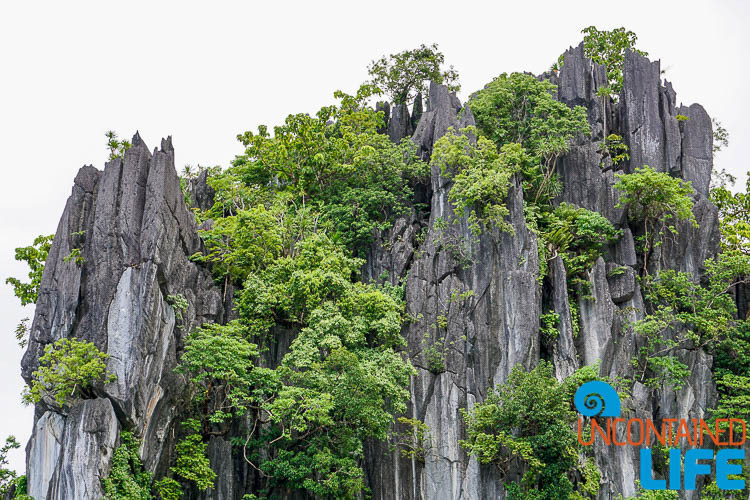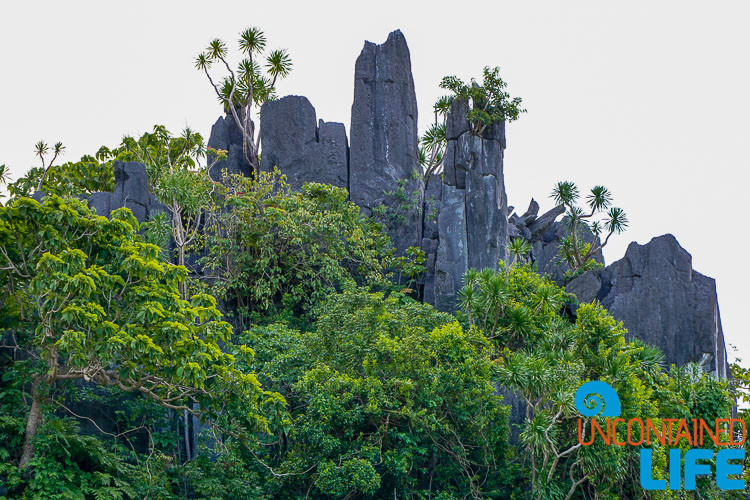 Once in El Nido town, wander freely.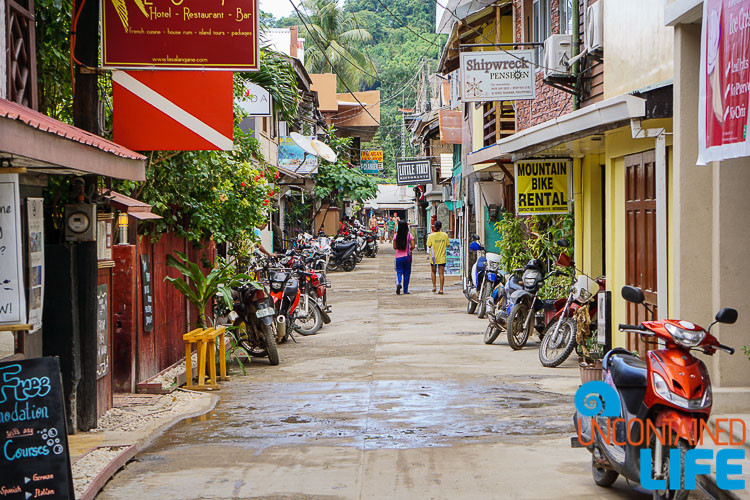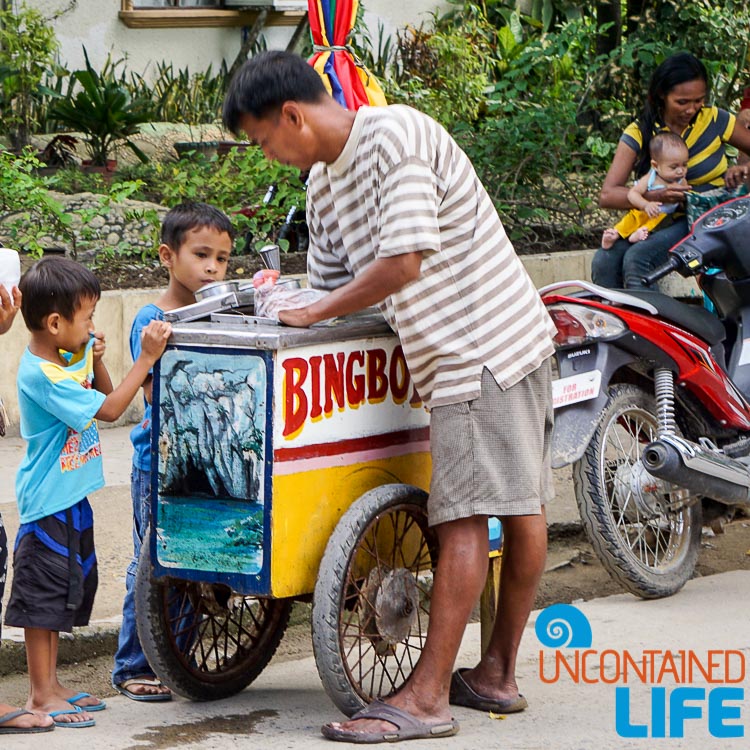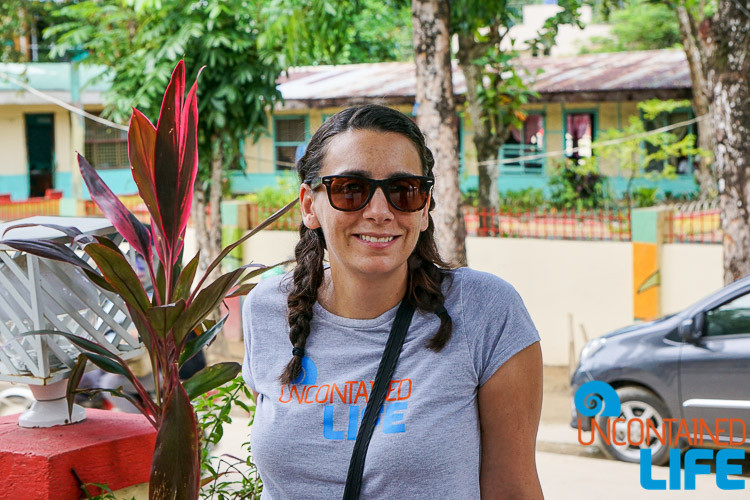 There's lots to see, to taste (check out the crepes at Belle Ile, or grab a cheap bite at local favorites, Silog Republic or Kaptain's Diner).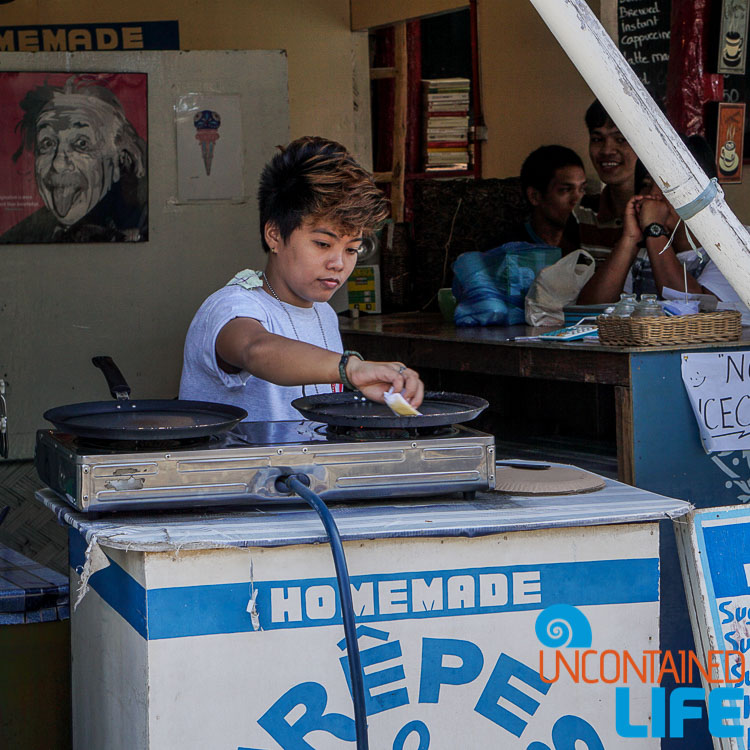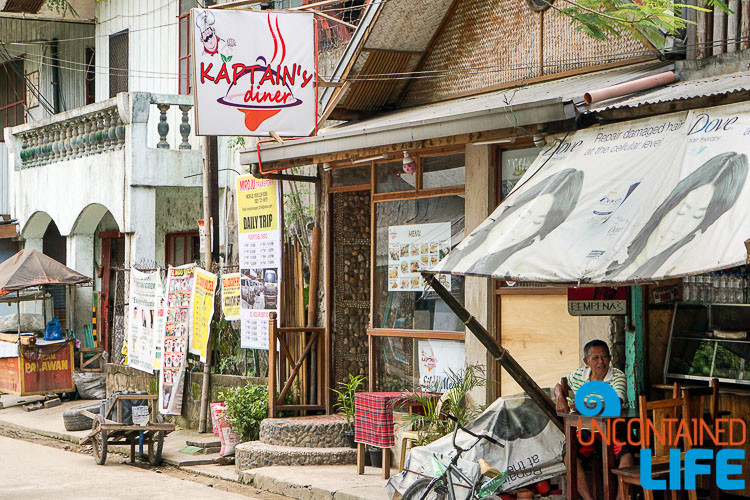 There are also plenty of inexpensive items to buy if you're so inclined.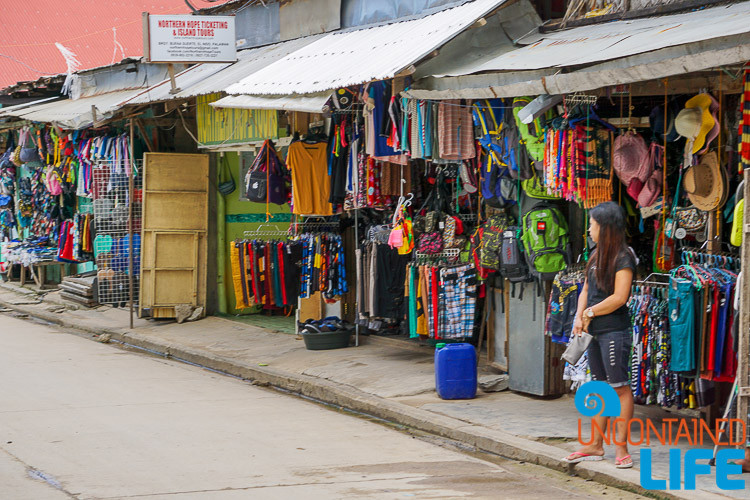 If you just can't keep away from the water, you can also rent a kayak for an hour or two from the Art Cafe.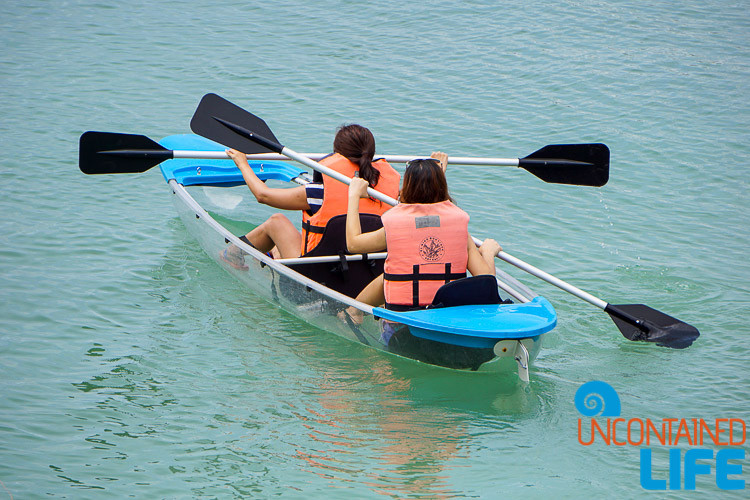 Then, when it's time (and not a minute before!) grab your bags and head back to the bus station. Yes, you're leaving El Nido, but there's still lots to discover on Palawan—check over here for some of our suggestions for what to do in Puerto Princesa, or, if you're looking for something truly unique and a bit more off the beaten track, read about our time in the village of Langogan!
Have you visited El Nido? Share your stories and recommendations in the comments section!
Are you on Pinterest? Share this post!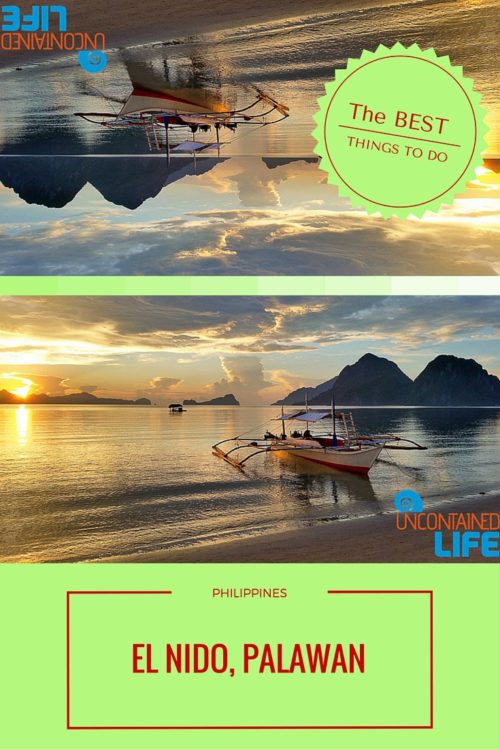 ---
Visitor Tips for El Nido:
Currency:

 

In El Nido, you'll be using the Philippine Peso. ($1 USD = approx. 46 pesos). 
—Important Note! There are no, I repeat NO ATMs accessible to non-locals in El Nido. Bring enough cash for your entire trip or be prepared to wire extra cash to yourself using Xero.
–To El Nido: There are three main options to get to El Nido from Puerto Princesa (and back again):
1) renting your own vehicle;
2) taking the Cherry or Roro Bus (air con and non-air con both available);
3) taking a van
We recommend option 2 as the best for most travelers.  Given the mixed state of the roads between Puerto and El Nido, and the unique driving "style" popular in Palawan (I.E. anything goes), we only suggest option 1 if you're a very experienced and persevering sort of rider/ driver. Option 3 will probably get you to El Nido in the best time, but vans tend to be cramped and expensive (not to mention, reckless driving is a major problem amongst van drivers). The buses are a little slower (since they do make stops along the way to pick up and drop off passengers) but they are less expensive (Air con Cherry Buses, which tend to be newer and in better condition than Roro, cost 450 pesos/pax), offer greater comfort, include free wifi (air con buses only), and are considerably safer than the vans in the case of an accident (which do happen with an unfortunate degree of regularity along this route).
–Around El Nido: TukTuks abound and can take you anywhere you want to go. Be sure to negotiate with drivers to obtain a fair rate. Also, always confirm the quoted price is for your ENTIRE party, not per person before your ride begins. 
–Dorm: Backpacker favorite Our Melting Pot Hostel is the perfect option for those looking for an inexpensive dorm bed (a couple of very basic private rooms are also available) right in the middle of town. You won't find R&R here, but if you're socially-minded, you'll have great fun. Check prices on Agoda.com to save 50% or more! 
–Budget: For a bit of peace and quiet without the high prices, we definitely recommend St. John's Island View Pension in Carong Carong. Rooms aren't fancy, but they are clean, comfortable, and come with a nice basic breakfast each morning. Plus, the hotel is right around the corner from Republica Sunset Bar (who can ask for anything more?) Check your travel dates on Agoda.com to save up to 50%!  
–Mid-range: Last Frontier Beach Resort is a newer, beach-front hotel in Carong Carong which features six spacious private bungalows at good prices. Staff are excellent and a simple, but delicious breakfast is included with your room (you can order additional items a la carte if you have a big appetite). Check prices now at Agoda.com and save 25% or more!
–Luxe: For those looking for a romantic getaway, Vellago Resort on Seven Commando Beach is waiting for you! With just four beautiful rooms–each of which comes with a spacious ocean-view balcony–and a delicious breakfast (which you can eat, on your balcony!) you'll really be feeling the island bliss. Check your dates at Agoda.com and save 60% or more!
Other Tips: Depending on where you are staying in town, the power may be turned off between 6am-2pm. Even if your hotel opts not to do this, power outages are a common occurrences in El Nido and can last, at worst, for days at a time (usually, however, outages are just for a few hours). If you need power 24/7, make sure your accommodation has its own back-up generator (and is willing to use it!) or plan to spend the day at one the very small handful of places in town that does.