5 Easy Ways to Save Money on Food While Traveling
Food is one of the top reasons that Justin and I enjoy traveling. But depending on the destination, the cost of eating well can add up quickly. Still, it is possible to satisfy your palate AND your budget. Here are some of the ways that we save money on food while traveling, and you can too!  
1. Choose Accommodation with a Kitchen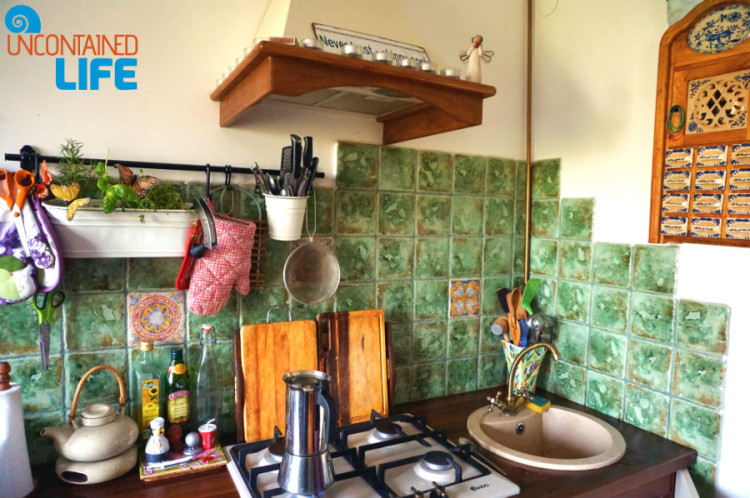 Whether it's a hostel or apartment rental, choosing accommodation that gives you access to a kitchen is an easy way to save money on food while traveling. Plus, the option to cook gives you unique opportunities to enjoy your destination's cuisine. In fact, what started simply as a smart spending decision has become one of Justin's and my favorite ways to get an insider look at the local culture when we travel.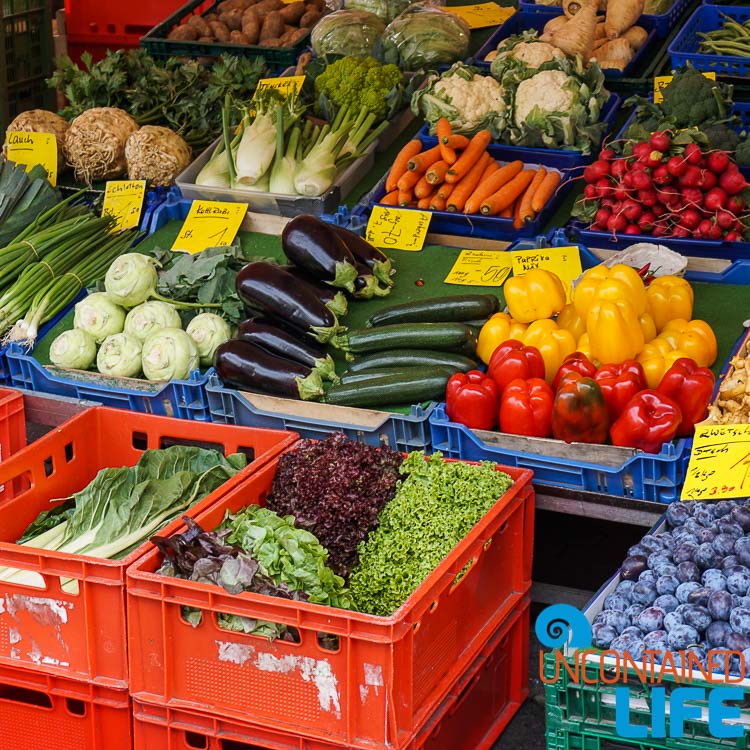 When you buy your breakfast from the local bakery or your dinner ingredients from the local the farmer's market, you're not only getting a chance to interact with locals, but also, a much wider array of eating and drinking options.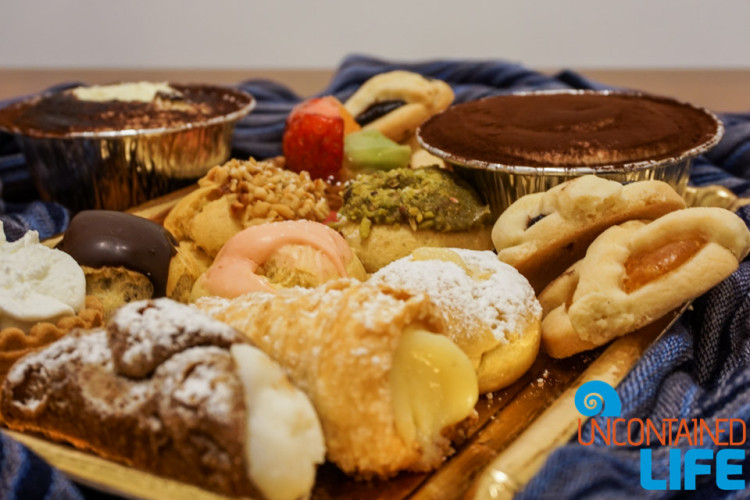 Case in point: the time we bought one of every possible mini tart and pastry available at our local bakery in Rome. Trust us, no restaurant menu in the area offered half the variety of sugary goodness (or low prices) that one little bakery did!  
2. Splurge at Lunch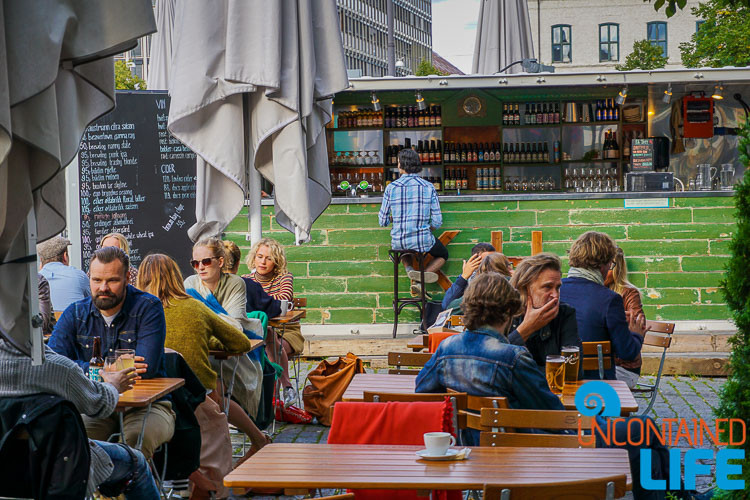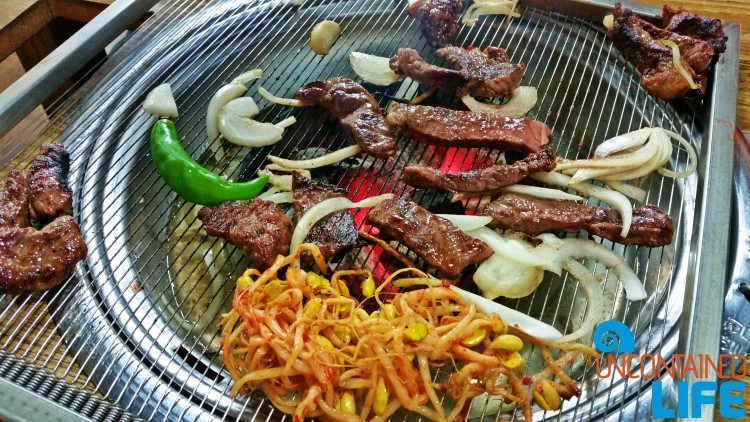 Affordable prix-fixe, buffet, and discount lunch menus abound all around the world: why not take advantage? Some of the nicest meals we've had on our travels have happened because of lunch discounts: the Commander's Palace in New Orleans, for example; we'd never have been able to afford the dinner prices at this top-notch establishment, but the prix-fixe menu at lunchtime (plus the 25 cent martinis–available only at lunch!) allowed us to enjoy the same food for less.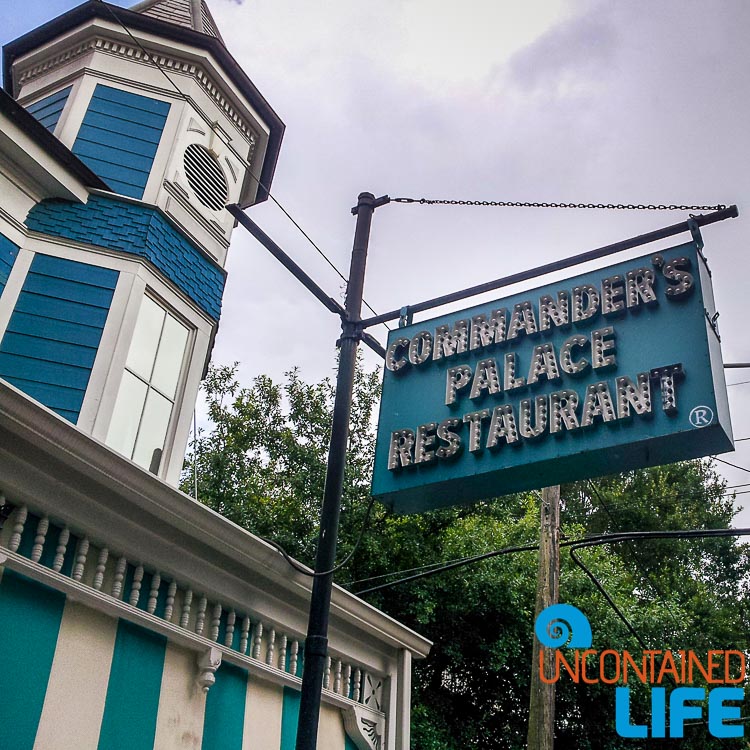 For even more savings, check for special discounts being offered in your destination by restaurant booking sites such as TheFork.com (across Europe) and LunchaLot.com (in Sydney, Australia).
3. Get Off the Beaten Path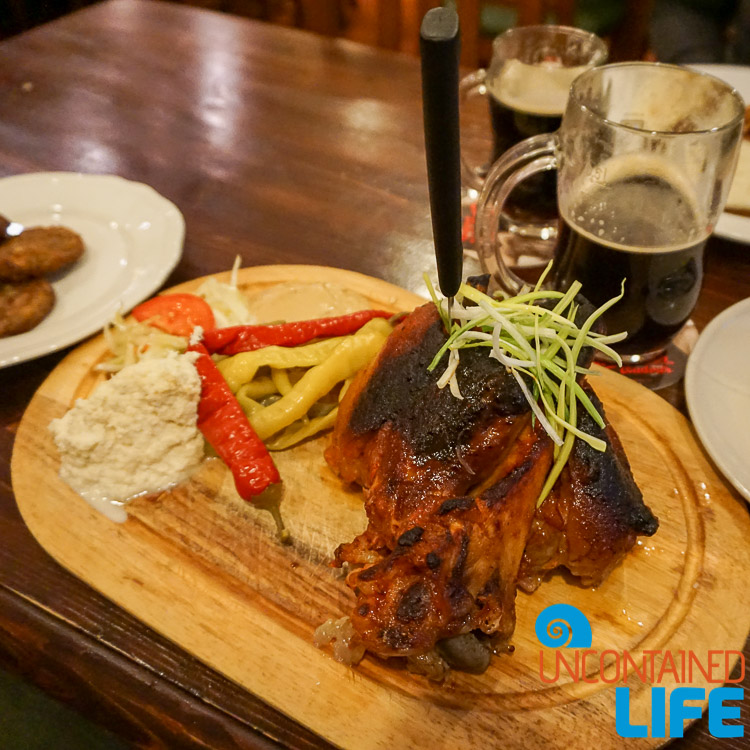 When it comes to eating well on a budget when traveling, it's all about location. Basic rule of thumb: where there are fewer tourists, there are more affordable prices. Heck, even in a cheap food haven like Bangkok, you can cut your food costs in half if you're just willing to  move away from the visitor crowds (if you like street food, try Tha Din Daeng Road!)
Headed to a vacation hotspot like Rome, or a notoriously expensive city like Oslo? Don't despair–oftentimes just getting a little off of the beaten path can make all the difference in finding affordable fare.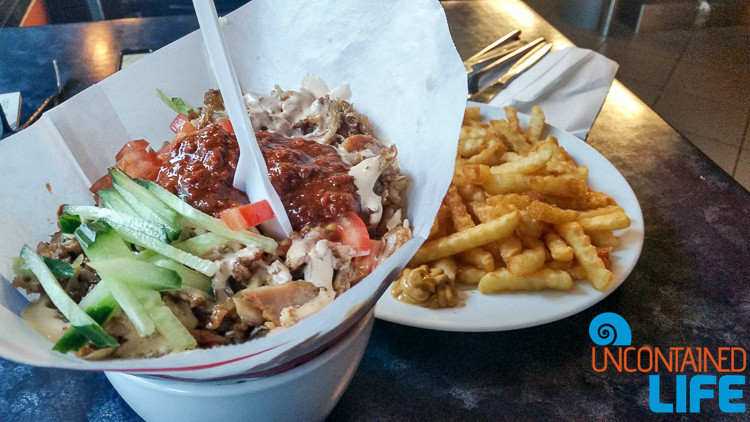 Explore your destination's immigrant neighborhoods and university areas. Take a chance on a place that doesn't have an English-language menu posted. Keep your eyes peeled for local crowds (particularly when they are of younger people): when the locals are lining up, you're usually in for a treat.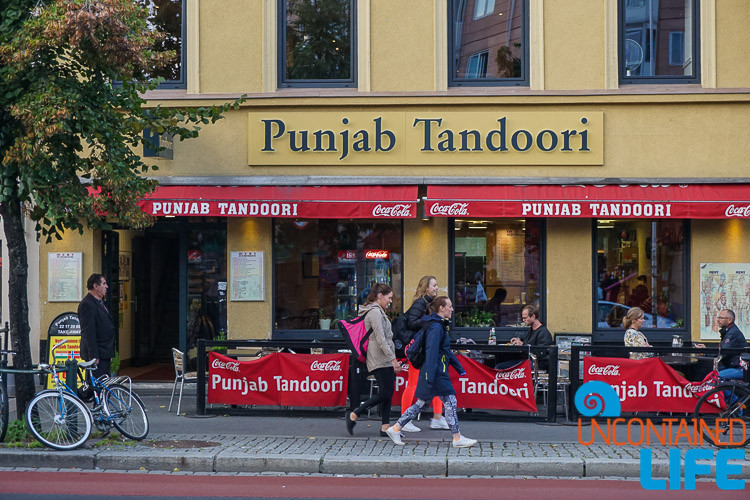 4. Eat the Street Food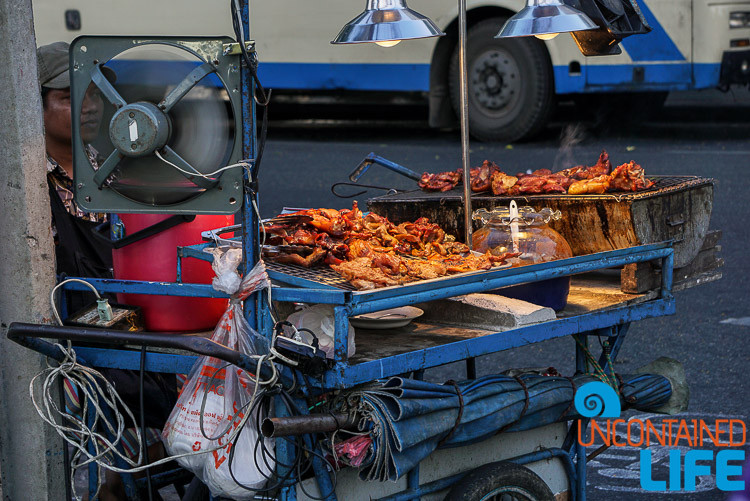 Grabbing a bite from a street food stand isn't very common in the USA* (except in major cities like New York), but in Asia, Southeast Asia, and many European destinations, street food is very prevalent and extremely delicious.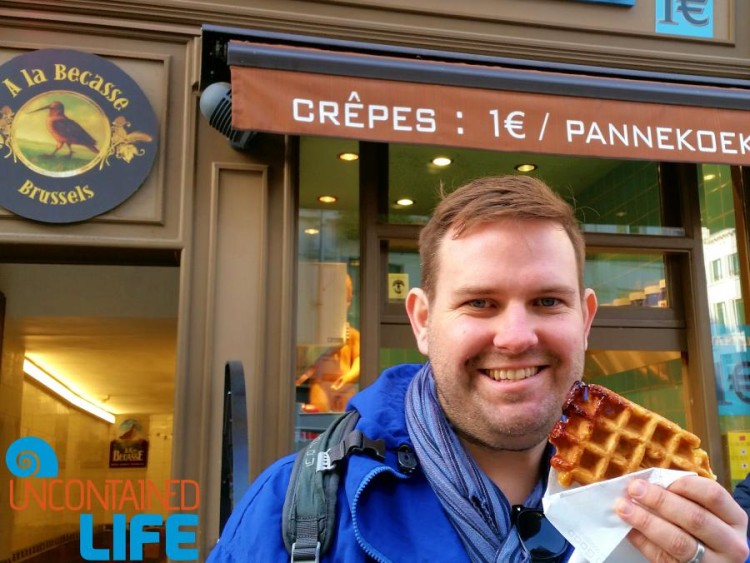 Justin and I have enjoyed martabak manis in Indonesia, various varieties of sausage in Central Europe, fries and waffles in Belgium, meats and seafood on sticks in China, Gimbap in South Korea, and Ćevapi sandwiches in the Balkans. And, of course, all this amazing eating came at a fraction of the cost of restaurant fare: win win!
*Though we do rock the food truck scene in the USA! (Check out the great bites we had in Austin, TX here.)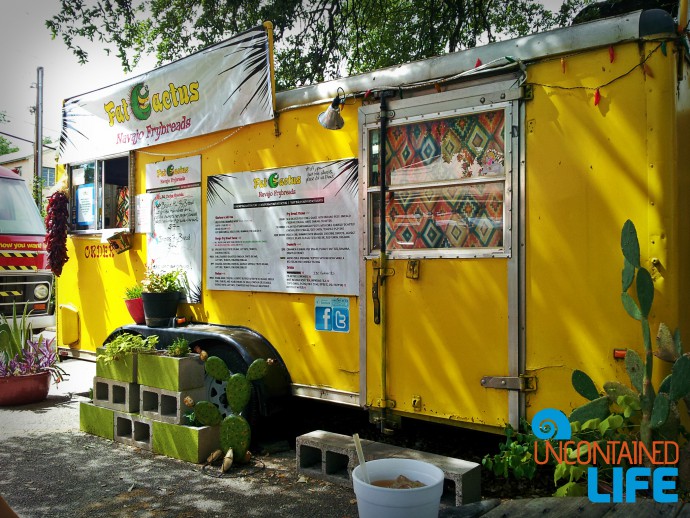 5. Pack a Picnic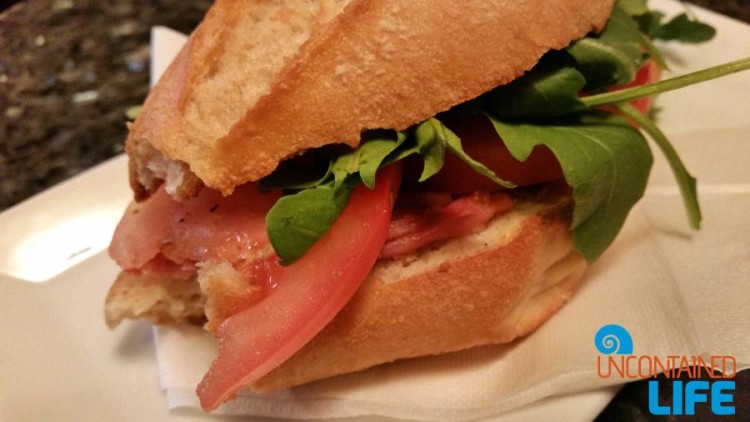 Nothing can spoil a day trip to see a major attraction like the overpriced, under-flavored food that's typically available around famous sights. I'll never forget going on a tour of France's Loire Valley and being forced to choose between buying a terrible sandwich at a gift shop cafe–the only even remotely affordable option–or going hungry.
The same logic applies to travel days:why shell out major bucks on bad-tasting plane (or airport), train (or train station) food? Moving from point A to point B in any new place can be stressful enough–make the situation better by making sure you'll eat well.
How do you save money on food while traveling? Share you tips in the comments section!
Are you on Pinterest? Pin this post!