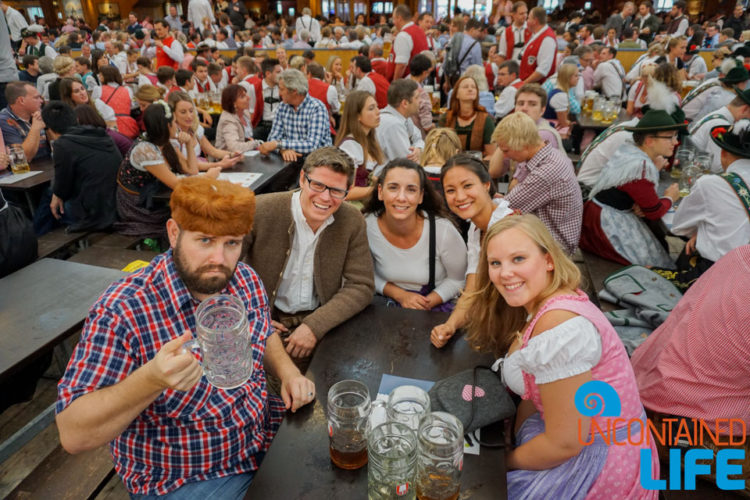 Planning a visit to Munich's most famous beer festival? Uncontained Life's here to help! Justin and I got to celebrate Oktoberfest last year with some local German friends (who we met during our Slum Tour in Jakarta).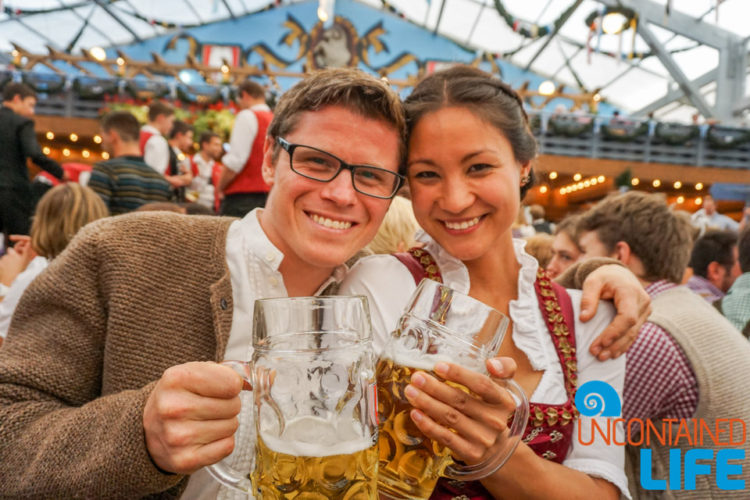 These folks shared their best tips for how to celebrate Oktoberfest like a local with us…and now we're passing that wisdom along to all of you!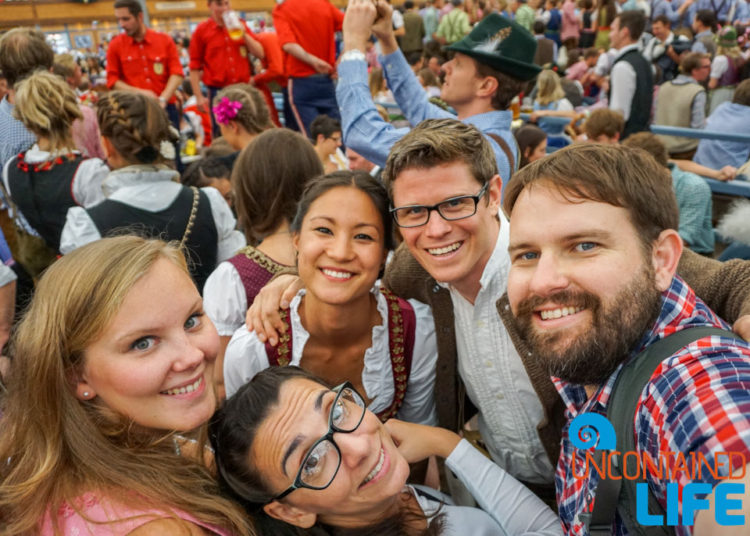 Part 1: Practical Details
Dates and Hours
Oktoberfest–which locals refer to as the "Wiesn"–begins September 17 and runs through October 3 in 2016.
Beer Tent Hours: 10am-10:30pm on weekdays, and 9am-11:30pm on weekends. NOTE: the last beer is served an hour before closing (I.E. 10:30pm).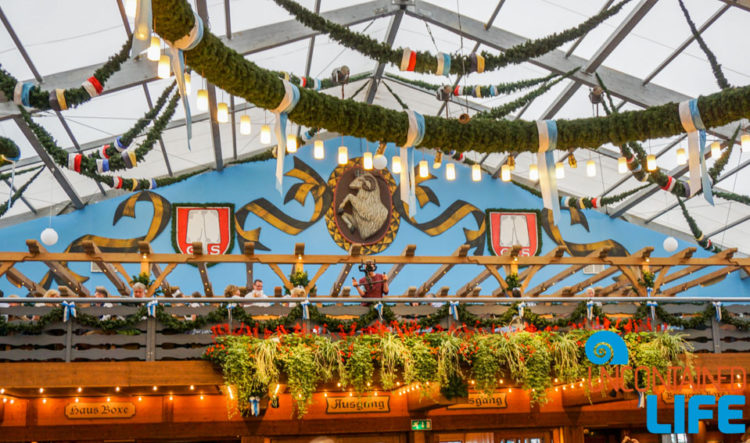 Stalls and Fairground Hours: 10am-11:30pm M-Th, 10am-midnight on Fri., 9am-midnight on Sat., and 9am -11:30pm on Sun.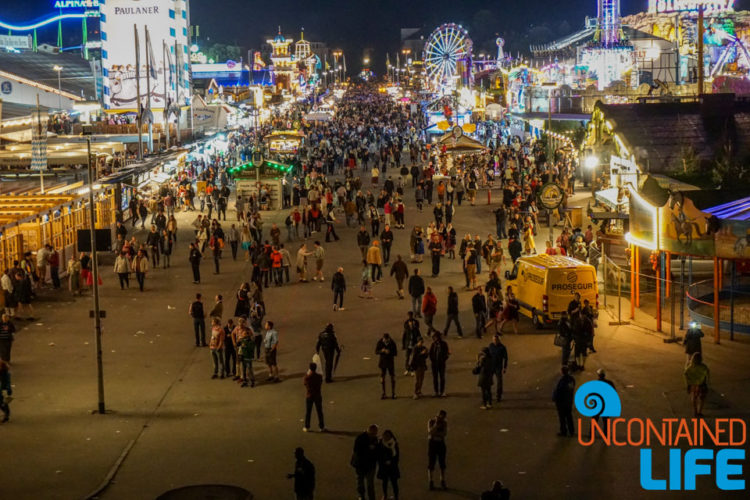 Costs
The good news: the Oktoberfest grounds themselves, and entrance to the beer tents are free!
The bad news: food, drink, and souvenirs can be pricy. How pricy? Beers typically cost 11 Euro. Food like the quarter roasted chicken costs around 15 Euro. Snacks such as giant pretzels cost 5 Euro. Add in transport to and from the festival, a souvenir, and/or fair activities and you can easily spend around 50 Euros per person per day at Oktoberfest.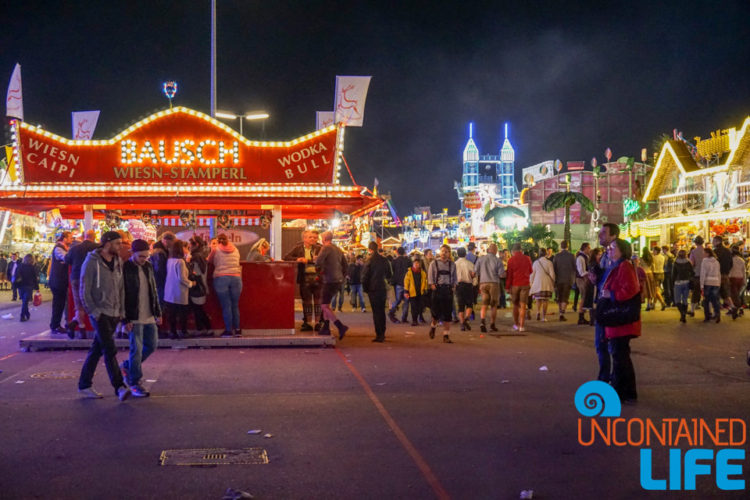 Getting There
If you're driving your own car (as we were when we visited Munich), your best bet is to leave it at one of the many parking lots around the edges of the city and take the S-Bahn into town.
If you're staying in the city proper, you can take the metro (I.E. the U-Bahn) to the festival grounds. Taxis will also get you there, but traffic can be an issue, and, obviously, you'll pay far more.
Getting In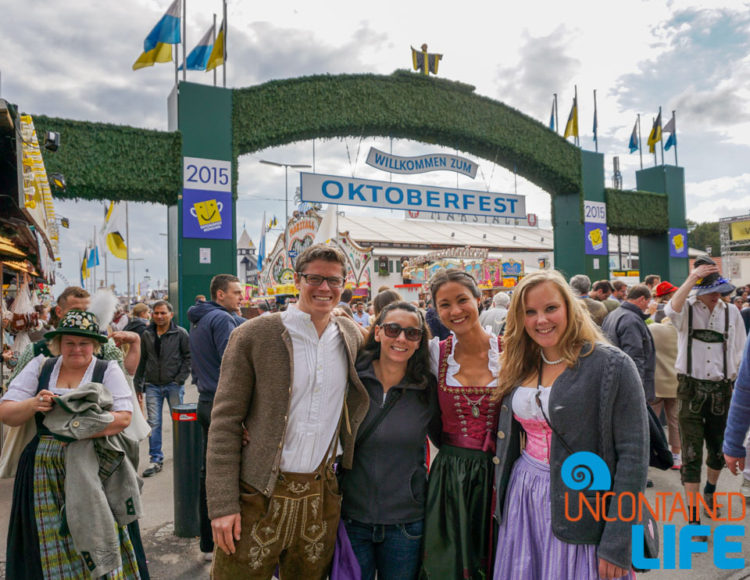 This year, due to security concerns, the festival grounds themselves will be full enclosed, and visitors will need to pass through security checks at one of the nine entrances to the grounds. In the event that the festival gets too crowded on any given day, police will close the entrances to all except those with reservations.
Weekdays really are the best choice for most Oktoberfest visitors: if you want to guarantee you'll get a seat in the beer tents, your best bet is to arrive in the morning. That said, locals will start showing up around 3pm–and that's when the tent atmosphere really gets fun. (Plus, I don't know about you, but getting drunk first thing in the morning isn't really my jam.)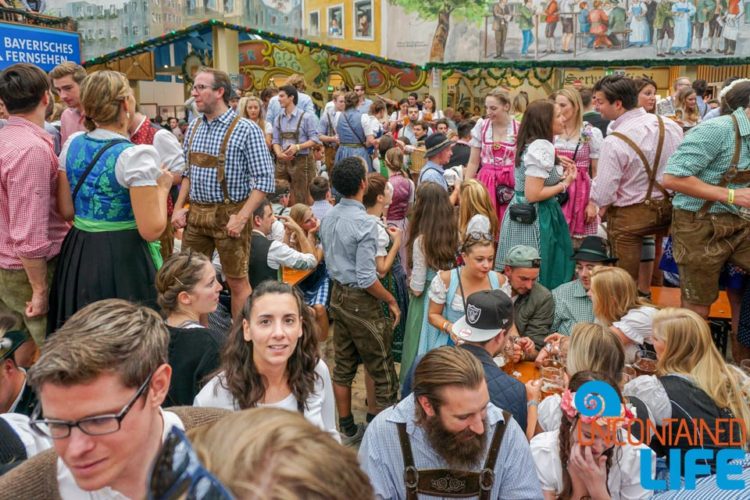 If you do choose to celebrate Oktoberfest on the weekend, be aware that the 2nd weekend is particularly packed out due to an influx of Italian tourists who arrive in droves, unfailingly, on the 2nd weekend each year.
Finding a Seat in the Tents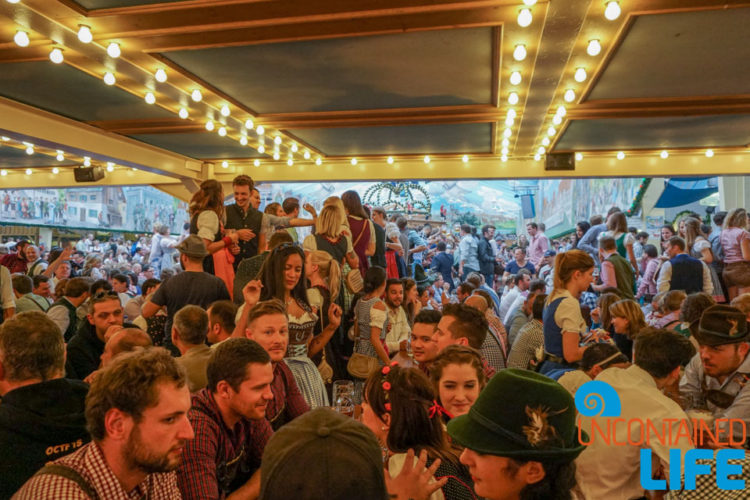 All beer tents have a mixture of reserved and unreserved tables. (Reserved tables will be clearly marked with signs.) Unless you're very lucky, or arrive very early, finding a seat will take some time, plus a bit of luck.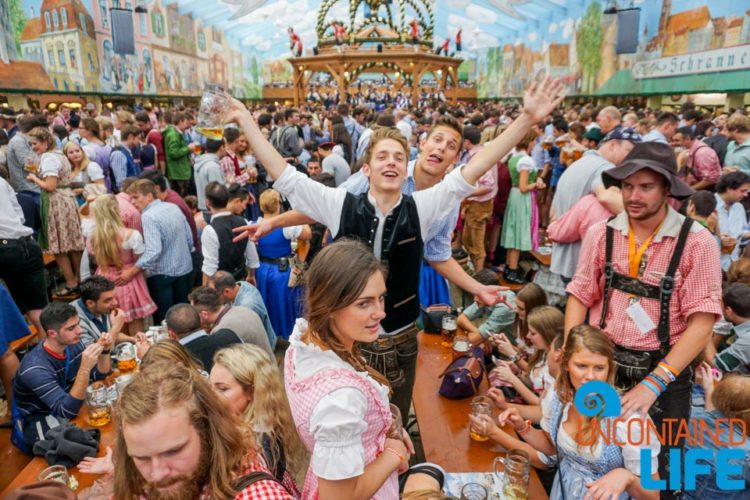 The tried and true way to get a seat: keep your eyes peeled for friendly-looking folks who have some room at their table, and then ask, politely, if you can join them. Most Germans speak English, but if you want to ask about sharing a table in German (which we definitely encourage!), fire up your iTranslate app, listen to the nice lady say the phrase, and give it a try yourself!
Making wiesenbekanntschaft (I.E. making Oktoberfest friends) is a key part of celebrating Oktoberfest like a local.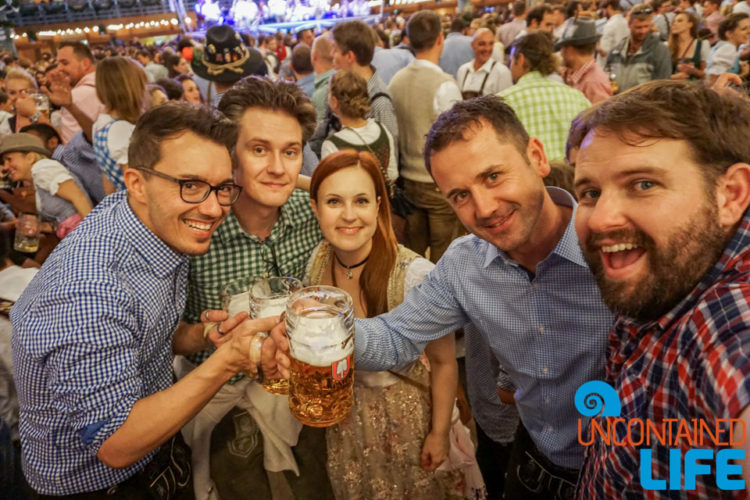 Our friends also outlined two other, slightly sneakier approaches to getting a seat if a tent is particularly crowded:
1. Let the ladies lead the charge: beer-happy fellows will often agree to table-sharing if it's a pretty girl doing the asking. And if the rest of your group comes and joins after, well…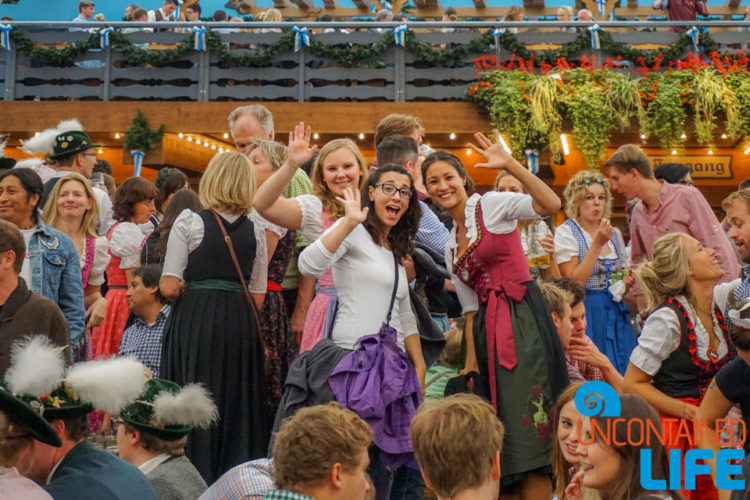 2. Let the bouncers do the dirty work: technically, if someone is falling-down drunk (or asleep) at a table, security should escort them out. If you spot folks who appear to be down-and-out, you can point them out to the bouncers, and if they decide to act, you can unobtrusively snag those seats.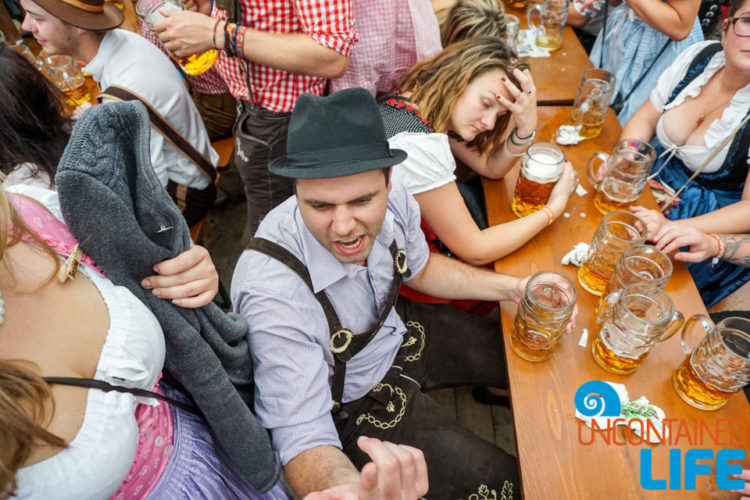 Place Your Order
All food and beer should be ordered from the waitstaff if you're at a table. (If you're standing, order from the windows by the kitchen.)
Do NOT touch wait-staff to get their attention; wave, and someone will come to you. And be sure to be polite to these hardworking folks–the servers have no qualms about getting bouncers to eject rude guests.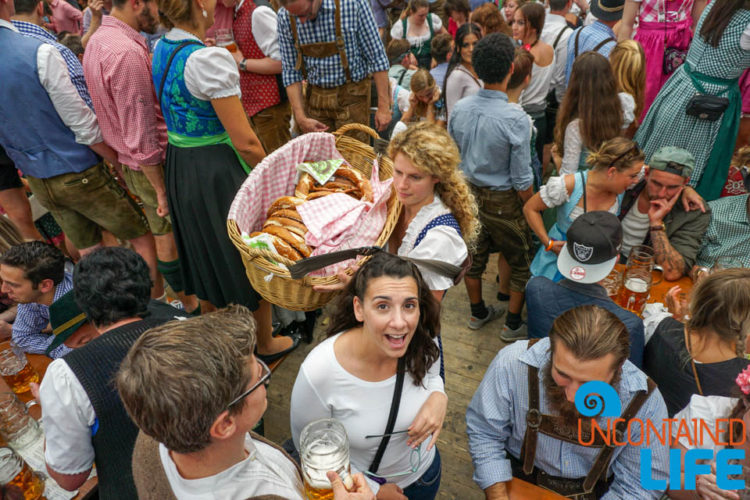 Beers are served by the "mass" (not by the stein)–so, that's what to ask for.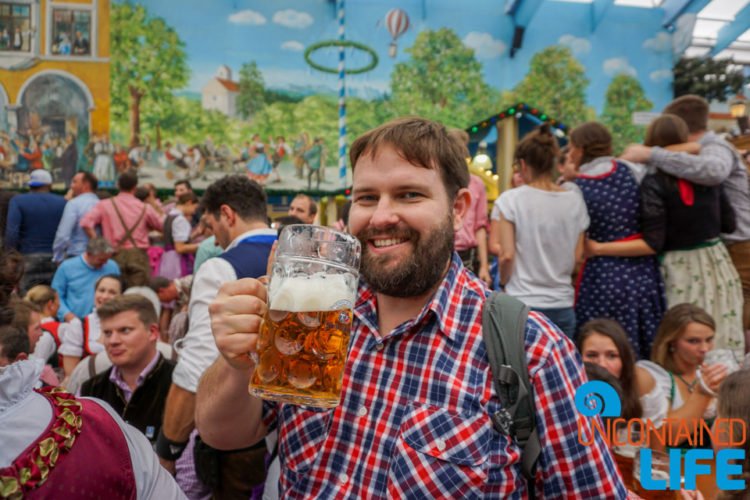 You will pay immediately, in cash, once your order is delivered. (Most tents don't accept any other forms of payment, so plan ahead!)
Part 2: 

Etiquette
Dancing: Dancing on benches is part of Oktoberfest tradition, but dancing on the tables is a definite DON'T.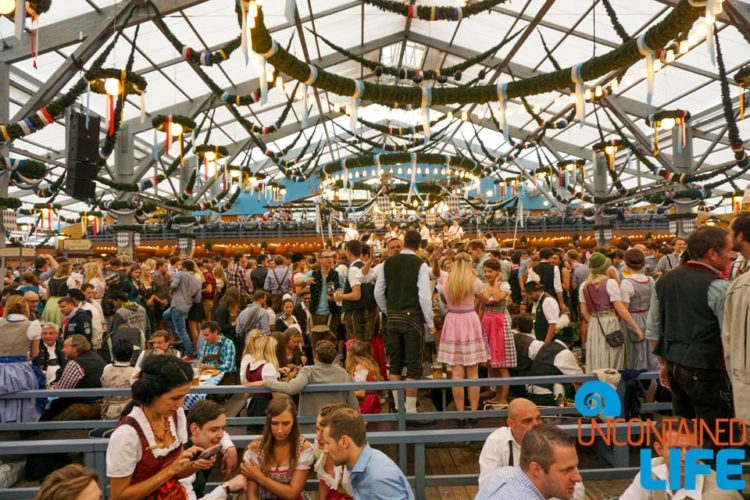 Stealing: It may seem tempting to take a beer glass home as a souvenir, but do it the right way: by buying one at one of the fairground stalls. Security DOES check bags of people entering and leaving tents, so the chances of you getting away with a stolen glass are poor in any case).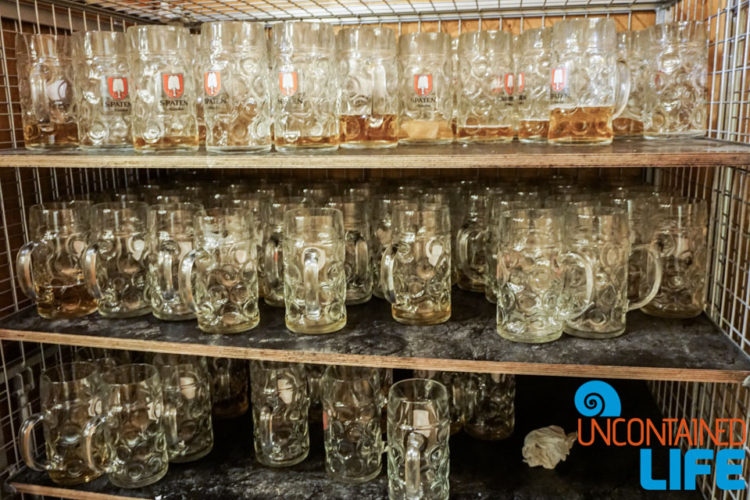 Smoking: All tents are non-smoking, though outside smoking spots are provided at each tent. 
Traditional Clothes: A vast majority of locals wear the traditional Trachten (Lederhosen, Dirndl, etc.) to celebrate Oktoberfest. There are a number of places in town where you can purchase or rent traditional garb (be aware–it won't be cheap!) as well as a number of places selling what can only be described as the Halloween version of the traditional dress (believe me, you'll spot the difference straight away). It probably goes without saying, but if you really want to celebrate Oktoberfest like a local, do NOT buy the Halloween costume!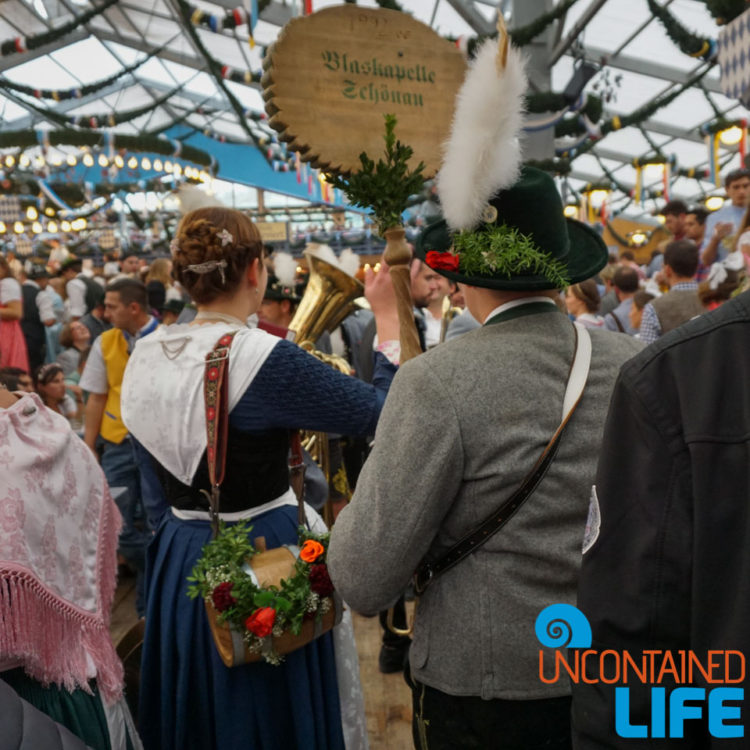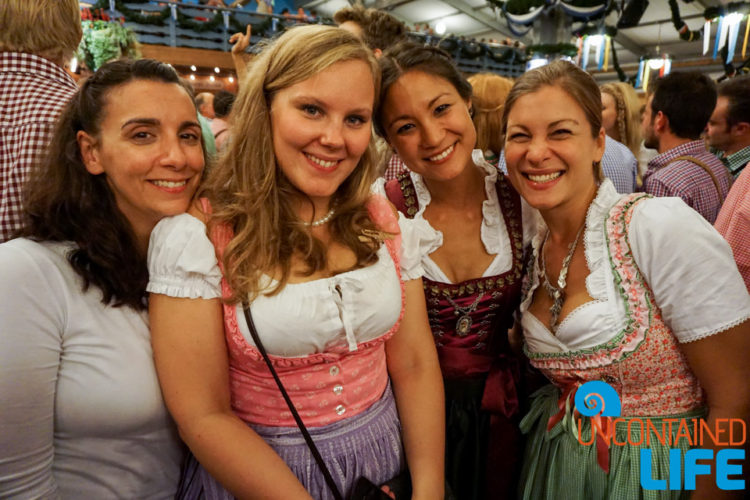 Ladies wearing a Dirndl should be aware, tying your sash on the left means you're single (and looking to flirt), and on the right means you're not. If you tie the sash in the middle, then…?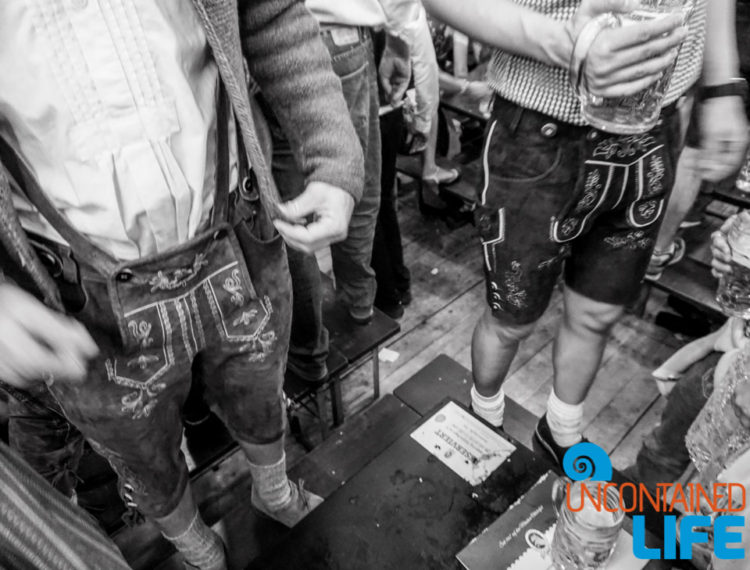 We also recommend closed-toed shoes (beer glasses do break and people do puke).
Drinking and Toasting: When drinking your mass, slip your hand through the handle (with your thumb on the top of the handle). When toasting, however, your glass should be held by the handle (to avoid accidentally crushing your fingers). To keep from breaking glasses, aim to tap the bottom of your glass. And, of course, accompany your cheer with a hearty "prost!" and plenty of eye contact (no eye contact means bad luck!)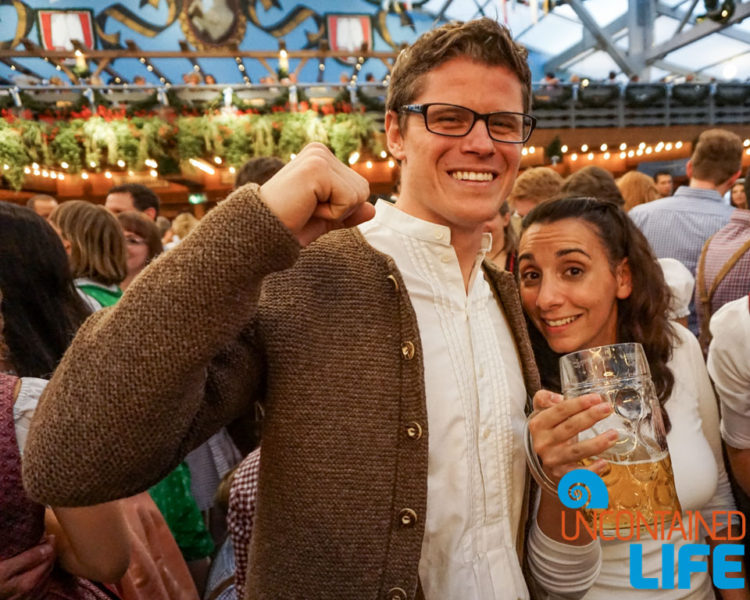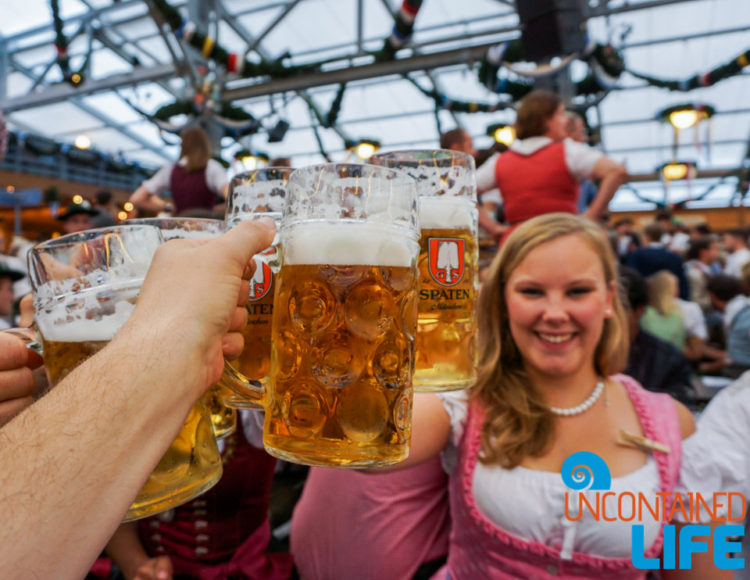 Be aware, Oktoberfest beer is particularly potent (plus the standard size of a glass of beer means mass consumption…pun intended.) So, watch your intake and balance things out with food, or else you might end up as one of the bierleichen (beer corpses) on the Kotzwiese (puke meadow)–a little hill below a statue representing Bavaria.

Wiesn koks: At first glance, it may appear that, in addition to drinking beer, a large number of locals are also snorting coke at Oktoberfest. In fact, the white powder you see is a mix of sugar and menthol: totally innocent, albeit a bit odd-feeling the first time you try it!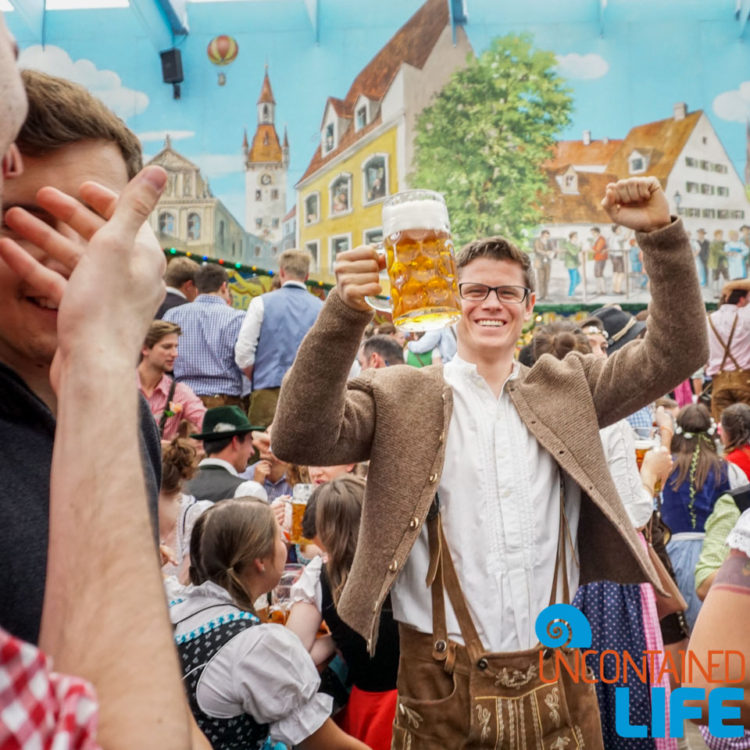 "Ein Prosit": This is, basically, the Oktoberfest tune. Spend more than a few minutes in any tent and you'll hear the band playing, and everyone singing THIS. Note, at the end, everyone counts 1, 2, 3, yells G'suffa and then drinks. Practice the song a few times before your first time in the tents and you'll feel that much more like a local when the moment arrives.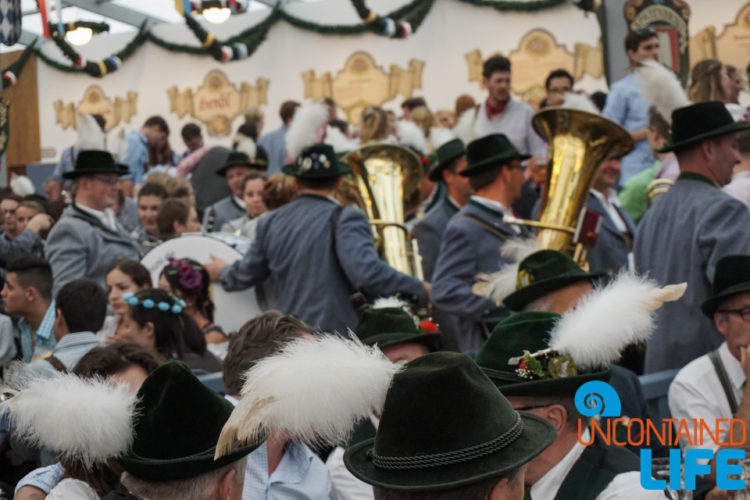 Part 3: What to Eat, Where to Drink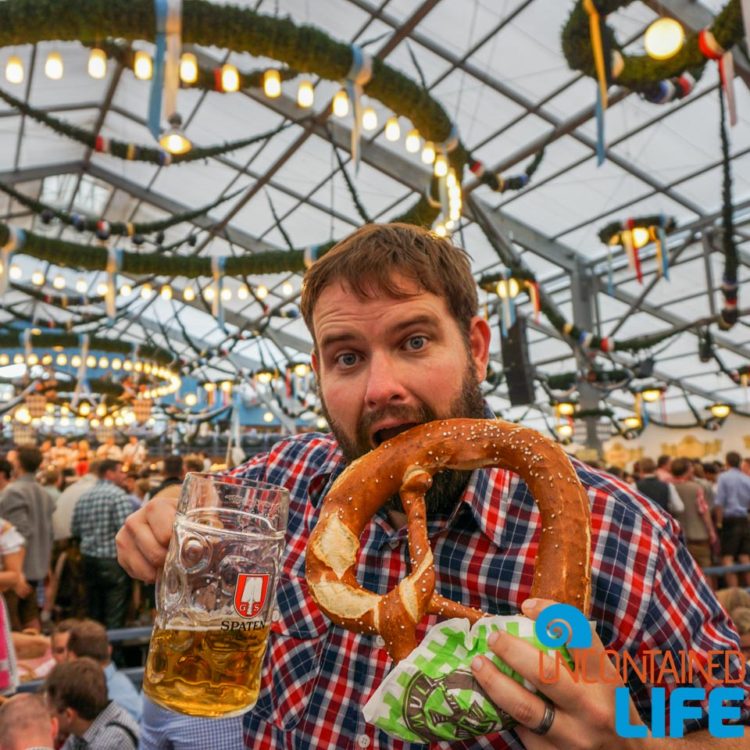 You definitely won't lack for good things to eat at Oktoberfest. We loved the classic roasted chicken (Wiesn-Hendl) and the Ox sandwich with horseradish sauce (Ochsenbraterei) is another delicious treat.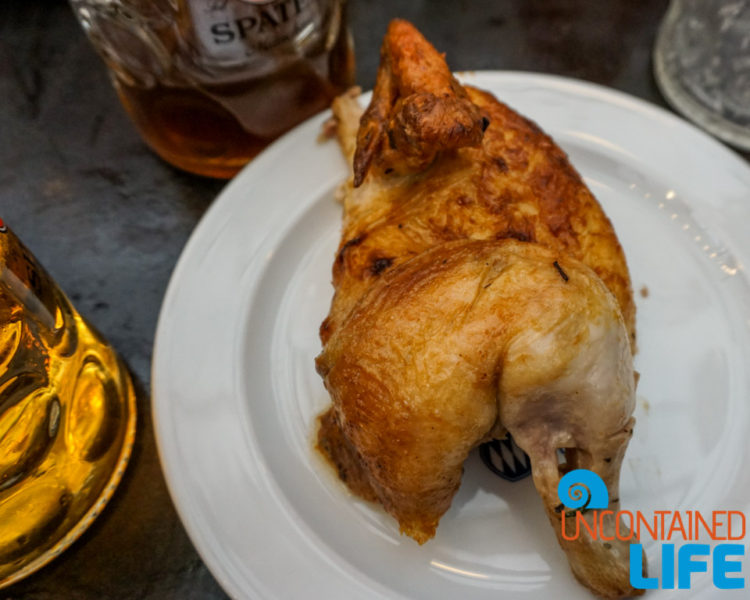 The beer in each tent various a bit, obviously, based on the brewer, though you really can't go wrong wherever you end up. If beer isn't your favorite, the tents also serve wine (try the Weinschorle: wine mixed with sparkling water), and some also serve cider. NOTE: there is one tent focused on wine: Kuffler's Weinzelt.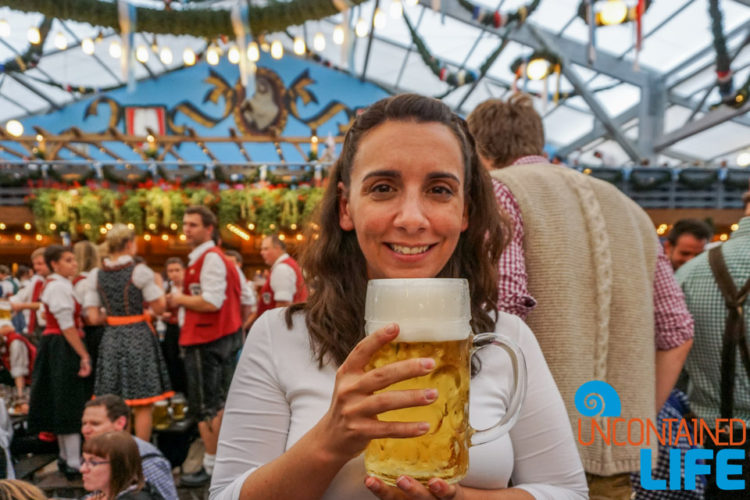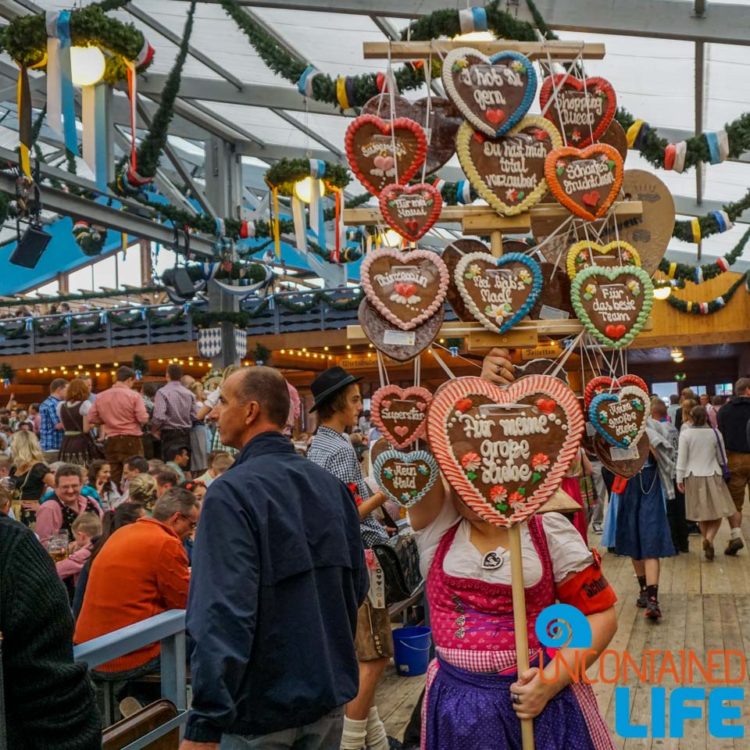 Each of the big tents at Oktoberfest has its own vibe, and attracts different sorts of celebrants. Some are more family-friendly, while others have a younger or more touristy crowd. We spent the majority of our time at Oktoberfest inside Schottenhamel, but Hacker-Pschorr is another of our friends' favorite tents.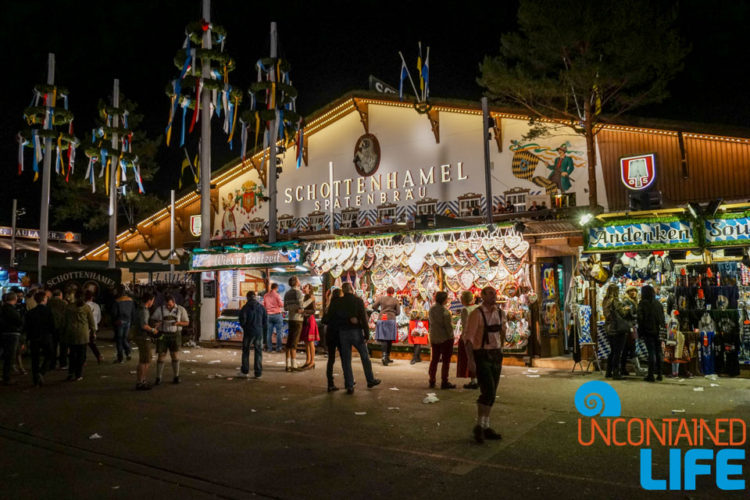 By all means, feel free to wander in and out of tents to get a feel for their atmosphere before trying to find a seat. But, at the end of the day, the right tent is wherever you can get a seat and have fun–so don't go into the festival dead set on one particular spot…see what happens.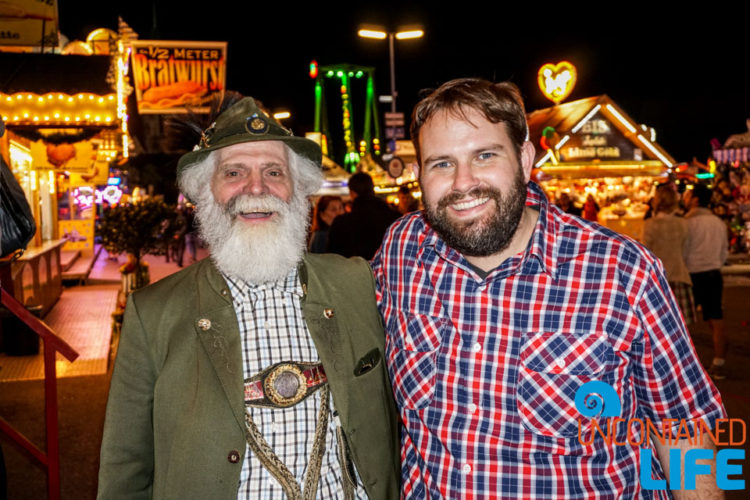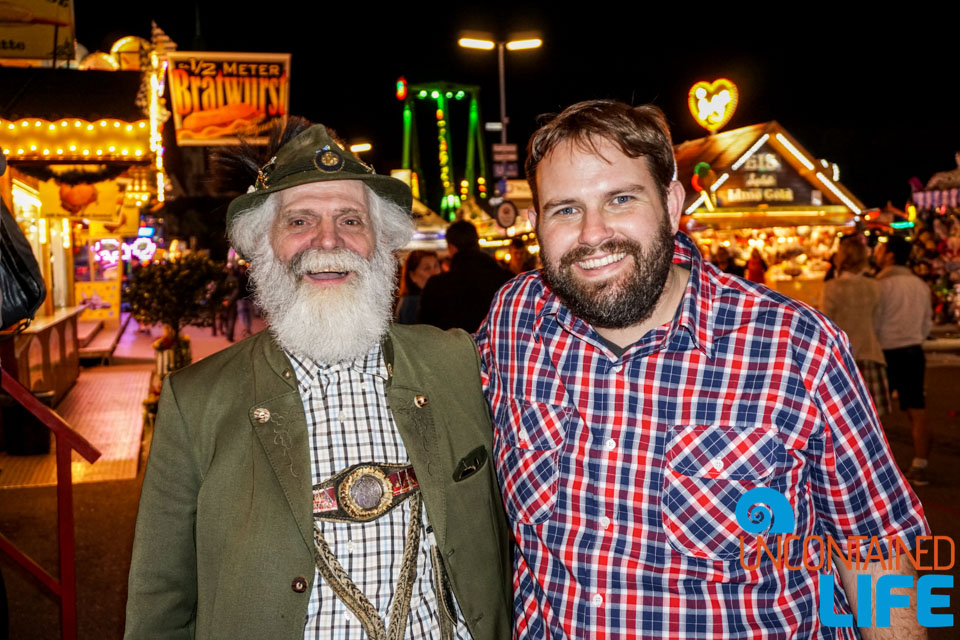 Prost!