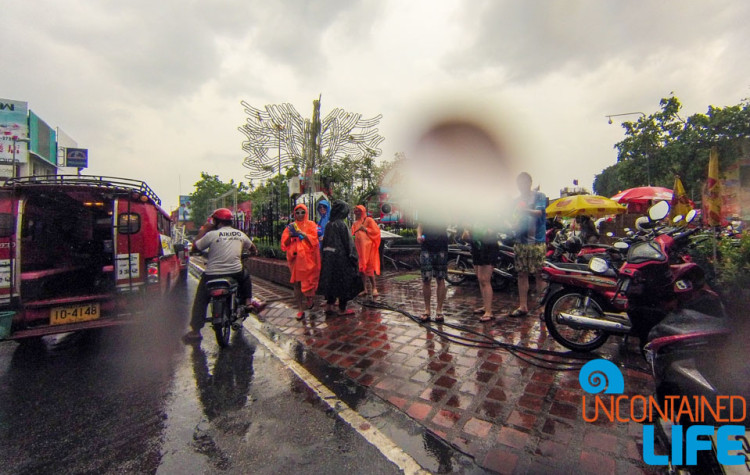 Of all the festivals we've had the chance to experience during our travels, celebrating Songkran in Chiang Mai definitely takes the prize.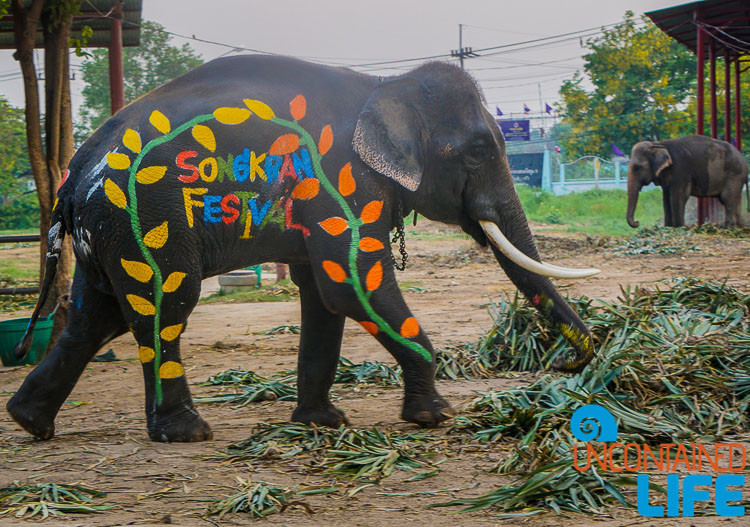 Songkran–I.E. Thai New Year–takes place each April (Thailand's hottest month of the year). The holiday is a time of prayer and merit-making; of good wishes and jasmine-scented blessings; of cleansing and refreshment from the old year, in preparation for the new.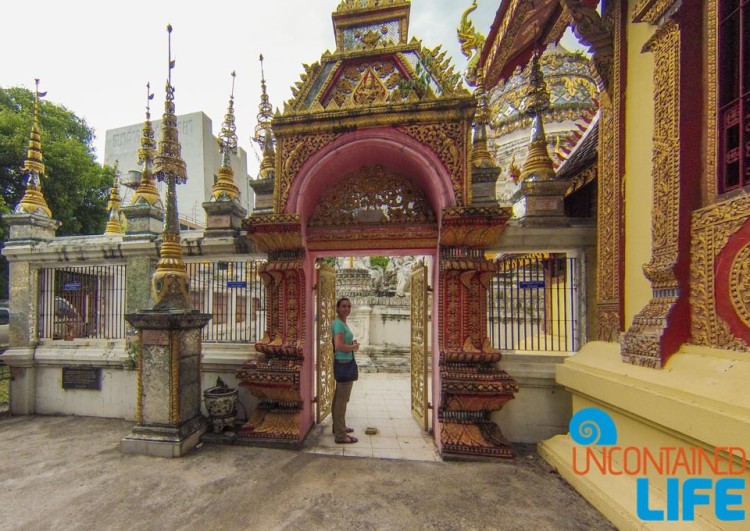 It's also a massive, country-wide water fight. And, according to locals we met in Bangkok, the northern city of Chiang Mai is known as one of the country's wettest and wildest places to celebrate Songkran.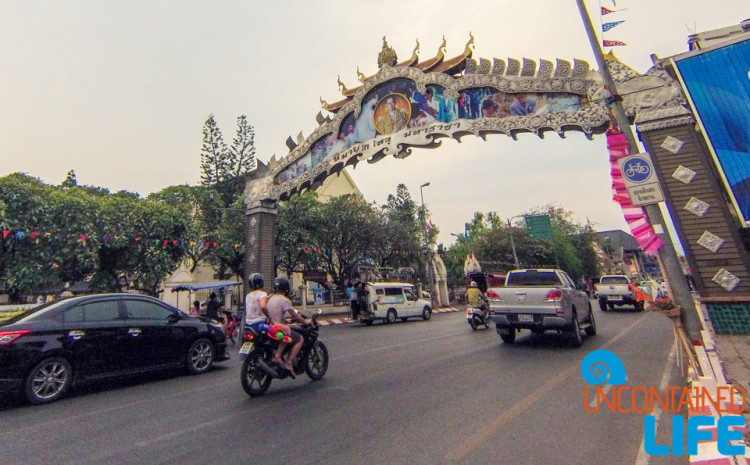 You can read a quick recap of our experience celebrating Songkran in Chiang Mai below; or, for a real feel of what it's like on the streets, watch our video!
The rumors began when we still on the overnight train from Bangkok to Chaing Mai…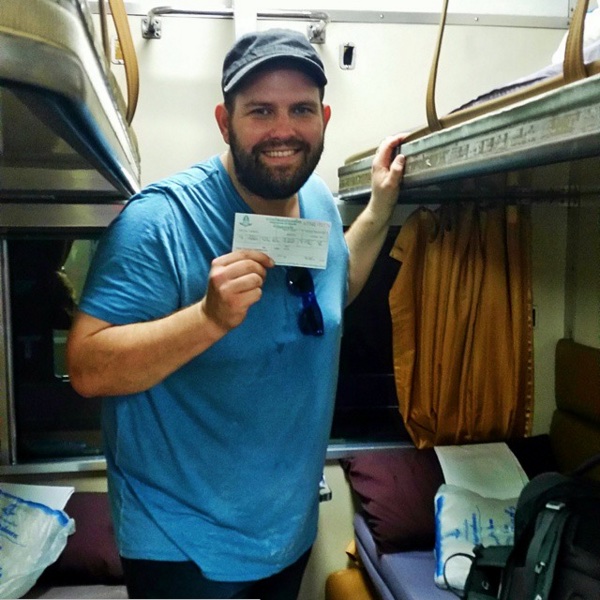 "You have a rain cover for your backpacks?" a tall, skinny Australian asked us.
"We have a couple of trash bags we could use, I guess. What, you think people will be throwing water the second we get off the train?"
He laughed. "I dunno. But I've seen some videos. I'm going to be ready for anything."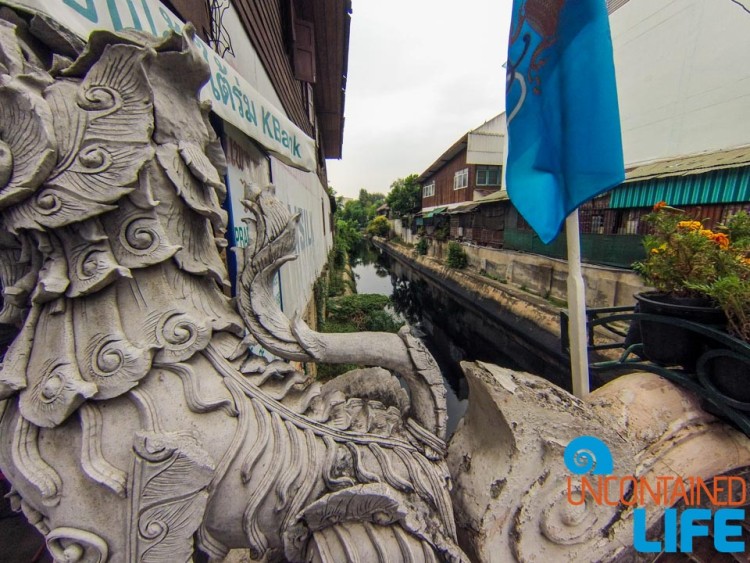 We climbed off the train braced for the worst–or rather, the wet–but all seemed quiet near the station. Maybe the rumors about the intensity of Chiang Mai's Songkran celebration had been exaggerated?
Then again, maybe not.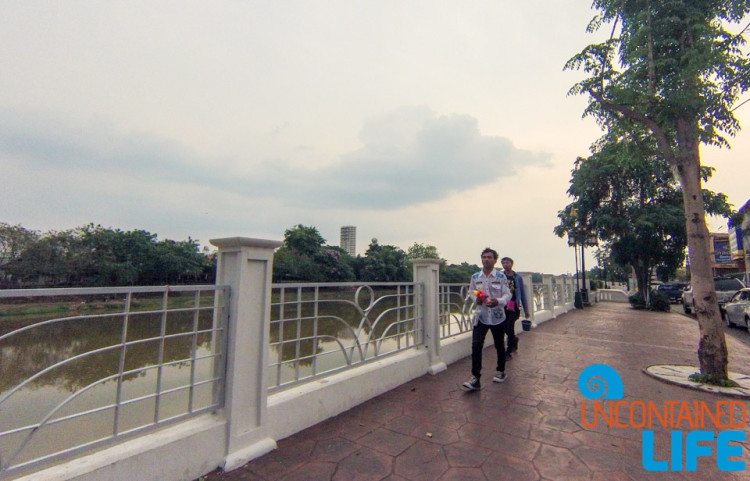 The closer we got to the Old City, the more we were greeted with watery hellos–from locals and visitors alike. There were walking super soakings…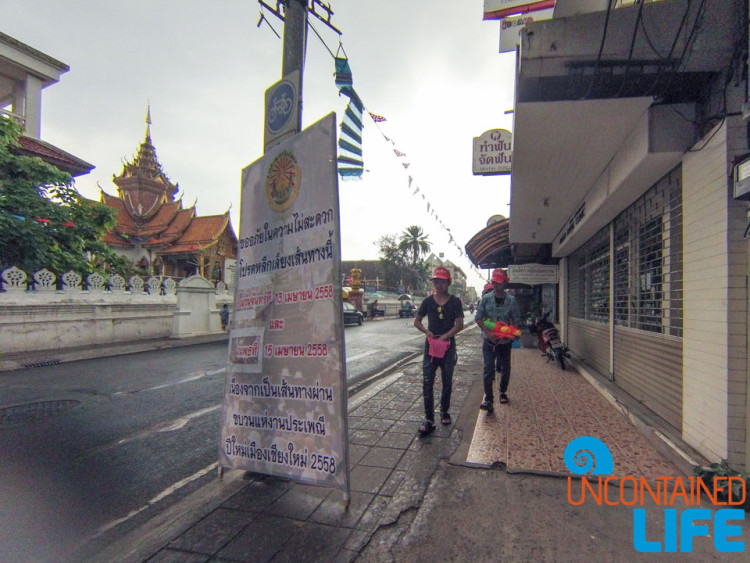 …drive-by hosings…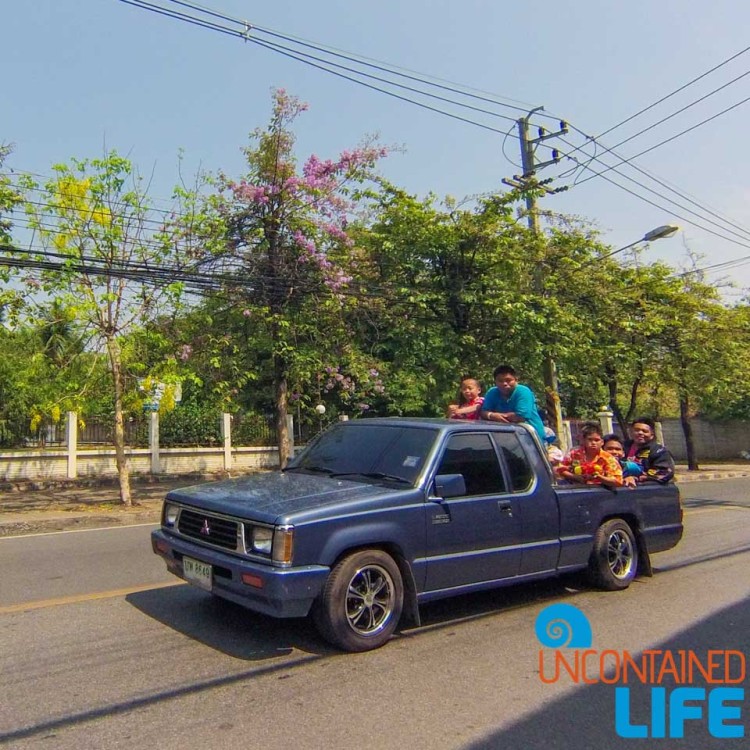 …and water-throwing accoutrements for sale on every street corner.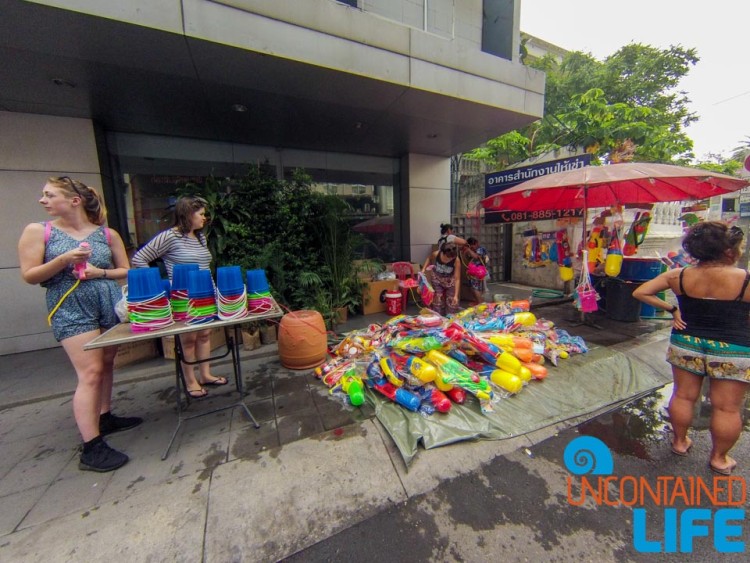 But it was just as we stepped inside a temple complex that things really got interesting…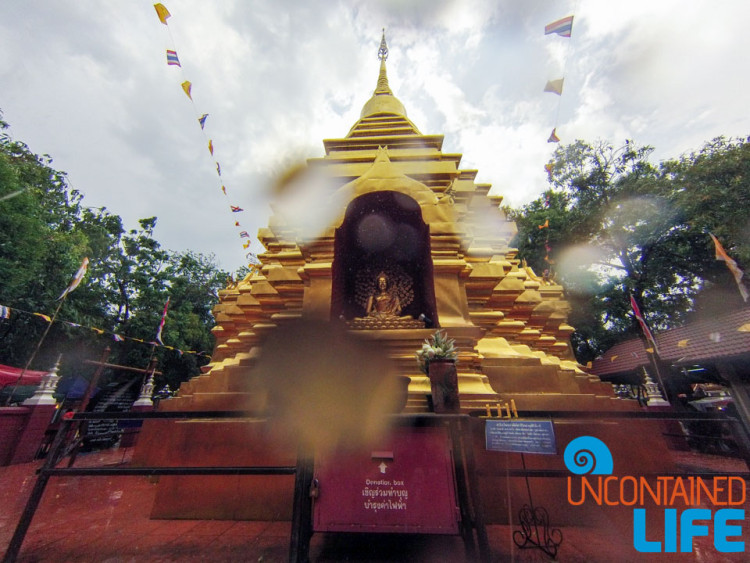 …that's right, the gods decided to get involved in the water fight. Hello, rain!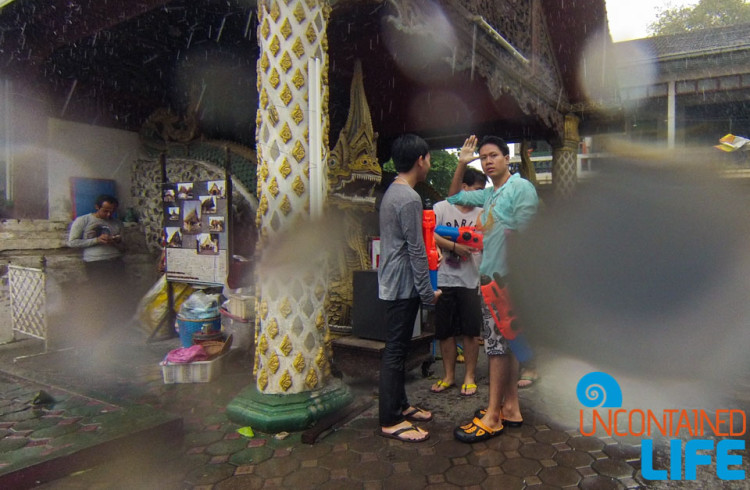 I think we can all agree who won that battle!
---
Thinking about celebrating Songkran in Chiang Mai? Here's what you need to know…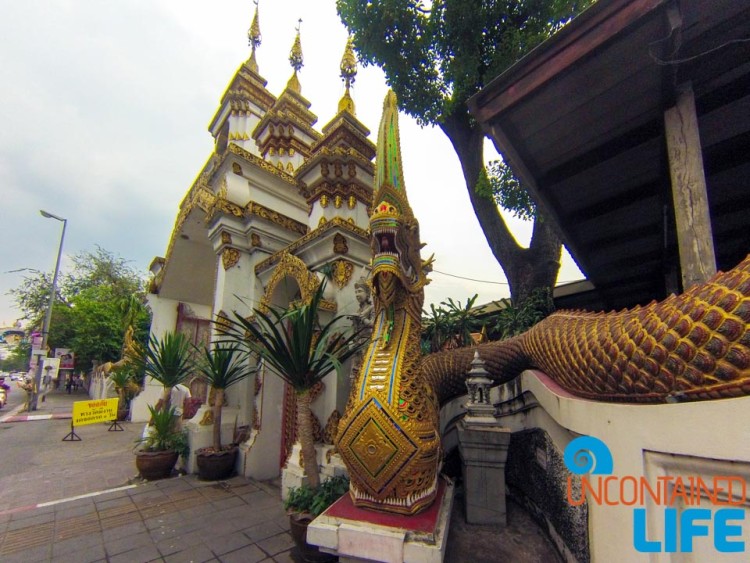 Customs and Main Cultural Events of Songkran in Chiang Mai:
At its core, celebrating Songkran in Chiang Mai is about closing out the old year, and welcoming in the new. And water is key to that process.
Thais begin by cleaning their homes on April 12 (Wan Sungkharn Lohng), and, in Chiang Mai, April 12 is also the day when the Songkran procession is held: a colorful, musical parade of Buddah statues and attendants which begins at Nawarat Bridge on the Mae Ping River and moves the Thapae Gate before approaching its final destination of Wat Prasingh.
April 13 (Wan Nao) is a day of preparation for merit-making, and the day when locals gather sand from the Ping River banks for the annual "ground-raising" ceremony in local temples–a throwback to ancient times when Thai New Year occurred at the end of rainy season. These sand piles are decorated with ribbons and flowers and sprinkled with jasmine-scented water.
On April 14 (Wan Payawan) merit-making begins as locals bring special foods and other offers to the temples and perform a ceremonial washing of Buddha images at home.
April 15 (Wan Parg-bpee) is a day to honor ancestors and elders by way of "Rohd Nam Songkran," meaning "The Pouring of Songkran Water." Unlike the water fight going on in the streets, this "pouring" of water on elders is done with the utmost respect. Well-wishes for the new year and blessings are exchanged–often symbolized by the tying of a white string around the wrist. 
Preparing for the Wet and Wild Streets:
If you aren't joining in the water fight, you really aren't celebrating Songkran in Chiang Mai. Here's what you need to know to have fun and stay safe:
1. If you're on the street, you're fair game to get splashed. So, be sure to leave your cell phone and wallet in your accommodation, or secure them in a water-proof case. 
2. While we normally take our Sony a600 everywhere, when we're celebrating Songkran, we gear up with ourGoPro. 
3. While you won't be able to keep your face completely clear of water and talc powder (considered a blessing of good luck and protection) during Songkran, do your best to avoid getting water in your mouth or eyes. (Bacteria in the water can sometimes cause infection.)
4. Be sure to select waterproof sunscreen (nothing burns as bad as when water soluble sunscreen gets in your eyes) and wear sandals with grip to avoid slipping and sliding on sidewalks and temple grounds. 
5. Quick-drying clothes are a must since wandering the streets in a bathing suit is, generally, not appropriate in conservative Thailand. In the video, you can see Hillary wearing her quick-drying Patagonia pants (with quick-dry underwear underneath.)
6. Watch your alcohol intake during the festival. The Thai government has been cracking down on public drinking and intoxication. Don't spend your holiday funds paying police fines!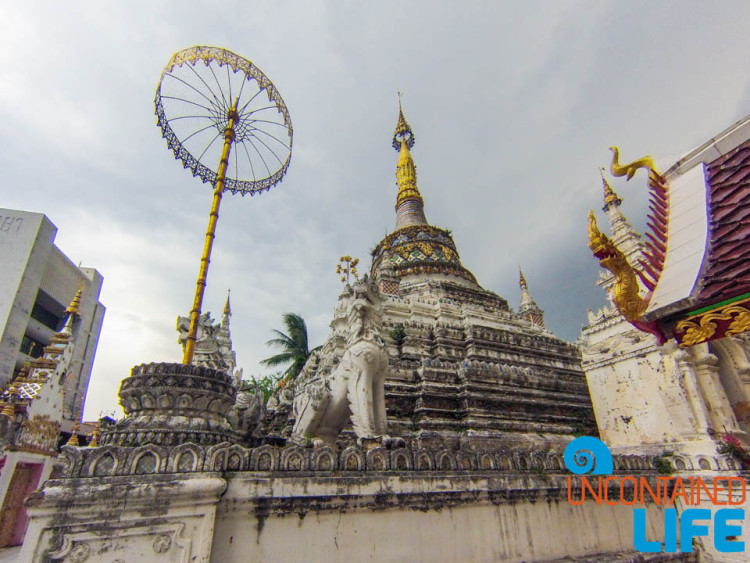 Travel and Accommodation Tips for Songkran in Chiang Mai:
Currency: Thailand's currency is the baht; $1 USD = approx. 35 Thai baht.
Travel to Chiang Mai: 
Everyone travels during Songkran. It's not only a big event for tourists, locals also travel home to be with their families. That means that everything gets booked up early–from trains to accommodation.
Train tickets from Bangkok to Chiang Mai (and back) can be bought at the main station, or you can purchase tickets in advance through an agent. Check flight options on Skyscanner. 
Accommodation in Chiang Mai: 
There's plenty of affordable accommodation in Chiang Mai, but, for the best experience, you'll want to choose your housing with care.
If you want to be right in the center of the water-throwing action, you'll want to stay in or near the Old City. The At Chiang Mai Hotel is a favorite amongst travelers who praise it's prime location, cleanliness, and excellent breakfast buffet. Check your travel dates on Agoda.com to save up to 50% on your stay!
If you want to be able to take breaks from the craziness, consider staying east of the Ping River. The Sakorn Residence & Hotel earns rave reviews for it's top-notch staff, delicious complimentary breakfast, and affordable rates. Book through Agoda.com to save up to 60% on your stay! 
Are you on Pinterest? Pin this post!