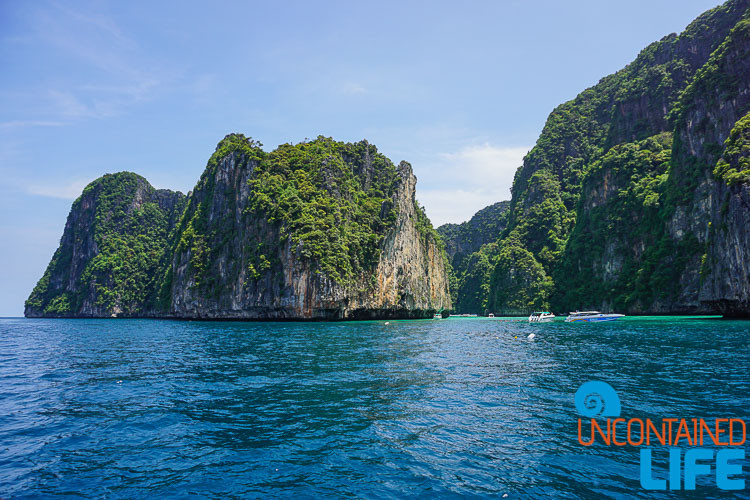 Oh Phi Phi…where have you been all of my life?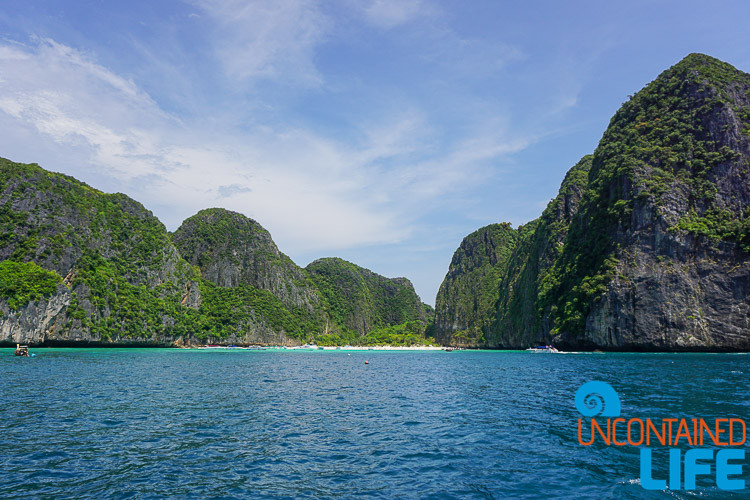 After our month in the Philippines, Justin and I returned to Thailand to check out the island of Phuket (spending time both in Phuket Town on the island's east coast, and in some of the west-side beach areas) before heading north to Norway. 
Much like island hopping in El Nido, Palawan, cruising Thailand's Phi Phi islands when you're visiting Phuket is practically a rite of passage: you'll see the signs for tours on every street corner. But, as the poet wrote, "you get what you pay for" (or maybe that was just my mother). Take a quick browse through the interwebs and you'll easily find tales of holiday-goers packed into speedboats like sardines, courting danger in ill-equipped boats sent out into storm weather, and generally having a miserable time in what ought to be paradise. Thanks, but no thanks!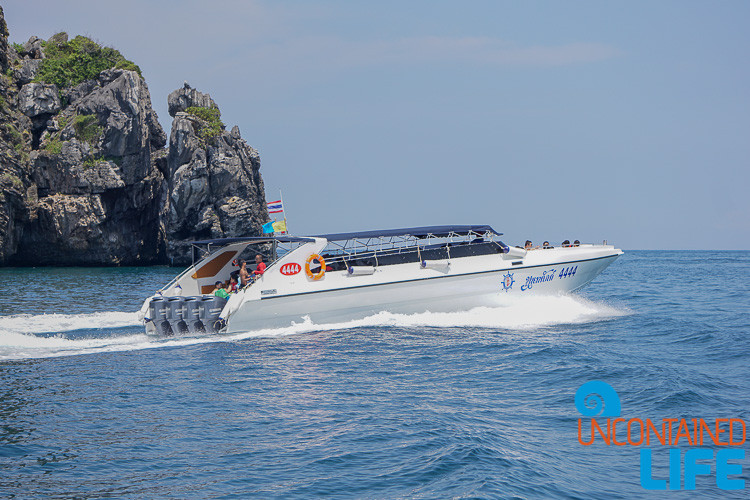 Enter Blue World Safaris–a snorkel and dive company which offers snorkel trips to Phi Phi in their large, comfortable catamaran-style boat.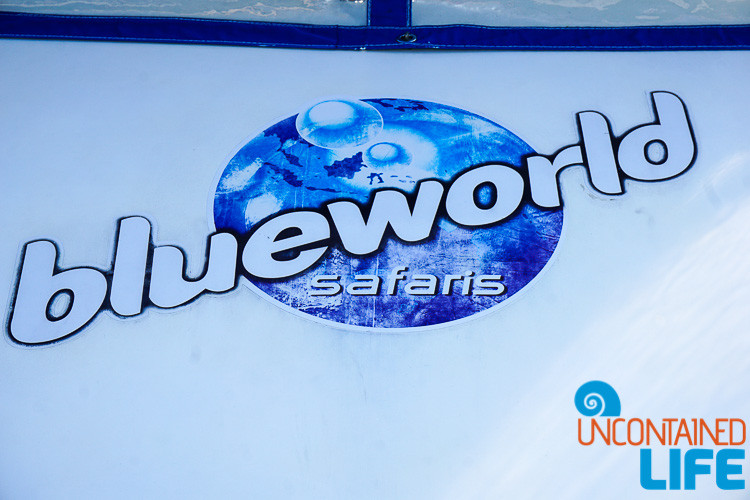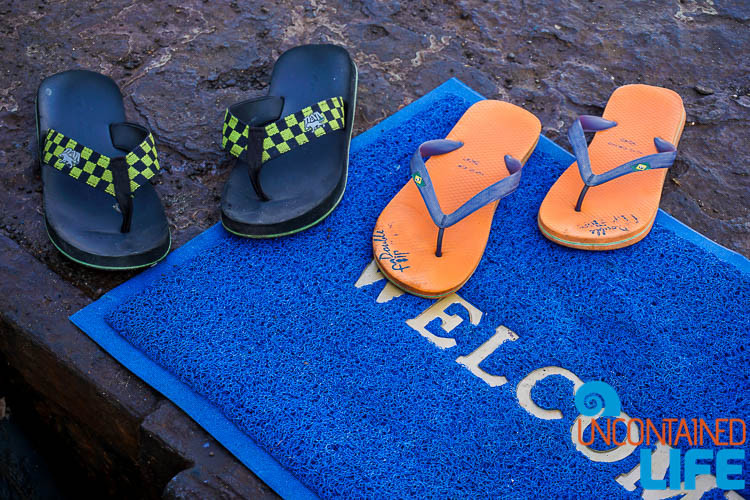 We chose the Blue World Safaris boat and its crew because in a sea of cut-rate competitors they offer a truly high-quality, all-inclusive experience. In addition to a smooth boat trip, the tours provide meals, drinks, snorkeling equipment, kayaks, and even an inflatable water slide (for the kids…and young at heart)!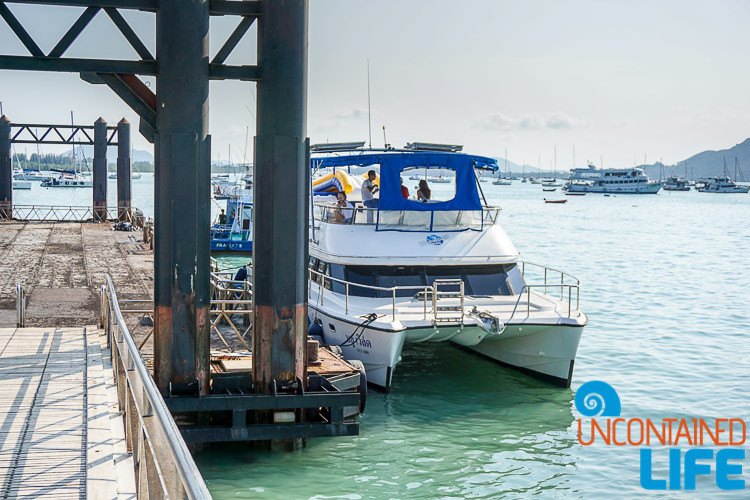 With Blue World, we knew the boat's safety features would be up to code, and we knew if the ocean was too rough (as it sometimes is during rainy season), the boat wouldn't sail (which may not sound like a plus, but in fact you don't want a tour company who prioritizes making a buck over your safety).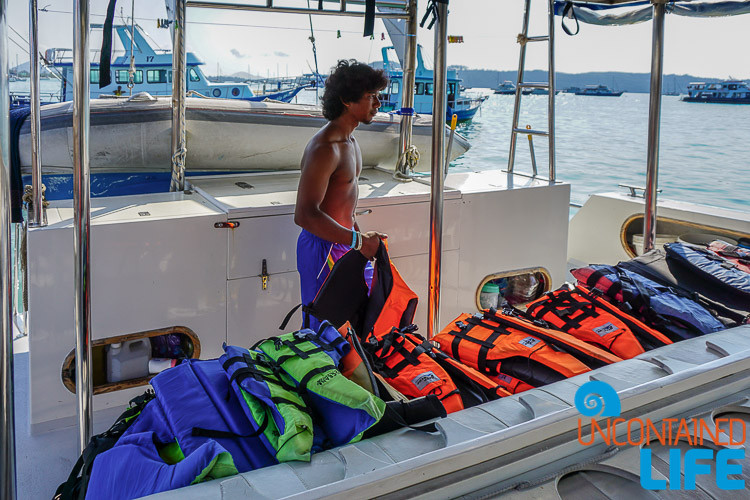 While we could have gotten a van pick-up from Blue World Safaris, we opted instead to scooter to Chalong Bay ourselves to meet the boat. It was, (as most of our scooter-related decisions are) definitely the more fun choice. Coming from our hotel in Phuket Town, we followed the eastern coastline, checking out the less touristy side of the island, before arriving at the Chalong Bay pier.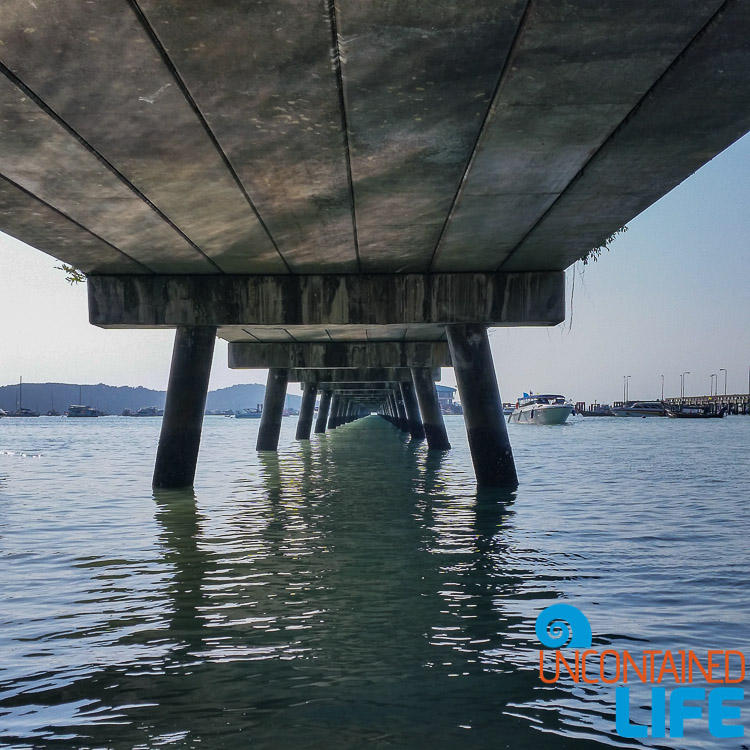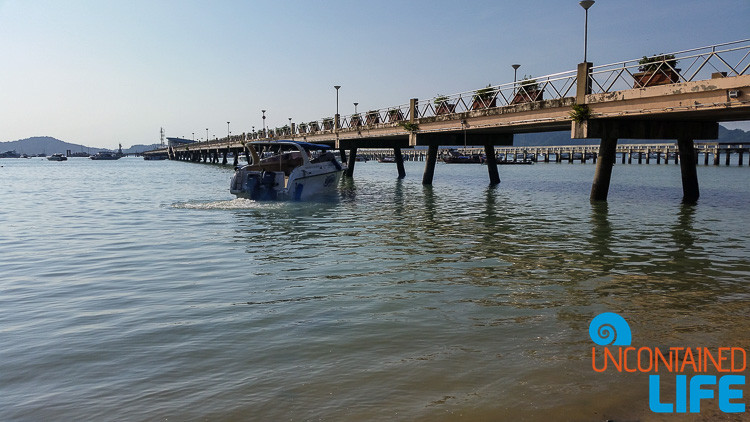 Generally, you have to pay a small fee (5-10 baht–this includes your return trip) to ride a songthaew out to the end of the pier; but, as it happened, we arrived at the same time as Mike, Blue World's manager, and were able to catch a ride in the back of his truck (don't try this at home, kids).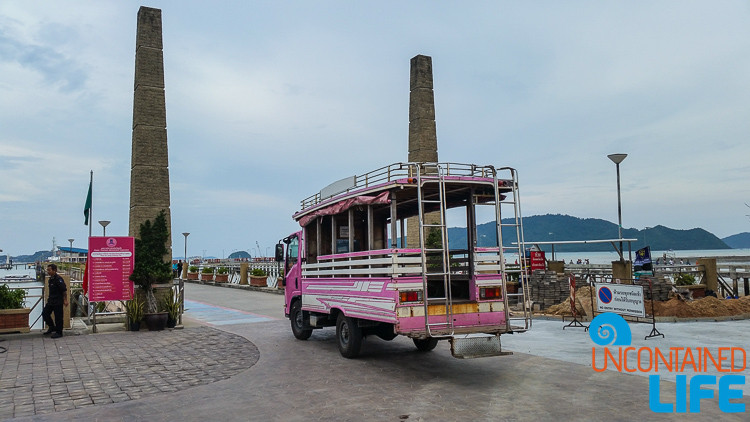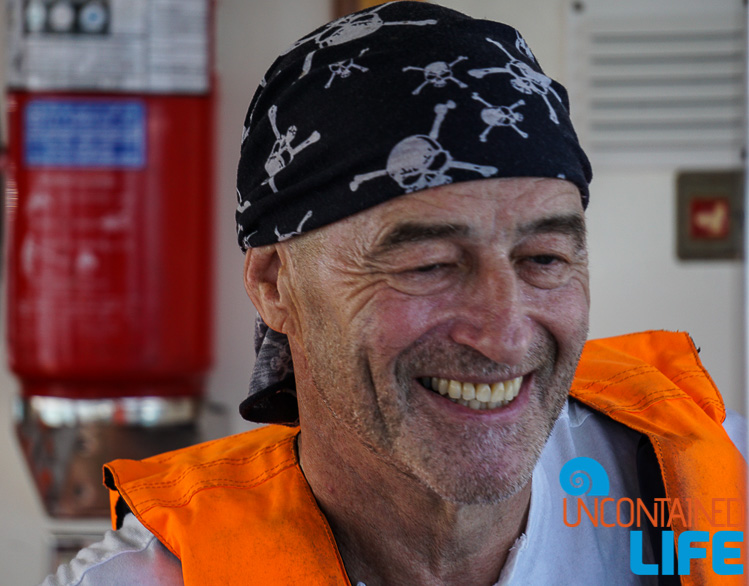 We climbed on-board the ship, where were treated to a morning snack of warm, delicious banana muffins and fresh fruit. We also donned our life jackets for the ride out of the Bay (after which, they were no longer required).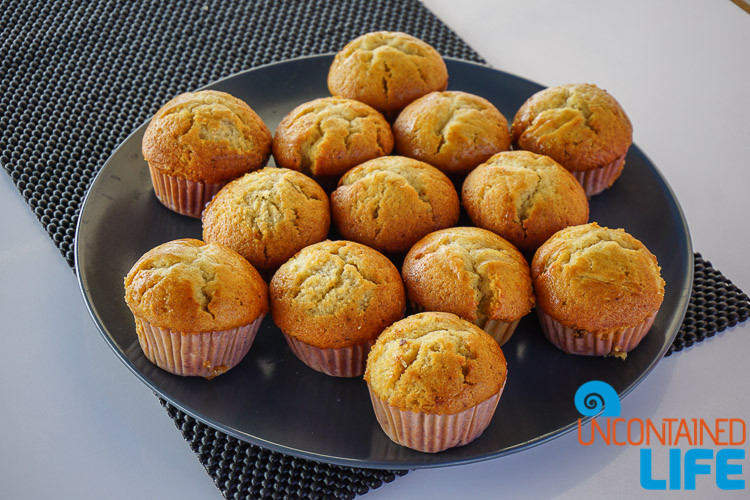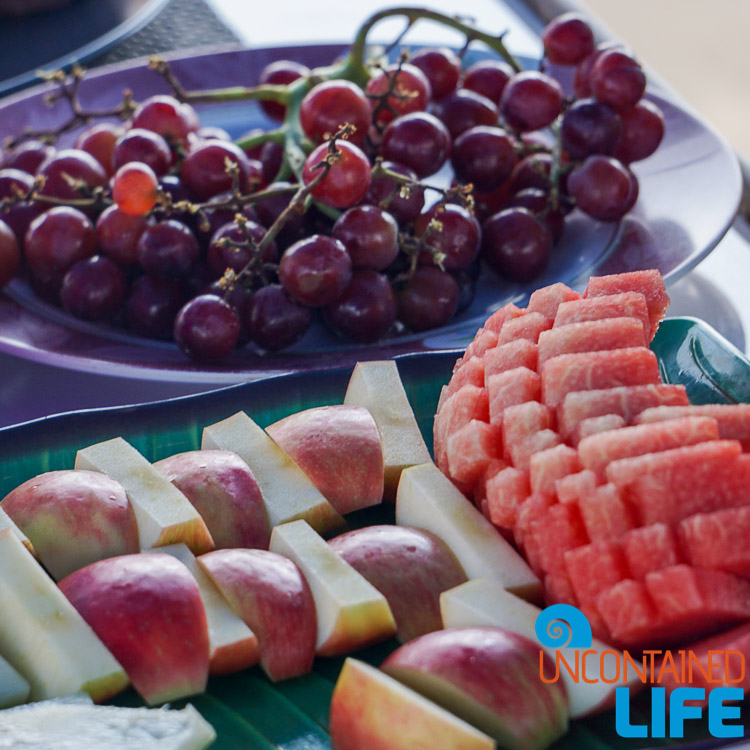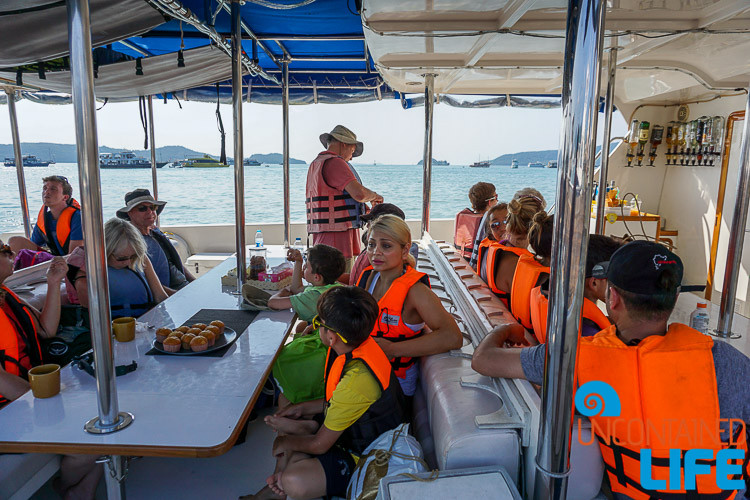 Leaving the harbor, we were able to spot Phuket's white jade "Big Buddha" which sits on the peak of mount Nagakerd.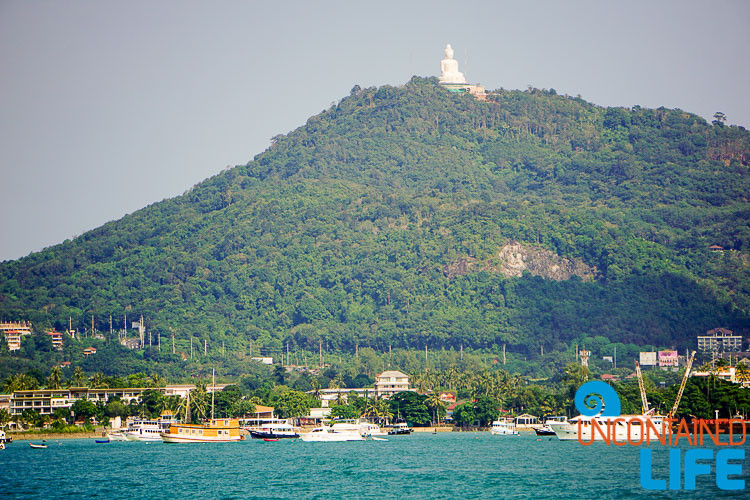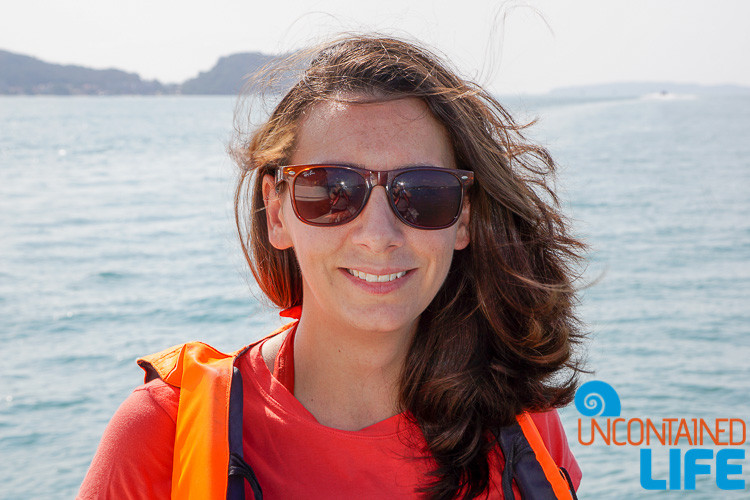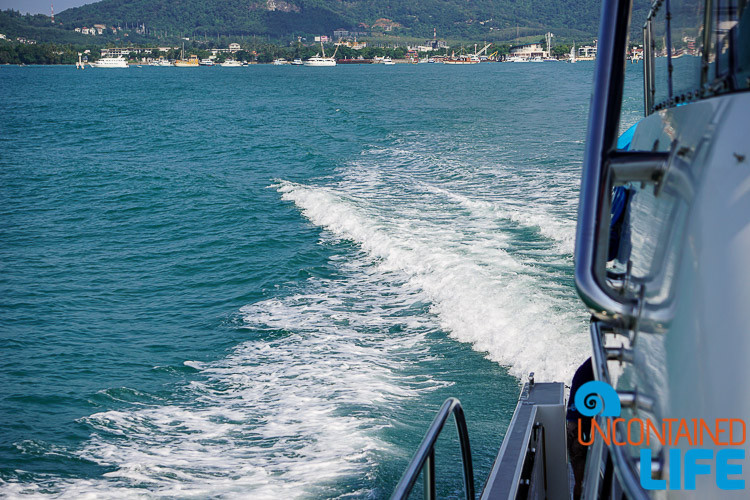 After cruising for 30 minutes, we stopped to look for dolphins. At first, it didn't seem like we were going to have any luck but then, suddenly, there they were! We loved watching these beautiful creatures swim and play in front of the boat. At one point, I think we counted 15 dolphins. They would disappear under the surface of the water and a minute later, someone who yell, "dolphins, left side," and everyone would turn their gaze (and lens) to get another glimpse.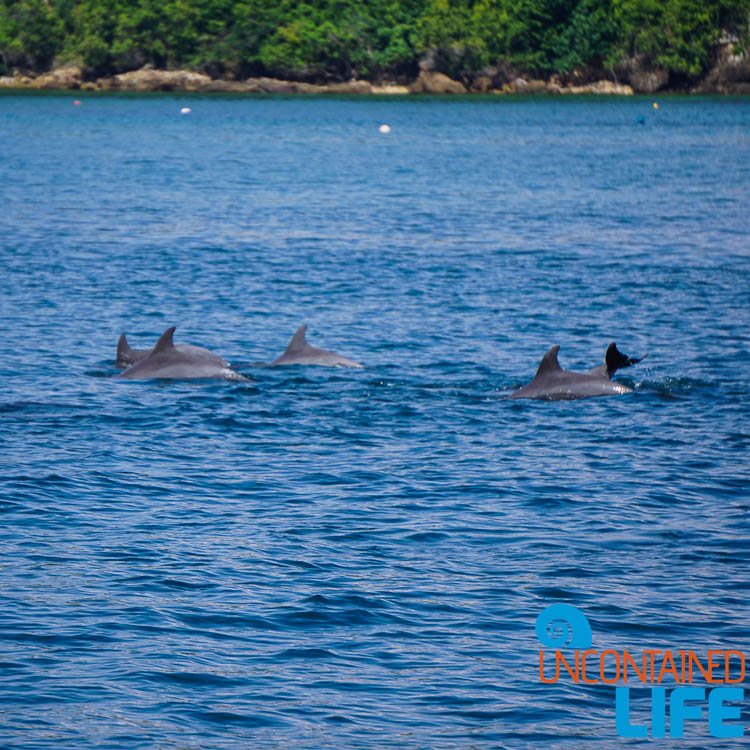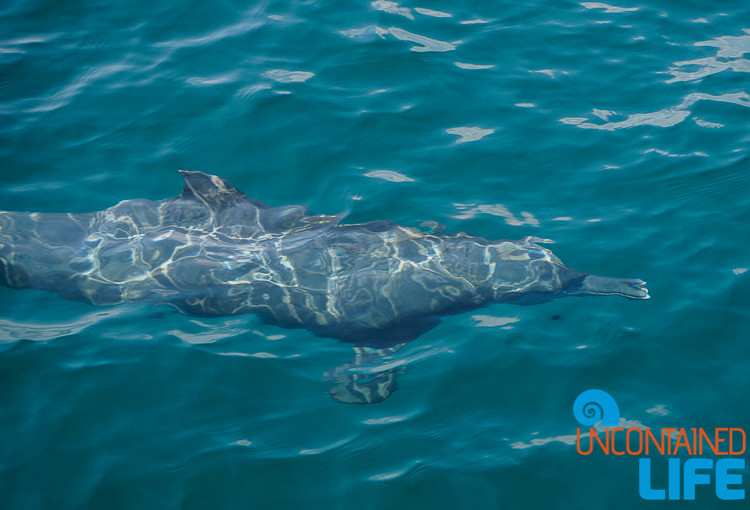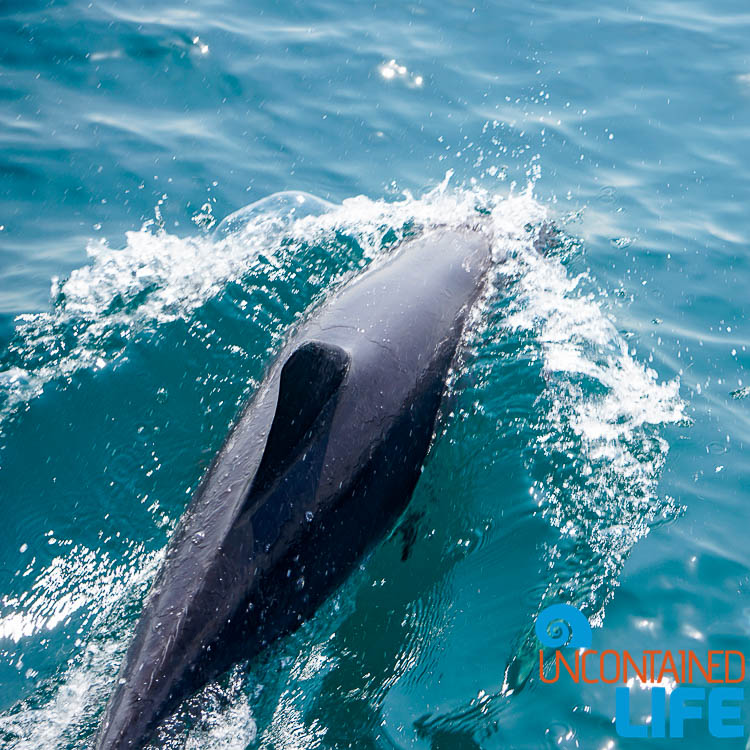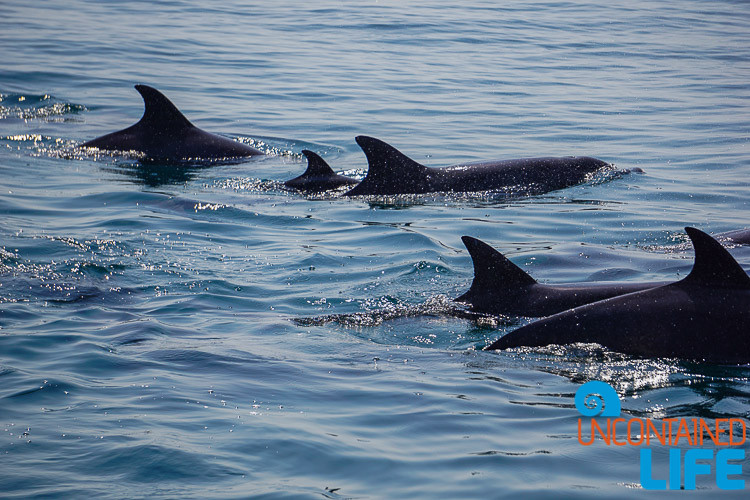 After this initial walk on the wild side, the group was eager to start snorkeling, so the captain pointed our prow toward Phi Phi. It was, to say the least, a visually stimulating ride! If you ask nicely, Mike will point out his favorite diving spots.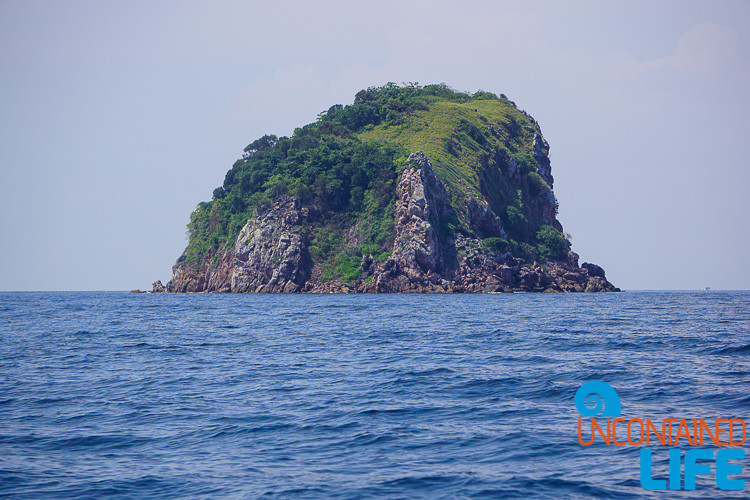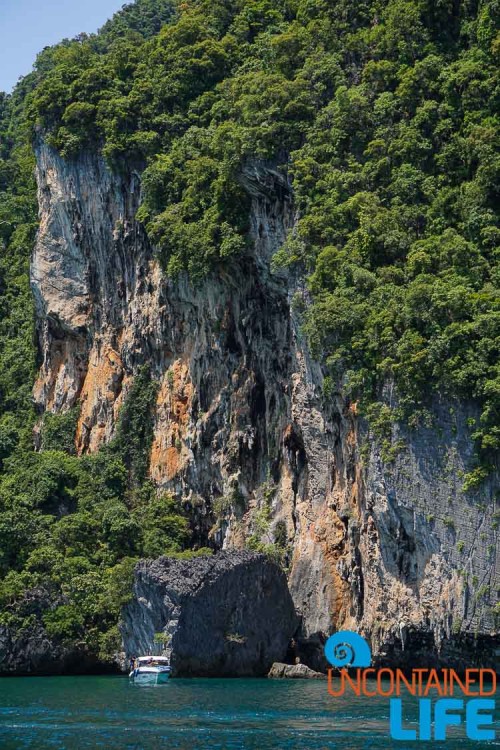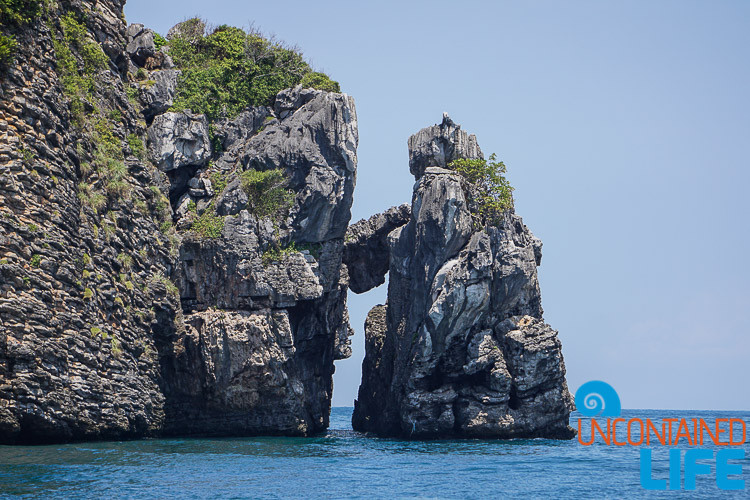 Our first stop of the day was at Monkey Island. The Blue World ship anchored off-shore, away from the crowded beach, and we hit the water!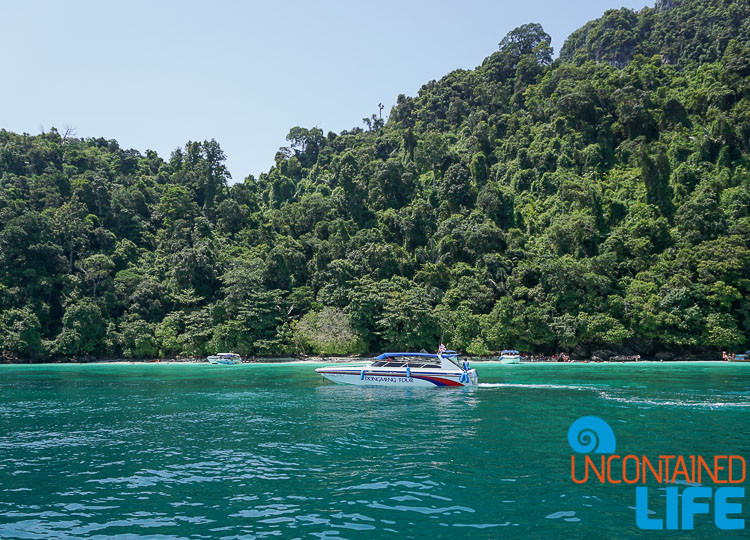 If snorkeling in the water was not your cup of tea, Kayaks were available for those who wanted to paddle the teal waters.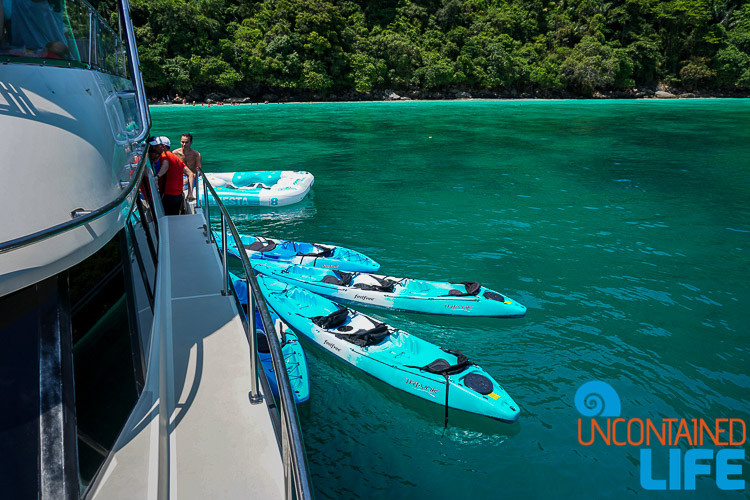 …as was the totally awesome (no age limit) super slide.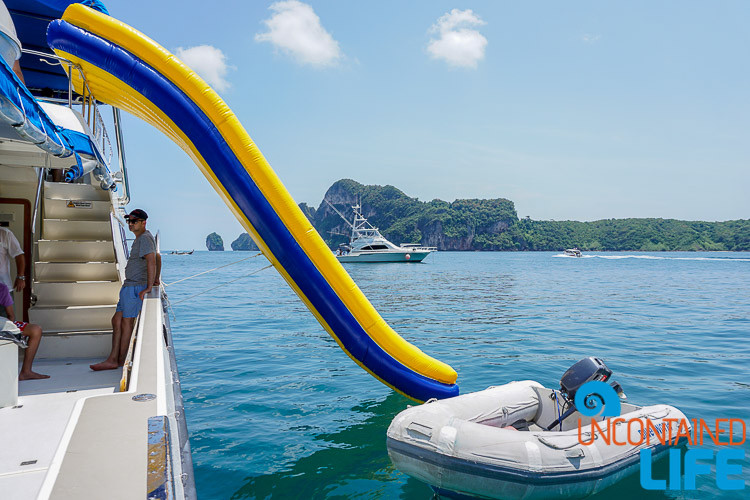 And underwater…yeah, it was quite the view.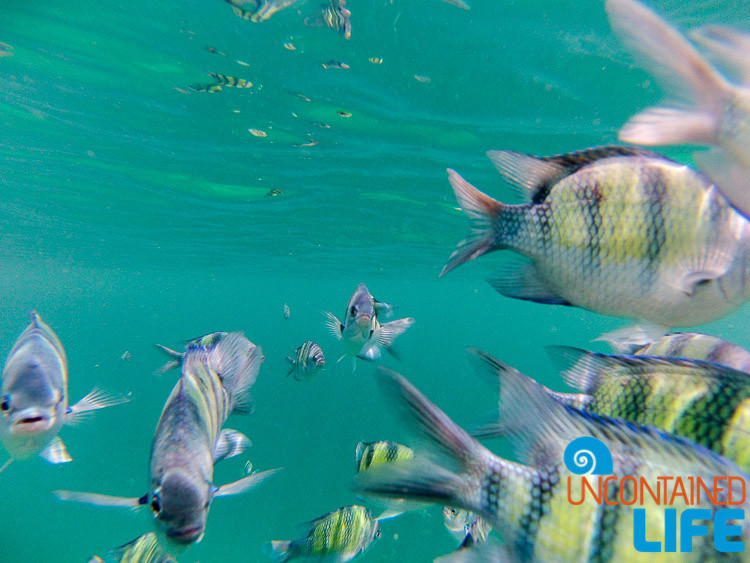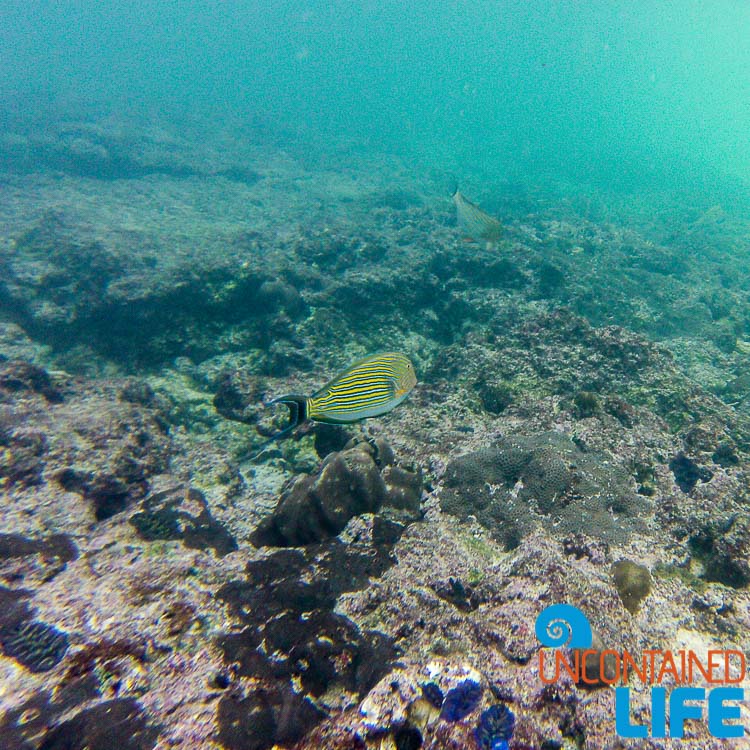 We had snorkeled pretty far from the catamaran so we were among the last get back on the boat for lunch. There was still plenty of delicious food left, however, and we enjoyed every bite before heading off to our next location, Koh Bida Nok, by way of the Viking Cave.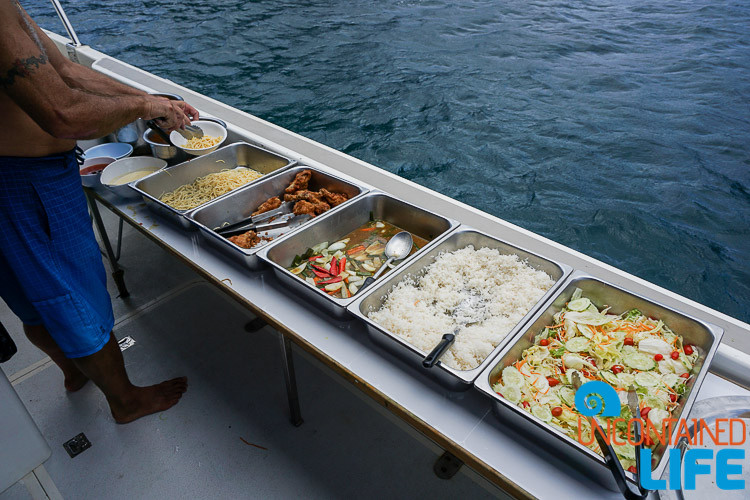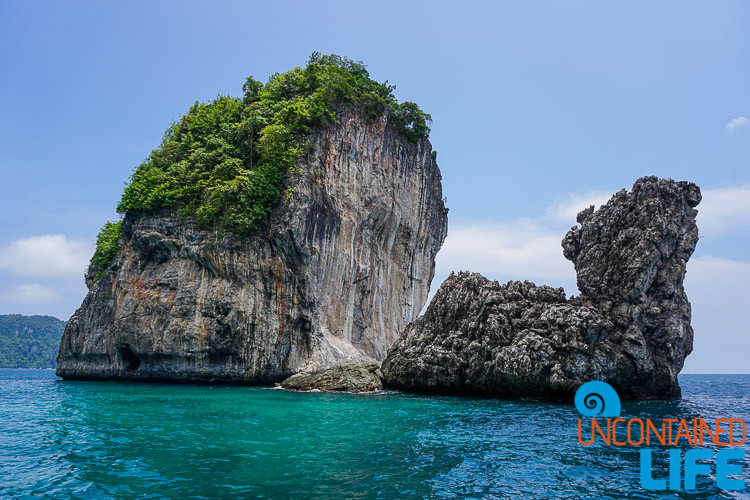 Once again, the on-the-way scenery was breath-taking! The boat gets up-close and personal to the uniquely-shaped island cliffs.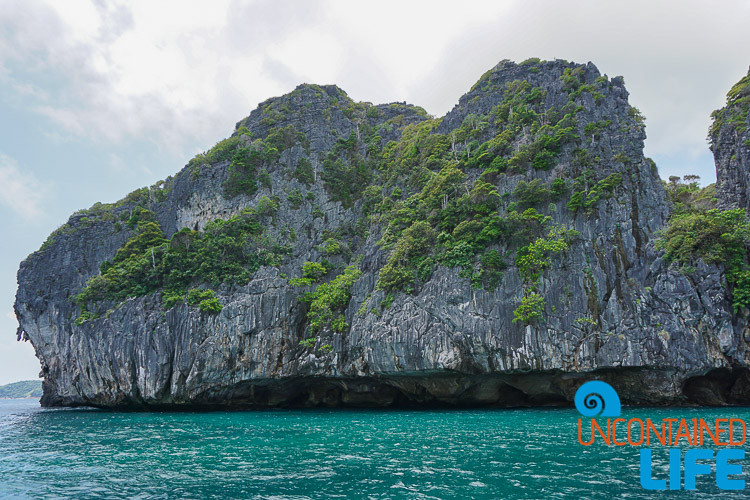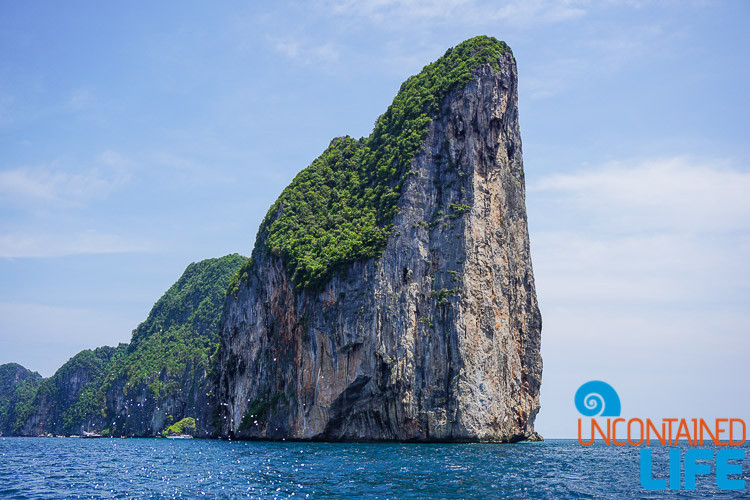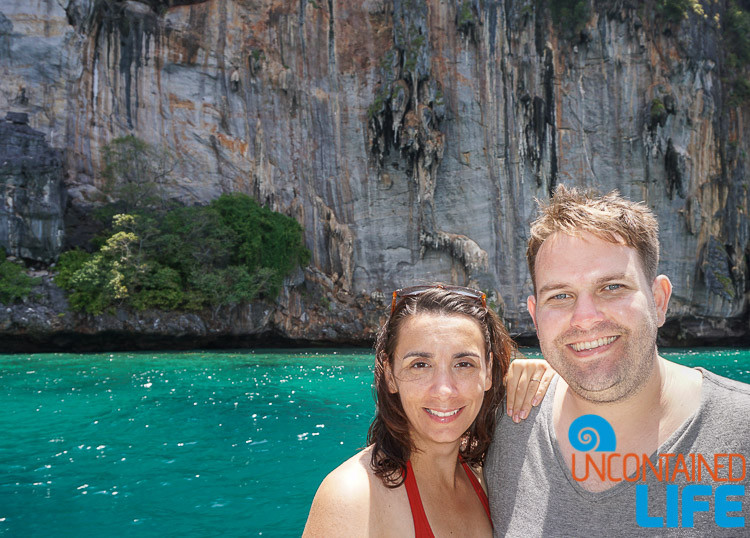 As we passed the Viking Cave, Mike explained that this is where the bizarre culinary delicacy the "birds nest" is collected. (For the curious, the part of the nest that people eat isn't the twigs and moss bit…nope…it's the solidified bird saliva holding it all together. Yum?)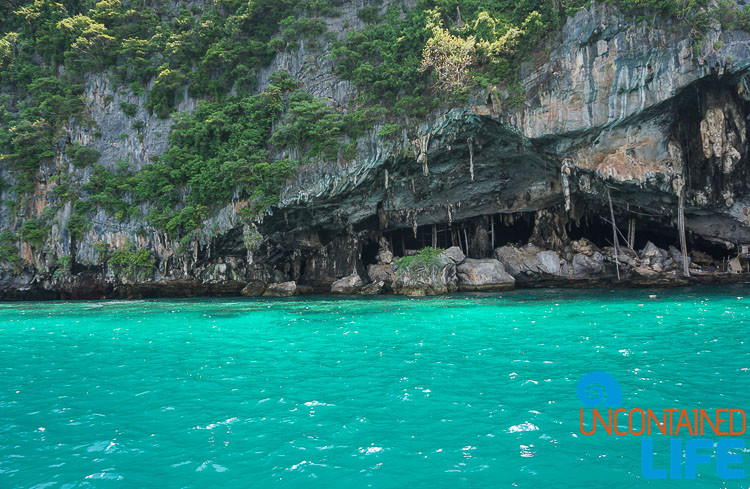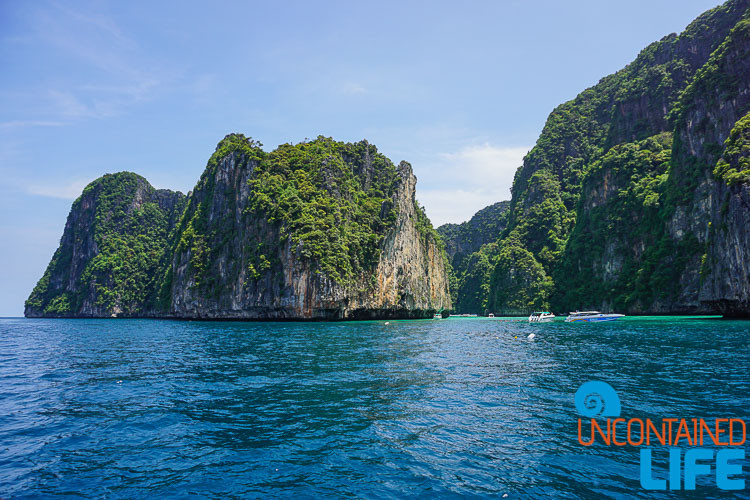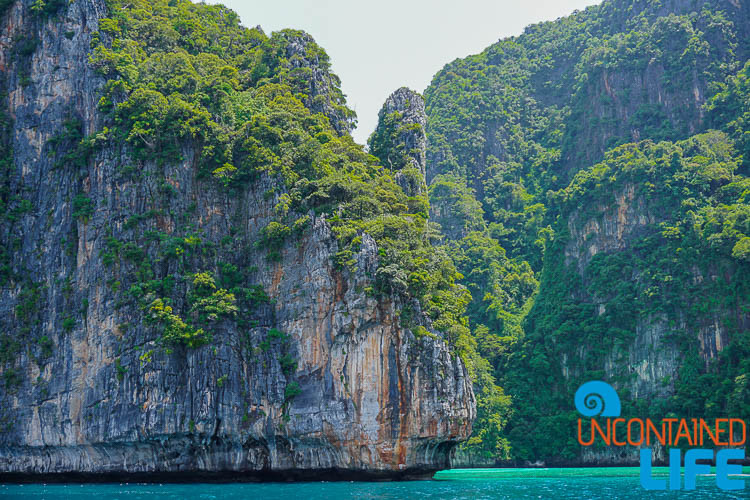 Upon arrival at Koh Bida Nok we discovered that the waves were too rough for snorkeling, so instead of getting in the water, we continued our cruise through the Cruise Loh Sama Channel, and toward another snorkel spot: Maya Bay. Again, we appreciate the crew's concern for our safety.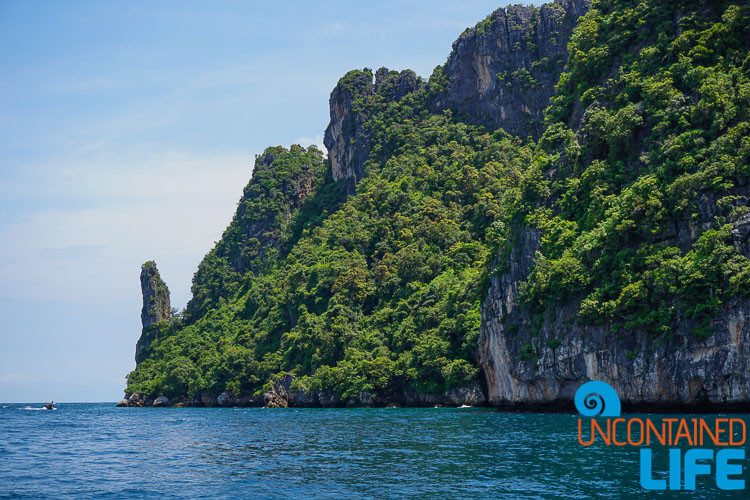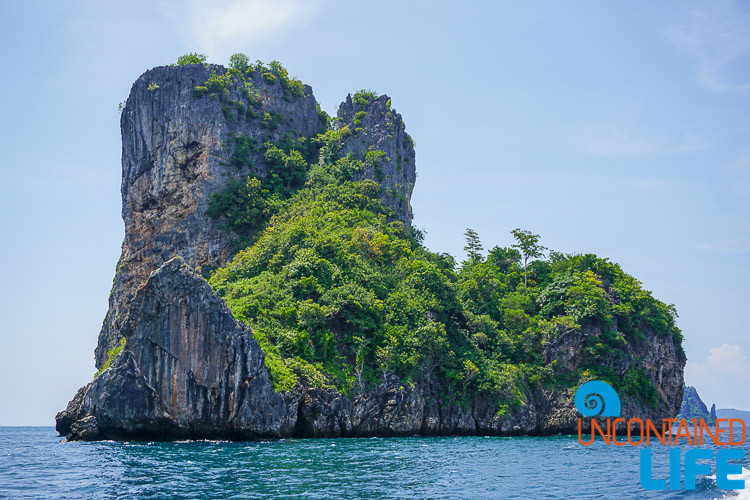 Maya Bay is probably best known as the backdrop for the film, The Beach. Even though it was an island in the Philippines which actually inspired the book, when it came time to make the movie, the filmmakers decided to shoot here in Phi Phi. And it's not difficult to see why…if you can see past the hundreds of tourists which now populate the shore of the "secret beach" on a daily basis.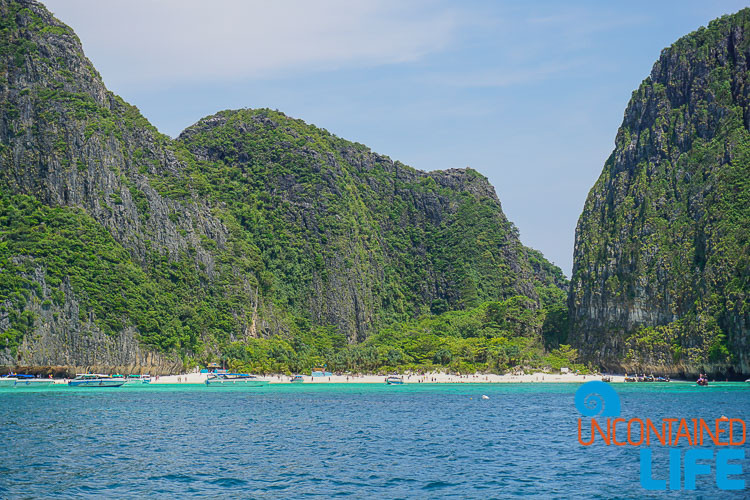 The truth is…it is a beach…with really good marketing. Rather than fight it out for a few feet of sand to call our own, the Blue World boat once again docked off-shore, allowing us to explore other, less crowded stretches of white sand as well as snorkel some more.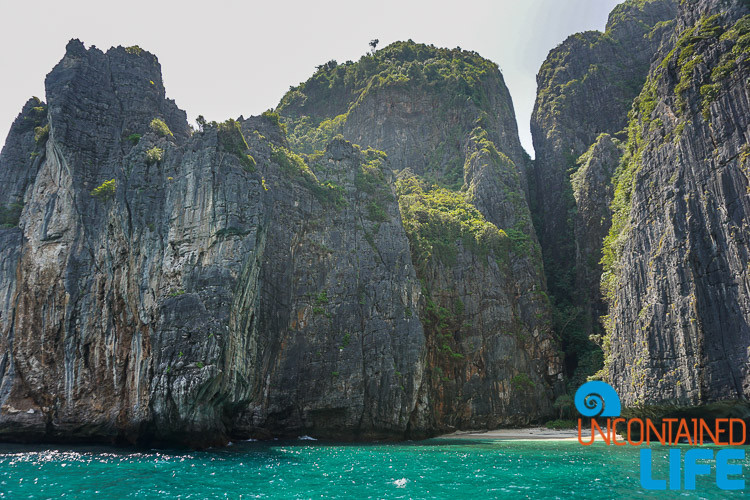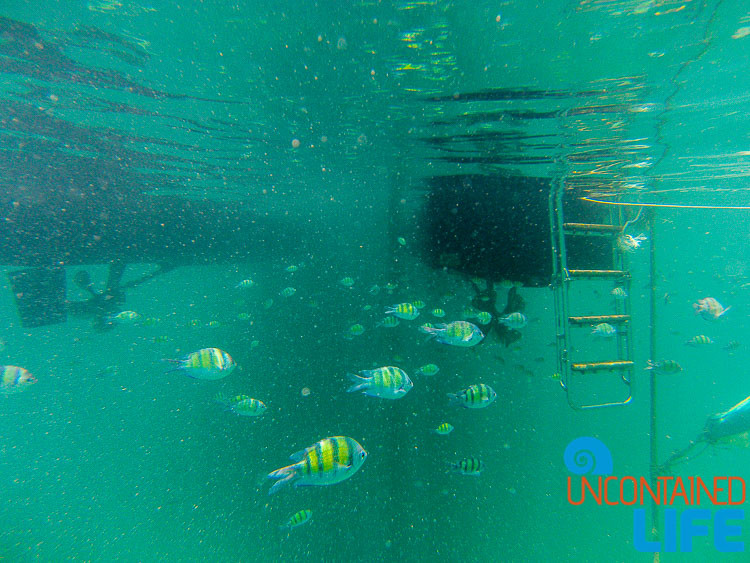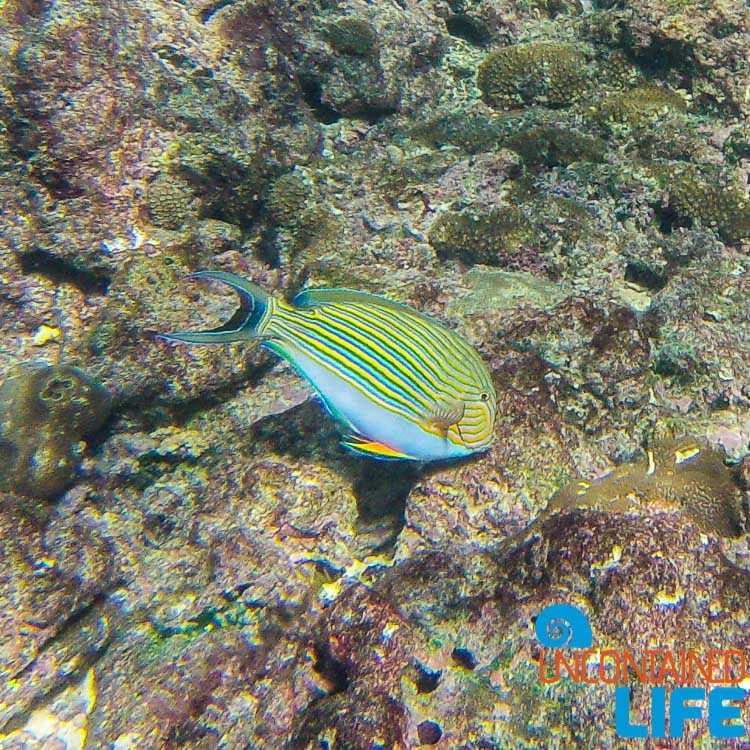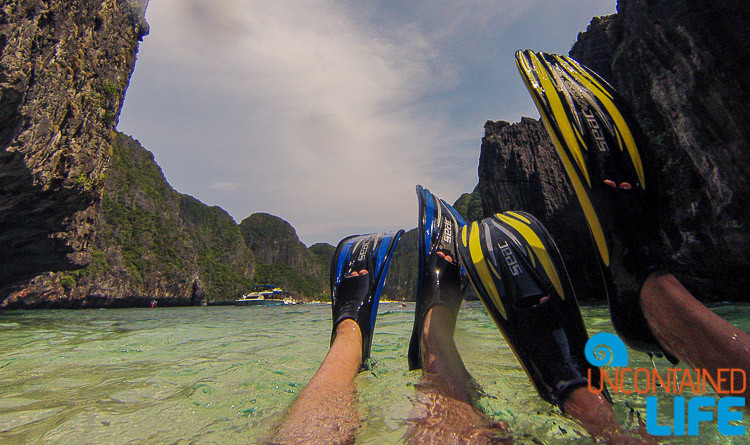 After our stop at Maya Bay we headed back to Phuket tired but happy. The waves and wind had picked up so the trip back to shore was slightly more rough. In Australia, we had been in similar conditions on a single hull boat and this catamaran ride was much more smooth.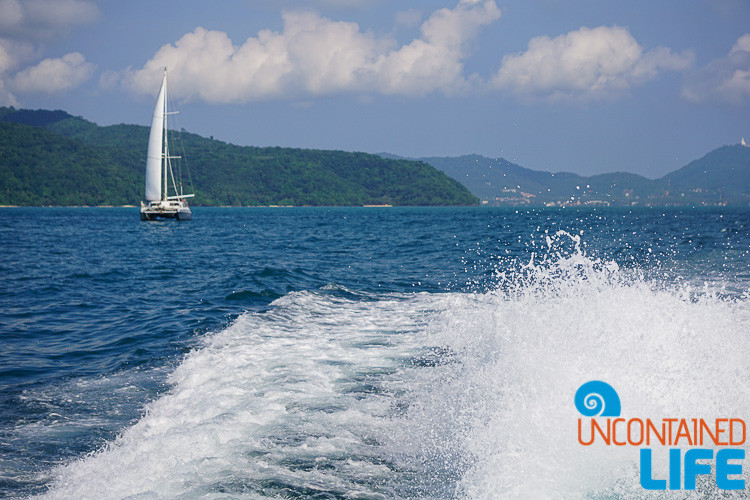 Sunshine? Snorkeling? Dolphins? Who can ask for anything more? 
Are you on Pinterest? Pin this post.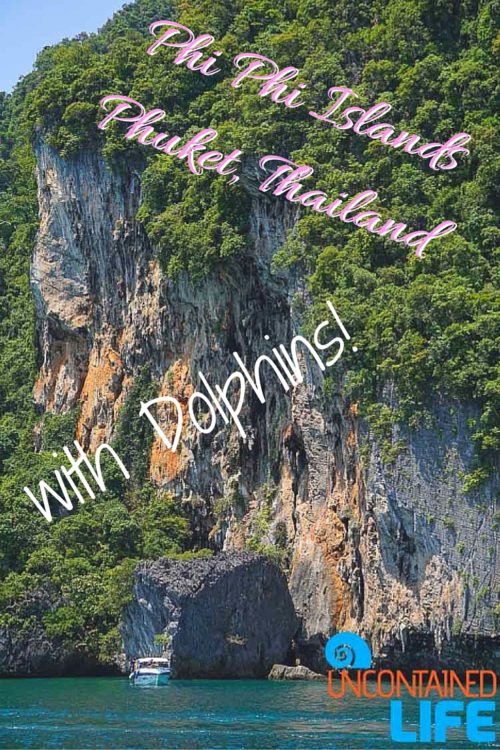 ---
Thanks to Blue World Safaris for hosting us in Phuket. As always, all options are our own.