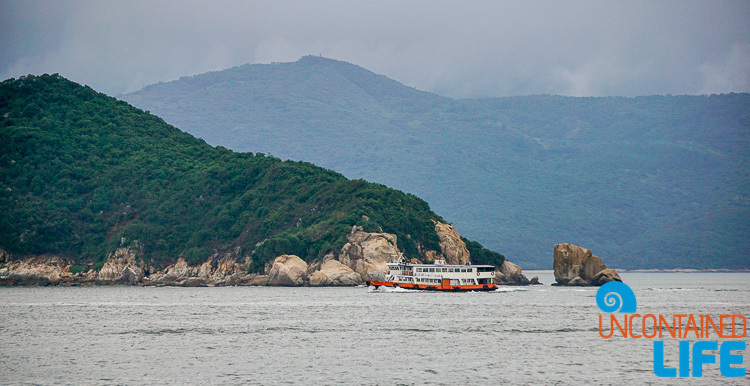 Justin's and my visit to Hong Kong this past summer was a fantastic adventure full of new sights and great bites. But after several days exploring the city, we decided we needed a little break from the crowds. Luckily, Hong Kong's excellent ferry system makes seeing nearby islands a breeze. So, we decided to take a day trip to Cheung Chau–a small island located 10 km southwest of Hong Kong Island.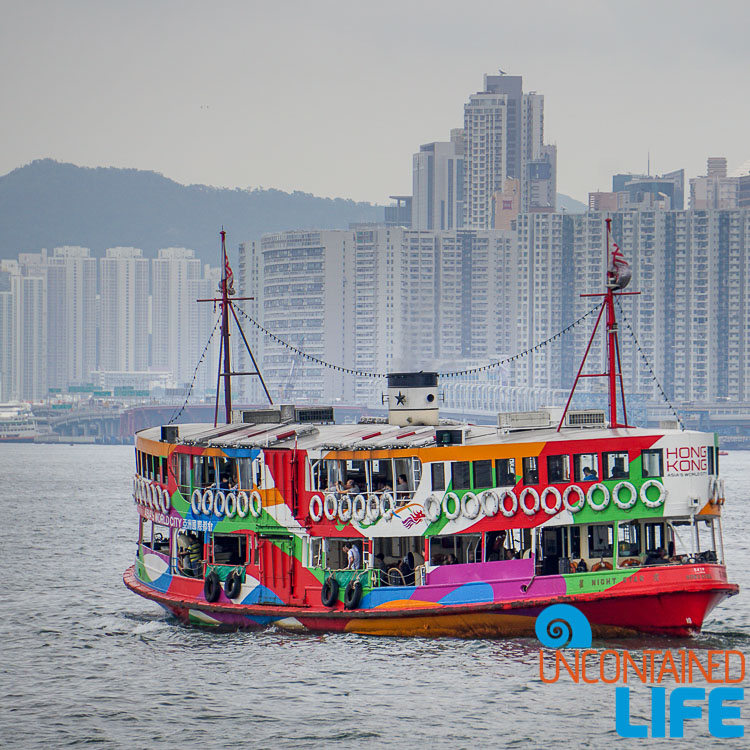 A Day Trip to Cheung Chau
The journey from Hong Kong to Cheung Chau takes approximately 1 hour on an ordinary ferry (13.2 HKD M-Sat. & 19.4 HKD on Sundays and holidays) which we chose over the "fast ferry" for its superior sightseeing possibilities.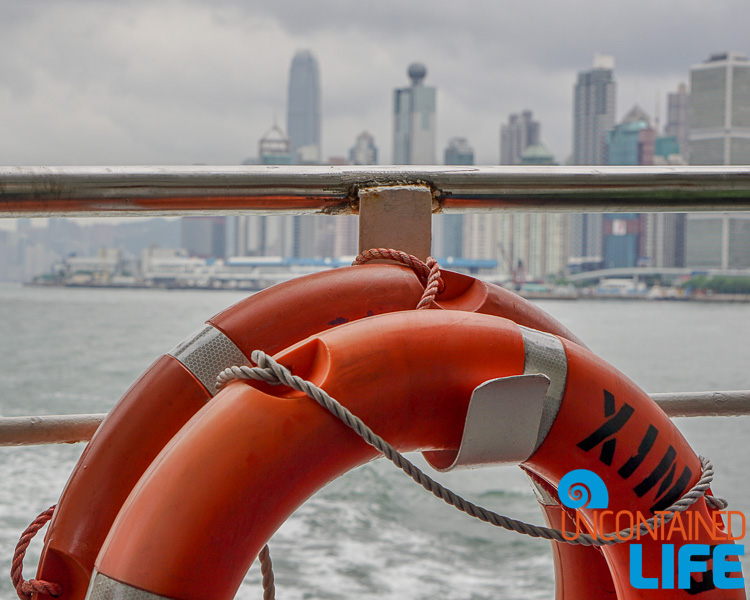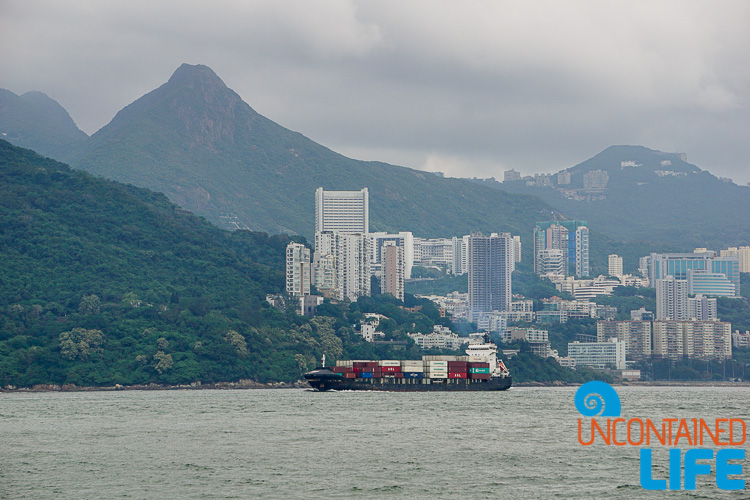 100 years ago, Cheung Chau was just a little a fishing village, settled mainly by Southern Chinese. Over the years, it evolved into a commercial hub (still focused upon the fishing industry); and in more recent decades, taking a day trip (or an overnight) to Cheung Chau has become popular amongst both Hong Kong locals and tourists who come to enjoy the island's sandy beaches, green hills, and fresh seafood.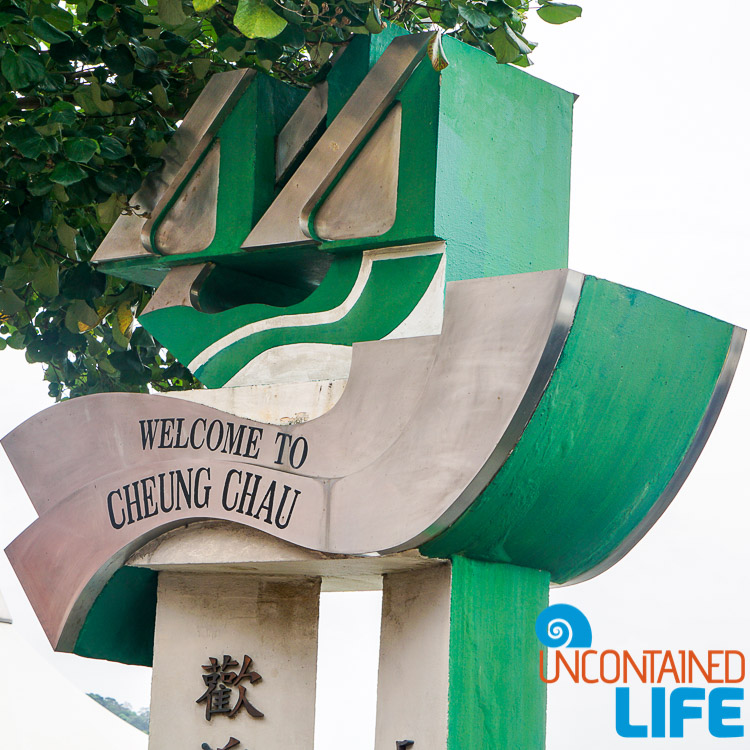 As we neared the ferry pier, we were struck by just how bright and cheerful the island appeared–with boats, houses and storefronts painted a rainbow of colors.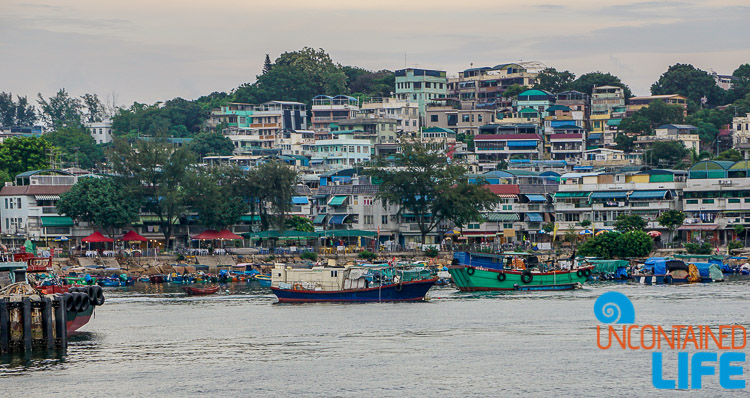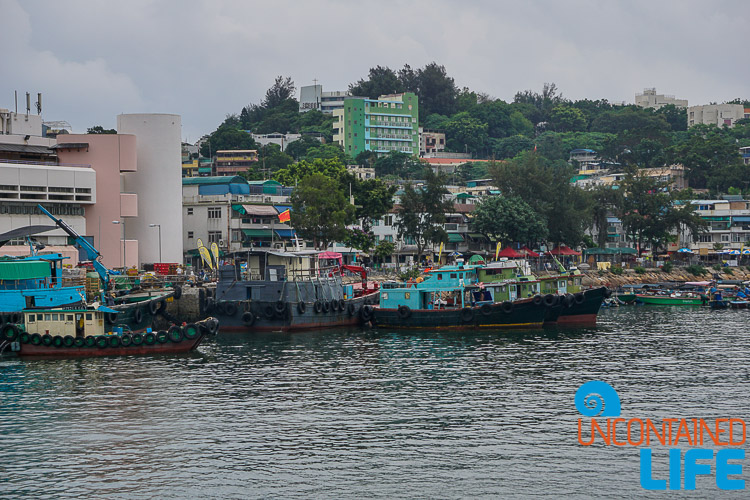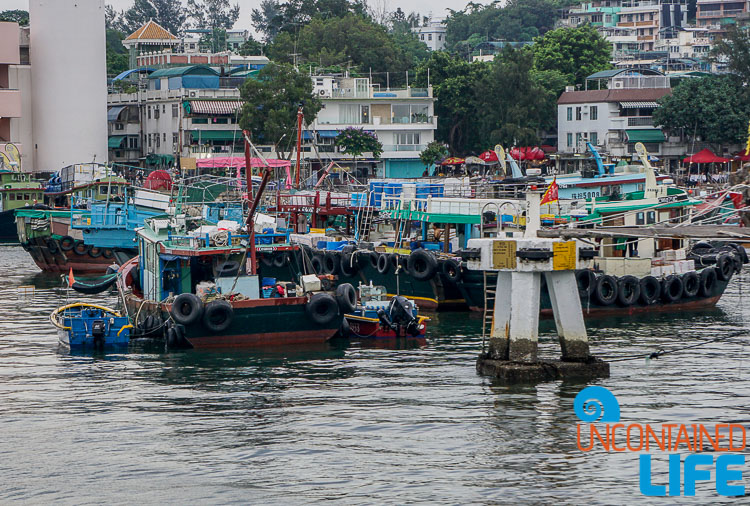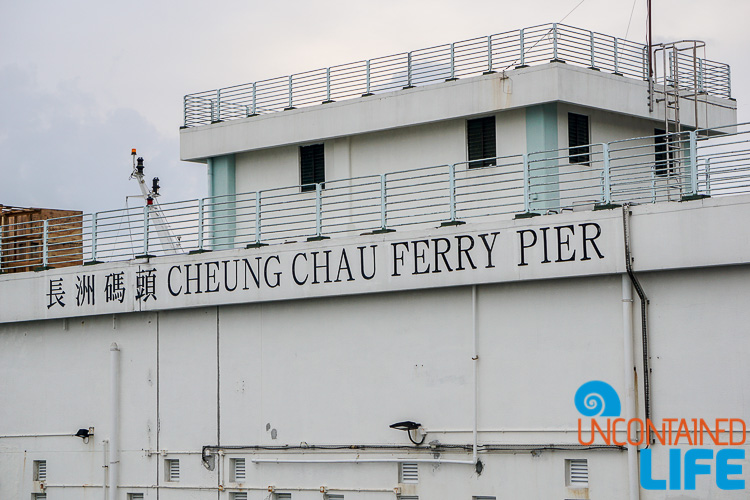 The island's narrow streets are too small to accommodate cars, so bikes proliferate around the town. (There are several places for tourists to rent bikes near the ferry pier.)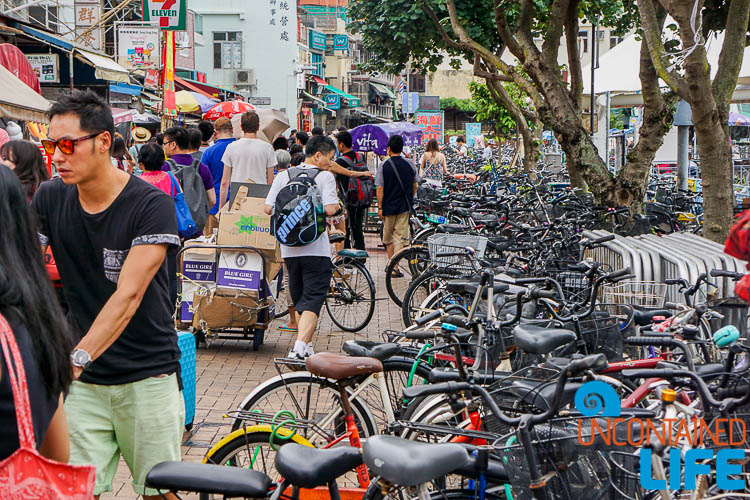 Cheung Chau's Beaches
Our first stop of the day was at the beach! Tung Wan Beach is the biggest and best beach on Cheung Chau. Even on an overcast day like this one, the beach had plenty of visitors.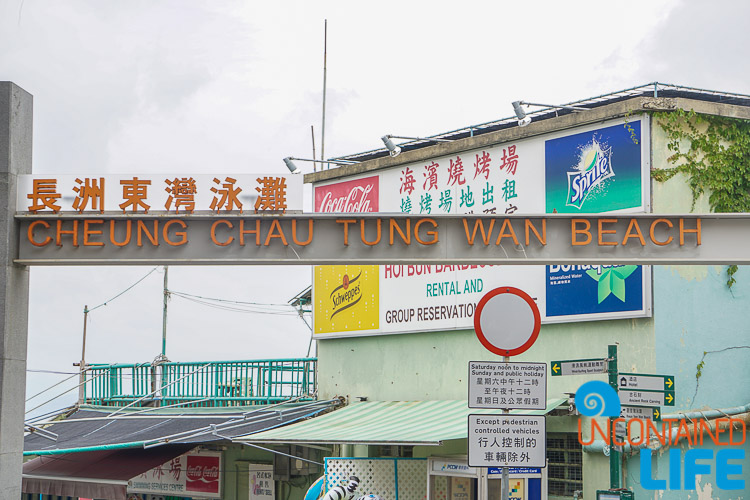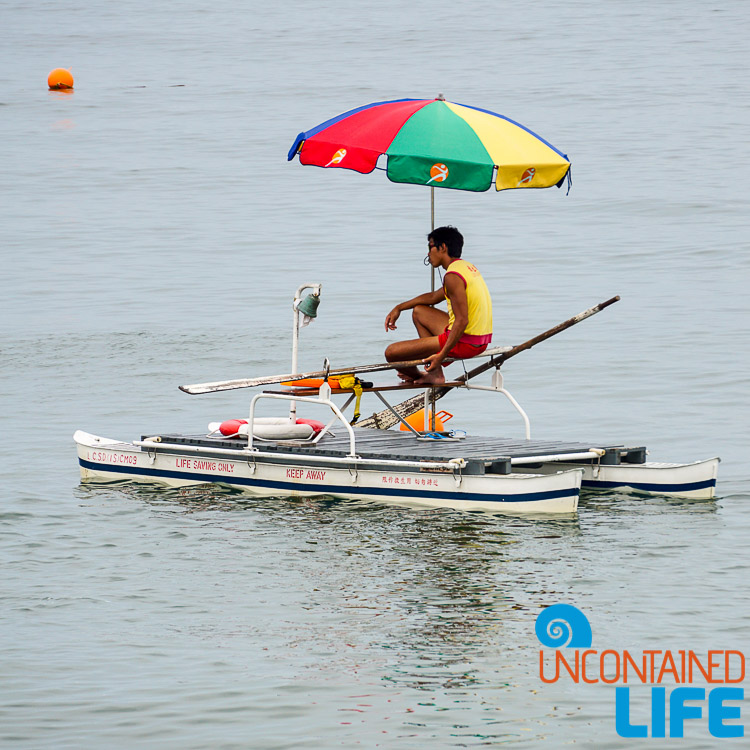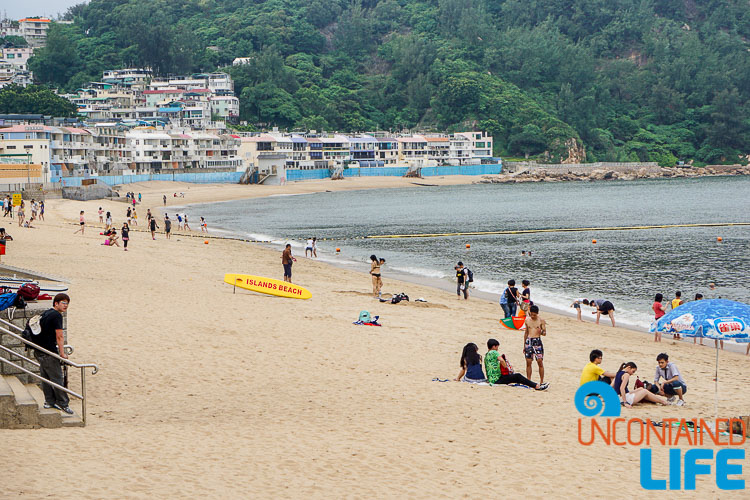 Right next door to Tung Wan Beach is Kwun Yam Beach–a beach most famous for being the place where windsurfer Lee Lai-shan learned her craft (she brought home Hong Kong's first Olympic gold medal from the Atlanta Games in 1996).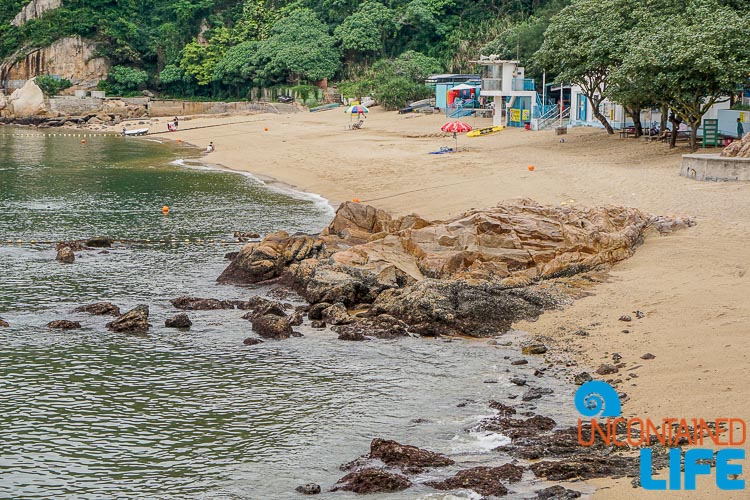 The Little Great Wall
Following the path up the hill from Kwun Yam, we made our way to the start of the "Little Great Wall" hiking trail. The relatively short duration of this path (approx. 850 m) makes it perfect for day trippers (just be sure you've got your mosquito repellent at the ready).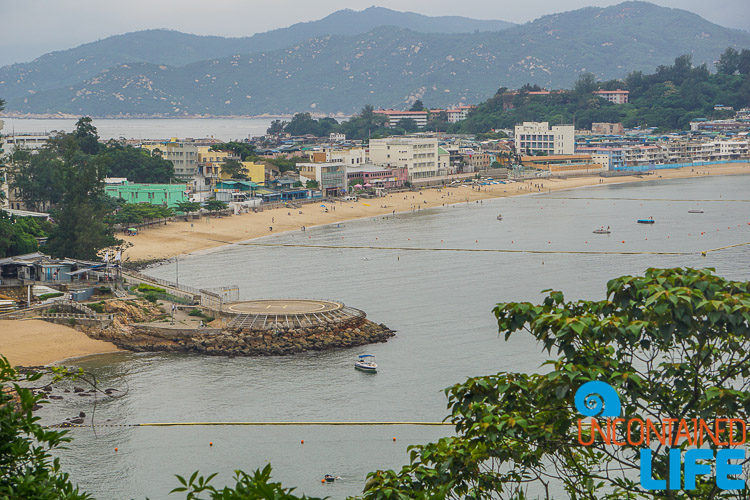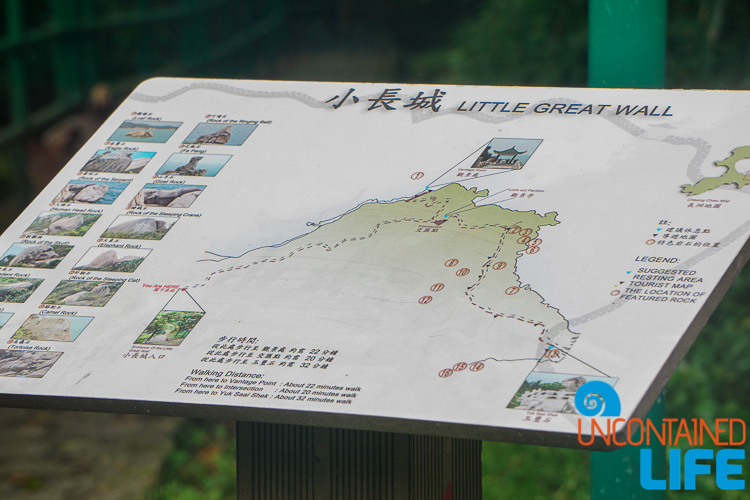 The Little Great Wall trail is a paved pathway which follows the headland of Chi Ma Hang, on the southeast side of Cheung Chau. Why the name "Little Great Wall"? As far as we were able to determine it has something to do with the idea that the granite handrails bear a sort of resemblance to the Great Wall of China. (Personally, I don't really see it, do you?)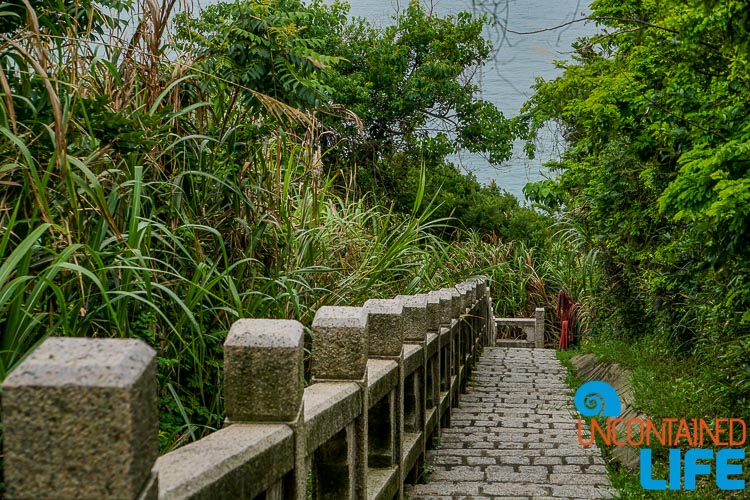 In any case, the trail does offer hikers some great views through forests, along cliffs, and past a number of uniquely shaped rocks (all with names) which have been carved by the elements.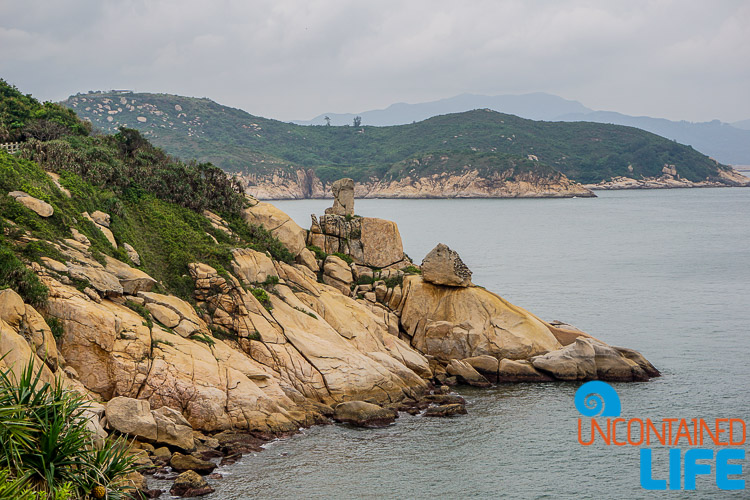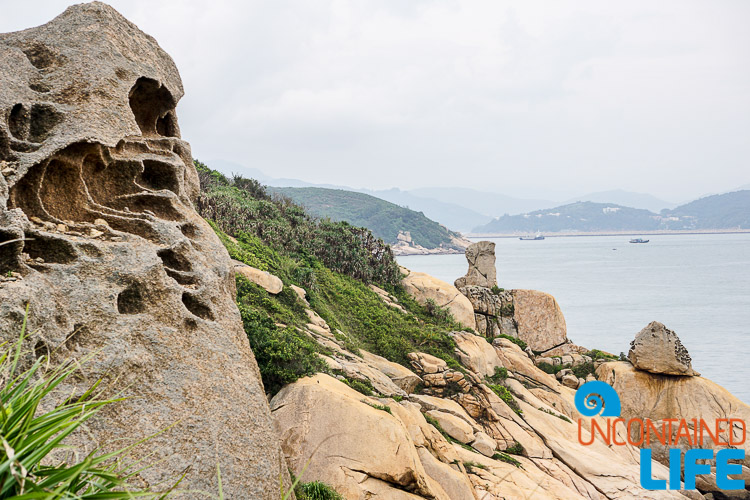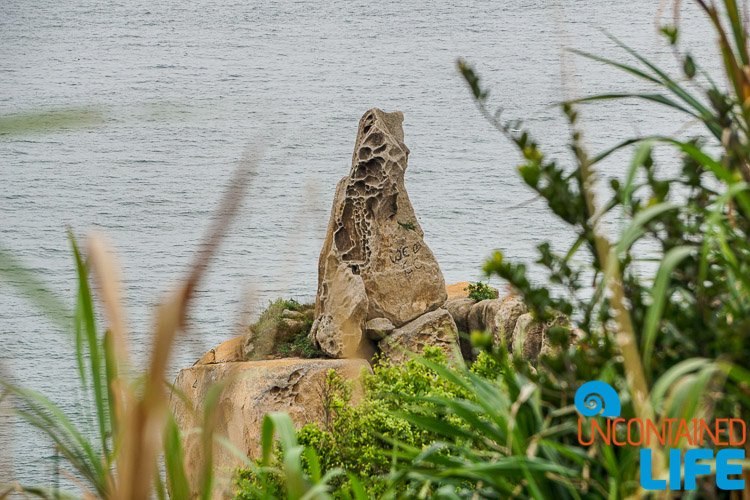 As we walked along, we spotted a number of birds…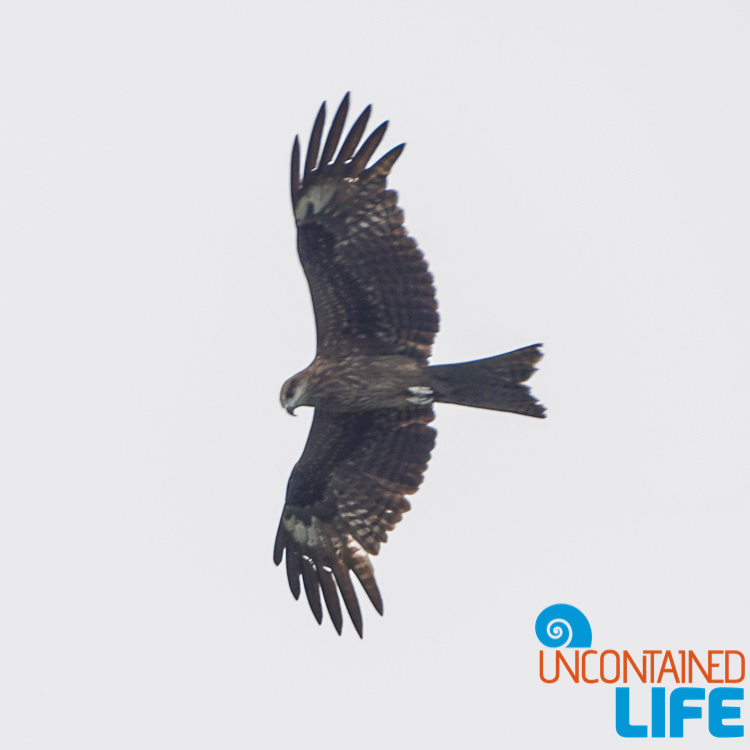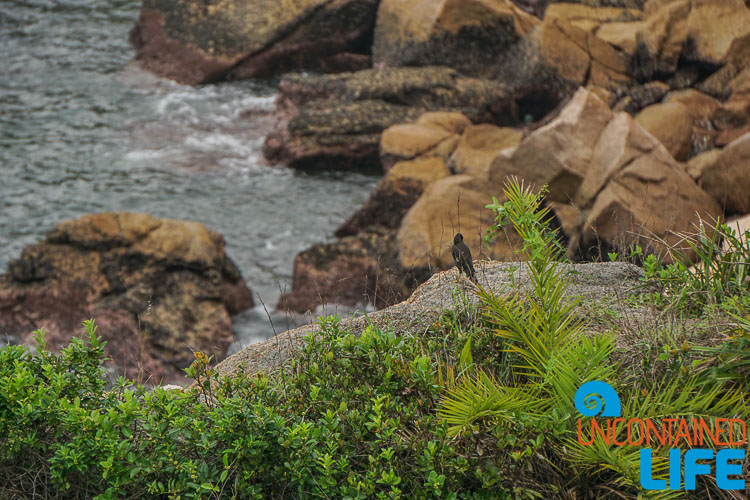 …a veritable bevy of butterflies…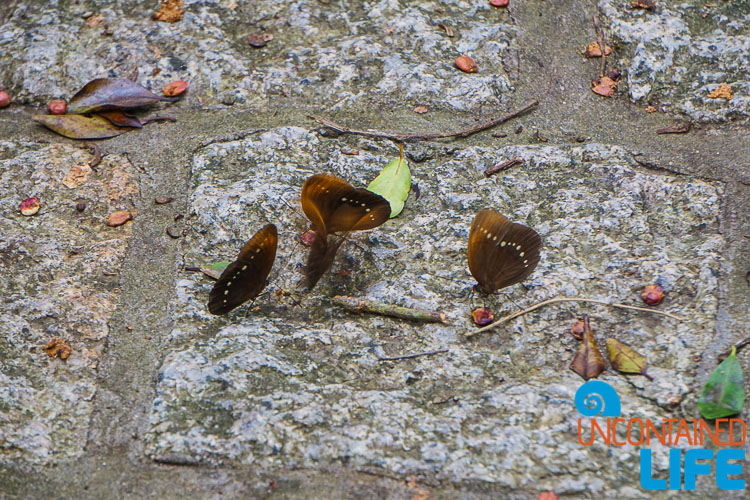 …as well as some other slightly creepier critters.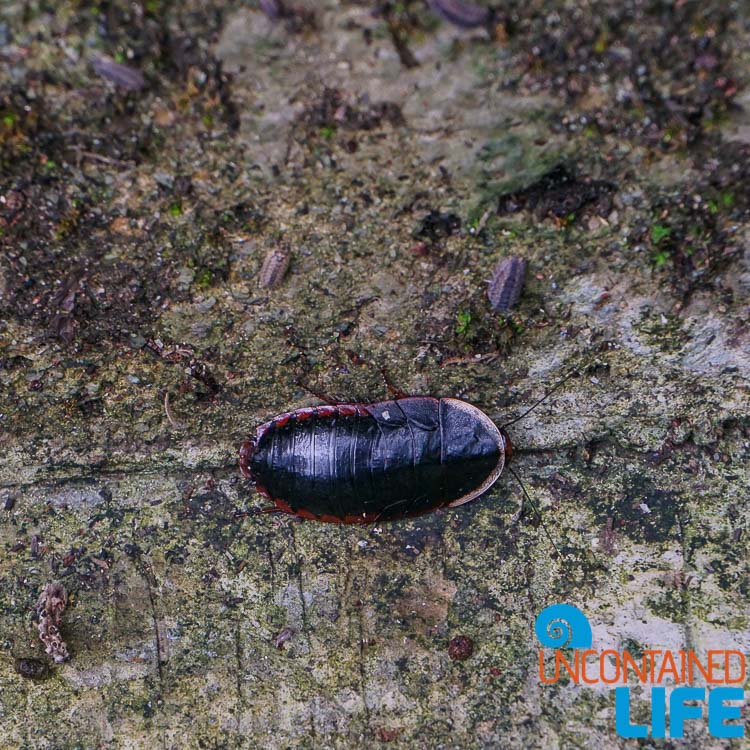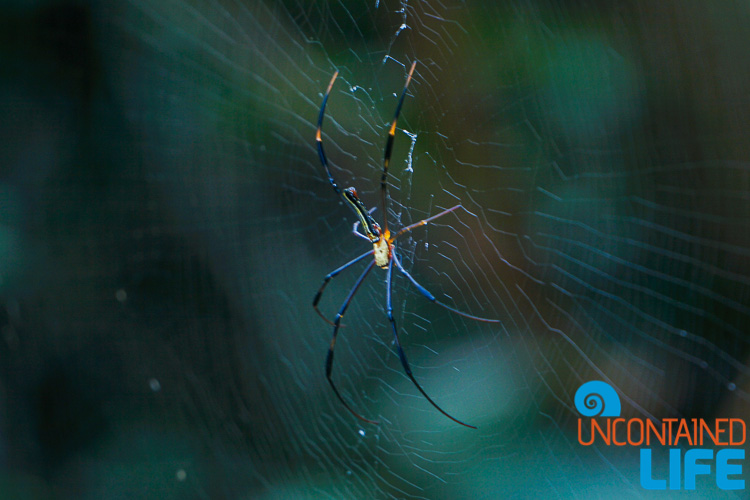 Exploring the Back Streets of Cheung Chau
Upon reaching the end of the trail, we decided to head down and inland so we could explore some of the town.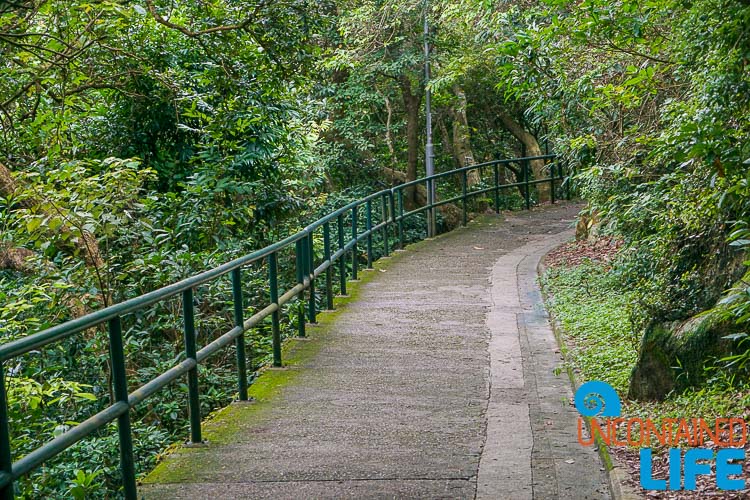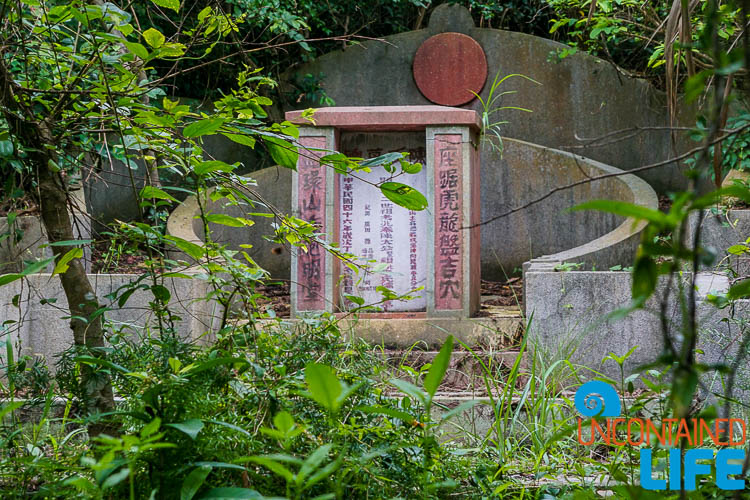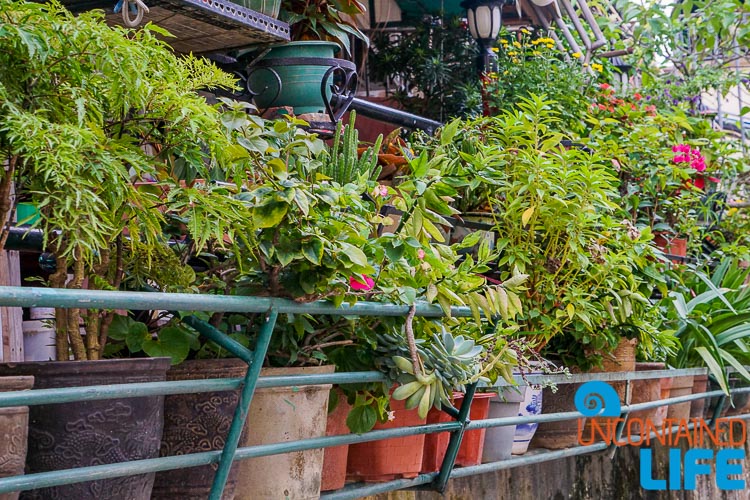 You won't find many tourists was you wander Cheung Chau's tiny backstreets, but there's certainly plenty of fun and interesting things to observe: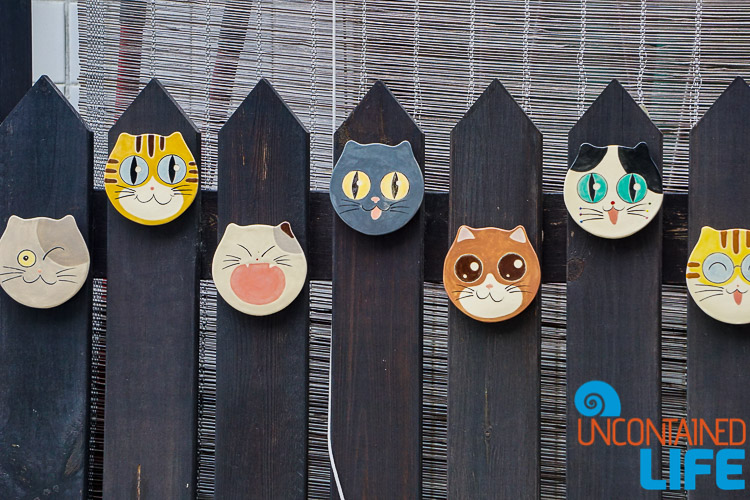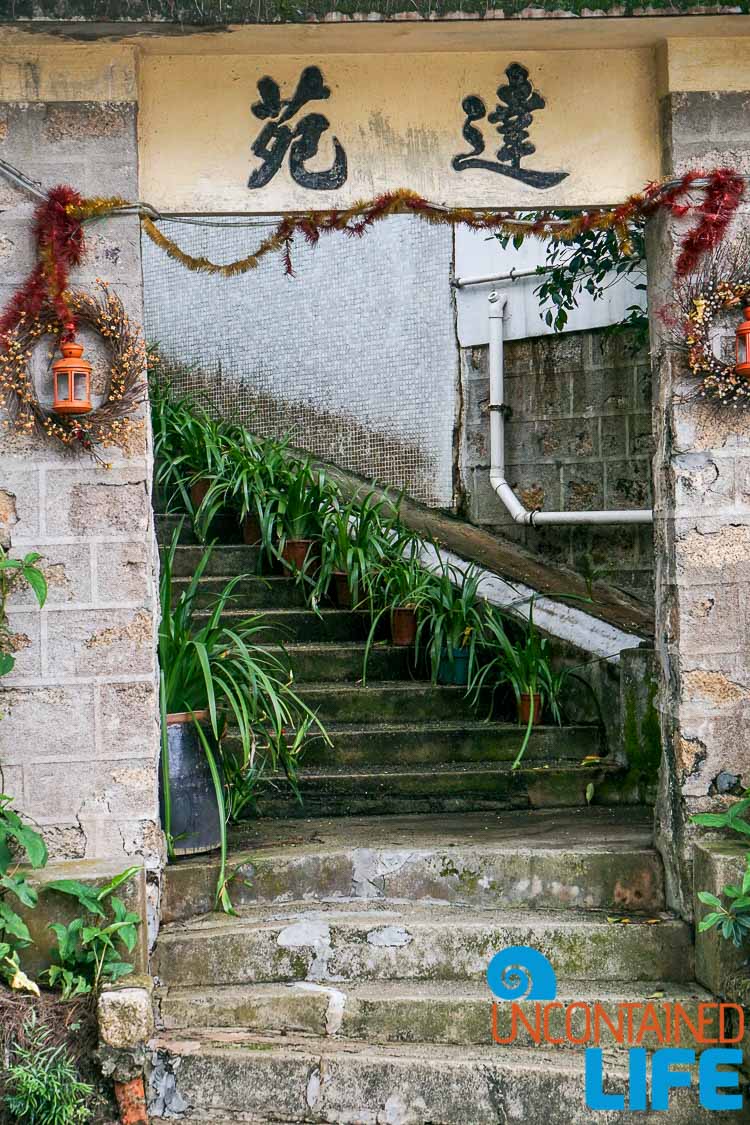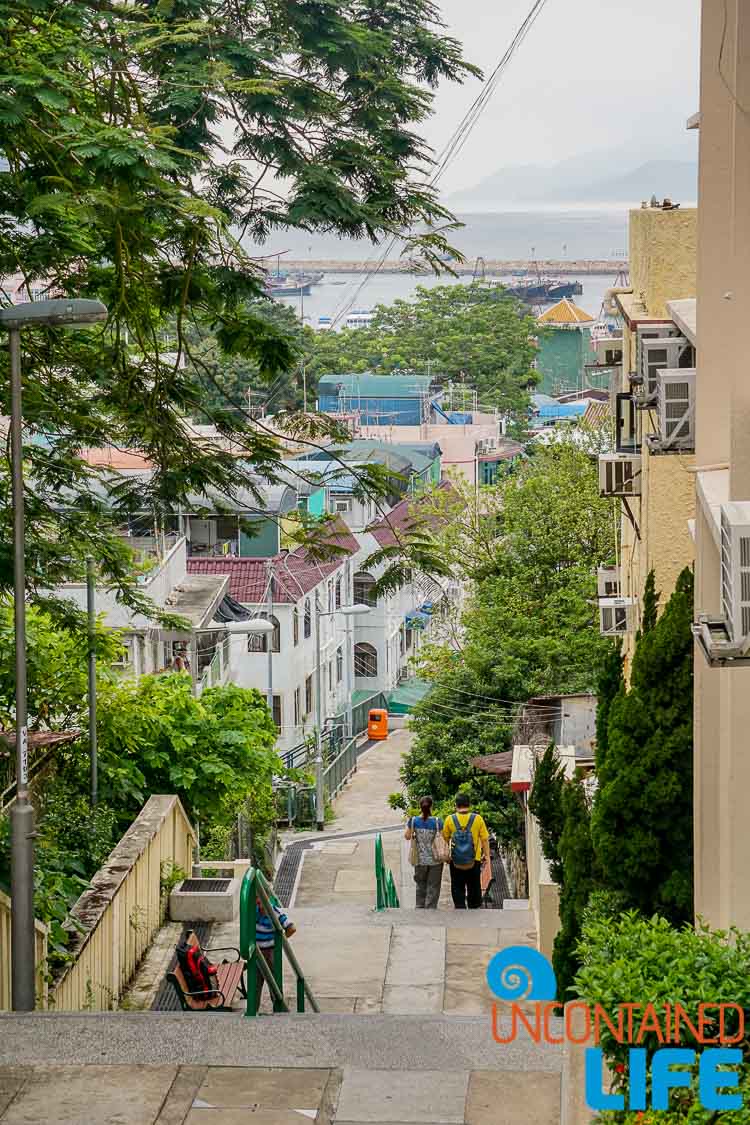 As we drew nearer to the waterfront, we found ourselves in the midst of the local market. There are, of course, the usual sorts of bakeries, vegetable and fruit stands…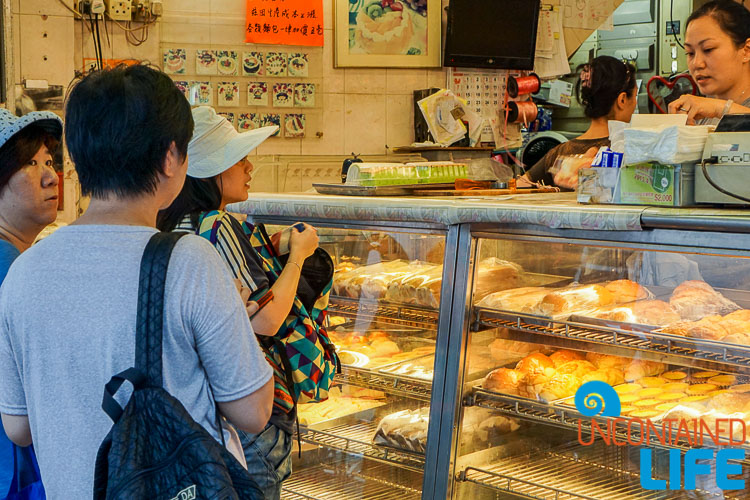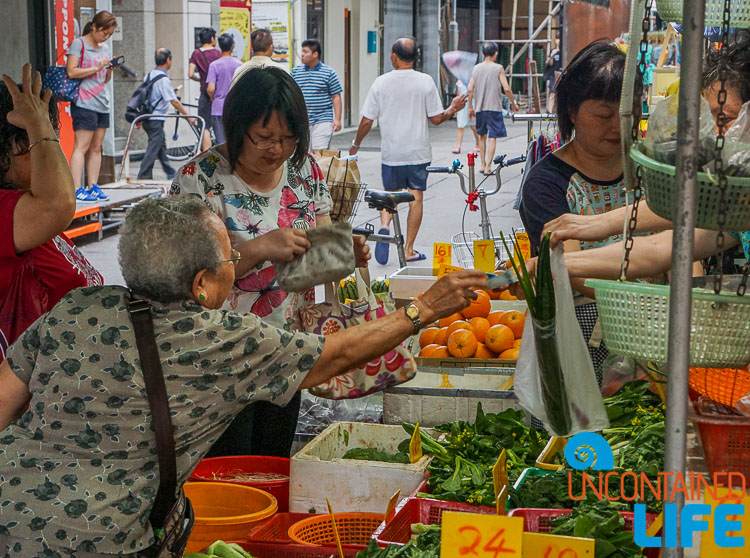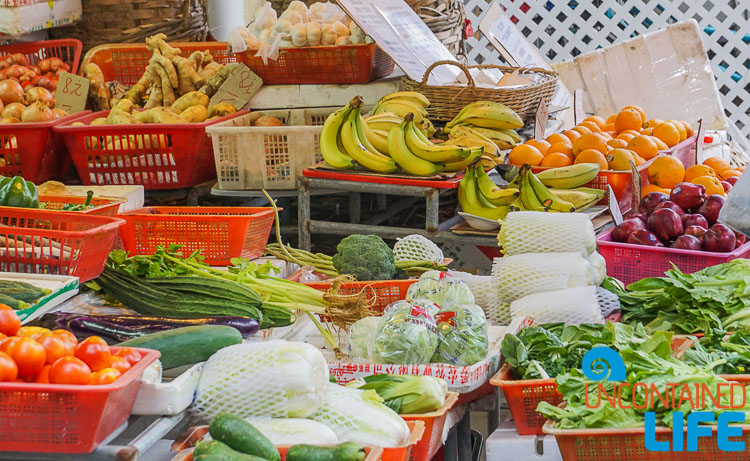 But if you're interested in seeing more of the food market scene, be sure to stick your head inside the big, indoor "wet market" space. Note: seafood purchased in this market can be taken to almost any seafood restaurant along the waterfront, in which case only a "cooking fee" will be charged.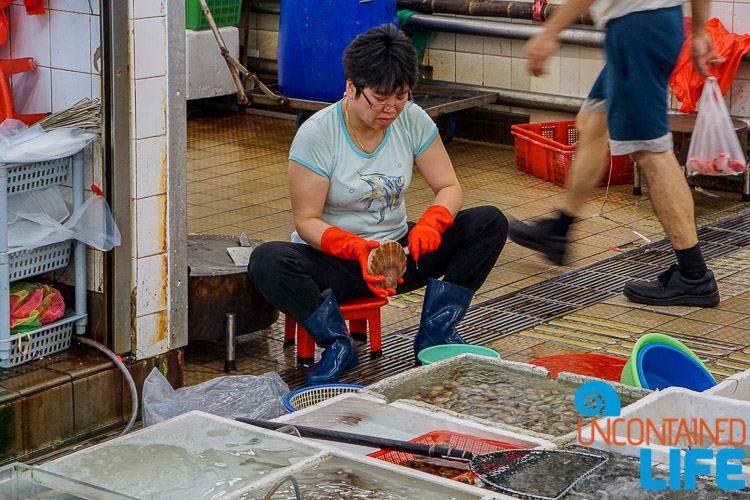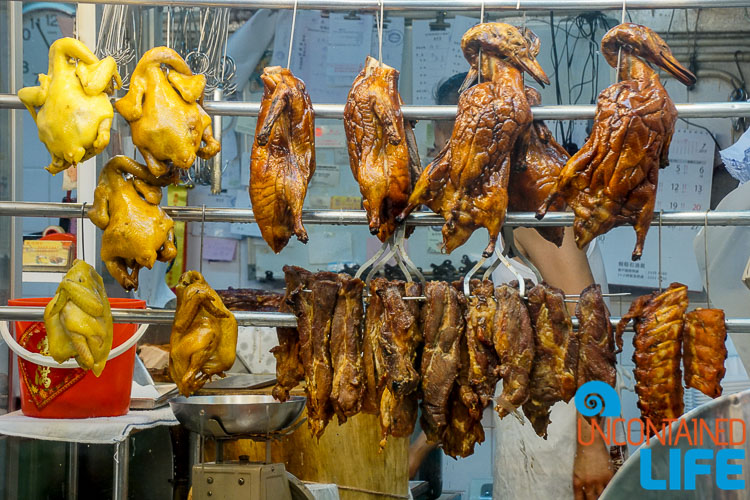 Finally, we walked back toward the ferry along the water–passing several of the island's top seafood restaurants, and a number of souvenir shops.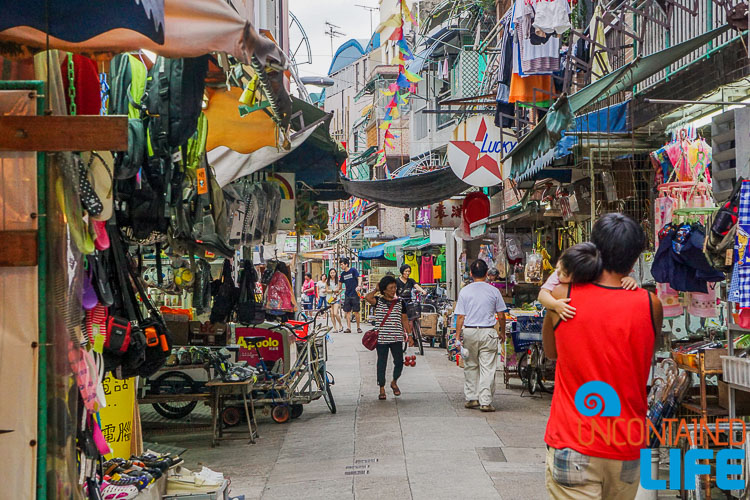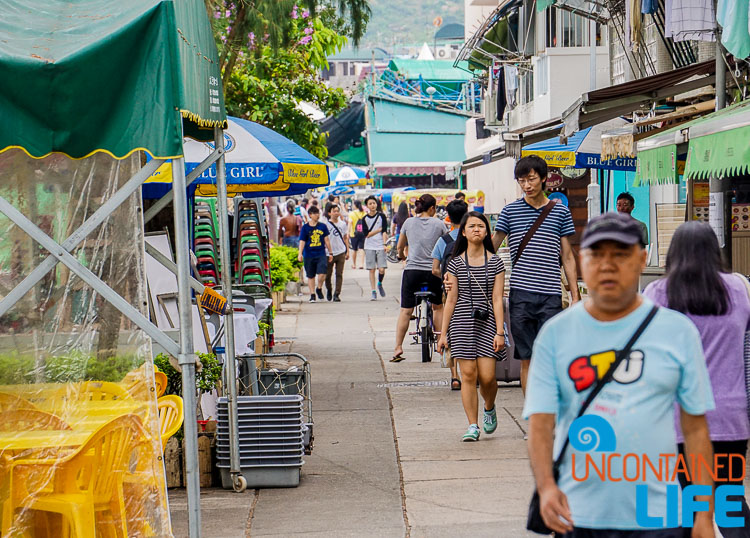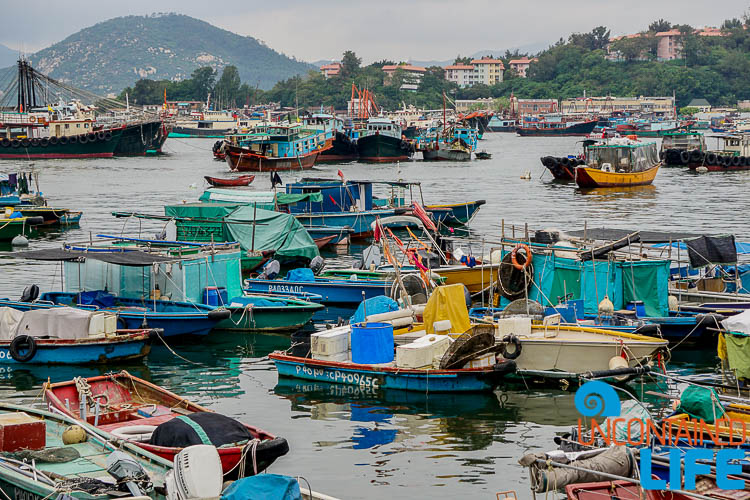 Back to Hong Kong
We decided we wanted to enjoy sunset from the boat, so around 6pm, we headed back toward Hong Kong.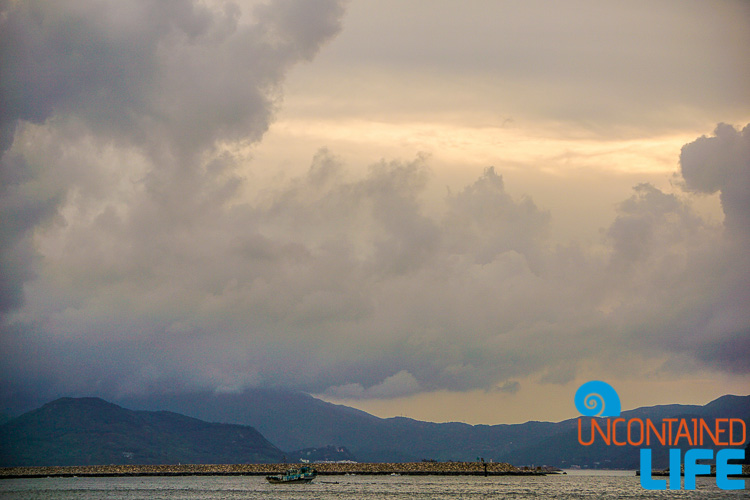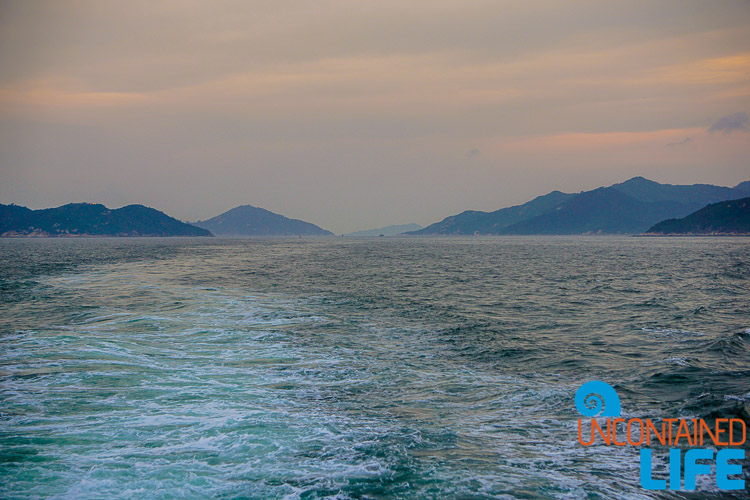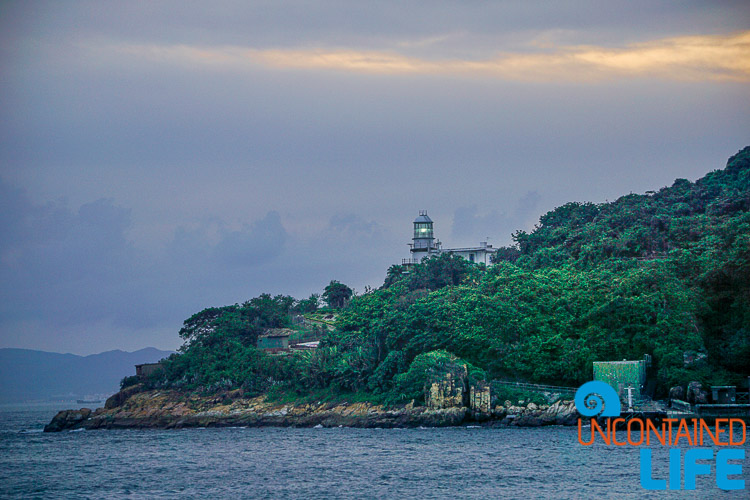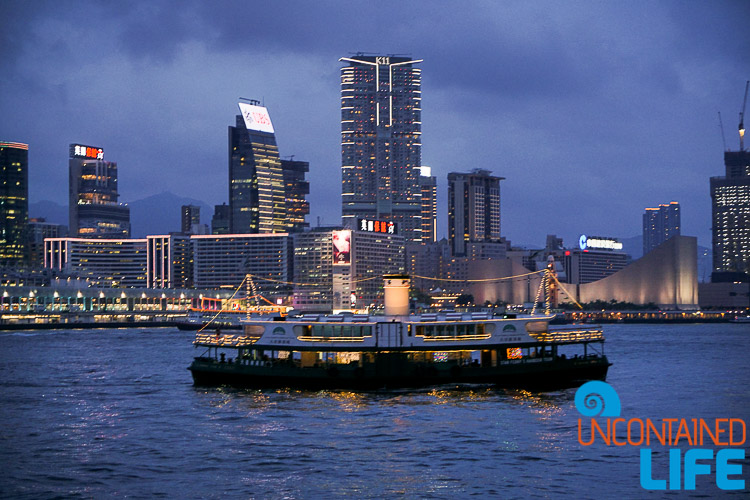 Definitely the perfect day trip!
Looking for a place to stay in Hong Kong? Find the best deal, compare prices, and read what other travelers have to say on TripAdvisor!
Are you on Pinterest? Pin this post!