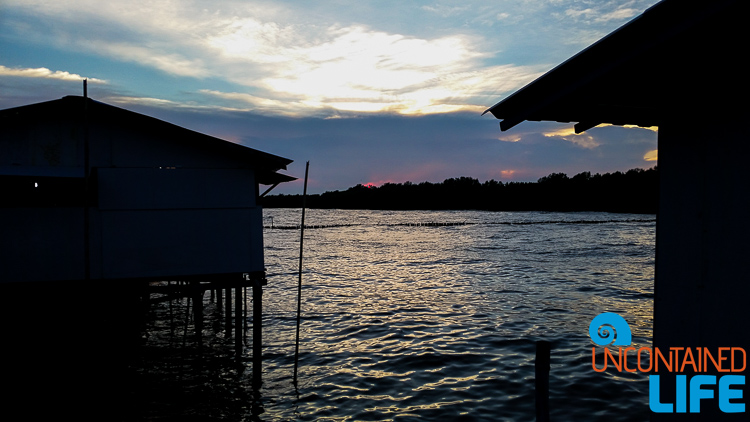 Ask most local Bangkok residents how to get to the ocean and they'll direct you to the beaches of Pattaya or Bang Saen (both located approximately two hours from the city centre) or even further afield to the beaches and islands in the country's south. Few (if any) will send you to Bang Khun Thien, Bangkok's very own 3 mile (5 km) stretch of seafront (specifically, the Gulf of Thailand), located a mere 45 minutes, by car, from the city itself.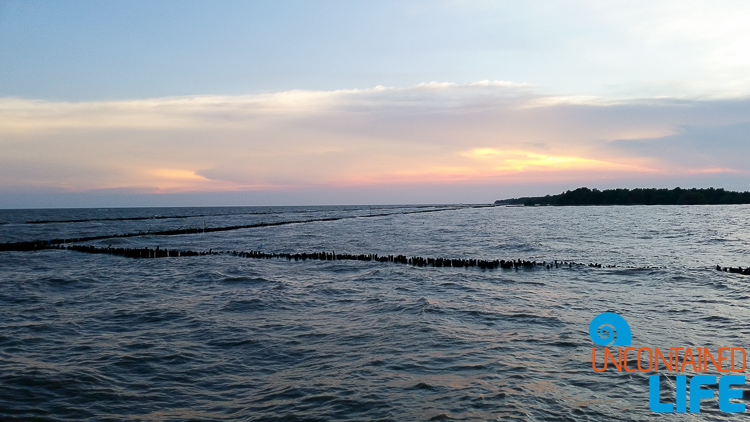 Justin and I first learned about Bang Khun Thien as a result of an invitation from a few local friends eager to take us to their favorite seafood spot. "You won't believe where it's located," they said…and left us without any more details except, "We'll pick you up at 4." A four-in-the-afternoon pickup for a dinner date? The suspense was too much.
Our friends, Vance, Umarin, and Ing finally arrived at our guesthouse on Tha Din Daeng road and explained the mystery: tonight we'd be dining at Bangkok Seaview, a restaurant located, quite literally, in the Gulf of Thailand! We'd not only get to eat locally-caught seafood (restaurants in Bangkok will always tell you their seafood is fresh and local, but often, it's actually frozen-and-defrosted mass-commercial stuff), but also, to see a part of Bangkok most visitors never experience: its endangered mangrove forests the rural communities who have lived along the forest's canals for hundreds of years.**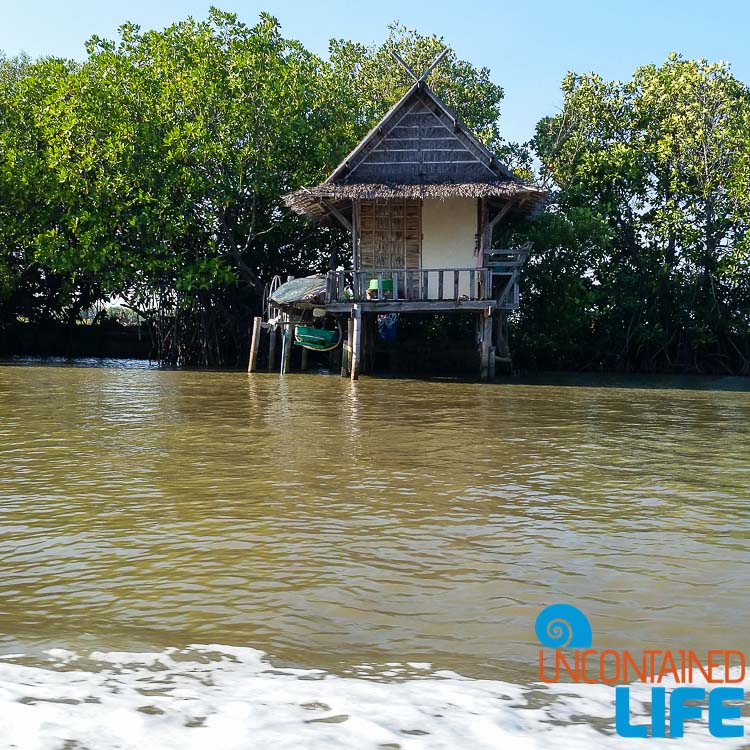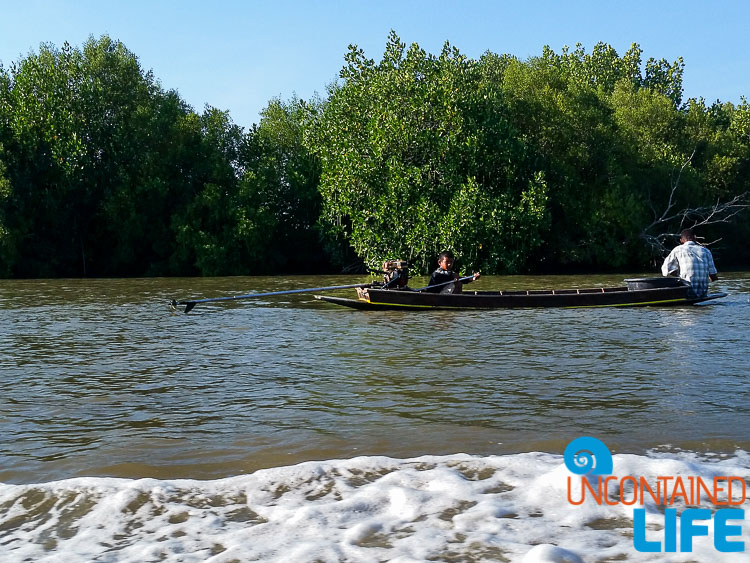 The long-tail boats which ferry guests to Bangkok Seaview (50 bhat per adult, 20 per child) run on a circuit through the mangrove canals, out to the Gulf, and back again.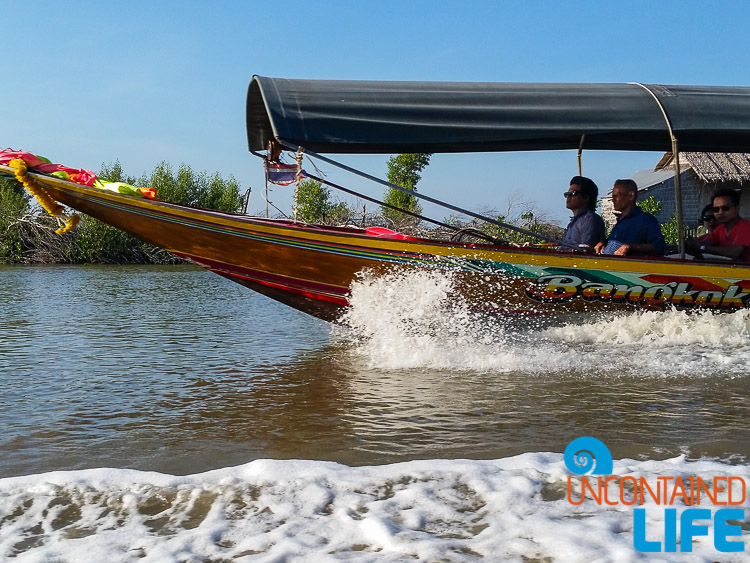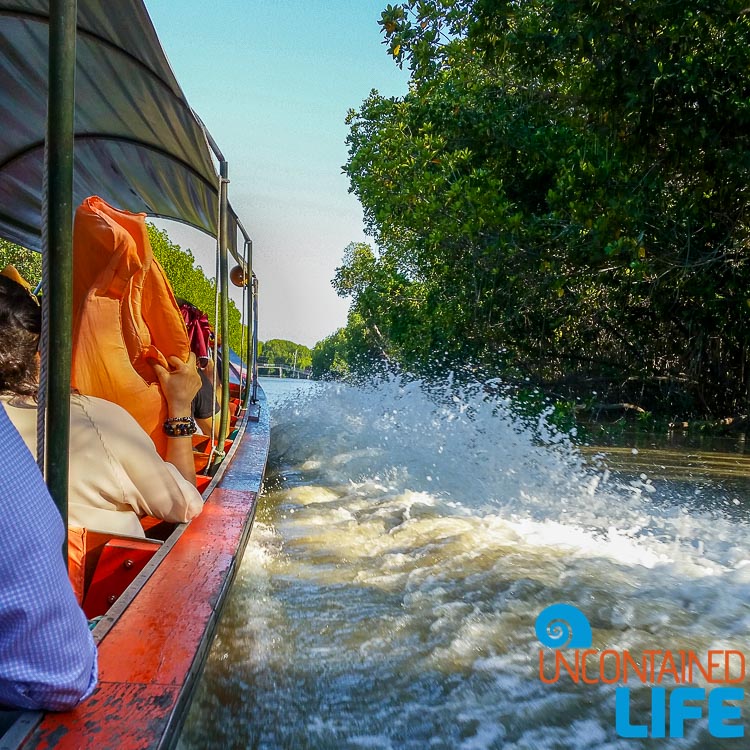 The breeze felt amazing after the inner-city heat…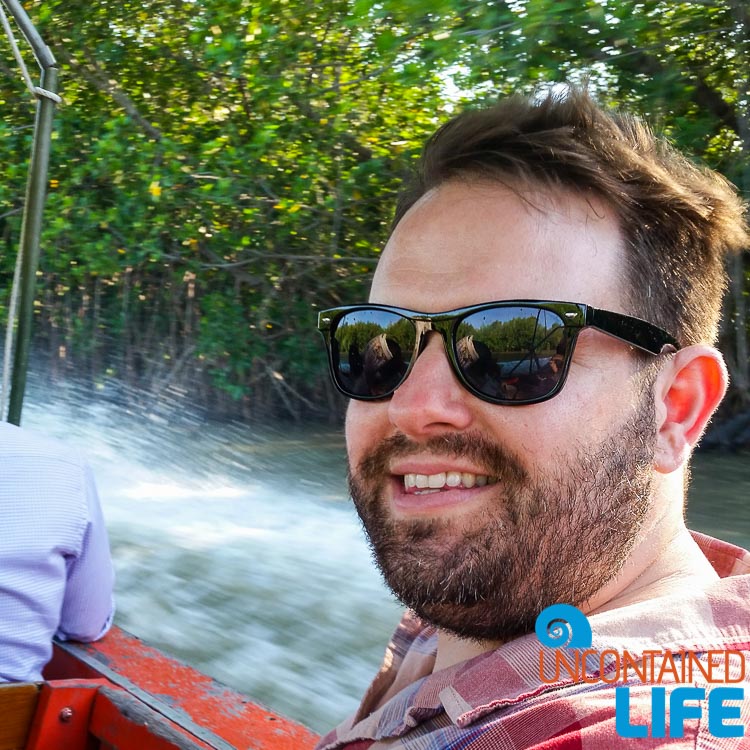 …and we were excited to see the over-water houses, old boats and mangroves!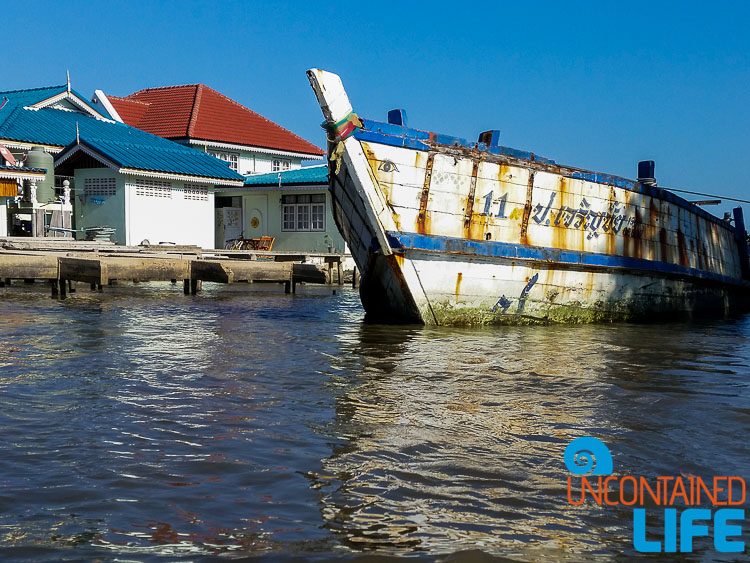 After about 20 windswept minutes, we arrived at our destination.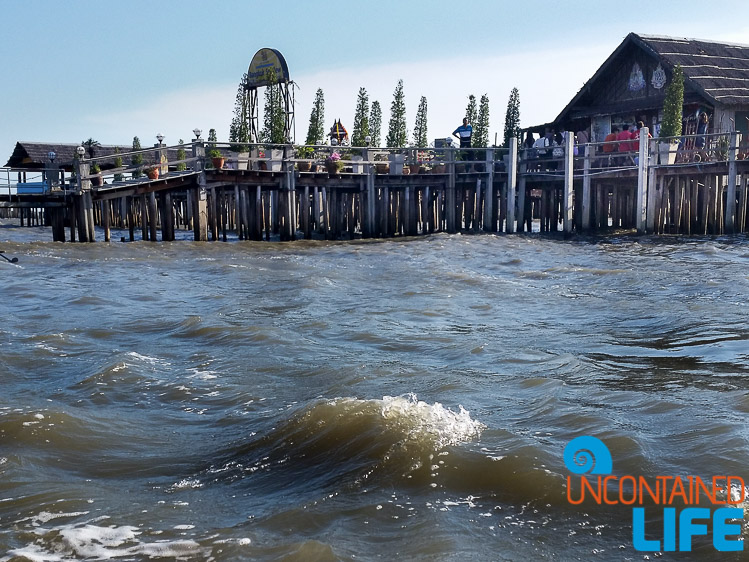 We clambered out of the boat and walked up the gangplank, past the restaurant's Spirit House. (A Spirit House is miniature structure which ensures that the "resident spirits" who might be displaced by a new home or business, aren't left to wander–as any Thai will tell you, a homeless and vindictive spirit can cause great harm!)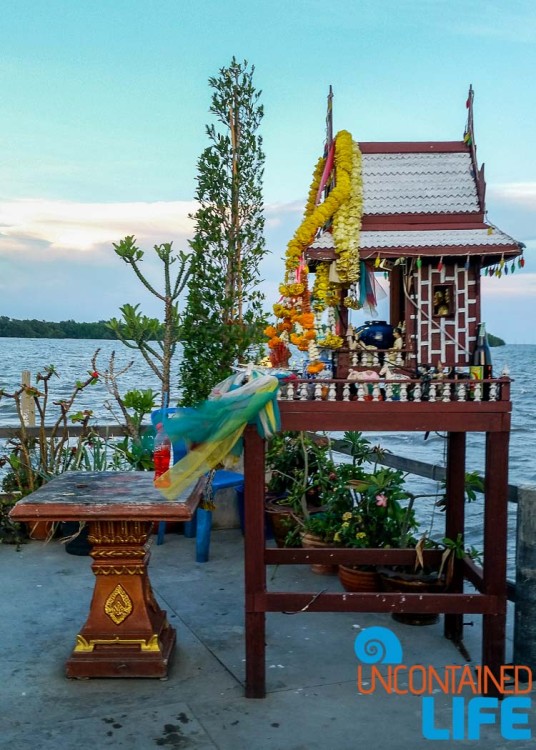 Off to our right, the smells of cooking seafood rose from the kitchen area and mingled with saltwater tang. On our left row upon row of low tables and bright seating cushion were filled with Thai customers–couples, families, and groups of friends.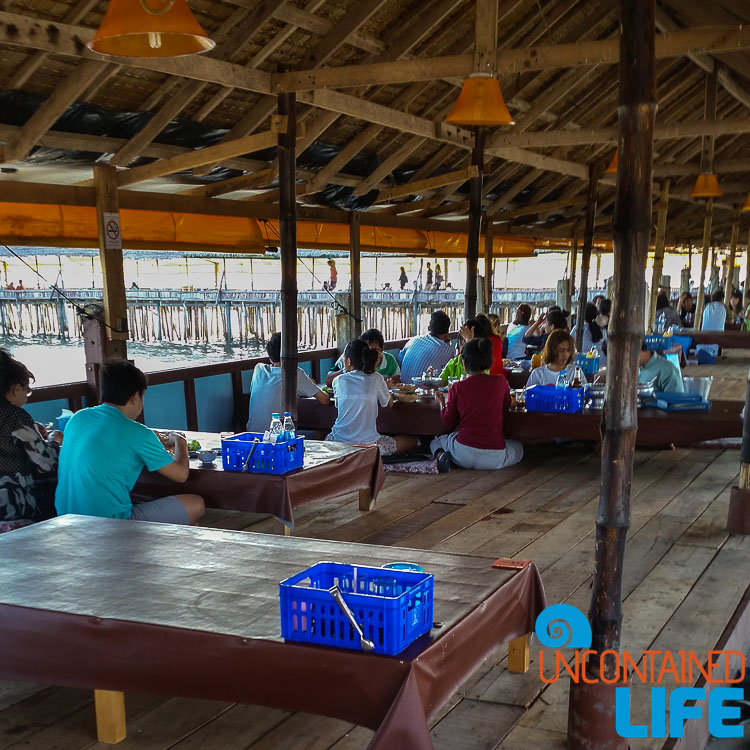 Through gaps in the wooden floorboards beneath our feet (not at all scary…nope…) we watched the sea slap against the restaurant's pylons.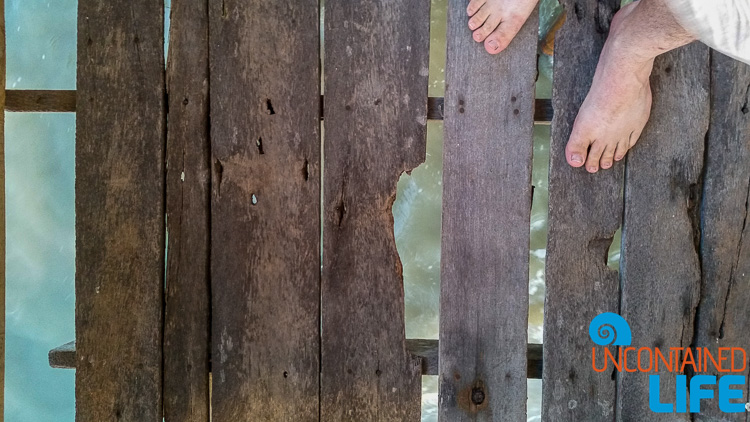 Once we'd removed our shoes and settled at our own table, we let our hosts select the food…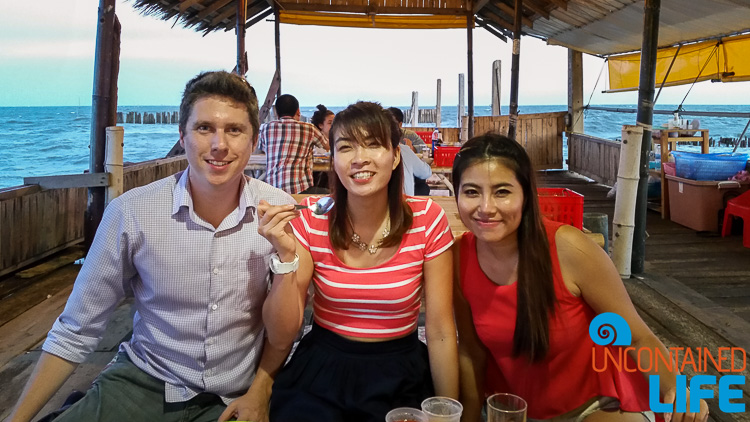 …which proved to be a veritable feast of prawns, fried fish, seafood fried rice, tom yum soup, oysters and mud crabs (the restaurant's specialty dish).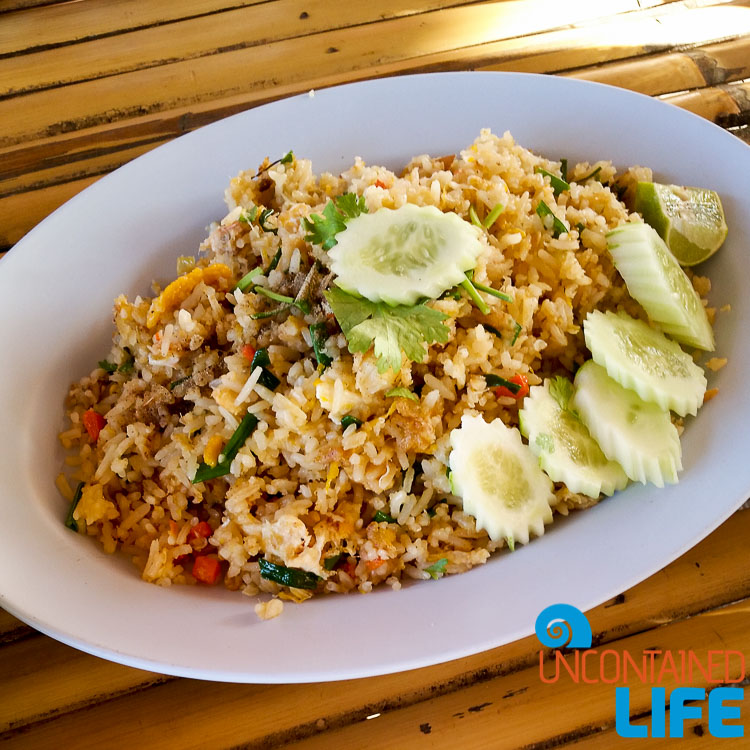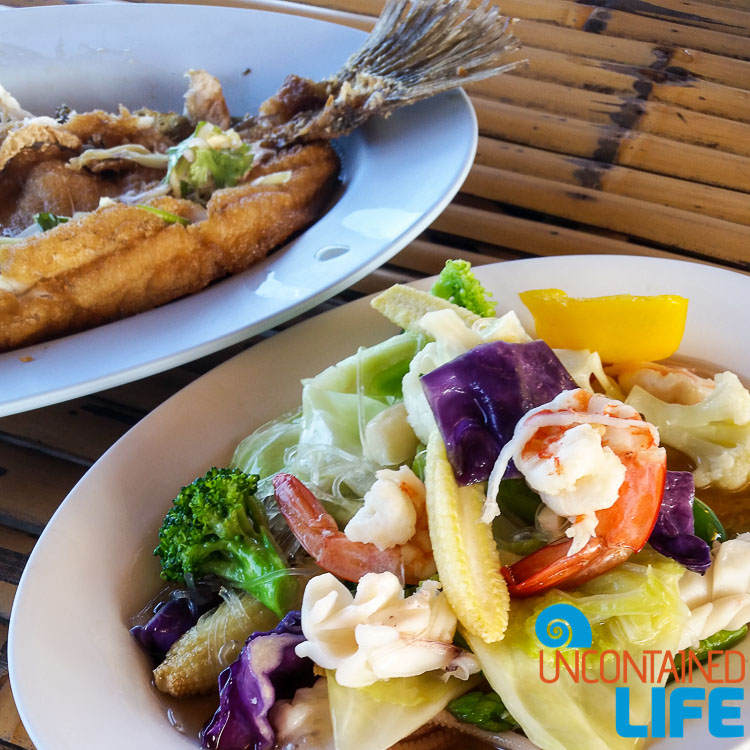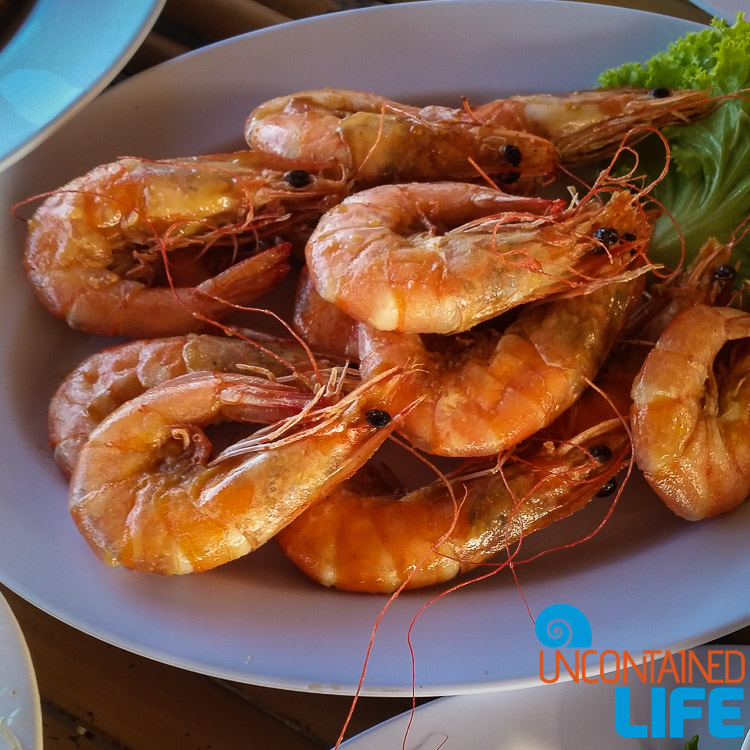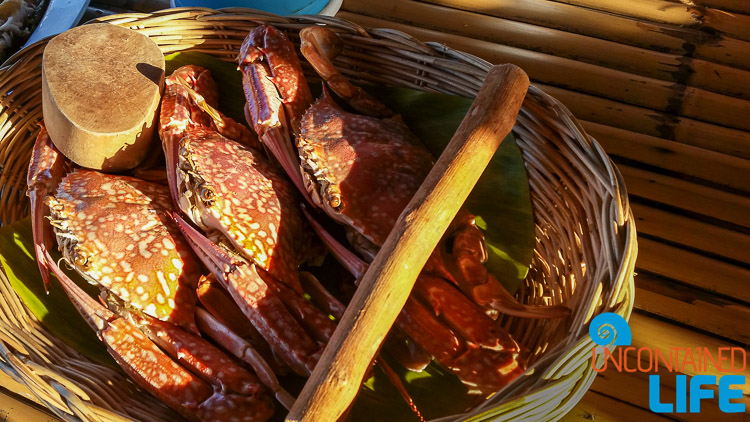 Everything we tried was delicious and watching the sun set slowly over the gulf as we ate was, needless to say, absolutely spectacular.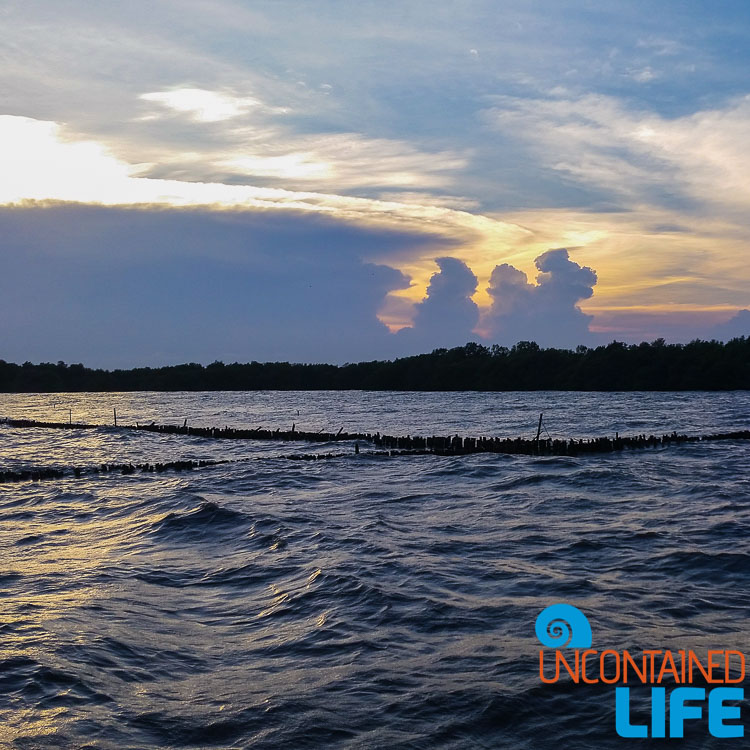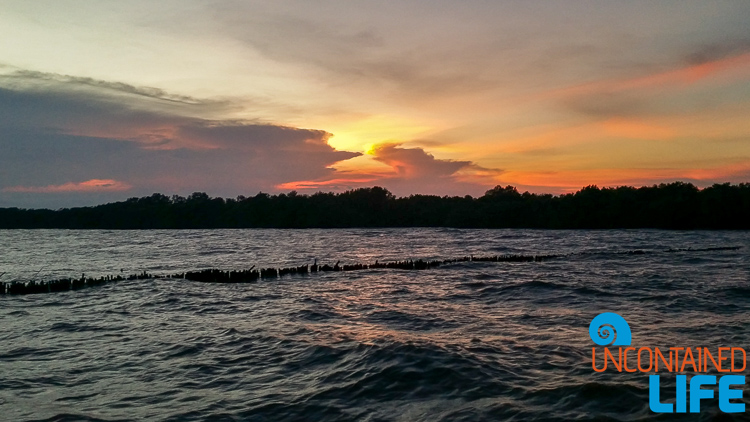 The return boat ride eased us back into civilization as the mangrove silhouettes gave way to riverside homes and buildings. We were content, we were full, and we would return.
**Like many "developing" nations (and far too many places with the "first world" title) Thailand has struggled to balance economic development with environmental protections. Bangkok's Gulf area–in particular, its mangrove forests–suffered a great deal in the past 30 or so years from irresponsible shrimp-farming.
Due, at least in part, to restaurants like Bangkok Seaview bringing more visitors to the region, the government's support of community-lead efforts to replant the forests** and combat these environmentally unsound business practices has increased in recent years. (After all, you can't give tours of the mangroves if there aren't any mangroves to see!) 
You can learn more about the current efforts to preserve the mangroves, and about the history of Bang Khun Thien and its people at the Khlong Phitayalongkorn School and community museum.
Visitor Information:
General Info: 

Bangkok Seaview is cash only! (Prices are a bit on the high side, but reasonable–expect to spend between 100-150 bhat per person, depending on how much food your group orders. Portions are generous.)

If you'd like to visit the museum before you go eat, it's open Wednesday- Sunday from 09:00 am – 3:00 pm

Hours: The restaurant is open every day from 11:00 – 9:00 pm except on Mondays. The last boat from the pier leaves at 7:00 pm and the last boat coming back from the restaurant is at 11:00 pm.
Location: Getting to the restaurant (74/1 Mu 9 Tha Karm, Khet Bang Khun Thien, Bangkok 10150) can be a bit difficult if you don't have a car, but it's certainly far from impossible. Getting a taxi willing to take you all the way from the city center to the Phitayalongkorn School (which is the best landmark to aim for–the school is located across the street from the parking lot/ pier for Bangkok Seaview) for a reasonable (I.E. metered) rate is pretty much a lost cause, so the best option is a mixture of bus and taxi-riding. As per  As per Tour Bangkok Legacies:

If you're taking a bus, the following services from the city pass the Big C Shopping Centre at Rama II Road: 2, 68, 76, 105, 140, 141, 142, 147, 169, 171, 529, 530 

Air-conditioned bus service no.76 goes from Pratunam – Ratchadamri Road – Silom Road – Surasak Road – Taksin Bridge – Krung thonburi Road – King Taksin Road – Suksawat Road – Rama II.

Get off at the Big C and, from there, take a taxi to the Phitayalongkorn School.
---
Looking for more things to do in and around Bangkok? Check out our itinerary for 24 hours in Thailand's "City of Angels"!