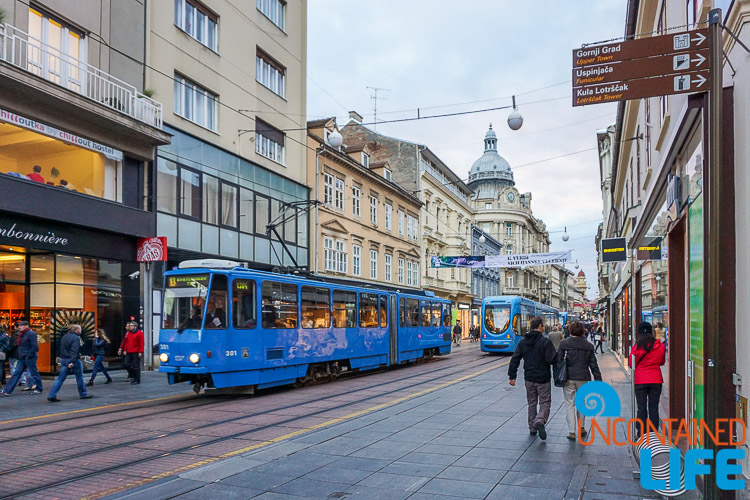 Unlike Dubrovnik and other beachy spots along the Dalmatian Coast, Zagreb, Croatia, is not usually a "must visit" for tourists. But when Justin and I saw a chance to spend a couple of nights exploring central Zagreb as a part of our one week road trip from Split to Pula, Croatia (by way of Slovenia), we jumped at the chance to discover what Croatia's largest metropolis had to offer visitors. And let me just say, we were incredibly impressed. (In fact, we loved the city so much, we hope to head back to Zagreb for the holidays!) 
But why "Zagreb in Technicolor"? Well, truth be told, I was feeling kind of bummed about leaving the coast and going back to city life–and the weather wasn't helping: Justin and I arrived in Zagreb after nightfall, and when we woke, the day was gray and icy cold. Not exactly ideal for sightseeing. But as we neared the center of Zagreb, I found myself surprised by how cosy and colorful the city looked with its bright blue trams, red roofs, and shockingly bright yellow buildings.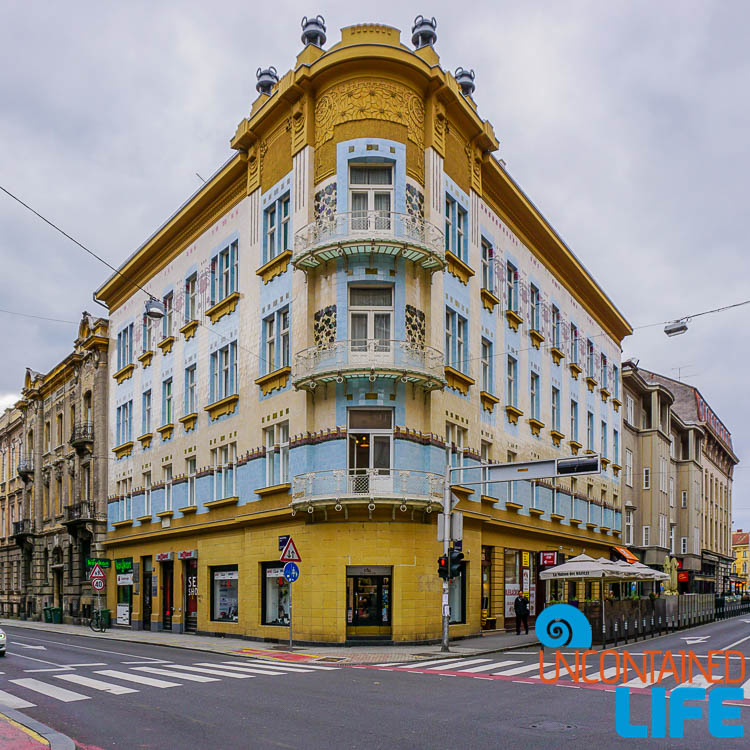 It felt very Wizard of Oz: my gray world turned, suddenly, into a colorful, exciting adventure. And this feeling only increased upon arrival in the picturesque Ban Jelačića Square–the starting place for our activity of the day: a bike tour with Blue Bike Zagreb.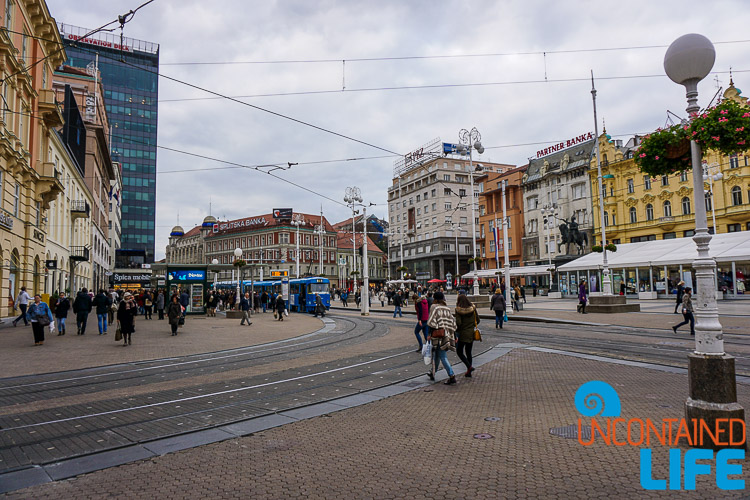 Exploring Central Zagreb with Blue Bike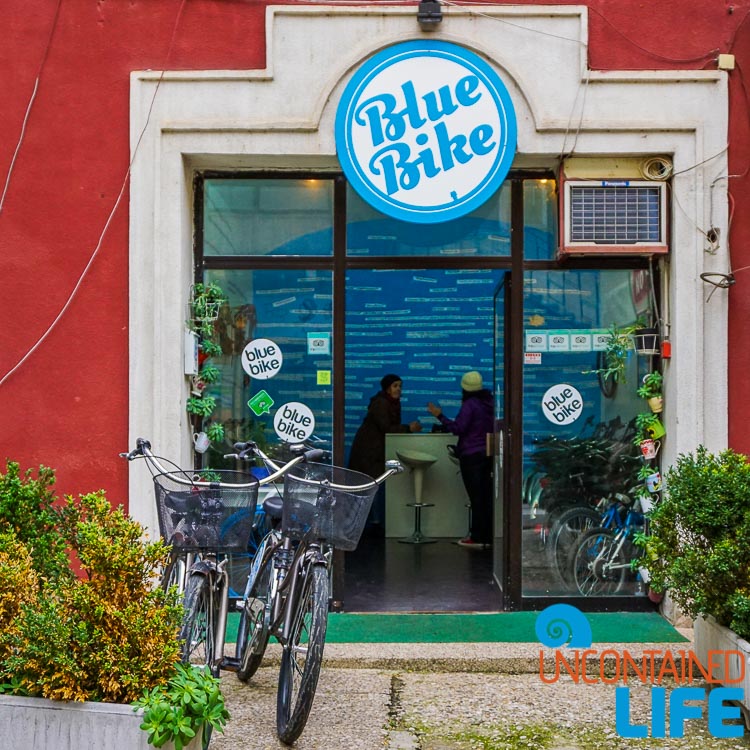 As was the case in Oslo, Norway, we chosen this bike tour of central Zagreb because we knew it would be a fun way to get insights into the local culture and make the most of the limited time we had in the city.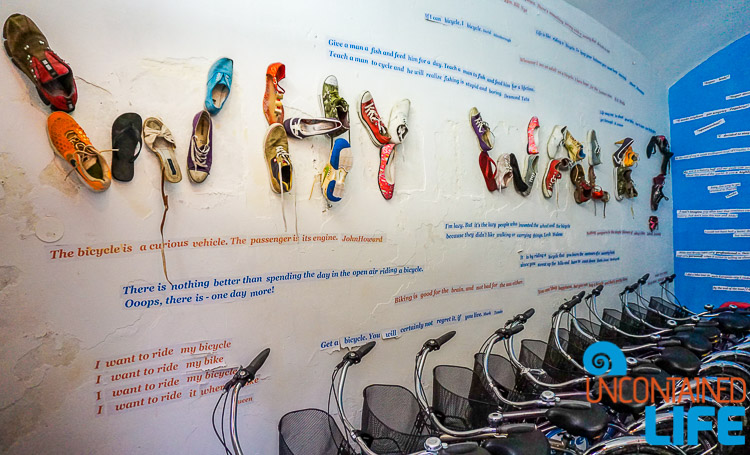 Blue Bikes co-owner and Zagreb native, Alida, received us warmly (in spite of the fact that we'd arrived a bit late) and helped get us outfitted with bikes.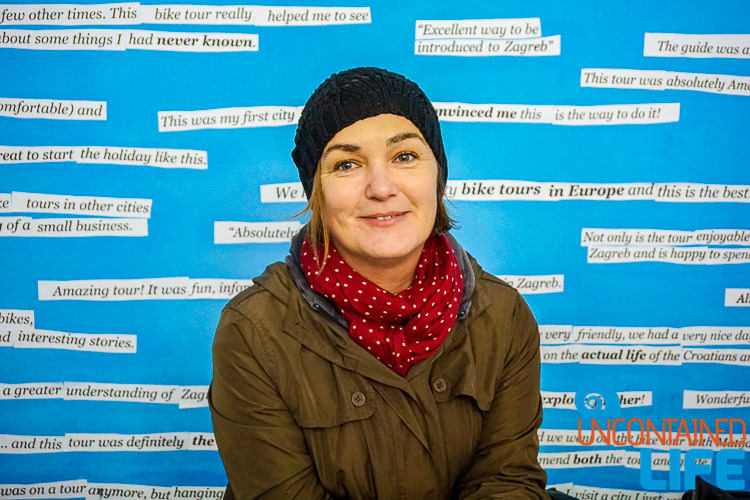 And then we were off exploring central Zagreb and rolling down Bogovićeva Street!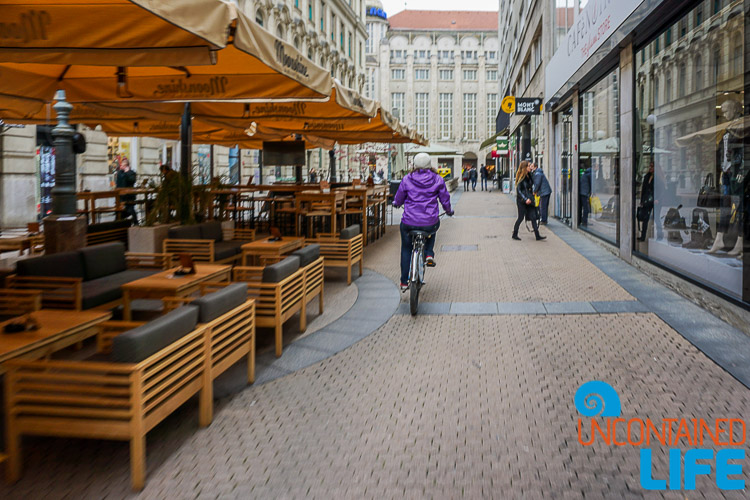 Zagreb's Cafe Culture and Atypical Art
Our first stop on the tour let us get up close and personal with the sun. That is, with the huge golden sculpture, "Prizemljeno Sunce" (The Grounded Sun) created by Ivan Kožarić in 1971. (As you can see, some people have decided to add their own "artwork" to the piece.)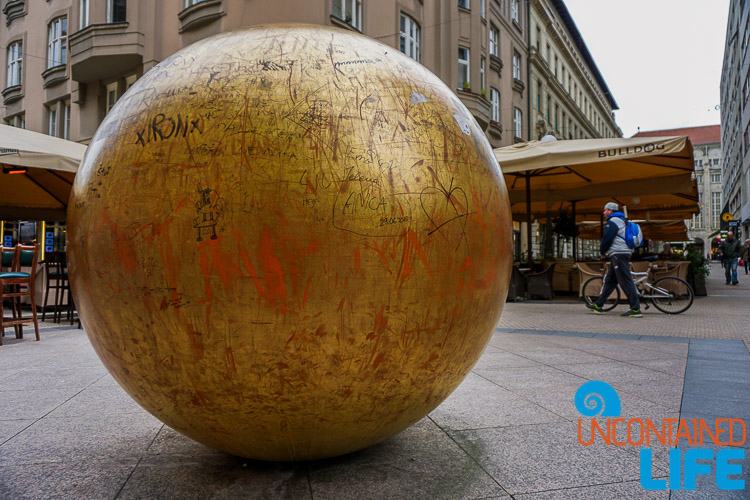 In 1994, artist Davor Preis took Kožarić's piece a step further by creating a complimentary art installation called "Nine Views," which involved placing nine planet sculptures–all scaled in size and in distance from the "Prizemljeno Sunce"—in various places around the city (including, in the case of Pluto, inside an underpass). Preis's installation wasn't well publicized, initially, so the discovery that Zagreb was playing host to a solar system came as something of a surprise to its citizens who, nevertheless, dusted off their astronomy books and entered into the game of locating all the planets with zeal.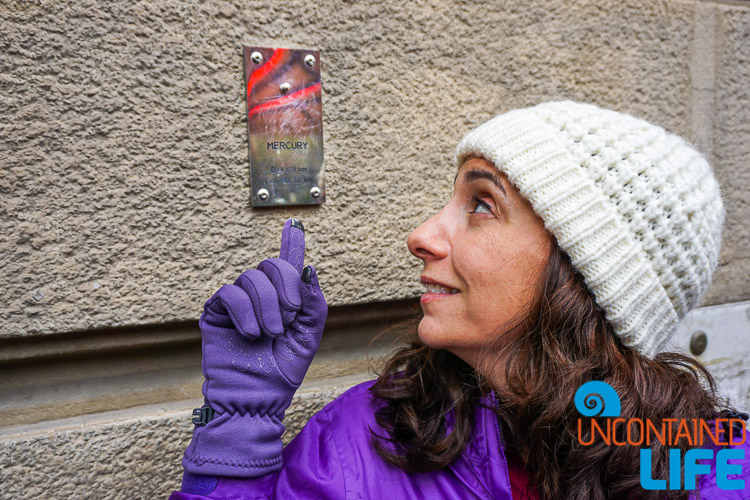 As we rode past half-filled cafes (which we would find bustling later in the evening), Alida explained that, in Zagreb, the distinction between establishments that served food and those that served drinks was strictly regulated: even if a place just wants to serve a couple of snacks with your coffee or beer, it will be treated like a restaurant, with all the added restrictions that involves (most specifically, no smoking). 
The good news? No food-free coffee shop or bar will mind if you bring your own food into their establishment. Plus, according to Alida, you can sit as long as you like in a coffee shop nursing a single beverage and no one will care or ask you to leave. Kind of a strange business plan, but kind of nice!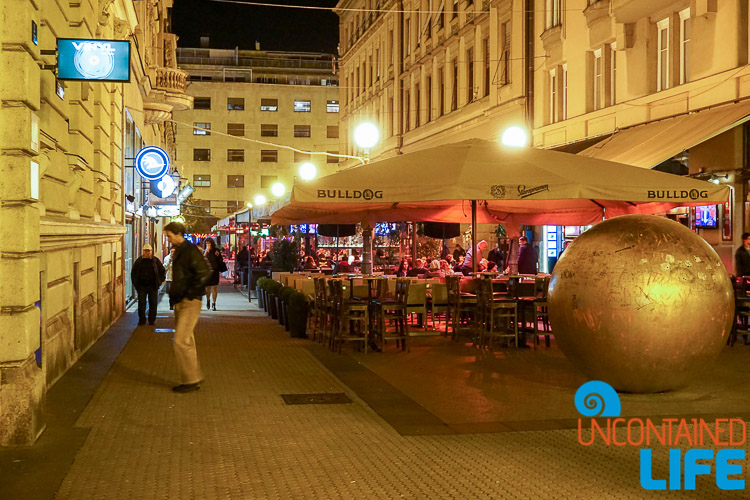 Tesla and Tito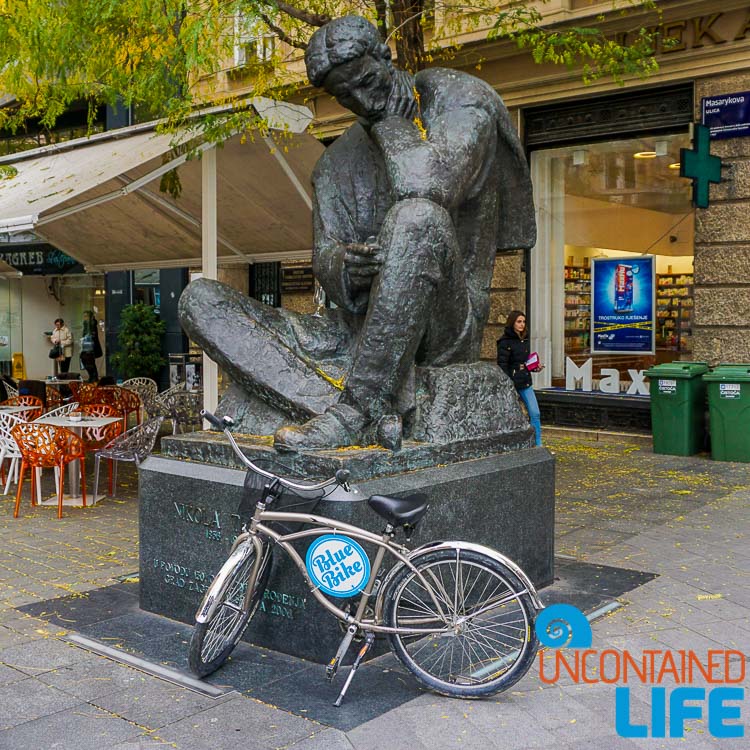 Wander freely around Zagreb's city center and you'll notice a number of artworks by Croatian artist, Ivan Meštrović (you can also visit the Atelier Mestrovic museum in the upper town–courtyard of the museum pictured below).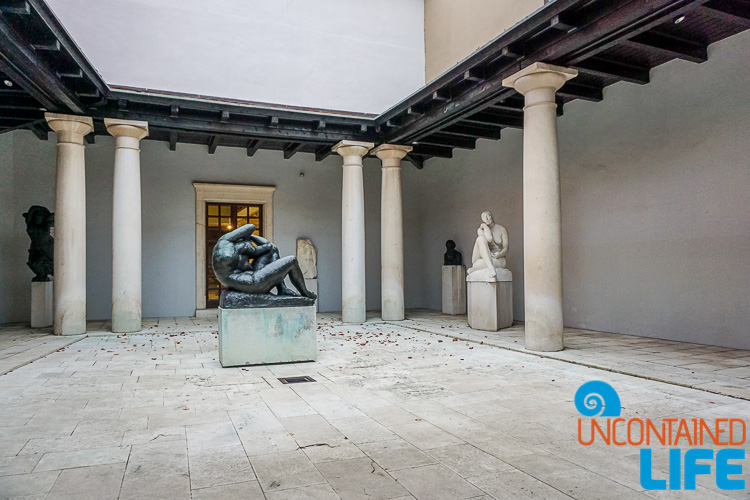 But Nikola Tesla is probably one of Meštrović's most interesting subjects: a man who was alternately lauded as a genius and derided as a crackpot during his lifetime, and who has only lately been embraced by Croatians as one of their national heroes (in large part due to his mixed Serbian-Croatian heritage.) While the statue was originally created in 1955-56, it's only been in its current location in Zagreb's city center since 2006.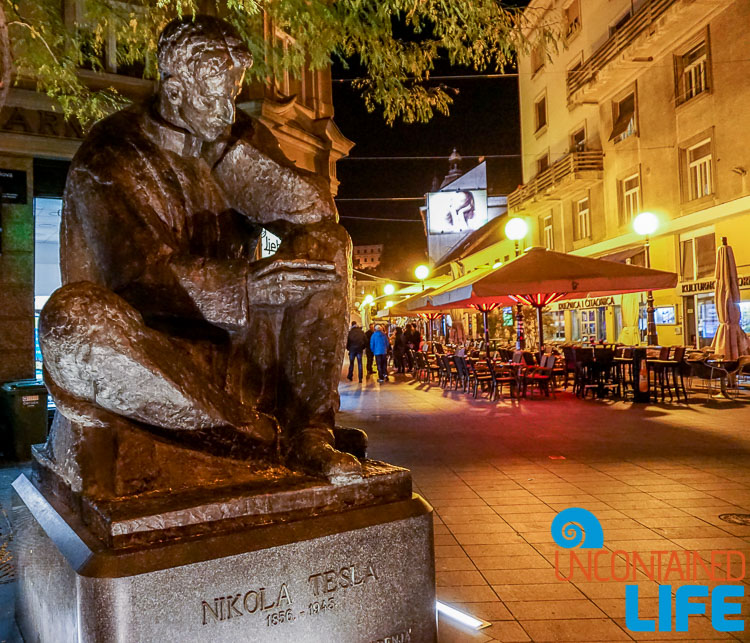 But if the name, Tesla, has, over the past decade, become something for Croatians to celebrate, the name, Tito (as in Josip Broz Tito–another Serbo-Croatian–after whom our next stop, Marshal Tito Square, is named) has becoming increasingly unpopular since Croatian independence was achieved.
Indeed, Alida noted, it's very possible Tito Square may end up being renamed–as several other places formerly bearing Tito's name have been in recent years. The colorful square is home to some very lovely sights, including the Croatian National Theatre, which, like many of the historic buildings was painted bright yellow in honor of the Habsburg monarchy, who ruled Croatia for more than 300 years…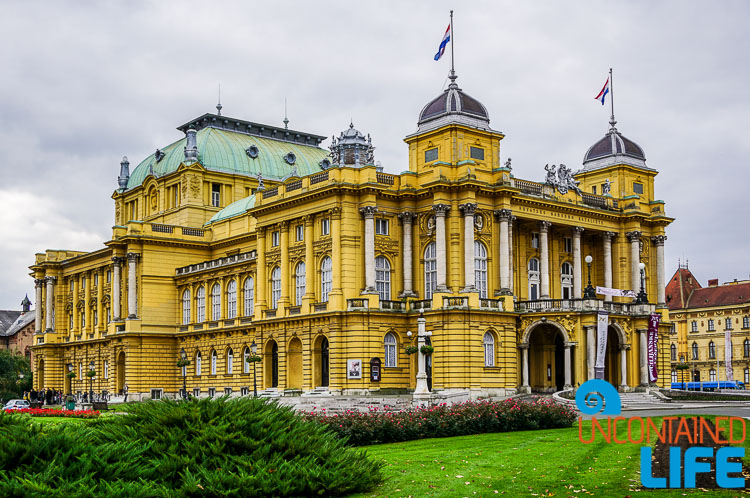 …and the "Well of Life"–a fountain sculpture also by Meštrović.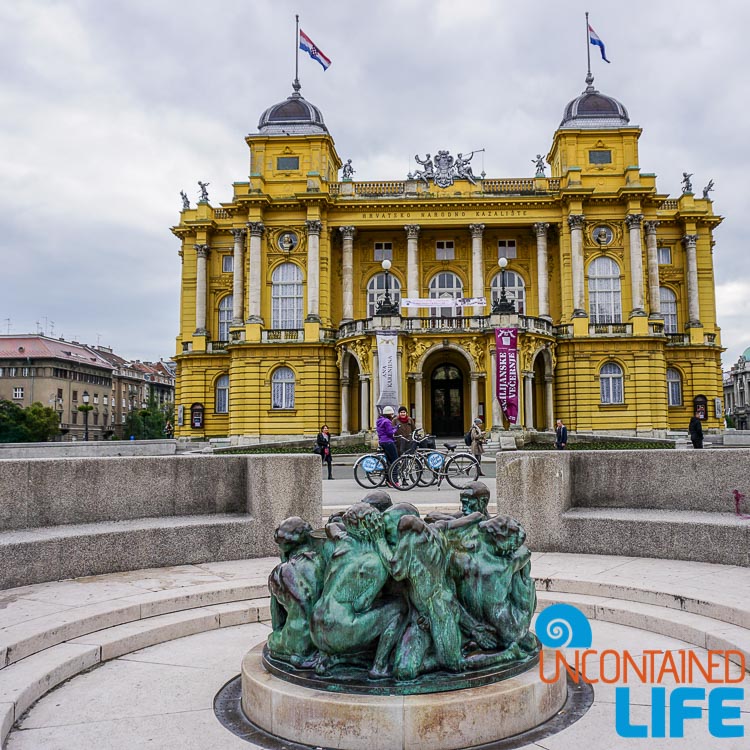 Golden Gardens and Green Parks
Passing behind the theatre…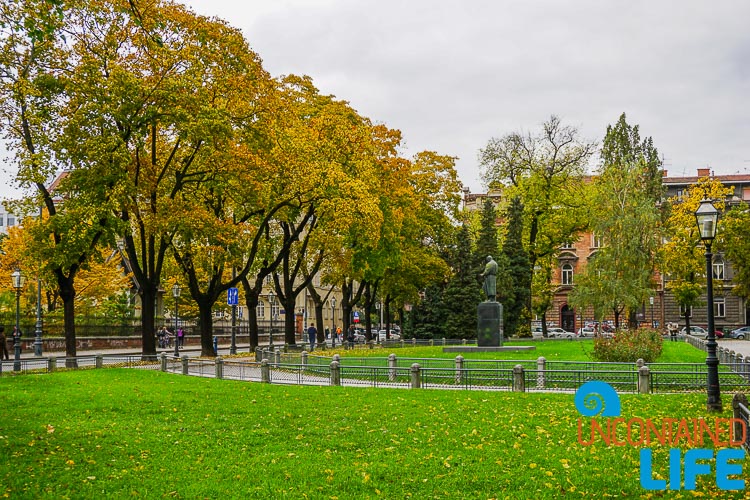 …we arrived at another of Zagreb's many communal spaces in front of the State Archives. Zagreb is a city built with outdoor enjoyment in mind–thanks in large part to Milan Lenuci, who designed the seven parks and a garden (I.E. the "Green Horseshoe") which frame the city center.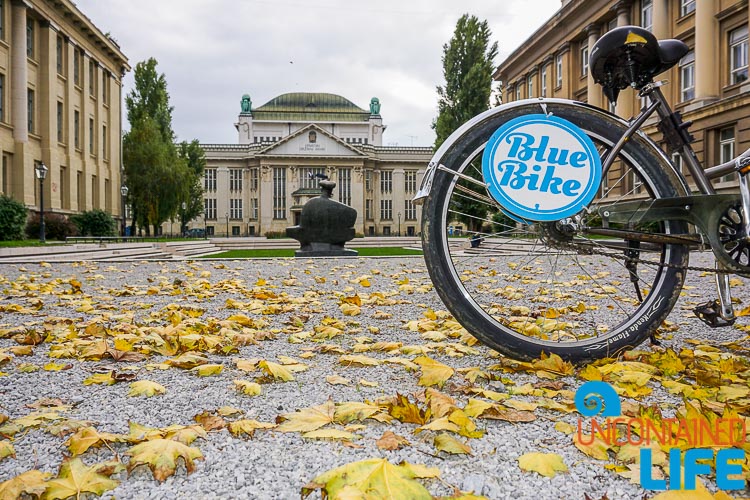 Following a quick stop at the Botanical Gardens to gaze at some more fiery foliage…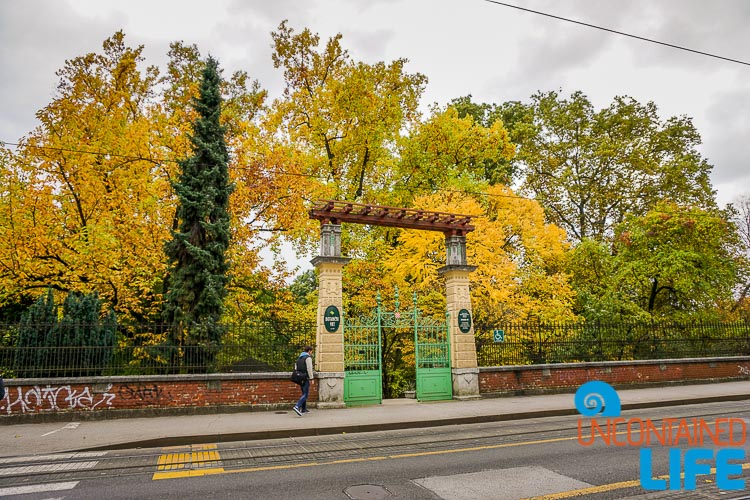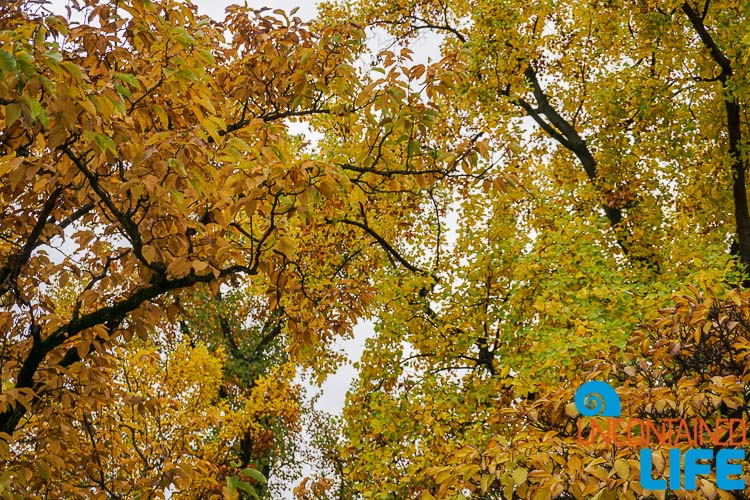 …we continued to the Arts Pavilion museum in King Tomislav Square–named for the first Croatian ruler whom the Papal chancellery allowed the title, "King," and the founder of the first united Croatian state.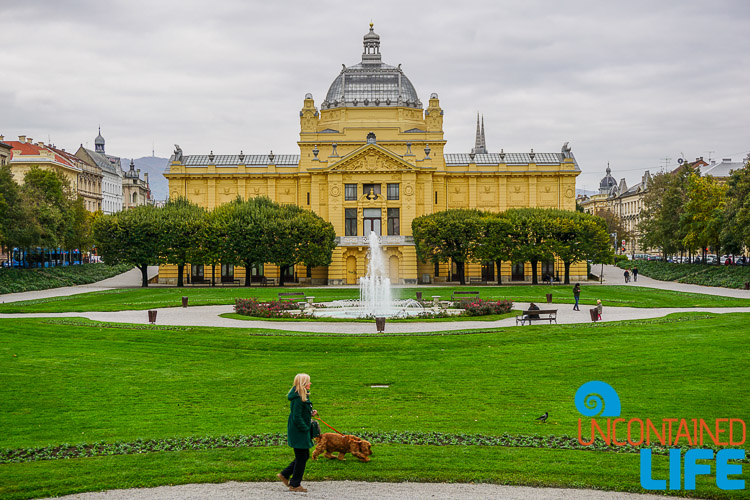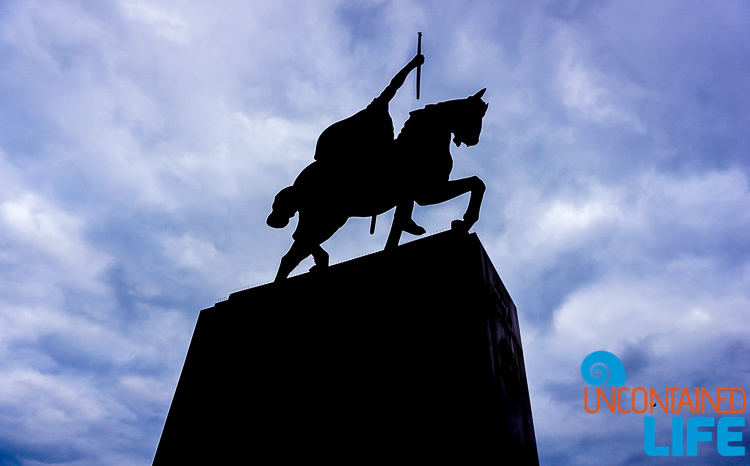 Next, we made our way to the romantic Zrinjevac Park.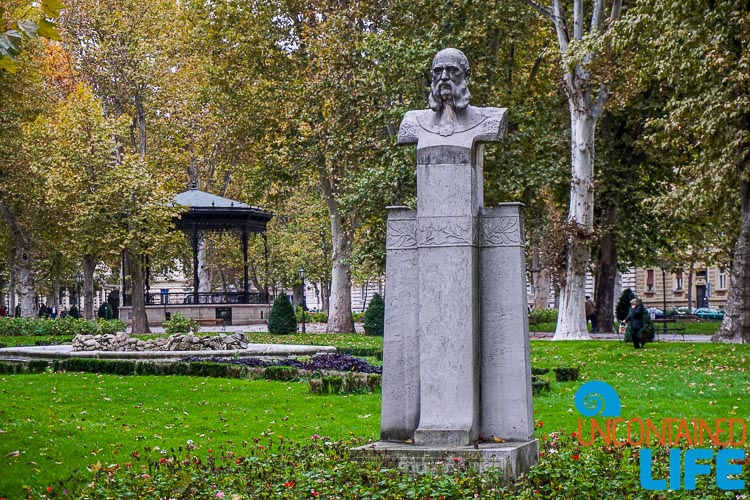 In addition to being the perfect place to sit and people watch, during the summer and Christmas seasons, Zagreb's citizens and visitors can enjoy free music concerts in this park on a nearly daily basis.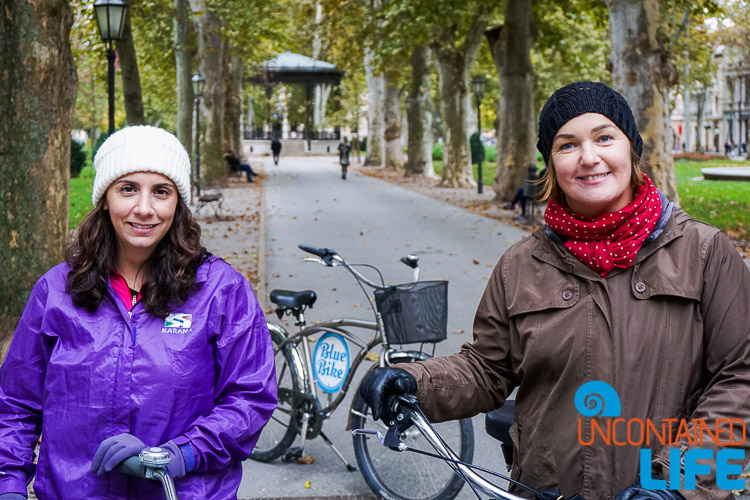 From Zrinjevac, we rode on to a much less colorful space: a parking lot.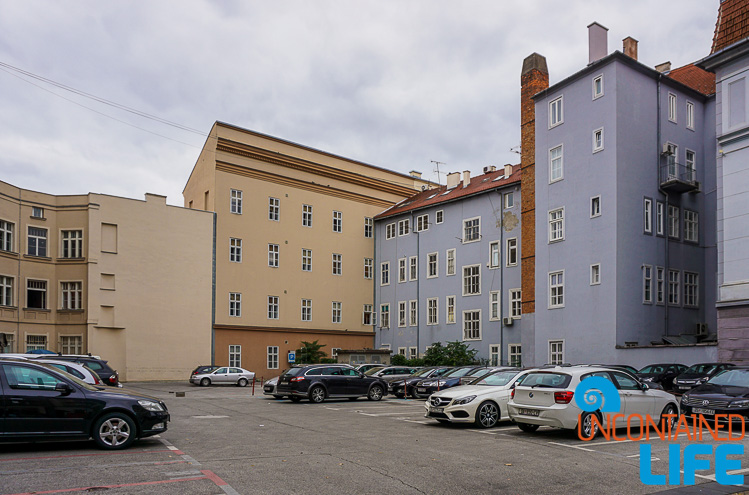 This lot, along with a small wall plaque are all that remain to commemorate a dark time in Croatia's history–when, in the midst of WWII, and after being abandoned by their king (who escaped to London), Croatia decided to accept German rule. To show loyalty to the Nazis, Alida explained, some locals decided to blow up the synagogue that stood here.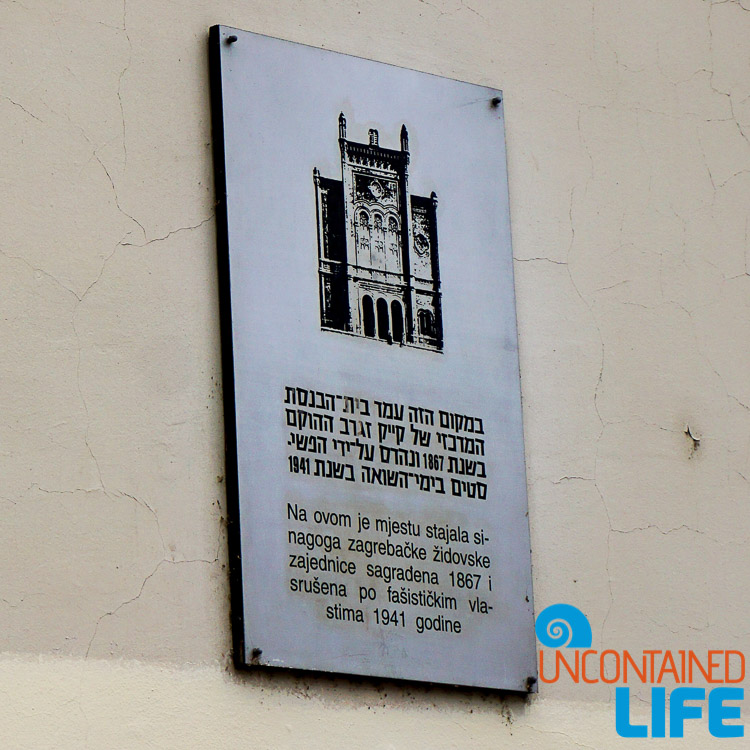 Exploring Zagreb's Upper Town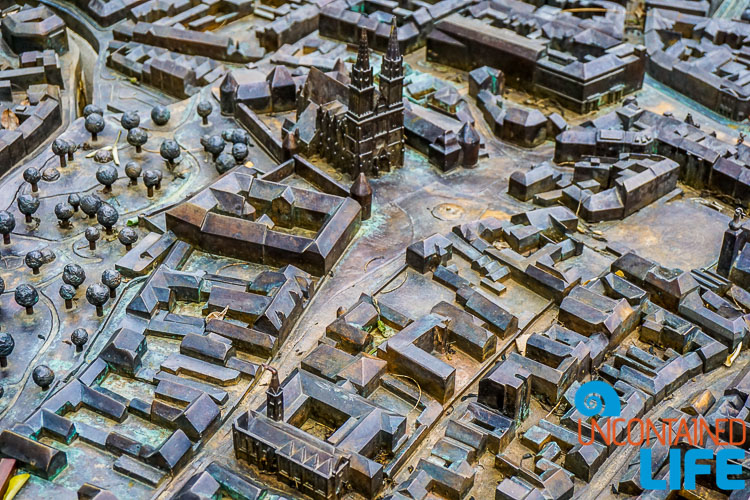 At last, it was time to get into the ancient roots of the city! Zagreb's Upper Town was originally comprised of two neighboring (and competing) communities: the Gradec (home to the merchants) and Kaptol (where the church elite lived). Indeed the animosity was so great that the quirky, cafe-lined alley now linking Tkalčićeva with Radićeva, which was, formerly, the location of a bridge that connected Gradec and Kaptol, still bears the nickname "Bloody Bridge."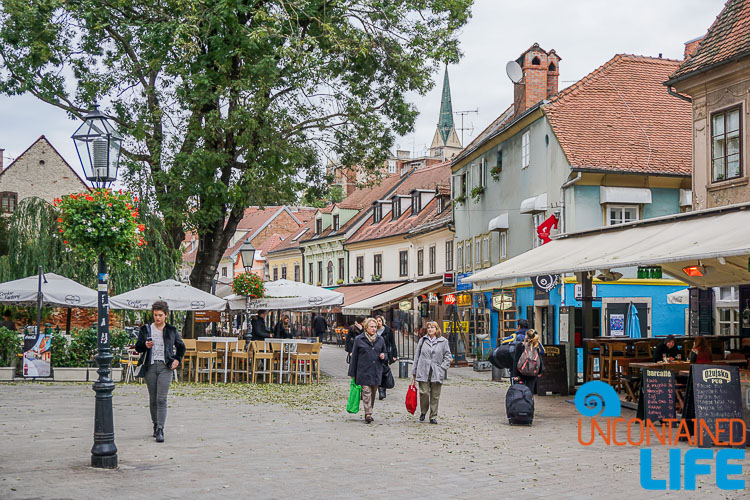 Our first stop was in Kaptol at the Zagreb Cathedral. Dating from the 11th century, this giant is the city's principal landmark and, according to official sources, it's also the country's tallest building (108 m/ 354 ft.). While the cream-colored cathedral has been rebuilt several times over the years (after suffering damage from everything from invaders to fires), its current Neo-Gothic style was created following the Great Earthquake of 1880.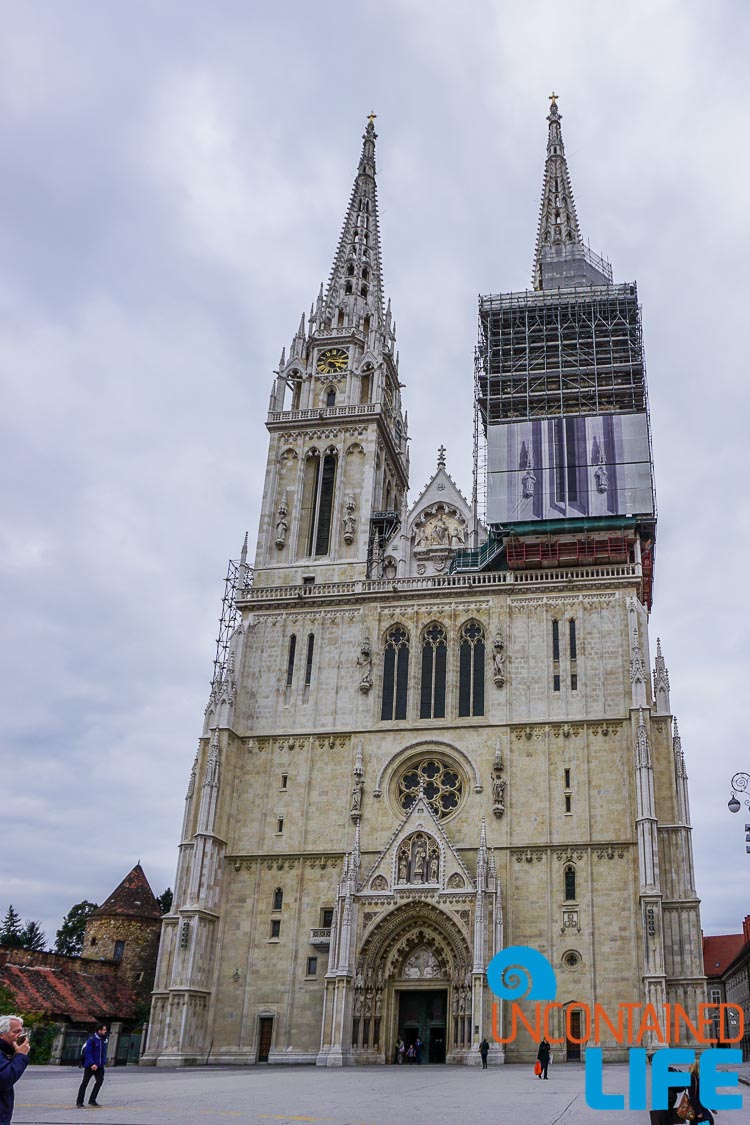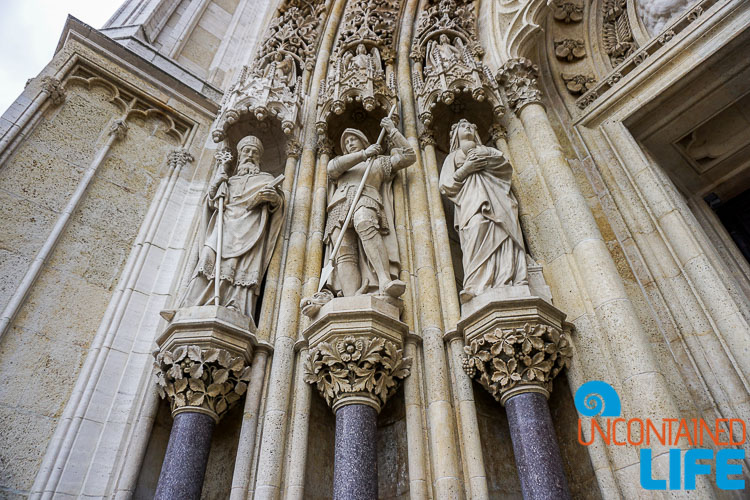 Off to the left-hand side of the church, you can also see a fortress wall dating from the mid-1400's, built to protect Kaptol from Turkish armies.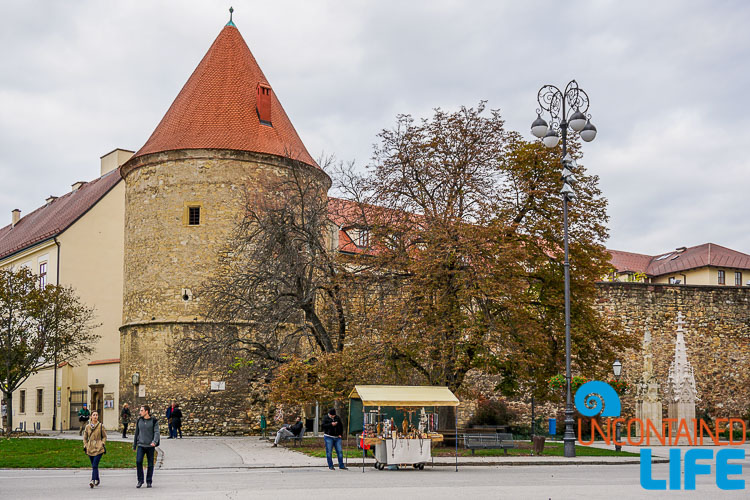 Myths and Miracles
After biking past the market (which had closed for the day)…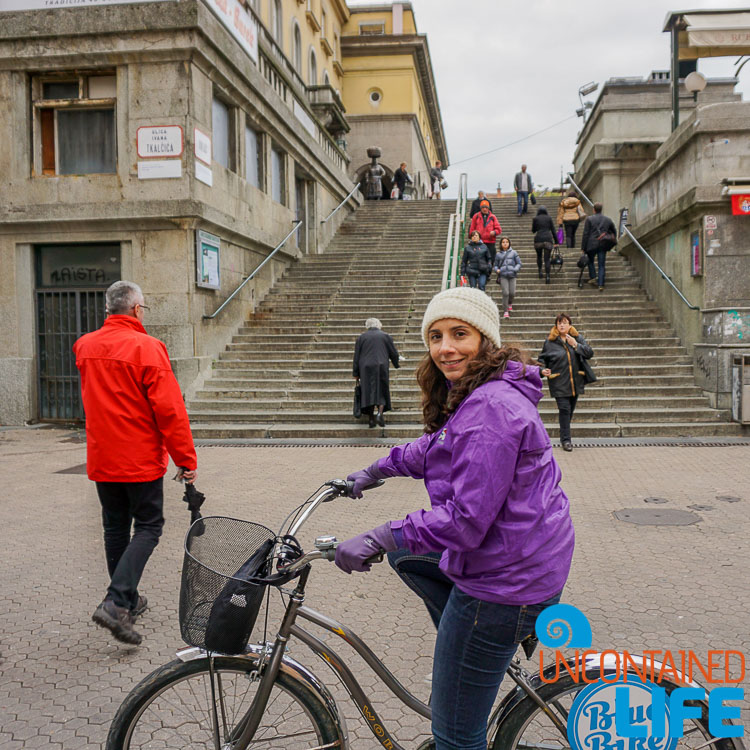 …and Bloody Bridge (and a giant painted egg)…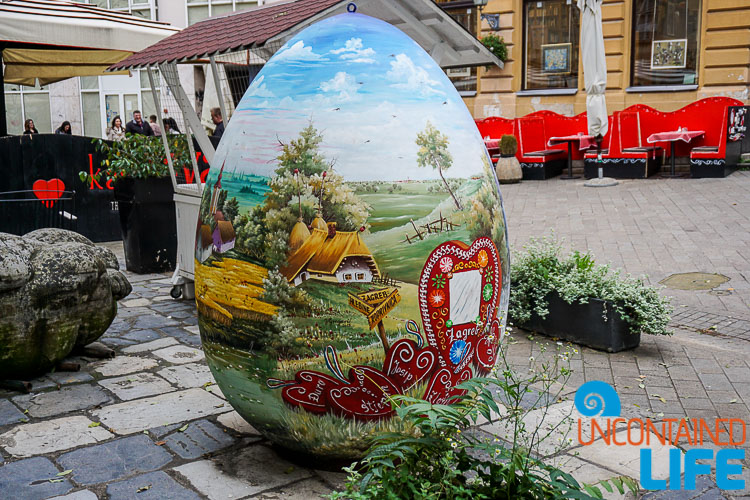 …we made our way up the hill toward the entrance to Gradec. We paused for a look at a unique gray-green statue of St. George of "St. George and the dragon" fame. Most artworks show St. George in the middle of his battle with the dragon, but, as Alida pointed out, this statue is one of the only depictions to show St. George after the battle has been won: "You can see the dragon lying dead at his feet."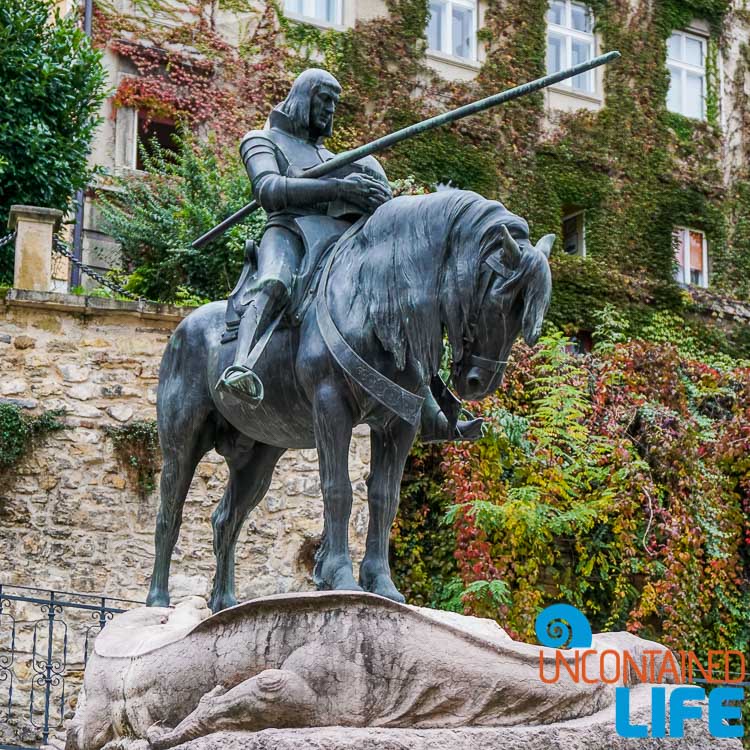 Beyond St. George, just inside the stone gate (the only one of the original 5 gates still standing) lies another curious thing–a painting of the Virgin Mary which, as the candles and murmured prayers indicate, serves as a local shrine.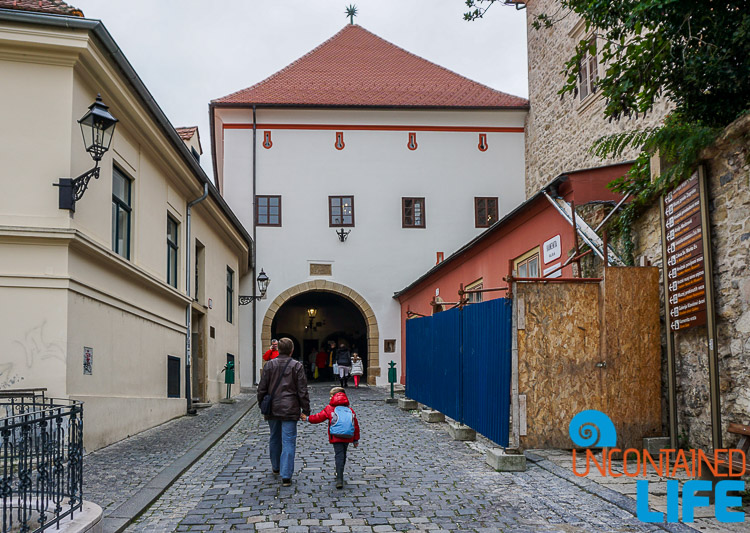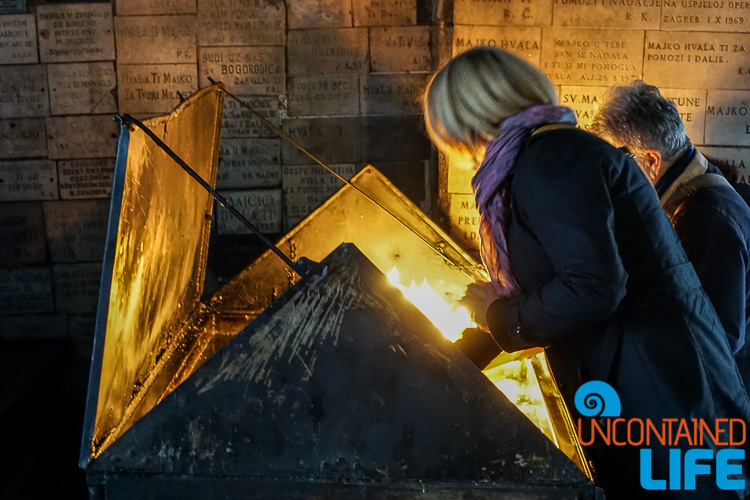 During a big fire in 1731, everything was destroyed by the fire–even the gate was burned–but the painting somehow survived. The fact that the picture survived was deemed to be a miracle, and the photo itself became a mythic object.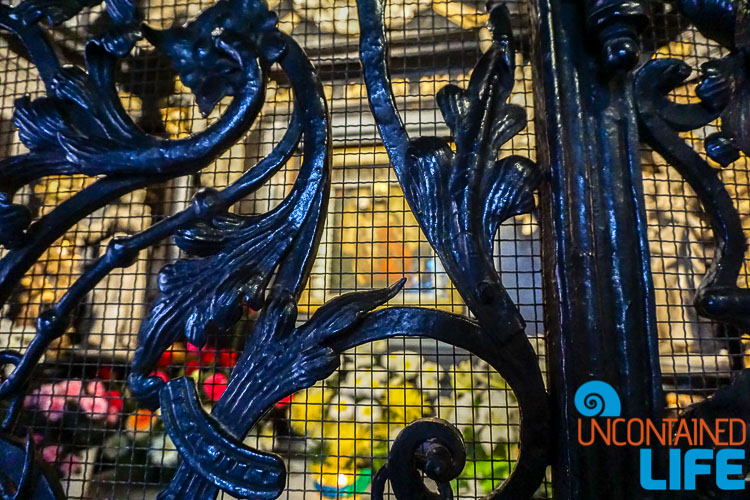 Alida explained: "The shrine was created after the gate was repaired–and after all the other gates were torn down, this one remained for that reason. People who believe their prayers have been granted by the Virgin put up these plaques thanking her."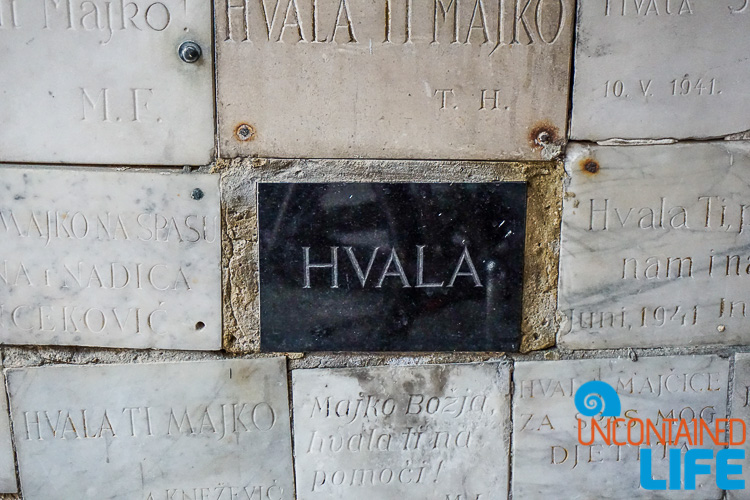 Towers and Tiles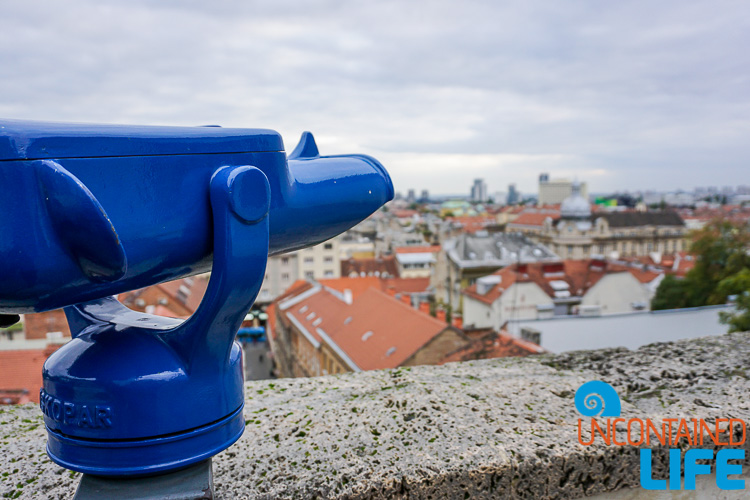 Our next-to-last stop of the day was at Zagreb's most popular look-out point: directly underneath the Lotrščak Tower–a 13th century defensive structure where, for the last 100 years, a cannon shot has been fired each day at noon. (Mary Poppins, anyone?)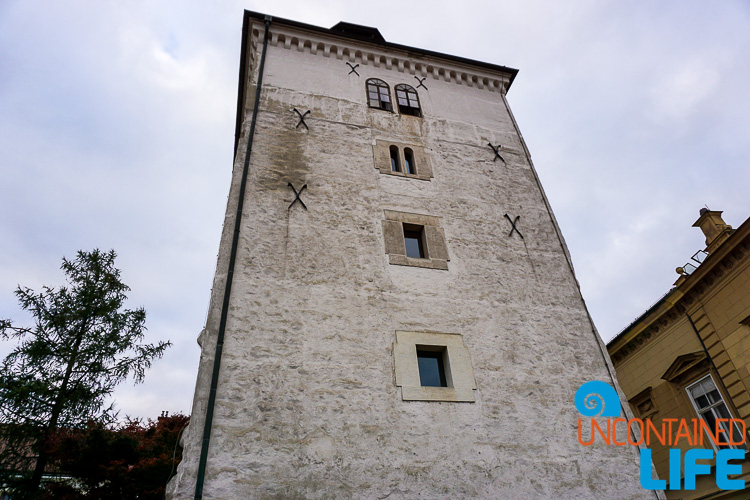 While you can, of course, bike or climb the stairs up to this viewing point, you can also take the funicular railway (constructed in 1888), which connects Lower and Upper Town.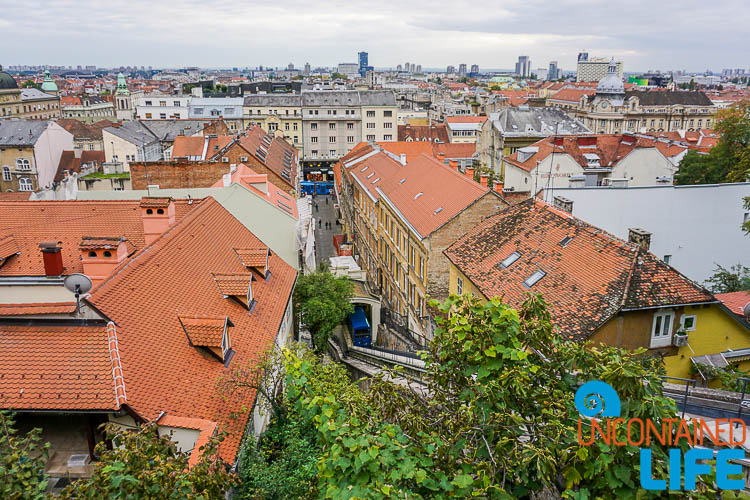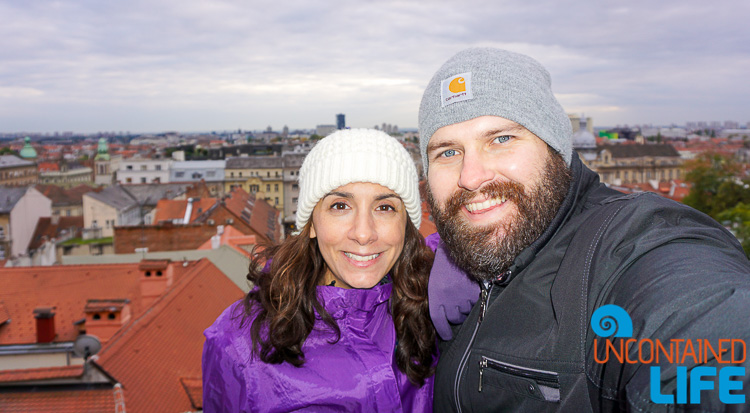 Having fully enjoyed the cheerful red roofs of Lower Town from above, we hopped back on our bikes and made our way to St. Mark's Church–passing by the Museum of Broken Relationships (which we visited later).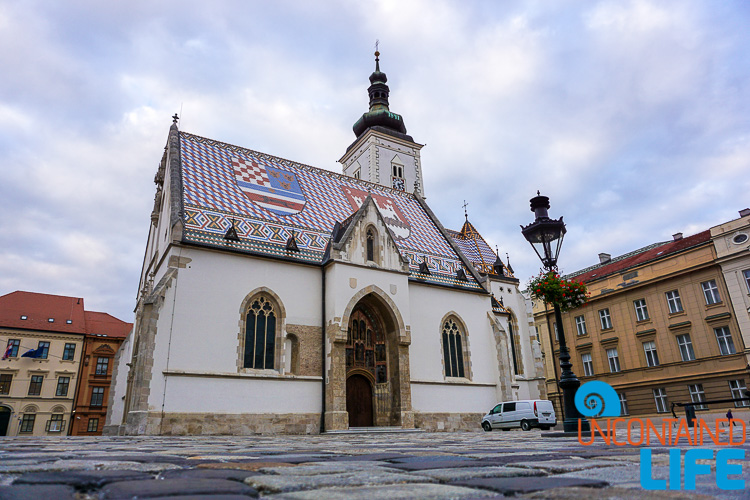 St. Mark's is, of course, most famous for its multi-colored, intricately tiled roof, which depicts the the coat of arms of Zagreb (white castle on red background) and Triune Kingdom of Croatia, Slavonia and Dalmatia. This nationalistic design is particularly notable given that it was created while Croatia was still under Austro-Hungarian rule. If you look closely, you'll see the monarchical colors (yellow and green) do make an appearance along the borders of the roof–but they are severely dwarfed by the other tiles.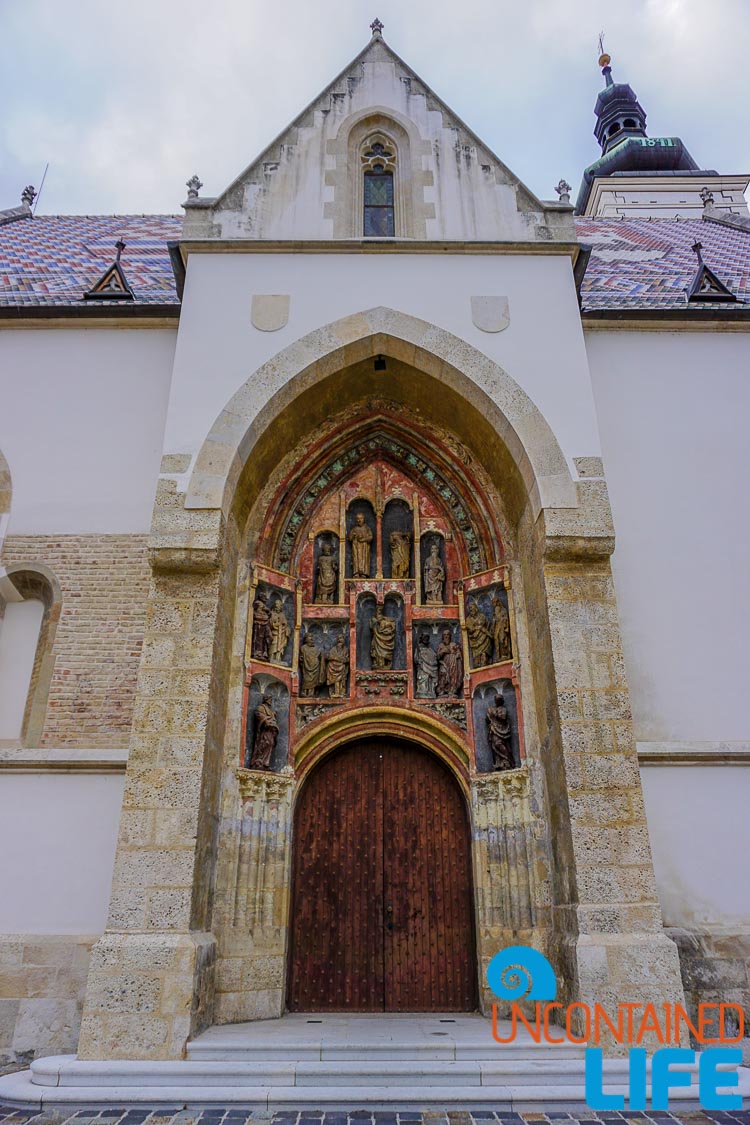 The daylight had begun to fade as we stood admiring the church and we were just turning to leave when, suddenly, we caught sight of another famous, but little-seen figure: the town lamp-lighter! That's right–in the town that celebrates Tesla, the old city is still set alight every evening by gas-lamps, turned on, manually, by a lamp-lighter.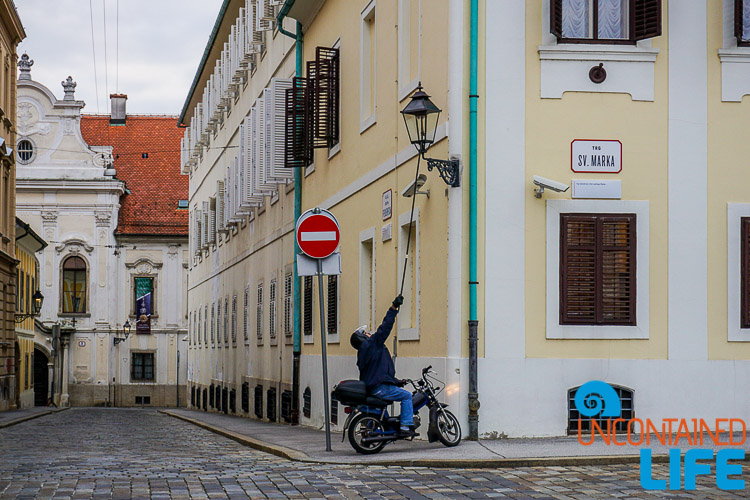 Burgers and Beer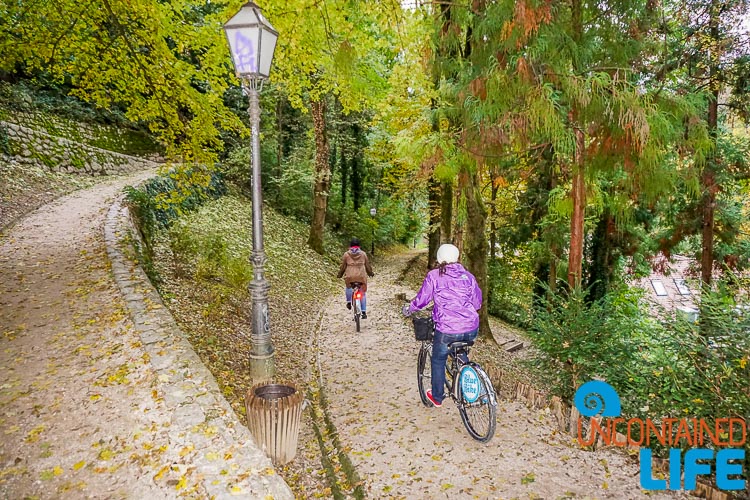 After a quick ride down from Upper Town via a hidden, forested path, it was time to part ways with Alida and go find ourselves some grub! Once again, our wonderful guide didn't fail us: after explaining that "burger culture" had exploding in Zagreb in the last couple of years, Alida pointed us toward a spot which was, in her option, the best place to grab a burger in Zagreb (and no, in case you were wondering it's not the one you'll find at the top of TripAdvisor). And, for added measure, she told us about her favorite pub–"not fancy or touristy–kind of silly decorations"–and what local beer to buy there. Yup, we were sold!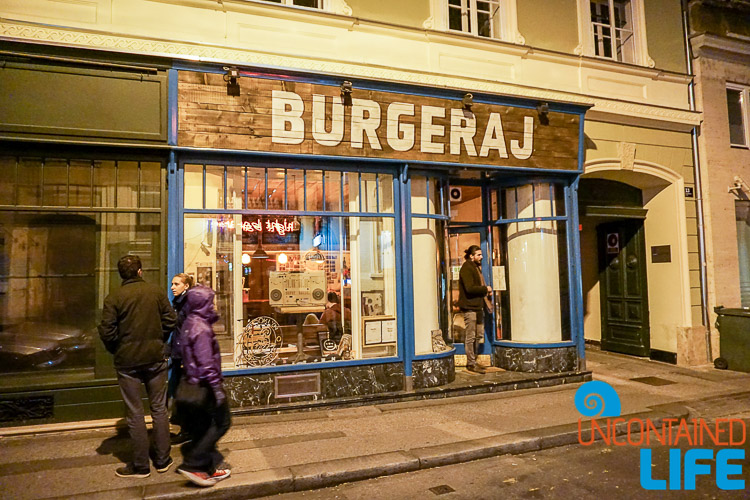 Located near the statue of Tesla, Burgeraj (Preradovićeva ul. 13) is a tiny restaurant with just a handful of tables and a relaxed, retro vibe (important note: they do NOT have a toilet).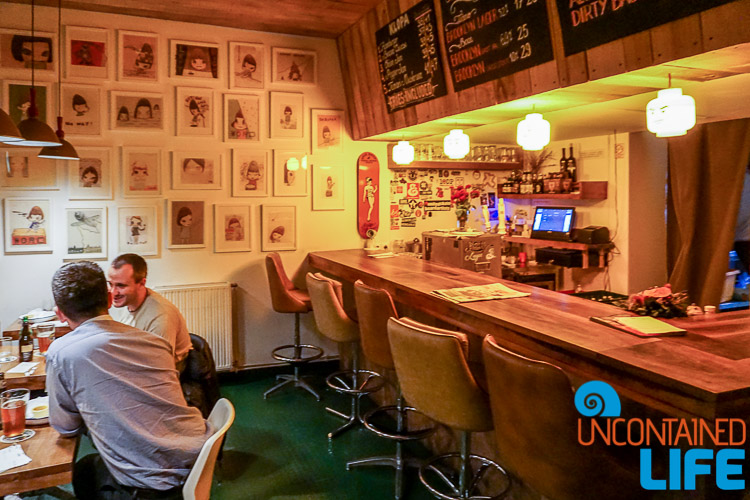 All the ingredients for the burgers are locally-sourced and without additives, and the prices, while not dirt cheap, are extremely reasonable (french fries are included with each burger purchase). And as for the taste…mmmMMM! (My fave: the onion jam burger; Justin's pick: the bacon cheese).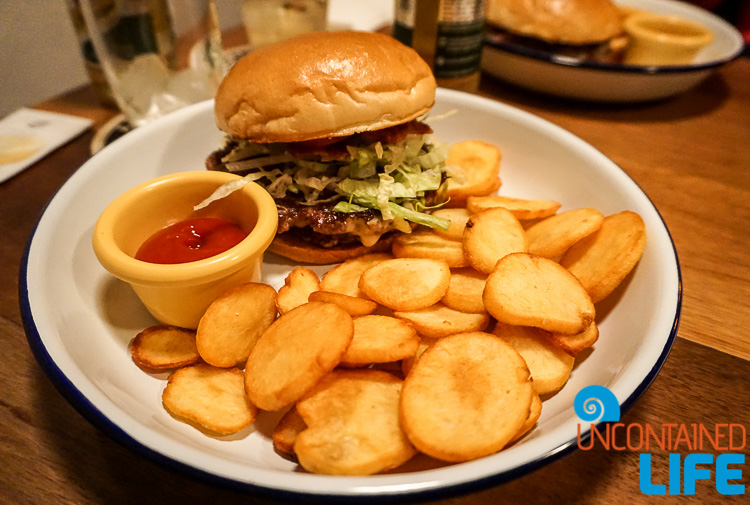 Bellies nice and full, we wandered toward Alina's pub rec. Of course, along the way, we had to stop and take a little ride on a street swing.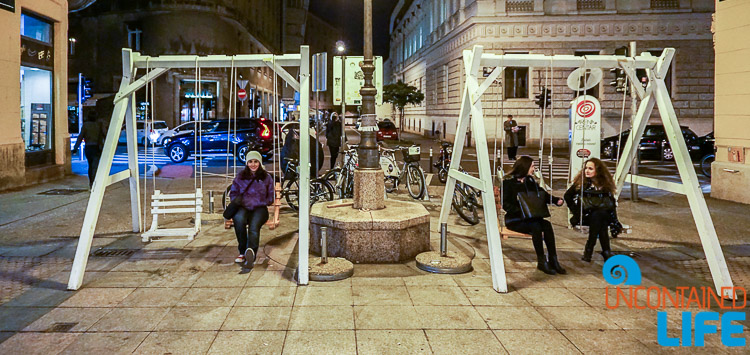 After walking approximately 20 minutes (and spying this amazing seashell wall art)…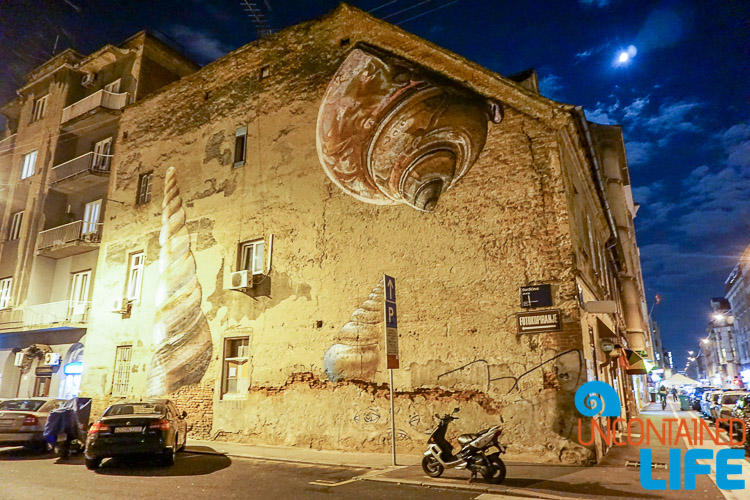 …we arrived at Beertija.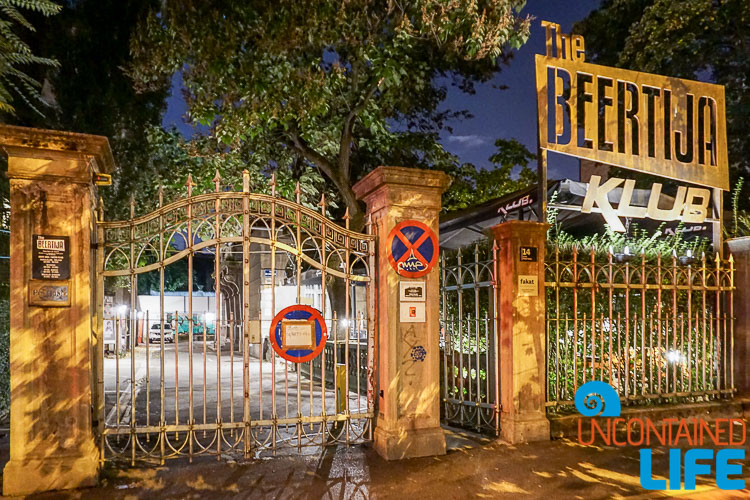 As promised, the outdoor seating area (abandoned at this time of the year) was full of kitchy statues of famous musicians…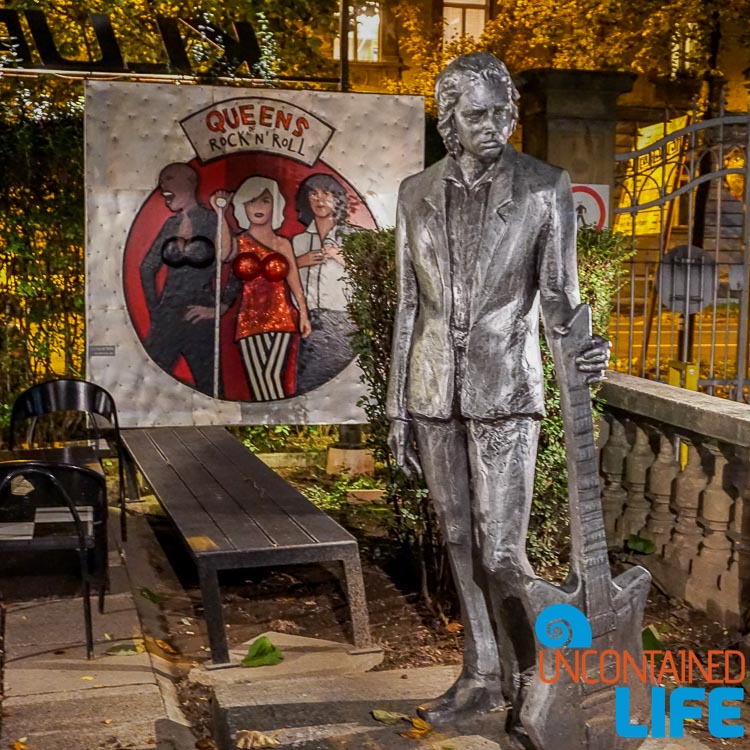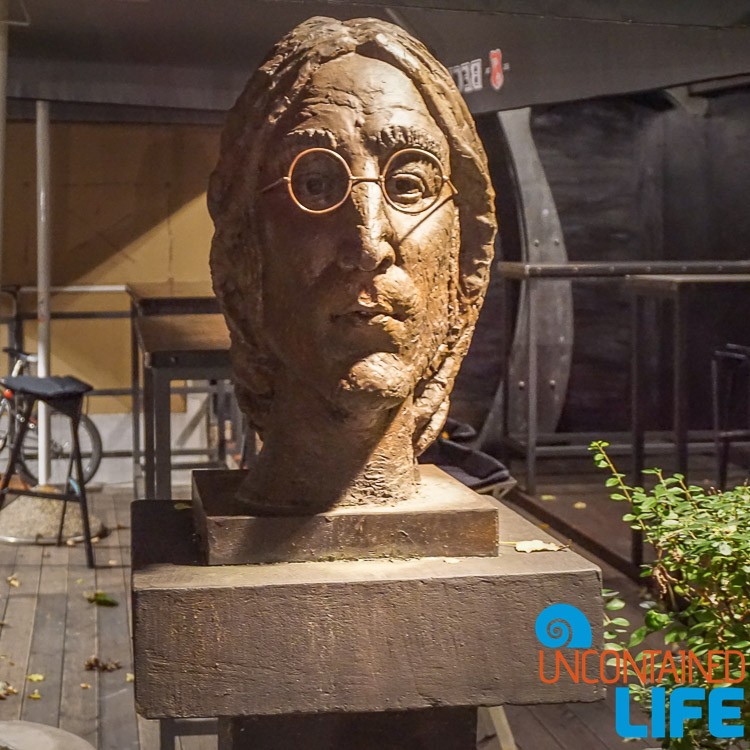 And as for the inside space? Let's just say it was a like time traveling (in a mostly good way). There were '90's Will Smith music videos playing, guys. How can you not get into that? (Ok, maybe we could have done without the indoor smoking.)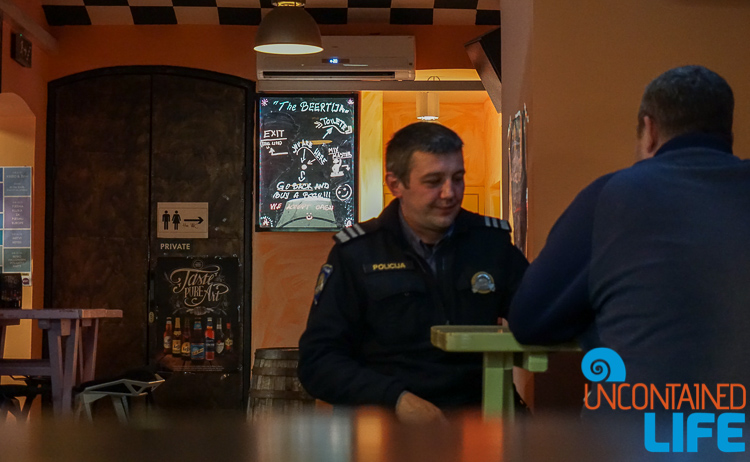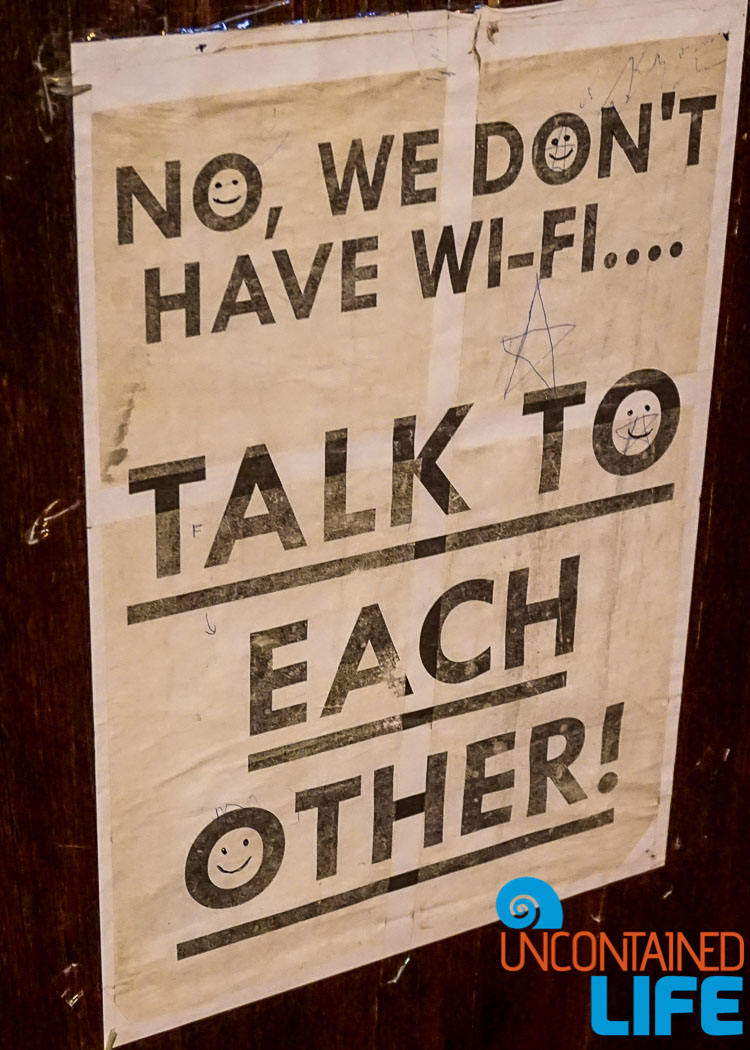 And beer lovers, if you like porters, and you want to do something very, very nice for yourself: Buy. This. Beer.
Final Thoughts
Like I said at the start, we truly loved our time in Zagreb and are hoping to be there again in December. And as for Blue Bikes–I can't think of a better way to have gotten an overview of the city and its history than with Alida. There really is nothing that compares with getting to know a place with a local…and if you can do it on a bike, why choose anything else?
Do you have any recommendations for our next trip to Zagreb? Please share!
---
Traveler's Tips for Zagreb:
Money: Croatia uses the Kuna (1 USD = approx. 7 Kunas) though Euros are sometimes accepted. Most places will accept Visa and Mastercard credit cards.
Transportation:
—Getting to Zagreb: Avoid the train. Instead, fly into Zagreb International Airport (I.E. Pleso Airport) or drive. From the airport you catch a bus (every 30 mins.) for 30 Kuna to the main train station, and from there, get a tram to your accommodation. 
—Getting Around Zagreb: Zagreb is very walkable, and has great in-city public transport–you can buy tram tickets at any newsstand or mini-mart. But, if you choose to drive into the city, don't waste time looking for street parking–you can park more conveniently, and for a very low hourly or daily fee at any of the public parking structures located in the center (just keep your eyes peeled for signs as you drive).
Accommodation: 
–Budget: It's not in the heart of Old Town (though it's right on a tram line), but Funk Lounge Hostel is still a traveler favorite. With comfy dorm and private rooms, free Wi-Fi and air-conditioning, a bar, restaurant, and fully equipped common kitchen, who could ask for anything more? Check your travel dates now at Agoda.com and save up to 50%!
–Mid-range: For bright, cheery atmosphere and top-notch location, look no further than Rooms Zagreb 17. Check Agoda.com to see how much you can save on your stay! 
–Luxe: The elegant, art-noveau style Esplanade Hotel has been charming its guests since 1925. Enjoy complimentary L'Occitane cosmetics in your tub, fine dining in the hotel restaurant and other terrific touches that will make you smile. Book through Agoda.com and save up to 50%!
–Airbnb: Looking to get a more local experience? Use this link to get a $35 discount off of your first Airbnb booking! 
Blue Bike Zagreb: Tours start at Blue Bike headquarters, just off of Ban Jelačića Square, and occur daily at 10am and 2pm until late April (during summer, the afternoon tour starts at 5pm instead of 2pm). Tours last 2.5-3 hrs. and are given in English (unless otherwise pre-arranged). The cost of the "Ancient City" tour (which is the one we did) is 23 euros per person and should be booked online, in advance. 
All photographs were taken with the Sony A6000—a lightweight, mirrorless camera that captures great images even in low-light conditions (like Dubrovnik after dark!) You can find out more about the gear we carry when we travel HERE.
Are you on Pinterest? Pin this post!