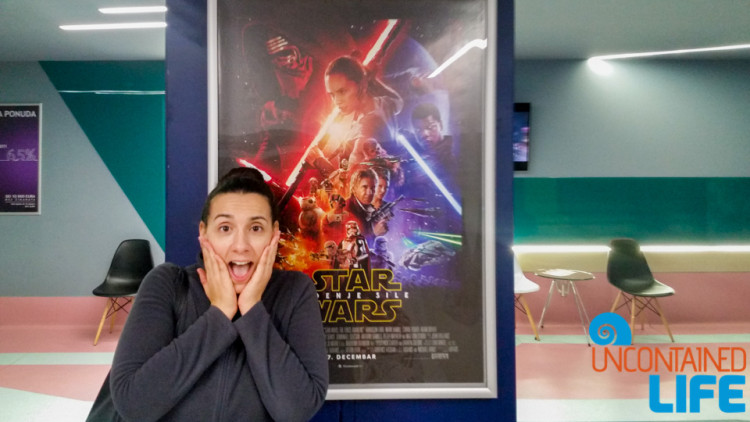 In Montenegro, where the population of the capital city, Podgorica, is less than half  that of our hometown, Long Beach, California (roughly 500,000 people), finding certain amenities can, occasionally, prove challenging. No, I'm not talking about 24 hour pharmacies or grocery stores the size of baseball fields. I'm talking about something that really matters…I'm sure you guessed it: movie theaters. Yes, shocking though it may seem, unless a local film is playing, going to the movies in Montenegro isn't high on most locals' must-do lists. Like, at all.
Case in point: when we first came to Montenegro, we found ourselves craving a little silver screen goodness one Saturday night. So, naturally, we started looking around for our local movie theater only to find…it didn't exist. At least not in Tivat. Or Kotor. In fact, according to the all-knowing Google, the only movie theater on the entire coast of Montenegro appeared to be thirty five minutes away in the city of Budva (and that had only been in existence since May 2015). Hmm. It seemed that going to the movies in Montenegro was going to be a bit tougher than originally planned. But no matter…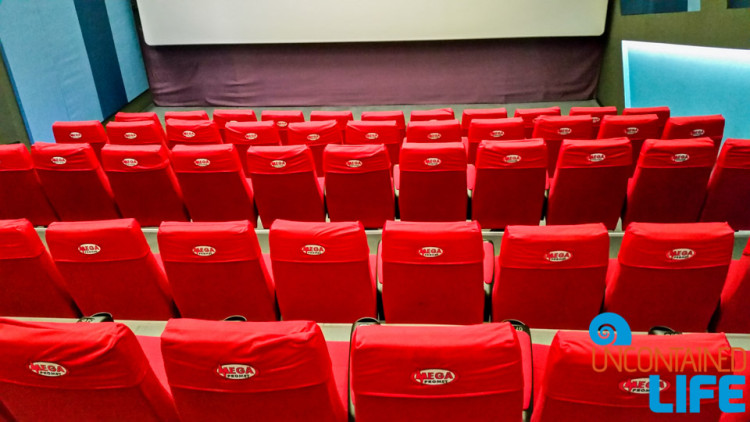 We still felt pretty dedicated to the idea of getting to watch Katness Everdeen shoot some arrows that evening, and so we set out walking for the town bus station. Unfortunately, not-so-all-knowing Google Maps directed us incorrectly and what with one thing and another we missed the bus. Some people might have given up at this point. But you're talking about a couple of folks who once, stubbornly, waited 5 hours for a local taxi rather than take the grossly overpriced tourist taxis (I.E. insane people). So we didn't quit. We took a cab. 
When our driver asked where we wanted to go in Budva, we told him, the movie theater. He seemed surprised by this. The movie theater? Yes, we replied. Address? We had it ready to go, but even so, our man seemed skeptical. And we started to understand why once we got into Budva downtown. Our driver, determined to take us where we wanted to go, started stopping people on the street to ask them if they knew where the theater was located. After interrogating fifteen people who shook their heads and clearly thought our driver was a deeply delusional individual for insisting there was in fact a theater in town, he finally found one person (one!!) who knew where the theater could be found: inside of the TP shopping center. 
We thanked our driver, paid, and hurried toward the TP, afraid that we might not be able to get good seats so near to the start of the show. (I think this photo really captures just how justified our concerns were…)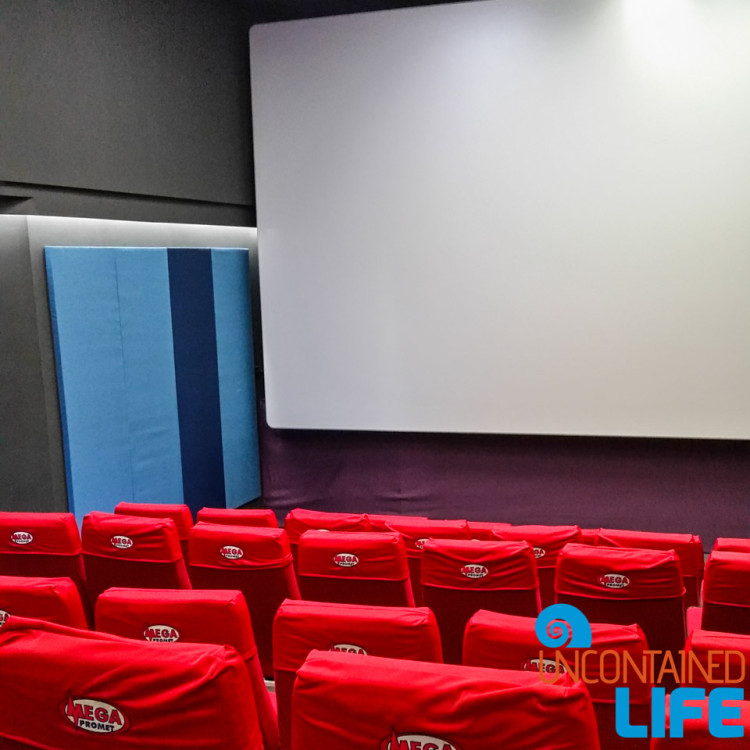 But let it never be said we were too quick on the uptake. Yes, even after this first funny introduction to Montenegrin moviegoing we still didn't quite grasp the magnitude of local indifference toward Hollywood. So, on the opening day of Star Wars, as our fellow Americans were settling into their tenth or so hour of waiting in line, Justin and I arrived in Budva four hours before the film was scheduled to screen. And then we discovered that the theater wouldn't even open its doors until 30 minutes before the show. Alrighty then. As it happened, the 3 or so hours we had to kill gave us an unlooked-for opportunity to do some sightseeing in Old Town Budva. 
As for our Star Wars viewing? Well, after exactly zero minutes spent standing in line, we ended up with center seats in a 3D showing…for five euros each…with ten other attendees. Yes indeed. Sometimes cultural differences mean you end up looking like a fool. And sometimes they mean you get a freakishly cheap, (practically) private screening of the year's top grossing blockbuster. No complaints from us. None at all. ?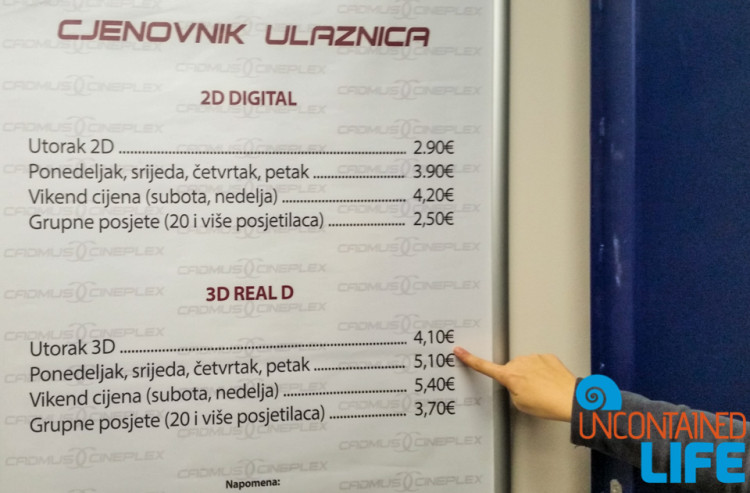 Anyone else out there enjoy going to the movies when traveling abroad? Sound off in the comments section!