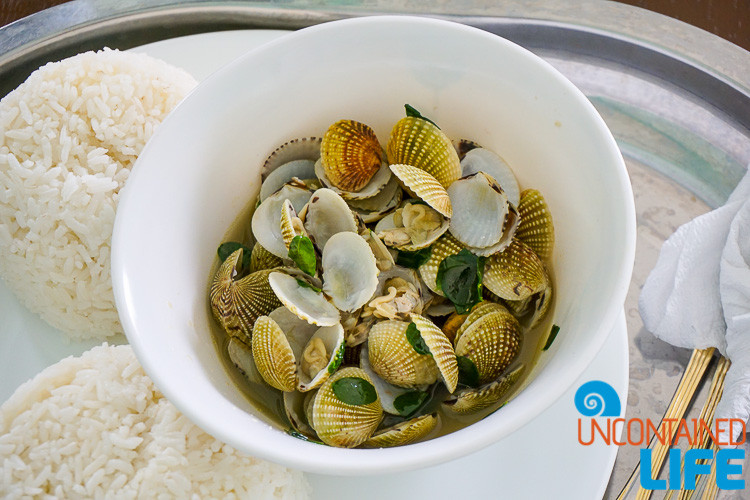 As some of you may already know, I love good food. Mexican fare, Italian cuisine, All-American grub, Filipino victuals…I love it all. Looking to bribe me make me very happy? Simple. Feed me!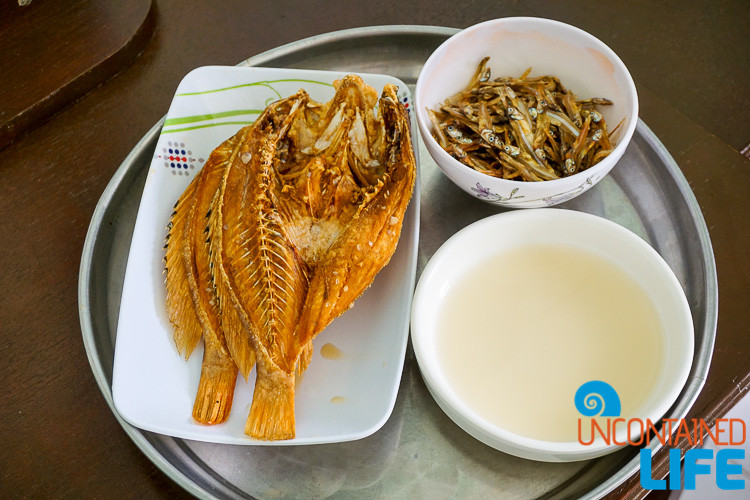 All this to say, wherever in the world we visit, my mission (in my mind) is quite clear: find the best spots to make sweet, sweet love to a plate of food dine. And so, when we arrived back in Puerto Princesa after living la vie rustique in Langogan and island hopping in El Nido I was ready to hit the foodie field running. But given the sheer number of eating options available in Puerto Princesa, Justin and I figured the best way to begin would be to get a few recommendations from our guesthouse staff.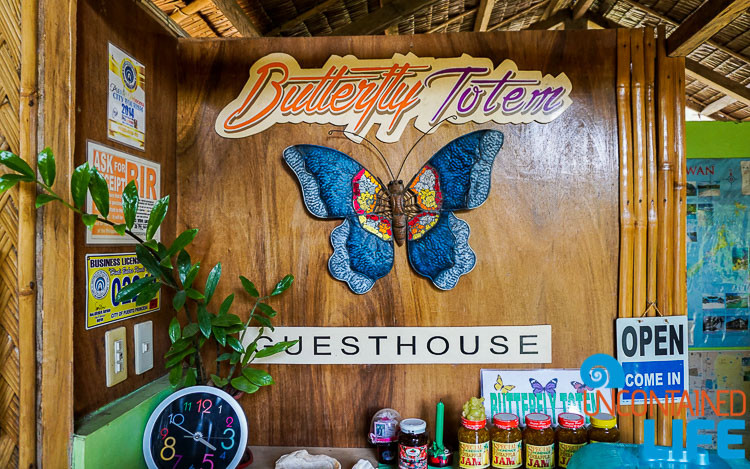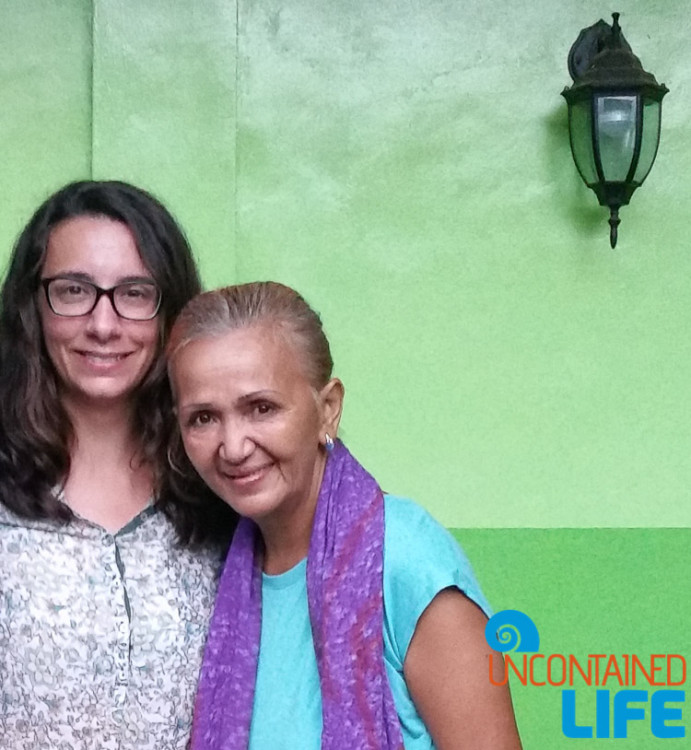 This time around we were staying at the Butterfly Totem Guesthouse run by everyone's mom-away-from-home, May. This bright, cheerful abode (made even cozier by its unique collection of butterfly memorabilia) is located in the part of Puerto known as the Manalo Extension.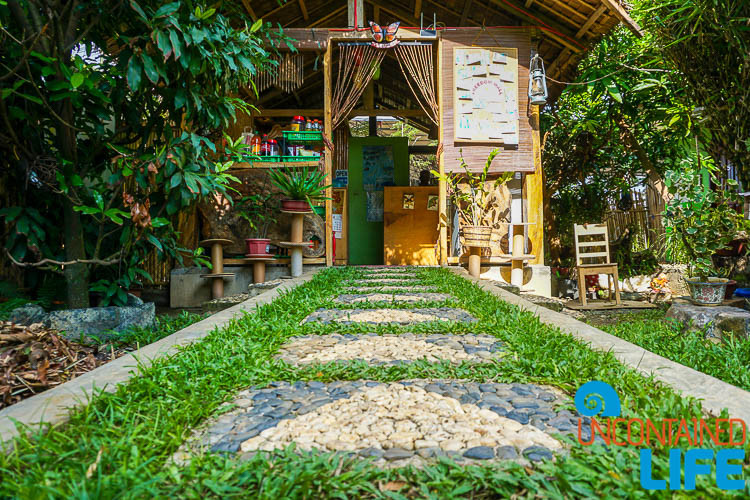 Thanks to its proximity to the airport, and thus, its popularity with visitors, the Manalo Extension has become, in recent years, a prime spot for good eating in the city. Indeed, one of the main reasons that we picked the Butterfly Totem Guesthouse was that its location would give us easy access to a big section of the city's restaurants.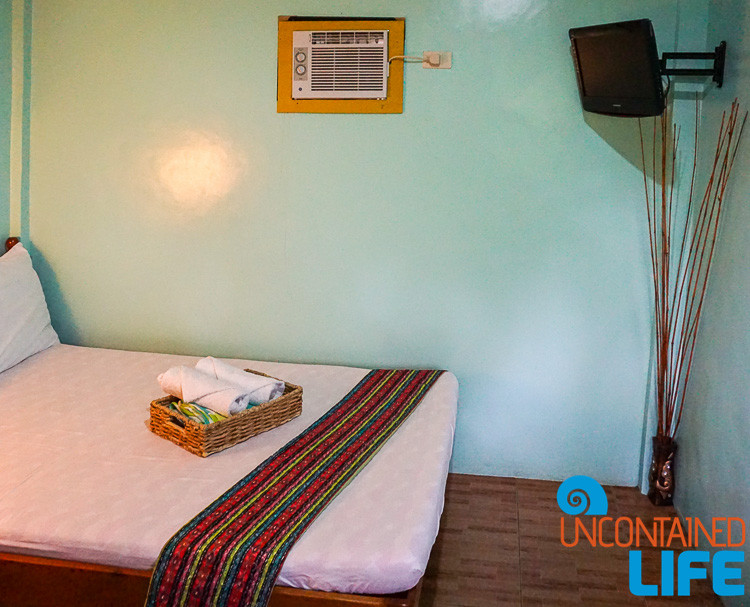 Plus, it served a killer breakfast as a part of its room rate: no greasy sunny-side up eggs and white bread to be found here! Instead, we got to greet the day with omelettes, fresh fruit, baked goods and to-die-for locally-handmade pineapple-honey jam.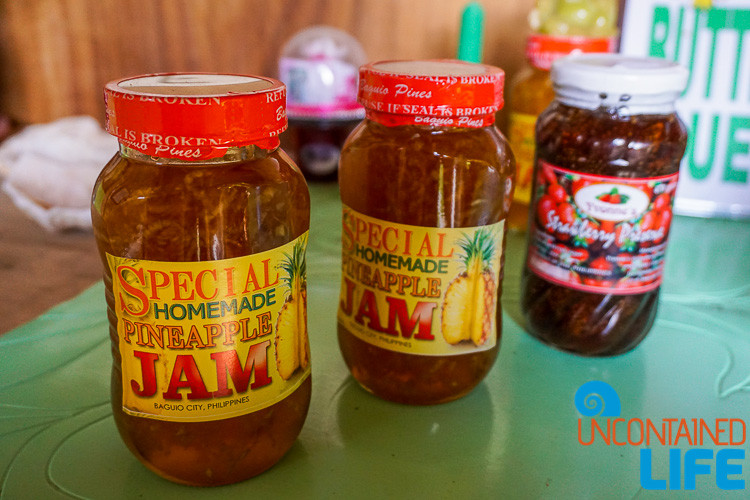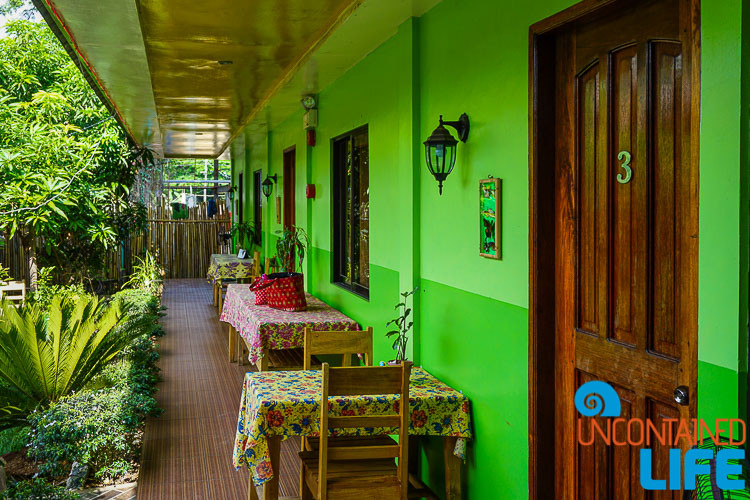 So what's the foodie scoop on Puerto Princesa? Glad you asked! Here (ranked very scientifically, of course) are our top 5 picks for the best restaurants in Puerto Princesa, Palawan!
Best Local Food Experience: Haim Chicken Inato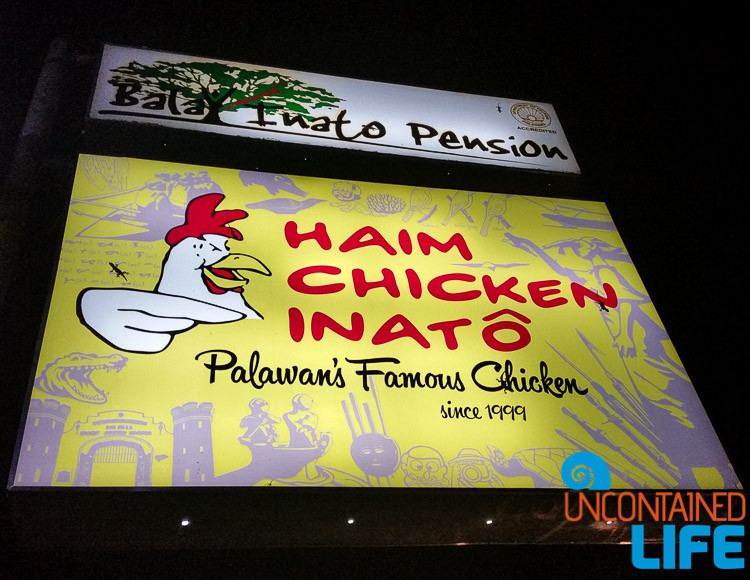 There are a number of places to get Chicken Inato (I.E. barbecued chicken) in Puerto Princesa. But there is only one Haim Chicken Inato.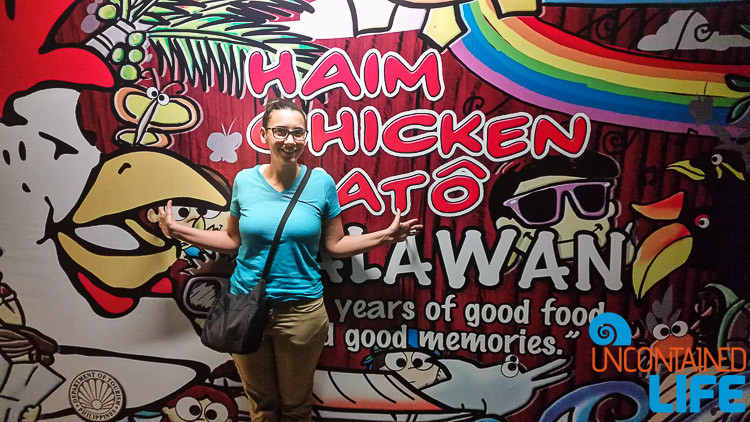 This family-owned Puerto stalwart has been serving its chicken (barbecued in its special secret sauce) to locals and visitors alike for fifteen years, but a recent revamp has not only broadened and transformed the restaurant's menu with fresh takes on classic Palawan cuisine but has also shaped the eating space itself into a kind of cultural museum.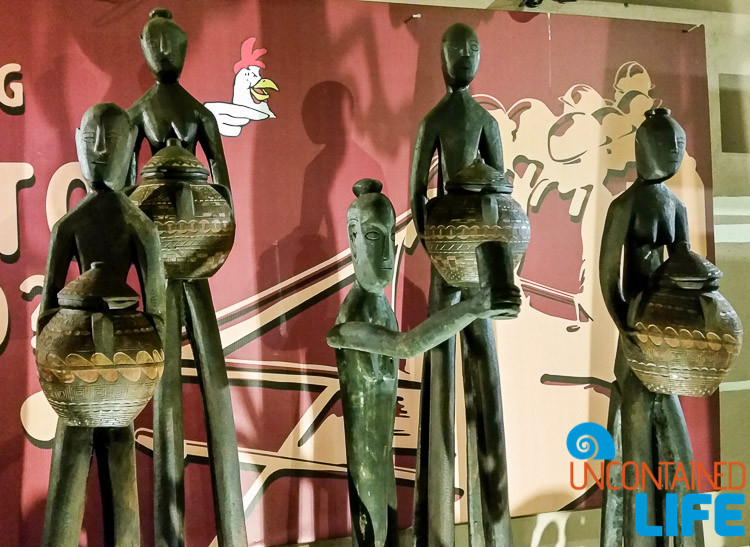 Decorated with works commissioned by a broad swath of the island's creative minds, including handcrafted sculptures from indigenous artists, Haim Chicken offers its visitors an truly unique dining experience.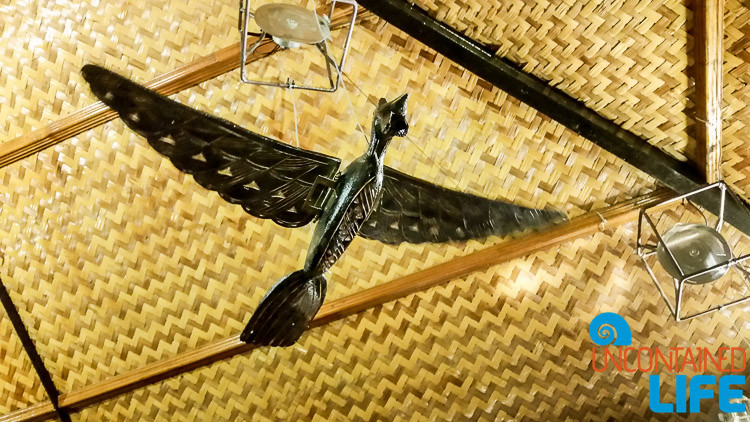 Our Favorite Bites:
For meat lovers, we suggest the Chicken Inato Spicy Leg (it's not too hot, we promise!) and Beef Tadyang (beef ribs).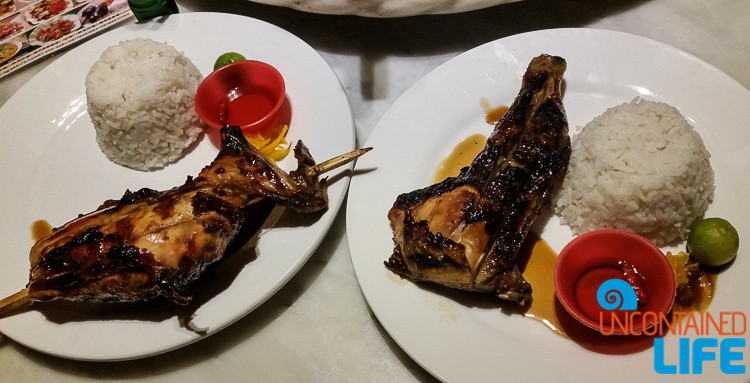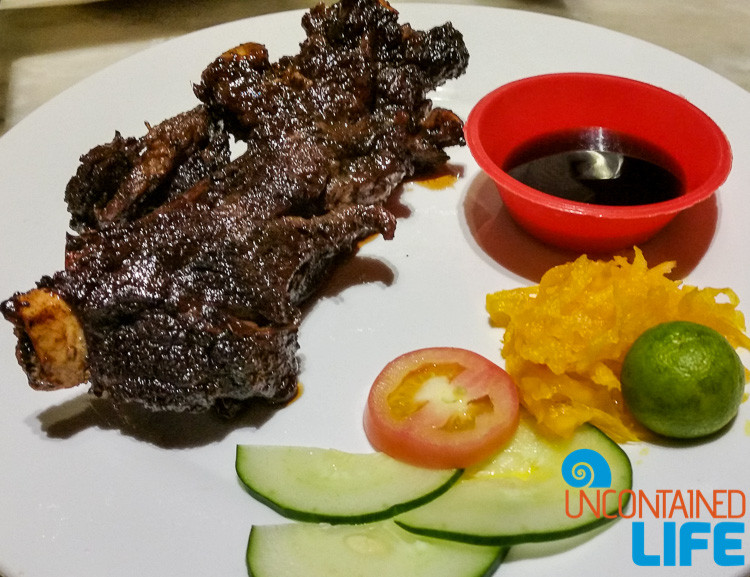 If you're into seafood, you can't go wrong with any of the grilled fish options (they'll let you know what's freshest that day).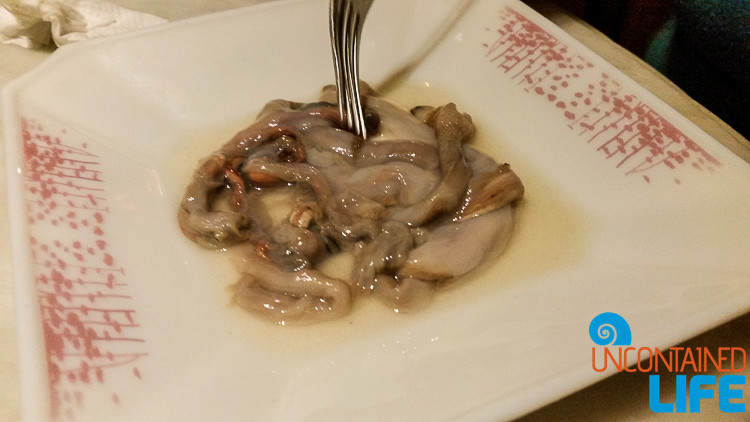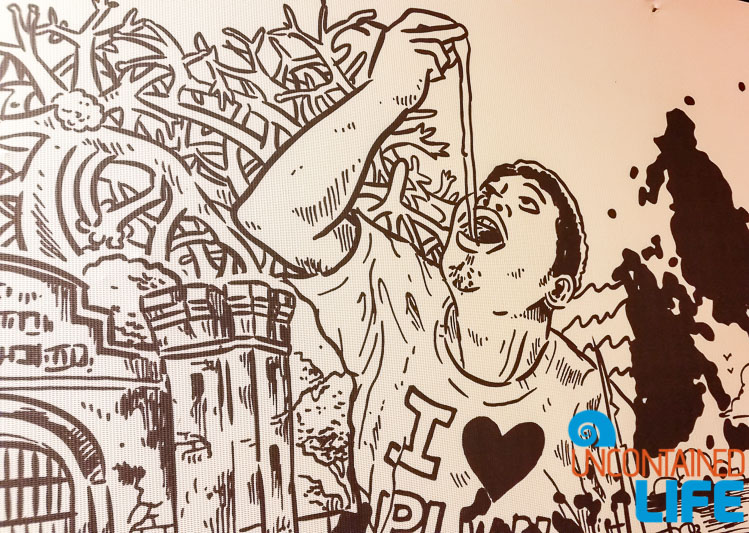 For the adventurous, there's Tamilok (fresh mangrove worm…which you can watch Hillary eat here!), or if you're not quite ready to go that far, but still want a taste of some very traditional cuisine, look no further than the very tasty Laing (spicy taro leaves in coconut milk) and Ubod Ng Rattan (the soft core of the rattan plant).
And for dessert? Halo Halo, of course!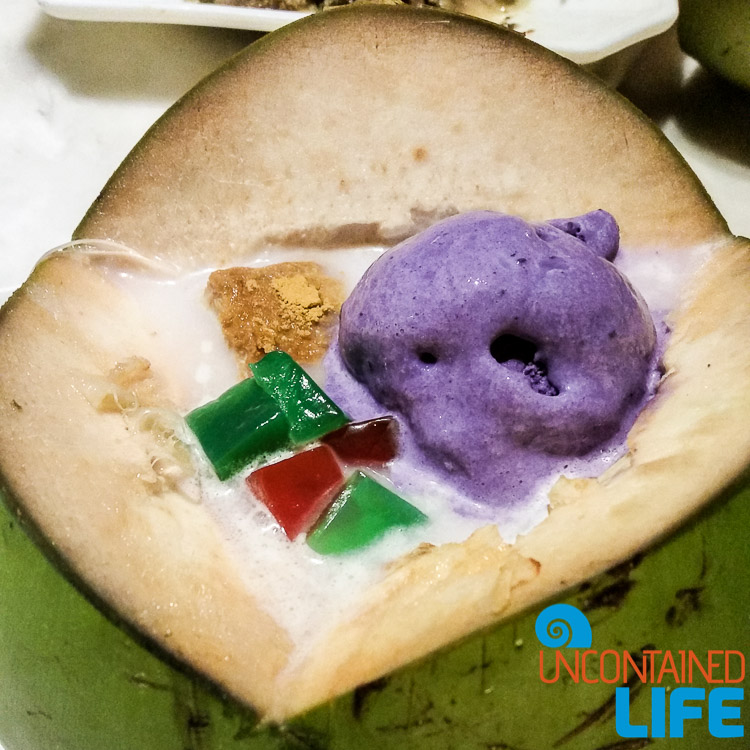 Best Romantic Restaurant: KaLui
Alright, some of you will disagree with us on this, but for me and Justin, even if a restaurant has the best location in the world, if the food isn't up to the task, the romance is dead. I'll confess, our choice of KaLui isn't the popular favorite in the category. Ask around town for the best place for a romantic meal and you'll probably end up at Badjao Seafood. And we understand why. The location of Badjao is supurb: right on the coast, built out over the water. What can be better, right?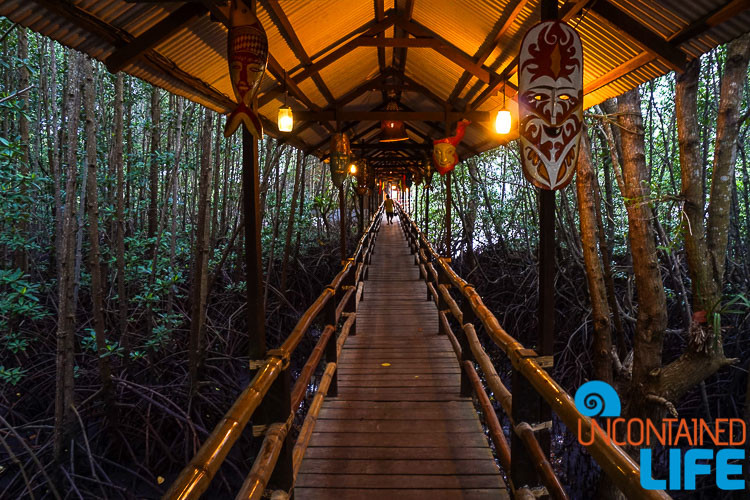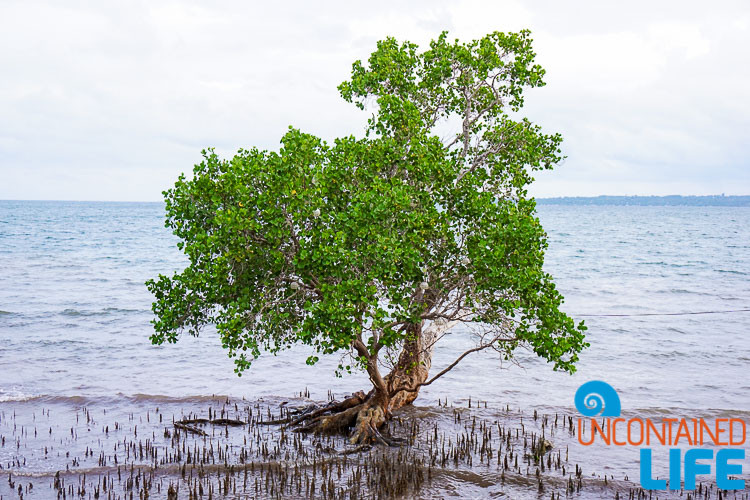 I'll tell you what. The food. And the prices you pay for it. (Not the mention the price you'll have to pay a local tricycle driver to take you there and back again.)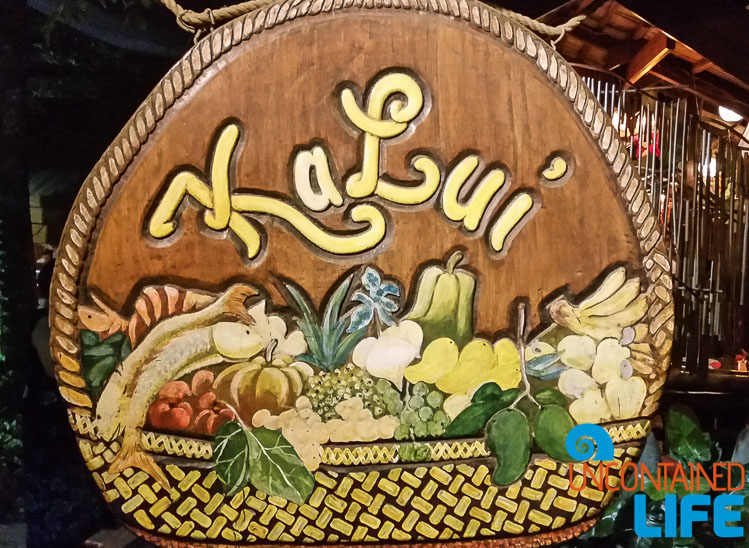 So, when it comes to a meeting of both fantastic seafood and great ambiance, we say, get ye to KaLui! This restaurant is still extremely popular—especially for local people looking to go out for a nice meal—and it's lovely secret garden space and art-lined walls create an atmosphere which is, in our opinion, quite romantic.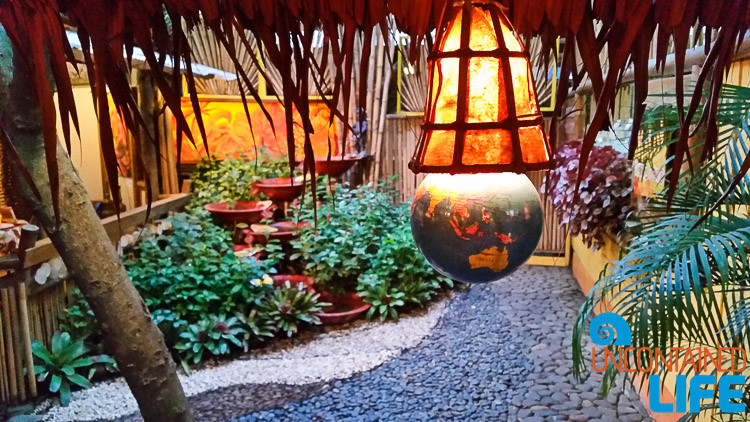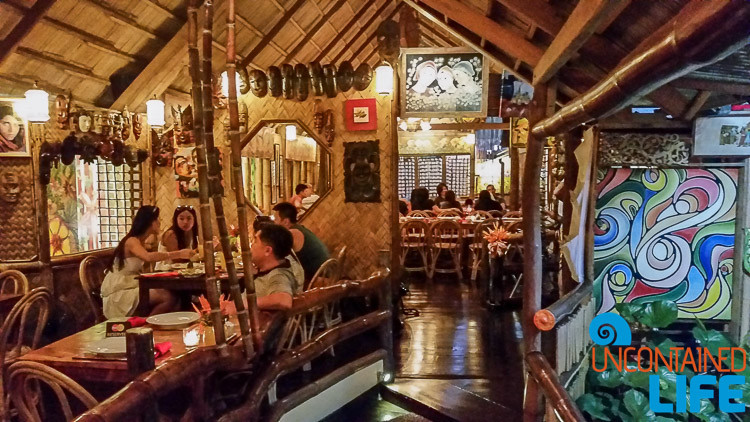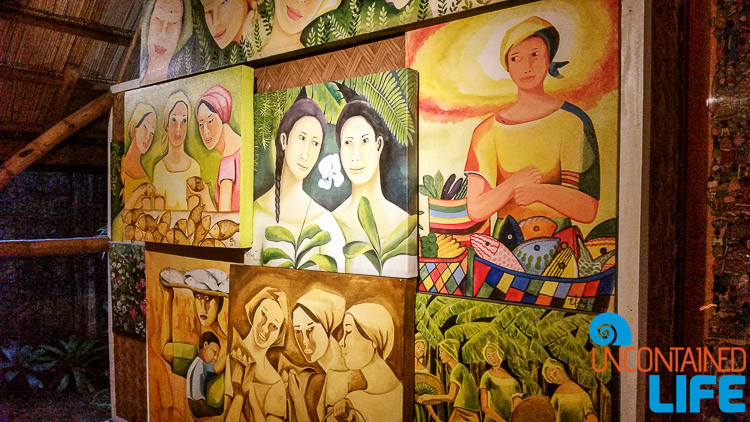 But ultimately it's the food and value that pushes it over the top. KaLui's seafood is fresh, it isn't drowning in overly heavy sauces like Badjao, and the price for its extremely generous set meal for two (plus adult beverages) is less than half of what you would pay at Badjao. If you're coming during high season, but sure to make a reservation!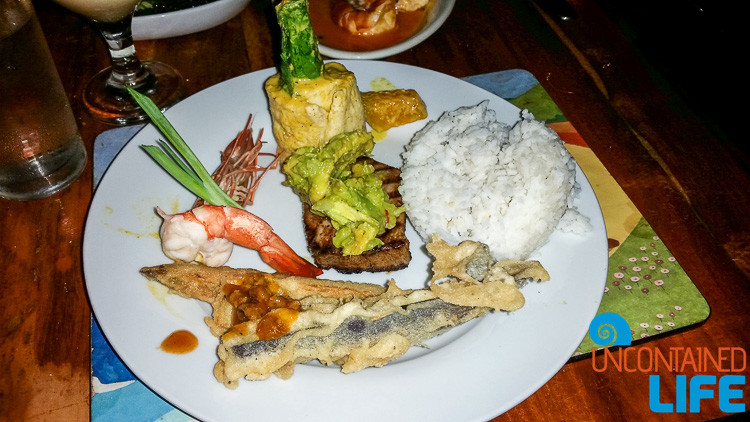 Our Favorite Bites: the set meal for two which includes one fish steak per person, prawns, "fish rolls" (fish wrapped around veggies served with coconut cream), rice, various starters (ours included soup, grilled eggplant and seaweed) and fresh fruit served in a coconut for desert—all for 435 pesos total* (not person!)
*This is the price for the set meal as of August 2015. Note: the prices on the website's menu are not current.
Best Spot for Your Sweet Tooth: Divine Sweets (Valencia St, Puerto Princesa, Palawan, Philippines)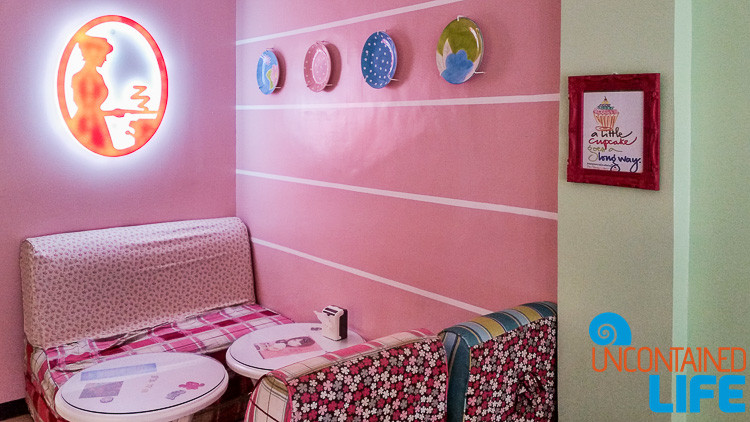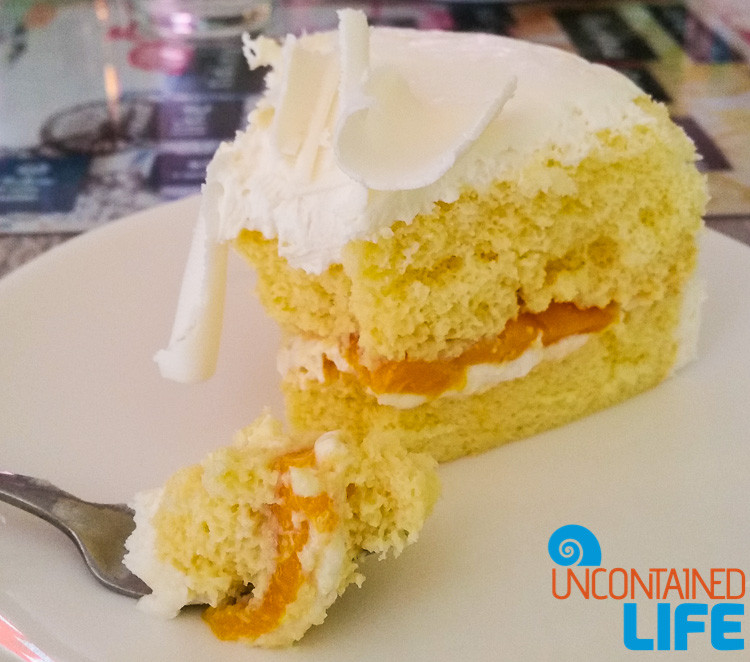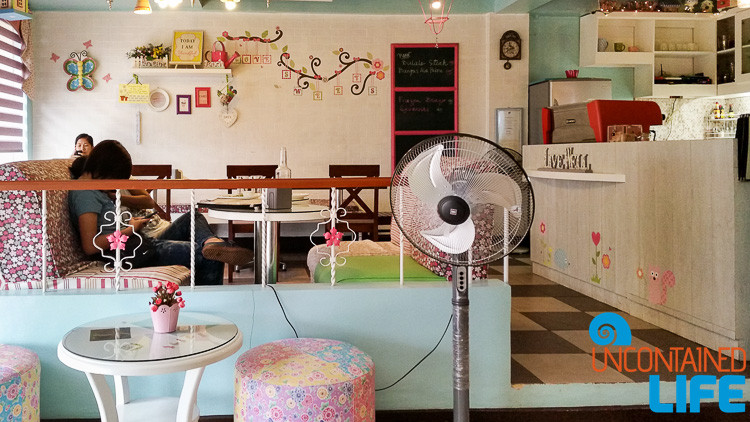 Divine Sweets, which has two locations (we recommend the one downtown rather than at the mall—it has more personality), has an extensive menu. But, to be honest, its non-desert food is kind of meh. (Not terrible, but not good.) All is forgiven, however, with a single bite of any of this resto-shop's sweet treats. From cakes to cookies to macaroons, Divine Sweets knocks it out of the park.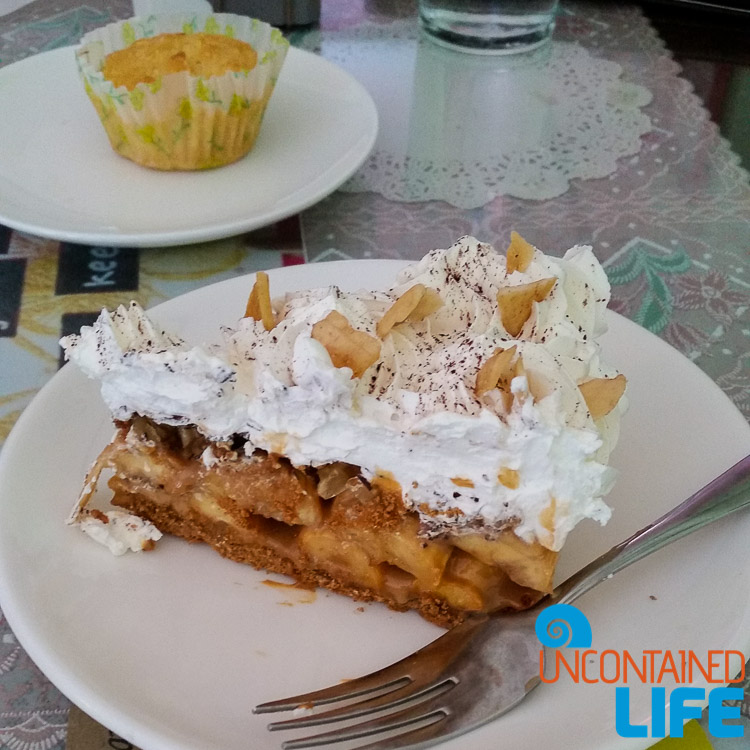 Our Favorite Bites: the banana-chocolate pie, the carrot cake and the macaroons. To. Die. For.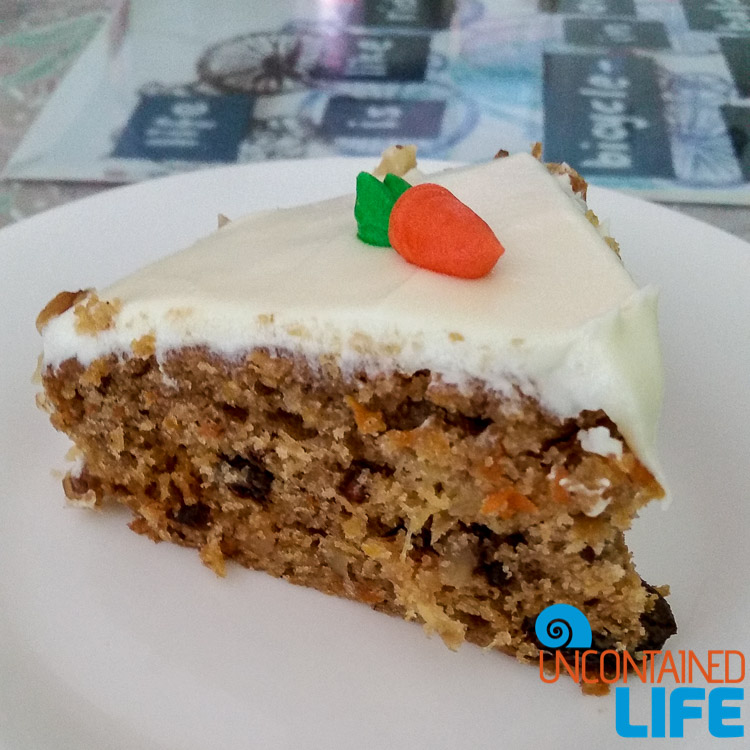 Best "European"* Cuisine: Captain Ribs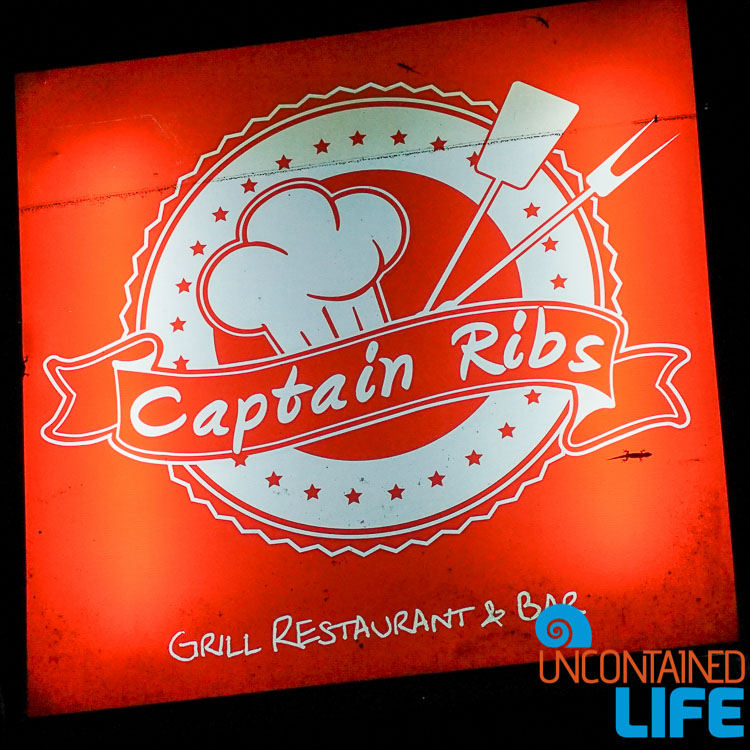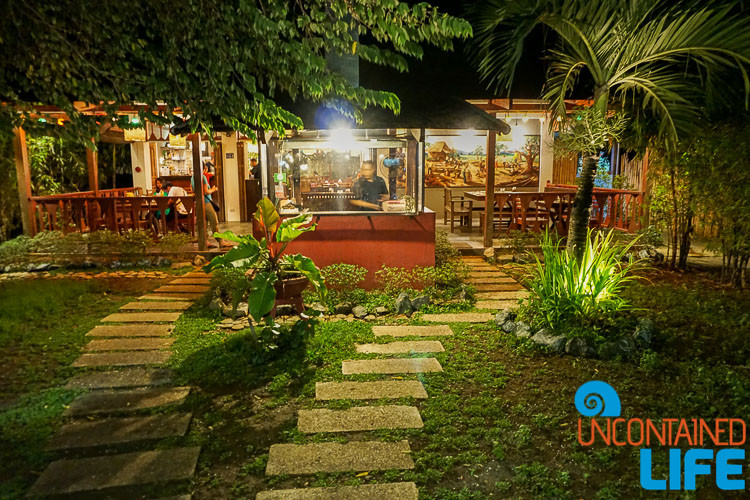 We didn't have a chance to try all of the items on the Captain Ribs menu, but what we did taste was so amah-zing that it immediately displaced our earlier contender, White Fence Country Cafe (which is still a solid choice if you're craving western cuisine). Yes, the prices aren't super cheap, but you taste the ribs—which you can watch being barbecued out in front of the restaurant—and then tell us it's not worth it!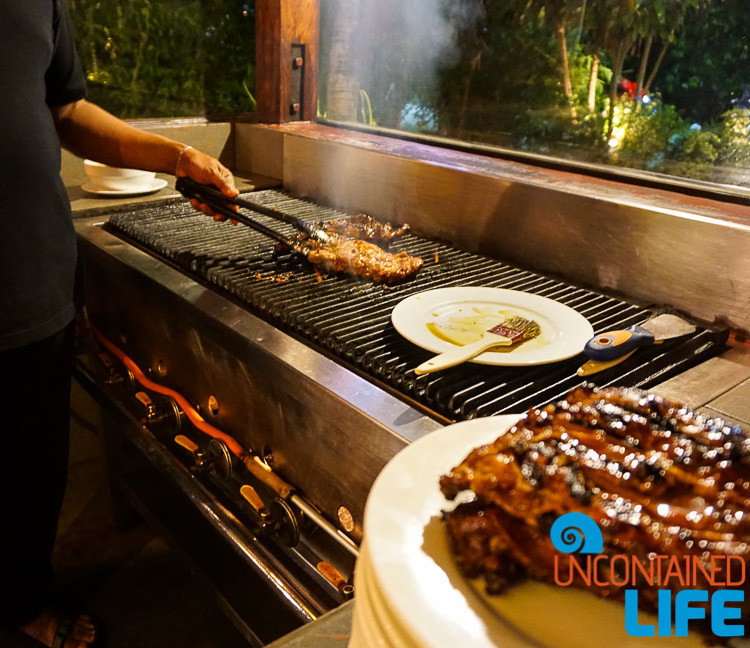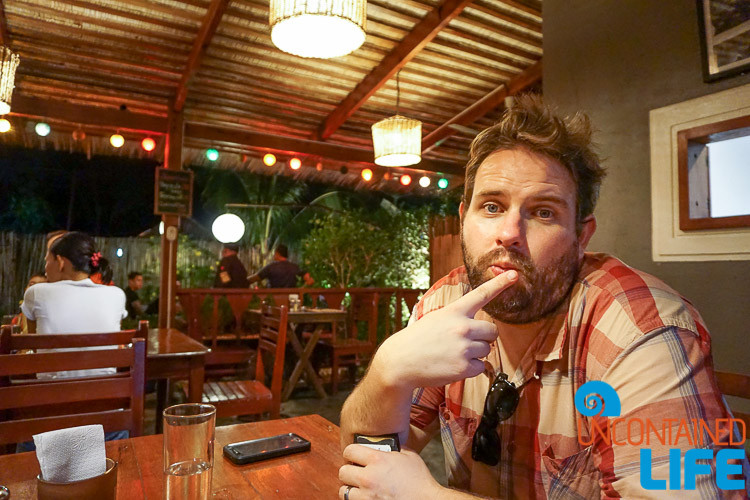 In addition to terrific food, this restaurant also benefits from a nice layout: you can sit on the front porch and watch the traffic on Manalo Road, chill out at the bar, sit in the shaded eating space out back, or grab a table on the grass and enjoy the sunshine.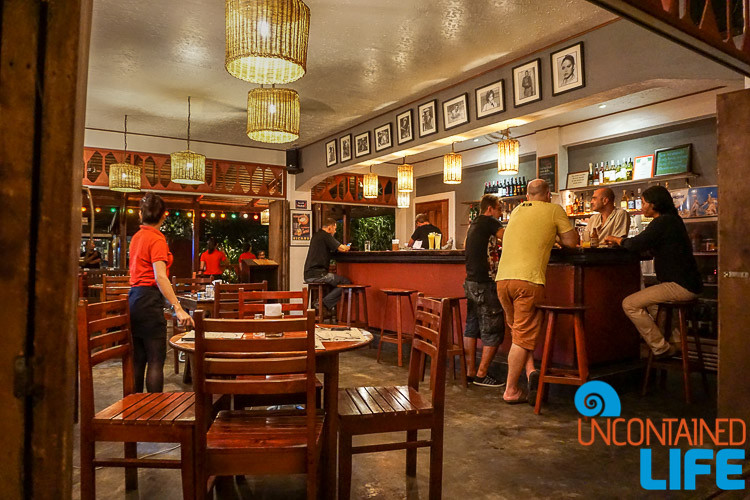 *Throughout the Philippines (and other countries as well) non-local, non-Asian foods are often referred to as and grouped under the category of "European cuisine."
Our Favorite Bites: amongst the starters, we loved the chicken quesadilla (ask for spicy if you're used to eating Mexican food), for your main, the ribs are really the only choice, and for dessert, we thought both the mango on vanilla ice cream and the caramel cream were both delish.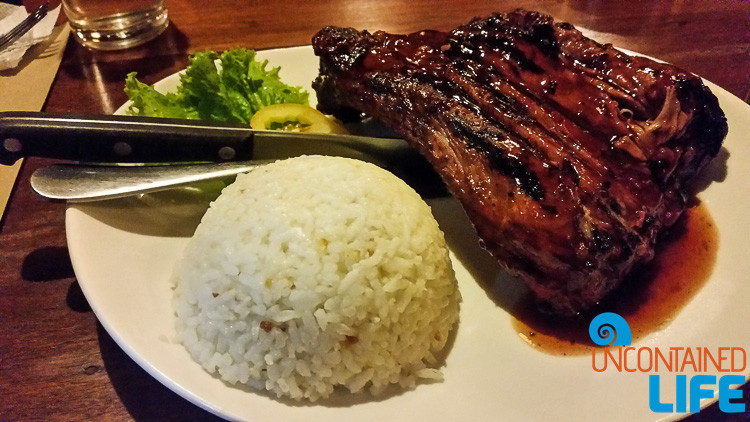 Best Coffee Shop: After trying all of the places in Puerto Princesa that locals (and the internets) told us served good coffee and discovering that people are LIARS! (or just don't know what good coffee is, actually), we had just about given up hope of ever finding a palatable cup of joe in town. Then, one day, in search of fast(ish) wifi we stumbled upon Palawan Coffee at the Robinson Mall. And our faith was restored. Yes, getting to the mall is a little bit of a trek from downtown, but if you are about to lose your you-know-what if you are subjected to one more day of Nescafe 3-in-1, the trike ride is totally worth it.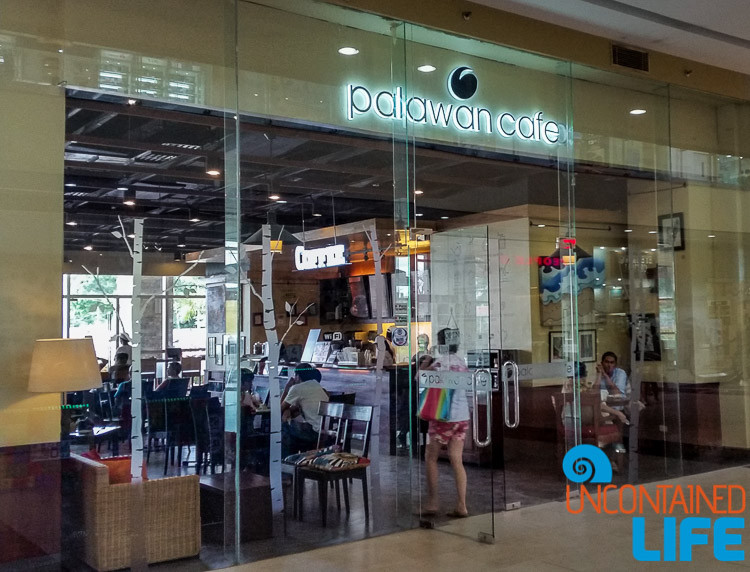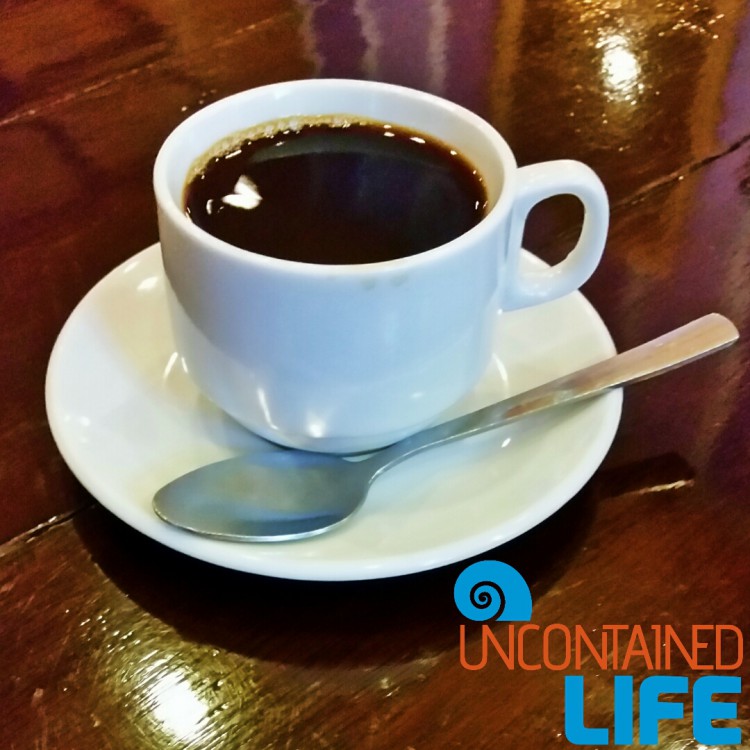 Best Bites: the coffee, obvs (yes, coffee is a food group), but in the more "traditional food" category, we recommend the chicken pie and unbaked cheesecake amongst the shop's collection of "snack" offerings.
---
Tips for Dining in the Philippines:
Waitstaff will not necessarily come to check on you while you're eating. This does not, however, mean they aren't willing to help—you just need to wave you hand (or ring the provided bell or buzzer) and help will arrive!

Just because waitstaff speak English does not mean they are all 100% fluent (for most, it's their second or third language). Speak slowly, politely, and clearly (note: clearly does not mean loudly) and all will be well.

You should tip your waiter or waitress in the Philippines. Sometimes a 10% service charge is included in your bill, but not often. (And even when there is a 10% charge, if the service is very good, leave a little something more, ok?)

Tricycle drivers may not know the exact location of all of the restaurants we mention. Map screenshots can be very helpful when trying to explain where you want to go.
---
* Thanks to Butterfly Totem Guesthouse for hosting us in Puerto Princesa. As always, all opinions are our own.