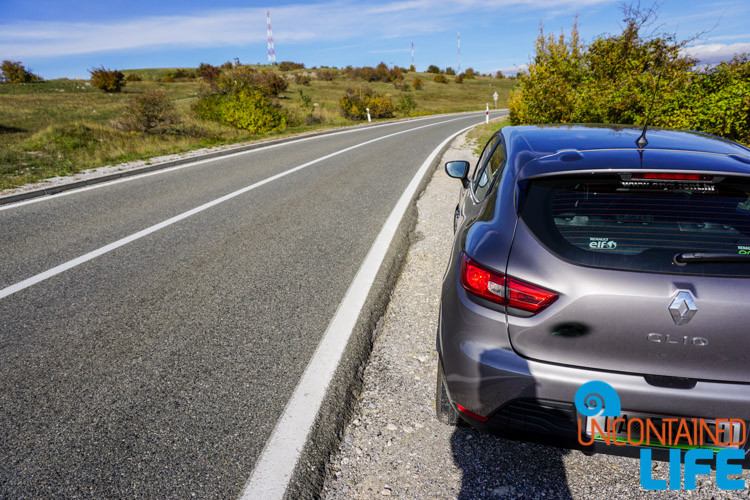 Back in the day, if you wanted to hitch a ride through Europe, you had to rely your wits, and your thumb. Nowadays, the sharing economy has blessed us with BlaBlaCar–a ridesharing service which lets anyone looking for a ride–or a passenger–to safely and cheaply road-trip their way across the continent (and beyond–Blablacar's range of serviced countries is expanding rapidly).
Blablacar.com is not the only ridesharing option in Europe (you can also check out RideFinder and Ride4Cents) but the company has the most user-friendly platform (probably why it's so popular), and so, it's the one we chose to use when traveling through Germany and Austria this past September. 
**Uncontained Life is in no way affiliated with BlaBlaCar. We are NOT being paid to write about this service…we're doing it because we think it's good!**
How to Use Blablacar for Ridesharing in Europe
What is Ridesharing?
At its core, ridesharing is just another sort of carpooling system–albeit with a 21st century twist. Using a the rideshare's digital platform, drivers heading to a given destination on a given date are able to advertise their vehicle's available empty seats to potential passengers looking for rides to the same destination. The driver benefits by being able to cute the costs and loneliness of a long drive by themselves, and the passengers benefit by being able to get where they want to go less expensively (and sometimes more quickly) than they would if they chose a bus, train or plane.
Is it Safe?
Ridesharing is, generally, quite safe. Blablacar's platform allows you to check the profile and reviews of any driver you are considering (multiple reviews/ ratings let you know that other members of the community vouch that the driver is who they claim to be). Plus, cashless payments help ensure no money need change hands on the actual day of your ride. For solo female travelers who don't wish to share a car with a male driver or passengers, Blablacar also offers a "Ladies Only" designation which drivers can choose when offering rides, and riders can look for when searching for a lift. 
What Kind of Savings Can You Expect? 
While savings will, obviously, vary depending on how popular a driving route is, and how far you want to travel, in almost every instance, using Blablacar for ridesharing in Europe costs less per seat than a bus or plane. Here on Rome2Rio, for example, you can see current price differences for a flight, a bus ride and a rideshare from Paris to Aix-en-Provence: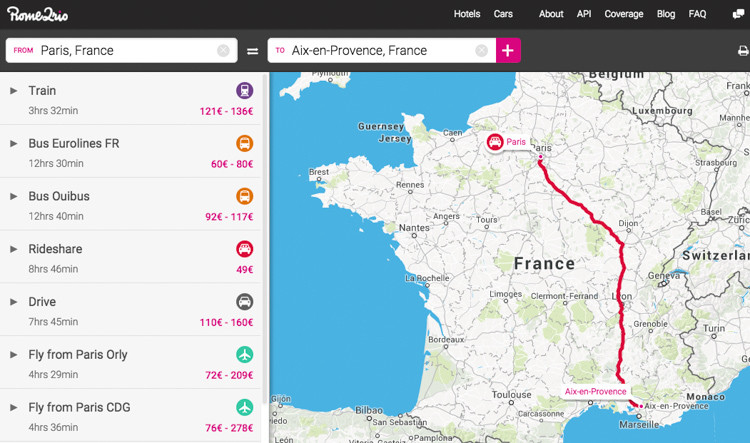 As you can see, booking a rideshare means you'll be spending 72 euros less than if you took the train (the fastest option), and will arrive a good 4 hours sooner than if you took the bus (the next cheapest option after ridesharing). Plus, you won't have to deal with airport security (which can add a good two hours onto the estimated travel time for any flight). 
How Does it Work? 
BlaBlaCar's online platform is exceedingly simple to use. First, create an account, select your country (American and other English-speakers should choose United Kingdom), and set up your profile. (Tip: Providing a bio and a photo that lets people see your face clearly will help you to get rides!)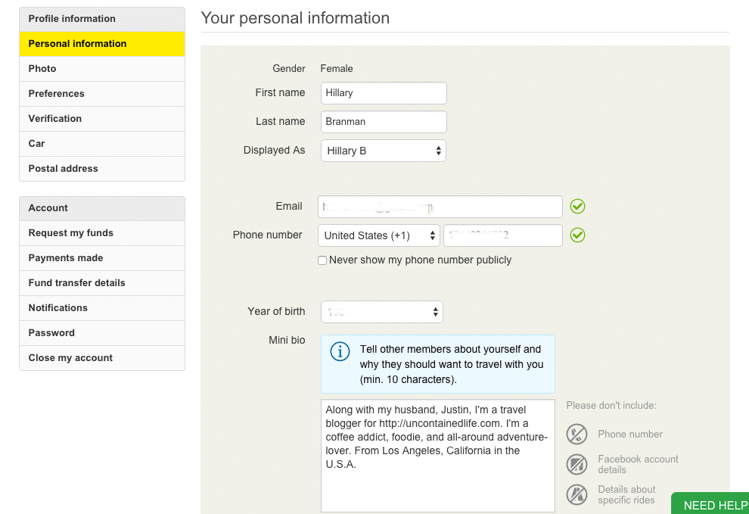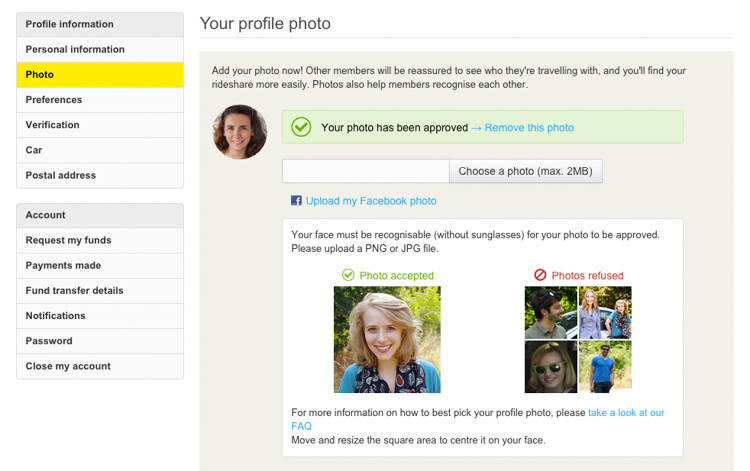 After your info. has been approved, you can start looking for rides!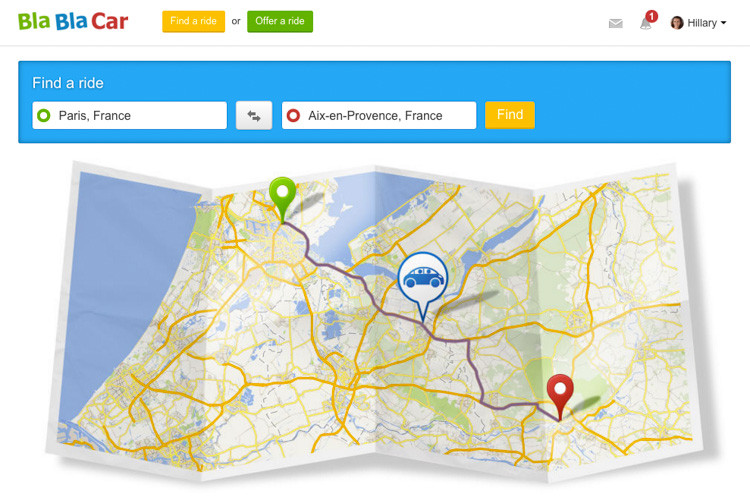 As you can see if you look in the left-hand column, there are a number of ways to filter your search. The most important filters are, obviously, your desired departure date and time.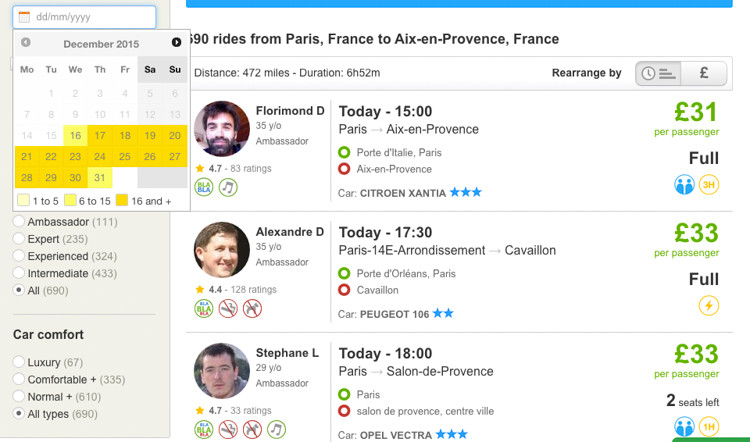 If your date is too far in the future (I.E. there are few rides available), you can sign up for an email alert.

As you look at potential rides, there are a few other factors to keep in mind in addition to the basics of leave time and price (Note: at this time, there isn't a option to change the currency–if you're using the site in English, the quoted prices will be in UK pounds). First, you'll want to make sure your potential driver's "preferences" match your own: If you're allergic to pets, steer clear of drivers who allow them; if you hate non-stop chatter, don't pick a driver who wants that kind of experience.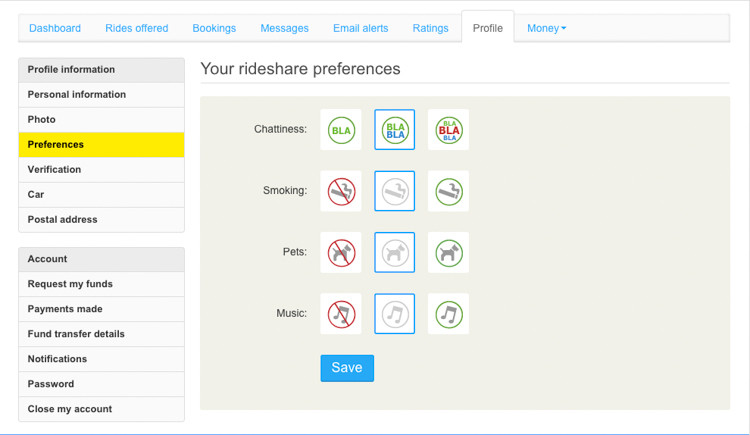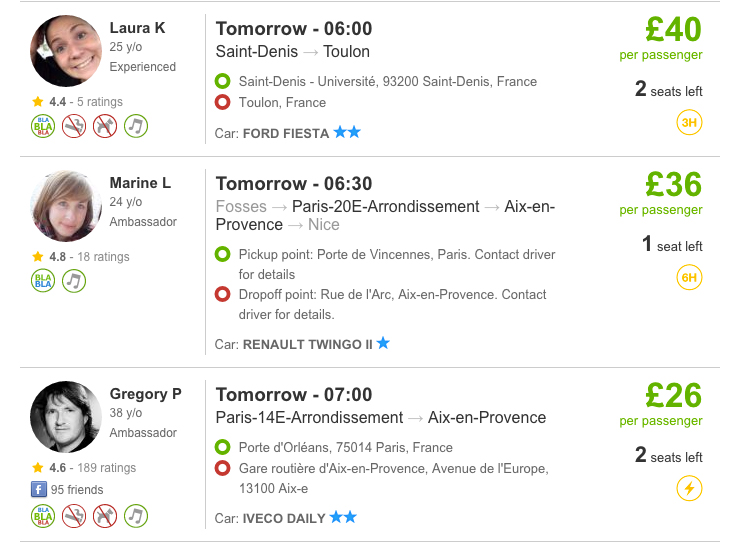 Second, read your driver's reviews–I.E. their "rating" details. (This may require you to use google translate!) If a driver doesn't have reviews yet, that's not the end of the world, but you should recognize there's a higher risk booking with someone who hasn't been vetted by fellow ride-sharers.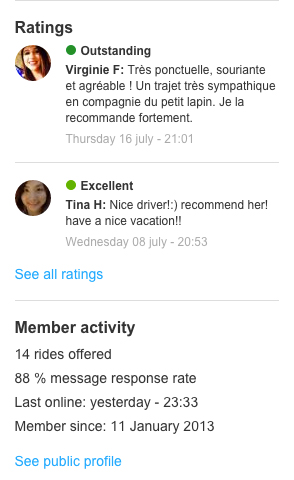 Third, you'll want to double check to make sure the pick-up/ drop-off points and the luggage space they say is available will work for your needs. (Read more about luggage under the "Tips" section below.)

Once it looks like you've found the right ride, make your booking request (Note: sending a request does NOT guarantee you'll get the ride.)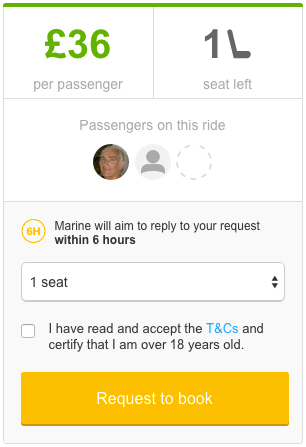 If the driver accepts your request, you can complete your booking online using your credit card, debit card or Paypal account. (If your driver cancels the ride after you've paid, your payment will be refunded.) Once your booking is complete, you'll have access to your driver's mobile phone number, and they'll have access to yours. Your driver will let you know where, exactly, you'll be meeting them, so make sure you tell your driver how you would prefer to be contacted (if you use WhatsApp, you can let your driver know you prefer to be contacted that way). 
Don't forget to review your driver after your ride (it helps others find reliable rides, and avoid bad experiences!)
Additional Tips to Help You Use Blablacar for Ridesharing
1. Blablacar's "small," "medium," and "large" luggage categories are very much open to interpretation. Before completing any booking, be sure you have sent your luggage dimensions to your potential driver to confirm everything will fit. In our experience, a 22″ length x 14″ width x 9″ height bag/suitcase (I.E. 56 x 36 x 23 cm) is "medium"–anything above that is "large." Click here to see the bag we used.
2. Rides are usually posted 3-5 days before the leave date (though they are sometimes posted earlier, or at the very last minute). For the best range of options, set an email alert that will let you know each and every time a new ride for your desired travel date and destination is made available on the site. 
3. At the time of writing, requesting to book a ride does not mean you are obligated to complete the booking (I.E. pay for the ride). Therefore, if it's important for you to get a ride on a specific date, we recommend that you send simultaneous requests to 2-3 potential drivers. In our experience, drivers are not always open to accepting riders who can't speak their language (it's less a prejudice than it is a concern that they will not be able to communicate properly with you, and visa versa). Sending simultaneous requests ensures you won't come up empty-handed. Just make sure that if you get more than one "yes" response, that you tell any driver you choose not to book that you have found another ride (otherwise it's just rude). 
4. On the day of your ride, plan to arrive at the pick-up point a little ahead of time. Once you've arrived at your designated pick-up point, send your driver a message letting them know you are there. It may be that your driver will need to give you additional, or more specific information about where they will be looking to meet you and by taking the initiative, you're more likely to avoid problems.  
5. Talk to your driver! Sure, it may feel a bit awkward at first, but in the end, it's a great opportunity to get some local insights and tips. And sometimes even more: in one instance, a conversation about classical music led to us receiving free tickets (worth 70 euros each!) to an amazing concert at the Orangerie in Vienna!
Have a question about the information in this article or ridesharing in general? Leave it in the comment section and we'll do our best to help! 
---
*All images are the property of Blablacar.com and Road2rio.com, respectively. Again, Uncontained Life is in no way affiliated with BlaBlaCar. We are NOT being paid to write about this service…we're doing it because we think it's good!