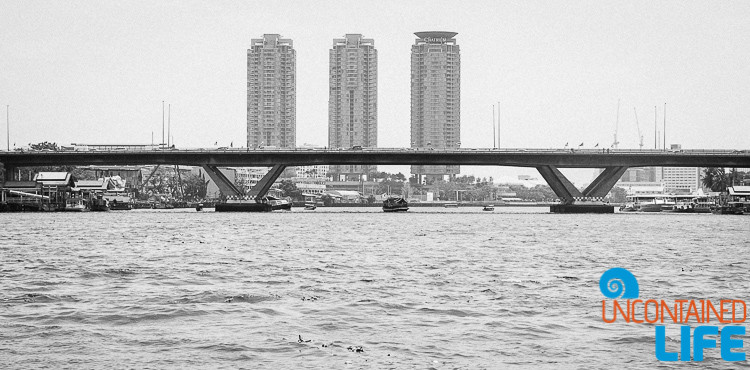 The Chao Phraya River in Bangkok is my first choice for traveling within the city.
It really is black and white for me. When given the option to use a taxi, Skytrain, subway, bus, or even motor scooter or travel using the river transportation, I will always choose Bangkok's Chao Phraya River. 
Maybe I'm a sucker for bodies of water, but when I jump on the ferry to get across the river rather than walking across the bridge, I am simply happier. When I'm waiting for the River Express while a half a dozen taxis come and go, I am confident in my choice. As soon as I hop the gap between the pier and the boat, I am excited to join the crowd of locals and foreigners who are getting to their destinations using the river.
Using the river helps me familiarize myself with the city. The same skyscrapers, temples, palaces, piers, and bridges are constant and remind me that there are parts of the city to be explored.
Using the river ensures interactions with people from all walks of life. I have met food vendors who are carting their goods across the river using the ferry, a Bangkok entrepreneur who uses the river to visit his various investments around the city, and fellow travelers from all around the globe.
Using the river always brings about a new sight or experience. Whether it is the near misses between long-tail boats and express boats, a new market on the river's edge I hadn't seen before, today's sunset, or an evening fireworks display over the water, I always encounter something that reinforces my distinct fondness for Bangkok.
So when you're in Bangkok, don't worry about me crowding you in the subway, stealing your taxi, or taking your seat on the bus. I'll be on the river.