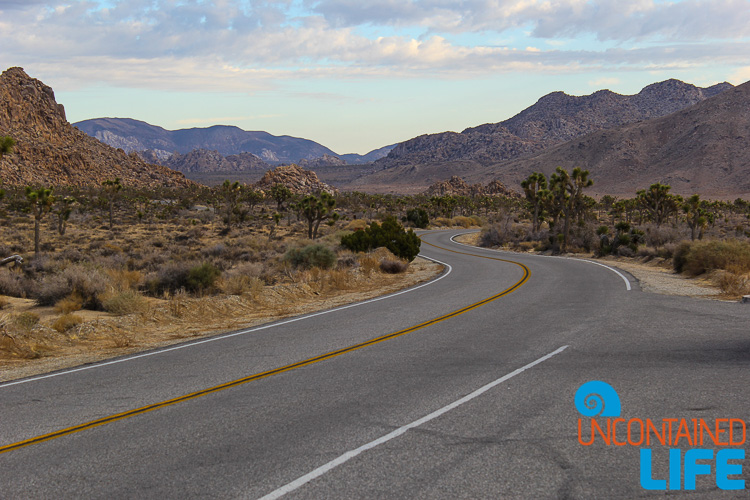 Concrete. Concrete. Glass. Concrete.  Asphalt. Traffic.  Concrete.
We love cities.  Innovation, culture, art, and coffee every three blocks are just a few reasons Hillary and I gravitate toward and have lived in cities.  However, sometimes the rushing (honking) cars, the giant buildings, and zoned trees motivate us to put the skyscraper skyline in our rearview mirror and decompress from urban bliss.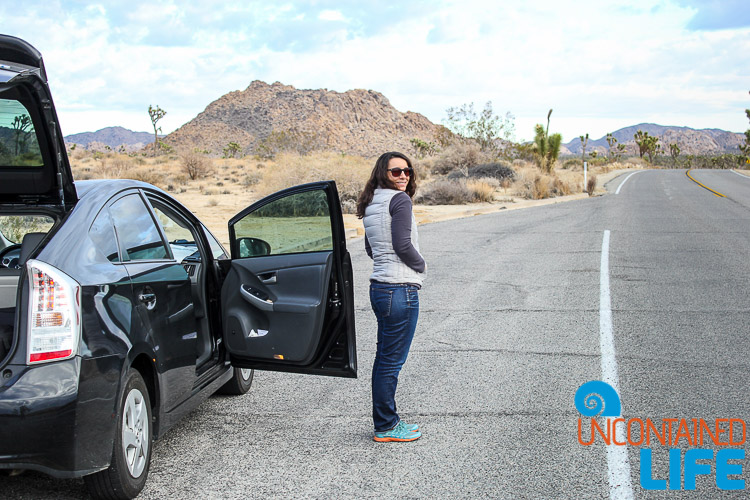 As fate would have it, we came to one of these "get out of Dodge" moments right as we were celebrating our 5th wedding anniversary.  So, with the promise of killing two clay pigeons with one slingshot, we drove two and a half hours to our backyard nature retreat, Joshua Tree National Park.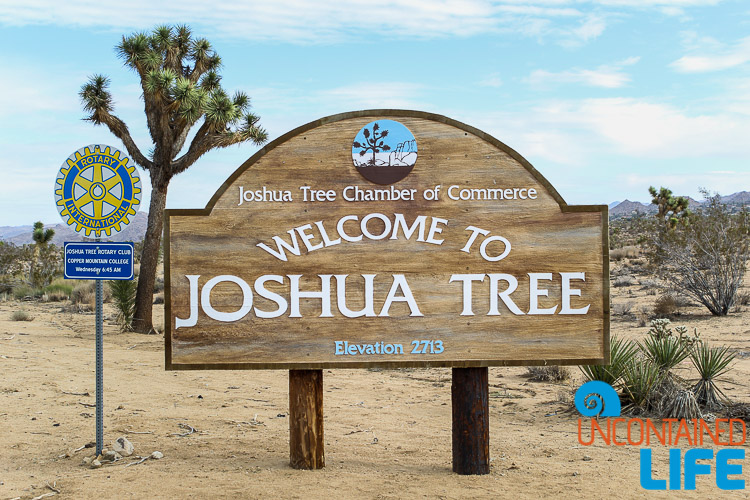 Day 1
All of the holiday travel had passed so we managed to find an incredible deal on an AirBnB rental: a two bedroom home-away-from-home that included a kitchen, fireplace, and a record player with vintage vinyl collection!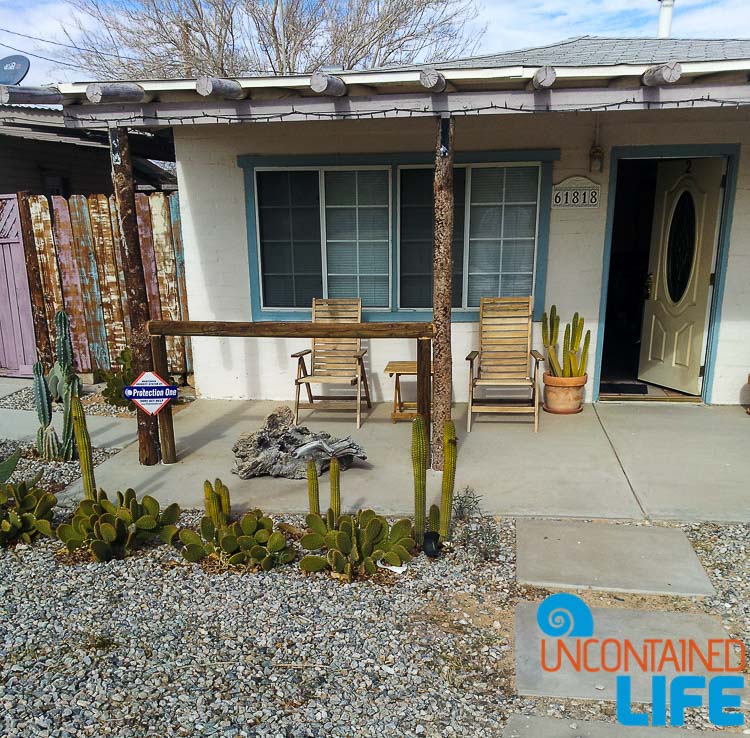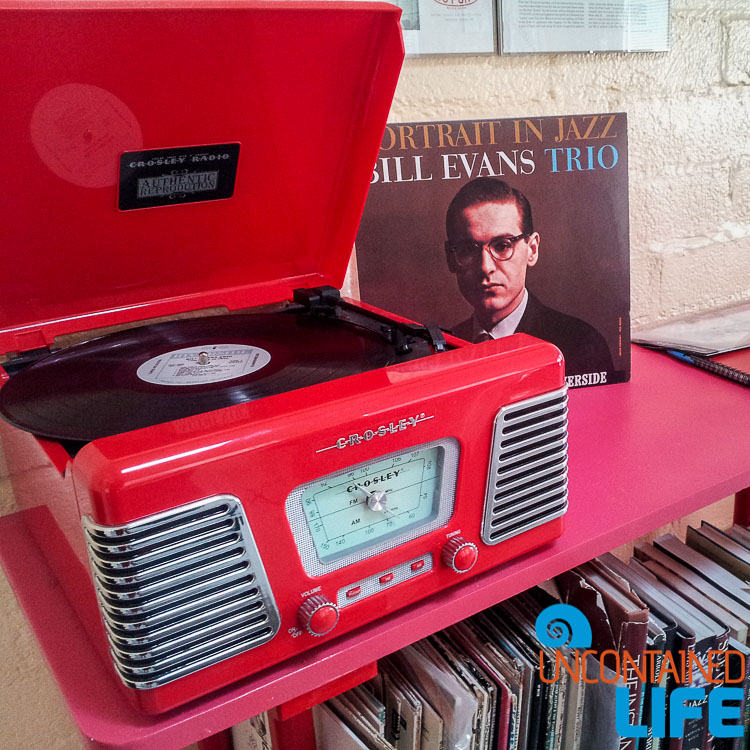 Even before checking in, we wanted to get our nature fix so we stopped in Palm Springs and rode the Palm Springs Aerial Tramway up to the top of San Jacinto State Park.  A couple of years back, I had helped assemble the production design for the Tramway's 50th anniversary but, I'd never actually managed to make it to the tram itself.  For the record, this tram is worth celebrating!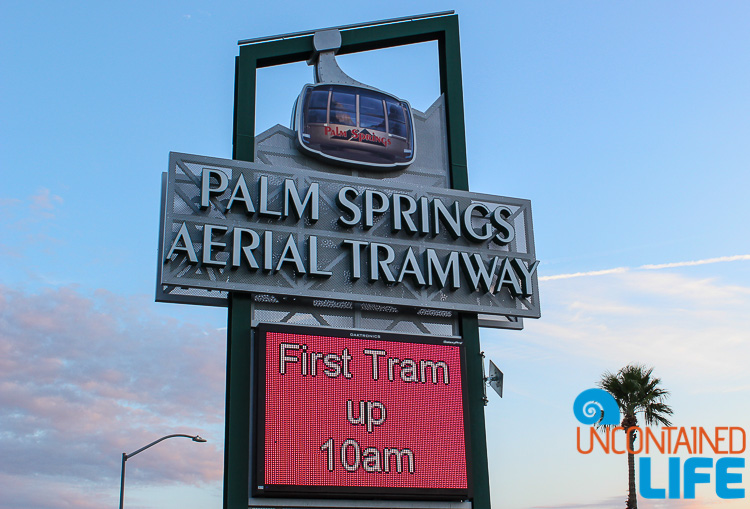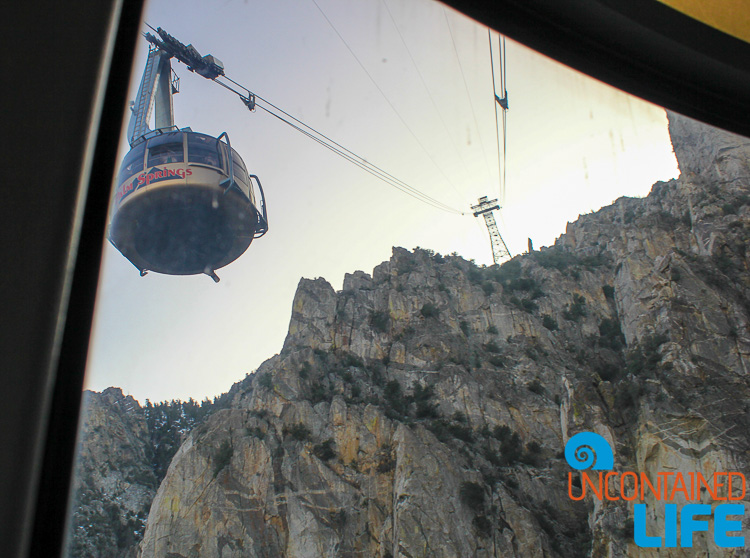 Our ride up to the Mountain Station (which sits 8516 ft/ 2596 m above sea level!) reminded us beach-city-dwellers just how diverse the topography of California can be; when we boarded the tram, we were in the midst of desert brush and 80-degree heat; when we reached the top, we were faced with a winter wonderland of snow and Ponderosa pine trees.  The tram itself rotates, which makes for beautiful, constantly changing views: at one moment you'll be looking out across the valley and another moment, taking in the sheer cliff faces.  At the top, there is a restaurant, gift shop, and bar.  But we didn't have time for that nonsense.  We needed to stomp in the snow and smell the ponderosa bark (more on this later)!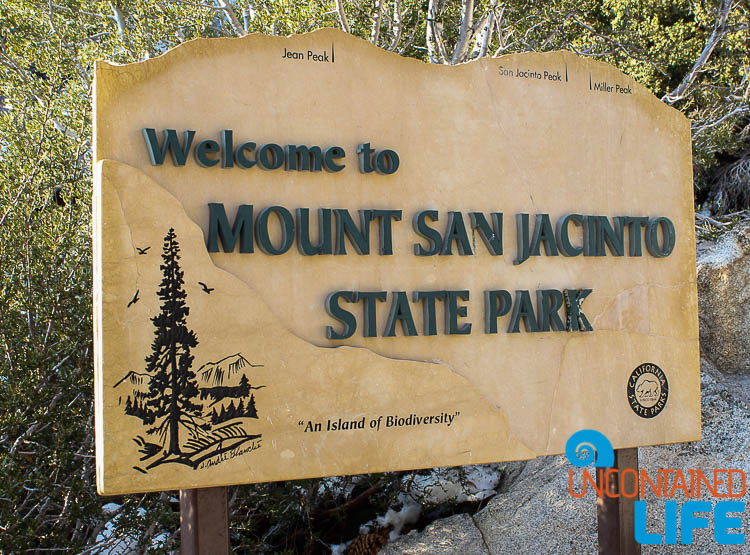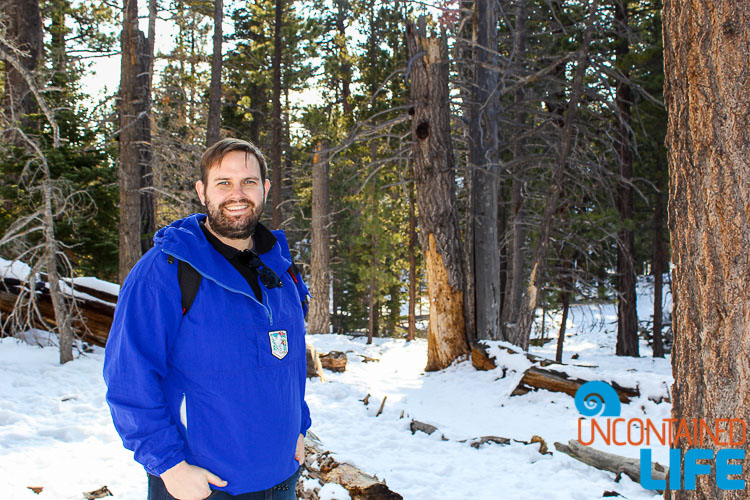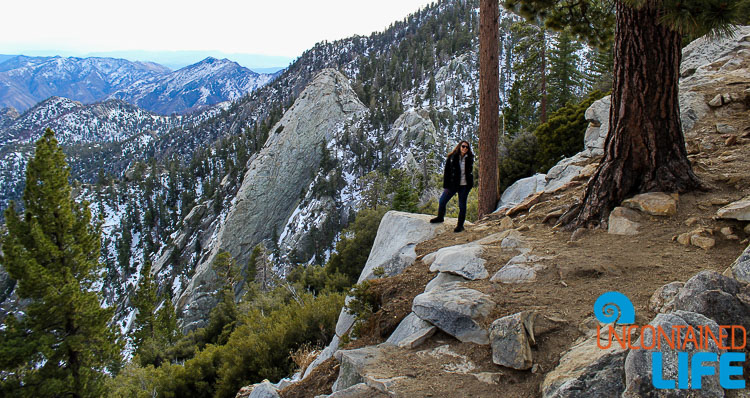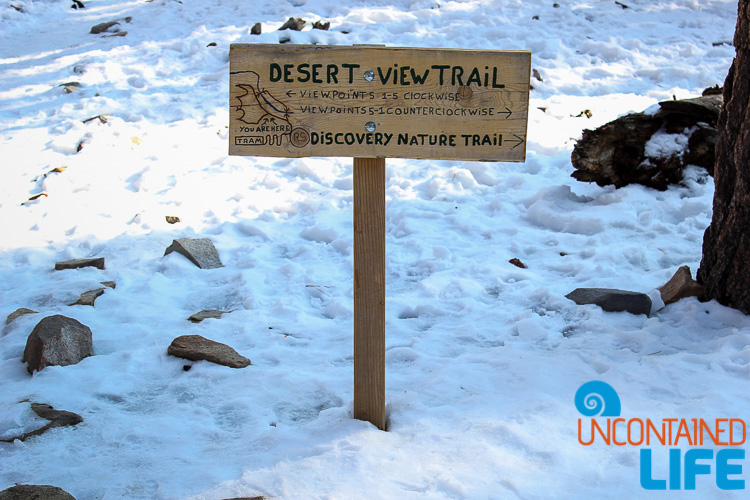 Mount San Jacinto Park offers five day-hikes of varying distance and difficulty.  We even saw two young men with backpacks who were going to be camping for the weekend.  It was later in the day, so we opted to hike the short 1.5 mile (2 km) Desert View Trail that features five lookouts along the way.  Our favorites were Overlook 3 and Overlook 5.  Though our walk was mostly solitary, from time to time we'd come across other park visitors hiking, building snowmen, sliding on saucers and otherwise enjoying their day in woods.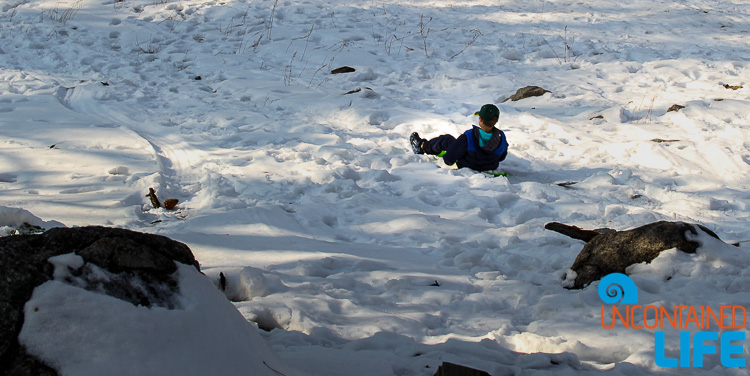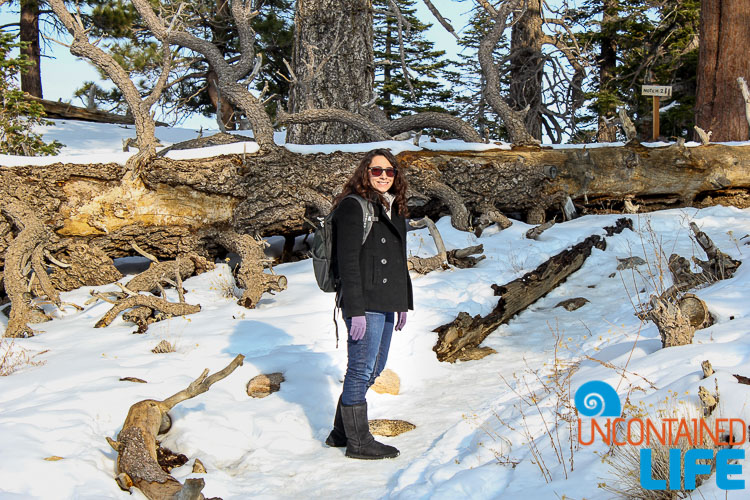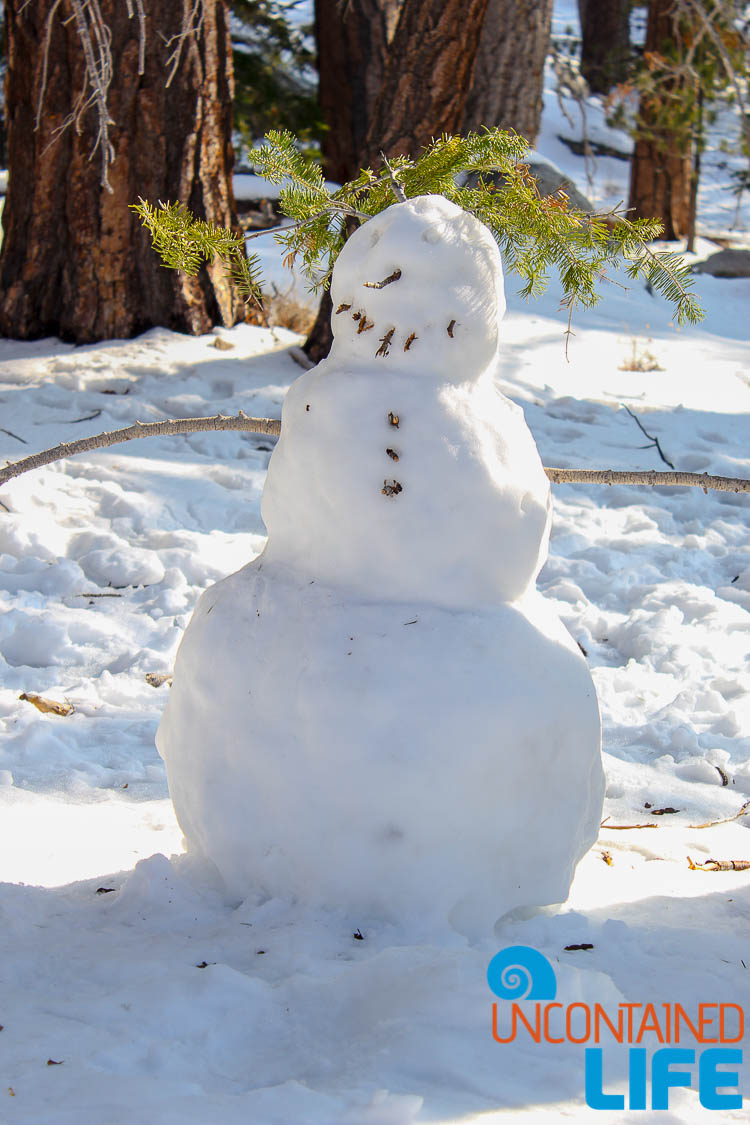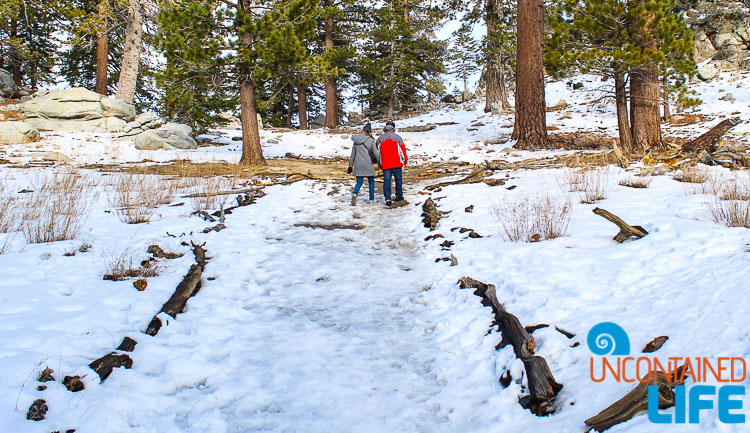 This particular nature area features Ponderosa Pine trees whose bark smells like sweet mixture of vanilla-butterscotch, so don't be shy (we certainly weren't): get up close and personal with these beautiful conifers!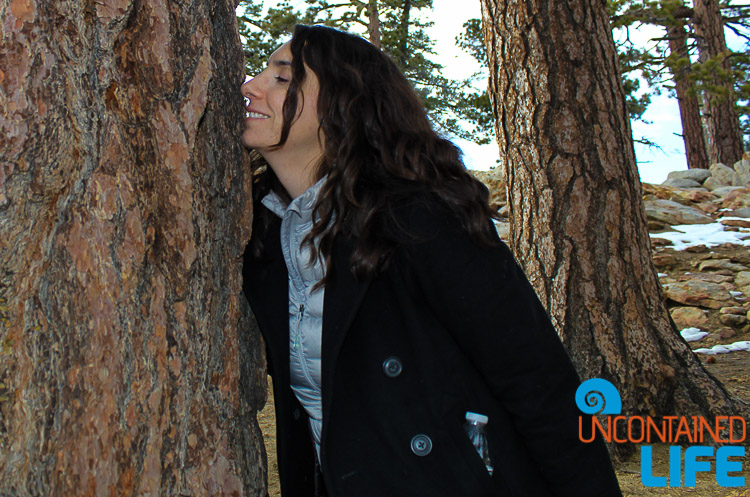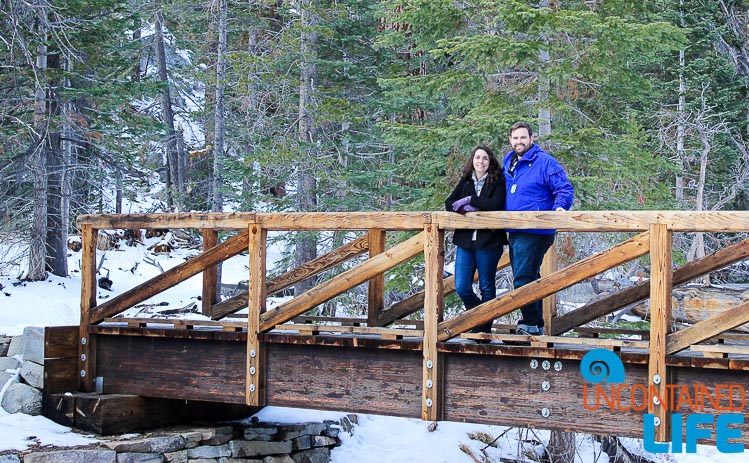 Our ride back down the mountain was just as lovely as the ride up (even more so with the magic hour light) though we were packed into the tram car like stuffed peppers.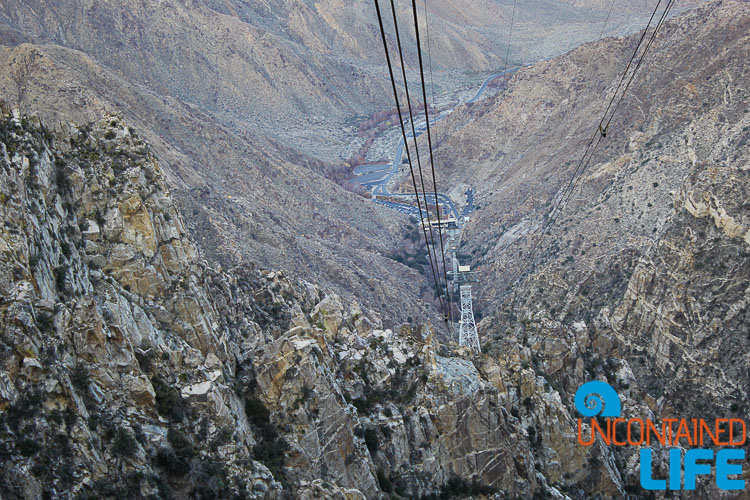 After checking into our AirBnB rental in Joshua Tree, we decided to take another walk on the proverbial wild side and check out a rumor that there was decent sushi in Yucca Valley, just 6 miles away.  Even more surprising, it turned out to be true!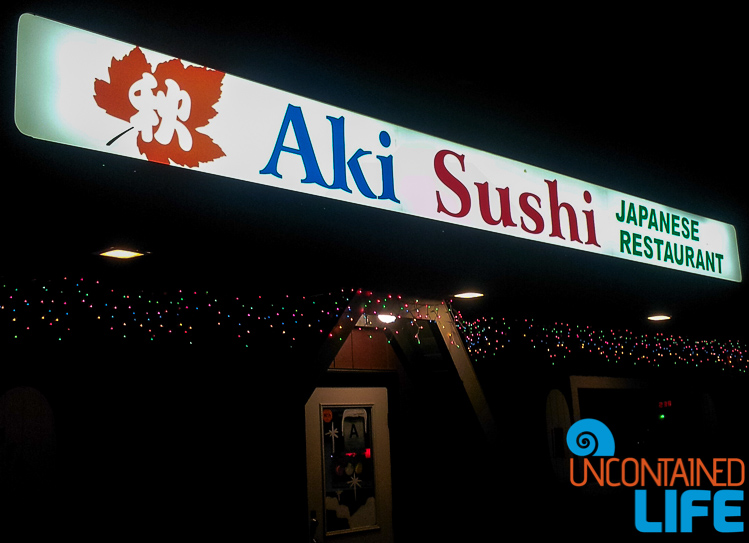 Aki Sushi was hopping with locals who, like us, were enjoying the restaurant's fresh-tasting, reasonably-priced fare.  And, lest you judge us too quickly, I'll add that we have eaten sushi (good and bad) in Los Angeles, San Francisco, Seattle, and New York.  This sushi was not on caliber with the best of what those great culinary cities have to offer, hey, we were in the desert…eating sushi…and it was pretty good!
After dinner, we felt like a visit to one of the area's famed desert hot springs was in order, and so we made the twenty-five minute drive to Desert Hot Springs Hotel.  This place gets an average of 2.5 stars out of 5 on many review sites but we are going to go against the grain and recommend this place with some very specific caveats:  
1.) Go at night.  This place has the vibe of a bowling alley on the other side of the tracks.  Come after dark and the dim lighting creates a blanket of shadows which hides what probably should be repaired, replaced, or removed.   
2.) Don't expect a $500 spa experience for $5.  Seriously.  You get what you pay for.  The peak cost for access to their eight pools is $10.  On Tuesdays it's only $3.  Most times, it will cost either $5 or $7.  You can order cheap drinks at the bar.  You can purchase a massage. You can buy a meal.  We did none of that.  We just paid the entrance fee, relaxed in the mineral water, listened to the the entertaining conversations of hotel guests and enjoyed a light and brief rain;  
3.) Don't believe the signs.  The signs tell you which pools are hot, warm, and cool.  But because the pools are all fed by real, underground springs, the temperature of the pools actually changes day to day.  We found this out when we entered a so-called "warm" pool and later discovered that it was in fact the hottest pool in the complex at that time.  In short, just test each pool for your desired temperature.
Day Two
The next morning we woke up hungry and in need of coffee.  After making an initial pot (note: this doesn't actually count as "drinking coffee"; it just gets us to the level of functionality needed to make it to our official first cup) we jumped in the car and headed back to Yucca Valley in search of the aforementioned elixir of life.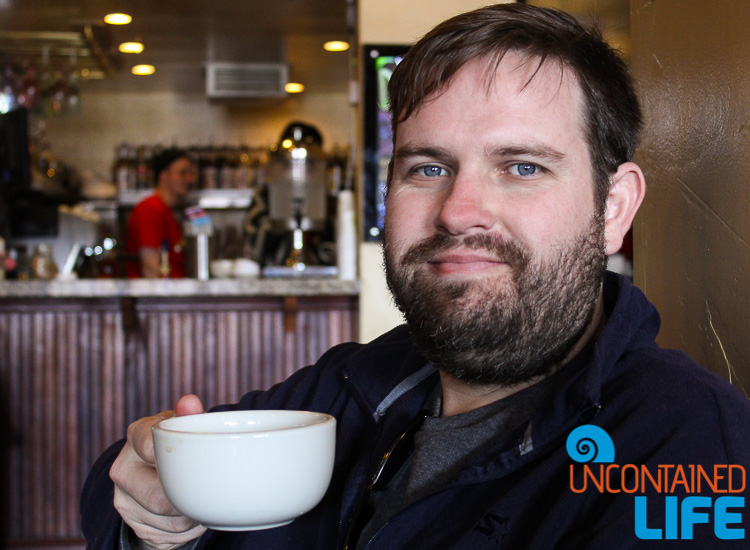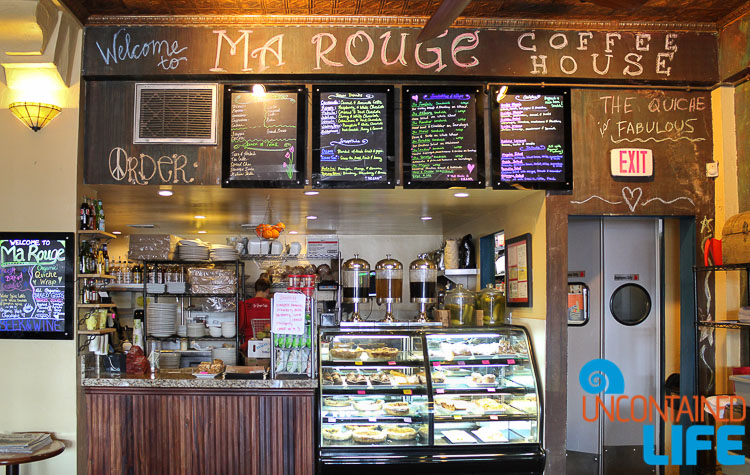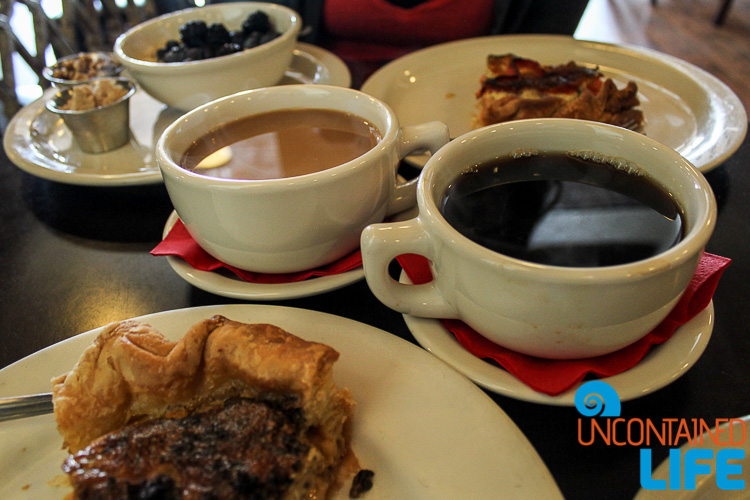 We just missed the morning rush at Ma Rouge Coffee House but still saw a steady stream of locals who seemed to have their favorite sections of the indoor/outdoor seating available.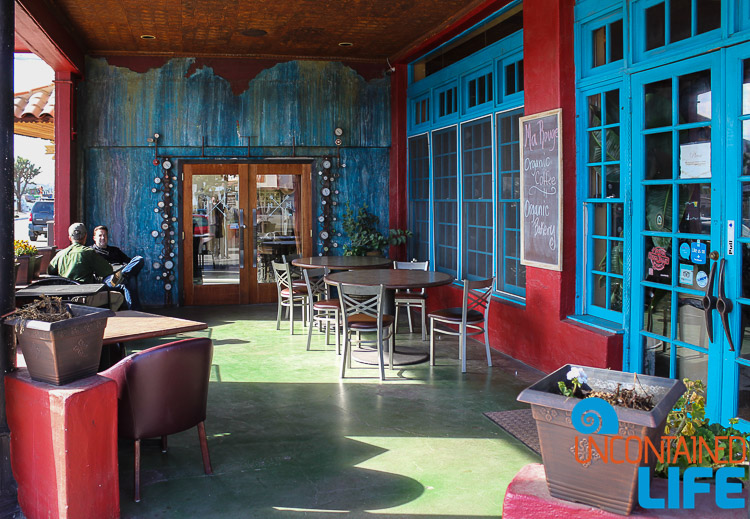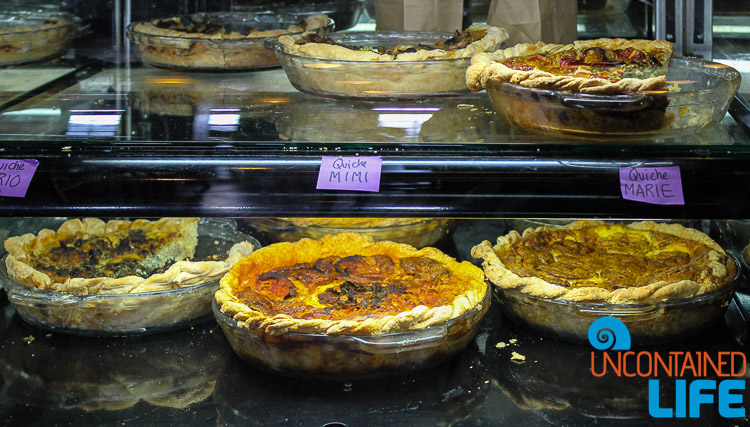 The decor in Ma Rouge is decidedly of the "American interpretation of a centuries-old French cafe" stamp, but the homemade quiches, fresh baked muffins, oatmeal, and coffee are unpretentious and delicious, and the baristas are good-natured and helpful.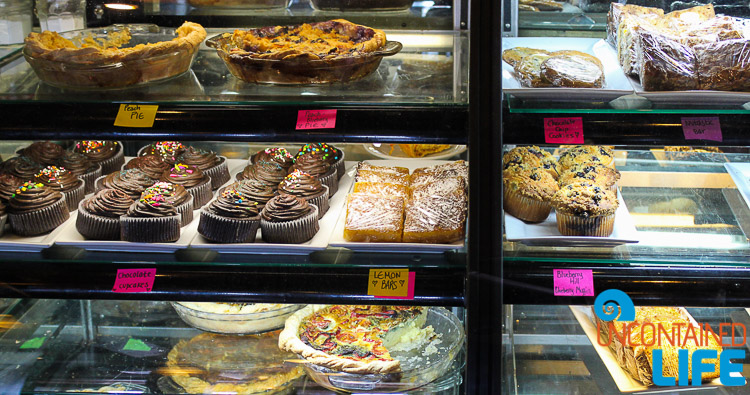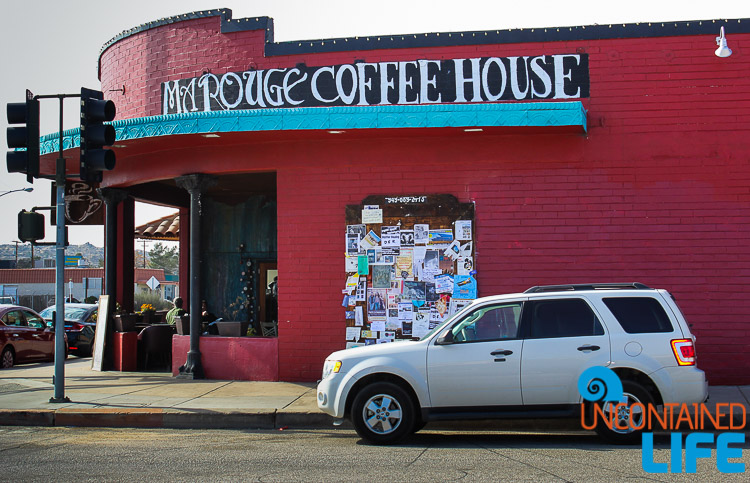 Two doors down from the Ma Rouge Coffee House is what would quickly become our favorite new discovery on our trip:  Sweet Digs.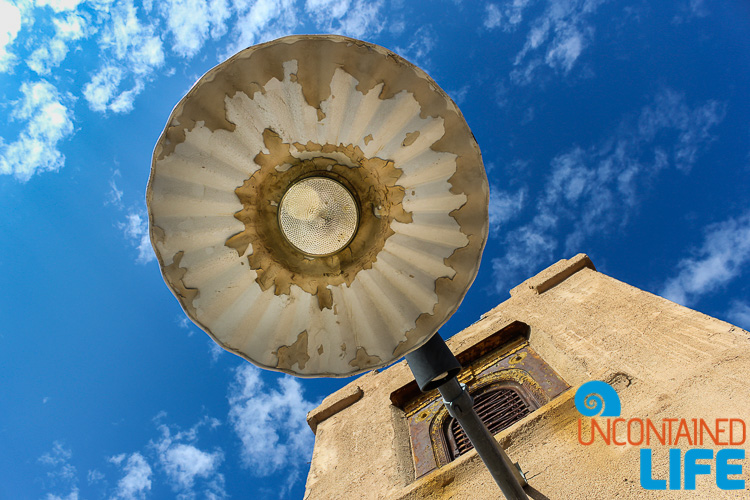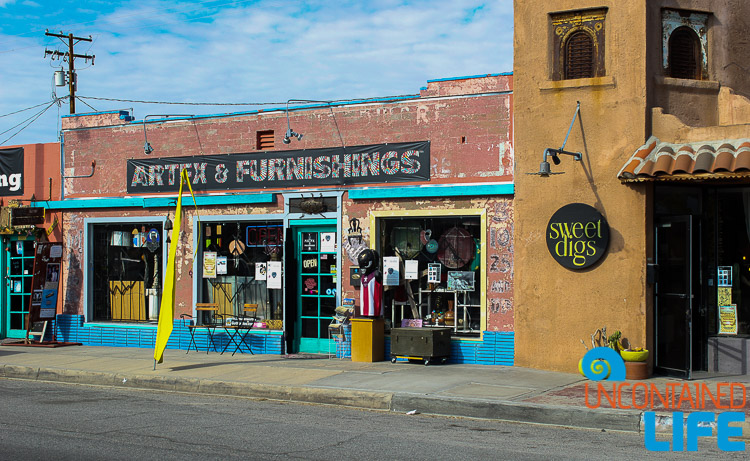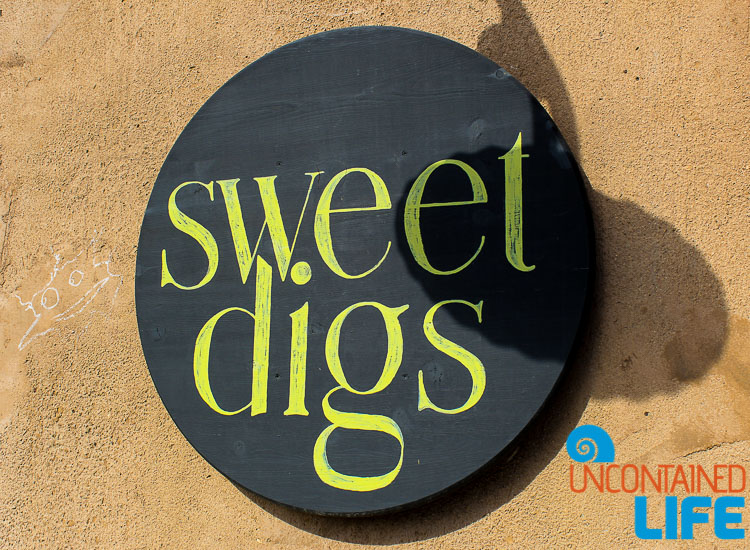 This innovative boutique run by the delightful Jill Lust is a tastefully-arranged wonderland filled with the creations of local artists, artisans, and designers.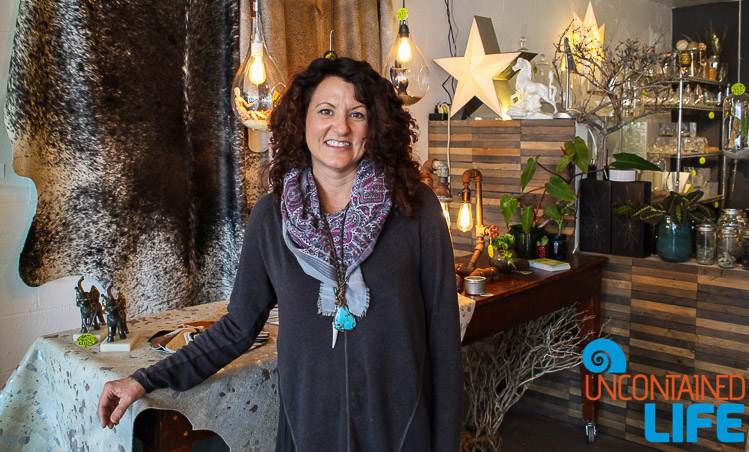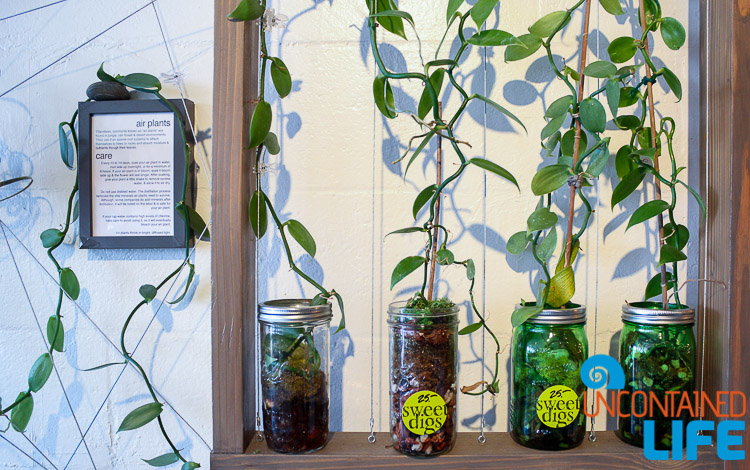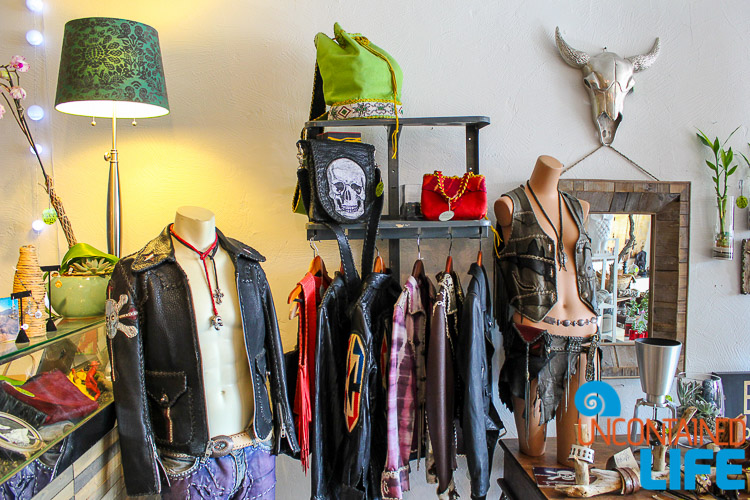 As we looked around at the flowering air plants, the repurposed light fixtures and original paintings, and at the custom terrariums you can create in the do-it-yourself dirt bar, we chatted with Jill about her passion for local artists, creative outlets, and her community.  (Fun fact: we found out that, in addition to running the shop, Jill often hosts local musical groups in the shop's back patio area!)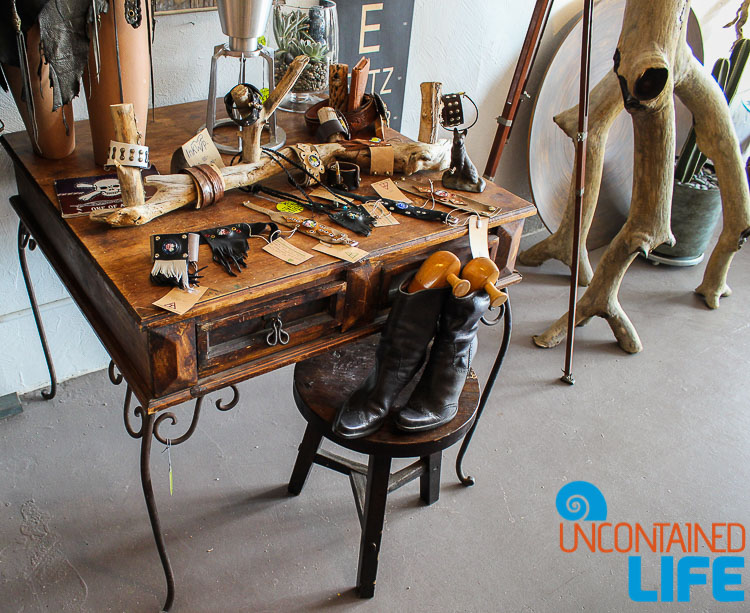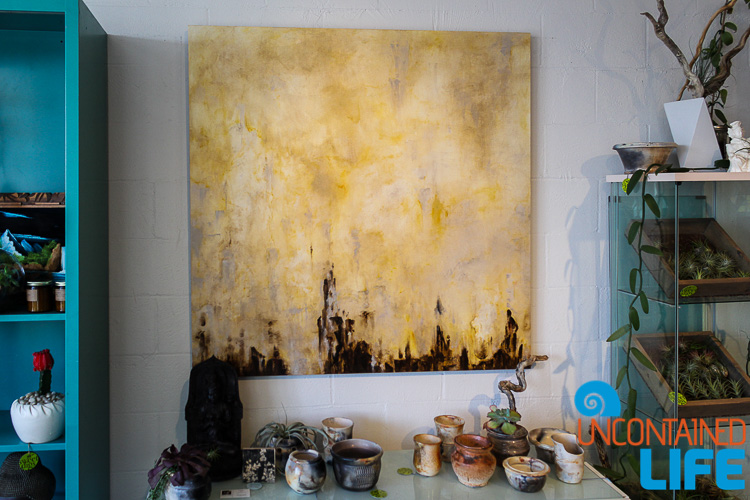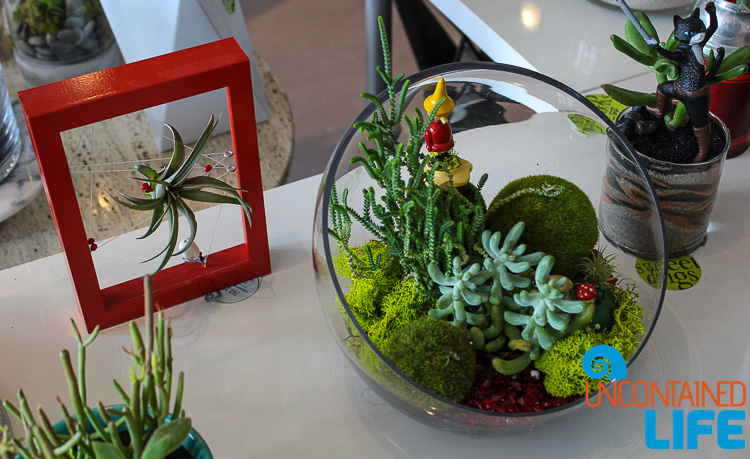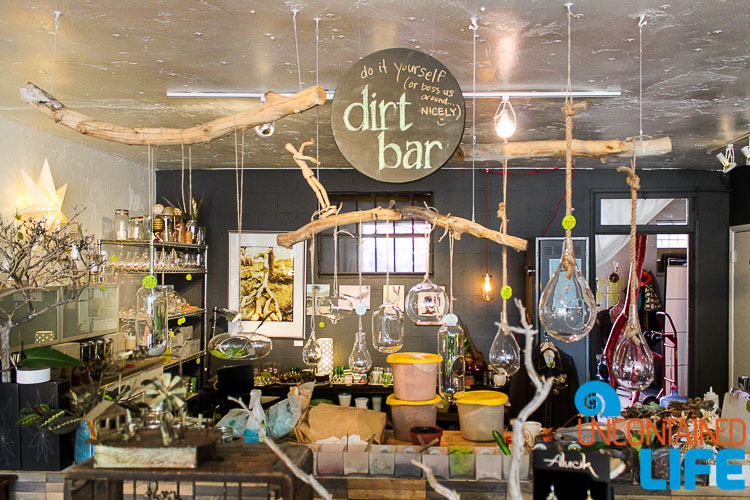 As we were (reluctantly) leaving, a young couple entered the shop to visit the dirt bar.  Jill was all too happy to show them the ropes, encourage their creativity, and share tips and pointers.  Oh yeah, did I mention that she also sells locally-roasted Joshua Tree Coffee Co. beans?  I'm enjoying a cup as I write this post.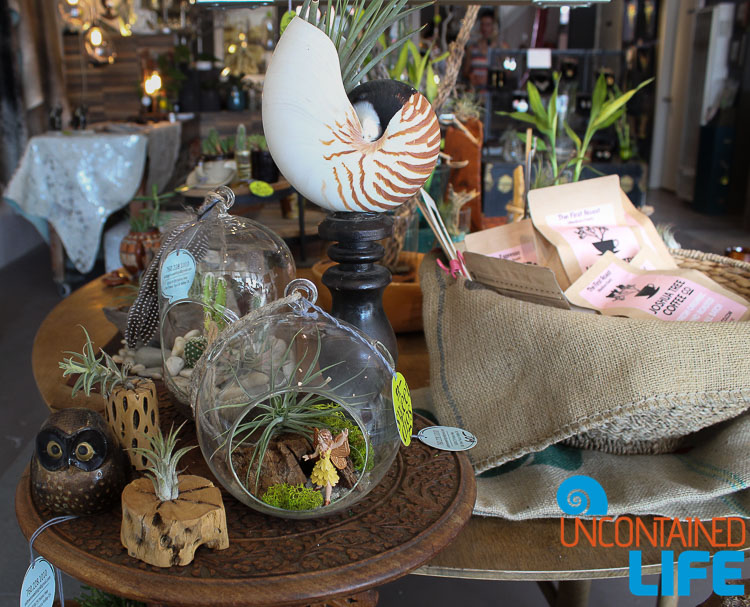 *Sadly, we heard from Jill that Sweet Digs recently closed. We feel fortunate to have been able to document and write about her inspiring shop. We'll keep you posted on any of her further projects.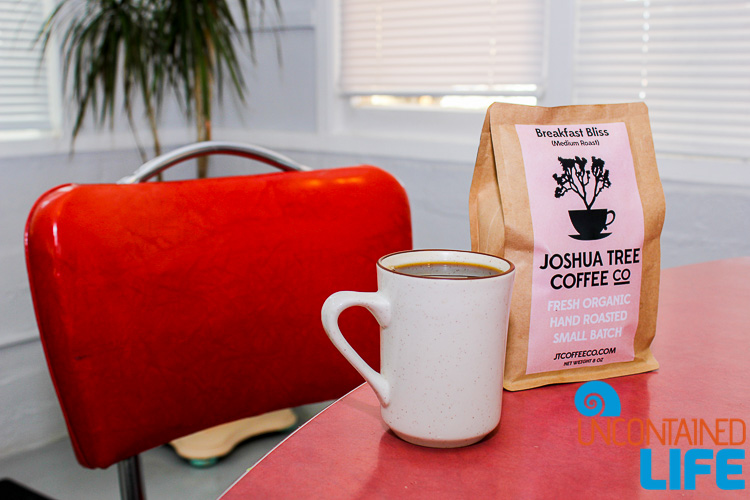 Joshua Tree National Park.  There it was.  Those weird Dr. Suess-esque yucca plants (not actually trees) surrounded by massive boulders and rock formations have always triggered childlike awe in me.  The Joshua Trees look like one big dance party and the boulders…Hillary and I just want to climb them!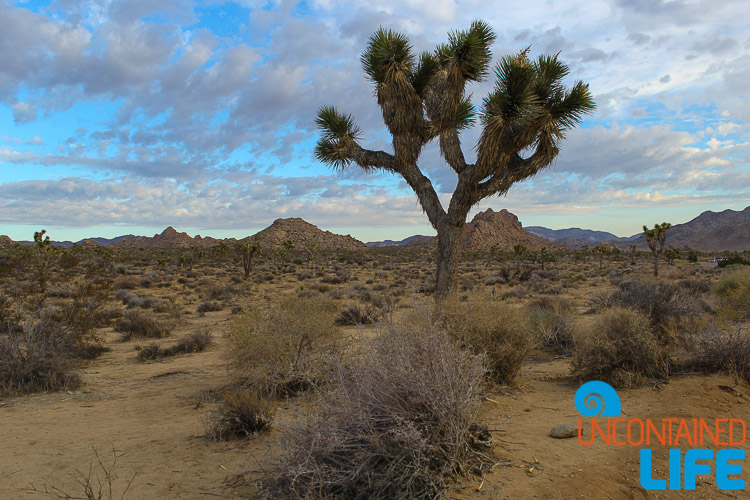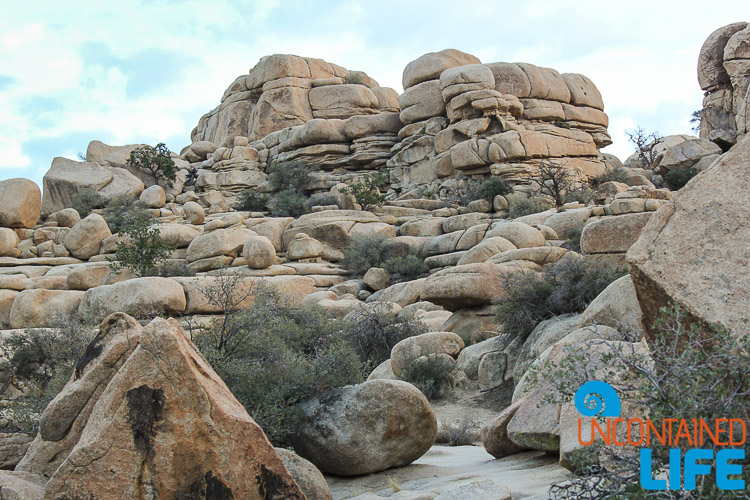 We drove through the park until we reached the head of the Barker Dam Trail.  This 1.8 mile loop has four distinct sections; at the beginning of the hike, we walked between sandstone mountains, amongst palms and cacti–and Hillary made her first solo ascent to the top of a climbing rock.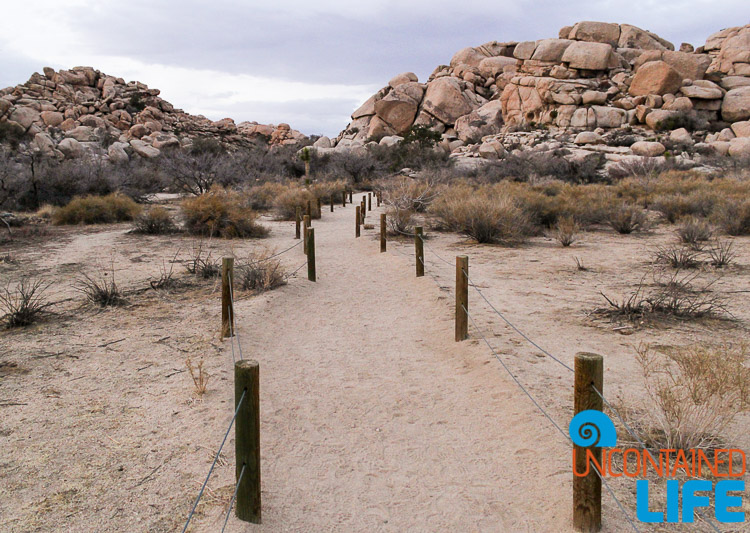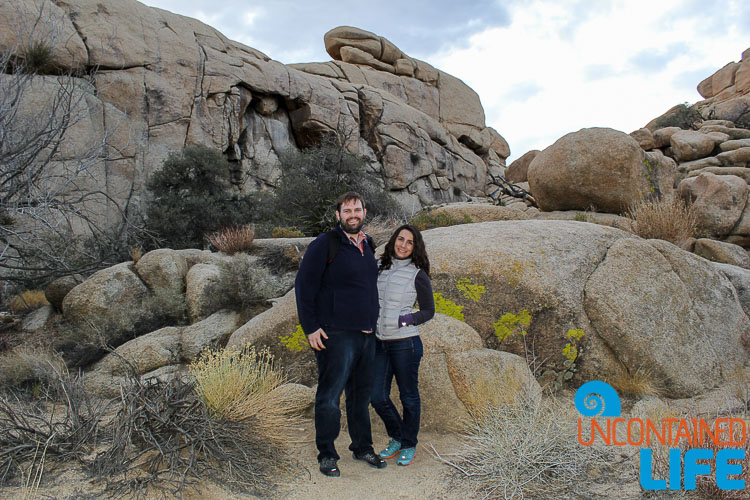 Along the way, we met a nice couple who asked us to take their picture with their camera.  They, in turn, took this fabulous photo of us. We talked with them for a little while and continued on.  (We would see them a few other times along the path and make jokes about who was following who.)  This is one of the things I like best about hiking: you can meet people from all paths of life (pun intended) with whom, for a short period of time, you have a shared goal, experience, and connection.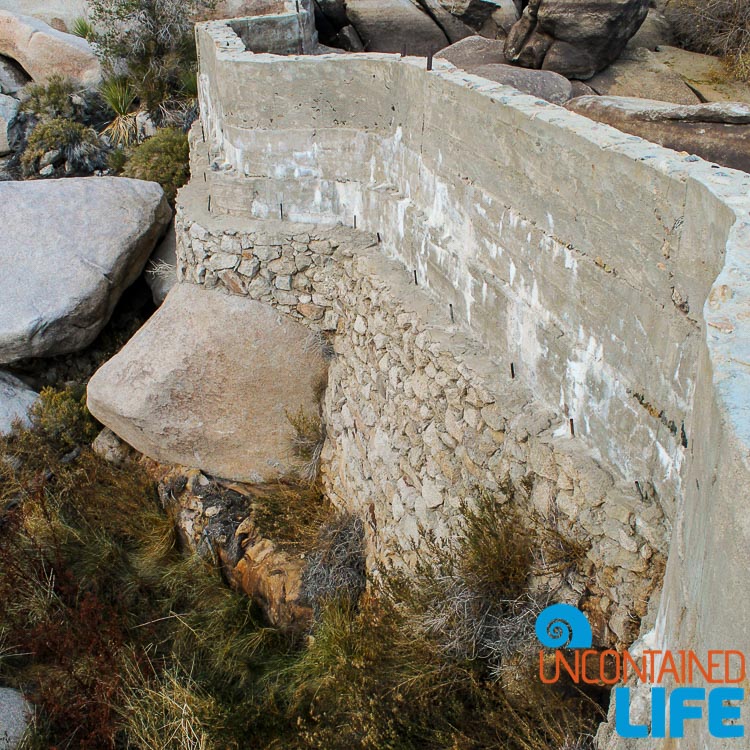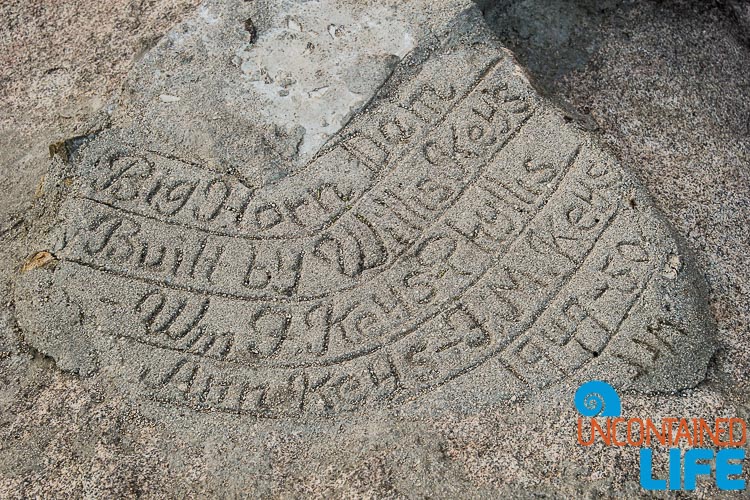 The second section of the trail is the Dam itself. Without water, the dam was pretty unimpressive but we had chosen the Barker Dam trail because it offered a higher chance of spotting wildlife…so, damn the dam.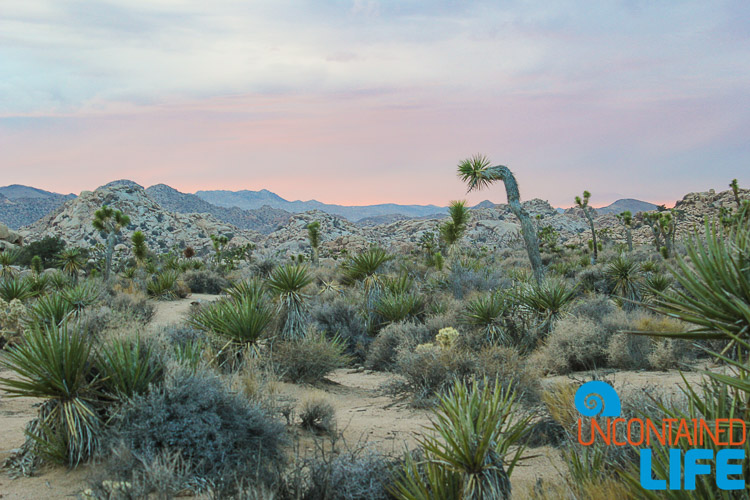 The next section was a flat valley filled with desert plants and Joshua Trees.  The sun was beginning to set behind the distant mountains and every direction we looked was a chance to take in the natural beauty of life in the desert.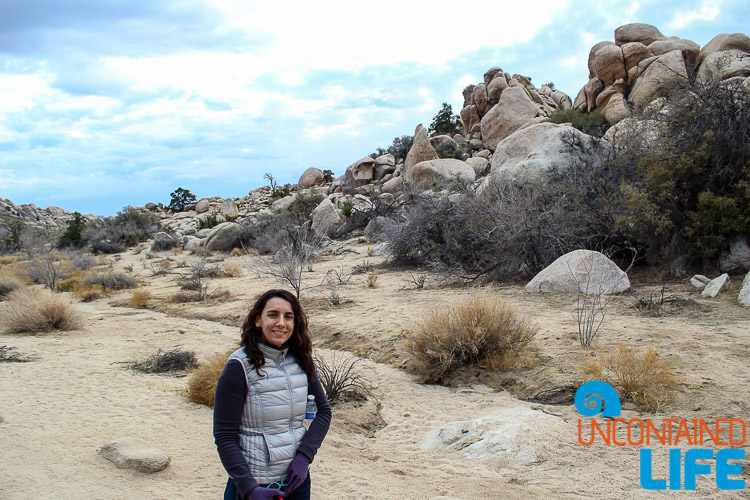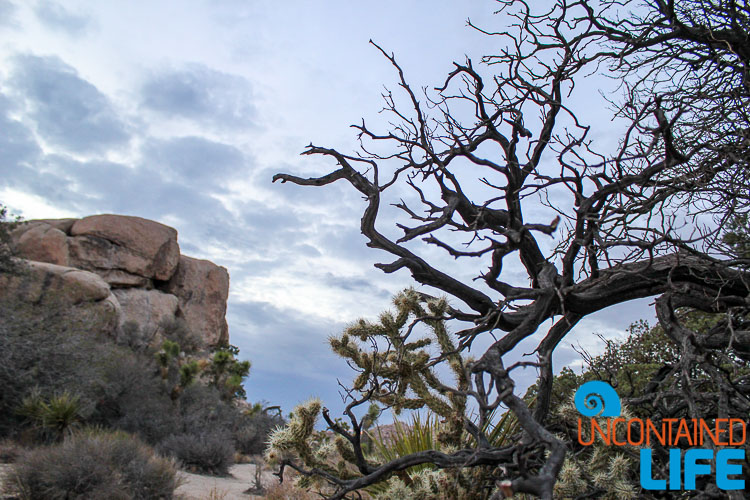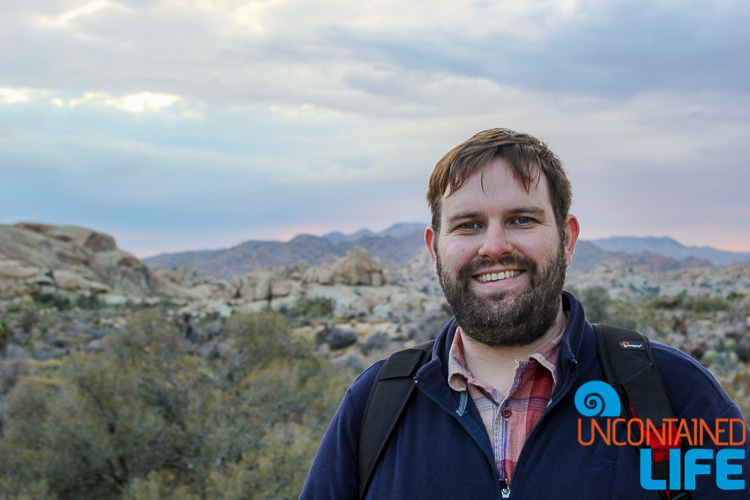 The final section was just before the loop returned to the parking lot. In this part of the trail there is a cave featuring Native American petroglyphs.  Unfortunately, the petroglyphs have been vandalized so we didn't have quite the same reaction we had when visiting the petroglyphs at the Petrified National Forest.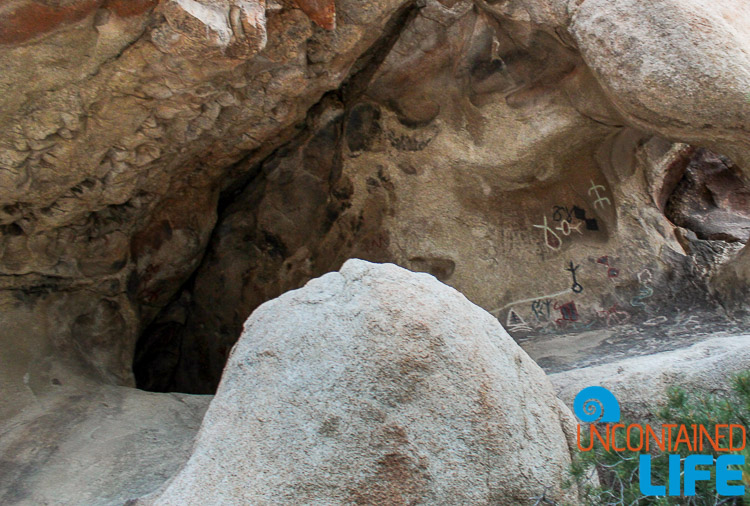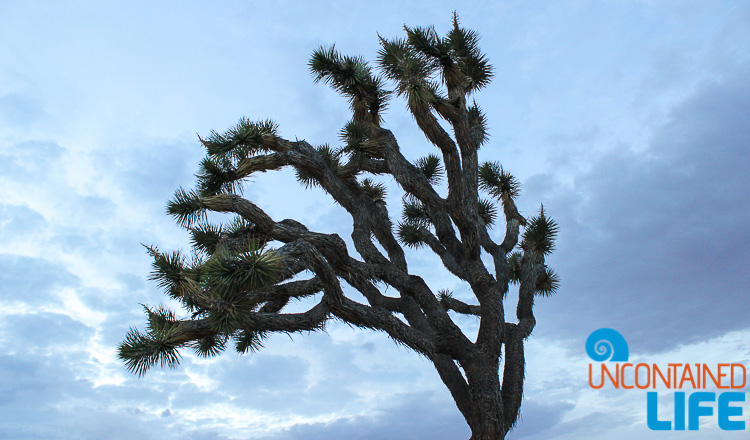 By the time we were back in the parking lot, it was dark.  We were returning to the park the next day, however, so I only sighed a little bit.  And, in the end, we found a way to finish off our day with a one-two punch!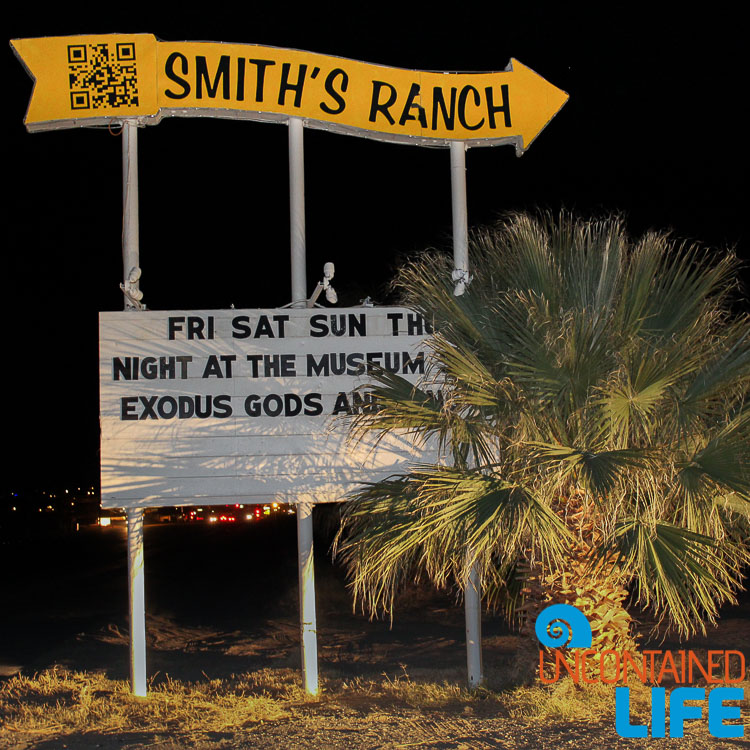 Smith Ranch Drive-In is AWESOME!  First of all…it's a DRIVE-IN-MOVIE-THEATRE!!!  If that isn't enough of a draw, it's only $5 a person…for TWO movies! They have a concessions kitchen with food, drink, and alcohol options at prices 50% cheaper than a regular theater, clean bathrooms and super friendly staff.  They even gave us a free magnet since it was our first visit.  All in all, a retro-tacular night of entertainment.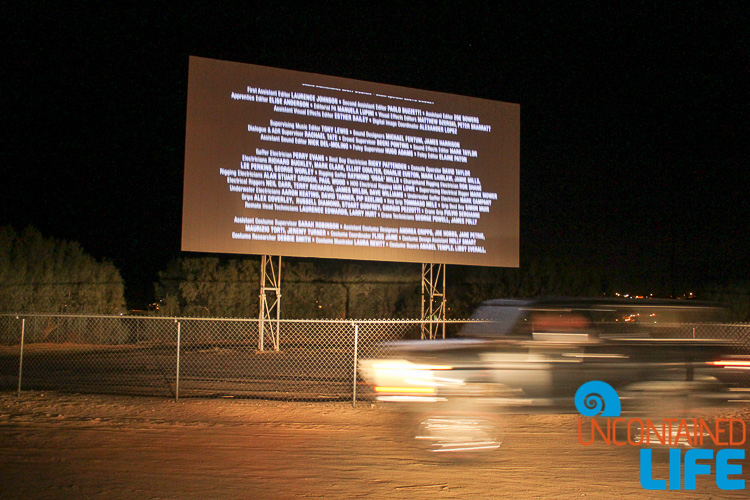 Day Three
When renting a place with a kitchen, it's only right to use it.  We cooked our own breakfast the next morning, packed up our car, and headed out to visit Pioneertown.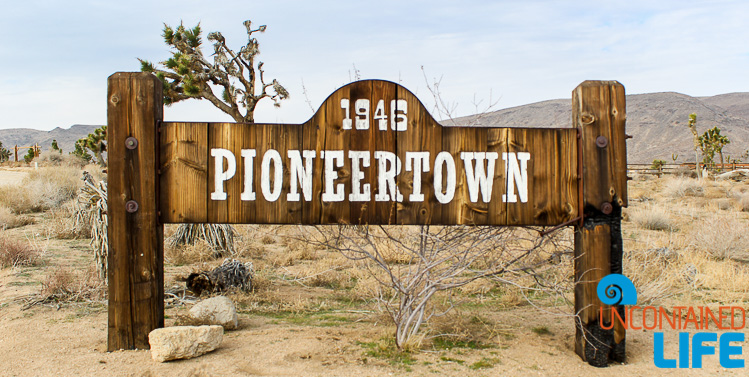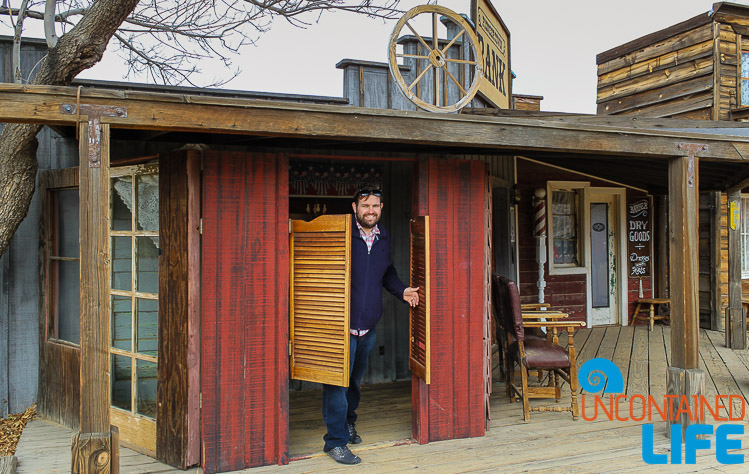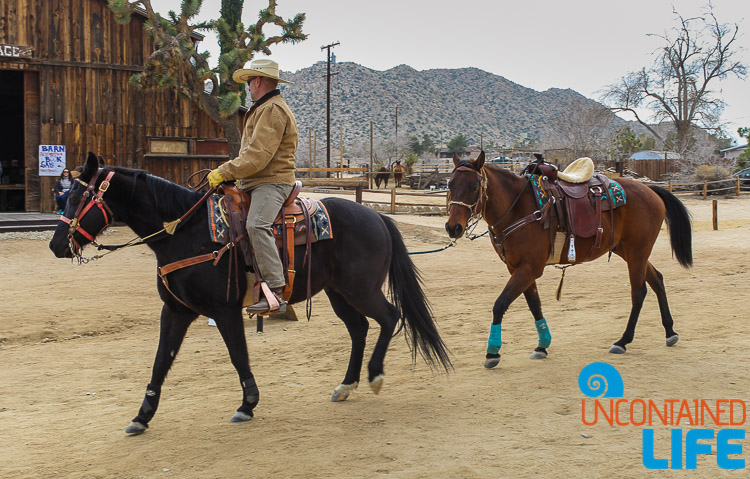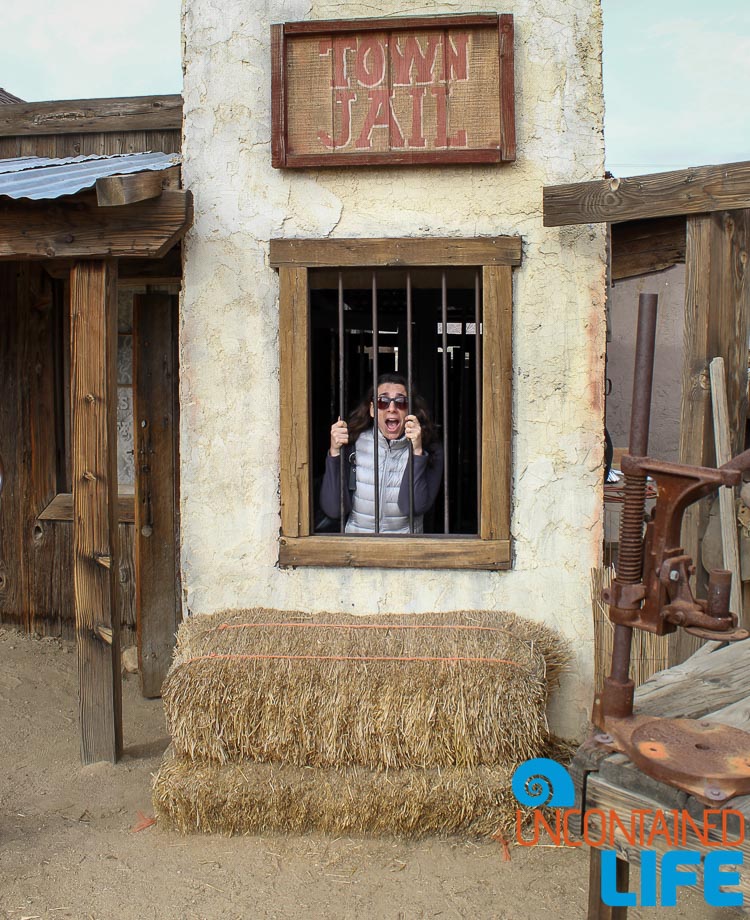 Created by investors such as Roy Rogers and Gene Autry to be a working film set for westerns, Pioneertown was once the setting for over 50 movies; today it serves as a backdrop for Pappy and Harriet's, a BBQ and Tex Mex restaurant for all ages, that's known for it's musical performance line-up.  The locals agree, if you want to hear some great music and grab a beer, Pappy and Harriet's is the place to go.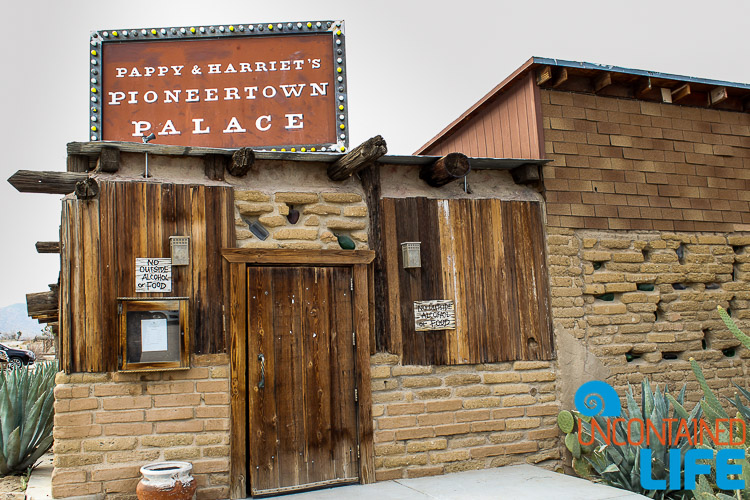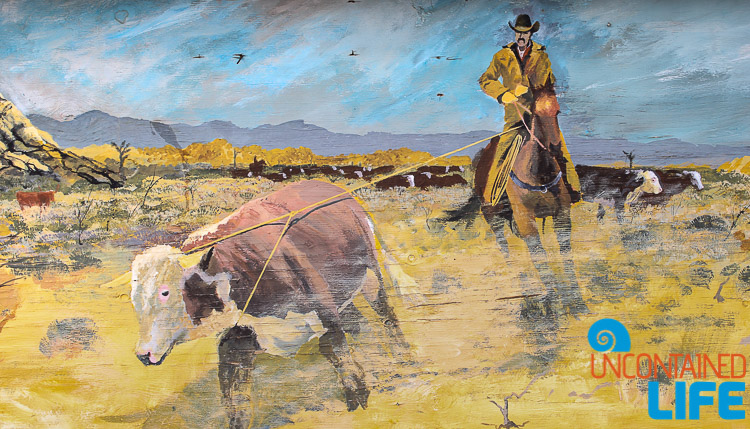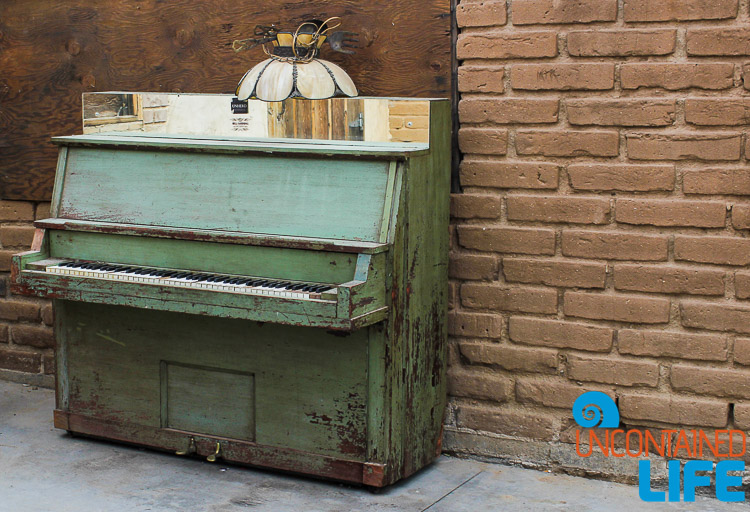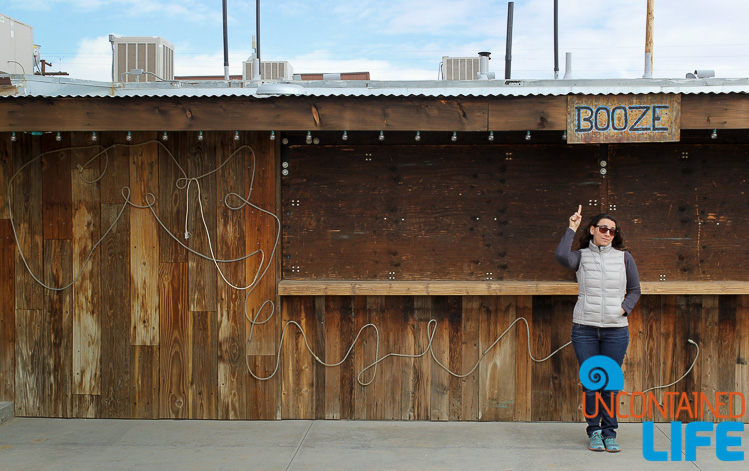 We were hungry, but Mexican food sounded better than BBQ, so, we drove back down out of the hills and over to Kasa Market and Taco Shop.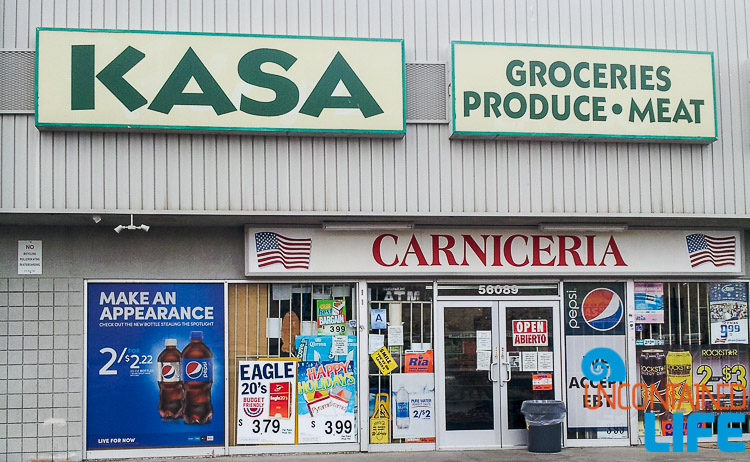 There is parking in both the front and back of this Carneceria…but why would I be talking about the parking at a taco shop?  Because the tacos are perfection in a tortilla and this tiny shop is constantly filled with local customers.  Even if there was NO parking, we'd bet that people would walk for miles just to fill their stomachs at this culinary goldmine.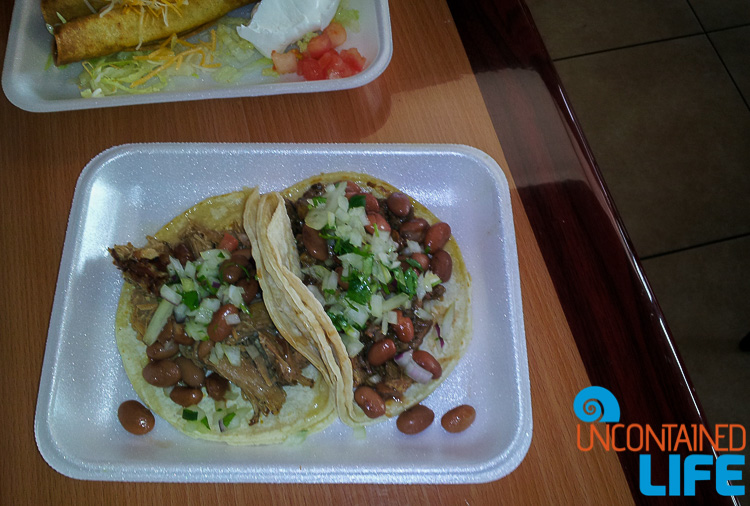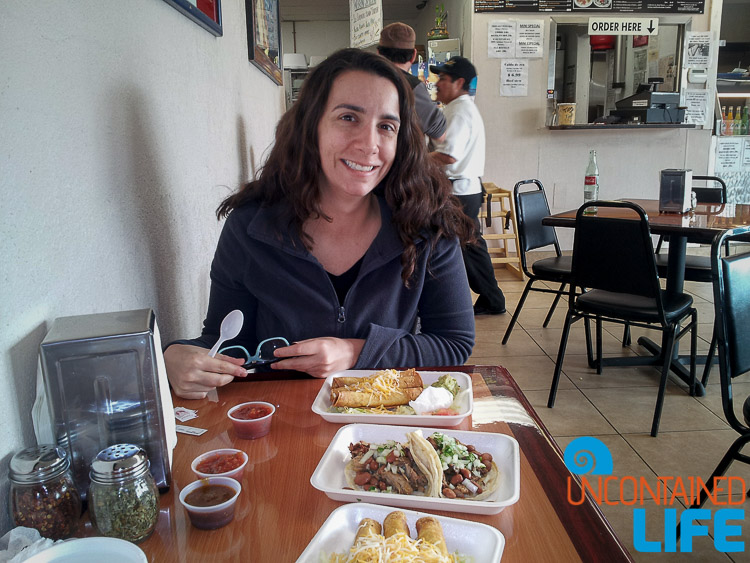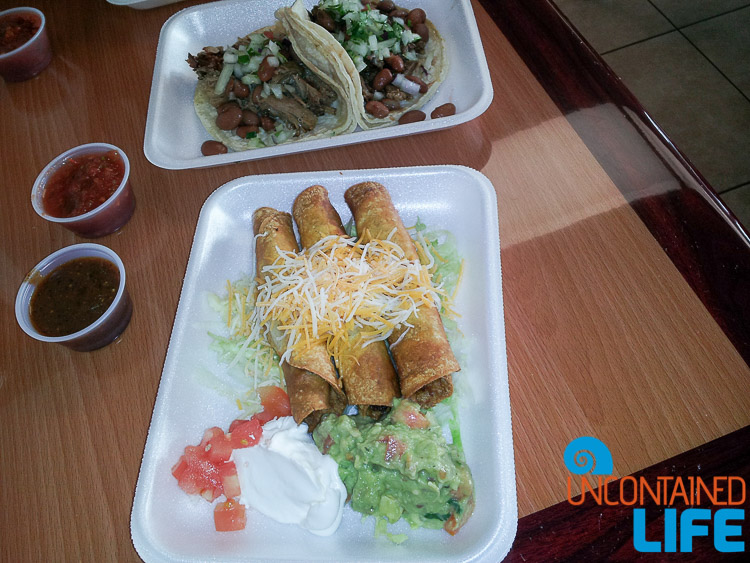 Back at Joshua Tree National Park, we worked off our carne asada by turning the one-mile nature trail at the Hidden Valley Picnic Area (not so hidden) into an epic rock-scrambling adventure.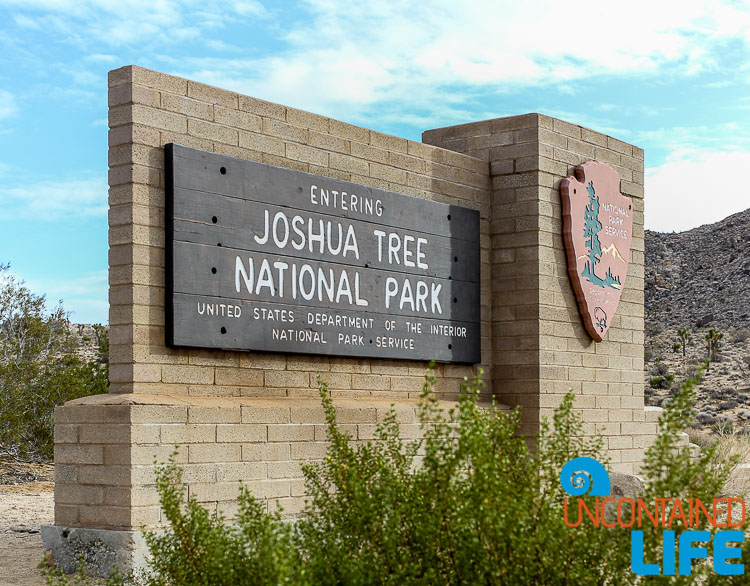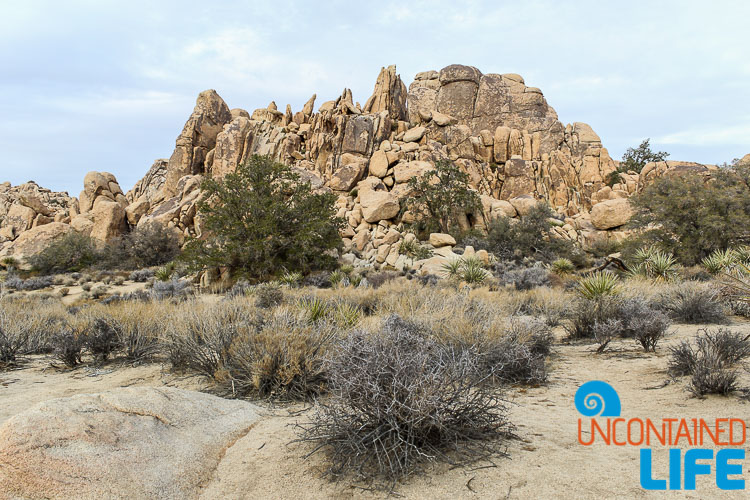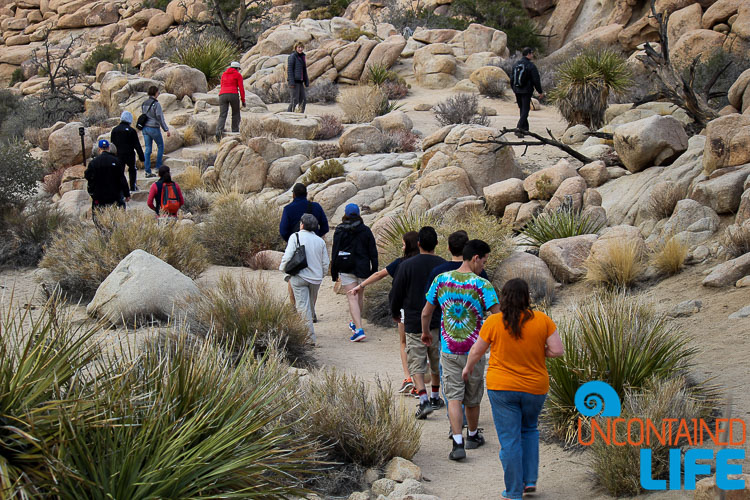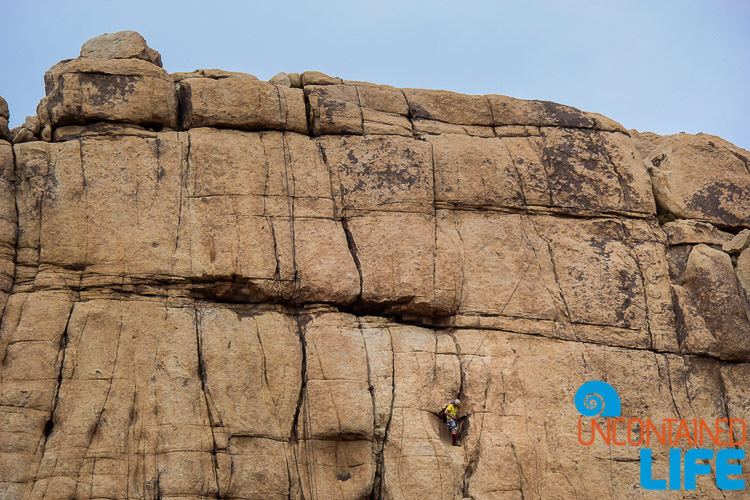 All along this easy walk you can watch rock climbers scaling enormous rock faces; and we couldn't resist the urge to mimic them, in our own way.  We climbed a mountain of boulders until we reached a peak overlooking the valley and nearby (and distant) monzogranite rock formations.  What a view!  Sunset.  Breathtaking.  Oh, drat!  The sun is going down and we still need to get off this pile of rocks….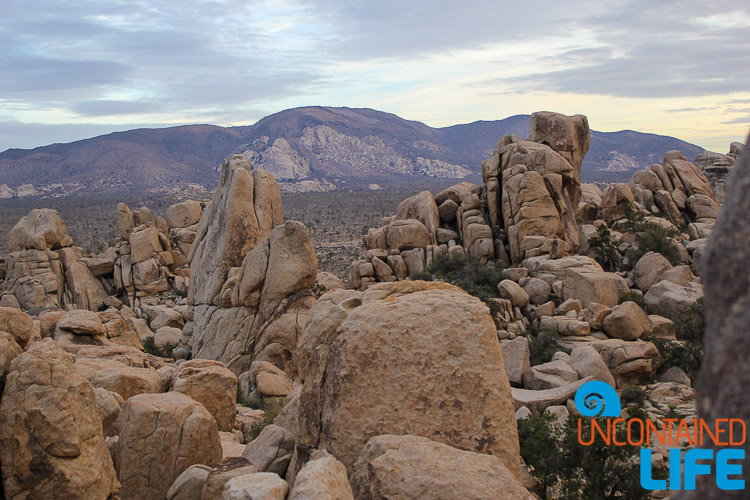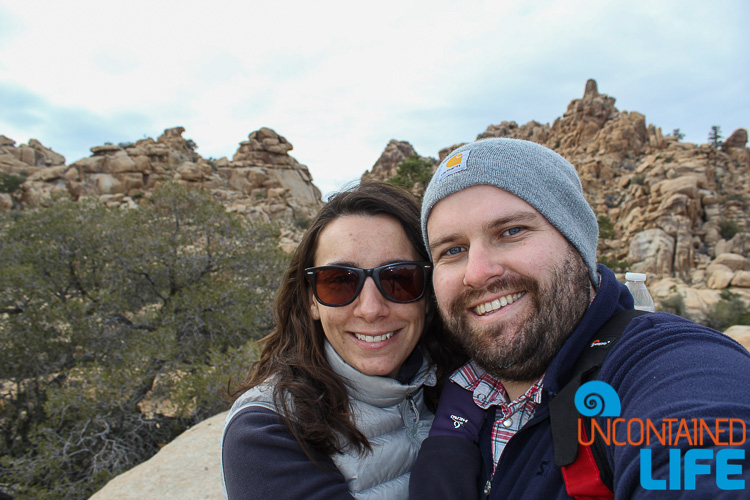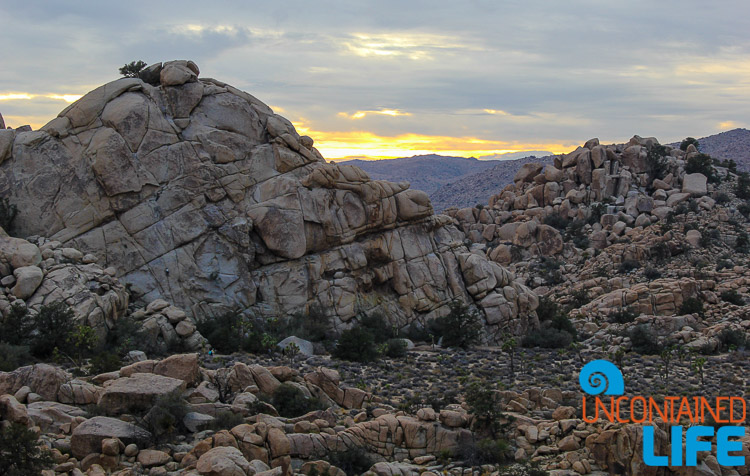 Needless to say, we successfully reached the ground.  As we drove toward the entrance of the park, the last light of the day gave us a final farewell-panorama of purple skies and the silhouettes of Joshua Trees.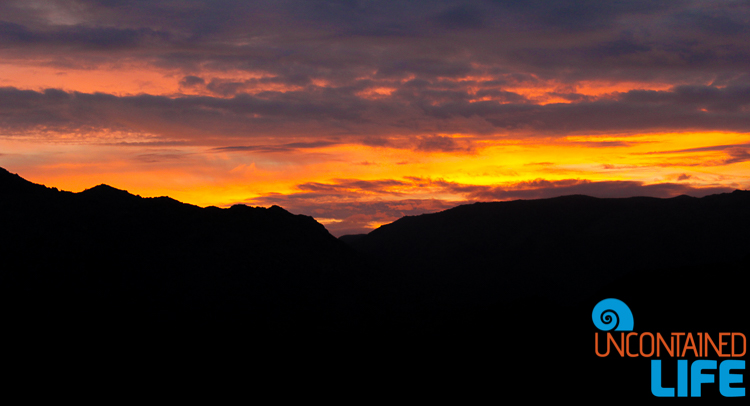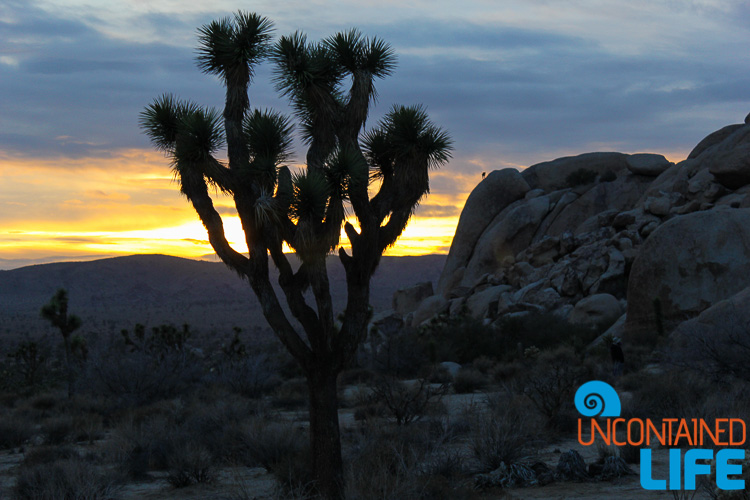 We had survived the desert.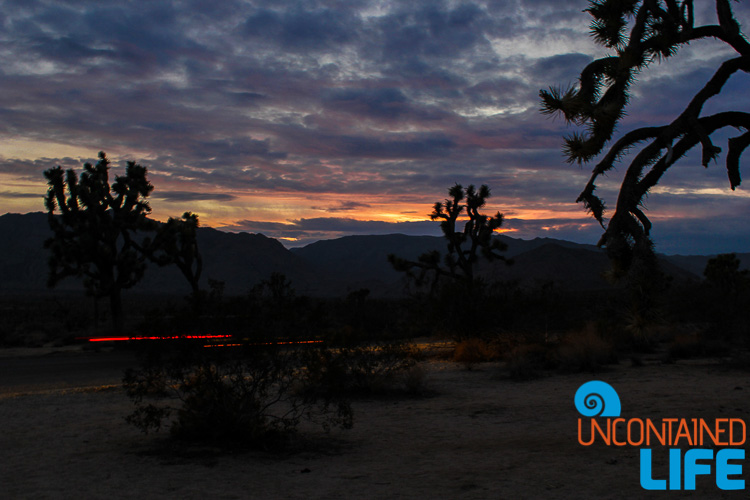 One more thing… We know you'll barely believe that we had time to do anything else, but, we also took a detour to see the Noah Purifoy Outdoor Desert Art Museum. This living art museum (the art exhibits are never "finished") was so impressive we wanted to give it a photo essay of it's own.