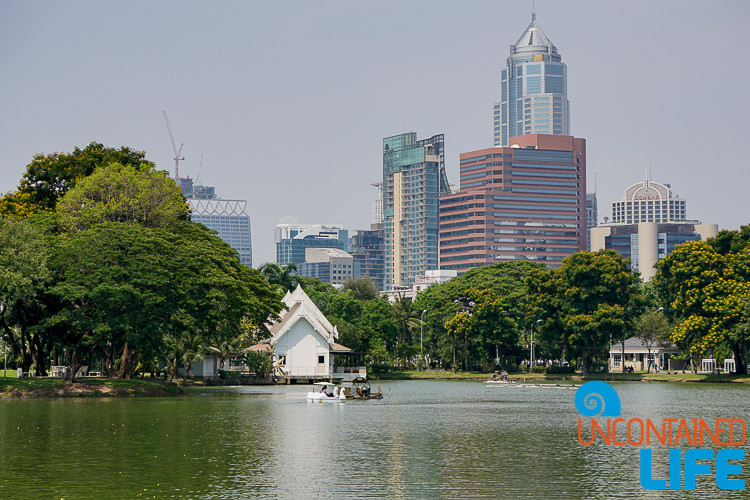 I've always had a thing for city parks. My entire traveling life, they've always been the first thing I want to visit in any new place I land. Parks are, of course, awesome for the simple reason that they are where the trees live (I also have a thing for trees…I mean, how can you not?!)…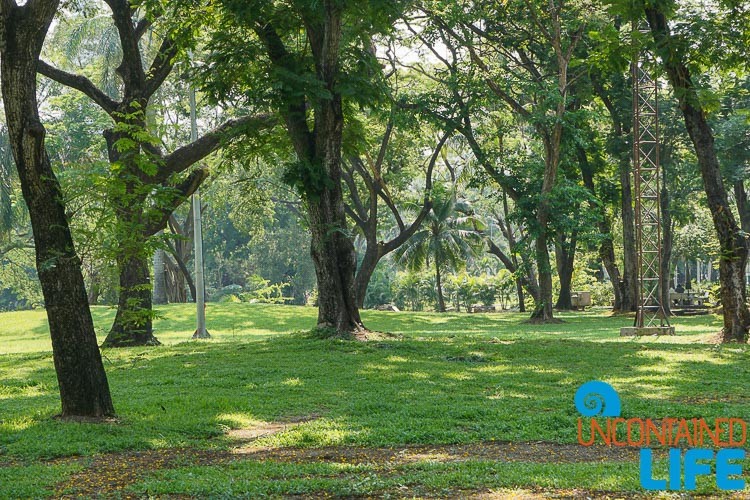 …but parks also reveal the tastes, history and character of a city. And seeing what people choose to do in their parks tells you something about the little cultural quirks which make world travel such an interesting endeavor in the first place! (One of my personal favorites: the group dance sessions you'll find happening at all hours in any city park in China every day of the week. You haven't seen this many middle-aged people shake their collective groove-thangs since the D.J. threw on "I Gotta Feeling" at cousin Benny's Bar Mitzvah.)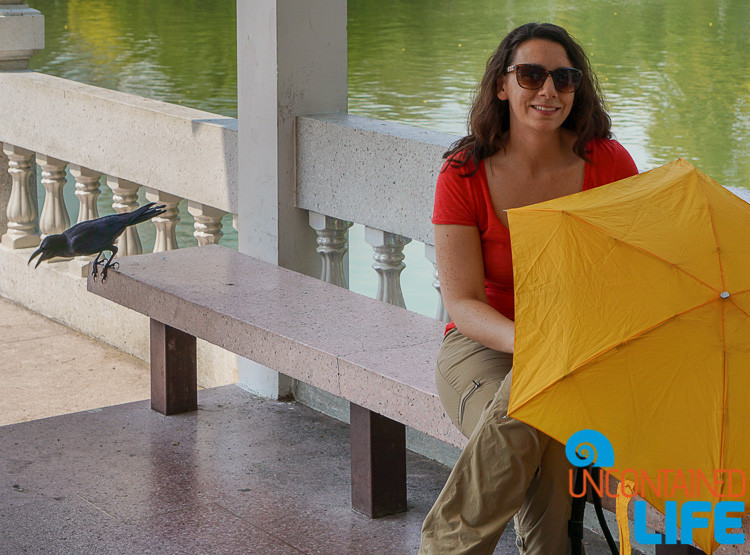 In addition to the human element, city parks are also one of the few spots in the urban landscape where you can catch a glimpse of a locale's animal inhabitants (like my bird friend in the photo above). Usually, of course, these "inhabitants" are limited to dogs, birds and, perhaps, the occasional small snake or squirrel…so imagine my excitement when I heard Bangkok's Lumpini Park, in addition to hosting a variety of human-oriented activities, was also home to a giant community of dinosaurs! OK. The beasties are actually called "Monitor Lizards" but…technicalities! They were believed to have emerged as a species during the Cretaceous period, are carnivorous, and "unusually active" for their large reptile status (they can grow to the size of teenaged crocodiles). Sounds like a dinosaur to me! The hunt was on.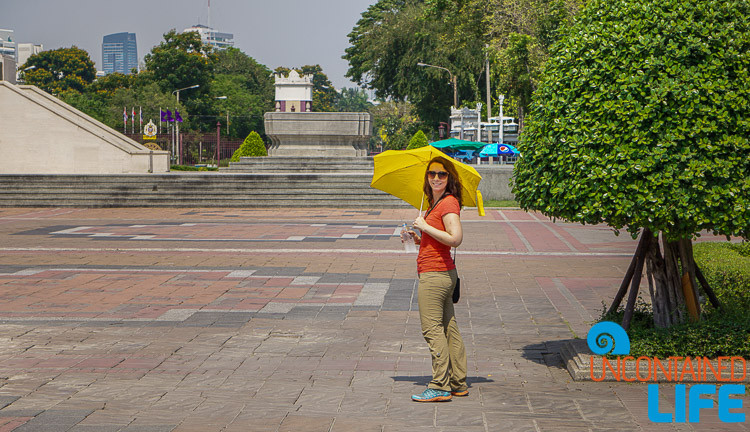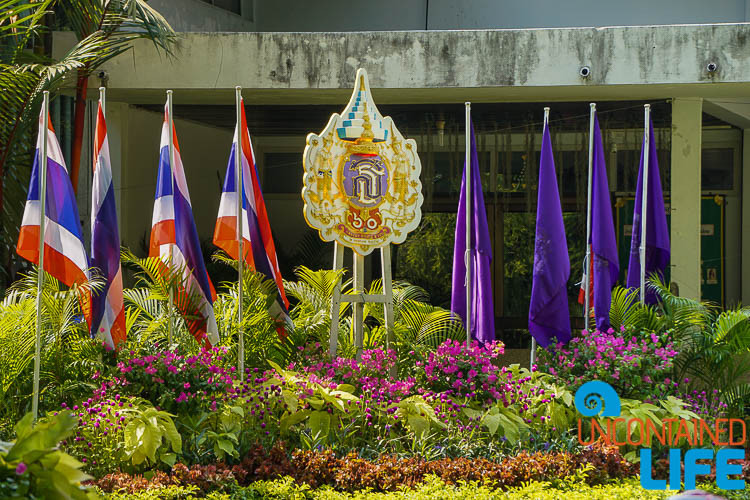 Lumpini Park (also known as Lumphini) occupies 142-acres in central Bangkok (Skytrain stop: Sala Daeng; Subway: Silom). Historically, "Lumpini Park" dates back to the 1920s when it was constructed as a private exhibition space by Rama VI. After World War I, the park was reconstructed as public space and today it's a favorite spot for locals to bike…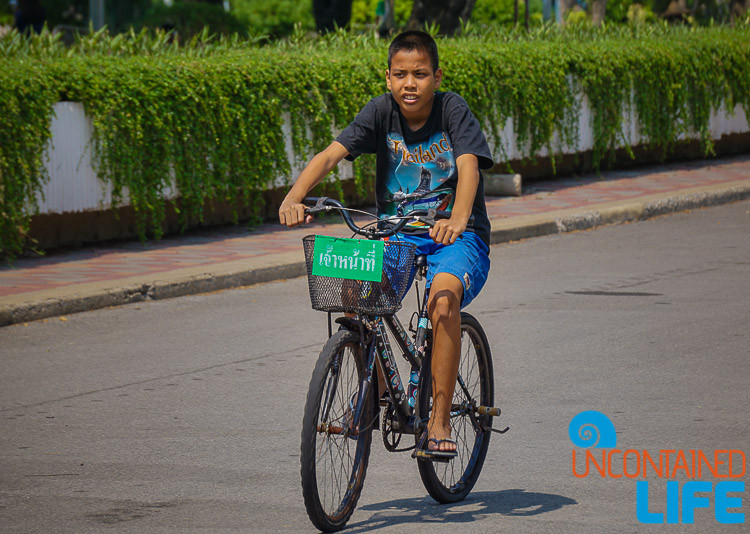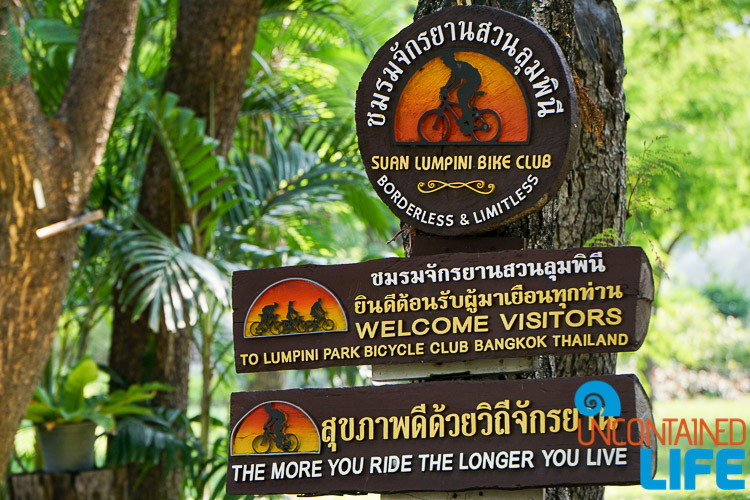 …power walk and jog (I have no idea how people were doing this in the April heat, but there they were)…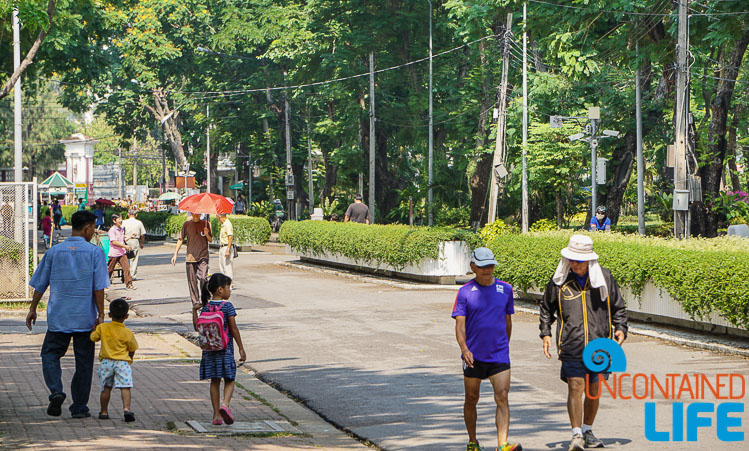 …and, depending on the season, come for outdoor music concerts.
As Justin and I wandered the park (eyes peeled, of course, for Monitors) we also spotted many saner…errr…I mean, less sweat-inclinded Bangkokians taking advantage of the park's lake and shaded grass areas.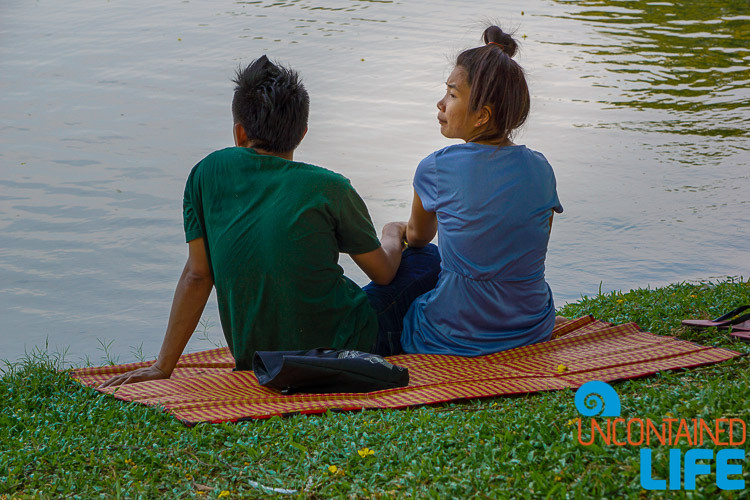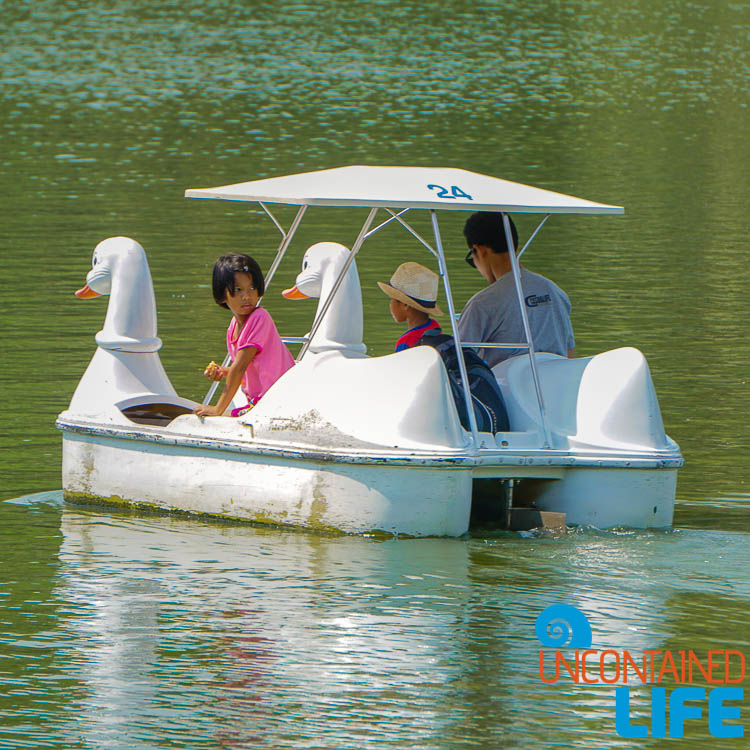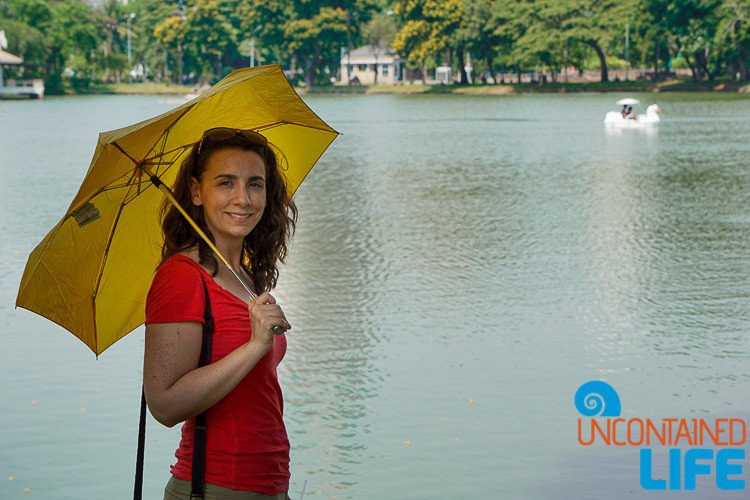 The further we walked, the more wildlife we spotted. Behold: the mighty pigeon flock!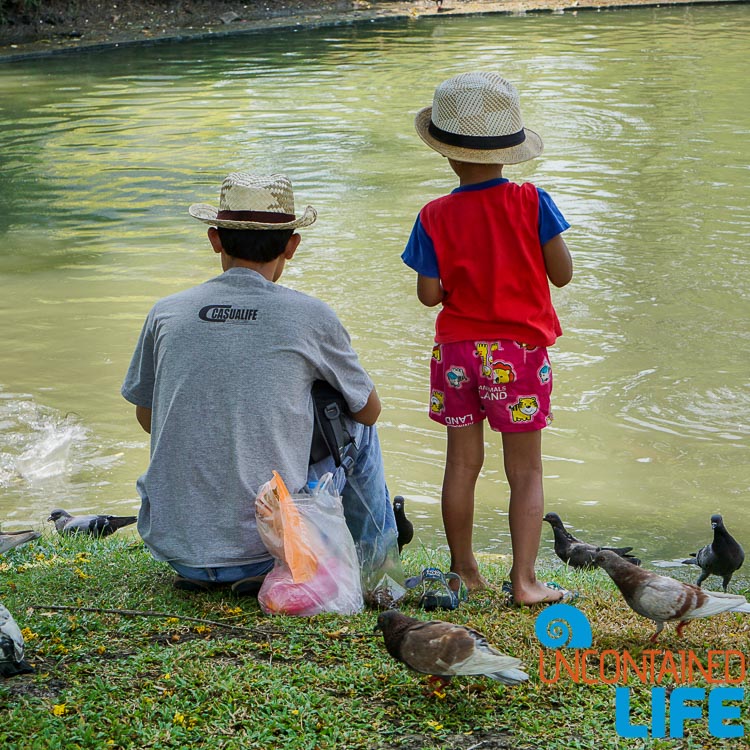 Other bird species also put in appearances (don't ask me which species they are…any bird experts out there, feel free to chime in!)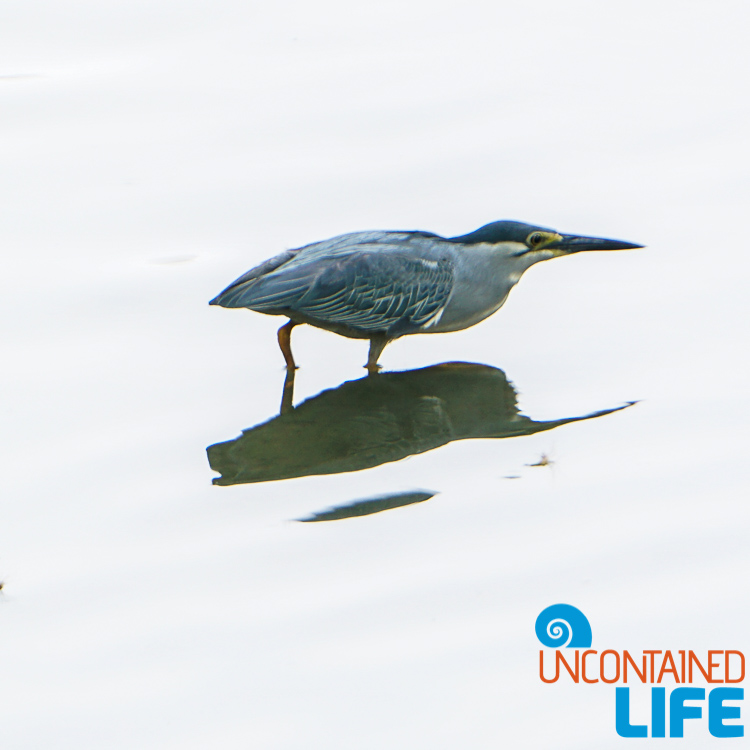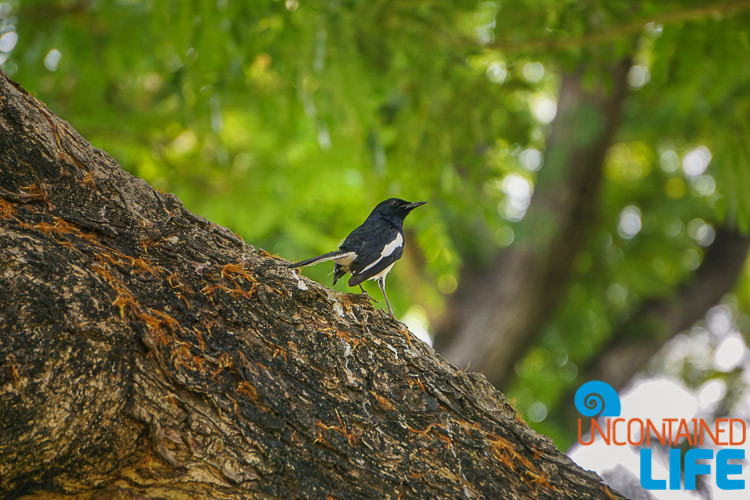 We also spotted these exotic creatures…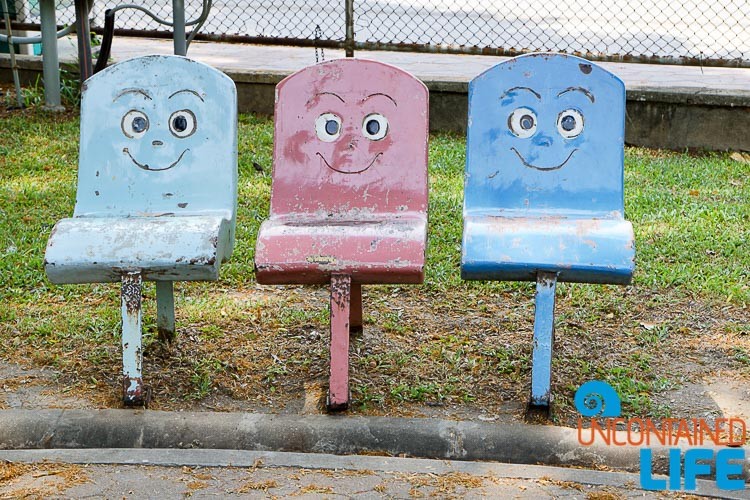 But still…NO dinosaurs! Where could they be? We'd all but given up hope when suddenly Justin, who was photographing lakeside, turned his head and found himself eyeball to eyeball with this dude: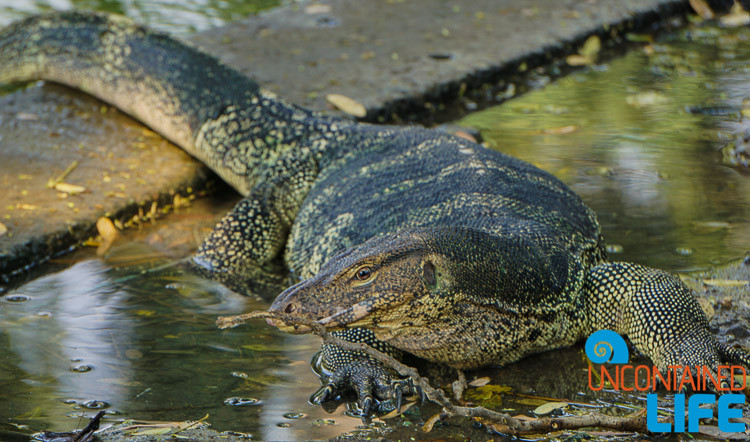 Being the ice-cool customer that he is (this is a guy that once swam after a shark in order to snap a photo), Justin didn't head for the nearest tree, but instead called me over to see his find. As we inched closer, we heard a splash from our left side. It was another lizard!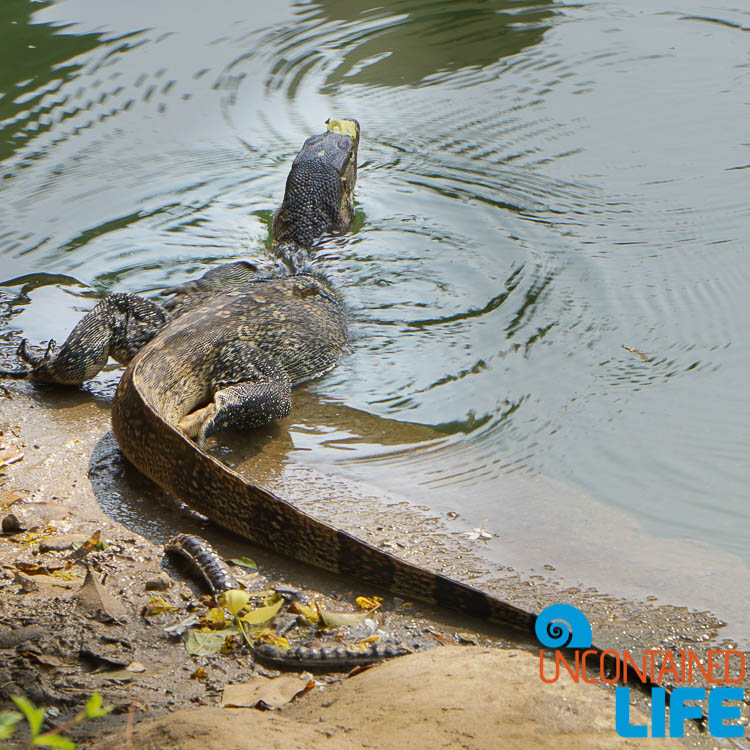 And beyond that swimmer, there was another on the bank…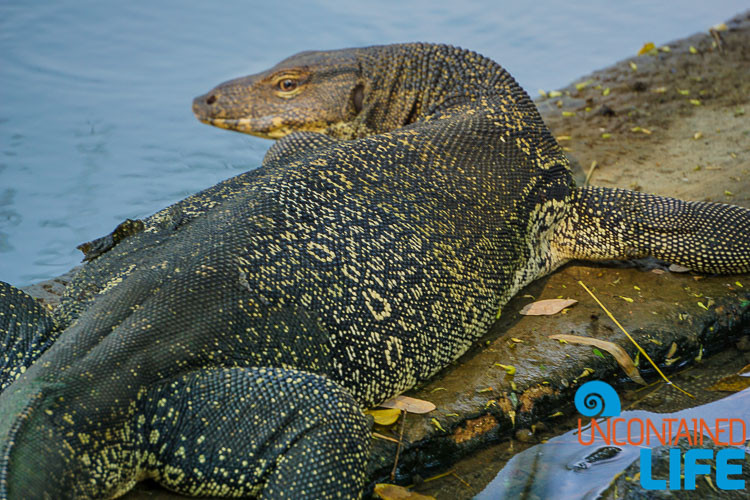 …and another!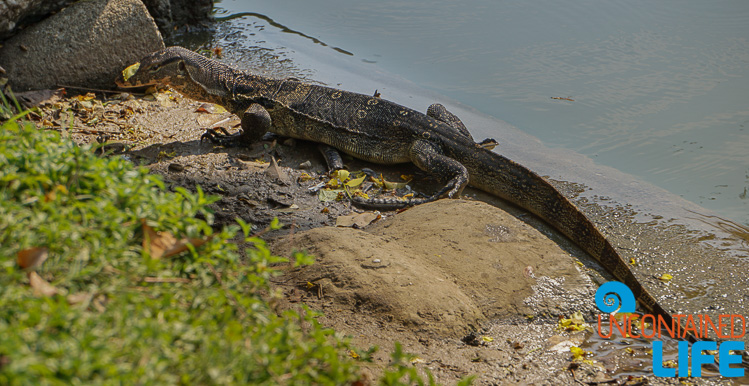 The longer we stood there, the more lizards we spotted. The crafty little buggers blended so well with the scenery, we didn't realize that the entire time we'd been standing near the water, we'd been totally surrounded. Very Velociraptor (only without the jumping…and their buddy Chris Pratt).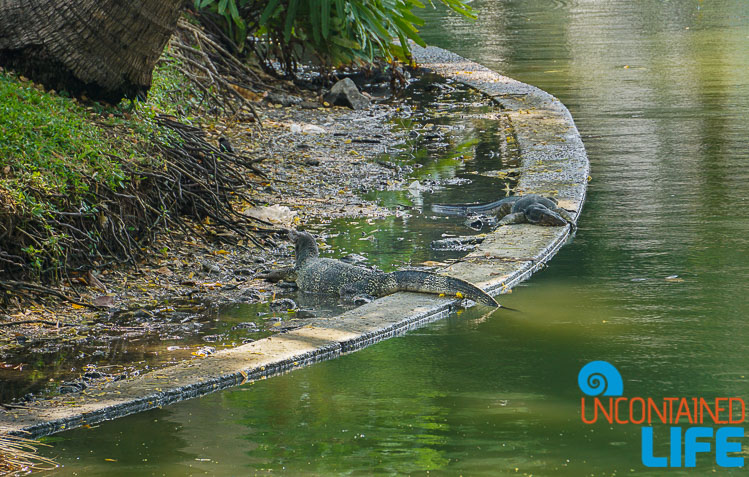 Satisfied that we'd stared into the beady-eyed heart of darkness and survived, we exited the park and headed back to Tha Din Daeng road. What other animal adventures did Thailand have to offer? Maybe we'd find something exciting during our weekend getaway from the city: a trip to the ancient city of Ayutthaya…
Share your favorite park or dinosaur sighting in the comments section!
---
Lumpini Park Visitor Information:
Opening Hours: 04:30 – 21:00
Location: Rama IV Road, Pathumwan
MRT: Silom
BTS: Saladaeng
How to get there: both the MRT and BTS Stations will drop you right opposite the park's main entrance.