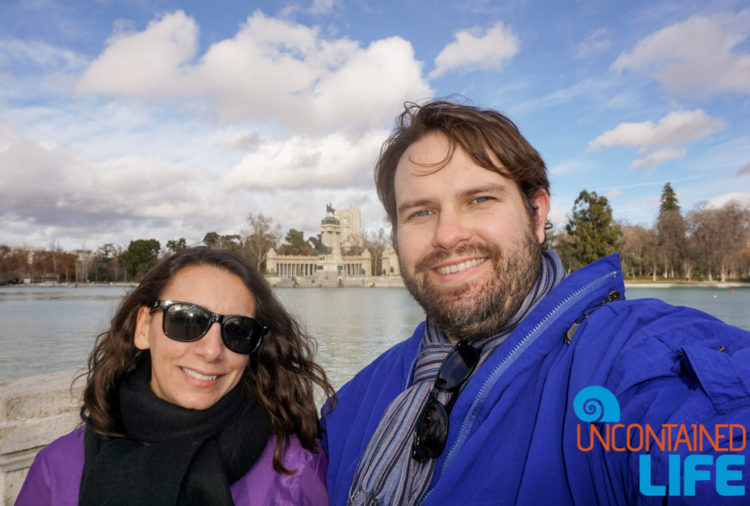 Celebrating in Madrid with Cider.
Years before Justin and I decided to start Uncontained Life, we made a decision that fundamentally changed our lives: we stopped buying one another things for birthdays and holidays, and started treating ourselves to experiences. This change happened more or less spontaneously; we didn't make a rule against buying things, it just kind of happened that we shifted toward theatre and concert tickets, outdoor excursions, and, of course, delicious meals. So when we realized we were going to be in Madrid during our 6 year wedding anniversary, we knew exactly where we wanted to go: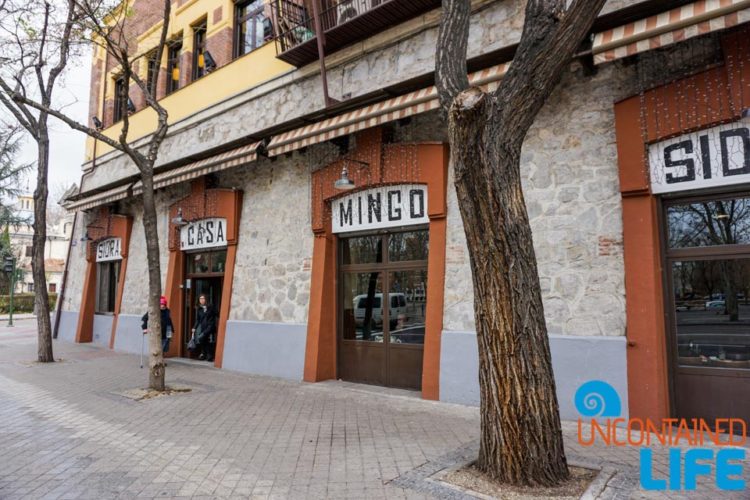 Casa Mingo, Madrid's own traditional Asturian cider house which has been pouring sweet and natural Spanish cider, and serving mouthwatering roasted chicken (among other simple dishes) since 1888. Asturias is a small area in the north of Spain famous for its cider production: approximately 80% of the nation's cider is created there.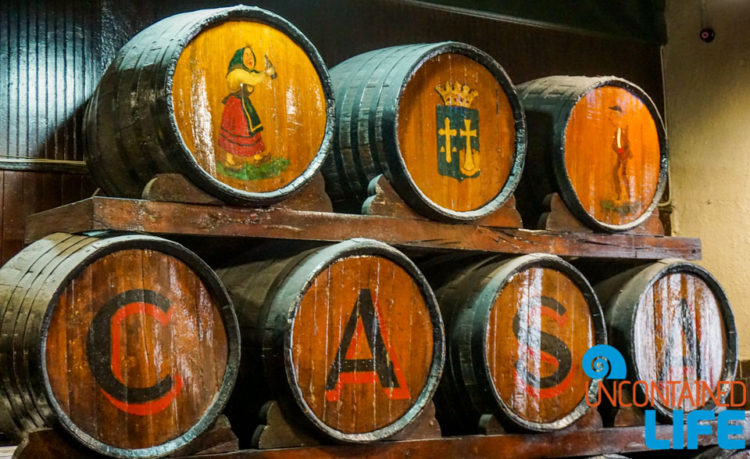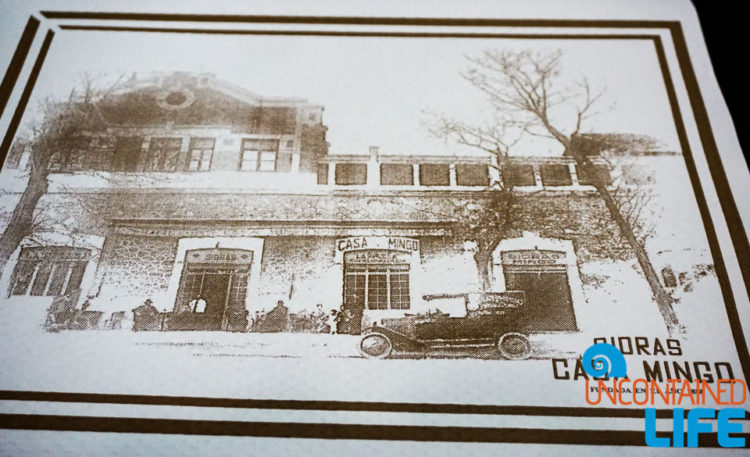 Walking into Casa Mingo felt a little like stepping back in time. The dark wood and bottle-lined walls exude an old world charm, as do the bow-tied, black-jacketed waiters–all men, all older. We seated ourselves at a small table, looking around at the other guests, mostly families it seemed, to see what type of cider seemed to be most popular.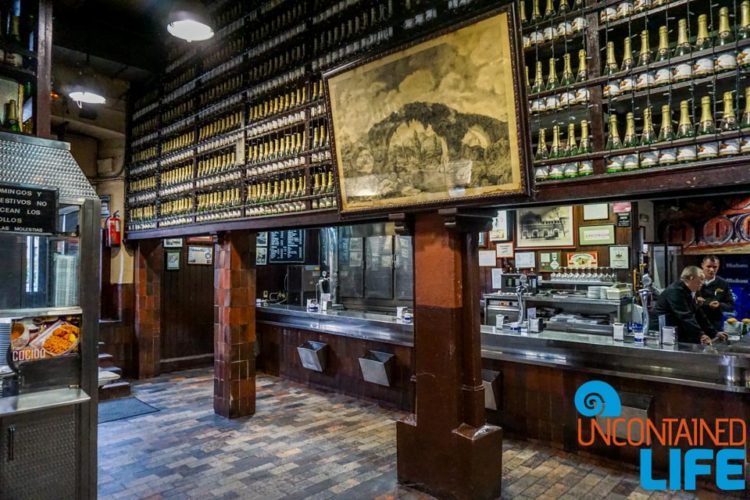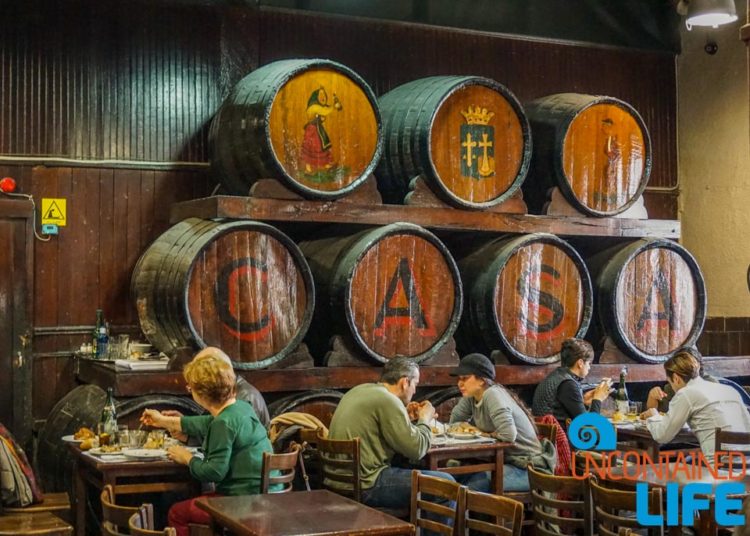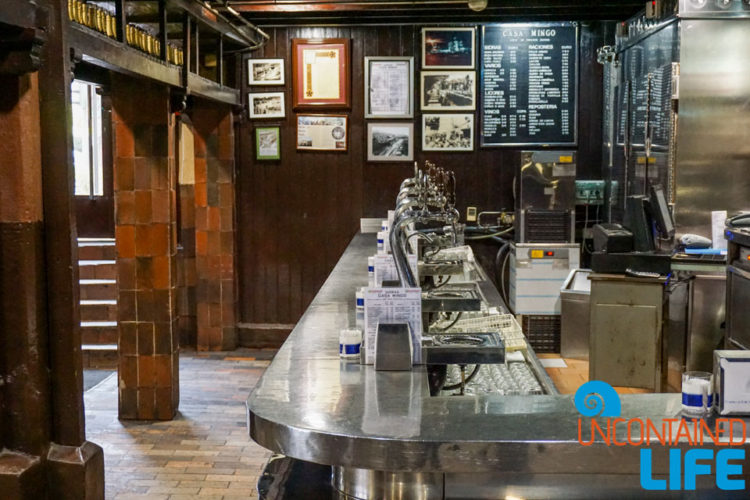 It appeared, at least from our vantage point, that the sweet, champagne-like cider was the popular favorite, with one bottle serving each group of 3-4. Clearly, we were going to be the lushes of the crowd–we already knew we'd be ordering both types of cider to try.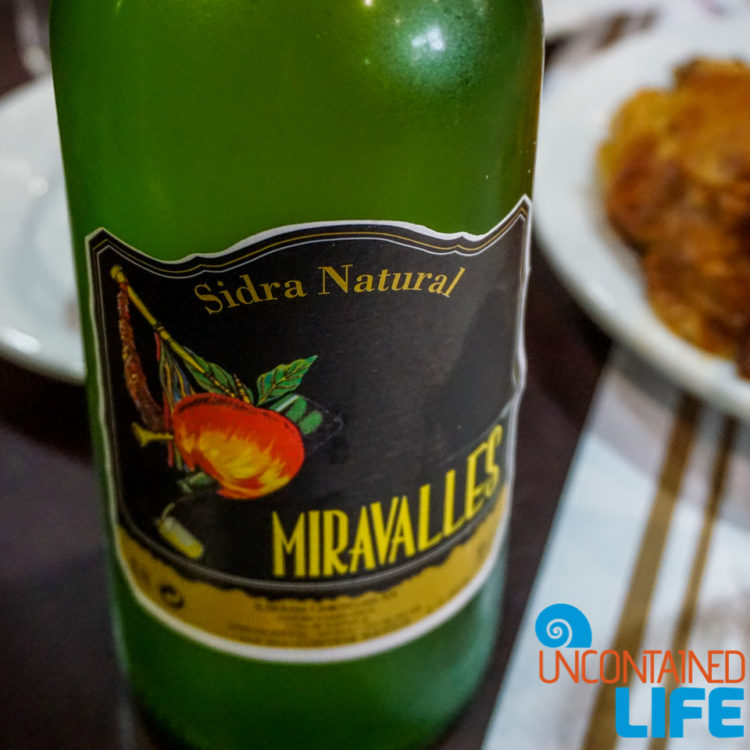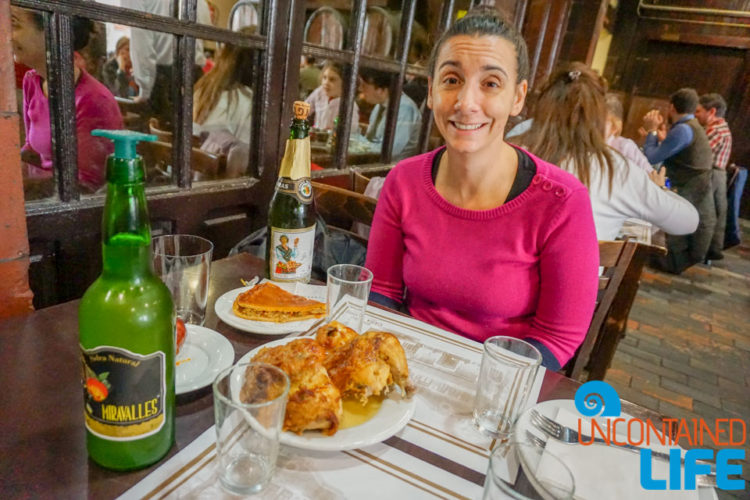 This, naturally, meant we'd need to order extra food to help soak up all that (low impact) booze, right? I mean, it just made sense.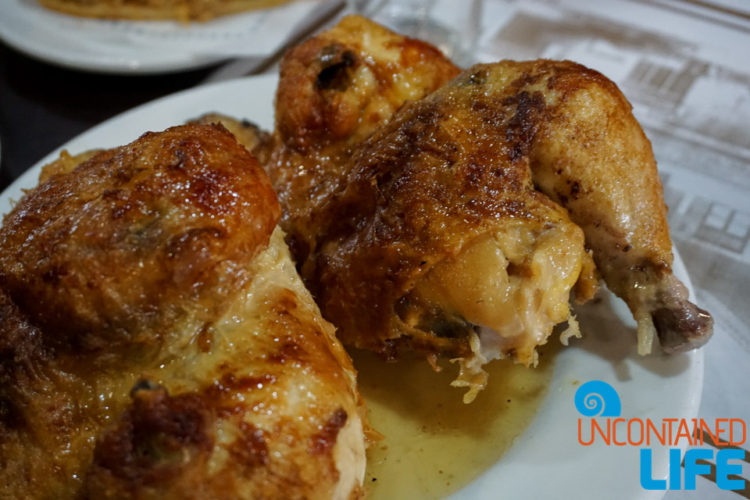 The menu was very straightforward: obviously, the whole roasted chicken was the star of the show, through there were plenty of other classic food options to tempt us: chorizo in cider, pork shoulder, the chicken-red bell pepper-onion pie, Spanish omelette, various types of cheese, salads, not to mention, our culinary achilles heel, croquettes (fried béchamel sauce mixed with serrano ham or mushrooms). And, of course, a number of desserts like cider cake and lemon cream.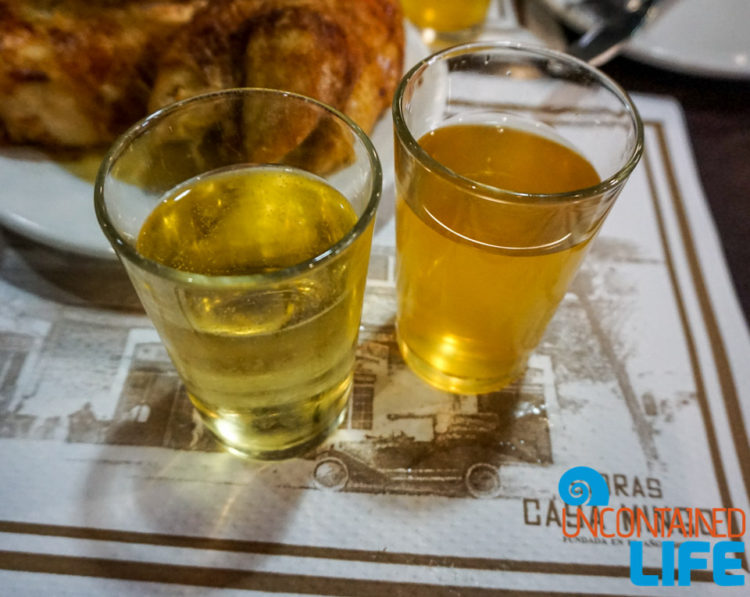 And we ordered it all.
Just kidding. That would have been insane. (And we are only delightfully wacky, thankyouverymuch.) But we did order the roasted chicken, the chorizo, and a slice of the pie. And even that was a crazy-huge amount of food. Thankfully, we had the Spanish cider to wash it all down. Though, first, we had to figure out how to serve it properly.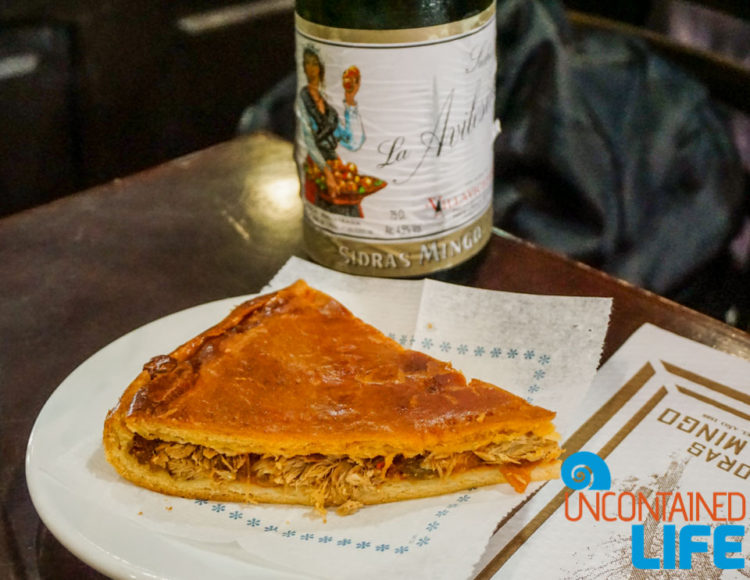 The sweet cider was straightforward enough: once the cork's out of the bottle, pour it into a glass, and you're good to go. The natural cider on the other hand…that's where things got tricky. 
We knew the traditional way to pour natural cider had something to do with holding the bottle way above your head, and somehow getting the cider to land in a glass held down low: a process called escanciar. There was even a handy dandy pour spout affixed to the bottle's opening to facilitate the procedure. Still, we were nervous to try it. The glasses we had were really narrow…our aim would have to be spectacular to make it work.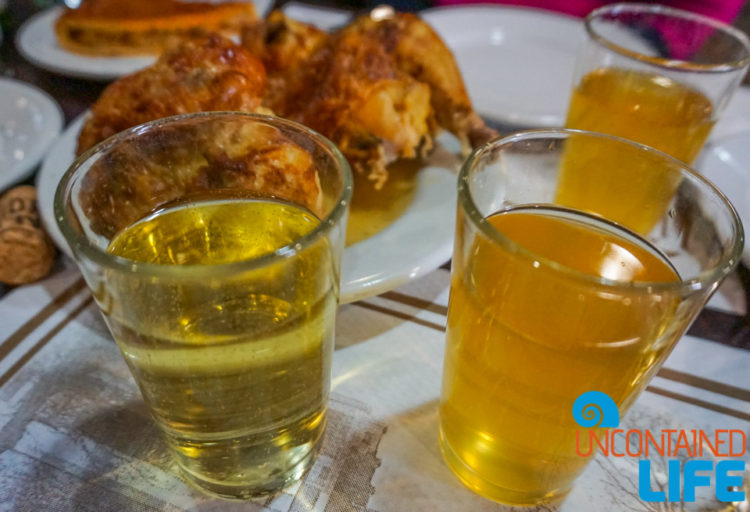 Luckily our waiter was ready to help. Holding the cider bottle expertly in one hand, he lifted a wide-mouthed tumbler off of the table. (Why hadn't we noticed that sitting there? Too busy drooling over the chicken, I suppose!) The stream of cider poured into the perfectly tipped glass–just a small amount, which he then placed on the table with a flourish.
Our waiter explained in Spanglish: both the pouring and the special glass helps the cider "breathe." You just pour one serving (enough for each person to have a drink) at a time. Sharing a single glass between two or three people was the common practice. Lesson learned!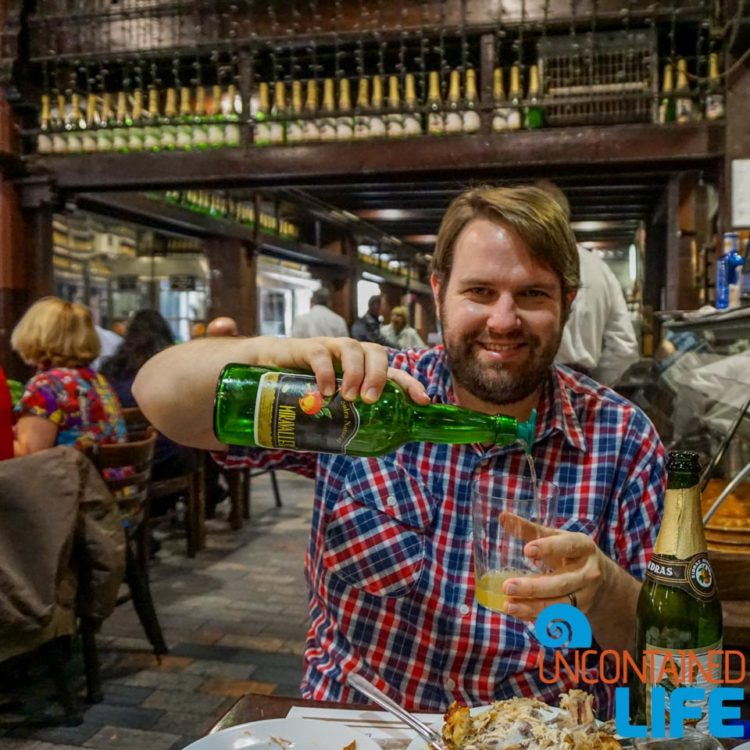 The natural cider was the perfect compliment to the food: its light, tart apple taste brought out the rich flavors of the meat dishes. 
Needless to say, by the end of the meal we were just about floating away (though the large quantities of food ensured we wouldn't float too far).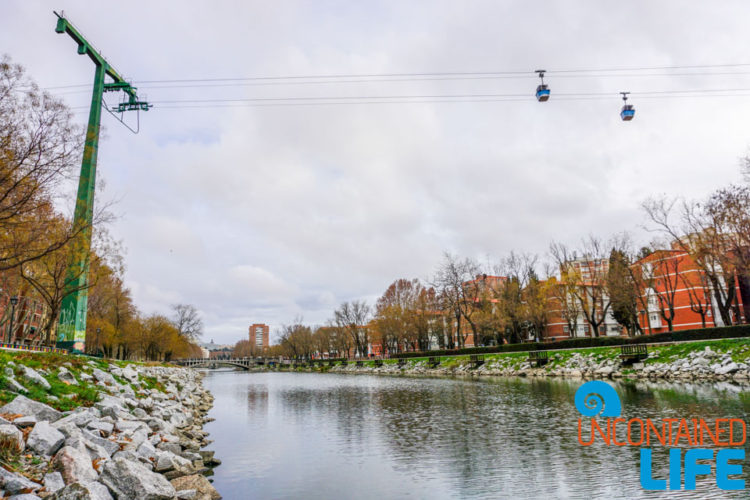 We walked the effects of our cidery adventure off with a visit to the river, followed by a study of the local street art.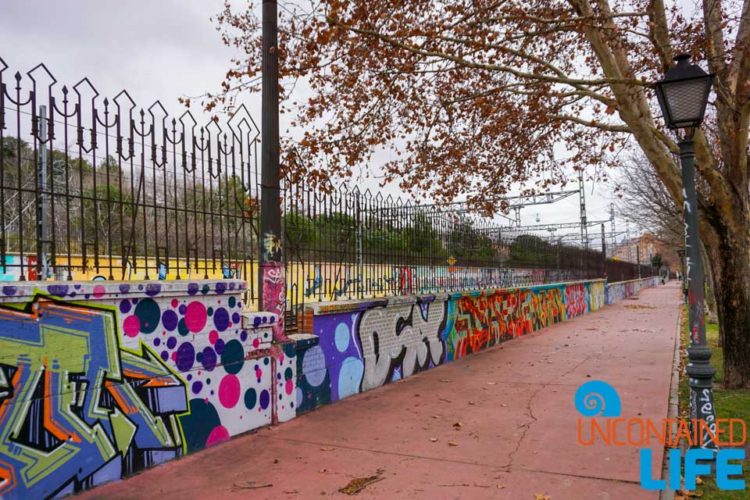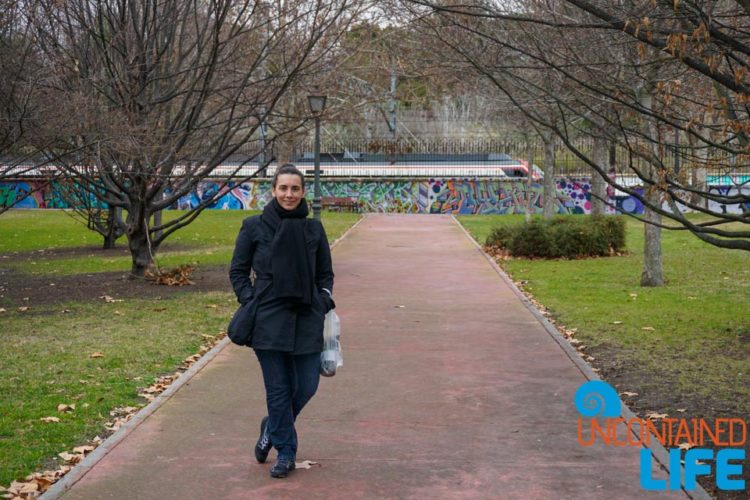 Yeah…I think we're going to keep on with this experiences over gifts thing…
Have you tried Spanish cider before? What did you think? Were you brave enough to try The Pour? Tell us your story in the comments section. 
Are you on Pinterest? Pin this post!