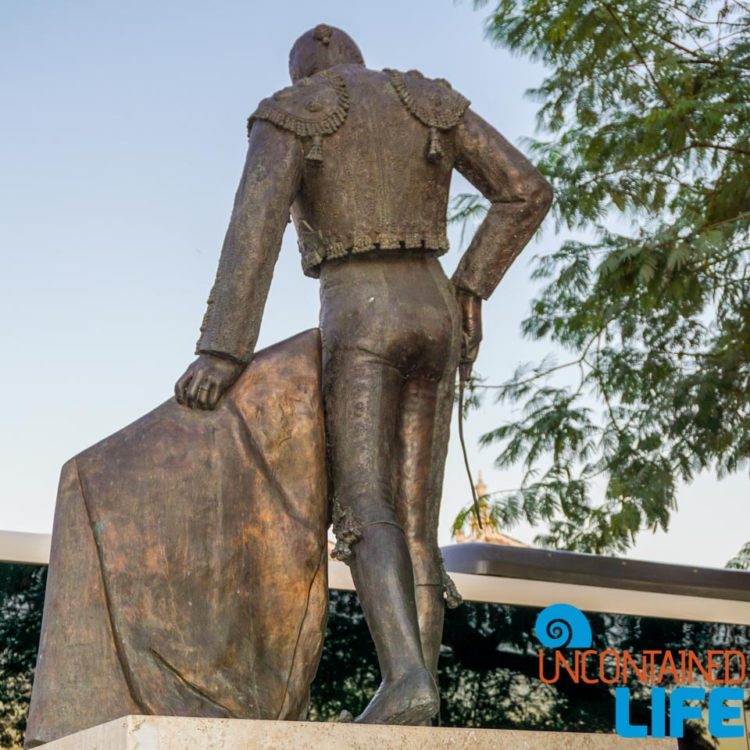 Sunny Seville is the stuff daydreams of Spain are made of: bull fights and flamenco; cobblestone streets and colorful tile art; soaring cathedral spires and sweeping plazas.
In short, when it comes to beautiful places in Seville, you're spoiled for choice.
Justin and I spent nearly three weeks traveling through Spain this past January. Madrid's food scene wowed our taste buds. Granada's Alhambra boggled our senses. Hiking Gibraltar got our hearts pounding. And Barcelona and Marbella offered us art and people-watching galore. But, Seville is the city we consider to be the loveliest, overall–a place we'd feel lucky to visit again (and again and again!)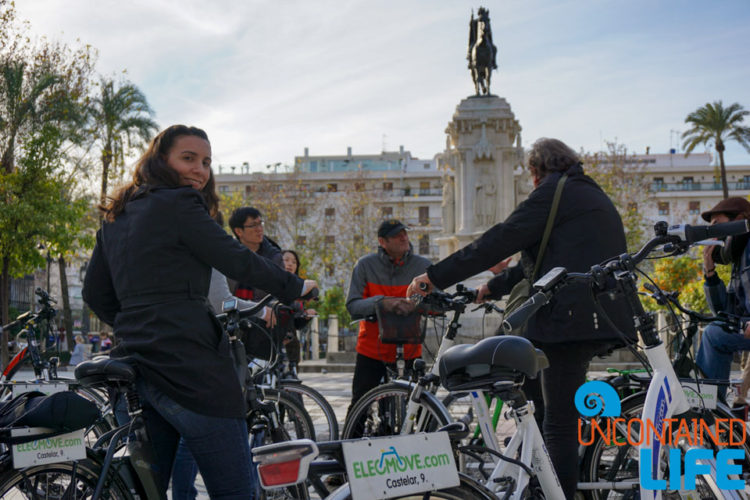 As you know, Justin and I take bike tours in cities a lot. But we'd not yet had a chance to give electric bikes a try (and yes, they were as magical as I'd imagined–you basically pedal a couple of times and you're flying down the street). Fortunately, Seville boasts an awesome bike tour company, Elecmove, which promised to give us a great overview of the most photo-worthy and beautiful places in Seville.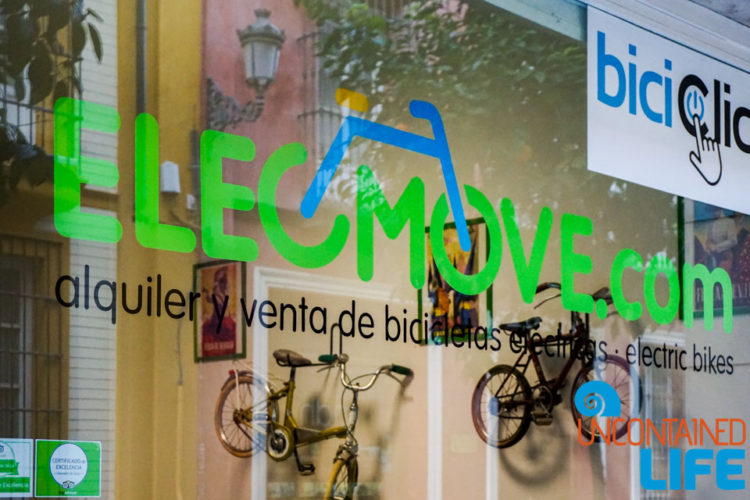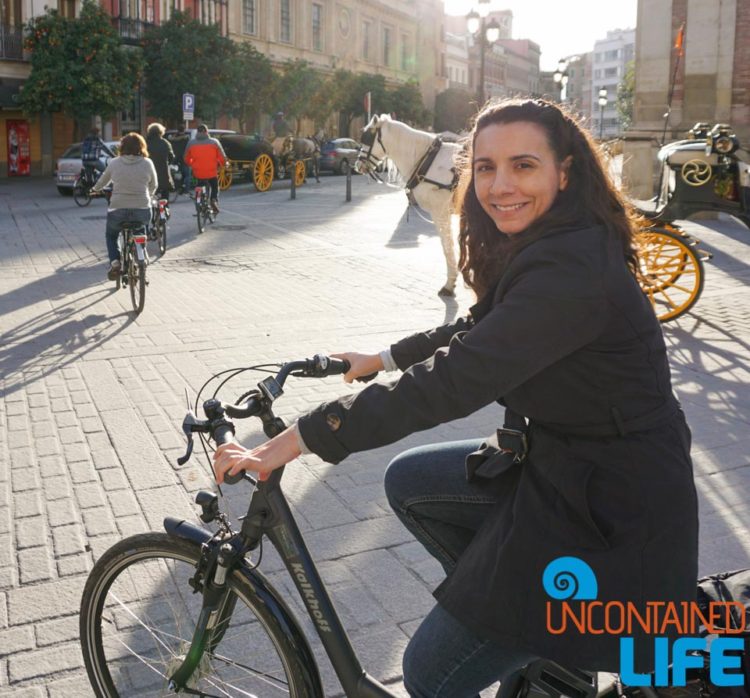 Here are some of our favorite moments from our ride–along with a few stories our guides shared with us about the places and things we saw along the way. Hope you enjoy!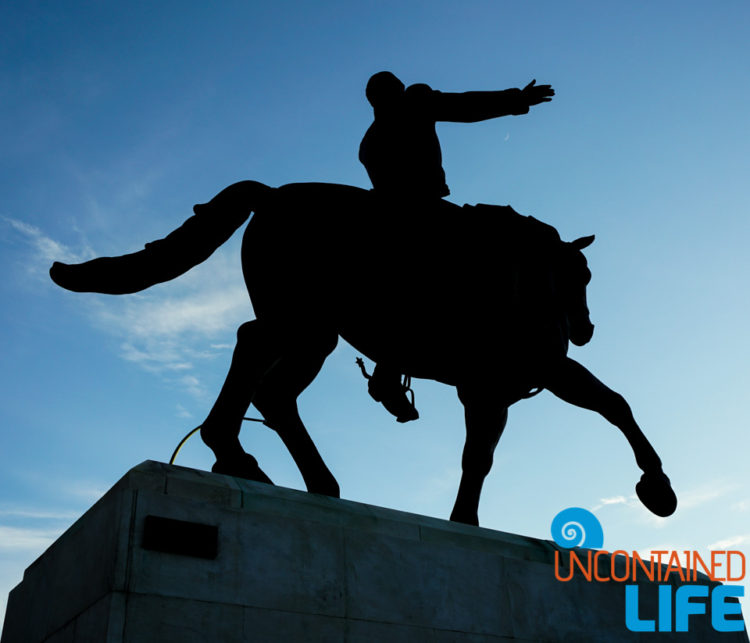 Moorish-Gothic Mashup: The Cathedral of Seville and Giralda
The Catedral de Sevilla is probably the best known of all the beautiful places in Seville–and for good reason! The cathedral stands next to the entrance to the Moorish Royal Palace, the Alcázar (which is sort of a mini version of Granada's Alhambra palace complex).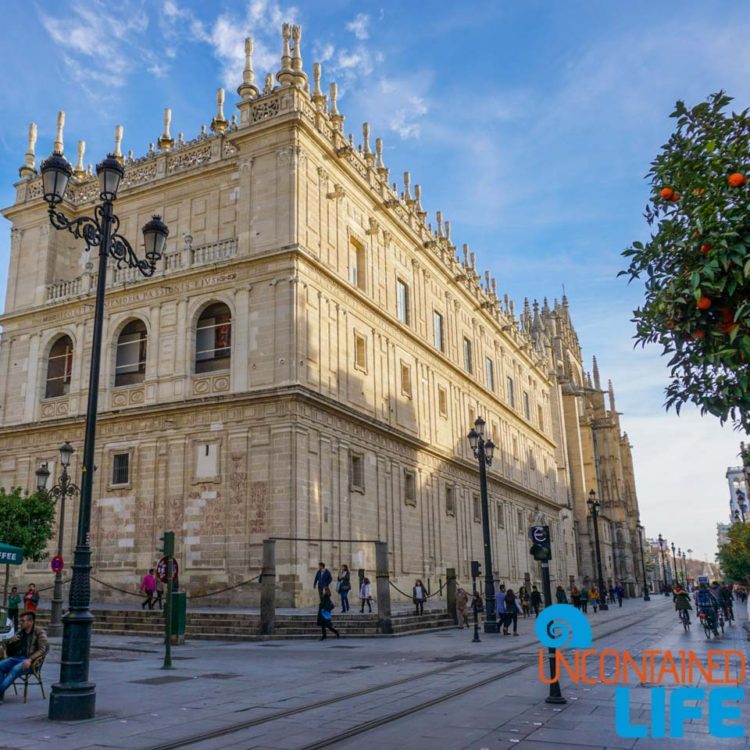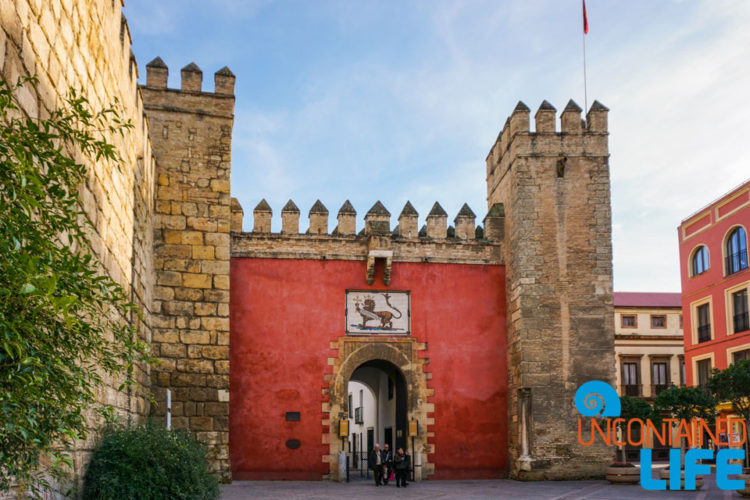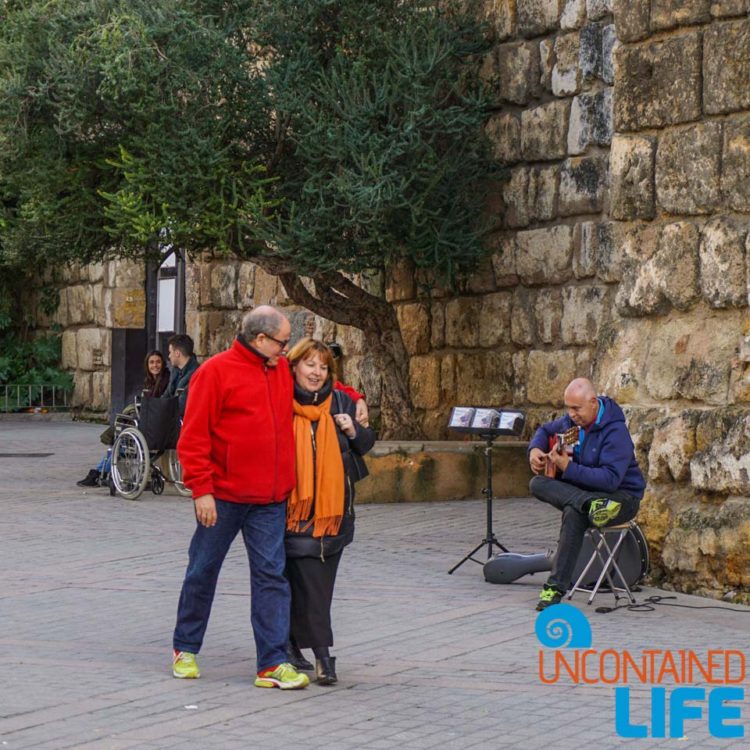 The Catedral de Sevilla is the third largest cathedral in the world, and serves as Christopher Columbus's final resting place. (We didn't see Chris, but we enjoyed some tunes in the square outside.)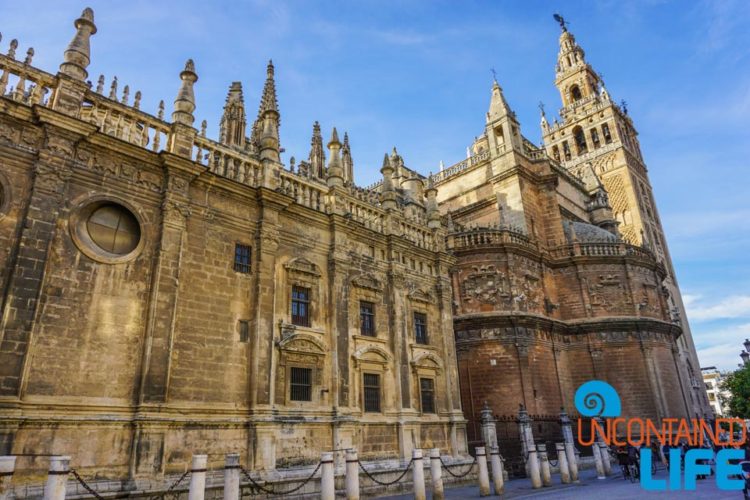 The cathedral is eye-catching from any angle, but it's most unique feature is it's bell tower (the Giralda), which is registered as a UNESCO World Heritage site. The Giralda is actually a relic of a time long before the Spanish took over Seville. Built between 1184-1196, the tower was the minaret of a Moorish mosque and was, even in its own time, considered among of the finest of its type in the world.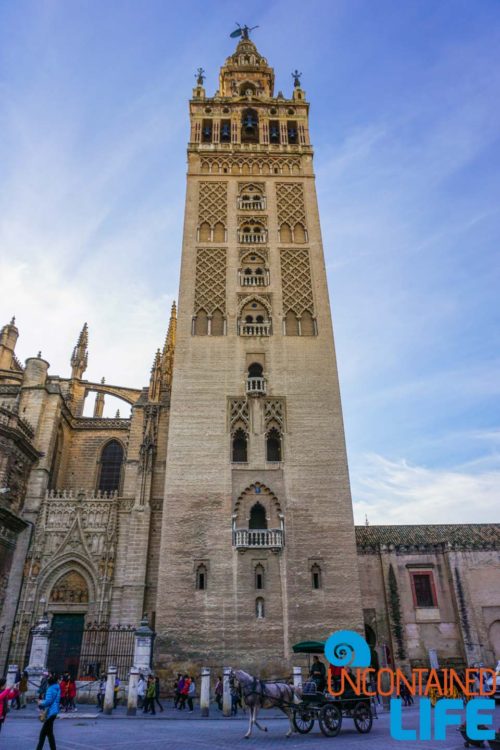 Certain external aspects of the tower were changed when it was converted to a Christian bell tower, but its unique internal structure remains as it was during the time of the Moors. What do I mean by "unique"? Well, as anyone who has ever climbed a bell tower can tell you, these buggers usually come equipped with a heart attack-inducing set of stairs. But the Giralda? This beauty was built with the muslims' five-times-a-day call to prayer in mind: no stairs, but rather, a series of 35 ramps that are wide and gently sloped enough to allow a man on horseback to ride to the top and back down. Hi-ho, Silver!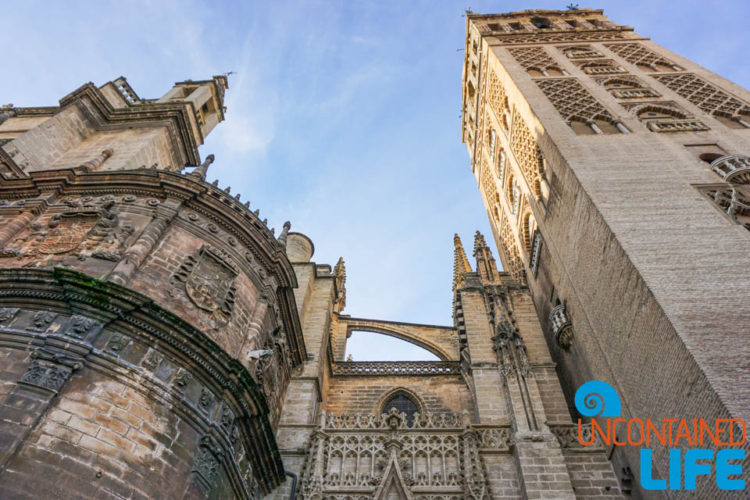 PS–Speaking of horses, be sure to leave some time to enjoy the Plaza del Triunfo with its classic horse-drawn carriages and cheerful cafes…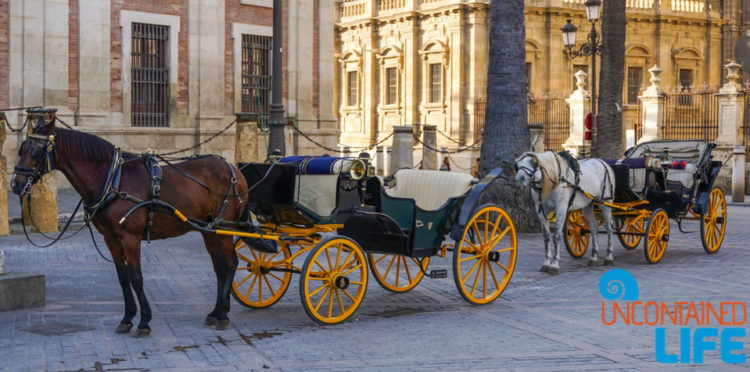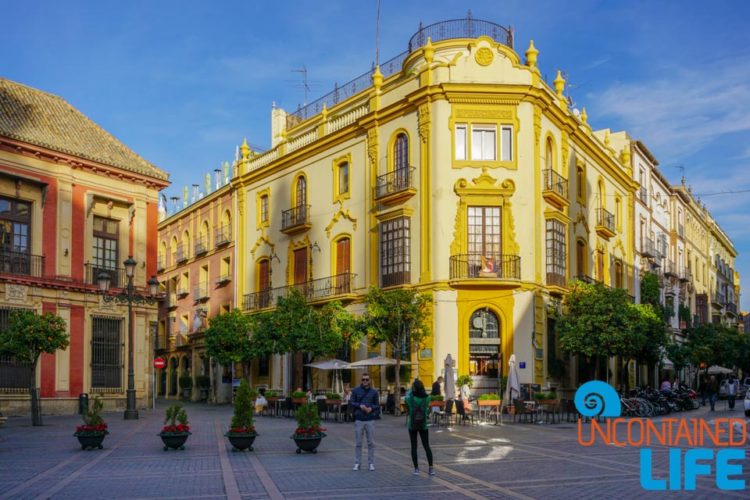 Sultry Cigarreras: Seville's Royal Tobacco Factory
Seville's Royal Tobacco Factory (now used as the headquarters of the University of Seville) first began production back in 1758, with an all-male cigar-and-cigarette-making staff. Following the Peninsular War, however, the factory fired all it's male employees and hired an all-female crew.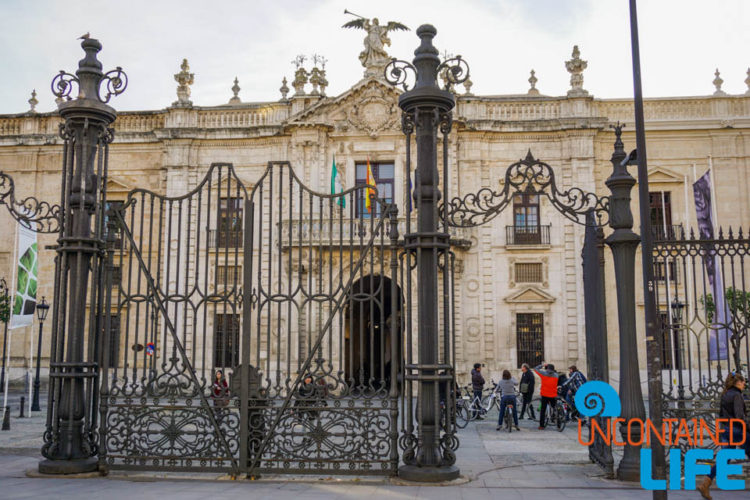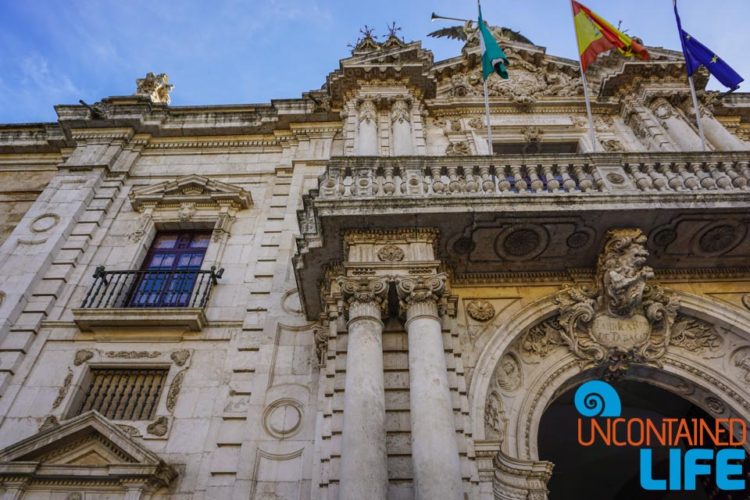 These awesome ladies were as famous for their tobacco-rolling skills, as they were for their fierce independence. While they didn't shy away from romance, most of the cigarette girls said no to marriage (which would, of course, have prevented them from continuing their work). French composer Georges Bizet even wrote an opera whose title character, Carmen, was modeled after these feisty cigarreras.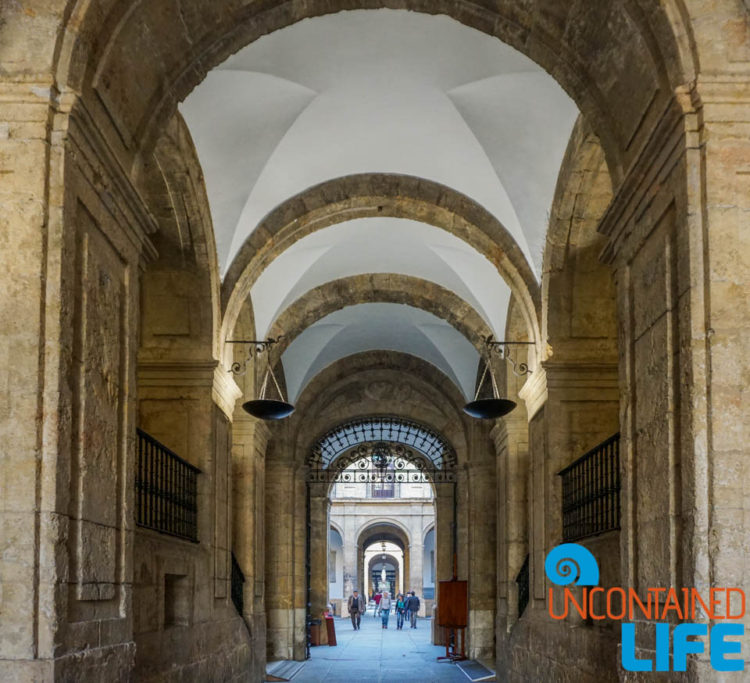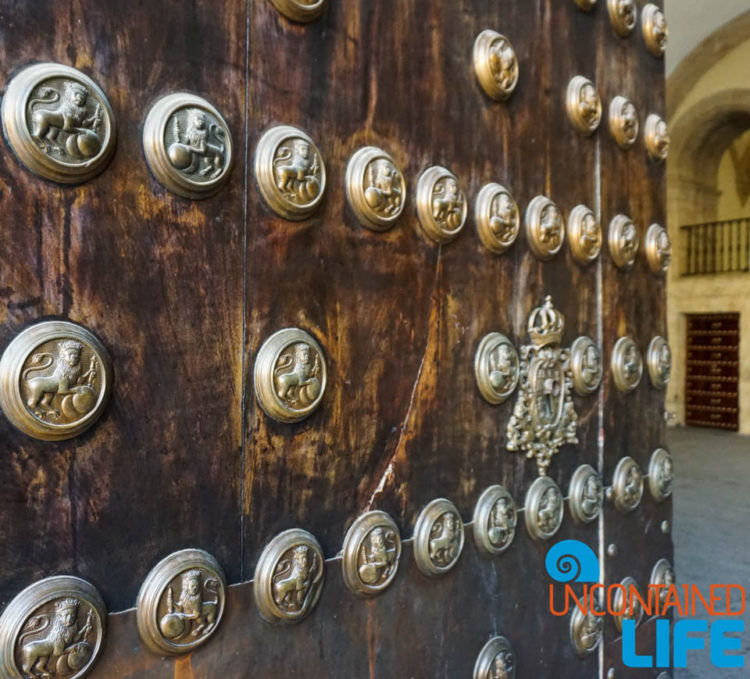 Painting with ALL the Colors: Plaza de España and Beyond
If you say there's a prettier plaza in all of Spain than the Plaza de España, well, you're wrong. I mean…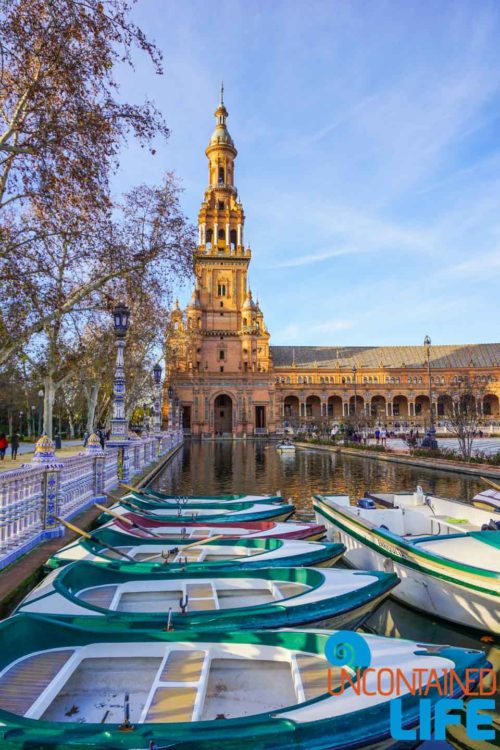 Yeah.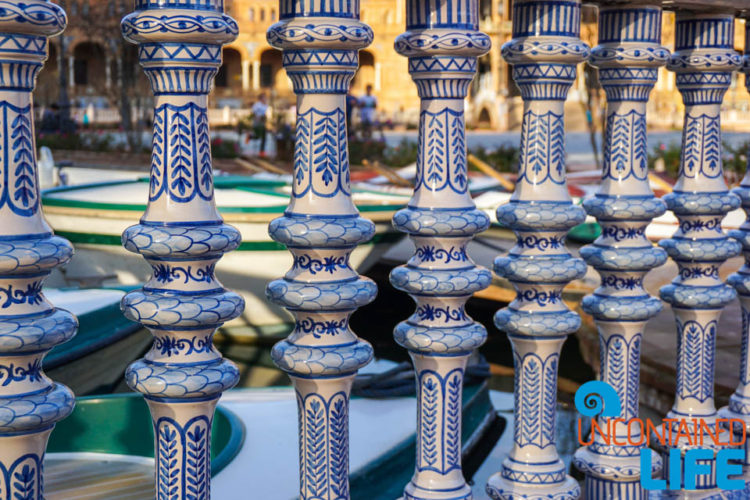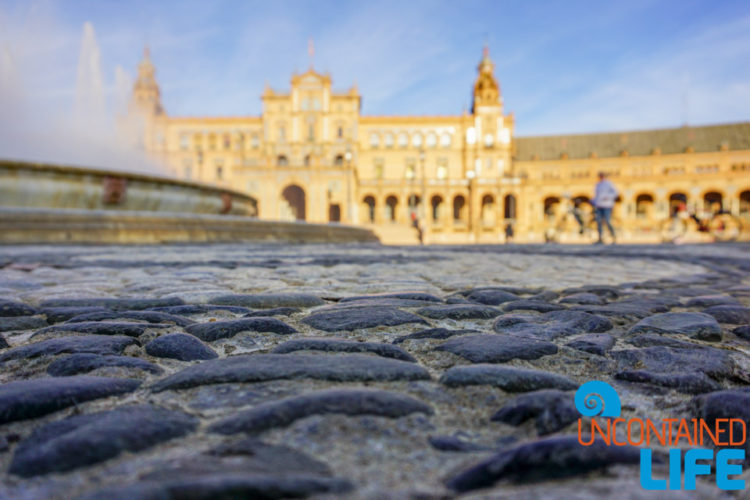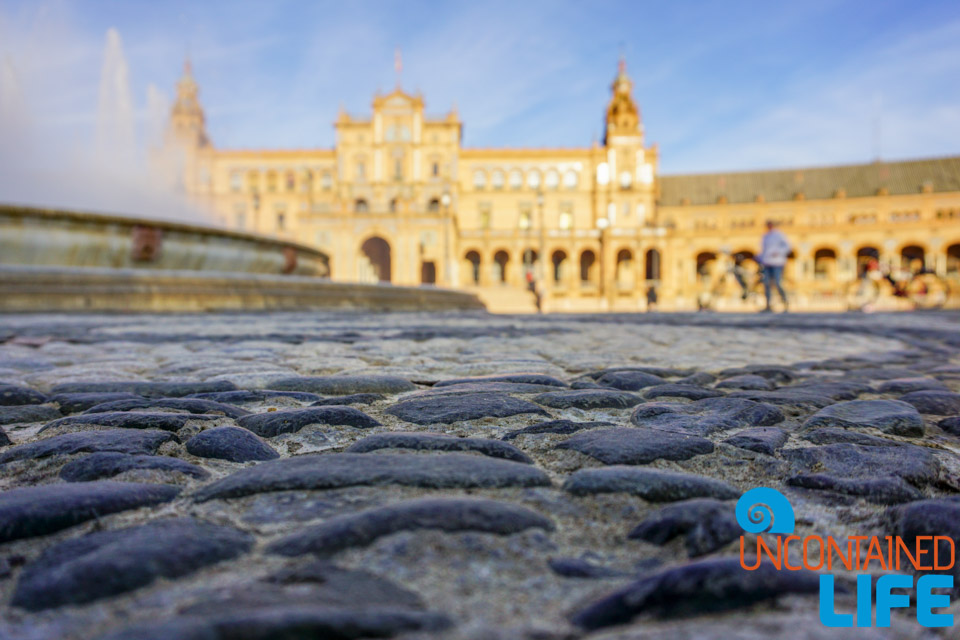 By the by, if this place looks familiar, it might be because you've caught sight of it in a number of films, including Star Wars: Episode II – Attack of the Clones (2002) and The Dictator (2012).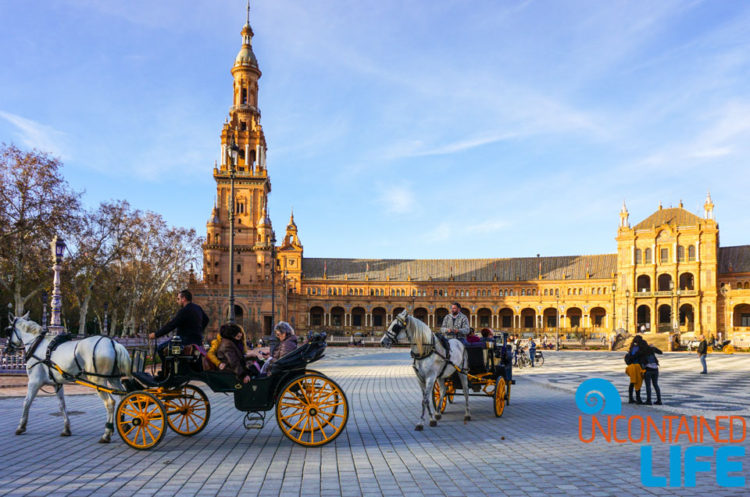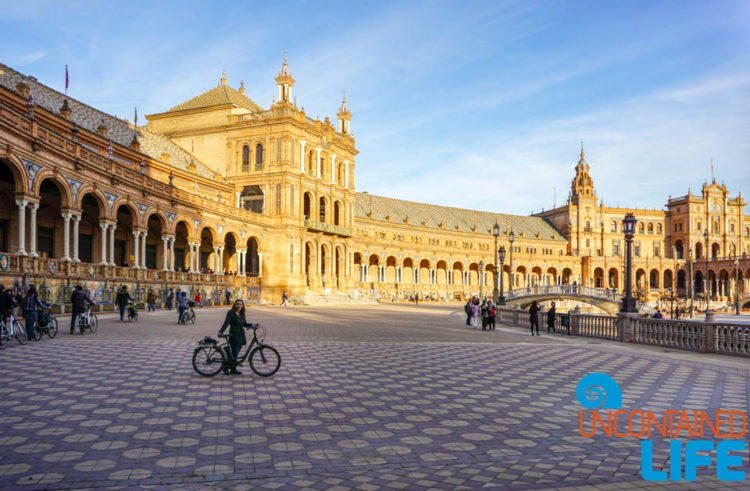 One of the (many) reasons why the Plaza de España is one of the most beautiful places in Seville: the colorful tile representations of Spain's major cities. Clearly, Spain's tile art kicks everyone's butt (ok, maybe not Portugal, but still…).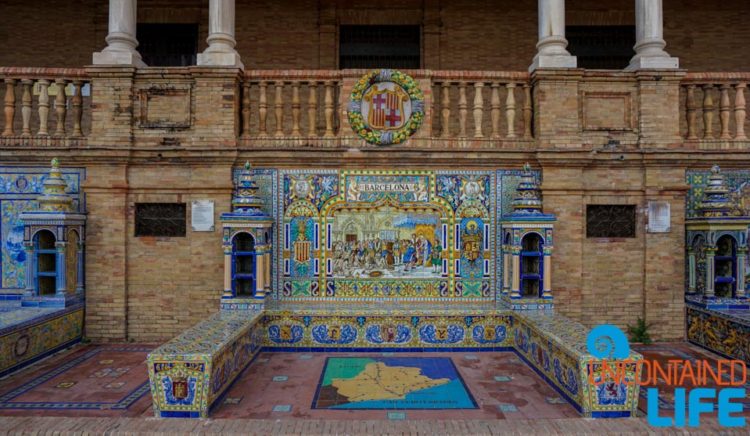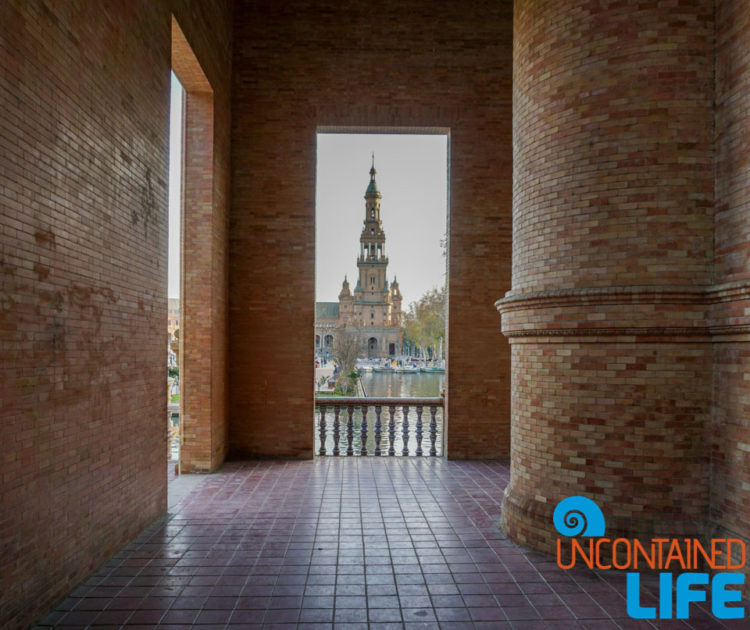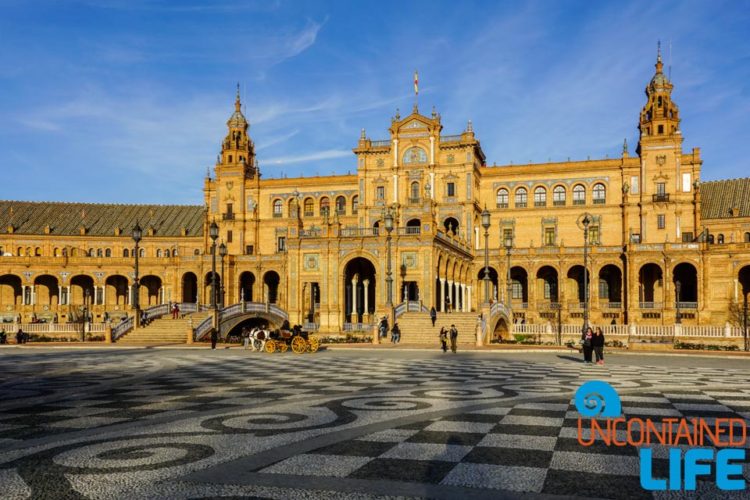 Another fun building if you're a tile-lover: the Adriatica. I'd totally sign up to live in that top-level room. Would be a bit like being Rapunzel. (Minus the witch. And the insane hair. And all that madness with blind princes and what have you…so…really…not.)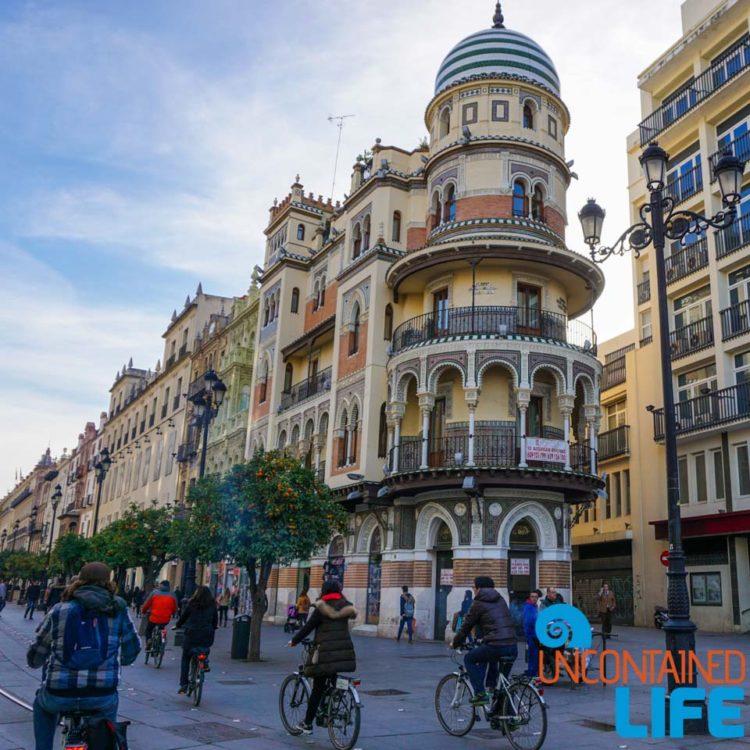 Like Oslo, Norway, Seville's street art pops…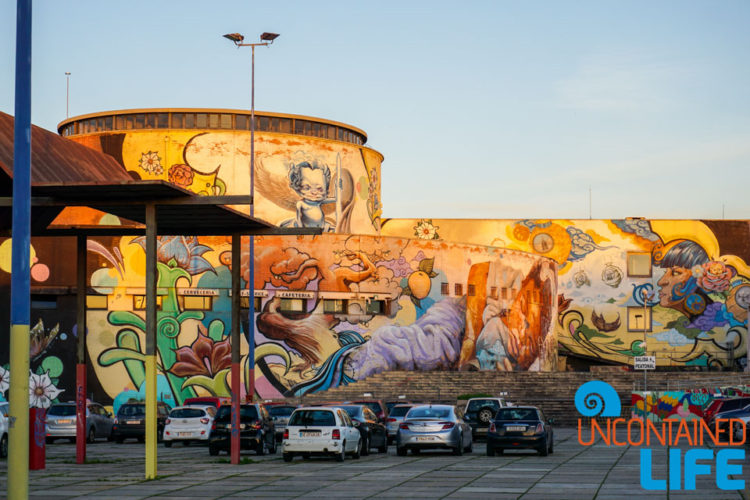 …while the rich red and gold of the Palace of San Telmo just glows.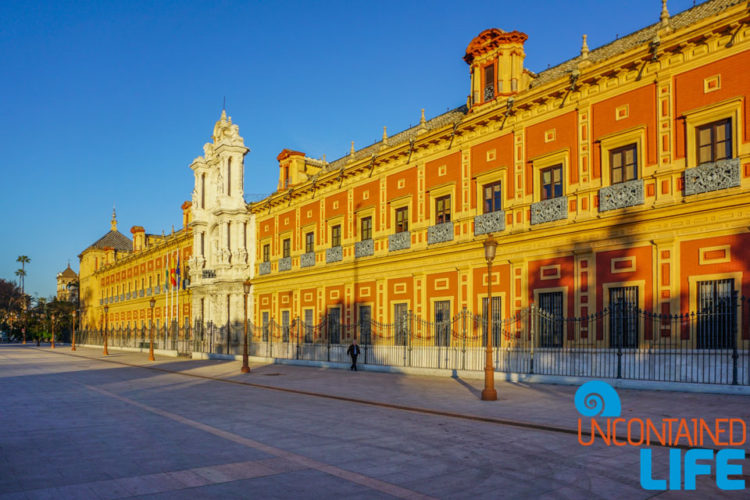 Tales of Gold: The Torre del Oro and the Guadalquivir River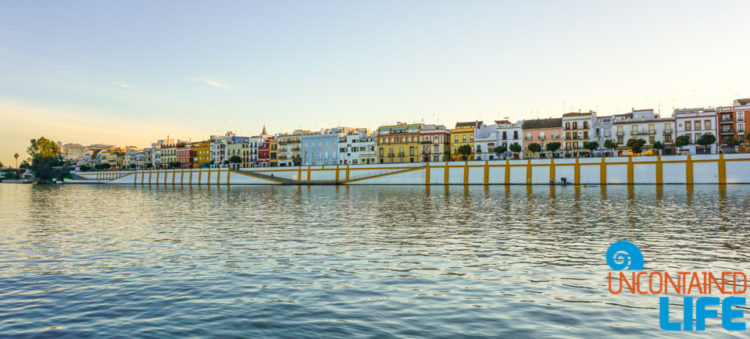 Spain's second longest river, the Guadalquivir, runs through the heart of Seville. As the sun starts to go down in the evening, the water turns such a beautiful shade of gold…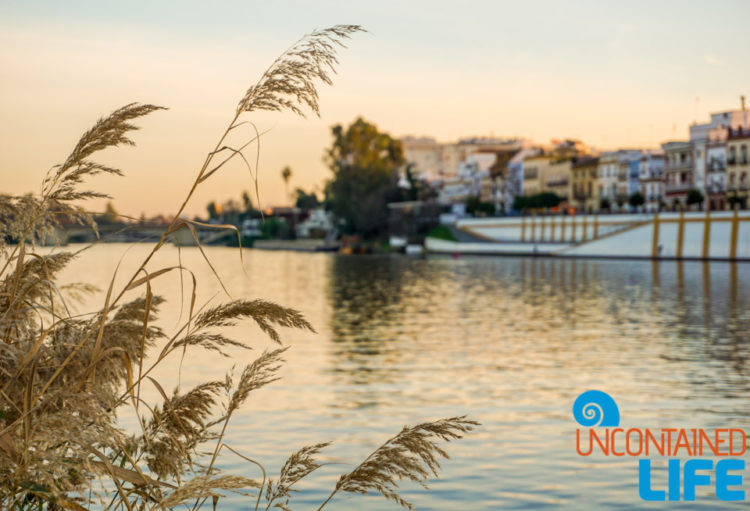 …you'll probably be able to guess how the Torre del Oro (Tower of Gold) got it's name. This dodecagonal tower is, like the Giralda, left over from Moorish rule–just one of what were once 166 towers that lined the fortified city walls.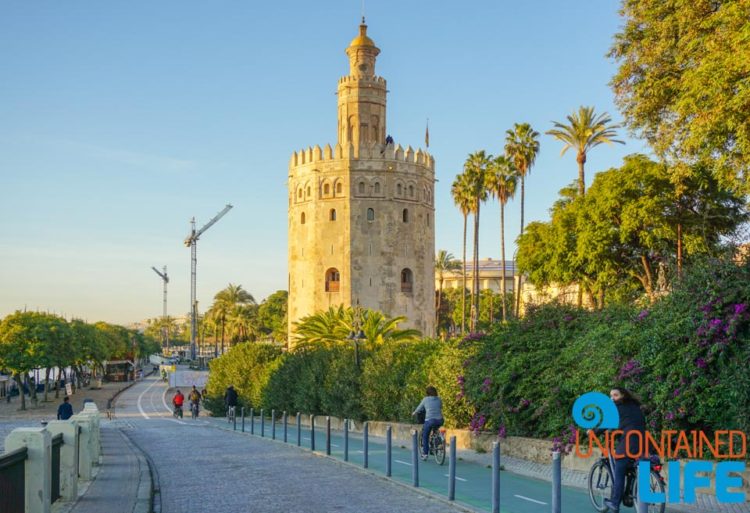 Back in those days, the tower was said to be decorated with tiles that would catch the sun's reflection, but today only rough stone remains. (Perhaps this is why the rumor began that the tower got its name because it once held treasure brought over from the Americas. Not true, by the way.)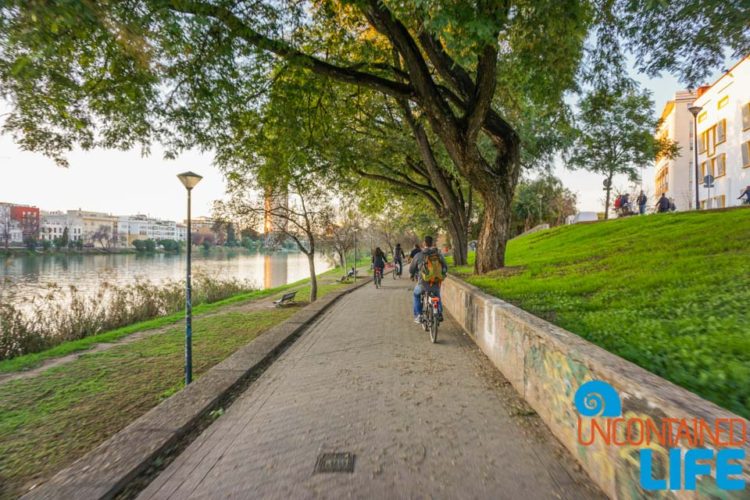 A short distance from the tower, you can see the bridge which links the Triana district with the city center. Back in the day, Triana was home to the city's craftsmen–in particular, its tile-makers–and served as the gitano (gypsy) quarter (gypsies weren't allowed in the city center). Ironically, it was in Triana, from the once reviled gypsies, that Seville's most famous art, flamenco, sprung. To this day, Triana remains a popular spot to go to experience authentic flamenco music and dance.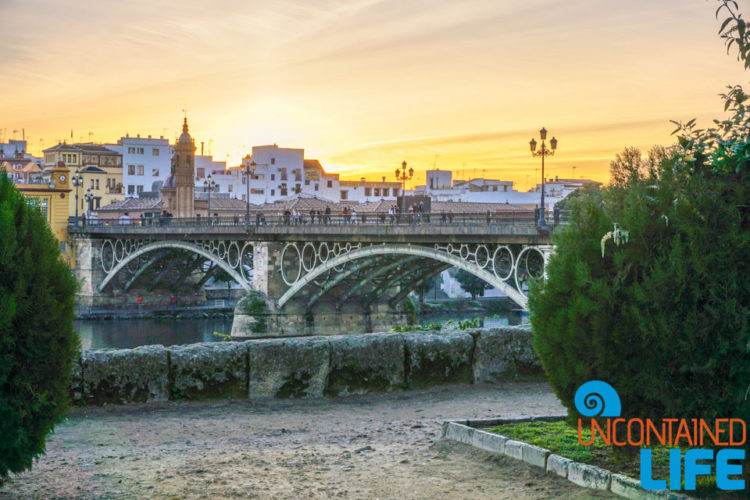 Seeing so many of the beautiful places in Seville was definitely a great way to ease into 2016. We can only hope we'll be able to return soon to make more great memories.  
What do you guys think of Seville? Has our tour helped land Seville on your must-visit list?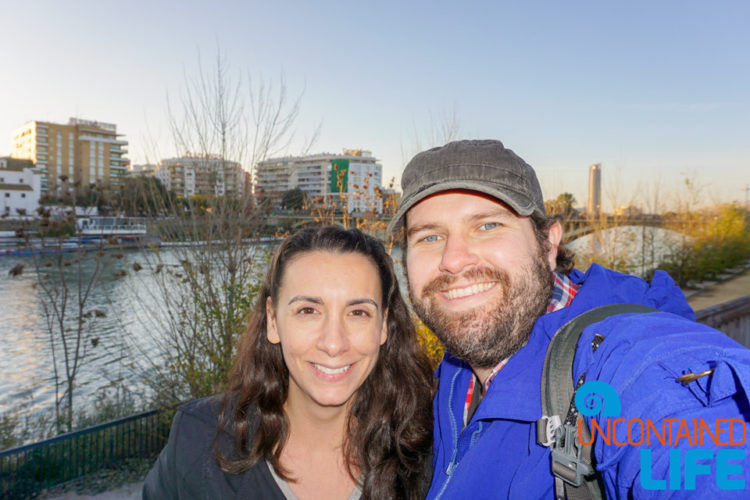 All photographs were taken with the Sony A6000—a lightweight, mirrorless camera that captures great images even in low-light conditions.  You can find out more about the gear we carry when we travel HERE.
---
Visitor Information for Seville:
Money: Spain uses the Euro (1 USD = approx. 0.90 euros). Most places will accept Visa and Mastercard credit cards.
Transportation: Seville is an easily walkable city, though it has a well-organized bus and tram system (see more info. here). Public parking lots are readily available if you're coming to the city by car–just look for signs. Fast trains from Madrid can get you to Seville in just two and a half hours (approx. €65).
Accommodation: 
—Budget: If you're looking for a comfy dorm experience in a great location, look no further than La Banda Rooftop Hostel, run by four Spain-loving Brits. If you'd like the option of a private room (or you just want access to a hot tub and pool), check out Oasis Backpackers' Hostel Palace. Save big by booking La Banda Rooftop Hostel or booking Oasis Backpackers' Hostel Palace at Agoda.com!
–Mid-range: Enjoy a delicious breakfast, charming rooms and excellent prices at B&B Casa Alfareria 59–book now through Agoda and save up to 60%!
–Luxe: If you're looking for five star comfort and atmosphere, you'll find both at the Palacio de Villapanés–a beautiful, perfectly-located boutique hotel inside a stunning stone palace. Check prices now at Agoda.com and you could save 50% or more on your stay.
–Airbnb: Looking to get a more local experience? Use this link to get a $35 discount off of your first Airbnb booking! 
Are you on Pinterest? Pin this post!