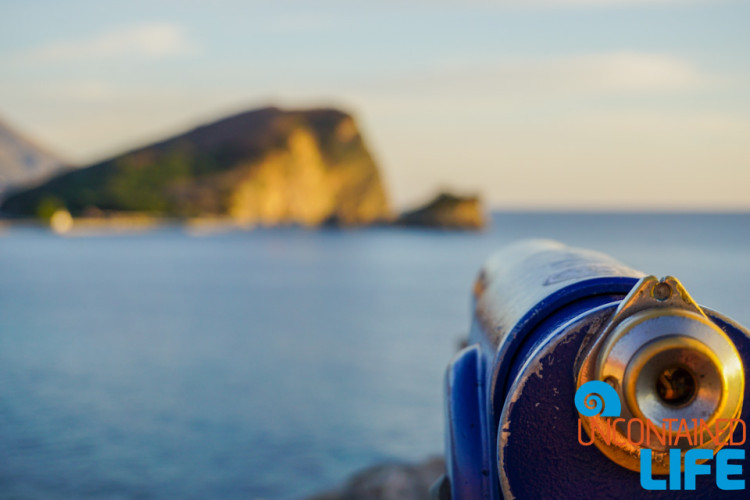 I'll be the first to confess, I've got a classic introvert's dislike for crowds of strangers. Which is maybe why I have such a soft place in my heart for off-season and shoulder season travel. Some people would lament the fact that they were in Montenegro in December, when it was too cold to lounge on the beach in a bikini. Not me. After days of non-stop interaction with people at the World Travel Market in London, I was grumpy and worn out. Peace and quiet was my top priority.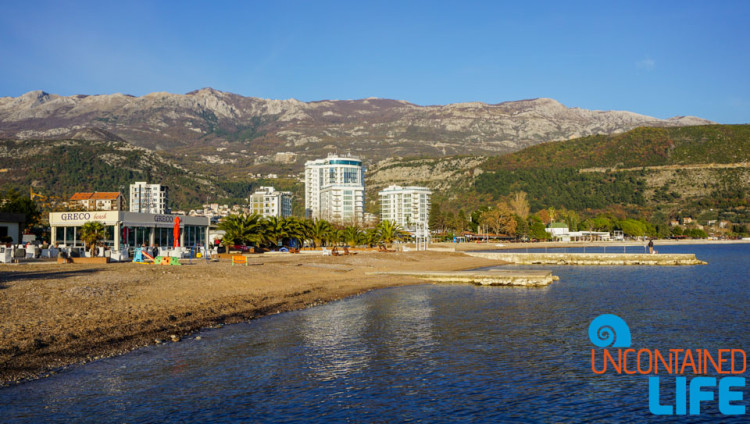 Which is why, in all honesty, I wasn't super excited about going sightseeing in Budva. Even though Old Town Budva is incredibly well-preserved, the city is mainly popular for its bustling beaches and hard-partying nightlife. Again, not what this Grinchy-feeling girl was looking for at the moment thankyouverymuch!
Still, when Star Wars and a slight miscalculation in timing left me and Justin with a few hours to kill in Budva, we decided to find out if there was anyplace in town where we could find the R&R I craved so badly. We began down by the waterfront.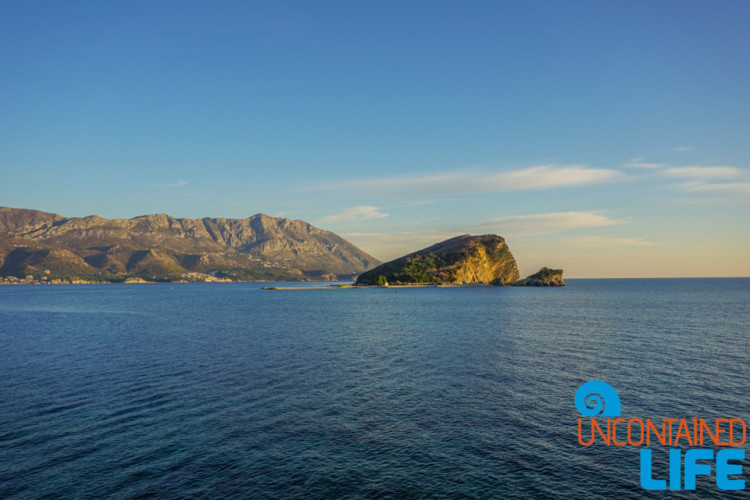 Beachy Budva
Budva is home to some of the Adriatic coast's most beautiful beaches. This beauty is one of the reasons why tourists in the know flock there, and to adjacent towns like Petrovac (which is a part of Budva the way Brooklyn is a part of New York City) in high season.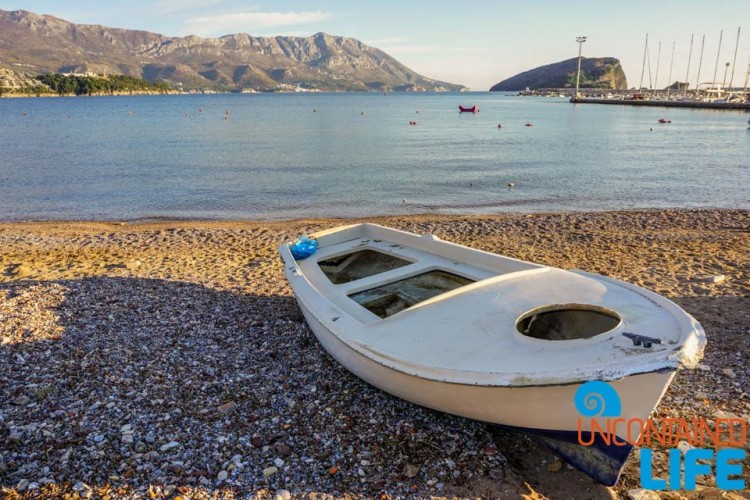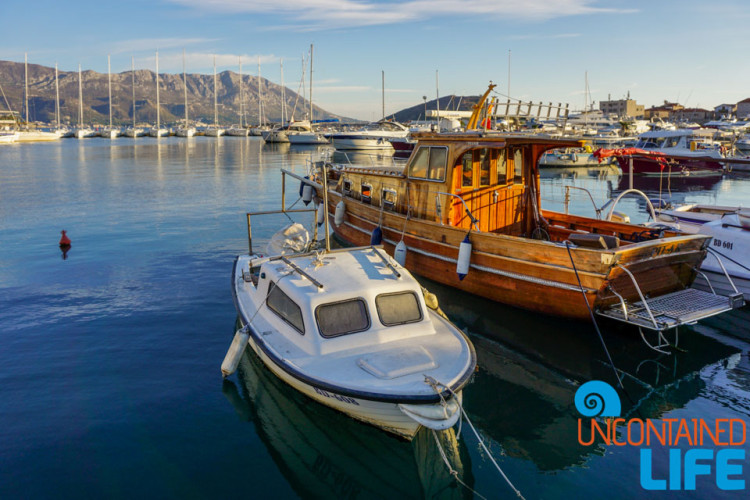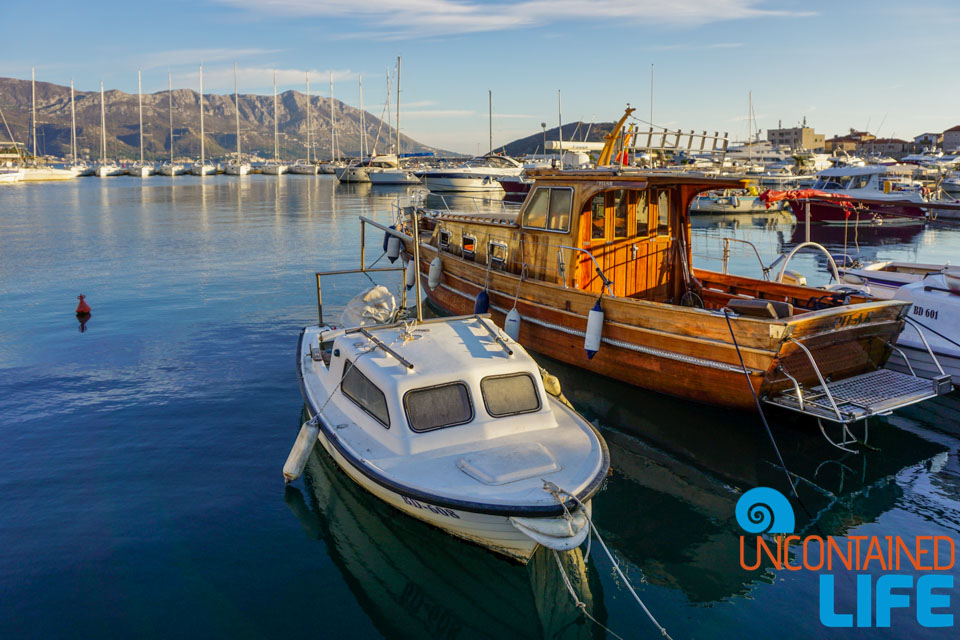 As we walked along the water, I had to admit, it was more peaceful than I thought it would be–indeed, it was far quieter than the less touristy section of town we had just left. With the exception of one or two local people walking their dogs, it was just us, the boats, and the sun shining on the quiet water of the marina.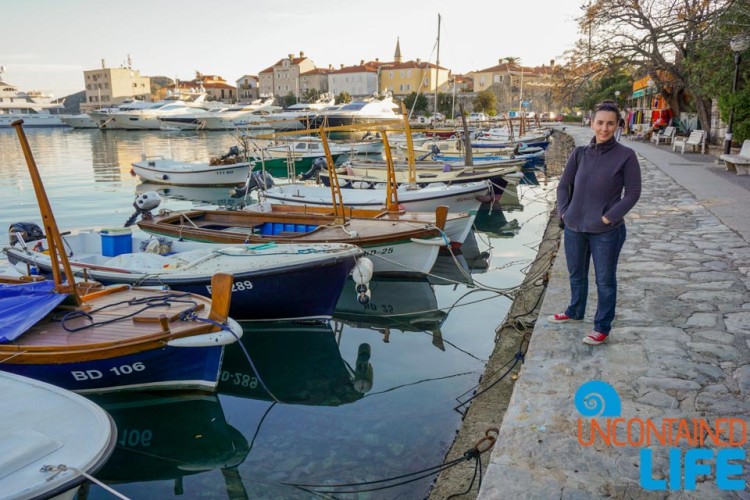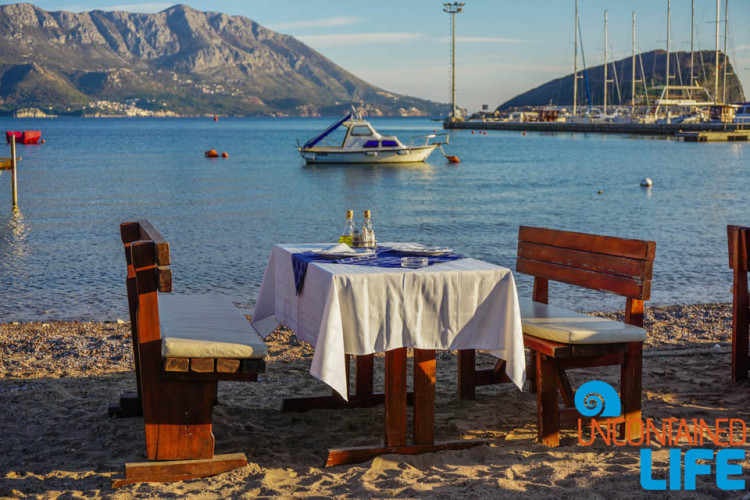 Up ahead of us, the ancient city walls of Old Town Budva rose up like a gray shield in the distance, hiding all but the tallest buildings inside from view. Old Towns are usually the busiest tourist spots in Montenegrin cities (and even when they're not, they can feel oppressive with their overabundance of souvenir shops and other foreigner-focused amenities.) Still, it would be kind of a waste not to at least take a look inside, right?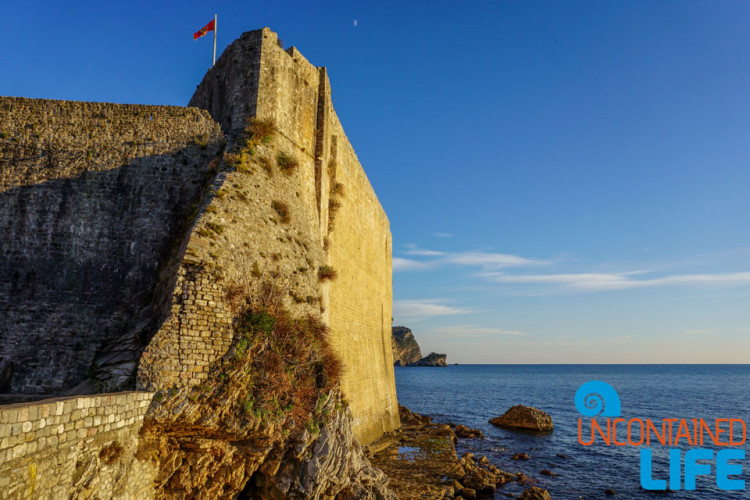 Old Town Budva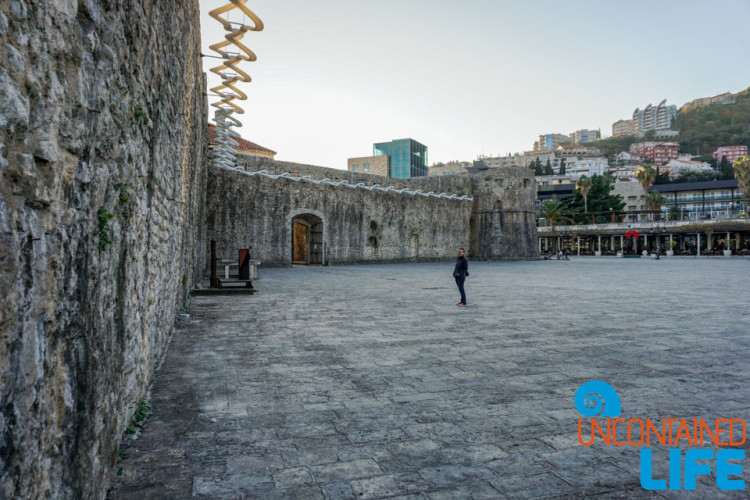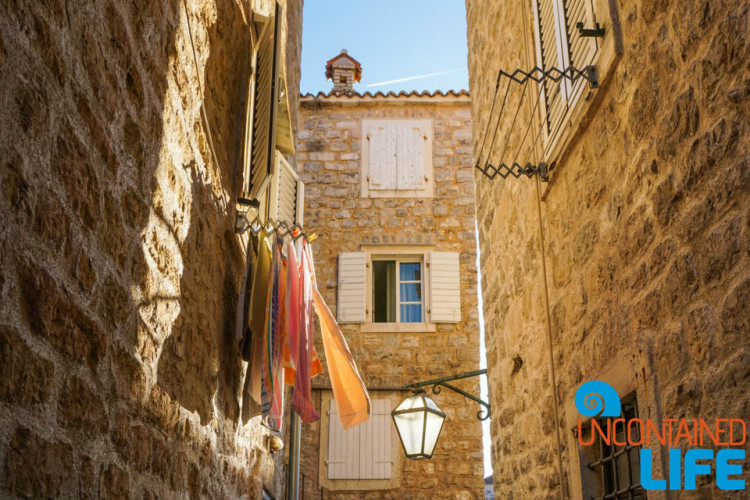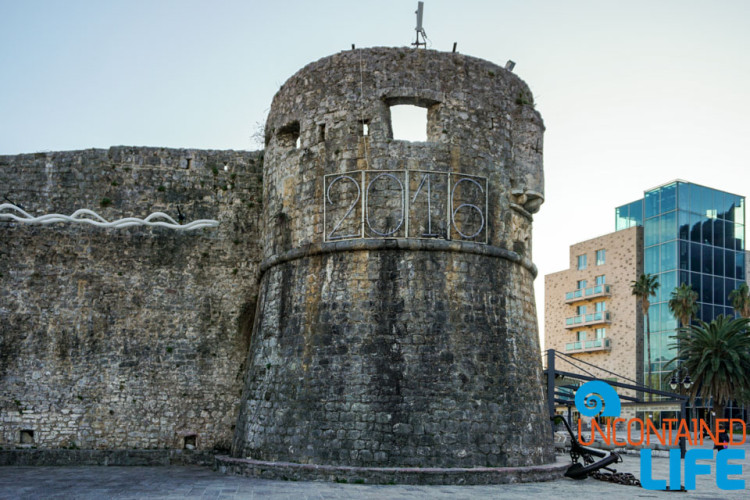 Up close, the walls of Old Town Budva were even more of an impressive sight. Like its more famous counterpart, Kotor, Budva's Old Town was primarily built during Venetian rule, and its various aspects–including towers, embrasures, fortified city gates and a citadel–are very typical of coastal walled cities of the medieval period.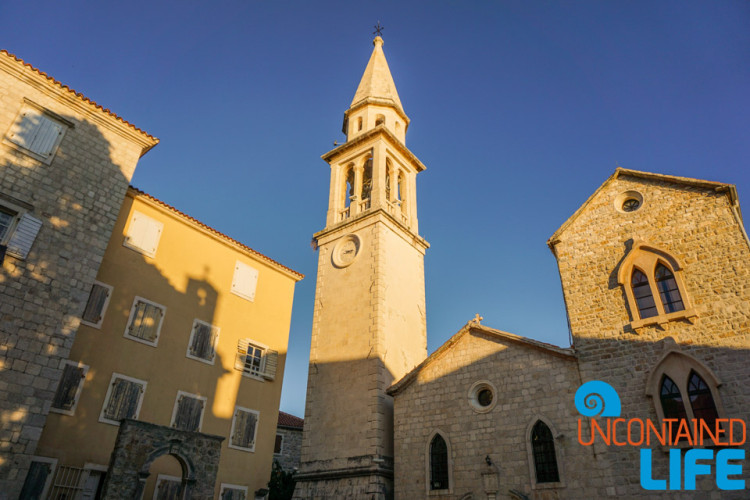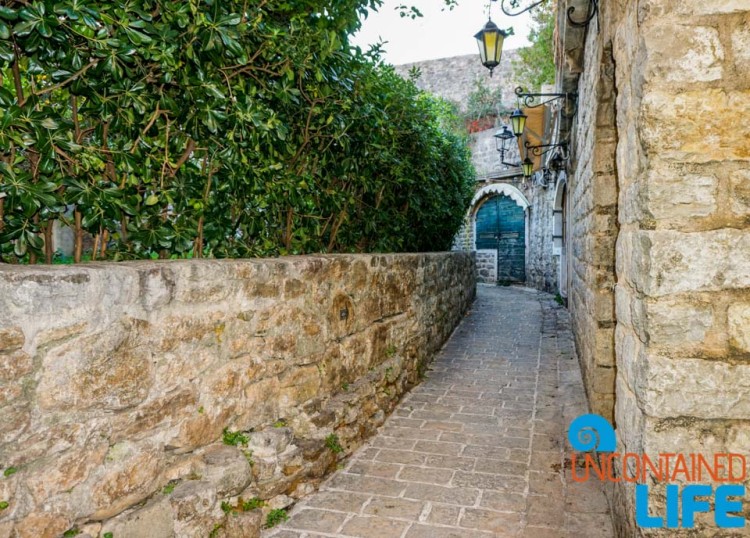 Wow! It was uncanny. Walking in through the main city gate, Porta di Terra Ferma, was like stepping back in time. And where were all the people? The piazzas were all but deserted. It felt like we were discovering some sort of ghost town. Only it wasn't eery…it was glowing with golden light.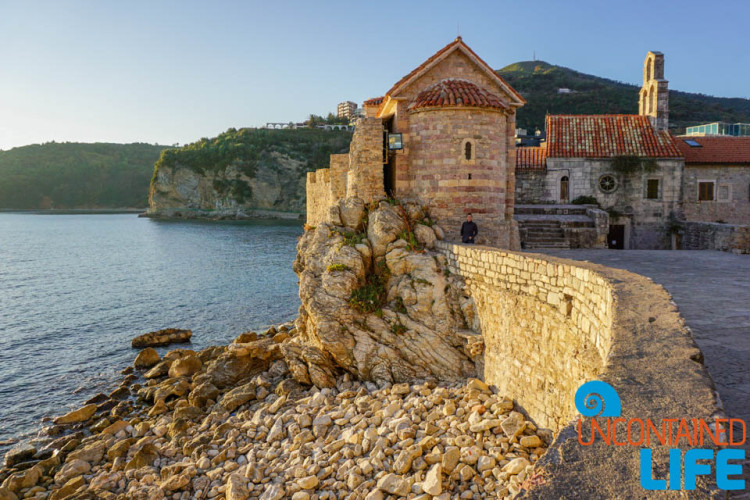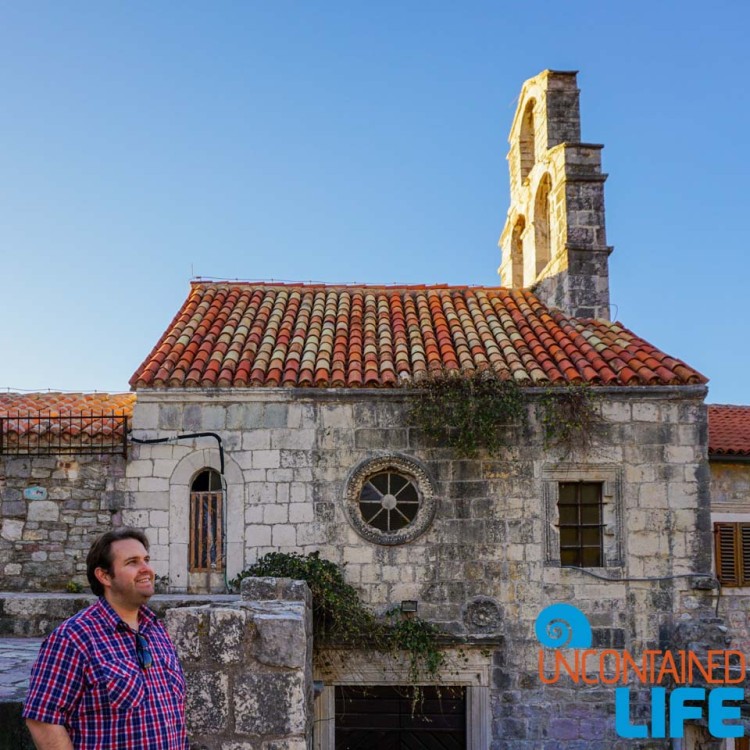 As the sun started to set, however, the narrow streets began to darken, and it got a little cold.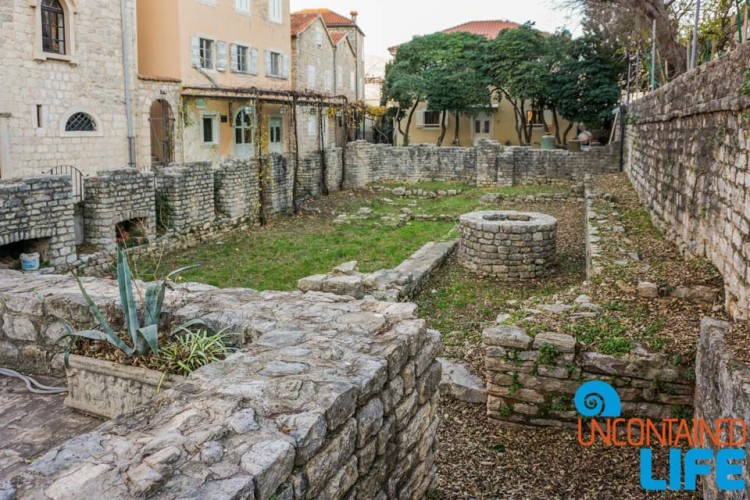 We decided to chase the light and head for the highest point in Old Town Budva–the citadel.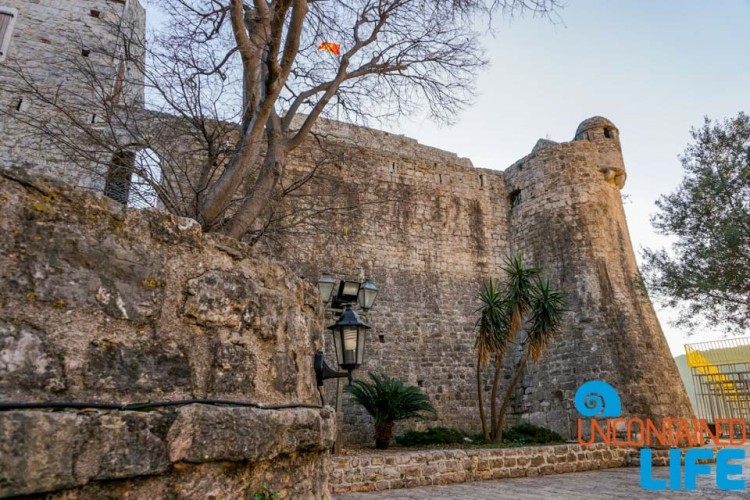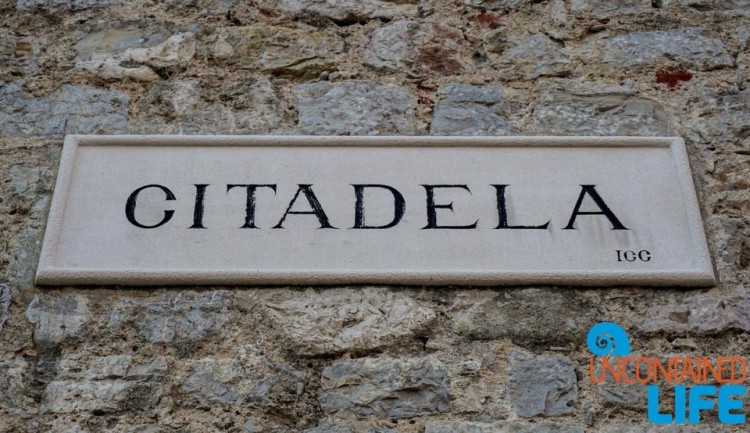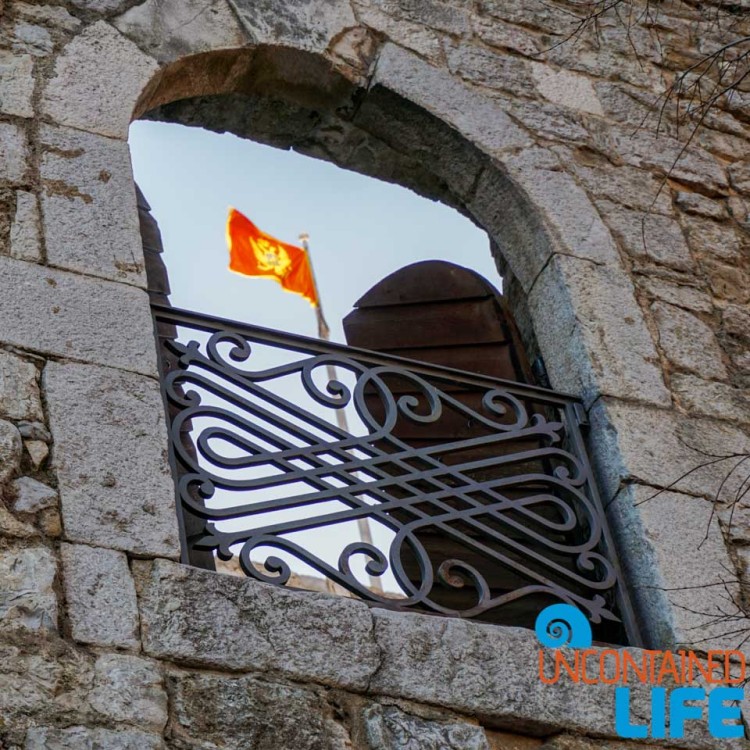 The citadel was originally known as Castle of St Mary (named after the Santa Maria de Castello church, whose ruins are located within the citadel). While the citadel-fortress existed for centuries prior, many of its present day features were finalized during the period of Austro-Hungarian rule, including the stone barracks.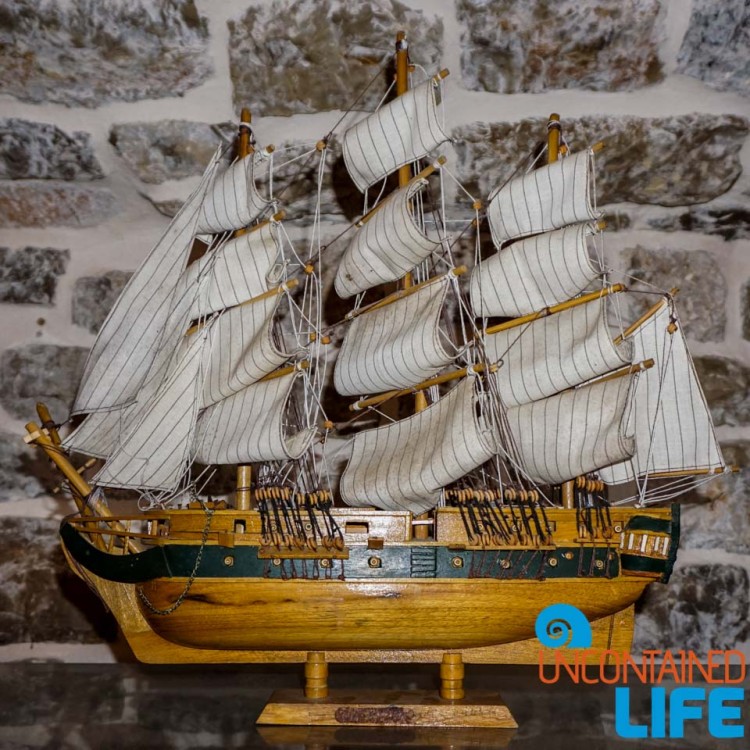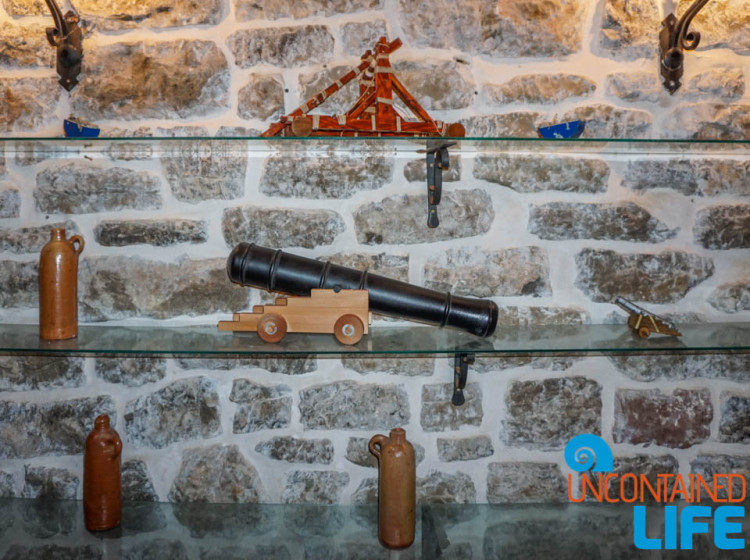 We paid a small entrance fee (3 euros), and, after a brief stop at a kind-of-not-as-advertised "ship museum" (which was just doll-sized models of ships and cannons), we made our way up to the citadel wall.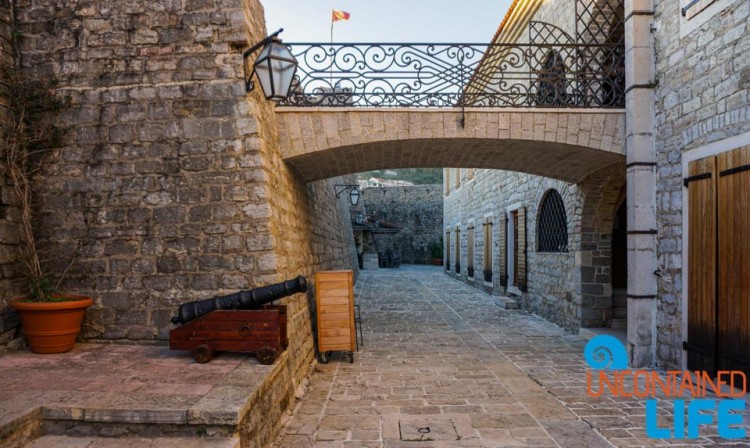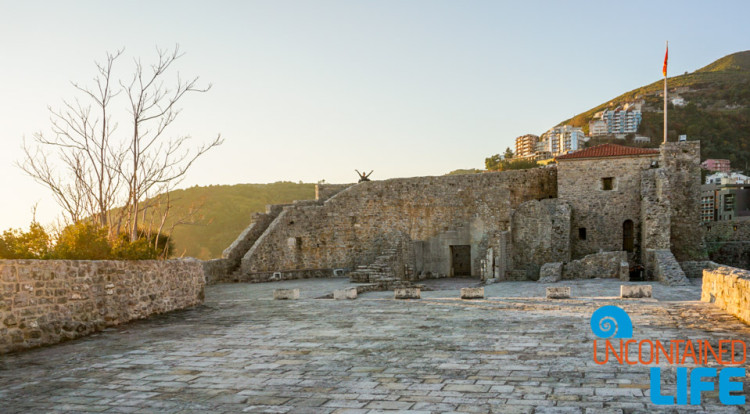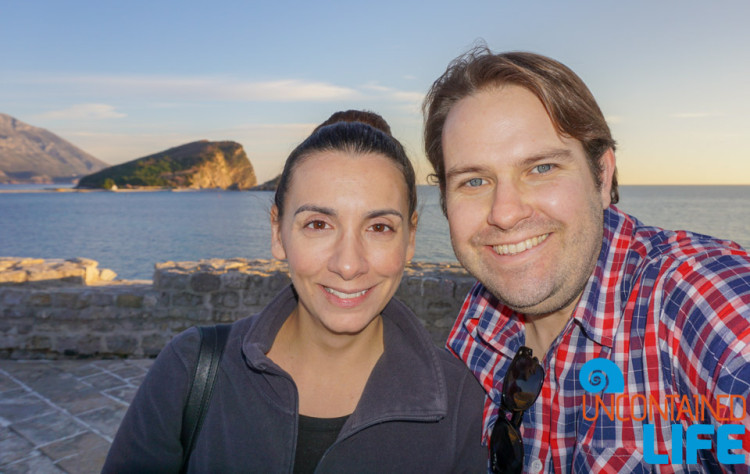 Now, this is what we'd been hoping for!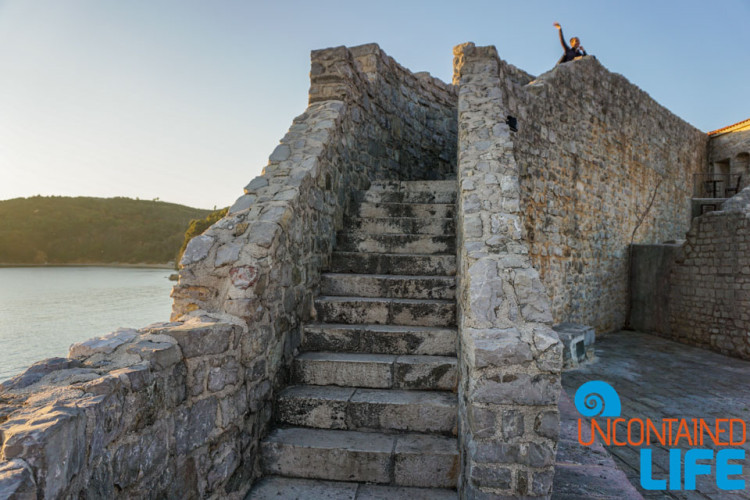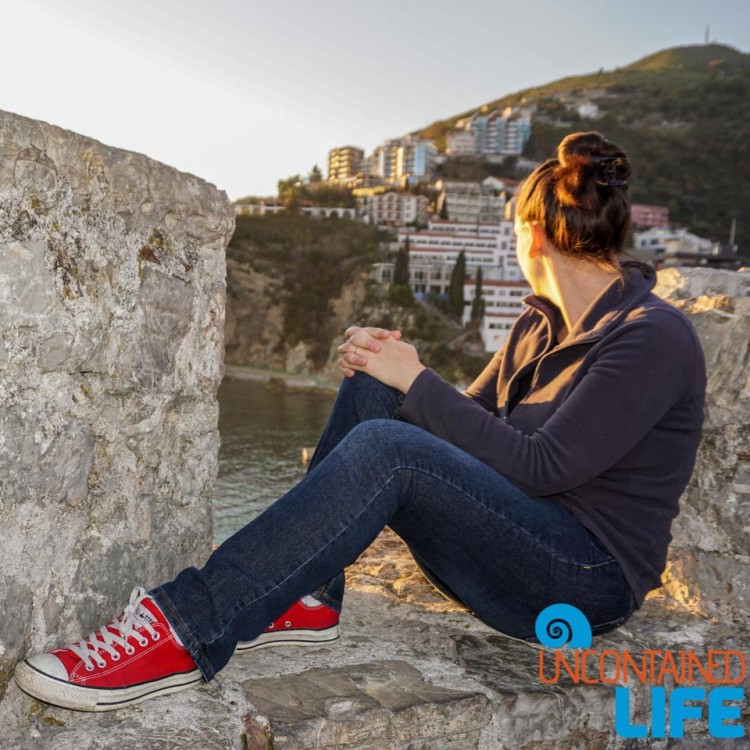 Peace and beauty–just what the doctor ordered.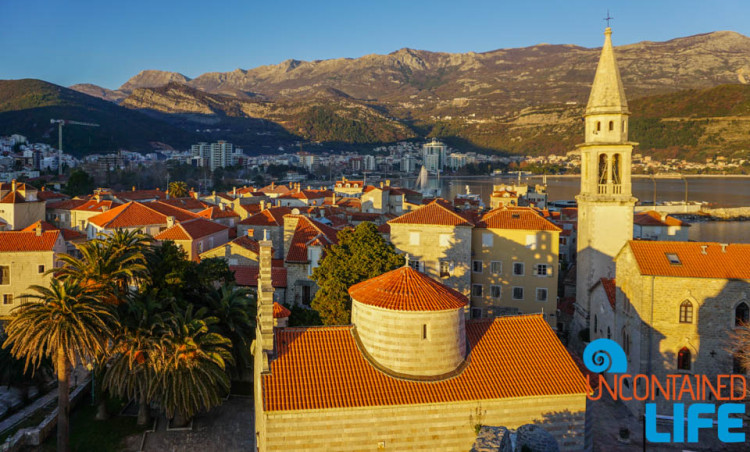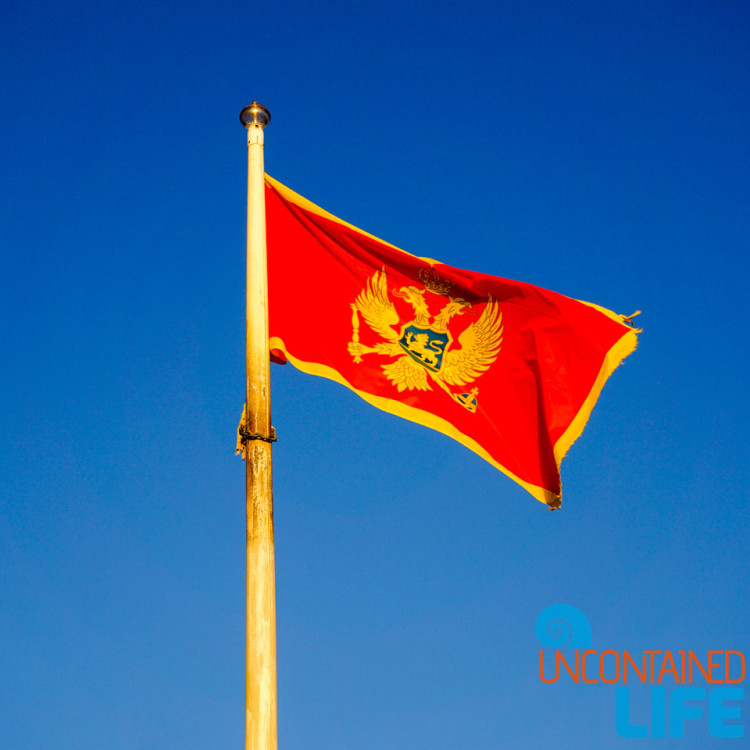 We not only had a vantage of the Old Town, but beautiful views of the coast, the off-shore island, St. Nikola, and the clear blue waters of the Mediterranean Sea.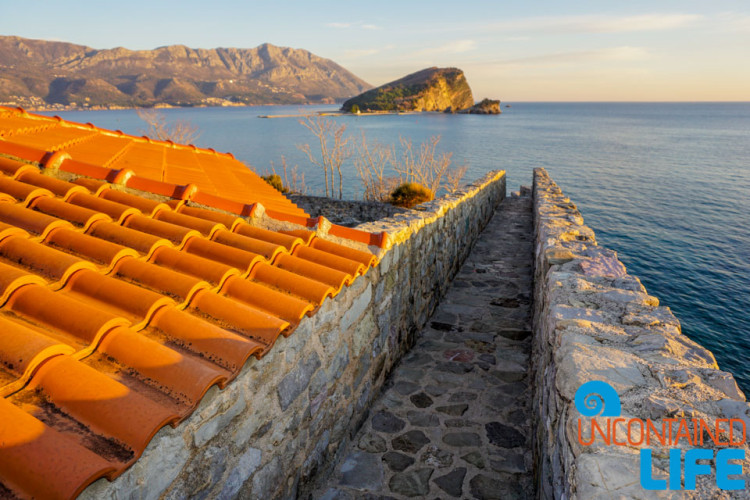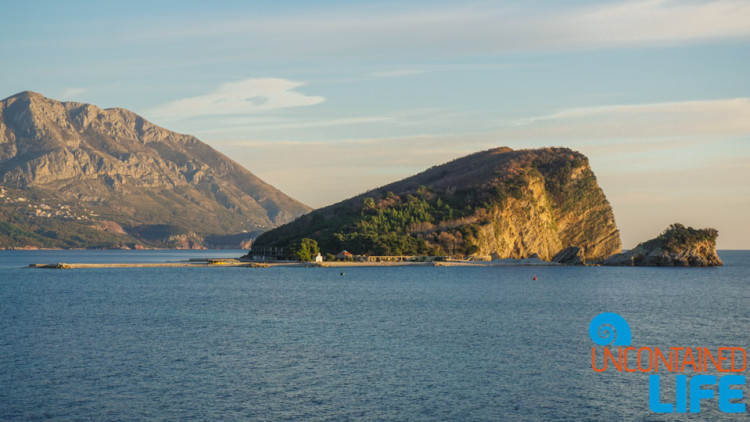 After taking some time to enjoy the public square just north of the citadel–which is home to St. Ivan church (17th century), Santa Maria in Punta (840 AD), and The Holy Trinity church (1804)–we wandered back through the old streets and reentered modern life.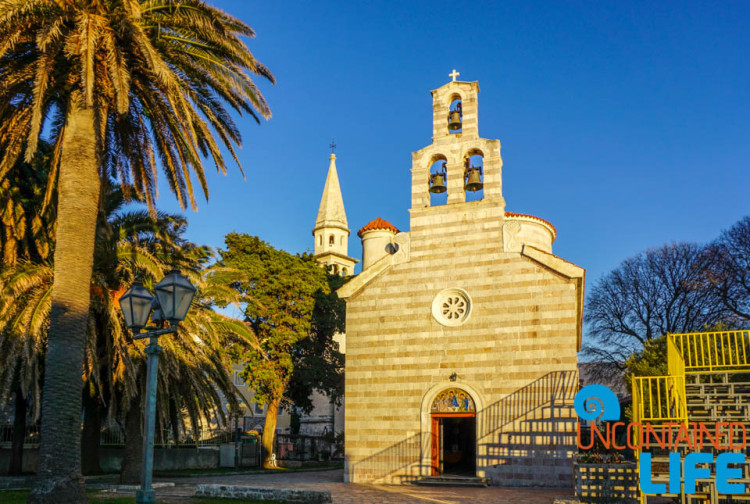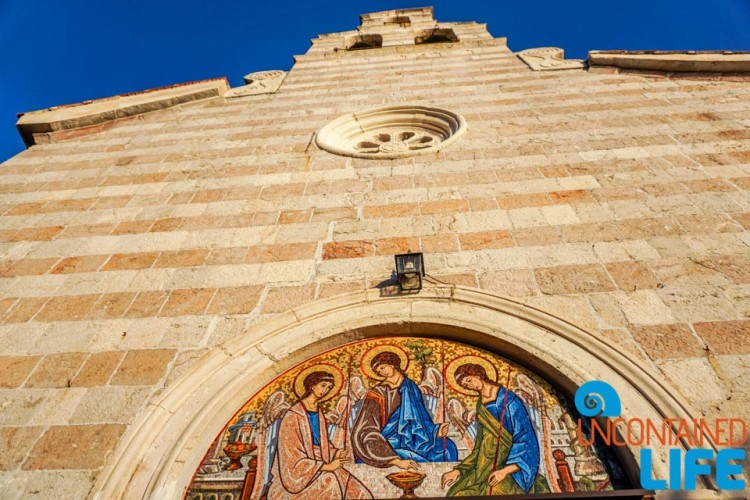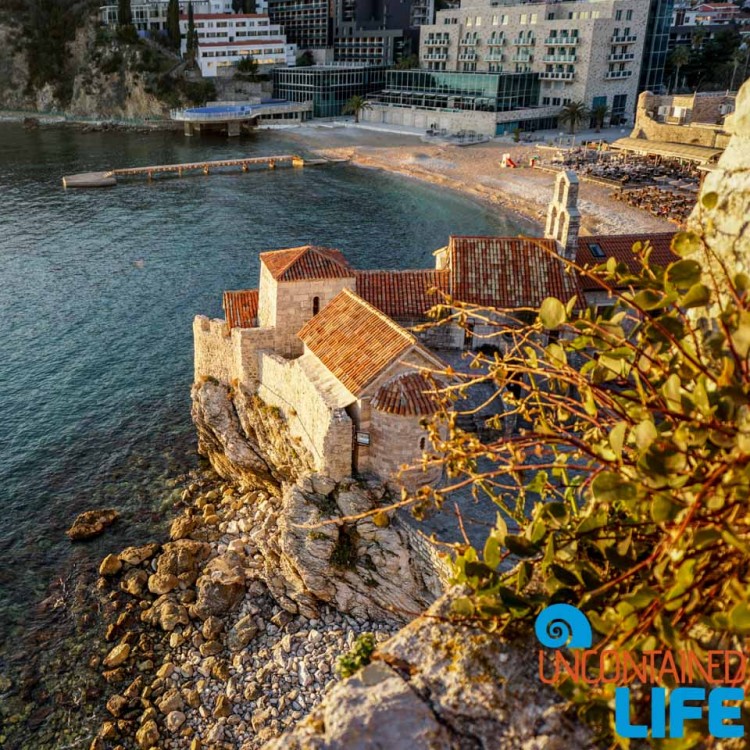 Needless to say, I never thought I'd regain my calm and holiday cheer in bustling Budva, but that's the way things go when you're on the road. Sometimes fate will step in, and peace will be found in an unexpected spot far from the madding crowd.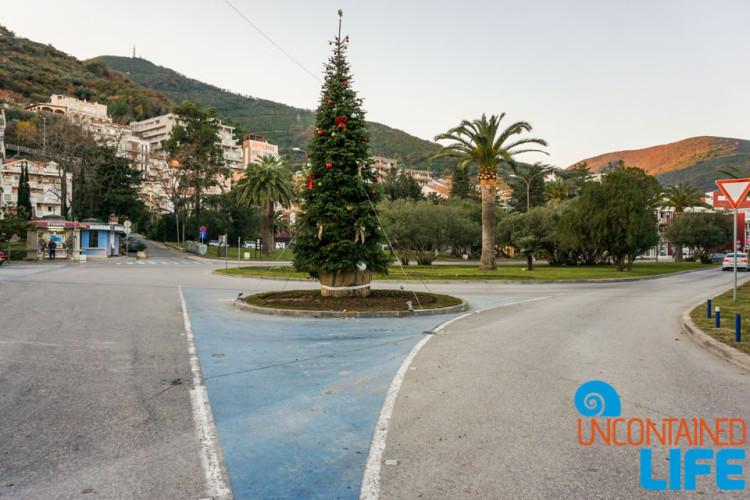 All photographs were taken with the Sony A6000—a lightweight, mirrorless camera that captures great images even in low-light conditions.  You can find out more about the gear we carry when we travel HERE.
Are you on Pinterest? Pin this post!