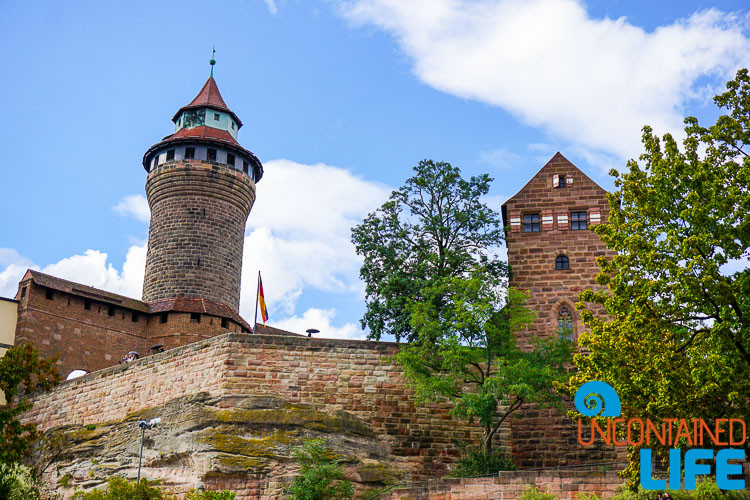 Ah, Nuremberg. The ultimate Franconian city. Famous for its gorgeous medieval architecture and Christkindlesmarkt (Christmas market)…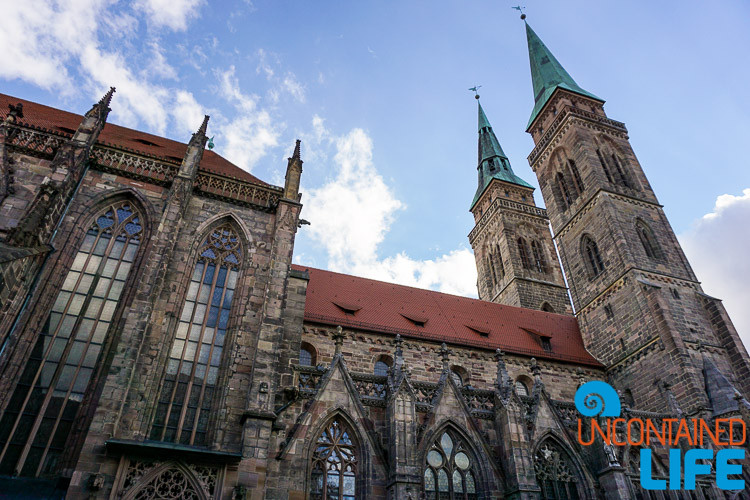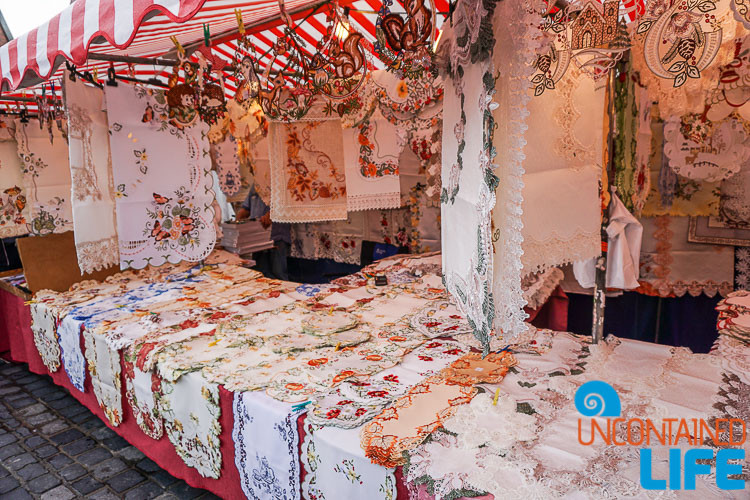 …infamous for the the"Nuremberg Laws" and Nazi Party Nuremberg Rallies of the 1930's. (Ever seen Triumph of Will? Chilling.)
Justin and I arrived ready to sightsee the you-know-what out of Nuremberg during our short visit. And while we did get to see some of this lovely city, our overall plan to hit up all the major sites didn't quite work out, because…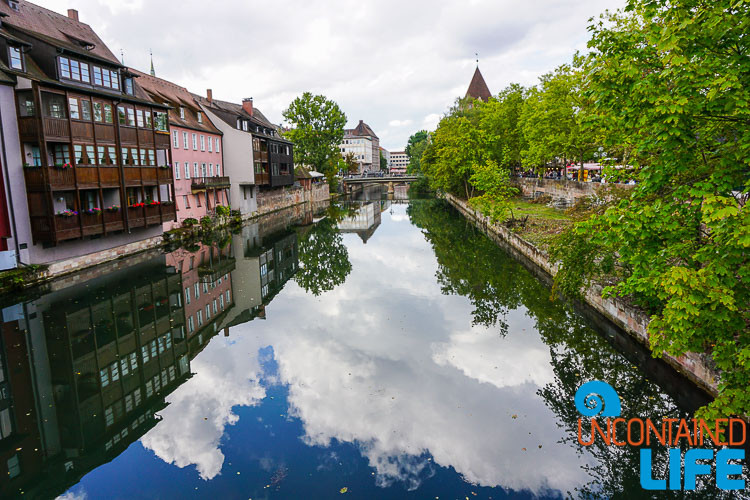 ..well…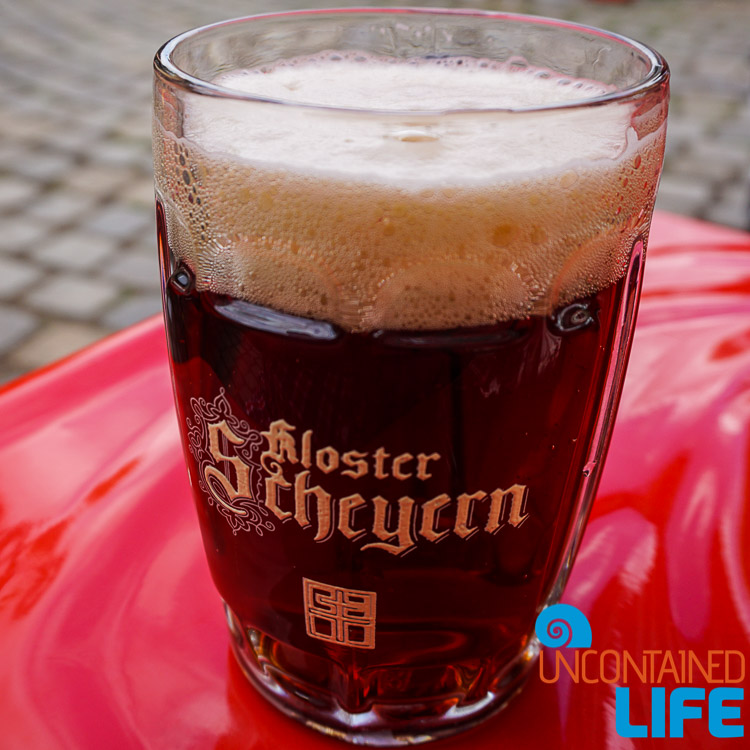 …beer. And wine. And Nürnberger Bratwurst and onion tart, and crazy-pants- amazing roasted chicken.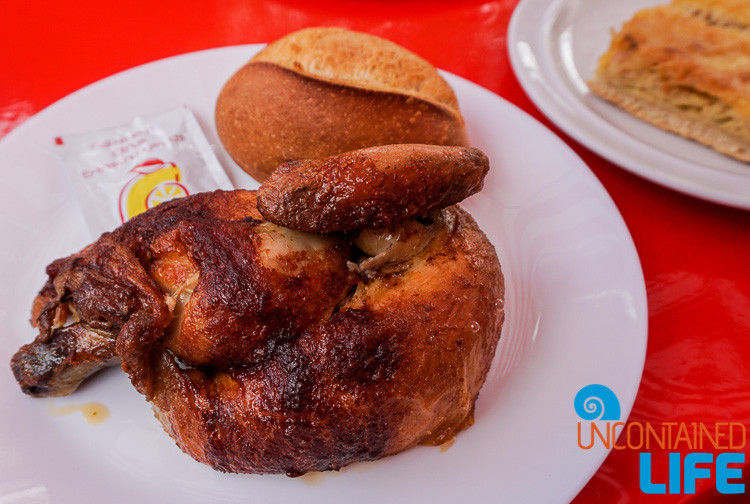 Maybe I'd better start at the beginning.
Ok. I think we can all agree, if you ask your average non-under-rock-dwelling American if they've ever heard of Oktoberfest, you're likely to get an affirmative response. BUT, ask those same people if they can name some of the other beer/harvest festivals that occur all over Germany in the months of September and October and I'd be willing to bet most would draw a blank.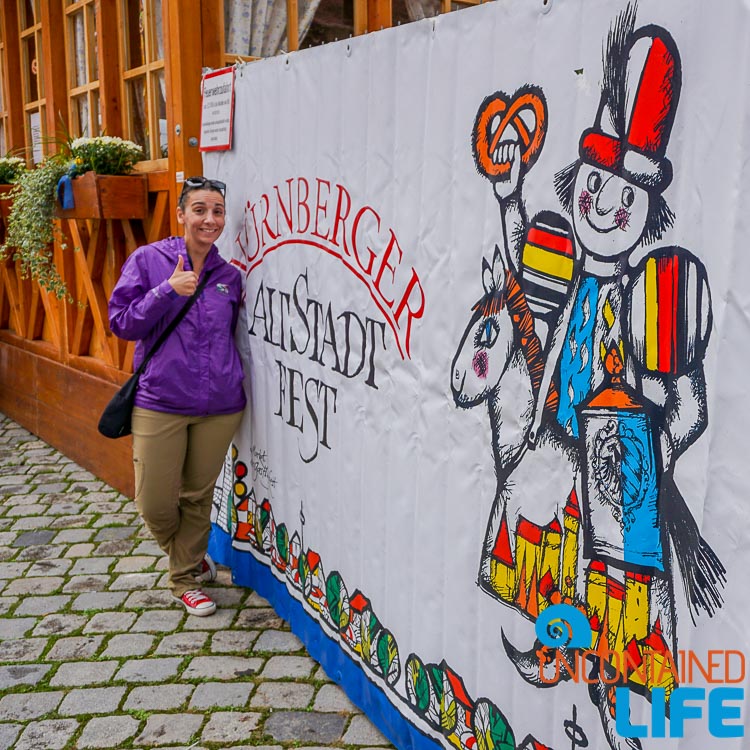 Which probably helps explains why Justin and I were completely unaware that we were visiting Nuremberg during the opening weekend of the city's annual Altstadtfest (Old Town Festival)—a two week festival (which will be running Sept.15-26 in 2016) celebrating local traditions, food, and, of course, the best beer and newly-pressed wine the Franconia region has to offer. Needless to say, this festival disrupts key parts of the Old City's normal goings on…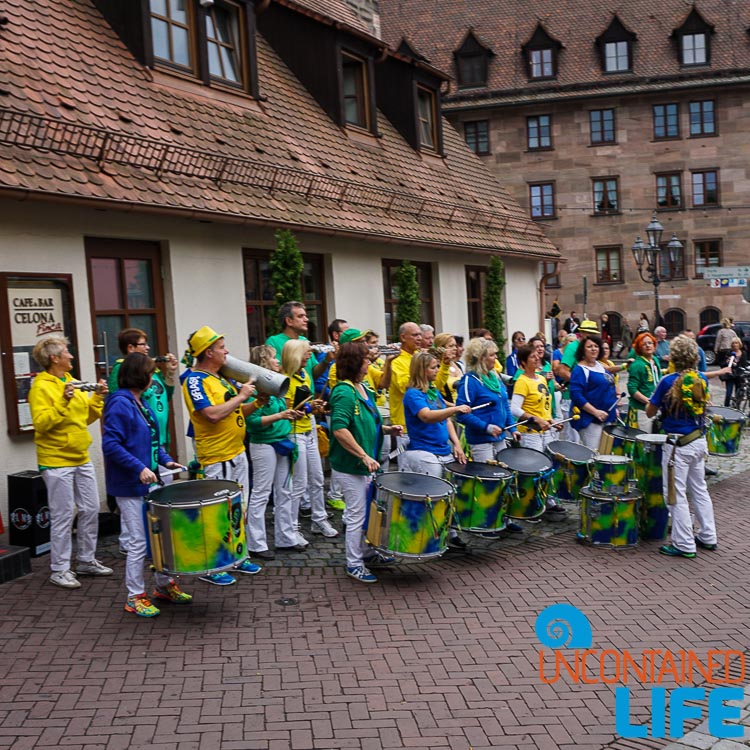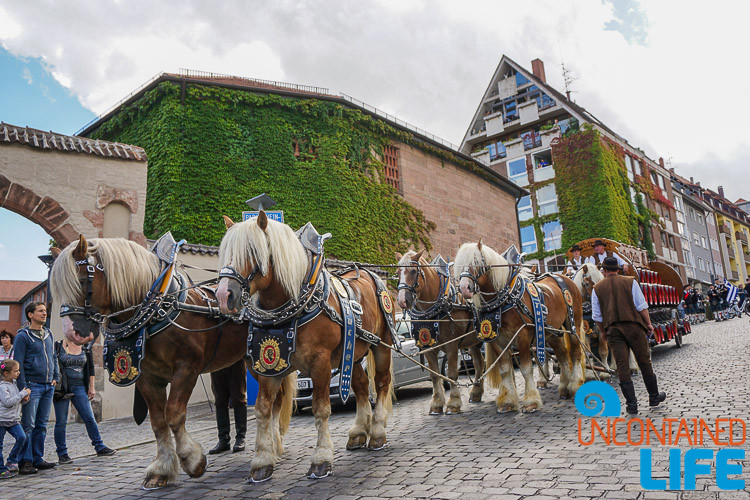 but part of being a good travel blogger (or traveler, period) is rolling with these punches (particularly when they come in a frosty mug). It was clearly our duty to embrace this cultural experience to the fullest!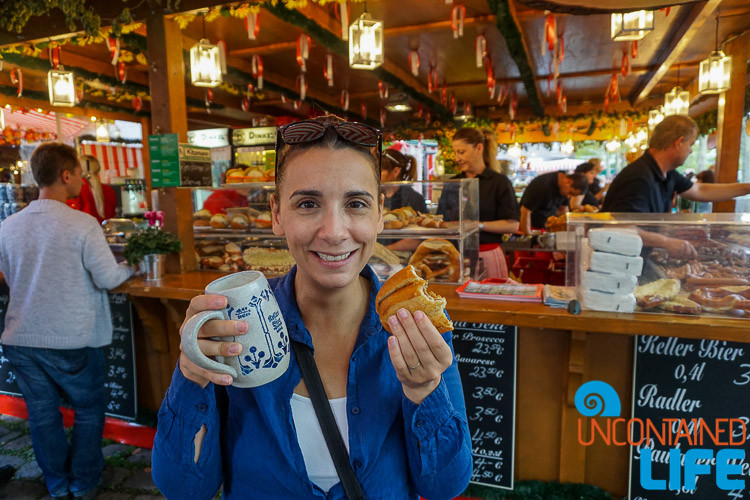 And so, our experience in Old Town Nuremberg during Altstadtfest began! As is the case with Oktoberfest down south, Nuremberg's Altstadtfest marks its first Saturday with a costumed parade, which winds through the city streets, ending at the festival grounds.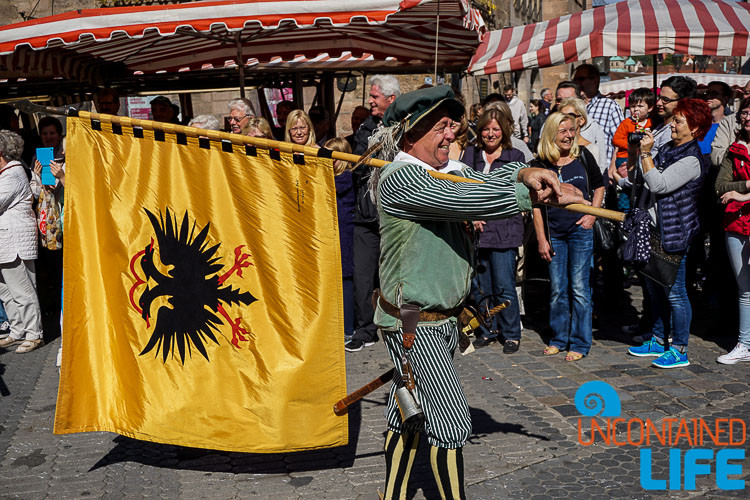 While the parade can be seen anywhere along the route (in yellow) in the picture below, one of the best spots to watch is in front of St. Lawrence Church (which appears in the exact center of the map below) which is situated across from the Nassauer House: Nuremberg's only preserved medieval tower house, built sometime during the 12th or 13th century.
Originally constructed in the mid-13th century (with additions in the 15th), St. Lawrence Church was badly damaged in WWII, but was restored to its former Gothic glory in the post-war era.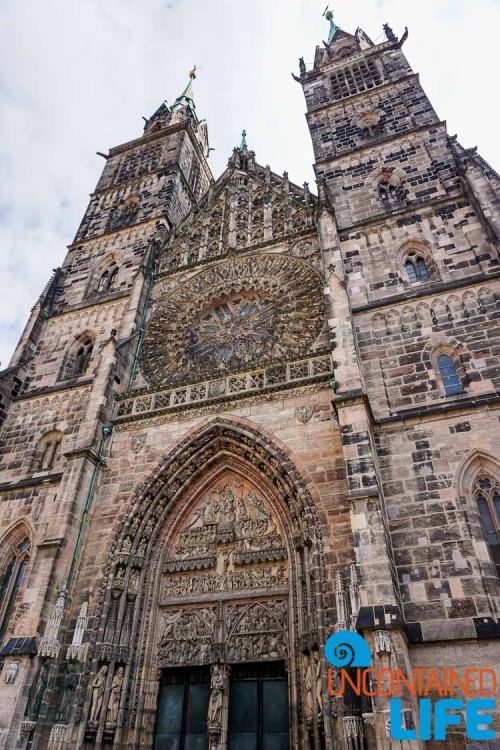 If you're traveling by public transportation to the church, metro stop Lorenzkirche (off of the U1) will get you closest. Once you exit the metro, you can enjoy a short walk through the farmer's market up to the church, where the parade will pass by around 12pm.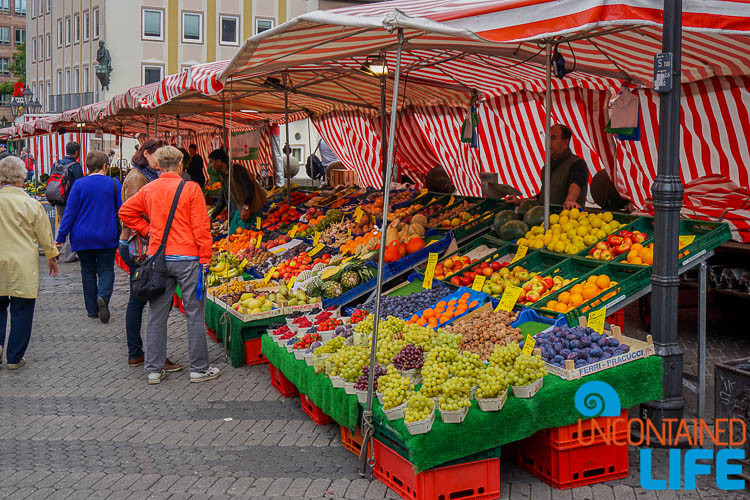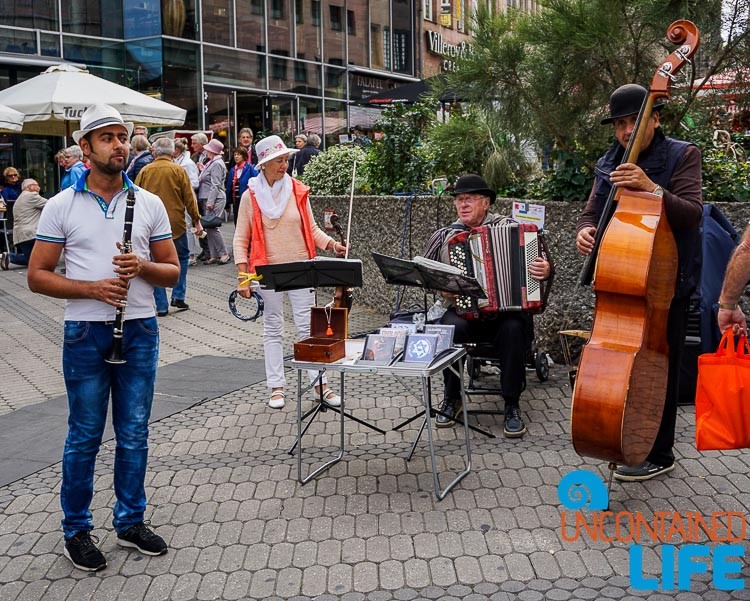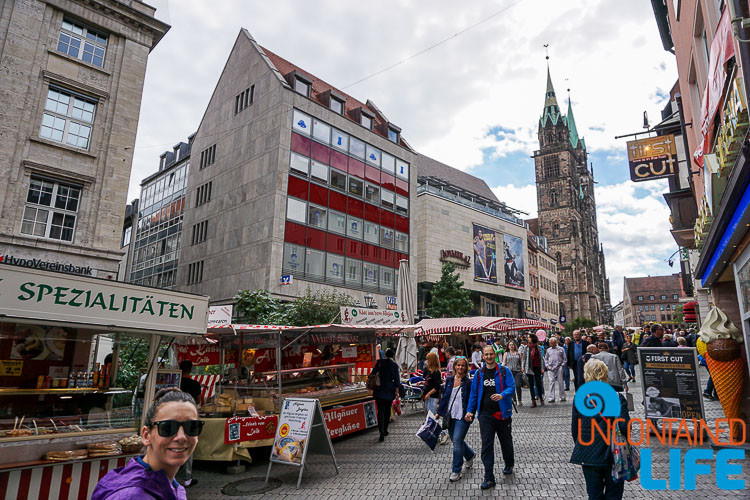 Unlike similar situations in the USA, we found that the holiday-makers in Nuremberg didn't really stand around saving spots along the route in preparation for the parade's arrival. Instead, people shopped, ate, and otherwise wandered around until the first strains of music could be heard, and only then did the lines start to form.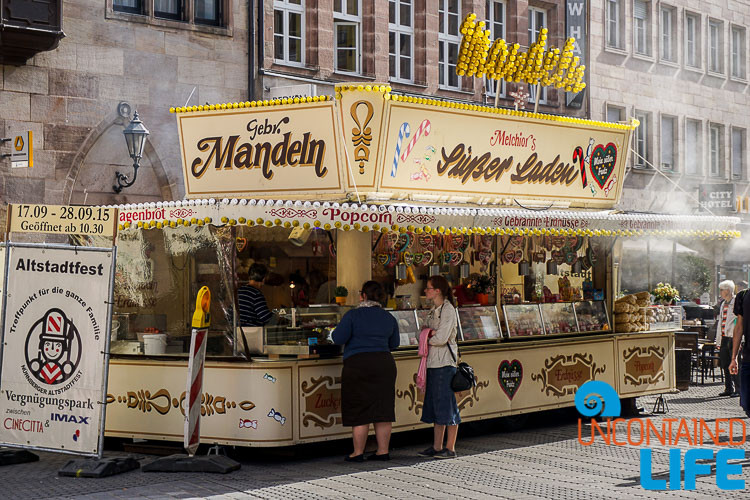 As for the parade itself, while it certainly featured plenty of traditional Bavarian garb, music and horse-drawn beer carts…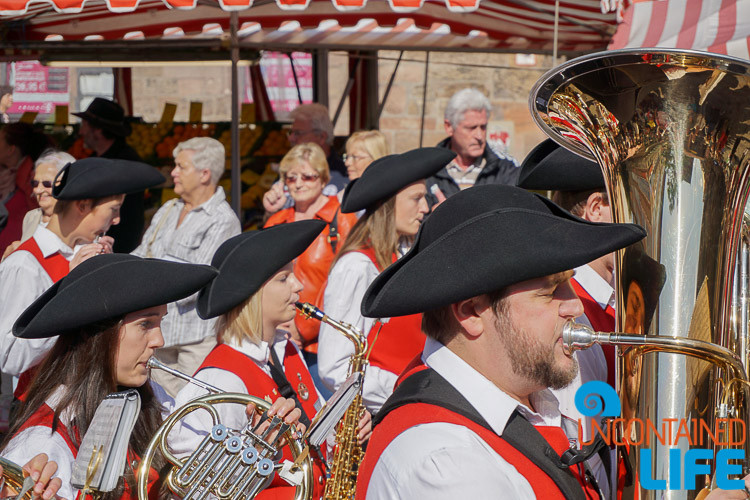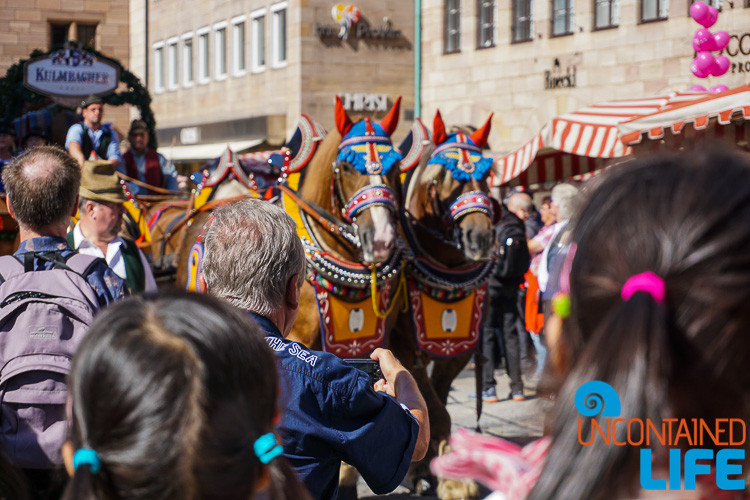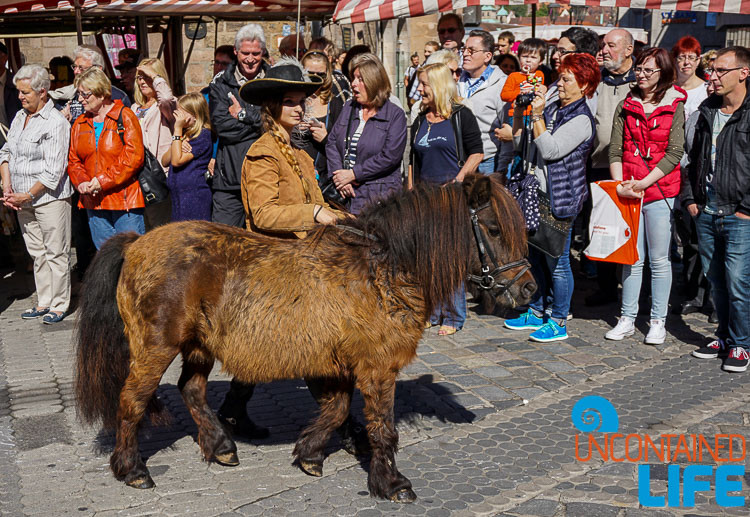 …not to mention, flag-throwers and whip-crackers…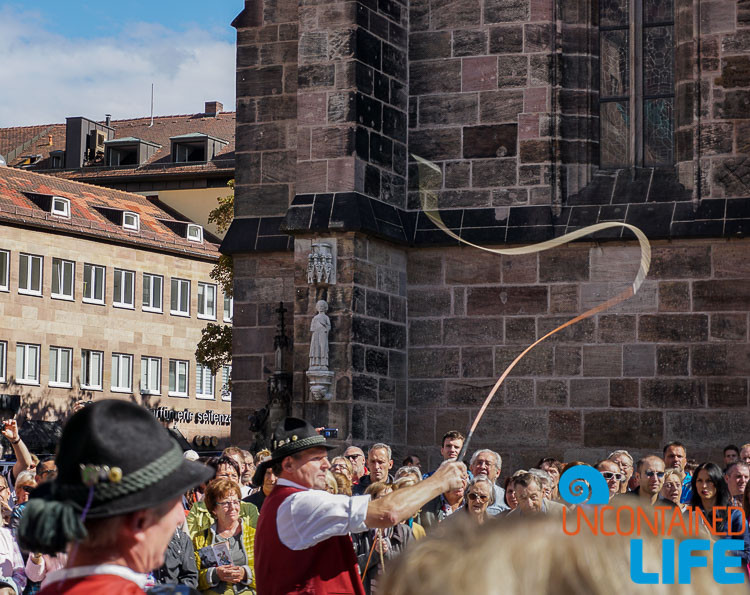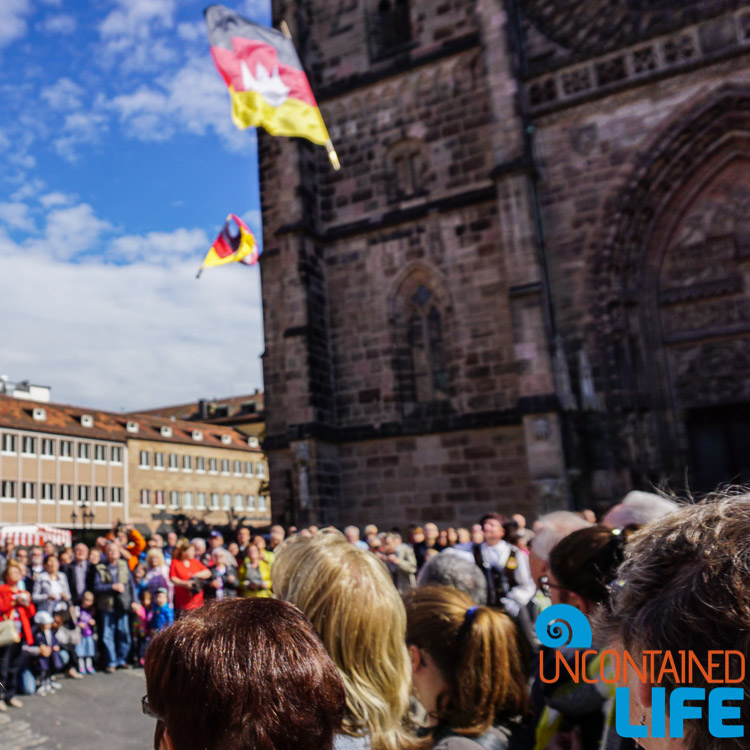 …it also celebrated the various heritages of the city's non-Germanic inhabitants like the Scotts, the Turks and the…pirates?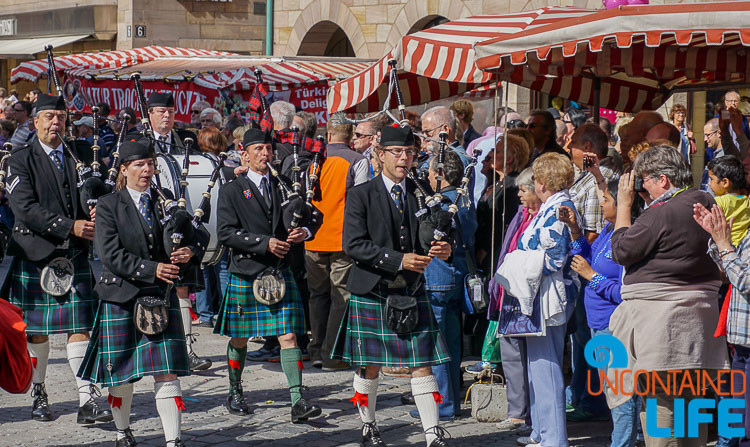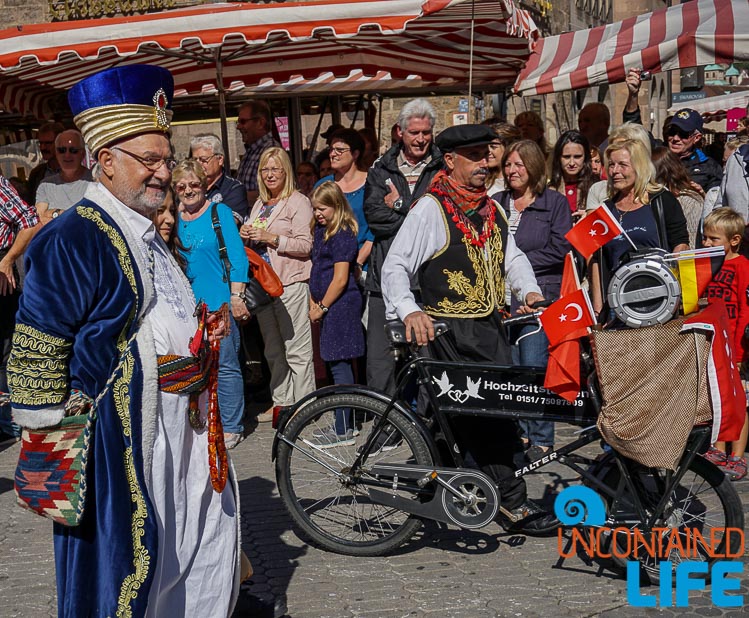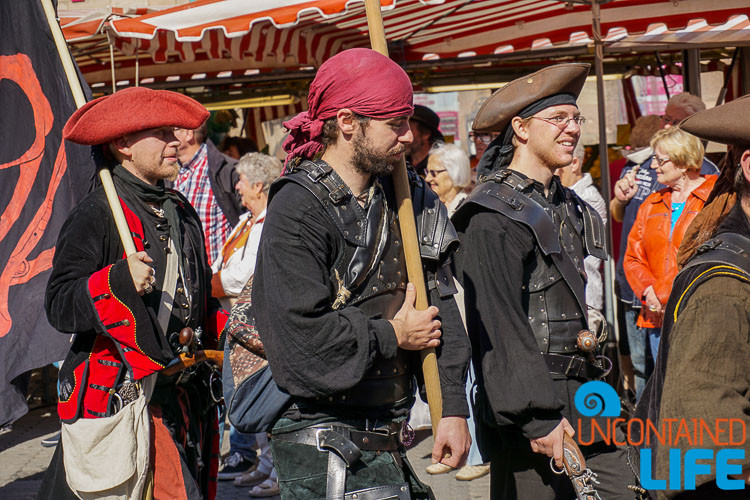 After following the parade to the festival grounds, it was time for the real business of the Altstadtfest to commence. Bring on the food!
A big part of the fun of traveling through Germany is getting to try the different sausages that each city or region specializes in producing. Unlike the big brats you'll find most often in America, the Nürnberger Bratwurst are small, slightly sweet sausages, typically served on a plate with sauerkraut (usually in groups of 6) or in a roll (usually in groups of 3).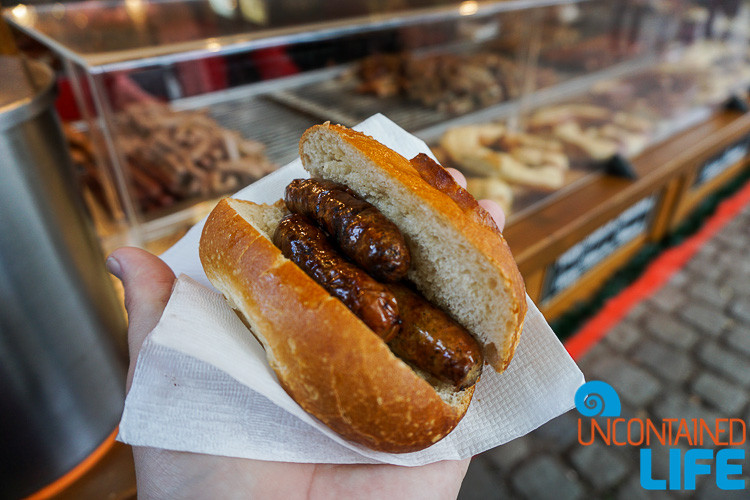 And while you must, of course, try the local brews at the Altstadtfest, you'd be remiss not to check out the other beverage of choice: the newly-pressed wine—which can be drunk alone or mixed with soda water (an extremely popular choice on hot days).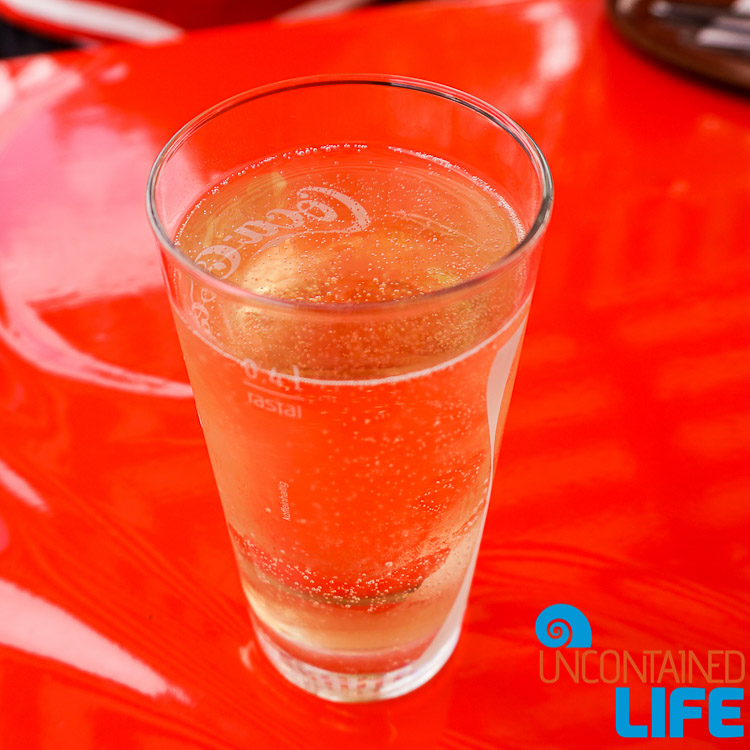 As for where to do your eating and drinking, there are plenty of take-away options, or you can choose a sit-down establishment (you'll find menus on the tables). If you choose to sit, bear in mind that many spots are pre-reserved (they should be marked as such). Of the non-reserved places to sit, remember that sharing tables is expected—so don't be surprised if someone you don't know sits down next to you. (Think of it as a chance to make some new friends!)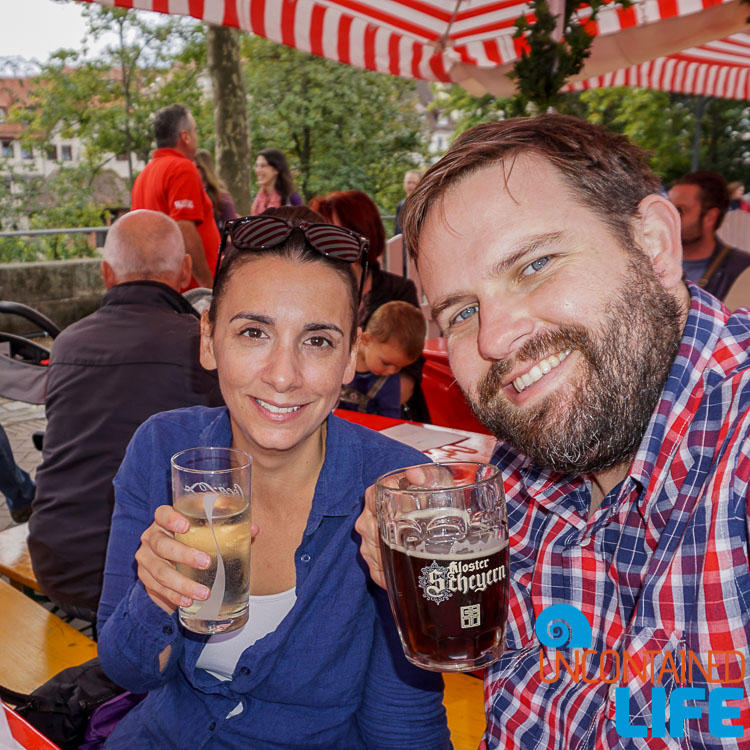 After our eats, Justin and I wandered over to the fishermen's joust on the River Pegnitz, near to the Heilig Geist Spital (a 14th century hospital which also housed the Imperial crown jewels from 1424-1796). Let me just say, even though I'd never heard of water jousting before the Altstadtfest, it is now, officially, one of my favorite forms of entertainment. I mean, how can you not love this madness??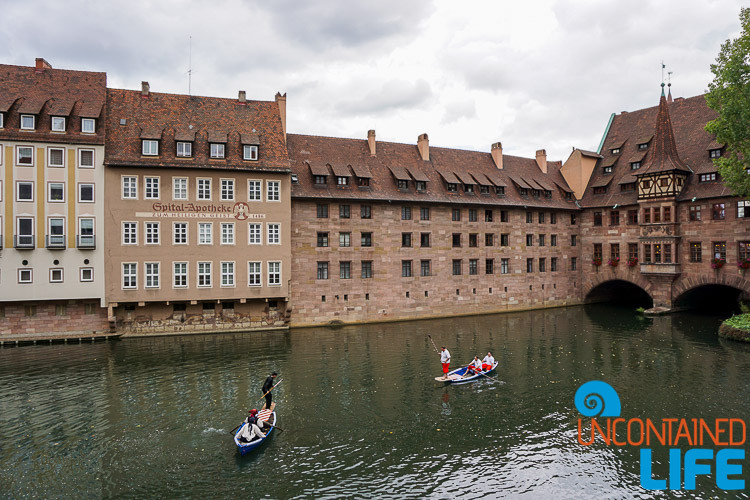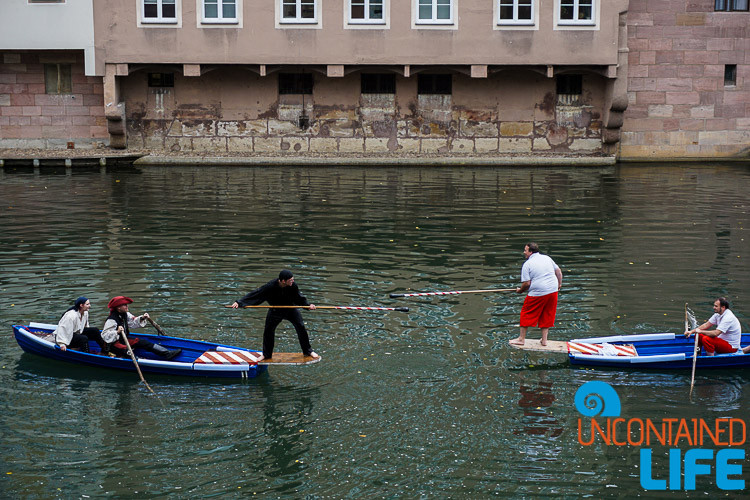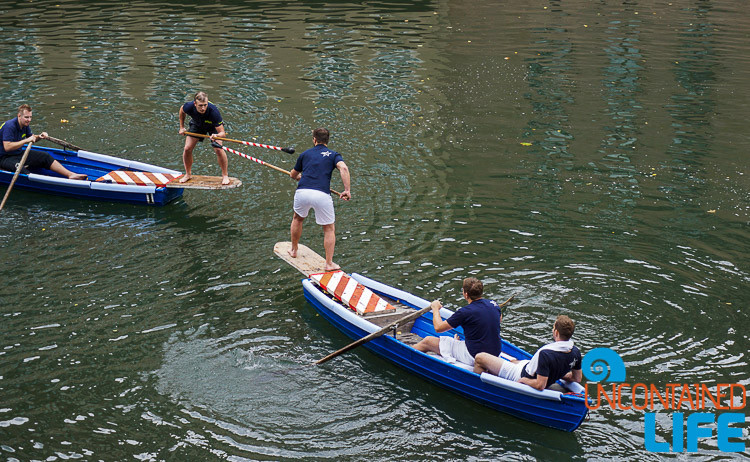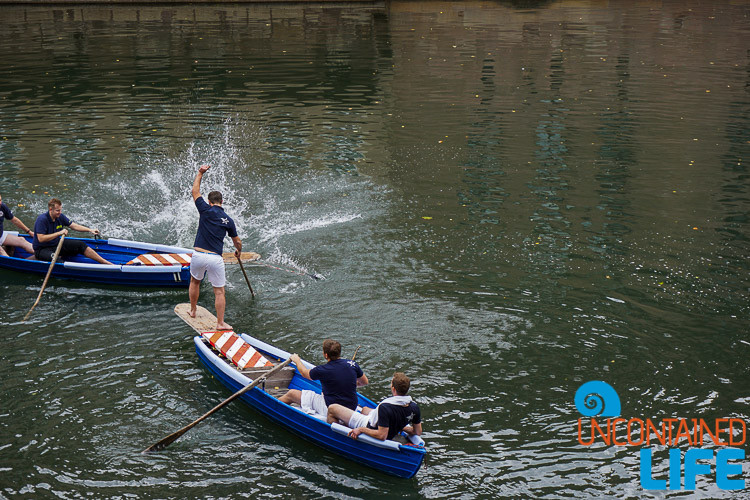 After watching several sets of brave souls fall in the river for our viewing pleasure, we wandered over to the main market square where the Autumn Market was going strong.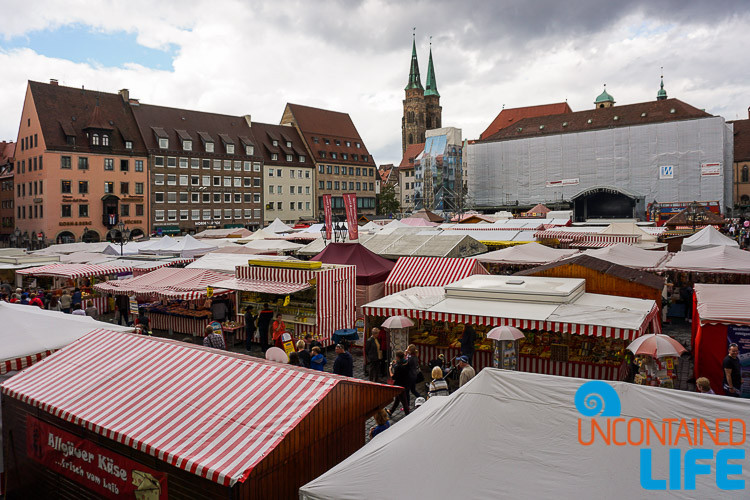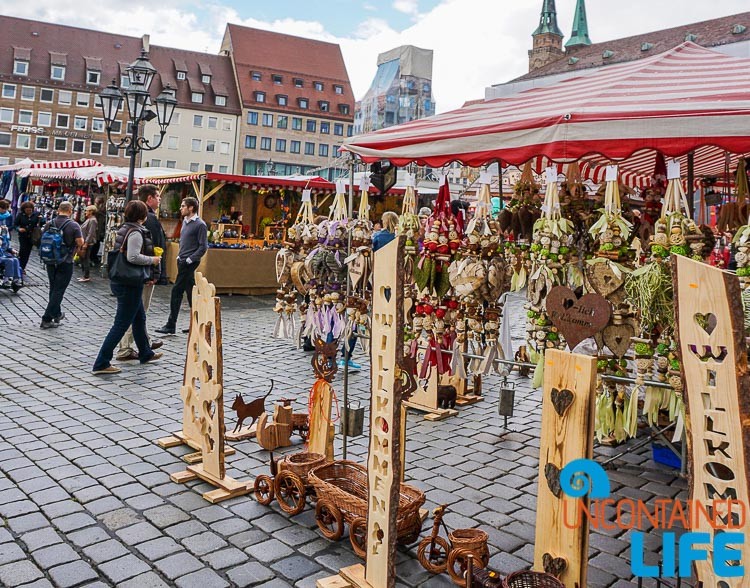 Because we (obviously) were weak with hunger by this point (it having been all of 30 minutes since our last snack) we scoped the market's various dessert options. It was kind of hard to choose…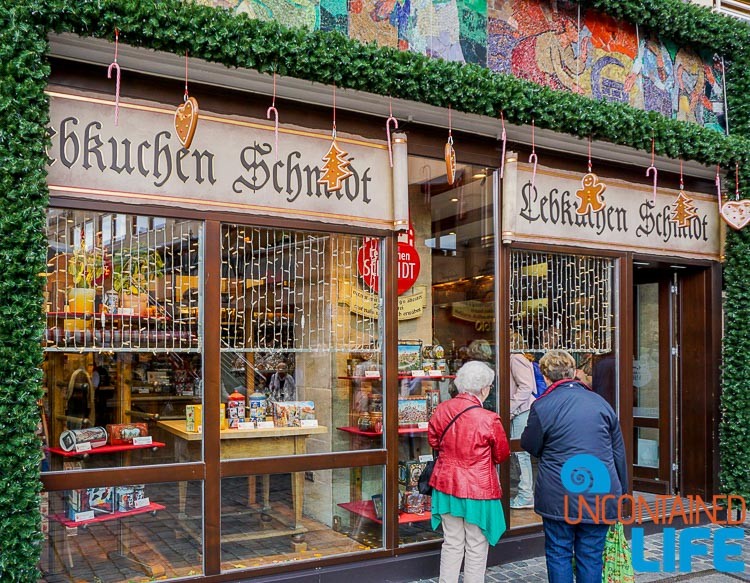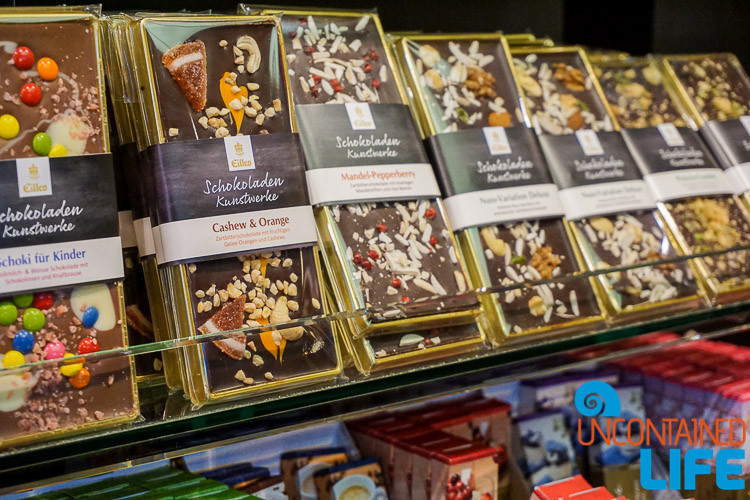 …but, ultimately, we decided on a some classic Nürnberger Lebkuchen (a special, nutty, heavily-spiced gingerbread produced only in Nuremberg)…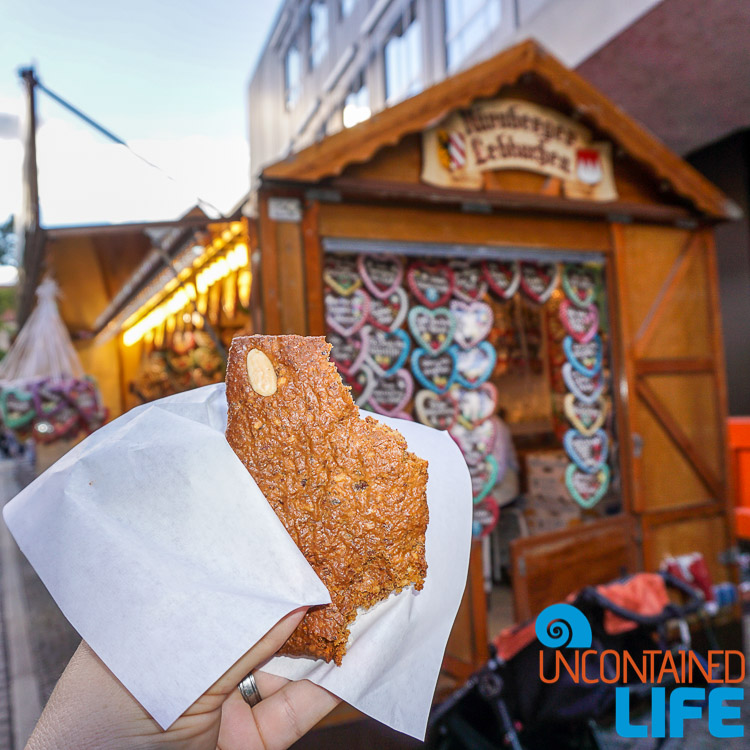 and a Hungarian pastry called baumstriezel (also known as kürtőskalács). We watched as the expert baker wrapped the yeasty raw dough around what looked like a half rolling pin, cover it in sugar and pop it into the oven to toast. Then, when the moment was right, the pastry was pulled out, coated in cinnamon-sugar, removed from the wooden roller and handed over, piping hot (and mouthwateringly delicious).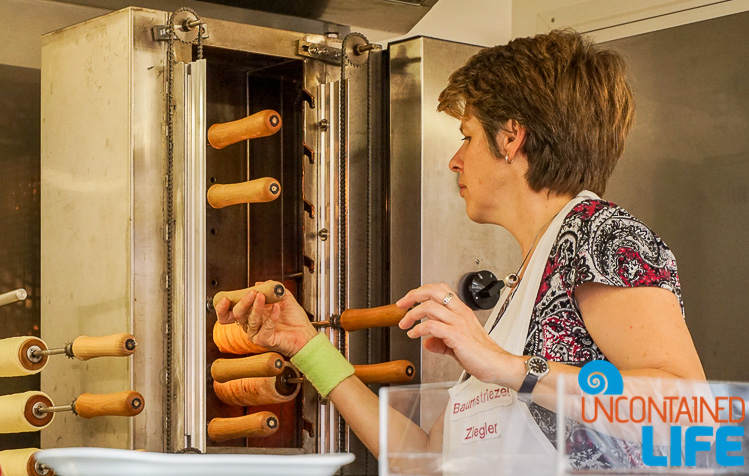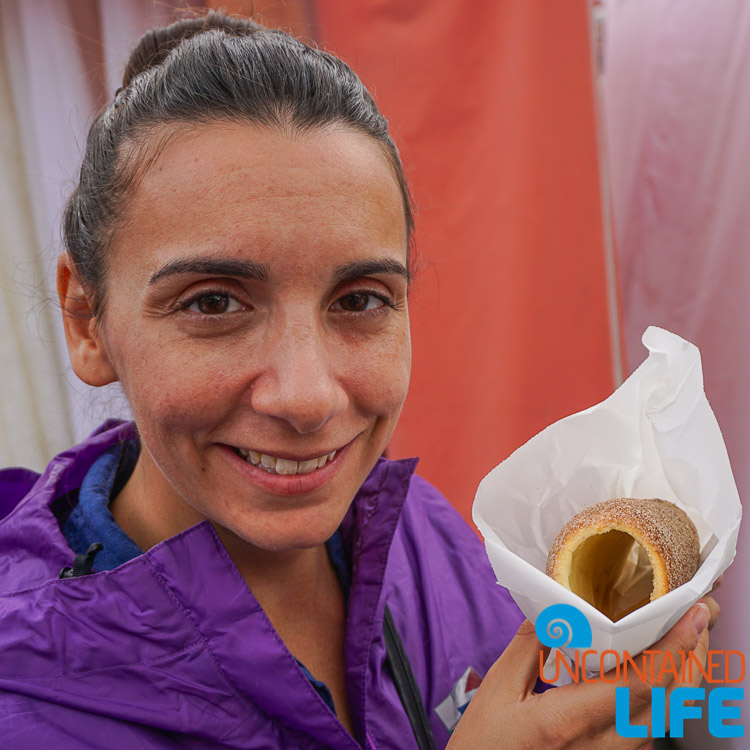 After these last indulgences and a failed attempt to visit the Schoener Brunnen (Beautiful Fountain), which was being refurbished, we decided to wander the rest of Old Town. We stepped into the famous Frauenkirche (Church of Our Lady)…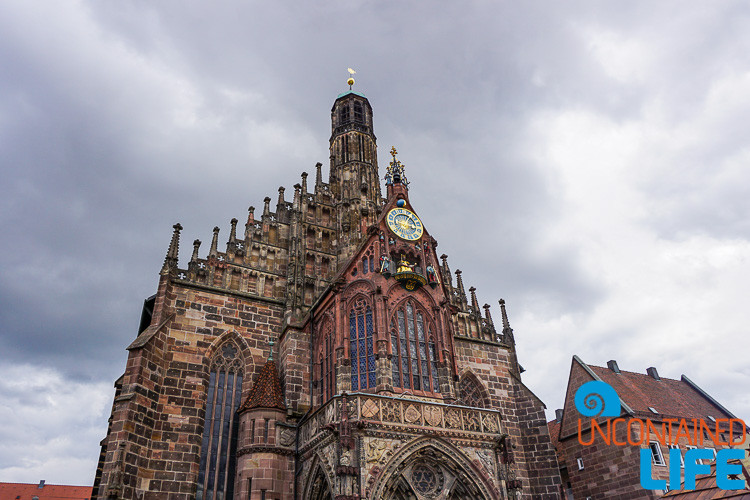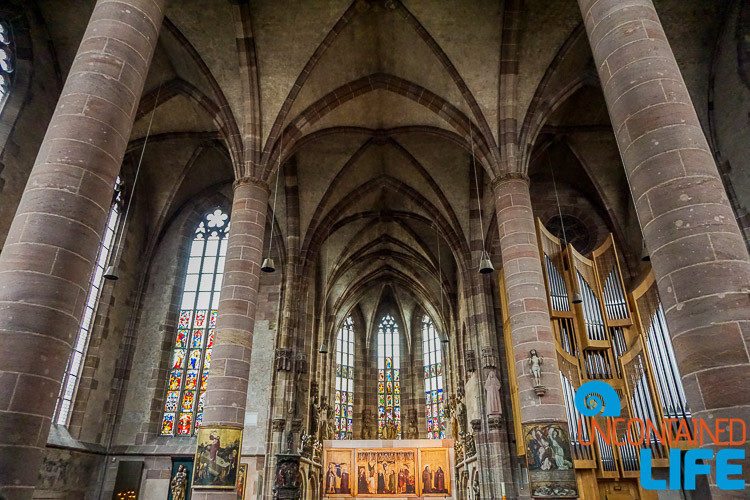 …met an adorable musical duo…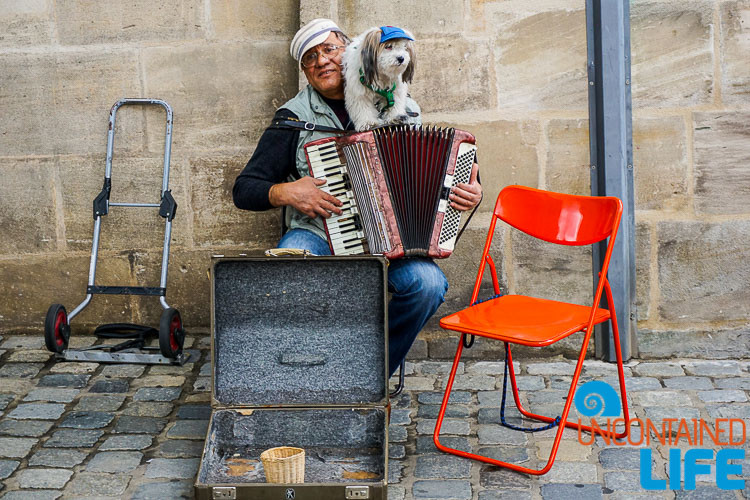 …passed behind St. Sebaldus Church…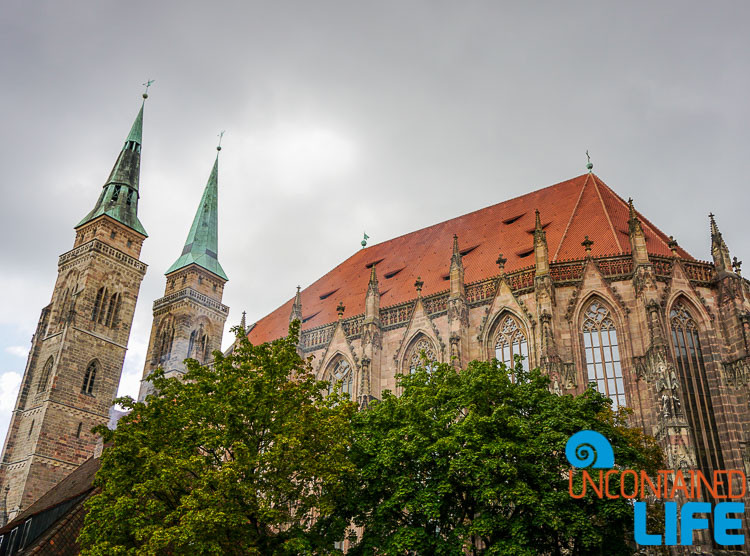 …and wandered up Burgstraße toward the castle, Kaiserburg (the city's most prominent landmark).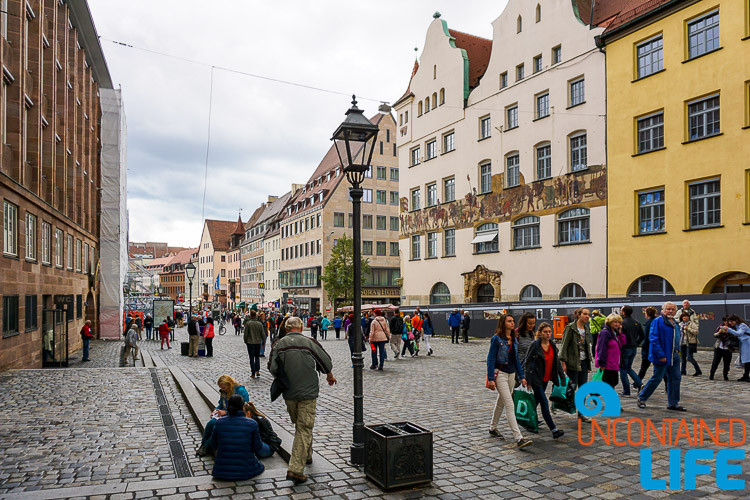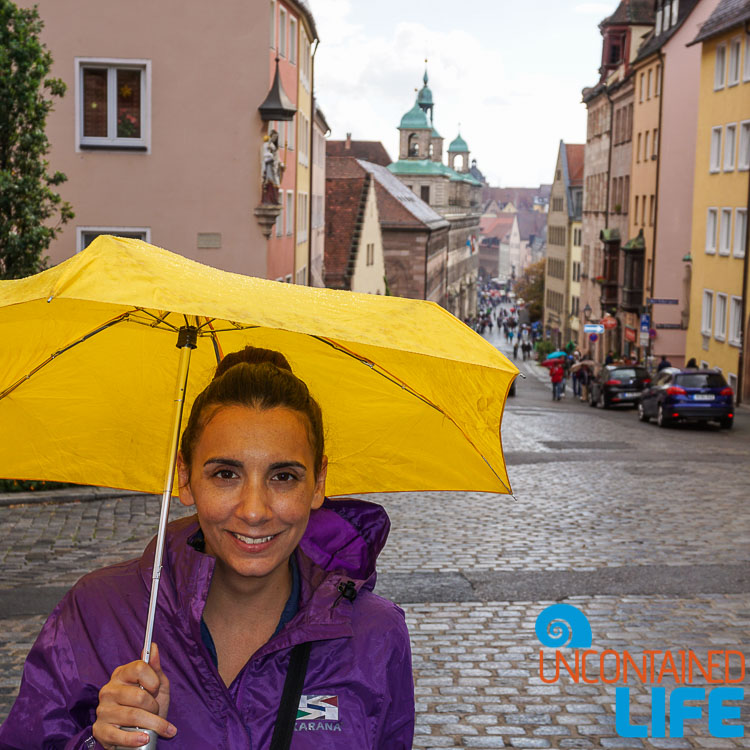 At the top of Burgstraße, we hooked left, walking toward the Albrecht Dürer House–a museum devoted to the life and art of the aforementioned Dürer.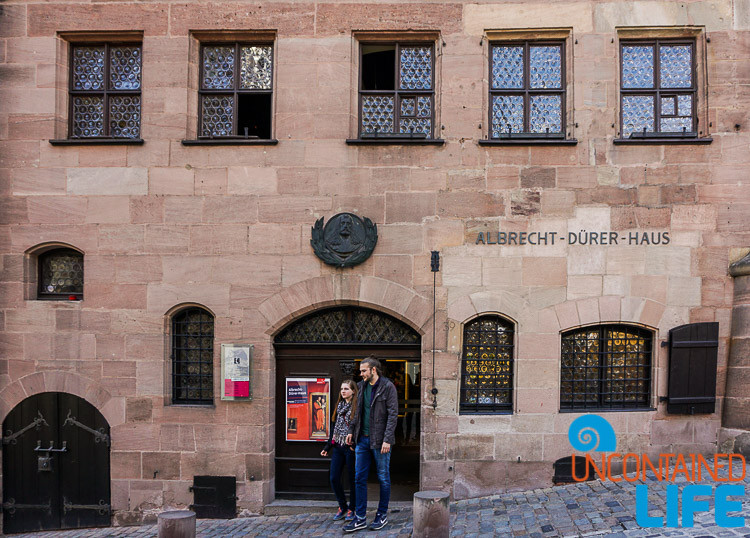 Even though we didn't, ultimately, decide to tour the museum, we couldn't miss the giant bronze statue by Jürgen Goertz said to be a satiric (and nightmarish) reimagining of Dürer's watercolor bunny, Der Feldhase.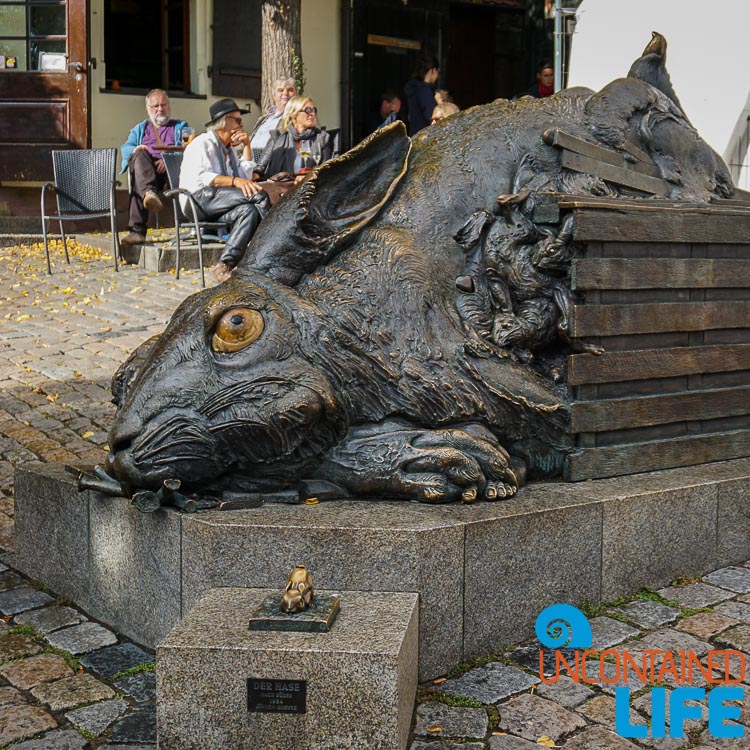 This area near the rabbit is a popular hangout spot for locals and tourists alike. It's also a good place to get an external view of the old city walls. Just head toward the tower…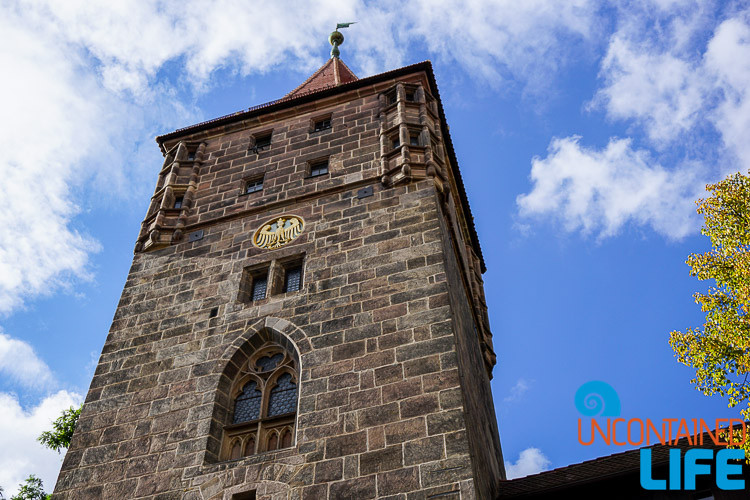 …through the tunnel…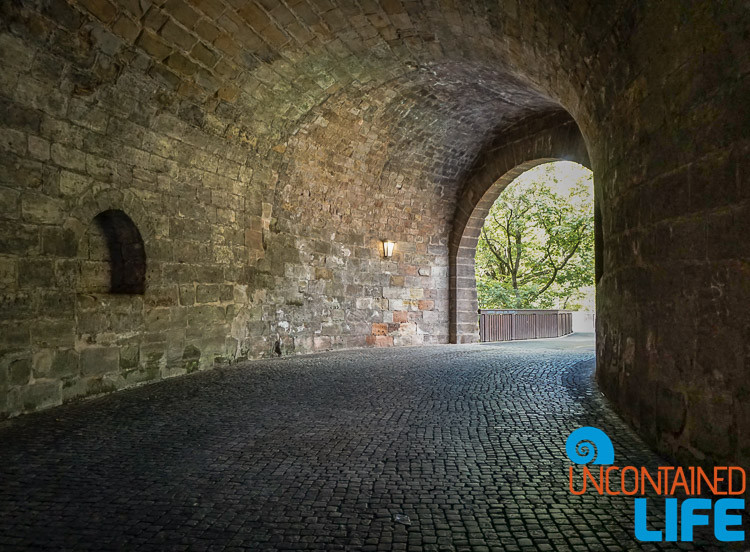 …and the full picture of the ancient fortress emerges. If nothing else it's easy to see why the city proved impregnable to Allied Forces for so long during WWII.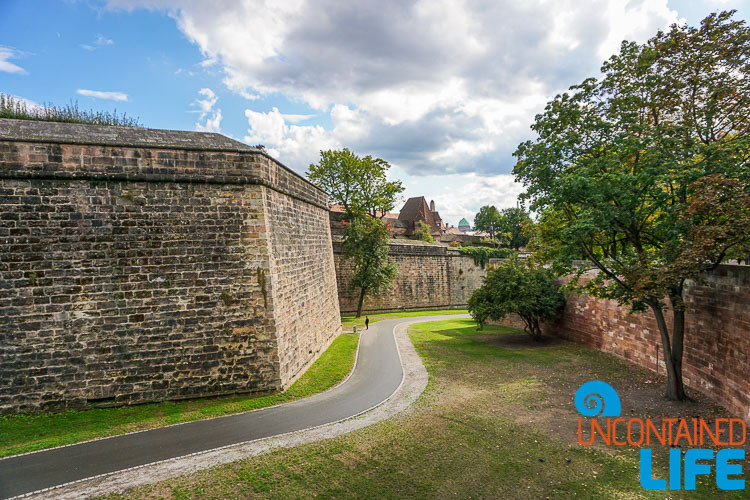 If you choose to take a tour of Nuremberg's underground tunnels (which were used as bunkers during the war and as beer-brewing cellars for centuries before) there's a strong possibility you'll end your tour at Hausbrauerei Altstadthof—the pub in the city where you can try varieties of a special, traditionally-brewed malty red beer found only in Nuremberg.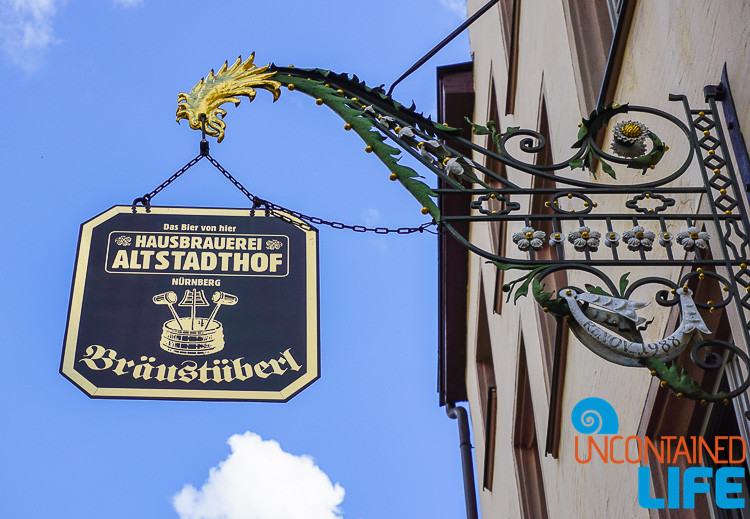 Does the red beer live up to its rep, you ask? That would be a yes!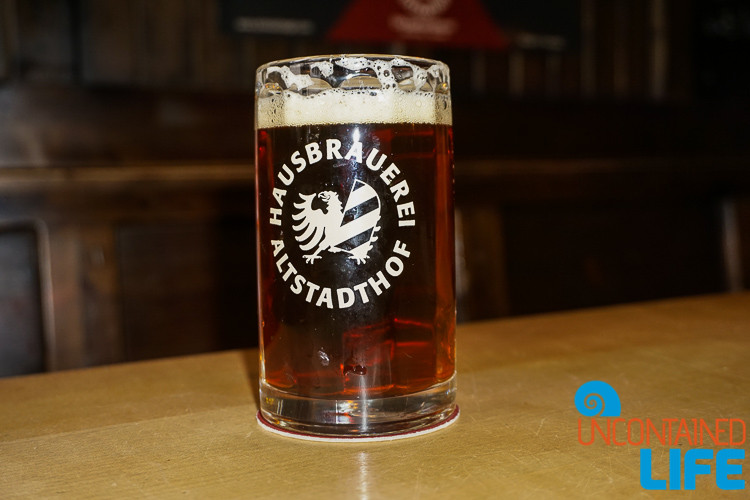 As we meandered our way back toward the festival grounds, we made a quick stop inside the church we'd passed earlier, St. Sebaldus.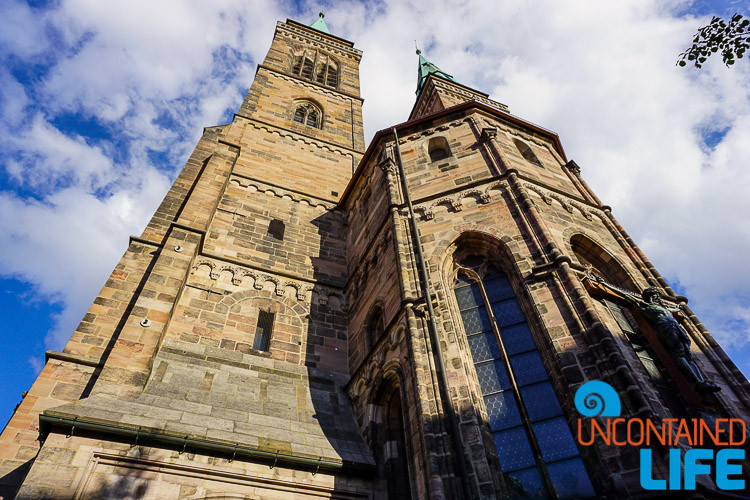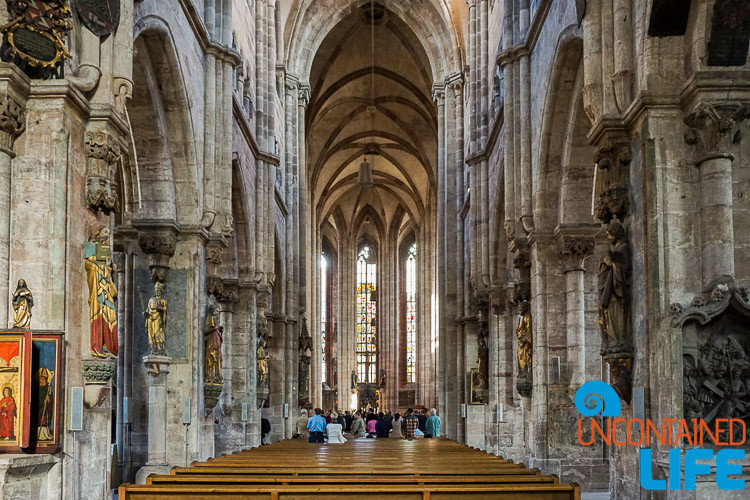 We thought that maybe we'd come in during a service, but, as it turned out, we were just in time to wish a newly married couple luck! (You know your wedding is awesome when you have a city bus sharing it with the world.)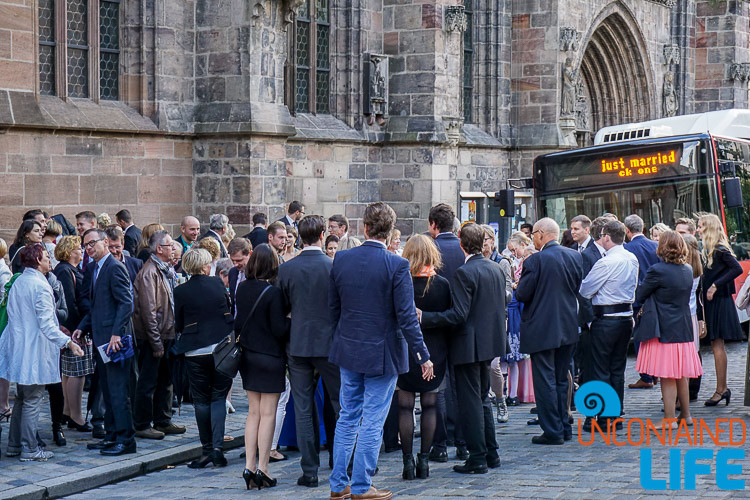 One giant pretzel later (Justin's one goal for the day…mission accomplished!) we decided to call it a day.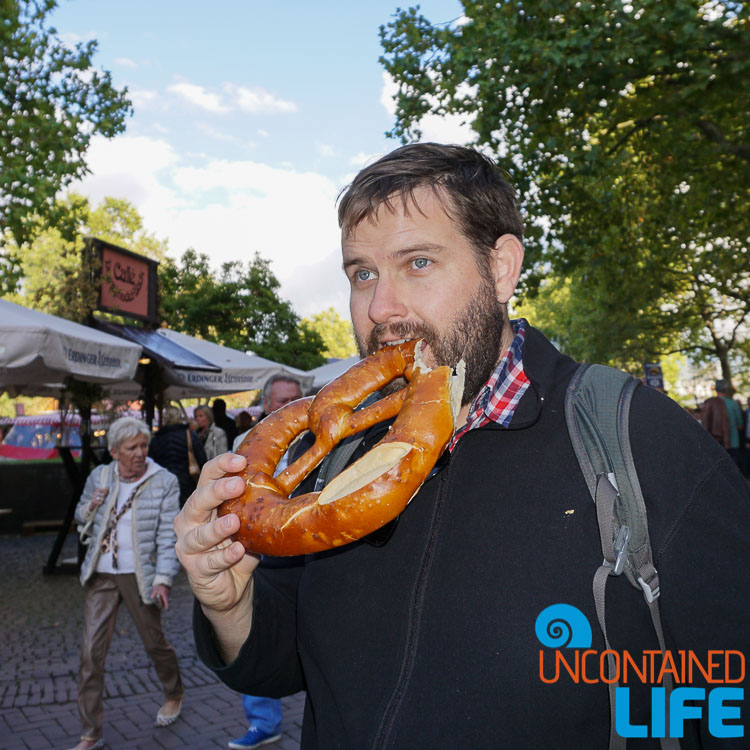 There are many more historic sights in Nuremberg we had planned on seeing which we didn't get to—from the Palace of Justice where the Nuremberg Trials were held to the now-crumbling Nazi parade grounds and adjacent Documentation Center museum—but all in all we were beery happy with our accidental festival-going. And now we have a good reason to come to Nuremberg again!
Do you have an experience with accidental or little-known festival-attendance that you'd like to share? Tell us all about it in the comments section!
Are you on Pinterest? Pin this post.