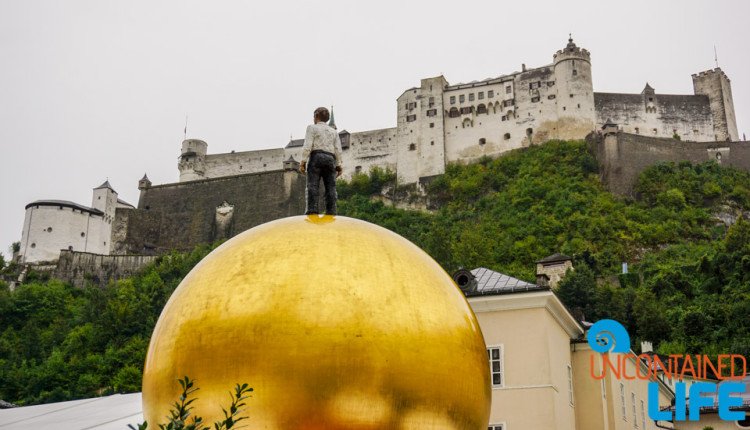 Long ago and far away when Justin and I were first getting to know one another, we bonded over our shared love of classical music. (You have to admit, in this day and age, it's an unusual taste in the under-60 set.) While I am merely a fan, however, Justin's love goes a bit deeper: he's played the piano all his life, and he studied and composed classical music throughout high school, college and beyond. (When we play "name that composer," he always wins.) Which is why, when we had a chance to spend a day in Salzburg–Mozart's birthplace–Justin decided we needed to pay homage to the popular composer by visiting his statue in Mozartplatz. It seemed like a simple enough mission, but as we made our way through Salzburg, our plan kept getting…interrupted.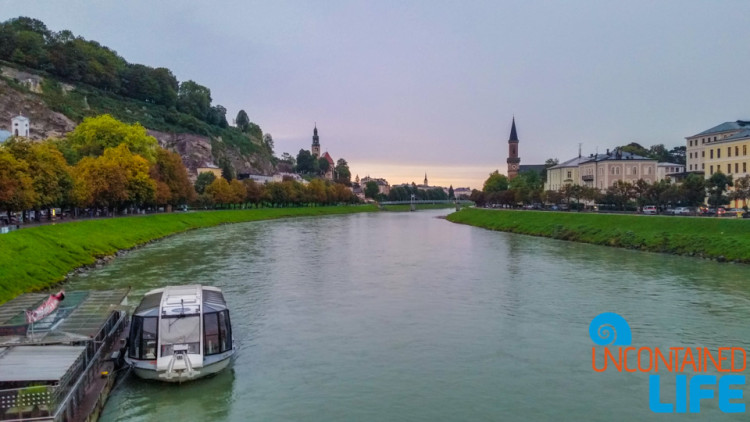 Our Day in Salzburg Begins…
It all started when we decided to walk from our accommodation to the Old Town rather than take the bus. It was a cold day in Salzburg–and a bit rainy, but as we walked along the water in the direction of the Old Town, we were already happy we'd chosen to hoof it. Birds were enjoying a splash in the Salzach River…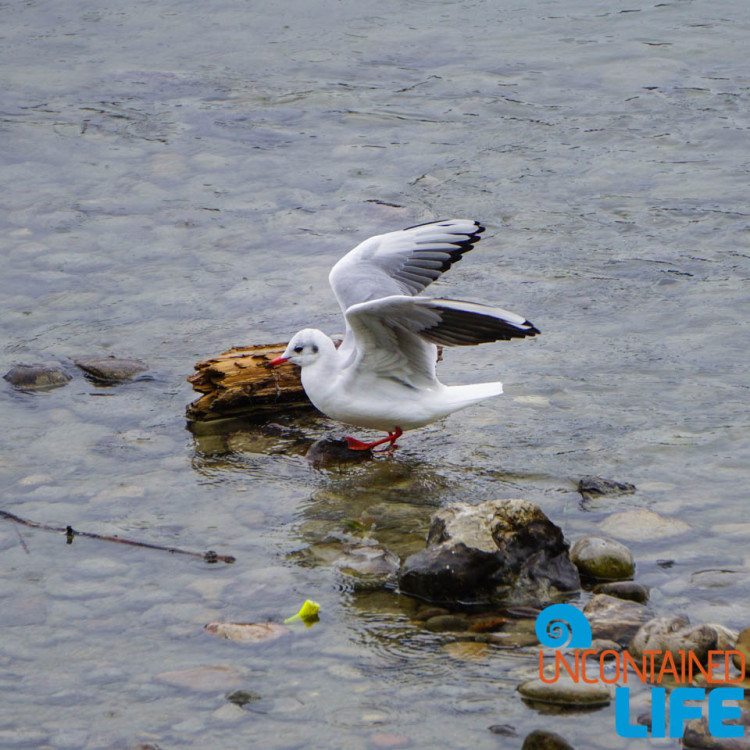 …and across the water, the red-roofed Mülln Church rose up, it's beautiful spire piercing the gray skies.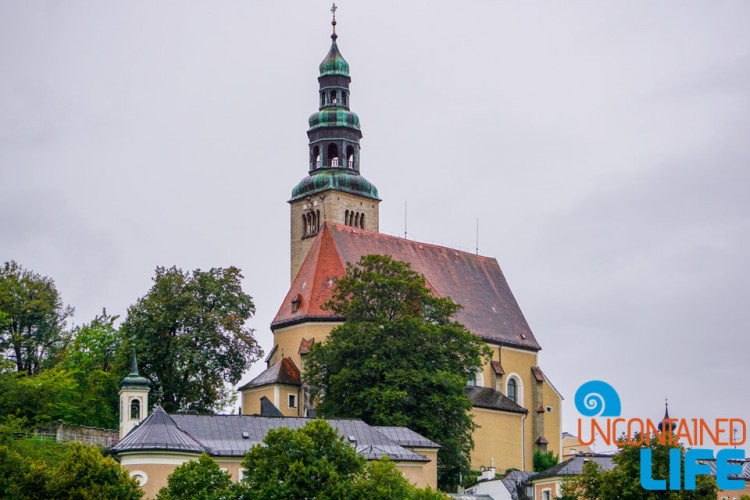 Interrupted by The Sound of Music
As we drew closer to town, signs appeared for Mirabellgarten (Mirabell Gardens)–an an early-baroque garden, famous around the world as one of the settings for Maria and the Von Trapps' "Do-Re-Mi"-ing in the film, The Sound of Music. Hmm. A short divergence from the Mozart mission wouldn't take that long…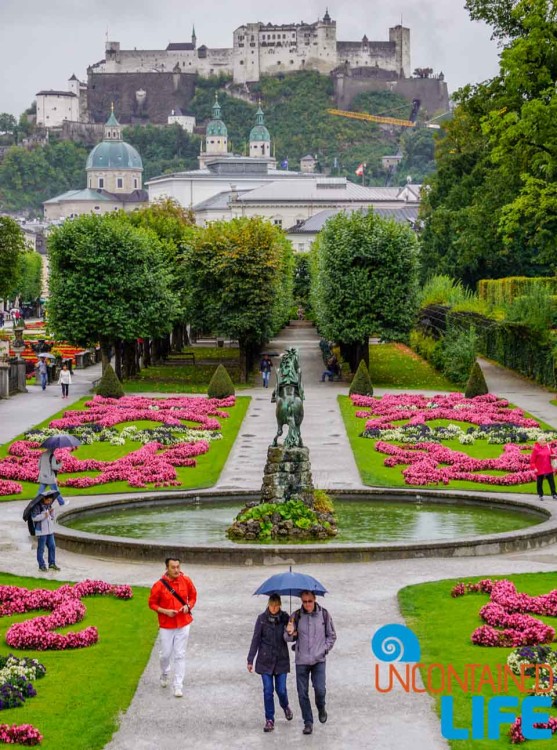 Well, hello, gorgeous.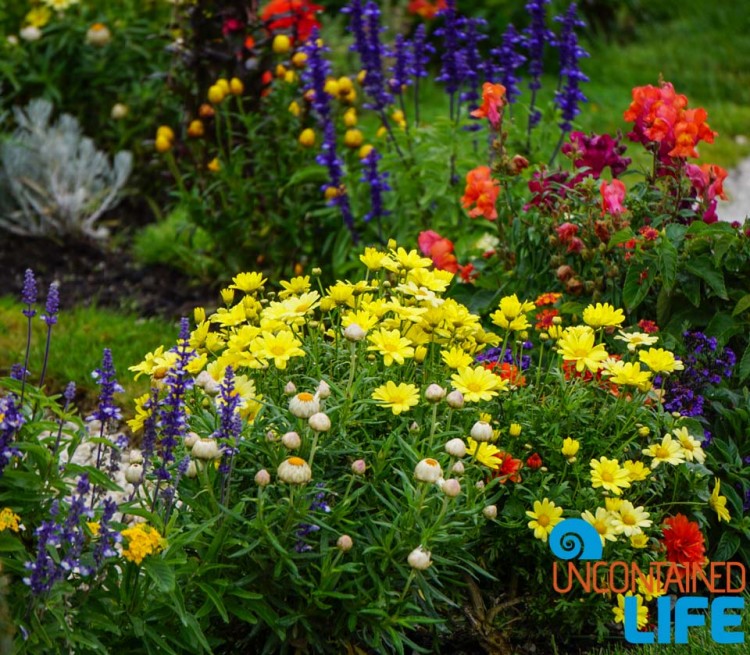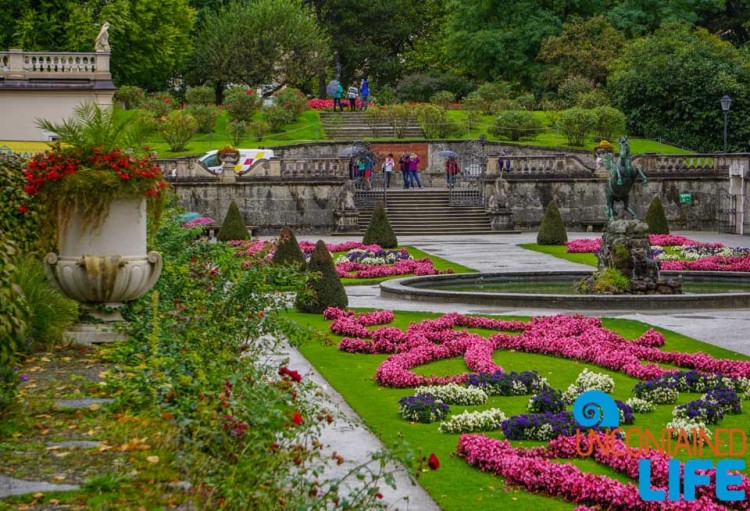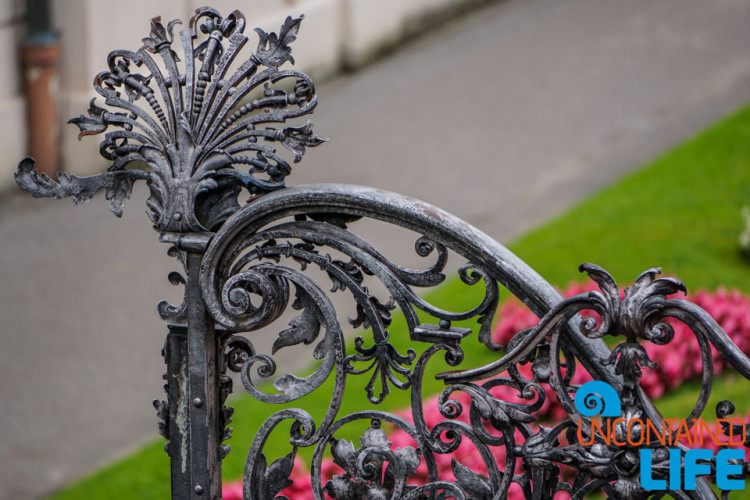 Ok, I'll admit, if Justin's the classical master, I'm the musical maven. (Yeah, we're totally not nerds…nope…nooo.) So, yes, this happened: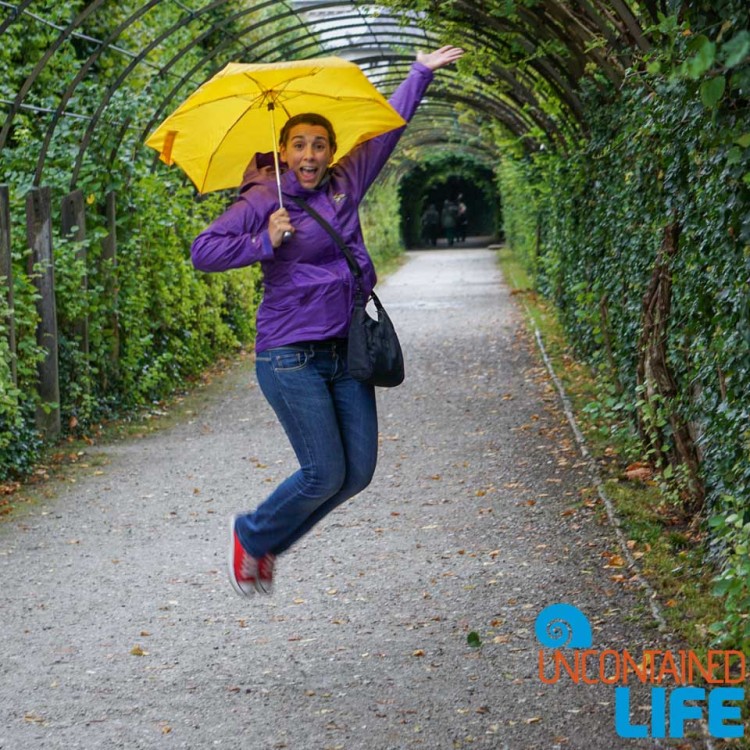 And when we found the gnomes in all their strange, sassy glory…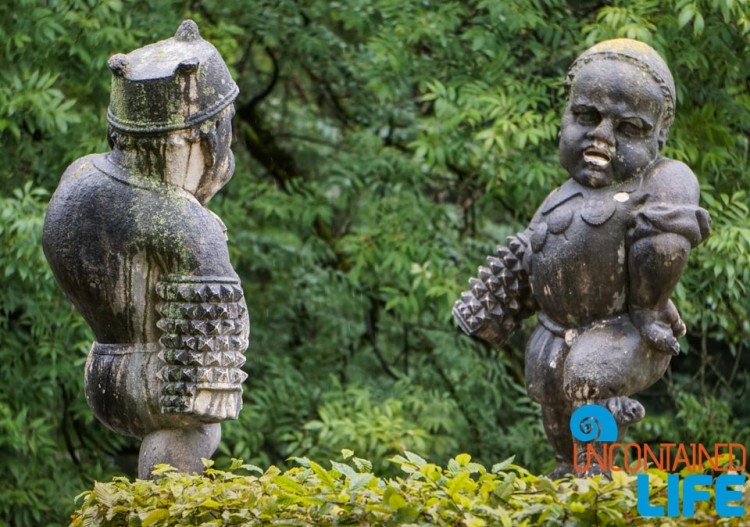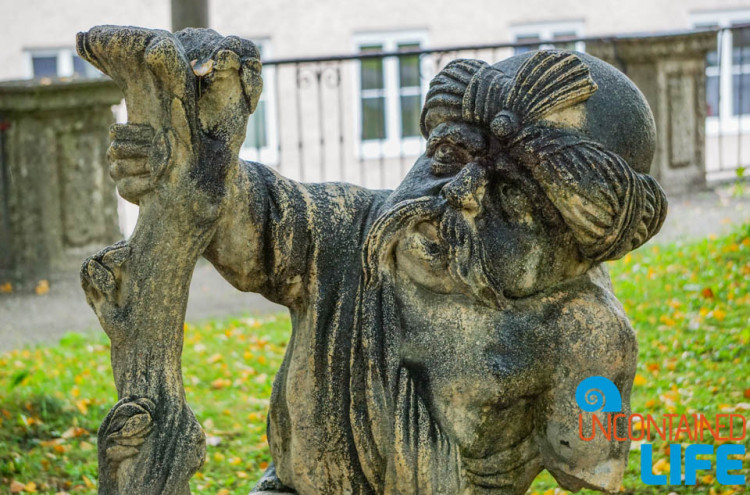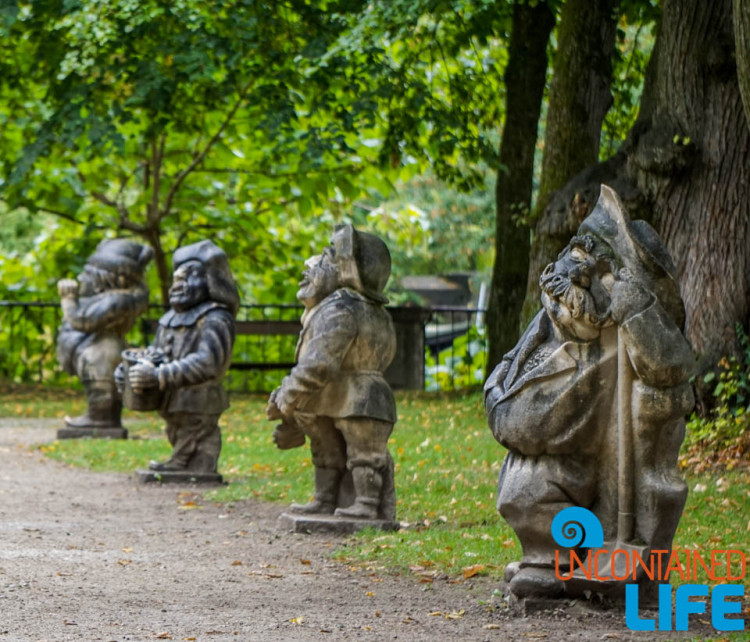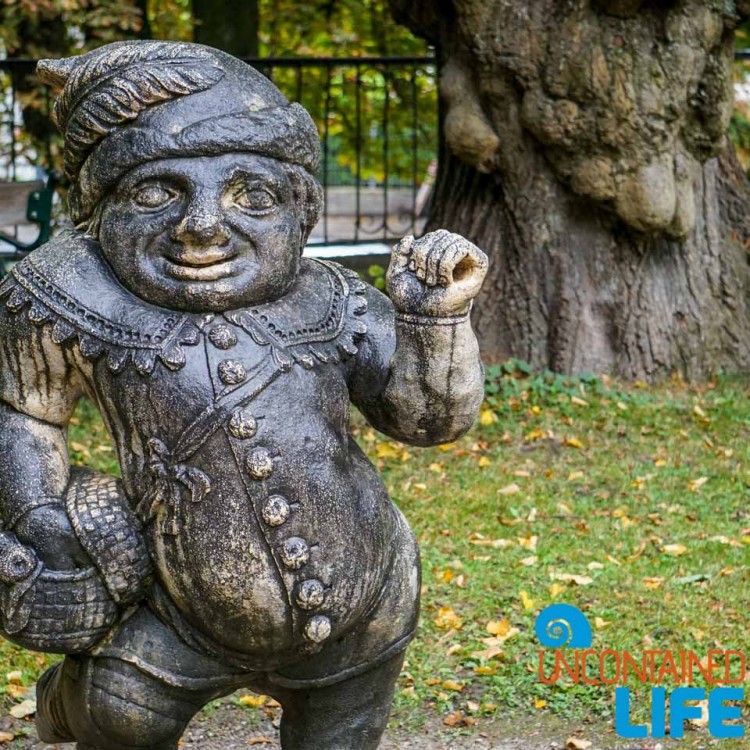 …even these two gnomes got in the Sound of Music spirit: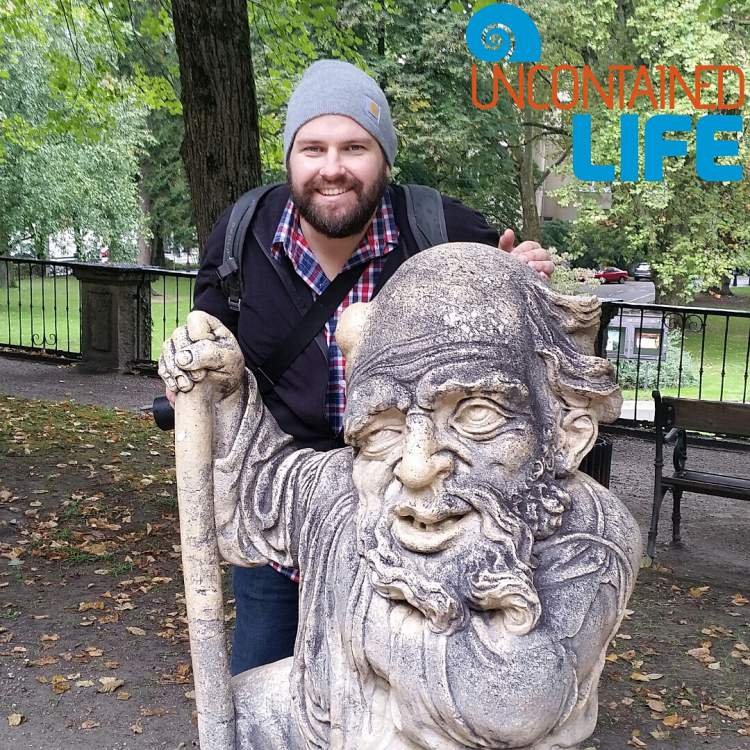 We'd been out around an hour now, which meant another sort of tune was starting.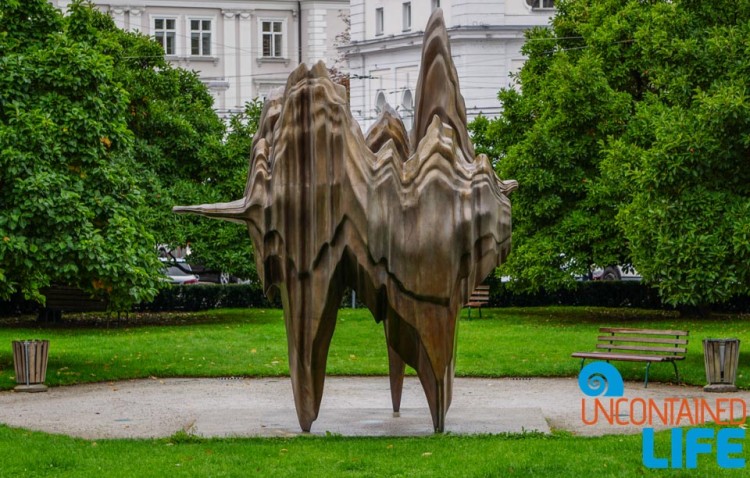 It's a little ditty we like to call, "I need coffee now or else Very Bad Things." While most restaurants near the gardens are on the pricy side, Bellini's Italian Bar offers tasty, affordable drinks and snacks…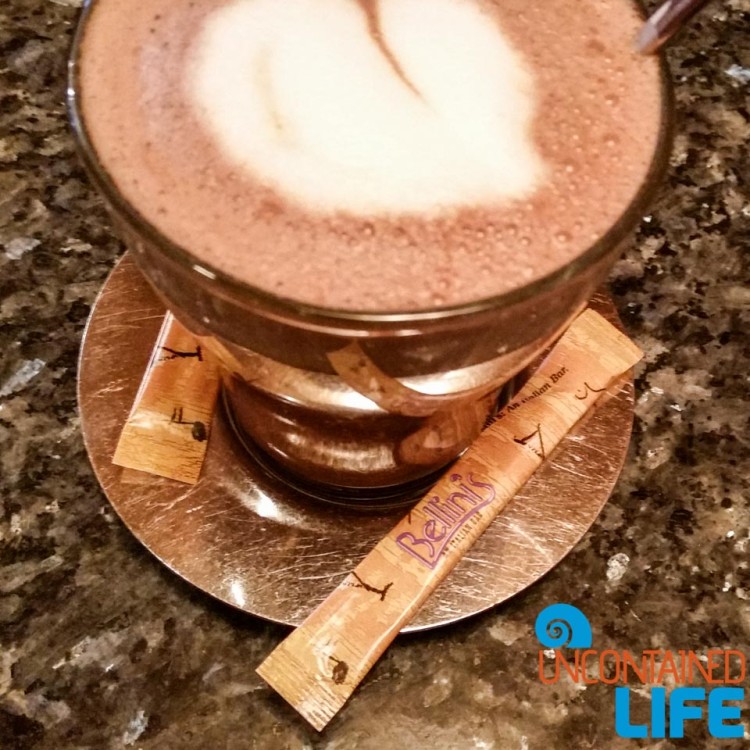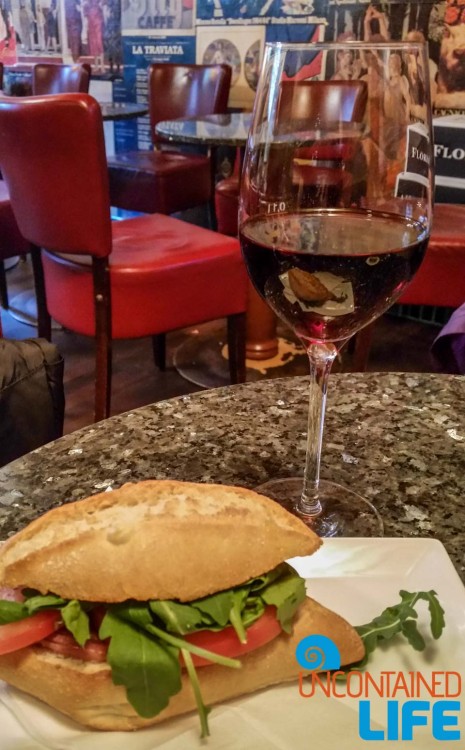 …plus some fun atmosphere.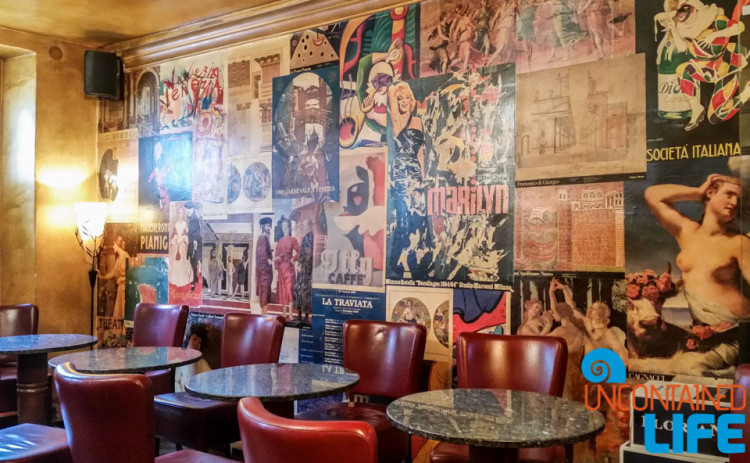 But really, it was time to refocus on the mission for our day in Salzburg: get to the statue. So, with the distant Hohensalzburg Fortress as our guiding star, we redirected ourselves toward Old Town.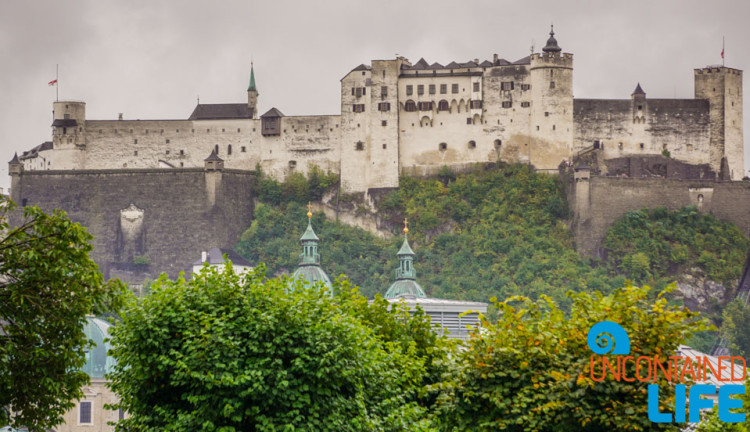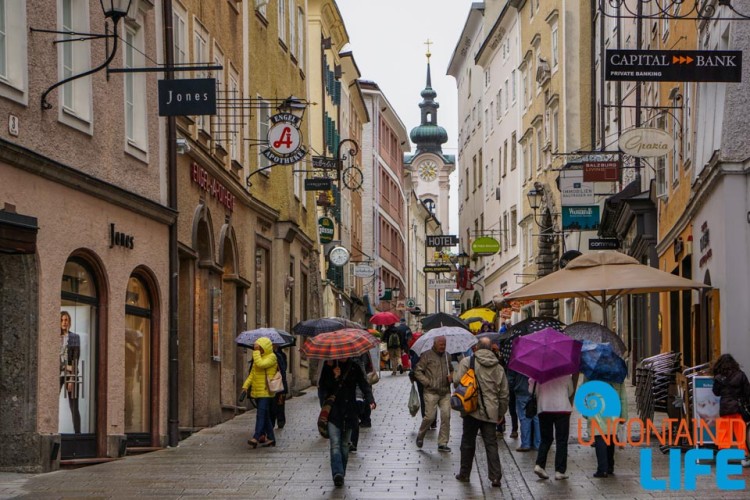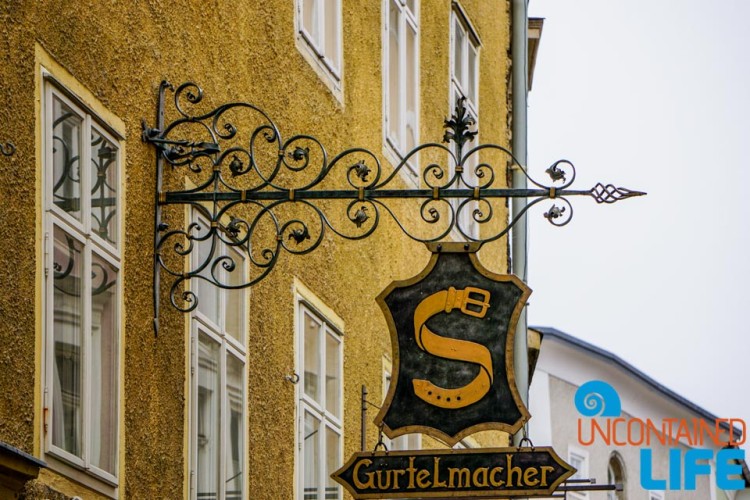 We passed by Mozart's residence…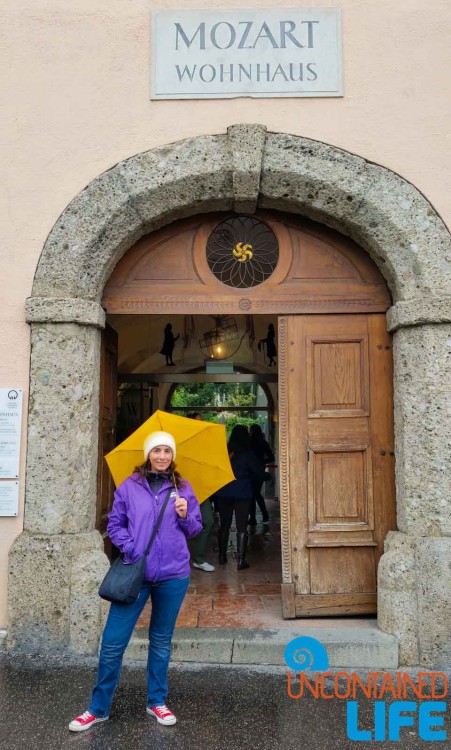 …crossed the Makartsteg Bridge with its many love locks…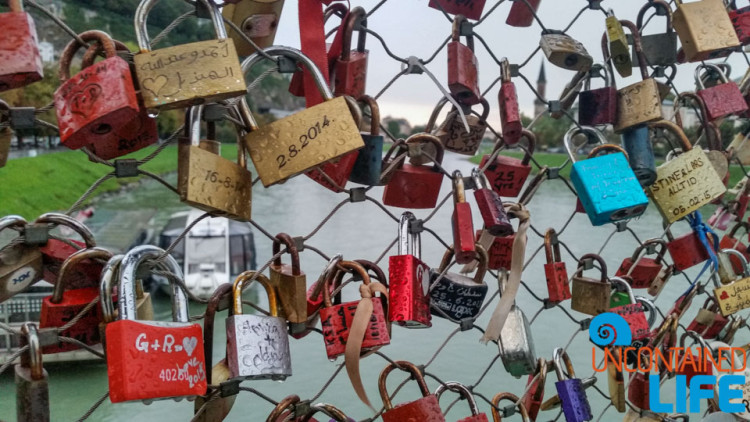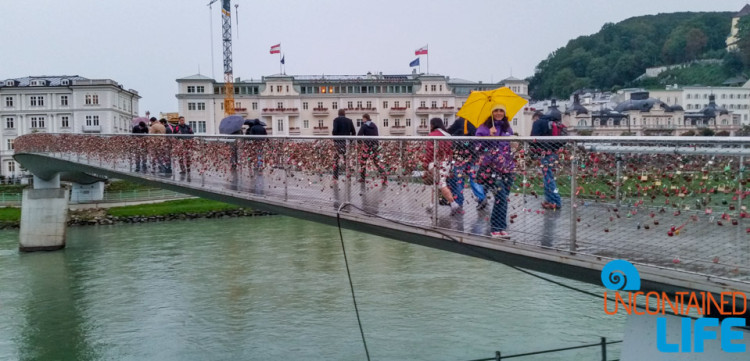 …and located Mozart's birth home (both this building and his residence are museums now).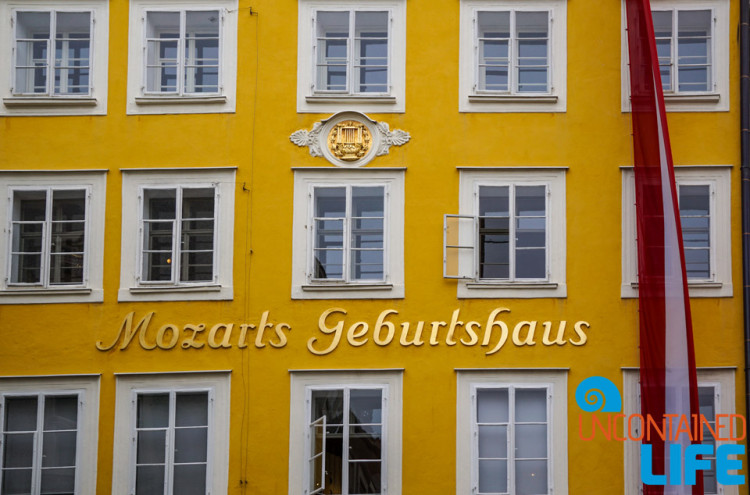 Interrupted by the Sound of Music
It wasn't until we caught sight of the brilliantly white Kollegienkirche (Collegiate Church), however, that we heard something that caught our attention: music. The sound was a bit muffled. Maybe it was coming from inside the church? We peeked our heads inside.
Alter art? Check.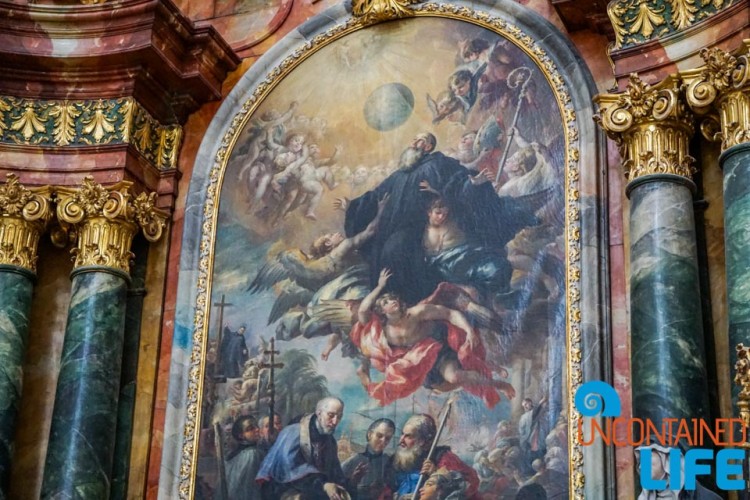 Sculpted dome? Check.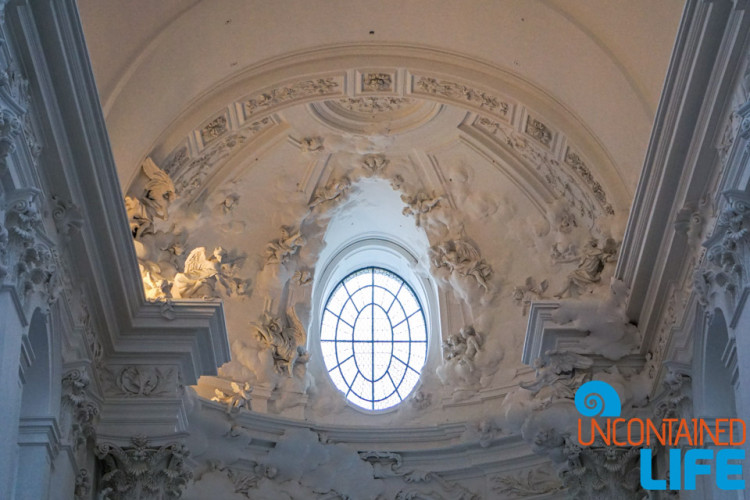 Filigreed organ? Check.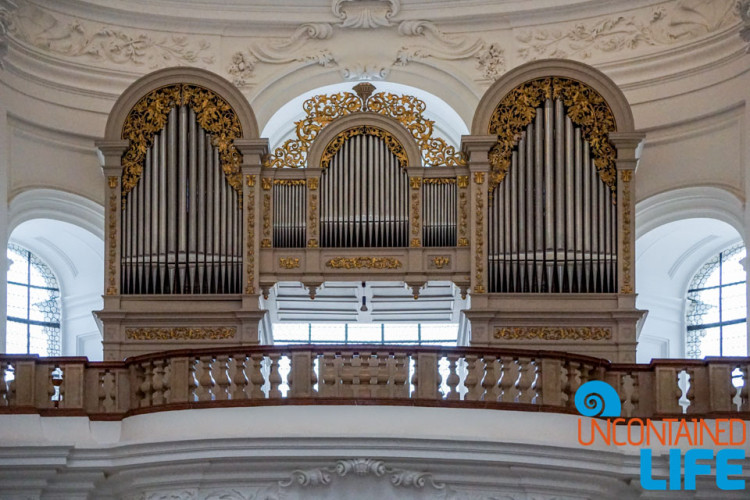 But no music. We wandered on. There weren't any signs of life inside the Franziskanerkirche (Franciscan Church). Maybe something was happening in St. Peter's Abbey?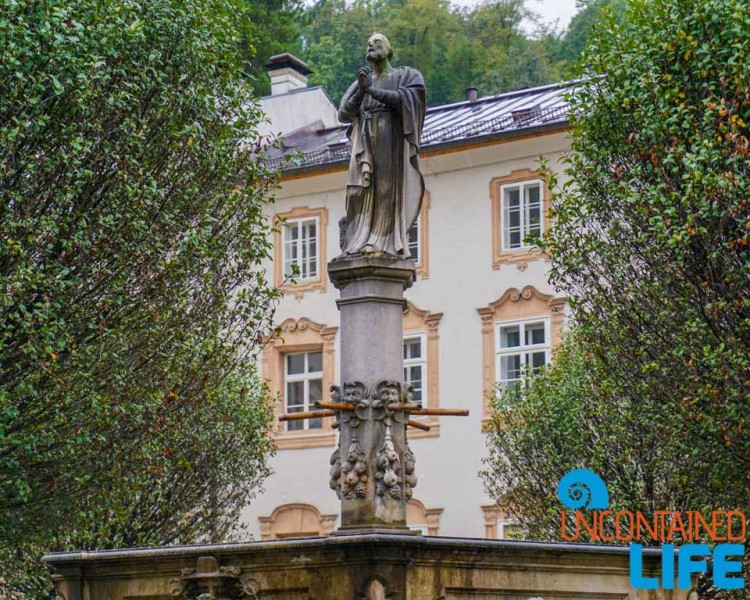 We peeked inside. Well, there was a crowd. What was it…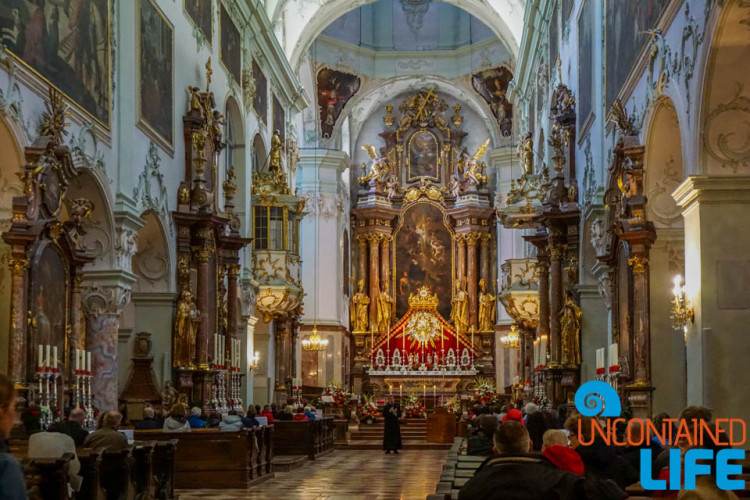 Oh! Cello concert? Don't mind if we do!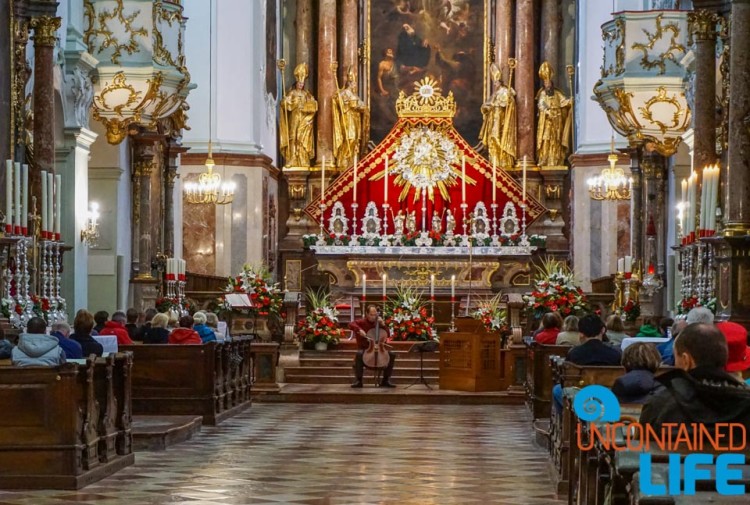 The unexpected classical concert was a lovely surprise…but we still hadn't found the source of the music we had heard before. Plus, we were further from the Mozart statue than ever. Justin had the idea to take a shortcut through the Dom Quarter to get us back on track.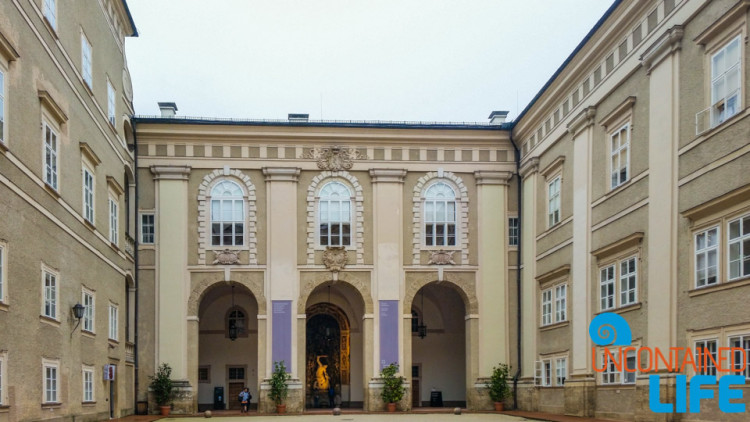 It was then that when we realized…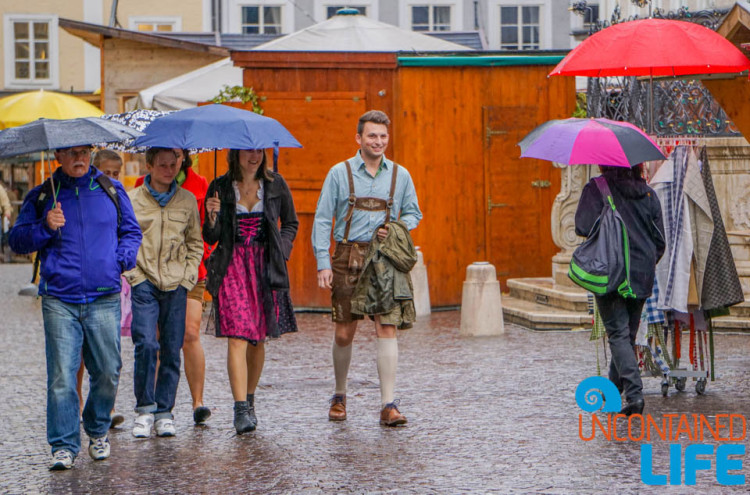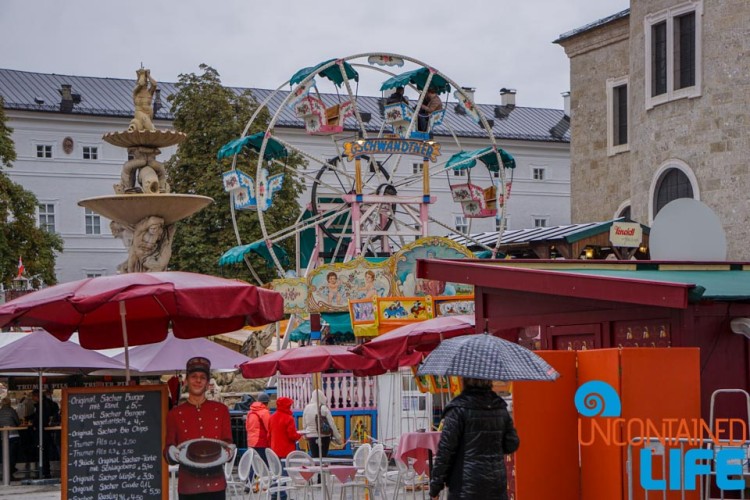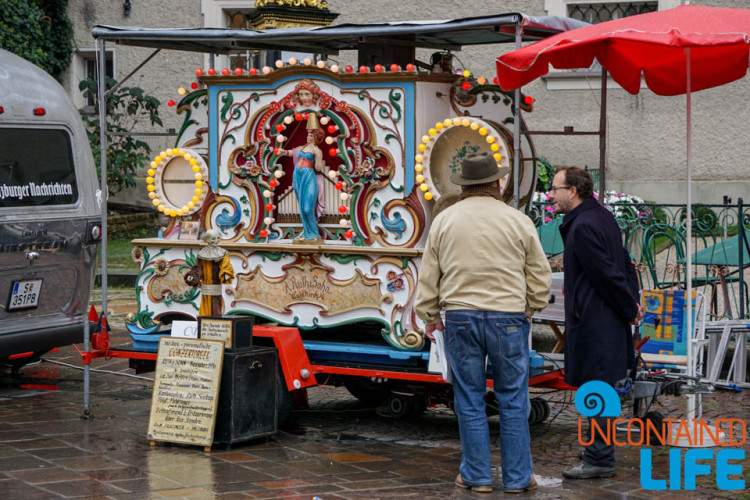 …we'd accidentally wandered right into the midst of a massive festival–in this case, the city's annual Salzburger Rupertikirtag. 
There was folk music and dancing outside of the Salzburg Cathedral.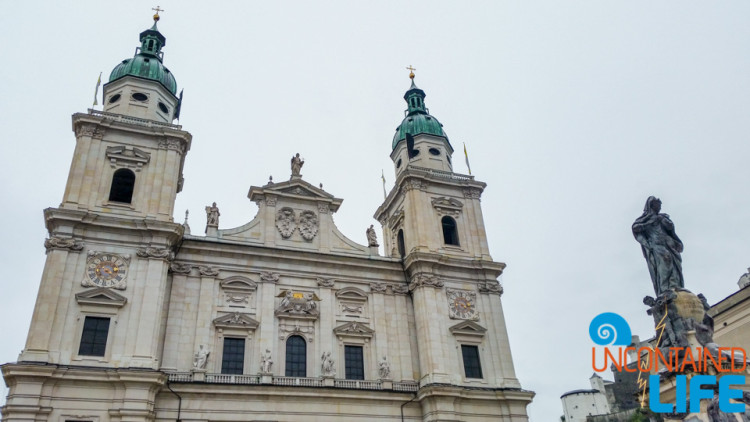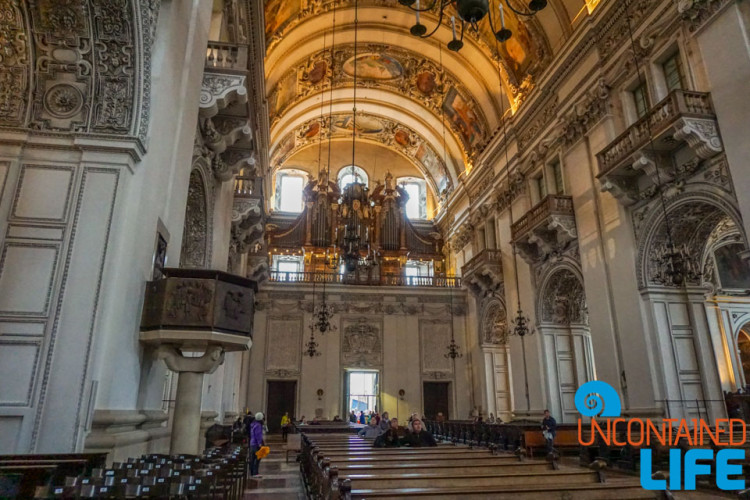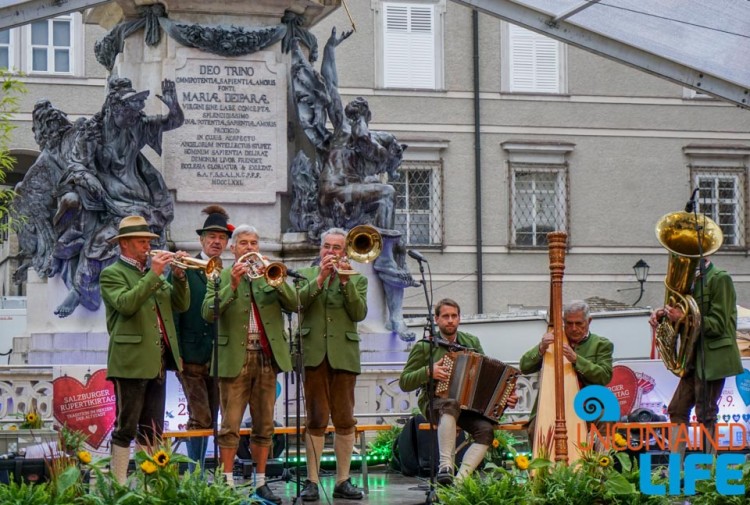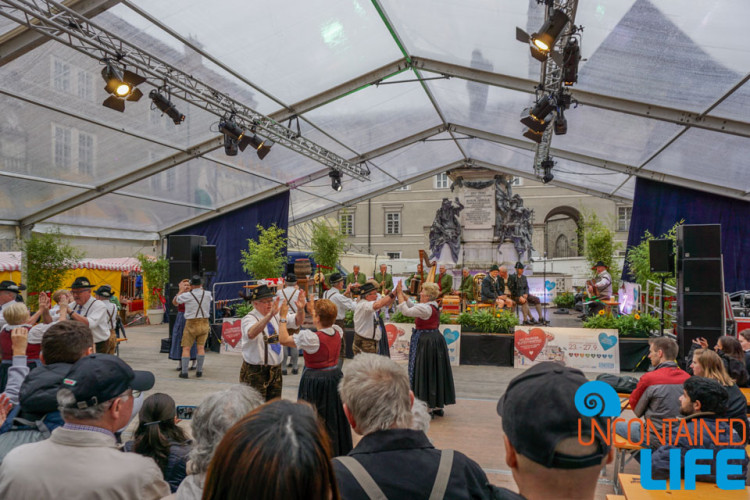 And in the square behind the Dom, vendors were offering food and drink to ward off the cold.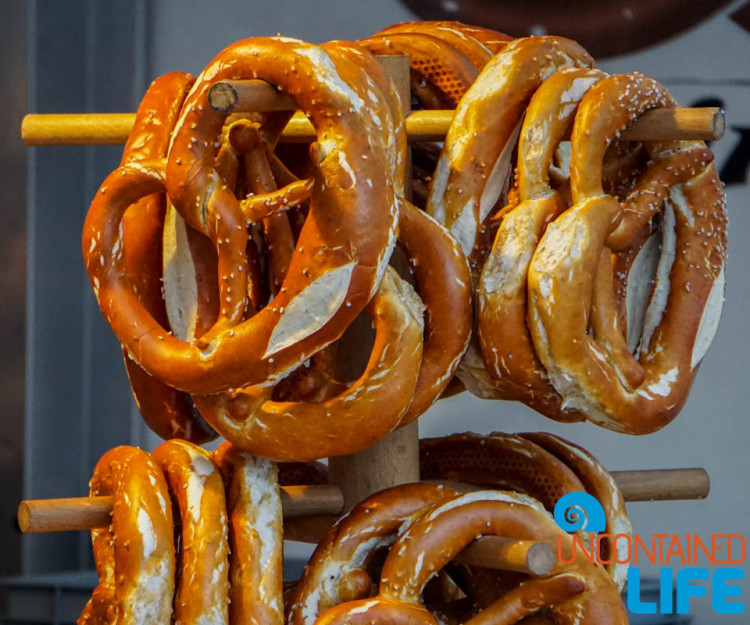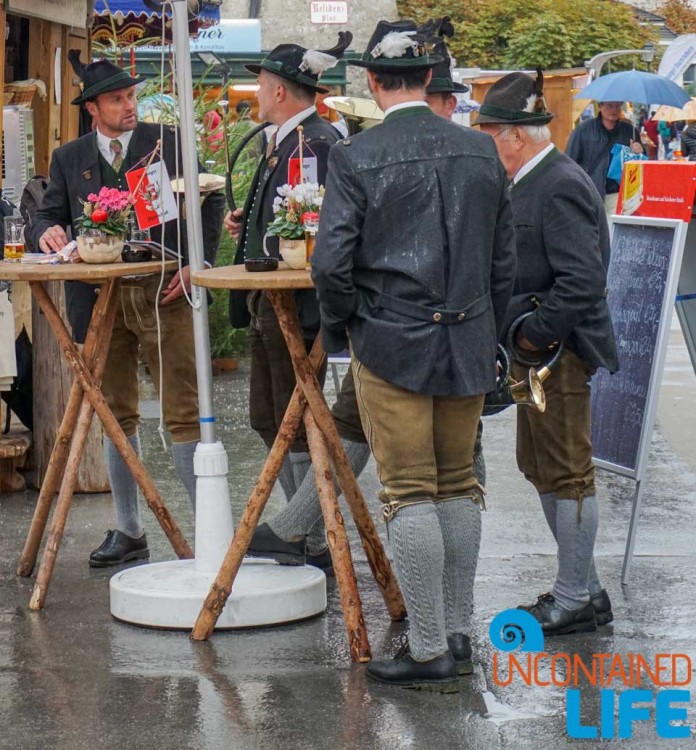 Of course, we had to try some of the local schnapps (it would have been rude not to, right?) That got us nice and toasty.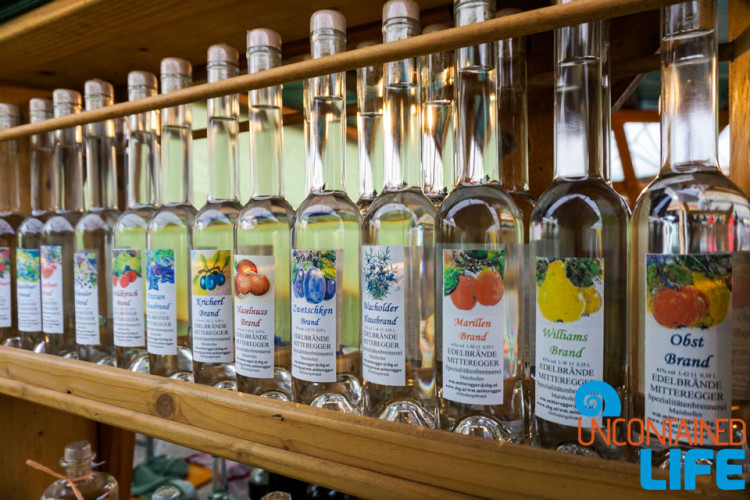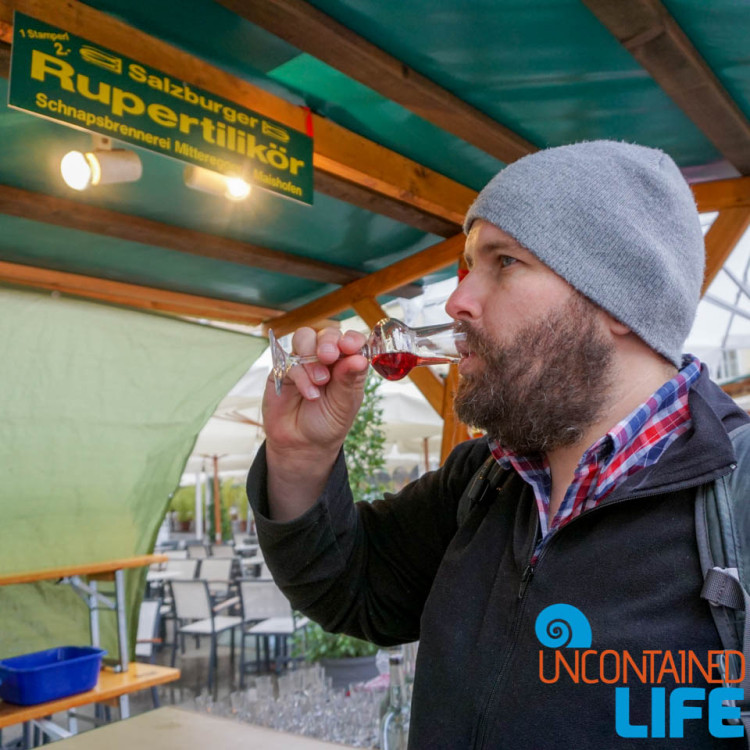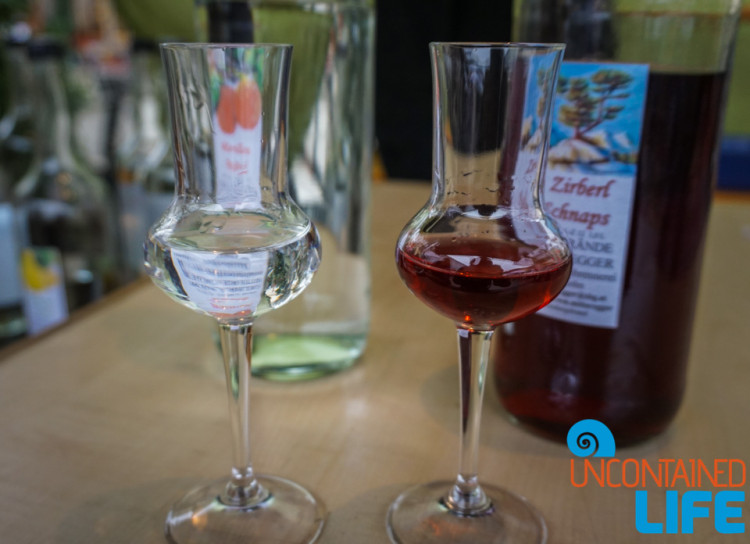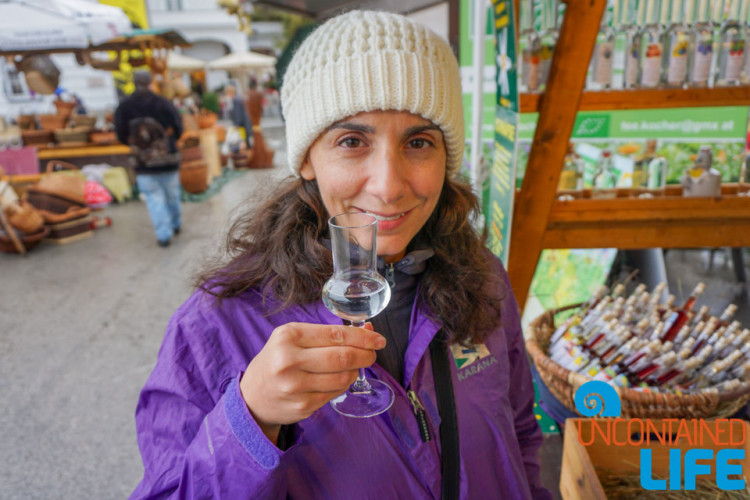 And it was then, through the forest of booths, that we spotted him.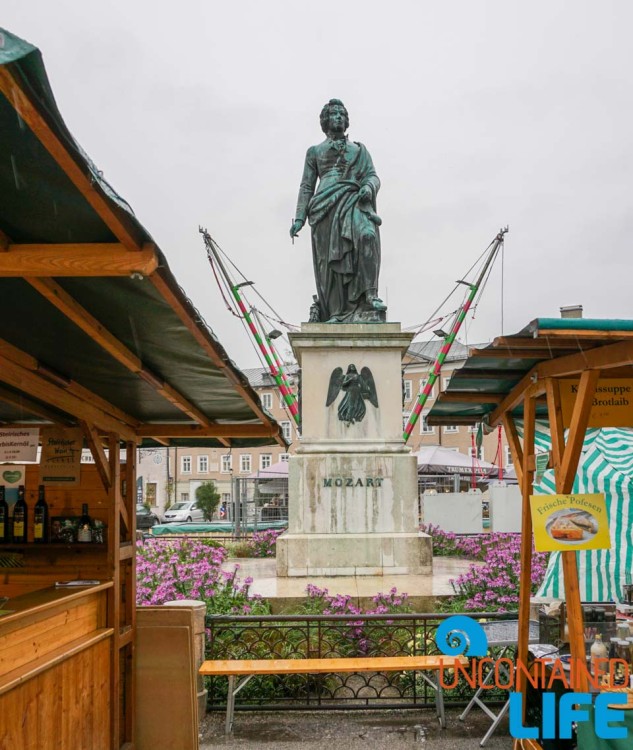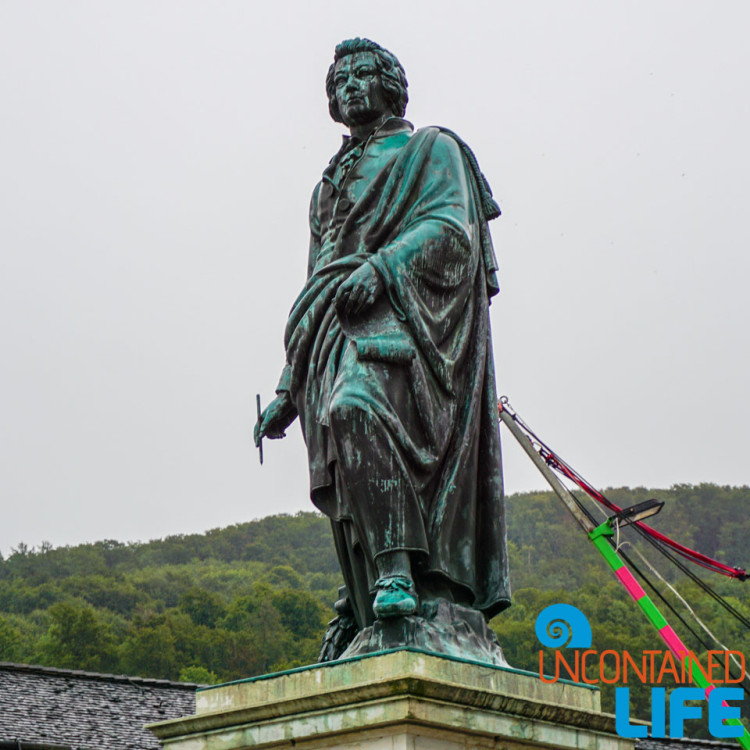 Which just goes to show what can be accomplished when you remain totally focused on your goal.
Yup. 
Ok, clearly we weren't going to win any awards for our search-and-locate skills. But we'd made it to the statue right? And that deserved to be celebrated…with a little more music…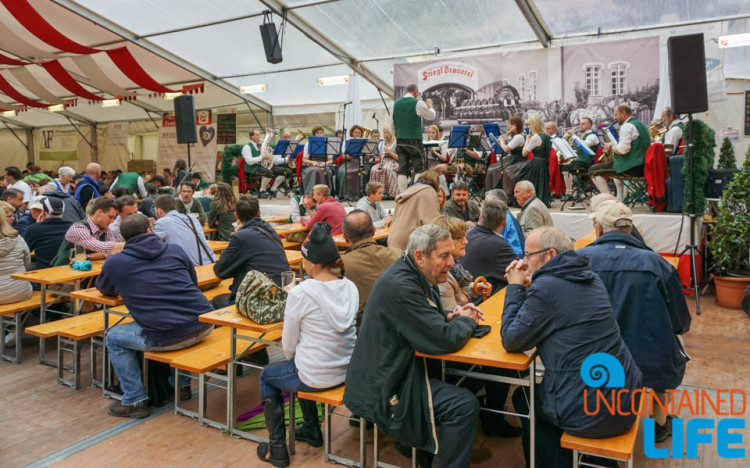 …and, of course, another local beverage.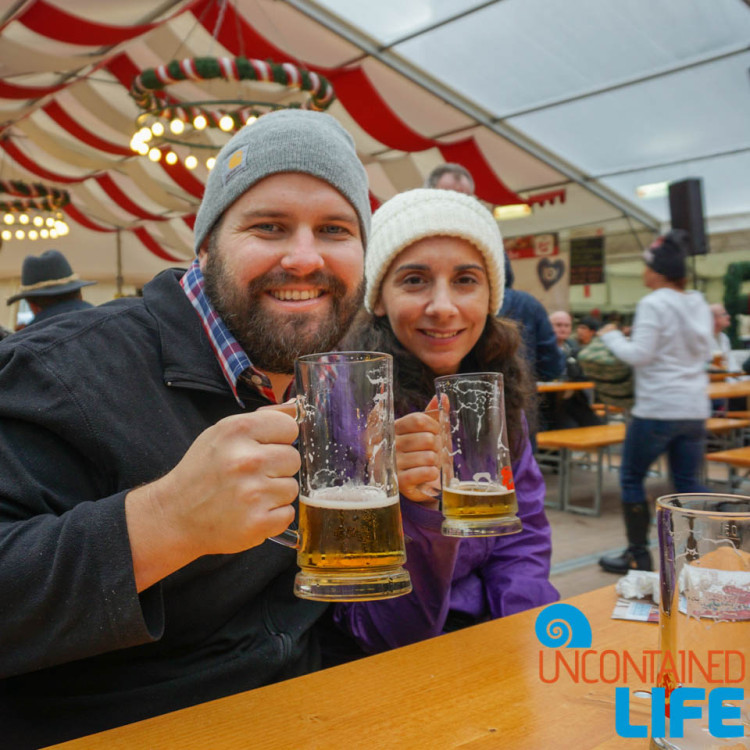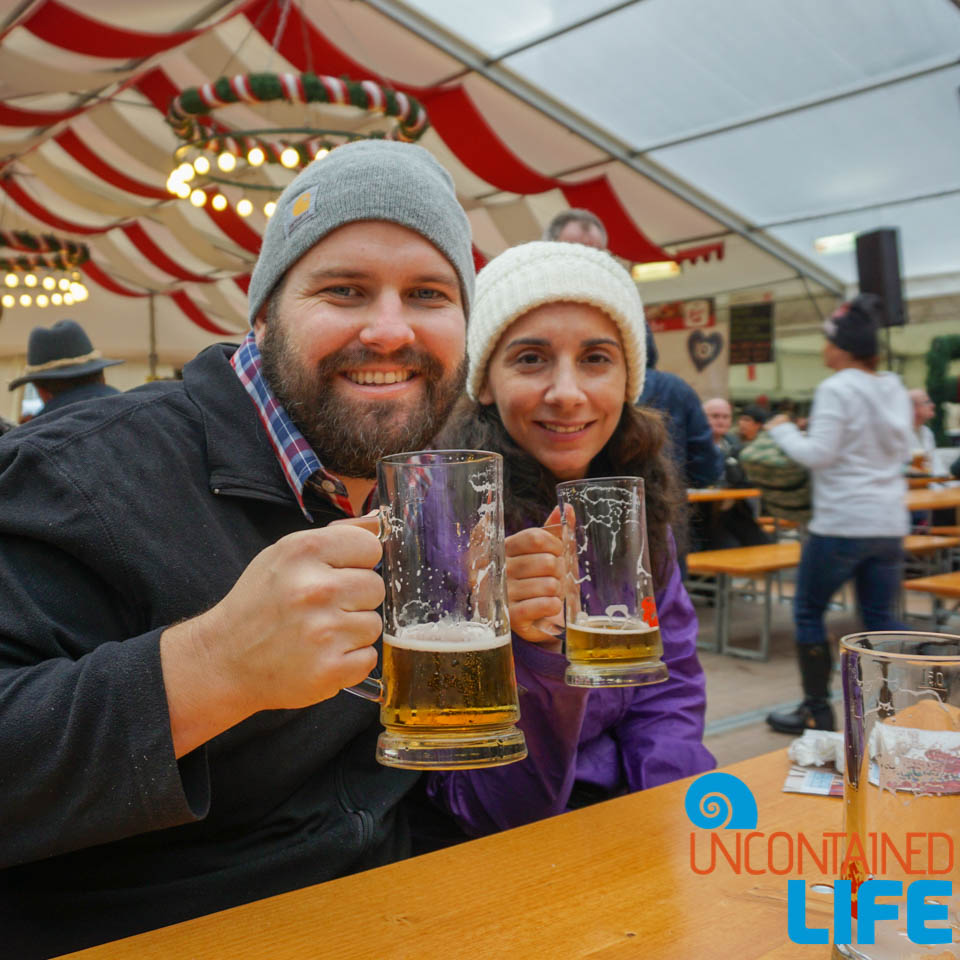 Sure, the scene in the beer tent wasn't highbrow, but it felt like a fitting end to our musical day.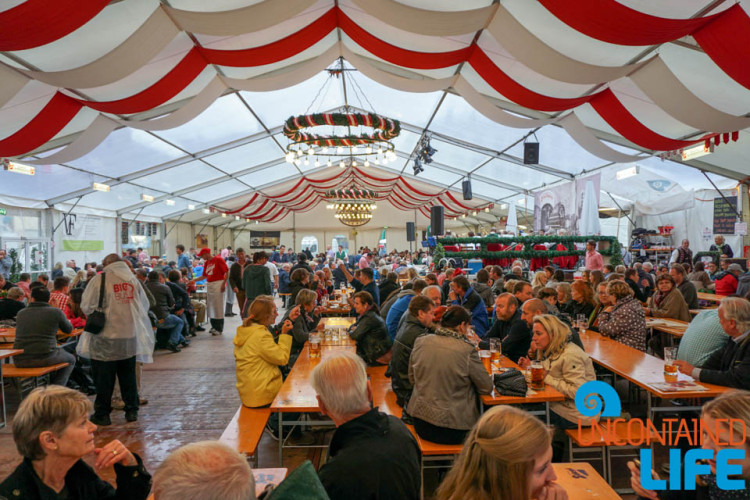 And, if you ask me, I think ol' Wolfgang would have approved. After all, a guy who wrote a cannon containing the verse, "Leck mich im Arsch g'schwindi, g'schwindi!" (which literally translates as "lick me in the a**, quickly, quickly!") had to have had a pretty well developed sense of fun. (He'd have to, considering local gift shops have done this to him, don't you think?)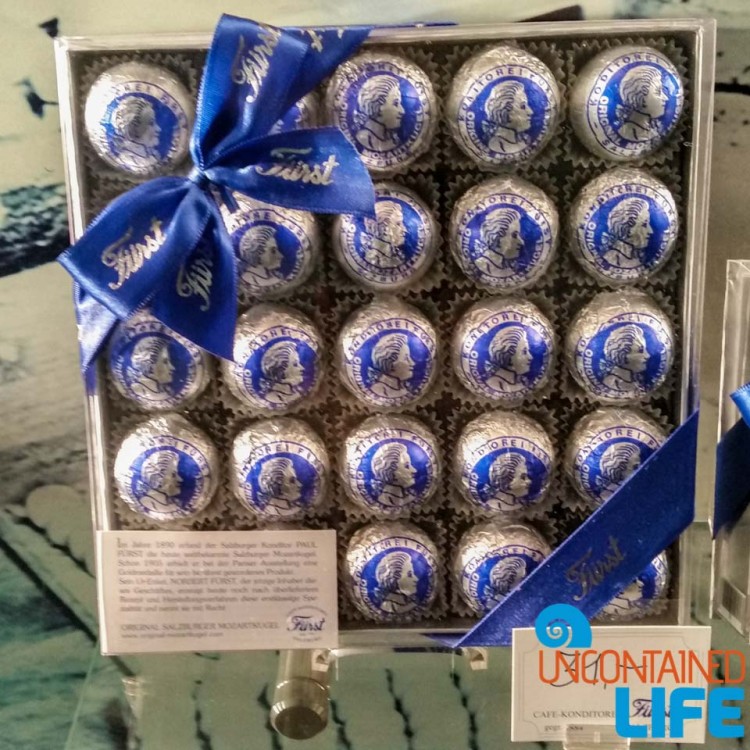 Any other classical music fans out there? Do you have a favorite composer?
---
All photographs were taken with the Sony A6000—a lightweight, mirrorless camera that captures great images even in low-light conditions. You can find out more about the gear we carry when we travel HERE.
Are you on Pinterest? Pin this post!