Why are Mornings so Early? (and other questions I'd like to know on our Palawan Underground River Tour day)
I don't like early mornings. And I particularly loathe them when I cannot get a cup of actual coffee (I'm sorry, 3-in-1 powered "coffee" does not cut it) into the ol' system to numb the pain of being up before 9AM. So, needless to say, when we woke up for our tour of the Underground River in (or rather, outside) Puerto Princesa, I was not exactly my best self.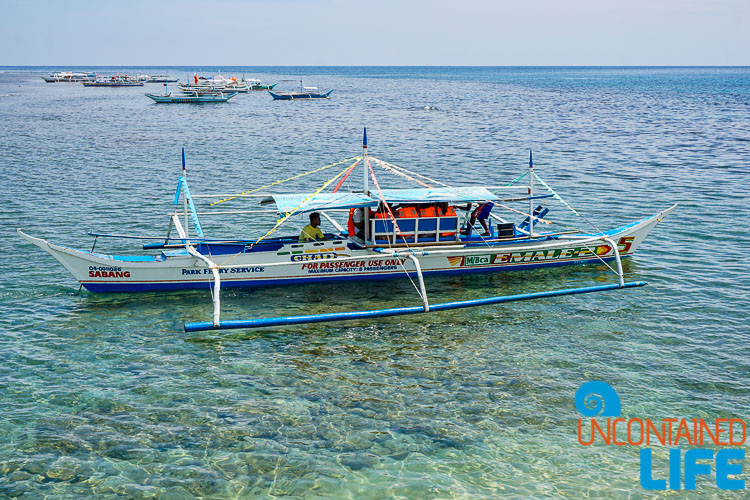 "There's going to be a boat ride!" Justin said cheerily as I pulled myself up from the bed and attempted to remember how to put on a pair of pants. "Two boat rides, in fact! It's going to be fun!" He does not hate mornings. The rat.
"Here!" He pushed something warm into my hands. A bun he'd gotten from the wonderful bakery which our pension, Dad's Bayview, operated downstairs. Ok. I could work with that.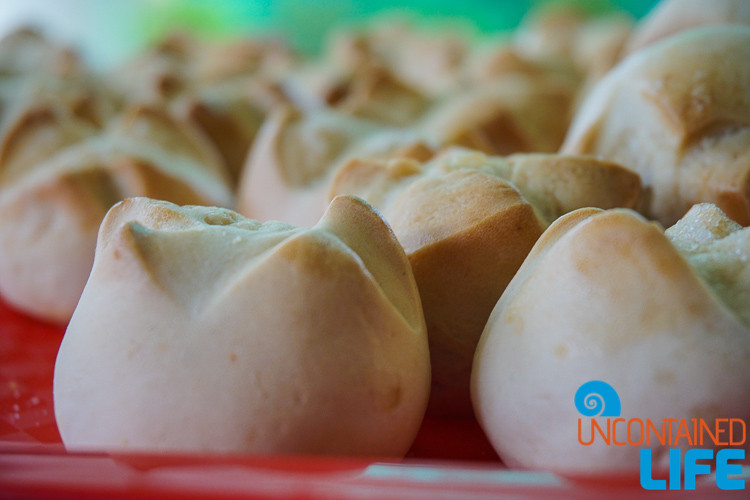 Pants finally more or less where they belonged, I took my bun out to our brightly tiled balcony. Dad's Bayview is known to the local tricycle drivers in town as "that pension that looks like a boat."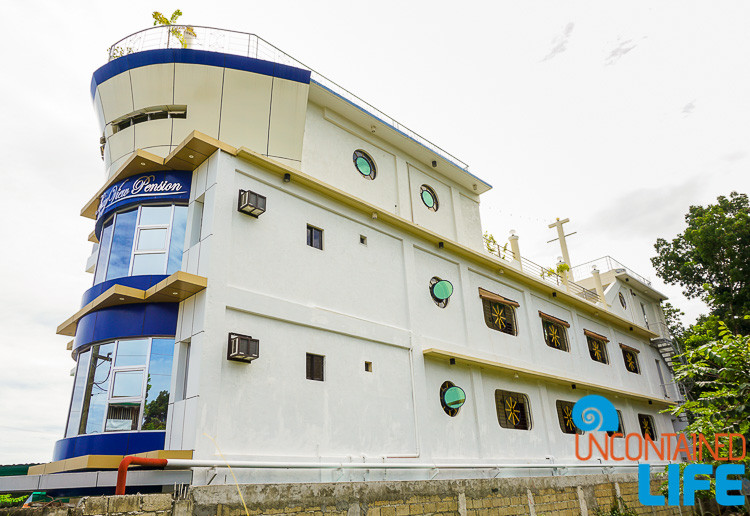 The owners, a local family, built the place based on an idea from "Dad"—who is a freighter captain. Little nautical touches all around the place give it a lot of charm and the price is certainly right.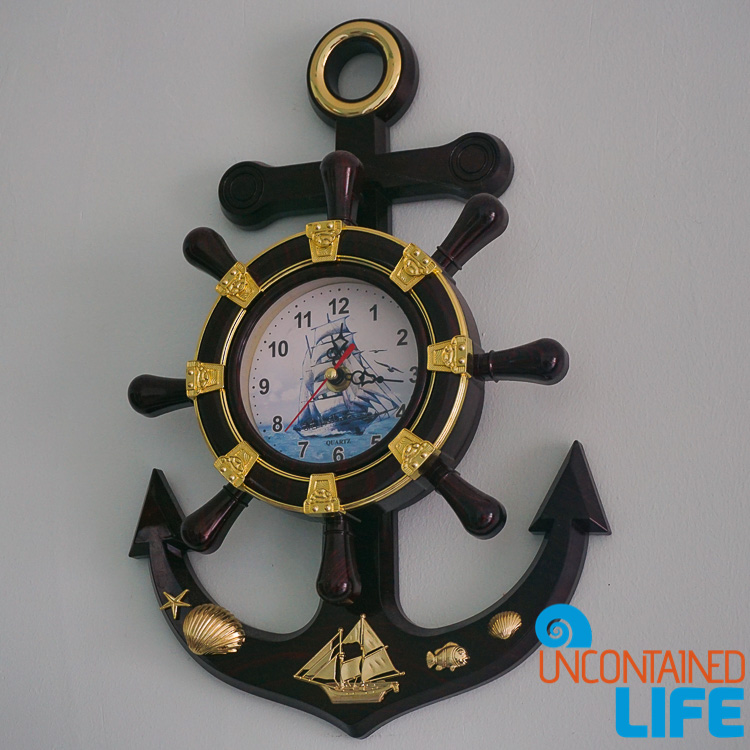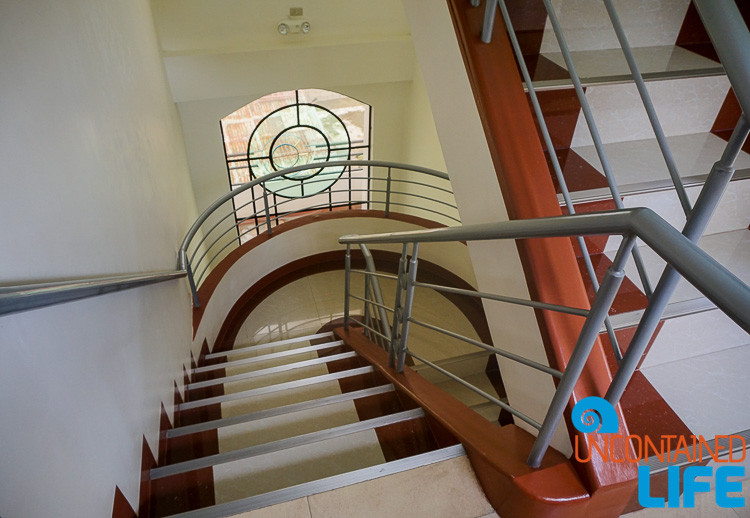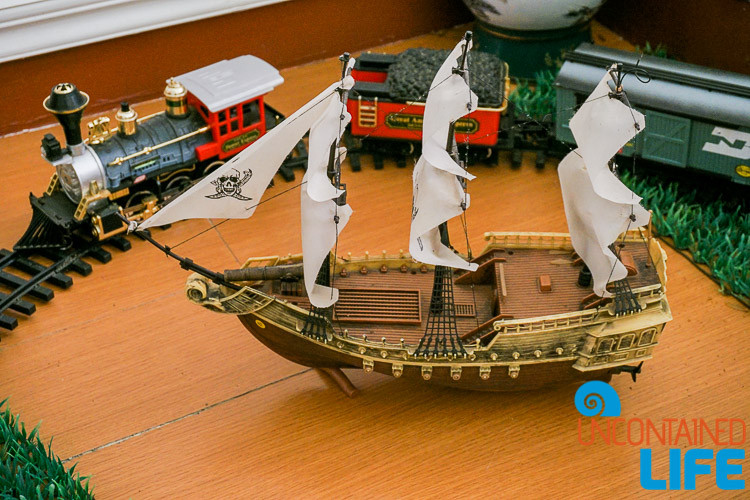 But it's the view from the pension which really makes it the kind of place which helps get a girl who hates mornings to think "hey, maybe today won't suck after all!" Am I right?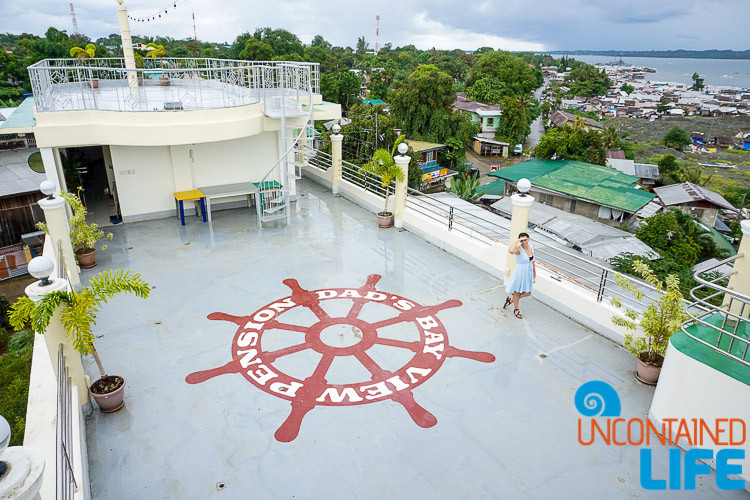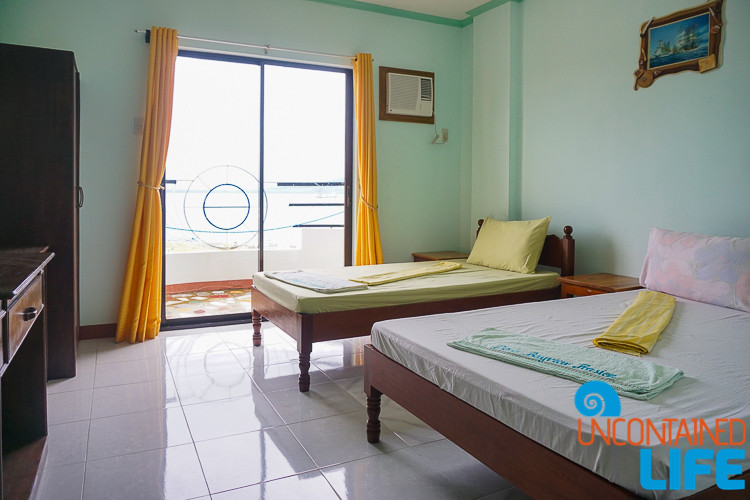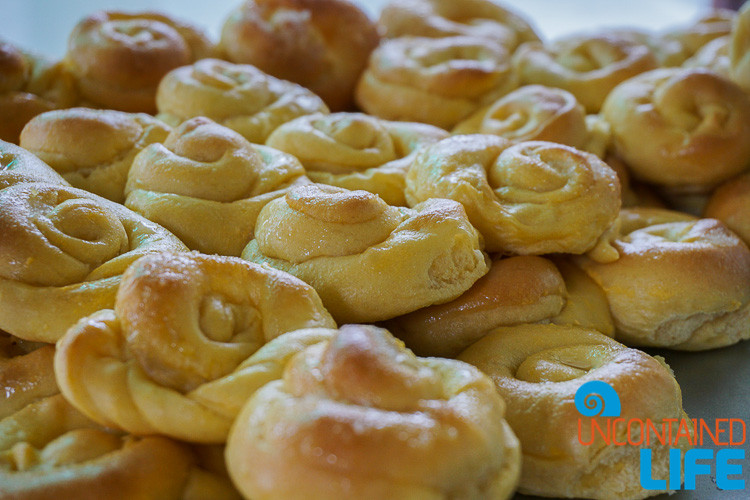 After consuming a few more of the bakery's treats, we headed downstairs for our tour pick-up. The Palawan Underground River Tour is one of the island's most popular attractions, and is certainly the main event for most visitors to Puerto Princesa (running in a dead heat with Honda Bay island hopping). Unfortunately it's one of those sites that it is impossible to visit entirely independently,* and given the cost of renting a motorbike in Puerto, we'd decided the hassle wasn't worth it and negotiated a discounted price on a group tour. That was…a mistake.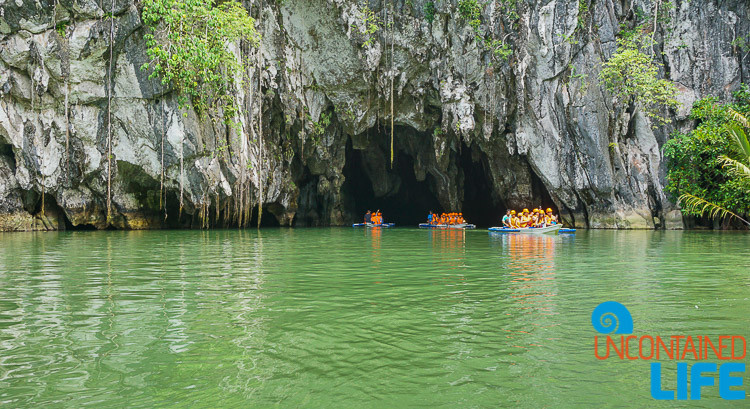 Why Tours Sometimes Suck: An Object Lesson
There really is nothing quite like being crammed into a tiny van (not built in any way shape or for for anyone over five foot five) with 13 people for a 1.5 hour drive when you haven't had a real cup of coffee. After a hair-raising drive north which included a mandatory stop at a gift shop and during which our tour guide made the same truly terrible joke about the fact that we were getting a "free lunch today!" (the free lunch included in the tour price) because it was his birthday—"of course, every day is my birthday!"—around 1 million times and pointed out a number of sites that no one but the two people sitting in the very front seat with the driver could actually see, we finally arrived at the tour's initial point of departure, Sabang.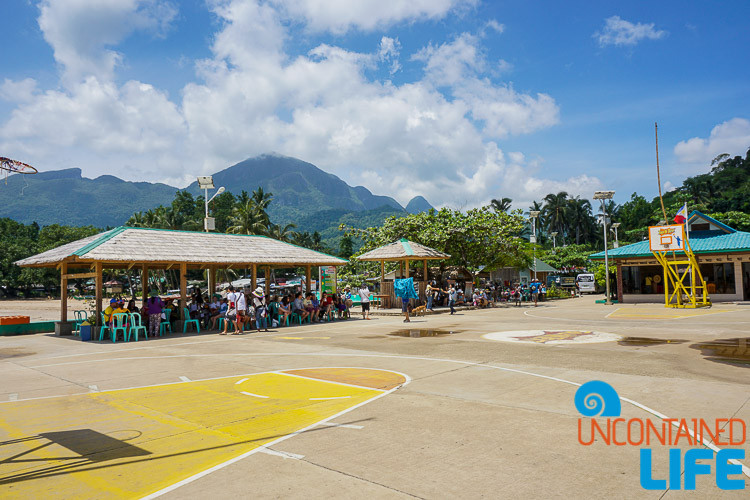 We had been warned that it might take some time for our tour to be given it's time slot—and that, once the time slot was given it might mean up to two hours of waiting before boarding the boat. Back in the day the wait was, apparently, a bit less annoying as tourists were allowed to take advantage of the local beach. But after a couple of deaths of visitors who ignored the "hey guys, there's a rip tide right now, so please don't swim" flags, anyone who comes with a tour group is strictly prohibited from venturing from the official waiting area. Fun times. As it happened, we were lucky: we only had to sit and wait (and gently reject round after round of pearl jewelry sellers) for around an hour.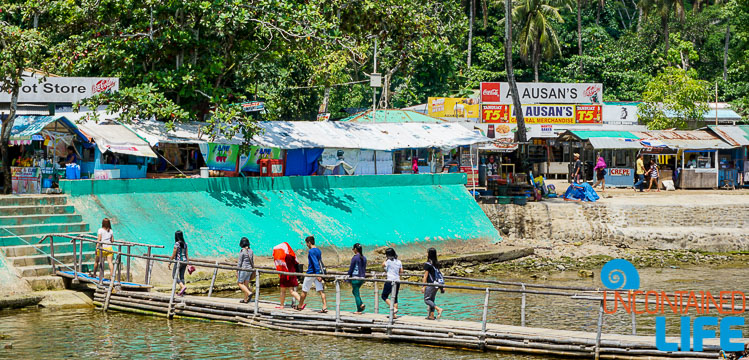 A Boat Ride Cures Most Ills…and We Finally Reach the Underground River!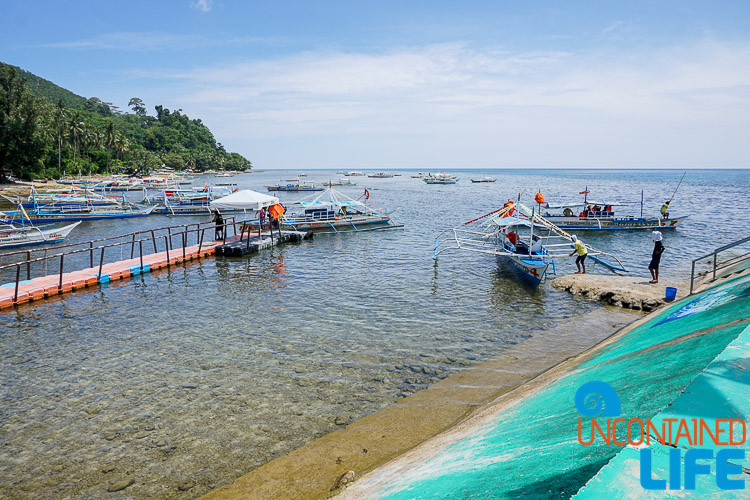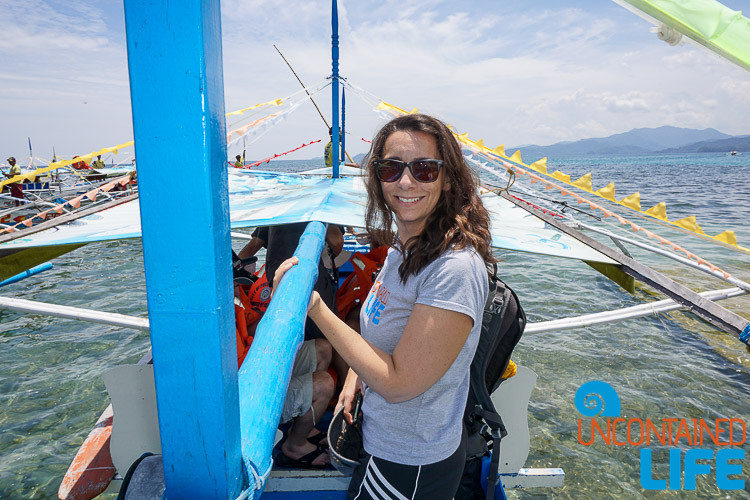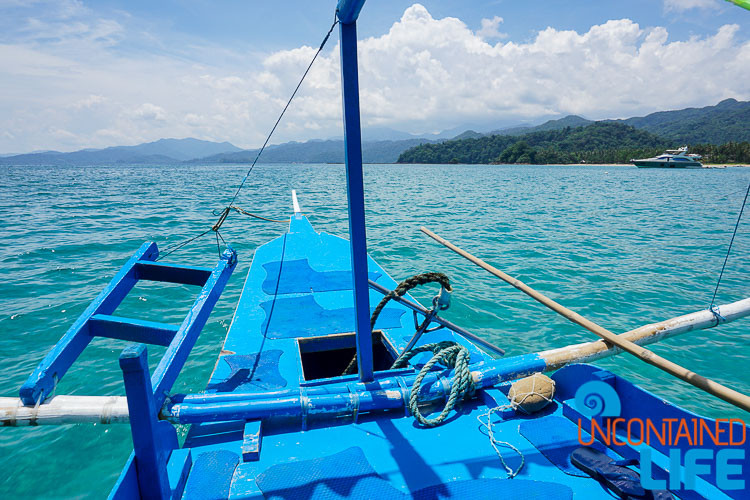 I relaxed a bit once we were on board our motorized banka which took us on a fun 20 minute ride to Entrance Beach—an admittedly gorgeous white sand beach and forest area which is home to a number of Macaque monkeys (though they were M.I.A. when we arrived).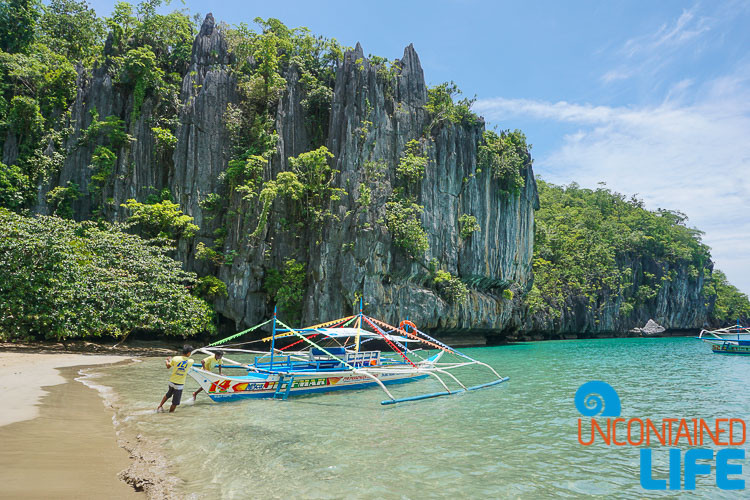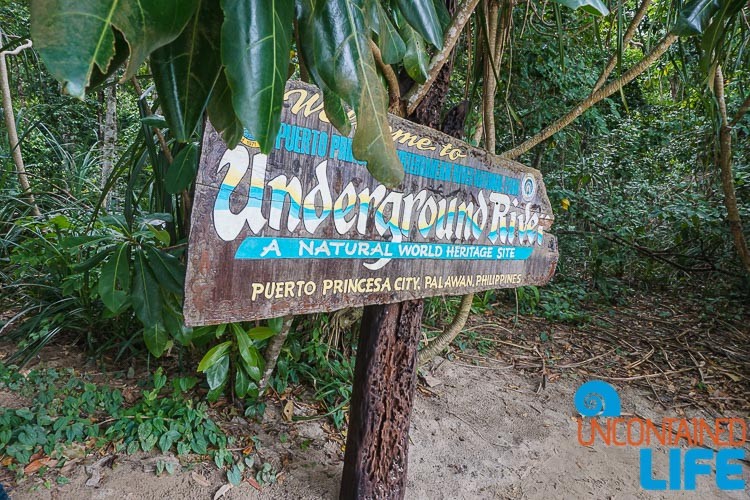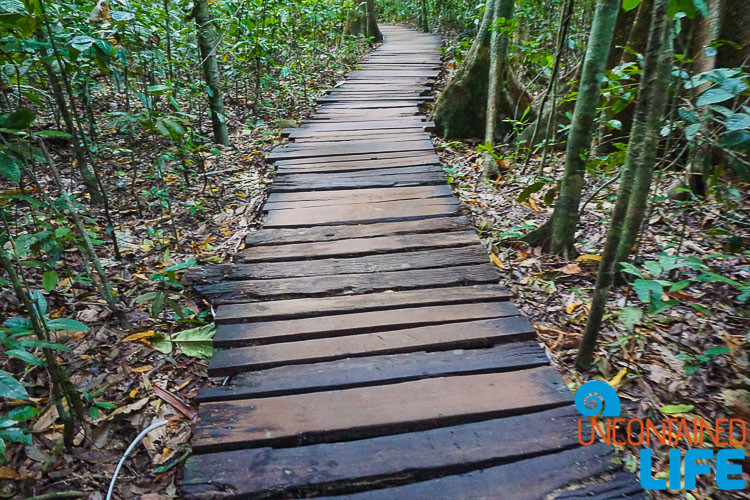 After winding our way through the forest on a wooden boardwalk we arrived at last at the tour's true starting place. As we waited for our tour in one of the canoes which would take us into the caves themselves, we cooled our toes in the greenish water of the river and watched as starlings darted into an out of the yawning cave opening.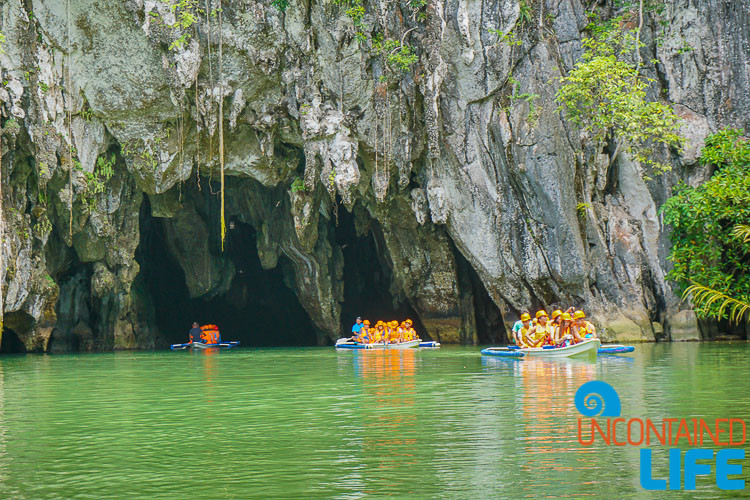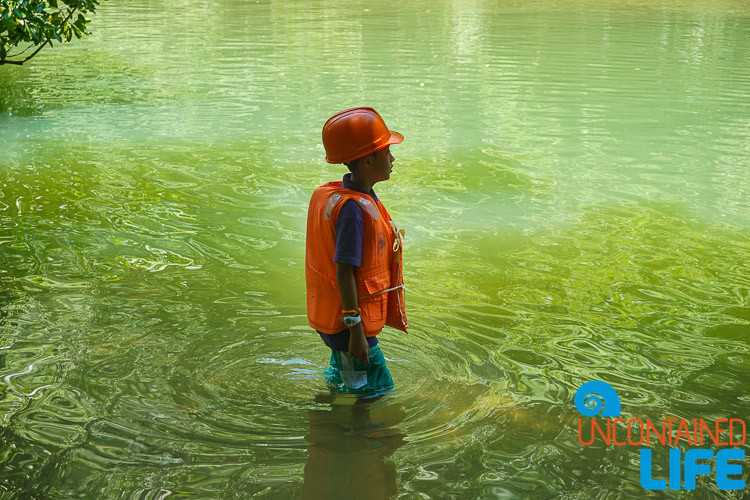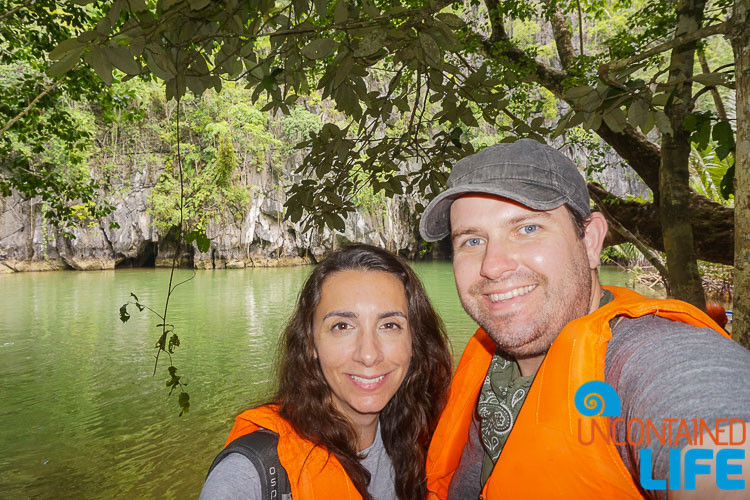 At last it was our turn! We piled into the canoe and our new guide (River guides are the only ones allowed to pilot boats in the caves) began his spiel. In the main, this involved instructing the visitor who'd been put in charge of the light as to where to send the beam to light up various stalagmite and stalactites formations: "Up more, more, more, to the left, left, yes, now down, down, left. Yes, there. Can you see the crocodile head? Yes? Can you see it?"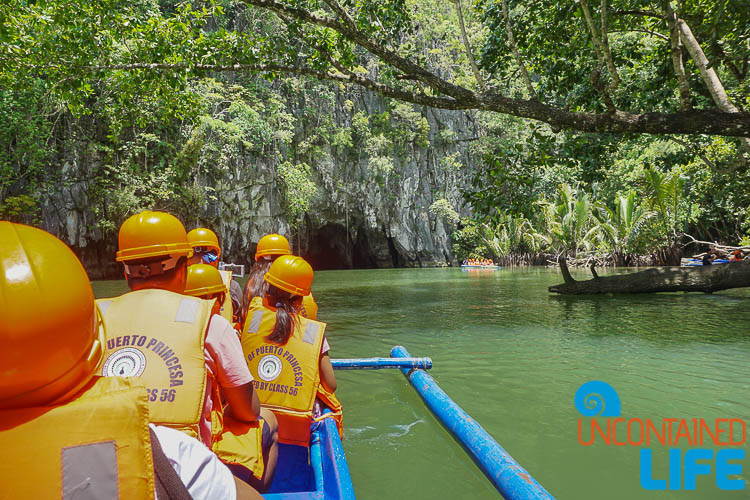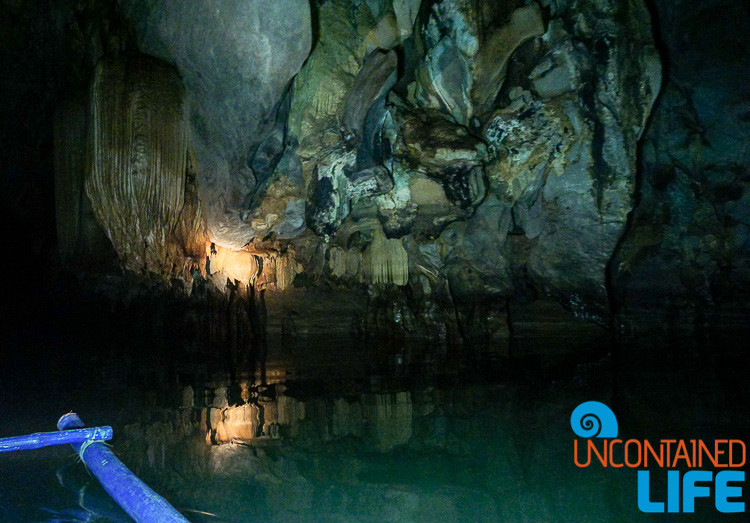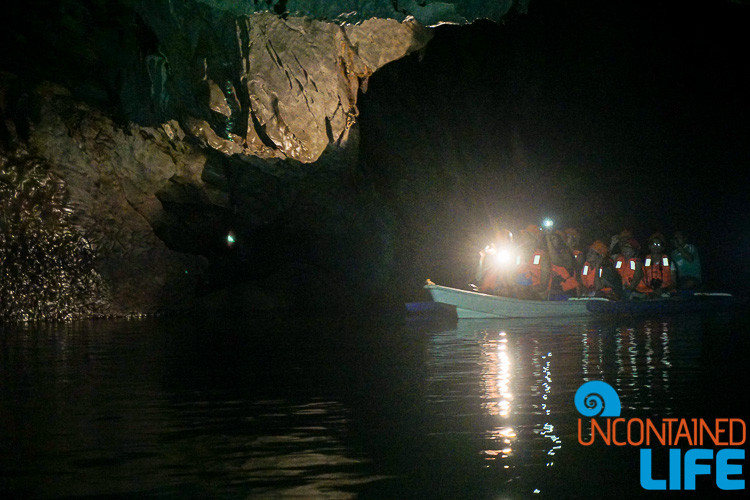 The canoe tour lasted around 45 minutes, and while I sometimes wished the guide would leave off with the chat for a bit, it was pretty amazing getting to see this underground world and its bat and bird inhabitants.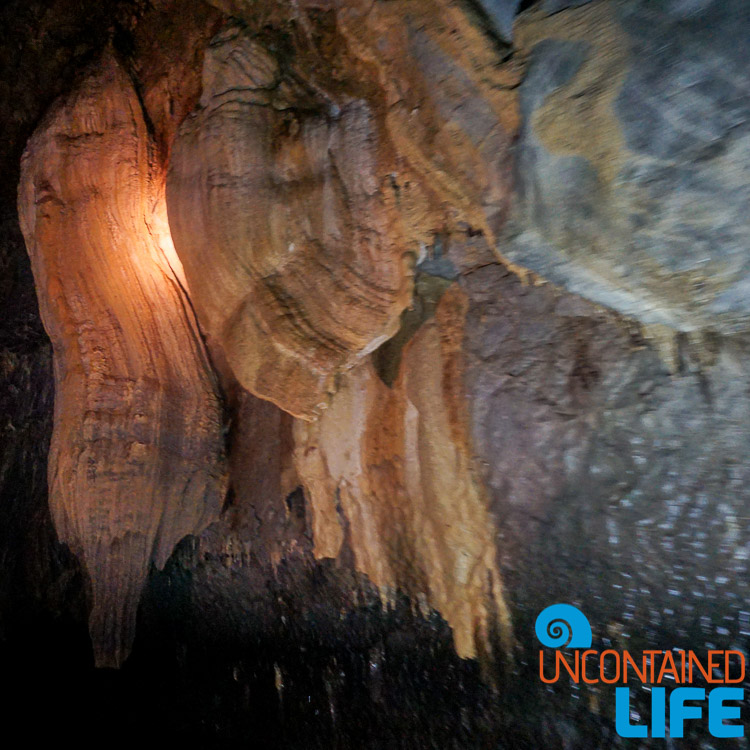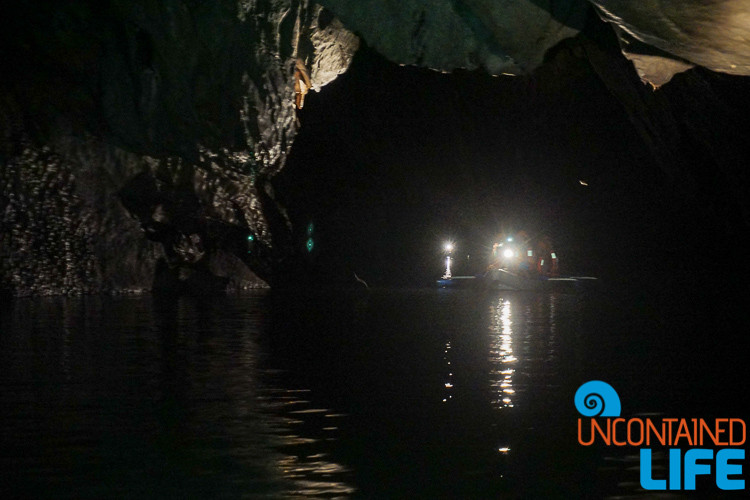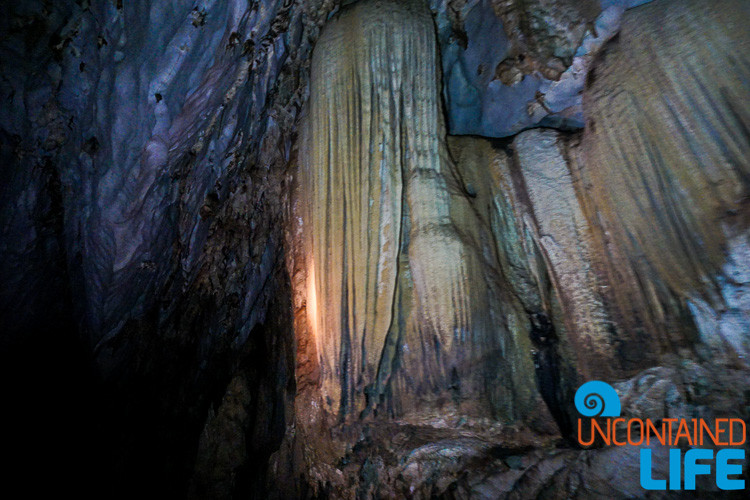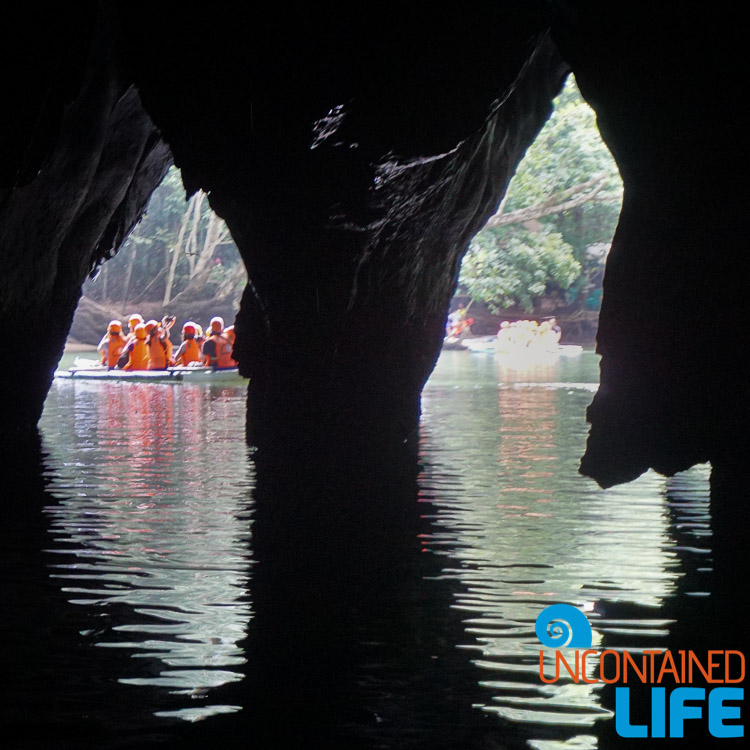 We only got to see the first 1.5 km of the Underground River cave (which runs a total length of 8.2 km) and I could only imagine what other cool things lay beyond our stopping point.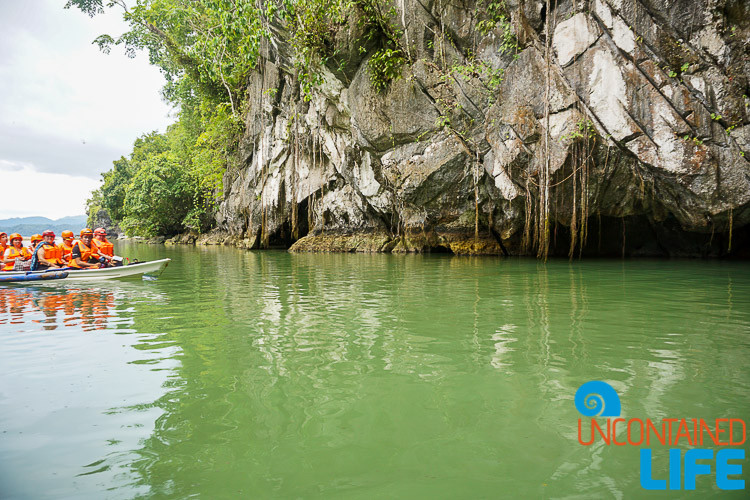 Back on the beach, we hopped in our banka once more, and returned to Sabang for the oft-mentioned free lunch. We didn't have any complaints about the buffet, but it was nothing to write home about, especially given our discovery of a couple of truly great places for local cuisine back in Puerto.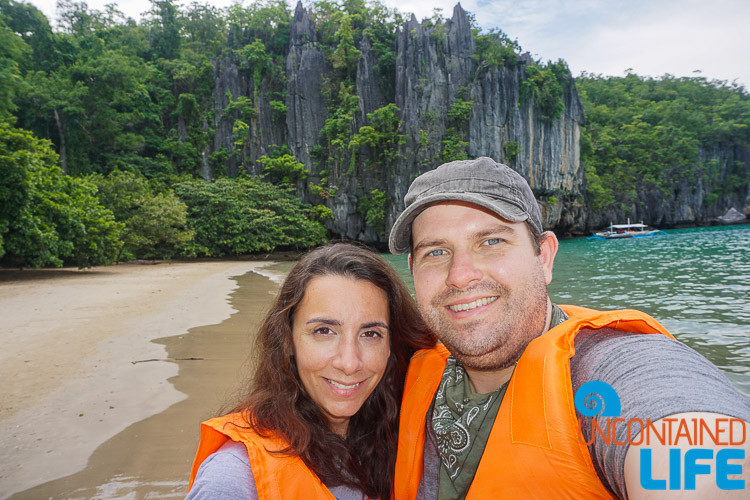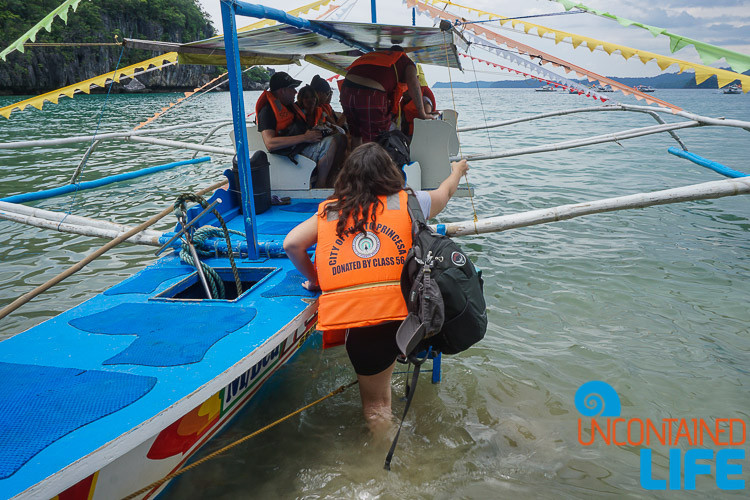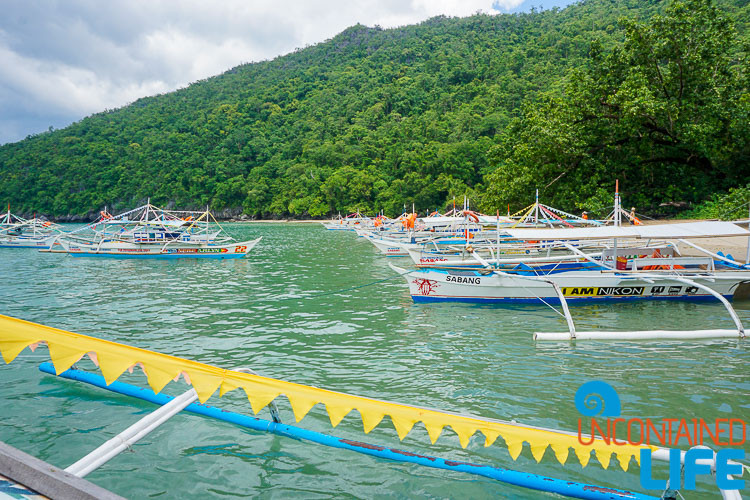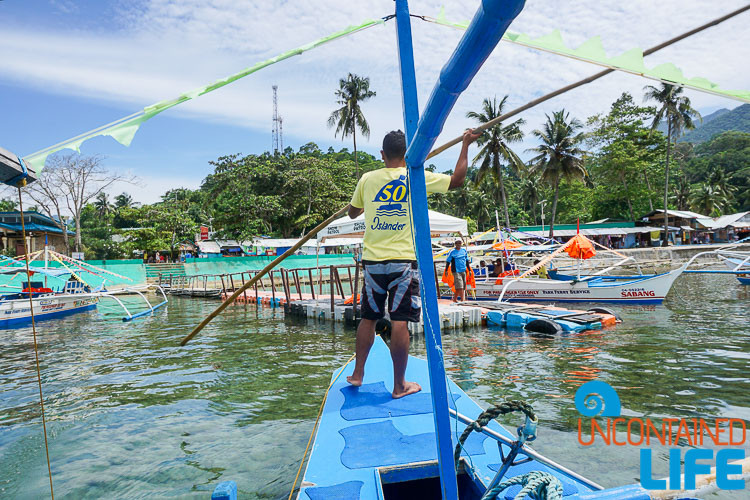 After lunch it was back in the van and back to Puerto…but not before yet another mandatory gift stop shop. This time, however, we and our fellow inmates staged a small revolt—non of us got out of the van to shop, so after a few awkward minutes of sitting in the parking lot, our guide relented and we continued on back to town.
Needless to say, we required more baked goods (and some time pretending to be ship captains) to recover our good spirits once we'd finally made it back to Dad's Bayview.
Final Review of the Underground River Tour
So. Final consensus: is the Palawan Underground River Tour worth your time? Yes. The U.R. is a slightly stinky, but definitely cool place to see if you're visiting Puerto Princesa.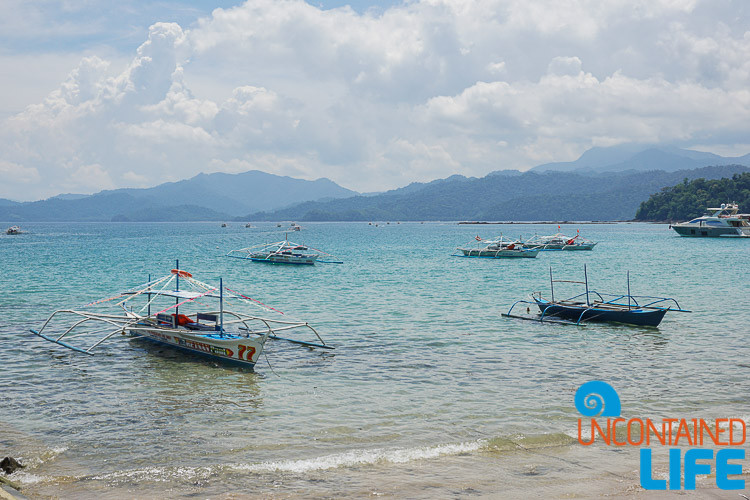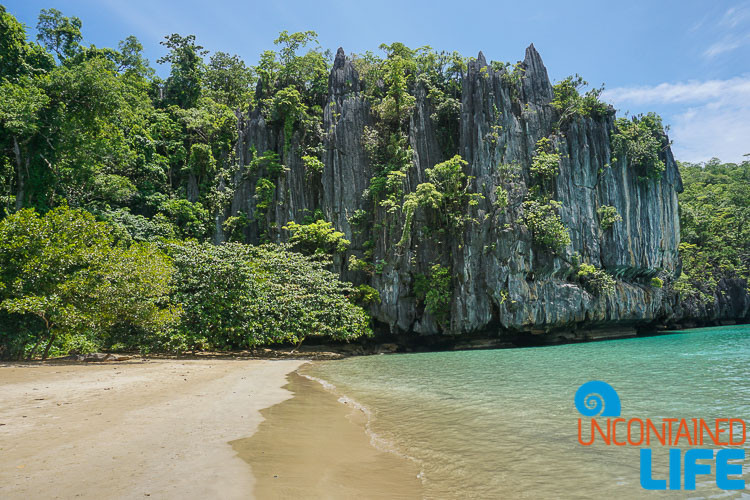 But after the less-than-awesome group package tour experience, if we did visit again Justin and I would gladly go through the hassle of reserving our own permits and transport in exchange for savings of around 500 pesos per person (based on what it probably would have cost for us to do the tour independently) and having the freedom to actually enjoy our ride to and from Puerto (the drive really is lovely when you can see it).
Have you visited the Underground River? Did you go as part of a tour group or alone? What did you think of the experience?
---
*While there is no way to do the tour completely independently, you can be indie up until you actually arrive at the U.R. itself by doing the following:
Secure your permit A.S.A.P. at the City Coliseum (tricycle drivers will know where this is located). Operating hours are M-F, 8am-4pm and Sat/Sun 8am-11am, 1pm-4pm.

Go to the U.R. Office and get your number. Once it's your turn, give the processing officer your ID and let him know you're applying for a Visitor's Entry Permit. Fees are 250 pesos for adults, 150 for children, 175 for locals and 100 for seniors and the disabled.

If you're told there are no available slots for the date you want (or that the only way to get a permit is through a tour company in town—not true!!) ask to be put on the waiting list and leave your contact details and/or ask if another date is available (assuming you have that flexibility in your travel plans).

To get to Sabang after securing your V.E.P. either rent your own vehicle and make the drive yourself (this is what we would choose) or head to the San Jose Bus Terminal and catch a local jeepney to Sabang (there are runs at 7am, 9am, 12pm and 2pm and seats are first come, first served) or book with Lexus Vans (during high season, it's best to book a seat in advance; call their booking office at 0912-100-2651 or 0917-585-9602).

   

Once in Sabang, head to the U.R. office to pay your environmental fee and get your queue number (I.E. how you'll know when it's your turn to get on the boat that will take you to Entrance Beach).

Wait for your number to be called, hop on your boat, and enjoy the U.R.!
---
* Thanks to Dad's Bayview Pension for hosting us in Puerto Princesa. As always, all opinions are our own.