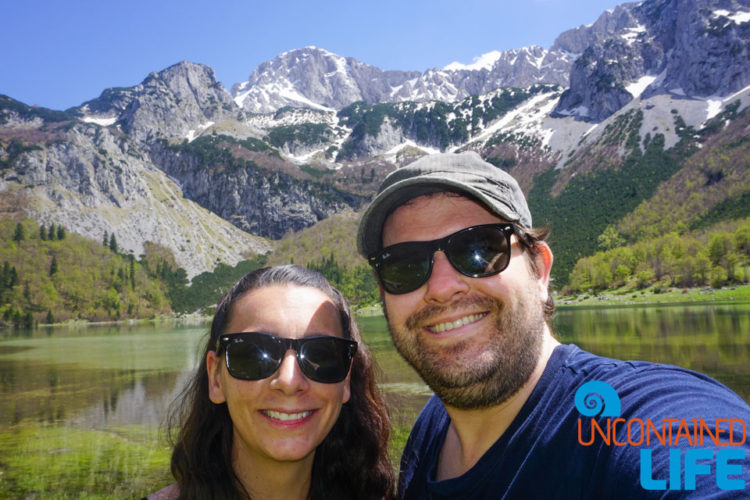 Hillary and I had already joined Green Visions for a hiking tour of the Highlands and Lukomir Village in Bosnia and Herzegovina and had been impressed, not only with the scenery and cultural insight, but, with the service, the attitude, and the attention to detail of the guides.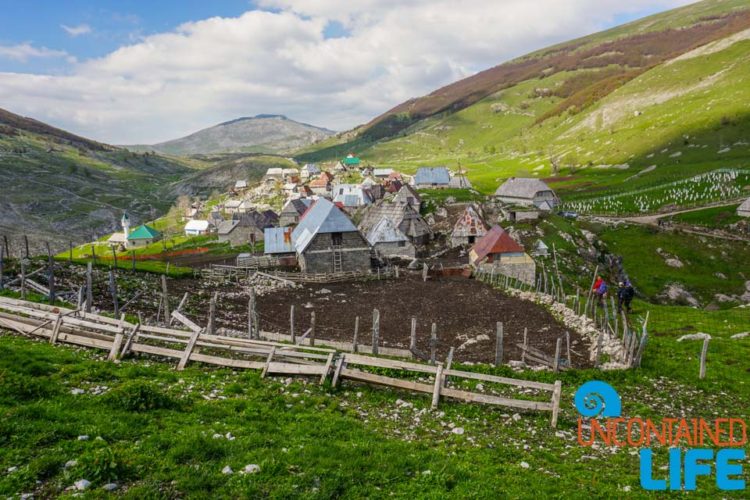 So, we were ready to see if a second day trip to Sutjeska National Park with Green Visions would produce the same experience. They did not disappoint. The national park is one of the most beautiful places to visit in Bosnia.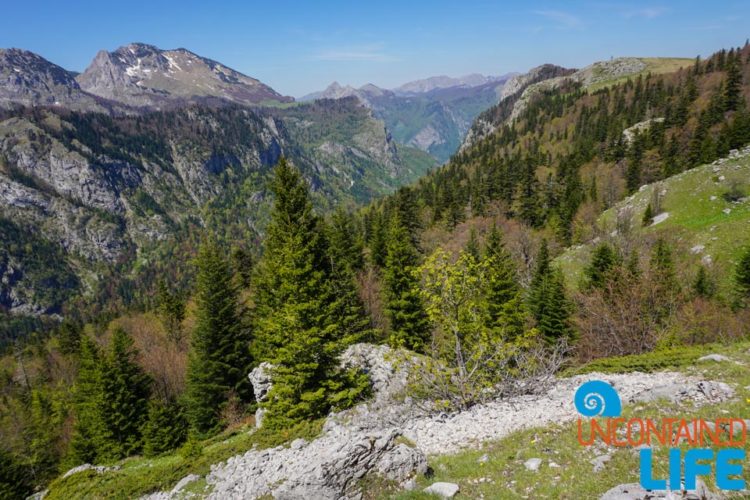 Arriving at Sutjeska National Park
This time, we were with a larger group in a larger van. The drive itself is beautiful. For much of the ride, we followed a river that had cut through the mountain by sheer force of nature and time. Note: the roads in Bosnia (especially going up to the mountains) are long and winding. If you have issues with motion sickness, we suggest you sit toward the front of the vehicle.
We made one quick stop at the park entrance. This is really more of an opportunity to get out and stretch your legs, take a quick photo of the mountains and a less-than-impressive waterfall, and (if nature calls) "go to the bushes."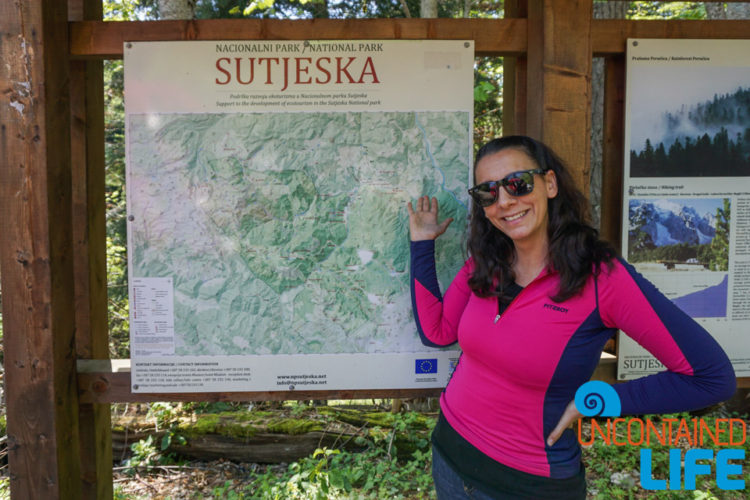 Once we arrived at Sutjeska National Park, we were given a few food items to carry (though the guides to most of the heavy lifting) and began our journey.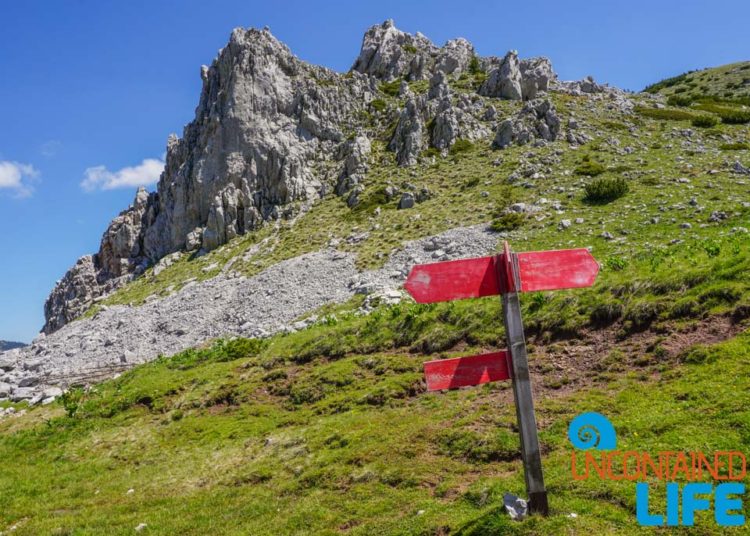 Immediately, we were in hiker's heaven.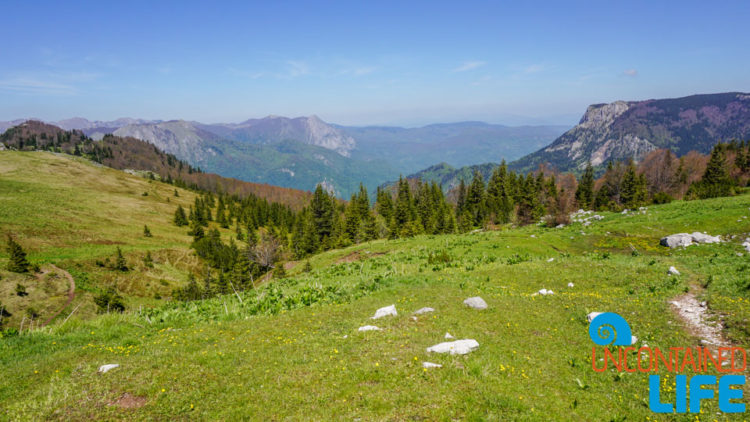 Hiking Bosnia's Yosemite
This place is known as Bosnia's Yosemite. I grew up in the San Francisco Bay Area and camping trips to my favorite national park were an annual family adventure, and Yosemite was the last place Hillary and I visited before leaving the US for our world-travel adventures. I have a very high view of Yosemite, and to make that kind of a comparison was more like a challenge to me. And I can say, Sutjeska National Park met the challenge.
This walk in the woods follows a trail that leads across a rocky mountainside…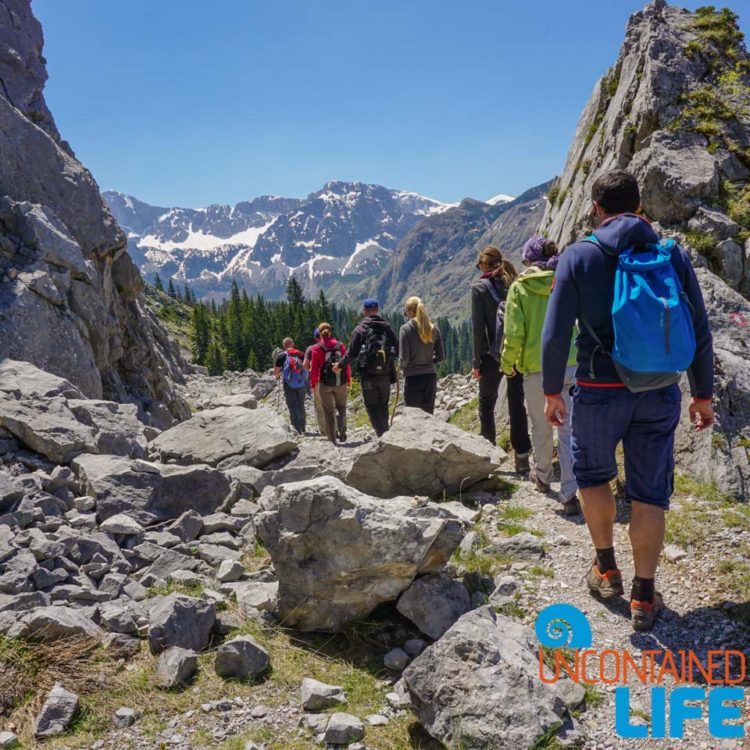 down tree-filled hatchbacks…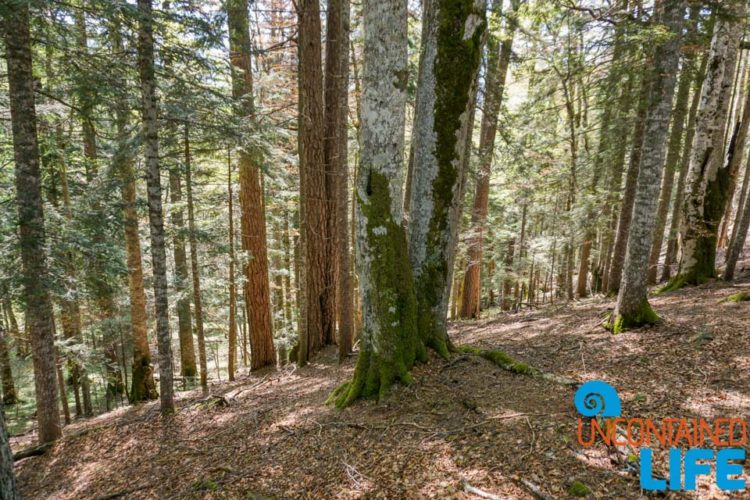 across a retired lake bed meadow…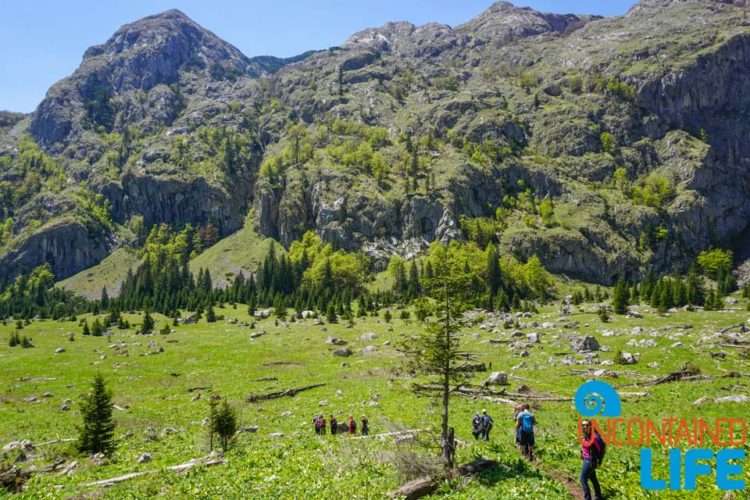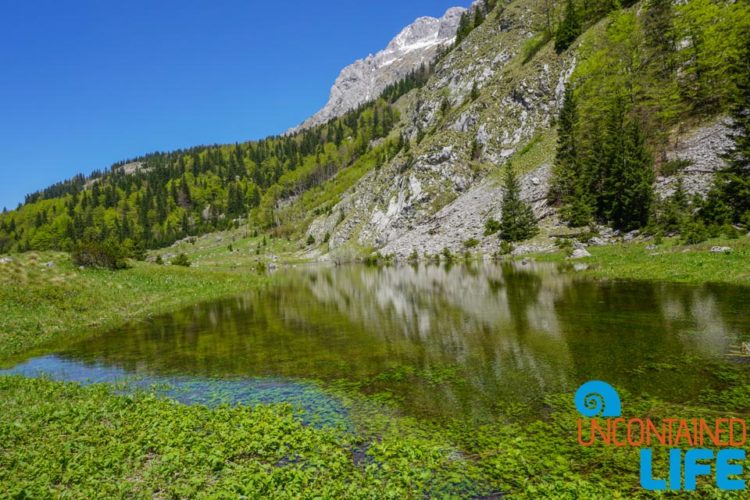 up a natural stone staircase…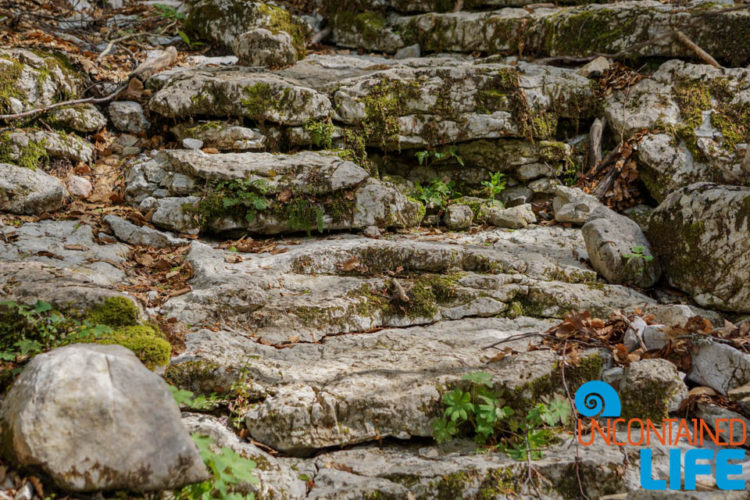 through a forest of ferns and foliage…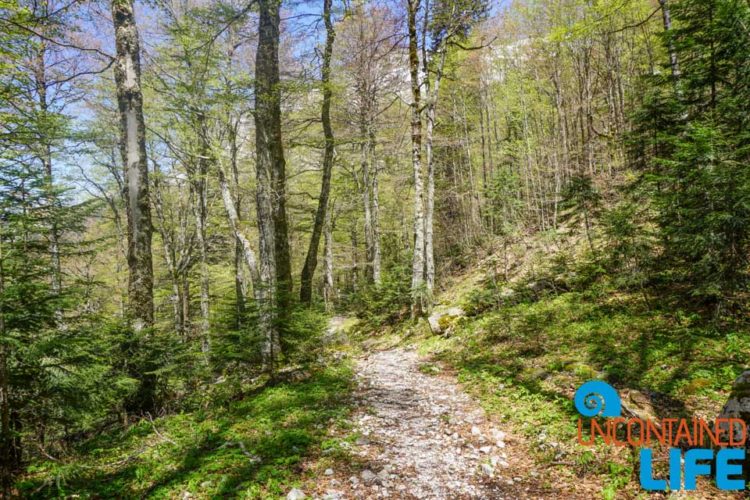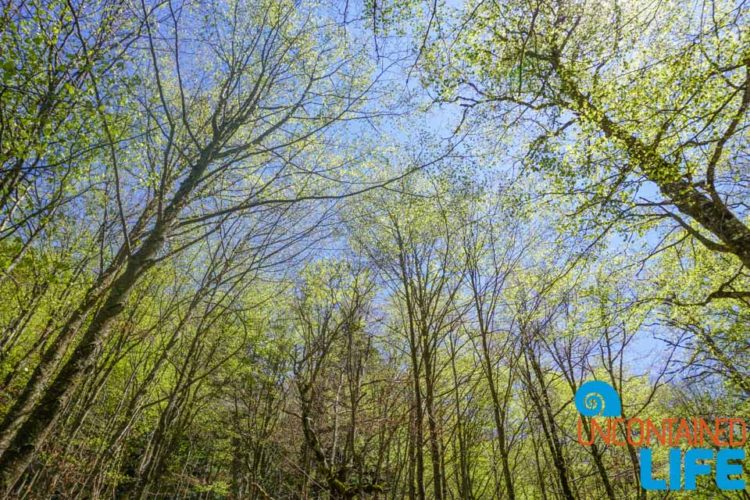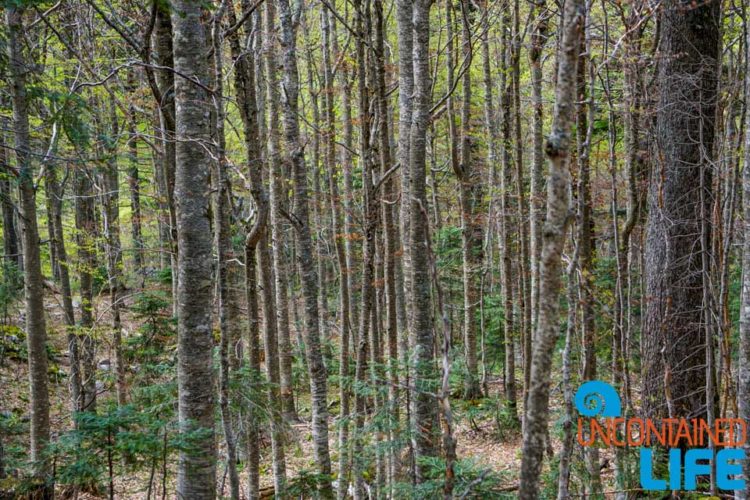 …and finally reaches the heart-shaped, Glacier Lake Trnovacko, surrounded by snow-capped mountains.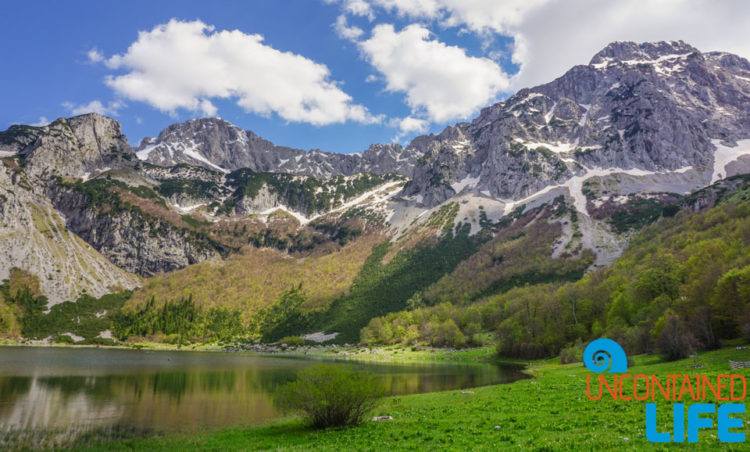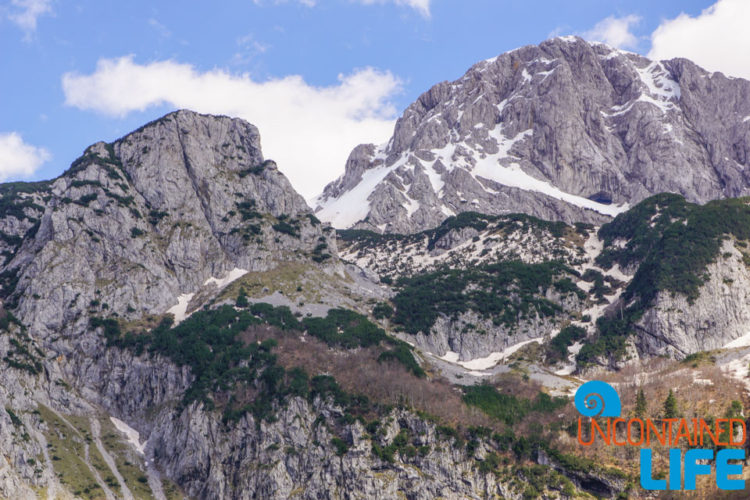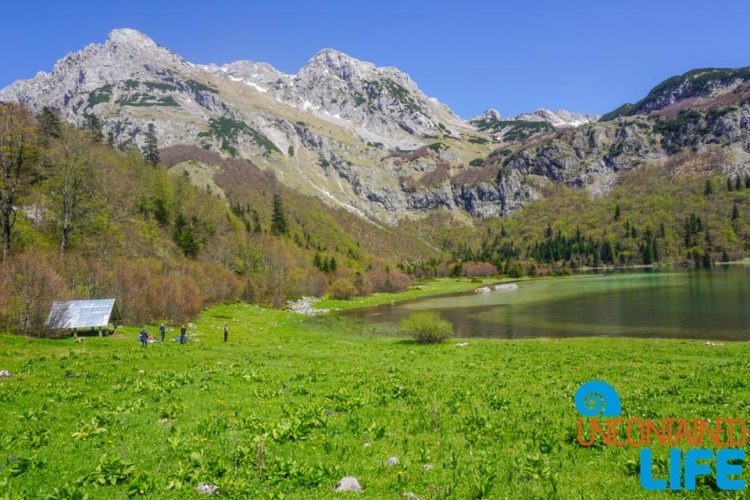 Did I mention that this was one of the best places to visit in Bosnia?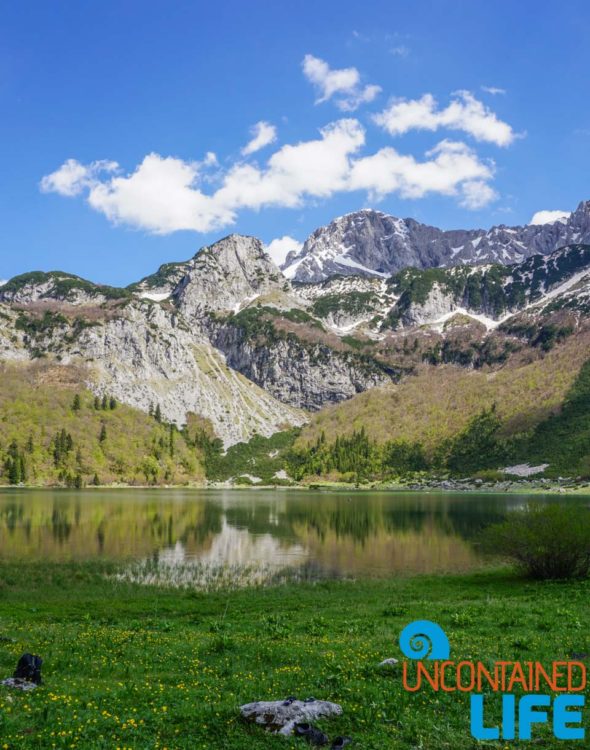 Crossing Over
As it turns out, that is an untruth. Because, along the way, we came across a tree next to the trail. On this trail was sign. The sign essentially said, "you're now crossing the border from Bosnia into Montenegro. No passport needed, no border patrol, no fence…just a sign.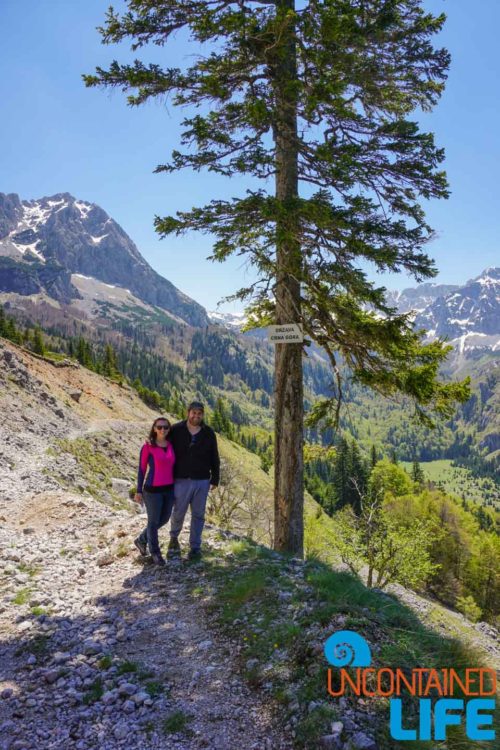 (Yes, we took the obligatory "I have one foot in each country" photo.) Upon our arrival at the lake, we were greeted by a few local fisherman. Our guides went to work setting up a veritable feast made more delicious after an hour and a half hike.
It was a beautiful day with clear blue skies. However, it was still early spring and the water was icy cold. That didn't stop me from shedding my shoes to walk barefoot along the lake's edge and   dip my toes in the water. I'll repeat: the water was ice cold.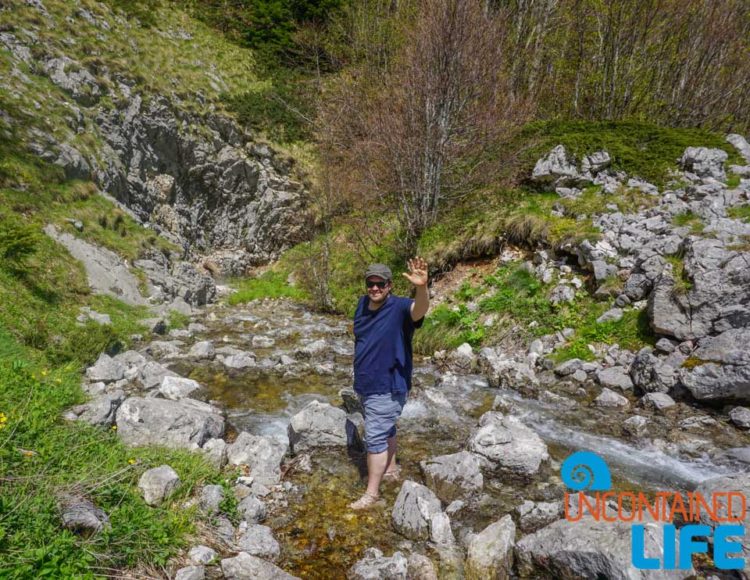 Hillary (wisely) kept her shoes on and enjoyed the sunshine.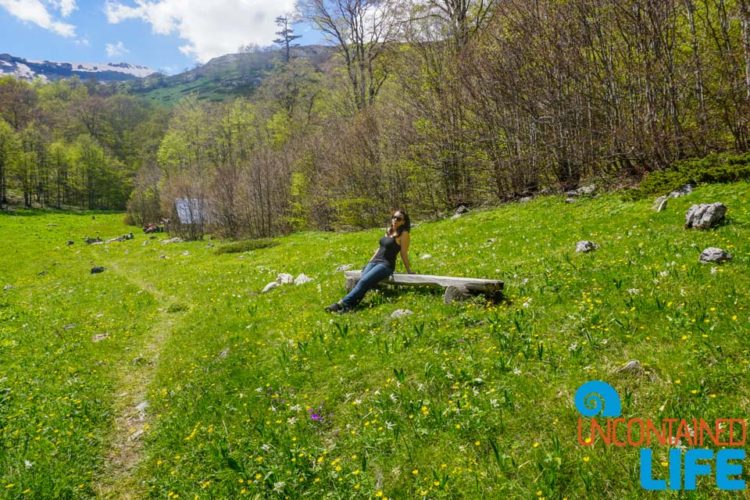 The walk back was equally stunning. I took the time to notice more of the details beside the trail.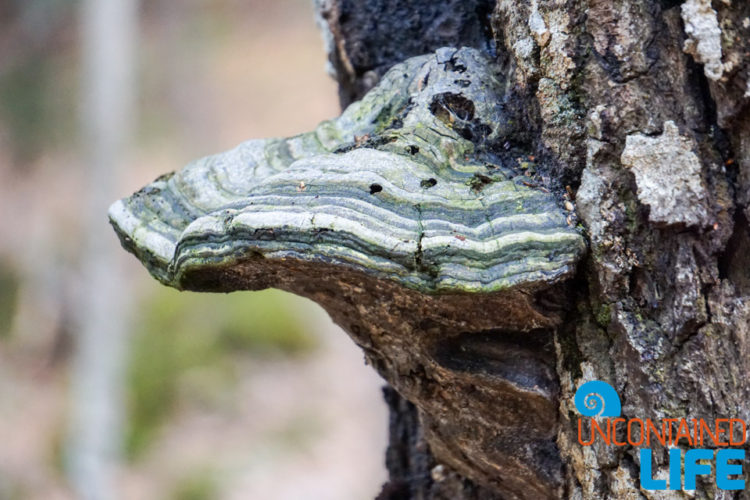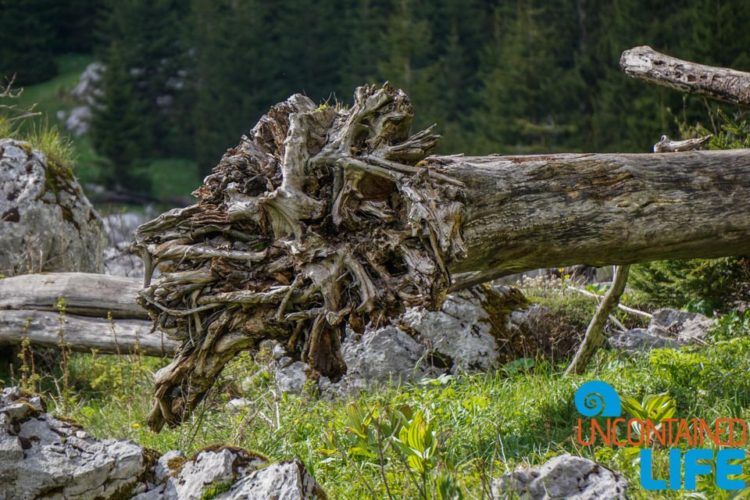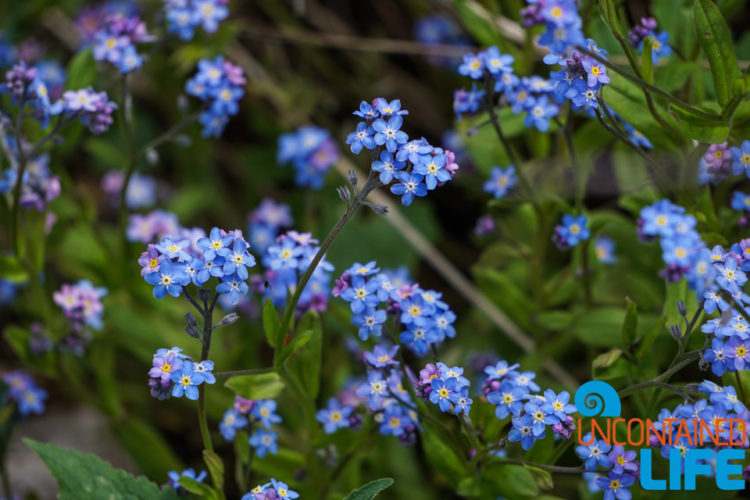 Back to Sarajevo
We returned to the start of the trail, settled into our seats in the van and watched as the familiar scenery changed colors with the arrival of sunset.
Though we had, technically, crossed the border into Montenegro, Hillary and I were, once again, delighted by the unexpected beauty of Bosnia.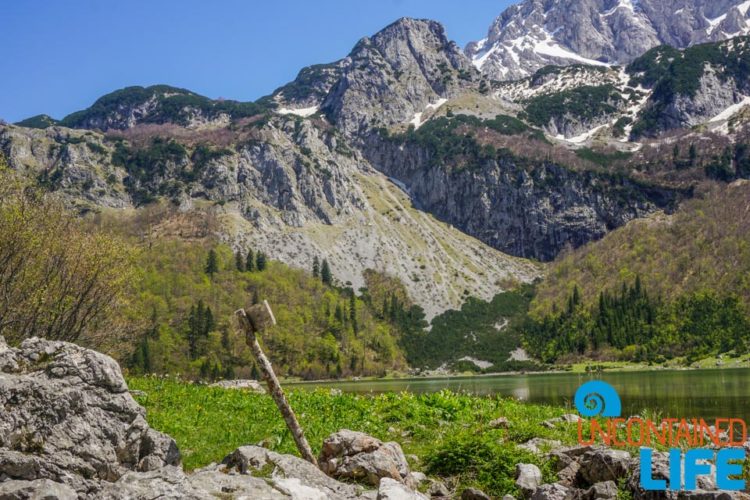 If you were to ask me what I knew about Bosnia and Herzegovina a few months ago, I would have replied only with what I knew from it's difficult past.  But, this country, this countryside, this pristine outdoor palace is a traveler's dream. Green Visions has taken so many positive steps to preserve, explore, and share the pristine national treasure and we were so fortunate to take part.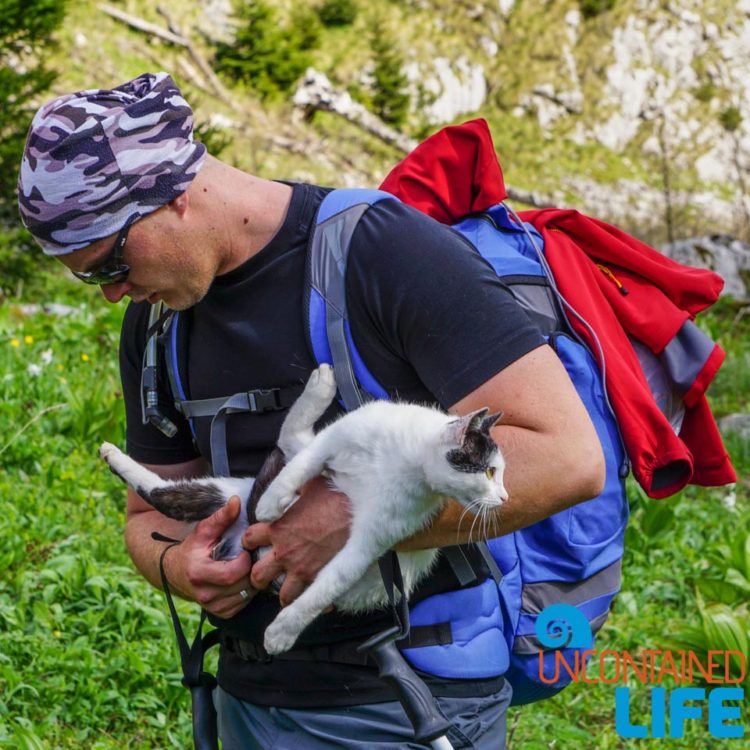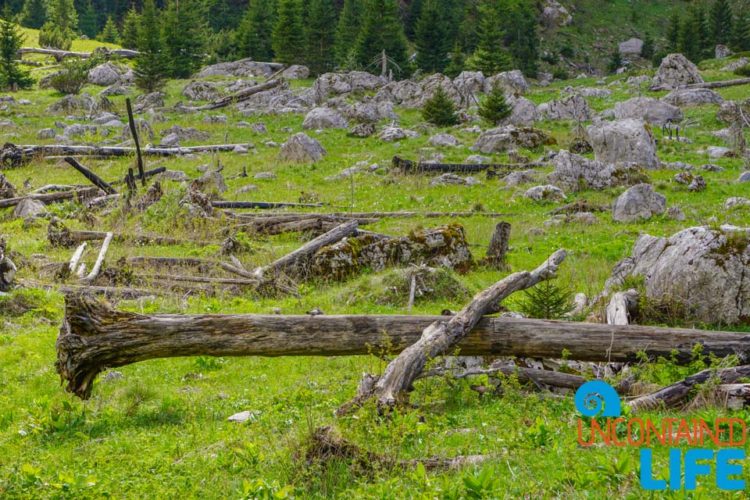 Please, if you're looking for places to visit in Bosnia, visit Sutjeska National Park and any of the other amazing geological, botanical, biological, and natural places the country has to offer. Hillary and I think that you need to add Bosnia and Herzegovina to your "must see" list. Most travel bloggers will suggest Mostar and Sarajevo (and we agree that Sarajevo is awesome), but, the plethora of outdoor adventures and activities available outside the cities is the country's best kept secret.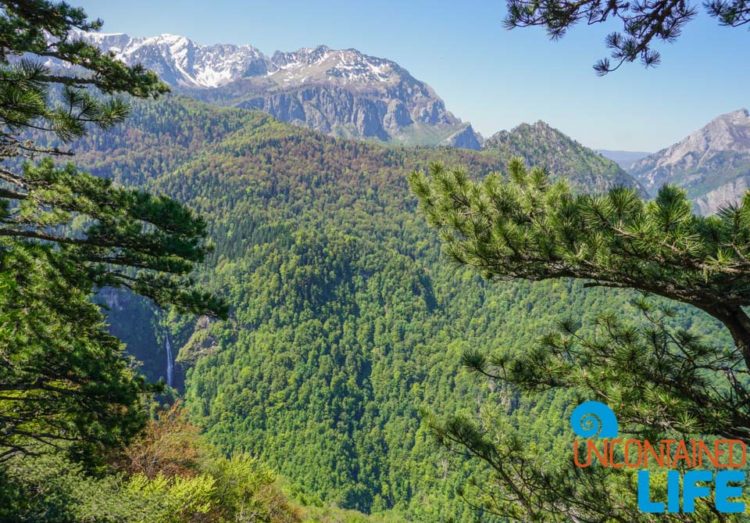 Happy hiking.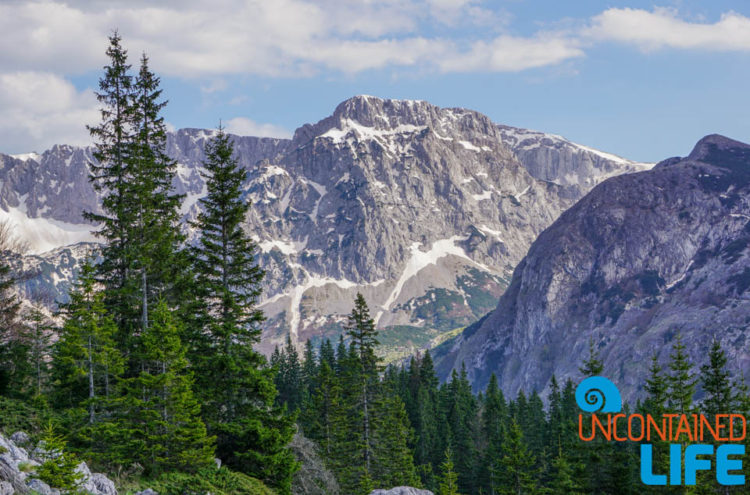 All photographs were taken with the Sony A600—a lightweight, mirrorless camera that's perfect for world travel. You can find out more about the gear we carry when we travel HERE.
---
* Our thanks to Green Visions Bosnia for their support during our time in Sarajevo. As always, all opinions are 100% our own.
Are you on Pinterest? Pin this post!