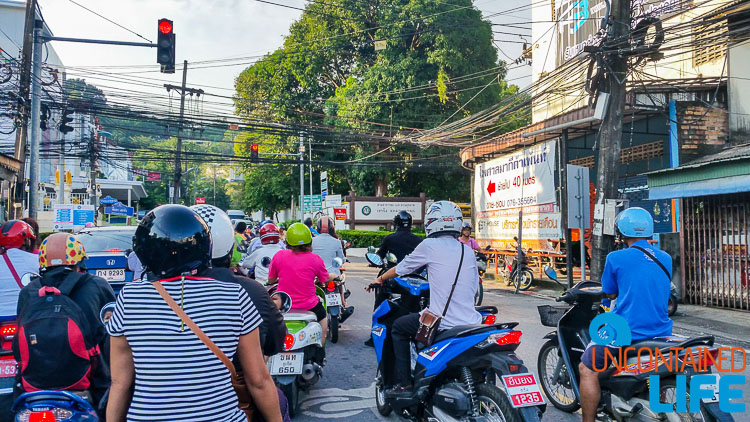 Renting a scooter in Southeast Asia can be a highlight of your holiday–freeing you from the limits of public transportation, and allowing you to get away from the main tourist centers. Justin and I rent scooters every chance we get when we travel, both for urban explorations and hunts for secluded beaches…like this one we found in Phuket: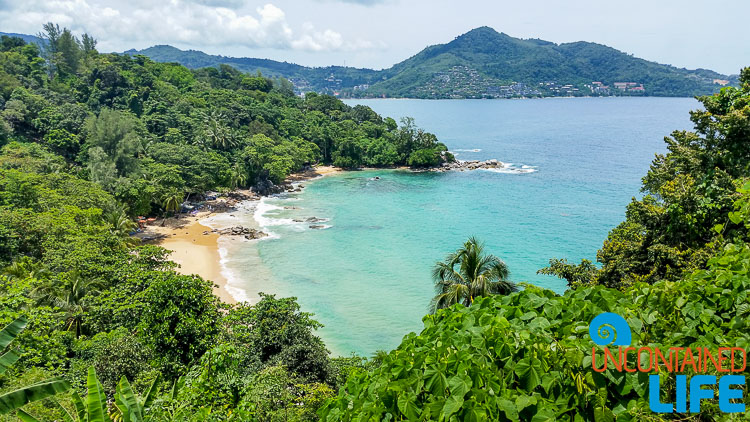 But the process of renting a good scooter or motorbike can also be a headache for first-timers, and there are some very real scams and potential problems you'll want to avoid.
So, read on for our top tips for renting a scooter in Southeast Asia, and enjoy your ride! 
1) Know your price points before you go "shopping" for your rental. 
Like any other bargaining situation in Southeast Asia, it's important to know a fair price for your rental before you head out to the shops. You can begin by asking your hotel/hostel staff, but even they will often give you a slightly inflated number (particularly if they have an agreement with one specific rental shop, which is often the case). Your best source of knowledge for setting a fair price for your scooter or motorbike rental is your fellow travelers. Rates should be particularly negotiable during low and shoulder seasons. (Also good general rule of thumb: if you're renting for multiple days, you can usually get an additional discount of at least 10%-15% off of the normal daily rate).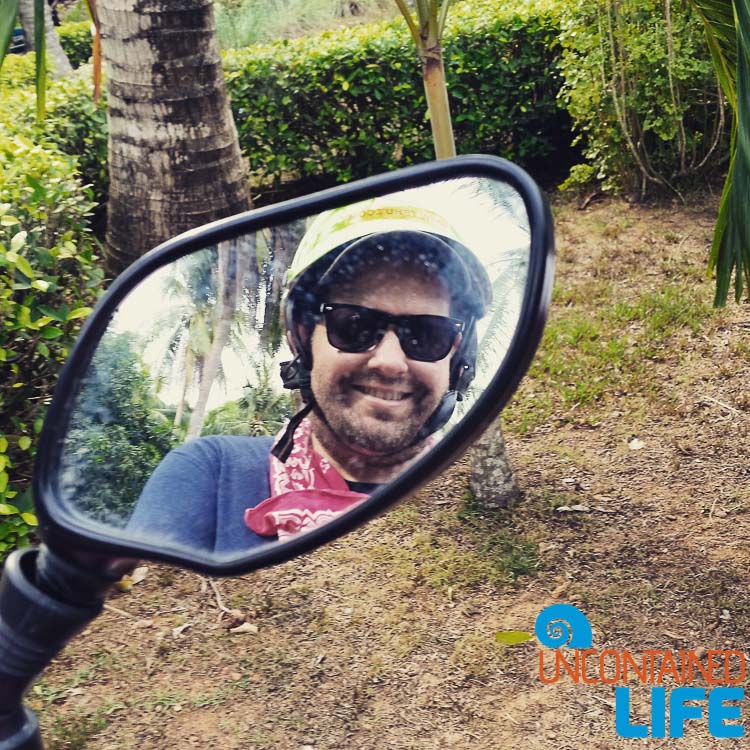 2)  Know what price you want, what you're willing to settle for, and when you're going to walk away. 
You may know the ideal rate you want to pay for your rental, but you also don't want to end up wasting hours wandering from shop to shop and haggling over that last 35 Baht ($1 USD). That's why you also need to have a "settling" rate in mind–that is, something a bit more than your ideal rate that you'd still be willing to pay if it means not having to spend more time on the hunt for a good bike.
That being said, don't let yourself be ripped off. If the person you are dealing with is unwilling to negotiate, don't get loud or angry (this will get you nowhere), just move on ASAP. In any tourist hub there will always be another 50 places to rent from within a 2 block radius. (Places you can rent a scooter/motorbike in Southeast Asia may include, but are not limited to, bike shops, massage places, nail salons, restaurants, hotels, and coffee bars: basically, everyone knows someone who has a bike for rent!)
3) Make sure you have a good bike, and have viewed its legal registration documents, before signing the paperwork and handing over your cash. 
You need to be able to provide proper registration if you are pulled over by police, so any legit scooter/motorbike rental is going to come with proper registration documents (it may be a separate card, or it may be pasted onto the bike itself). Your renter should also allow you to test the bike (just a quick run up and down the road) before you pay. Here's a quick checklist of things to look for before paying for your rental:
–Make sure the tires have tread on them.
–Make sure the brakes work well (get up some speed and then make a hard stop).
–Make sure the headlamps work (or at least one of them does).
–Check and double check that the mirrors are clean and don't flop around as you drive (floppy mirrors are incredibly dangerous and, unfortunately, a very common problem with rental bikes).
–Finally, make sure the bike has enough power for your needs: if you are a heavier individual, are sharing the bike with a partner, and/or if your trip includes hills, you will want a bike with 125cc (110 just doesn't cut it).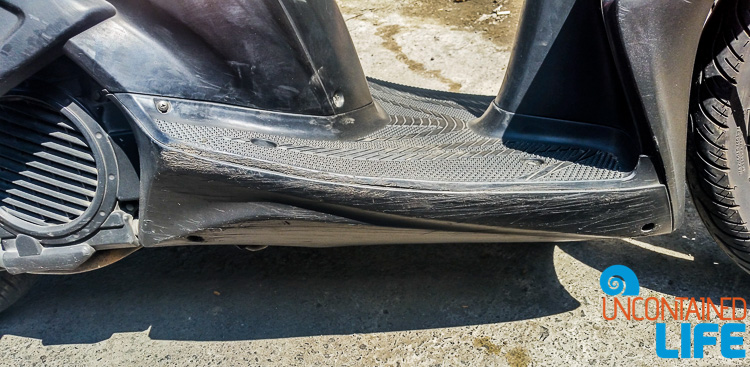 4) Take photos of any damage to the scooter before driving away.
Most scooters available for rent are in good shape overall, but almost every rental will have some minor cosmetic damage that should be documented before you ride away (just snap photos on your mobile).
If the bike has any more severe damage (large scrapes, cracks, etc.), make sure these defects are noted down on the contact before you sign. It may seem nit-picky (and you may get some attitude from the rental company), but remember, at the end of the day, the contract puts you on the hook for any damage that occurs while the bike is in your possession; don't get scammed into paying for someone else's wear and tear!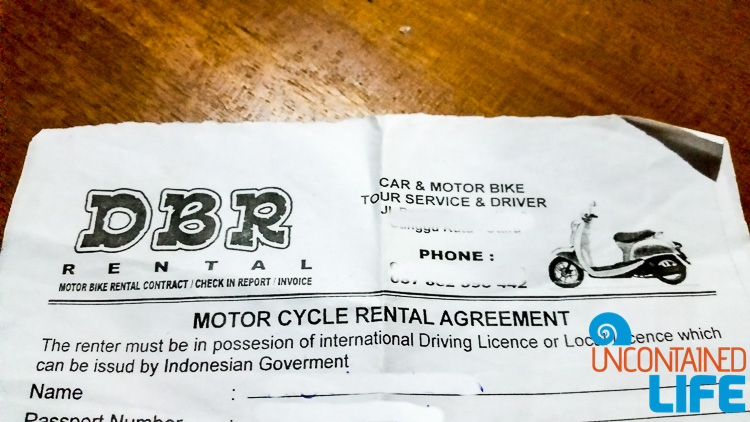 5) Read the fine print of your rental contract.
You might negotiate the best daily rental price in the world, but you could still end up paying through the nose if you neglect to read the fine print of a rental contract. This fine print can not only hold you liable for any damage done to the bike during the course of the rental, it can also hold you responsible if the bike is stolen to the tune of hundreds, if not thousands of dollars USD (far, far more than the bike itself is actually worth). You'll want to be aware of these potential costs before renting, and they should figure into your "shopping" process, since every renter will have a different policy. In one town we stayed in on Bali, for example, there were two main rental companies: one charged renters a very reasonable $100 USD if the bike was stolen; the other company charged $1000–a huge amount of potential cost-risk to take on for a 3 day rental. Can you guess which company we chose? 
6) Always get a receipt for your payment and avoid leaving your passport.
We've never encountered any problems receiving a receipt, and you shouldn't either if your renter is on the up and up. As for leaving your passport as collateral, this has, unfortunately, become a standard request in Southeast Asia. That being said, handing your passport over to a stranger is always a major no-no. How to get around this problem? There are usually a couple of options:
–Offer your home driver's license (not your international one) or other legal ID as collateral.
–Offer to pay a refundable deposit (this deposit will often be more than the cost of the rental itself, but you'll get the money back, so it's no loss).
–Offer a copy of your passport (this only rarely works, but it's worth a try).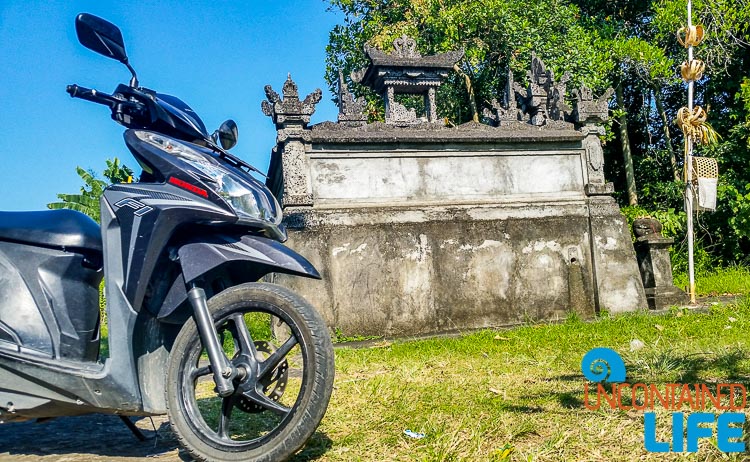 7) Don't ride without a valid international driver's license, a helmet, and travel insurance.
It may feel tempting to forgo helmets (especially since many locals do) and even more so  to take a chance and ride without an international drivers license (some rental companies may check to ensure you have a license, but most won't). But, given that foreign drivers are major targets for police (who will pull you over without cause), we don't recommend anyone take these risks.
Even if the police merely issue you a ticket, the red tape-heavy process of paying (which usually requires a trip to the police station) will be time-consuming. Worse still, if the police are corrupt, you might find yourself being pressured into handing over all the cash you're carrying, or having your bike confiscated (and guess who's on the hook to the rental company to bring the bike back on time? Not the police, that's for sure!) On the positive side, whenever we've been pulled over, and we've shown the proper documents, we've been allowed to continue on our way again without further ado.
As for why you need travel insurance–while travel insurance won't cover damage to your rental bike, or injuries you cause to any third party, a good travel insurance plan, like the one offered by World Nomads, will take care of your medical care if you end up in an accident.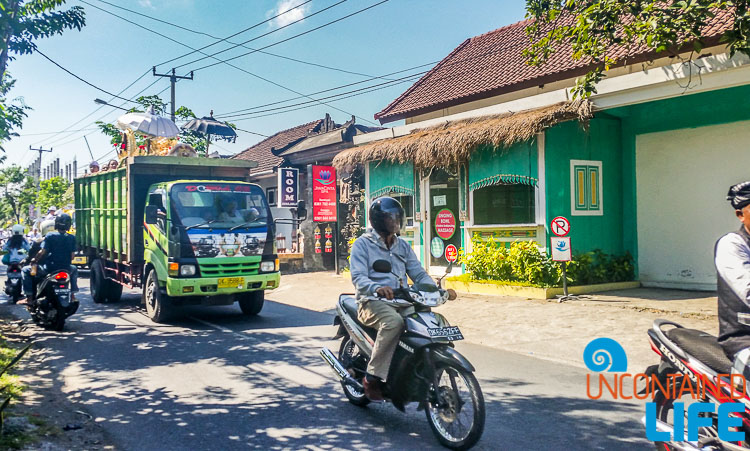 8) Dress appropriately and pack a mini first aid kit.
Even if you're careful, there's always a risk of you might end up in a close encounter with asphalt (or worse) during your ride–particularly given the poor state of many of the roads in Southeast Asia, and the creative local driving. Choosing long pants (like these ones for men or these cute, convertible ones for women) and closed-toed shoes over shorts and sandals will help protect you in case the worst happens.
Too, packing some antibiotic cream and a few band-aids could make all the difference if you end up far off the beaten track with a scraped up arm or leg. 
Looking for more Travel Tips or Packing Resources? We've got you covered! Interested in Travel Insurance? Use the widget below to find the right plan for your own adventures. 
(If you've found this article helpful, consider using one of the links on this page when purchasing your insurance. Doing so helps support Uncontained Life–allowing us to continue providing you with the articles, stories, photos and travel tips you enjoy.)