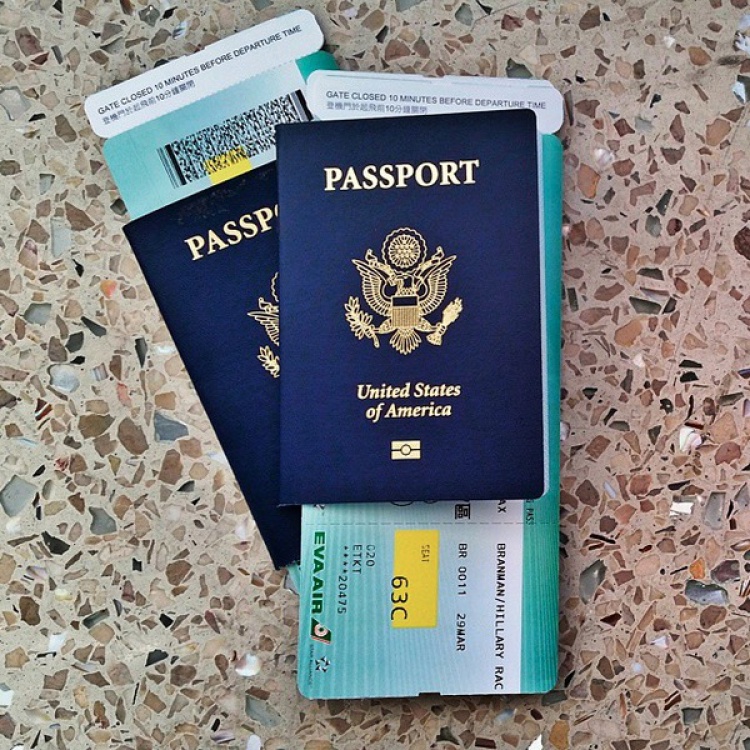 For most world-travelers, replacing a lost or stolen passport while abroad will remain the stuff of bad dreams. But what if the worst does in fact happen? It might be a blow, but replacing a lost or stolen passport really doesn't have to be the end of the world. (After all, a huge part of traveling confidently is about taking the time to educate yourself before hitting the road!)
So, without further ado, here are Uncontained Life's top tips for what to do if your passport is lost or stolen—as well as some advice for how to prevent theft, and what you can do before you travel to make replacing a lost or stolen passport less of a hassle.
Pre-Trip Prep
Take the following pre-trip planning steps to ensure that, if your passport is lost or stolen, you'll easily be able to provide the personal identification details necessary to get a replacement.
1. Scan the following documents, encrypt the files, and and store them in both a physical location (laminated photocopies or a USB drive) and virtual location (your email, googledrive, icloud, etc.):
Passport—photo, signature and any visa pages

Driver's License—front and back

Birth Certificate

Travel Itinerary (airline/ train tickets)
2. Get extra passport photos—these will not only be needed if your passport is stolen, they can also come in handy for other situations such as applying for visas and for local ID cards (like a Paris transportation card).
3. Note down the address, telephone number and email of the the local embassy or consulate. For added security benefits, you can register with the embassy before you travel (this registration ensures that the embassy will be able to contact you, and, if necessary, evacuate you from the country in the case of a natural disaster, civil unrest, or family emergency).
4. Sign up for travel insurance which will help you to cover costs associated with a lost passport. You'll want to do some research to ensure your insurance fits your travel needs in full, but for most travelers, policies like those offered by World Nomads will fit the bill.
5. Identify and make arrangements with a friend, family member or business associate who you can contact in case of an emergency—this person should be empowered to wire funds to you and/or otherwise help you remotely if you end up in need of assistance.
Prevent Theft on the Road
Back in the day, carrying your passport with you every time you left your accommodation while abroad was considered par for the course. In today's world, however, carrying your original document with you when you head out sightseeing is usually unnecessary (Note: There are exceptions to this rule. In China, for example, your passport is required to enter most major attractions and museums—copies are not accepted). Instead, do the following:
1. Leave your passport at your accommodation, in a secure place—if your room comes with a built-in safe, that may suffice, but another, often better option is to store valuables in a Pacsafe portable safe bag(available in 5 or 12L sizes). These compact, foldable/ roll-able stainless steel mesh bags can be cable-locked to any non-mobile fixture in your accommodation.
2. Carry one physical or digital copy of your passport with you for emergencies; store other copies in your accommodation, ideally, in a separate location from your original document. (Note: This same advice applies to credit cards—carry one with you, leave one behind for emergencies.)
3. If you must carry your original passport with you when sightseeing, keep it out of sight in a wearable money-belt (inside an RFID-sleeve and ziplock bag), or in an inside pocket of a secure bag (here again, Pacsafe makes some of the most secure options on the market—purses and daypacks with slash-proof straps, lockable zippers and RFID-blocking pockets).
Replacing a Lost or Stolen Passport
If, despite your best precautions, your passport does end up being lost or stolen, here's how to handle things:
1. Report the passport lost or stolen to your embassy or consulate and make an appointment to apply for a new passport (Note: Because embassies do not issue passports on weekends or holidays, you may need to take steps at this point to change flights or other travel plans.)
2. Report the theft to the police and get a copy of the report.
3. If possible, fill out the necessary paperwork in advance: the DS-11 Application for Passport and DS-64 Statement Regarding a Lost or Stolen Passport (both forms can be found HERE).
4. Gather your copies of your other documents (see the list under "Pre-Trip Prep").
5. Obtain the funds to pay for your replacement passport. If you need to have money wired to you from home, the embassy will help you get in touch. If you are unable to get the necessary funds to pay for your new passport, you can request a temporary passport which will need to be changed for a full-validity passport upon return home. (Note, these requests are only granted in specific cases where, as per the State Department, "the applicant does not have and cannot reasonably be expected to obtain money to pay the fees before continuing travel").
We hope these tips are helpful to you! Keep traveling confidently, and enjoy the world!