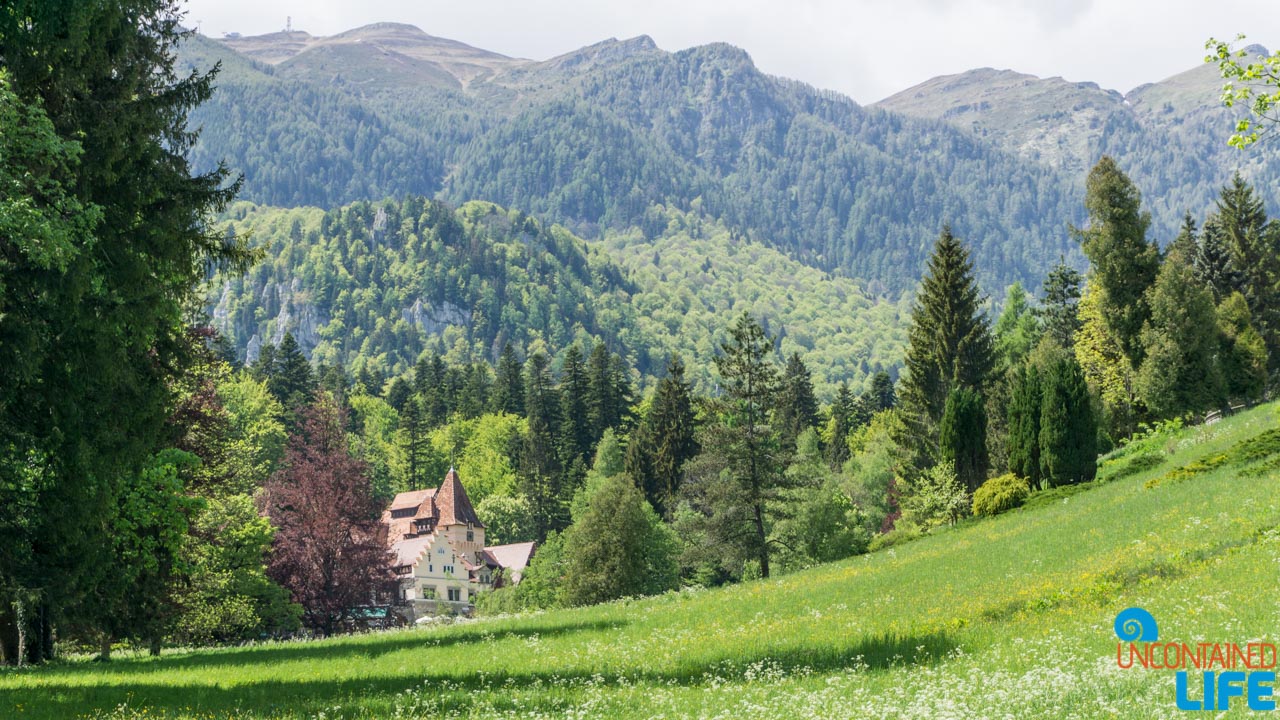 When traveling the world, we always try to look for the beauty in things. That said, there are few places that straight-up look like a fairy tale come to life. But Romania's Transylvania region is exactly that.
Back before we left California, what we knew about Transylvania was gleaned from the various iterations of Dracula…and Young Frankenstein. So, basically, castles, vampires, dark and stormy nights, and Puttin' on the Ritz. Our road trip through Transylvania, however, well…the aesthetic, overall, was much less Interview With the Vampire and more, well, you'll see…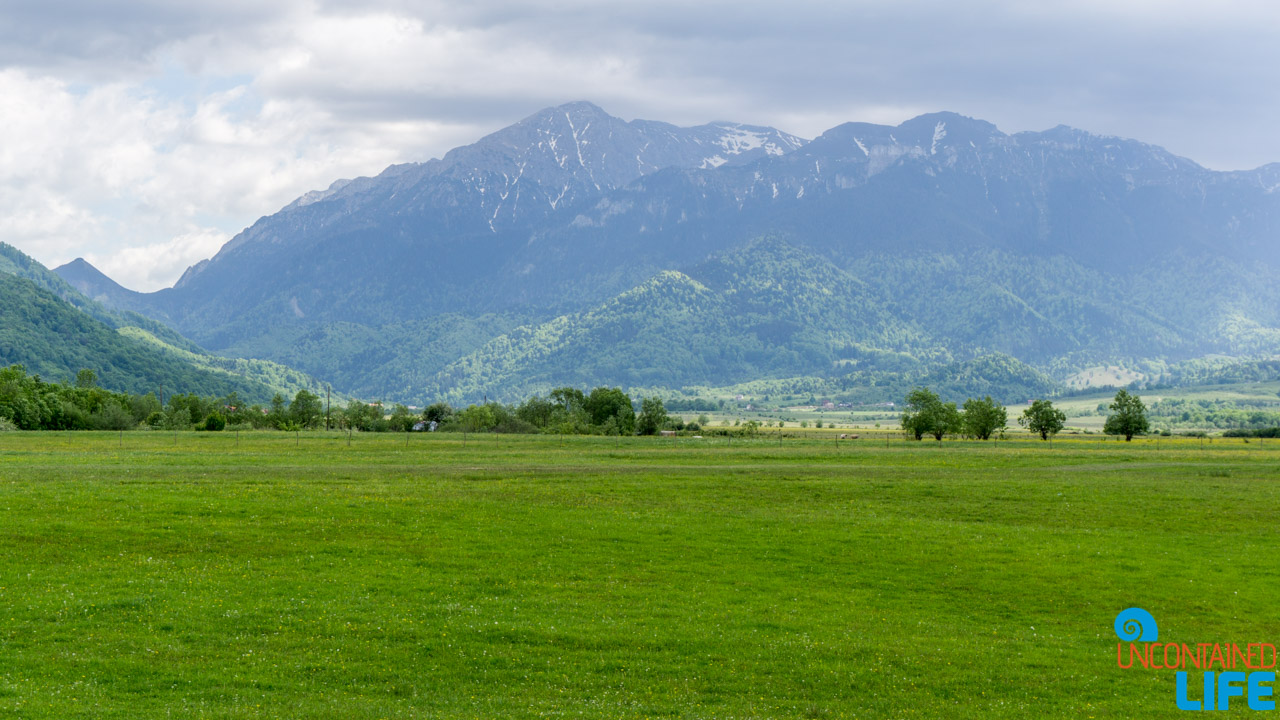 Our adventure through Romania's Transylvania region took us through some of the most drop-dead-gorgeous countryside we've ever seen. The castles and towns we visited, though lacking in pitchfork-wielding locals, were, likewise, enchanting. But don't take our word for it. If these photos don't convince you to pack your bags and head to picture perfect Transylvania, your heart might just be colder than the Count's.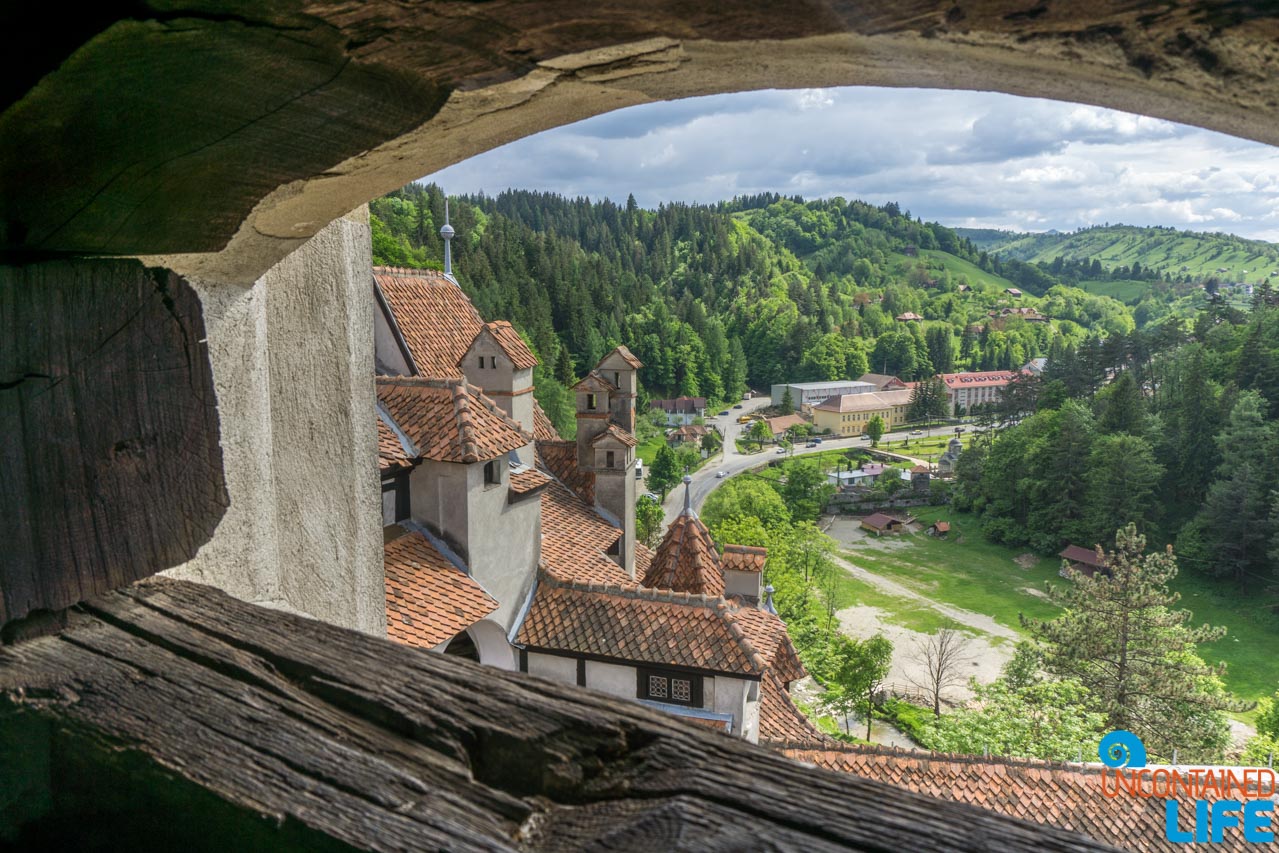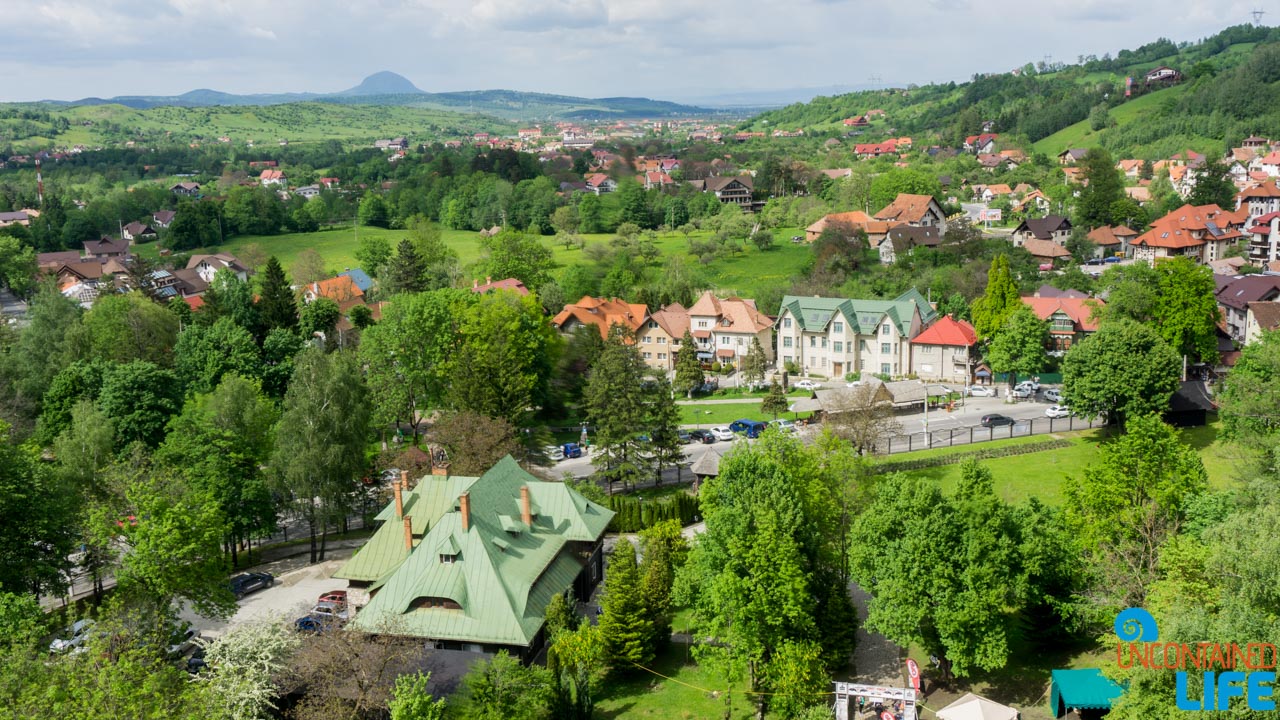 One of the first stops on our roadtrip was Peleș Castle in Prahova County, Romania. This castle is also known as the setting of Netflix's ode-to-Hallmark, The Christmas Prince. Of course, at the time we took our road trip through Transylvania, we had no idea Netflix was going to produce this so-bad-its-good holiday classic. 
Commissioned by King Carol I of Romania, who oversaw Romanian independence, Peleș Castle is a mix of classic European styles. We only toured the exterior, but tours of the interior of the castle are available. (Note: you'll need to translate the linked page to English.)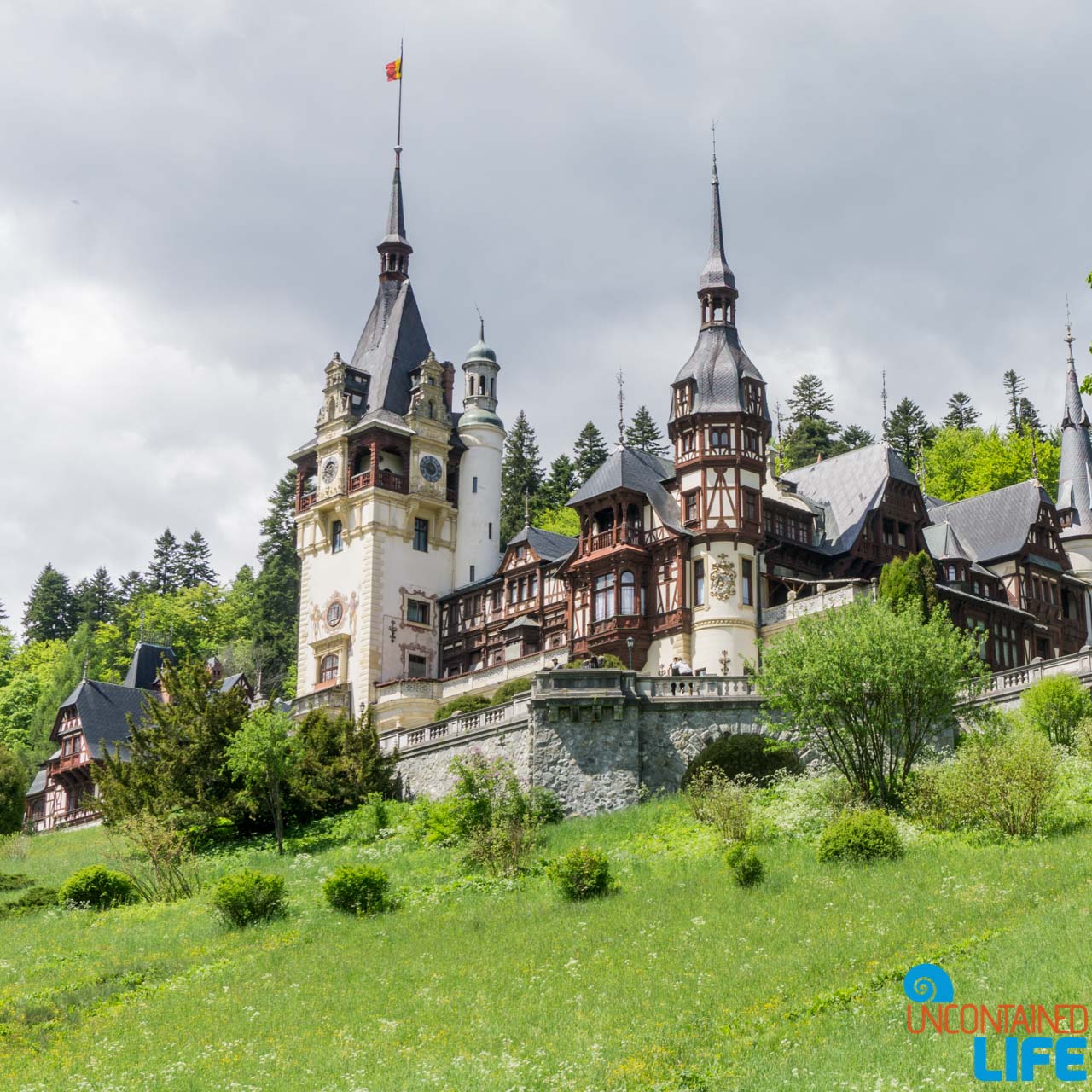 All along our route we were treated to views of ancient fortifications…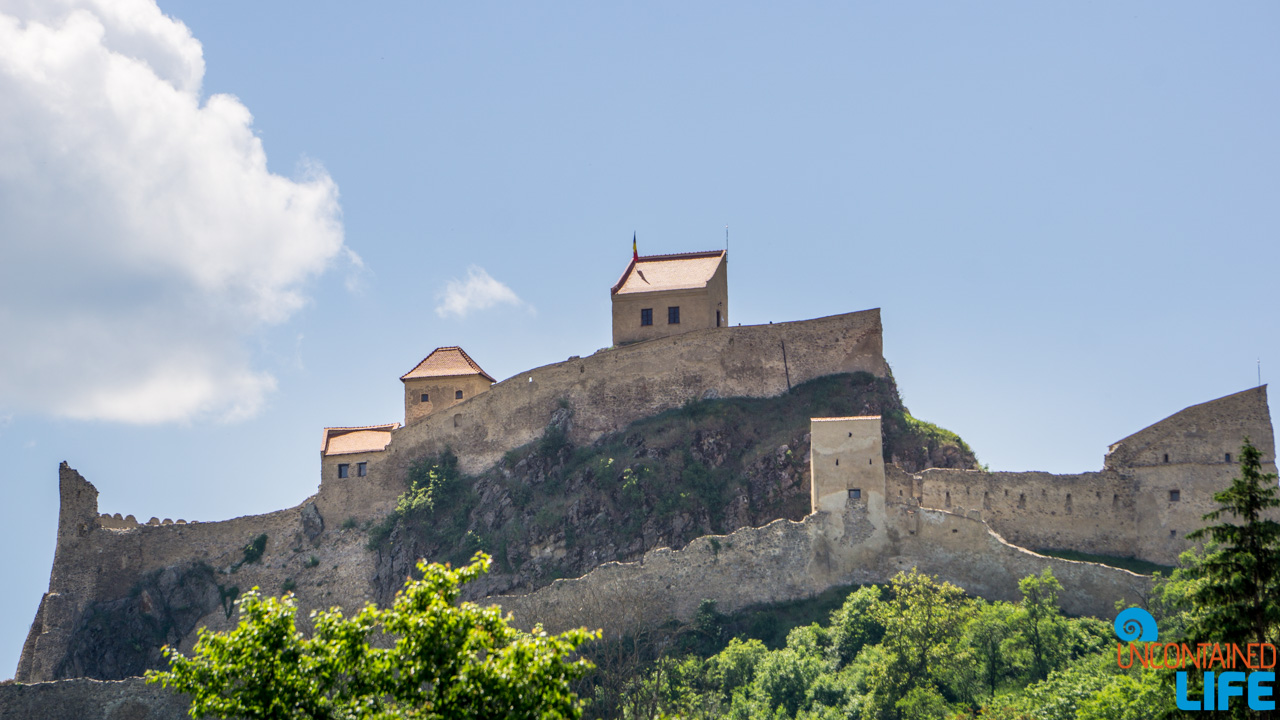 …and lush greenery (both with and without wooly inhabitants!)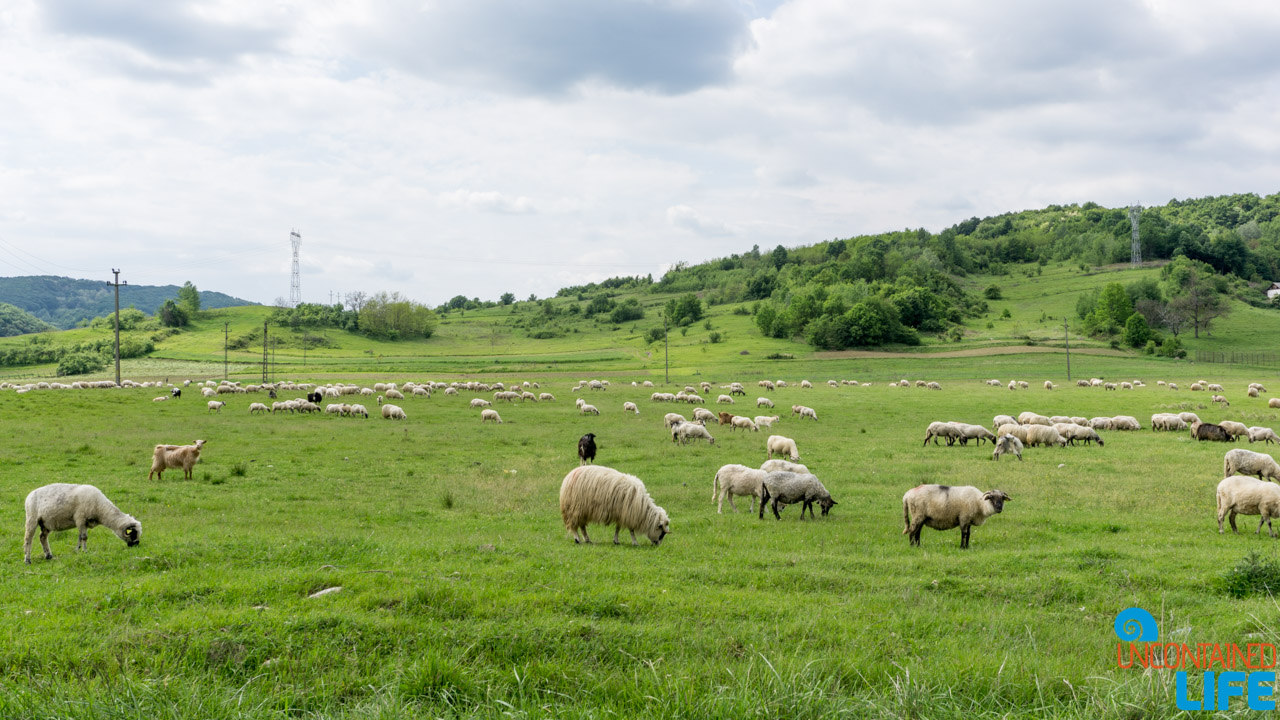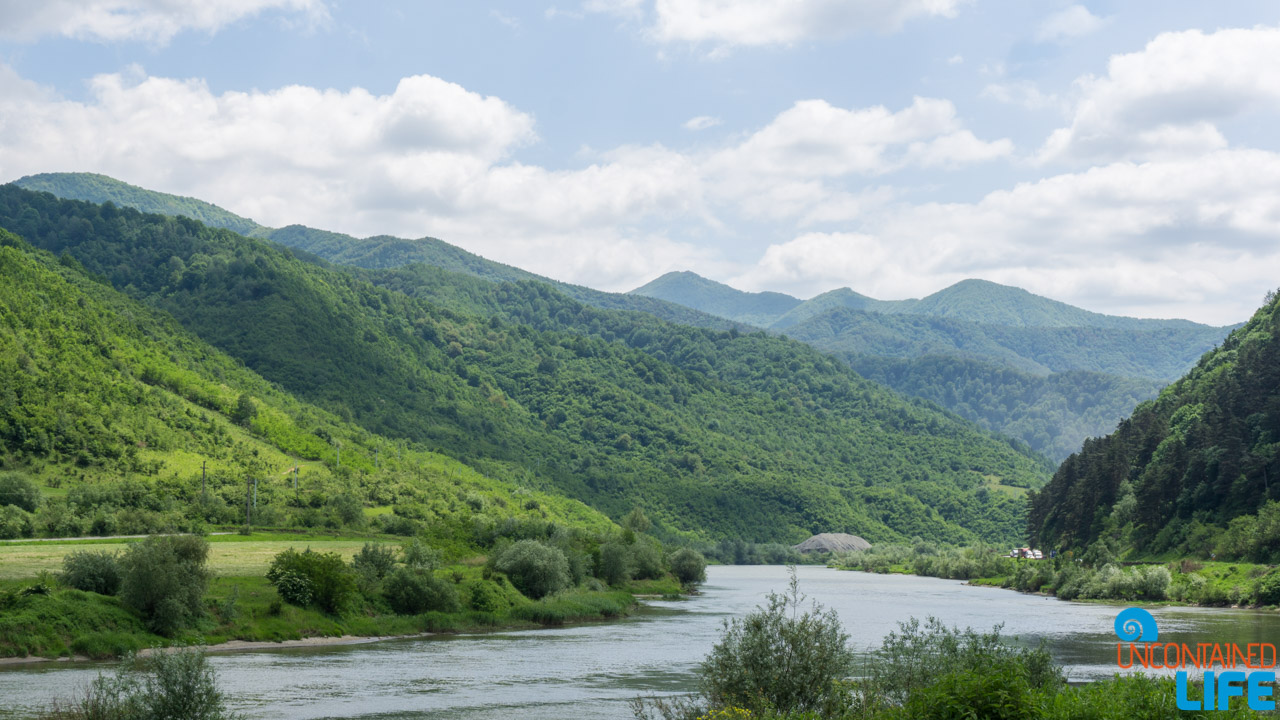 One of our favorite stops during our road trip through Transylvania was the city of Brașov. Encircled by the Carpathian Mountains, Brașov's best known features include its medieval walls and dramatic, Gothic-style Black Church. But we were probably most delighted by its the artistic details of its baroque buildings, which reminded us, a bit, of Prague.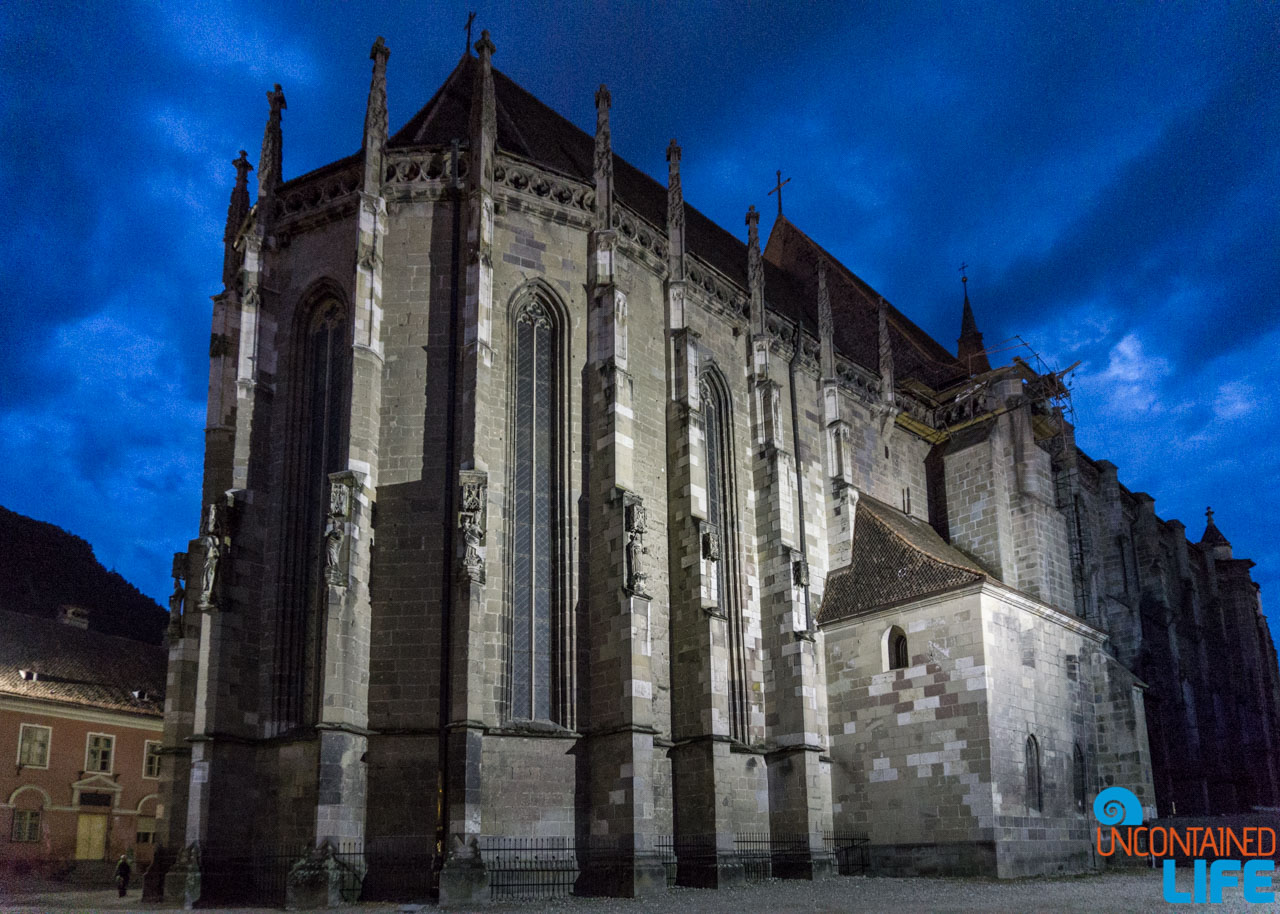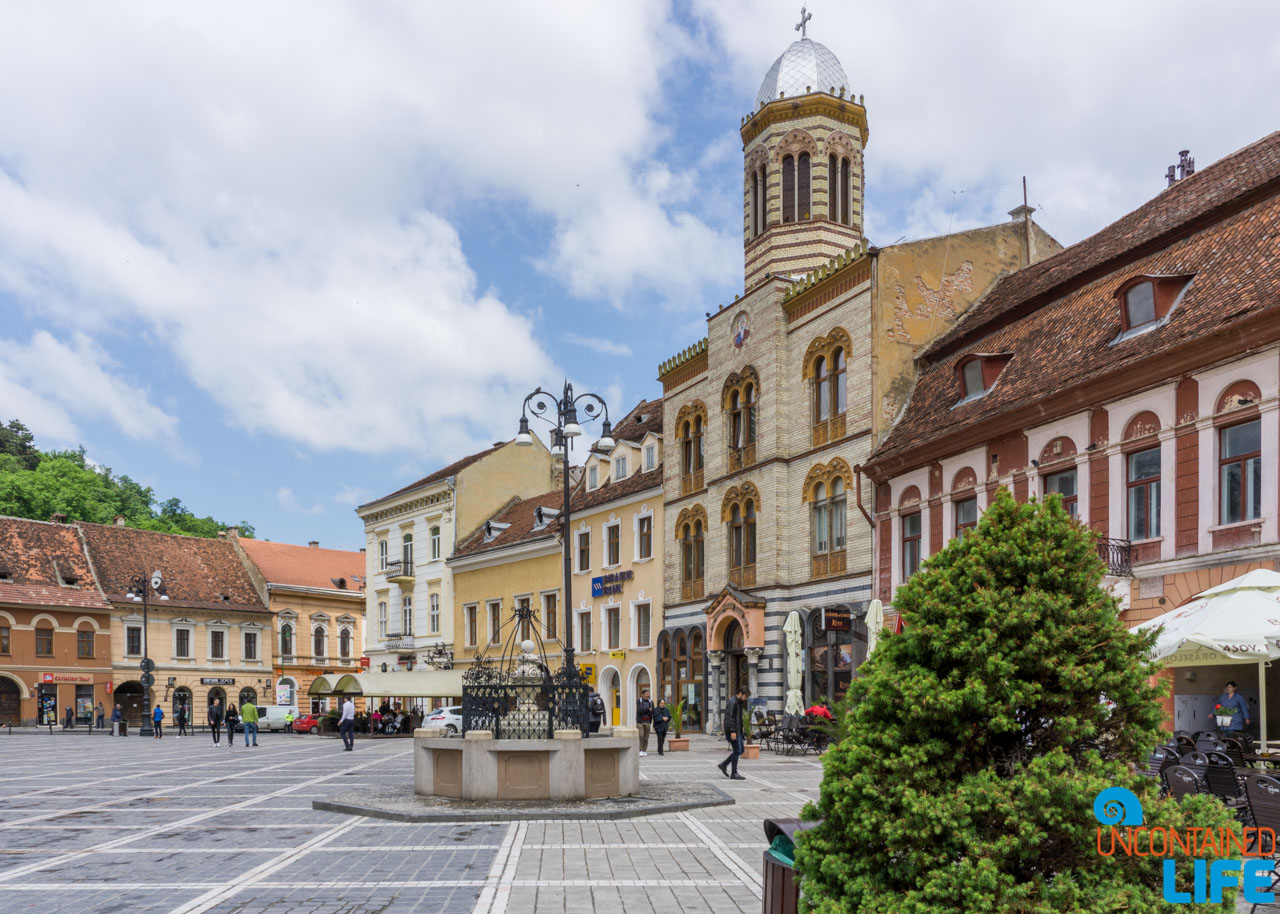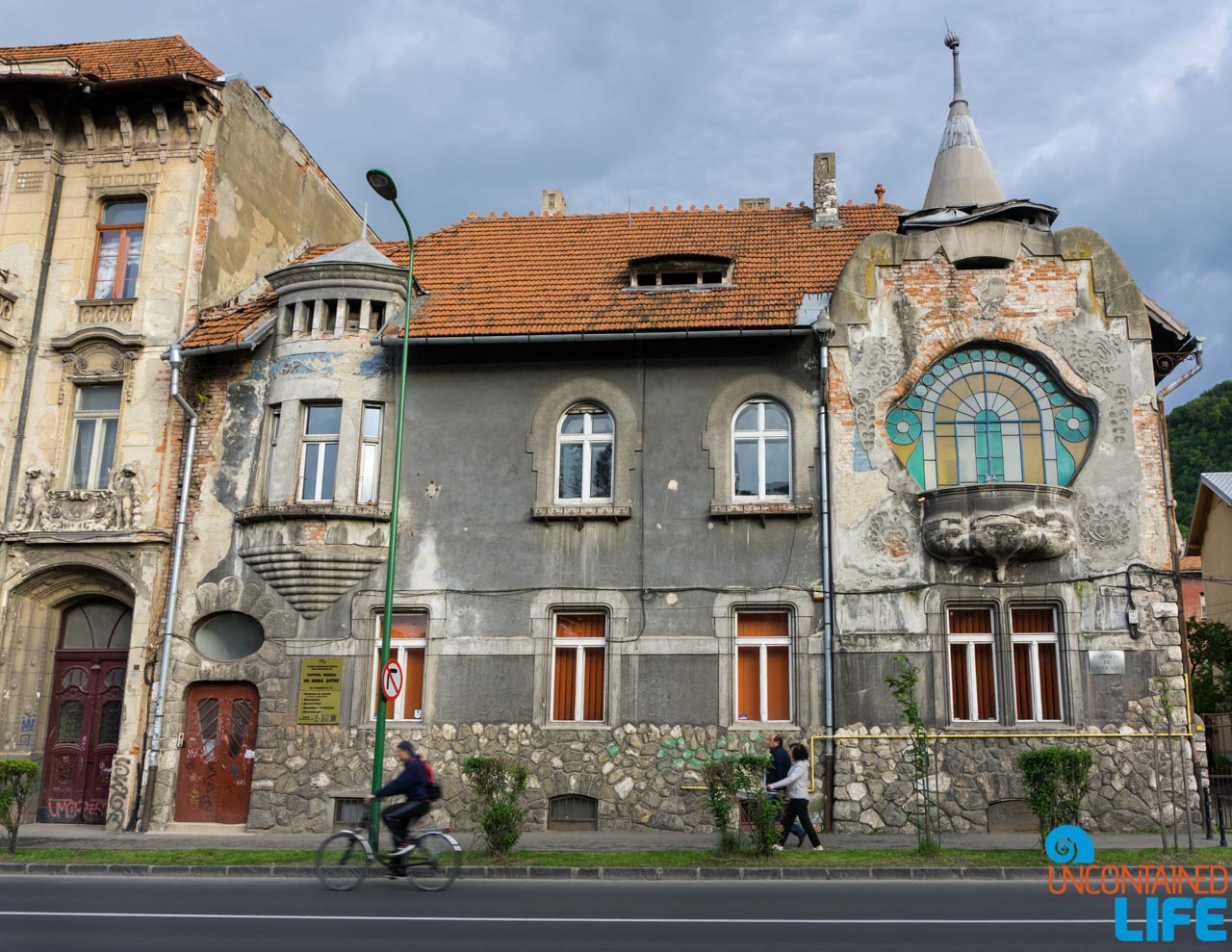 The ancient Saxon city of Sibiu was another destination we found delightful. Coffees in hand, we passed a number of lazy hours wandering Sibiu's cobbled streets. With Germanic architecture, medieval walls, churches, and famous "houses with eyes," what's not to love?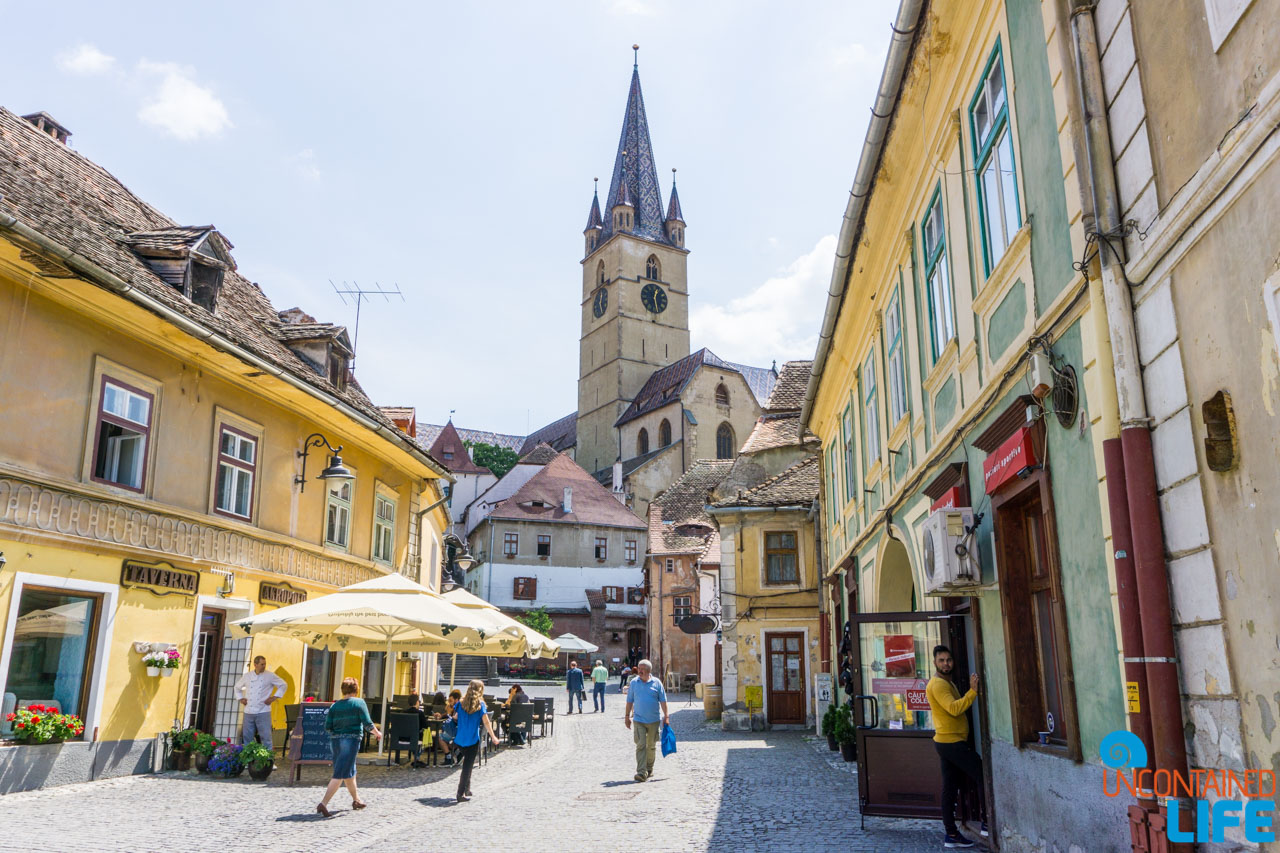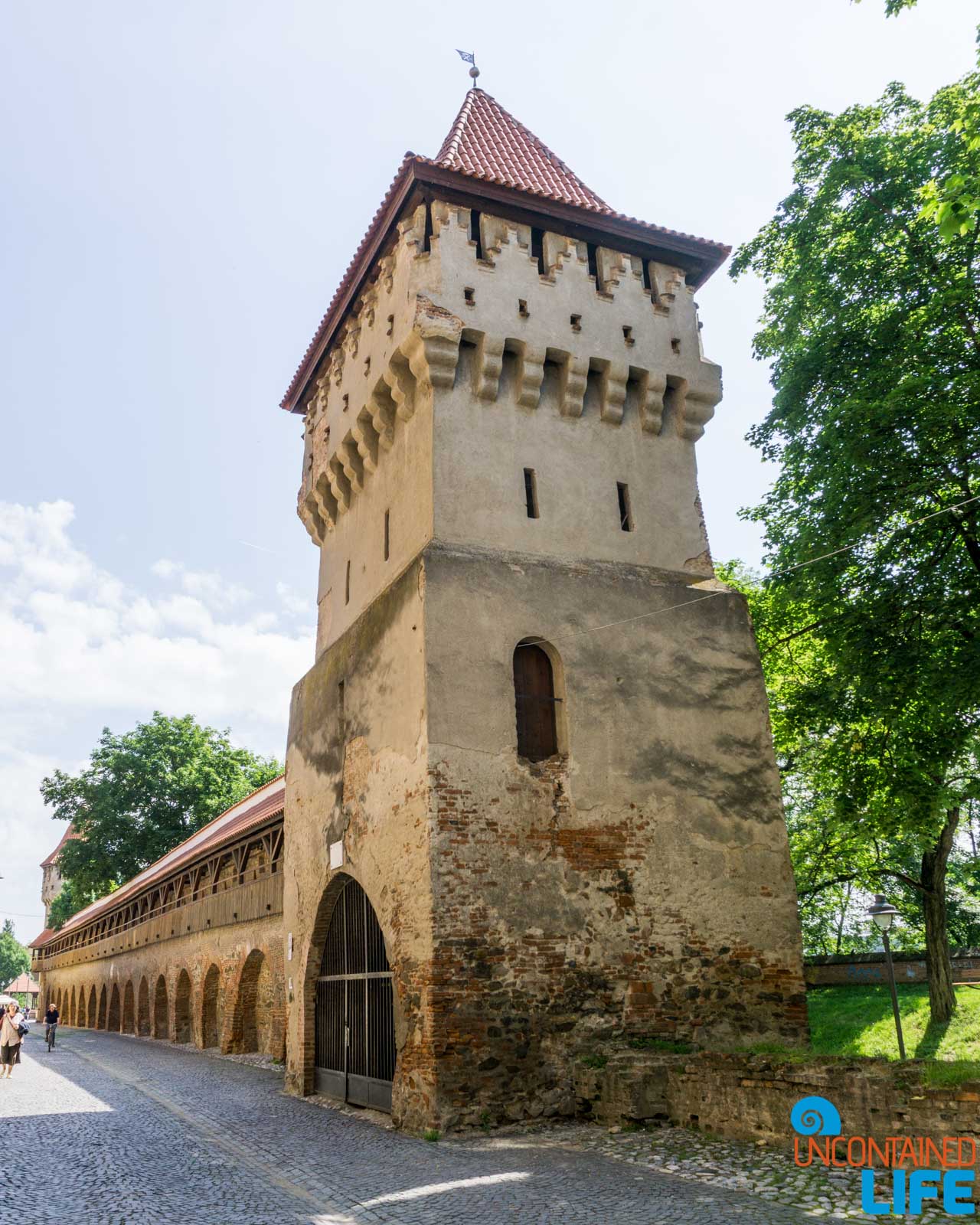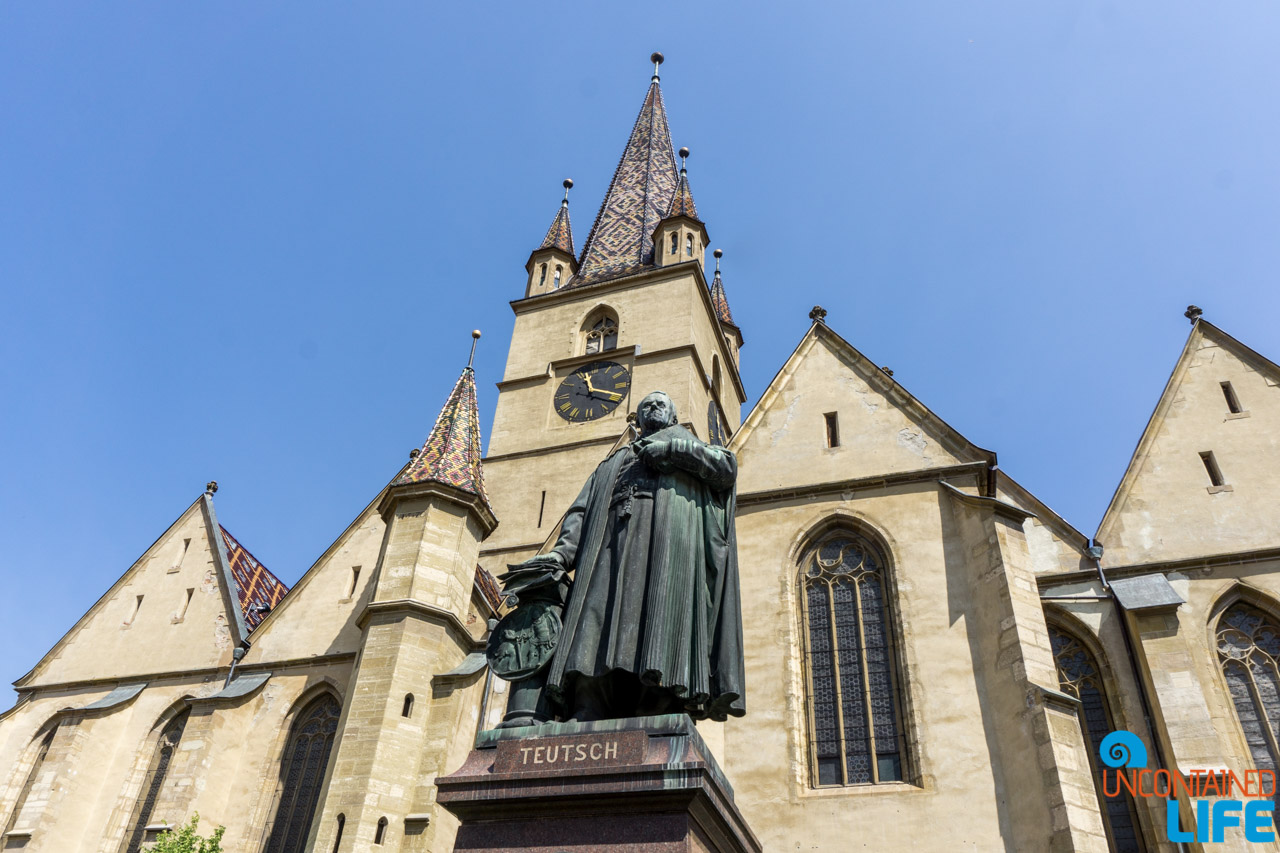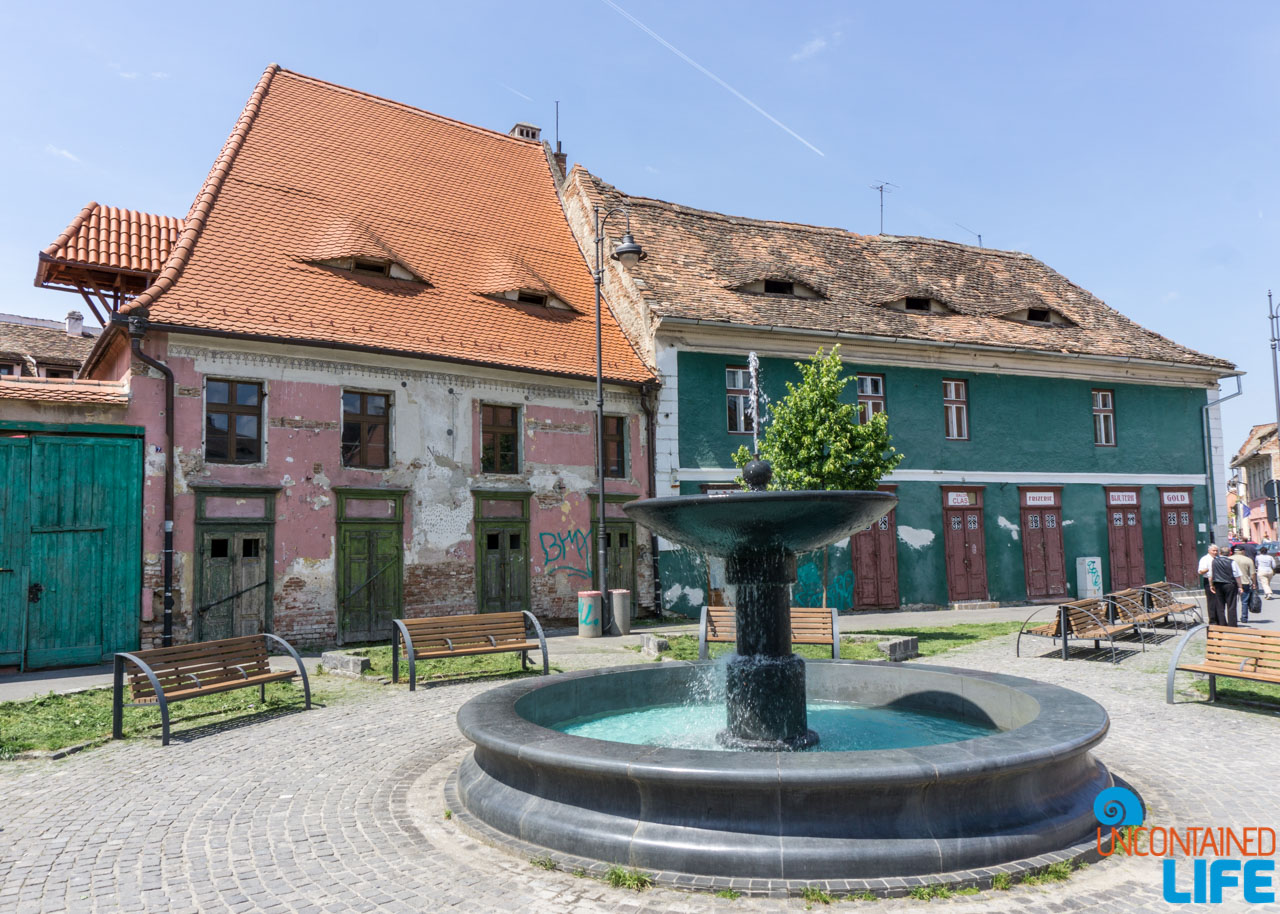 And of course, when we happened to finish our coffees in front of a gelato shop…well, let's just say that gelato is a great chaser to coffee!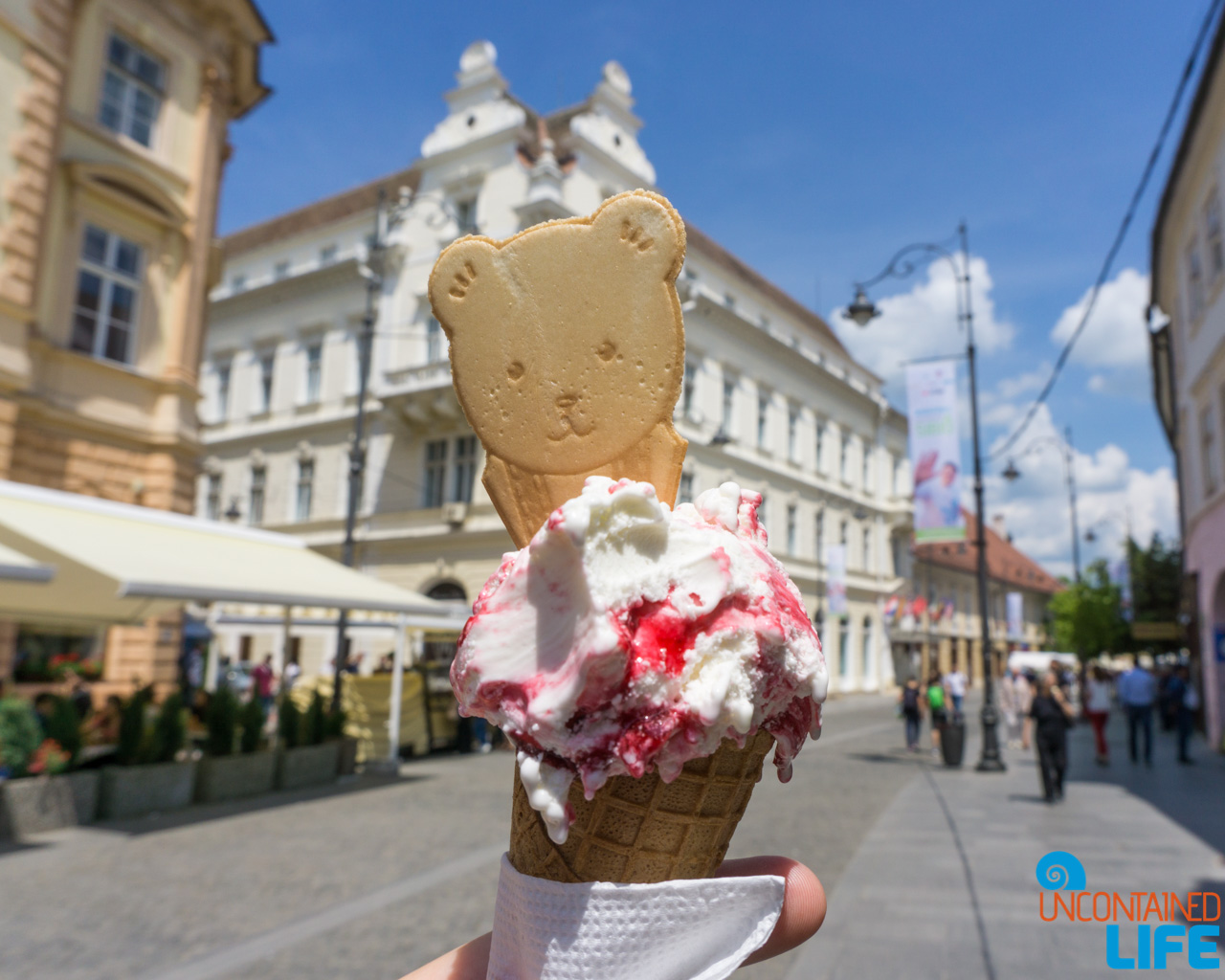 I know I made a big deal about Transylvania being so much more than a vampire's paradise. But, no road trip through Transylvania would be complete without a visit to Bran Castle, AKA, "Dracula's Castle."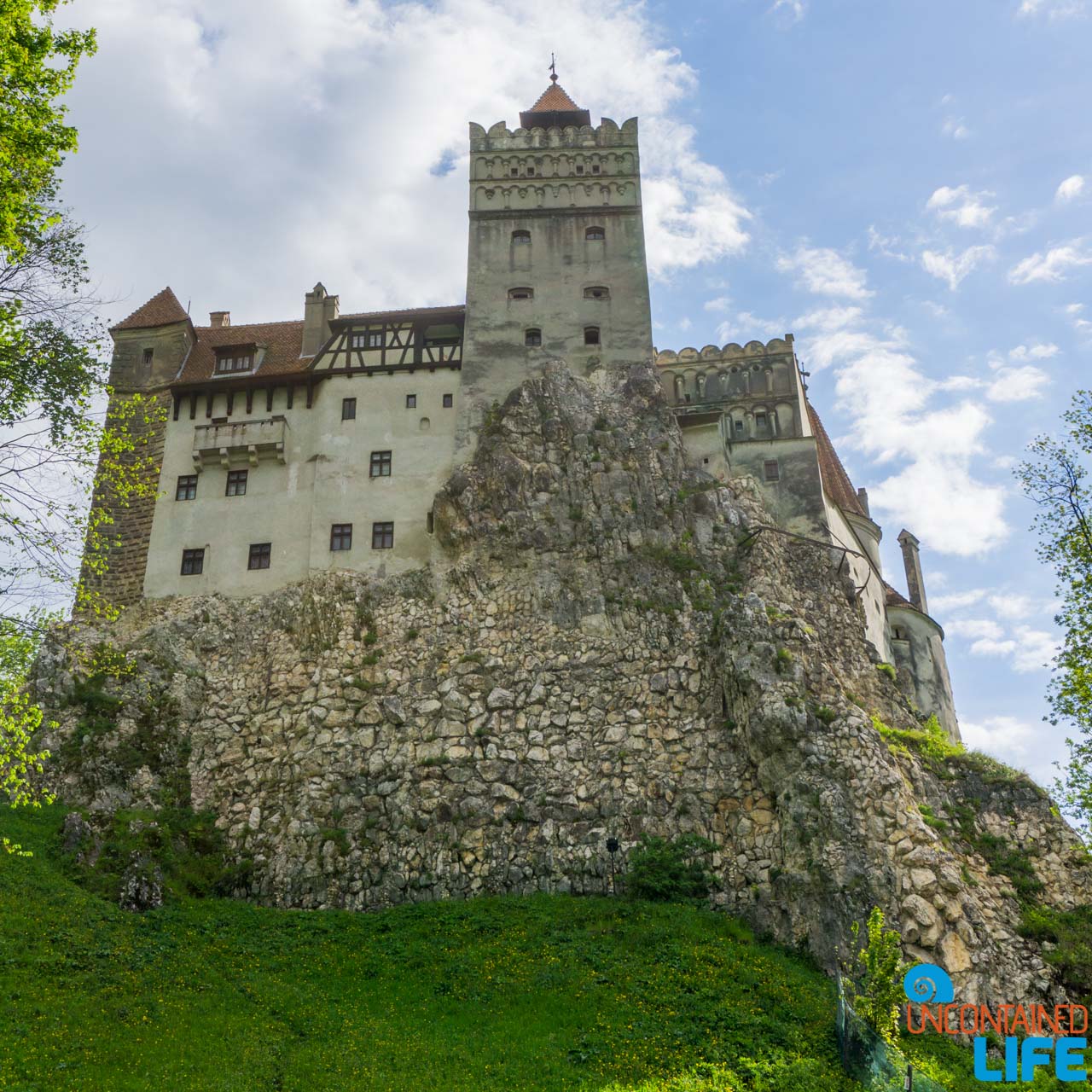 Not to burst any bubbles, but there's actually no evidence that Bram Stoker (Dracula's author) knew anything about the castle at Bran. True, the castle has some connection with Stoker's inspiration for Dracula, Vlad the Impaler, ruler of the province of Walachia from 1456 to 1462. Specifically, he passed through the area a number of times through his life. But given that the status, "favorite residence of Romania's Queen Marie" doesn't quite bring the tourists like "home of a vampire," Bran has doubled down hard on its Dracula rep. Today, visitors can learn all about Vlad, Romania's vampire myths, and get a pretty nice self-guided tour of a nifty little 14th century castle.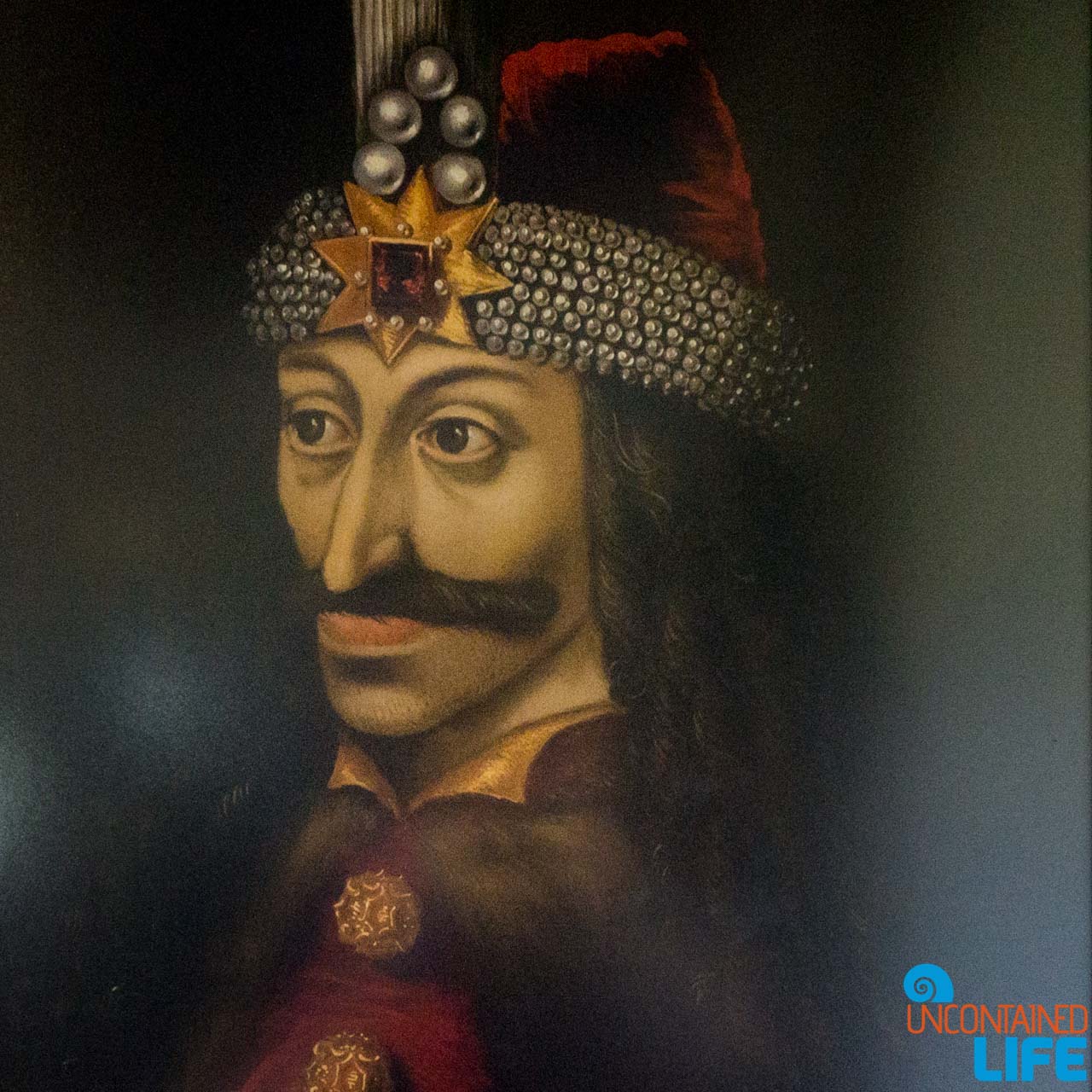 For some legit Vlad action, we headed over to Sighișoara, Romania. Listed by UNESCO as a World Heritage Site, this 16th century jewel boasts numerous towers, winding streets, brightly tiled church roofs, and a unique covered stair-passage. It is also the birthplace of Vlad Dracula.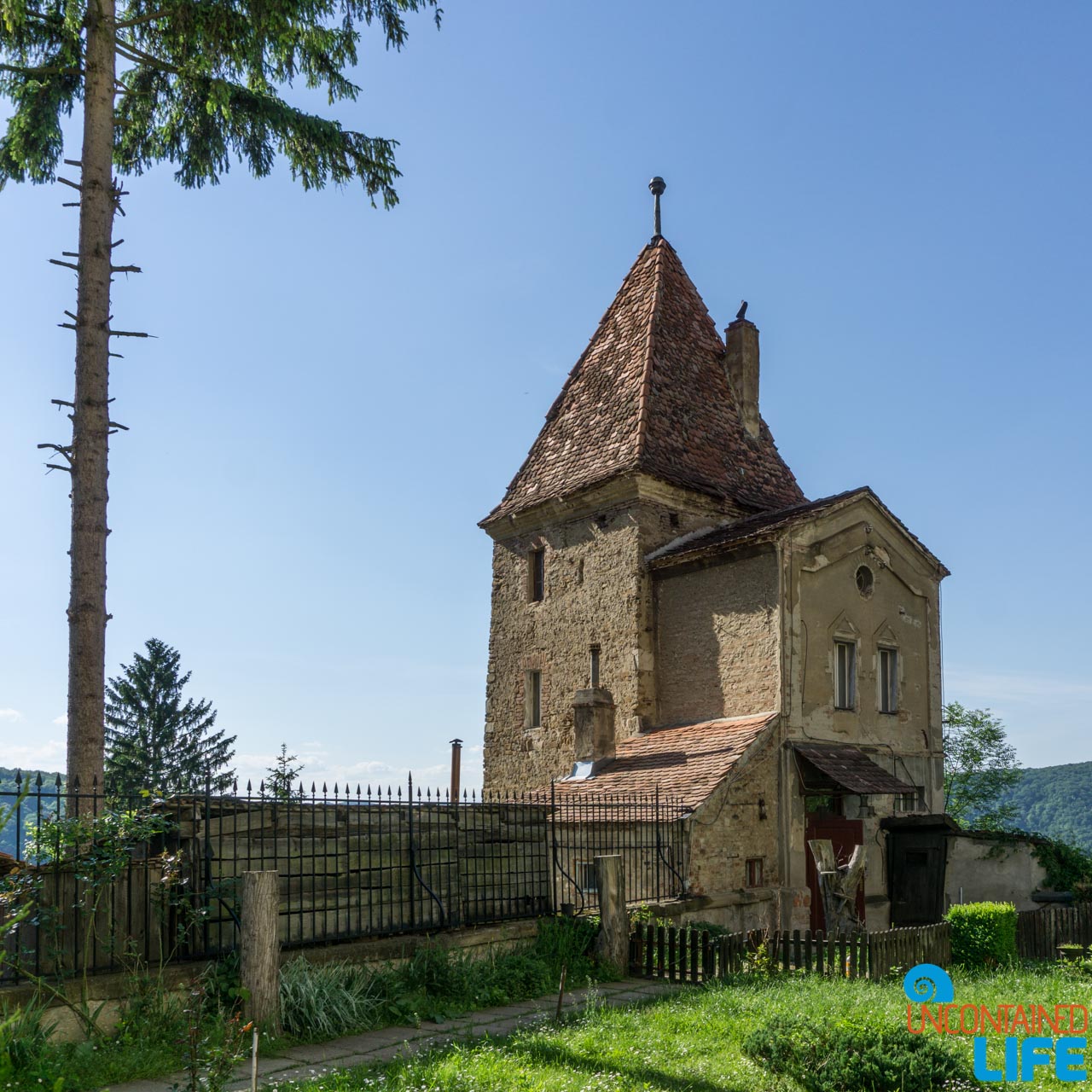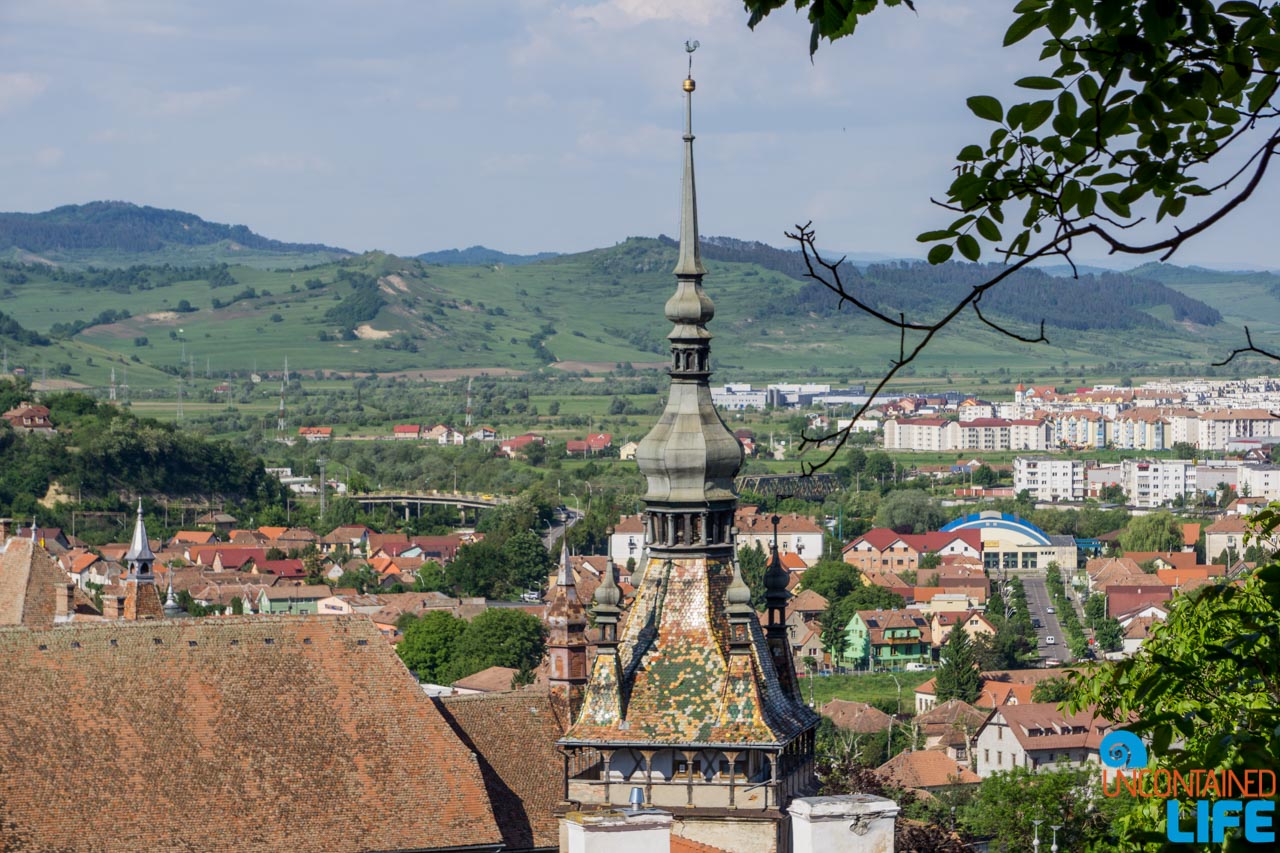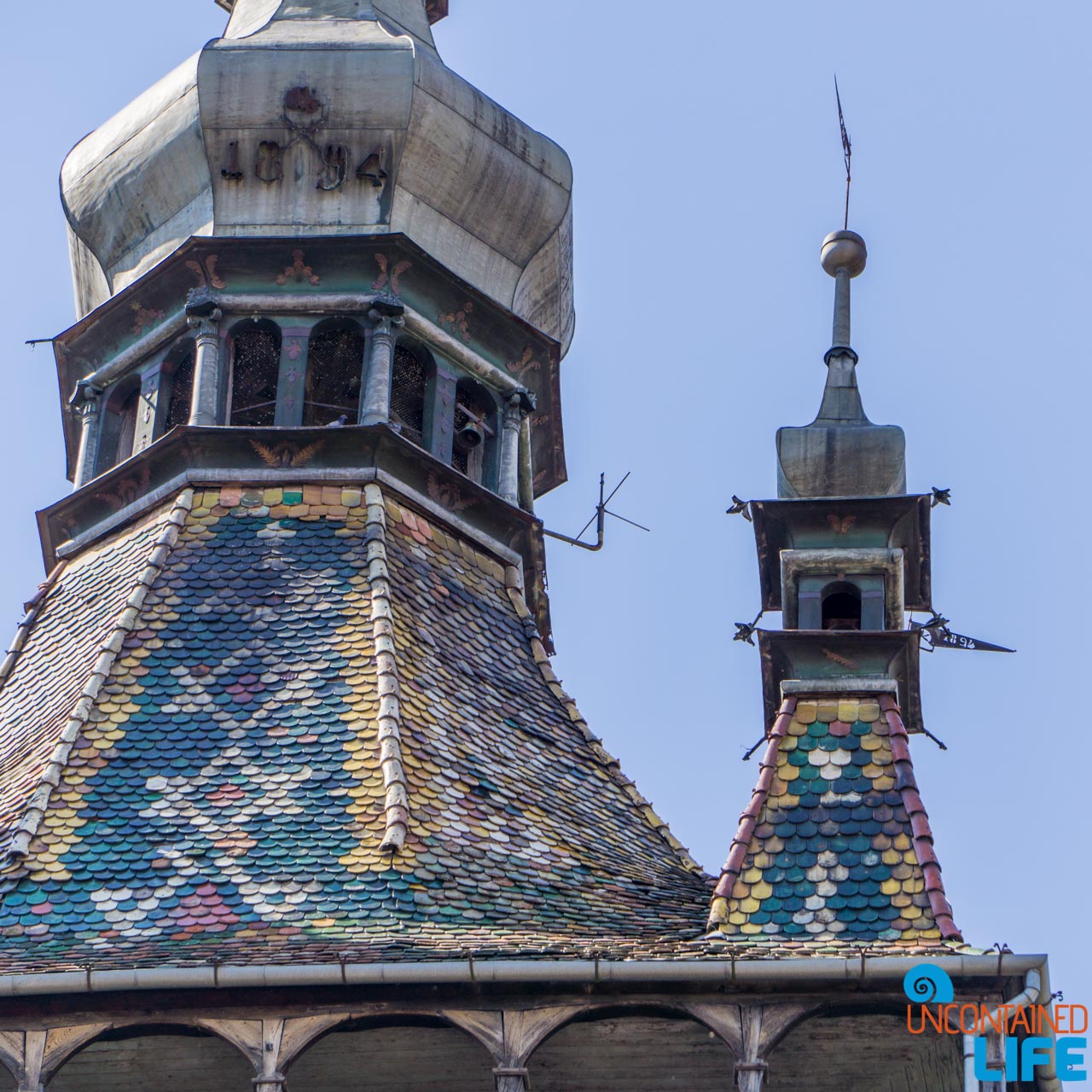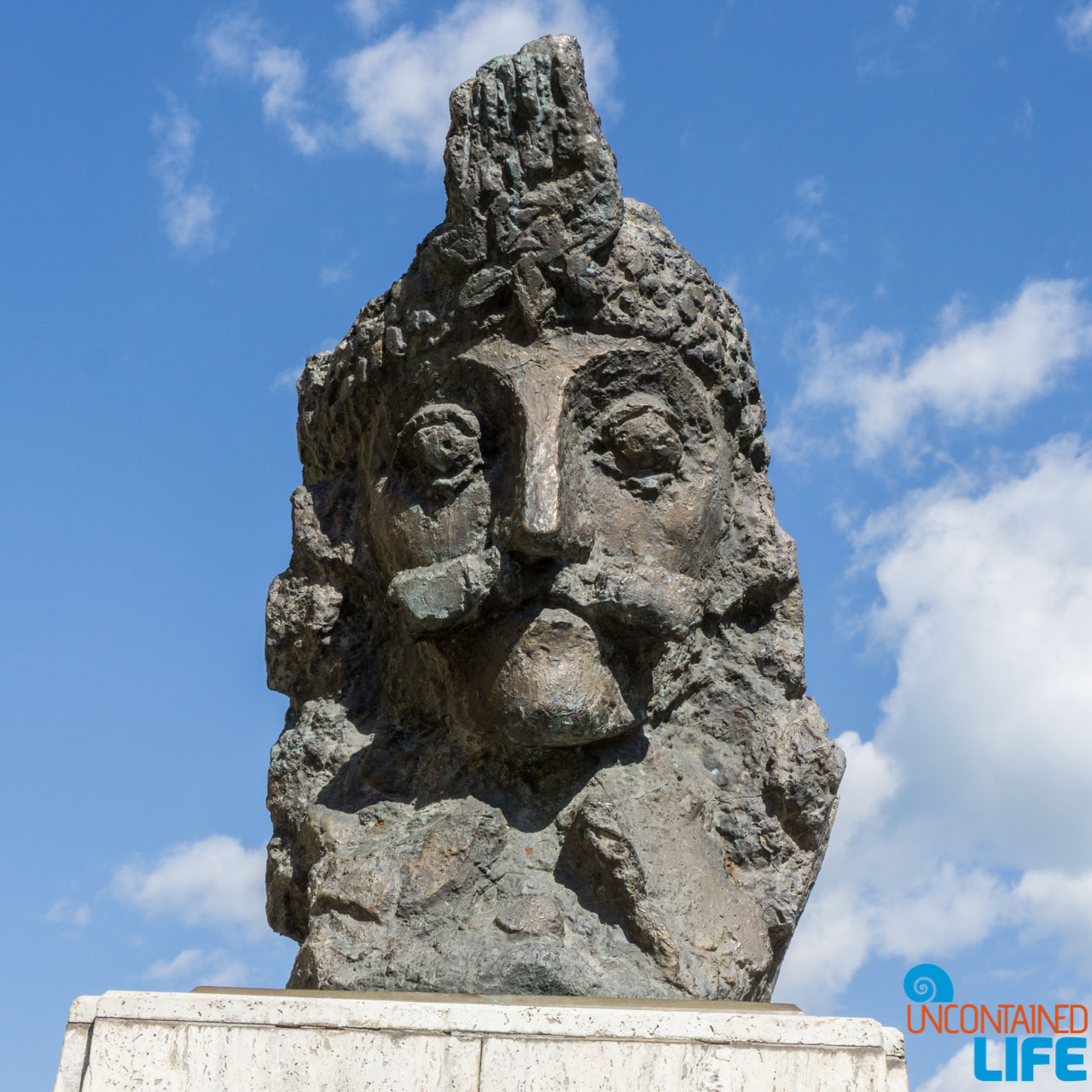 If our road trip through Transylvania taught us anything, it's that we want to go back and spend MUCH more time in Transylvania. We hope you feel the same!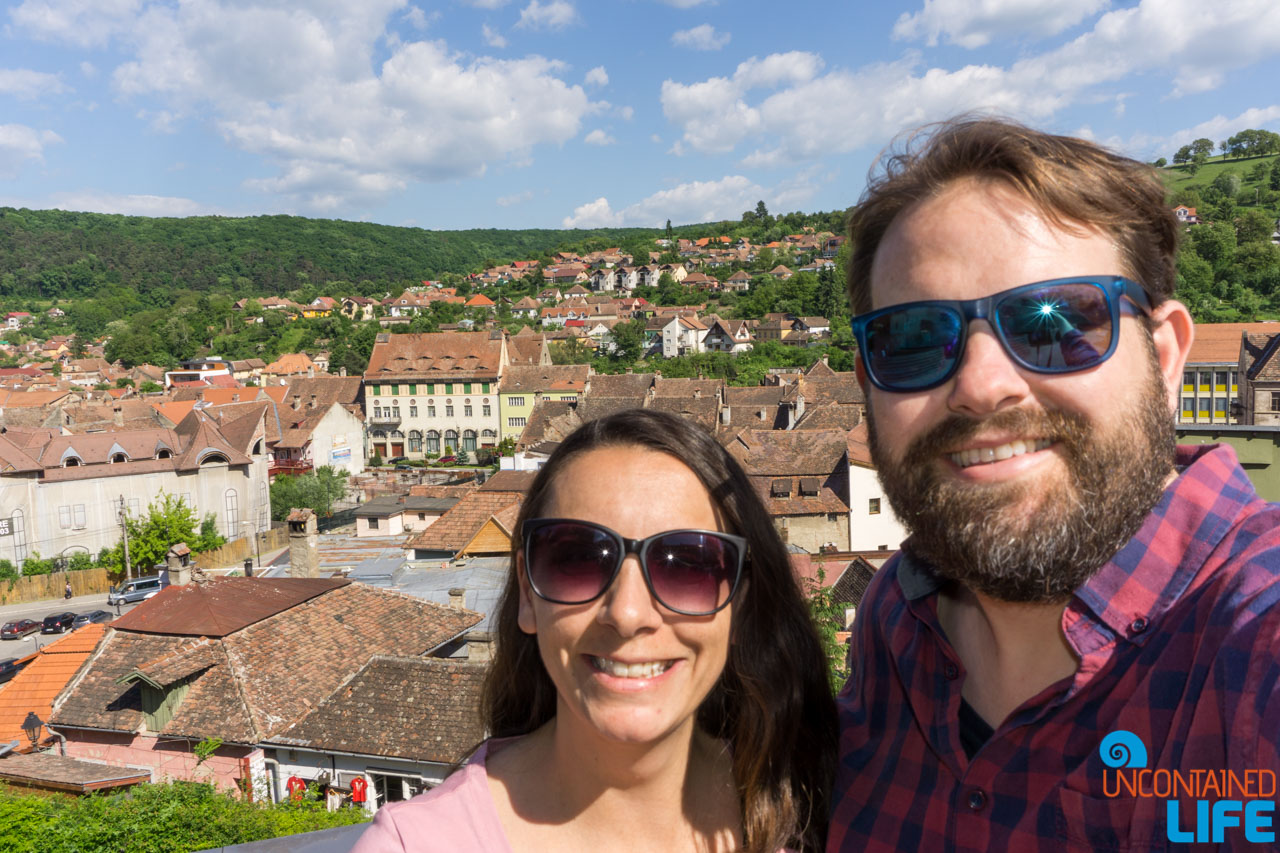 ---
Tips for a Road Trip Through Transylvania
Money: The Romanian Leu is the currency of Romania. Some places we visited accepted credit cards, but many did not, so bring cash. 
Roads and Navigation: Romania's highways and main roads are well cared for and easy to drive. If you wander off onto smaller roads, you may run into trickier conditions. We had no issues using Google Maps during the entirety of our trip. 
Where to Stay: we stayed at a number of Airbnb's in Transylvania and had an excellent time with all our hosts. If you've never tried renting from locals, let me tell you, it really adds to the experience. Get a discount off your first stay with Airbnb here!