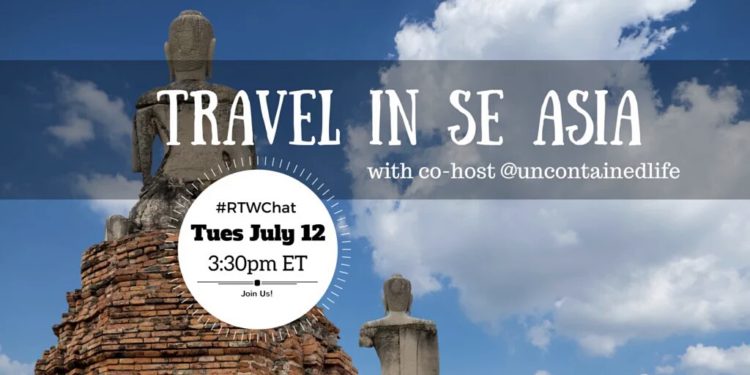 #RTWChat Southeast Asia!
From the ancient temples and arts of Indonesia, to the markets and mouthwatering meals in Thailand, and the adventure and natural beauty of the Philippines, Southeast Asia offers non-stop variety and rich experience for every sort of Indie traveler. 
Whether you've been to Southeast Asia, or if it's just on your bucket list, please join us this Tuesday, July 12, 2016 at 12:30pm PST/ 3:30pm EST, Uncontained Life is joining Boots n' All for their weekly #RTWChat. We'll be chatting about must-see places and experiences in SE Asia, discussing mindful travel, sharing travel and trip-planning tips, and answering any and all other questions you might have about this wonderful region.
How to Join an #RTWChat? It's Easy:
1.  Join Twitter if you haven't already. It's free and super easy to sign up. You can participate directly through Twitter or…
2.  …you can use a social media dashboard (Hootsuite or Tweetdeck are the most popular and easiest to use).
3.  After you choose your preferred method to access Twitter, search for the hashtag #RTWChat.
If using a dashboard: create a column for#RTWChat so all other tweets are filtered out. That way you only see tweets having to do with the chat itself.
If using Twitter:  Search #RTWChat in the top right magnifying glass.  Then, at the top of the next page, make sure to click "All" or "Live" (depending on which version of Twitter you see) so you can see ALL questions and replies.
4. Make sure to add  "#RTWChat" to the end of each post so we can all see what you say!
5. The chat starts promptly at 3:30pm EST.  It technically ends around 4:30, but feel free to stay longer and chat with fellow #rtwchatters!  We often do ourselves!
Hope we see you at the chat!
🙂 Hillary & Justin