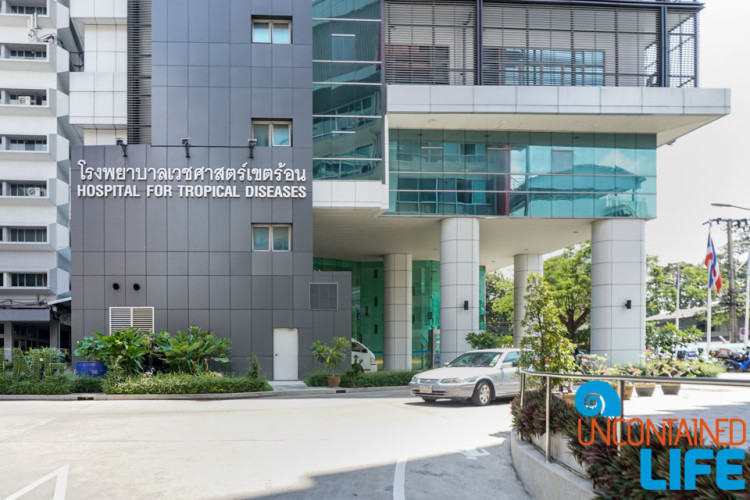 The cost of getting travel vaccinations may be low for UK and European travelers, but if you're an American planning a trip to Southeast Asia (or a RTW adventure) it's a whole other story. The price of certain shots can run into the hundreds: that's a whole lot of your vacation fund to drop before you even leave home! The good news? If you choose to start your travels in Thailand, it's possible to get safe and cheap vaccinations in Bangkok for a fraction of the price you would pay back home.
Here's how we did it–and you can too!
Your Guide to Safe and Cheap Vaccinations in Bangkok
Where to Go: The Thai Travel Clinic within the Hospital for Tropical Diseases in Bangkok.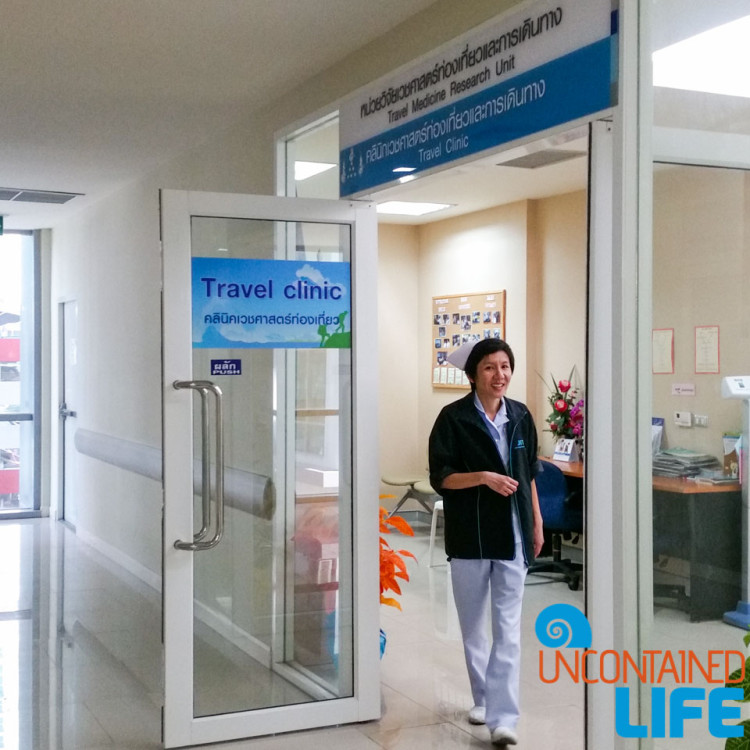 Why Go There: Don't trust just anyone with your health! The Thai Travel Clinic is staffed by certified doctors and nurses who specialize in Tropical Medicine and disease prevention. Their connection to the hospital and membership in the GeoSentinal Surveillance Network (a worldwide network of travel clinics) ensures there's plenty of oversight, and high level of comprehensive care for all patients. 
What to Bring: 
–Passport
–Cash or credit card for payment (see costs below)
–Vaccination booklet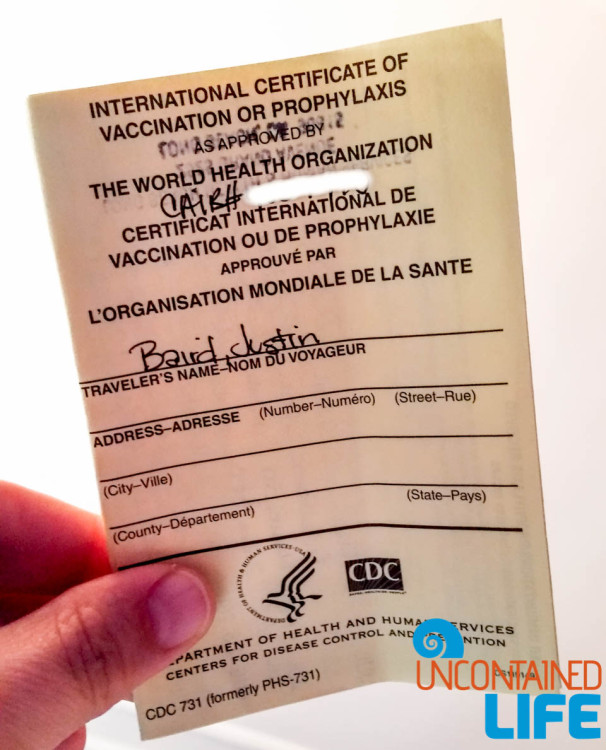 Hours and Appointments: The clinic is open Mon.-Fri. 8am-4pm and Sat. 9am-12pm (by appointment). The clinic is closed on public holidays. Appointments can be made online, by telephone, or via email (for full contact and appointment info., click HERE). Appointments must be made at least 10 hours in advance of your desired date/time. You will need to provide your your name, date of birth, age, nationality, and passport number when making your appointment. You can "walk in" to the clinic, but wait times may be long depending on what time year you are traveling.
Getting There: The Thai Travel Clinic is located on the 3rd floor of the Hospital for Tropical Diseases. The most direct way to get to the hospital is via taxi (ask to be taken to Victory Monument, and then provide THIS MAP to your driver). But, it's also easy to get there using the BTS Skytrain: take the train to Victory Monument station and use Exit 3 upon arrival.
With your back to the monument, walk down Rajavithi Rd. for approximately 10 minutes; the complex housing the hospital will be on your left–walk straight down the road through the complex until you see this building entrance: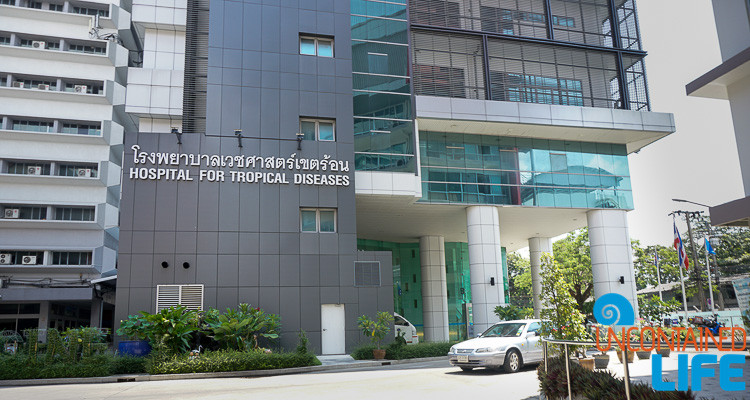 If you have an appointment, you can go directly to the third floor. If not, you will need to check in at the main desk on the ground floor of the building.
Costs: A doctor fee of 100 Baht (approximately $3 USD) and hospital fee of 70 Baht (approximately $2 USD) are charged on a per-visit basis. Costs of the actual vaccinations (per dose) offered at the Thai Travel Clinic appear in the table below. (Note: some vaccinations require more than one dose to be complete). Seriously–you can't beat these prices for safe and cheap vaccinations in Bangkok!
Payments can usually be made via credit card, but sometimes the system goes down, so having cash as a back-up is recommended. Feel free to request an English-language version of your bill.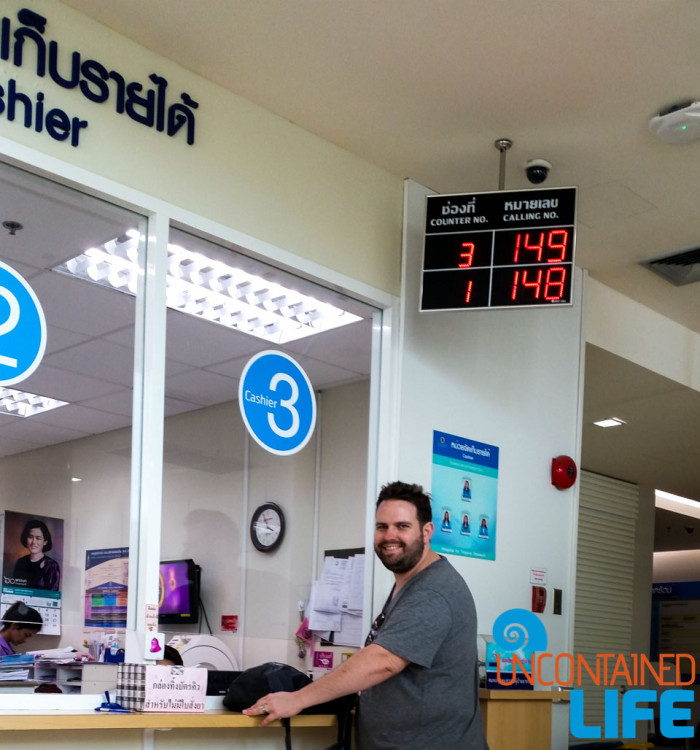 Other Things to Know: 
–While it's not encouraged, you won't be turned away if you end up running late to your appointment. (Everyone understands that Bangkok traffic is insane.)      
–Each time you come in for a shot, you will be required to have a pre-shot consult with a doctor to explain why you need the vaccine (I.E. where you'll be traveling). If you're making multiple visits, you will probably end up with a different doctor each time, so be prepared to repeat yourself.
–You may be required to sit in the clinic after your shot for a few minutes (the website says 30, but we never waited longer than 5-10) to ensure you don't have a bad reaction to the vaccine. Be patient, and remember, it's for your own safety!
–The waiting room can get boring and cell signal is usually very poor–bring your Kindle or Nook if you aren't a fan of wall-staring contests. 
–The cafe on floor 2 of the hospital serves pretty good drinks, but take a pass on the hot food–it's just reheated frozen meals marked up by 50% from the supermarket price. There's also a FREE water dispenser outside the cafe on the right-hand side (as you're facing the cafe) where you can fill up your reusable water bottle.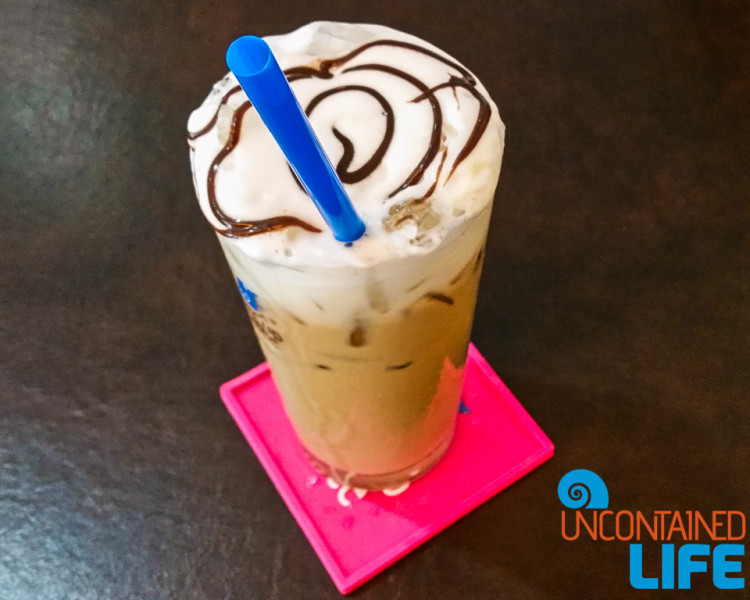 Have any questions about this article (or anything else)? Leave us a comment and us know! 
You can find other "How-To's" and Travel Resources over here.
You can also read more about our adventures in Thailand here. 
---
*Please Note: The information provided in this article may not address the specific circumstances of every traveler. We are not physicians and the information provided in this article should not be considered professional medical advice, or acted upon in that regard. We are not affiliated with the Thai Travel Clinic in any way.