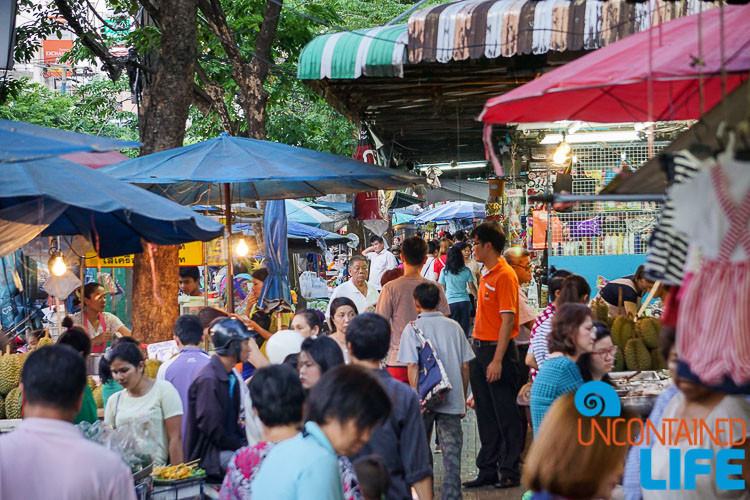 As we mentioned in our article about how to make the most out of 24 hours in Bangkok, Tha Din Daeng Road is one of the least known (among tourists) but most exciting spots to get a full tasting tour of Thai street food in the Bangkok area. We spent a few nights at the Speak Easy Hostel on Tha Din Daeng so we were fortunate enough to get to explore quite a lot of what this mini food mecca has to offer.
And as we looked back at our photos from Tha Din Daeng, we were reminded how an evening wandering this eclectic street market is more than a feast for the belly…it's a feast for the eyes. Tha Din Daeng is vibrant. In fact, it's a veritable riot of color. 
We hope you get a chance to explore Tha Din Daeng for yourself when you visit Bangkok, but, until then, let us take you on a little sightseeing tour of this special spot!
Our tour begins at the river. Unless you take a cab right to Tha Din Daeng, you'll need to take the Chao Phraya River Express boat from the Central Pier (orange flag boat) to Pier #5: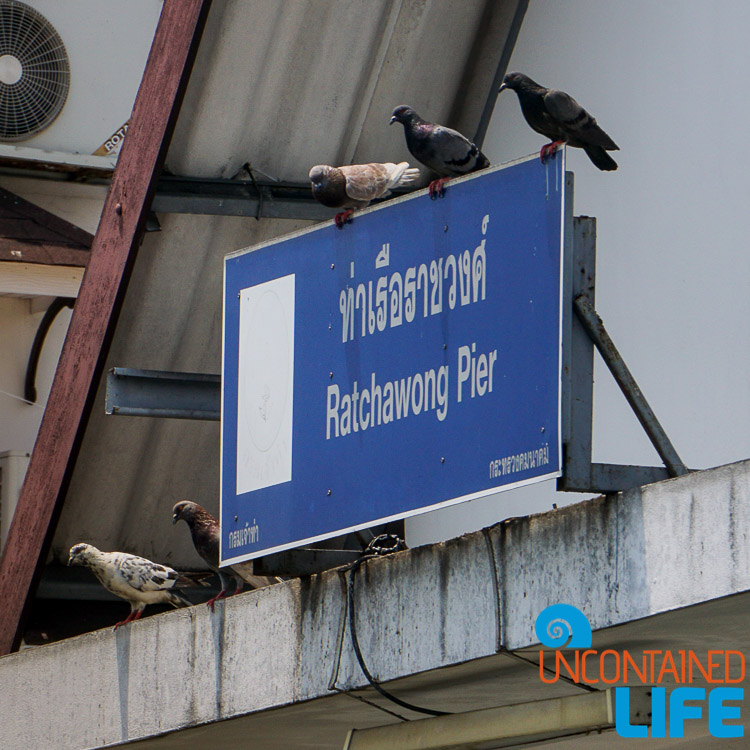 From Pier 5, hop on a cross-river ferry.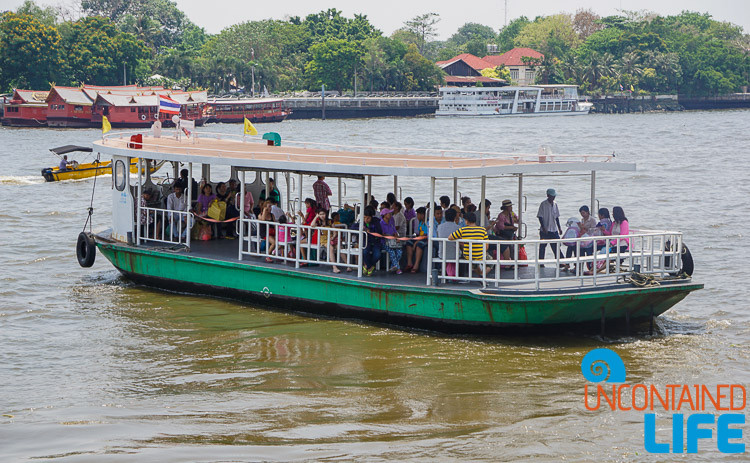 Exit the ferry…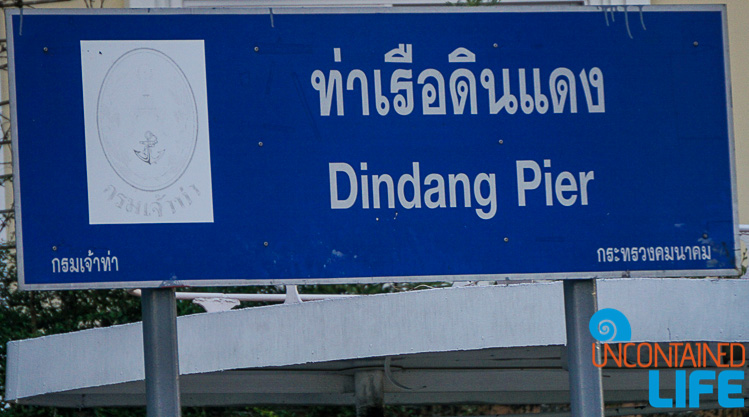 …and head past the orange tents on your lefthand side (the orange tent market, which sells clothes, bootleg DVDs and the like, is, generally, unremarkable, but you can always take a quick stroll through).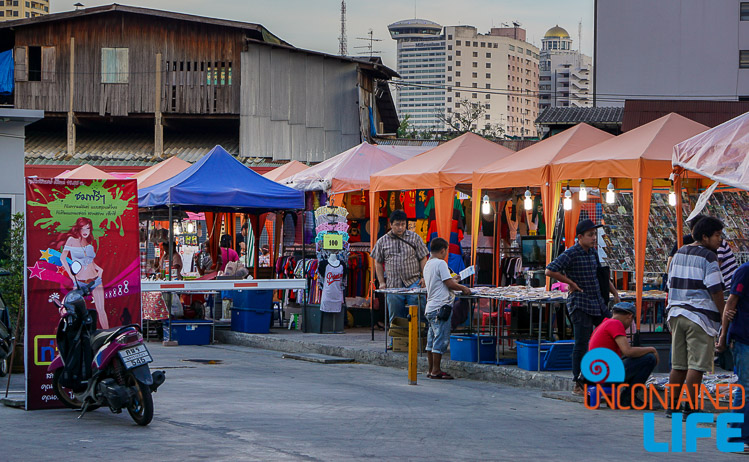 Once you see this sign, it's time to start your food exploration! One important thing to remember: the market isn't looking to lure tourists, so don't expect vendors to understand English. Make use of your translation apps and be prepared for lots of polite mime-action if you want to eat!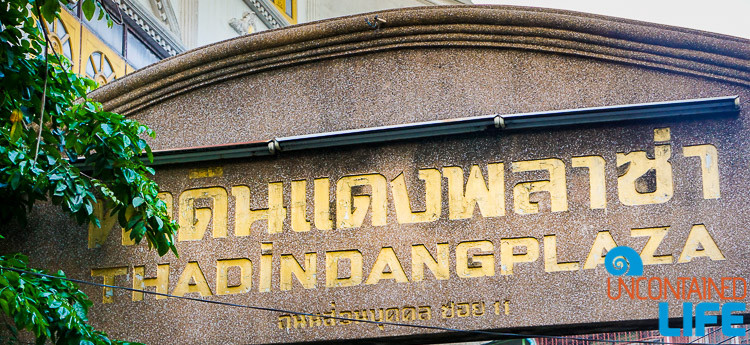 (That there's my "hurry up and take the picture…I'm hungry!" face.)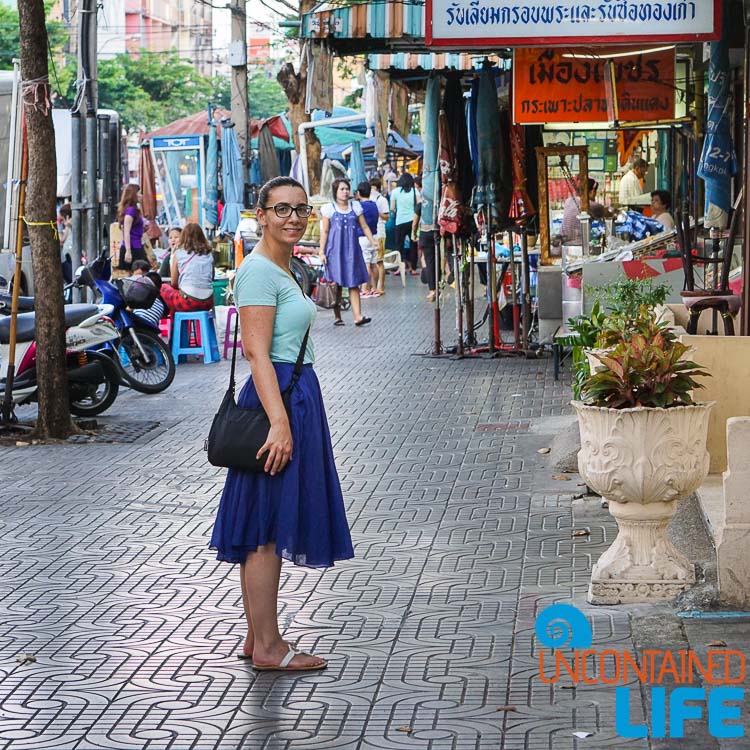 The part of the market on the right-hand side of the street, closest to the pier is a kaleidoscope of fresh meat, seafood, veggies, fruits, grains and dried treats.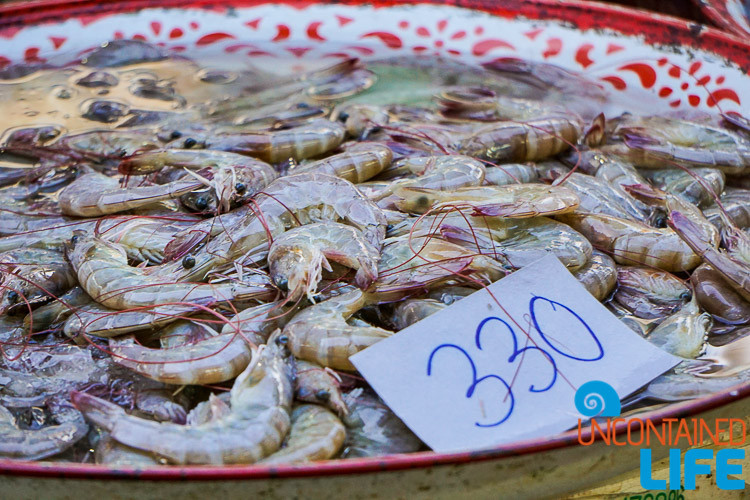 Durian (pictured below) is probably the only fruit you'll ever encounter that is banned in many enclosed spaces throughout Southeast Asia? Why? Because this delectably sweet-tasting*, creamy-textured fruit packs a malodorous punch that can linger for days. If you're in Thailand when durian is in season (roughly April-August) be sure to give it a try…preferably outdoors! 
*Interestingly, not everyone agrees about durian's flavor–some find the taste as unpleasant as its smell. Maybe it's something like that thing with cilantro?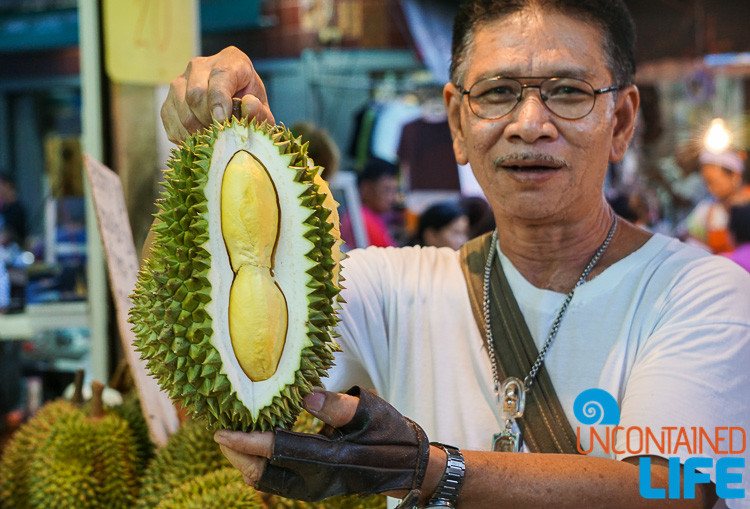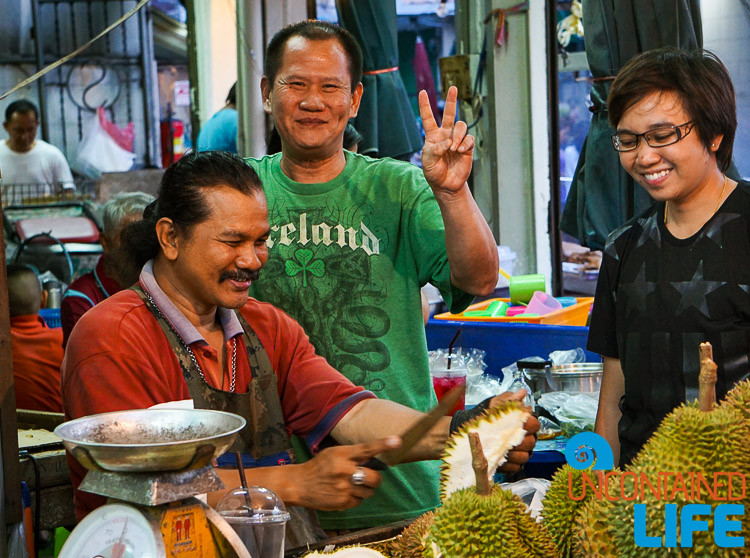 Nothing helps us beat the "oh my God I'm going to die" Thai heat like cool coconut water drunk directly from the fruit itself!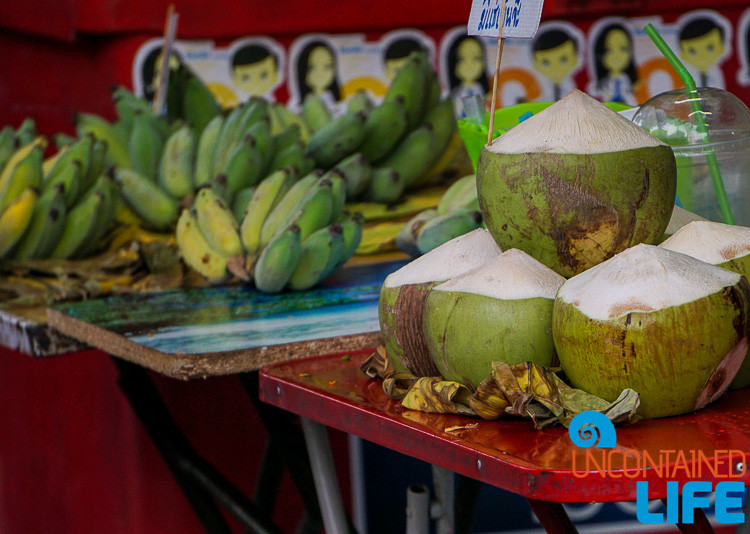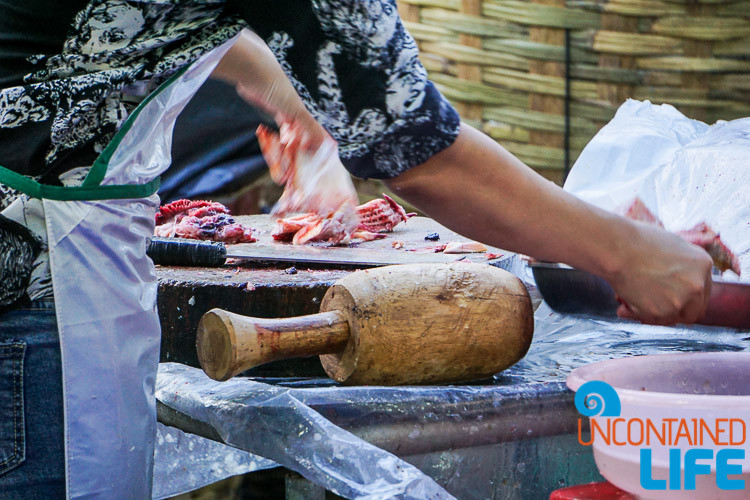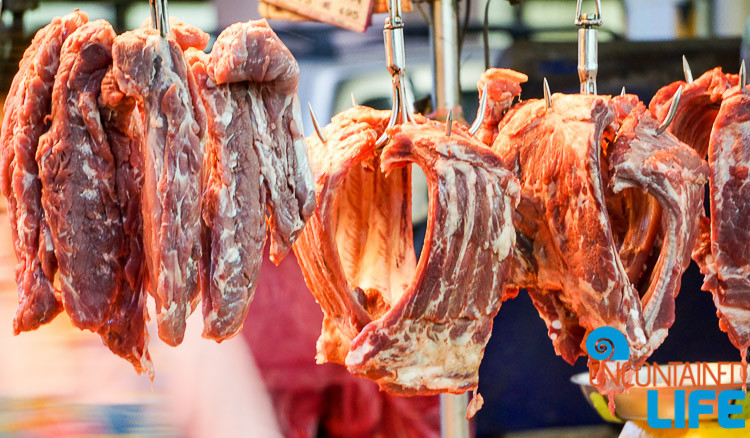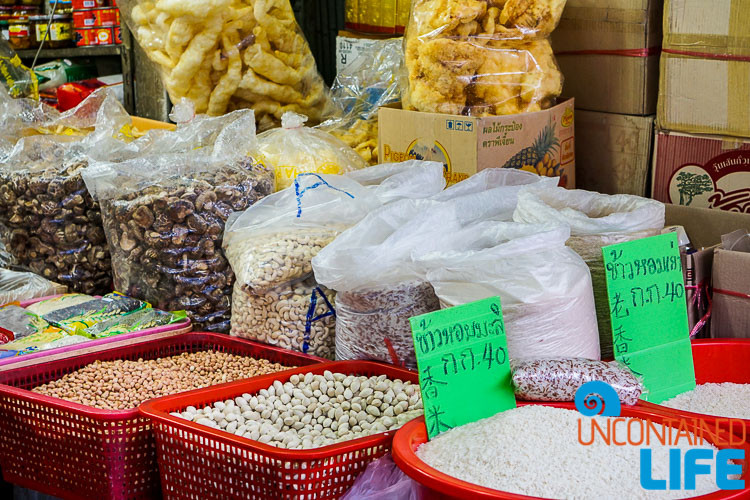 Those little guys may look innocent in their tiny plastic baggies, but take this from a girl who grew up eating Mexican cuisine: you ain't tasted spicy until you've accidentally bit into a Thai red pepper!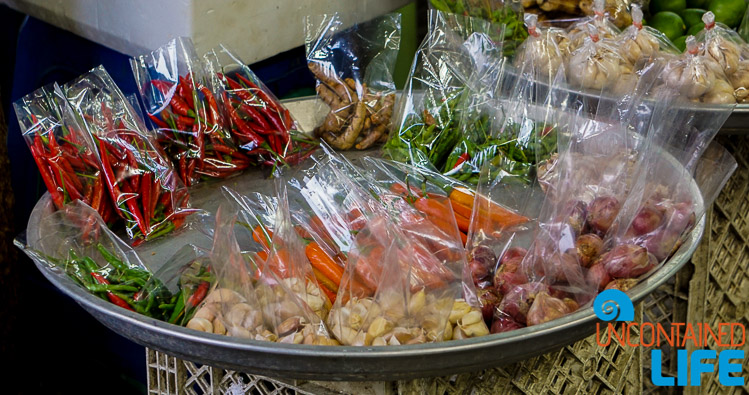 Alright America, time for some real talk: why don't we get the pretty pink-colored eggs in our markets??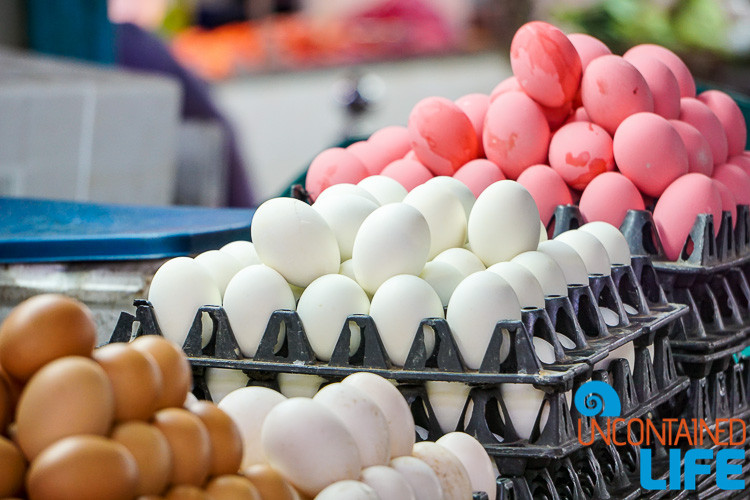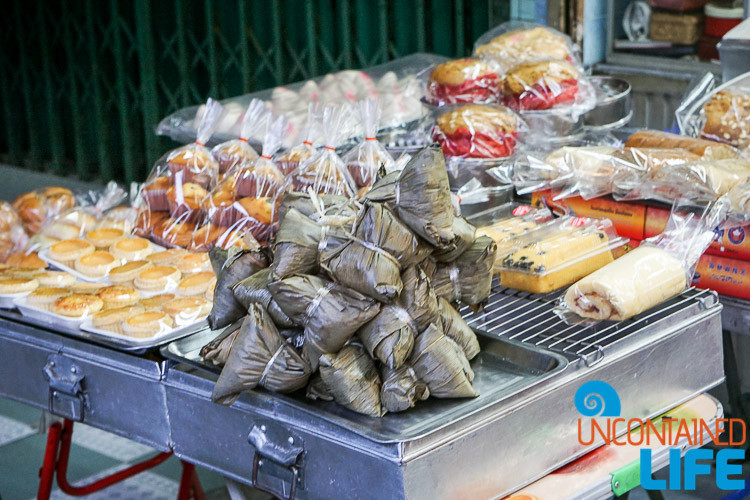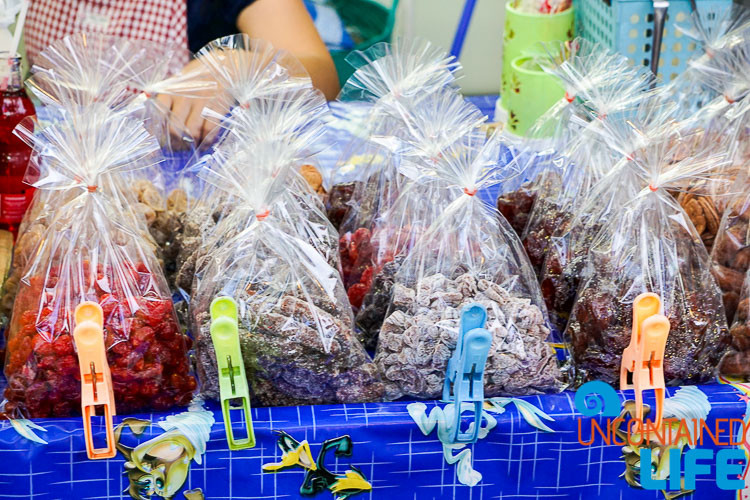 Of course, what we're really here for is Tha Din Daeng's hot foods! From take-and-go to sit-down street restaurants, you'll find it all. Popular dishes found on Tha Din Daeng include braised goose soup, pork satay, pork noodles.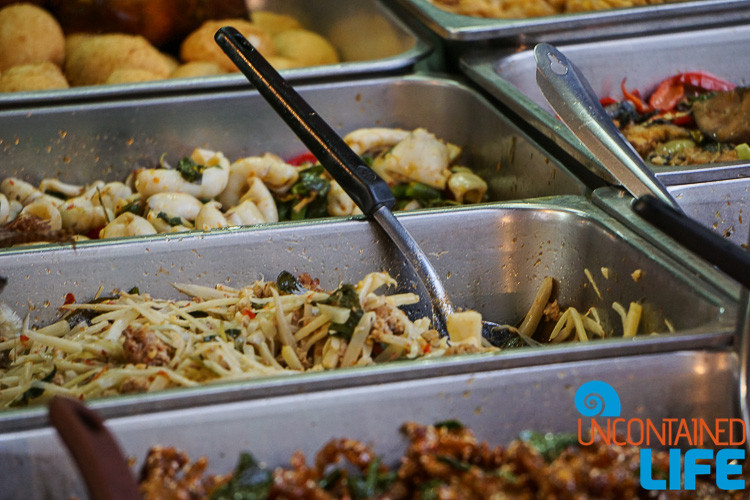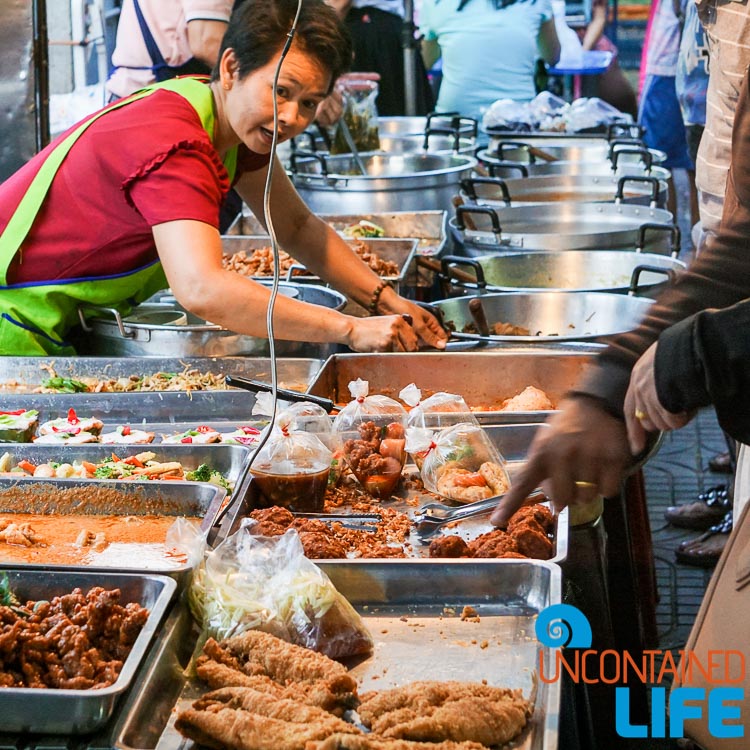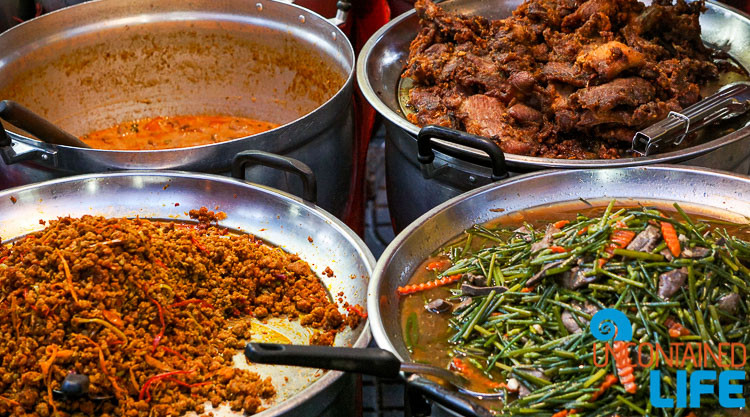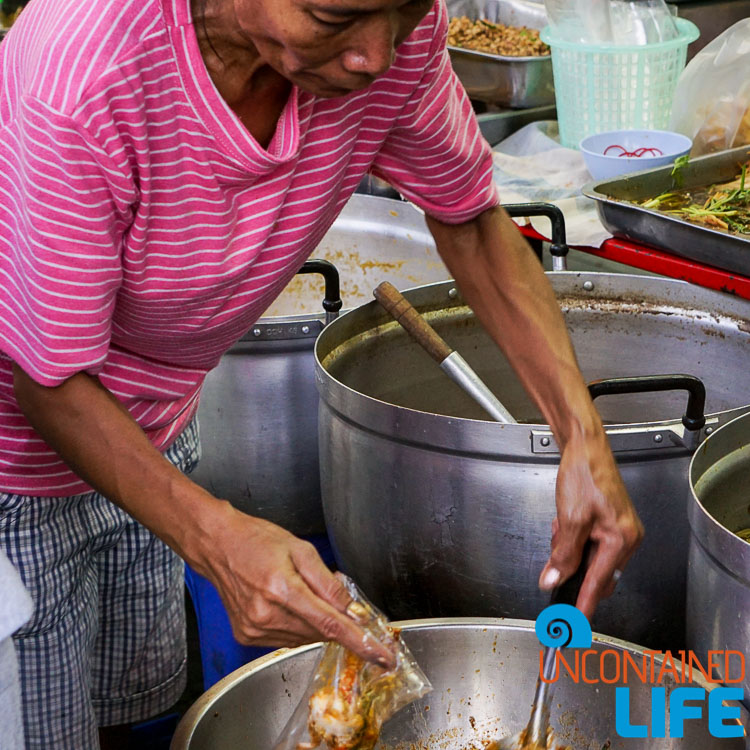 Justin and I haven't ever gotten sick from eating foods that were sitting out in dishes, but in general when the food is completely pre-prepared, the expectation is that you'll be taking it home in a little plastic baggie to reheat. (You can, of course do this yourself if your guesthouse or hotel has a kitchen.)
If you want to eat right there and then, however, ensure a food poisoning-free eating adventure by looking for foods being prepared right on the spot–this includes items fresh off of the grill, soups, and made-to-order stir-fried dishes (look for places that have a couple of tables with stools–these are the vendors that will make/ serve food to order).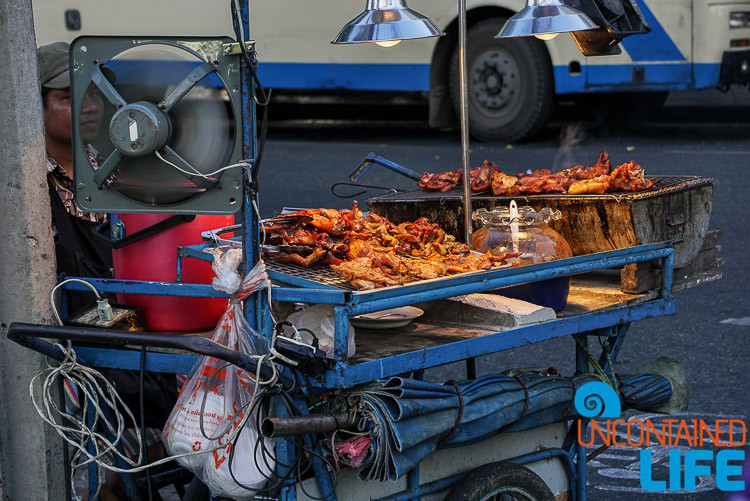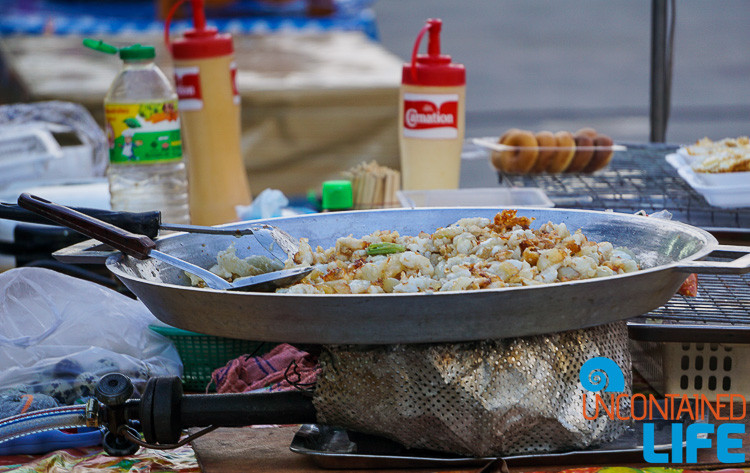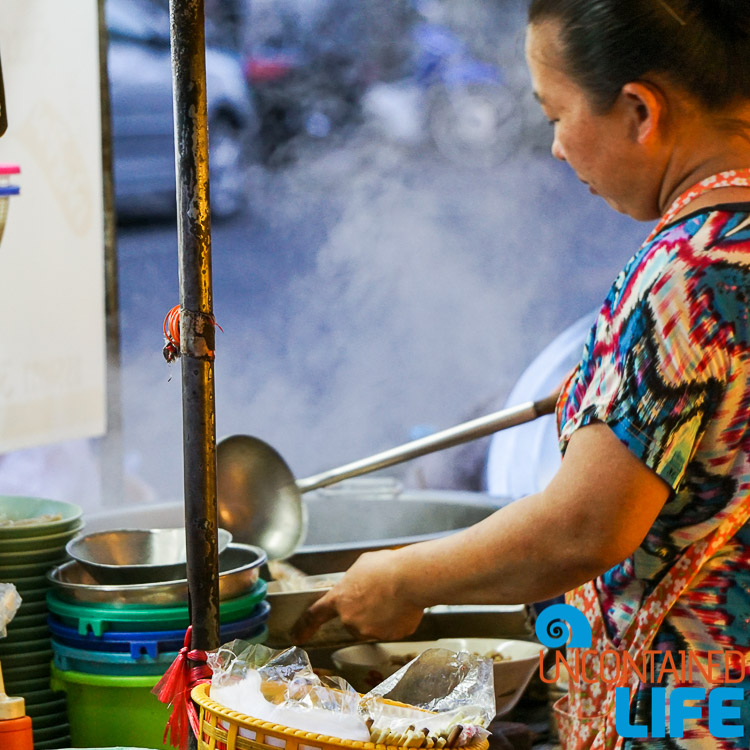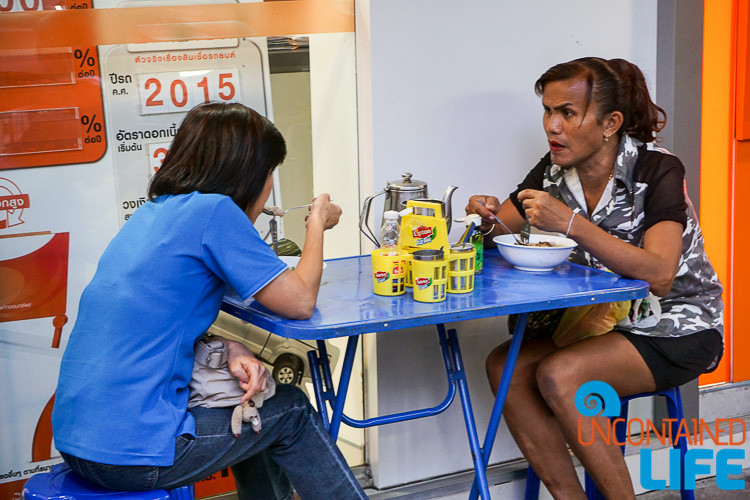 Keep your eyes peeled as you wander and, with luck, you'll find something you will want to consume as much of as possible whilst in Thailand: thai "pancakes" (a delicious, melt-in-your-mouth creation made from a batter of condensed milk, rice flour, and cream).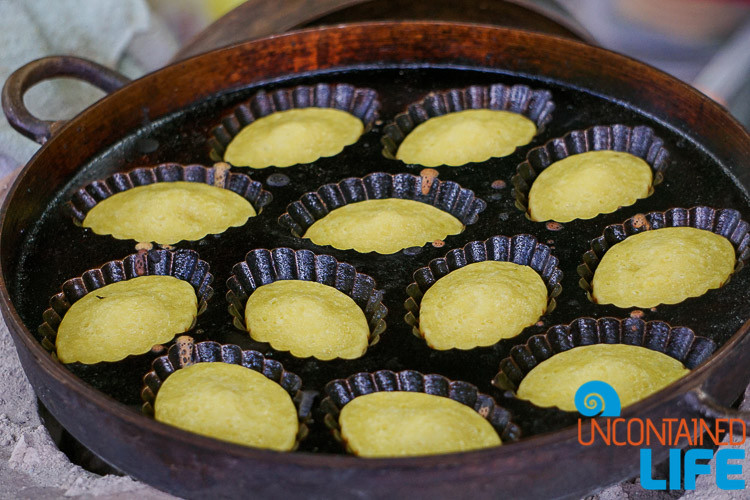 Food isn't the market's only attraction, of course. You'll also find traditional Thai floral decorations. Here you can see traditional garlands, known as malai. These are the kinds of arrangements you'll see placed at shrines throughout Thailand.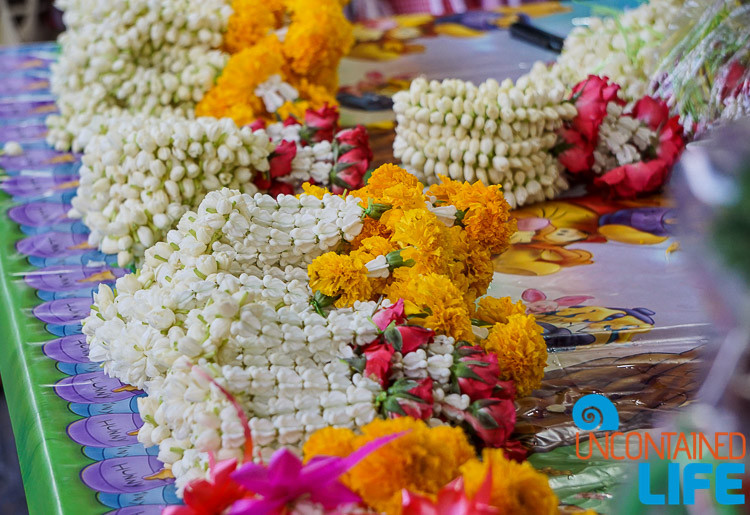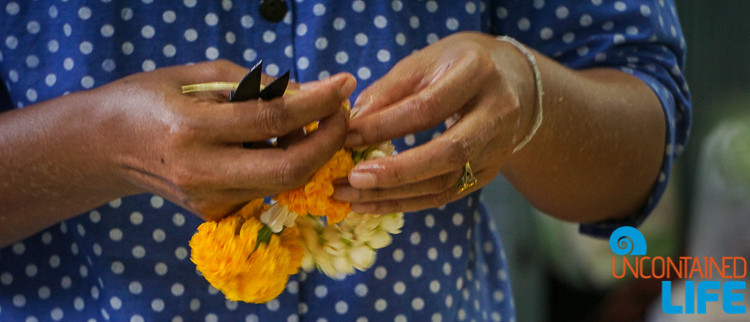 In addition to the street stalls, be sure to stick your head inside the shops–you'll find anything and everything from tailoring and dentistry businesses to Eastern herb medicines and shops full of Buddhist ceremonial accoutrements.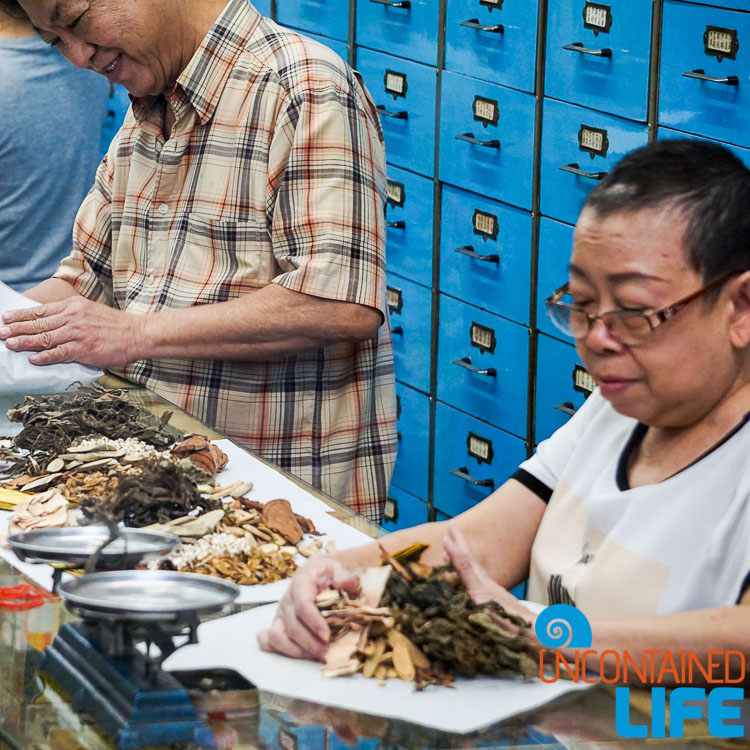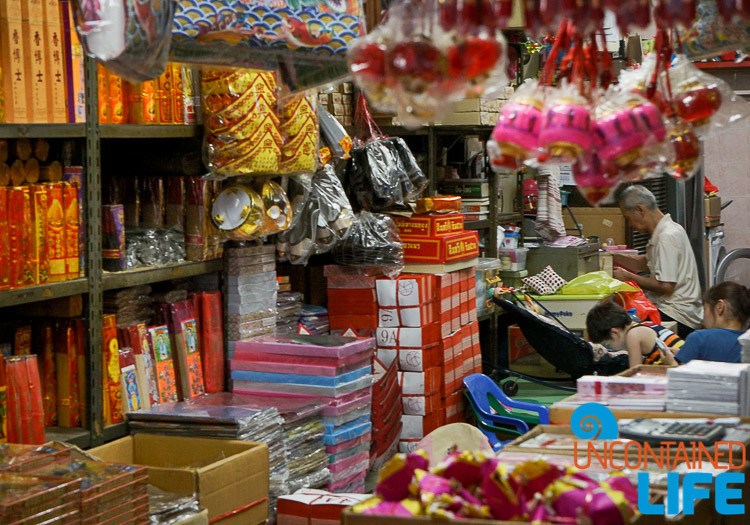 If it's not too late for a coffee, you can finish your evening on Tha Din Daeng with a stop at the Speak Easy Cafe and Homestay (note: the coffee cart out front is a different business).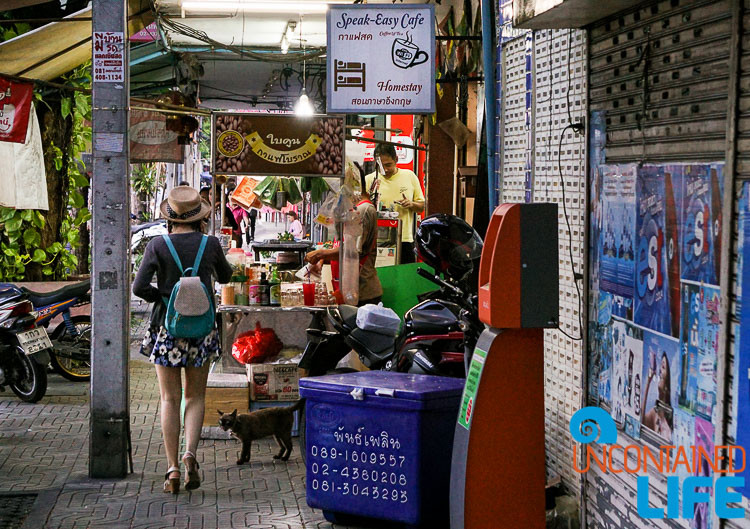 This cosy spot not only serves up a great iced coffee (made from fresh coffee beans!), it's run by a couple of truly lovely people, Aaron and Niddy (with the help of their bevy of rescued kitties!)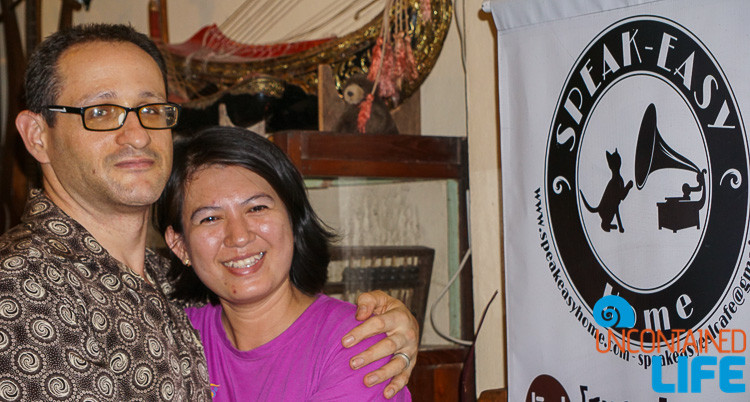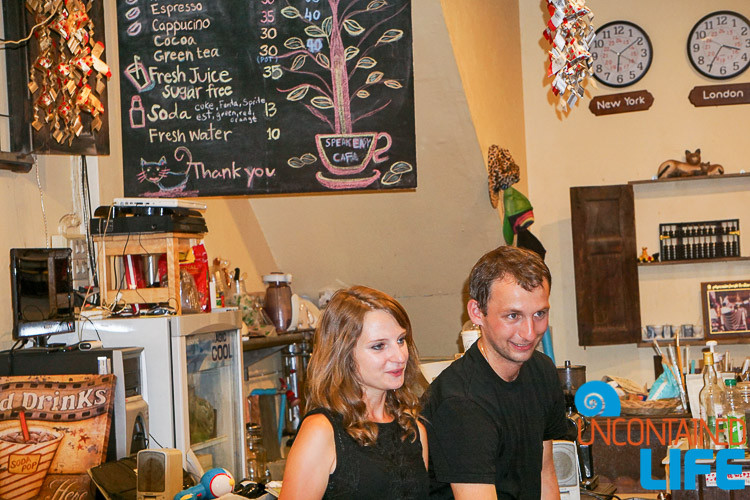 When you've finished your coffee, cross the river again and catch the last express boat back to central pier (yellow-flag boats run later than orange flag–until 8pm). On your ride, enjoy your view of Bangkok's nighttime skyline…and plot your return to Tha Din Daeng!