How did a museum dedicated to putting heartbreak on display become the most popular, and, dare we say, the best museum in Zagreb?
That story–and mine–is what we're talking about today, friends…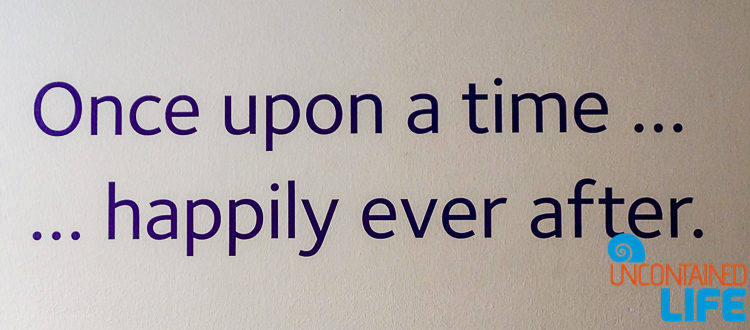 Back when I was in graduate school, there was a place on campus that I liked to visit with fair regularity: the Humanities Library ground floor bathroom–specifically, the small stall just to the left of the entrance. I didn't go there for the facilities, however; rather, I came to see one particular wall inside the stall. (I'm sure you're wondering where this is headed…I promise, it's not a fart joke.)

See, for some strange reason that wall (henceforth to be known as The Wall) and only that wall inside that specific stall played host to a (mostly) anonymous, real-time diary/ confessional. Students, armed with pens of all shades, would come and scrawl secrets on The Wall. Some of the remarks were silly or happy, but many were quietly heartrending ("I picked my major to make my parents proud, but now I can't pass my classes, and I don't know how to tell them." "I might be pregnant and I don't know what to do.") And, sometimes, other writers would respond with answers, or encouragement (unlike an internet comments section, The Wall seemed devoid of trolls.)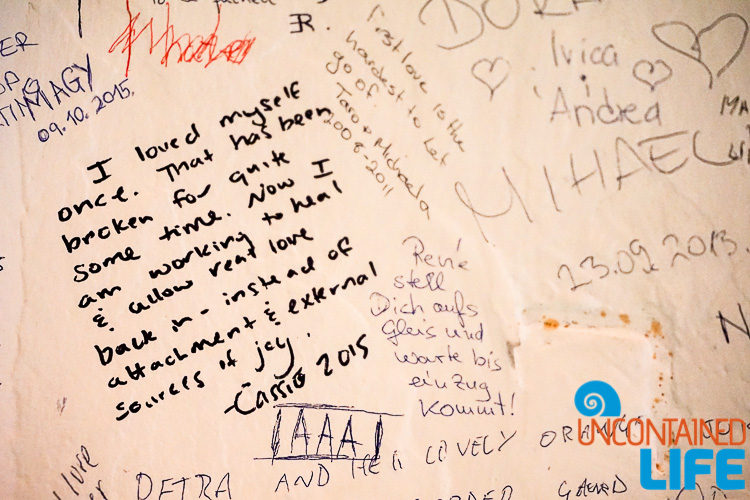 I never wrote anything on The Wall myself, though at times I wanted to–particularly toward the end of my degree when my depression had grown to be a perpetual dark cloud above my head. I wanted to confess how lonely I was, how alienated from everyone, not the least, myself. I wanted to say "Maybe this has all been a terrible mistake."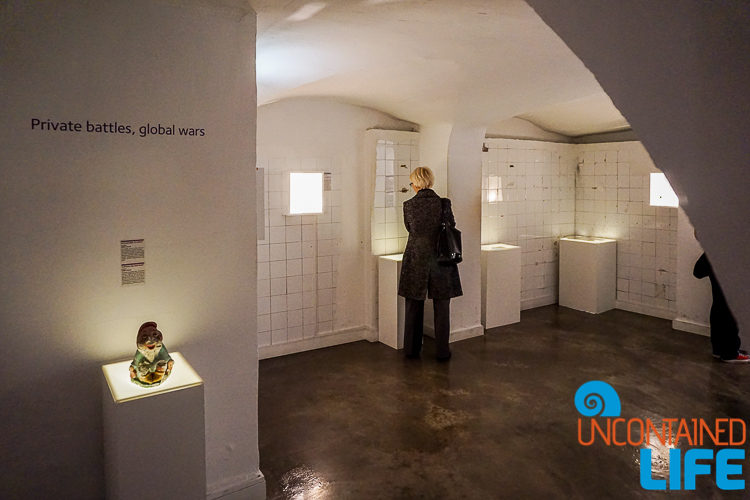 Still, The Wall fascinated me. Even when it was painted over (which happened every few days), enthusiasm never waned. People, it seemed, were drawn to this means of recording their inner life–of telling their stories, even if (or maybe because of) the record would soon be erased. But why? What did the phenomenon of The Wall mean?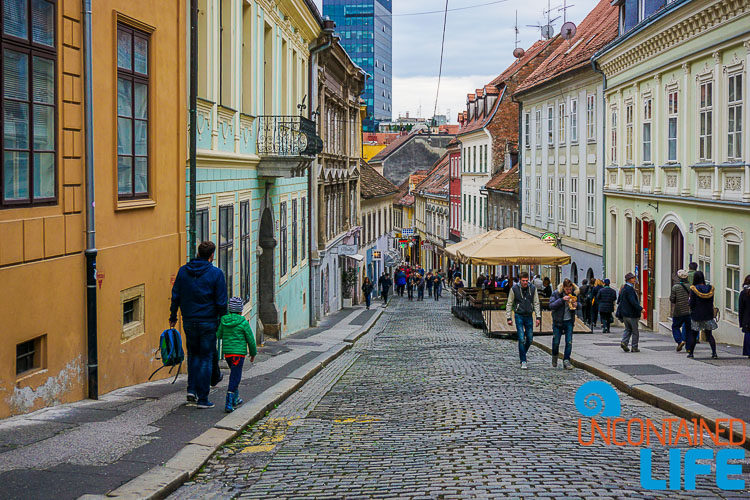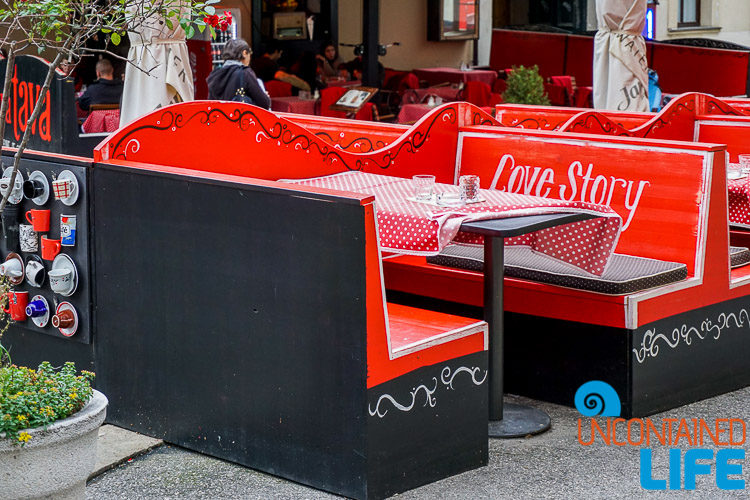 Flash forward a year to Justin's and my exploration of Zagreb, Croatia.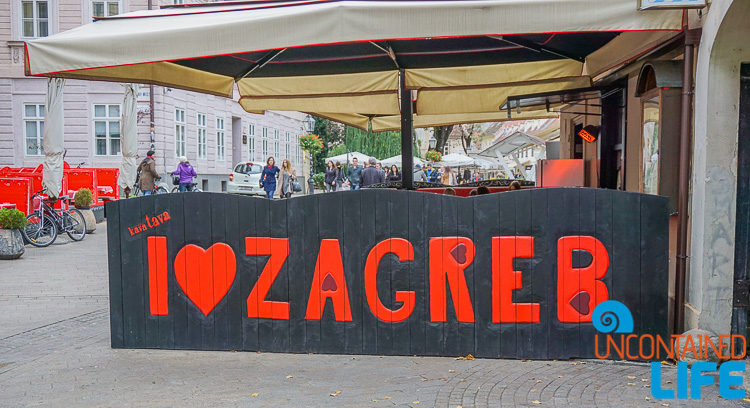 In the course of planning our trip to Zagreb, we had heard about an unusual place, that many consider to be the best museum in Zagreb: the Museum of Broken Relationships.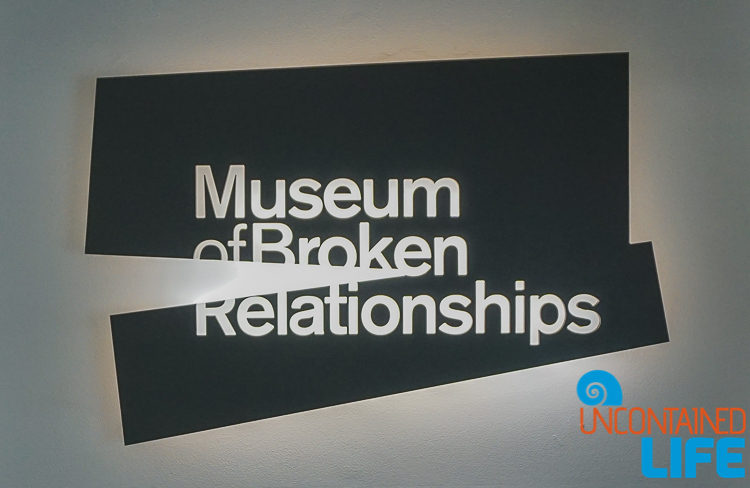 The museum website described its exhibits as a collection of donated items "revolving around the concept of failed relationships and their ruins" which allowed donors to "overcome an emotional collapse through creation: by contributing to the Museum's collection."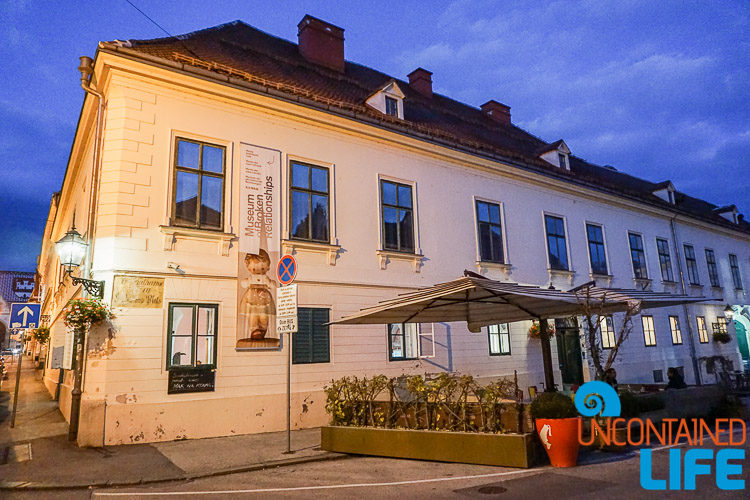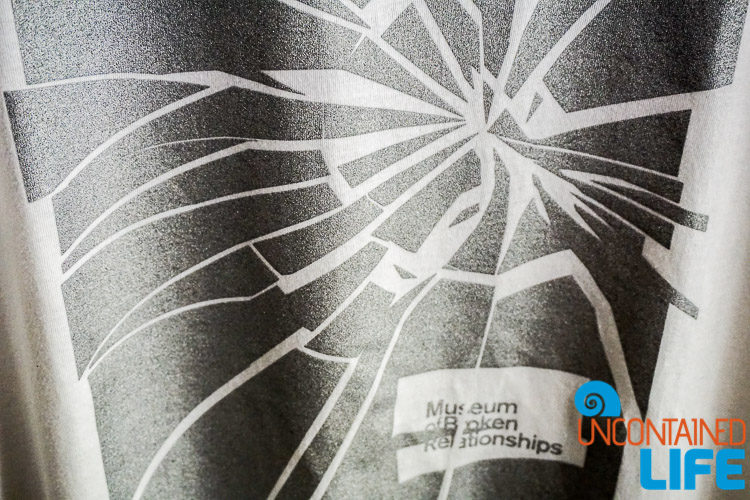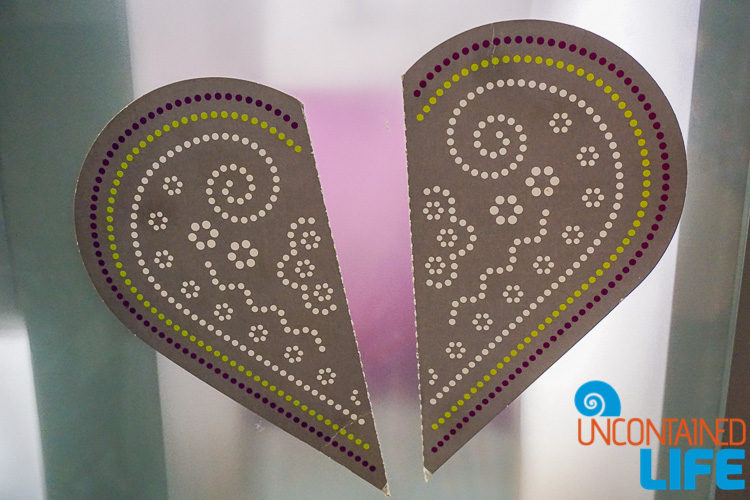 Hmm. Looking at the "relationship leftovers" of broken-hearted people…that kind of sounded like a downer topic. How exactly was this the best museum in Zagreb?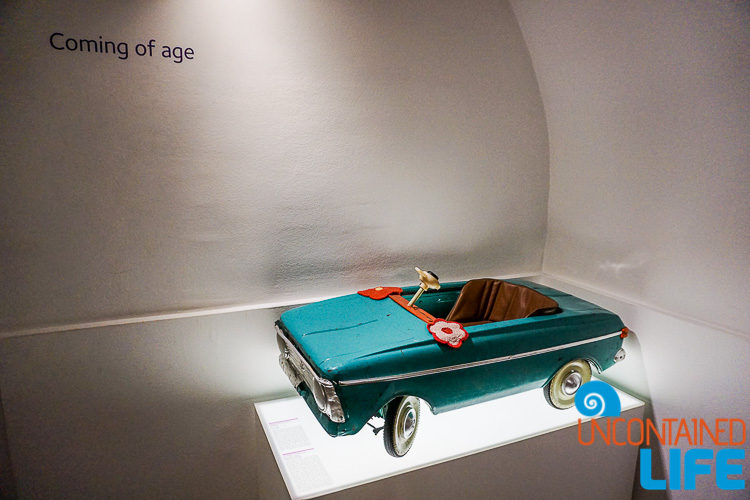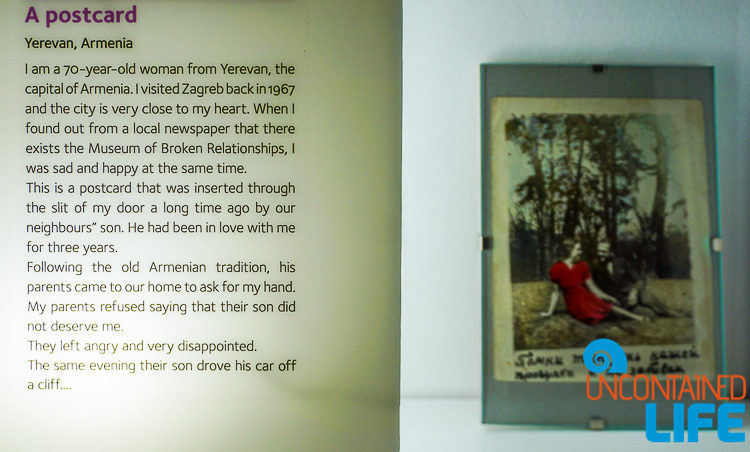 We needed answers. So, we contacted the Museum of Broken Relationships to ask if we might be able to both tour the museum and have a chat with its creators, Olinka Vištica and Dražen Grubišić, about how and why the museum came about. The museum replied that only Grubišić was available, but that he was very happy to answer our questions–maybe we could come for a drink at the museum's coffee shop and then do the tour?  Sounded good to us!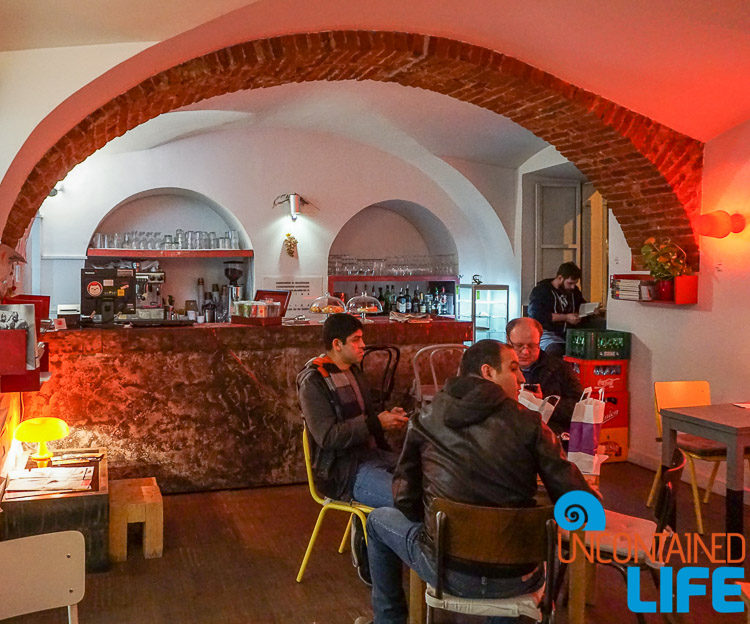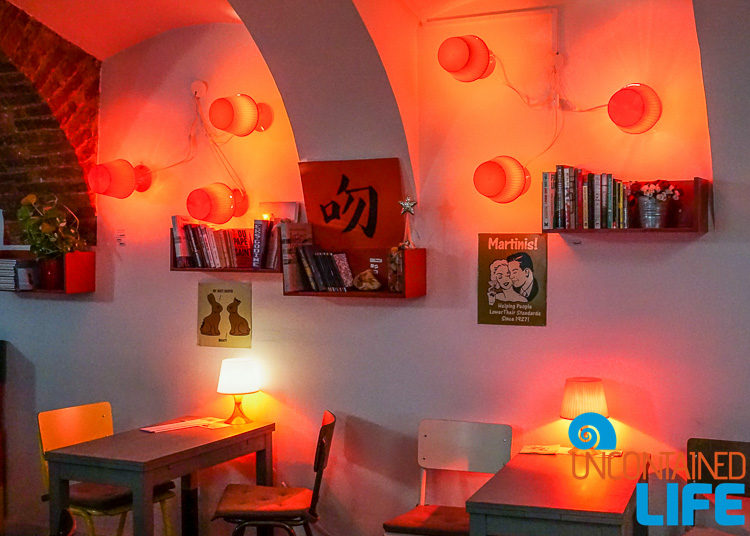 Dražen Grubišić's dark hair is touched with silver, and he speaks in a soft voice as he describes the museum's history and ongoing mission.
Olinka Vištica and Dražen Grubišić were, as it happened, former lovers, who upon breaking up, were at a loss as to what to do with all the things that represented their shared life–things like the wind-up bunny toy they'd meant to take with them and photograph around the world. They joked about opening a museum for emotional baggage. And then, three years after the breakup, they kind of did.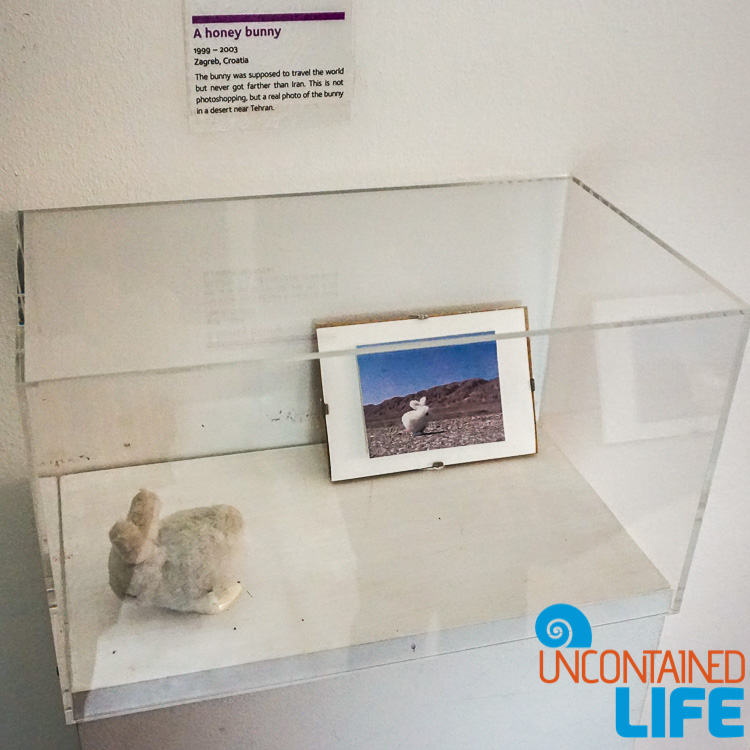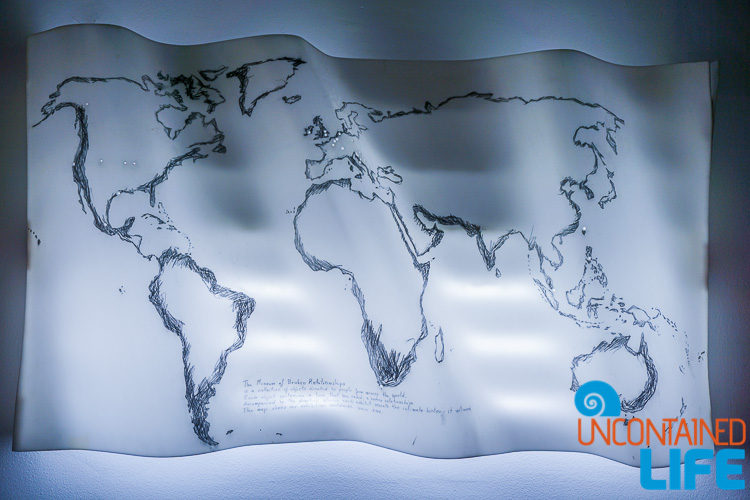 Their first small "broken relationships" show was in response to an open call for exhibits on "synergy." Later, the pair took the show on the road, traveling to cities around the world, and eventually, thanks to its immense, ongoing popularity, it found a permanent home in Zagreb's Upper Town. (A traveling show still continues and Los Angeles is now planning to open their own branch of the museum.)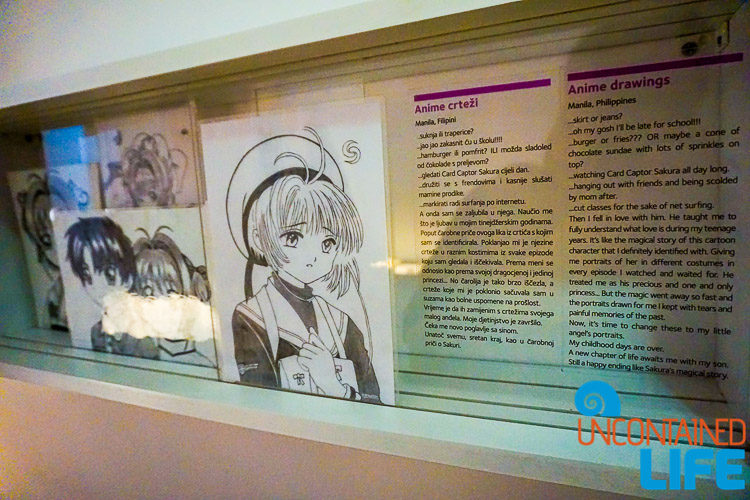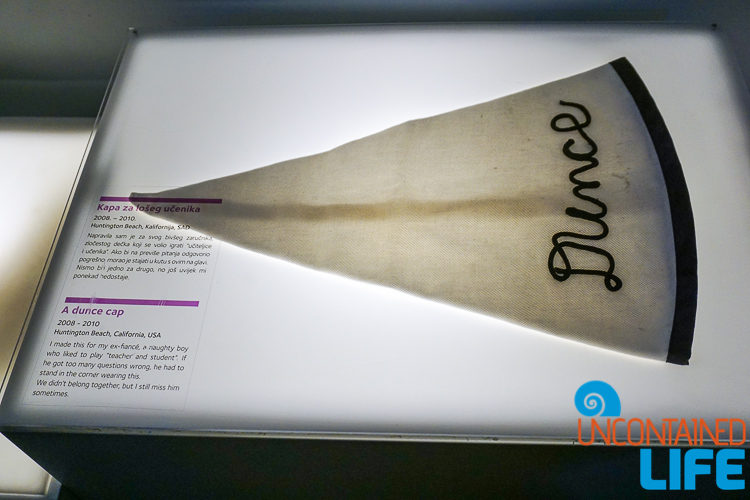 "We get a lot of great stuff [as donations.]" Grubišić tells us. "We would like to exhibit more of it. …The good thing is, now, we have so many things, we know we can pick any theme and we will be able to do it. We can tell the story from the different views."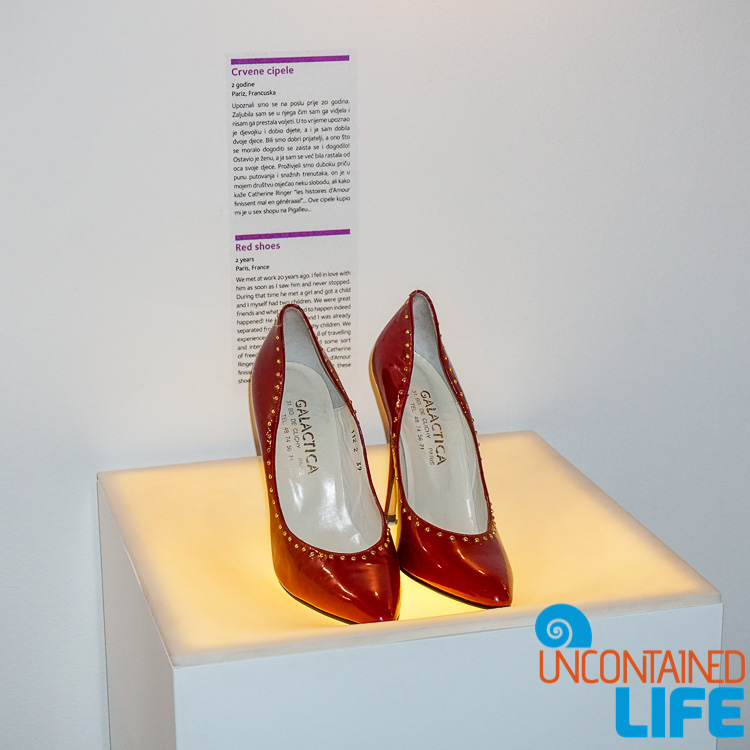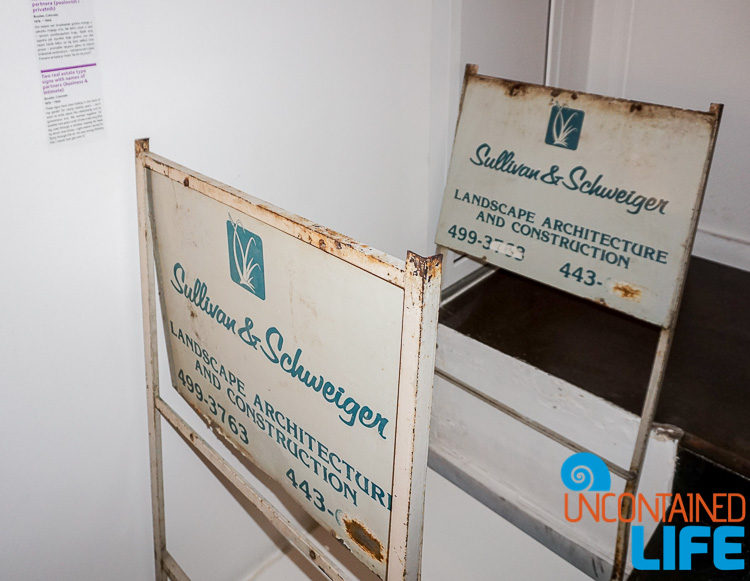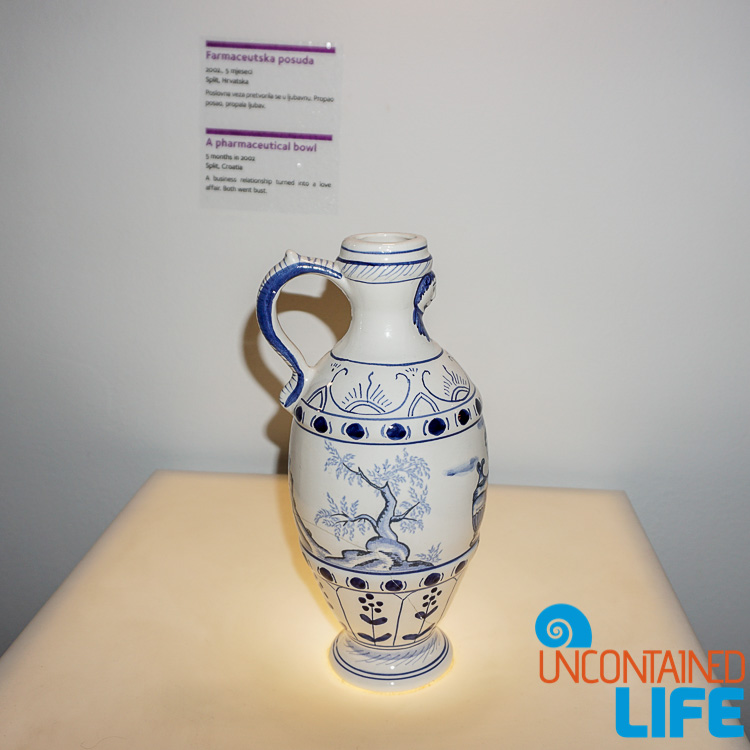 Grubišić and Vištica do all the curating themselves–a time consuming process: "It took us, like, six months to choose [this collection]. …The thing is, one object, one story, it doesn't stand for anything. But how we display it…this emotional rollercoaster we create. This is our art."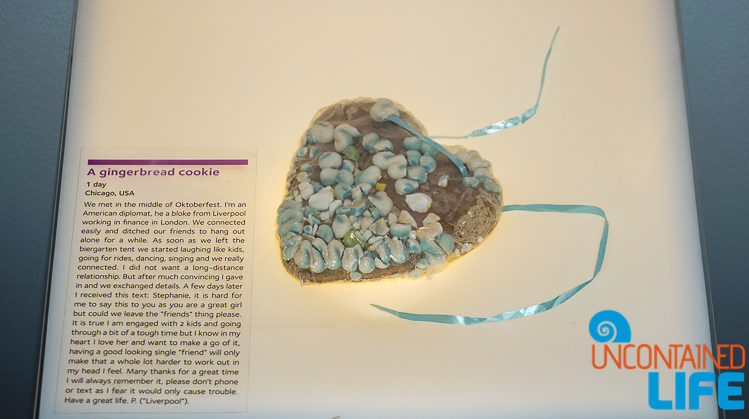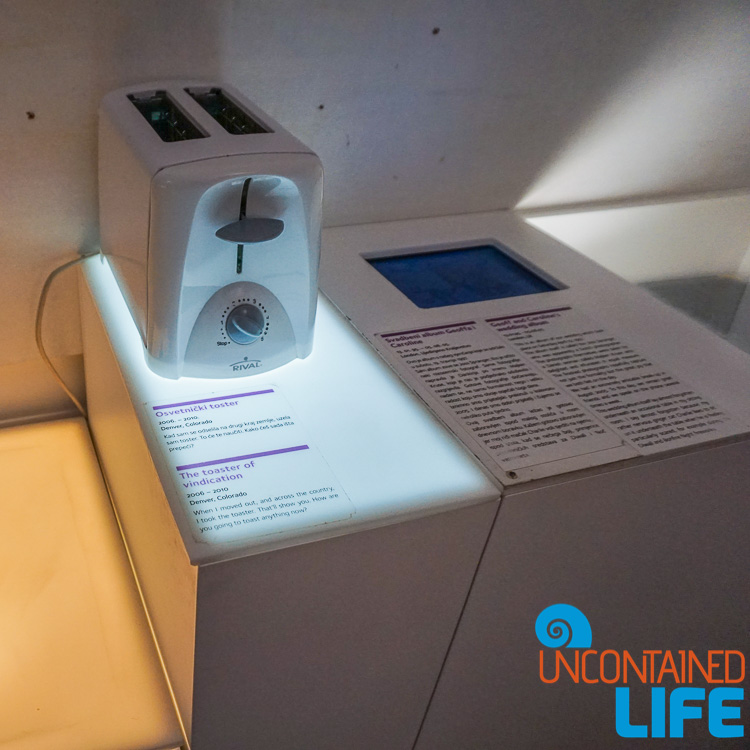 Why, we asked Grubišić, does he think the collection has had such an impact on people?
"Well," he replied, "I think it's like in journalism. If you just say that 2,000 people drowned, [people are just like] 'ok, 2,000 people drowned.' But if you tell the story of one of those people…everyone will be able to empathize."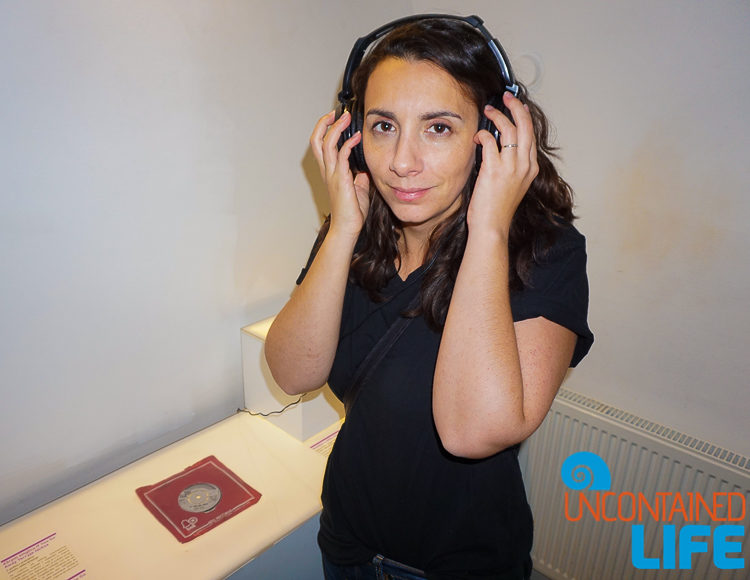 "The project was thought of as 'let's offer people a secure, safe place where they can leave their emotional burden behind somehow, without being destructive.' But now we also get a lot of visitors who come here during a difficult period in their life and they come out [from their visit to the museum] and say they feel like it's ok–if these people [who made the donations] can make it through the hard time, I can too."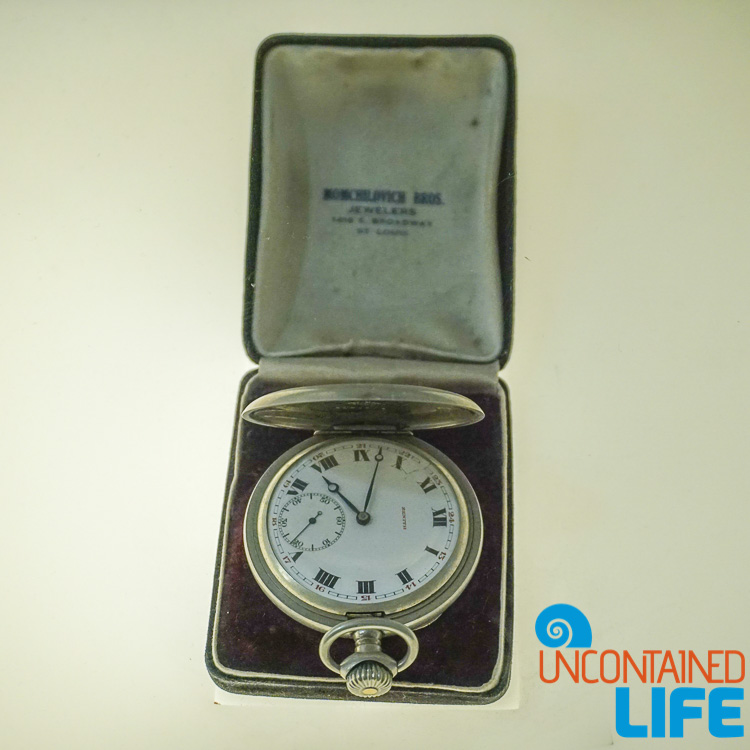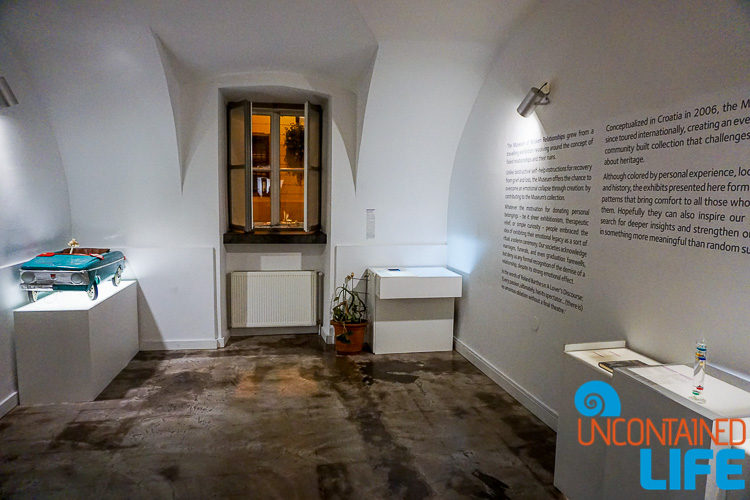 After Grubišić left us, we explored the museum's rooms. While the rooms are organized by theme, the collection of objects in each room appears, at first glance, rather random: a torn stuffed animal. A mixtape. A letter. A scarlet ball gown. It's not until you begin to read the stories that it's possible to discern the slender threads tying each group of objects together.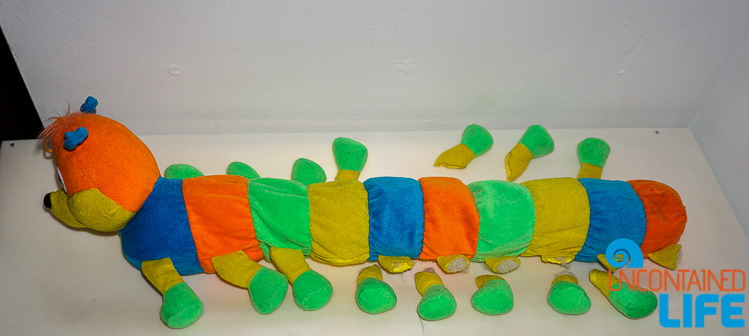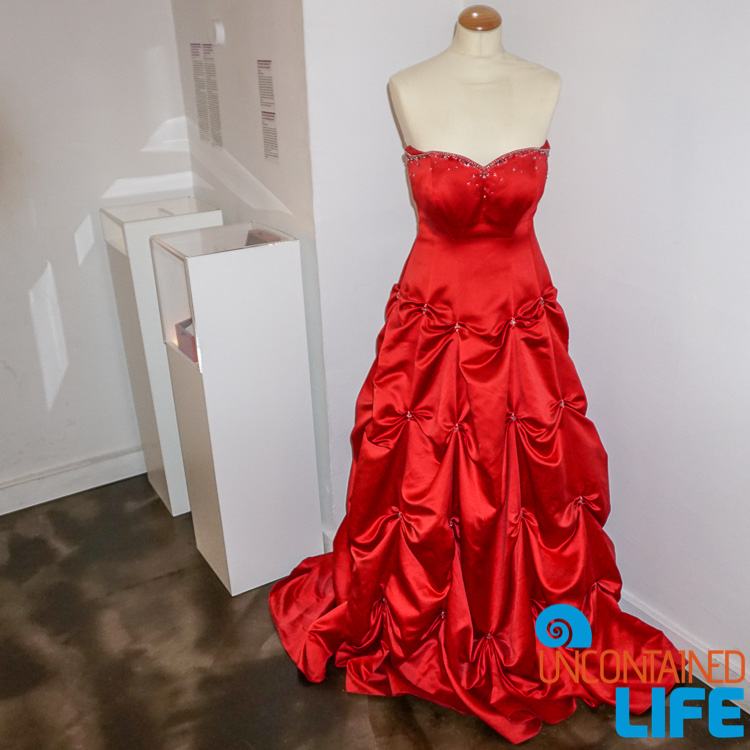 We read tales of love turned sour or torn asunder by war; of children still mourning the parents or siblings lost to disease or just the passage of time; of people's "break-ups" with self-destruction and escape from abuse; of friendships that couldn't, in the end, bear the weight of life's many burdens.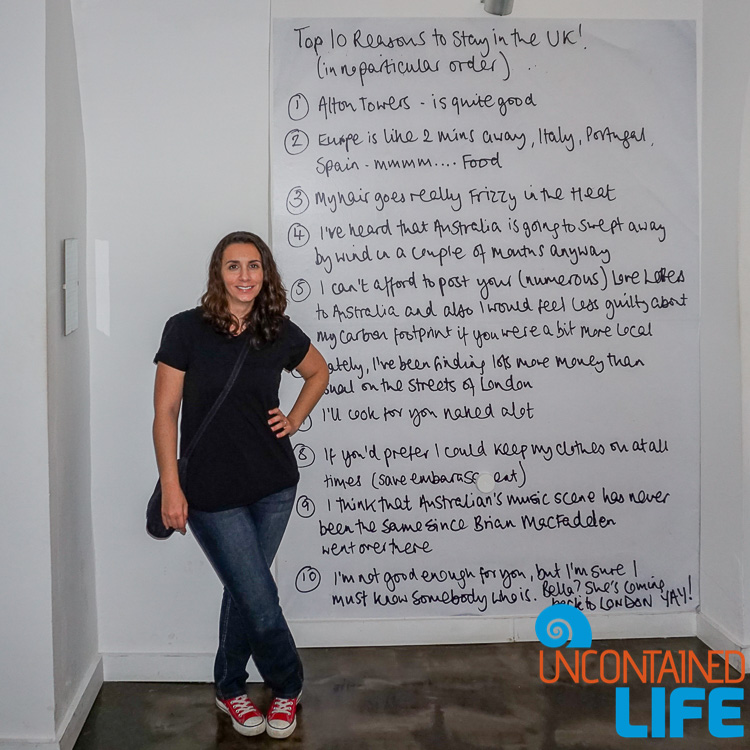 Some of the exhibits were a little funny–like the "pro/con" list in the photo above, or the chew-toy below with the accompanying commentary: "his dog left more traces behind than he did."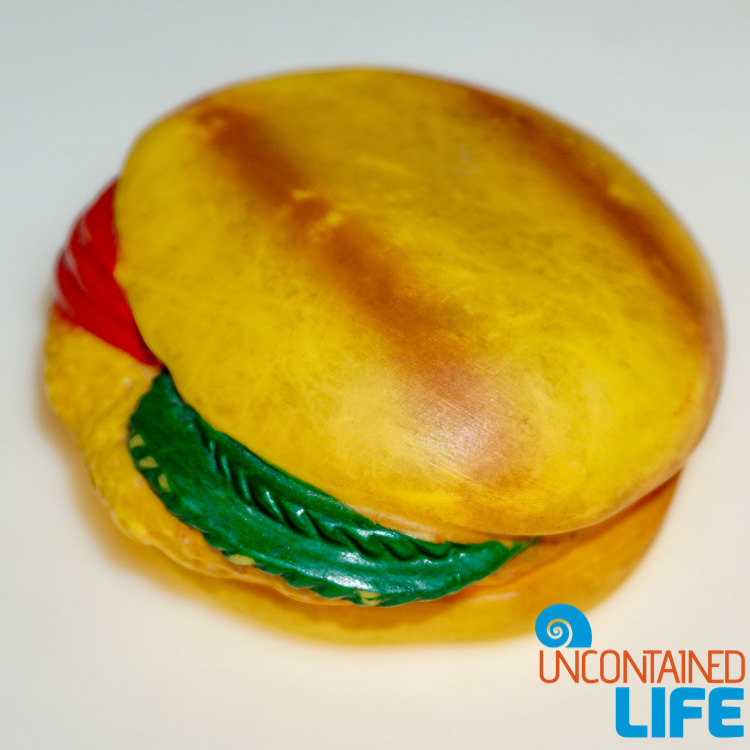 Some were tinged with anger–take, say, the story of the women who "axed" her cheating ex's furniture: "The axe was promoted to a therapy instrument."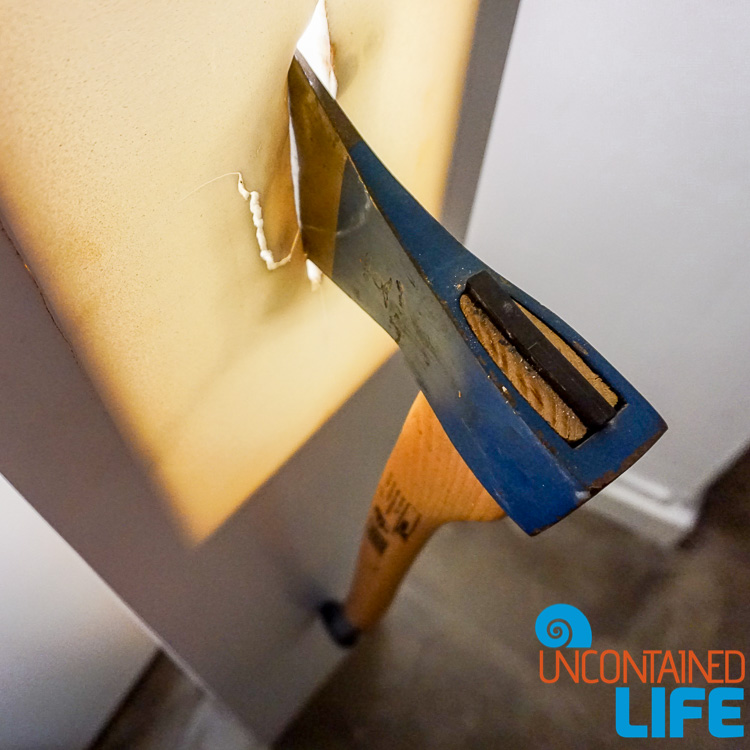 Many were sad.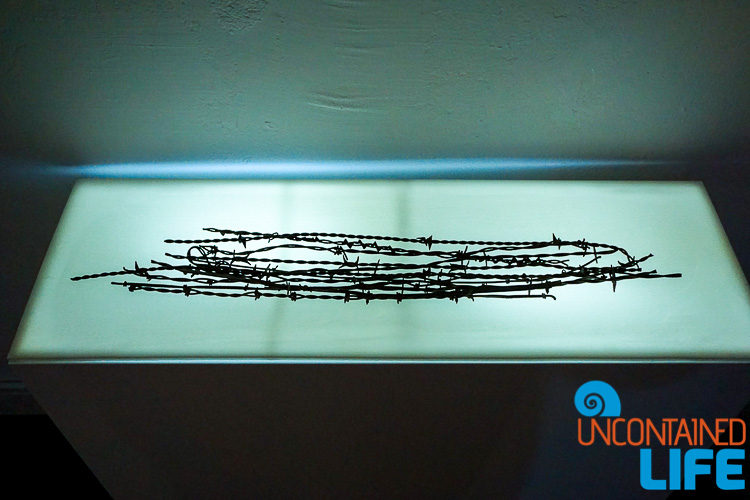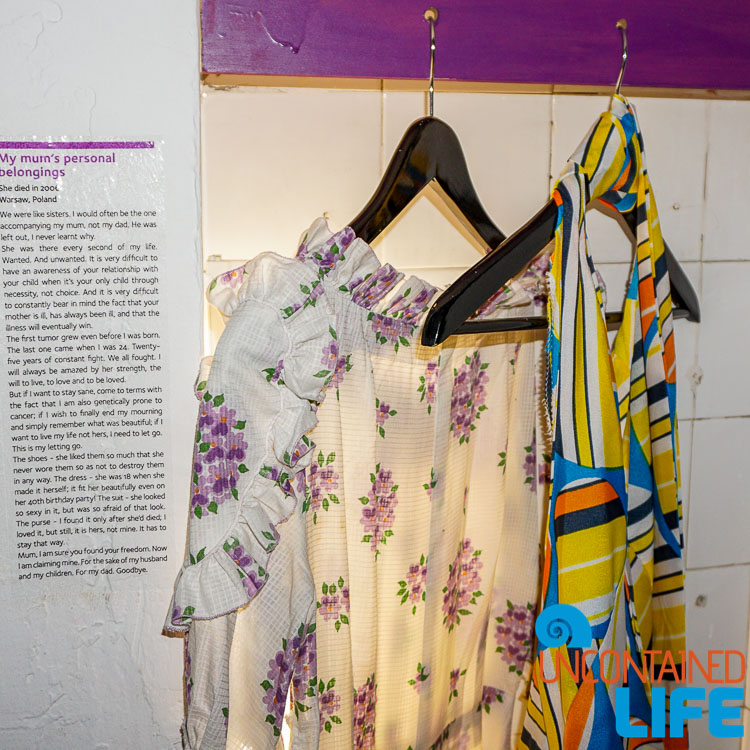 And yet, taken as a whole, the feeling underlying the exhibit wasn't sorrowful. On the contrary. The people who had made these donations and written these stories had suffered loss, and many were still feeling that pain. But they weren't trying to ignore it either. They were commemorating it–giving the past its due…before trying their best to let it go, and move on.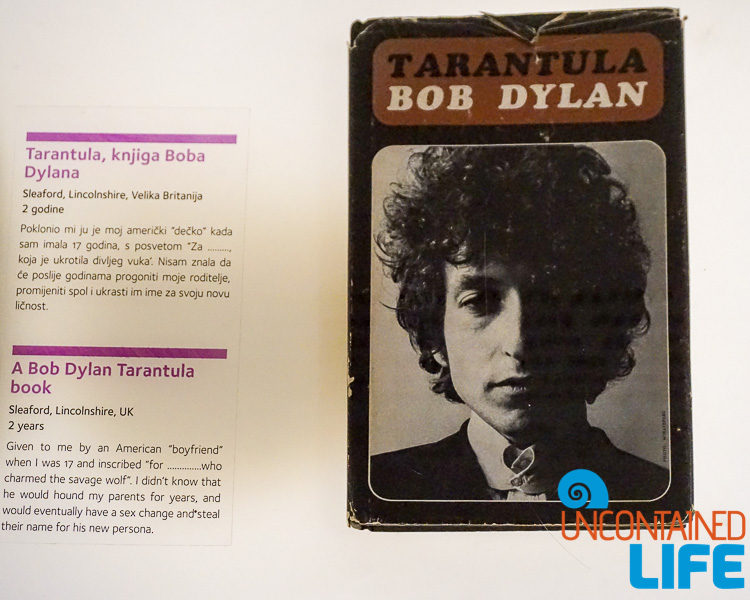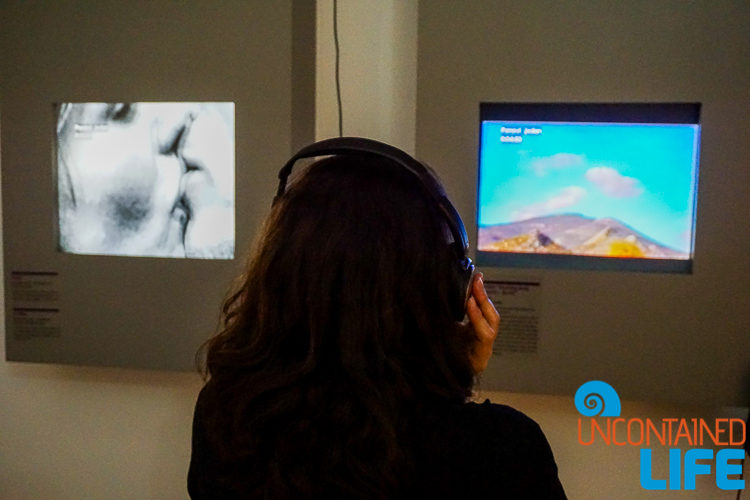 I was mulling this idea when, as we reached the final room in the museum, I saw it: a wall. Or rather, A Wall covered in confessions, in anonymous statements and stories written by the museum's visitors. Some kept with the museum's theme of love lost, others simply shared a hidden hope or fear. I suddenly recalled what Grubišić had said about this part of the exhibit: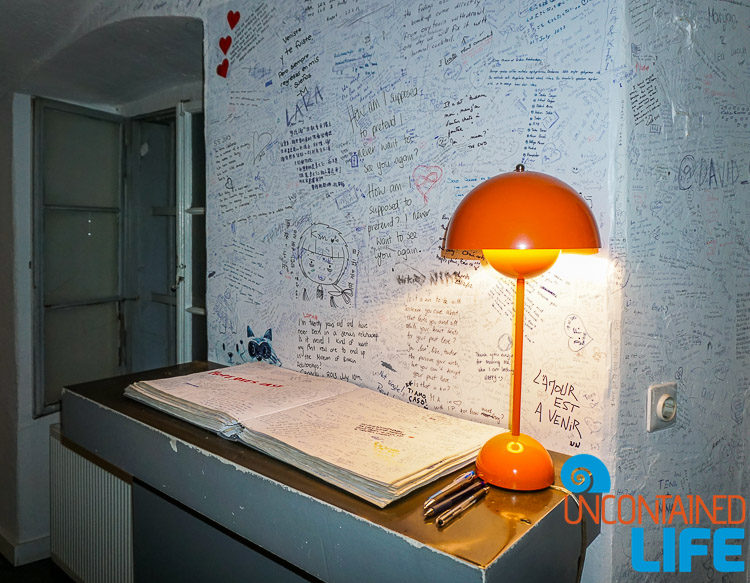 "We had a [guest] book. And we thought maybe we would print out some of the quotes from the book and put them up on a blank wall. And so we did. And then people just started writing in between. And then on the side…and so now, it's a part of [the exhibit.]"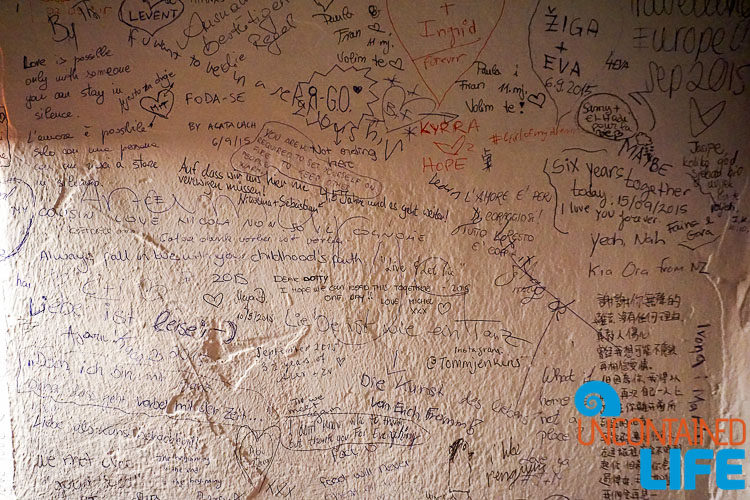 I stood in front of this new Wall, frozen, feeling, somehow, that I was right back in that tiny bathroom stall on the other side of the globe. To write or not to write? What could I possibly have to say anyway? What "broken" relationship did I need to move past? I picked up one of the pen's laid out for guests' use, playing with it between my fingers.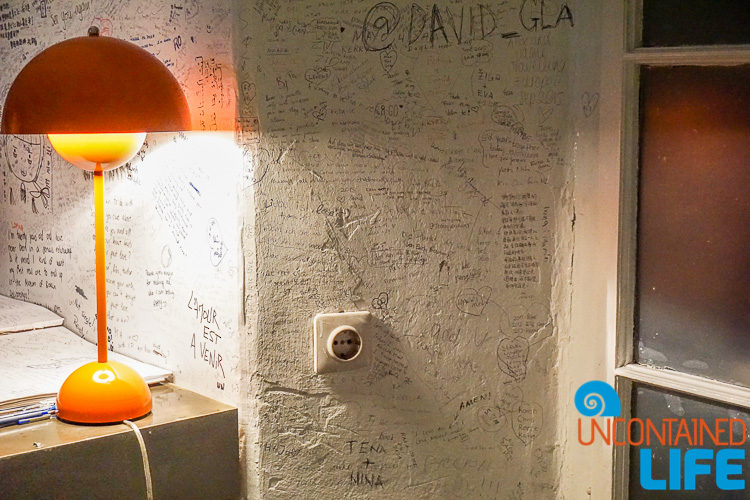 Why did I never write on The Wall back home? What had I been afraid would happen then? What was I afraid would happen now? If I was honest, I knew the answer.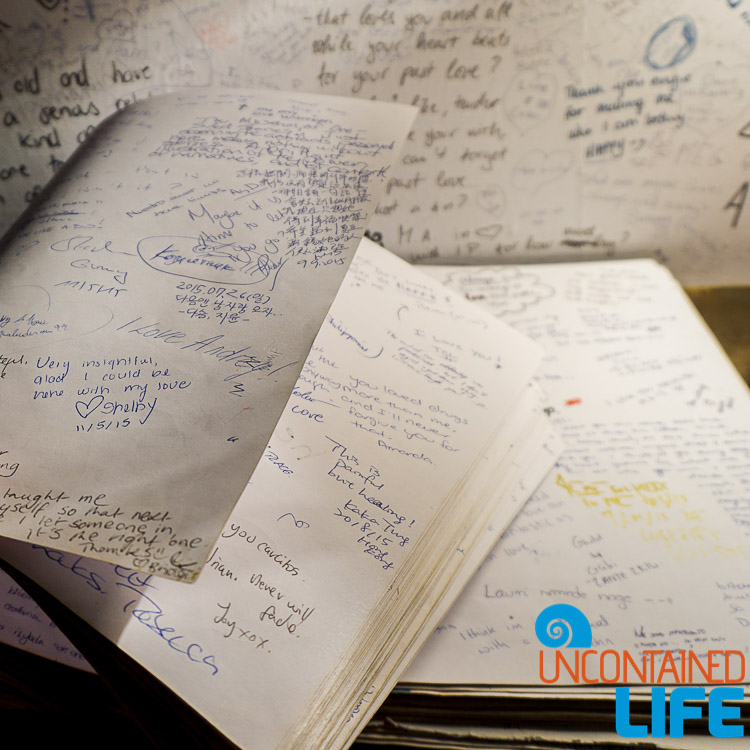 I am afraid to let go of who I was–of my relationship with that version of myself–because I don't know who I am without the roles I once played. Who am I if I'm not a stressed-out teacher? A depressed grad student? The girl who "never has time" because she's always working? Who?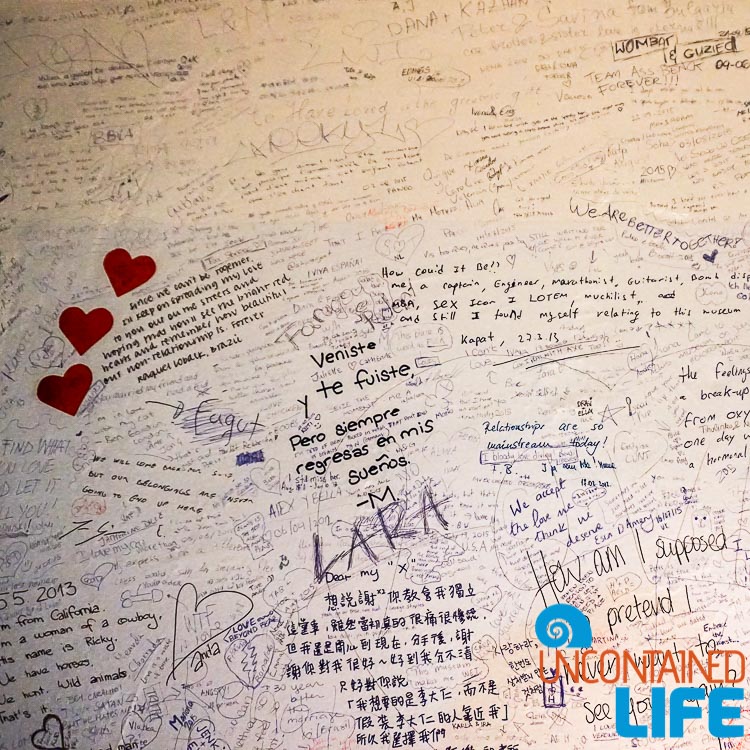 I touched my pen tip to the smooth white surface. I wrote a word. Two. Ten. I wrote a second sentence. A third. I left my story on The Wall for someone to discover. And then I turned away, and walked out into the starry night.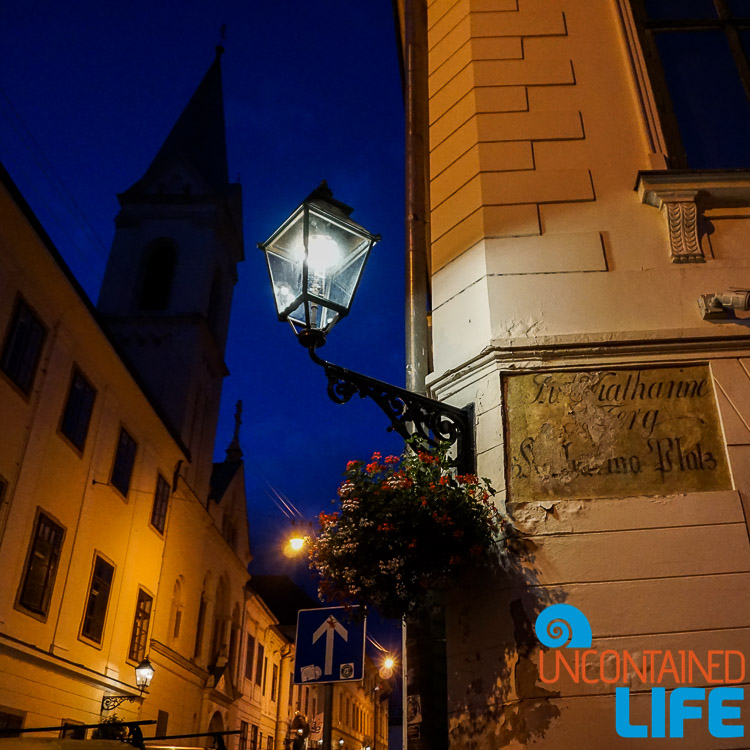 What do you guys think? Would you donate an item to the Museum of Broken Relationships? 
---
Museum Visitor Information for the best museum in Zagreb
–Location: Cirilometodska 2, Upper Town, Zagreb, Croatia
–Admission: Adults: 30 kn; students (with ID), people with disabilities, seniors (65 and over): 20 kn; groups of 15 persons or more: 20 kn per person
–Hours: Summer (June 1st – September 30th): Every day from 9:00 a.m. to 10:30 p.m. Winter (October 1st – May 31st): Every day from 9:00 a.m. to 9:00 p.m.
Need a place to stay in Zagreb?
–Budget: It's not in the heart of Old Town (though it's right on a tram line), but Funk Lounge Hostel is still a traveler favorite. With comfy dorm and private rooms, free Wi-Fi and air-conditioning, a bar, restaurant, and fully equipped common kitchen, who could ask for anything more? Check your travel dates now at Agoda.com and save up to 50%!
–Mid-range: For bright, cheery atmosphere and top-notch location, look no further than Rooms Zagreb 17. Check Agoda.com to see how much you can save on your stay! 
–Luxe: The elegant, art-noveau style Esplanade Hotel has been charming its guests since 1925. Enjoy complimentary L'Occitane cosmetics in your tub, fine dining in the hotel restaurant and other terrific touches that will make you smile. Book through Agoda.com and save up to 50%!
–Airbnb: Looking to get a more local experience? Use this link to get a $35 discount off of your first Airbnb booking! 
Are you on Pinterest? Pin this post!