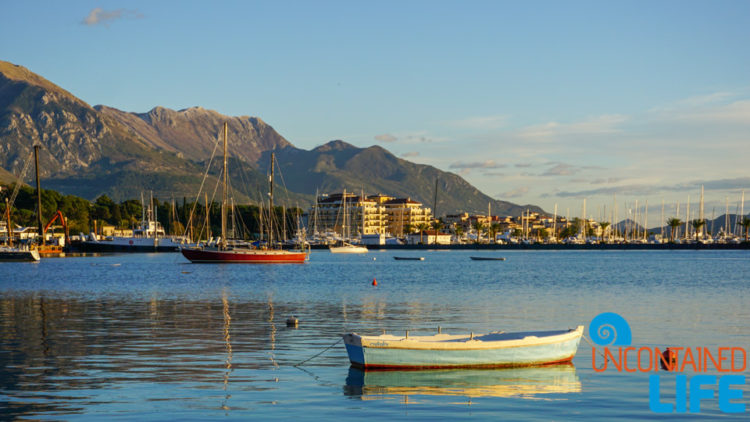 Visiting Tivat, Montenegro isn't on most traveller's "must do" lists. Tivat doesn't have a beautifully preserved Old Town like Budva, and its downtown isn't remarkable. But Justin and I have a real soft spot for Tivat, which served as our home-away-from-home for three months last year (and a month and a half the year previous). For us, Tivat was the perfect place to relax, work, and, unlike the nearby town of Kotar which is a big tourist hub, get a real sense of daily Montenegrin life. So, should you find yourself craving a true locals experience in Montenegro, here are the best things to do in Tivat: 
1. Ice Cream Near Old Town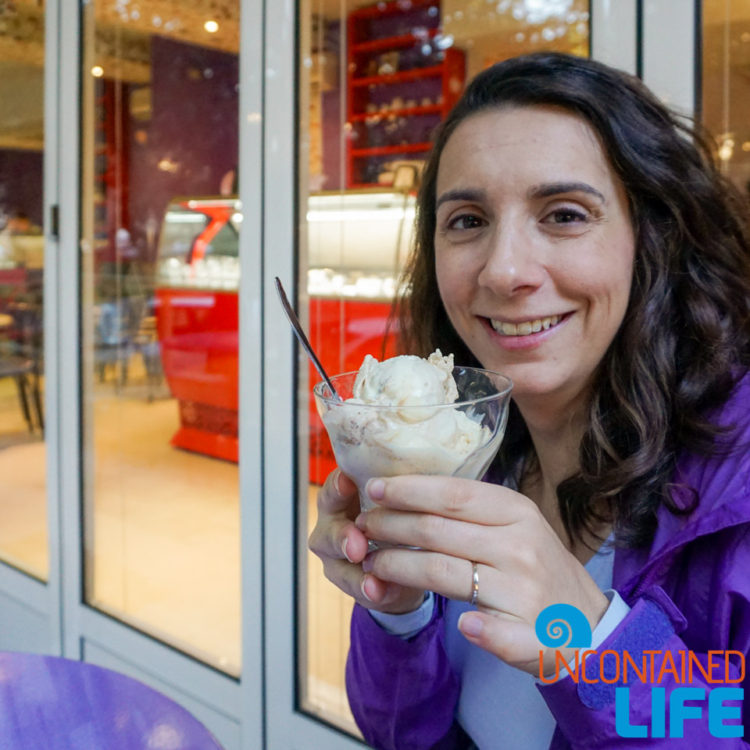 Ok, I realize I just said Tivat didn't really have an Old Town. And it doesn't. At least not of the well-preserved, walled-city sort you can find in most of the country's other main cities. (Believe me, Kotar and Budva are just the start of some of the cool Old Towns worth exploring in Montenegro.) But just as Podgorica technically has an Old Town so does Tivat. It's just that if you blink, you might miss it.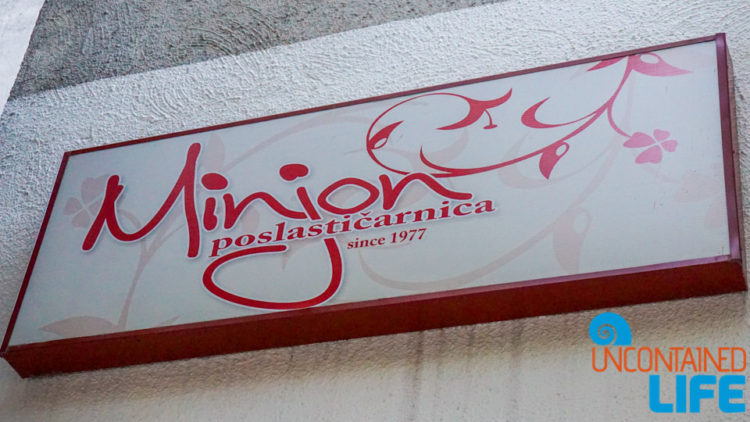 Anyway. Back to the important point: Ice Cream. Enjoying an ice cream at Poslasticarnica Minjon is one of our favorite things to do in Tivat. Not only is it perfectly creamy and sweet, each scoop costs less than 1 euro (so, obviously, 2 scoops or more is a necessity). Eat in at the shop and pair your frozen pleasures with a slice of locally-made cake. Or, grab yourself a cone and head toward the water for some great views and perhaps a bit of…
2. Yacht-Spotting in Porto Montenegro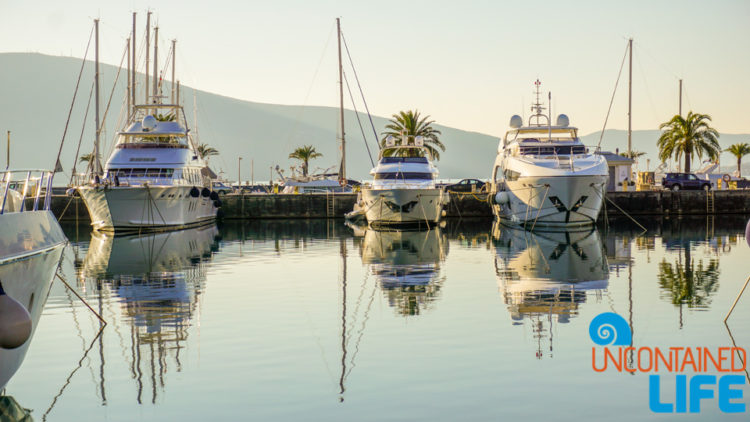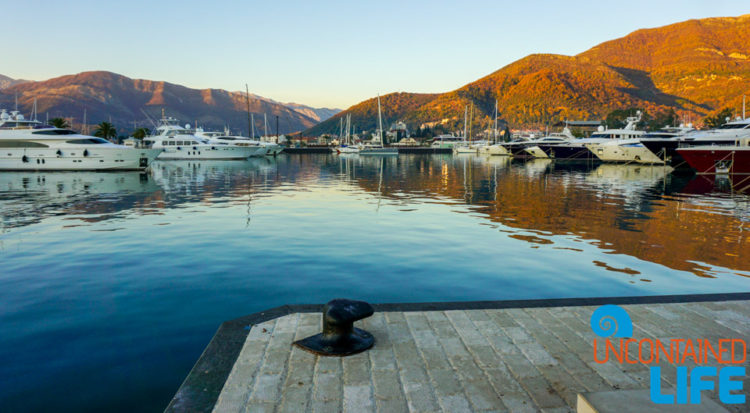 …yes, yacht-spotting! Tivat may be a small, middle class town, but Porto Montenegro within Tivat feels a bit more…how shall I put it…like you've stumbled into a film set imitating the French Riviera.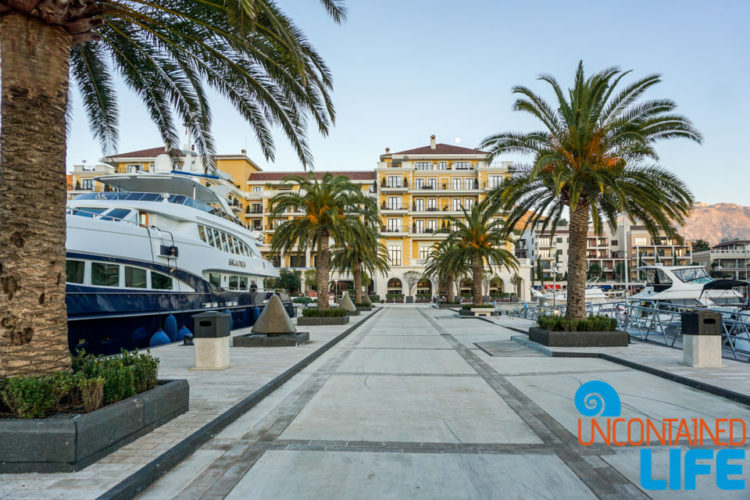 Personally, I wouldn't plan on eating or shopping in Porto (unless buying overpriced things is your idea of experiencing the local culture). But it's fun to walk around and imagine which of the hundred or so yachts docked around the marina you would buy if you suddenly discovered Tom Cruise was your secret daddy.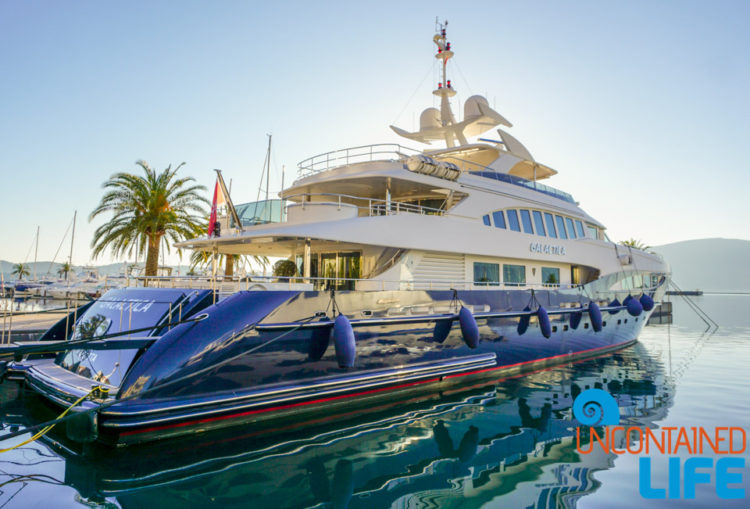 3. Strolling to Donja Lastva
A walk to Donja Lastva is one of the best things to do in Tivat (especially if you feel the need to work off all the seafood you're sure to enjoy in town). The route laid out in the interactive map below will take you….
From the Clock Tower in Tivat center
Through Porto Montenegro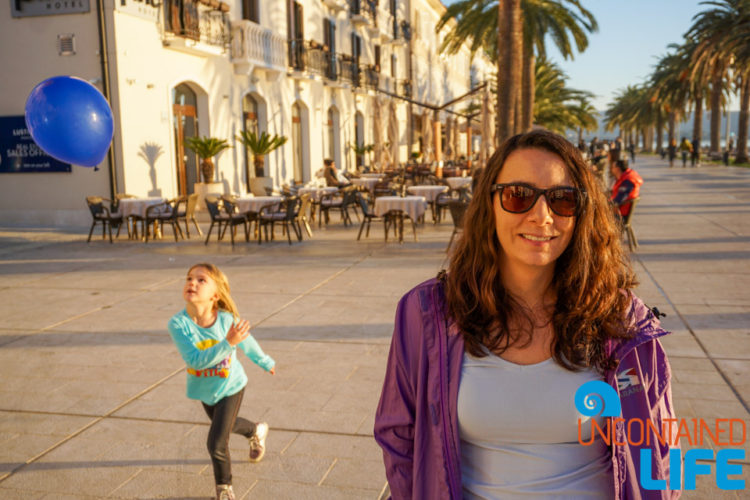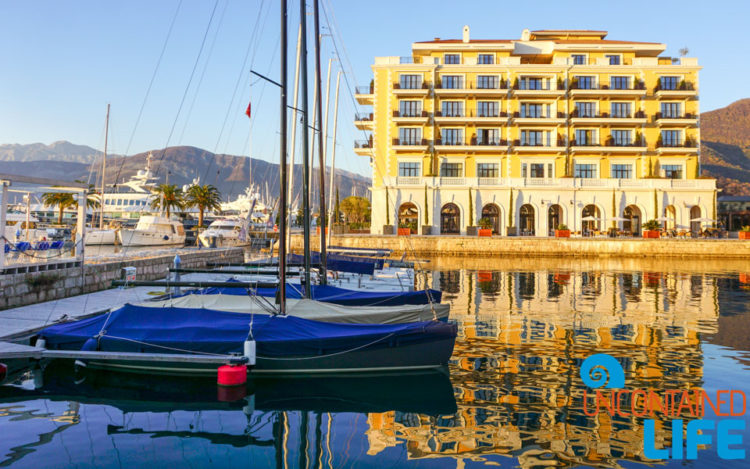 Over to the small Maritime Museum (even if you don't go in, seeing the submarine out front is fun)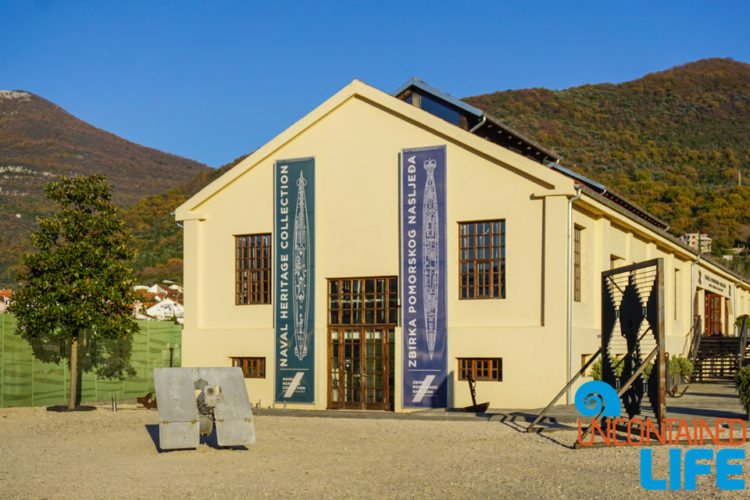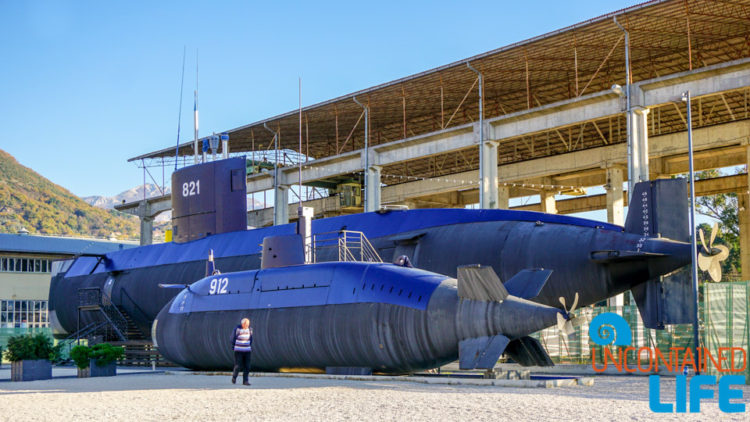 Out to a small lighthouse (from which you can get fantastic views of the mountains above Tivat)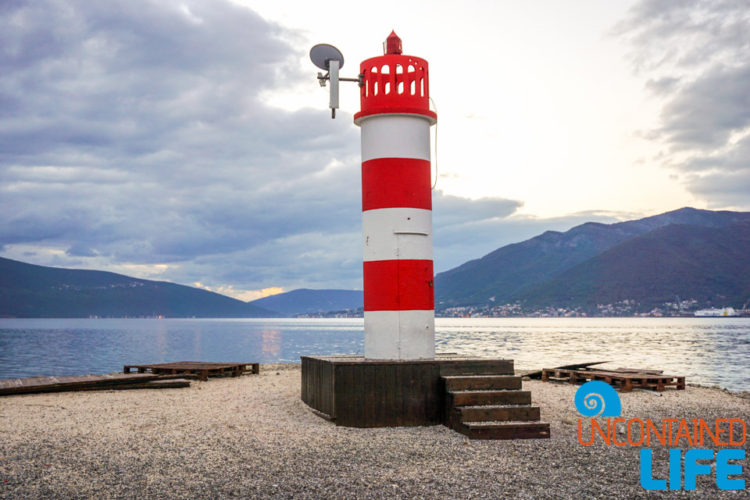 And finally, over to Donja Lastva itself! (If you want to arrive around sunset, be sure to leave Tivat center approx. 45 mins to an hour before.)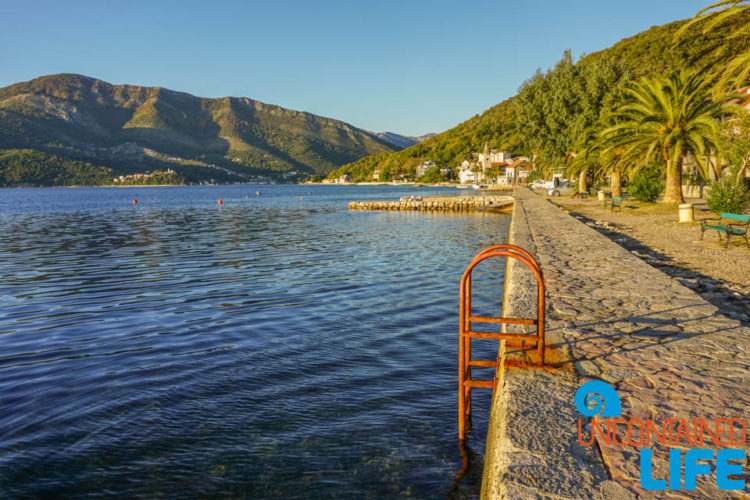 4. Hiking to Gornja Lastva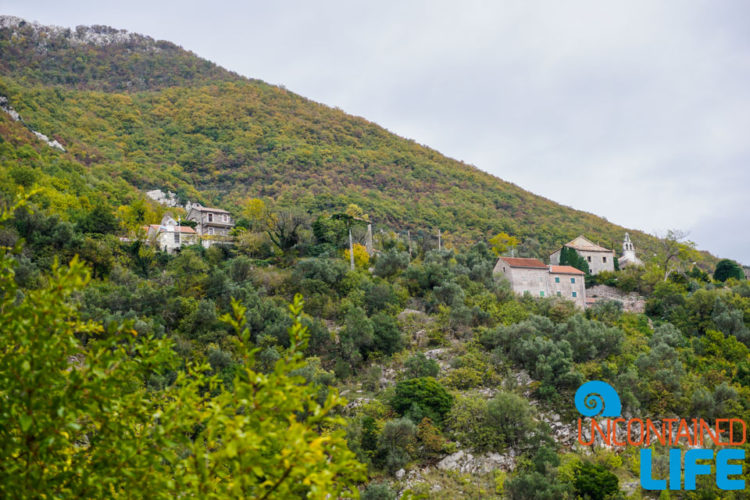 If you're looking for more of an hours-long walking experience, consider a hike up to Gornja Lastva, Donja Lastva's "twin village." (Note: if you have a car, you can also drive up 95% of the way, then hike the last 5%).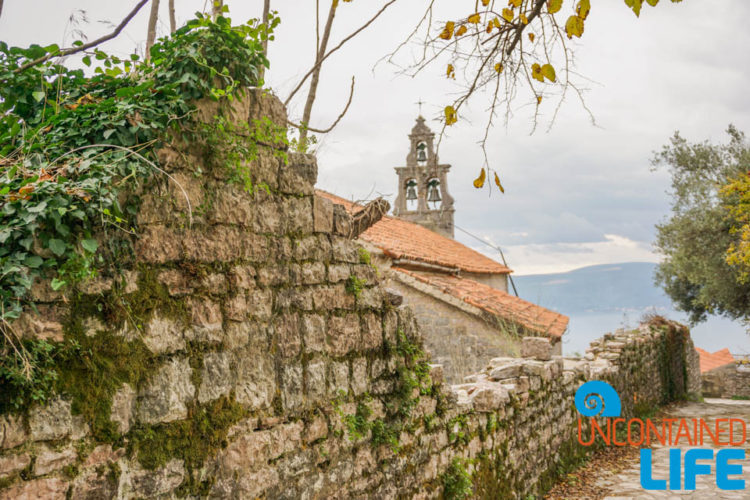 This ancient settlement features a picturesque mix of refurbished stone houses (used mainly as summer homes), crumbling ruins, and olive groves.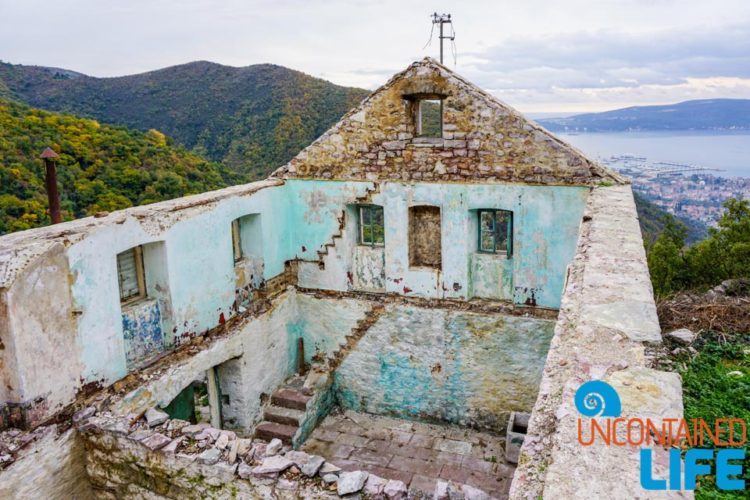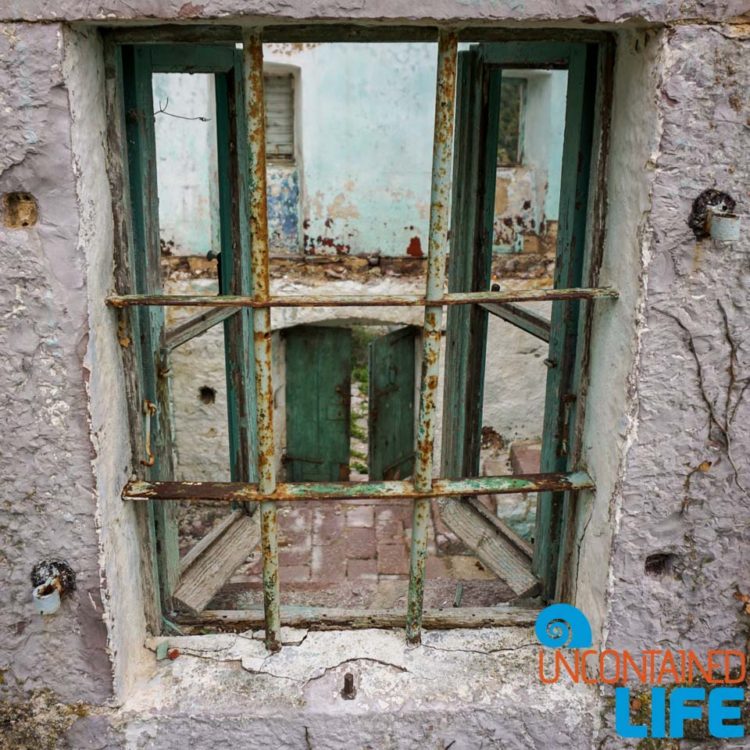 The village's man-powered olive mill remains in use today, and its beautiful 14th century church, St. Mary's serves as the center-point for the events and festivals which take place in Gornja Lastva during the summer months.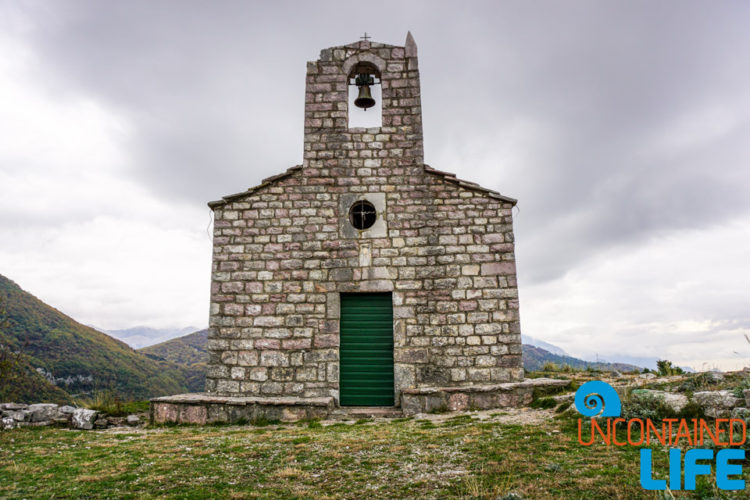 Sitting on a small hill above the village is the far older St. Vid's Church, which dates back to the 9th century. We definitely encourage you make the hike up to St. Vid's. (Follow the broad dirt path behind Gorja Lastva, then follow the narrow shale-stone path up to the church.)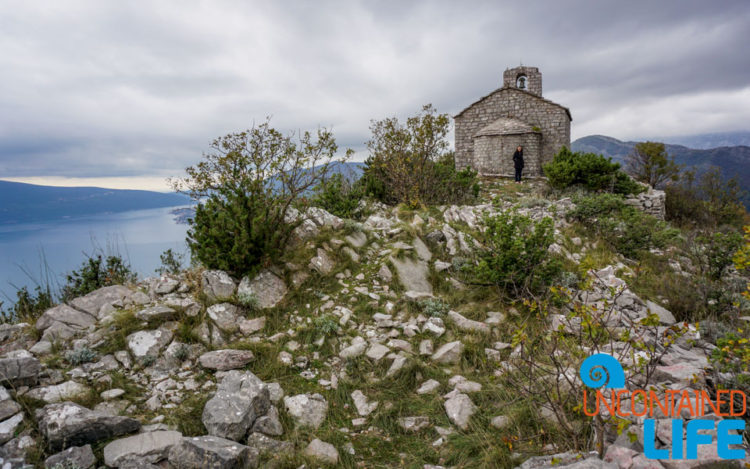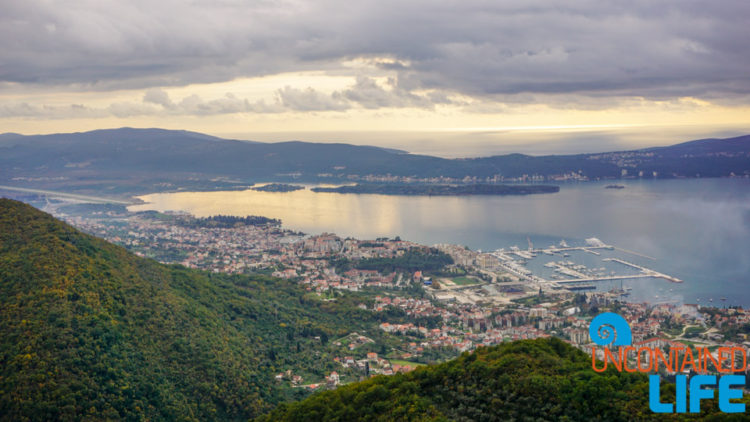 From the top you can see spectacular views of both sides of Kotar Bay, as well the distant mountains which remain snow-capped much of the year. (If you're looking for a hike-friendly camera, check out Justin's review of the Sony A6000.)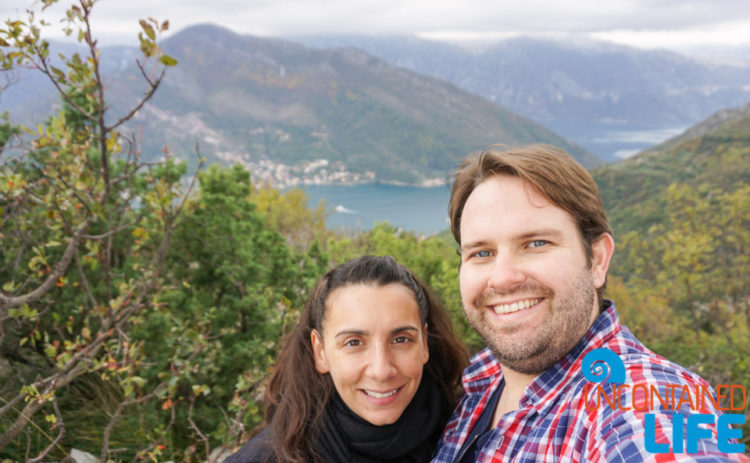 5. Watching the Sunset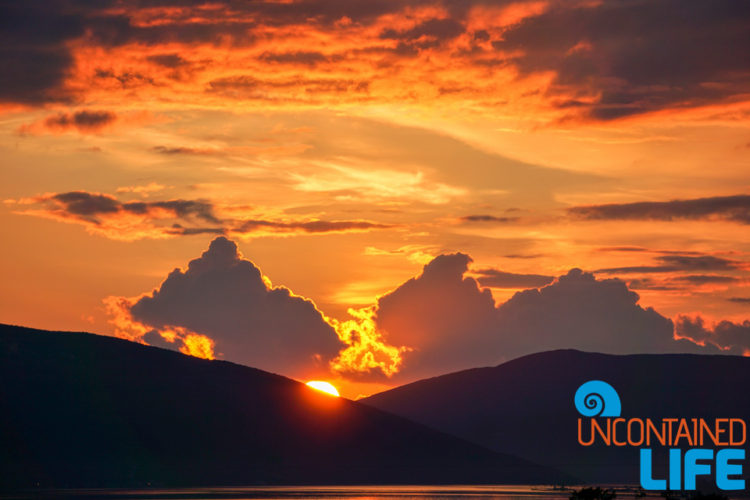 Ask us where to find the most beautiful sunsets in the world and we'll point you to El Nido, Palawan in the Philippines. But the sunsets over Kotar Bay are nothing to sneeze at either. And given that there isn't a major mountain standing in the way as there is when you're in the town of Kotar, I think it's clear why we think taking time to enjoy the sunset is one of the best things to do in Tivat.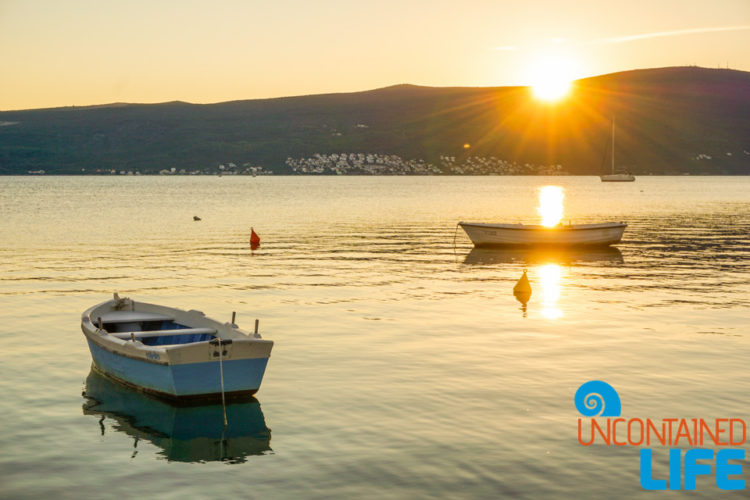 Park yourself at one of the many hotels or cafes along the bay, order a cold beer or (our personal favorite) a ridiculously affordable coffee with milk (they make it well in Montenegro) and watch the skies turn pink and purple.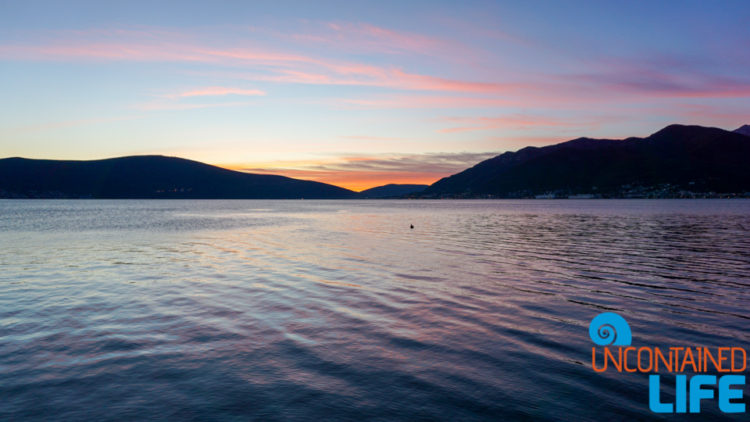 ---
Traveler's Tips for Tivat:
Money: Montenegro uses the Euro (1 USD = approx. 0.90 euros). Most places will accept Visa and Mastercard credit cards.
Transportation:
Tivat has its own airport, but most travelers will either fly into Dubrovnik, Croatia and take the bus from there to Tivat, or fly into Podgorica and take the bus from there (by way of Budva).
Because there are several different bus companies which serve Montenegro (each with their own timetable), we recommend heading to this website to check all available rides between cities (including from Dubrovnik to Tivat) on a given date: https://www.busticket4.me/EN/. Note that even though you CAN buy tickets in advance using this site, it's completely unnecessary (and not recommended unless you have a printer handy). Just show up at the station 15 minutes before a listed bus departure time and buy your ticket in person. Bear in mind, some buses do charge a euro or two extra for hold luggage (4 Decembar–our favorite company–does not charge). 
In some instances, if you're two persons or more, it can be the same price or cheaper to take a taxi to your destination (we found this to be the case when traveling between Herceg Novi and Dubrovnik, Croatia). When traveling between major cities (or across borders) taxi prices should be flat rate. 
Accommodation: 
–The best way to live like locals in Tivat is, of course, to get your own apartment. Click here to get $35 off your first Airbnb stay, compliments of Uncontained Life! 
–If you would prefer hotel accommodation, we recommend the Eco Hotel Carrubba located in Donja Lastva (it has absolutely killer views of the bay, a tranquil atmosphere) or, for a truly luxe experience, the Regent Porto Montenegro.
Are you on Pinterest? Pin this post!