Havana, Cuba has been on Justin's and my travel wish list for years. But, of course, until quite recently, U.S. citizens wishing to visit Havana have had to embark on a rather delicate skirting of the laws barring tourism in Cuba. Fortunately, today, the barriers for Americans visiting Cuba have never been lower. Unfortunately, however, much of the information that's out there about Cuba isn't well tailored to Americans or to the kind of independent, budget-minded travel Americans enjoy. And so, Uncontained Life would like to share these top ten tips for Americans visiting Cuba!
1. If possible, avoid bringing American dollars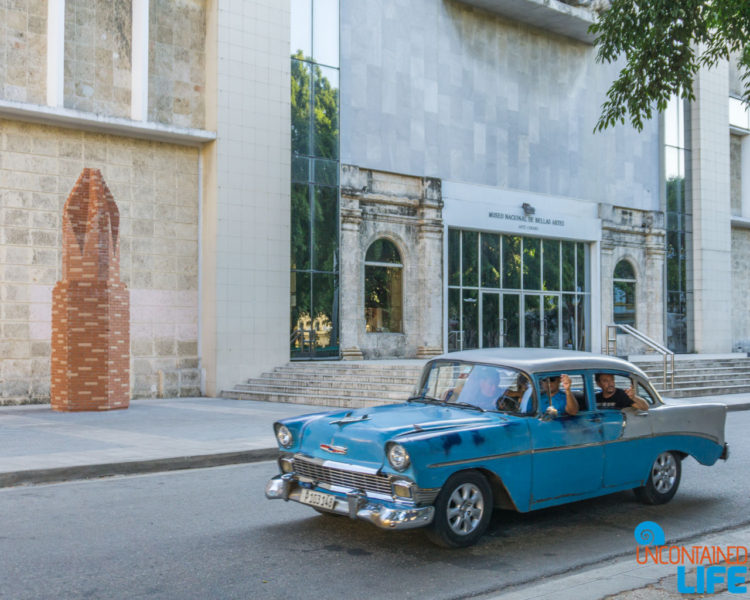 While recent diplomatic changes have made getting to Cuba easier for Americans, most American credit and debit card still do not work in Cuba, and sanctions on the U.S. dollar remain in place. What do I mean by sanctions? Well, in brief, Americans visiting Havana with U.S. dollars, will face a 10% fee on top of the usual 3% conversion charge to change those dollars to convertible pesos (1 CUC = 1 USD).
The best currencies to change in Cuba are Euros, Canadian Dollars, or Pounds Sterling. And depending on exchange rates, buying one of these currencies from your home bank may save you some cash, overall. But there's also another avenue for Americans visiting Havana to consider: a stop-over in Mexico. Many trips to Cuba still involve a layover in Mexico–and that's not necessarily a bad thing for American travelers who can use in-airport ATMs to get Mexican pesos. Before going with this plan, however, it's a good ideas to check this site to ensure you'll be getting a good exchange rate with Mexican Pesos.
2. You can ride in a classic car without taking an expensive private tour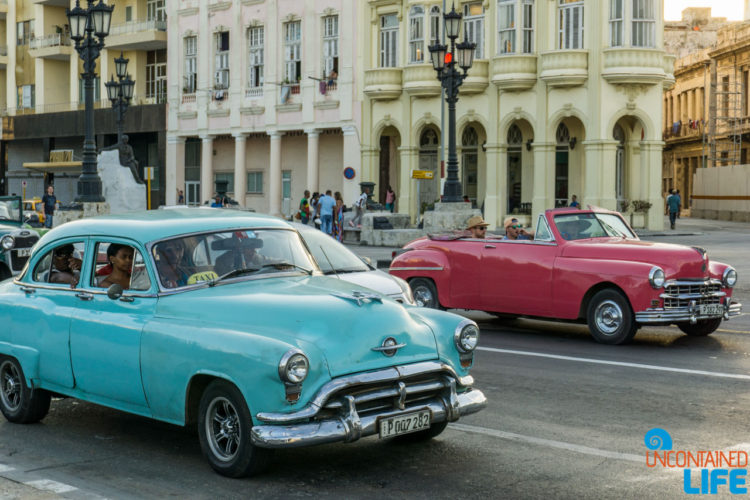 Visitors walking around Havana will find themselves inundated, at various points, with offers of tours in beautiful classic cars. Taking a private tour by car will definitely allow you to journey, in comfort, to sites beyond the center. But if your primary goal is just to take a ride in an old car, Americans visiting Havana should know there's a far cheaper alternative available: colectivos.
Step outside the historic center, and you'll have opportunities a-plenty to rideshare via colectivo in old cars for between 30-50 cents.* You can hop in and get out anywhere along a colectivo's route for a flat fare of 10 CUP. When flagging a colectivo, locals recommend holding up the number of fingers corresponding with the number of passengers who need a lift. (If for example, you and a partner both want a ride, the person flagging the colectivo should hold up 2 fingers.)
For an overview of the main colectivo routes and other tips for riding in colectivos, check over here. 
*Note: the variance in cost is because the exchange rate of Cuba's "local" currency, CUP, varies depending on the strength of the U.S. dollar: the CUC is pegged to the USD. When paying the colectivo fee, it is, therefore, best to pay in CUP since the price in that local currency —  10 CUP — always remains the same.
3. There are now fewer limits on the goods you can bring home from Cuba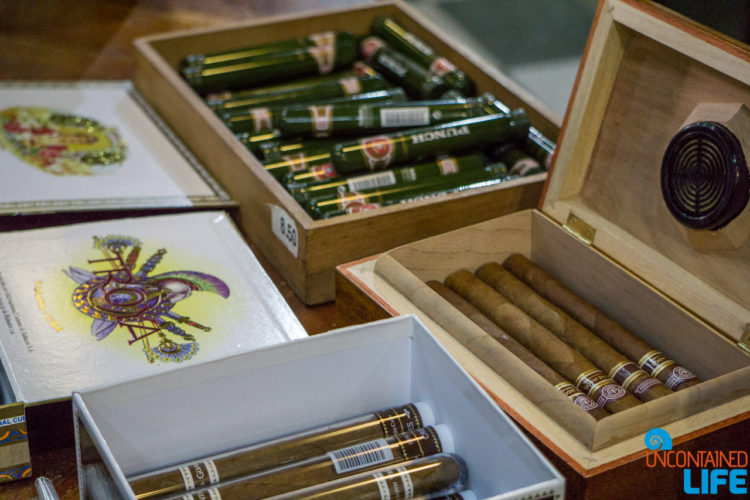 Until very recently, Americans visiting Havana could only bring $100 worth of rum and cigars per person back to the States. (And before 2014 bringing any Cuban rum or cigars into the U.S. was strictly prohibited.) Luckily, as of October 2016, this limit has been lifted. Now the only limits on the quantities of rum or cigars you can bring home from Cuba (for personal use only) is the amount in your bank account and the size of your suitcase. 
Bonus tip: for the best prices on rum and cigars avoid the shops in the historical center. Buy these items where the locals do (like, for example, the cigar shop on the corner of Avenida 23 and Calle P) and enjoy the same quality at a lower cost.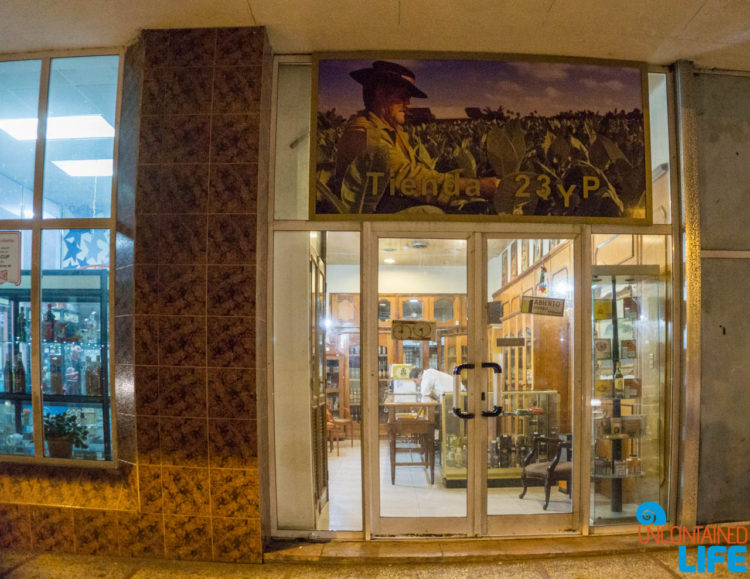 4. Shopping for groceries will be a hassle
Justin and I always do at least some of our own cooking wherever we go, and our plan in Havana was to do the same. That is, until we came face to face with the reality of what it took to buy what we needed to make a meal. Brick and mortar "grocery" shops in Havana have what might best be described as a scattershot of food items. Less formal grocery-buying spots (I.E. people selling food from stands, the front of their houses, and/or in neighborhood "farmer's market"-type settings) were open very irregularly, and sold out of things quickly.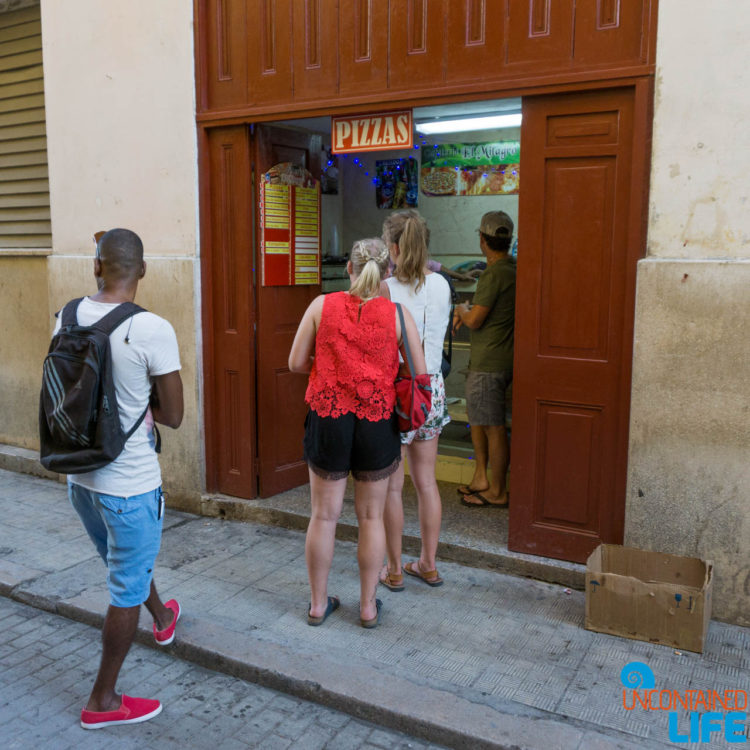 Faced with the choice of spending hours hunting down foodstuffs or biting the financial bullet and eating out for, basically, every meal (we bought pastries at bakeries to eat for breakfast), we decided eating out was the better choice for us, overall. (And we think that will prove the case for most Americans visiting Havana.) If you really need to pinch pennies, know that Havana's street food options, while not healthy, will fill you up for less than $2 per person. 
5. Paladars offer more bang for your buck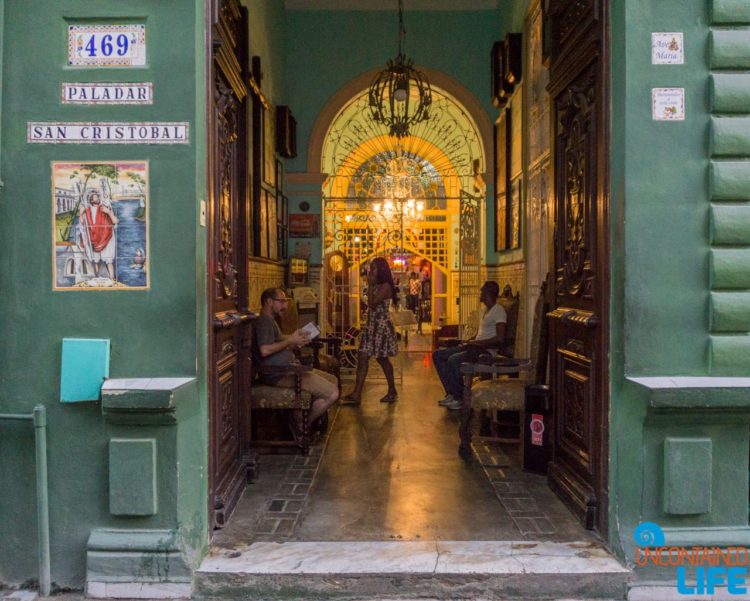 Paladars, I.E. privately owned restaurants, have reemerged in Havana only relatively recently. In the city, you'll find paladars which range from in-home, mom-and-pop set-ups like Locos por Cuba to polished operations like Dona Eutimia and San Cristobal (where Barack and Michelle Obama dined during their stay).
When comparing the costs of State-run tourist restaurants and locally-owned paladars, paladars usually offer big savings for Americans visiting Havana.* True, prices at Paladars aren't remotely as cheap as prices at the cafeterias where most Cubans eat. But money spent at Paladars still goes to the locals, the food is authentically Cuban, often creative (twists on classic dishes), and the quality of ingredients is higher.
*Note: the three places I mention above all offer good value ($5-$12 for a substantial main course). That said, not all paladars are cheap. Some paladars employ "touts" to help them attract customers, or pay locals tips to send people their way. These places tend to be more expensive ($15-22 for a main) because the restaurant owners need to cover the cost of their outside "help." I promise, you can find the same Cuban dishes, equally well prepared at a lower price point.
6. Finding good drinks is harder than you'd think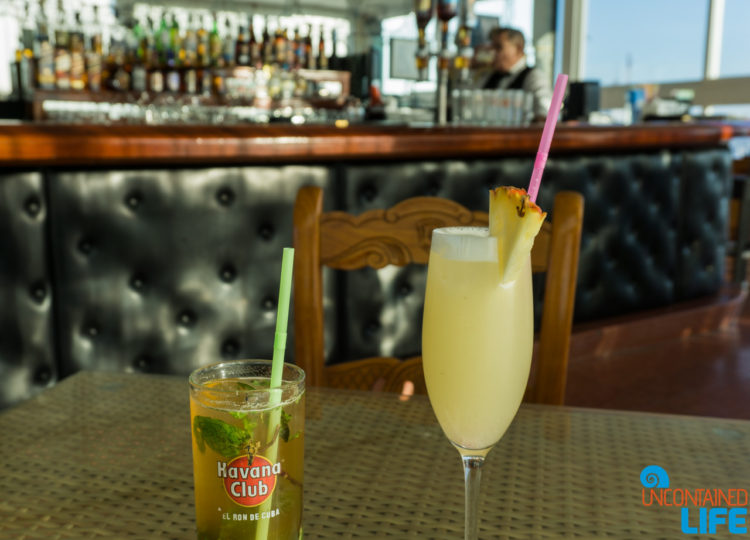 For a place that's famous for its rum, Havana has a shocking number of bars and restaurants which can't seem to make a passible mojito or daiquiri. I'm talking holy-cow-that-tastes-terrible, bad. That being the case, we highly recommend that Americans visiting Havana ask trusted locals for their recommendations, and/or use review sites like Trip Advisor (which offer up-to-date info.) to help you find the bars and restaurants which serve tasty beverages.  
Personally, Justin's and my all time favorite drinking spot is also one of the best view-points in Havana: the La Torre bar at the top of the El Focsa building. (Note, we don't recommend the restaurant, just the bar.) Cocktails are only 3-3.5 CUC each, but are expertly made and beautifully presented.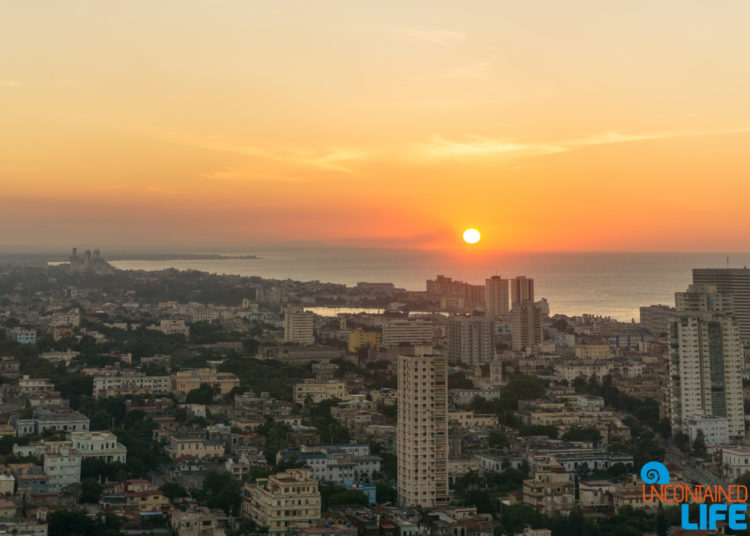 7. Havana is very safe, but full of scams
In terms of physical danger, Justin and I felt very safe in Havana. Violent crime against foreigners in Cuba is extremely rare, and police abound throughout the city. Pick-pocketing can, occasionally, be an issue for Americans visiting Havana, but this problem applies in every major city around the world. That said, Havana, like Shanghai, China, is rife with small-time scammers, eager to part the gullible individual with his or her cash. Things to look out for include:
New besties: I.E. strangers who approach you on the street, speaking English. Cubans are friendly people and chatting won't harm anyone, but if someone starts offering to show you the best bar or restaurant in town or to introduce you to a friend who can get you an amazing price on cigars, guess what? You're probably a mark. (We personally got to overhear the tale of woe of a young Irish fellow whose "new friend" helped him spend an absurd amount on overpriced drinks the night before.) Politely decline the offer and walk away.
Private "guides": I.E. people who offer to guide you through tourist sites. This one isn't necessarily a scam, but you should know that if you accept the offer, your "guide" may not actually know what he's talking about, and will definitely expect a tip at the end of your "tour." Note: the person may not even formally ask you if you want a guide, but simply start showing you around. Feel free to tell them you'd prefer to explore on your own.
Sob stories: I.E. someone who tells you they need cash to buy their child formula, or to buy their family some bread. The government rations these basic sorts of items for to each citizen, so keep your money in your wallet.
8. You can book accommodation at Casa Familiars in advance, online: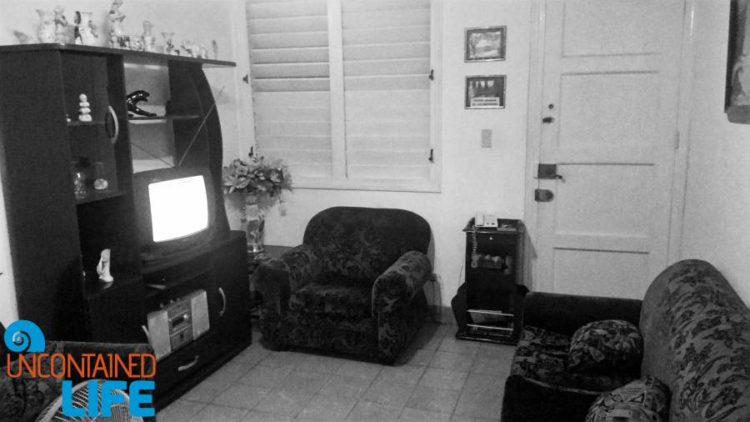 A lot of blogs and websites out there will still tell you that the only way for Americans visiting Havana to get non-hotel accommodation is to do so upon arrival. True, it's not too terribly difficult to find casa familiars in the city: you'll see signs posted every few meters offering a room. That said, if you'd rather settle something in advance, I'm happy to tell you, the option does indeed exist.
Justin and I found our accommodation in Havana, as we do most places around the world, via Airbnb. The site let us select and prebook a terrific apartment (yes, the whole thing) for a whopping $30/night, and to chat with our host in advance of our arrival (which made getting to and from the airport a breeze).
If you haven't booked on Airbnb before, click HERE to get a code for $35 off your first stay, compliments of Uncontained Life 🙂
9. Getting internet cards can be tough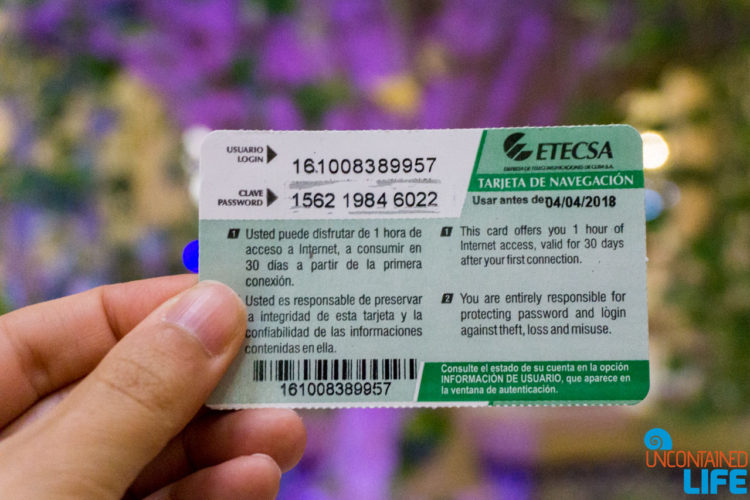 Justin and I knew that getting online during our stay in Havana might be challenging. Unlike most places around the world, Cuban WIFI is very tightly controlled. Logging on requires purchasing an internet card, heading to one of the small number of hotels or public parks which offer WIFI, logging in with your internet card code, and then praying the signal doesn't go out just as you're trying to post that awesome latergram.  
What we weren't prepared for, however, was how difficult it would be to actually get the internet card itself. Unlike other folks who found themselves being offered a card at a minor mark-up price if they stood around a bit in a public WIFI spot, Justin and I had to engage in a full-scale hunt for a card. We ended up visiting multiple parks (no one seemed to be selling) and hotels (all sold out) before finally finding cards for sale at the Hotel Plaza for $4 a pop (I.E. $2 above normal retail rate). In short, if you know you'll need WIFI in Havana, give yourself extra time to get your card. It may not be a quick, easy process. 
10. Havana's not a "journey back in time"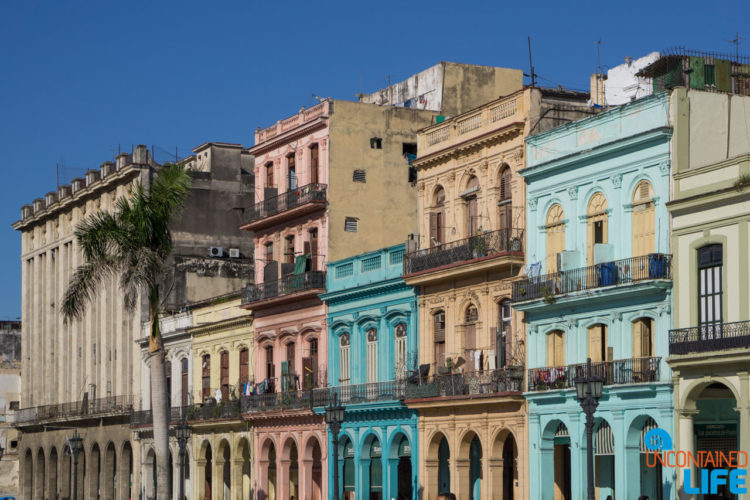 When we first told people we planned to visit Cuba, we were told to get ready for a blast from the past. And yes, with its old cars and generally slower way of life, there's a lot about Cuba which does feel part of another century. But there's also a lot of things, from the clothes people wear to the numbers of young people hunched over smartphones in the parks, which are solidly "of the now." 
Justin and I don't often find ourselves thrown by new environments, but I think the repeated assertions that Cuba was somehow "preserved in time" prepared us for something far different than the reality of this complex country. So our final tips for Americans visiting Havana are this: don't go with preconceived expectations about Havana or its people. And enjoy the heck out of your journey.
Do you have questions about traveling to Cuba, or tips to share? Let us know in the comments section!
Are you on Pinterest? Pin this post!