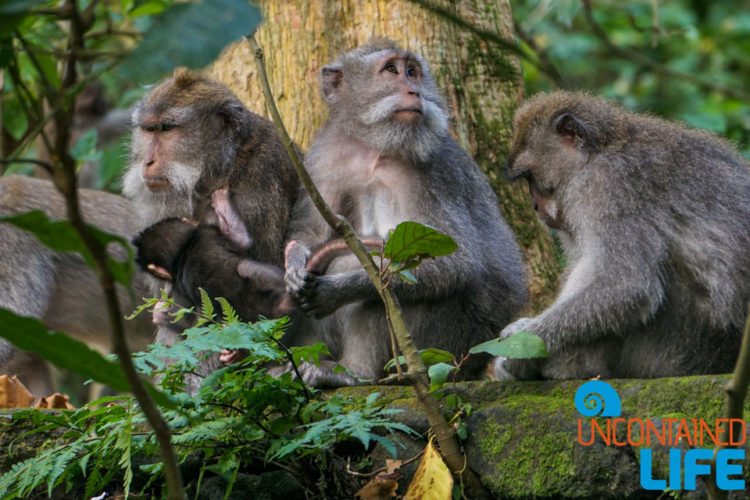 "How do you get the monkeys to come up to you?"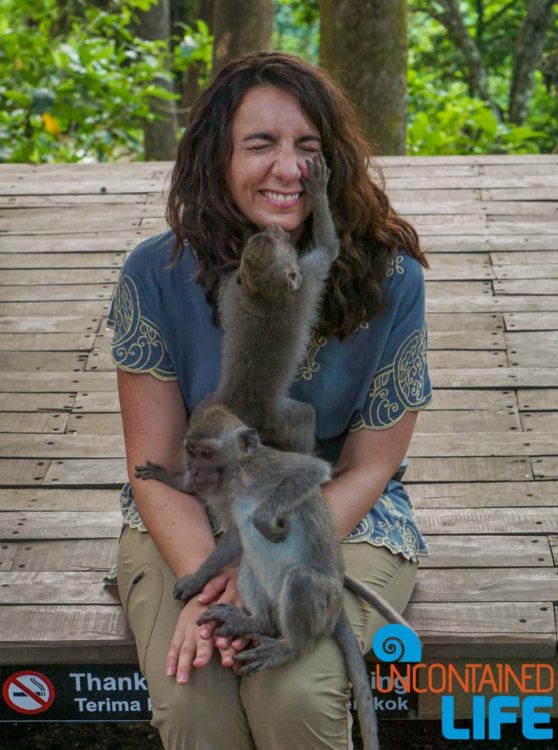 Hillary and I had left the coastal towns of Bali in Indonesia to stay in Ubud at a private garden bungalow in the interior of the island. Ubud was made famous by the the book-turned-movie, Eat, Pray, Love. But, many people have known that Ubud is a wonderful journey to undertake when you're in Bali.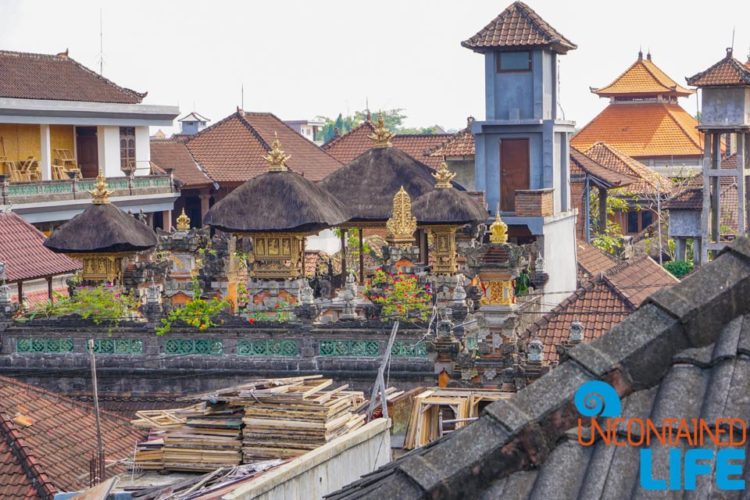 You get to see the jungle…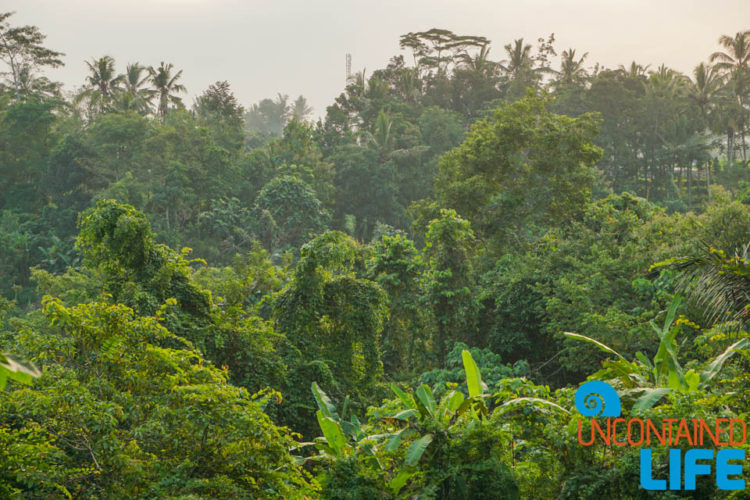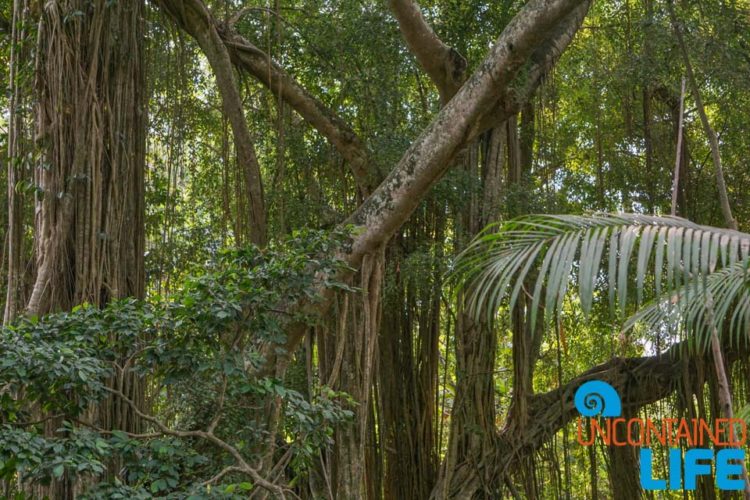 the culture…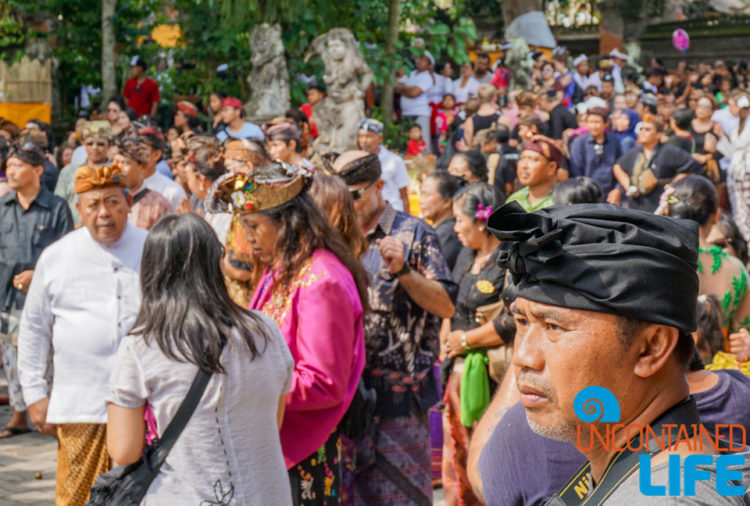 the markets…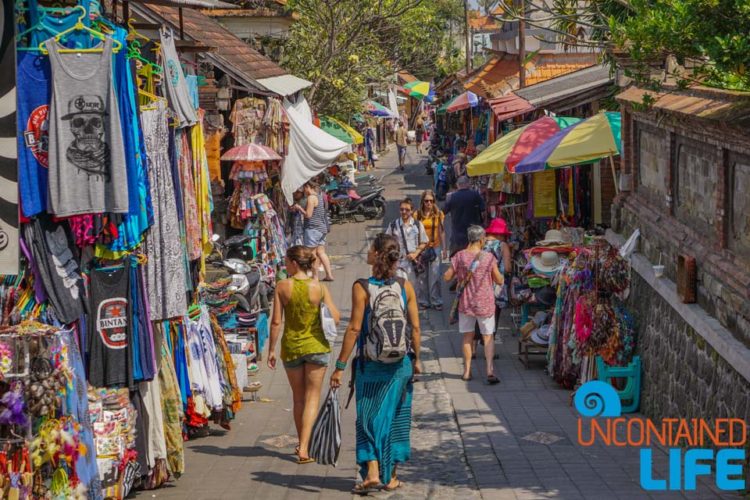 the human cremations…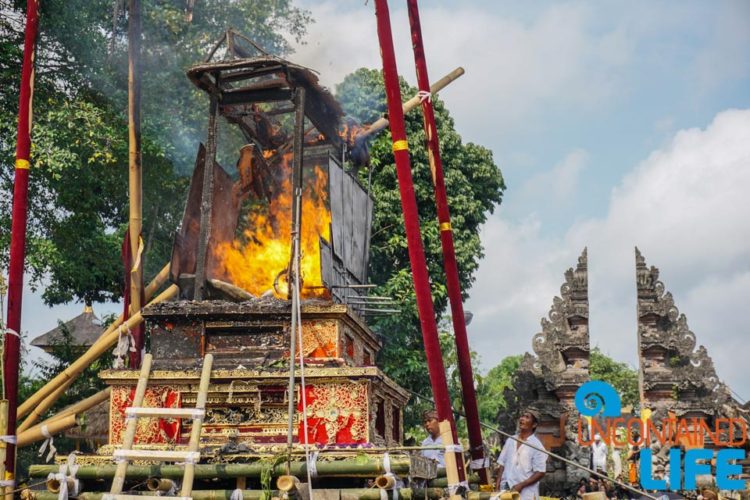 and the monkeys.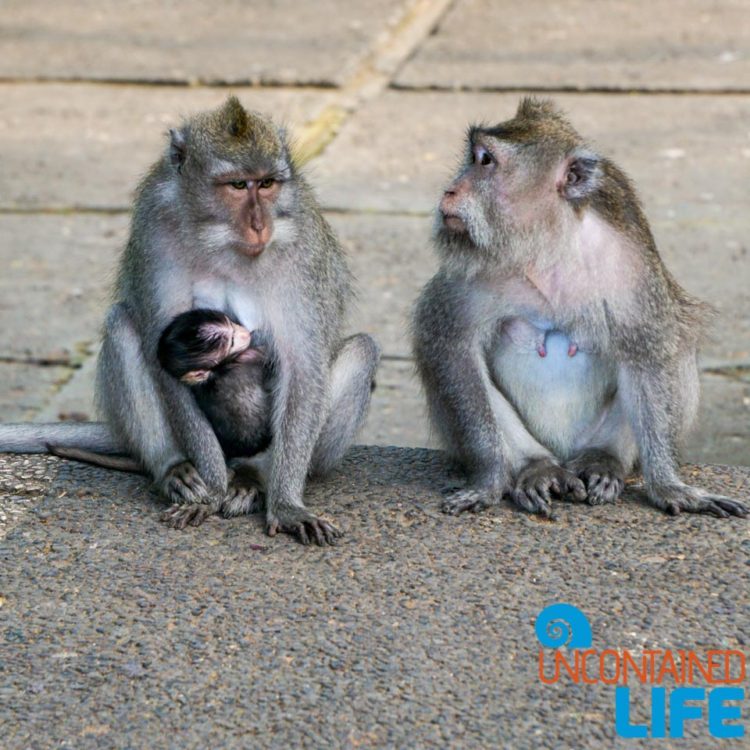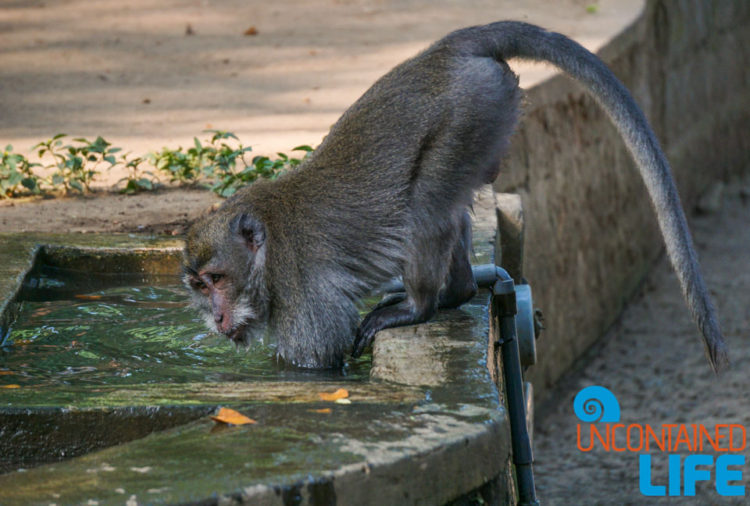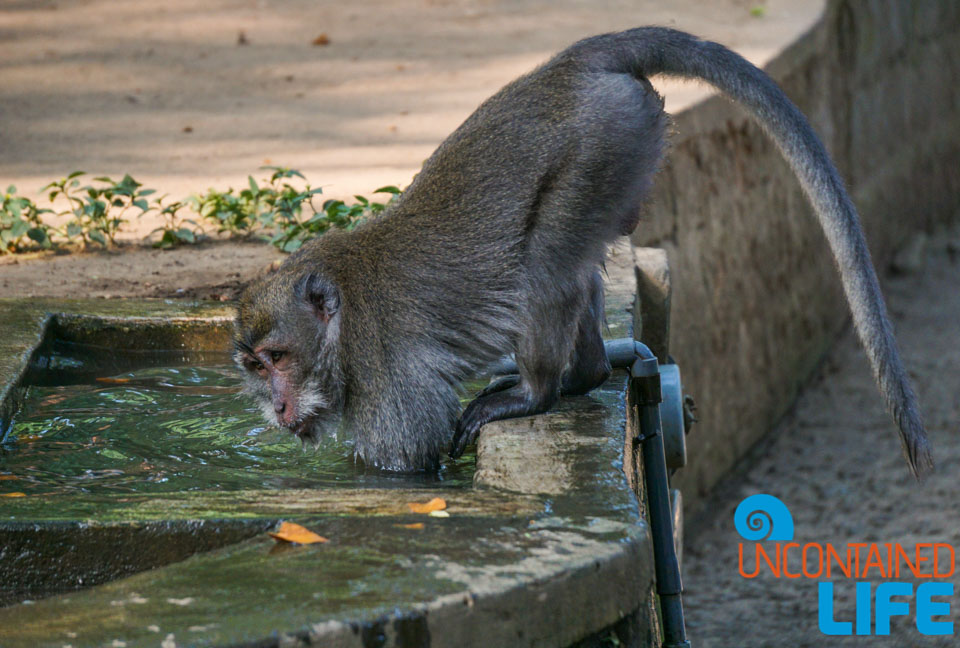 Yes, monkeys, those lovable creatures that every little boy (and girl?) wants to have as a pet (until you discover that they throw poop) because, well, they're just so darned adorable!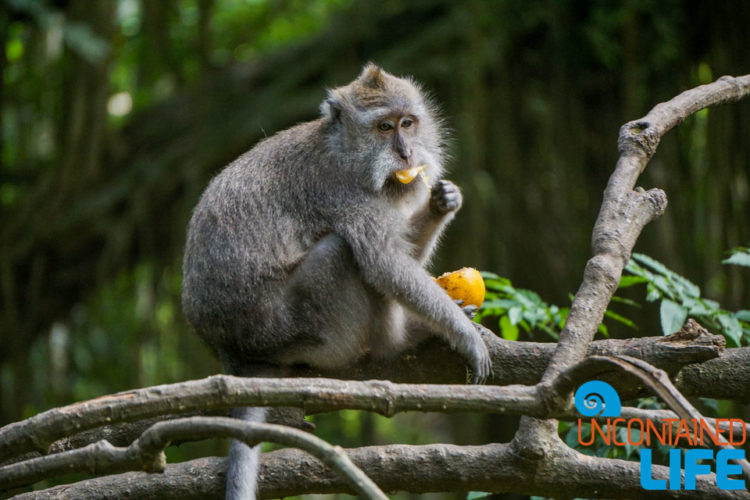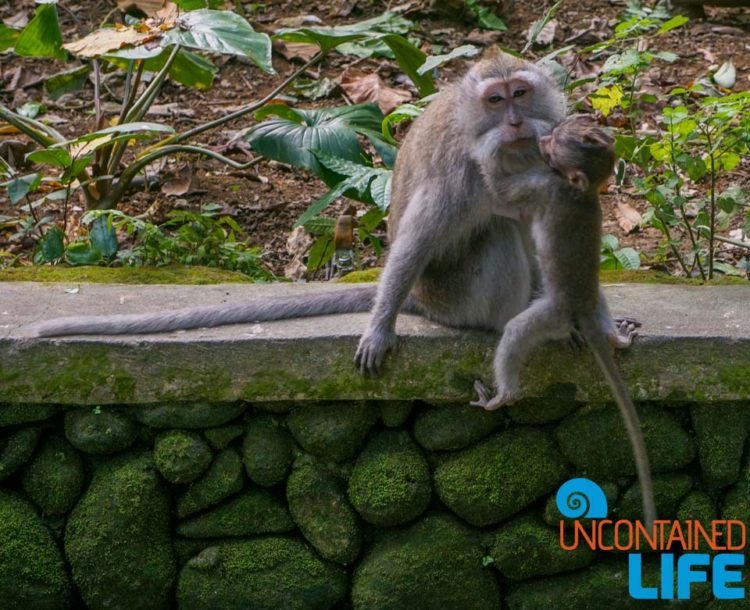 Now, perhaps the youngster in me had been dormant for some time, but, I became a thirty-something giddy schoolboy about our visit to the Sacred Monkey Forest Sanctuary in Ubud. This wildlife sanctuary is home to over 600 Balinese long-tailed monkeys, or Macaques.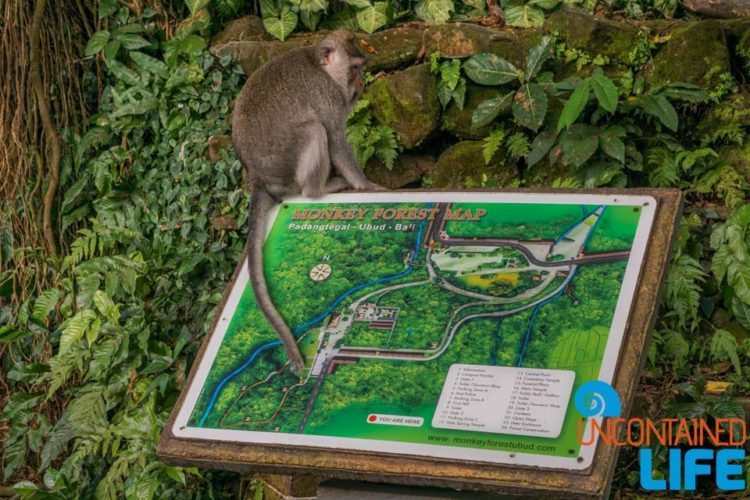 We had had our introduction to the monkey antics our first day in Ubud after stopping by the local market to get some groceries and walked too close to the sanctuary's entrance. 
But, that didn't dissuade us from going a few days later into the Sacred Monkey Forest Sanctuary for some monkey business.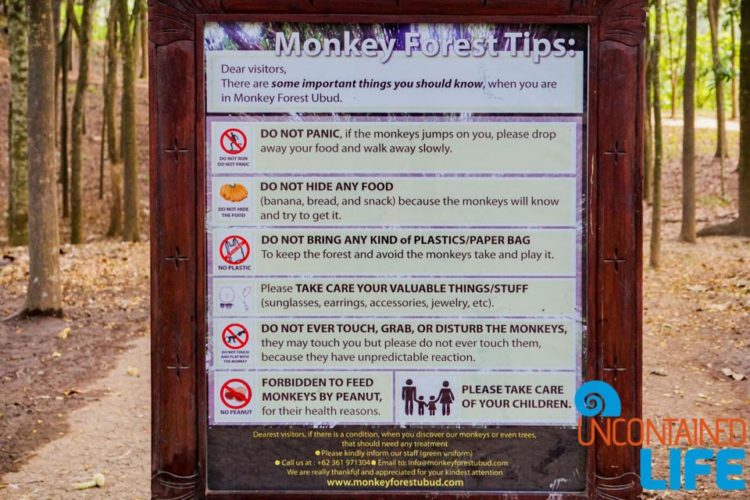 All normal warnings apply here. Don't bring food. Hold on to your phone and camera. Your purse or bag or pockets are fair game to monkeys. Secure your stuff.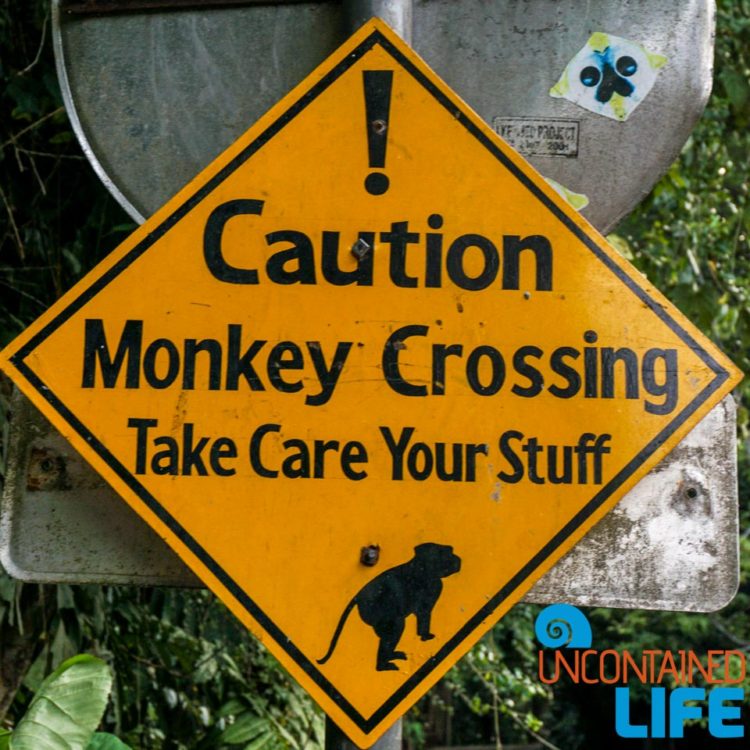 And still, part of the fun was watching time and time again as these incredibly clever and agile creatures got the best of many of the visitors who didn't heed the warnings.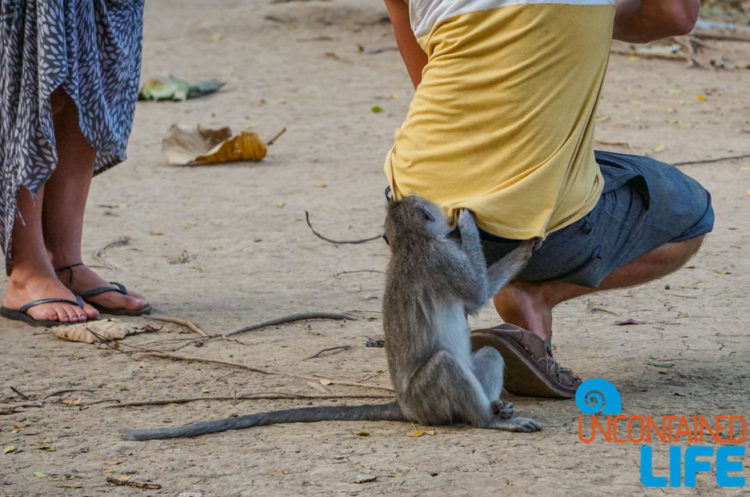 I loved watching the primates move. They navigate the world in 3D. At any moment, going left, right, forward, backward, up, or down are equally viable options for reaching whatever goal they are trying to reach. Furthermore, they don't have to be upright. They are just as comfortable being upside down as they are performing acrobatics from branch to branch. I'm fairly convinced that the parkour movement was birthed by watching monkeys.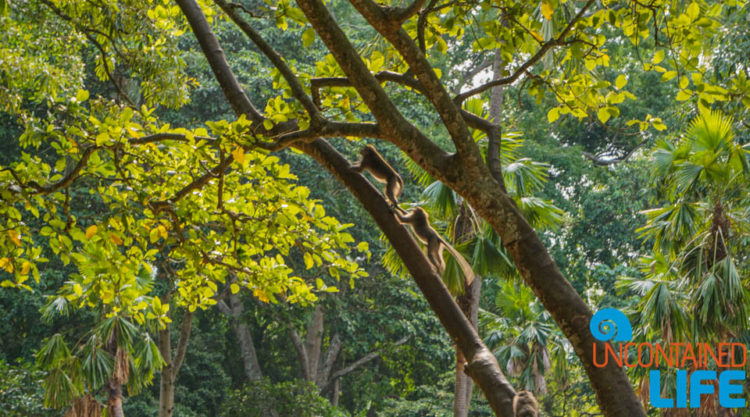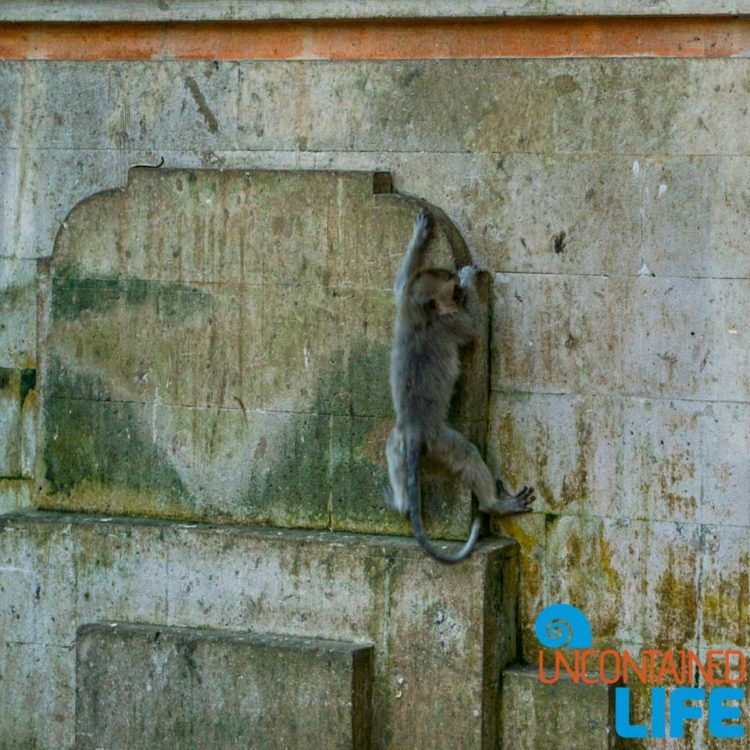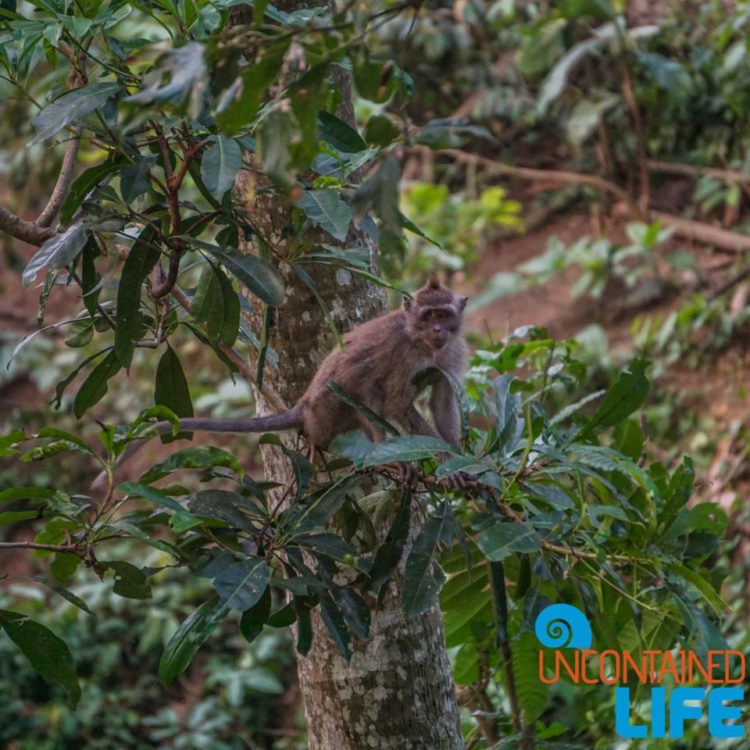 The sanctuary itself is pretty cool. Against a backdrop of rainforest trees and vines, it boasts a plethora of traditional Balinese sculptures.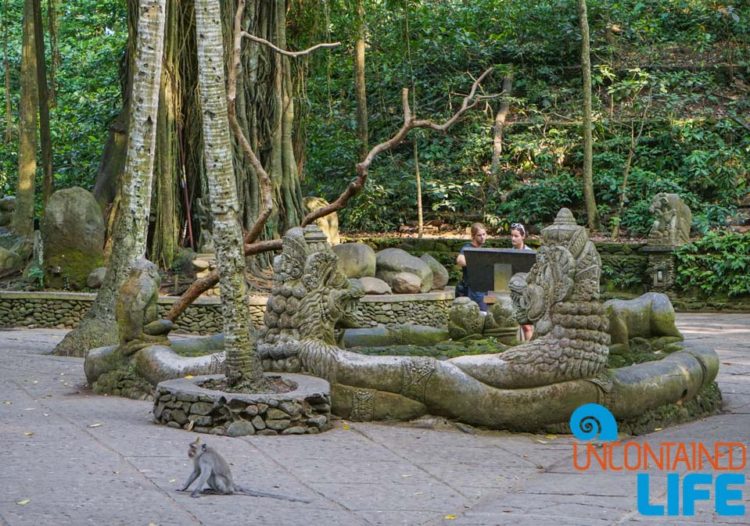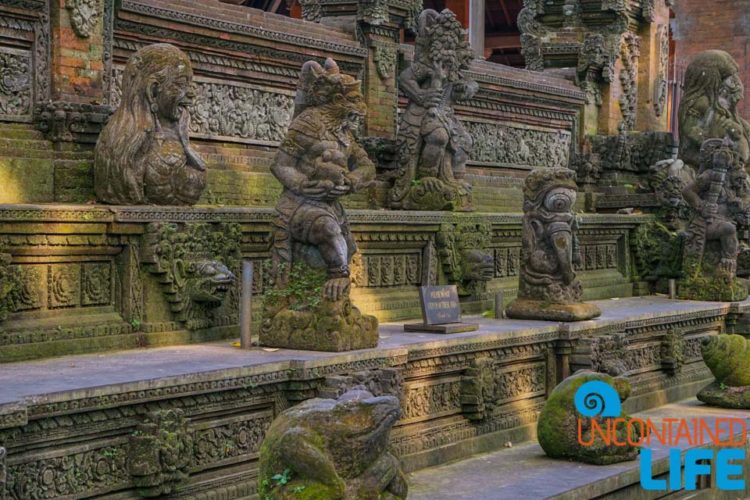 From elephants and dragons, to lizards and leopards, the sculptures are scattered throughout the sanctuary as well as the Hindu temple inside the sanctuary.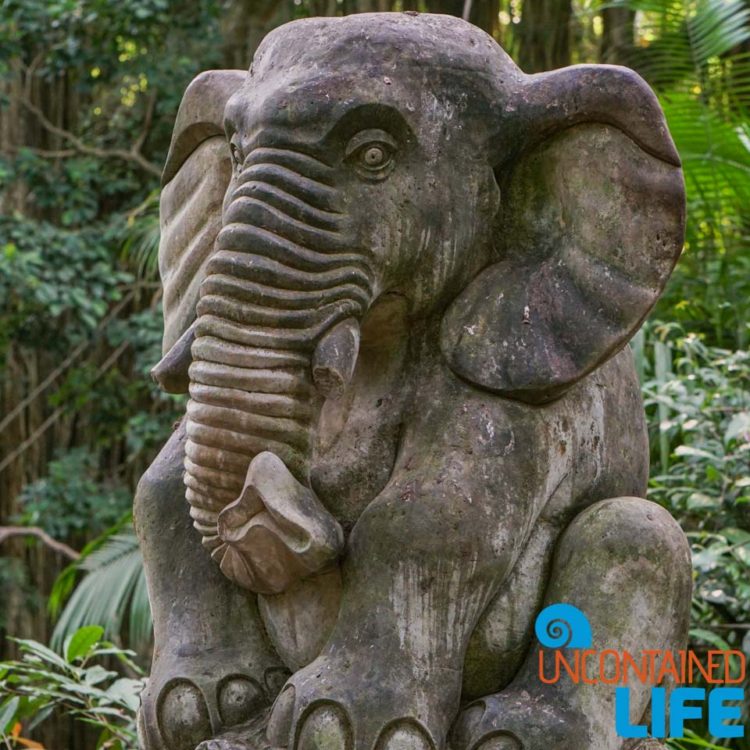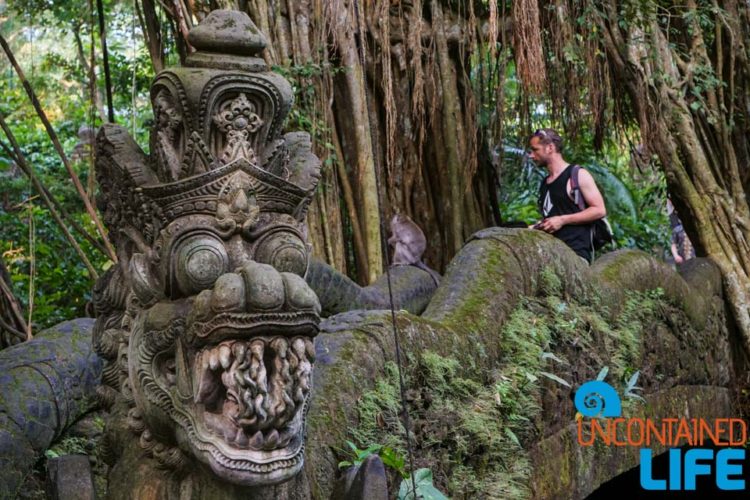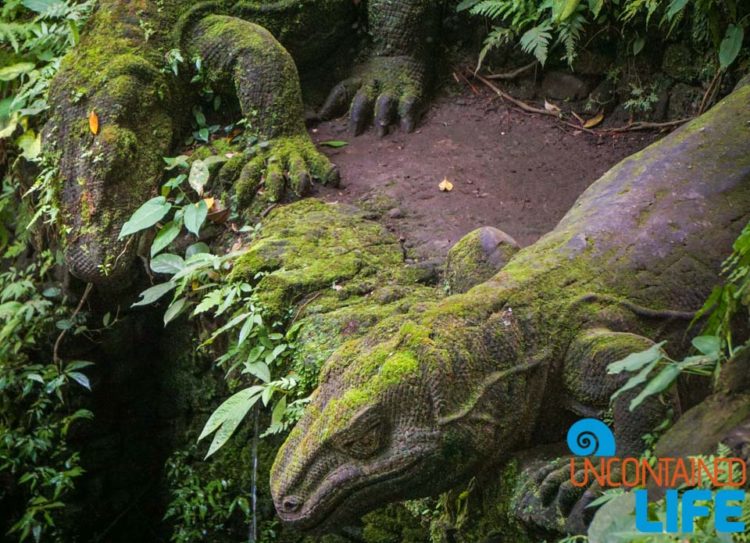 You will see, however, primarily monkey sculptures that make for ironic photo ops. Imagine monkey's playing "king of the hill" on a monkey statue. That's "meta."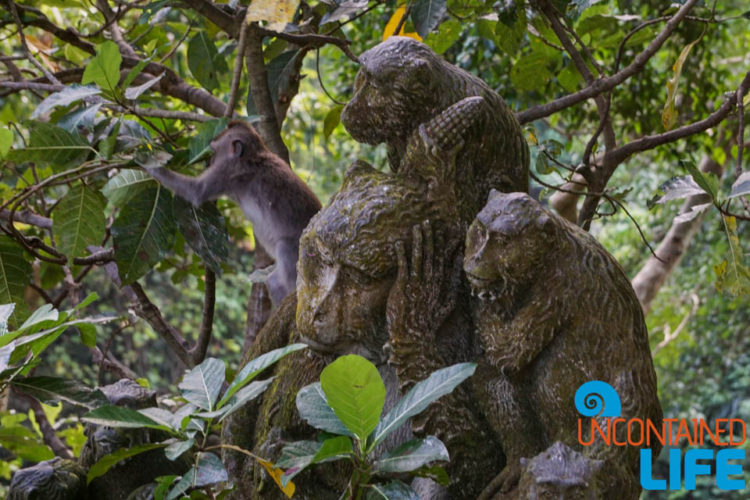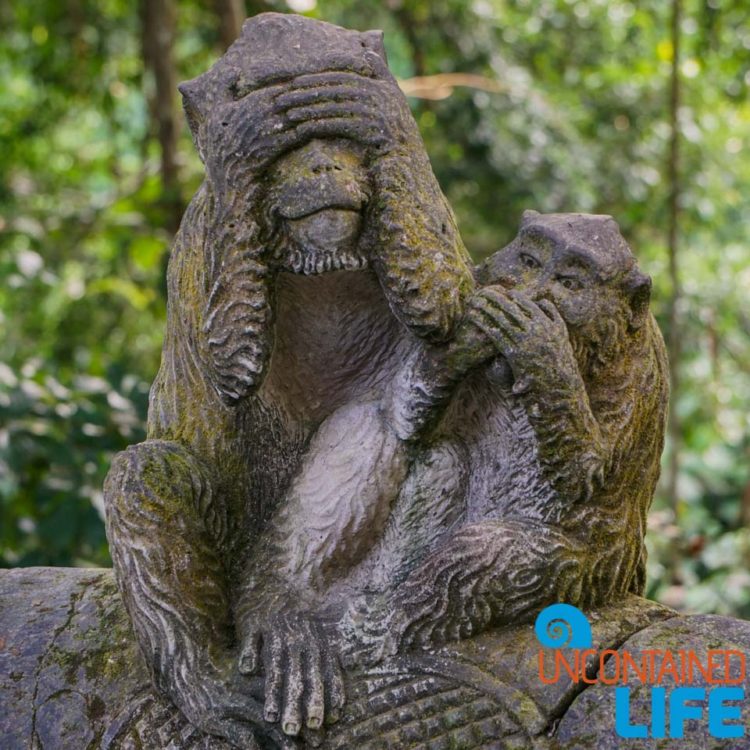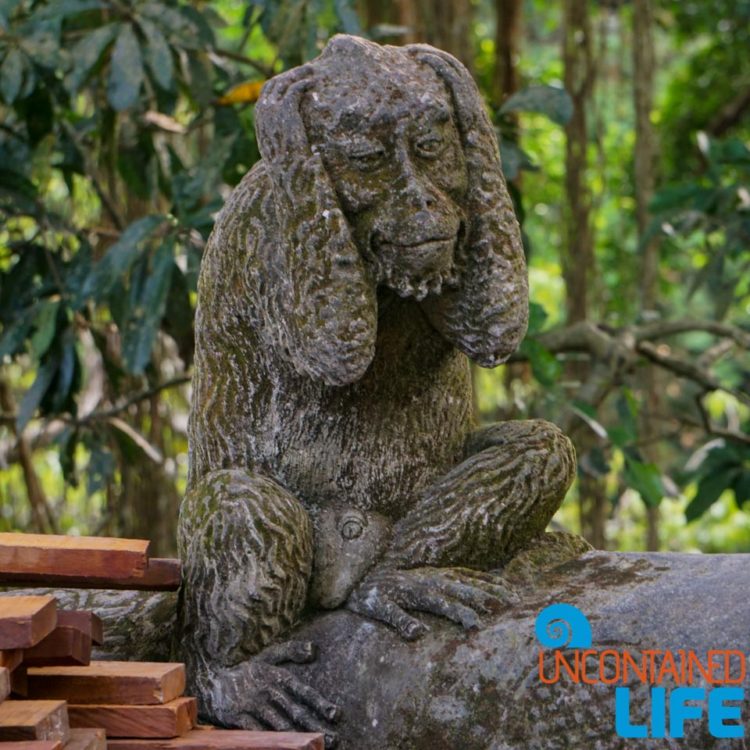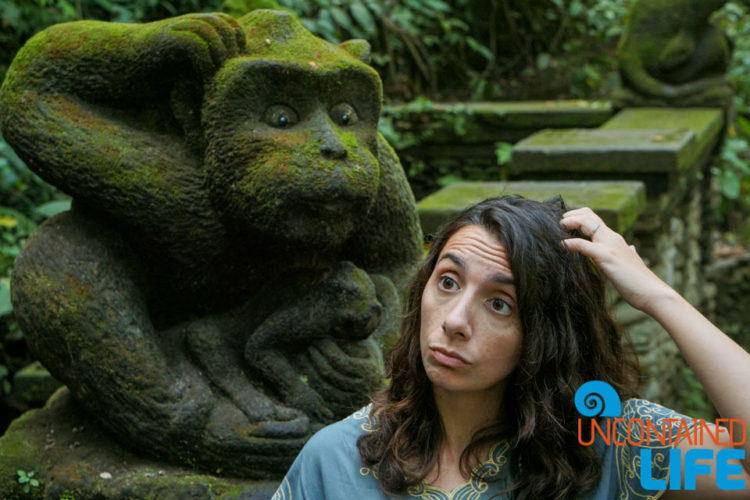 Hillary and I enjoyed our time walking around the the sanctuary and watched as people bought bananas (how original) from the vendors so the monkeys would climb up on them for a photo.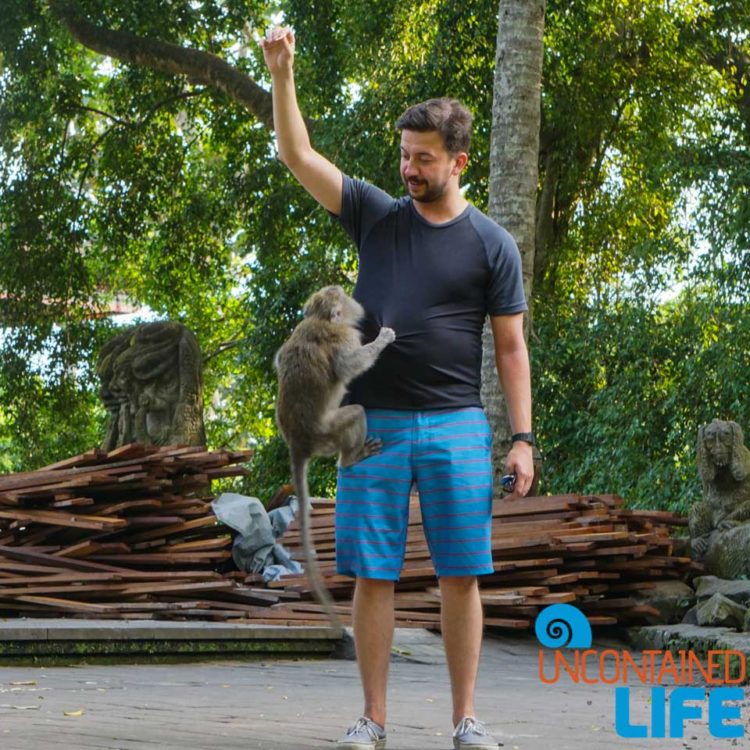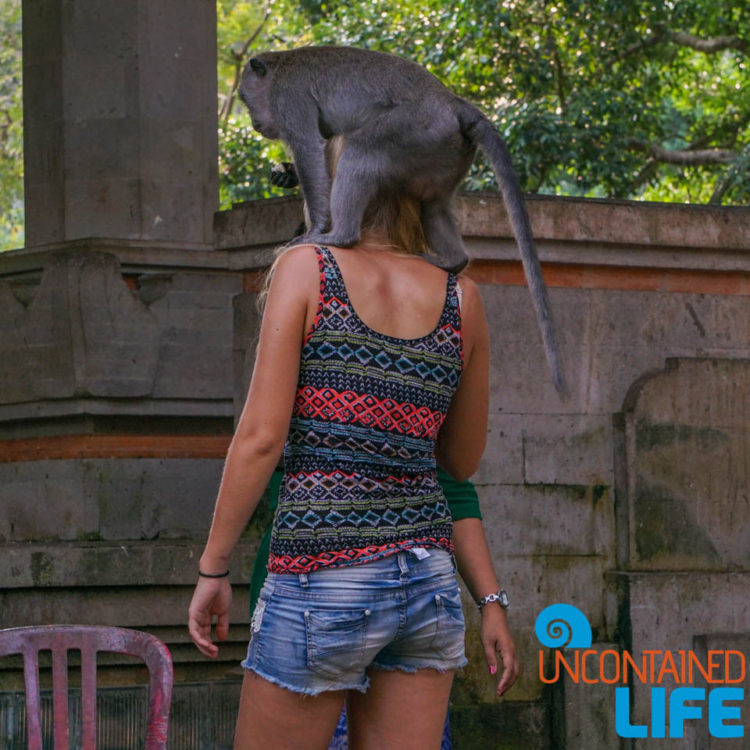 I recommend you wait around until one of the three feeding times when the sanctuary staff dumps buckets of sweet potato (the monkey's staple diet)  on the ground. The monkey community gets excited and spends an hour eating, stealing, hoarding, and sharing their meal.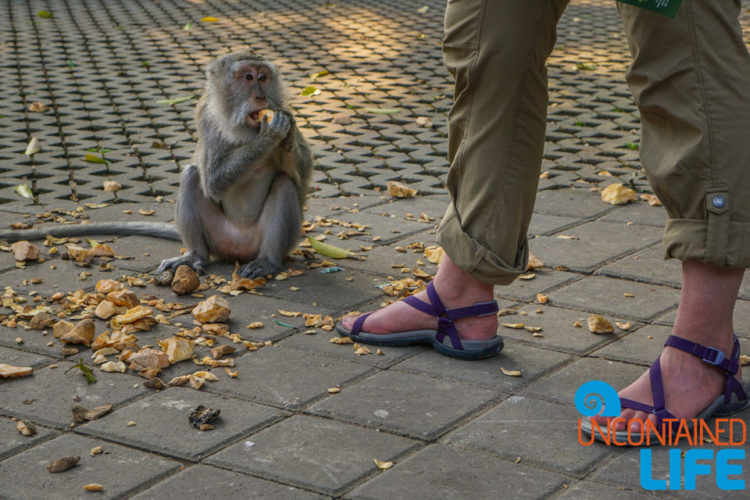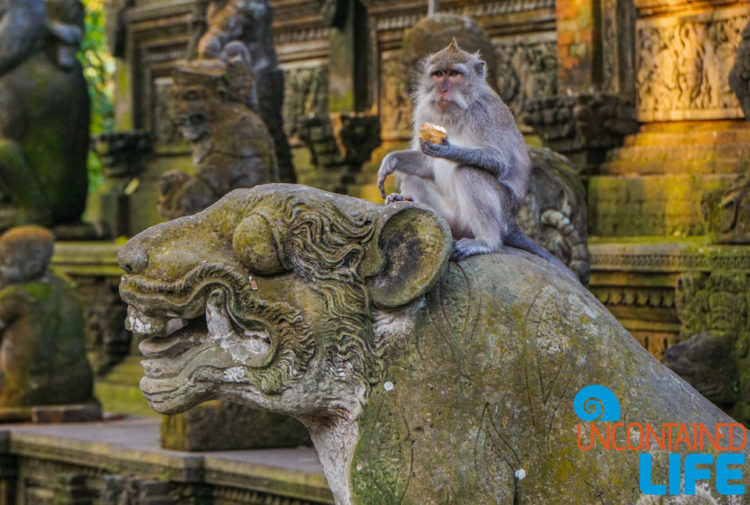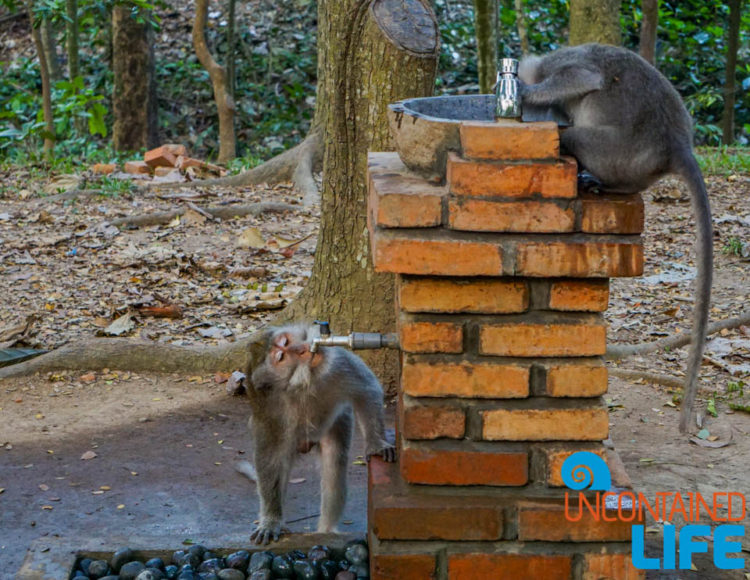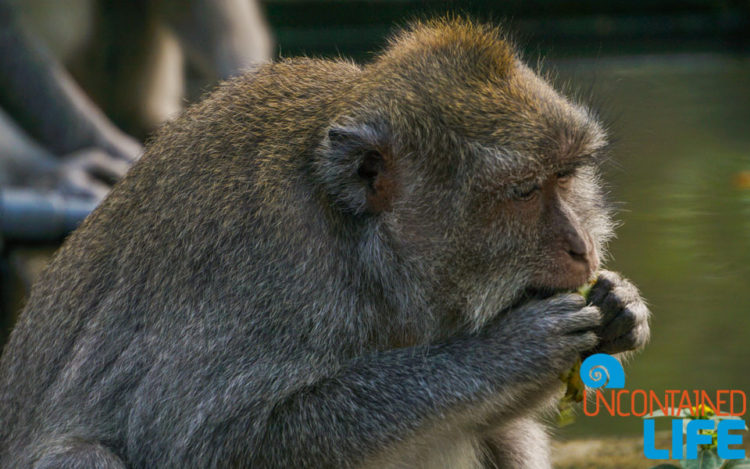 Now, I'm not calling my 11 nieces and nephews monkeys, but, they have taught me a thing or two about interacting with creatures who are smaller, and much more energetic than I am. So, Hillary and I tested a theory. We sat down on the ground near their food and waited.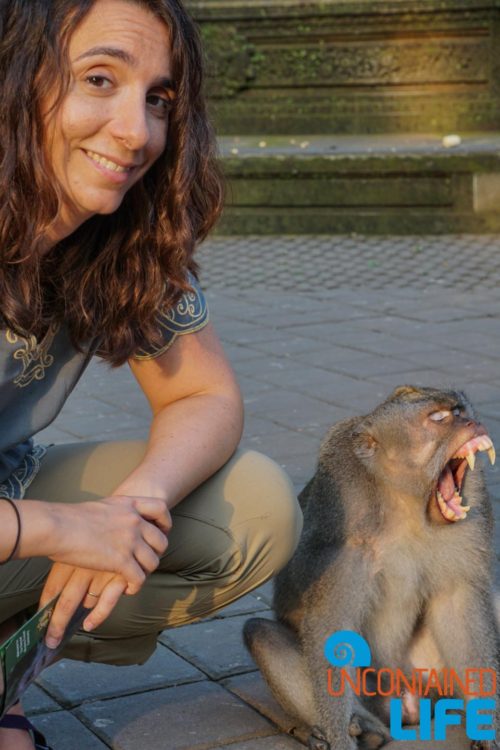 In less than two minutes, the monkeys became curious about us and we became furniture, scratching posts, and jungle gyms (the irony of that last one is not lost on me).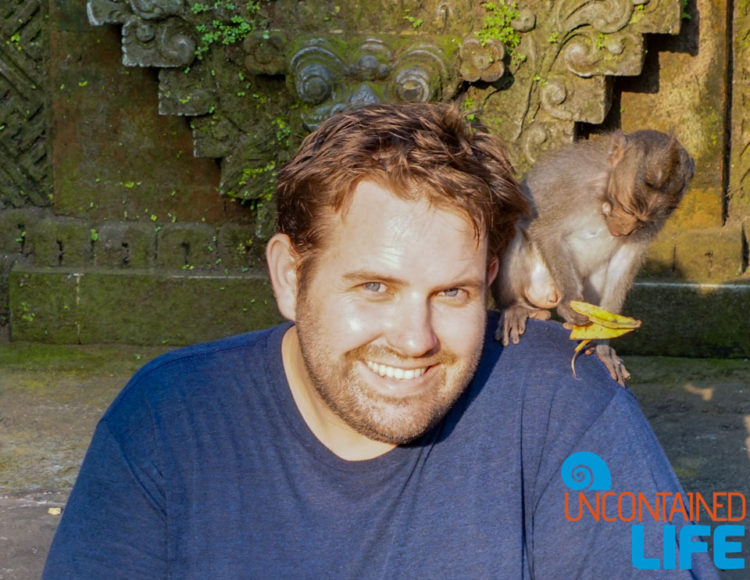 Pro Tip: If you want certain interaction with a monkey, grab a piece of sweet potato larger than the one the monkey is holding. They are envious little brats and will abandoned their piece to take yours.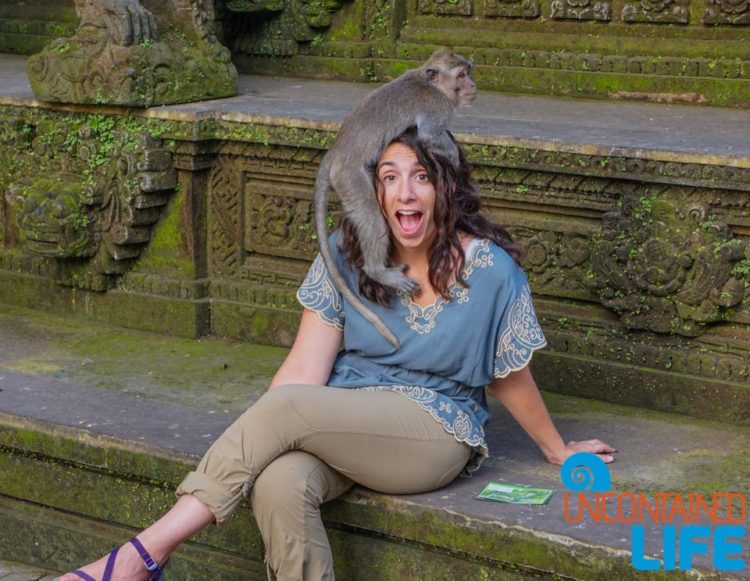 The majority of the other visitors always went toward the monkeys or tried to call the monkeys to come (as if they are dogs or cats?). Even after feeding time was over, our sit and stay method continued to work.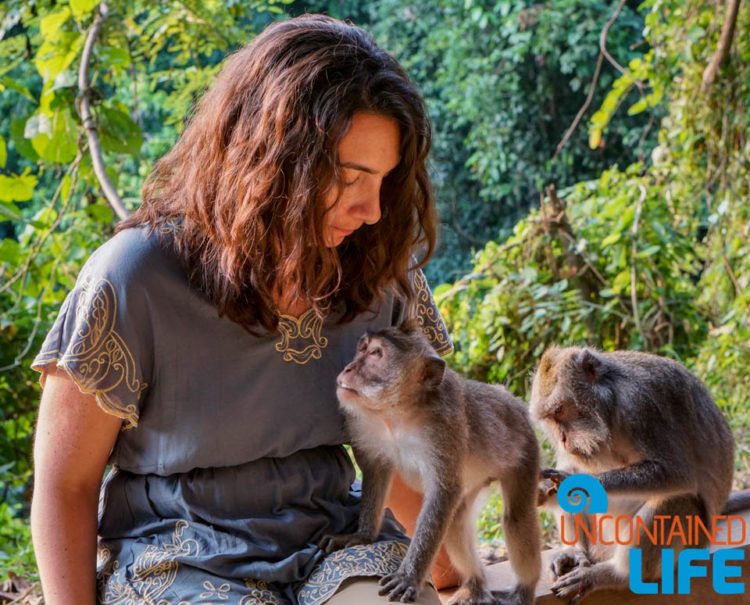 Which is why we were approached and asked (with awe and deference) "How do you get the monkeys to come to you?"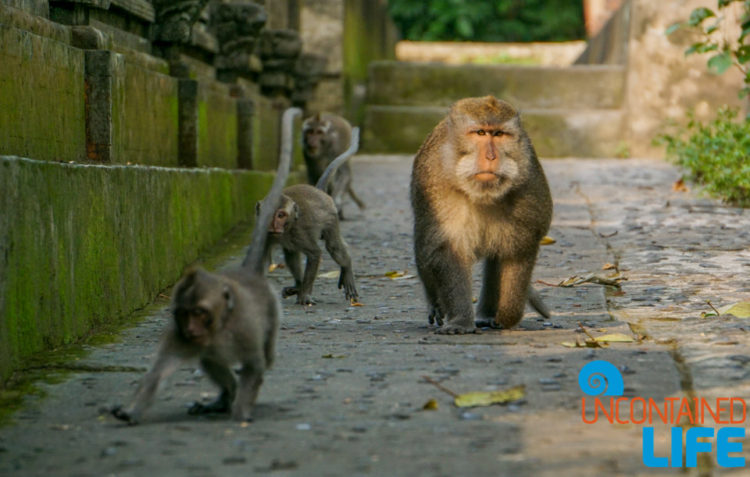 Our reply was, of course, "we attended a monkey whispering class."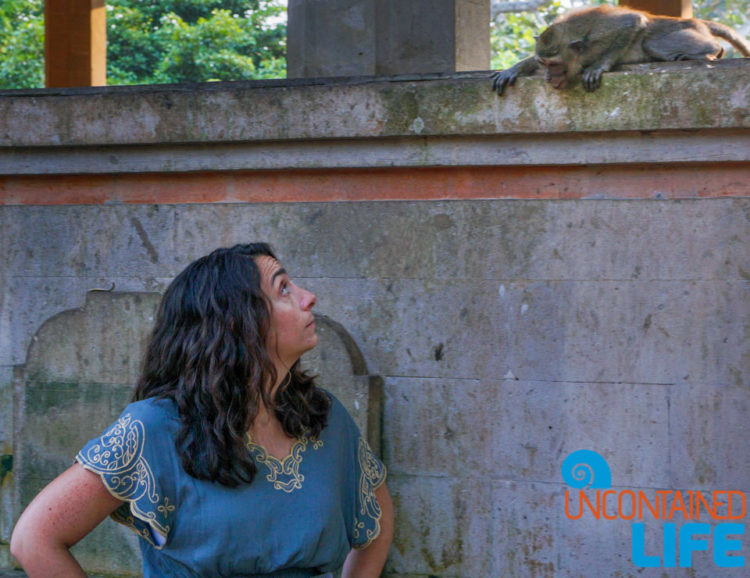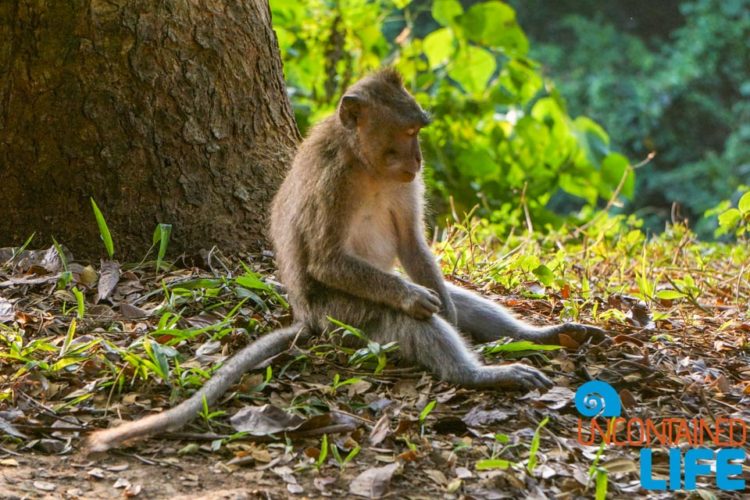 And now, for a happy video featuring the Balinese monkeys in Ubud's Sacred Monkey Forest Sanctuary…with special guest, Hillary.
*For best viewing, change the video quality to HD.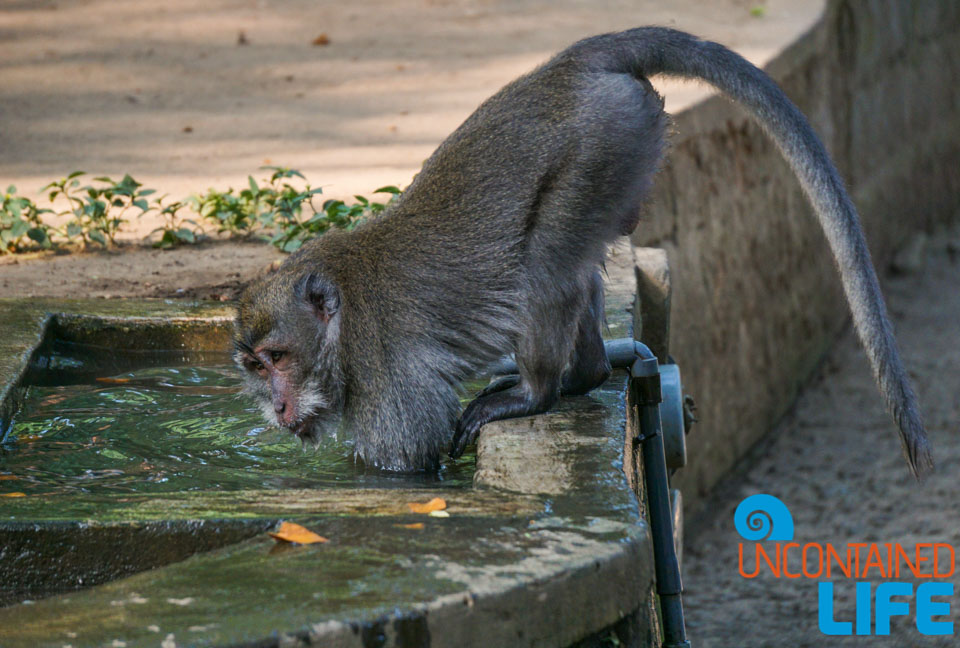 Warning: If you are interested in actual interaction with the monkeys, be aware that they may bite. The monkeys are reportedly inoculated from rabies. Hillary got a love chomp from one little Macaca fascicularis (and she hasn't started foaming at the mouth yet).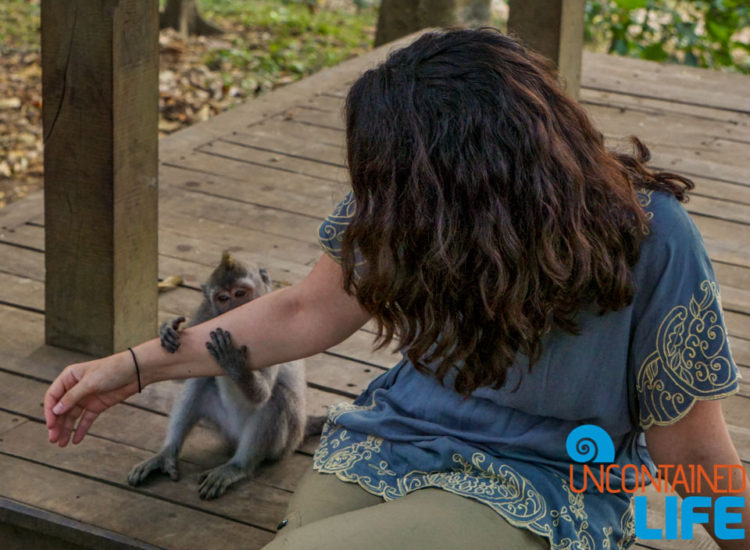 All photographs were taken with the Sony A6000—a lightweight, mirrorless camera that captures great images even in low-light conditions.  You can find out more about the gear we carry when we travel HERE.
Are you on Pinterest? Pin this post!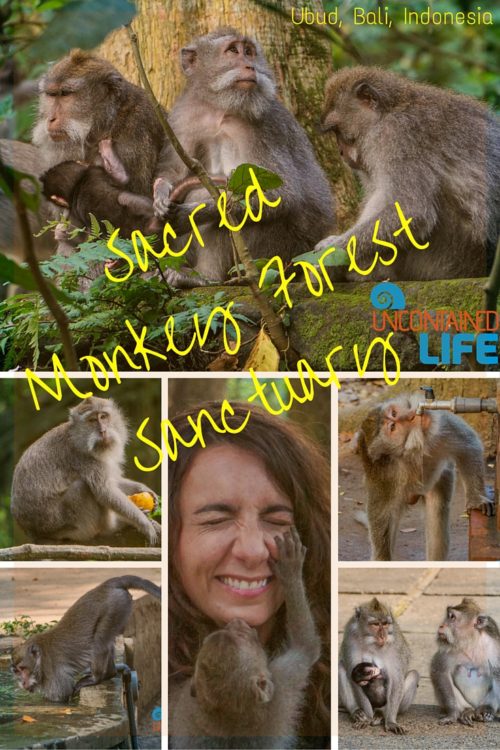 ---
Visitor Information for the Sacred Monkey Forest Sanctuary:
–General Info. about tickets:
Tickets (as of Jan. 1, 2016) are 40,000 IDR ($3.00 USD) for adults and 30,000 IDR ($2.25 USD) for children.

Daily Hours of Operation are from 8:30 AM  to 6:00 PM. The ticket office closes at 5:30 PM.

Contact the Sacred Monkey Forest SanctuaryPhone: +62 361 971304, Fax: +62 361 972774, Email: info@monkeyforestubud.com, 

www.monkeyforestubud.com
—Getting There: 
Address: Jalan Monkey Forest – Padangtegal – Ubud – Gianyar- Bali (80571)
Taxi is the best way to get from the airport to Ubud. Depending on the time of day, traffic conditions, road conditions, and weather conditions, it will take between 1-2 hours.
Cost of taxi varies, but, expect to pay between 200,000 – 300,000 IDR ($15.00 – $23.00 USD).
Need a place to stay in Ubud?
—Budget: Interested in an authentic, locally-owned homestay experience? Look no further than Praety Home Stay. This centrally-located homestay offers delicious breakfasts included with all rooms (fan only).Check your travel dates now and save 50% or more off your stay at Praety. Alternately, if you're looking to stay a little farther off the beaten path, Indah Homestay is fantastic home away from home (some rooms have A/C). Check your travel dates to save big on your stay at Indah!
—Mid-range: With its beautiful, Balinese-style rooms, friendly staff, delicious breakfasts (included with rooms), and perfect location just a short walk from Ubud's main drag, you'll never want to leave Loka Pala Villa. Check your travel dates and save up to 80% off of your stay!
—Luxe: For those looking for five star luxury with easy access to the best of Ubud center, including the Sacred Monkey Forest, the beautiful Komaneka at Monkey Forest Ubud is an easy choice. Check your travel dates and save 60% or more off of your stay! Alternately, if you're wanting to get away from it all, the Kamandalu Ubud Resort boasts 54 luxurious villas, beautiful views, pools and top-notch service. (Free shuttle service to the city center is available, daily.) Check your travel dates today and save 40% or more!
–Airbnb: Looking for more accommodation options? Use this link to get a $35 discount off of your first Airbnb booking!