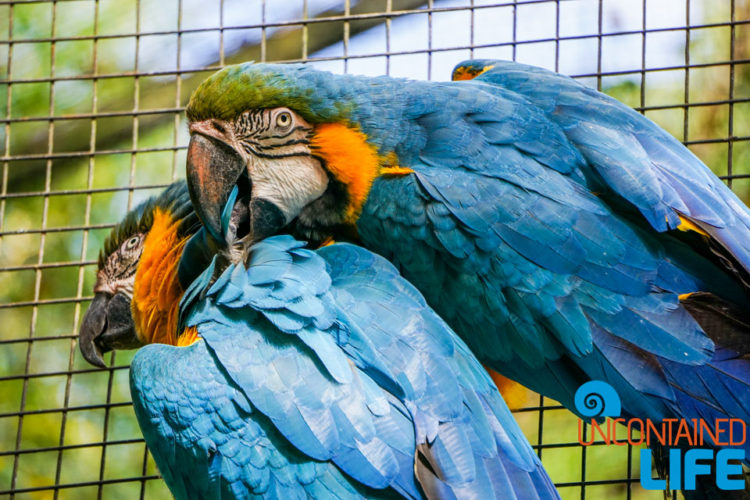 You know those times you decide to visit a place with rather low expectations only to discover it's actually flippin' fantastic? Brazil's Parque das Aves was totally one of those for me and Justin. This 12-acre sanctuary just across the road from the famous Iguazu Falls National Park boasts over 150 species of bird life…which is cool. BUT THAT'S NOT THE BEST PART.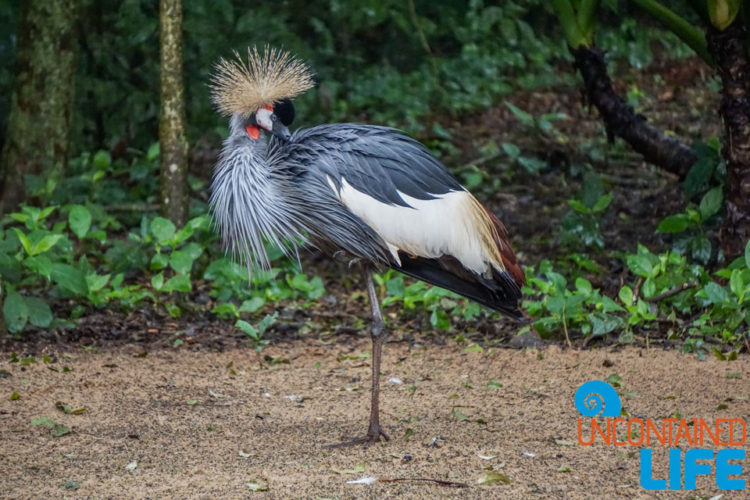 The BEST part of Parque das Aves is that you, yes, you my Uncontained Life-loving friends, get the chance to actually go inside several of the the bird habitats (as if you were a legit ornithologist or some such madness). That's right. No cage shall stand between you and the multi-colored feathered glory. At last, your inner child can live its fantasy of hanging in the jungle with Toucan Sam. (No? Just me?) You probably think I'm over-enthusing, don't you? Well, let's step inside the Parque das Aves together, shall we? And then you tell me whether or not Parque das Aves lives up to our hype. Let's go!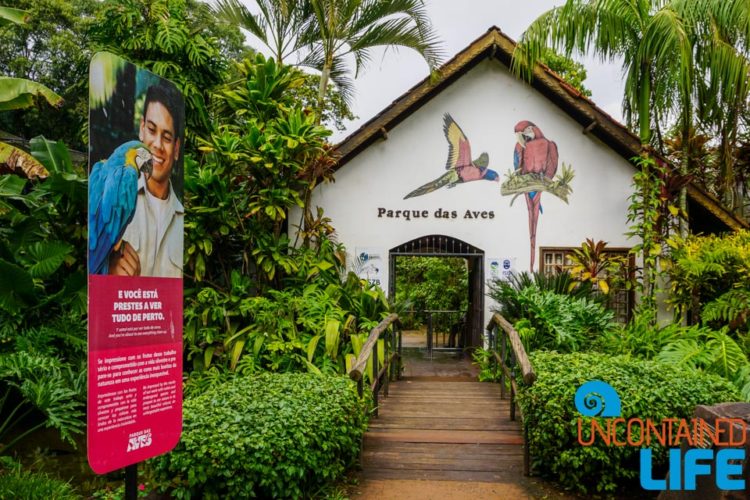 Some Background on the Parque das Aves
The Parque das Aves was the brainchild of the Namibian couple, Dennis and Anna Croukamp. The two moved from Africa to Brazil in the early '90's and opened their bird park in 1994.  Today, the Parque das Aves is the largest of its kind on South America.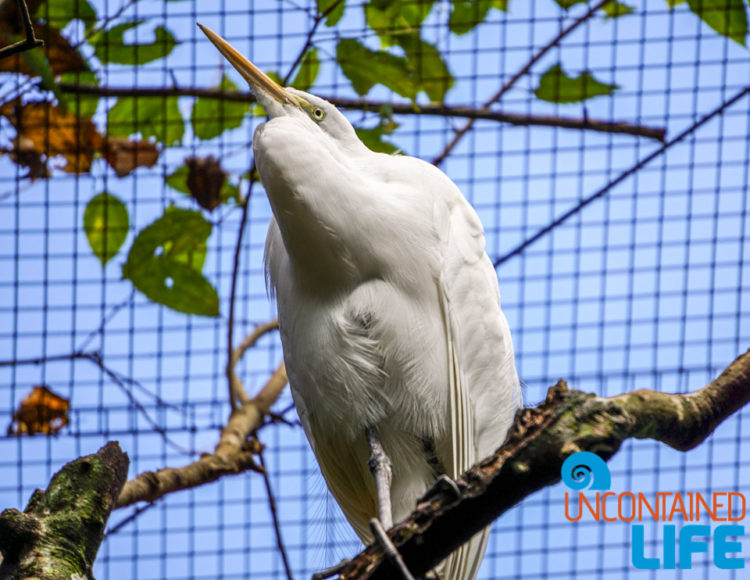 From the beginning, the Croukamp's saw Parque das Aves serving a key role in bird rescue and conservation. Today, more than 50% of the birds you can see in the park are rescues–seized from illegal traffickers by the authorities.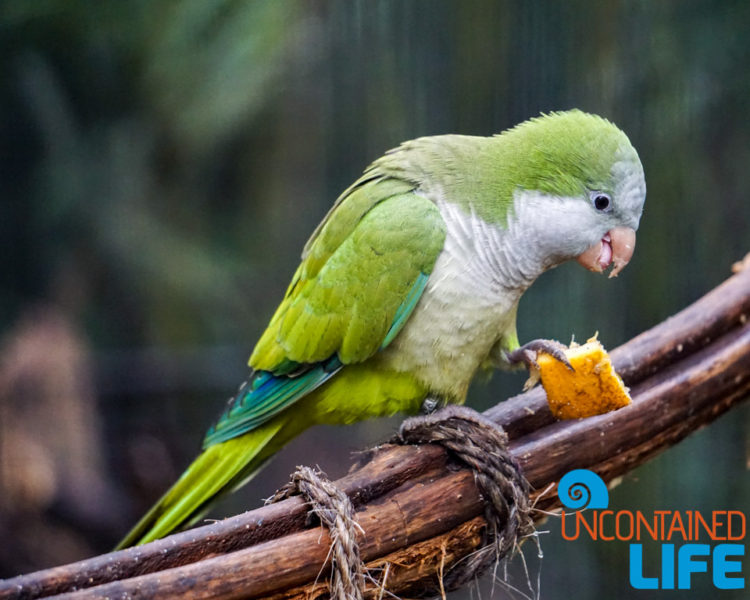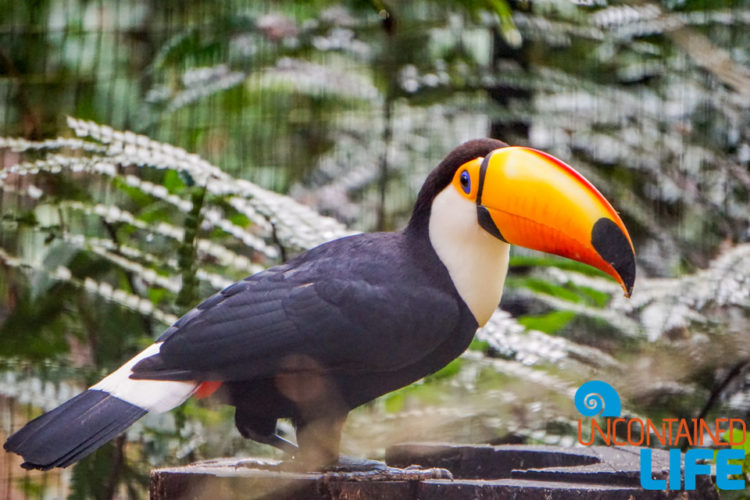 The park also takes in birds who, for any number of reasons, have suffered injury or who cannot survive in the wild. (Birds which are seriously hurt or ill are not on display, but cared for "behind the scenes" by the park's hospital staff.)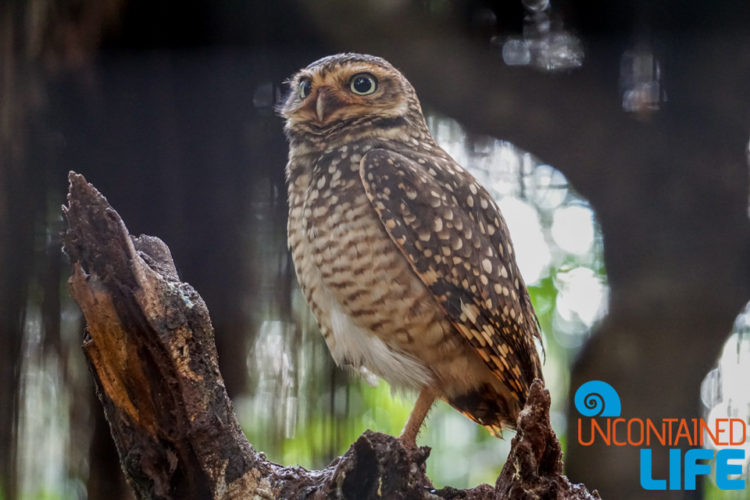 The Parque das Aves tries to replicate the birds' natural environment as much as possible.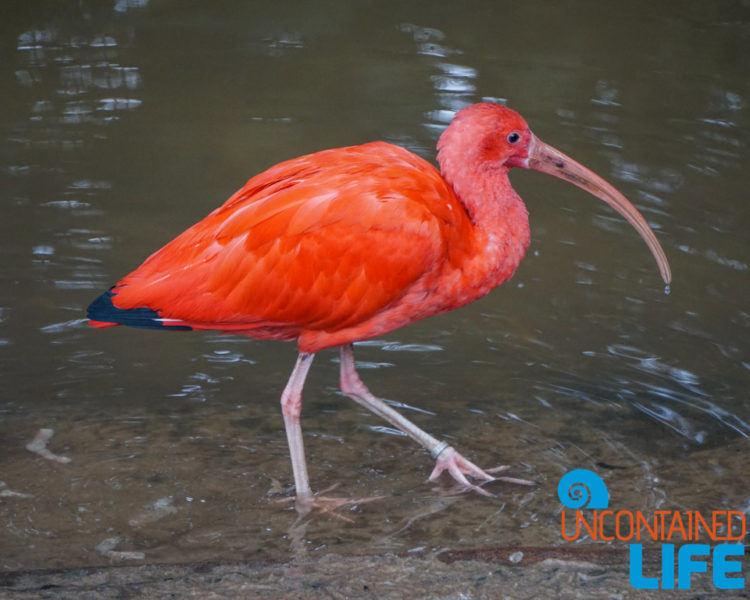 In terms of conservation, the Parque das Aves has proven terrifically successful in promoting natural breeding of endangered (or otherwise "vulnerable") species. Did you guys know that the Psittacidae family–which includes Macaws, Parrots and Parakeets– are amongst the most "at risk" species of birds, globally?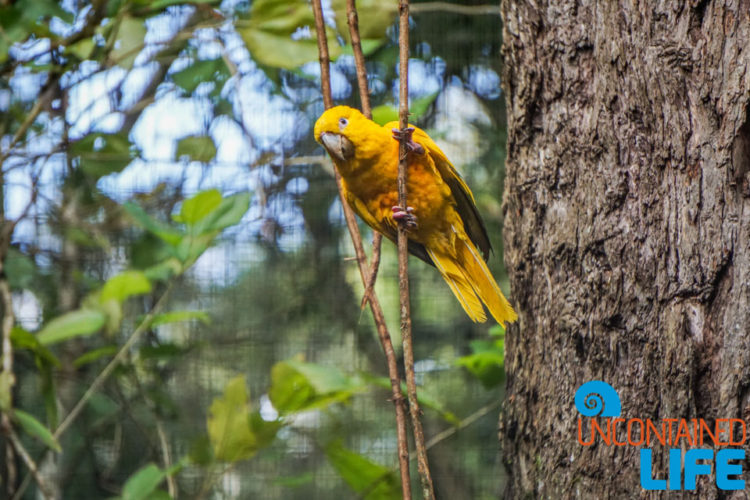 The Experience of Visiting the Park
When Justin and I first entered the park, everything looked more or less the same as any other zoo-type place. The birds were in large enclosures (full of plant-life) and you had to peer at the sometimes tiny creatures through the mesh.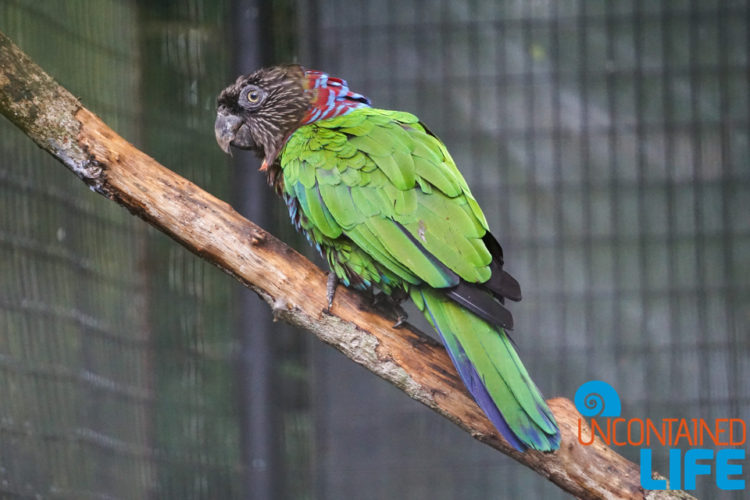 Just a few meters further, however, and the scene changed. Suddenly we were in the middle of an open area full of large birds (including these colorful flamingos) walking and flapping freely.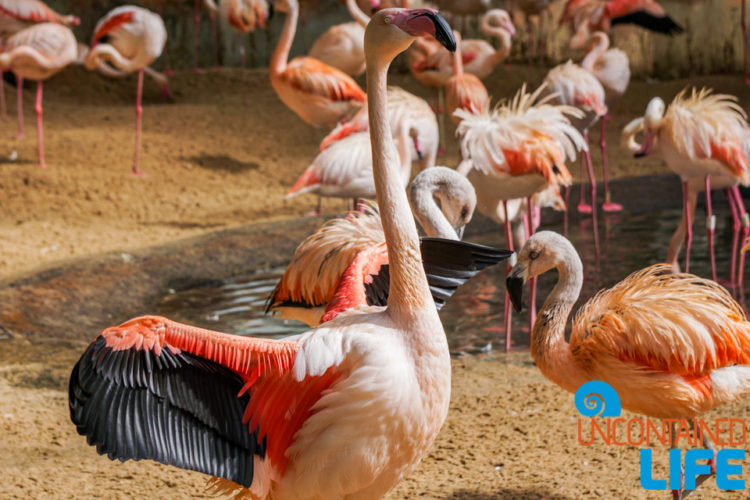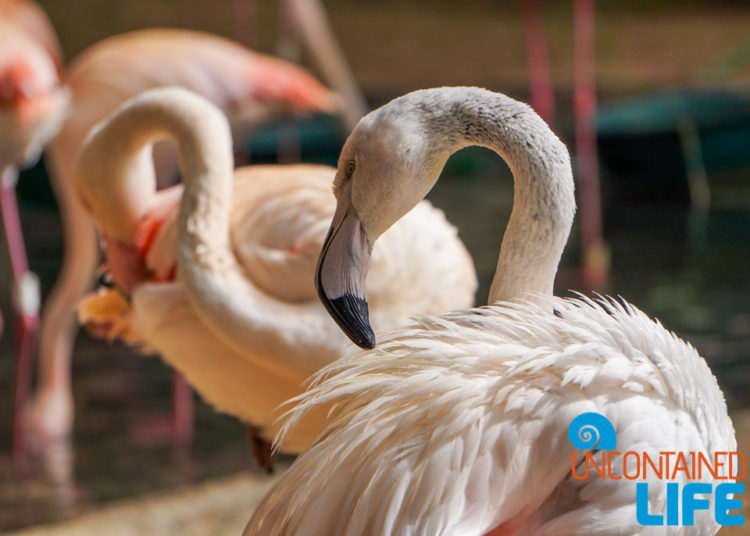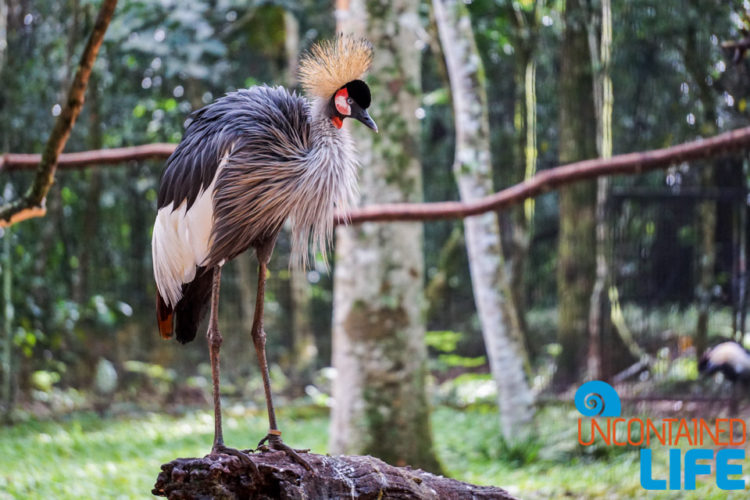 From there, we entered a giant enclosure (that's right, walked INSIDE the mesh) and got up close and personal with an even wider variety of beautiful creatures.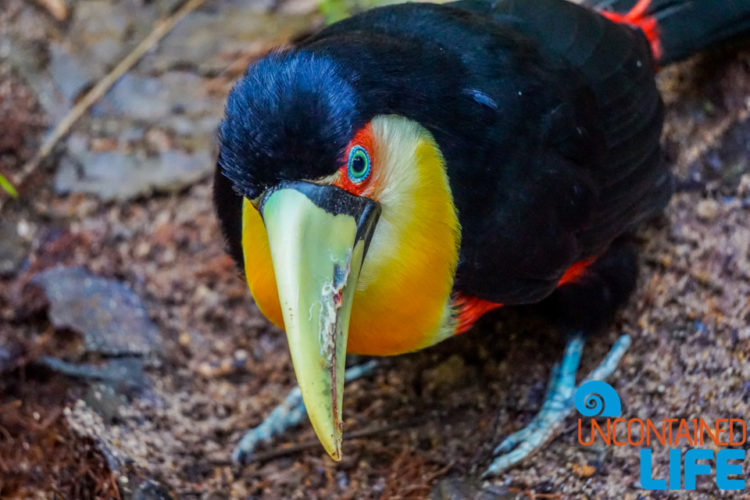 Some of the birds perched on the hand-rails which ran along the visitor's path.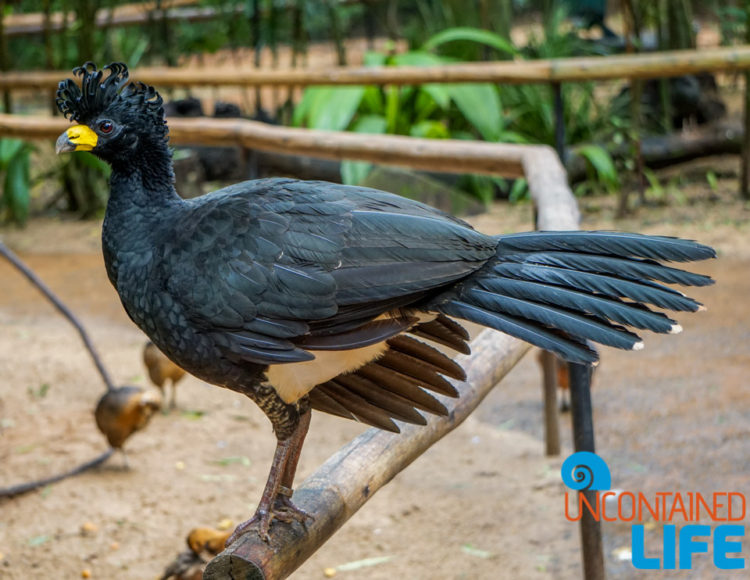 Others hung out overhead.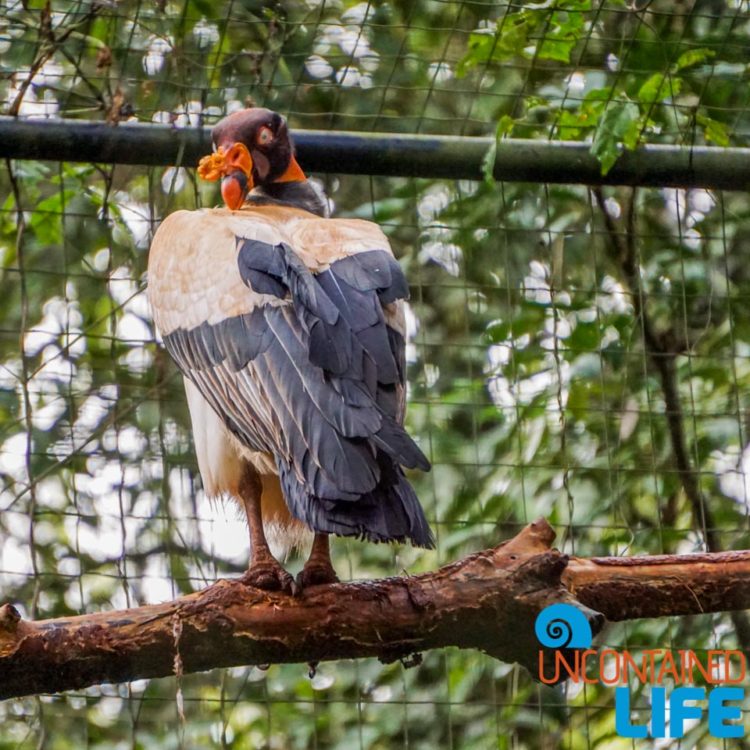 But wherever they appeared, the feeling of being so close to this eclectic gathering was surreal.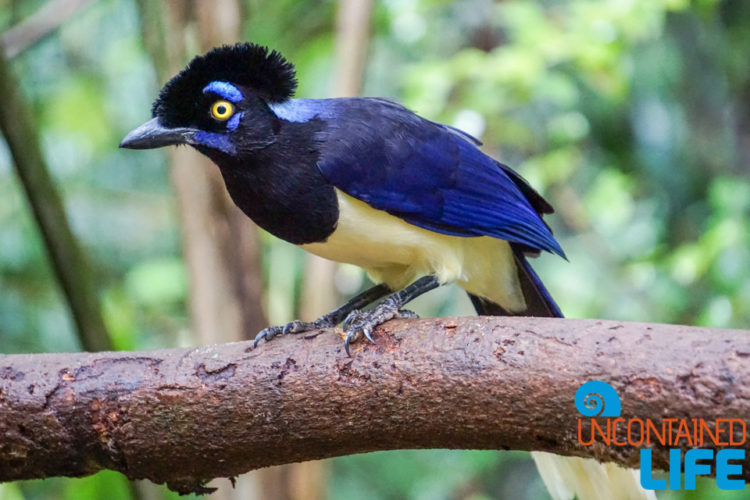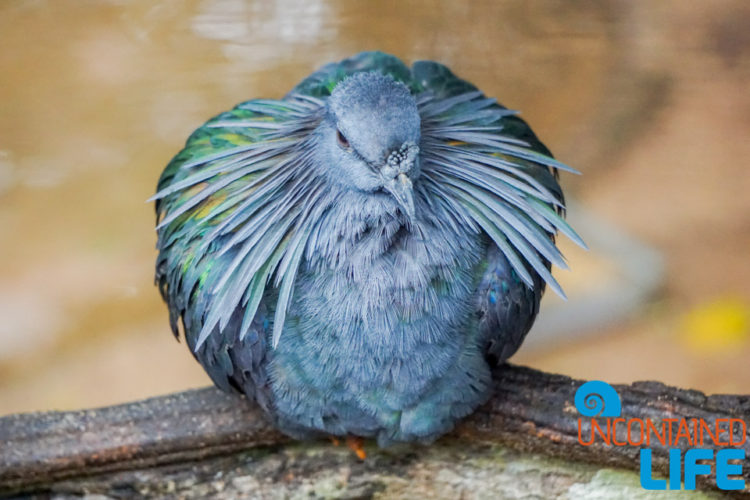 Moving through the park, we got to go inside a number of enclosures, including a giant space housing what seemed like a hundred Macaws…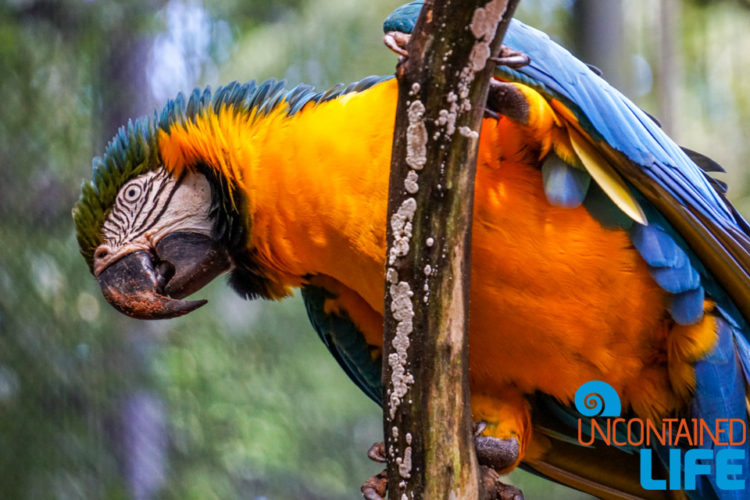 …all flying hither and thither, of course.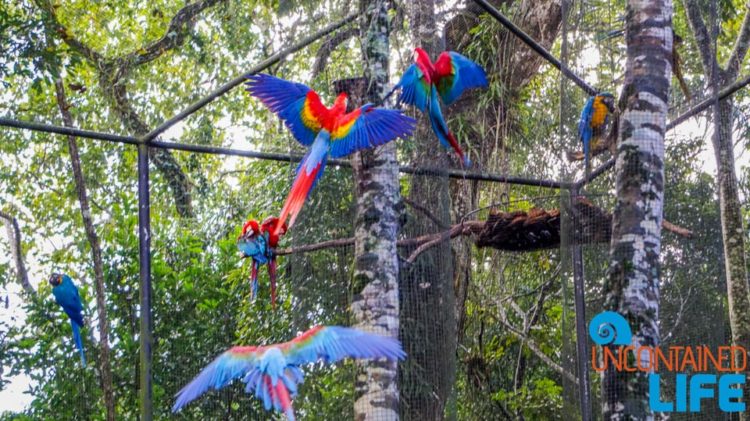 We received some sass from an ostrich…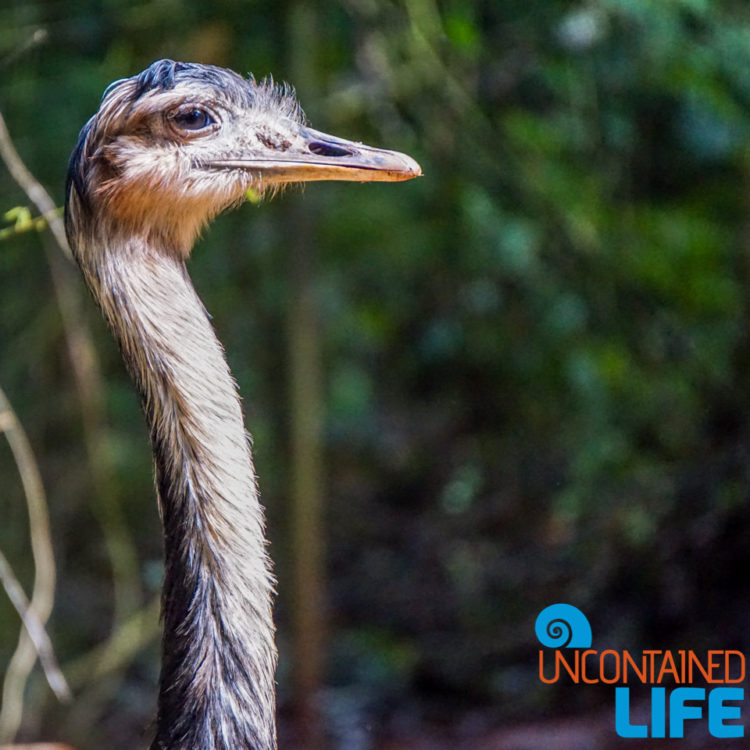 …got peeked by a burrowing owl…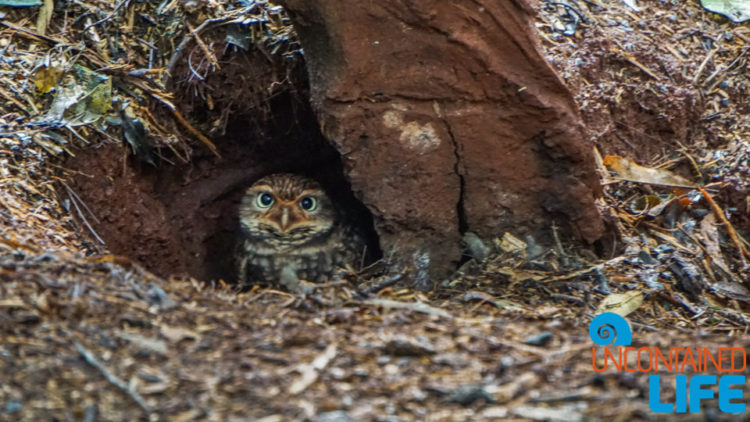 …met this fine fellow and his epic feet…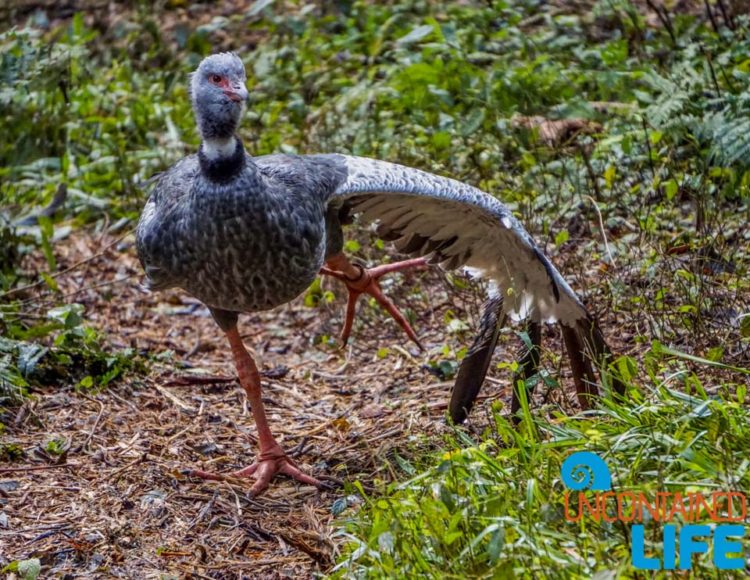 …and located Toucan Sam's evil twin.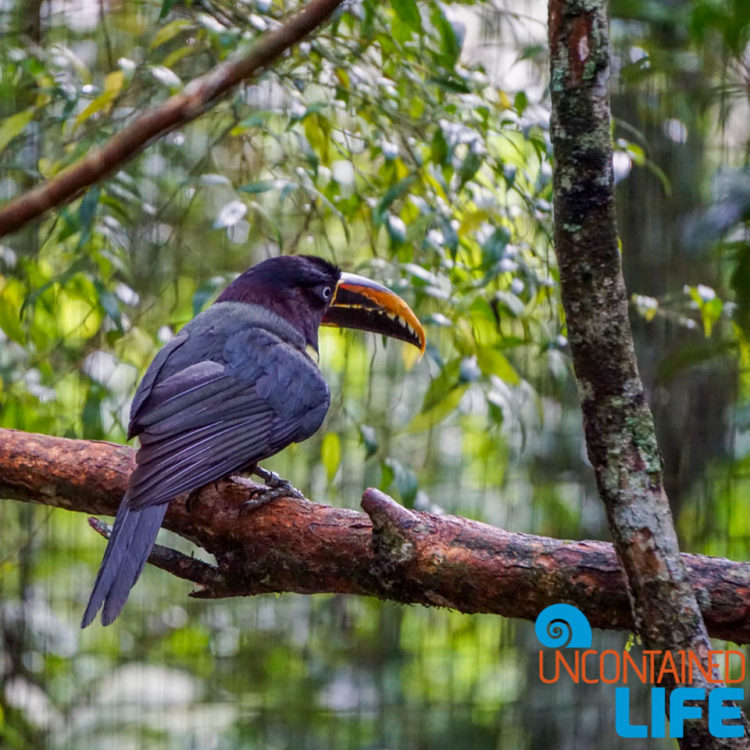 Butterflies and Hummingbirds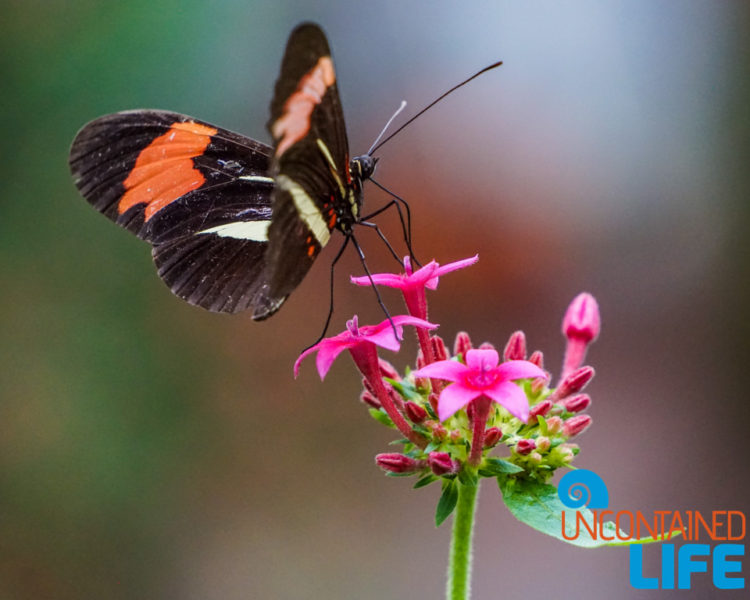 The Parque das Aves also is home to a butterfly and hummingbird house. I was pretty confident we'd be underwhelmed after our exotic bird-watching, but the place was actually really lovely.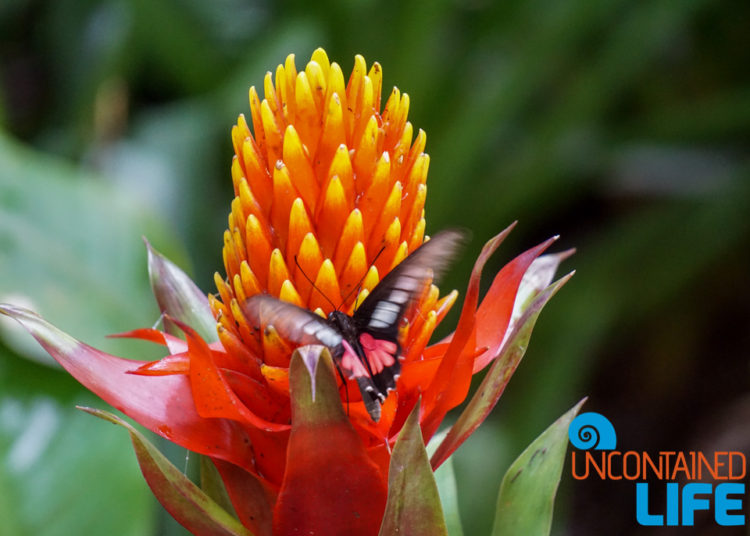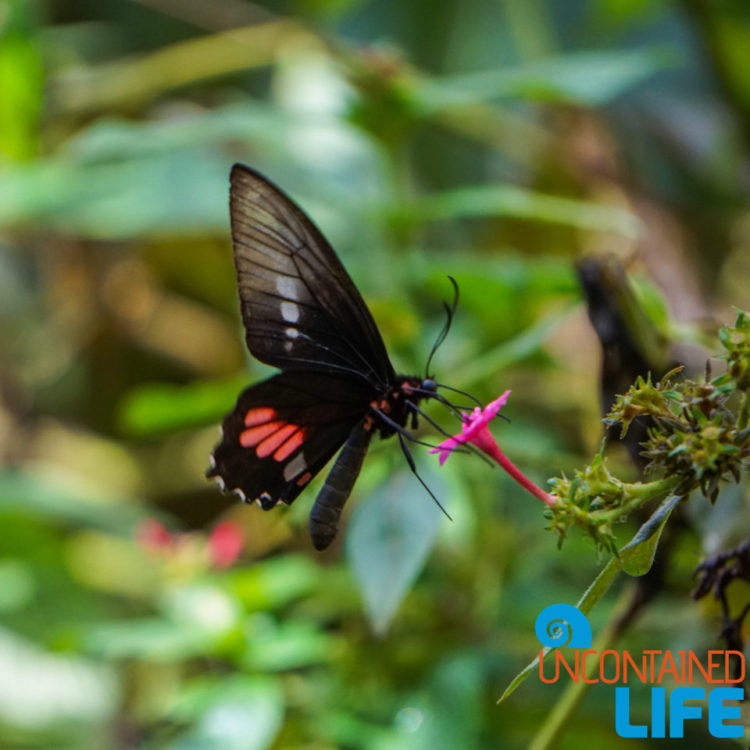 Plus, I mean, come on, how do you not fall in love with this itty-bitty fluff-ball??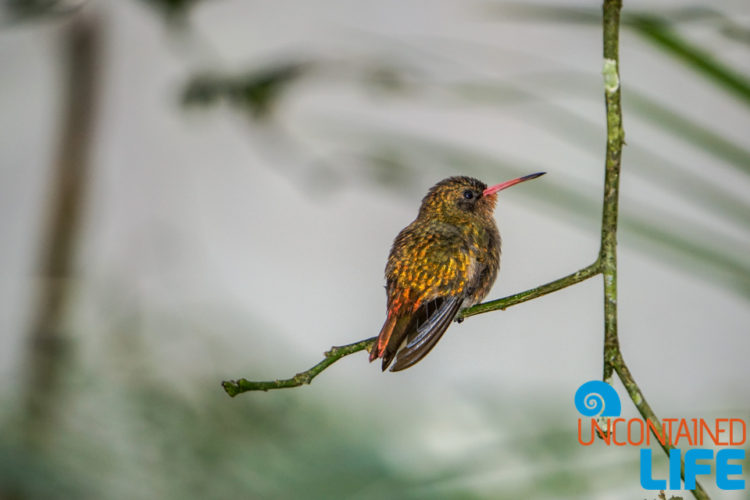 A Few Surprises

The butterfly and hummingbird house wasn't the only surprise during our visit. It turns out, the Parque das Aves has also, recently, opened its wings to a small number of reptile rescues. These include Alligators (both large and small) and a family of turtles.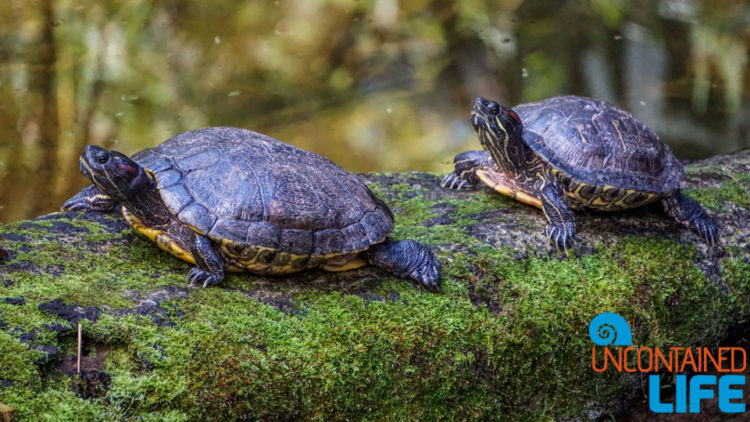 So…What Do You Think?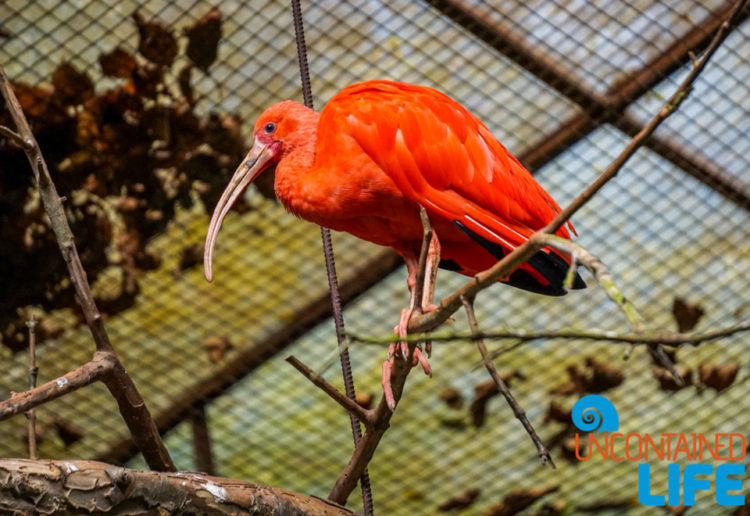 Were we kidding about the awesomeness of this place?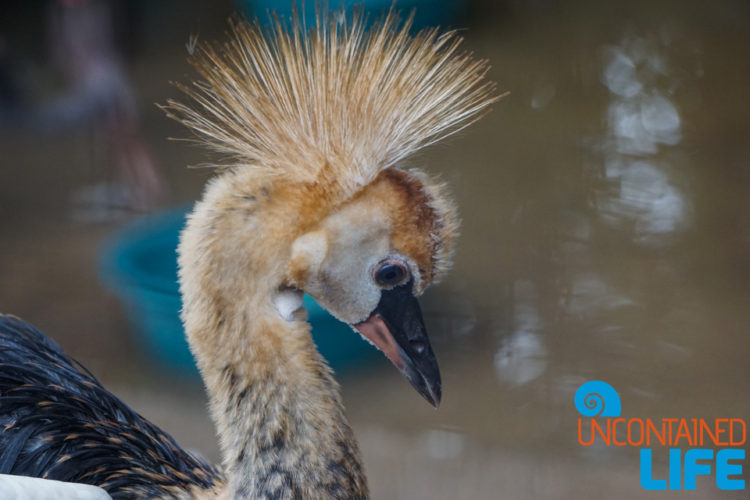 All photographs were taken with the Sony A600—a lightweight, mirrorless camera that's perfect for world travel. You can find out more about the gear we carry when we travel HERE.
---
Visitor Information for the Parque das Aves
Getting There: The Parque das Aves is easily accessible by bus or taxi. (The bus is much less expensive.) The bus line you want is #12o: PQ NACIONAL – CENTRO. This is the same line you can use to get to and from the airport if you're staying in town.
Costs: 
ForeignersR$ 36,00 per person

BrazilianR$ 36,00 per person

Residents of Foz*R$ 6,00 per person
*Residents of Foz do Iguaçu and cities close to the Iguazu National Park with proof of residence and Identification Card.
** Free admission for children up to 8 years old when accompanied by an adult. Not valid for school groups.
Hours: The park is open every day from 8:30am-5pm.
Nearby Accommodation:
Budget: If you're looking for accommodation that puts you near the national park without hitting your wallet hard, check out the Iguassu Eco Hostel. This accommodation offers rooms with air conditioning, free breakfast, a pool, a restaurant/ bar and free parking. Check your travel dates now, and save $$ off your stay!
Mid-range: Located 400 metres from the National Park entrance, San Martin Resort & Spa offers relaxation and can't-be-beat access to Parque das Aves. The hotel offers free transfer to and from the airport, and breakfast is included in the cost of your stay. Check your travel dates now and save 30% or more!
Luxe: If you're searching for top-notch accommodation near Parque das Aves, look no further than the Mabu Thermas Grand Resort. Located above one of the world's largest underground water reservoirs, this hotel offers guests beautiful pools, a spa, free breakfast, and a number of on-site recreational activities. Check your travel dates today and save 60% off of your stay!