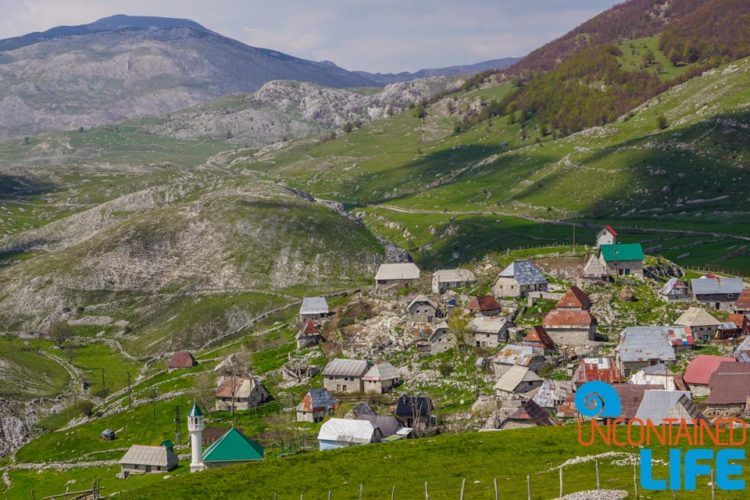 Time travel is possible. Ok. Maybe not in the most technical sense. But, as those of us who love to travel know, there are moments and places which make time travel feel possible. And a trip to visit Lukomir, the most isolated highland village in the Dinaric Mountains of Bosnia and Herzegovina…definitely one of those times.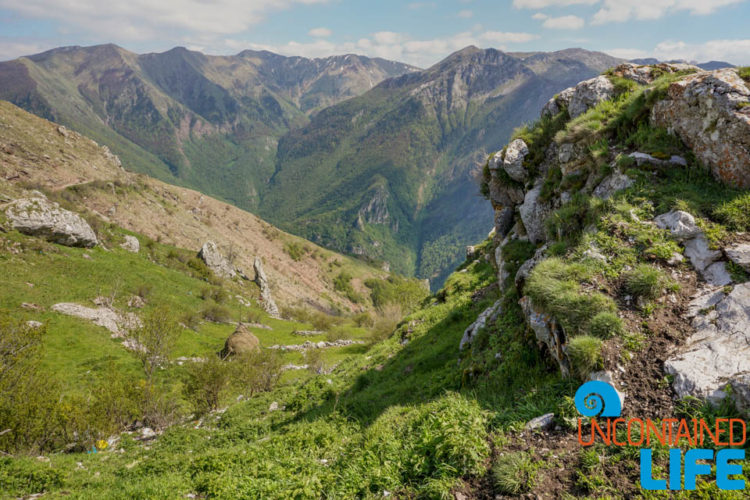 How exactly did we stumble upon this portal to the past? It all began when Justin and I were looking for ways to get out into the drop-dead-gorgeousness that is the Bosnian countryside without getting blown up. Yeah. I kid you not–that's the way many guidebooks still frame the out-of-city parts of Bosnia: like if you dare to venture outside of Sarajevo or Mostar, you're in for an intimate date with a landmine.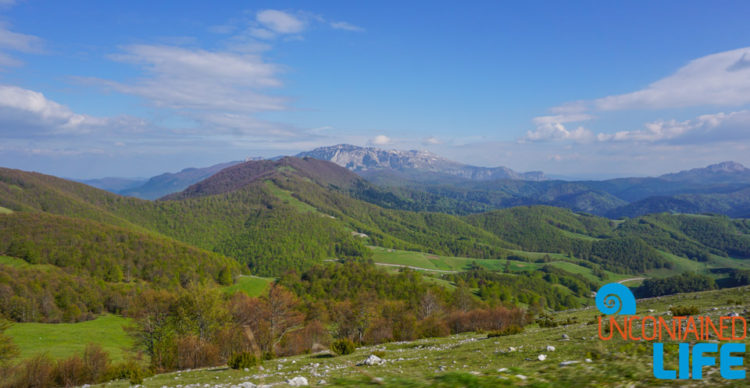 The true situation? Not quite so dire. At least, that's what we found out when we decided to go on a couple of day-treks with Green Visions Bosnia: the country's first, and only, socially responsible tour company. (Unlike some tour companies, Green Vision actually partners with the local community in Lukomir, making sure they share in the profits from tourism–which, in turn, allows people to continue to live in and maintain the village they love.)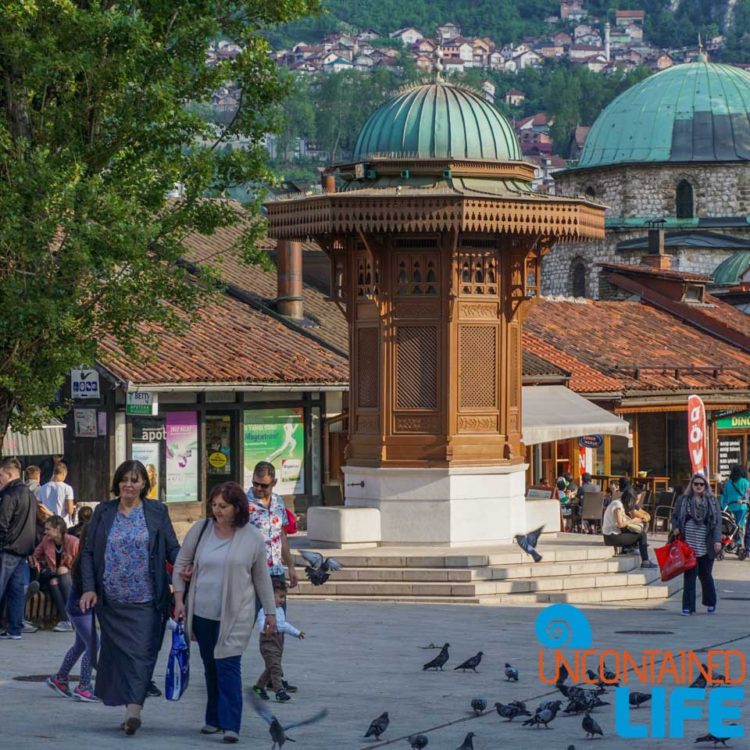 Our Journey Back Begins
We met Benjamin, our boisterous, buff guide near Pigeon Square, and, along with a couple of fellow explorers, where we were quickly ushered into a van, and whisked out of the city.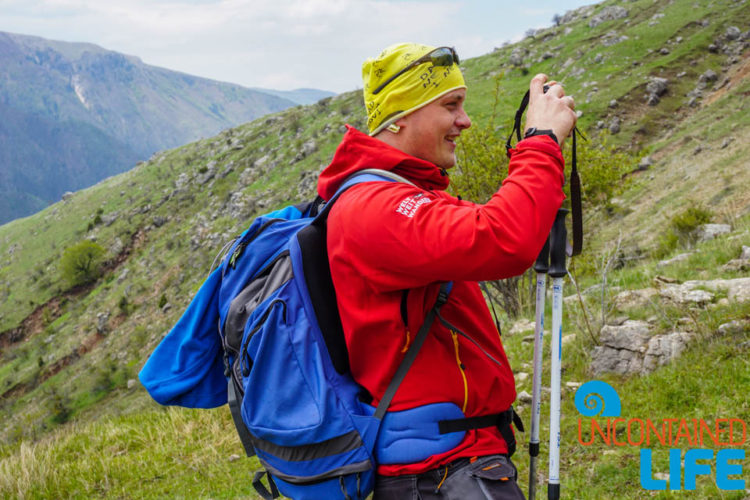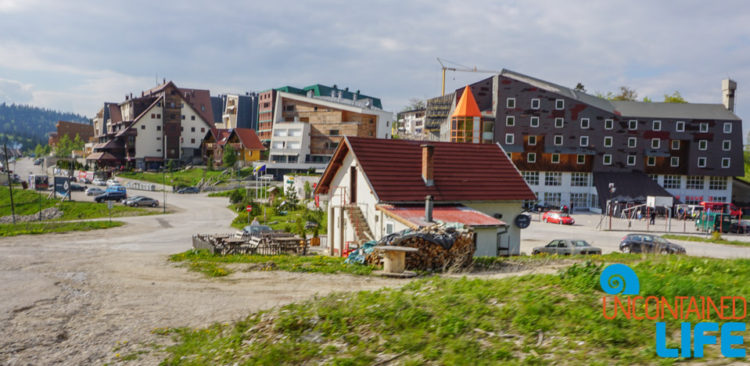 After passing through one of the area's most popular ski resorts on the mountain, Bjelasnica, we found ourselves on a one-lane gravel road heading out into the wilderness.
The road to visit Lukomir took us through beautiful, lonely country, dotted here and there with herds of sheep.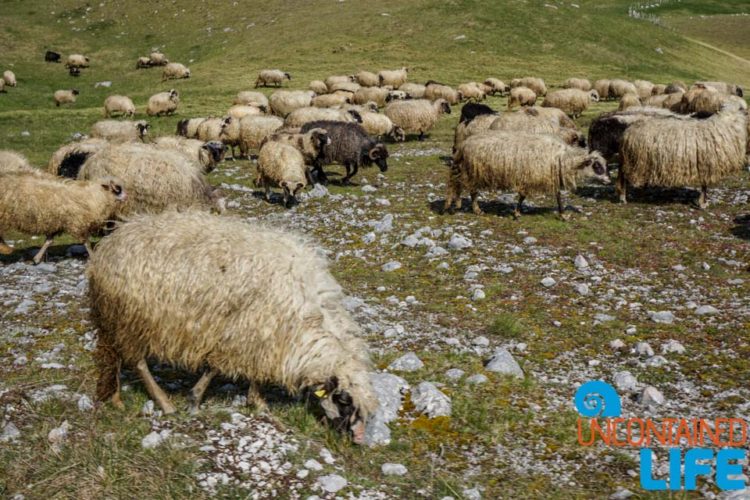 The first sight that greeted us upon our arrival in the village proper, was the inimitable peaked-roof houses–a design that dates back centuries.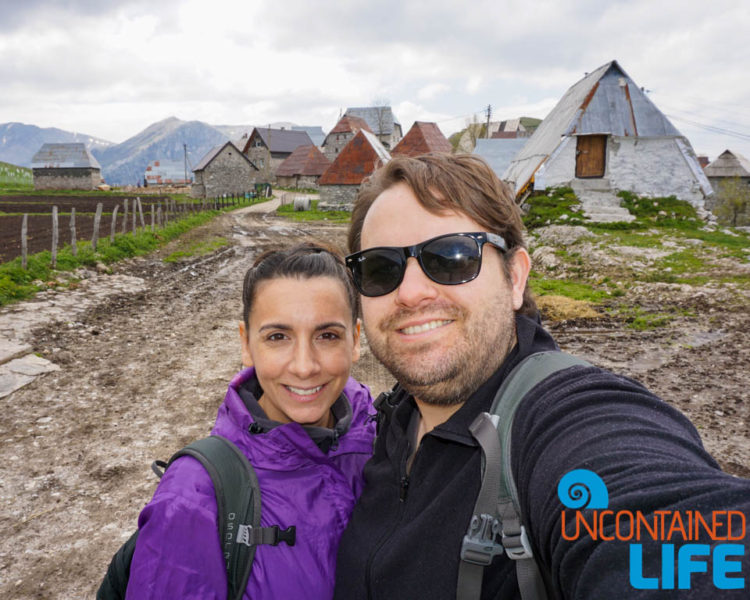 Full Hearts, Bare Feet, Can't Lose
Before we toured the village, however, Benjamin led us on some hiking along the ridge of Rakitnica Canyon.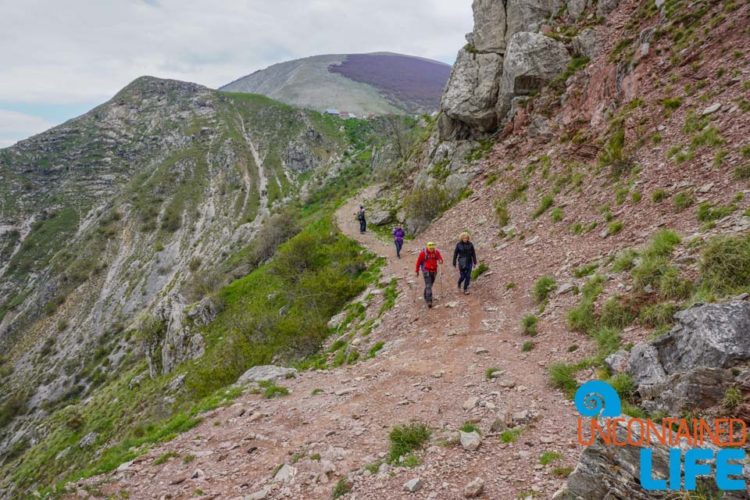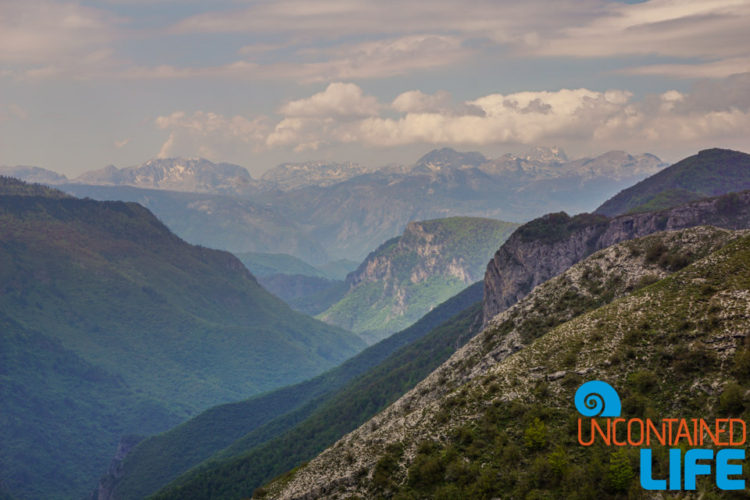 The flower-strewn path offered breathtaking views of the Obalj and Visočica mountains across the way.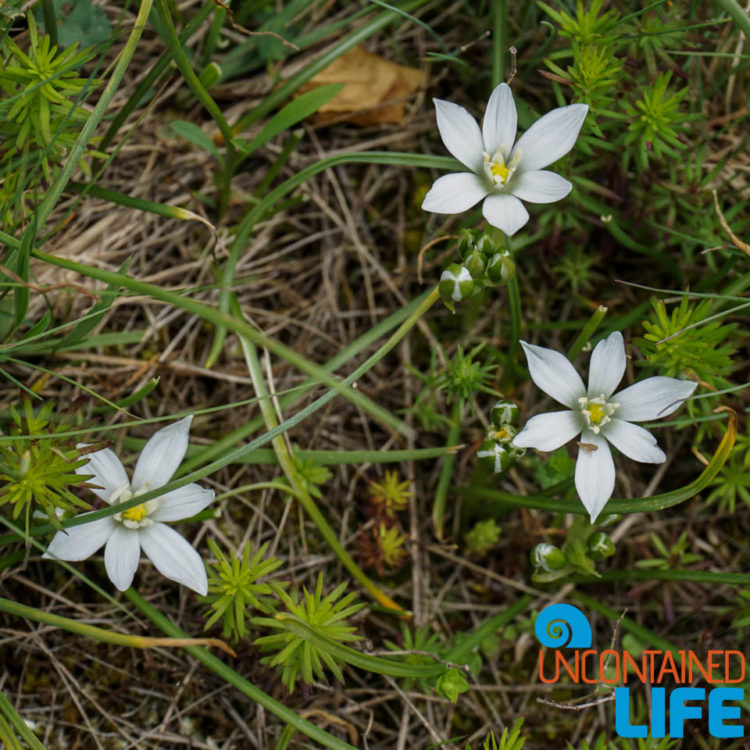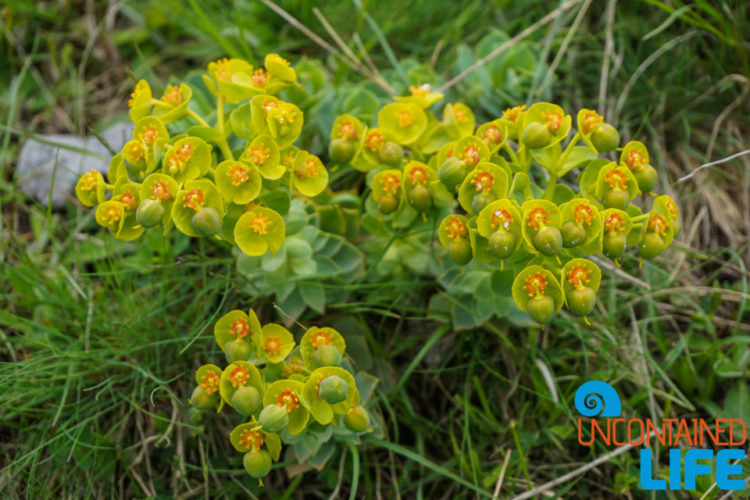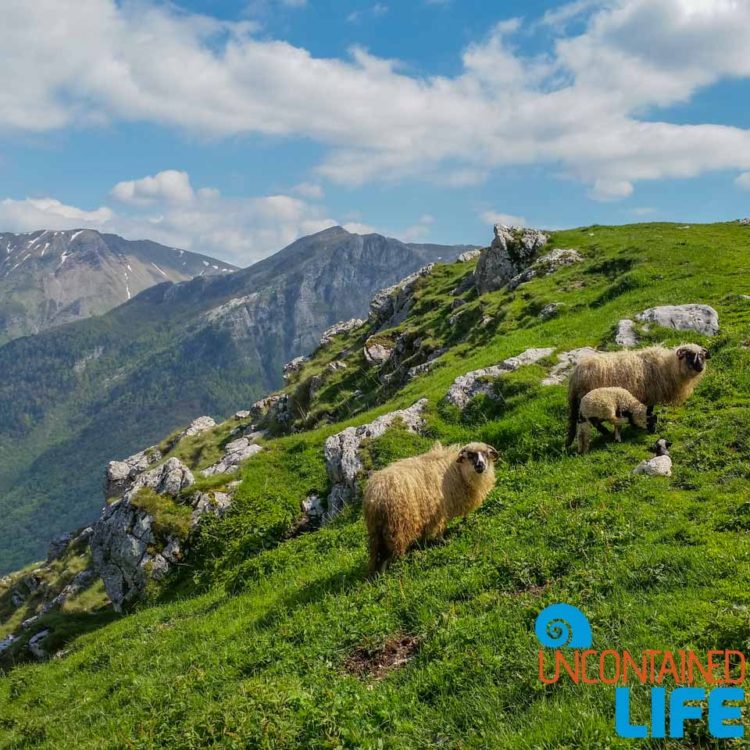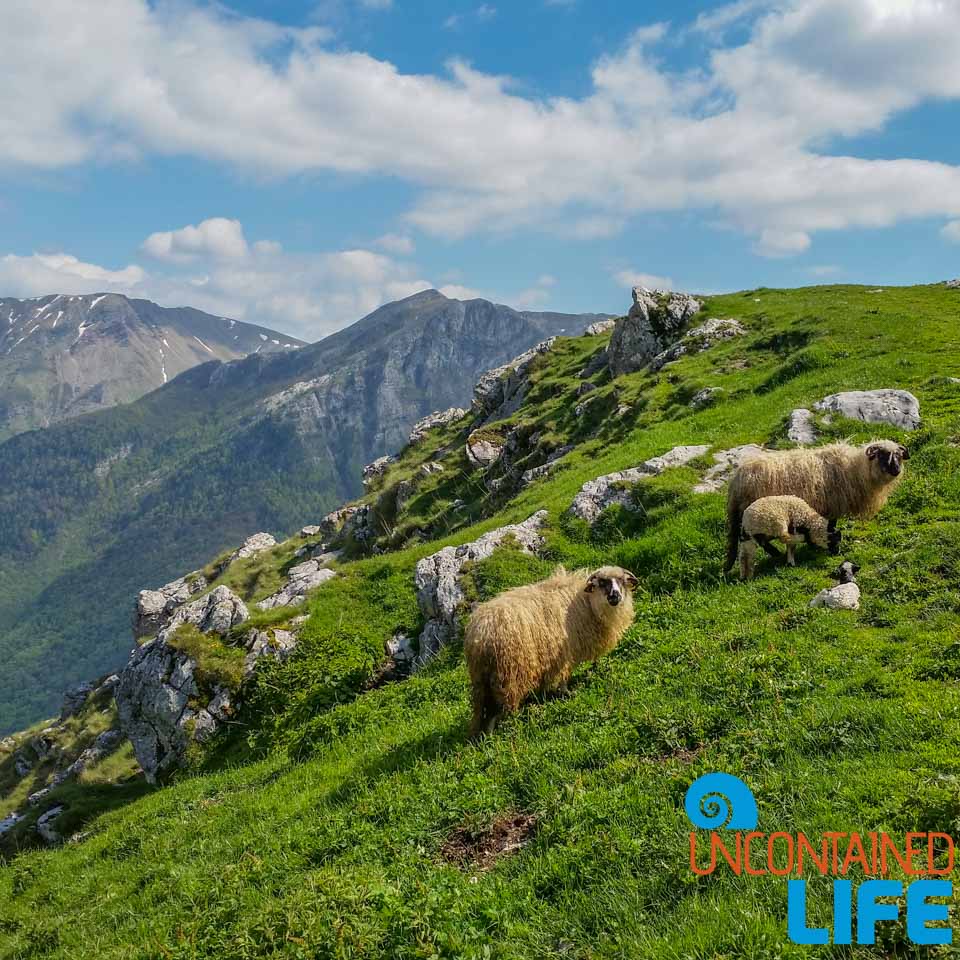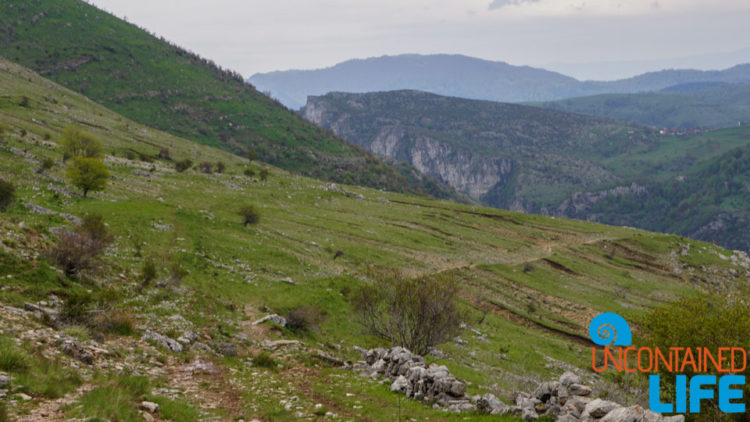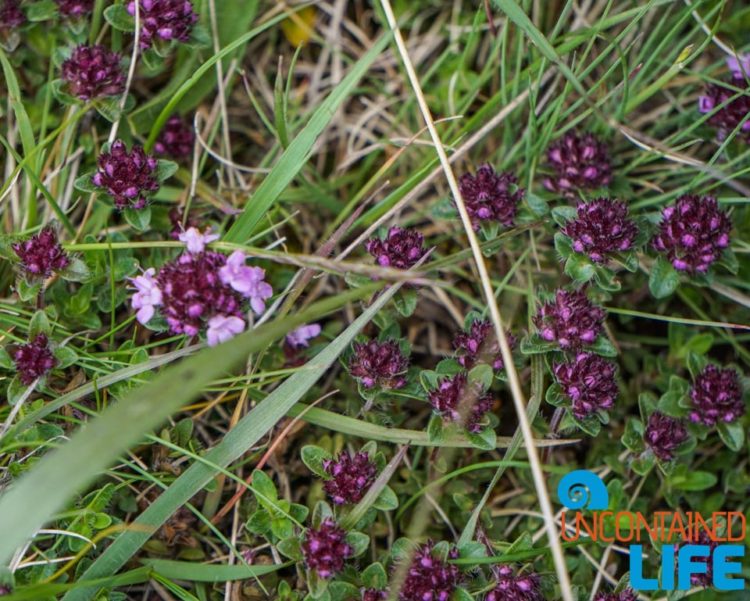 "We will come soon to the view of the Peruce Waterfall," Benjamin promised us. But first, we had to ford the stream…which, on the day we visited was flowing mightily.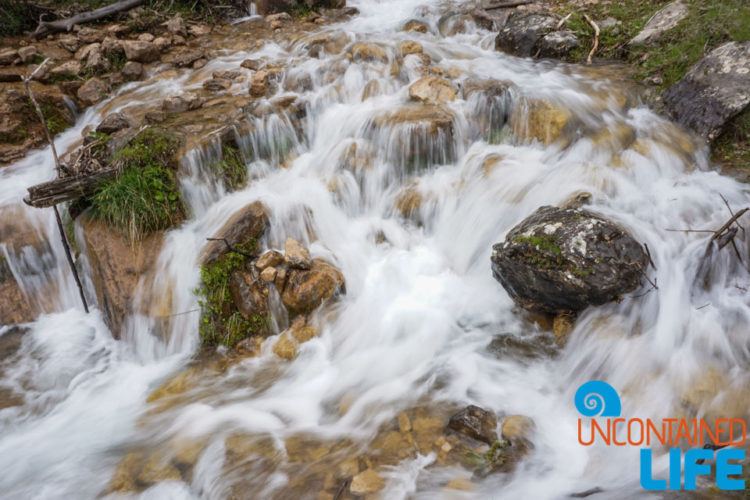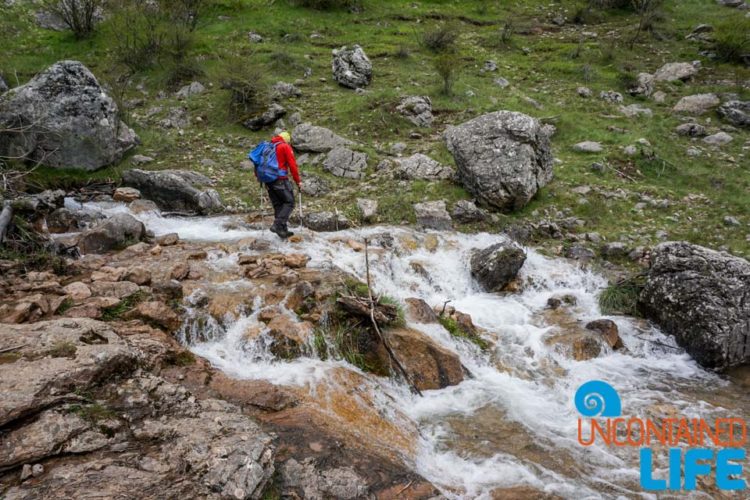 Clearly, Plan A–walking high and dry across on the rocks–wasn't going to happen. Justin will take any and every opportunity to go barefoot so he was one shoe ahead of everyone else when it was suggested to go with Plan B: shoes off! Feet, meet icy mountain water.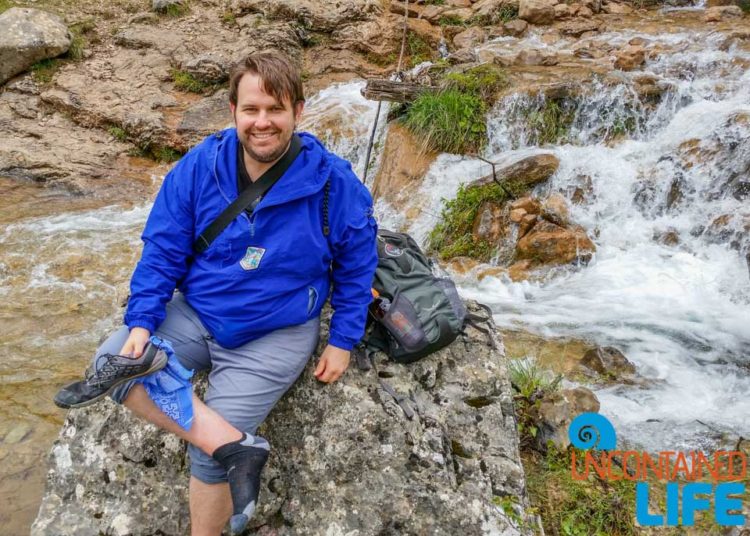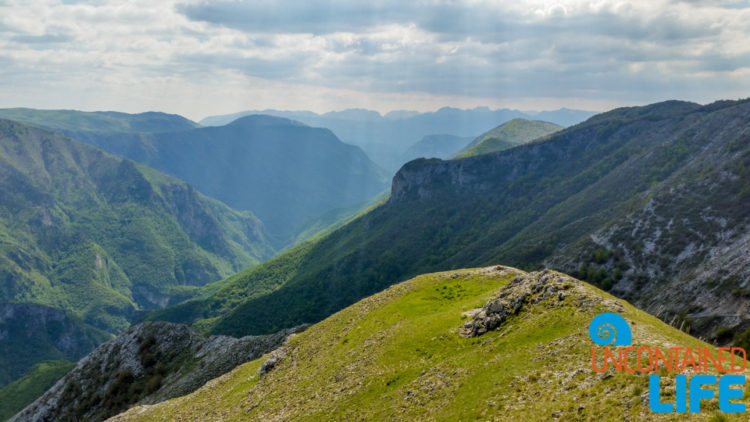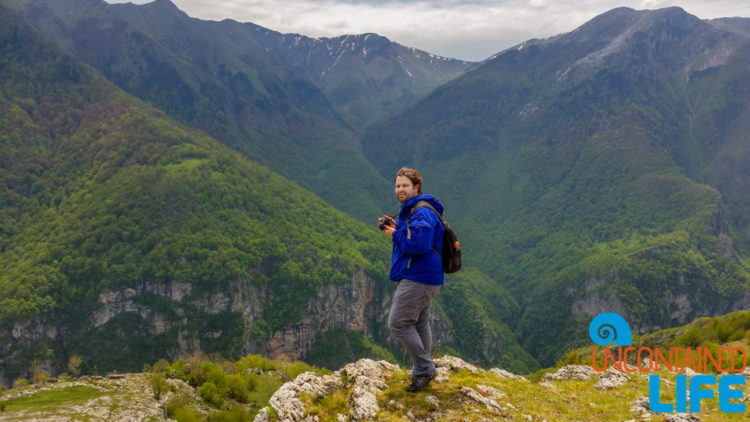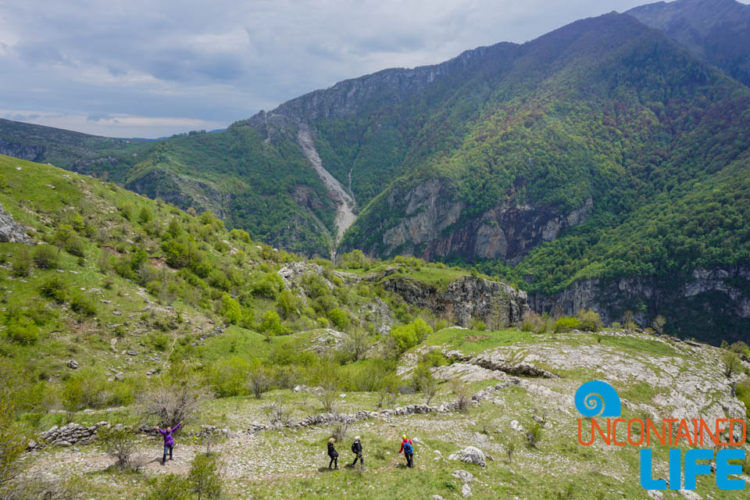 Our toes may have gotten numb, but the view of the waterfall didn't disappoint.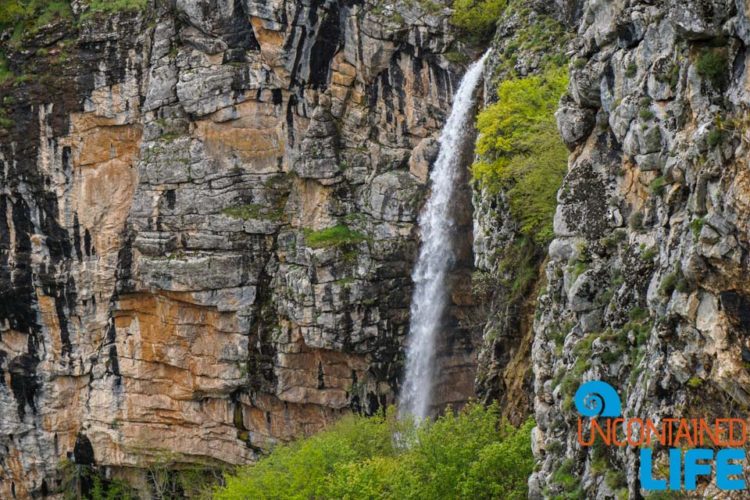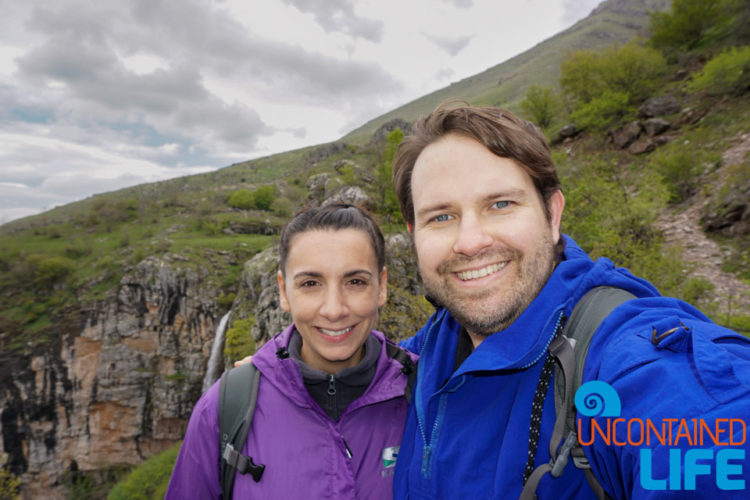 And neither did the lunch we enjoyed (carried and prepared by Benjamin) in a small grassy field, with epic outlooks down to the canyon below.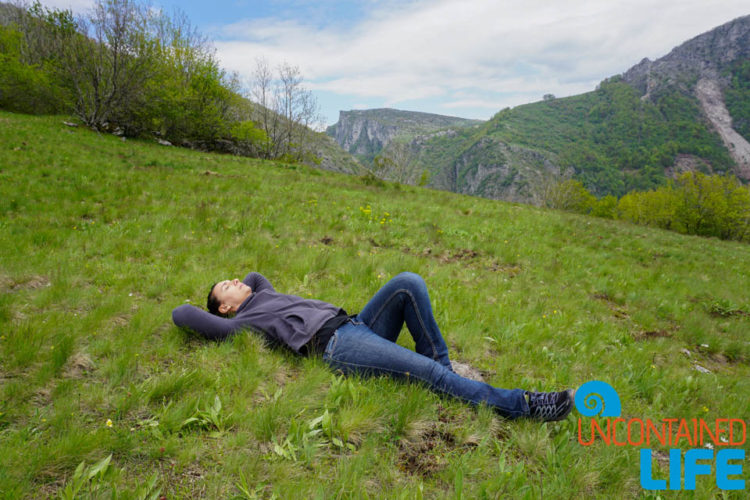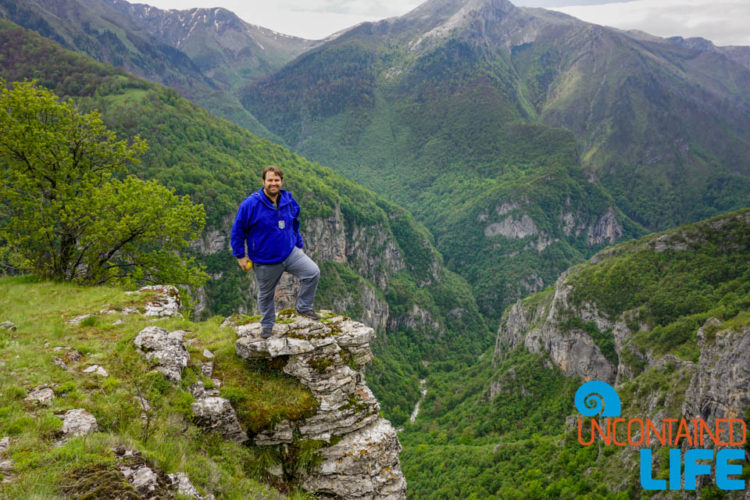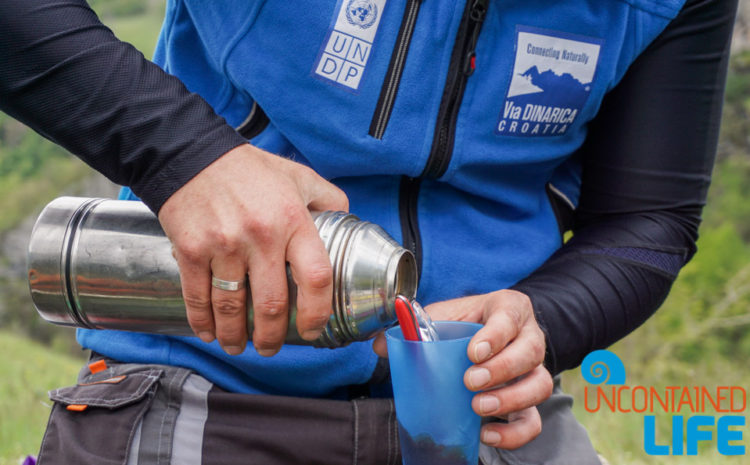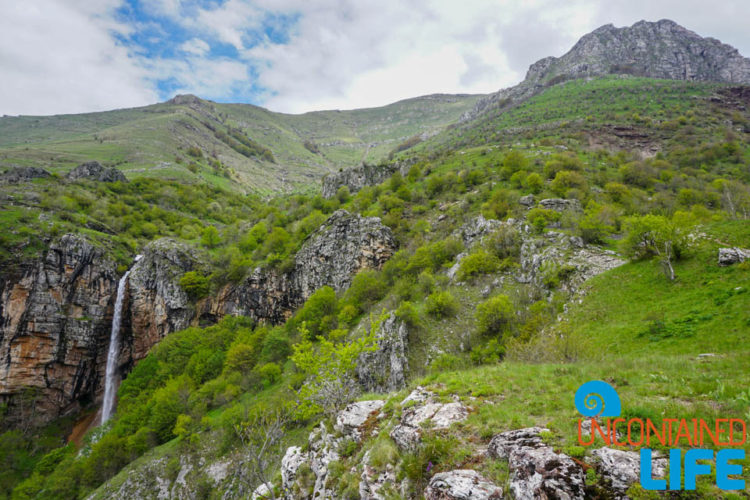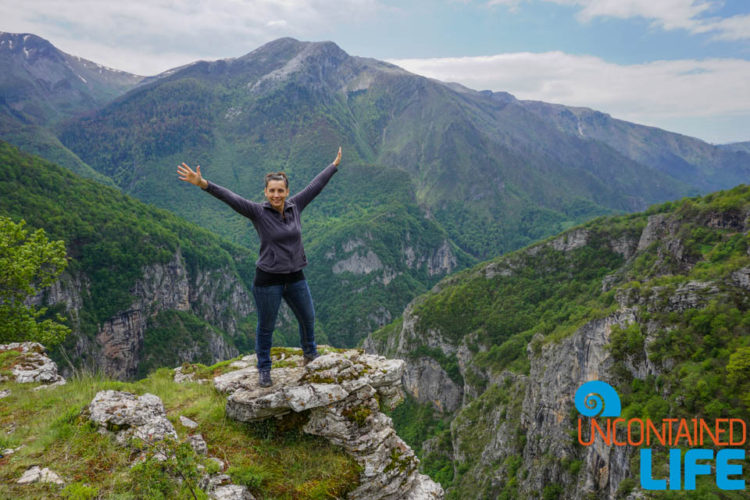 The Last of Its Kind
By the time we returned to visit Lukomir village, I think we all had a renewed respect for the hardiness of the villagers: the landscape of this area was astounding, but it's clearly not an easy sort of place to make a life–even during the warmer months.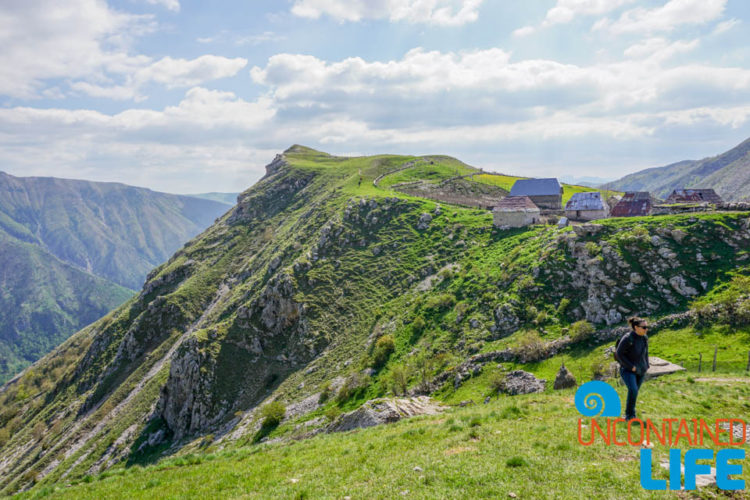 After a close encounter of the wooly kind, and a look at the houses from above, we walked down into the village itself.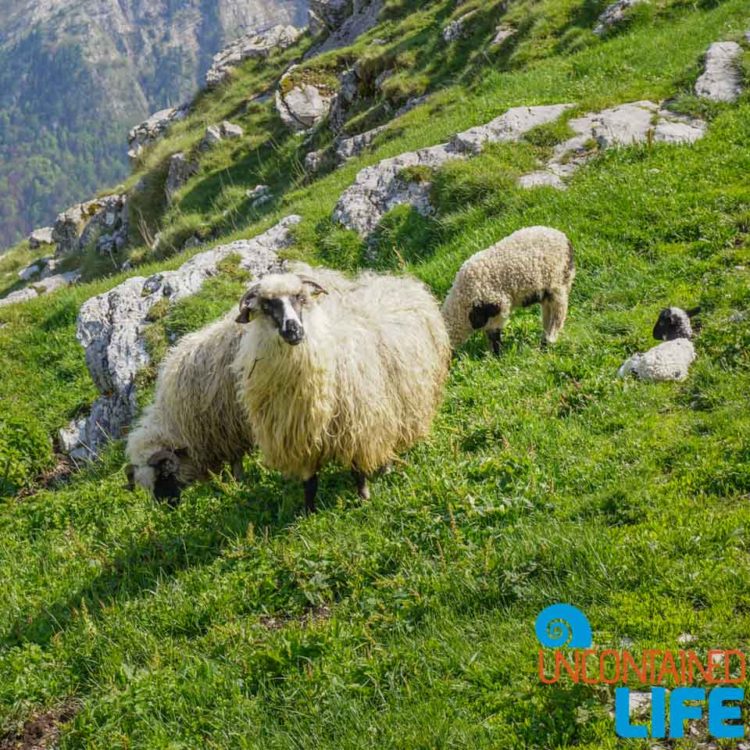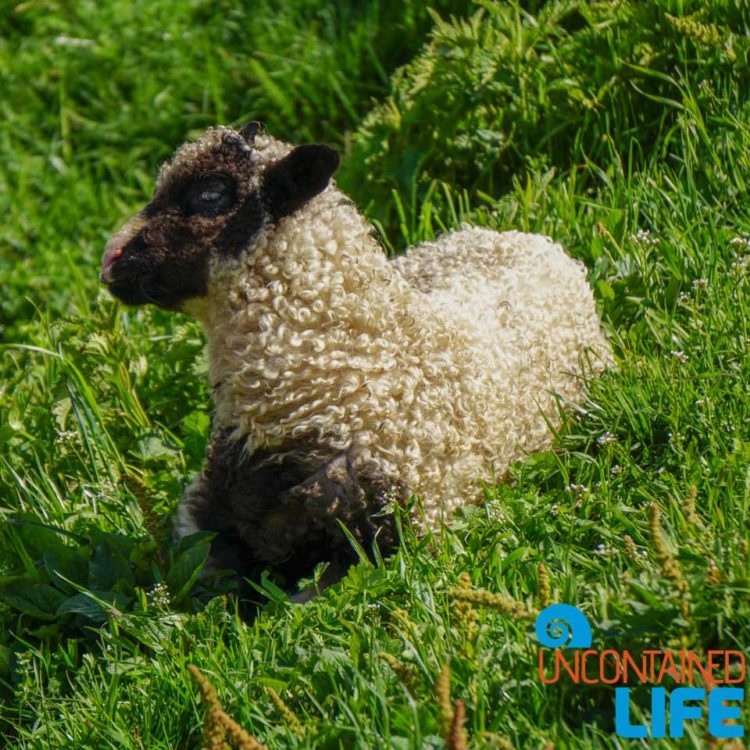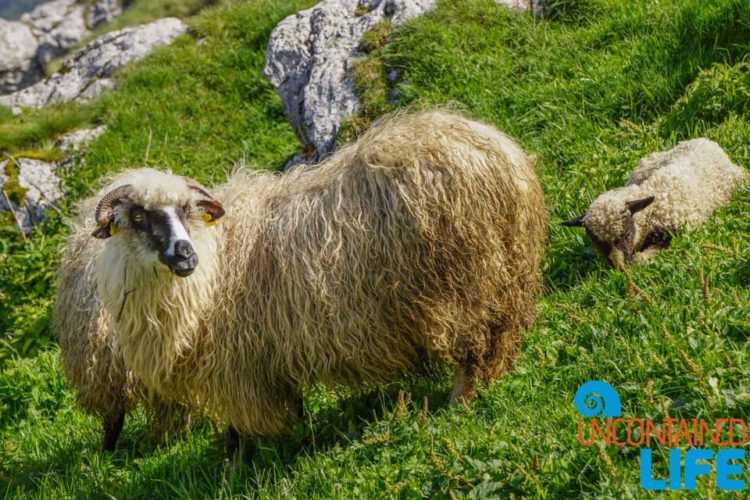 Lukomir, which sits above Rakitnica canyon, is comprised of a tiny collection of traditional stone and wood-shingle homes.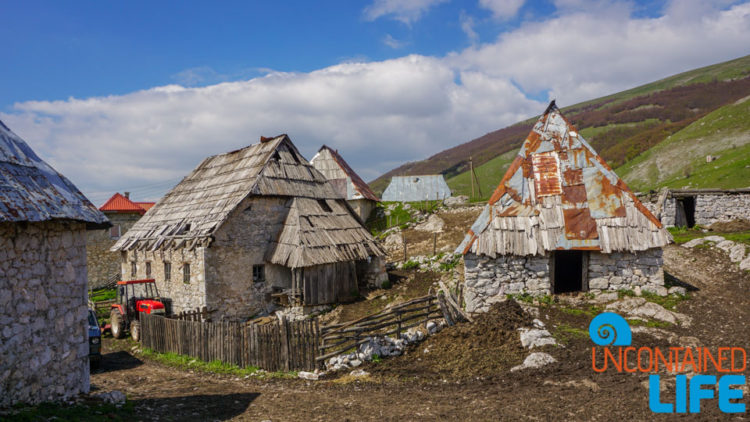 It's a place where the one road in and out of town is impassable during the winter months; a place where women still spin sheep's wool into into yarn by hand; a place where herding and medicinal plant gathering are still a vital part of daily life.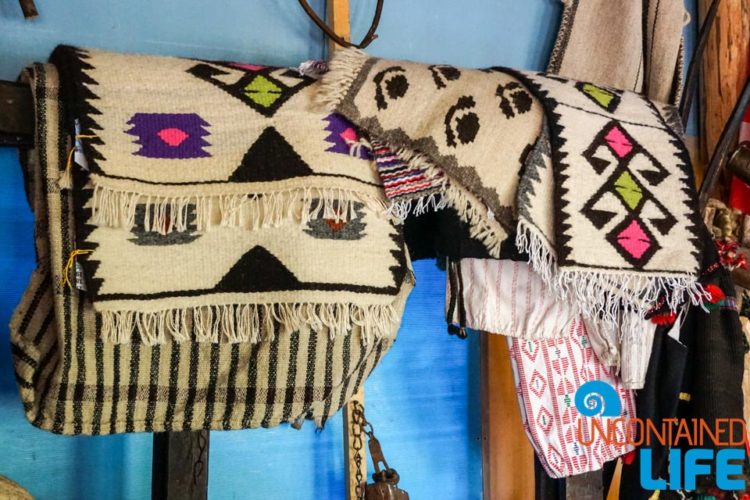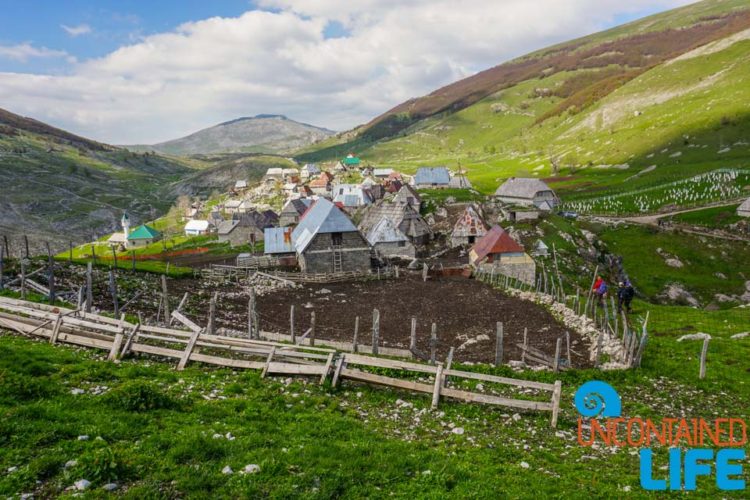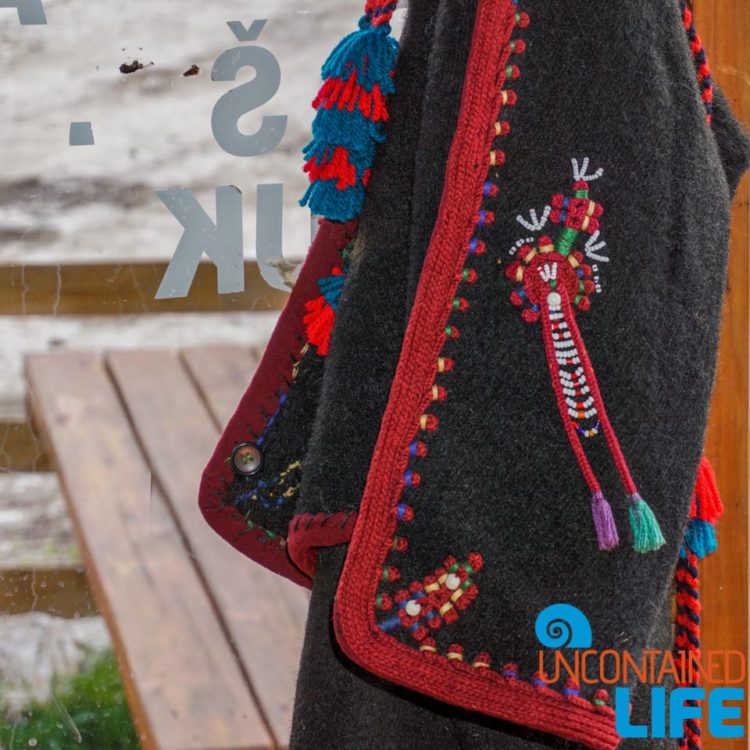 True, some modern touches have crept into the village over the years: the metal emergency supply barrels left behind by the UN and Red Cross following the Bosnian War (1992-1995) were repurposed by the villagers to serve as protective coverings for their homes; in 2002 electricity came to the village and, in more recent years, a handful of satellite dishes.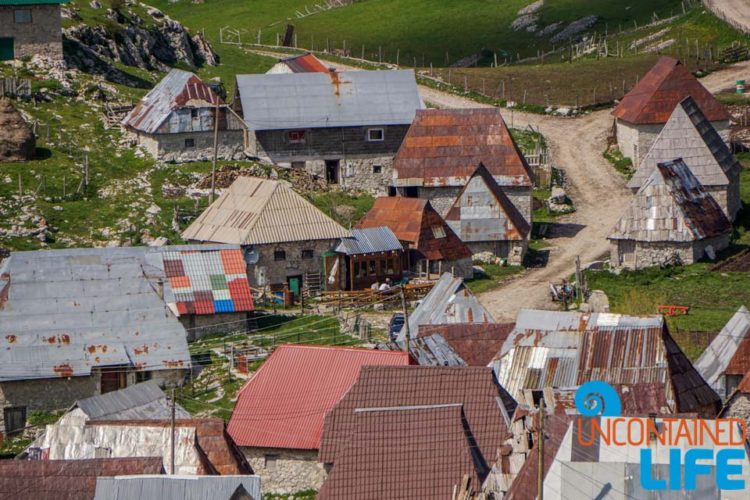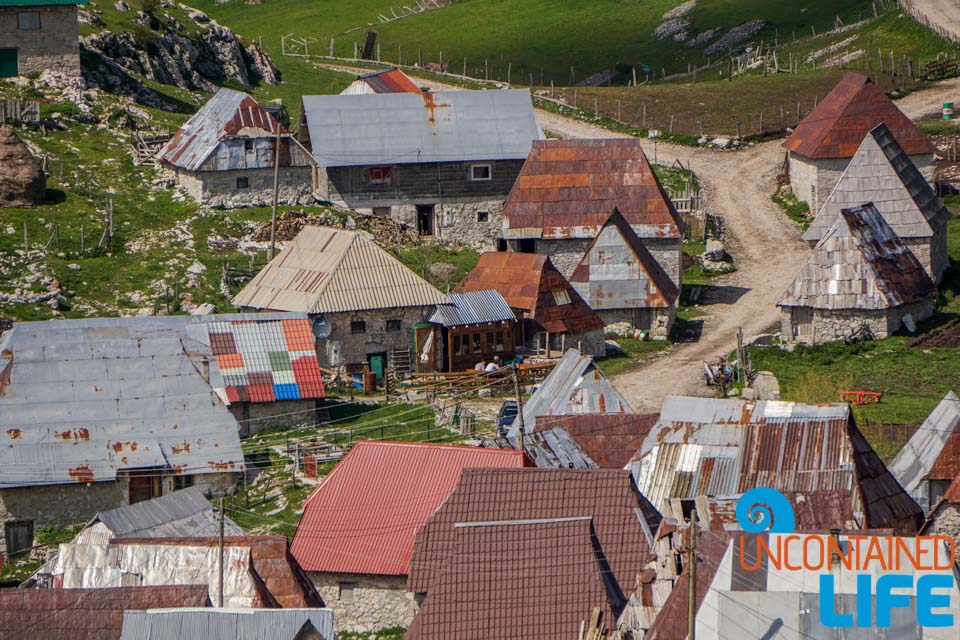 Still, given that Lukomir was, essentially, the only traditional village to survive the Bosnian War intact, it remains a one-of-a-kind representative of a way of life that's been all but swept away.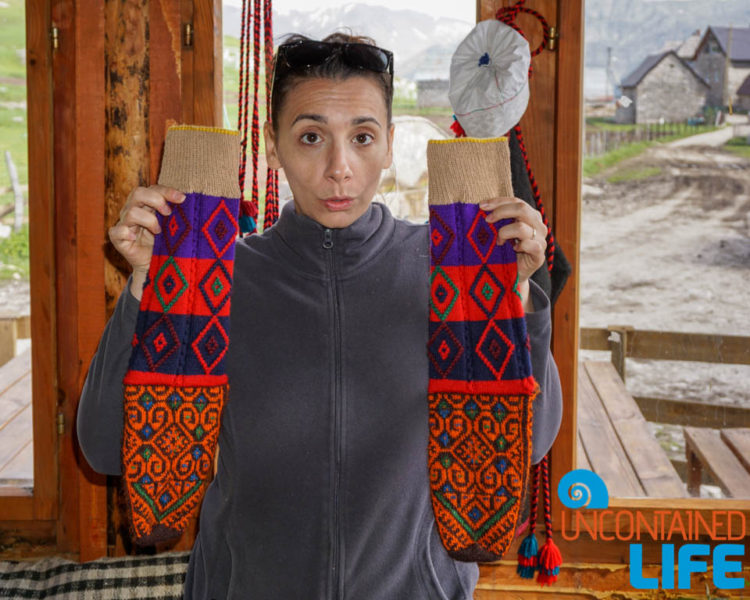 One woman was kind enough to show us her spindle, while her husband cracked jokes about the potatoes he was peeling: "You don't have spindles like that in America? Do you have potatoes like this?"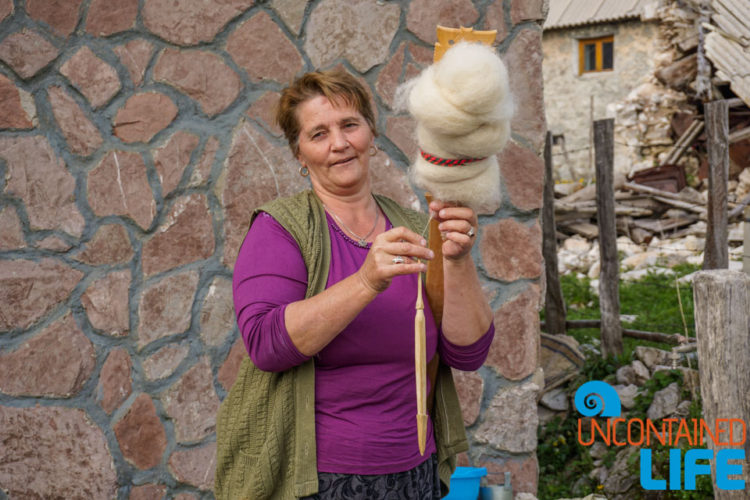 A Colorful Past, An Evolving Future
The colorful, traditional knitted, and other hand-made products produced by the villagers are popular with visitors–indeed, many women in the community depend on the income tourists' purchases bring.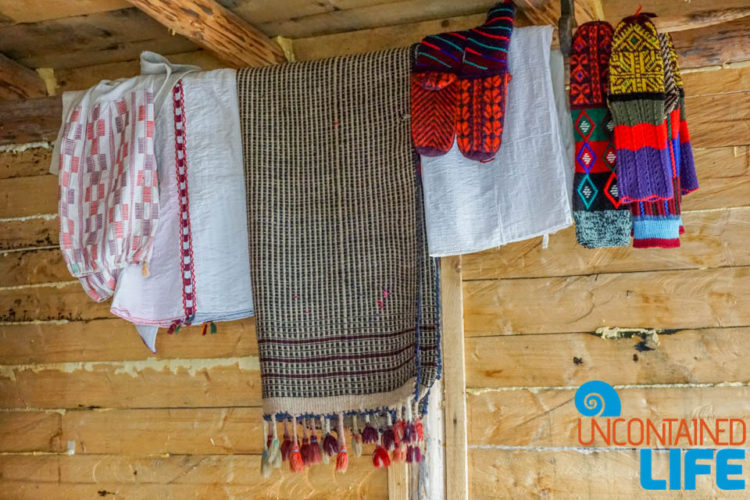 Some may mourn the fact that tourism now plays such a key role in the community's life, but in truth, while the government has made some efforts to help preserve Lukomir, the support that's been offered isn't enough. Without the inclusive tourism of the kind offered by Green Visions, it would be increasingly unlikely that the older villagers could afford to return to Lukomir each year–or tempt their younger counterparts to do likewise.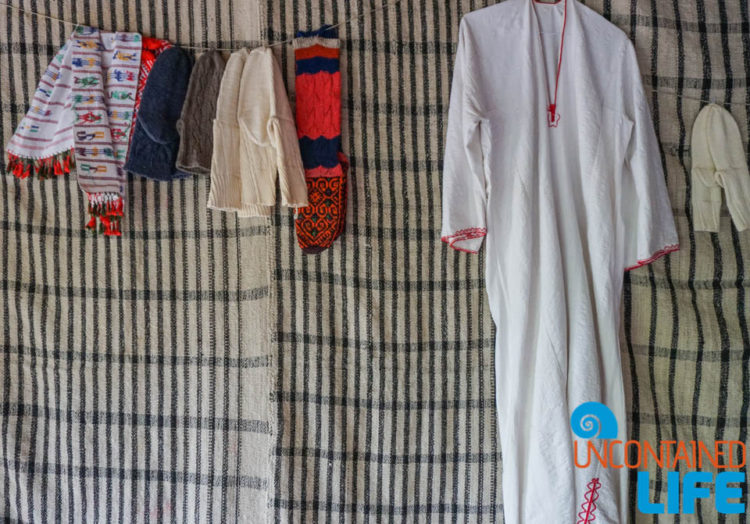 Our last stop before leaving the village was for a look at the famous Stećak: monumental medieval tombstones which stand next to the village's more modern cemetary…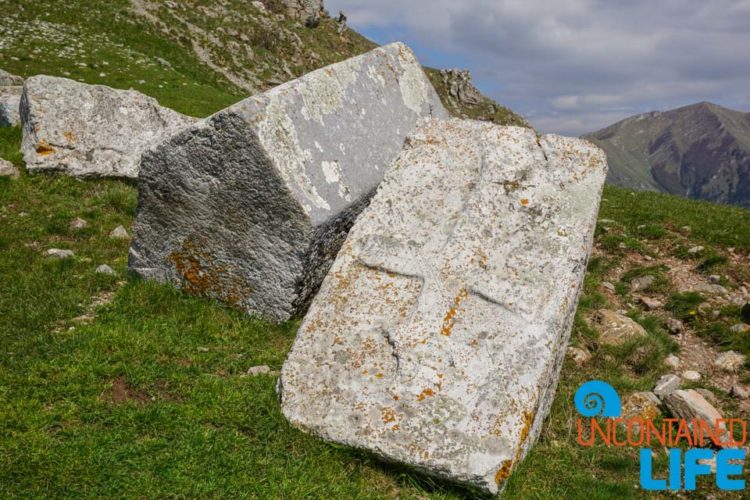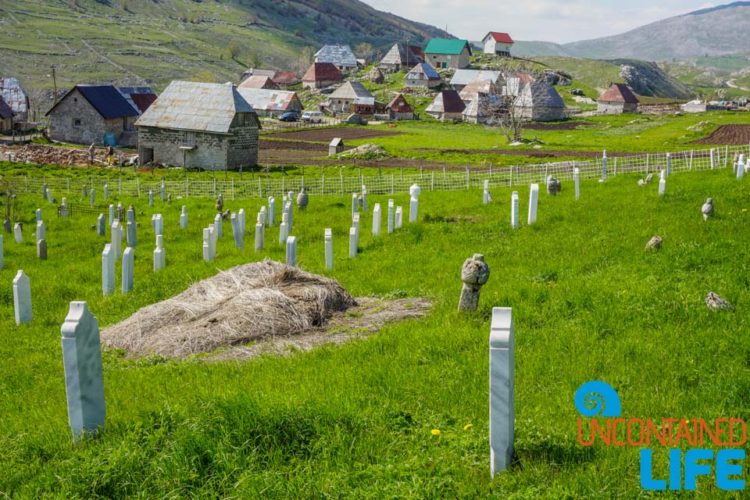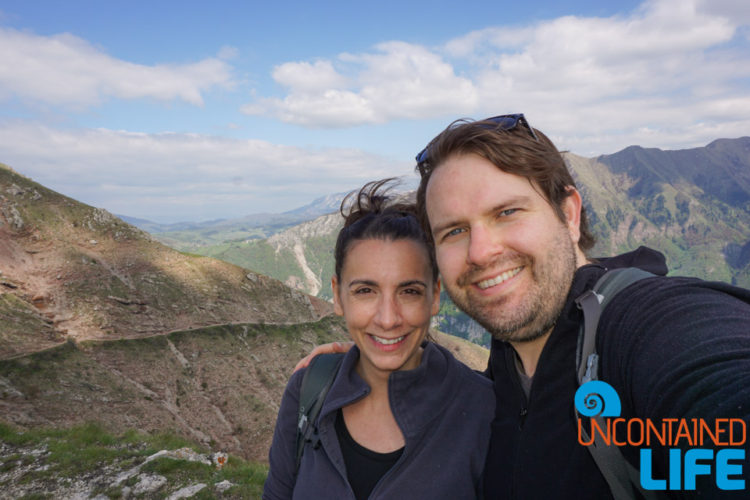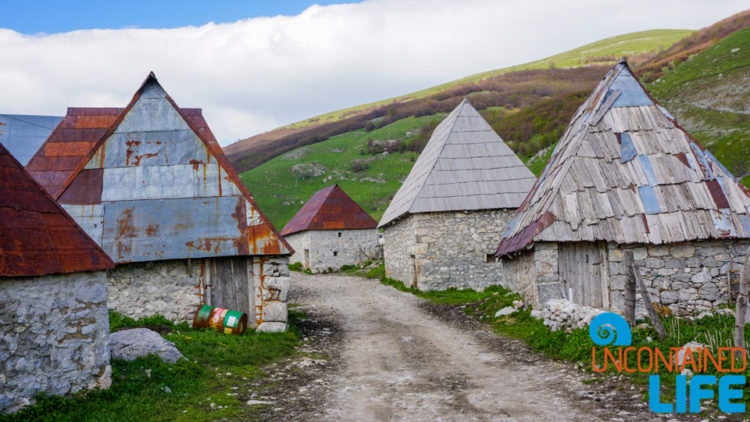 …almost.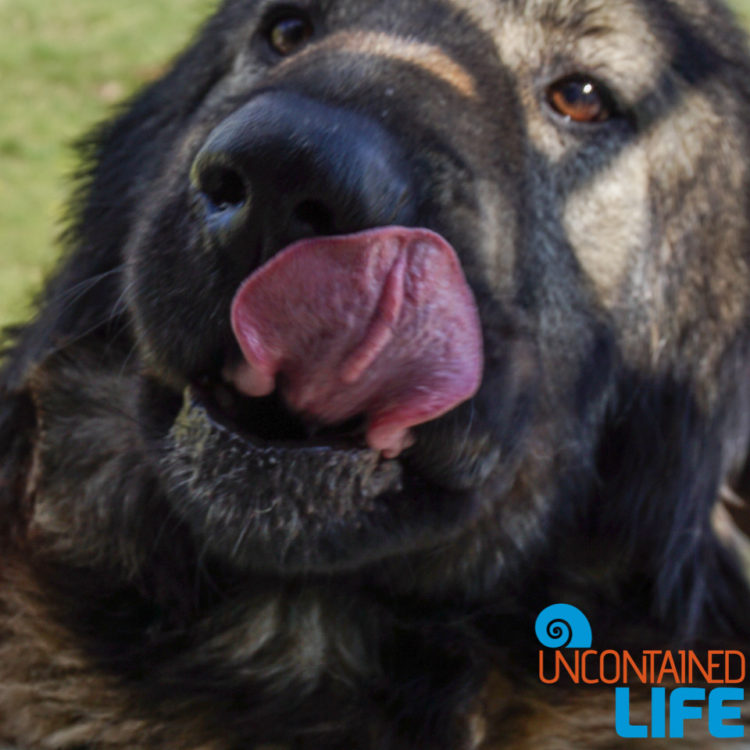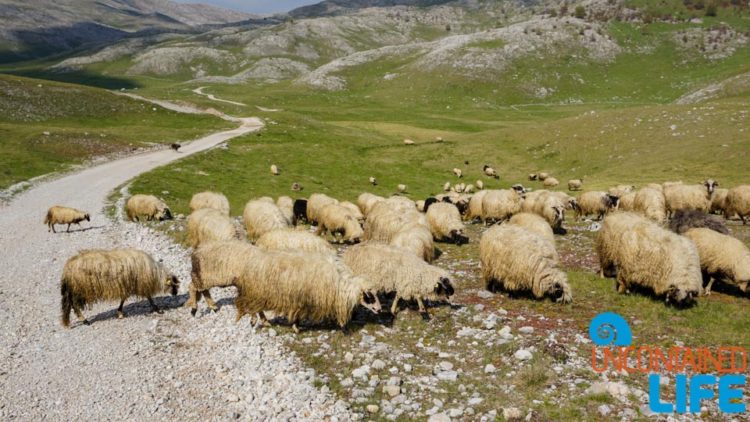 We did make one other stop: to pet one of the adorable bear-like dogs guarding one of the flocks along the road out of town. (Benjamin assured us the fluffy beasty wouldn't be nearly so cuddly if we were sheep thieves.)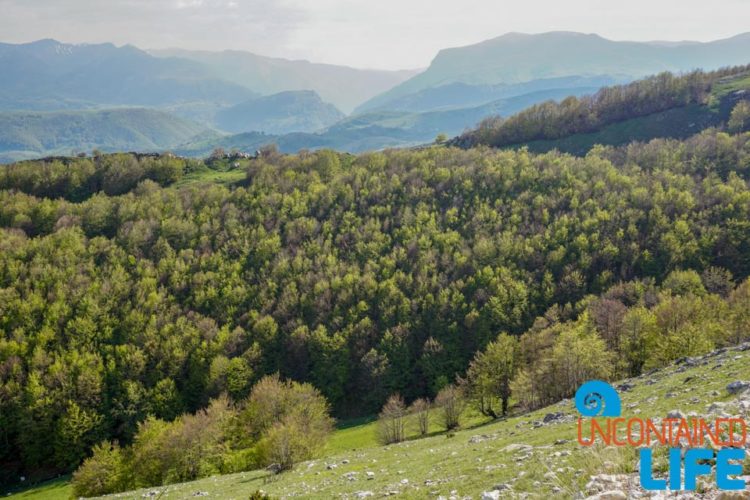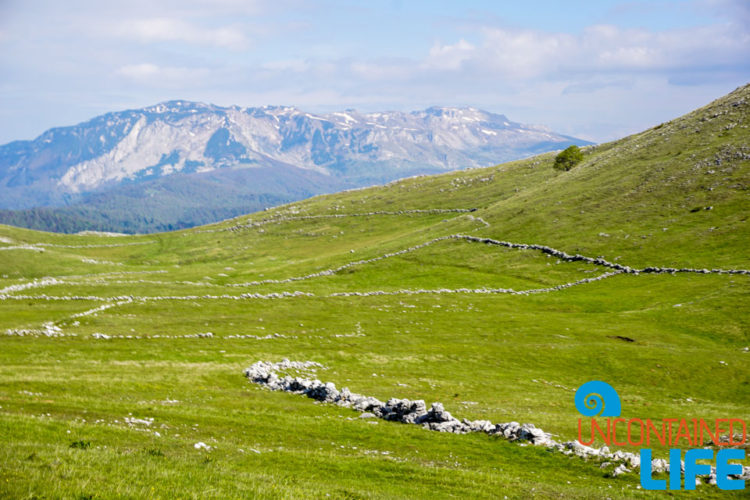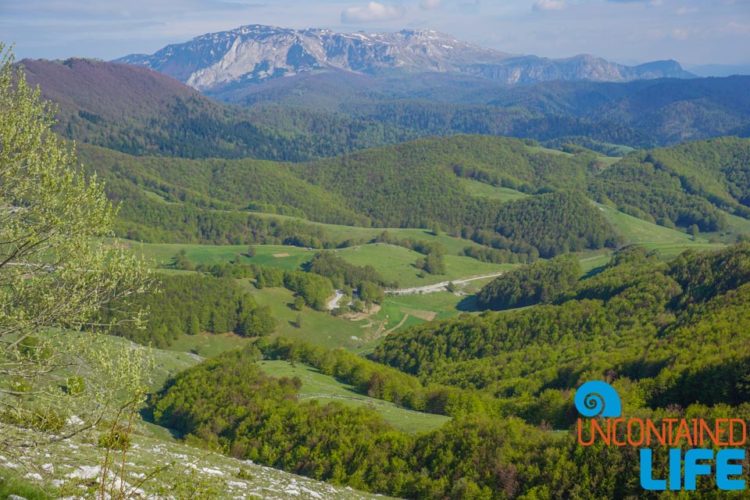 So. Should you visit Lukomir? Definitely! Just be sure to travel mindfully: whether you go alone, or on a tour (we highly recommend booking a trip with Green Visions!), leave a light footprint and make sure your tourist dollars are going to help the locals.
And just in case  you want to see a little bit more, we put this video together.
---
Visitor Info:
Money: Bosnia uses the convertible mark (I.E. BAM). 1 USD = approx. 1.73 BAM. Most places in cities will accept Visa and Mastercard credit cards, but in Lukomir, purchases should be made in cash.
Transportation: There is no public transport to Lukomir, so visitors will either need to rent a car and drive, or join a tour. Green Visions' Lukomir tour is available May-Oct. and costs 45 euros. The tour includes round-trip transport the the village, the canyon rim hike with an experienced guide, lunch, and coffee or tea and cookies.
Accommodation: Looking for accommodation in Bosnia? Check your travel dates at Agoda.com and you could save up to 50% off of your stay.
---
* Our thanks to Green Visions Bosnia for their support during our time in Sarajevo. As always, all opinions are 100% our own.
Are you on Pinterest? Pin this post!