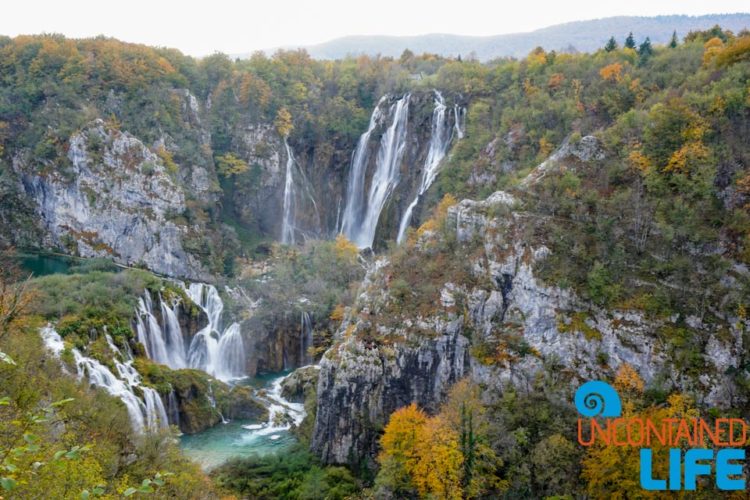 Even before Justin and I became full-time travelers, road-tripping was a staple in our lives. There's something truly unique about setting out for a destination, knowing you have full freedom to stop along the way, as the notion strikes you. And that's precisely how we decided to visit Plitvice Lakes National Park in Croatia.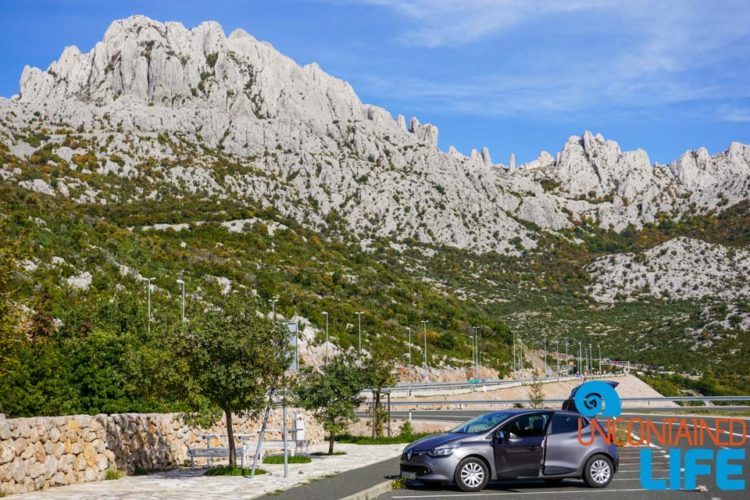 We were driving north en route to Zagreb, and, from there to Pula, Croatia, to catch a flight to London. Plitvice Lakes National Park wasn't directly along our route, but it was close enough that not stopping seemed silly. After all, Plitvice Lakes National Park is a UNESCO World Heritage Site, and we've yet to regret visiting one of those! (Plus, all due respect to TLC…when the opportunity presents itself, I will go chasing waterfalls.)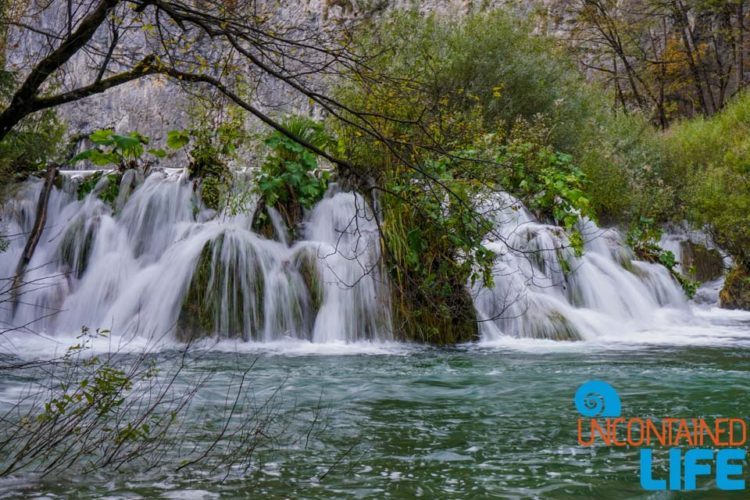 Goodbye to the Highways, Hello to the Byways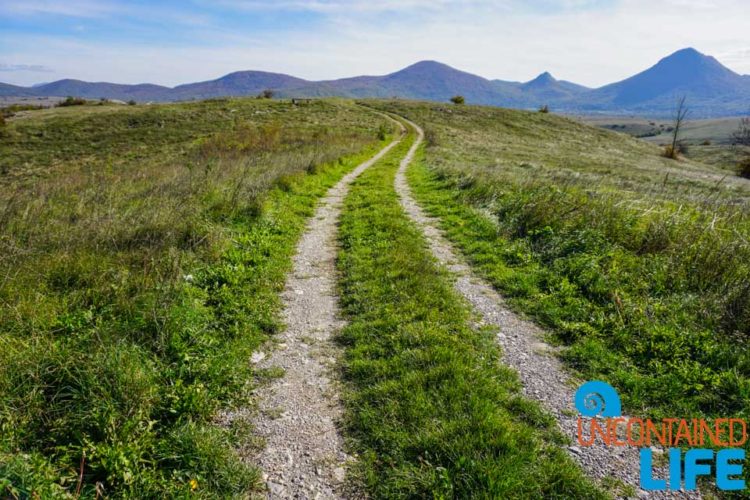 Unlike some places in the Balkans, Croatia has a well-developed highway system. That said, the views from the highway are, often, unremarkable. So it was a pleasant surprise, coming off of the A1 onto a narrow road, finding ourselves plunged back into some lovely countryside.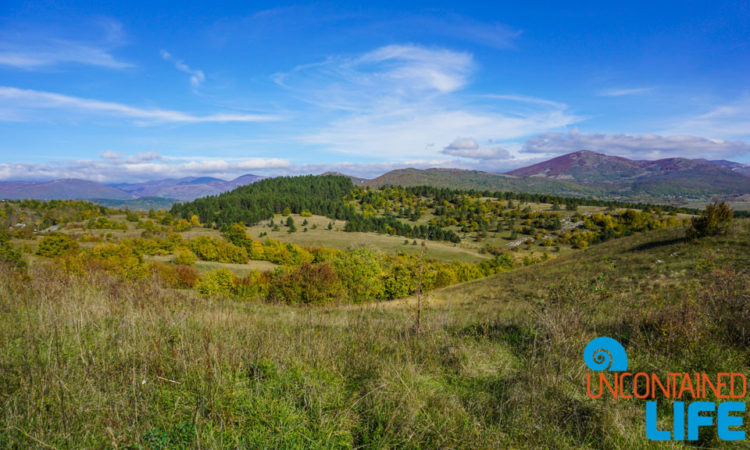 Croatia may be best-known for its long coastline, but, clearly, its inland areas have their own charms. By the time we got close to Plitvice Lakes National Park, the landscape had transformed completely. Any trace of stereotypical Mediterranean terrain had vanished in favor of mountainous landscape bathed in the bright colors of autumn (a bit like what we would later encounter in Slovenia).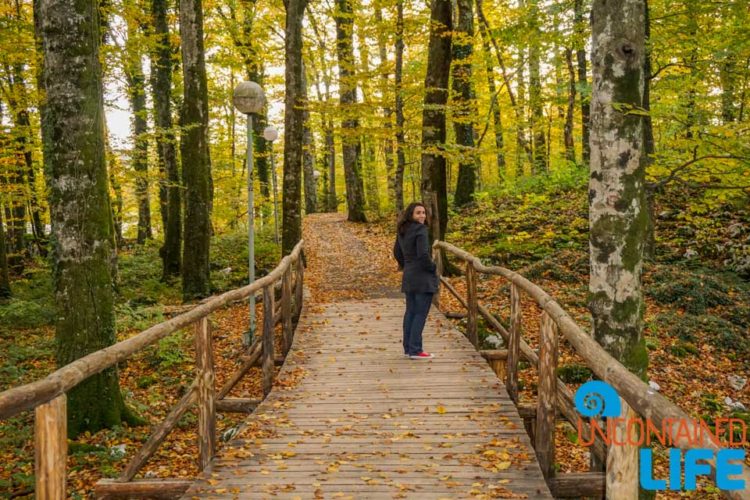 At the western border of the park area, you can see Mala Kapela mountain, and, at the eastern border, Plješevica mountain, which is also the border between Croatia and Bosnia and Herzegovina.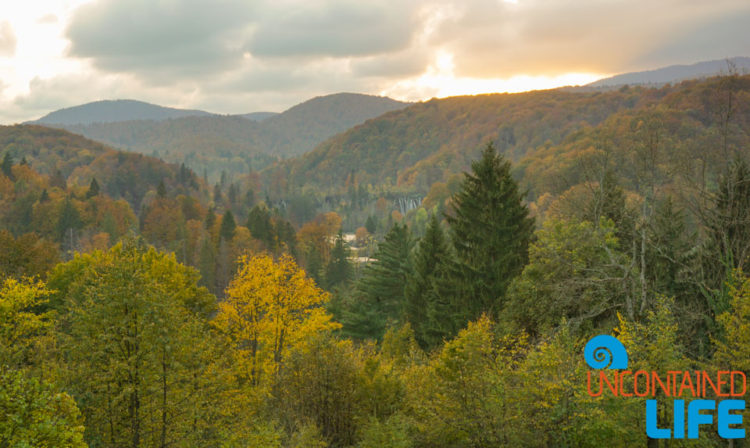 Plitvice Lakes: Exploring the Lower Lakes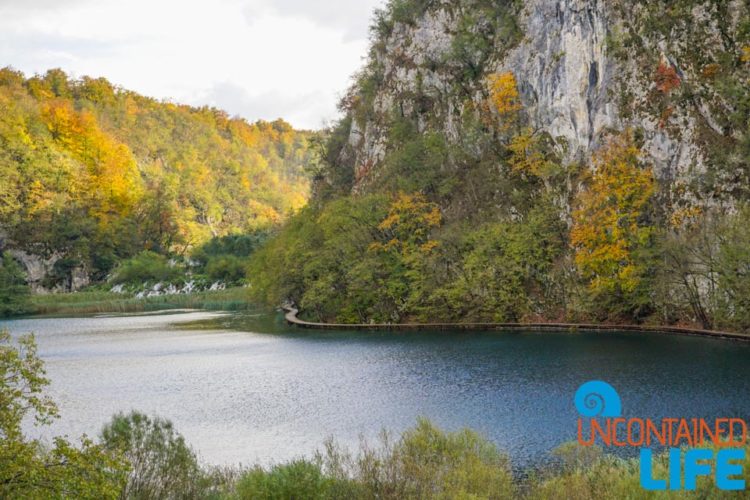 When you visit Plitvice Lakes National Park, you are visiting the largest national park in Croatia, and it can take all day to explore its 16 interconnected lakes fully. We didn't, unfortunately, have more than a few hours. So, we decided to begin our exploration of the lakes with the lower lakes area (Entrance 1), home to the park's largest waterfall and Mračna Cave, where the bones of prehistoric bears have been found.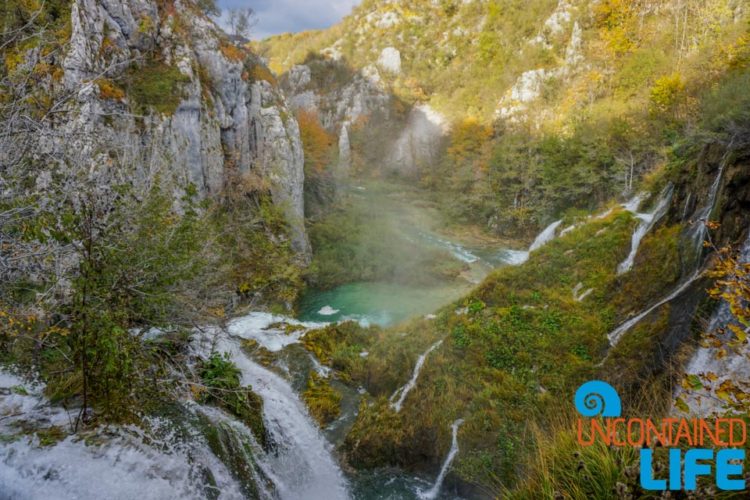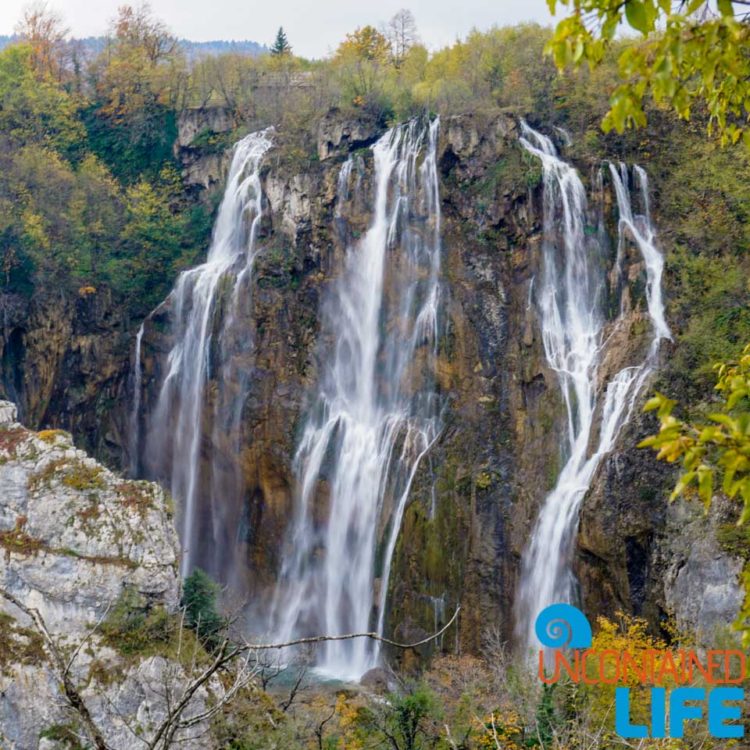 The crystal clear Plitvice Lakes are famous for their fantastic color–which changes with the light, and with variations in the water's mineral content. But hearing about the lakes and seeing them…whole different ballgame. Our first glimpse of the lakes from above: utterly breathtaking.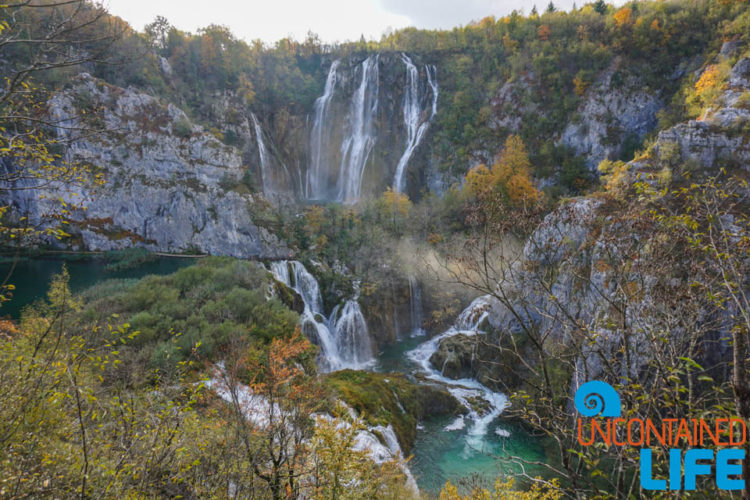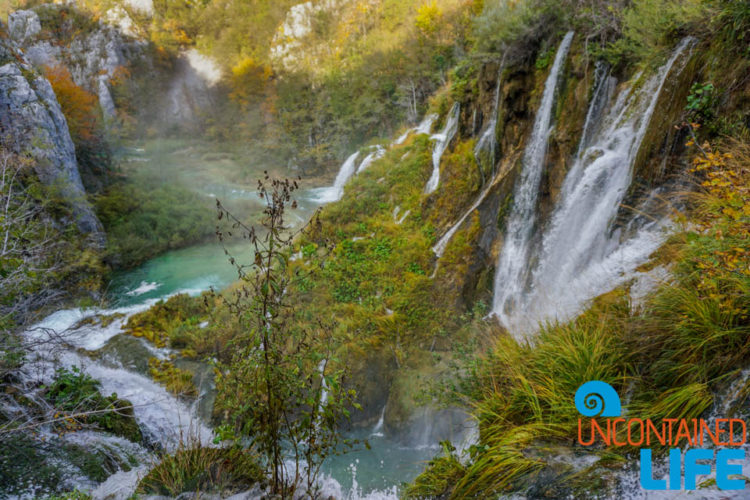 We made our way down, slowly, to the lake level–just taking our time and enjoying the views.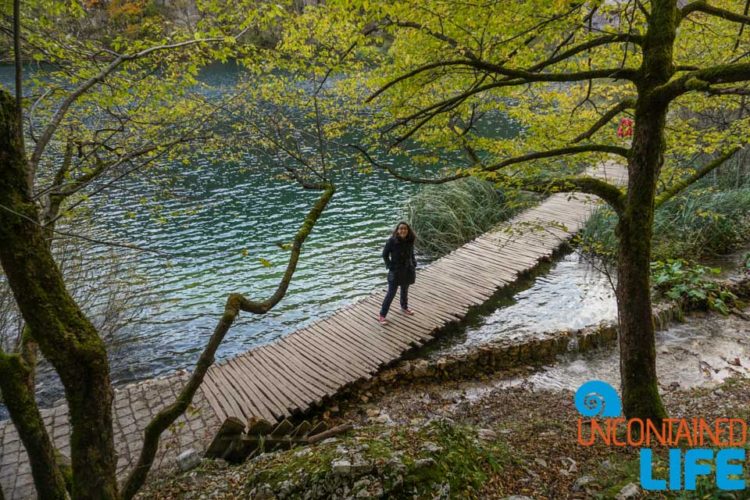 Walking along the wooden boardwalks that circumvent and traverse the lakes is a truly unique experience.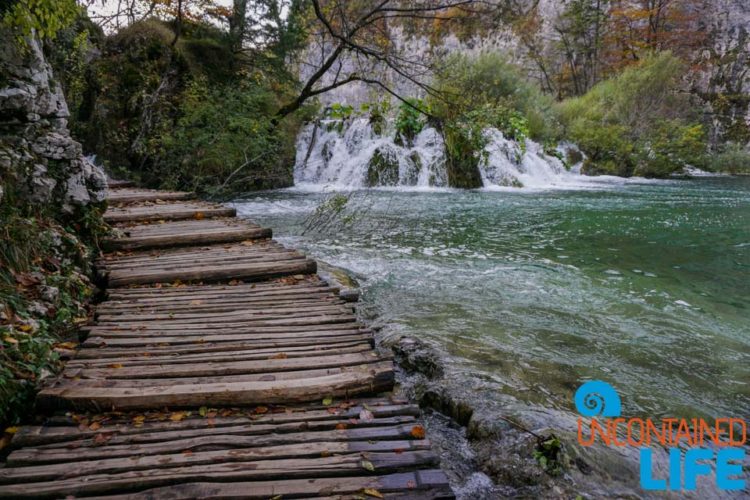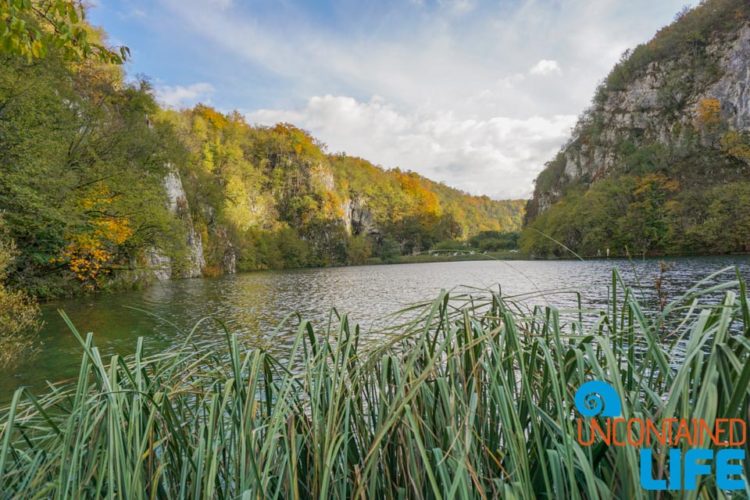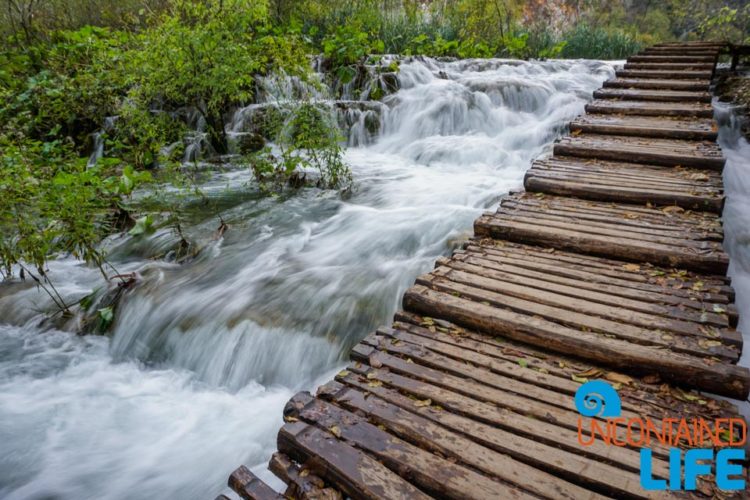 At times, we walked high and dry above the water…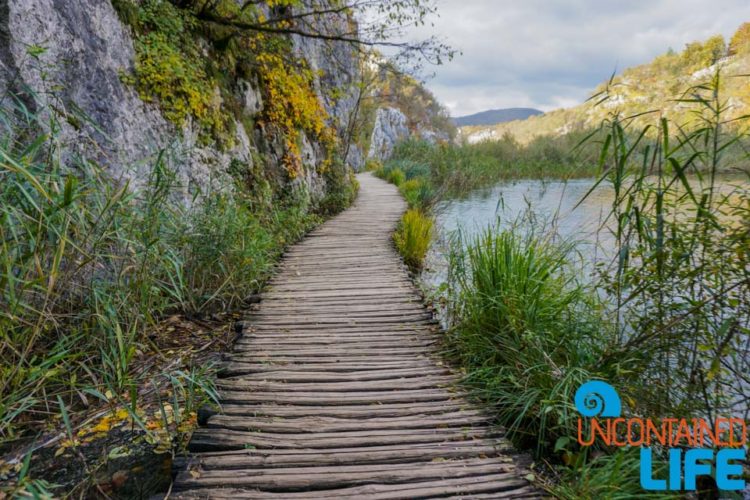 …and, at other moments, we were avoiding floods (to be clear, I avoided the floods, Justin, who was wearing his favorite all-purpose sandals, plunged his feet right into the water!)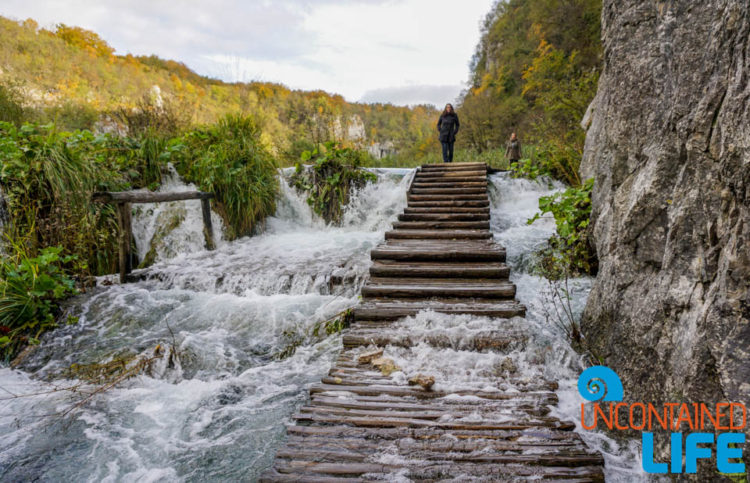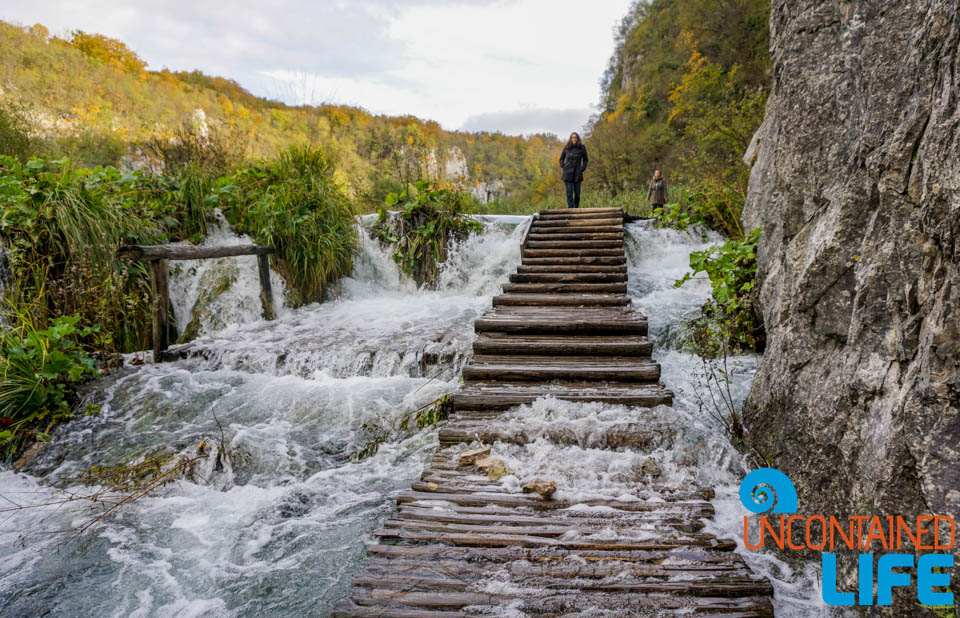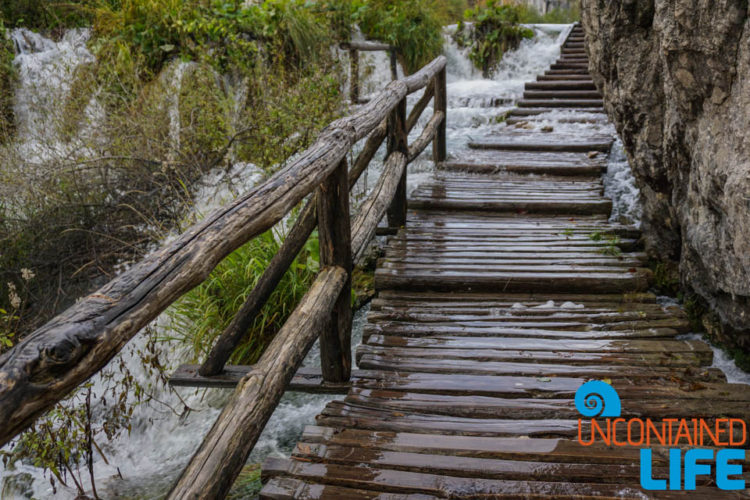 We beat a sudden influx of fellow visitors over to the cave…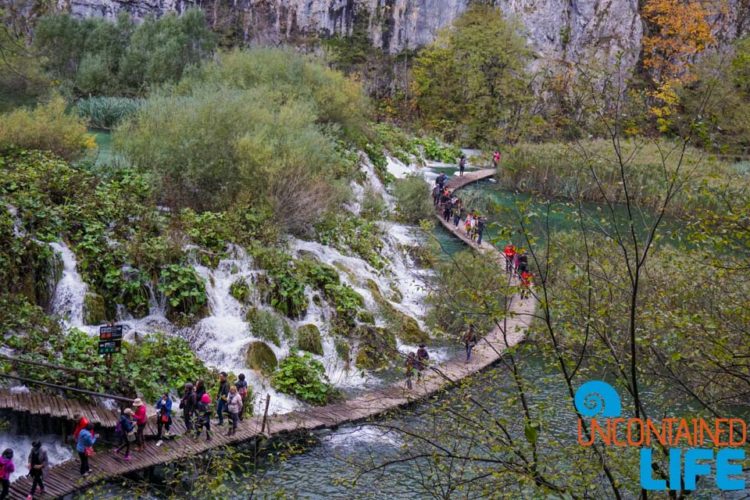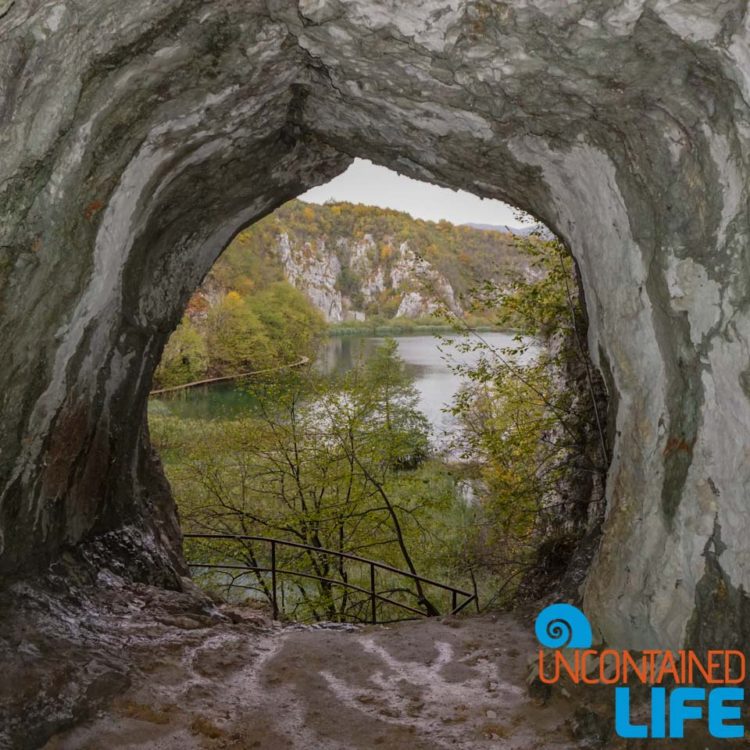 …and then, spent some time admiring the small cascades.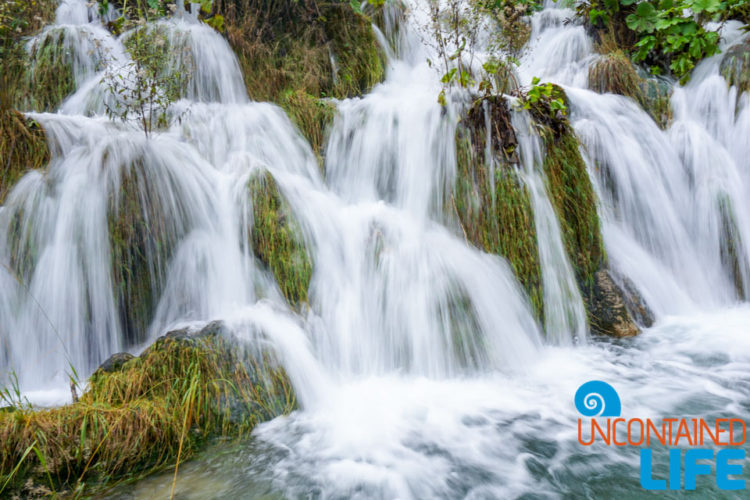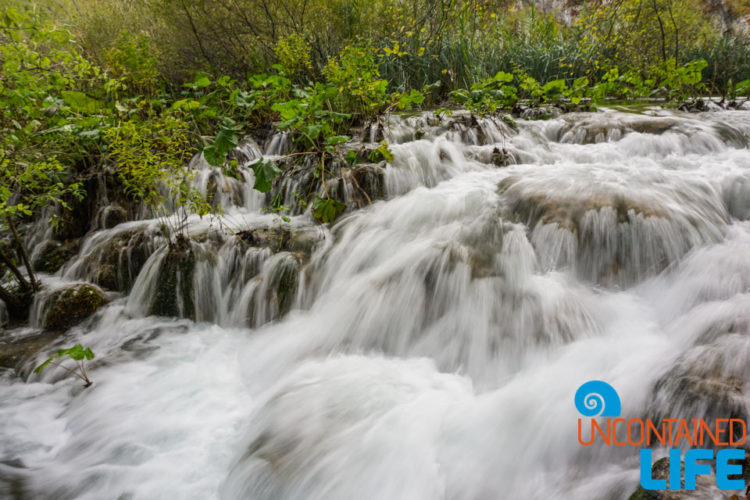 Plitvice Lakes: Sunset at the Upper Lakes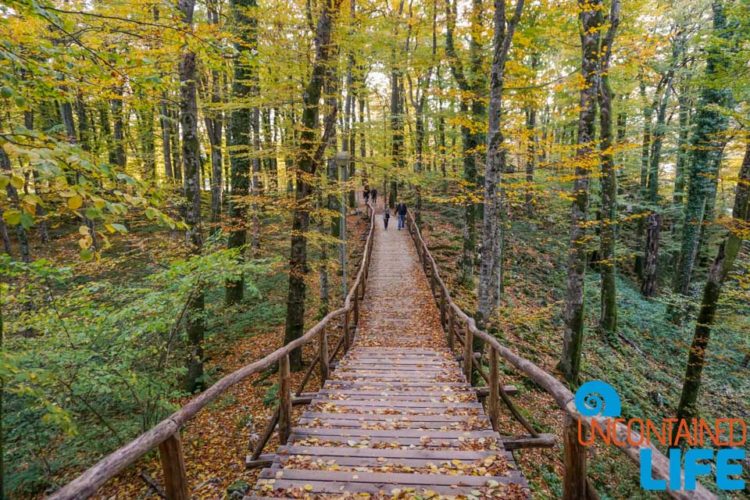 Our time was running short, but we didn't want to leave the park without having taken a short look at the Upper Lakes, so we hustled up the path.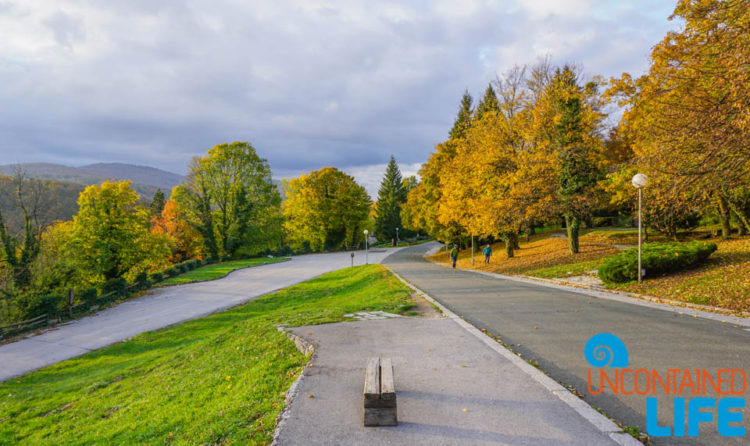 The boats that take visitors across the water to the hiking paths were dropping off the last of their riders as we arrived.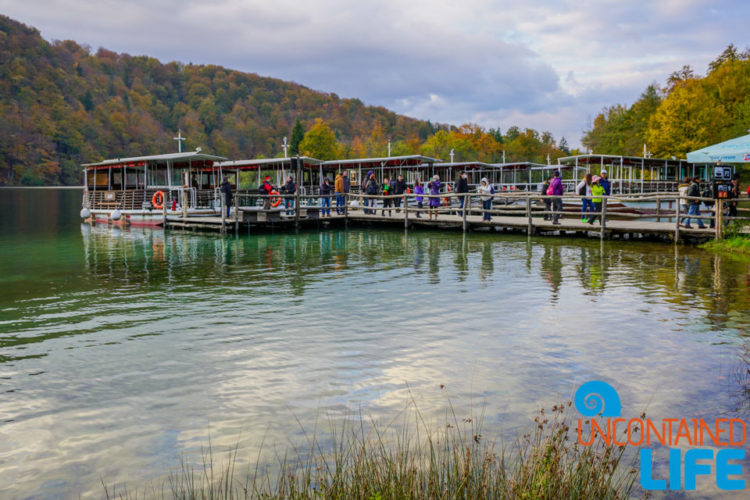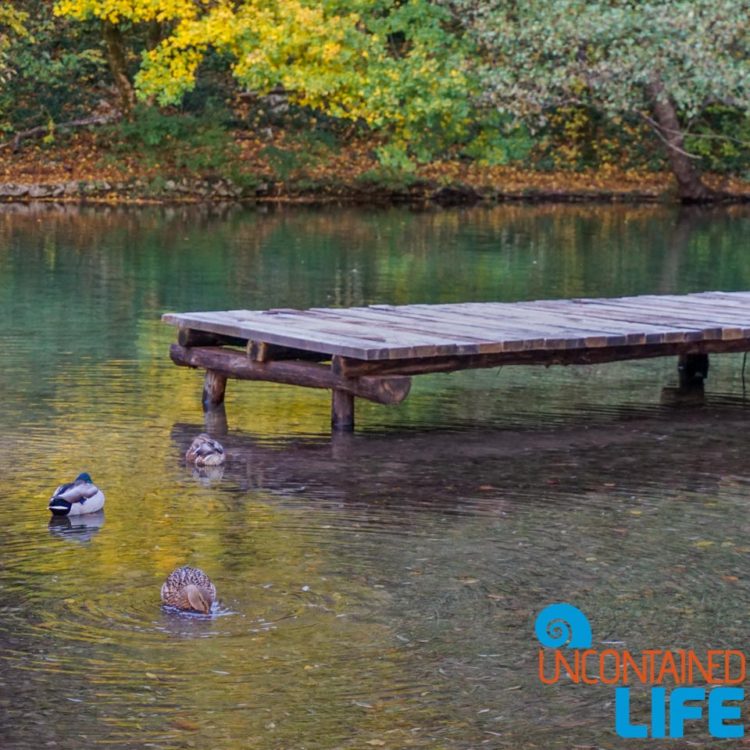 But we still got to see a pretty spectacular sunset.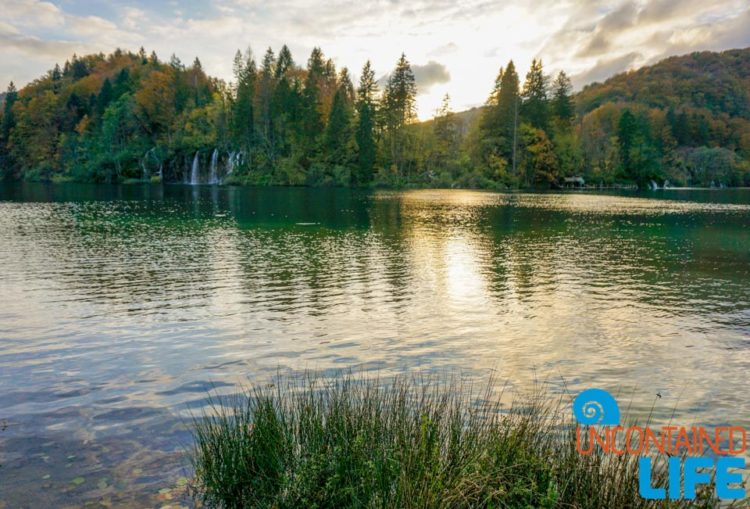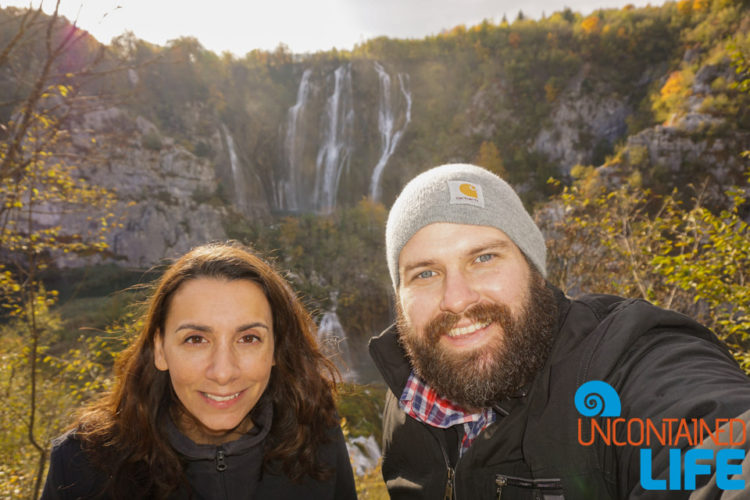 So what do you guys think: Do we need to come back to visit Plitvice Lakes National Park when we have more time to explore? Should Justin stop trimming his beard and go full mountain man? Sound off in the comments section!
---
Visitor Information for Plitvice Lakes National Park
Getting There: The lakes can easily be reached by direct bus lines from Zagreb, Karlovac, Zadar or Split, but if you've got a rental car, that will give you the most flexibility (you can get a car for a very reasonable rate–especially during off season, when it's a steal–in any of Croatia's coastal cities.) Driving on highways in Croatia does mean you will be liable for tolls (cash payment or credit card).
Getting Around: There are free shuttles between the Upper and Lower lake areas, but it's also easily walkable. There is also a sightseeing train, and boat which can take you to various points in the park. For sightseeing route ideas, head over here. 
Ticket Prices: One day adult ticket prices vary between 55 kuna (approx. $8.30 USD) and 180 kuna (approx. $27.20 USD) depending on what time of year you visit. Reduced tickets are available for children and students. Head over here for full ticket details.
Need a place to stay near the national park?
Check out Plitvice Ethno House. This beautiful guesthouse, located in the village of Jezerce, near the entrance to Plitvice Lakes National Park, offers air-conditioned rooms with handmade oak and pine furniture, LCD satellite TV, and free WiFi. Free bikes are available for guests, and a sauna, an outdoor swimming pool, and free sun loungers are there to help you relax after a day of sightseeing. A delicious buffet breakfast comes included with your room. (The property also features a children's playground and free private parking, and the Plitvice-Mukinje bus station is just 300 metres away.) Check your travel dates now at Agoda.com!
Are you on Pinterest? Pin this post!