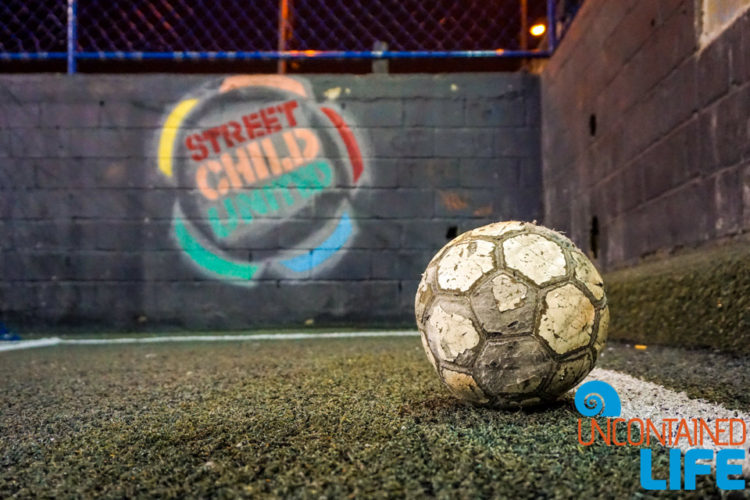 Long before Justin and I ever set foot in Brazil, we had heard about visiting favelas in Rio de Janeiro. While favelas remain associated in the public's mind with drugs and violence, nowadays, some favelas are safe to visit. And, according to a growing number of tourism resources, visiting favelas is key to understanding the "real Rio." Is this in fact the case?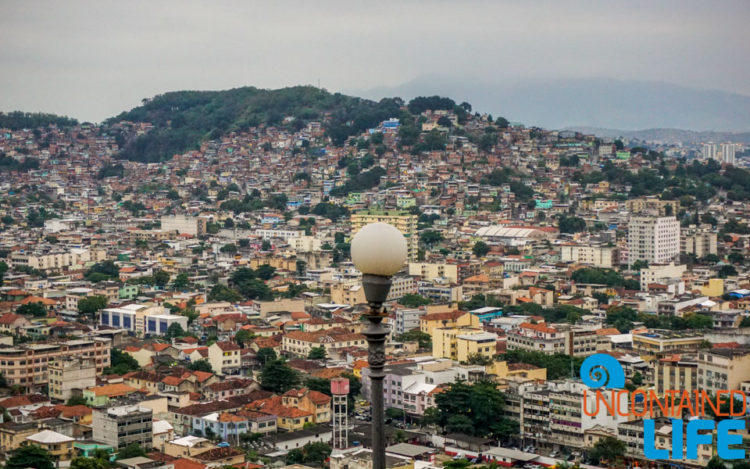 Favela Tourism: Raising Awareness or Exploitation?
As discussed in our article about slum tourism in Jakarta, tourism in poor areas isn't something Justin and I unequivocally support. Even when done in a socially responsible fashion, this type of tourism always walks an fine line between exploitation and awareness-building. Even when approved by community-members and led by locals, visiting favelas in Rio de Janeiro can feel voyeuristic. Too, it's difficult to ensure that the money generated by tourism actually goes to support local community-building and entrepreneurship (rather than just acting as a kind of hand-out.)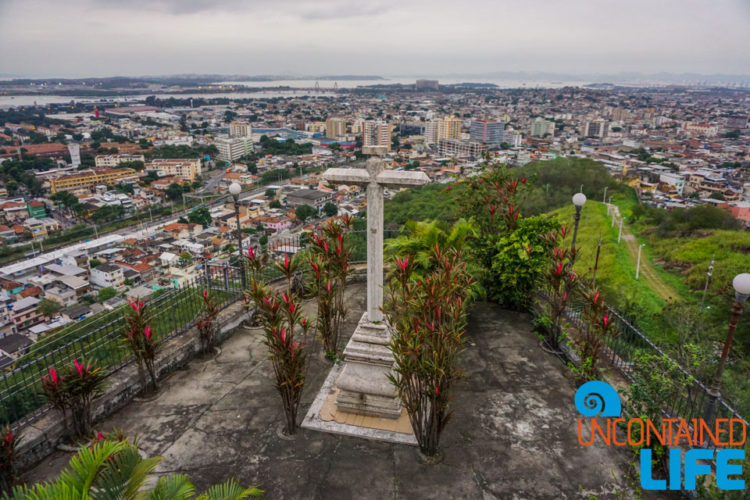 Add to these challenges the negative ways the Brazilian government has interacted with favela-dwellers throughout the years, and it's little wonder visiting favelas remains controversial. Still, there are a number of tour companies which promise a positive experience, both for the locals and for visitors. And we almost signed up to go on one of those small group tours, but then (as often happens with us), we met someone who caused us to change our plans…
Why Meeting People is Awesome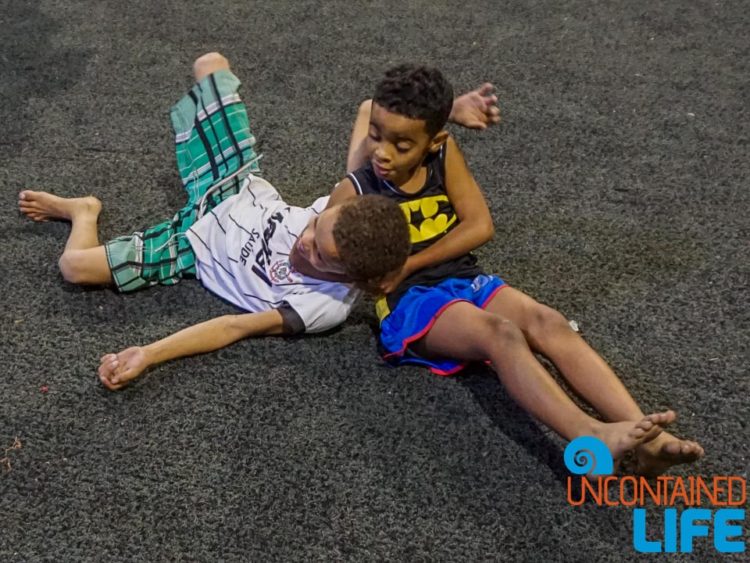 We've mentioned before how interactions with strangers on the road led to some of our favorite changes-in-plans (like our decision to visit Slovenia, for example). But I really believe meeting Karin on the very last day she was in Rio was the ultimate serendipitous event. Karin had lived in Brazil for six months, working for a company which helps manage various non-profit groups around the world. One of those groups, she told us, was Street Child United, which operated in one of Rio's poorest favelas, Favela da Vila Cruzeiro.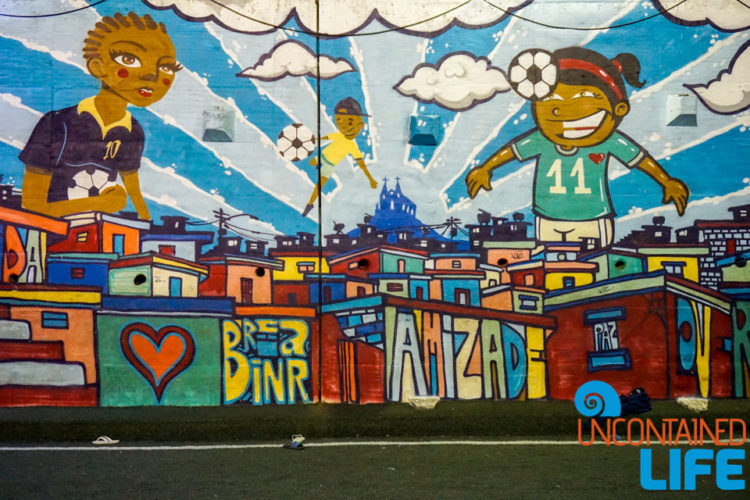 Street Child United aims to use sport—especially football (soccer)—to raise street children's visibility, and help them fight for their rights. Would we, Karin wondered, be interested in meeting the group's point person, Joe, and perhaps visiting the favela to see the work being done there? I think you can guess our response.
Understanding Rio's Favelas
Justin and I met up with Joe, a smily, red-haired Brit who has been working with various street child organizations since he was a teen, near our accommodation in Lapa. From there, we hopped on the metro and headed out of town toward Complexo da Penha. As we rode, Joe gave us a quick history of Rio's favelas.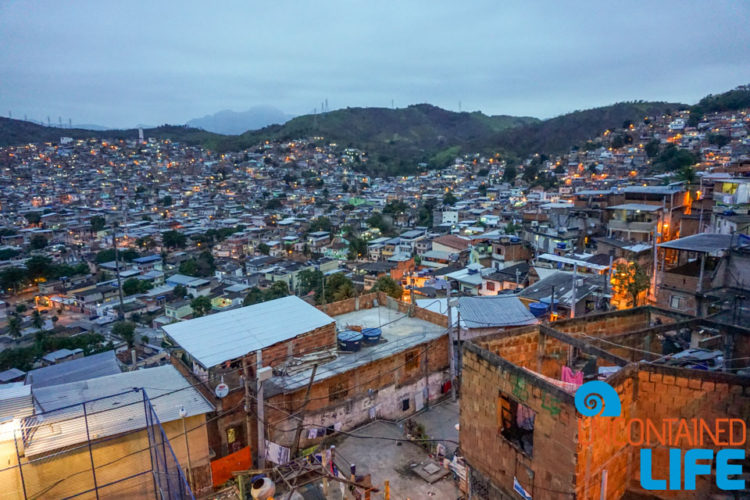 Favelas first appeared in Rio in the late 19th century as soldier settlements following the Canudos War. More shanty towns were built in the first decades of the 20th century, providing housing for migrant workers and former slaves. These settlements operated, largely, without government services. Thus, communities tended to organize themselves. In the mid-20th century the Brazilian government began the first of its many attempts to disband the favelas. Many favela inhabitants were moved to "proletarian parks" outside the city center in the 1940s, and again in the 1960's and early 70's.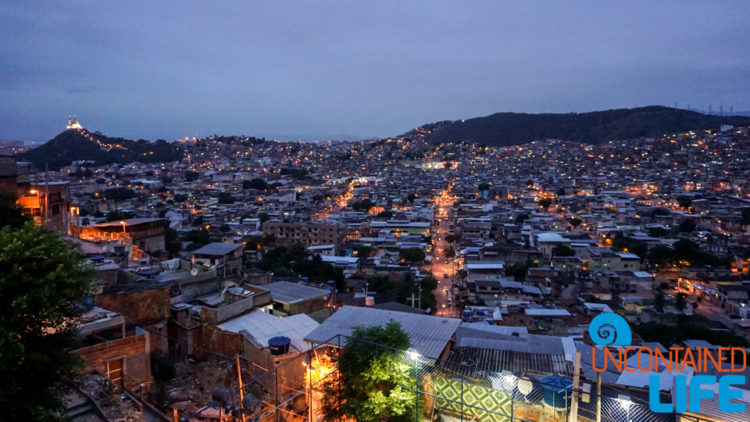 A View from Above
These forced removals failed to curb the growth of shantytowns within Rio—a fact which became very clear to us after we exited the metro, and made our first stop: Church of Our Lady of Penha de France. This church-on-a-hill overlooks mile after mile of favelas, which are home to thousands of people who work in the center by day (in restaurants, hotels, etc.)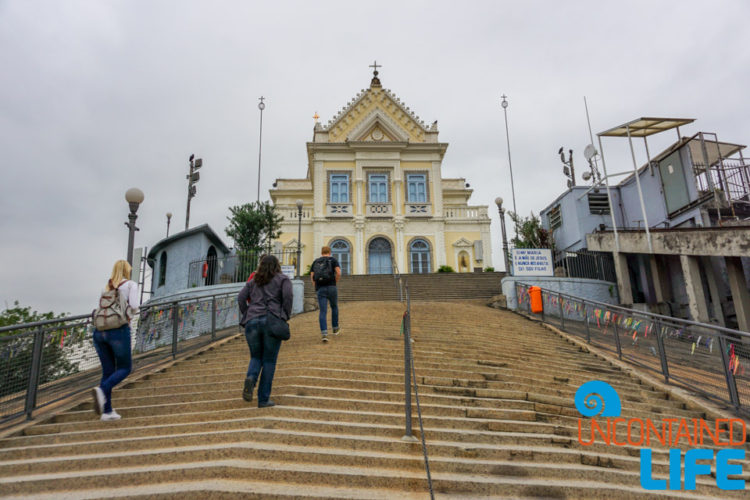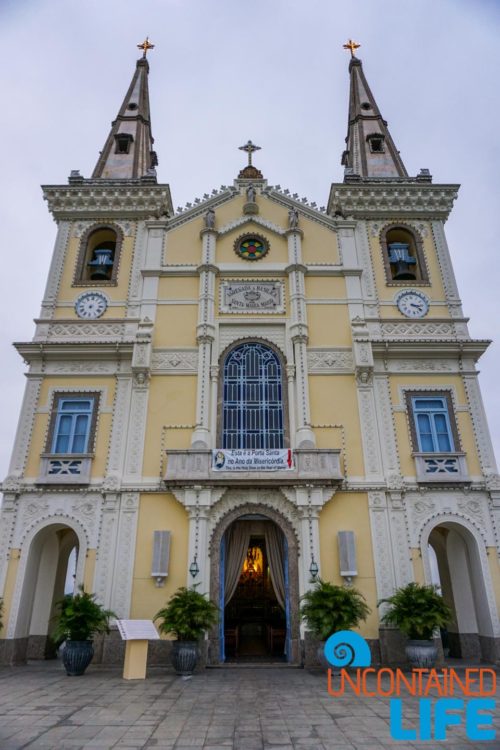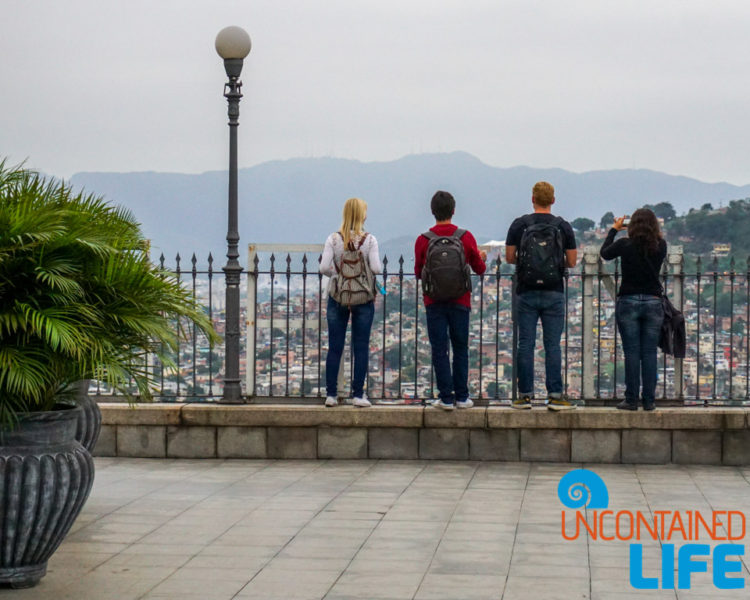 Government policies towards the poor during the 20th century, Joe notes, contributed to making favelas fertile ground for drug trafficking. Throughout the 1980's, 90's and 2000's favela-dwellers often found themselves caught between a rock and a hard place: on the one side were police, who had few qualms about killing slum inhabitants; on the other side were gangs, who fought both the police and amongst themselves for control of various communities.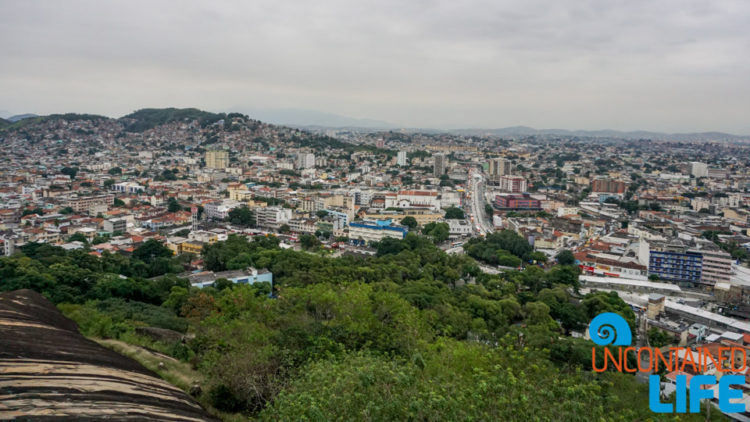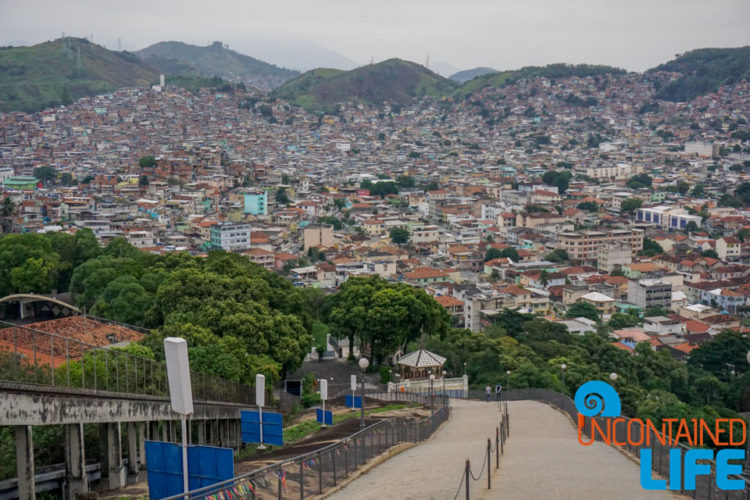 In 2008, the Brazilian government began its mission to disarm drug traffickers—a policy known as "pacification." (Pacification has also served to create the tourist market for visiting Rio's favelas.) Ask favela-dwellers themselves what they think of these efforts, and you'll get mixed reviews. Many are grateful to be free from the control of gangs, but trust of the police, generally, remains low.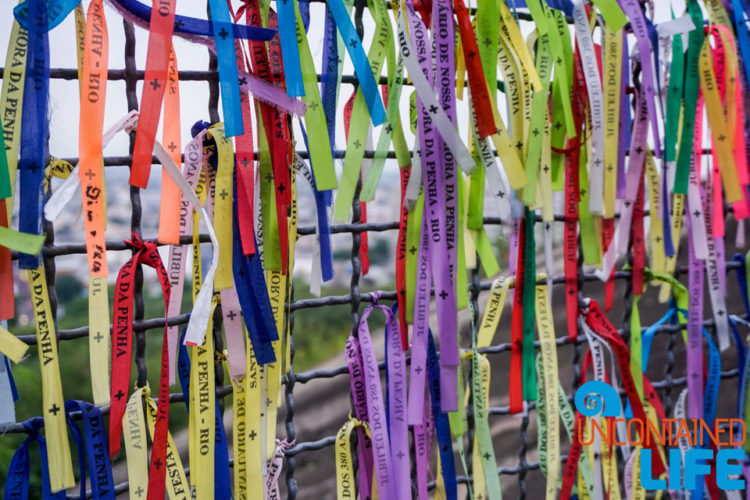 As for how pacification has affected Favela da Vila Cruzeiro where Street Child United works, Joe put it this way: "During the day, the police sit at the favela entrance; at night, they go home, and the traffickers take their place."
Game On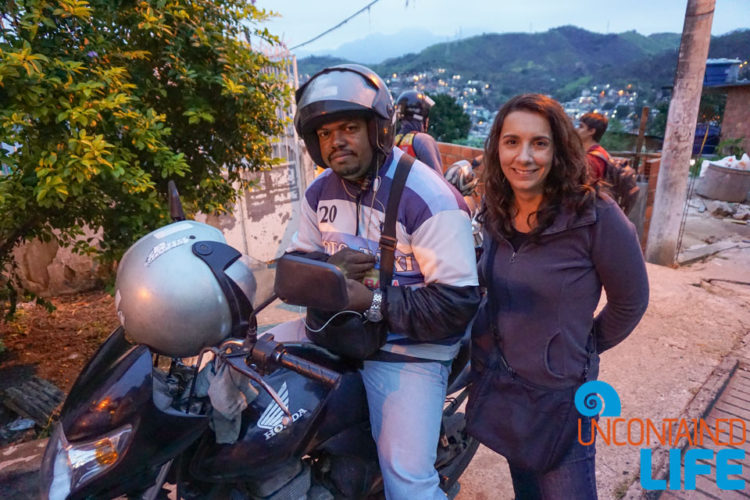 After our visit to the church, we hopped on the back of moto-taxis for a short, but exhilarating ride up to Favela da Vila Cruzeiro. We were just in time to see a practice taking place at the community's football pitch, built by Street Child United.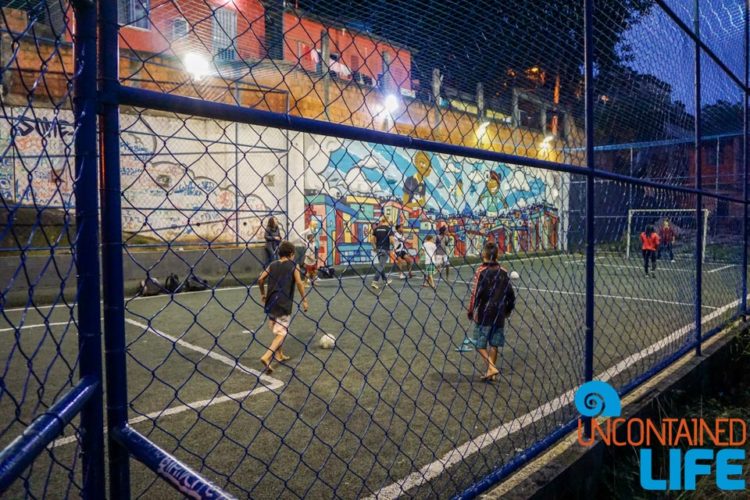 Favela da Vila Cruzeiro has no formal tourism, but the community-members who are at the pitch know Joe well and greeted us with warmth. Joe introduced us to the Brazilian coaches employed by Street Child United, Drika, and Jessica (a former street child herself), and asked the kids to share their names and ages.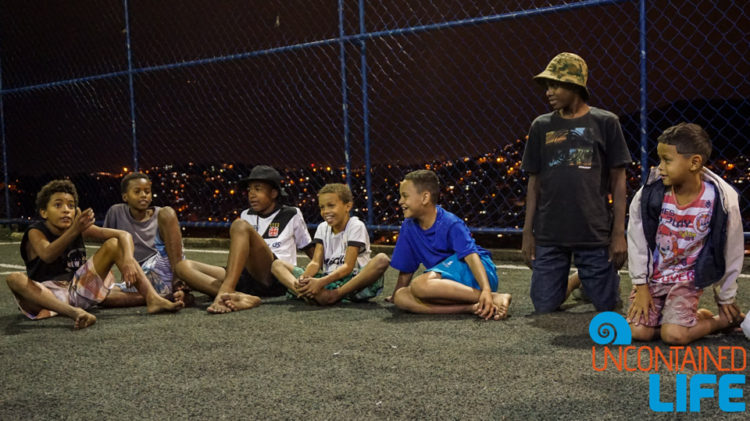 Afterward, we settled ourselves on the edges of the field and watched as the kids begin to kick the ball around.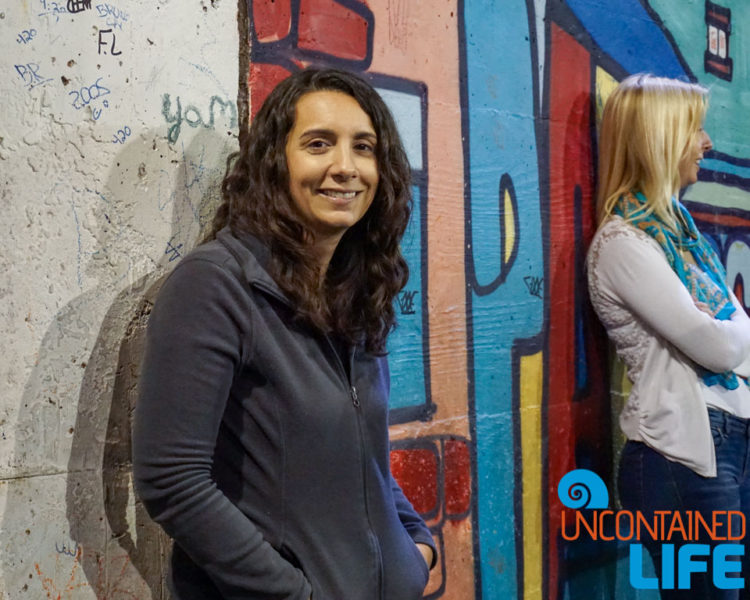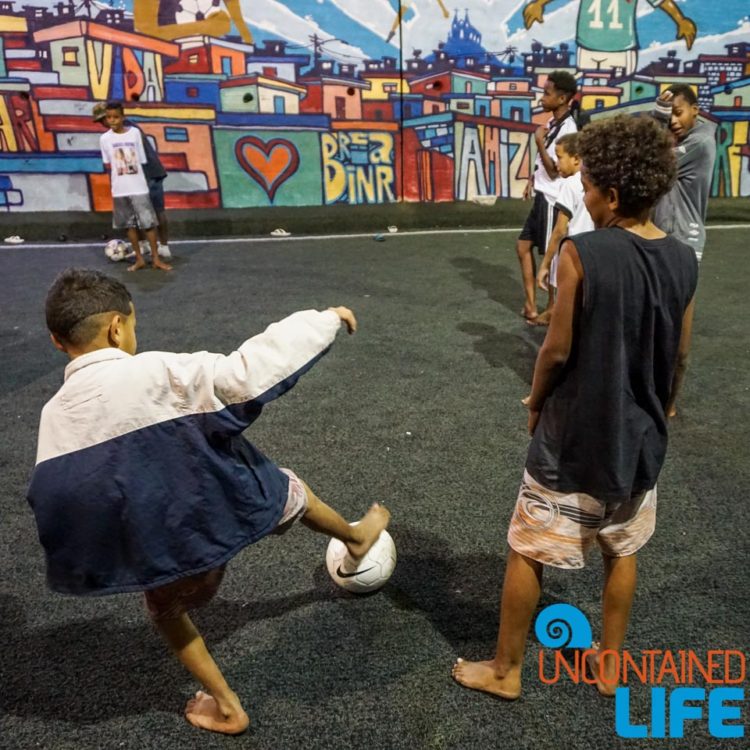 And by "kick the ball around," I mean begin displaying absolutely amazing skills…even whilst playing barefoot and in street clothes!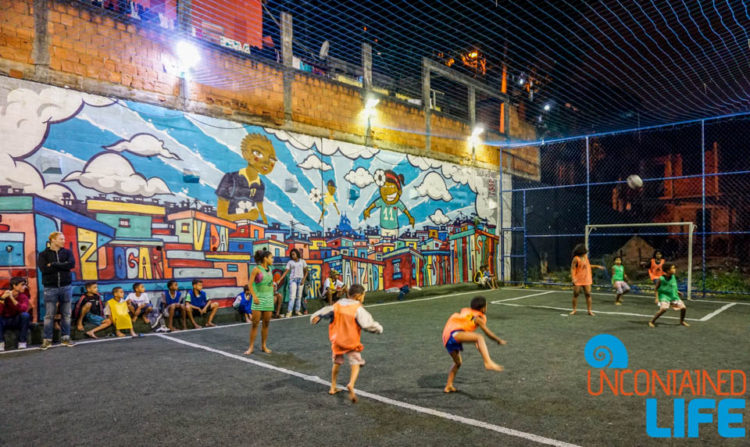 But even more remarkable than their prowess with the ball, was the kids' sheer verve. All the children, regardless of age, played with pro-level intensity. They put absolutely everything into their game. And for good reason: for most of the kids, playing football is a major highlight of their lives.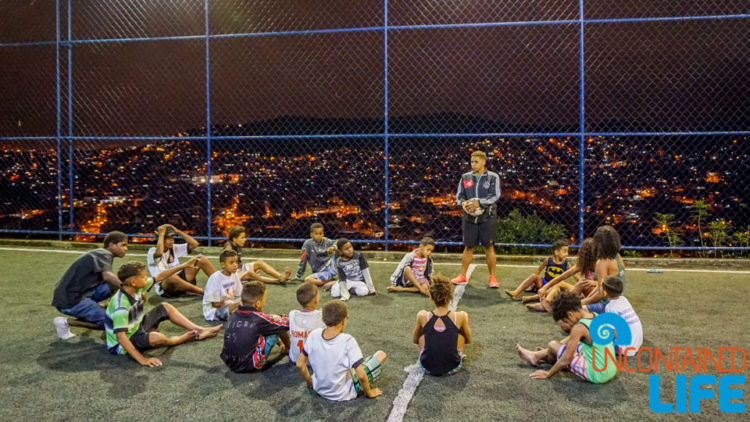 It's the reason they go to school (they aren't allowed to play if they don't attend practices). It's their chance to, on occasion, get to travel outside the bounds of the favela and meet other street kids from around the world. (A couple of the kids have even been placed on "real" teams—both in Brazil and abroad.)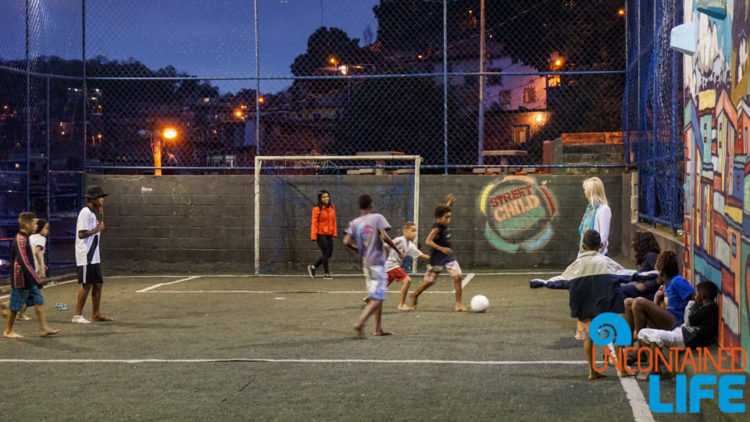 Changing Perceptions of Street Kids
Street kids are used to not having rights. They are used to being ignored. Hence, the importance of the mural overlooking the pitch, and the wall, signed with all the children's names which proclaims, "I am Somebody."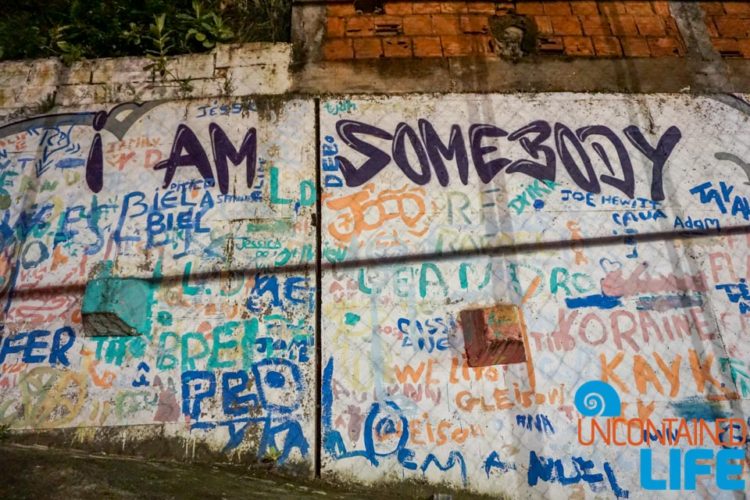 Joe explained that mobilizing the street kids through sport serves two important functions: first, it changes outsiders' (including government) perceptions of street kids; second, it teaches the kids to think of themselves in positive ways: to believe that they matter, that they have the ability to do more in life than deal drugs or do menial labor, that they have a voice, and can demand the same rights from the government, and from society at large, as their more affluent peers.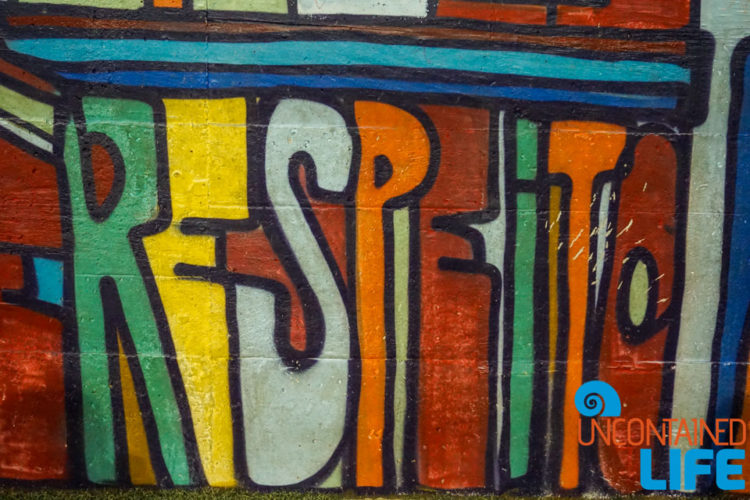 Final Thoughts on Visiting Favelas in Rio de Janeiro
Tourism is helping a small number of favela neighborhoods in Rio. But, as we hear the stories of these children, it becomes clear to us that favela tourism can also enable the powers that be to, largely, ignore the needs of favelas that tourists will never see. Touristed favelas serve as the face of the "improving" lives of Rio's poor, but this image masks the continued lack of progress for a large majority of favela dwellers, especially children.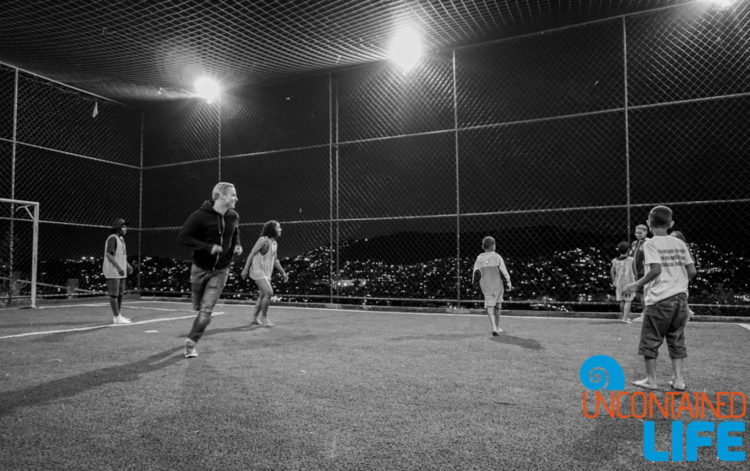 This is not to say tourists should not be visiting favelas in Rio de Janeiro, or that you shouldn't take a favela tour (though please choose your tour wisely). But we also encourage you to do more than just be a tourist. Consider contributing your time, or making a donation to Street Child United, or any group who is "boots on the ground" in an untouristed Rio favela.
I mean come on…how can you resist that face?!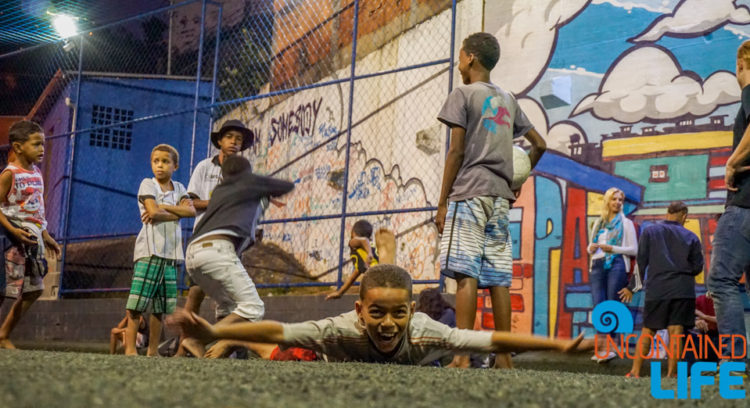 Check out our short video about our trip to Favela da Vila Cruzeiro!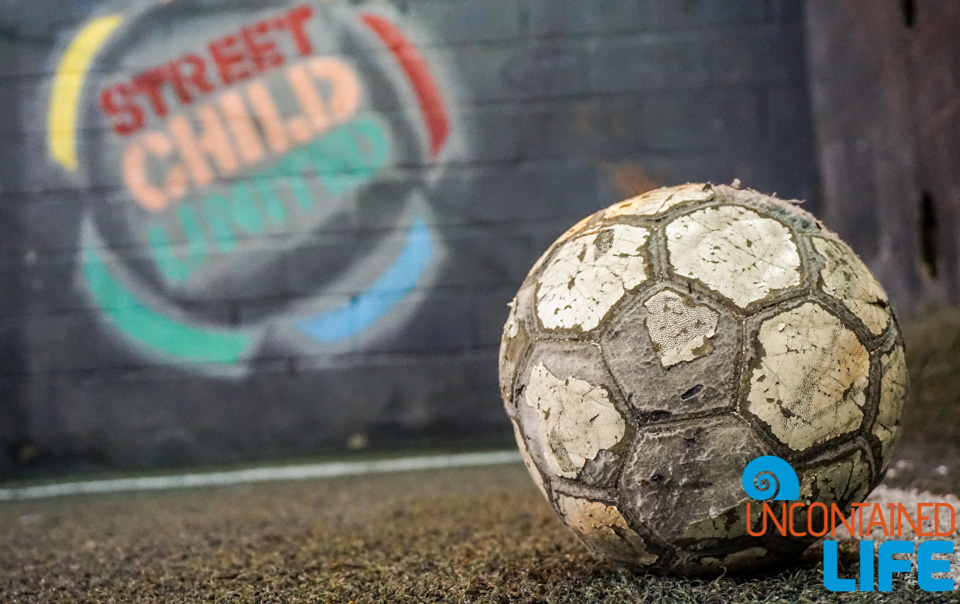 Have you visited a favela in Rio? What did you think about the experience?