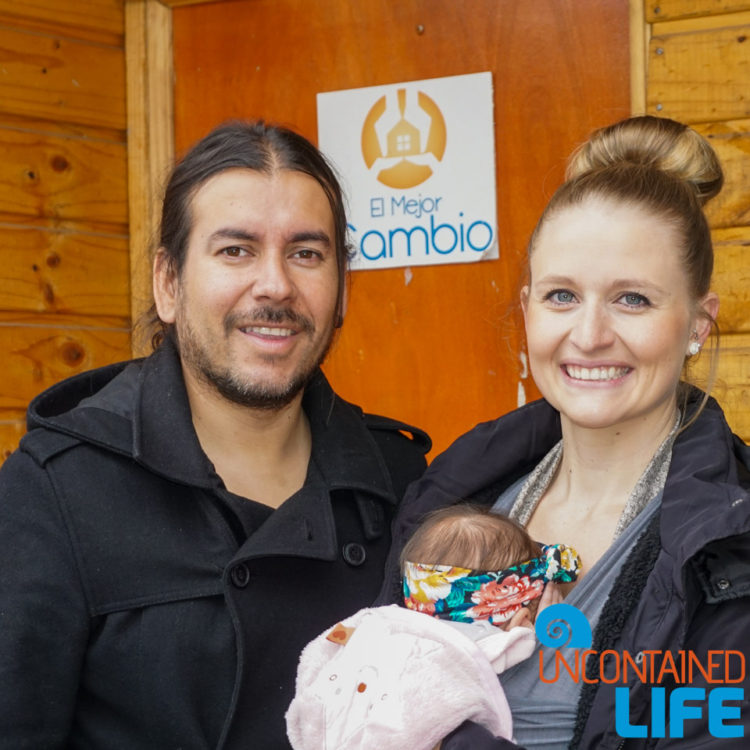 More often than not, when we're visiting a country as tourists, we're relatively protected from seeing—to steal a phrase—"how the other half lives." There's not necessarily anything insidious about that fact: it makes sense that the places most visited by tourists are the shiniest and (typically) most prosperous.
But the fact that we, personally, seldom see a country's poorest places, doesn't mean they don't exist. In Brazil, they're called favelas. In Indonesia, kampong liar. In Chile, where Justin and I spent this past July, the shanty-towns are known, simply, as campamentos—I.E. "camps."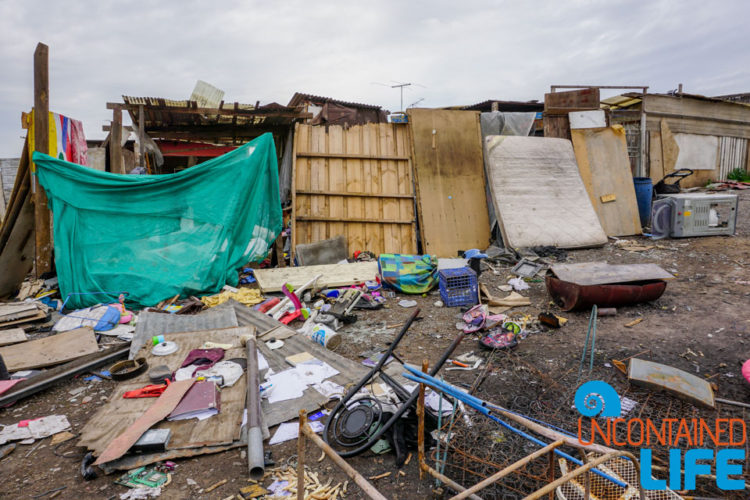 Welcome to the Campamento
Jairo Valdes walked ahead of us into the campamento. His wife, Chelsea, followed behind, holding the couple's newborn daughter. This is the main street, (so to speak): a dirt path, wider and straighter than others, where the first inhabitants of Campamento Japón, in the district of Maipú, Chile (just outside of Santiago) built their homes.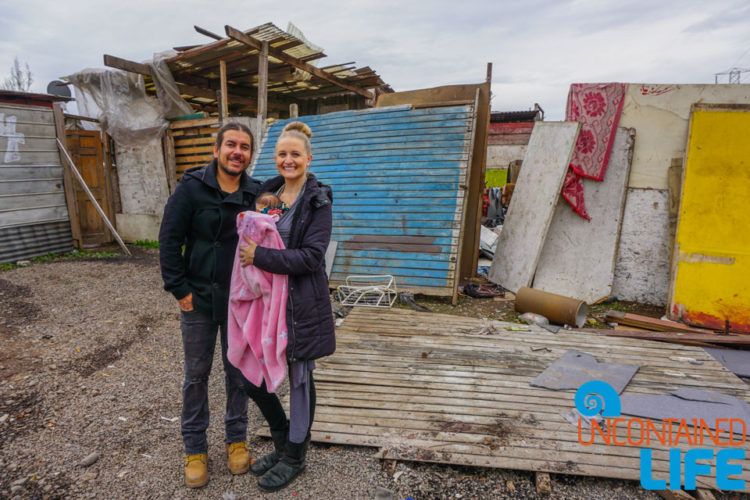 A gust of cold wind brings the scent of rot from the garbage dump which runs along  the camp's length. "The smell is much worse in the summer," Chelsea explained. And it's not just the smell.  "During hotter months people have to sleep with sheets over their heads so that flies don't lay eggs in their ears or mouths."
How Did We Get Here?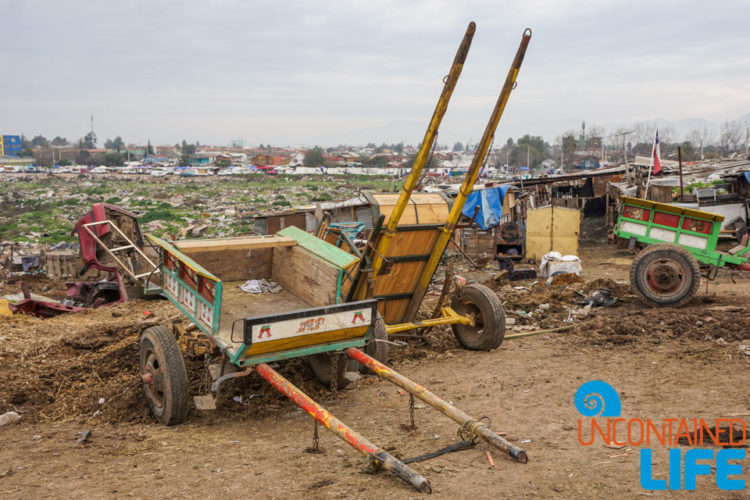 Were we on a slum tour? Not exactly. As you know, here on Uncontained Life, we don't just want you to get inspired by all the beautiful places you can visit around the world. We also want you to be inspired by the amazing people working to help improve lives.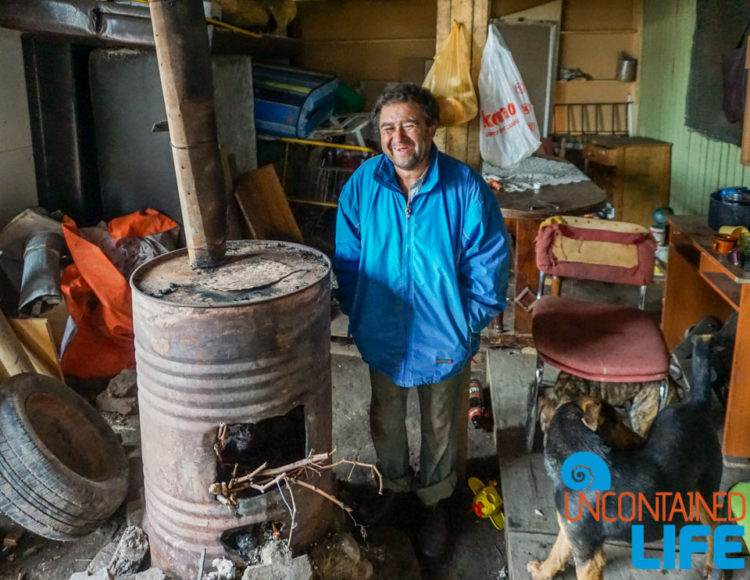 Justin and I heard about the Chilean-born Jairo and U.S.-native, Chelsea, through friends. Jairo and Chelsea, who met doing volunteer work following the 2010 earthquake which devastated southern Chile, always knew they wanted to do more than just "feel bad" about the conditions of people less fortunate than themselves.
Their current project, "El Mejor Cambio de Tu Vida," (which translates directly as "The Best Change of Your Life") aims to…
Improve the living conditions of the families living in Campamento Japón;
Raise awareness (especially amongst Chileans) about the need to take action to alleviate poverty;

Help poor families themselves develop the skills and mental attitude which will allow them to progress toward a better future.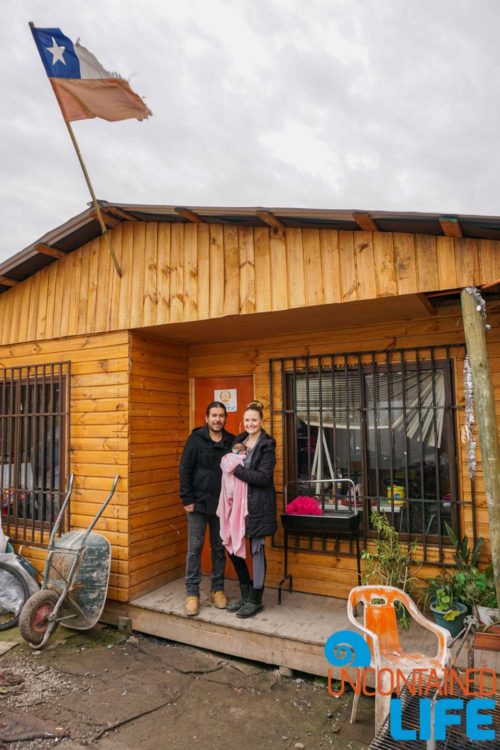 This vision didn't emerge all at once. It began with something simple. Specifically, it began because of a pair of shoes.
How From Shoes to Something More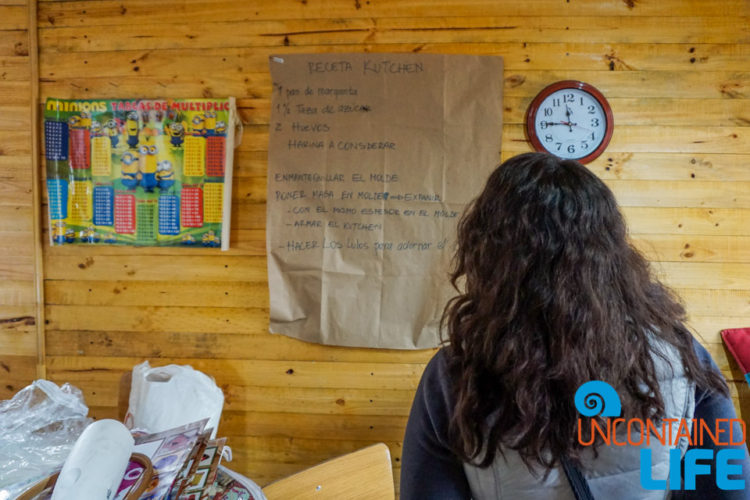 One day, Jairo, who is a teacher in a low-income neighborhood, noticed one of his students, Anthony, was wearing shoes so full of holes that they barely covered his feet. Jairo posted a photo of the worn-out shoes online asking that someone "exchange" the shoes with new ones. This photo brought a flood of donations, which, of course, helped Anthony get new shoes, but also set Jairo and Chelsea dreaming of ways to spark even bigger transformations. After all, they figured, how can a child hope to make their way out of poverty if their living conditions serve up nothing but obstacles to a better life?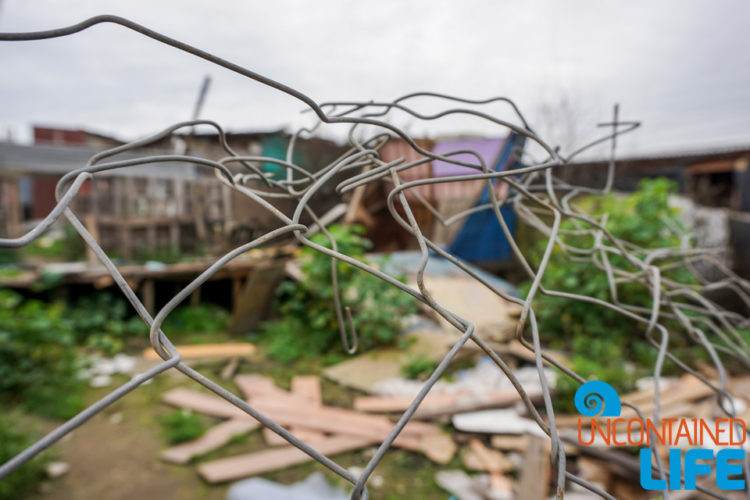 By the time Jairo and Chelsea were introduced to the roughly 40 families who live in Campamento Japón, they had already seen the positive effect that better housing can have on those living in poverty. But they'd also come to realize that, in most cases, the Chilean government's efforts to provide that housing fall short.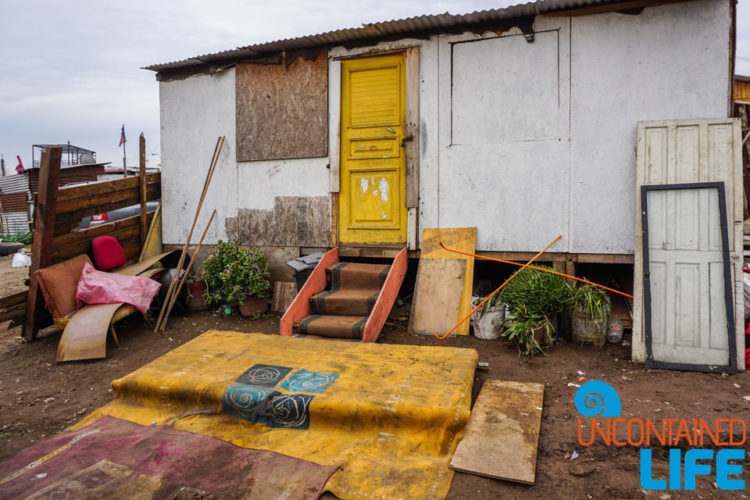 The government has come a long way from the days when the policy on campamentos was either "ignore" or "bulldoze." Still, efforts to relocate campamento inhabitants to subsidized housing have been uneven at best: relocation can destroy tight-knit communities, and the housing itself is often sub-standard, or located in dangerous places where drug use, theft, and violence go largely unchecked.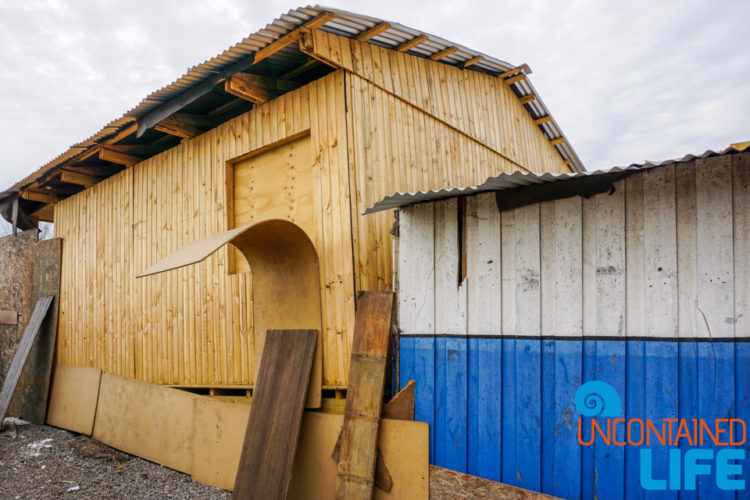 So, Jairo, Chelsea, and other local volunteers began to build their own houses for the campamento families. The homes are prefabricated houses, easy to assemble (one house takes around three days to build) and relatively inexpensive (each home costs two million Chilean pesos, I.E. $3,012 USD). Because there is always the possibility that the government might bulldoze the campamento, the structures are designed to be picked up and moved.
A Better House, A Better Life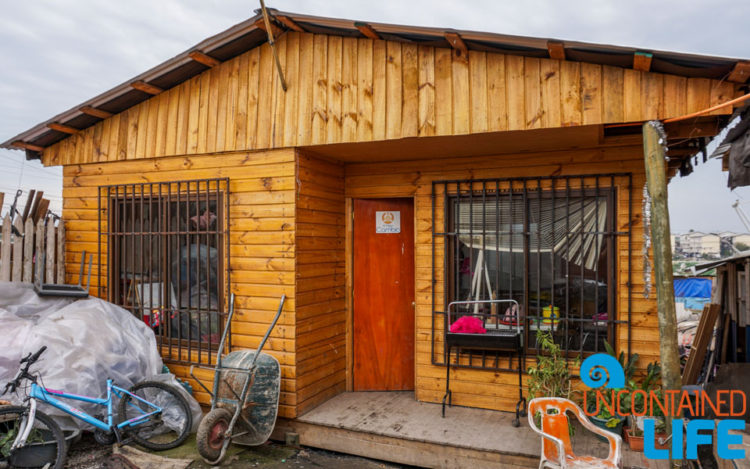 They showed us one of these houses which actually functions as a community center for the campamento neighborhood, complete with shared kitchen and children's learning space. It's here that volunteers help the community members learn life skills (including getting their G.E.D.) which Jairo and Chelsea hope, will help the mostly single mothers become effective entrepreneurs. During our visit we got to witness one of these entrepreneurial efforts in action: the community members had decided to pool their resources to cook a bunch of food to sell at the local market. We watched the women (and one or two men) come and go, dropping off various items, while others worked on the food prep.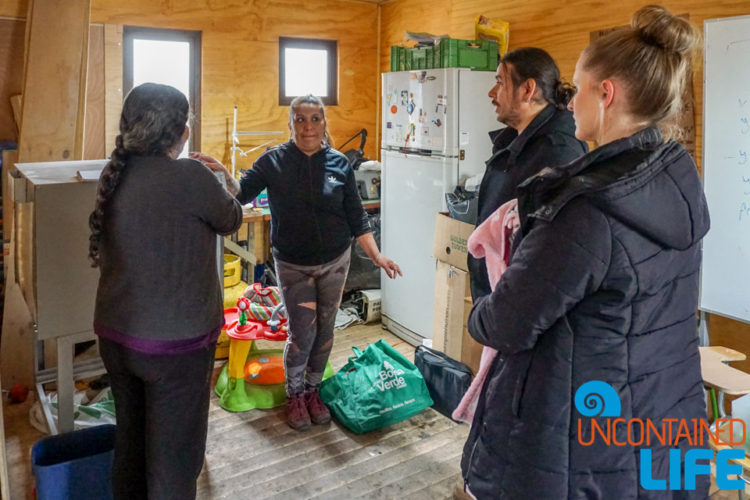 The contrast between the new buildings and the living spaces which most of the camp families still inhabit was stark.
Still, conditions in Campamento Japón, didn't totally shock us in and of themselves. The unfortunate truth is, (based on Justin's and my observations of poverty in 25 countries over the past 18 months) the severe deprivations suffered by the poor don't vary much. Still, unlike places like Brazil or the Philippines, the socio-economic divide in Chile hadn't felt extreme when we were exploring Santiago proper. Indeed, Chile is considered the most stable economy in latin America. That was the shocking thing: the reason why stepping into Campamento Japón felt like entering an alternate reality where running water, electricity, and sanitation are considered luxuries.
The Bigger Picture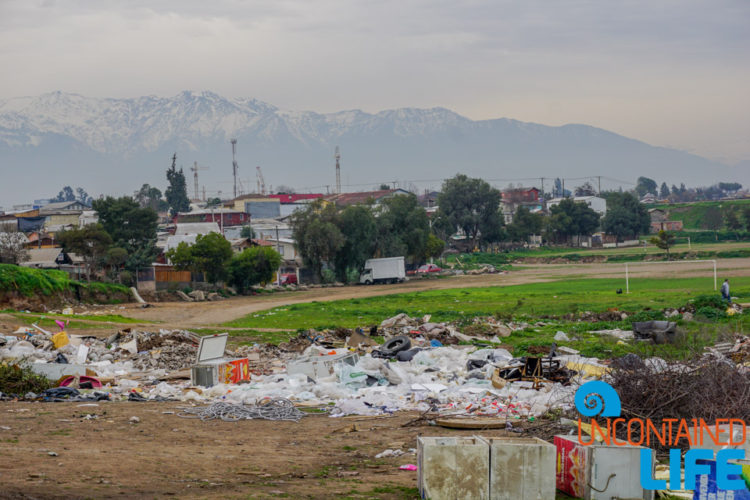 Official reports place the number of campamentos in Chile around the 700 mark, though, as Chelsea pointed out, official reports have, historically, not documented all the campamentos that are actually in existence in the country. Since its inception in 2014, "El Mejor Cambio" has made incremental progress in making life in Campamento Japón better, but Jairo and Chelsea are quick to point out that the big goal of the organization is get the camp inhabitants out of the dump.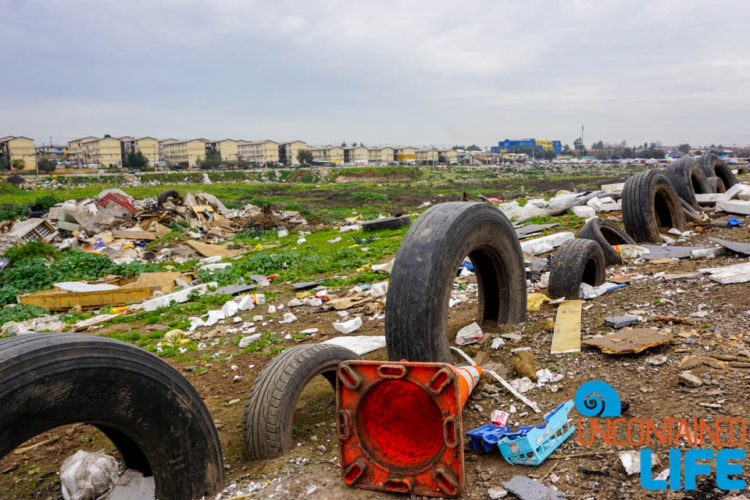 To do this requires buying land someplace where the entire community can move together—probably down south—and live in the pre-fab housing, in a self-sustained fashion. It may sound like a pipe dream, but Jairo and Chelsea are hopeful.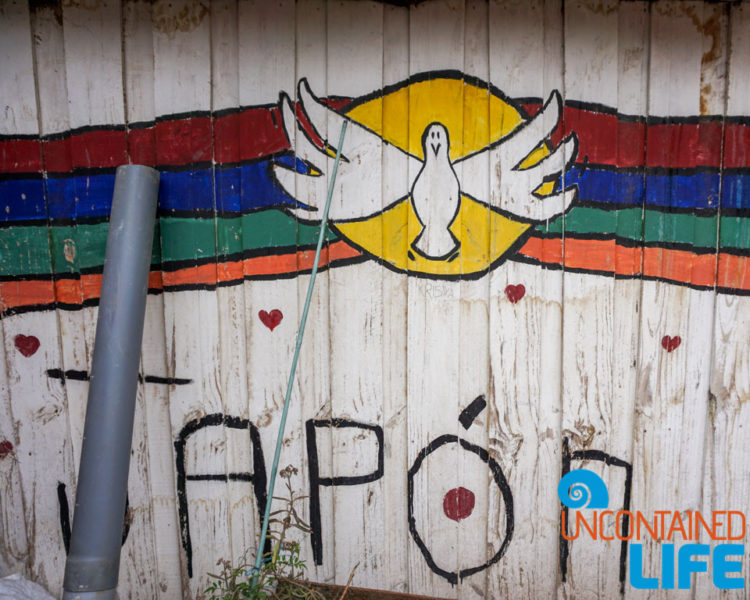 "We believe it can happen," Jairo says. "And when it happens, we can show the Chilean government and the Chilean people themselves that an alternative is possible—something better than what they are doing now for the poor."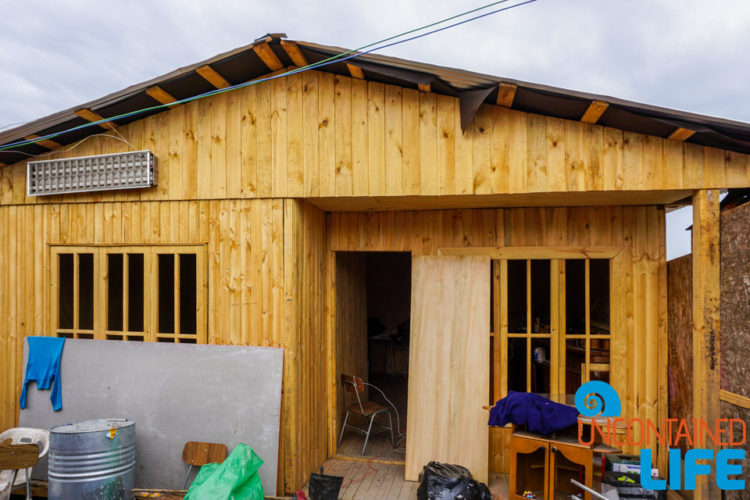 Helping people come to the realization that they can help, that they can take action to change people's lives is, Chelsea and Jairo agree, perhaps the biggest challenge. That's because changing society requires not only changing the conditions of the poor, but changing everyone's sense of what is possible. Clearly, the message about making the "best change of your life" isn't only for the people currently living in Campamento Japón.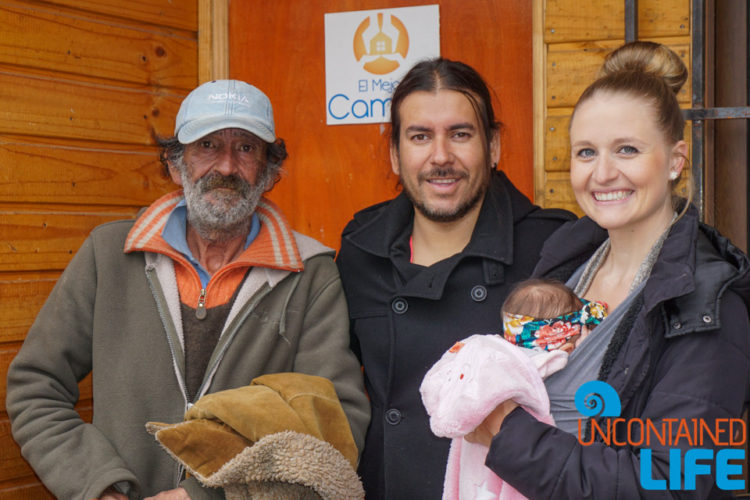 Wondering how you can help? "El Mejor Cambio" accepts both volunteers (several groups from the U.S. have come to help in years past) and direct donations. Click the link above to get in contact!