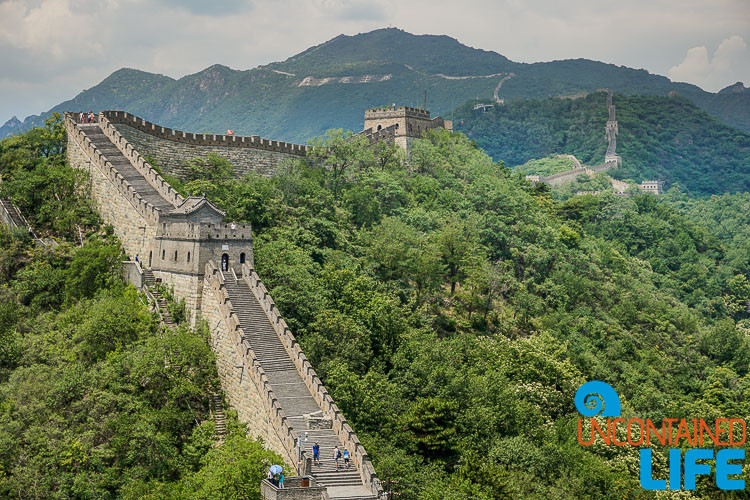 When Hillary and I decided to come to Beijing, we knew we were going to be visiting the Great Wall of China. (How could we not?) But if we're being totally honest…I didn't really "get" the attraction of…the attraction.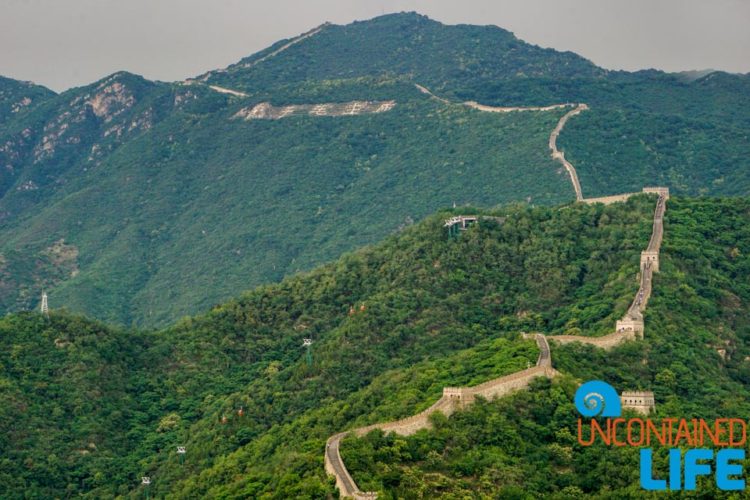 Sure, I knew a bit of the history. I knew the Great Wall of China was (and remains) an amazing human feat. I even knew that I would most likely be impressed with the wall. Still, when it comes down to it…visiting the Great Wall of China means two things: stone steps and towers. Been there. Done that.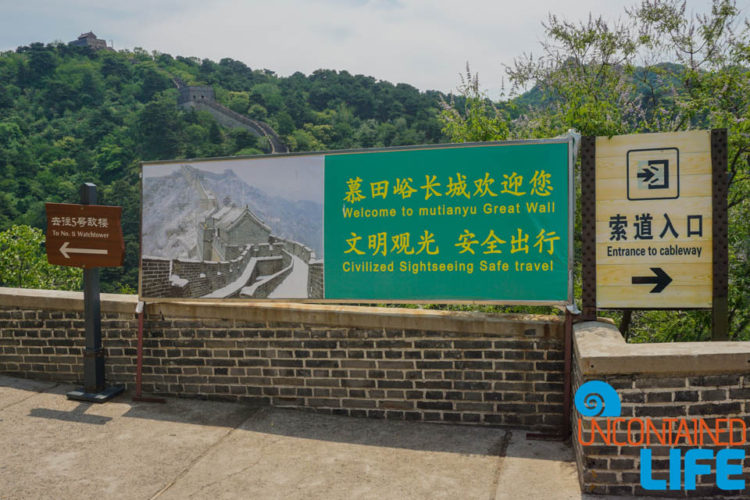 As a matter of fact, when Hillary asked me which section of the Great Wall I would prefer exploring, the main reason I chose Mutianyu was because it had a toboggan coming down from one of the towers. Honestly, who wouldn't want to zoom down a giant slide? (Perhaps not my finest culturally sensitive hour, but, in my defense….a toboggan!)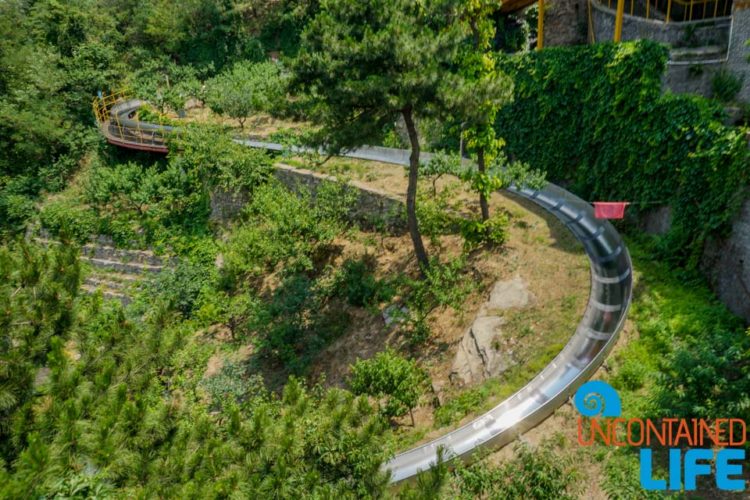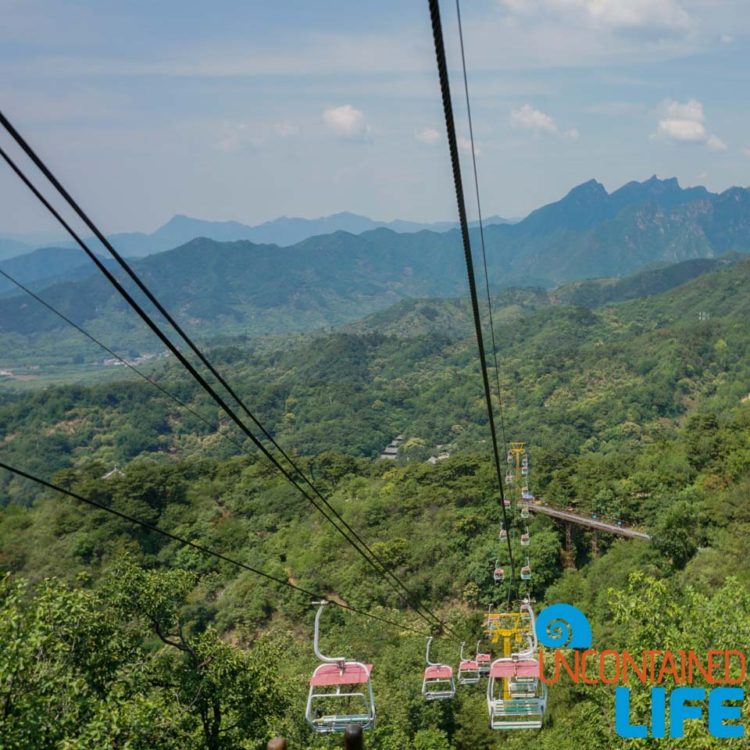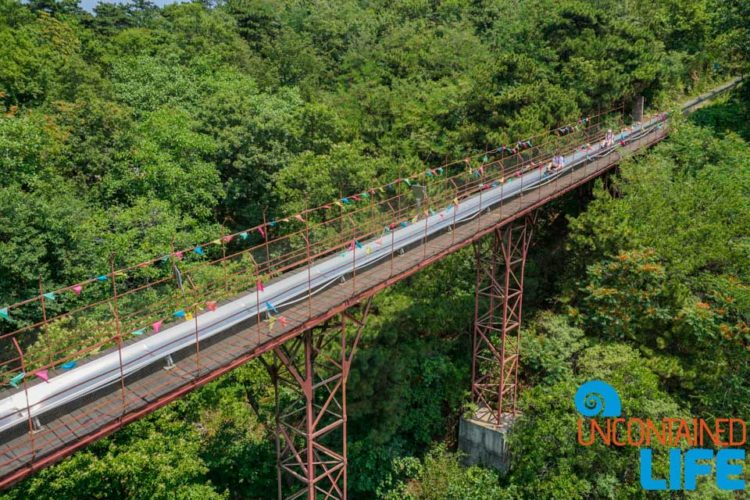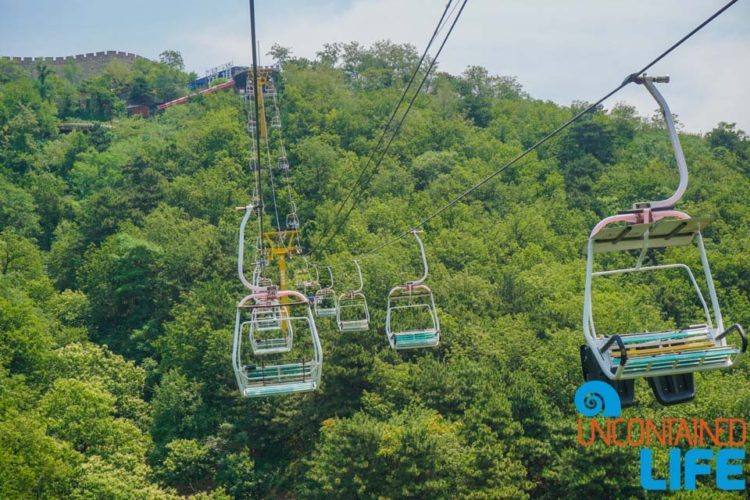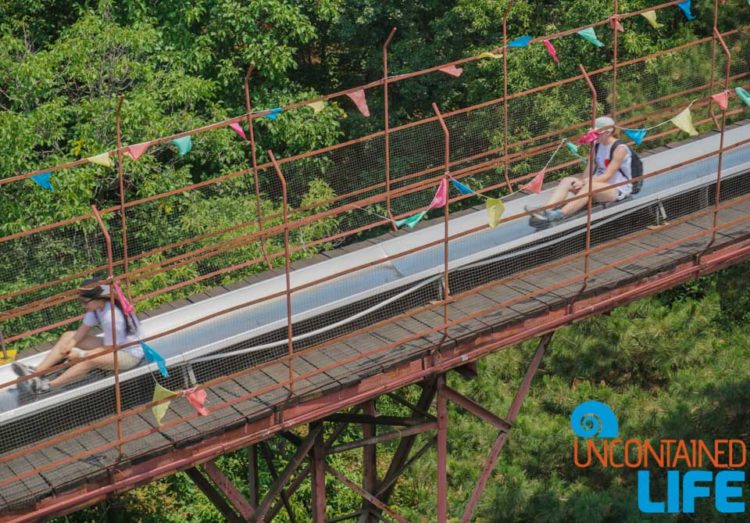 Heading Up the Great Wall
At first, visiting the Great Wall of China was mostly what I expected. It's a little tricky getting to the Mutianyu section of the Wall independently when you're on a tight budget, so we decided to travel with Downtown Backpackers Hostel (unlike many tours to the Wall, they don't steal from your Wall time by making stops at souvenir shops.) Even though it was only early June, it was a hot day. After a pleasant ride up the ski lift to the base of Tower Six, we began our ascent up the wall toward Tower One.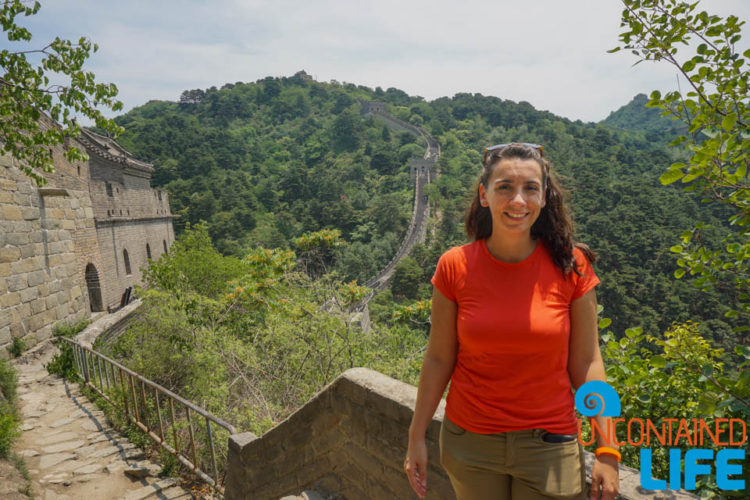 This, I thought to myself, was exactly why I wasn't excited about visiting the Great Wall of China. The steps just kept on coming, and became increasingly tall as we moved away from Tower Six. I was feeling the weight of my full gear bag and starting to sweat.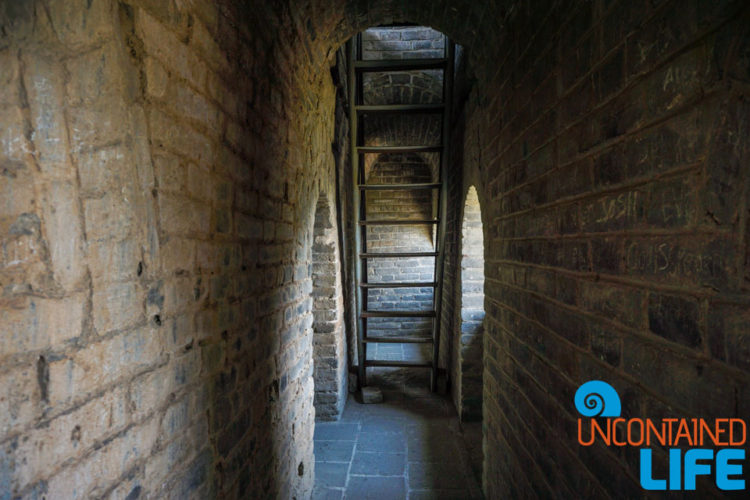 We passed by other tourists (though, admittedly, not too many) walking up and down the stone staircases taking photos and, of course, selfies.
I realize, given the evidence above, it would be hypocritical to hate selfies…but can I at least hate certain selfie stick users? (If you can't use the stick without hitting someone, then you don't deserve to selfie.)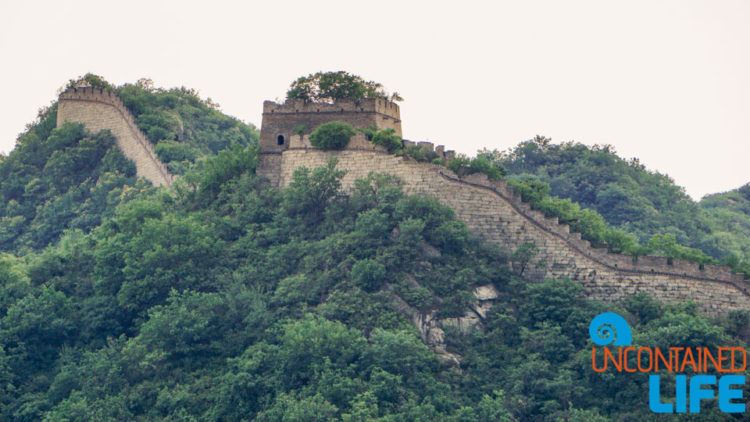 Hillary enthusiastically noted this and that detail as we climbed, comparing views from either side of the wall. Personally, I was more focused on finding shady spots to stop and "take a breather" from hiking the man-made mountain. Finally, we reached the top of  Tower One. I shot my obligatory video and started taking photos.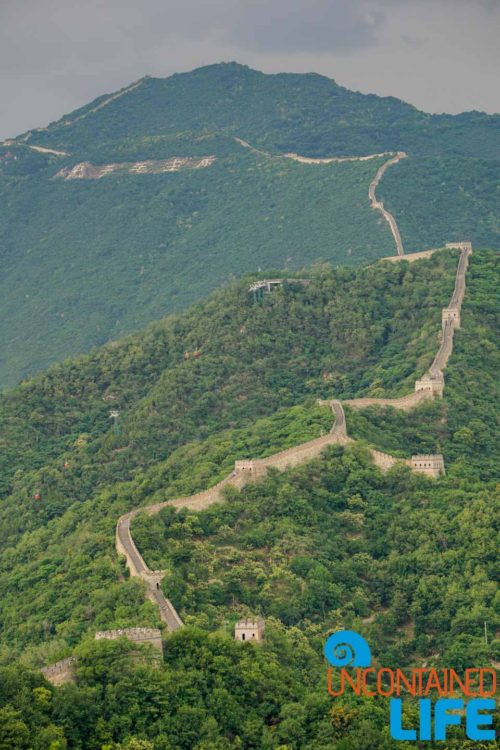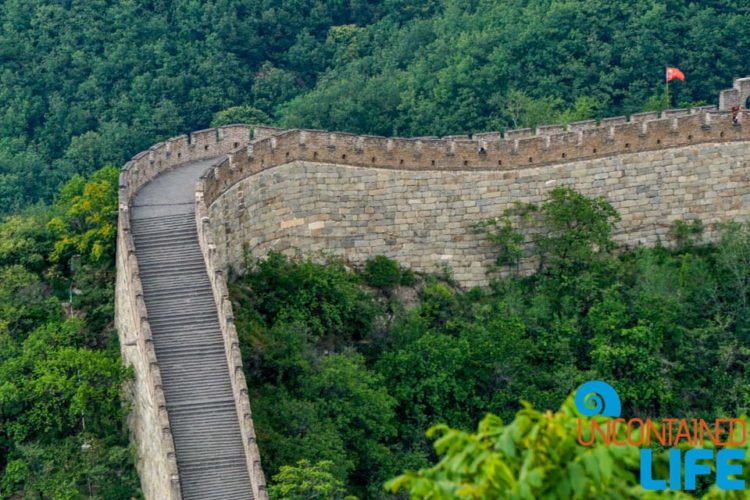 A Change in the Wind
I was working as quickly as I could, but still, the clock was ticking and too soon it came time for us to turn around and head back toward our bus. I didn't think I had enough photo coverage (I never have enough) so I told Hillary I would catch up to her.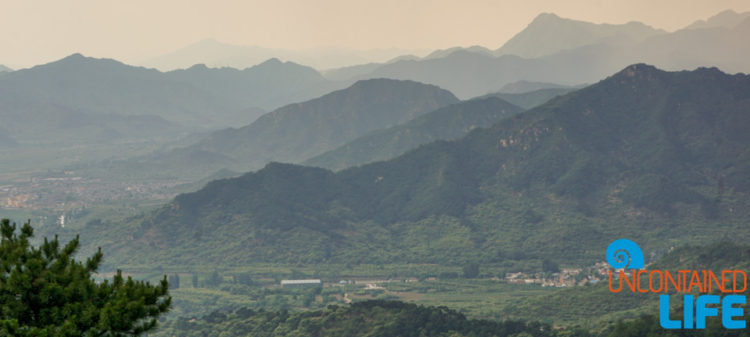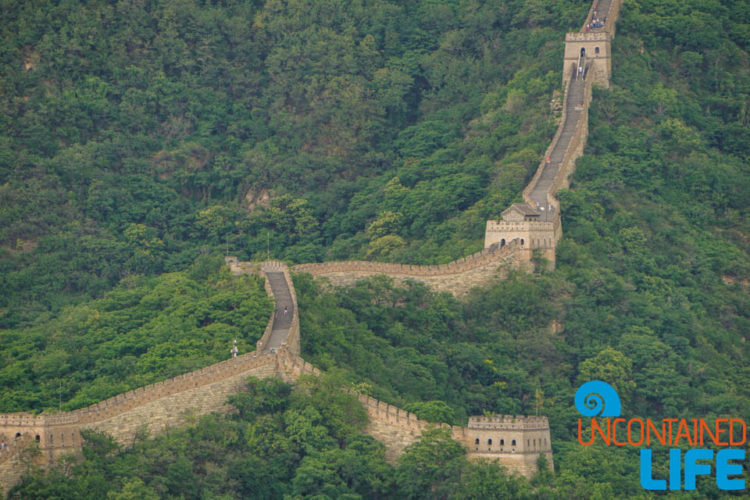 It seemed like the other people hiking the wall had the same idea. Within a few minutes I was all alone in the tower. I set my camera down and looked out over the hills, the wall, the towers, the never-ending wall in the distance and the stone steps in front of me. Clouds were beginning to roll in. And as I watched the fast-changing weather sweeping over the Wall, I suddenly felt my "hater" outlook on the Great Wall of China evaporate.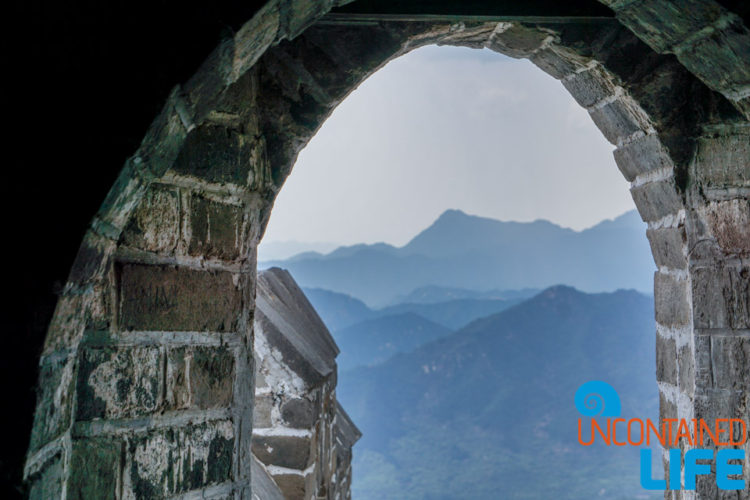 This wall had stood for years–through time, weather, attacks, and politics. There was a sense of purpose, and even comfort in tracing the zigzagging lines of this epic defense structure as it sliced through the rolling greenery. And there was the sense of accomplishment and awe in having reached the top and in knowing that in making the climb, I was sharing something with thousands who (both minutes, and centuries ago) had stood where I was standing. Pretty cool stuff.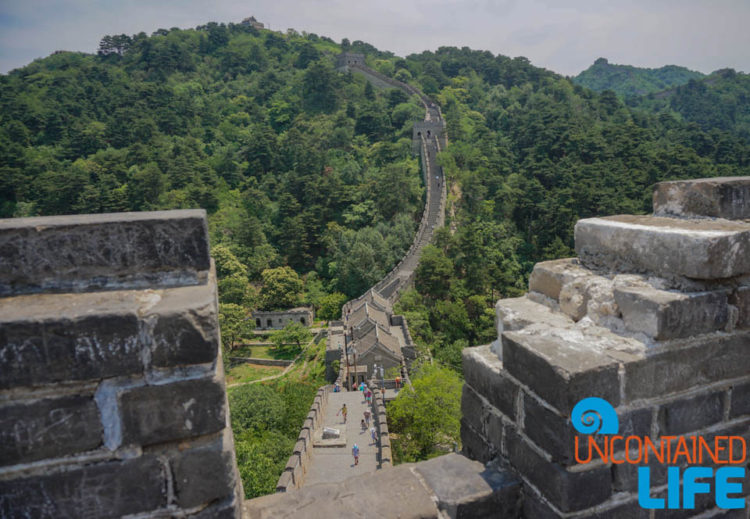 In the midst of all this "pondering on great feats of engineering," I suddenly remembered another such marvel awaiting my attention: the toboggan! Excitedly, I gathered my gear and started my descent.
Running Down the Great Wall
But then, within the first three steps of having left the shelter of the tower and starting down the wall, bam! Rain!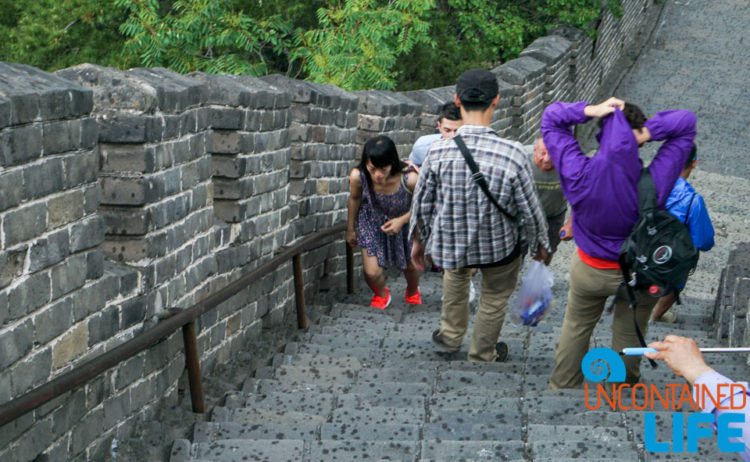 And this wasn't any ordinary rain. It came from all directions (or so it seemed). I was drenched to the skin–and so was Hillary–within minutes. But the ultimate irony of this twist of fate? The toboggan (my entire reason for choosing this section of the wall) had became the world's longest waterslide. So, no ride for us! Instead, we were forced to walk run down the steps so we wouldn't miss our bus ride back to Beijing. 
Luckily, I had the bright idea to pull out my GoPro (waterproof cameras come in handy) and shoot a bit of our experience getting down from the wall. Check it out!